The 10 Best Toaster Ovens In Singapore For Your Kitchen
If we want a quick and easy meal, toaster ovens come in handy. Unfortunately, choosing the best toaster oven in Singapore out of all the products and brands available is a bit challenging. 
So, we've narrowed down the list for you by finding the best toaster ovens in Singapore. With these, you're guaranteed a wonderful cooking experience and an even better meal!
1. Cornell CTO-S10WH 9L Toaster Oven
Price: $33.50
For those who are aiming for a compact design in their oven toaster that can heat up a 9-inch pizza, Cornell CTO-S10WH 9L Toaster Oven is the best pick for you! It features toasting and heating capabilities with an adjustable thermostat and 2 quartz heating elements.
Aside from the basic functions, you can heat, toast, or grill a reasonable number of food pieces all at once thanks to its multiple racks. That's an energy-saving option that explains why it's among the best toaster ovens in Singapore.
Highlights
Convenient and accurate 60min timer
Auto-shutoff to prevent overcooking
1-year warranty
Customer Reviews
For most users, the most impressive thing about Cornell CTO-S10WH 9L Toaster Oven is that it has three different racks to put your tray in. Many also say that the size is perfect for a small kitchen area.
That said, it might not be a good choice for foods that are at a slight height. The multiple racks split up the vertical space in it, after all.
This hasn't prevented many owners from calling it the best toaster oven in Singapore, though. One reviewer very satisfied with it and gave this feedback on Lazada: 
"functioning well and I like the fryer net to be the same length as the tray so can cook two tiers of food at the same time. While many other brands have the tray shorter length and can only be placed on the fryer net instead of slotting it under the level of the fryer net."
2. Panasonic NT-GT1W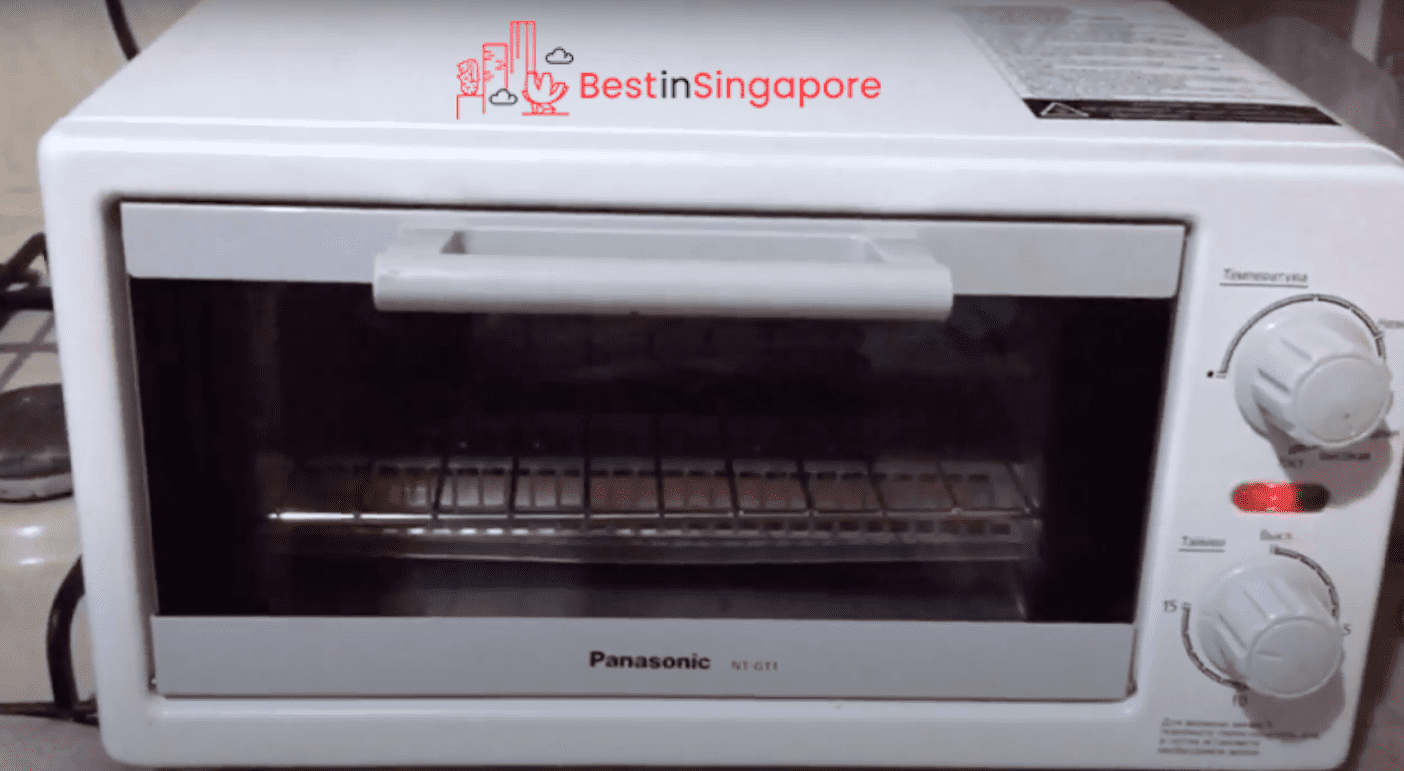 Price: $48.90
Looking for another small toaster oven in Singapore that has more customisation features? With the dynamic Panasonic NT-GT1W, you get that — it's able to toast, heat, and bake.
The highlight feature includes many cooking controls such as an adjustable thermostat so you can manage the settings on your own. It's one of the best toaster ovens in Singapore in terms of sheer flexibility.
With these qualities of an oven toaster in Singapore, you'll surely enjoy your breakfast, lunch, and dinner without any hassle!
Highlights
4 dynamic temperature levels
Removable crumb tray
1-year warranty
Customer Reviews
 Most customers who have tried the Panasonic NT-GT1W have nothing but praise for the capacity and design of the product. A reviewer from Mouthshut wrote this feedback:
"I bought this toaster for a few months. The product is fantastic. The chicken came out fully cooked which is a big thing since the place where I live is very cold and other microwaves take about twice the time that this little wonder takes. I love this product so much. I have made this toasting bread, reheating dry stuff and amongst other small tasks very good." 
3. Tefal Toaster Oven 1608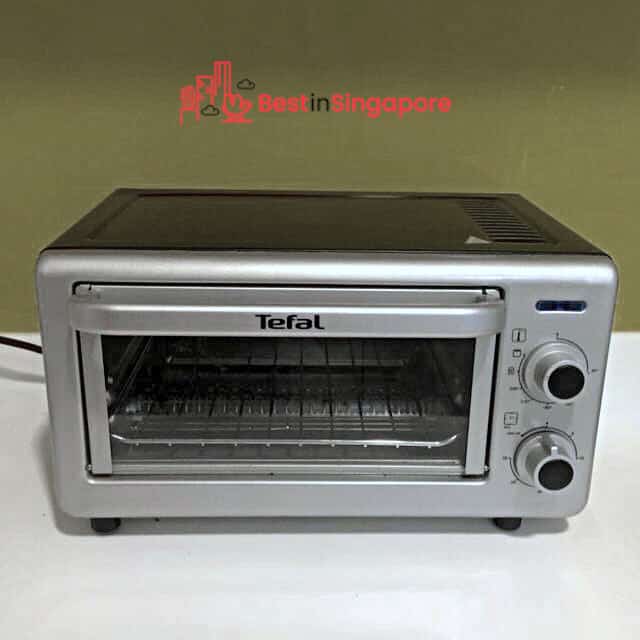 Price: $60.00
Are you having some problems with your current toaster oven because you can only do a few meals and snacks? Then you must try the Tefal Toaster Oven 1608!
This is one of the best toaster ovens in Singapore when it comes to functionality. You can heat up some bread and pizza, bake cookies, and even grill a chicken!
It also has a quartz heat technology that can rapidly heat up your food. Due to its minimal yet functional design, it absolutely fits into smaller areas so you keep your kitchen area organized, spacious, and neat-looking.
Highlights
Rapid heating process
3 in 1 toaster
4. Sona Oven Toaster SM023A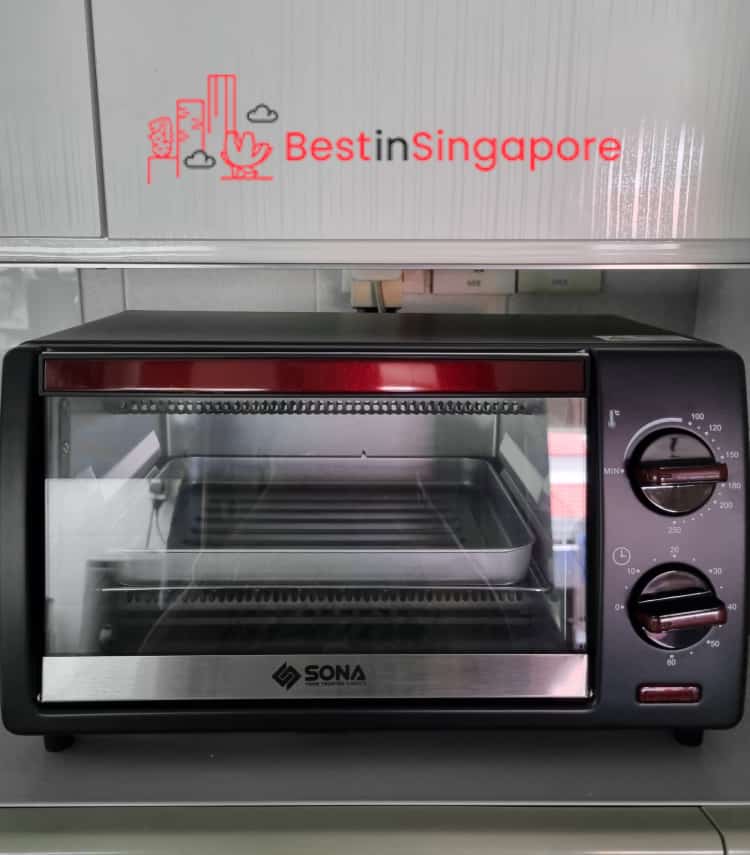 Price: $37.90
Compared to most toaster ovens in Singapore , Sona Oven Toaster SM023A has a larger capacity of 10L and slightly lower power consumption of 800W. This makes it both energy-efficient and practical.
Roasting or toasting with it is simple and easy too. It has two selector knobs and you can see it happen, as the oven has a clear glass panel.
On the whole, it's one of the best toaster ovens in Singapore because it's a great combination of value and quality.
Highlights
Massive capacity of 10L
Clear glass panel
2-year warranty on electrical parts
5. Elite Cuisine EBK-300BL Maxi-Matic 3-in-1
Price: $37.99
Wouldn't it be a wonderful morning if you had a way to prepare your breakfast all at once? What if we told you that a toaster oven can do that for you? Introducing the Elite Cuisine EBK-300BL Maxi-Matic 3-in-1!
Instead of buying a separate coffee maker, you can use this toaster oven for the job. This product functions as a toaster oven, coffee maker, and griddle.
All of this is packed into a minimalistic, compact design. That means it won't cause any space shortage and cleaning hassle in spite of its many features.
Overall, it's one of the best toaster ovens in Singapore for those who don't have a lot of time to spare for their breakfast preparations. This is hands-down the Swiss Army knife of toaster ovens in Singapore!
Highlights
Works as a toaster oven, coffee maker, and griddle
Pause 'N Serve anti-drip feature
Customer Reviews
Elite Cuisine EBK-300BL Maxi-Matic 3-in-1 is a one-of-a-kind product that has captured the interest of many consumers. It has also earned a lot of positive reviews.
A customer from Amazon shared this experience:
"This is such a great little cooking appliance to add into your dorm room. I have used all three functions almost every day ever since I got this. It makes a cup of coffee (you actually have to fill the water up to 2 cups) within a minute and cooks an egg in about 7 to 10 minutes. The oven works great too. I have tried cooking bagels and frozen waffles and they both turned out golden and crisp. I love it. 
6. Tiger Oven Toaster KAJ-B08S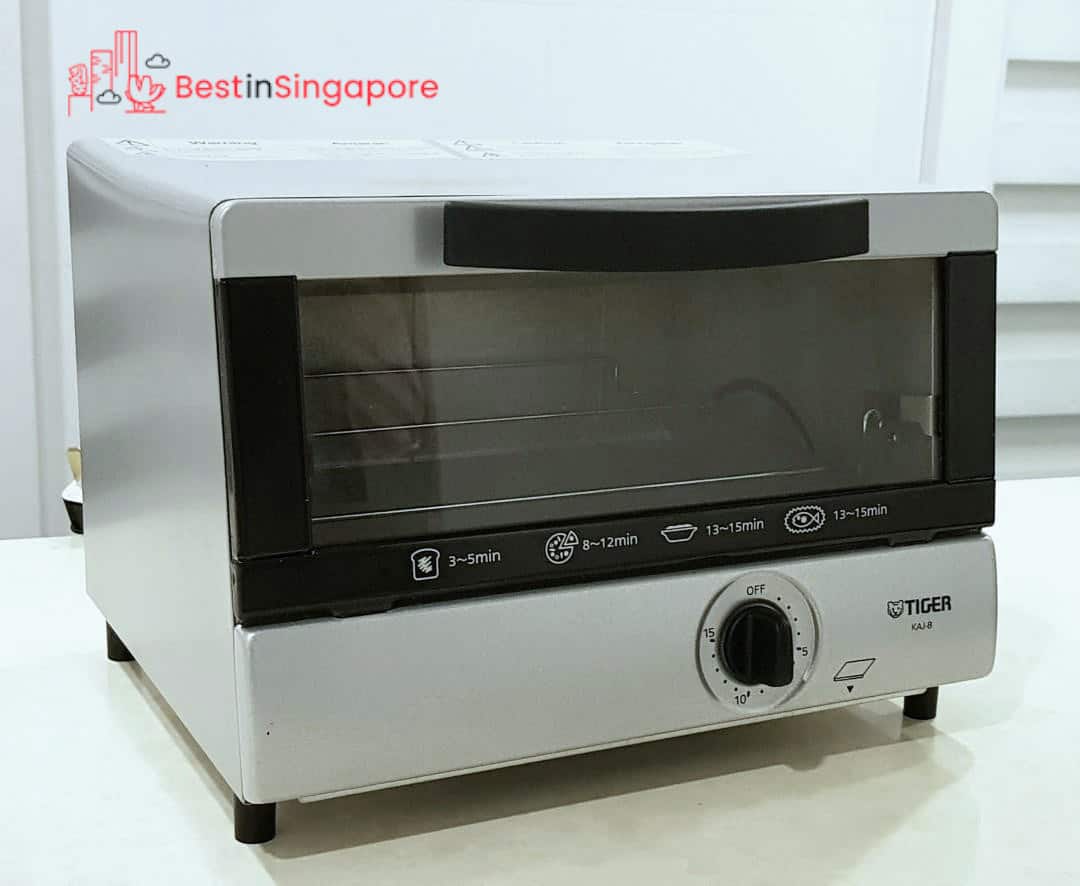 Price: $69.00
Worried about your dish not being completely cooked? Tiger Oven Toaster KAJ-B08S is the perfect solution, then.
Some toaster ovens tend to produce uneven results due to their rack and heating element design. You won't have those problems with this toaster oven, though.
The net-style rack and upper and bottom infrared heaters mean better, more even heating. It also has a balanced high power that creates a soft-inside-but-crispy-outside result.
In short, this is a powerful and well-designed product that deserves to be in the list of hte top toaster ovens in Singapore. You won't regret putting this at the top of your list!
Highlights
Wider tray for cooking variations
Double infrared heaters
Customer Reviews
Tiger Oven Toaster KAJ-B08S has never failed to meet the expectations and cater to the needs of the customers. An Amazon reviewer left this feedback:
"I love this oven toaster. it's easy to take the bread out of it because the oven rack slides forward when you pull the door open. And it's also easy to remove bread crumbs out of the crumbs tray, so you can keep it clean very easily." 
7. Severin TO 2056 Toast Oven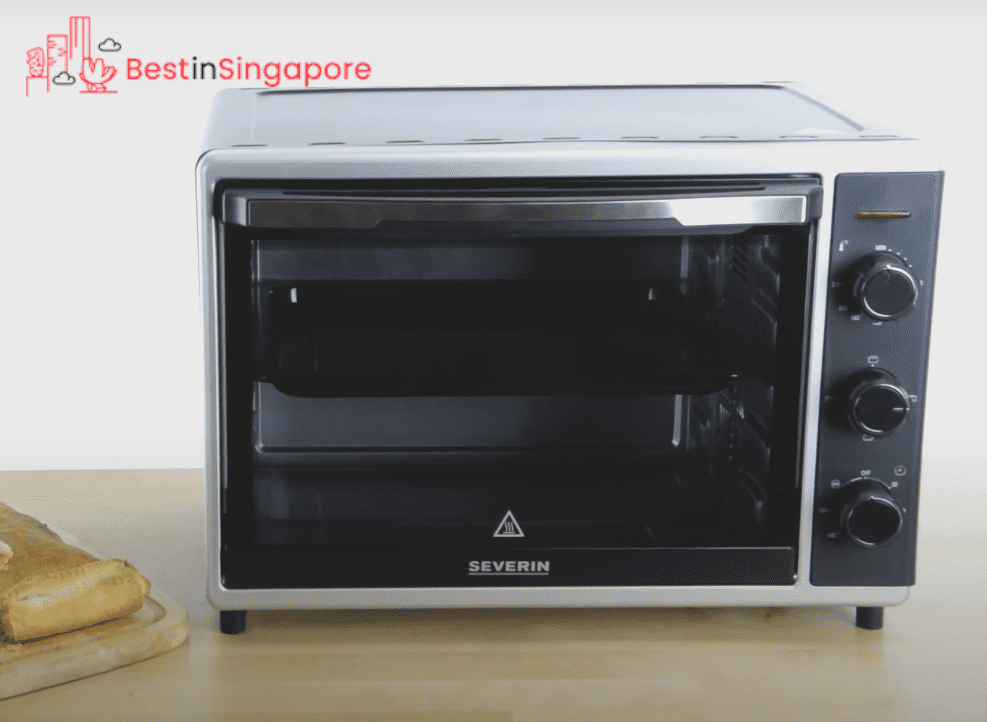 Price: $249.00
Severin TO 2056 Toast Oven is a multifunctional kitchen appliance that can heat, roast, and bake. This makes it the best choice for cooking large pizzas and cakes.
The oven also features 3 variable shelf positions and a detachable crumb tray for a more practical cooking experience. It's larger-than-average oven height also makes it a versatile cooking appliance.
In short, it boasts large capacity, multiple features, and sturdy design. All of these things taken together make it a contender for the title of top toaster oven in Singapore.
Highlights
Heat-resistant painted housing
Grill and baking rack
8. Mayer 24L Air Fryer Oven (MMAO24)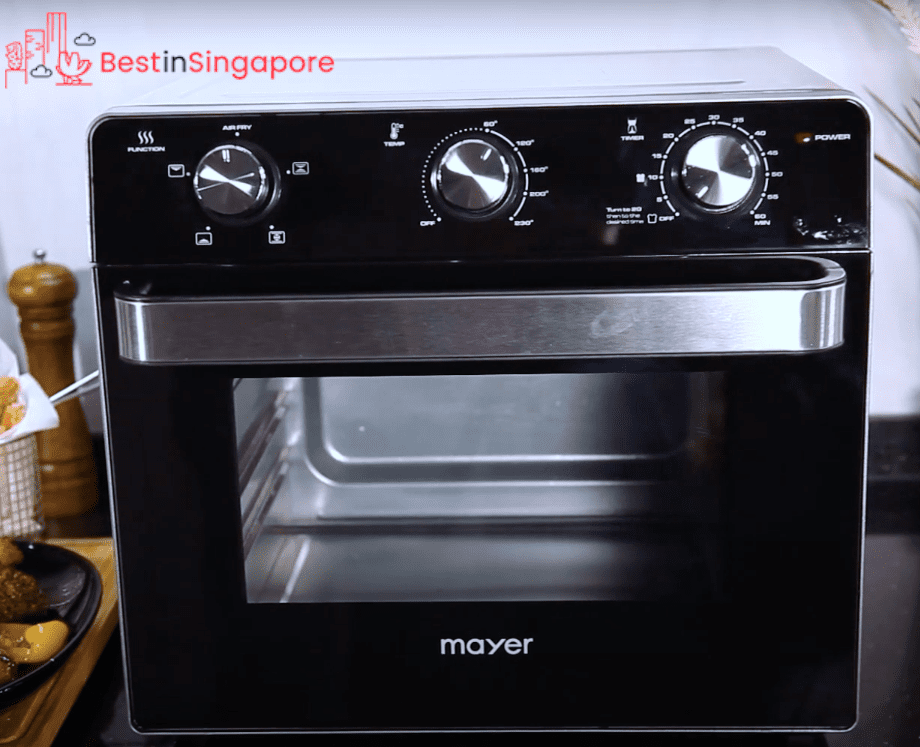 Retail price: $259.00
Why get just a single-purpose oven if you can get yourself a multi-purpose one with an even better functionality? With Mayer 24L Air Fryer Oven, you will never settle for less because it has everything that you will ever need in a fryer and in an oven!
Let's start with how it can handle up to 24L of food products so you can fry everything in just one batch. Plus, it also has five functionalities such as air fry, bottom heat, top heat, top & bottom heat, and top & bottom with fan. 
You can now prepare your favorite air fried healthy snacks, dessert bakes, and wholesome meals without worrying about getting multiple appliances, which may compromise on space within your small kitchen.
This air fryer oven also comes with a wire rack, enamelled baking tray, and air fry basket tray. So, what are you waiting for? Get this good catch now.
Highlights
60 minutes timer

Double glass door

Automatic shut off button

Removable crumb tray

Temperature up to 230°C

Top and bottom stainless steel heating elements

Countertop Convection Oven with built in Air Fryer
9. Mayer 40L Smart Electric Oven (MMO40D)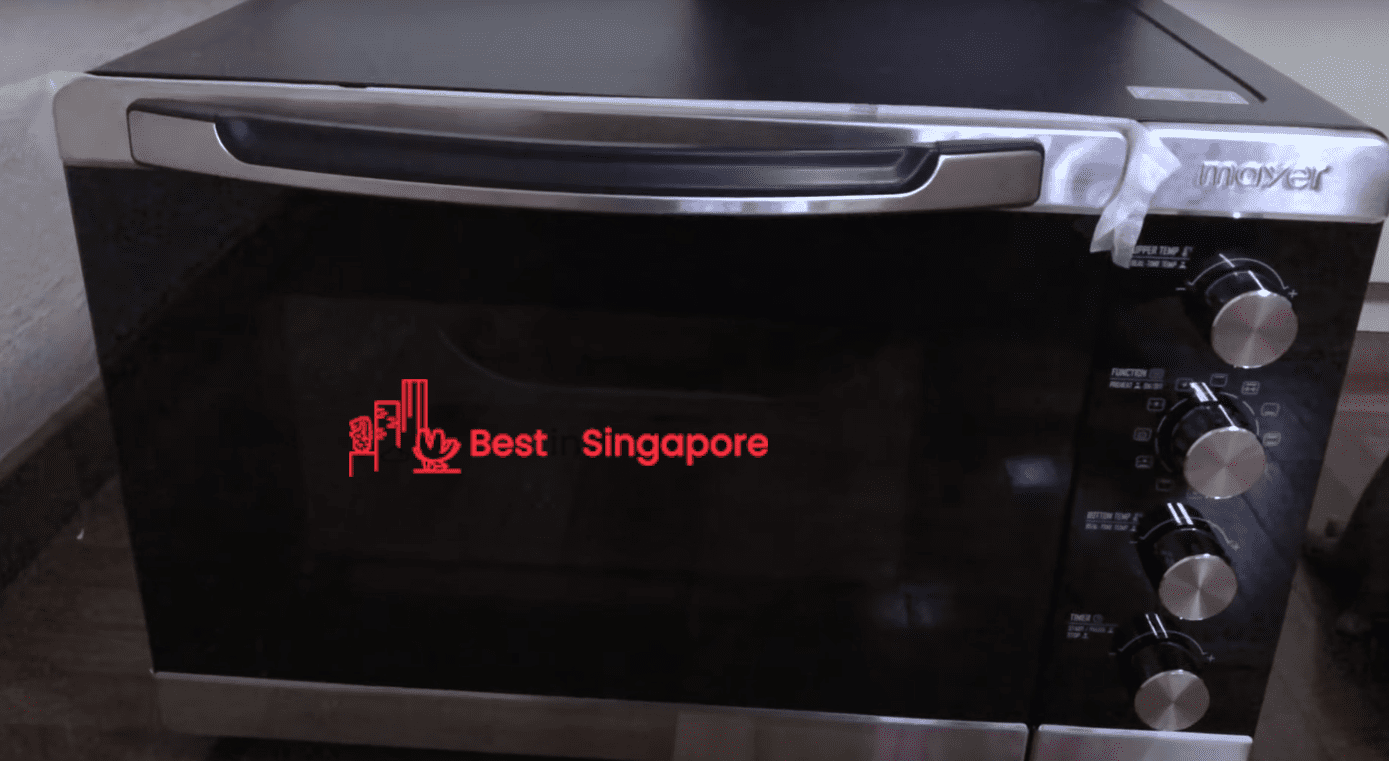 Retail price: $379.00
If you are leaning to appliances and home accessories that are more digital, MMO40D is the best electric oven for you. In fact, it is one of the most popular ovens produced by Mayer due to its digital control functions.
The "U" Shape heating element provides a stable and bigger coverage of heat surrounding which gives even heat distribution and improves energy efficiency.
It is also great for both Convection cooking and Rotisserie function. It's digital control also comes in handy especially when you set the thermostat which is adjustable from 60 – 230 oC.
For high quality and safety purposes, this smart electric oven also has double glass door and 5 minutes power cut off memory function.
Highlights
180 minutes timer

40 Litre capacity

Top, Bottom or Both heat selection

Power indicator light + Internal oven light

12 stage function switch

Real time temperature display

Individual top & bottom heating elements temperature control
10. Toyomi T01212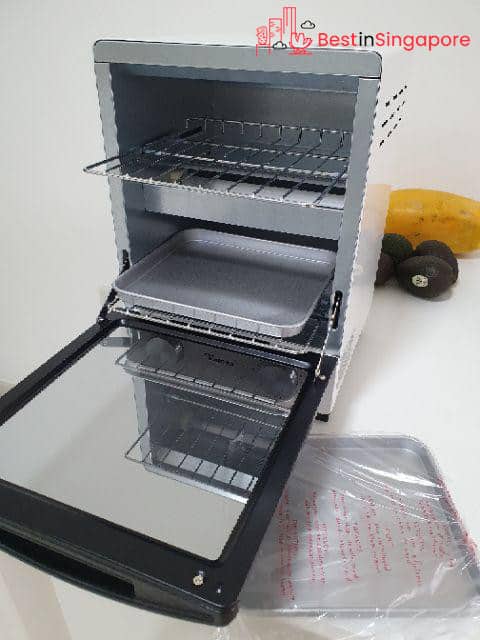 | | |
| --- | --- |
| BEST FOR | Multiple heating / baking |
| COST | SGD 69.00 |
| CAPACITY | 12.0L |
| POWER | 220 – 240V ~ 50/60Hz, Power: 1000W |
| WHERE TO GET IT | Shopee Singapore |
If you're looking for a toaster oven in Singapore that has double decker racks and can heat or bake multiple pastries , pizzas or other goodies, this could be the one for you.
The Toyomi TO1212 is a toaster oven with two bake trays / racks with a large view tempered glass window. It also has a grill large enough for two pizzas or four slices of bread, so this is the best toaster oven in Singapore if you want that 'real oven' feels.
It has a 30-minute automatic timer setting and a built-in thermostat. This is certainly our pick for the best toaster oven in Singapore for large families or if you simply prefer heating or baking multiple batches.
Pros
Sleek design
Offers great value
Cons
A little taller than the usual toaster oven
Customer Reviews
Going through the many customer reviews that the Toyomi T01212 has, it seems evident that many customers are pleased with its performance and that it's a perfect toaster oven in Singapore that makes them feel that they have a mini oven in their kitchen.
Here's one review from a verified buyer and user named beljana120209:
Very fast delivery. Ordered 21 Jun evening, received 23 Jun morning. Very cute oven. Fits nicely in our small kitchen. Comes with two trays (18cm x 16 cm). Height above each grill rack is 6 cm. Got during flash deal, good value. Very happy with the purchase.
And that concludes our list of the 9 best toaster ovens in Singapore right now! These are undoubtedly the ones most worth your money if you're looking to add a toaster oven to your kitchen.
If you disagree, though, tell us why in the comments. Or tell us too if you think there's another toaster oven we should have listed here — and tell us why you think it deserves to be mentioned.
By the way, if it's an addiction to pizza and pizza leftovers that brought you to this list, you may want to check out our list of restaurants with the best pizza in Singapore. No better way to break in your new toaster oven than with a scrumptious slice, right?