17 Best Pizza Places in Singapore: Top Picks for 2021
Whether it's for a night with friends or a Netflix-bingeing date with your significant other, you need the best pizza in Singapore to complete the experience! We certainly think so… which is why we've been testing pizza places on the island for years.
Over the years, the options for pizza-loving Singaporeans have grown, as have the variety of pizzas available here. The only downside to that is that we're now spoiled for choice!
Luckily for you (and our taste buds), we decided to do the research on your behalf. That is, we've sampled the candidates and come up with a list of the places with the best pizza in Singapore!
1. Zazz Pizza

BEST FOR
Wood-fired pizza, pasta, panini, vegetarian dishes
PRICING
From $16 for a Margherita to $36 for a Parma Burrata 
WEBSITE
https://zazzpizza.sg/
ADDRESS

1a Short Street #01-03

Singapore 188210

CONTACT DETAILS

+65 8199 9909

OPERATING HOURS

Monday to Thursday

11:30am to 3pm

5pm to 10:30pm

Friday to Sunday

11:30am to 10:30pm
When someone told me one of the top 10 restaurants on Trip Advisor was a pizza place between Rochor & Dhoby Ghaut I had to check it out. One Parma Burrata pizza later I was converted. I've been back several times since and I have to say this is simply a place for good pizza in Singapore.
At $36 per a Parma Burrata pizza it certainly isn't the cheapest on this list or in Singapore, but it really is just that good. This article wasn't sponsored, but I certainly wouldn't mind if Zazz gave me another pizza because it really is a thing of beauty. 
Service Highlights
Authentic Italian pizza made from scratch
Online ordering and pizza delivery island-wide
Build-your-own-pizza option available
Good selection of vegetarian options
Customer Reviews
Customers praise the consistency of the food's quality as well as the serving sizes. With an overall score of 4.7 on Google Reviews from a whopping 309 raters, you know they must be doing something right.
Here's a review from a pleased customer:
"A great place for delicious pizzas & pastas with generous ingredients topping up with genuine, sincere chef and staffs! Definitely a place to visit again. For anyone thinking of trying, don't hesitate and do give it a try!

Updates: been visiting quite a few times since then and I have found that almost all the items on menu are good! Pay a visit to experience it yourself!."
2. ALT. PIZZA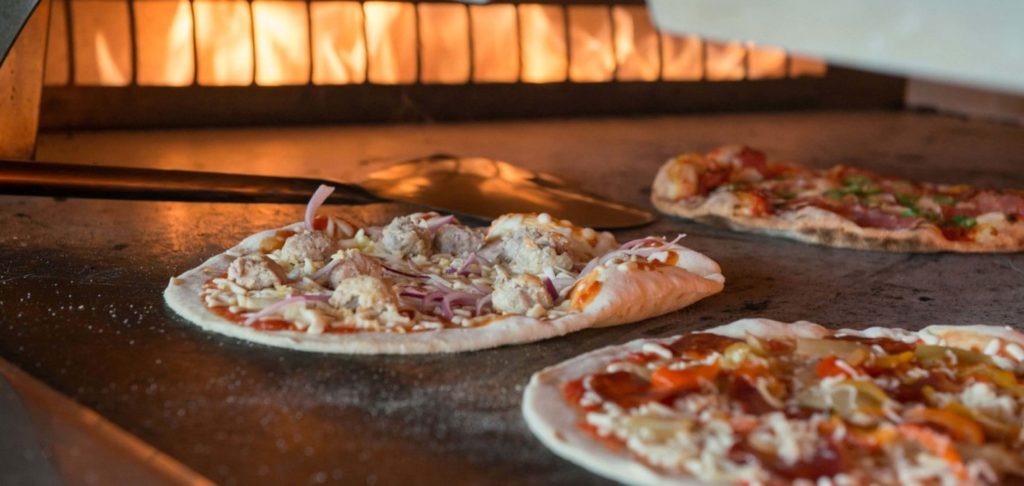 BEST FOR
DIY pizza, affordable American-style pizza
PRICING
Signature Pizza from SG$18, DIY Pizza from SG$16
WEBSITE
https://altpizza.com.sg/
ADDRESS
SUNTEC CITY
01-602 Suntec City Tower 4, Next to Taxi Stand, Singapore 038983
KATONG
117 East Coast Road, Singapore 428805
ROBERTSON QUAYSIDE
01-07, 60 Robertson Quay, Singapore 238252
BALESTIER
312 Balestier Road, #01-01, Singapore 329743
HOLLAND VILLAGE
267 Holland Ave, Singapore 278989
CONTACT DETAILS
SUNTEC CITY – 68369207
KATONG – 62477360
ROBERTSON QUAYSIDE – 67330490
BALESTIER – 62505047
HOLLAND VILLAGE – 62193085
OPERATING HOURS
SUNTEC CITY
11 am- 10 pm everyday
Delivery Hours
11.15 am- 10 pm everyday
*Last order 9:30 PM

KATONG
11 am- 10 pm everyday
Delivery Hours
11.15 am- 10 pm everyday
*Last order 9:30 PM

ROBERTSON QUAYSIDE
Alt. Pizza: 11 am- 10 pm every day, abc Brunch: 11am- 5pm weekdays, 9am- 5pm weekends, PH
Delivery Hours
Alt. Pizza: 11.15am-10 pm everyday
*Last order Alt. Pizza: 9:30 PM, abc Brunch: 4.30PM

BALESTIER
Everyday: 11am–10pm
Delivery Hours
Every day: 11:30am – 10pm
*Last order 9:30 PM

HOLLAND VILLAGE
Everyday: 11am–10pm
Delivery Hours
Every day: 11:30am –10pm
*Last order 9:30 PM
Alt. Pizza is a contemporary pizza restaurant and is one of the top-rated pizza places in Singapore. It has several branches, including an Alt. Pizza in Suntec City.
They serve their innovative Signature pizzas as well as a DIY option if you want complete control over your pizza's toppings or if you want to experiment with the flavours.
Note that you can also order online to get your pizza delivered or head over to one of their branches to enjoy your pizza hot off the oven.
Aside from the DIY pizza, other recommended pizzas are the Dangerous Diego (SG$18), The Hangover (SG$18) and Old School ($18). These are among our picks for the best pizza in Singapore.
Service Highlights
Value for money with set meals, deals, and packages
Online ordering and pizza delivery island-wide
Free delivery every Tuesday for a minimum order of SG$25
Rewards for mobile app users
Customer Reviews
Customers like the sizes of the pizza since it's good for big groups to share. They also praise the affordable prices, set deals and contemporary flavours.
According to Guang Yi Chua:
"As a New Yorker, I grew up eating awesome pizza and since coming to Singapore, this is one of the better pizza joints I've been to. They have a good selection of flavours, and I personally like the Truffle Shuffle and the Hangover pizzas. They're reasonable in terms of price at around $18 each, and they run good day long and lunch promotions as well. Also, they have a good and free loyalty program so make sure you check that out as well."
3. BLUE LABEL PIZZA & WINE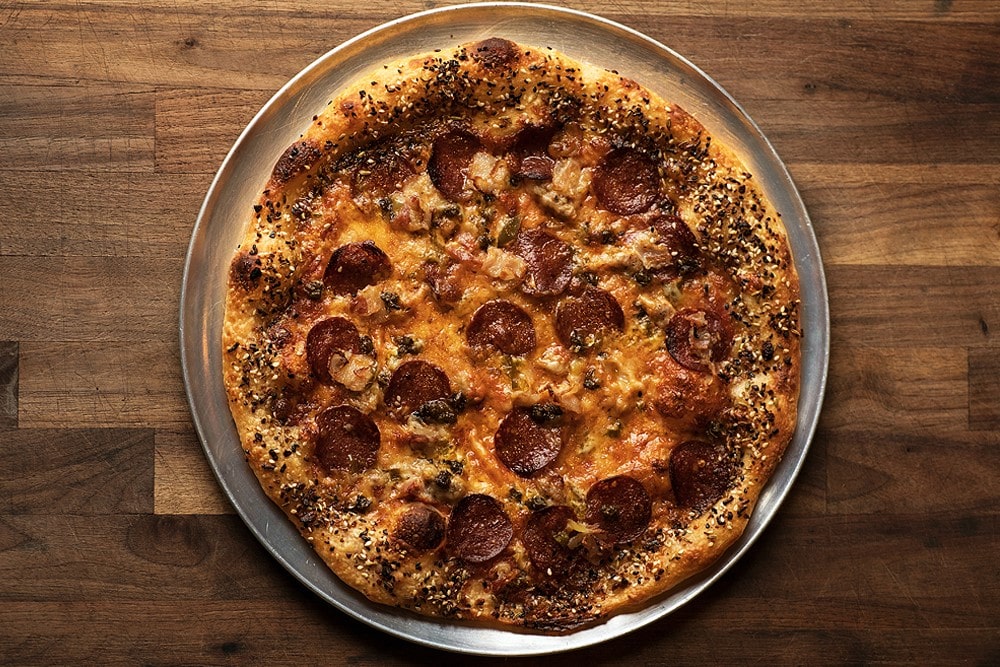 BEST FOR
J-Dog pizza (SG$35), the original Famous Five-Cheese pizza (SG$28)
PRICING
From SG$28
WEBSITE
https://www.bluelabelpizza.com/
ADDRESS
ORCHARD ROAD
333A Orchard Road, #03-02 Mandarin Gallery
Singapore 238897

ANN SIANG ROAD
28 Ann Siang Road
Basement 1 Singapore 069708
CONTACT DETAILS
ORCHARD ROAD
[email protected] | Takeaway Orders – 9785 7799

ANN SIANG ROAD
[email protected] | Takeaway Orders – 9821 9362
OPERATING HOURS
ORCHARD ROAD
Mon to Sun 11:30am till 11pm.
(Last order 10pm)

ANN SIANG ROAD
Mon to Fri Lunch 12pm to 2pm.
Mon to Sat Dinner 6pm till late.
Closed on Sundays.
Blue Label Pizza & Wine is a modern-day neighbourhood pizzeria with a lively 70s and 80s rock playlist. They have two locations, Orchard Road and Ann Siang Road.
These have limited seating, so they recommend reservations made through their website. If not, prepare to wait for a bite of some of the best pizza in Singapore.
Due to their vibrant atmosphere, Blue Label has been a favourite pizza restaurant in Singapore for groups and fun gatherings.
Service Highlights
Thoughtfully-curated wine list
Curated selection of beers
Gift vouchers you can have delivered to desired location or via self-collection
Takeaway option for people on the go
Customer Reviews
Customers in Google Reviews rave about their delicious pizza, chill ambience, and great service. Apart from the pizzas, they also recommend buffalo wings and the kale salad.
Here's what Koushik Pal has to say:
"Definitely among the best Pizza joints in Singapore. Menu is innovative, not the usual stuff you get everywhere, selection of wine is also great"
4. BELLA PIZZA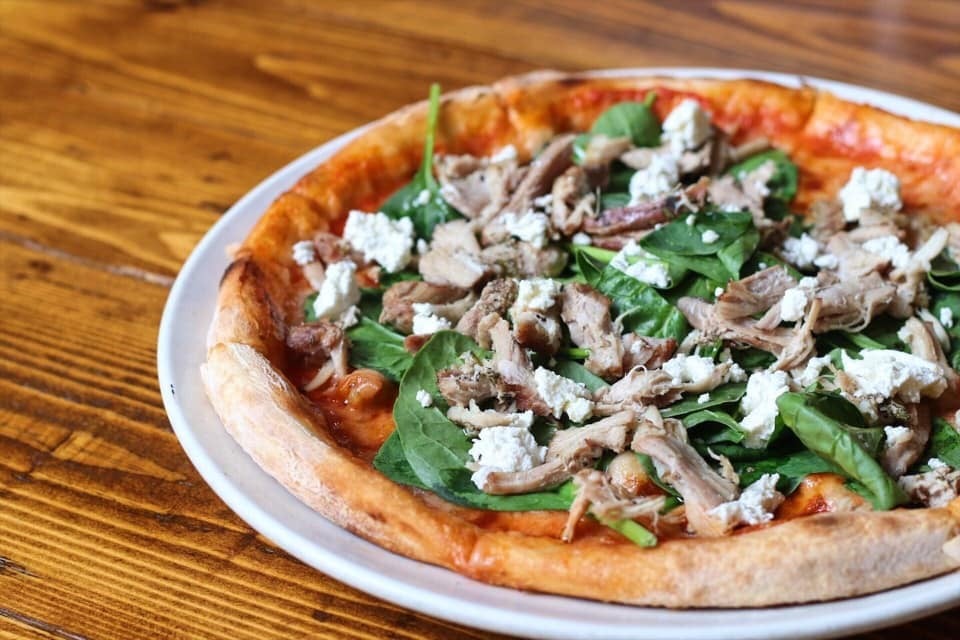 BEST FOR
Sicilian pizza boats, classic red and white pizzas
PRICING
Red Pizzas from SG$18, White Pizzas from SG$22, Folded Pizzas from SG$20, Sicilian Boats at SG$26
WEBSITE
https://www.bellapizza.com.sg/en/
ADDRESS
30 Robertson Quay, #01-14 Riverside View, Singapore 238251
CONTACT DETAILS
(65) 6734 0139   |   [email protected]
OPERATING HOURS
Tues-Thur: 12noon – 3pm, 6- 11pm
Fri, Sat & Public Hols: 12noon – 3pm, 5.30pm-11.30pm
Sun: 11.30am-3pm, 5.30-11pm
Closed on Monday
Since opening in 2007, Bella Pizza has become one of the go-to pizza places in Singapore. Bella is Italian for beautiful, which is in line with their aim of creating beautifully crafted and flavoured Neapolitan-style pizzas.
Their dough is prepared by hand on a daily basis by their team of experienced pizzaiolos. Their most recommended pizzas are the signature Bella Pizza (SG$26), Pizza Burrata ($28) as well as their Sicilian pizza boats.
Service Highlights
Accepts reservations
Offers takeaway and delivery via Deliveroo
Accommodates private events
Indoor and outdoor seating facing the historic Singapore river.
Customer Reviews
The positive reviews they got from Google are mostly because of their yummy pizzas, which many consider some of the best pizza in Singapore. They're also praised for the restaurant's atmosphere and friendly staff.
Rameez Reza wrote:
"Would rate it amongst the best pizzas I've had in Singapore. Friendly staff, good service and great ambience."
5. LA NONNA @ HOLLAND VILLAGE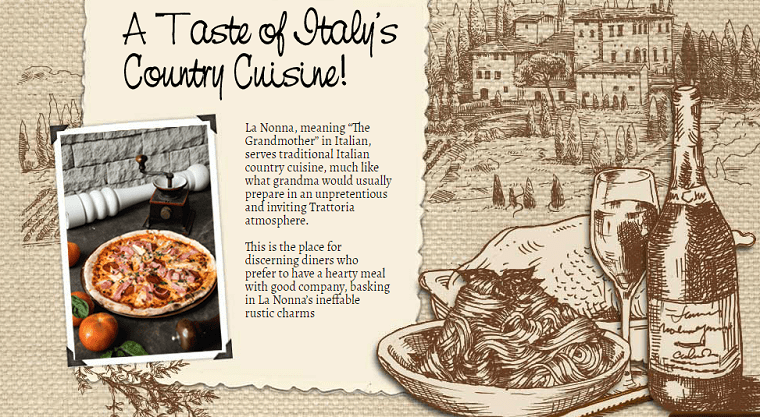 BEST FOR
Traditional Italian pizza
PRICING
From SG$422.50
WEBSITE
http://lanonna.sg/
ADDRESS
26/26B Lorong Mambong, Singapore 277685
CONTACT DETAILS
6468 1982 / 6468 2616 | [email protected]
OPERATING HOURS
Mon-Fri| 12.00-14.30 & 18.00-22.30
Sat & Eve of PH| 12.00-23.00
Sun & PH| 12.00-22.30
La Nonna, meaning "The Grandmother" in Italian, serves traditional Italian country cuisine, including authentic Italian pizza.
And, just like grandma's cooking, the food here is prepared in a warm, inviting and unpretentious environment. Come here for a cosy dining experience while sampling some of the best pizza in Singapore.
Their signatures include the La Nonna Pizza (SG$24.50), Crab meat Linguine, Agnello (Oven Roasted Lamb Rack) and the classic Tiramisu.
Service Highlights
Online reservations
Home delivery via Honest Bee and Deliveroo
Rustic, inviting ambience
Seasonal specials
40-seater private area for exclusive gatherings, bespoke set menus are available upon request
Customer Reviews
Their attentive service, generous portions, value for money, and delicious pizza has earned them rave reviews on Google. James Tan wrote:
"Great place for fantastic Italian food! Pasta or pizza, you won't be disappointed. Not sure if they're still running those 1-1 deals but they're incredible value! Definitely one of the places I go back to for Italian food. The place is reasonably well lit, not cramped and has a great atmosphere! You won't regret it."
6. SPIZZA

BEST FOR
Thin-crust pizza
PRICING
From SG$17, Pizza Delivery from SG$21
WEBSITE
http://www.spizza.sg/
ADDRESS
Spizza Bukit Timah
271 Bukit Timah Road
Balmoral Plaza #01-09
Tel: 6333 8148

Spizza Jalan Kayu
269 Jalan Kayu
Tel: 6481 2453

Spizza Havelock
(Take Away Only)
Blk 22 Havelock Road
#01-677
Tel: 6377 7773

 Spizza Pandan Loop
(Take Away Only)
207B Pandan Loop
Tel: 6778 2246
CONTACT DETAILS
Delivery – 6377 7773  
OPERATING HOURS
Spizza Balmoral Plaza & Spizza Jalan Kayu
Dine-in and Take Away Operating Hours
12pm to 2.30pm & 6pm to 10.30pm, Mon – Fri (last food order at 2.30pm and 10.30pm)
12pm to 10.30pm, Sat, Sun & PH (last food order at 10.30pm)

Delivery Operating Hours
Lunch: 11.45am – 2.30pm,  Mon – Fri (last order at 2.30pm)
Dinner: 6.30pm – 10.30pm,  Mon – Fri (last order at 10.30pm)

All day: 12.30pm – 10.30pm,  Sat, Sun & PH (last order at 10.30pm)
Spizza offers affordable yet authentic wood-fired, thin-crust pizzas that are some of the best pizza in Singapore. They also have tasty Italian dishes that can satisfy the discerning palates of the most finicky Singaporeans.
They only bake their pizzas upon order too, which is always good news for foodies. And, since they have several strategically located branches across Singapore, they're able to provide island-wide delivery while maintaining the freshness of their pizzas!
Spizza is absolutely a crowd-favourite for the best thin crust pizza in Singapore. 
Service Highlights
Online orders for island-wide delivery
Dine-in reservations
Multiple awards and accolades
Specials and promotions for extra savings
Family-friendly events, such as pizza-making classes
Customer Reviews
Singaporeans left positive reviews for La Nonna at Google. They mention reasonable prices, good ambience, great services, and delicious wood-fired pizza as the reasons for their high rating.
Here's what George Lin has to say:
"According to my Italian friend, this place is the closest you can get to authentic Italian pizza. Quality-wise, they did not disappoint. These pizzas are cooked in a wood-fire oven and are great.
The staff are also friendly, and the ambience is great. Would recommend pizza lovers to drop by."
7. PIZZA FABBRICA
Pizza Fabbrica serves all your authentic Italian food faves, including homemade pastas, risotto and their pièce de résistance – wood-fired pizzas. One look at their authentic pizzas should convince you that they're some of the best wood fired pizza in Singapore.
For beverage, customers can enjoy a curated selection of craft beers and quality wines.
Delivery and reservations are both available, so you can dine in their elegant and modern restaurant or opt to chill at home while waiting for your delicious pizza.
Service Highlights
Offers takeaway and delivery
Curated craft beer and wine selection with recommendations on pairings
Modern, minimalistic interiors for fuss-free dining
Interesting, innovative flavours alongside classic flavours
Customer Reviews
People like the lively environment of the restaurant's location, which adds to the dining experience. As for the pizzas, customers love the authenticity, affordable prices, and generous serving.
Here's what Fang Hui Teh has to say:
"Damn good pizza; dough was light, and chewy, parmesan shavings were just right, and the onions-pickled we think, were also nicely placed. All the ingredients were obviously considerately placed (we had the impossible pizza)
The pancetta cuts were delicious, and nicely thin as well."
8. PEPERONI PIZZERIA

BEST FOR
Wood-fired pizzas, XXL 21-inch pizzas
PRICING
From SG$19
WEBSITE
https://www.peperoni.com.sg/
ADDRESS
Peperoni @ GREENWOOD
6 Greenwood Avenue, Hillcrest Park, Singapore 289195

Peperoni @ FRANKEL
95 Frankel Avenue, Singapore 458221

Peperoni @ ZION
56 Zion Road, Singapore 247781

Peperoni @ SUNTEC
3 Temasek Boulevard, #B1-130, Singapore 038983

Peperoni @ BIOPOLIS
10 Biopolis Road, #01-01, Chromos Block, Singapore 138670

Peperoni @ THOMSON
267 Upper Thomson Road, Singapore 574394

Peperoni @ BOTANIC
Casa Verde, 1 Cluny Road, Singapore Botanic Gardens Visitor Centre, Singapore 259569
CONTACT DETAILS
Peperoni @ GREENWOOD
(+65) 6465 6556 | [email protected]

Peperoni @ FRANKEL
(+65) 6445 5661 | [email protected]

Peperoni @ ZION
(+65) 6732 3253 | [email protected]

Peperoni @ SUNTEC
(+65) 6884 7737 | [email protected]

Peperoni @ BIOPOLIS
(+65) 6478 9091 | [email protected]

Peperoni @ THOMSON
(+65) 6509 1575 | [email protected]

Peperoni @ BOTANIC
(+65) 6467 7326 | [email protected]
OPERATING HOURS
Closed on certain holidays. Please call to enquire.

Peperoni @ SUNTEC
(Peperoni Suntec does not accept reservations on Fridays, Saturdays, Sundays, eve of Public Holidays and Public Holidays)
Mondays to Sundays: 11am to 10pm
Closed from 3pm to 5pm on Mon to Fri
Last Orders: Lunch at 2.30pm | Dinner at 9.30pm

Peperoni @ BIOPOLIS
Mondays to Sundays: 11am to 10pm
Closed from 3pm to 5pm on Mon to Fri
Last Orders: Lunch at 2.30pm | Dinner at 9.30pm

Peperoni @ BOTANIC
Mondays to Sundays: 4pm to 10pm
Last Orders: 9.30pm

Other Branches
Mondays to Saturdays: 12pm to 11pm | Sundays: 11am to 11pm
Closed from 3pm to 5pm on Mon to Thurs
Last Orders: Lunch at 2.30pm | Dinner at 10.30pm
Opened in 2004, Peperoni Pizzeria has been serving heart-warming wood-fired pizzas and traditional pastas years. This is one of the top pizza places in Singapore to dine over chilled drinks with friends and families. 
This family-friendly pizzeria is committed to bringing people together, binding relationships, and savouring life's culinary delights. It also offers some of the best pizza in Singapore for those who like their pizza large.
Service Highlights
Provides reservations as well as delivery
Huge, XXL pizzas
Family-friendly
Customer Reviews
Customers like to take the family here because of the friendly environment and the massive XXL pizzas (which are great for sharing with a big group). Their wide range of pizzas and affordability are likewise praised.
Here's a helpful review from Roland Hamann:
"Great pizza and pasta for a reasonable price. The pizza comes in 3 sizes so one can easy share it with others. You can also mix the toppings i.e. half Peperoni and half fungi or whatever you like. They also offer a children's menu which is really convenient, and the portions are good sized. The restaurant is casual, and children are welcome. There is outdoor and air-conditioned inside seating, but I recommend you having reservations on a weekend night out since it can get busy."
9. PIZZAEXPRESS

BEST FOR
Vegetarian pizza, sustainable eats
PRICING
From SG$14
WEBSITE
https://www.pizzaexpress.sg/
ADDRESS
Scotts Square
Scotts Square, Unit B1 08/09, 6 Scotts Road, Singapore, 228209 (Orchard MRT)

DUO GALLERIA
7 Fraser Street, #01-01/02, Duo Galleria, Singapore 189356

HOLLAND VILLAGE
251 Holland Avenue, Holland Village, Singapore 278981

MARINA ONE
5 Straits View, #01-20/21, Marina One, Singapore 018935

CENTURY SQUARE
2 Tampines Central 5, #02-20 & 27 Century Square, Singapore 529509

JEWEL CHANGI AIRPORT
#03-230, 78 Airport Blvd, Singapore 819666
CONTACT DETAILS
Scotts Square
65 6538 0083 | [email protected]

DUO GALLERIA – 65 6702 1514
HOLLAND VILLAGE – 65 6463 0783
MARINA ONE – 65 6581 9283
CENTURY SQUARE – 65 6260 6383
JEWEL CHANGI AIRPORT – 65 6245 9522
OPERATING HOURS
JEWEL CHANGI AIRPORT
OPEN DAILY
MONDAY – SUNDAY
10:00AM – 10:00PM

OTHER BRANCHES
OPEN DAILY
MONDAY – SUNDAY
11:30AM – 10:00PM
If you're looking for vegetarian pizza in Singapore that does not sacrifice in taste and quality, your search stops now.
PizzaExpress traces their passion for Italian food to founder Peter Boizot and his love affair with Italy. The story starts, interestingly enough, in London.
Boizot was unhappy with the pizza in London, so he shipped over a real pizza oven, knocked down a wall to squeeze it into a small restaurant, and opened the very first PizzaExpress on Wardour Street in Soho.
Now, Singaporeans can enjoy delicious Italian pizza made from sustainably-sourced ingredients. For added savings, you can sign up for their offers and promotions.
PizzaExpress also wins our vote for most accessible pizza in Singapore. With their numerous stores around the island, anyone searching for 'pizza near me' will not be disappointed.
Service Highlights
Free-flowing drinks on weekends at just SG$40
Stylish restaurants
Accepts reservations, takeaway, and delivery options
Kid-friendly
Customer Reviews
People left high ratings for PizzaExpress on Google. They enjoyed the tasty pizzas, which they called well-made.
As one reviewer wrote, despite the express word on the brand, it is not a fast food joint, so diners get top-notch quality Italian food. Rachel Wong wrote:
"Very good pizzas and good service as well. Used my 1 for 1 deal on entertainer so it was well worth the price. RTP is around $20-30 per pizza. Will come back to try the pasta too."
10. LIMONCELLO PIZZA & GRILL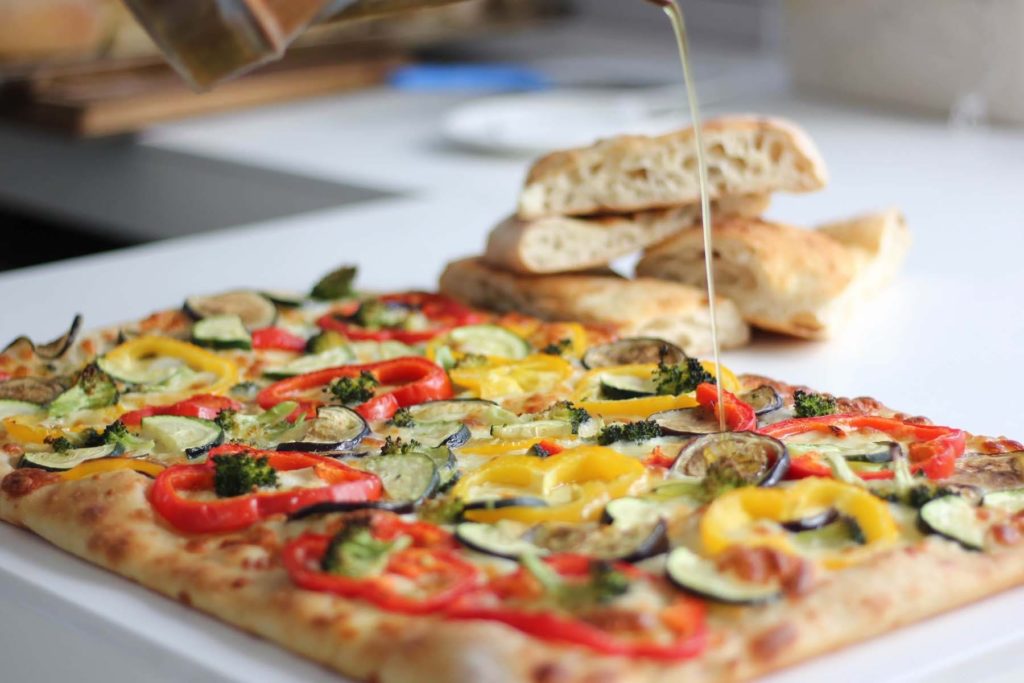 BEST FOR
Traditional Neapolitan-style pizzas
PRICING
From SG$19
WEBSITE
https://www.limoncello.sg/
ADDRESS
95 Robertson Quay, Rivergate Condominium, #01-19/20, Singapore 238256
CONTACT DETAILS
(+65) 6634 5117 | [email protected]
OPERATING HOURS
JEWEL CHANGI AIRPORT
OPEN DAILY
MONDAY – SUNDAY
10:00AM – 10:00PM

OTHER BRANCHES
OPEN DAILY
MONDAY – SUNDAY
11:30AM – 10:00PM
Limoncello Pizza & Grill serves finely-crafted Italian cuisine to Singaporeans using only the freshest ingredients from around the world. The flavours are inspired by the amazing tastes from the Amalfi Coast.
Their traditional Neapolitan style and wood-fired pizzas are popular among customers. They accept reservations as well as private dining for groups.
If you're after the best pizza in Singapore that's Neopolitan in style, we highly recommend Limoncello Pizza & Grill.
Service Highlights
Option for private dining
Off-peak deals and other big promotions
Great location
Excellent wine selection
Family-friendly
Customer Reviews
Google Reviews give them top marks for good food, location, and service. Zuzi Wayne remarked:
"Fantastic Italian! Great location! Food was outstanding with varied menu. Great for family and big groups. Wine option is good too."
11. THIN CRUST PIZZA BY KEVINBAKERY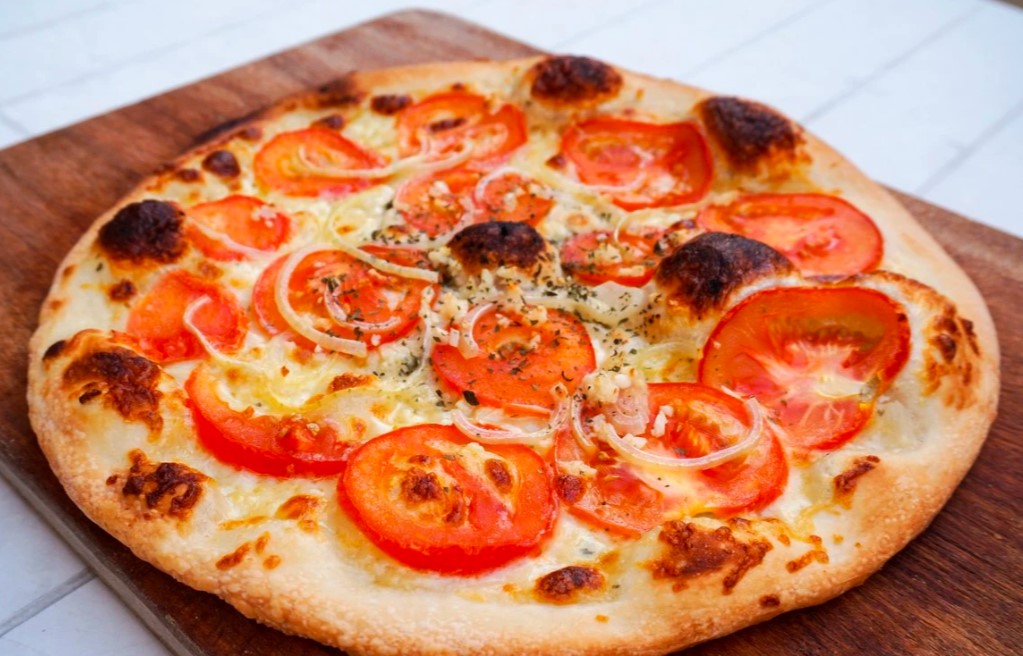 BEST FOR
Authentic wood-fired Italian pizzas
PRICING
From SG$16
WEBSITE
https://kevinbakery.com/
ADDRESS

121 MEYER RD, THE MAKENA, #01-07. (S)437932

CONTACT DETAILS

Hotline: 6348 7174 | Email: [email protected]

OPERATING HOURS

OPENS DAILY 12PM — 10PM,
SAT & SUN & P.H. 12PM — 10PM
CLOSED ON MONDAYS
THIN CRUST PIZZZA by KevinBakery is a pizza joint in Katong. They're famous for their secret-recipe, signature thin crust pizzas. Started in 2007 with a simple idea: to make homely, hand-crafted quality food such as pizzas awesome and widespread — that people would come back to often.
Service Highlights
Menu includes pizzas, sides, combo sets, beverages, bakery, and burgers
Delivery is available 
Customer Reviews
Facebook recommendation from Lee Irene:
"Best thin crust pizza in Singapore! Kevin uses fresh ingredients n it's always freshly baked without the use of frozen crust!! It's quality good n very well-liked by people who have tried it!! Not just pizza, there's sides like truffle fries, spicy chicken winglets n home made ice-cream n coffee!! In addition, wholemeal bread which is freshly baked without preservative only sold on Thursdays! It's simply amazing artisanal foodie!!"
12. AL FORNO (EAST COAST)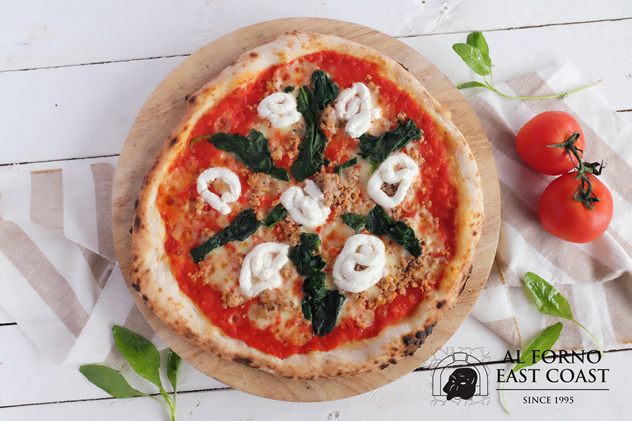 BEST FOR
Wood fire oven pizzas
PRICING
From SG$23
WEBSITE
http://alfornoeastcoast.com.sg/
ADDRESS
400 East Coast Road, Singapore 428996
CONTACT DETAILS

[email protected]
Tel: +65 6348 8781
Fax: +65 6348 8591

OPERATING HOURS
Contact for more information
Al Forno East Coast lets you enjoy casual dining in a warm, festive atmosphere of Napoli created by the hands of Italians. Set up in 1995, Al Forno East Coast is also the first Italian restaurant in Singapore to import fresh ingredients like whole peeled tomatoes and cheeses directly from Italy. They prepare every dish with your expectations in mind, complementing these with the best ingredients.
With over 20 years' history of making authentic pizza in Singapore, Al Forno has definitely been a legendary pizza establishment in the island. Their Italian pizza-maker bakes with a traditional wood fire oven (Al Forno) that gives a splendid taste to their pizzas and fresh bread that you can only find in a true traditional Italian Restaurant.
Service Highlights
Open for lunch and dinner 
Delivery is available
Booking for weddings, events, and corporate meetings
Customer Reviews
Delia Linle's 5-star Google Review:
"The food tasted authentic and genuine. I would definitely recommend my friends and family to go because they do not disappoint. The Burrata is fresh and creamy. The pizza crust is well baked, crispy yet the inside is still flavourful. i would also recommend the gnocchi pesto pasta as the pesto was really exquisite!
I would definitely say that this restaurant is quite dynamic, it welcomes family brunches, a casual business meeting and friends to get together. it is comfortable enough to get carried away conversation with your companions."
13. AMÒ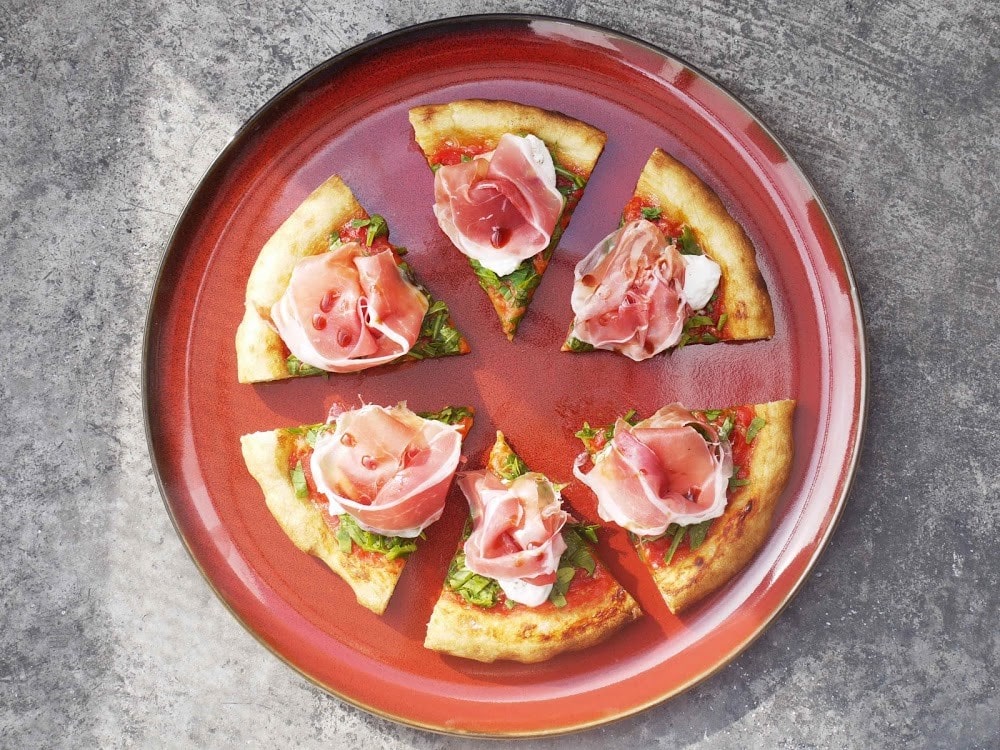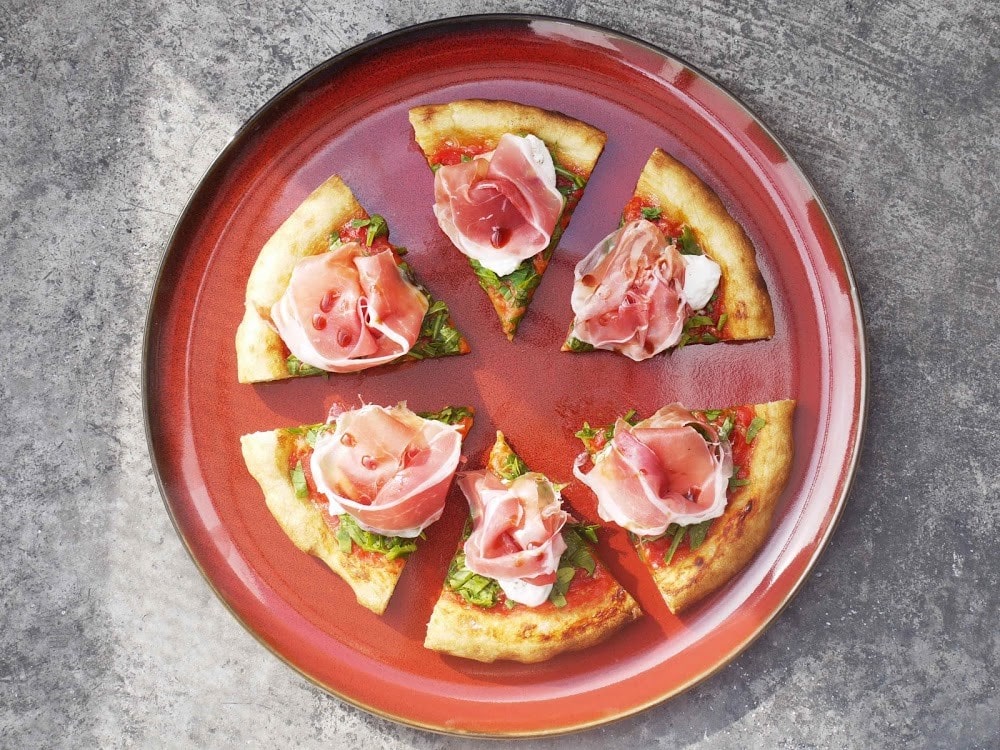 BEST FOR
Authentic wood-fired Italian pizzas
PRICING
From SG$18
WEBSITE
http://www.amorestaurant.sg/
ADDRESS
33 HONG KONG STREET
SINGAPORE 059672
CONTACT DETAILS
67237733 | [email protected]
OPERATING HOURS
Daily
Lunch: Noon to 2:30pm
Dinner: 6pm to 11pm
Amò is a casual Italian concept by Michelin Star Chef-Restaurateur Beppe De Vito. It occupies a sprawling shophouse space that offers huge versatility to its services.
It can cater to intimate events, relaxed celebrations or lively parties of all sizes. They serve authentic Italian food, including delicious wood-fired pizzas.
The open kitchen allows customers to witness the chef tossing the pizza dough, ensuring each pizza is prepared fresh and served hot off the oven.
Service Highlights
Accepts reservations
Gluten-free options
Options for indoor dining, private dining and alfresco courtyard
Group-friendly menus
Amò Pizza Kit for your own artisanal homemade pizza
Customer Reviews
One Google review describes their food as "better than great Italian cuisine". Service, nice portions and a nice atmosphere likewise give them top marks from customers.
Alice Le wrote:
"Very impressed with the beautiful ambience, impeccable food that were so delicious and unique, and the extremely fast serving time (it was a weekday and the place was 70% full). Bone marrow pizza is a must try! And oh, wow the seafood linguine left me wanting for more! I will definitely go back for more."
14. EXTRA VIRGIN PIZZA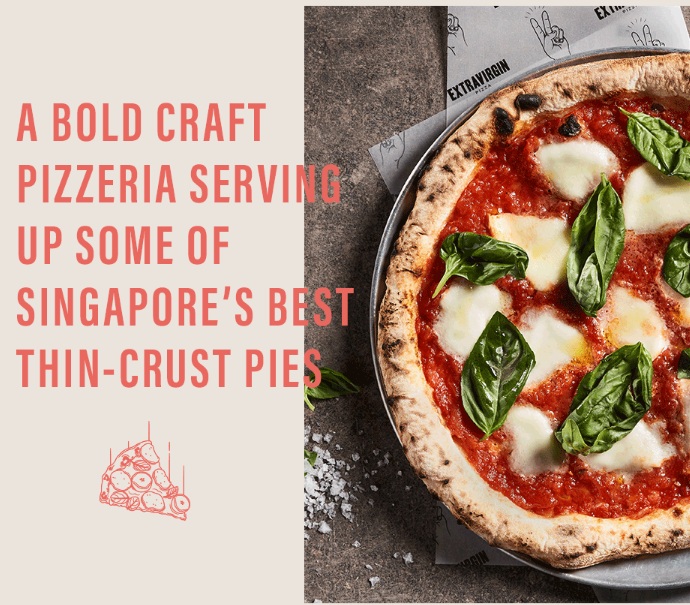 BEST FOR

Thin-crust pies

PRICING

WEBSITE

ADDRESS

#01-04 Asia Square Tower 1 Singapore 018960

CONTACT DETAILS

+65 6247 5757 | [email protected]

OPERATING HOURS

Monday – Friday: 11am – 9:30pm

Saturday: 5-9pm

Closed on Sundays & public holidays
Indulge yourself with some of the best tasting artisanal thin-crust pizzas in Singapore specially brought to you be Extra Virgin Pizza. The restaurant was the first to import Italian Caputo 00 flour, backed with their skills and expertise to achieve pizza perfection. 
They also make their service even better by offering pizza delivery. So, you can simply skip the line, just chill at home and wait for your pizza to be delivered. Dine in or to go, Extra Virgin Pizza guarantees to serve your orders steaming hot, freshly baked from their twin Woodstone ovens.
Service Highlights
Uses unbleached and unbromated flour

Offers delivery in retail and for parties

Accommodates private events

Worldclass ingredients
Customer Reviews
Lots of locals and tourists have enjoyed every dish served to them by Extra Virgin Pizza. The authenticity and richness in flavour truly blow them away, backed with the restaurant's friendly and warm environment.
"The crust is thin luckily not too thin with a very chewy texture. You can immediately tell it's hand-made. Ordered 3 to go pizzas on the Sunday night – Margarita, Roasted Shrooms and Brocolini & sausage. Very satisfied with it. No reason to say you don't like it."
15. CARUSO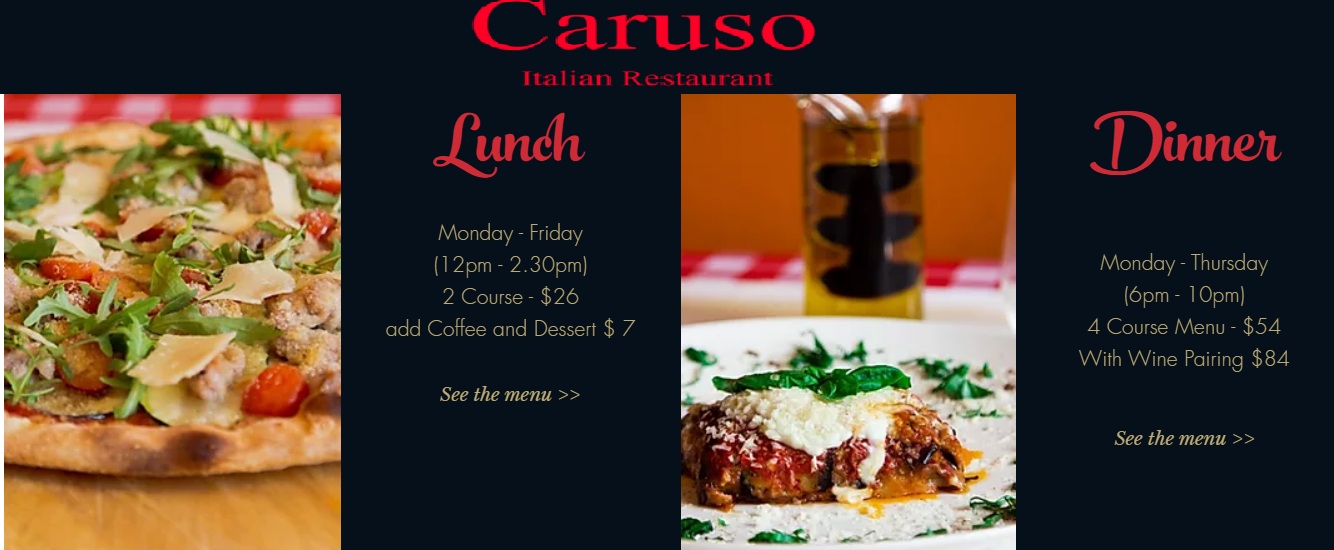 BEST FOR

Authentic Italian Menu

PRICING

WEBSITE

ADDRESS

#01-01 791 Bukit Timah road Singapore 269764

CONTACT DETAILS

6469 7508 | [email protected]

OPERATING HOURS

Everyday

 

12pm – 2.30pm

6pm – 10.30pm
When we speak of Italian Food, pizza automatically comes in our top list. Caruso offers authentic Italian cuisine and pizza is one of their specialities. 
Topped with fresh herbs and premium quality meats and cheeses, Caruso's pizza is truly one of Singapore's favorites.
Have a bite of one of Singapore' finest and let Caruso take you to Italy through their freshly baked pizza. You can also complement this with their other Italian dishes for a full packed experience.
Service Highlights
Fresh and fine ingredients

Allows reservations

Open for customers everyday
Customer Reviews
WIth 4.3-rating and 159 reviews, it is undeniable that Caruso offers some of the best tasting authentic Italian dishes in Singapore. Together with their place's wonderful ambiance and staff's accommodating approach, their customers really tag Caruso as one of the best places to eat in Singapore.
"Food is authentic; the owner is personally on the floor ensuring that everything runs smoothly. 
Price wise it is fair. 
I often go to Caruso with Italian friends, overall a consistent good experience."
16. Pano Kato – House of AnLi

BEST FOR

Greek Mediterranean Cuisine

PRICING

WEBSITE

ADDRESS

163 Tanglin Road #02-23 Tanglin Mall, Singapore 247933

CONTACT DETAILS

6235 5056
[email protected]

OPERATING HOURS

Daily from 11am till 10pm
Pano Kato is a restaurant that specialises in serving Greek Mediterranean dishes of all kinds. They offer a wide range of pizzas, but their Make Your Own Pizza is a particular must try.
All of their dishes are made with the best and freshest ingredients available, with some even imported from parts of Europe. Gluten-free and keto gluten-free pizza bases, as well as vegan pizzas are available.
Diners can enjoy their meals in the restaurants bright and airy restaurant. Their warm and tropical ambience is also perfect for organisations and families looking for a place to dine together.
If you're interested in eating at Pano Kato, you're more than welcome to book a table through their website. Those who prefer to stay indoors have the option of ordering for food delivery.
Service Highlights
Stylish restaurant with airy environment

Wide selection of family-friendly dishes

Made with natural ingredients


Gluten-free and vegan options available
17. Dopo Teatro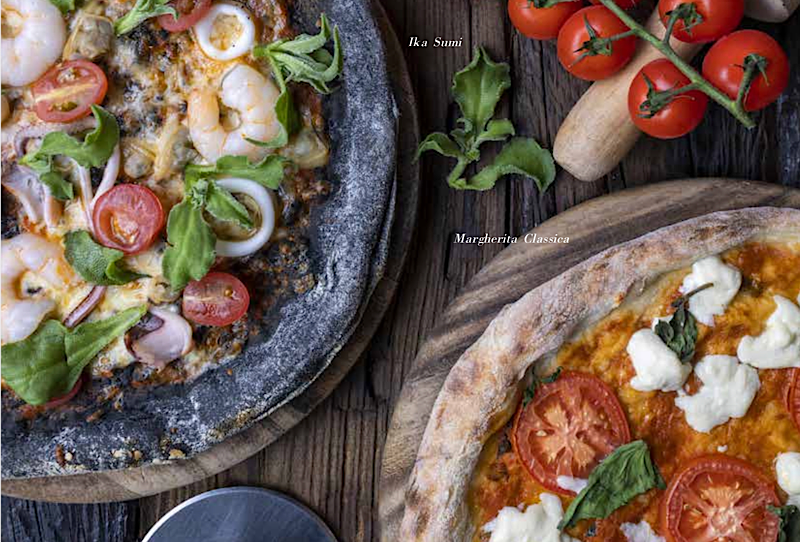 BEST FOR
Quality Handmade Italian Pizzas and Pastas
PRICING

Pizzas start from $22 to $29

WEBSITE
https://www.dopoteatro.com.sg
ADDRESS

8 Raffles Ave, Esplanade Mall, #1-11, Singapore, 039802

CONTACT DETAILS

+65 6534 5188

OPERATING HOURS

Mon – Fri: 12:00pm – 3:00pm (Lunch), 5:00pm – 10:30pm (Dinner)  

Sat – Sun: 12:00pm – 10:30pm
Dopo Teatro is an Italian restaurant that combines classic Italian cuisine with quality Japanese ingredients to create dishes with unique tastes. The restaurant's eating experience is defined by its theatre-inspired theme. 
From appetizers to salads, platters, pizza, and pasta, Dopo Teatro offers a lot of food selections. Because of this, they are suitable for those with a wide range of tastes and preferences. 
In terms of pricing, their menu is available for viewing on their website. Food prices begin at $10, making them reasonably priced.
If you have an HSBC, UOB, or American Express card, you should keep an eye out for special offers from time to time. They provide fantastic deals, such as discounts on specific menus. 
One of their signature pizzas is the Ika Sumi. This is a Japanese squid ink pizza with ocean prawn, ika, asari, pesto arrabiata, and ice plant.
We recommend pairing this with their signature pasta: the Seafood Paccheri. This dish has paccheri, Japanese octopus ragu ragu, uni foam, shiso oil, ice plant, and Japanese baby crabs.
Service Highlights
Pizza and pasta are handmade

Has a lot of meal options

Can provide catering for gatherings and functions

Offers alfresco dining
Customer Reviews
Dopo Teatro has received a rating of 4.7 in Google Reviews. Here are what some of their customers have to say:
"Visited this place for a weekend lunch. We ordered the eggplant starter, mushroom pesto pizza and the squid ink pasta with spicy marinara sauce. The pizza dough was really good – crispy on the outside and slightly chewy still! Loved the pasta the most! There's 20% off now which makes it a pretty good deal, but prices are reasonable even without the promo. Will be back!" – Xin Yi Tan
"The food, ambience and staff are all amazing! If you're lucky you get to hear the outdoor concert while dining. The chef, Richard is funny and skillful. John and Anna are also amazing service staff with fantastic recommendations. Had the steak which was not on the menu! Felt like it was specially prepared for us! An amazing evening spent at the esplanade. Will definitely be coming back" – Isaac Tan
So there, you now know the places to get the best pizza in Singapore. Of course, if you think another pizza place on the island deserves an honourable mention, feel free to tell us about it!
If you're in the mood for more than just pizza and want the full Italian dining experience, by the way, try our roundup of the best Italian restaurants in Singapore. Some sumptuous tagliatelle and flaky sfogliatelle, anyone? 
---
Images taken from each company's official websites/social media.