8 Best Sushi Restaurants in Singapore: The Ultimate List (2021)
Sushi is one of the staples of Japanese cuisine… and for most people, it may well be the most appealing part of it. Fortunately, there are many places to get it on our little island city — as we'll show in this list of the best sushi restaurants in Singapore.
The best sushi restaurants in Singapore have several things in common. That's great service, great food, a commitment to using only the freshest ingredients, and a certain artistry to their food presentation.
Want to see the best Singapore sushi place we have found to tick all those boxes? Then let's dive into our list of the best sushi restaurants in Singapore!
1. The Sushi Bar

BEST FOR: Casual authentic Japanese dining
PRICING: Menu
WEBSITE: https://thesushibar.com.sg/
ADDRESS: Tampines 1 #04-0910 Tampines Central 1
CONTACT DETAILS: (+65) 8877-3535
OPERATING HOURS: Varies depending on the location
For those in search for sushi in Singapore that's authentic yet is still considered an original dish, you must try The Sushi Bar. They have a special menu that continuously changes with the seasons.
This adds to the excitement of visiting their restaurant, as there's a chance to try a new dish every now and then. They also have several branches, for easy accessibility all over the island.
This means you will never have to worry or search for "is there sushi near me" in the middle of the night!
It's not surprising to know that plenty of customers consider this to be the best authentic sushi bar in Singapore. 
Service Highlights
Casual and comfortable environment
Lunch specials
Accessible locations
Customer Reviews
Chefs and staff of The Sushi Bar always strive to serve high-quality cuisine and commendable services, say their patrons. A reviewer from Burpple wrote:
"Featuring this hidden gem at Far East Plaza! Located at a random corner of the dodgy shopping mall, the restaurant serves generous serving of delicious chirashi don ($26). The fish slices are so thick, at least twice the thickness of the typical sashimi. And they taste so fresh! The chirashi don had a great variety of fishes and scallops, and it leaves you feeling so satisfied. Kudos to the Chef!"
2. Sun With Moon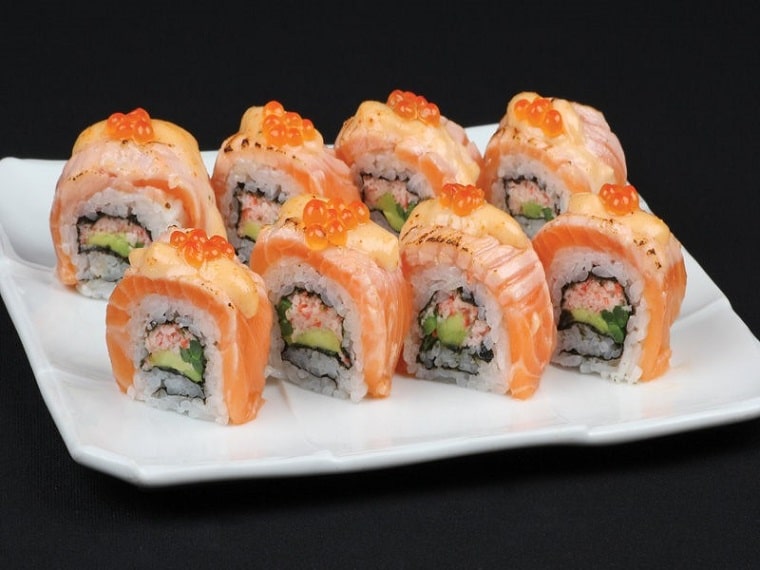 BEST FOR: Modern and cultural Japanese dining and cafe
PRICING: Menu
WEBSITE: https://www.sunwithmoon.com.sg/
ADDRESS: Wheelock 501 Orchard Road, #03-15 Wheelock Place, Singapore 238880
CONTACT DETAILS: (+65) 6733 6636
OPERATING HOURS: Monday to Thursday @ 11am–2:45pm, 3–5:15pm, 5:30–9:30pm / Friday & Saturday @ 11am–2:45pm, 3–5:15pm, 5:30–10pm / Sunday @ 11am–2:45pm, 3–5:15pm, 5:30–9:30pm
Those looking for a place for sushi in Singapore that is cultural yet has a modern vibe will be pleased with Sun with Moon.
Sun With Moon introduces Japanese culture to patrons through a mix of dining and cafe. It outdoes many other sushi restaurants with a very large sushi menu that will let you explore the culinary history of Japan.
From the traditional styles up to the most contemporary cuisines, they are able to create a dynamic harmony for each dish. The chic atmosphere of the restaurant also helps customers relax while they dine.
Many consider Sun with Moon to be the best sushi in Singapore for an overall traditional to contemporary experience.
Service Highlights
Pleasant and spacious open kitchen
Creative food presentations
Cosy and trendy interiors
Customer Reviews
Customers of Sun With Moon are very satisfied with the overall menu concepts, variation of foods, and the relaxed ambience. Chris Wong shared his thoughts on Google Reviews:
"A delightful place to have dinner. The quality is definitely higher than most of the Japanese chain restaurants but certainly worth the price. Had their highly recommended rice bowl. It was delicious with some of the charred rice at the bottom and side of the metal bowl. The unagi and hotate was well seasoned and flavourful. The marinated grill squid was tender and not too dry like in many other places. A BIG TIP – if your bill adds up to above SGD200, you should definitely join as a member costing $20. The 10% off as a member is immediately applied and if it's your birthday month, you get 20% discount. You will get a SGD20 return voucher and also points are already accumulated for redemption later on." 
3. Ikyu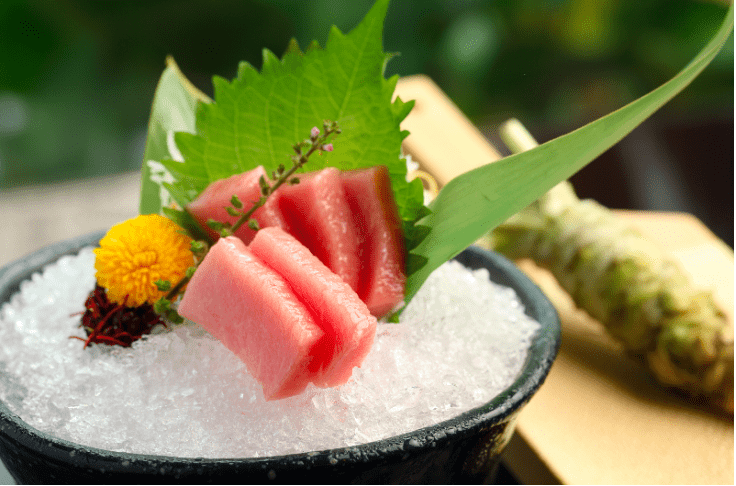 BEST FOR: Japanese-French fine dining cuisine
PRICING: Menu
WEBSITE: http://www.ikyu.com.sg/
ADDRESS: 5 Yong Siak street, Singapore 168643
CONTACT DETAILS: 6223 9003
OPERATING HOURS: 11.30am-2.00pm (Tue – Sat), 11.30am- 2.30pm (Sun), 6.00pm-10.00pm (Tue – Sun)
If you are after a sushi restaurant in Singapore that serves a fine fusion of Japanese-French, Ikyu should be on top of your list.
Ikyu impresses customers with its simple yet flavour-filled dishes. The main highlight of their cuisine is the Japanese-French style, with unusual delicacies supplied that fuse both culinary traditions.
The restaurant can surprise you with innovative dishes that you may never have thought possible. They serve the freshest salads, seafood, meat, sushi, and sashimi too.
Service Highlights
Interesting Japanese-French dishes
Attentive and friendly staff services
Classic and familiar ambience
Customer Reviews
Seasonal menu changes, a feel-at-home experience, and different serving options are some of the reasons Ikyu is loved by customers. Many consider Ikyu to be one of the go-to sushi places in Singapore for fusion-type cuisine.
Ben Huang left this top-rated feedback on Google Reviews:
"Our family came by here on our weekly family dinner out and were not disappointed at all. The food is top notch and the service is great too! The owner was very honest and sincere about his menu, steering us from a certain menu item when he felt that the current ingredient used in it did not meet his standards. Had the gyu Don and it was perfectly executed. All in all, a great experience and would recommend it to others."
4. Koji Sushi Bar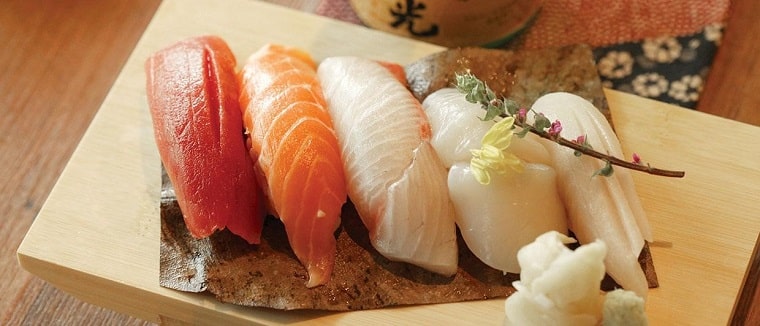 BEST FOR: Traditional Japanese cuisine
PRICING: Menu
WEBSITE: https://www.kojisushi.com.sg/
ADDRESS: https://www.kojisushi.com.sg/contact-us.php
CONTACT DETAILS: https://www.kojisushi.com.sg/contact-us.php
OPERATING HOURS: https://www.kojisushi.com.sg/contact-us.php
The Koji Sushi Bar is the best sushi restaurant in Singapore for enjoying dinner in a classic and elegant cultural Japanese setting.
Enjoy their authentic cuisine while feeling nostalgic with the old-style but beautiful interiors. Their menu focuses on minimalism to show the true value and quality of their ingredients.
Service Highlights
Affordable menu prices
Special promotions
Nice and cosy atmosphere
Customer Reviews
As they say, simplicity is beauty. Koji may not have fancy interiors but patrons say you can be sure that you will leave this sushi place in Singapore with a full and happy belly.
A reviewer from Google Reviews wrote:
"Beautifully prepared dish and fresh ingredients served in a classic Japanese countertop dining.the rice dishes are flavourful with the right mix of rice and sashimi. Though the place can be quite squeezy, the food and service pretty much makes up for it. There's salad and miso served before the dish – a welcomed plus. The place is very packed during lunch but not so much for dinner." 
5. Ki Sho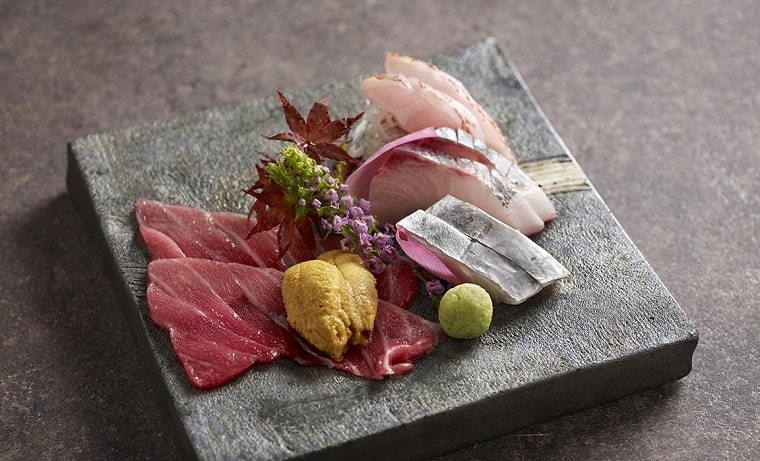 BEST FOR: Classic and artistic Japanese dining
PRICING: Menu
WEBSITE: http://ki-sho.com.sg/
ADDRESS: 29 Scotts Road Singapore 228224
CONTACT DETAILS: +65 6733 5251
OPERATING HOURS: Lunch: Mon – Fri: 12pm – 3pm, last seating at 1.30pm / Dinner: Mon – Fri: 6.30pm – 11pm, last seating at 8.30pm / Sat & PH: 6.30pm – 11pm, last seating at 8.30pm
If you want good sushi in Singapore with a dash of artistic flair, Ki Sho is the perfect grounds for it.
Ki Sho is the ideal choice for corporate and social gatherings if you want to have sushi during them. It may be pricier than some other restaurants in this list, but you get what you pay for.
The interior of the restaurant is sophisticated and the same can be said of their food. They provide excellent service accompanied by delicate dishes that are in season so you can have a sumptuous feast.
Service Highlights
Exclusive dining space
Fancy food presentation
First class services
Customer Reviews
Ko Shi, the award-winning restaurant for Japanese sushi in Singapore, has been capturing the hearts of locals and tourists for years with its world-class menu, chefs, service, and interiors. Lani Yap left positive feedback on Google Reviews:
"This is a truly special sushi place in Singapore. 4 Japanese sushi chefs working at the same time in 1 sushi counter. Food was amazing and the presentation truly a feast for the eyes not to mention the palate! Price is what you would expect for such quality. Other places tend to be over rated and expensive but I think for me this one is worth it. Will definitely come back!" 
6. Hashida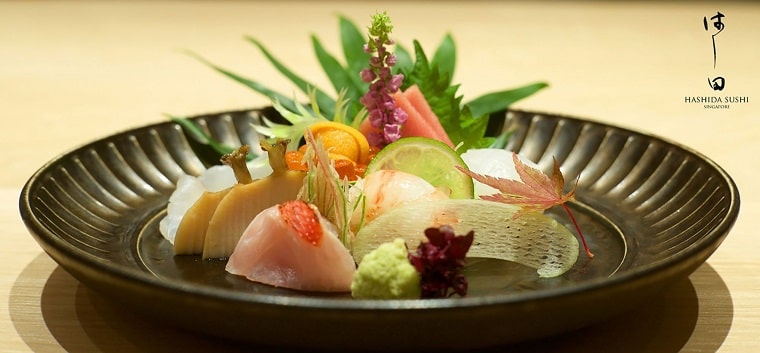 BEST FOR: Fine dining Japanese cuisine
PRICING: Menu
WEBSITE: https://hashidasushi.com/
ADDRESS: 25 Mohamed Sultan Rd, Singapore 238969
CONTACT DETAILS: +65 8428 8787
OPERATING HOURS: Lunch:  Tue 12.30pm, Wed to Sun 12.00pm / Dinner: 7.00pm / Closed on Monday
Hashida is an internationally-acclaimed restaurant that originally came from Tokyo. For this reason, you can be certain that they will serve the best sushi in Singapore with genuine taste of famous Japanese dishes.
They are known for their premium sushi and grand presentation. The aesthetics of both the food and setting here will let you experience a memorable food venture.
Service Highlights
Luxurious and cosy setting
Authentic seafood dishes
Open kitchen view
Customer Reviews
Satisfied customers praised Hashida for their skilled and friendly staff, who have impressed them with knowledge and good conversations. Jia Yi Tong gave this feedback on Google Reviews: 
"Easily my favourite place for quality sushi in Singapore. Hashida serves edo-mae style sushi, and the chefs are thoroughly innovative. Each piece is served with a different texture and flavour, sometimes fresh, sometimes aged, sometimes grilled with charcoal to have a beautiful smokiness, sometimes topped with shiso leaf or yuzu skin for some extra freshness. It's a true delight. The new space at Mohammed Sultan Road might be a tad bit inconvenient, and not access friendly, but if you can it's worth a visit. Lunch sets are great value."
7. Standing Sushi Bar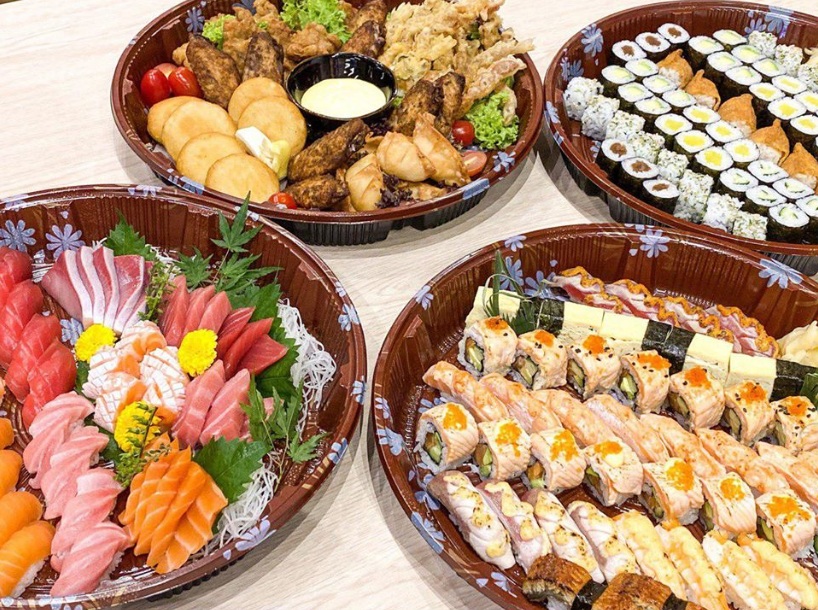 BEST FOR

A true, standing sushi bar concept from Japan, while maintaining high quality products

PRICING

Menu

WEBSITE

https://standingsushibar.com/

ADDRESS

331 North Bridge Road

 

Unit 01-04 Odeon Towers

Singapore  188720'

5 Straits View

B2-47 Marina One

Singapore  018935

CONTACT DETAILS

+65 6333 1335 or +65 8754 7796

OPERATING HOURS

Open Daily

 

Lunch: 12 PM – 2:30 PM, last order 2:00 PM

Dinner: 6 PM – 10:30 PM, last order 9:45 PM

Weekends (all day): 12 PM – 10:30 PM, last order 10:00 PM

Public Holidays (all day): 12 PM – 10:30 PM, last order 10:00 PM

Marina One Branch: 

Monday – Friday

Lunch: 11:30 AM – 3:00 PM

Dinner: 6:00 PM – 9:00 PM
If you are also on the hunt for the best sashimi in Singapore, Standing Bar Sushi should be one of your targets.
Inspired by the standing sushi bars in Tokyo, Standing Sushi Bar offers high-quality, sumptuous, healthy, but affordable sushi. They have a wide array of menu including robatayaki, tempura, and sashimi. 
Standing Sushi Bar offers a great lunch selection and dinner set meals, as well as drinks such as sake. They currently have two branches: one in 8 Queen Street, and another at Marina Bay Link Mall.  
Service Highlights
High-quality and healthy sushi

Affordable selection

Great lunch selection and dinner set meals
Customer Reviews
Jen Lam Chong has expressed her delight about her experience in Standing Sushi Bar's Facebook page:
"The omakase is reasonably priced and better than many Japanese fine dining."
8. Sushi Delivery SG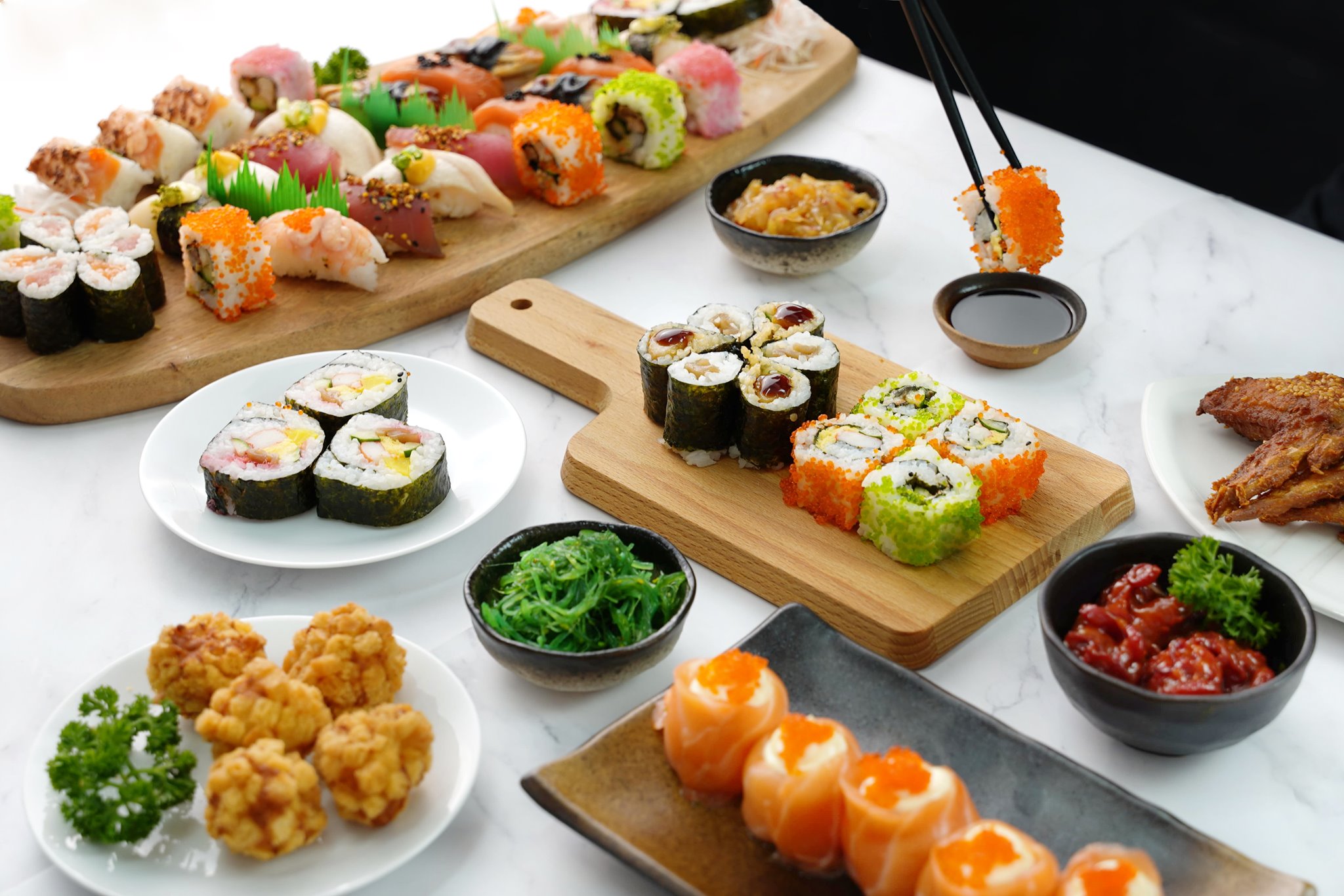 Japanese cuisine has always been delectable, but the food delivery service market for this cuisine is still quite small compared to the other countries. Fortunately, Singapore now has Sushi Delivery SG the first restaurant grade sushi and sashimi delivery in Singapore.
With Sushi Delivery SG, you won't have to worry about freshness and taste being compromised. They serve only the best and make it a point to deliver within an hour of the food being ordered to ensure both freshness and quality.
There! Just by placing an order in their website, you'll be able to savor the taste of Japanese cuisine again.
Service Highlights
1 Hour Delivery
Fresh and Chilled Sashimi
No minimum order
Replacement Guarantee
Customer Reviews
Here is a review left by a very satisfied client:
"Was lazy to go out eat and I drop by their website to order something, its delivered hot and I really love the taste of it. Highly recommended!!" – MEGHAN LIM
With that, we conclude our list of the best sushi restaurants in Singapore at the moment. All of these spots offer fresh, expertly made sushi that's sure to satisfy your cravings, so don't hesitate to try them when you start hankering for some maki or even some oshizushi.
You may also want to try our list of the best Japanese restaurants in Singapore, by the way. All of the establishments we listed there offer sushi as well.
The same is also true of the places we put in our roundup of the best Japanese buffets in Singapore. If your appetite for sushi can't be sated by a simple sit-down meal, you might want to go with those instead for serious indulgence!