15 Best Sushi Restaurants in Singapore
I hope you're in the mood for sushi because this post is all about the best sushi restaurants in Singapore! I made sure to handpick only those that met a stringent set of criteria.
How I Picked
Traditional Sushi Restaurants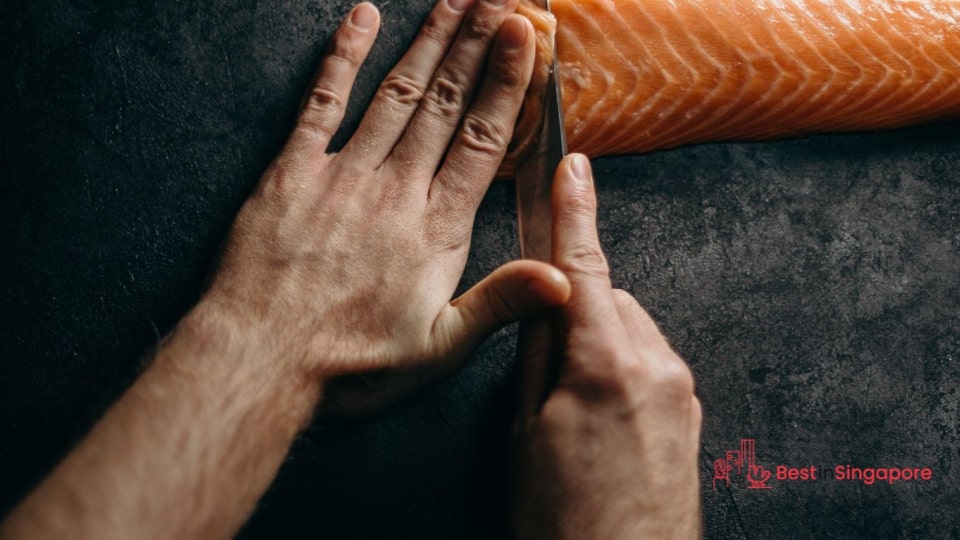 A sushiten is a traditional sushi bar that serves mainly sushi, especially those shaped by hand. In this section, we take a look at some of the best traditional sushi restaurants in Singapore today.
1. Standing Sushi Bar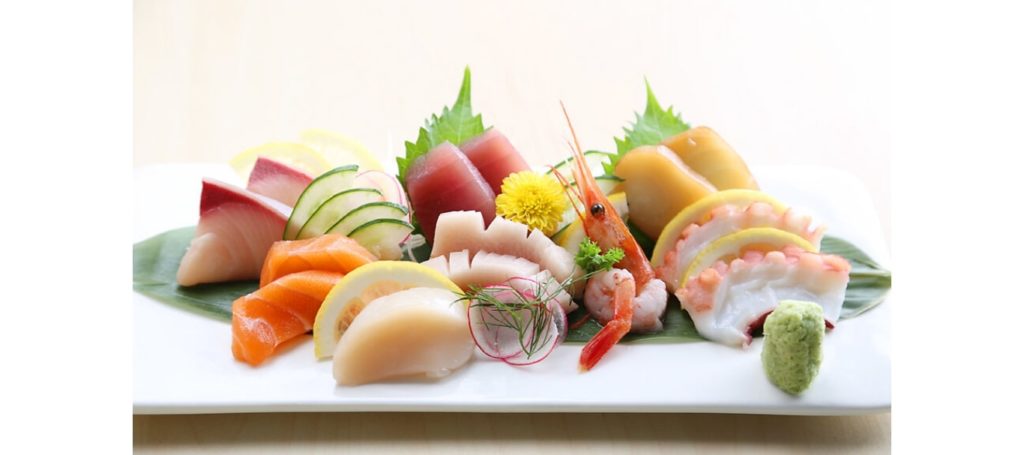 A standing sushi bar borrows the intimate sushi experience concept of Japan's Edo period. This allows patrons to converse and order directly from the sushi chef.
The customers being on their feet also means a better turnover rate, so more people can enjoy what's on the menu. I've never been to one before, so I made sure that my first Standing Sushi Bar experience is flawless and unforgettable.
Suffice it to say I wasn't disappointed. The Japan Wagyu Aburi Superstar was tender, juicy, and fresh-tasting all at once!
But in case you get tired or have lots of stuff, you can still sit down at Standing Sushi Bar (ironic, right?). There are long queues on most days, so do what I did and make a reservation to avoid frustration.
I also suggest looking out for promo days, like the S$4 for 5 pieces of thick, fresh salmon sashimi every Monday and Thursday. Well worth the visit, and your tummy and wallet will thank you for it.
Customer Reviews
The seafood is fresh and the tofu cheesecake is good
"The queue was pretty long for walk-in but really worth the money you pay for. My first time eating here after hearing many good reviews on it and I must say I'm truly impressed. The seafood is fresh and the tofu cheesecake was good too. I'm excited to come back again, definitely recommend." – Rachel Alison
Great variety of sushi, meat, and seafood
"Great variety of sushi, meat and seafood options! The soft shell crab and 'puff the magic dragon' sushi were particularly outstanding in their flavours. Great service by the friendly staff too. Will definitely be back." – Sara Kay En Lim
2. Koji Sushi Bar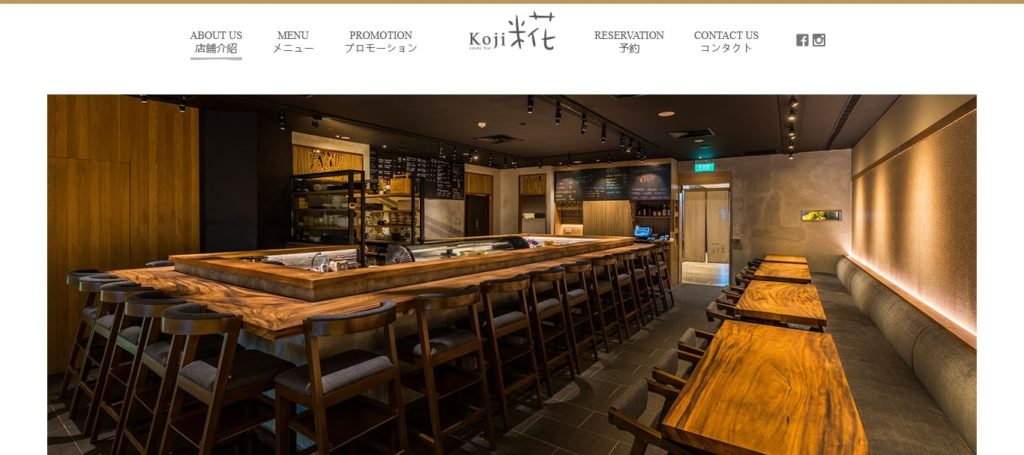 I consider Koji a traditional sushi bar mixed with the sushi omakase experience. There's also a ten-course omakase set that's a bit pricey at over $158.
This classy restaurant has the distinction of serving large slices of fish/shellfish over smaller Japanese sushi rice—a ratio I can always get behind! And I swear by the freshness of its sashimi, especially of the prawn and sea bream.
The ambience at Koji is timeless and classy with indoor and outdoor seating. I prefer sitting near the sushi bar because I like seeing how my next meal is being prepared by expert hands.
Online reservations might be a bit tricky, as I've experienced. Make sure to get in touch via WhatsApp number to speed up the process somewhat.
Customer Reviews
Ambience was great
"Ambience was great! Love the bar seats, we can see the chefs prepare our dishes. The portion of the sashimi rice bowl is very worth it! Even comes with soup and salad. Baked oysters were fresh and clams were super fragrant." – Rachel
The portion was huge and the sashimi really fresh
"It was my first time here and I really love the ambience. We ordered the popular chirashi don. The portion was huge and the sashimi was really fresh. The rice was also very fragrant. Definitely worth the money! We also ordered wagyu sukiyaki, pork cheek don, sweet potato tempura, and some sushi. Overall, the food left a great impression and we look forward to our next visit here!" – Lau Jia Ye
3. Itacho Sushi (Orchard)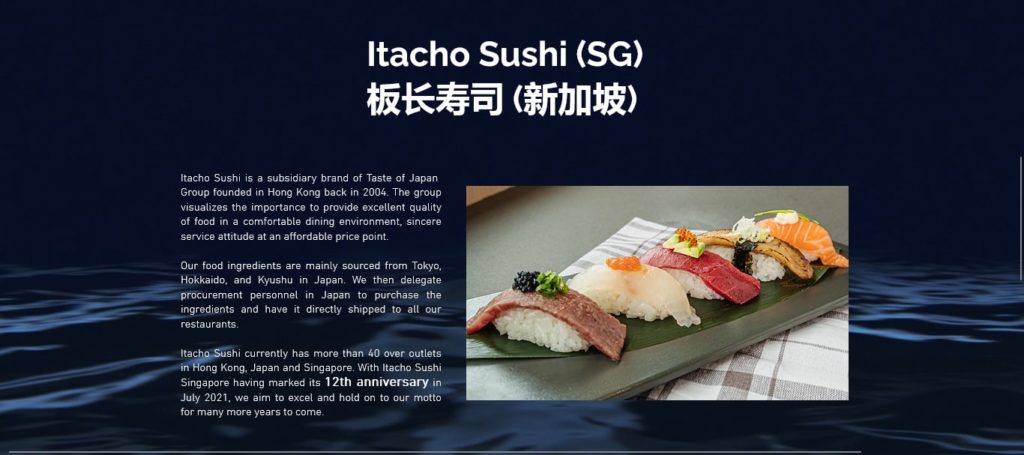 With its own mobile app, Itacho Sushi has added a modern twist to an otherwise traditional sushi delivery and restaurant. I like this feature, as it can make meal selection, pre-ordering, and payment a lot faster and more convenient.
My mistake was not bothering to call ahead for a reservation and just dropping in during a particularly crowded day and hour. I learned that phone reservations have a minimum required spend, so I decided to hedge my bet (boo, me!).
But the food made up for this disappointment somewhat. A bite of that bluefin fatty tuna (which cost me just a little under S$9 for a piece) comforted me a bit.
Online reservations aren't accepted, so there's considerable waiting involved during peak hours. Lesson learned: I'll make sure to phone ahead for a reservation to have a better experience next time.
Customer Reviews
Will definitely return
"I think the app is quite workable after the one-time setup. Orders go straight to the kitchen so the waitstaff is free to serve tea, serve your orders & clear tables. I Sat at the counter so I know all chefs were super busy. Will definitely return!" – Janet Tay
Love the served food, very tasty and generous in portion
"Be prepared for a minimum 30mins waiting period before visiting here. In another way, it is great to see local businesses getting busier during this pandemic. Nice team of working crews, swiftly handle the crowds in and out. Quite spacious and the ordering is done via QR code. Love the served food, very tasty and generous in portion. Price wise slightly on the higher end. Will return soon." – Daniel G
4. Tomi Sushi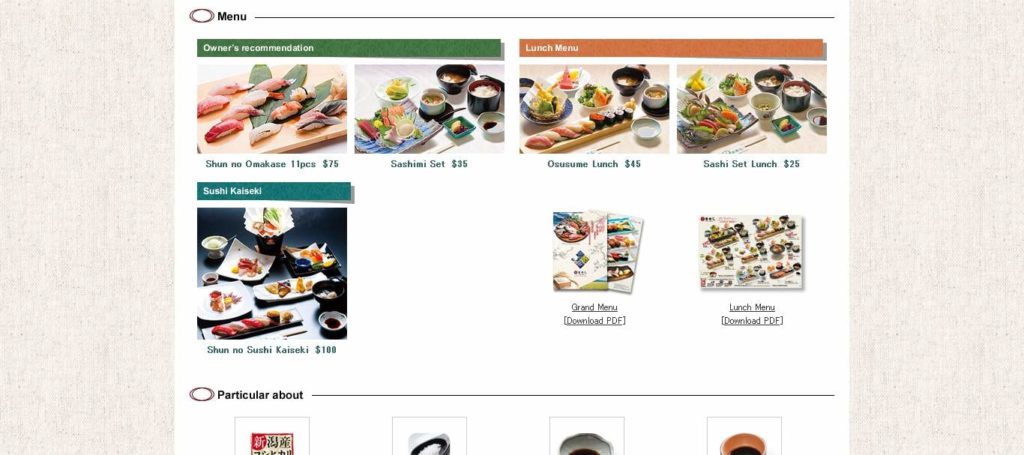 When my friends want to celebrate with yummy sushi, we always go to Tomi Sushi. Its sashimi set is filling and fresh, and the service is usually fast and friendly.
Alliteration aside, I also enjoy the simple yet cosy ambience here. My favourite spot is at the counter so I can see how my sushi is being prepared, though there's a private party room we prefer as a bigger group.
The food is authentically Niigata, which represents Japan's four seasons. The sushi sets are artistically plated, and their prices reflect the chef's expert curation (an average of S$28 for a lunch set).
But what I really like about eating at Tomi Sushi is the bottomless green tea. It's aromatic and calming—the perfect punctuation or accompaniment to a good sashimi fest.
Customer Reviews
The sushi is fresh
"Tasty Japanese food at reasonably affordable prices. The set meals make it easy to order and try different items. The sushi is fresh, and the various side dishes add a flavourful flourish. A set is quite filling for me. Service is fast and friendly. My friend's go-to place, to get her sushi fix." – Wei Jiun Lim
The soba deserves a shout-out
"Had our lunch there today. This is our 2nd time there. We ordered the sea bream sashimi and it was fantastic. This was recommended by the chef and we were glad we went along. Ordered a couple of other lunch sets and everything was spot on. The soba deserves a shout-out as well, extremely bouncy one of the best I have eaten in a while." – Keith Chua
5. Sen-Ryo Singapore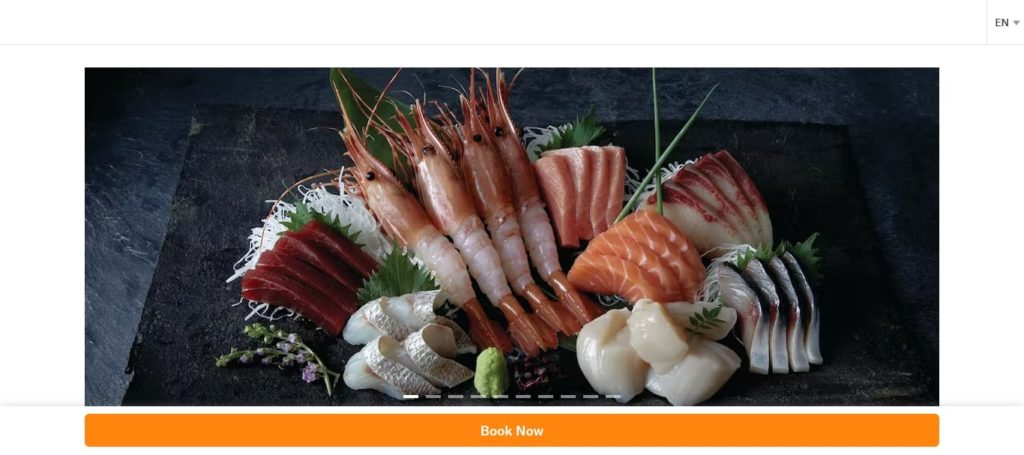 For those days when all you want to eat is raw premium fish and other seafood, I highly recommend Sen-Ryo. It's got some of the most melt-in-your-mouth sashimi I've ever tried—and plated beautifully, too.
Sen-Ryo is clean, nicely lit, and has an overall cosy vibe that's perfect for intimate dinners.
The price is quite reasonable for such quality sushi, too. Around half a dozen dishes and two alcoholic beverages cost just a little over S$100!
But if you don't want to wait around too long for a table, I strongly suggest booking way in advance—around a couple of weeks ahead, to be exact.
Customer Reviews
The sashimi was fresh and authentic
"Quality food at an affordable price. We were seated at the front counter and the staff in the area were ALL SO FRIENDLY! They were efficient because they could hear us placing orders and then they started making our sushi. The sashimi was fresh, the tamago egg and chawanmushi were so authentic, soba texture was al dente! chicken thigh so tender! and many more. Must eat the Yuzu and Peach ice cream! I will definitely visit again!" – QunYu Lum
Prices are reasonable with such fresh food
"Ambience and quality of food are awesome. Prices are reasonable with such fresh food. services are great. I went twice and going back for my birthday." – Pearlene Tan
Modern Sushi Restaurants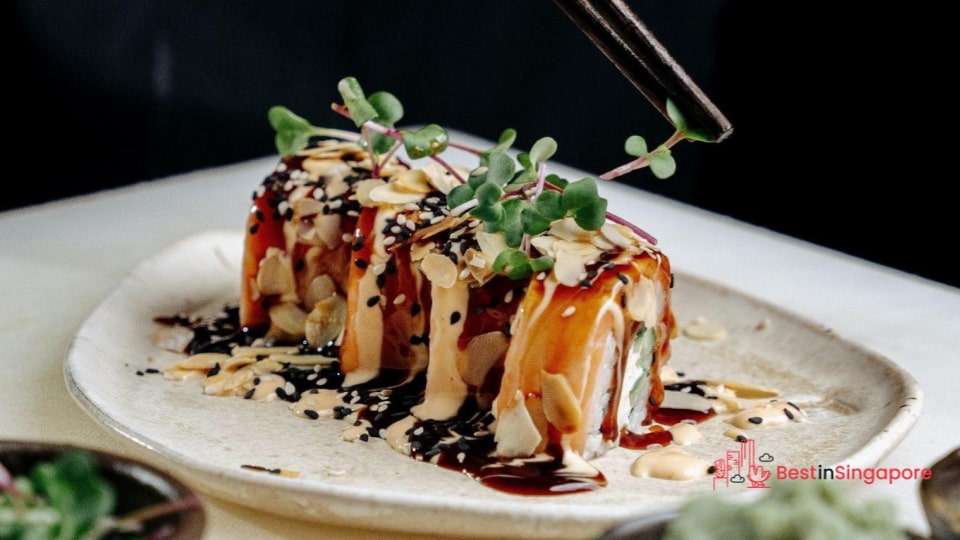 If you're willing to explore the world of modern sushi places, this section can help you out. The following sushi restaurants have managed to add a contemporary twist to the delicious tradition of sushi and sashimi.
6. Sun With Moon
With such a poetic name, Sun With Moon brings visions of dramatically lit dining space with lots of shamisen sounds in the background. Instead, what you get is a combination sushi place slash cafe that's warmly lit and welcoming.
The bento lunches are perhaps the most popular orders here, but I personally love its kamameshi set lunches. However, I always revert to my favourite, the tori and unagi set, even when there are lots of options on the menu.
Now for the not-so-good parts: the prices and the staffing. My favourite set already costs a little under S$30, and that's maybe one of the most affordable options at Sun With Moon (the bentos cost a lot more).
During the few times I've been there, the place was always fully booked with only a couple of waitstaff to serve us.
But the overall experience is pleasant and burp-worthy, nonetheless.
Customer Reviews
Loved the Wagyu so much
"Food is nice and good.. value for money. Loved the Wagyu so much, reordered it twice. Private room is available if you have a small crowd event (there is a pillar blocking this is the drawback). Service is good, despite being in the room they drop by often to check on us." – Whye Kin Woo
Food is good and the price reasonable
"We always enjoy coming back to have a meal. We thought today is Monday we should be able to get a seat for lunch but the reservation was full haha. Luckily we reserved to come back later and in half an hour we are back. The food is good and the price is considered reasonable for the portion and variety of side dishes! Staff and environment great too!" – LSL
7. The Sushi Bar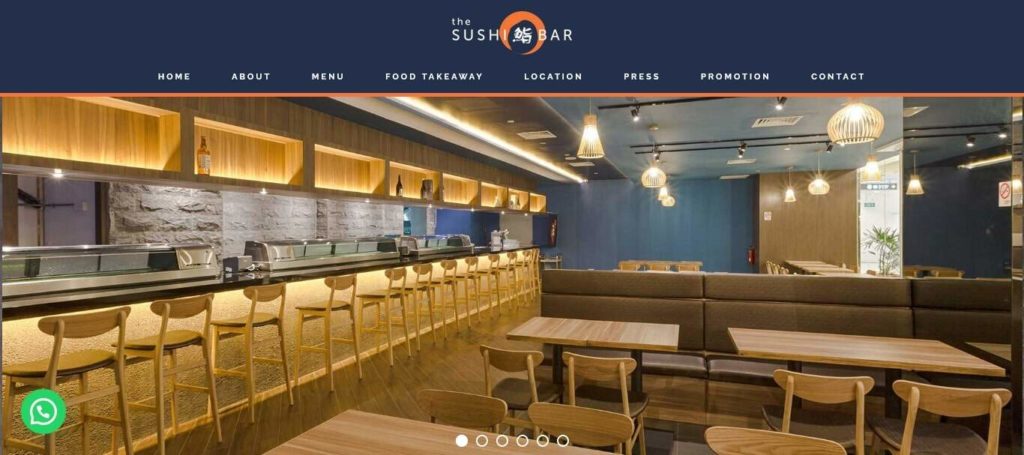 Despite this sushi takeout place's generic-sounding name, I patronise it for a unique reason: the fresh oysters. They're juicy, fresh, and not at all slimy with a delightful mouthfeel.
The Sushi Bar serves sashimi and sushi, of course. They're pretty good quality ones with particularly thick salmon and tuna pieces that melt in the mouth.
There's nothing generic about the way the dishes are plated, either. If you want Instagrammable sashimi, make sure to check out (and devour) the ones at The Sushi Bar.
The prices are a bit steep, with uni sashimi costing nearly S$37 for a serving. But if you want a fancily plated sashimi treat with someone special, this one might just be worth the splurge.
Customer Reviews
Quality is good and the ingredients fresh

"Return to this gem after a long time & glad to repost the standards are still maintained. Quality is good, ingredients fresh, and choices aplenty both raw and cooked for all palates. Lovely dining without breaking the bank.
The bara-chiraishi don and grilled squid with salt are my top favourites. You taste all the freshness with very light seasoning. Simply enjoyable.
The Mon-Thur $5 beer & cold sake promo is also worth mentioning. Service is swift and the ambience is chill. Definitely recommend!" – Flo G
Excellent service and consistently great food
"Have been here a couple of times and decided to shout out today for the excellent service and consistently great food. Allowed us entry even though we weren't all here yet as there were empty tables (so much better than the Taka outlet). Brought a cake for our friend's birthday and they helped to serve it too, no questions asked. On the way out they wished her a happy birthday too!" – Lynette Koh
8. Hashida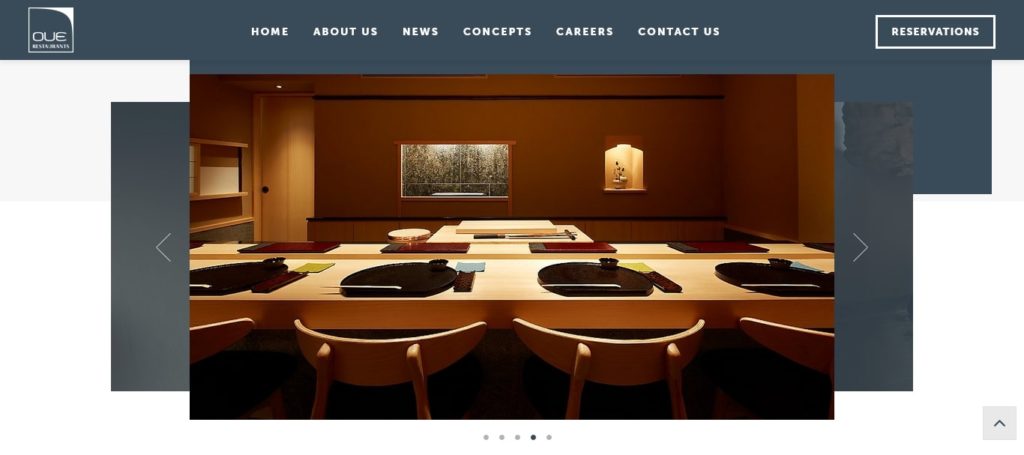 If yours is a discerning palette that requires authentic wasabi and not the food-coloured imitation spicy paste, welcome to Hashida Singapore. Chef Hashida and the team's professional hands handle only the real thing.
My date and I walked into Hashida knowing full well it would be an elevated sushi experience for both of us. It wasn't in the league of affordable sushi as everything—from the gorgeous plating to the impeccable service—was flawless.
There's a melt-in-your-mouth freshness and succulence with every dish, despite us feeling they were too pretty to eat. Even the dessert part was phenomenal and a gastronomical delight.
Before I go too gushy on sushi, let me remind you again that dining here will be expensive, no ifs and buts about it. But if you want an unforgettable omakase/sushi dining experience, I reckon paying around S$280 would be well worth it.
Customer Reviews
Has a good selection of sake
"Hashida is a decent place to enjoy fresh sushi and sashimi. They have a good selection of sake too." – Kim Soo
There was a delicate balance of traditional dishes mixed with a modern twist
"Unforgettable experience (and a hit to the wallet) and merits that Star. We arrived at 7.30 pm and were swiftly greeted and brought to the table. The entrance and walkway are very curious and provide a high level of privacy. We were immediately greeted by the chef who was concentrating heavily on the preparations. Everything was in perfect order. We were presented with the sake menu, asked if we wanted a tasting to help us choose and explained the dishes. We were brought several staters, each one incredibly fresh, and unique with its combination of ingredients. There was a mixture of cold and warm plates, although none were really overpowering. There was a delicate balance of traditional dishes, mixed with a modern but subtle twist." – Piet Coelewji
9. Sen of Japan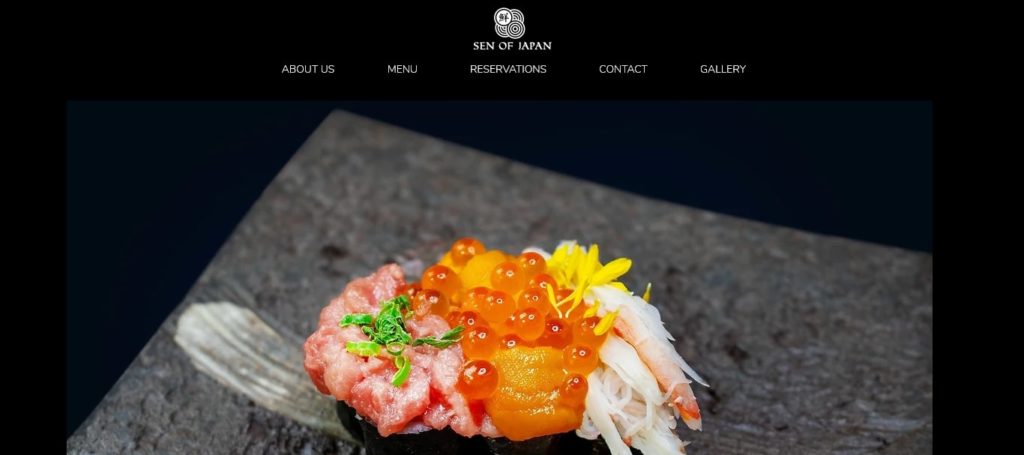 Right off the bat, I was reeled in by the bold contemporary twist done to traditional sushi by Sen of Japan. But the freshness of the sashimi still shines through, which is what it should be all about.
This is another sushi restaurant in Singapore with a high price point, so I can only eat here on very special occasions. But every time I do, I come away with a sense of being in Japan with the freshness of each bite.
I have to commend Sen of Japan's sake selection, too. There are plenty to choose from depending on taste, richness, aroma, and acidity,
If you do want to try one of their set lunches, make sure to book a table for Monday to Thursday, as that's the only time the restaurant serves them.
Customer Reviews
Tempura and sashimi were amazing
"The food is great but definitely price point is high. They have a min spend of S$150 per person when we went there, so do take note. We had beef which was tender, and uni pasta which was not bad but the truffle taste was a bit overwhelming. Tempura and sashimi were amazing though. Service was great." – L SY
The wagyu beef bowl is amazing
"The food here is quite good. The sushi is of excellent quality and very fresh. The wagyu beef bowl is amazing, so tender and flavorful. The selection is diverse and they have a good lunch set menu. The desserts were a bit middling though. And the price is a bit high. But it's an otherwise nice sushi place to go to if you're at MBS." – Jian C
10. Sushi Kimura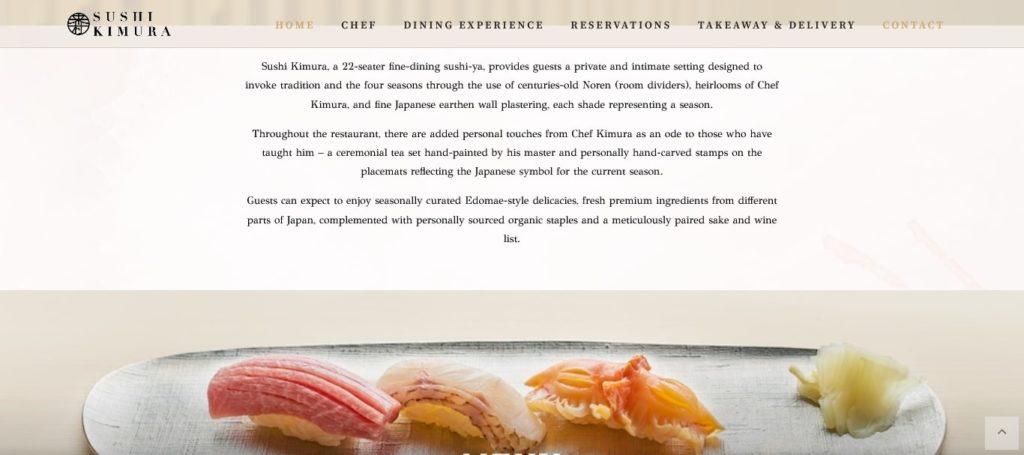 Michelin sushi is served up at Sushi Kimura. The place specialises in time-honoured sushi traditions and uses only the finest ingredients, from A-grade imported organic rice to Hokkaido spring for cooking.
Does it show (and taste) in the servings? I will reply with an emphatic hai especially after tasting the Hokkaido abalone.
Each element during our dining experience at Sushi Kimura was carefully curated and executed, from the harmonising flavours to the gorgeous plating. The ambience feels authentically Japanese with austere place settings and mood lighting.
My only minor complaint is that, with the masterful presentation and the promised yumminess, there were lots of picture-taking which could compromise the freshness of the sushi. That, and the fact that Sushi Kimura is closed on Mondays and Sundays.
Customer Reviews
Food quality was excellent and service top-notch
"Stunning dinner. Every element was so thoughtful and considered, and artfully arranged. Quality was excellent and service top-notch. I'm not keen on nor have tried fish liver but what I tasted here was absolutely delicious. What's interesting is how much we loved the sushi rice which is chewier and prepared with aged vinegar. It truly elevated the seafood. Can't wait to return!" – Tessa Francine
It's amazing how good sushi can be in the hands of a master
"Love it love it. it's amazing how good sushi can be in the hands of a master. price, of course, is expensive.. to me, this is the kind of place where we come for experience and appreciation of quality." – Kris Trimoeljo
Omakase Sushi Restaurants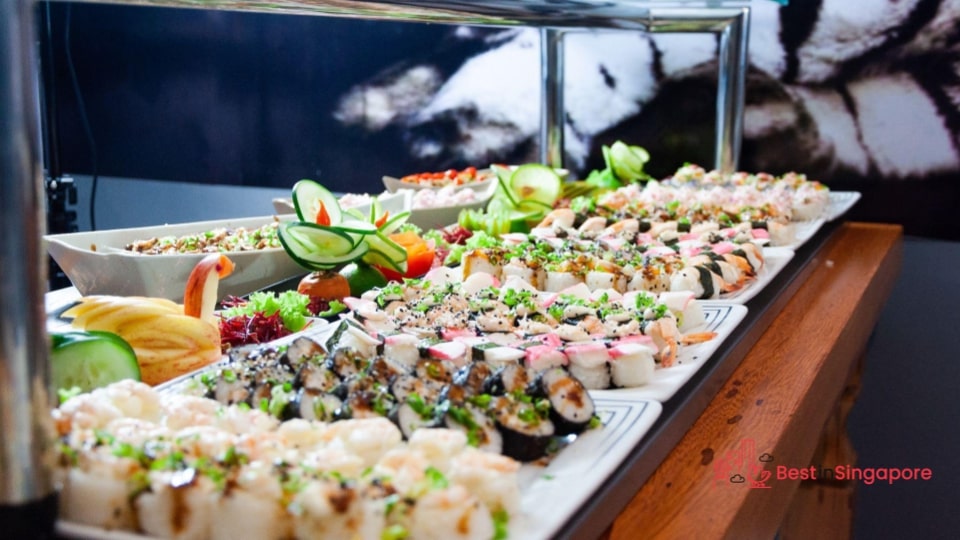 When it comes to sushi, omakase is an experience that shouldn't be passed up. Compared to traditional sushi, it's only been around for several decades, but it's become so popular that plenty of people patronise omakase sushi.
11. Jun Omakase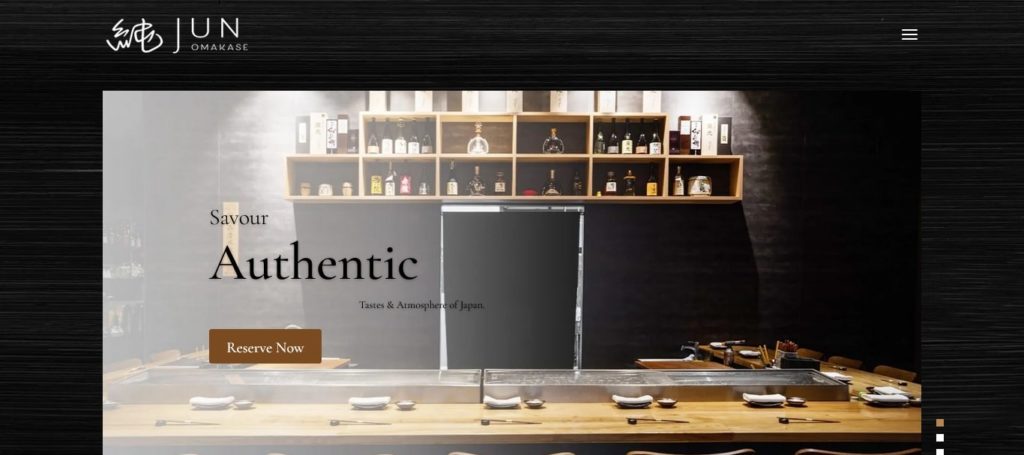 I always feel like I'm eating a pretty painting every time I go for dinner at Jun Omakase. I mean, how can a piece of shrimp, a couple of slices of tuna sashimi, and some fresh edible leaves and flowers tell such a compelling narrative on one plate?
I was told by the staff that ingredients are flown in several times a week fresh from Japan. It did show in every bite I had, even with the sashimi cubes for its sushi rice.
I would recommend booking a seat ahead, as Jun Omakase can get quite crowded, especially during the lunch hour. This is in spite of the spaciousness of the restaurant and the attentive staff (who can only do so much to appease sushi-craving guests!).
Customer Reviews
Food quality was excellent, service was impeccable
"Came here for the lunch Omakase which we enjoyed thoroughly. Goes very well with the Sanzen sake. The quality was excellent. Very spacious, enjoyed the bar sitting. Service was impeccable, with plenty of attention from the service staff. Total damage is about the low 200 for the 2 of us including the sake. Be prepared to order an additional sushi set if you have a huge appetite." – Ray Fang
Meticulously curated and fresh omakase
"Chic and chill ambience with meticulously curated and fresh omakase. The chefs are very professional. Each dish was executed with careful thought and remarkable skill. The servers were polite and explained each dish really well. Recommended if you like raw fish dishes. A great experience!" – Christine Alnes
12. Shinji by Kanesaka
I'm proud to present another Michelin sushi restaurant in Singapore in today's listicle. Shinji by Kanesaka has earned a Michelin star apart from its Asia's 50 Best Restaurants award and other notable accolades.
The omakase experience at Shinji is something else. It serves real otoro or the most premium cut of bluefin tuna that melts in your mouth with tenderness and flavour.
Of course, it's expensive (some would say indecently expensive) for a lunch or dinner omakase experience. The Chef's Omakase Special already starts at S$550, but expect to pay more for drinks and other extras.
Still, for extremely special celebratory moments, Shinki by Kanesaka is worth visiting and trying out.
Customer Reviews
Our omakase lunch was a delightful experience
"Our omakase lunch was a delightful experience. The intrinsic quality and taste of the food were brought out as our chef skillfully prepared our dishes. The sashimi was fresh and of premium quality and we were sufficiently filled at the end of the meal – enough to last us past dinner time! The staff were also warm and attentive. As we were here for a birthday celebration, we had light effects as a mini bonus for our birthday dessert. Will definitely be back again." – Pam Y
We got the chef omakase special and it was just amazing
"Simplicity is the ultimate sophistication. Had a wonderful lunch experience at Shinji. We got the chef omakase special and it was just amazing. The menu is pretty standard omakase stuff but the execution was on point for every single course. The chef and service staff service was also impeccable as expected for a joint such as this." – Chern Yongxun
13. Ichiban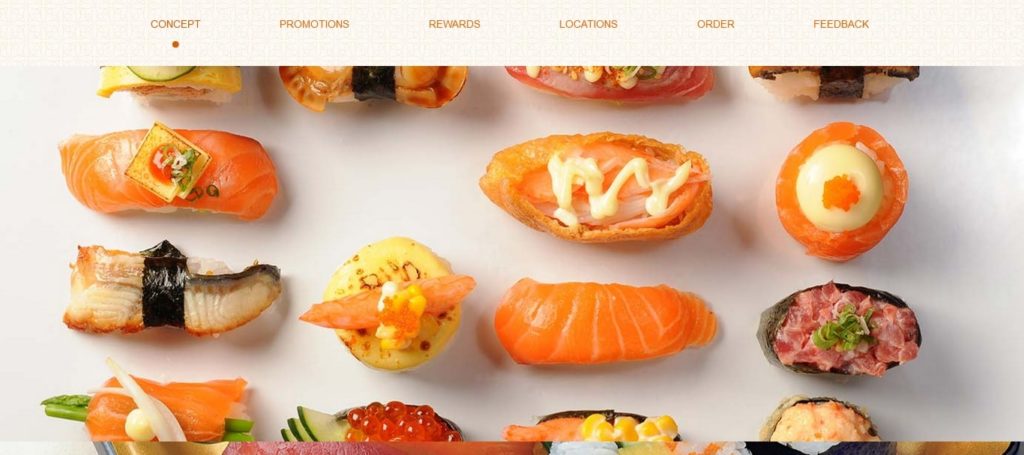 Sometimes, it's great to go back to the basics and indulge in a simple yet satisfying sushi meal conveniently brought to you by a conveyor belt. Ichiban Sushi provides this experience, which is why it made it to my radar.
This sushi place also has a "buddy meal for two" offer, which suits me and my best friend just fine. It's a pretty substantial meal for just around S$42.
There are regular promos and off-peak menus for the budget conscious, as well. While the sushi is great, it's not anything out of the ordinary, though it's a great fix for when you want your fill without emptying your wallet.
Customer Reviews
Service was prompt, food is so yummy
"Service was prompt, food is so yummy. Always had my lunch or dinner at Ichiban Sushi. We went on a weekend, lunchtime about 2 pm, no waiting time, the restaurant was pretty quiet, they have quite a lot of orders for delivery though. Food was served quickly. Portion-wise, I think the portion for potato salad was smaller than before. Maybe because of inflation. But they were all good!" – Mal TC
Loved the cheesy scallop
"Fresh sashimi and sushi were not too bad. We ordered the Christmas seasonal menu which can feed 2 pax. Loved the cheesy scallop. We added the butter clams too which were quite savoury and nice. Waiting time for food was generally ok and not too long. Overall not too bad for a quick sushi and Japanese food fix." – Isabelle Tay
14. Koma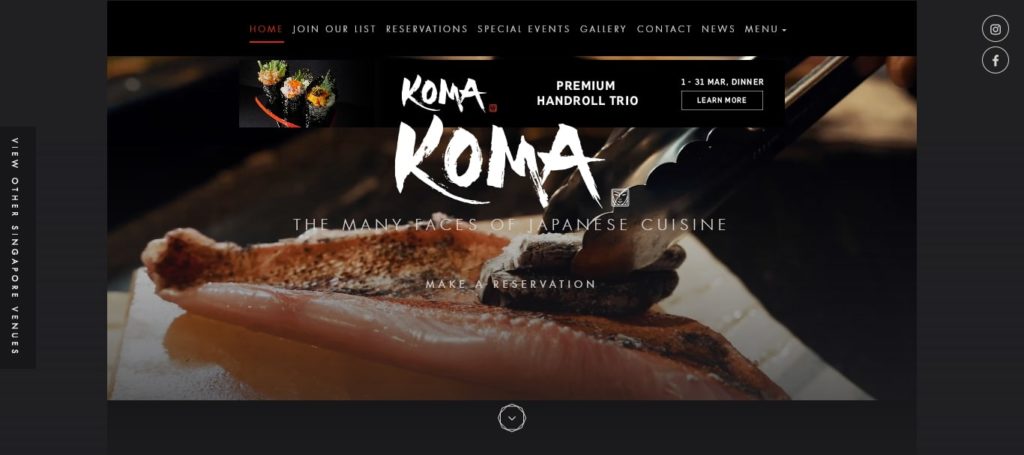 Koma promises "a multisensory Japanese dining experience" and I, for one, am up for that. And it's exactly what Koma delivered as soon as I stepped foot on its premises.
I instantly felt transported into ancient Kyoto. There's a footbridge, a giant Japanese bell, and an illuminated sushi bar that glows with gustatory promise.
As for the food itself, the menu has what it simply calls the Omakase Experience, which I tried. The thing is I had to reserve a week in advance and make sure I had three other diners with me as the minimum requirement.
We weren't disappointed and had the private room to ourselves to enjoy the omakase. My favourite was the wagyu which was given a creative and flavourful twist by the head chef.
The price is a bit steep but not so much that we'd feel shortchanged. Besides, the experience of being inside Koma is pretty awe-inspiring on its own.
Customer Reviews
Overall, 5 stars for service, ambience, and beauty of food
"Want to thank assistant manager Vignesh and Ron for making our dining experience fantastic on May 9. The atmosphere is just wonderful. One of a kind even in Singapore. High ceiling. Amazingly decorated. Magical is a close word since it kinda transports you to a part of Japan. The food looks very pretty and tastes decent. Overall, 5 stars for service, ambience, and beauty of food." – Jacob
We love the food so much
"My son surprised me with this beautiful restaurant and I saw it on TikTok. The restaurant was so unique with all Japanese design. We love the food so much and so yummy. Each food is like art on the table and the taste was so amazing. After we finish the dish..the staff will clean the table and serve the dessert. That makes me feel this restaurant is very clean and neat I am so happy one of the friendly staff helped us take pictures. All the staff was friendly and helpful too. Thanks for all the staff served us today." – Jeniferline Teh
15. Unkai Sushi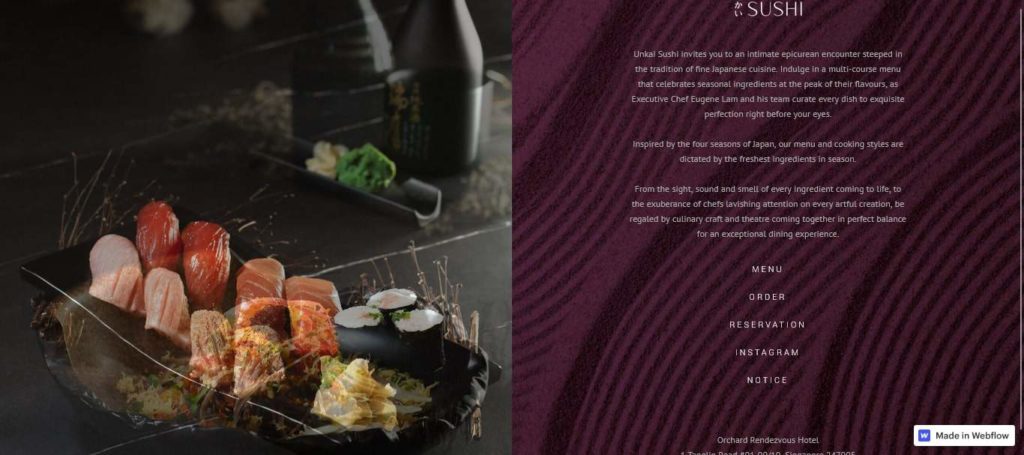 Unkai does sushi omakase in a simple but creative way. Smoked otoro, marinated salmon, and other fresh ingredients get expert treatment, resulting in truly delicious bites and bowls.
And if you're feeling extra adventurous, I recommend getting the pork cheek rice bowl. It sounded exotic to me, so I ordered it, and I must say it was a welcome change of pace from my usual sashimi bowl.
My dining companion did complain that the portions were a bit too small for them. As for me, I enjoyed every bite and the experience of sitting right at the sushi counter.
Customer Reviews
The ikura on the salmon don was very fresh
"We came here after looking at the pictures online and wasn't disappointed. The Ikura on the salmon don and chawanmushi was very fresh and generously portioned." – Luvena K
A very relaxed and unpretentious atmosphere
"Totally enjoyed the food and experience. A very relaxed atmosphere to dine in and unpretentious. We loved everything that was presented. Will be back again." – Thomas Yang
FAQs on Sushi Restaurants
---
More Resources on Japanese and Sushi Restaurants in Singapore