The 7 Best Japanese Restaurants in Singapore: Top Picks for 2021
Are you craving sushi, ramen, tempura, sashimi, or other Japanese dishes? Luckily for you, there are several great Japanese dining spots on the island and we're here to help you find them.
We made a rundown of the best Japanese restaurants in Singapore based on the variety of their meals, price range, dining atmosphere, and what customers think about their food!
We even included some of their best-selling dishes to help you figure out what to order on your next visit. If you have questions about Japanese cuisine, we'll answer a few of them towards the end of this article.
1. Tamashii Robataya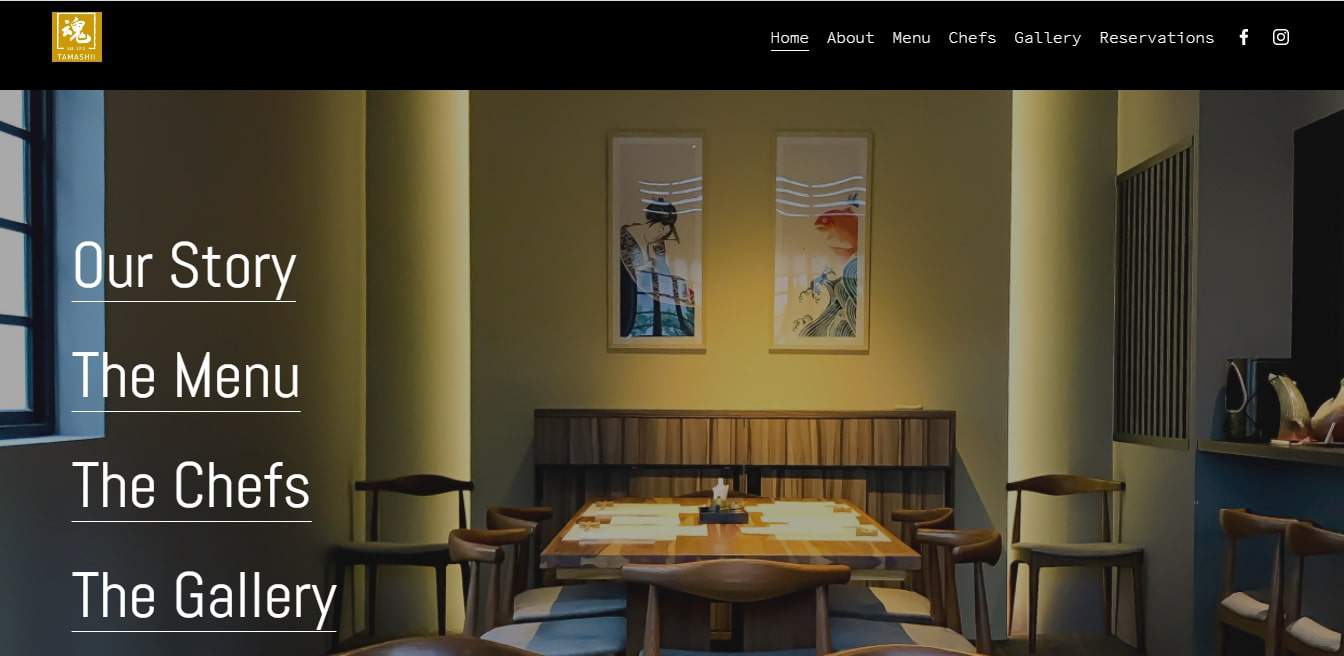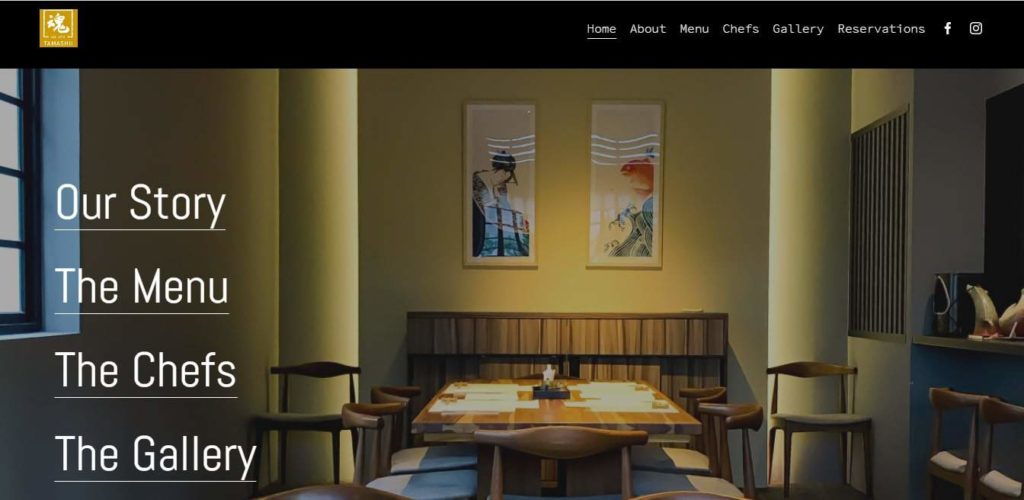 | | |
| --- | --- |
| BEST SELLERS | Char-Grilled Japanese Brussel Sprout, Japanese Kegani Crab, Char-Grilled Young Lamb Rack, Roasted Iberico Pork Chop, Sakura Pork Sukiyaki, and Chicken Ramen |
| PRICE RANGE | $22 and up |
| DELIVERIES | No |
| WEBSITE | https://www.tamashii.com.sg/ |
| ADDRESS | 12 North Canal Road #02-01 Singapore 048825 |
| CONTACT DETAILS | +65 6222 0316 |
| OPERATING HOURS | Monday to Saturday: 12:00 PM – 10:30 PM |
Located along North Canal Road, Tamashii Robataya is Japanese restaurant that strikes the balance between tradition and innovation. It's definitely worth visiting if you're curious about what an authentic Japanese dining experience feels like.
The main highlight of this restaurant are the delicious and creative Kappo dishes that can satisfy any craving, all made with authentic and fresh ingredients. There's a wide variety of dishes to choose from, including shabu-shabu and ramen.
Aside from the mouthwatering Japanese dishes, the other attraction at Tamashii is the open kitchen view that allows diners to see how their meals after being prepared. You'll never feel bored when dining in at this restaurant.
The open kitchen view makes it an ideal dining spot for small gatherings as this is a great conversation starter.
By the way, you might be thinking that the Kappo style can only serve a small group of customers, but there's no need to worry here. It has a spacious dining capacity that's divided into counter seats, a chef's table, and even private rooms.
The only problem with Tamashii is that it doesn't do deliveries, so you really have to make time if you want to taste its dishes again.
Seasonal menu
Open-kitchen view
Dishes are made with fresh ingredients
Perfect for small gatherings
Customer Reviews
Tamashii Robataya may not be one of the oldest restaurants in this list of the best Japanese restaurants in Singapore, but their award-winning team is equipped with years of experience.
Chuan Kai Neo wrote this feedback on Google Reviews:
"Choose the counter seat if you are going to dine here. Fresh ingredients are placed in front of you and the chef will prepare the dishes based on your dietary preference and budget. The ingredients are delivered to the restaurant four times a week. As such, diners are expected to be served with dishes prepared using the freshest ingredients. The staff were friendly and prompt in their service."
2.   The Gyu Bar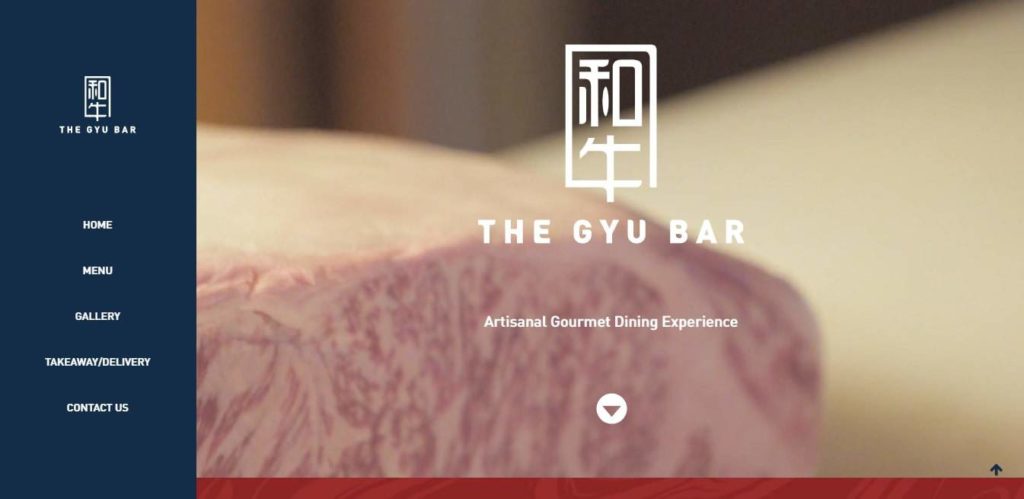 BEST SELLERS
Signature Roast Beef Don, Ishiyaki Bibimbap, Yakiniku Don, Chef's Selection Beef Platter, and Sirloin Steak
PRICE RANGE
$24 to $178
DELIVERIES
Yes
WEBSITE
https://www.thegyubar.com.sg/
ADDRESS
30 Stevens Road, #01-08, Singapore 257840 (near the entrance of Mercure Hotel)
CONTACT DETAILS
+65 6732 0702
+65 9150 3164
OPERATING HOURS
Tuesday to Sunday: 12:00 PM – 10:00 PM
The Gyu Bar's intimate, elegant setting makes it an excellent choice for dining with friends, family, and colleagues. It's a contemporary Yakiniku restaurant that provides diners with an artisanal gourmet dining experience.
In line with that, it surely isn't a budget-friendly Japanese restaurant, with meal seats that cost about $30 to $50. The menu is split between lunch and dinner courses though, so diners will not run out of options.
The Gyu Bar's menu showcases their prime pride, premium Wa-Oh Japanese beef, which you can explore in different rare cuts, flavours, and textures. Every cow is raised in a stress-free environment and fed with mainly vegetables.
For the meat-lovers, you will surely love the dynamic meat selections. Apart from this, there's also organic seafood, steak, noodle soup, ramen, and a variety of other dishes.
All of their ingredients are sourced sustainably from Japanese farms, which says a lot about the quality and taste of their dishes.
If you're a fan of Japanese sakes, then you're going to love The Gyu Bar even more. All guests are treated to a glass of sake — free of charge!
All in all, for its premium meat selection alone, it's enough for us to call it one of the best Japanese restaurants in Singapore.
Free sake
Premium meat selection
Uses organic ingredients
Sophisticated dining experience
Customer Reviews
Take a look at these comments posted on Google Reviews:
"First experience having Omakase. The ingredients are the freshest of sorts. I usually don't like sea urchin but this omakase sea urchin is really the freshest! No tinge of fishy smell. My friend and I sat at the bar counter to watch how the chef prepares the meal. I'm also in awe of the variety of beef cuts there are. Also the rock melon was to die for.. so nice and succulent. The nice touch was the place allowed us to share two different Omakase sets and a nice touch was they split the set stuff into two portions for both of us to try. Thanks for the amazing experience" -Grace Teo
"What a wonderful find in a rather random part of town. We mainly ordered from the yakiniku menu, and everything we ate was delicious, from the different cuts of beef and pork to even the vegetables – how does grilled corn taste so good?! We also appreciated that there was some sort of promotional pricing for the many rounds of whiskey highballs we ended up having. Great food and wonderful service, a thoroughly pleasant evening. We will definitely be coming back!" -Gerald Goh
3. Tatsu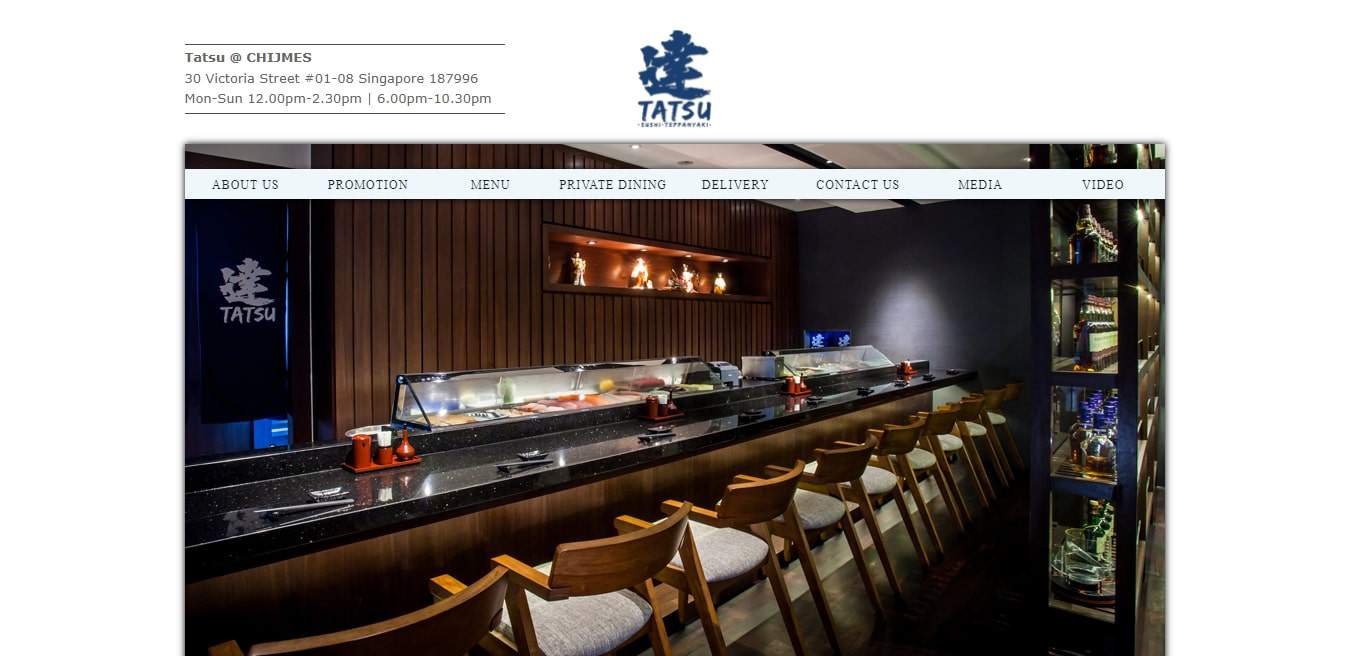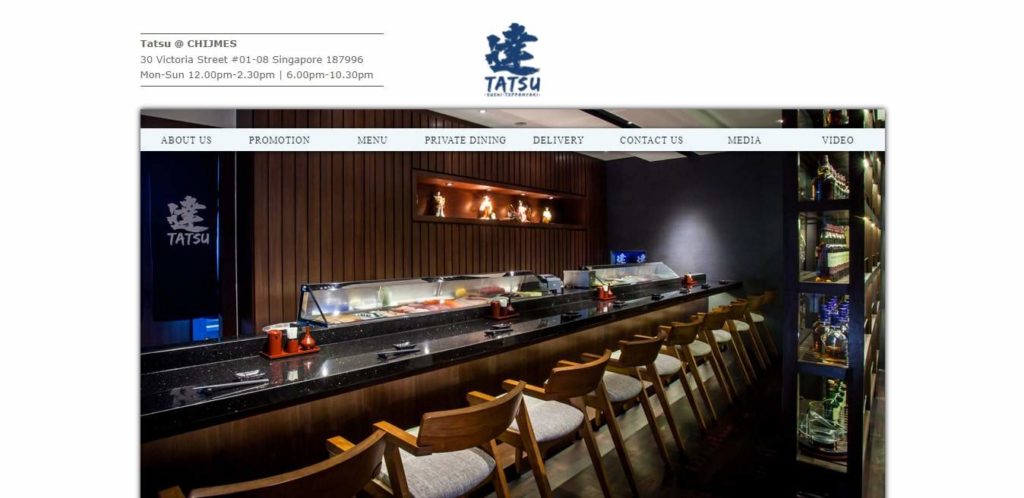 | | |
| --- | --- |
| BEST SELLERS | Sushi, Unagi, Teppanyaki Salmon, Teppanyaki Prawn, Tempura Udon, and Gyuniku |
| PRICE RANGE | $28 and up |
| DELIVERIES | Yes |
| WEBSITE | https://www.tatsu.com.sg/ |
| ADDRESS | 30 Victoria St, #01-08 CHIJMES, Singapore 187996 |
| CONTACT DETAILS | +65 6332 5868 |
| OPERATING HOURS | Monday to Sunday: 12:00 PM – 10:30 PM |
If you're looking for a Japanese restaurant with budget-friendly meal sets, then look no further than Tatsu. We added it to our picks mainly for three reasons.
For one, it started as the only Japanese restaurant with a 24-seater long counter to give diners the feeling like they're eating at an actual ramen restaurant in Japan. If you want an authentic Japanese ramen dining experience, then this one won't disappoint.
Second, the taste and quality of its sashimi and sushi doesn't fall short of what you'd expect from a real Japanese restaurant. That's because it uses a wide variety of raw fish air-transported directly from Japan four times a week, so freshness is guaranteed.
Lastly, it's one of the few cheap options for Japanese cuisine on the island, with its lunch sets costing only $28 to $36. It's the perfect dining spot for a quick lunch break from work.
While it started as a Japanese Teppanyaki restaurant, the continued patronage over the years has allowed it to offer other native dishes as well. Its beverage selections are also commendable because of their rich variety of sakes, beers, and liquors.
Apart from regular dining, Tatsu also offers private dining in high-end surroundings perfect for dates and corporate gatherings, so those looking for Japanese fine dining will surely not be disappointed.
Premium quality of fish
First Teppanyaki restaurant in Singapore
Affordable lunch sets
Open for private fine dining
Customer Reviews
From the sauces to the meats and seafood, patrons say Tatsu offers a fantastic Japanese dining experience. Those looking for good Japanese food in Singapore seem to be impressed in particular by the enticing and authentic menu, and the seasonal offerings.
Great New Places featured the restaurant on their blog and here's what they have to say:
"The wide varieties of raw fish available are strictly air-flown from Japan four times a week to ensure the utmost freshness. As a testament of their commitment to provide you with top quality dishes, even their fruits are imported from Japan. Try out their specialties such as Aburi tuna belly, fresh Japanese oysters, grilled baby lobster as well as a wide range of sake to pair with."
4. Fat Cow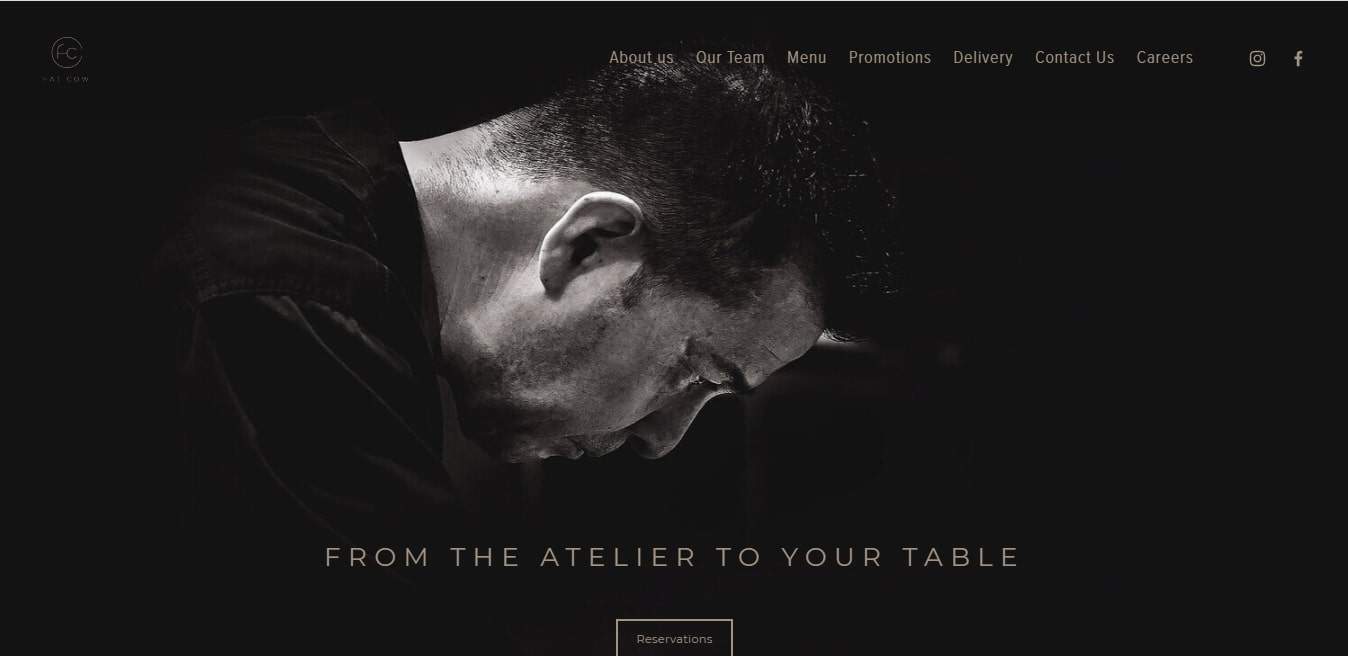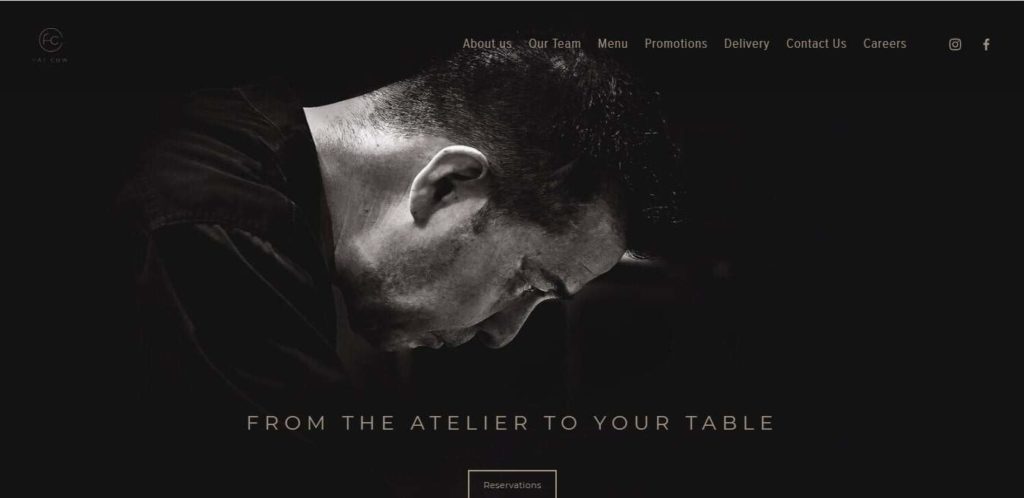 | | |
| --- | --- |
| BEST SELLERS | Sushi Moriawase, Tokujou Donburi, Gindara Miso Yaki, Fat Cow Donburi, and Wagyu Stew |
| PRICE RANGE | Call their hotline for more details |
| DELIVERIES | Yes |
| WEBSITE | https://www.fatcow.com.sg/ |
| ADDRESS | Camden Medical Centre #01-01/02, 1 Orchard Boulevard, Singapore 248649 |
| CONTACT DETAILS | +65 6735 0308 |
| OPERATING HOURS | Monday to Sunday: 12:00 PM – 10:30 PM |
When it comes to the best-tasting and finest Wagyu in Singapore, there's only one place to visit: Fat Cow. You've probably heard of it as it's one of the most famous Wagyu restaurants on the island.
Fat Cow's setting might be simple and minimalist, but its menu is one of the finest and fanciest among all the Japanese restaurants we've ever seen. It serves mainly handpicked Wagyu beef, sourced only from most reputable farms in the world.
It takes pride in their premium Wagyu beef offerings, as diners can pick out their preferred beef and preparation style. It can be prepared through the following methods: sukiyaki, shabu-shabu, hobayaki, and sumibiyaki (which is the most popular).
Fat Cow has different menu options including lunch, a la carte, dinner, desserts, and even sakes. You won't get bored while waiting either, because you can also engage in fun conversation with the chefs as they prepare your meal.
Obviously, this isn't a cheap restaurant, so we can't recommend it if you're searching for a quick dining spot for a lunch break. With its menu and price, it's more appropriate for romantic dates and special occasions.
Japanese fine dining
Uses premium quality Wagyu beef
Sophisticated food presentations
Customised preparation methods
An expensive Japanese restaurant
Customer Reviews
Customers are highly satisfied with Fat Cow's menu and casual, cosy ambience. They praised the chefs in particular for not only their food but also their friendliness.
Joanna recommended the restaurant and left this positive feedback on Google Reviews:
"This is a great restaurant. We enjoyed everything we had here, from the sushi to the steak, pork and vegetables. The drinks selection, including wine, sake and cocktails, is excellent. We got to sit right in front of the head chef, who is a lovely and very talented person. I would definitely recommend coming here."
Daniel Hua also shared the following comment:
"This was an experience that I have been looking forward to. All I can say is, the hype is real! I was totally blown away by the preparation, presentation and most importantly the burst of flavors from each and every course. The chef will take time to explain each and every course, the different ingredients and the preparation process. Totally wonderful. Photos and videos do not do justice to this amazing Omakase. You have to go and experience it for yourself. Thank you to the chef and service team at Fat Cow for an evening to remember."
5. Mikuni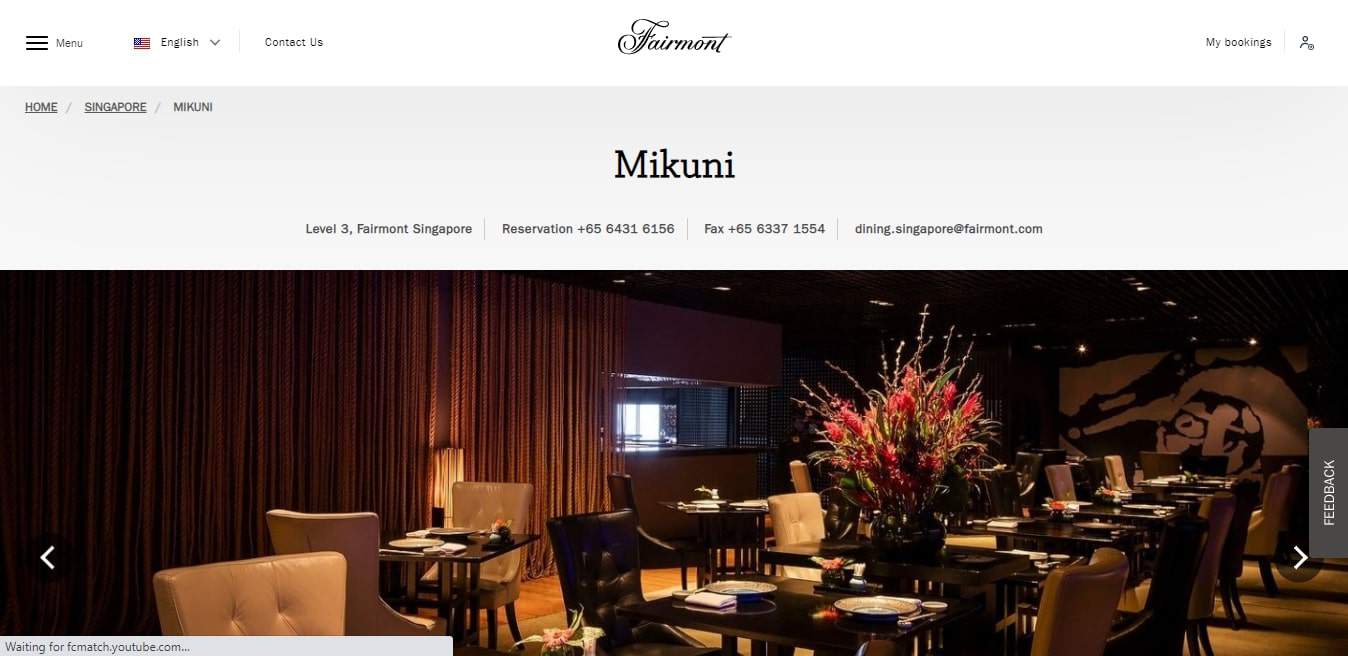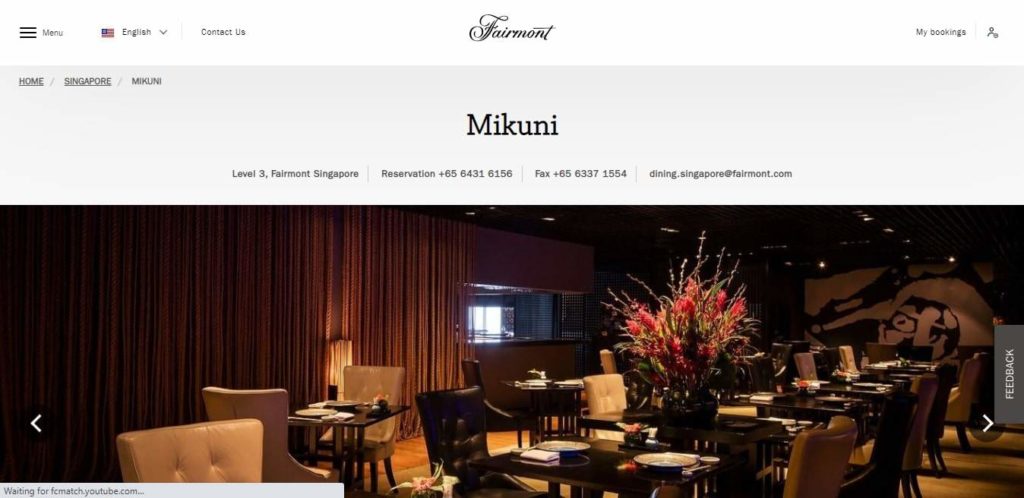 | | |
| --- | --- |
| BEST SELLERS | Sashimi, Grilled Unagi, Tempura, Wagyu Beef Steak, Tokujou Sashimi, Chirashi Sushi, Dragon Roll, and Ebiten Roll |
| PRICE RANGE | Call their hotline for more details |
| DELIVERIES | No |
| WEBSITE | https://www.fairmont.com/singapore/dining/mikuni/ |
| ADDRESS | 80 Bras Basah Rd, Level 3 Fairmont Singapore, Singapore 189560 |
| CONTACT DETAILS | +65 6431 6156 |
| OPERATING HOURS | Monday to Saturday: 12:00 PM – 10:00 PM |
Located inside the Fairmont Hotel, Mikuni is another Japanese restaurant to consider if you're looking for a fine dining experience.
When it comes to a variety of dishes, Mikuni is the one to beat. Its menu is divided into a la carte, bento boxes, lunch sets, dinner sets, winter lunch menu, winter dinner menu, and of course, beverages.
Some of its best-selling meals include the Wagyu beef steak, grilled unagi, assorted sashimi, tokujo sushi, unagi kabayaki. Most of its mains are usually made with either meat or seafood, both of which are of premium quality.
It's safe to say that guests will never run out of meal options when dining here. However, it doesn't really have a budget-friendly menu, with its cheapest lunch set costing about $80.
If you're a vegetarian, you may want to think twice before dining here because of the limited vegan options. Other customers tend to look past this though, given that it's a restaurant that specialises in fresh Wagyu and seafood.
Extensive food selections
Uses fresh Wagyu and seafood
Easy booking of reservations
Offers fine dining experience
Expensive meals
No deliveries
Customer Reviews
The stylish and polished interiors as well as the refined Japanese cuisine of Mikuni have earned a lot of praise from their loyal customers.
Yong Chief Gooi praised the restaurant and wrote this review on Google Reviews:
"One of my favourite restaurants which I have been going to over the past decade even when it was known as Inagiku. This place never disappoints and offers excellent food with great taste! Nice ambience, great service. Three menus are refreshed every now and then and offer great seasonal fare. Truly recommend this place for special events, or even just for a nice meal out. Prices are ok considering the class. Truly recommended to all!"
6. Rakuya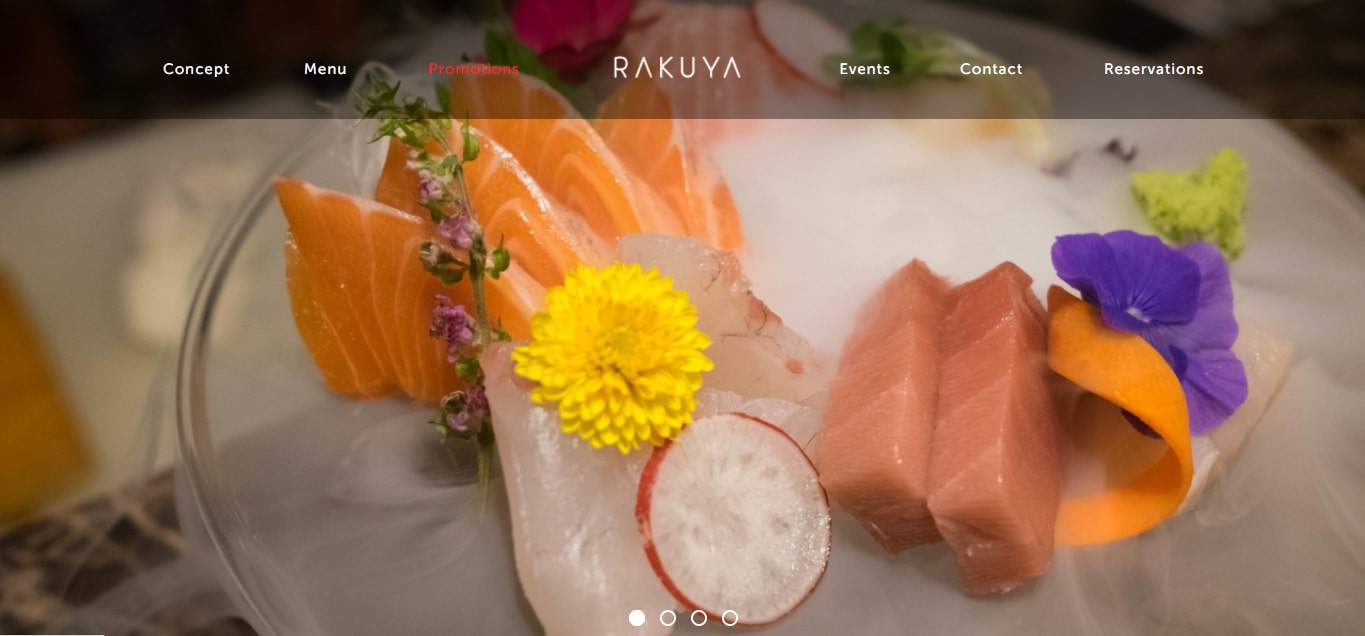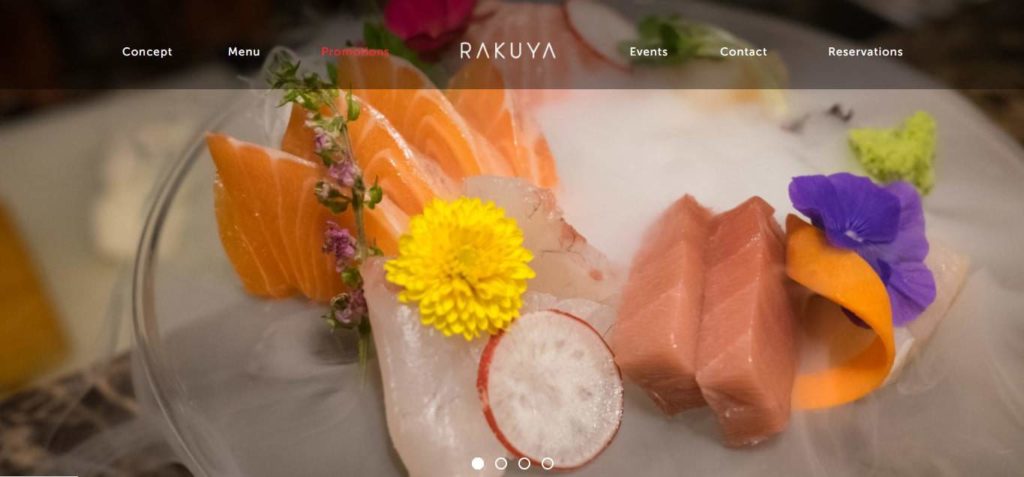 | | |
| --- | --- |
| BEST SELLERS | Hoshi, Tsuki, Taiyou, Bara Chirashi, Salmon Ikura, Pork Jowl, and Wagyu |
| PRICE RANGE | $15 and up |
| DELIVERIES | No |
| WEBSITE | http://rakuya.sg/ |
| ADDRESS | 89 East Coast Road, Singapore 428790 |
| CONTACT DETAILS | [email protected] |
| OPERATING HOURS | Tuesday to Sunday: 12:00 PM – 9:30 PM |
Rakuya is a restaurant that puts a fusion twist on classic Japanese cuisine, making it one of the most unique Japanese restaurants in Singapore.
Its unique take on Japanese cuisine is made possible through the brilliant mind of Chef Kenji, a chef with more than two decades of experience working at Japanese restaurants and hotels.
Another thing to know about Rakuya is that it frequently changes its menu to keep everything fresh, so every dining experience here will be a different one. What doesn't change is that its ingredients will always be fresh.
Besides the mouthwatering Japanese meals, guests will be able to choose from its fine selection of sakes coming from various regions in Japan. If you know nothing about sakes, its friendly staff will be more than willing to give a recommendation.
No worries if you're on a tight budget because most of its meals are priced reasonably. In fact, its best-selling dishes are mostly Japanese lunch sets, which cost around $15 to $28.
Budget-friendly menu
Great customer service
Fine selection of sake
Puts a twist on Japanese cuisine
No deliveries
Fully booked on some days, so reservations are recommended
Customer Reviews
Without a doubt, Rakuya is one of the best places to go to if you want deliciously authentic Japanese food. Their customers can attest how fresh and flavourful their meals are, thus their utmost satisfaction.
Kang WeiRong shared his experience on Google Reviews:
"Giving it 5 stars due to the good service and value for money. Made a reservation with ease through a phone call. Arrived and the staff even knew my name when we just said the time of reservation. Ordered the $48 8-course omakase meal and added a side with 2 beers. Dishes served were good even though it wasn't really a surprise as the couple beside us had exactly the same dishes which were served before us. Food is tasty and the portion is just about right to fill us up after all the courses. Do not expect to indulge in premium items though, salmon was the best bet. Service was fast and staff served u wet tissues when requested. Sat to chat a while more and the chef gave us an additional dessert! Thumbs up for the service! This place has very limited seating, so be sure to reserve early."
Here is a review left by Jenny Dew:
"Lovely cosy restaurant with friendly service and great food. Had the wagyu beef set and salmon sashimi for lunch and was blown away by the quality. Beautiful presentation and really delicious. Will definitely be back!"
7. Shin Kushiya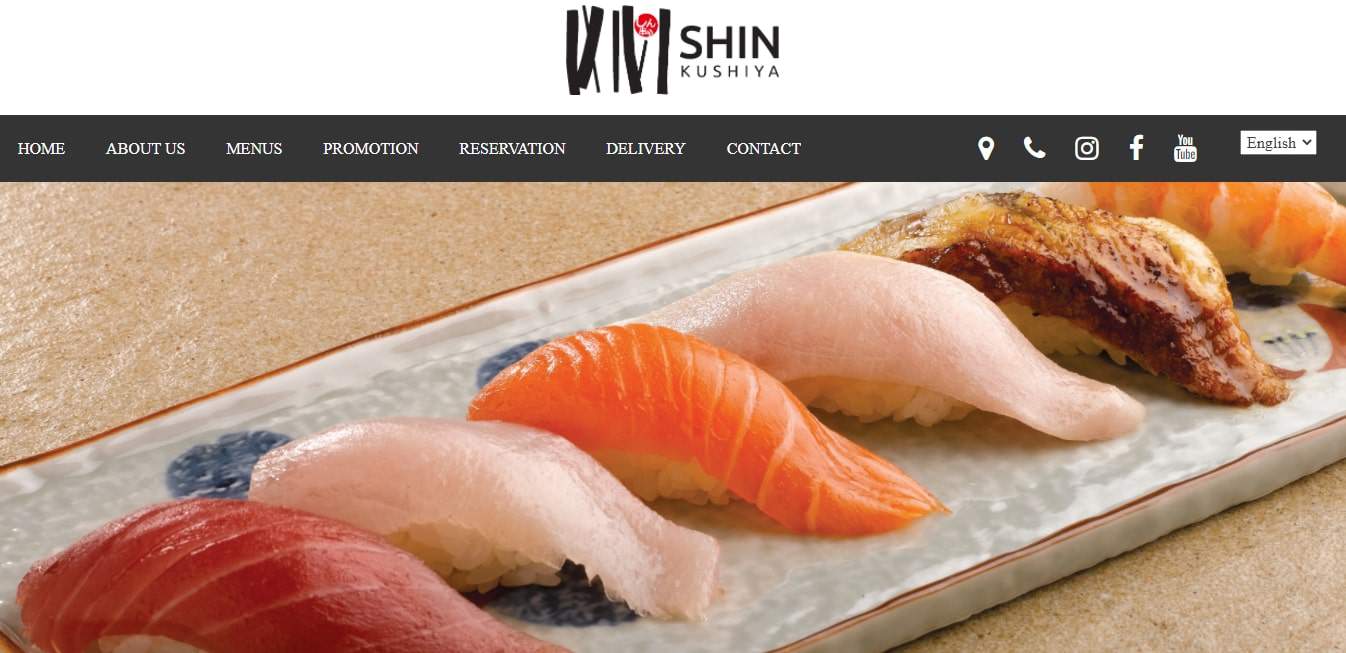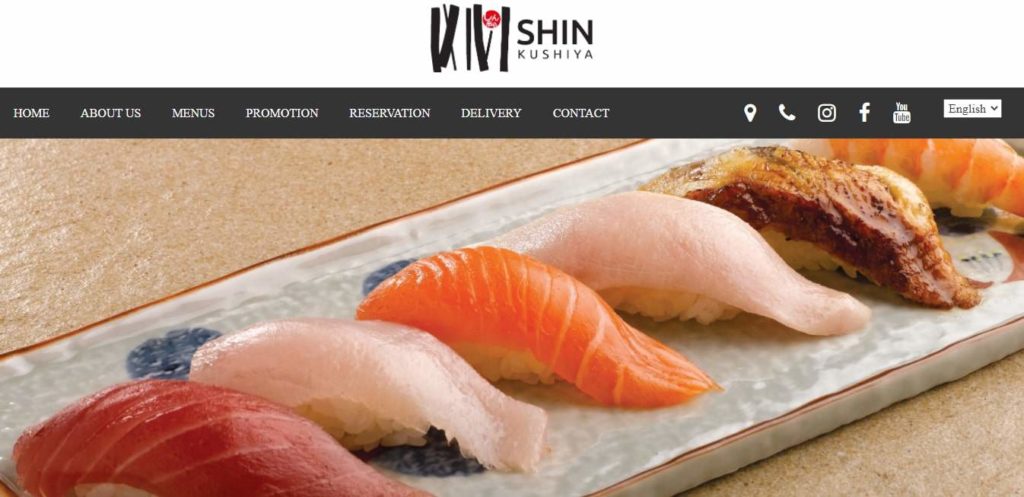 BEST SELLERS
Kushiyaki, Sushi, and Sashimi
PRICE RANGE
$15.8 and up
DELIVERIES
Yes
WEBSITE
http://rakuya.sg/
ADDRESS
1 Harbourfront Walk, VivoCity #02-120 Singapore 098585
CONTACT DETAILS
+65 6275 8766
OPERATING HOURS
Monday to Thursday: 11:30 AM – 10:00 PM
Friday to Sunday: 11:30 AM – 10:30 PM
There aren't a lot of affordable Japanese restaurants in Singapore, so when we found Shin Kishuya, we couldn't help but add it to our list. Here's why it's worth checking out:
Shin Kishuya is among the first Japanese dining spots on the island to introduce kushiyaki dining, which allowed people to taste Japanese cuisines at a low price. It may be a cheap restaurant, but it doesn't compromise the quality of its meals.
As a kushiyaki restaurant, most of its signature dishes are meat skewers made with fresh and quality ingredients. It doesn't use just any type of grill, though.
Shin Kishuya's skewers are grilled over Bincho Charcoal, a unique type of charcoal ideal for grilled dishes. This gives them a more notable smoky flavour that wouldn't be achieved with a regular grill and charcoal.

No worries if you're vegan because its skewers can be meat, seafood, or vegetables, all of which are covered with a signature special sauce that's uniquely Shin Kishuya. We're sure that this is the reason customers keep coming back.
For its affordable skewers, Shin Kishuya is a Japanese restaurant that's perfect for any occasion , whether it's a regular lunch out with coworkers or a special night out with friends.
Open for deliveries
Convenient booking of reservations
Budget-friendly menu
Has received complaints about long waiting time
Customer Reviews
Here's what a customer had to say about his experience at Shin Kushiya:
"Came here with a family of four just before 6pm. Ample seating, all the staff were on hand to welcome us into the restaurant. Ambience is good, though the aircon was a little cold but the staff immediately moved us to another warmer place when we asked for a change. Very touched by their service. Food was very sumptuous and fresh and tasty, especially the 1-inch thick Salmon sashimi. The skewered food was very well cooked to perfection. Will surely return again for more!" -James ZGQing
FAQs about Japanese Restaurants
---
And there you have them: the best Japanese restaurants in Singapore! It doesn't matter which of these you pick, as they're all guaranteed to provide an authentic, top-tier dining experience.
We hope this article has helped you find the best spots for Japanese food in Singapore. Even if you and your friends are just searching for the best Japanese restaurant near me (and you!), we're sure this list will help you find one.
In fact, we'd urge you to visit them all if you can so you can find out for yourself which is the best Japanese restaurant in Singapore! If you're a real aficionado of Japanese food in Singapore, you shouldn't pass up the chance to sample it on the island.
By the way, if you want more choices for your food trips, try our other restaurant roundups. Check out our lists of the best Italian restaurants in Singapore and of the best Japanese buffets in Singapore, for example!