The Top 20 Japanese Restaurants in Singapore
Japanese food is among the top cuisines in world food culture, and you don't have to fly over to Japan to get a taste of authentic Japanese meals.
There's no shortage of Japanese restaurants in Singapore, and we've narrowed it down to some of the best the city offers, from sushi to omakase-style dining.
How much does dining at a Japanese restaurant in Singapore cost?
Dining at a nice Japanese restaurant may cost you a few dollars for an excellent and satisfying meal.
Depending on reputation, dining style, and menu offerings, here are the estimated costs of dining at Japanese restaurants in the city:
| Japanese Restaurant Type | Estimated Cost |
| --- | --- |
| Omakase | $90 to $350 per head |
| Yakitori  | $2.50 to $6 per skewer |
| Yakiniku | $70 to $200 per head |
| Teppanyaki | $80 to $250 per head |
| Sushi | $120 to $400 per head |
Top-Rated Japanese Restaurants
We assessed the best Japanese restaurants in Singapore based on the following criteria:
Best Japanese Restaurants in Singapore
Satisfy your palate with our top Japanese restaurants that serve sushi, yakiniku, yakitori, and more!
1. Hakumai
Omakase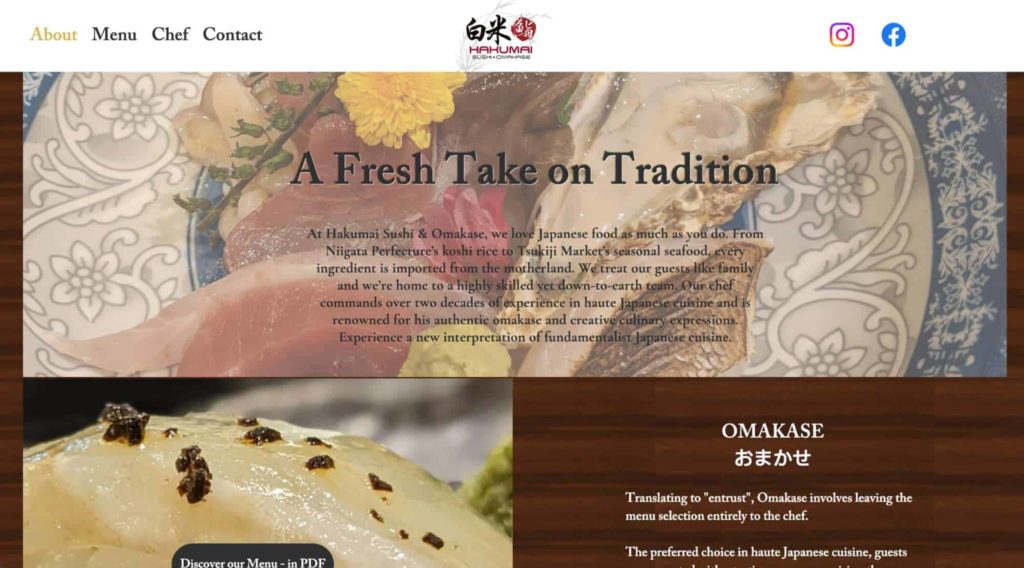 "Leave it to the Chef" is the tag line of Hakumai, an omakase Japanese restaurant in Singapore that both locals and tourists rave about.
One of Hakumai's highlights is its diverse "omakase-only" menu items that Chef Gary Ng specially curates. The traditional yet refreshing take on Japanese food is deserving of praise from the restaurant's loyal customers.
It's one of the reasons why dining here is best saved for special occasions and birthdays. While portions are generous, the chance to enjoy it at home is currently unavailable.
The restaurant's signature dishes are also only available for dinner, which starts after a four-hour break in the afternoon. It's best to get there before dinner starts, as lines tend to get long here!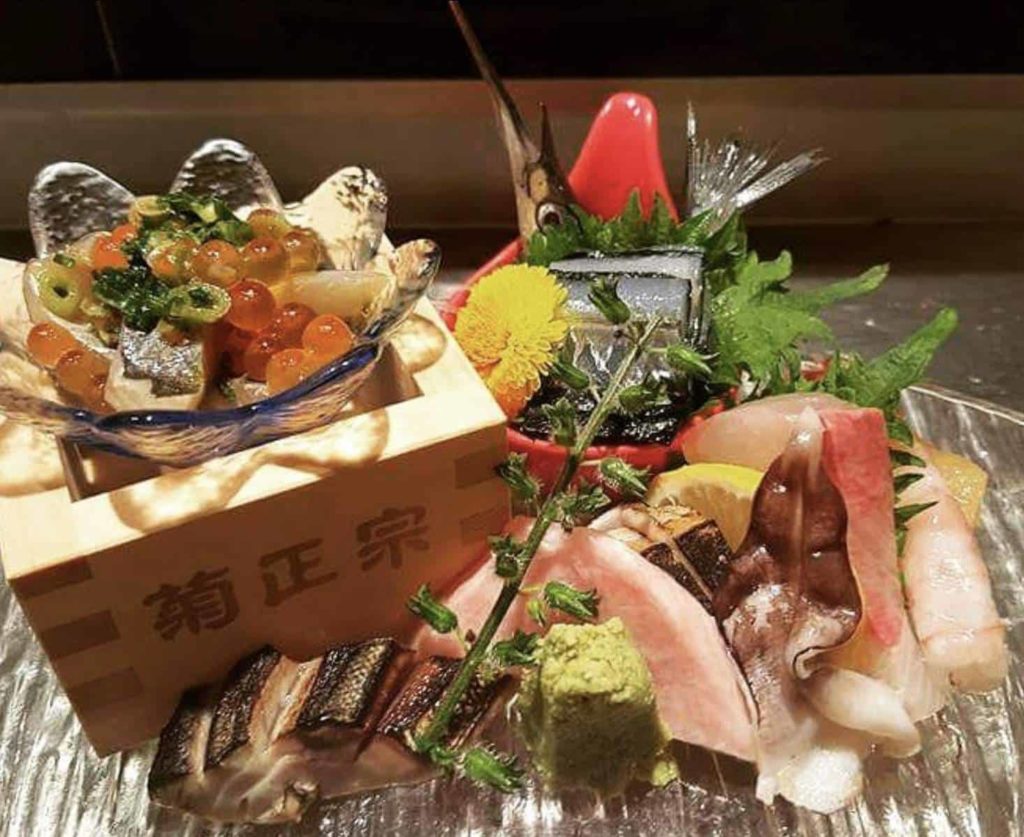 Customer Reviews
Best for special occasions
"Had their signature omakase meal for a birthday dinner. Each dish tasted different (different textures etc.) and were really nice – a very well curated menu and Chef Gary is nice). Do come with a very empty stomach as i was already full mid way through the courses 😂"—Juneeta G, Google Reviews
Generous portions
"Food is awesome, fresh, and you're curious as to what is coming next. Had the Omakase special. Portion is generous and I almost couldn't finish. Enjoyed sitting at the counter being engaged by Chef Gary. Will come back for more!"—Alvin Chua, Google Reviews
2. Ginza Sushi Ichi
Omakase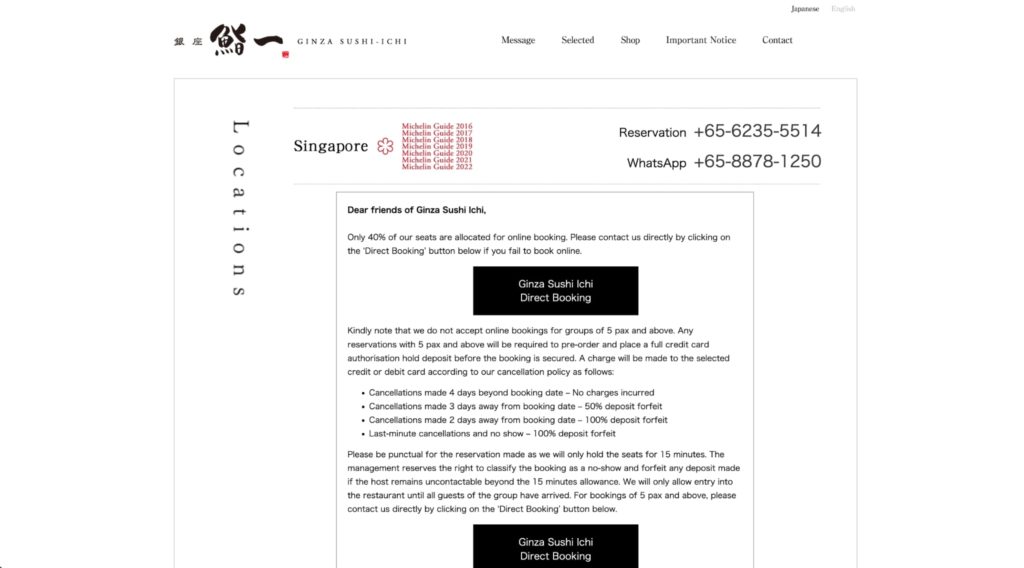 Ginza Sushi Ichi's Michelin-starred reputation keeps Japanese food lovers on its growing list of loyal guests. This place vows to serve only the best and freshest dishes—which is expected of an award-winning Japanese restaurant.
To make the most out of the experience, Ginza Sushi Ichi's Omakase Menu is personally customised by the head chef. Dishes are made with seasonal ingredients, so you can expect them to be fresh and delicious.
That said, getting a seat at the table requires patience, as the limited seating policy retains exclusivity. Lucky for us, dining here was worth the wait, save for the customer service that somehow didn't exceed our high expectations.
Despite that, dining at Ginza Sushi Ichi was an experience for the books. We highly recommend visiting this Japanese restaurant whenever you're in the area.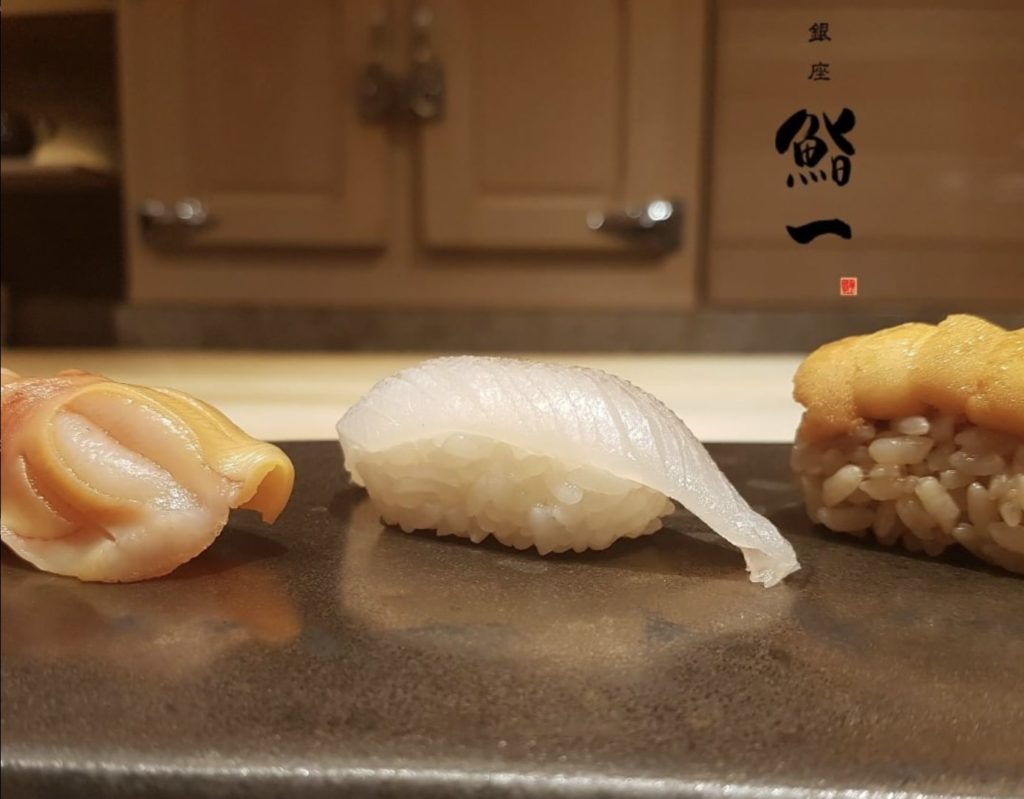 Customer Reviews
Worth every cent of its price
"Great omakase experience at Ginza Sushi Ichi! Both the wait staff and the chef are superb and makes you feel right at home. Besides great service, the food was amazing too! The charcoal grilled otoro literally melts in the mouth and taste absolutely heavenly. The uni and ikura were super delicious and fresh. All the sushi and sashimi were extremely fresh and delicious."—Kai Ren Tay, Google Reviews
Great dining experience
"Had Botan lunch menu. Good combination of sashimi, sushi and cooked dishes. Quality is fantastic. Great dining experience. Thank you Chef Takeshi and Justea."—Ben Tan, Google Reviews
3. Tatsu
Teppanyaki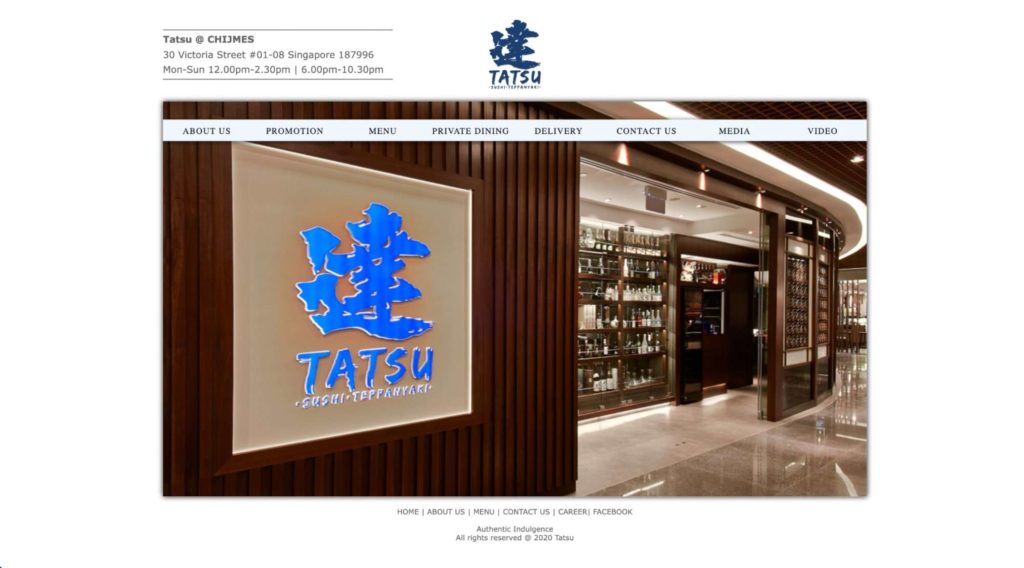 Searching for a Wagyu teppanyaki dinner experience that won't break the bank? Tatsu's Wagyu Dinner Course may just be the Japanese food you're looking for.
Tatsu specialises in teppanyaki and has lively and friendly chefs who work the stations with great skill. The servers are equally friendly and attentive, which is a huge plus for us.
Since Tatsu is quite known in the city, strict dining time limits are in place to prevent long waiting times. To us, it seemed like the pressure to serve as many customers in a day affected the food quality in the end.
While the chefs sometimes rush the course, dining here during off-peak hours offers a pleasant Japanese food experience that every food lover on a budget should try.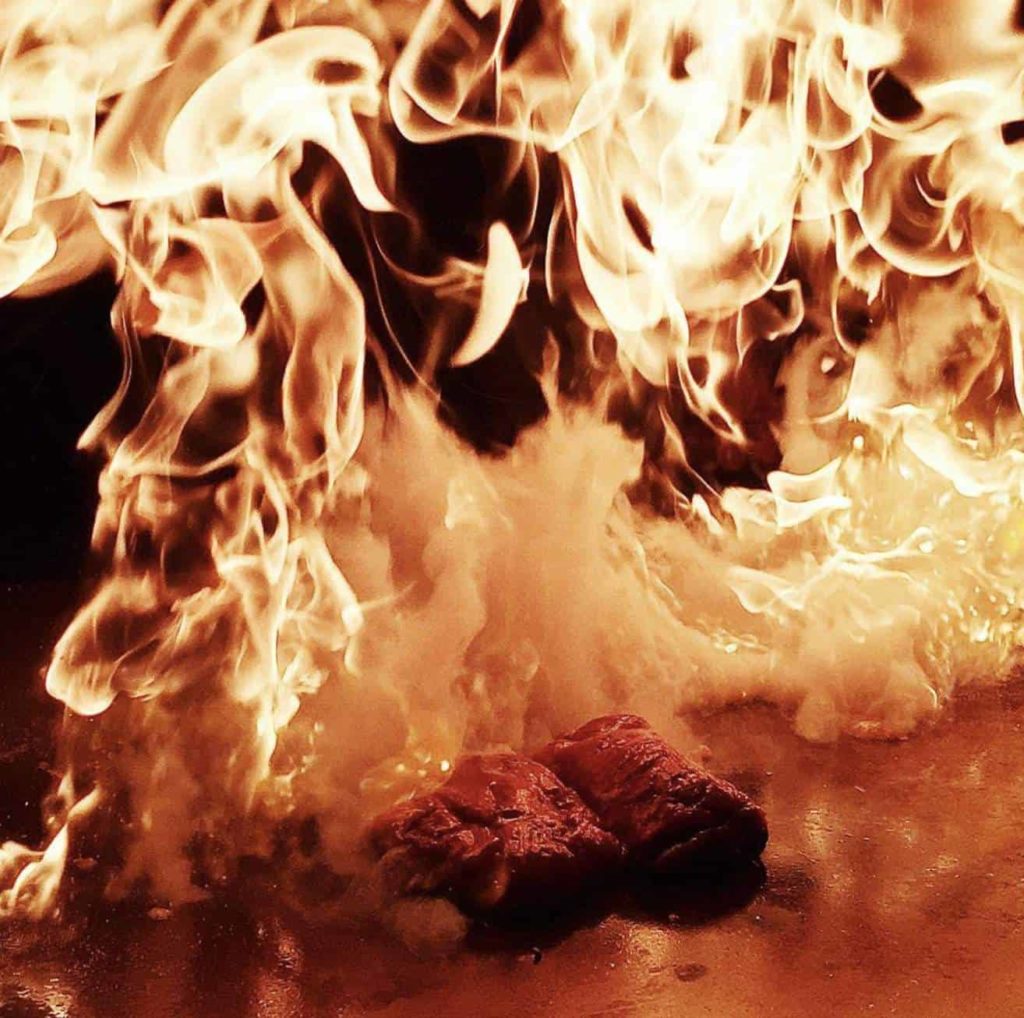 Customer Reviews
A feast for the senses
"Food really yummy. Very funny chef. Celebrating birthday and chef performed a 'fire performance' for beef tenderloin and 'beating heart' fried rice. Really entertaining. Service staff a little intimidating with repeated up-selling. Cosy place. Limited seating. Overall still a very wonderful experience."—Thomas Cheah, Google Reviews
Impeccable service
"Service is impeccable! The servers waited patiently as we go through their extensive menu albeit the restaurant was fully booked. Ambience was cozy, great dine in and chill out place. Dinner was great. Every item we ordered were cooked to perfection. Especially the waygu which i request for medium well"—Happy, Google Reviews
4. Teppan-Ya
Teppanyaki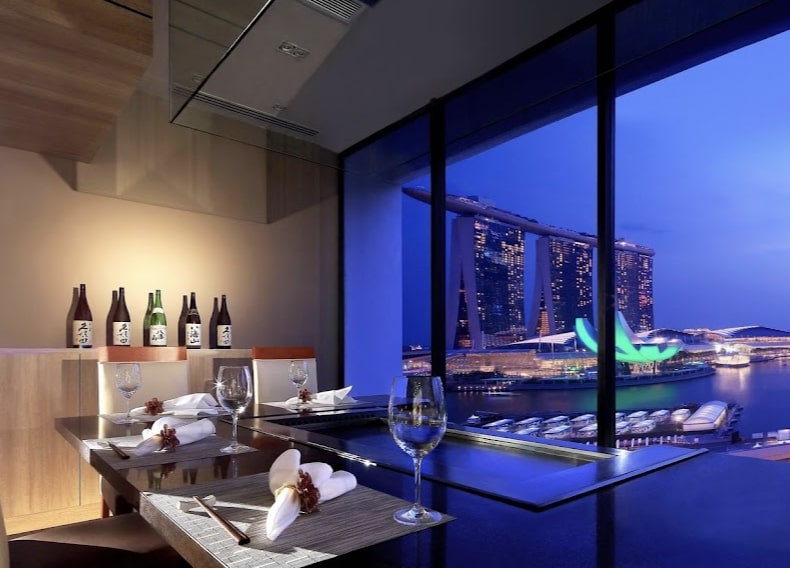 The Mandarin Oriental's Teppan-Ya is one of the best places to experience teppanyaki in Singapore. It's a more fine-dining experience with steeper price points, but the views of Marina Bay and excellent service justify the cost.
It's always thrilling to watch skilful chefs do their magic behind teppanyaki tables. But for the price points, Teppan-Ya's portion sizes are a bit smaller than other Japanese restaurants.
There's an a la carte menu available for guests who want appetisers or lighter meals than a full teppanyaki course.
We suggest pairing your Japanese Wagyu with a light appetiser or drink from the menu.
Customer Reviews
Beautiful showmanship
"Lovely dinner experience from my love 💓! Great service and wonderful food… beautiful showmanship by Chef"—Archer Wee, Google Reviews
Comfy vibe and hospitality
"Amazing hospitality, vibes and food. You get a lot more in experience and in quality than what you are paying for! We sat at the Teppan counter with the view of the city which truly added to the experience. The chef was chatty and informative, and did justice to everything we ordered! The Wagyu was absolutely fantastic and was marbled well.. The unfiltered Sake hit the spot right and ofcourse there is this feeling of entering a comfortable coccoon as soon as you walk into the lobby of the Mandarin Oriental!"—Rahul Bhade, Google Reviews
5. Mistuba
Japanese Buffet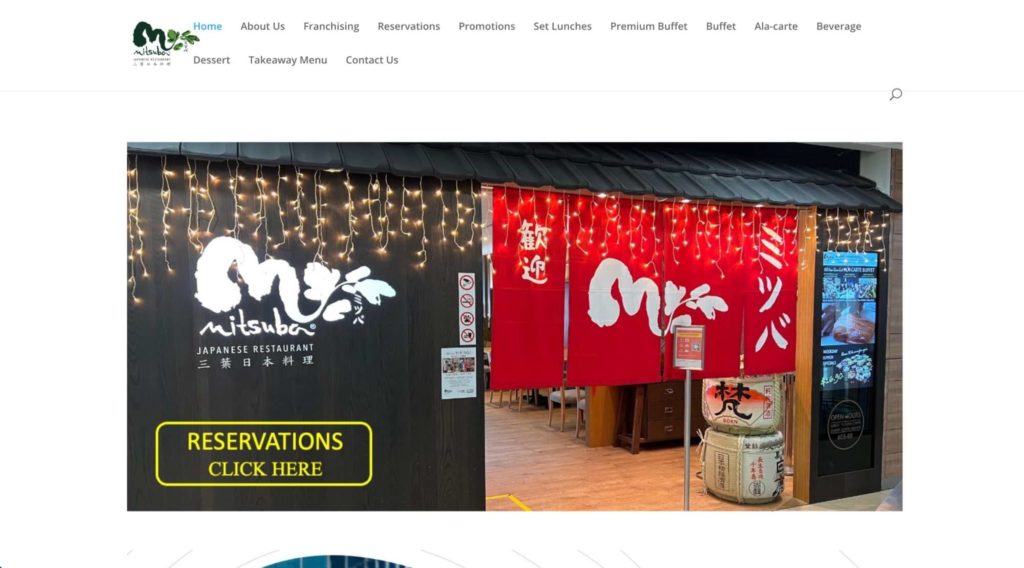 At Mitsuba, you can fill your stomach with dozens of sushi and tendon dishes until you drop! Free-flowing beer is available for refreshments, making this Japanese buffet restaurant a top spot for food lovers.
With views overlooking Clarke Quay and fresh seafood daily, Mitsuba is a solid Japanese restaurant for special occasions and celebrations.
Just make sure to book a table in advance, as tables are usually fully booked here. Customer service can be a bit slow due to the influx of guests, but the wait is pretty worth it!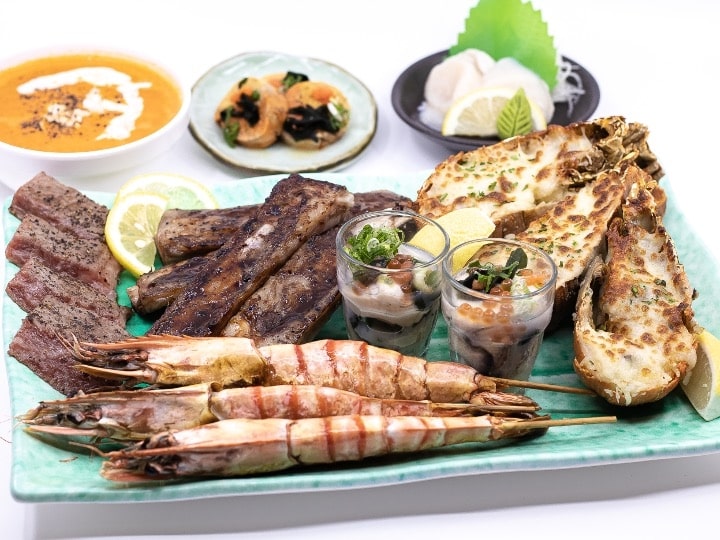 Customer Reviews
Exceptional value for money
"One of the best Japanese restaurant in Singapore – exceptional value for a buffet includes everything – great tasting dishes, super fresh seafood and great friendly service in a lovely cost setting overlooking Clarke quay. A definite must try place!"—Matt C, Google Reviews
Generous portions
"Awesome ambient and buffet food! The quality of the sashimi is quite good with generous thickness! Just do some reservations and all will be good, as it tends to get full house!"—Essper Tan, Google Reviews
6. Kumo Japanese Dining
Japanese Buffet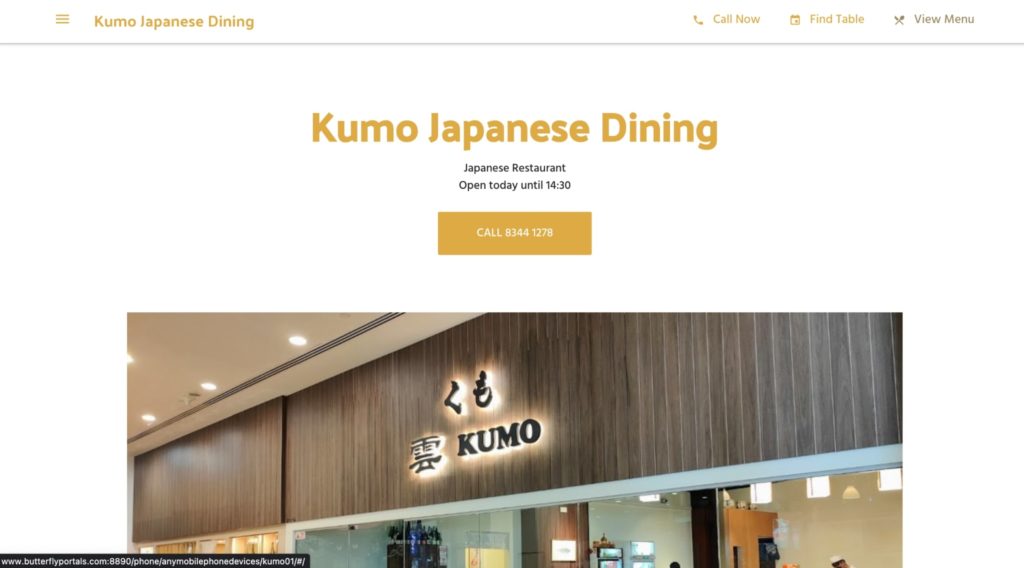 If you're a sashimi lover, then Kumo Japanese Dining's seafood buffet spread might just be your cup of tea. Each cut is fresh and thick, with dozens of other side dishes to pair your chosen meal with.
Even better, Kumo offers frequent promotions for its diners. You can follow them on social media or give them a call about any ongoing promotions you can take advantage of.
As expected from a known Japanese buffet restaurant, tables tend to be fully booked, and the high influx of customers often leads to slow customer service.
If you don't mind the wait, we highly recommend giving Kumo Japanese Dining a try!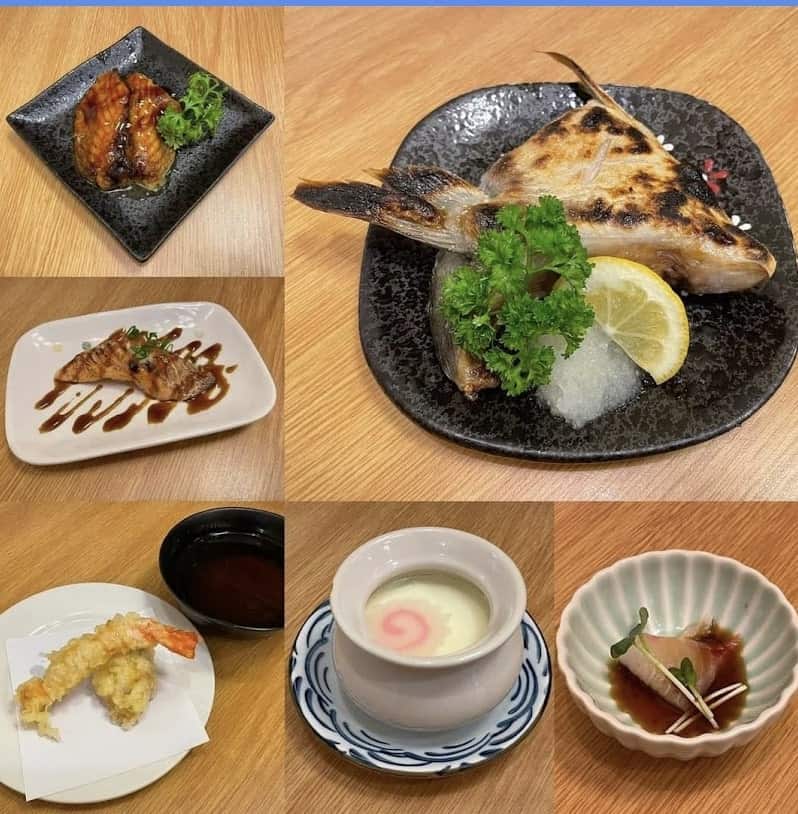 Customer Reviews
Just the right amount of Japanese food
"A worth it buffet if you are a sashimi lover. Theirs is fresh and came with thick cuts. Though their variety is lesser but it quite enough to enjoy some of your favourite Japanese typical food. At least all their fried stuff came hot and crispy."—Peifa Zhou, Google Reviews
Fresh seafood cuts
"Great experience at Kumo , fresh sashimi and very nice tempura as well. Sushi options and handroll are also superb. Thank you for preparing the sushi cake as well as we are there to celebrate birthday. Looking to return again soon for another feast."—OJH, Google Reviews
7. The Gyu Bar
Japanese BBQ
The Gyu Bar's elegant setting makes it an excellent choice for dining with friends, family, and colleagues. It's a contemporary yakiniku restaurant that provides diners with an artisanal gourmet dining experience.
In line with that, it surely isn't a budget-friendly Japanese restaurant, with meal seats that cost about $30 to $50. Delivery tends to be slow too, as each order is prepared with care.
The Gyu Bar's menu showcases their prime pride, premium Wa-Oh Japanese beef, which you can explore in different rare cuts, flavours, and textures. Every cow is raised in a stress-free environment and fed mainly vegetables.
All in all, for its premium meat selection alone, it's enough for us to call it one of the best Japanese BBQ restaurants in Singapore.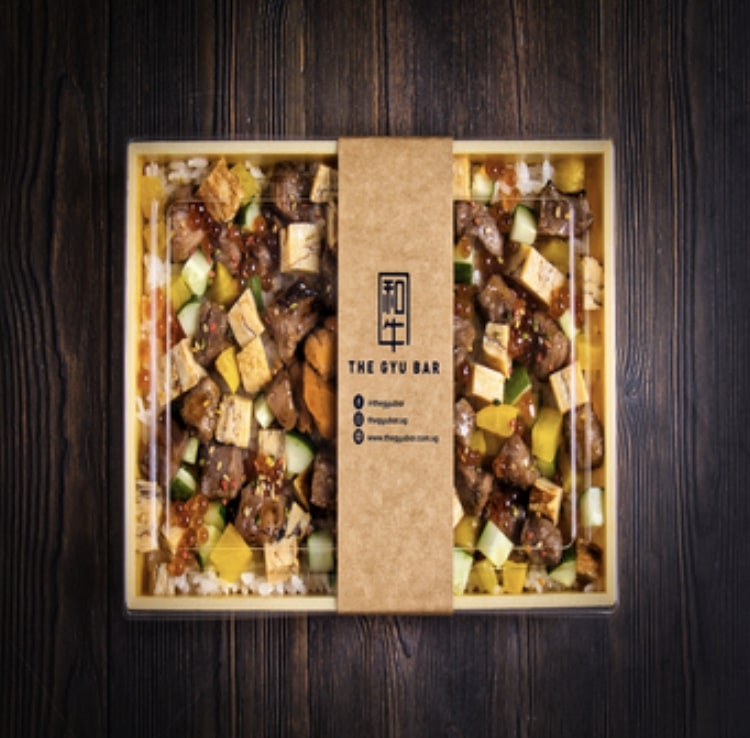 Customer Reviews
Meat cooked to perfection
"My second visit here. The choices of cut of beef never disappoint and they are cooked to perfection in the kitchen before they are served to you. Price is very reasonable for the quality. Pork and prawn are equally awesome."—Shane CPS, Google Reviews
Tasteful interiors
"Wide selection of beef. The olive one especially has a unique taste. The sukiyaki is delicious. Tasteful decor and friendly atmosphere."—Omar Shoman, Google Reviews
8. Tampopo
Japanese BBQ
Tampopo sources seafood and other ingredients for yakiniku fresh from Japan. Customers can then enjoy these ingredients either in their raw forms with sashimi and shabu shabu options or in refined Japanese dishes like udon and sushi.
The owner of this restaurant is even a part of one of the longest-running sake breweries in Japan. So customers can expect nothing but the highest quality of ingredients and products.
All of these delicious meals are even available for takeaway and delivery. Those who can't visit any of Tampopo's locations can simply order online, but free delivery is only available for orders above $200.
It's also worth noting that Tampopo gets quickly fully booked, so it's best to book a table a few days in advance.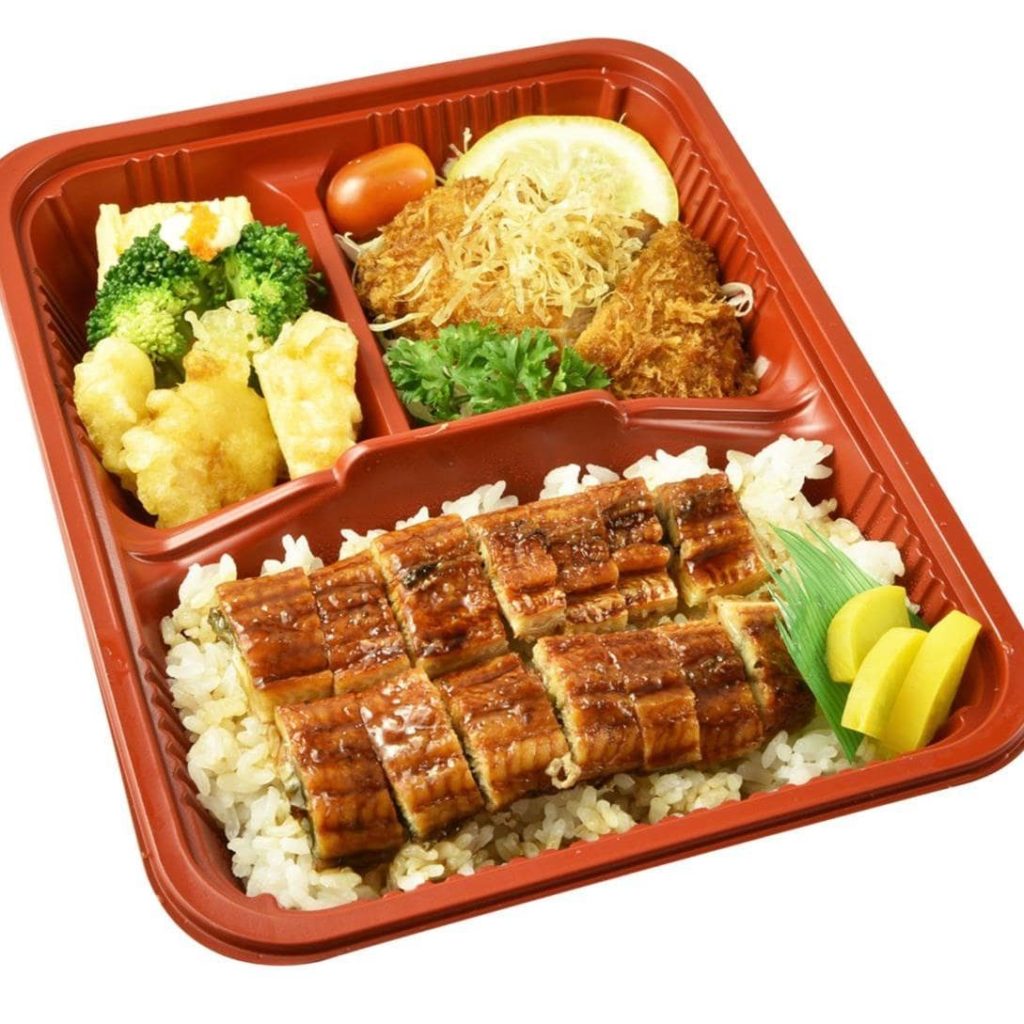 Customer Reviews
Good quality at decent prices
"One of the best Japanese restaurant chains around Singapore. Good quality at decent prices, they serve a wide variety of Japanese food items. My personal favourites are the ramen, katsu don and sushi rolls. Tempura is a great choice as well. Good for gatherings, but be sure to arrive early to avoid the queue."—Deon Lim, Google Reviews
A taste of fresh Japanese food
"Good Japanese food here. We enjoyed our dinner here. Very good and fresh raw fish or "sashimi", and other foods. Rather fast service and fairly priced."—Suria Nataadmadja, Google Reviews
9. Yen Yakiniku
Japanese BBQ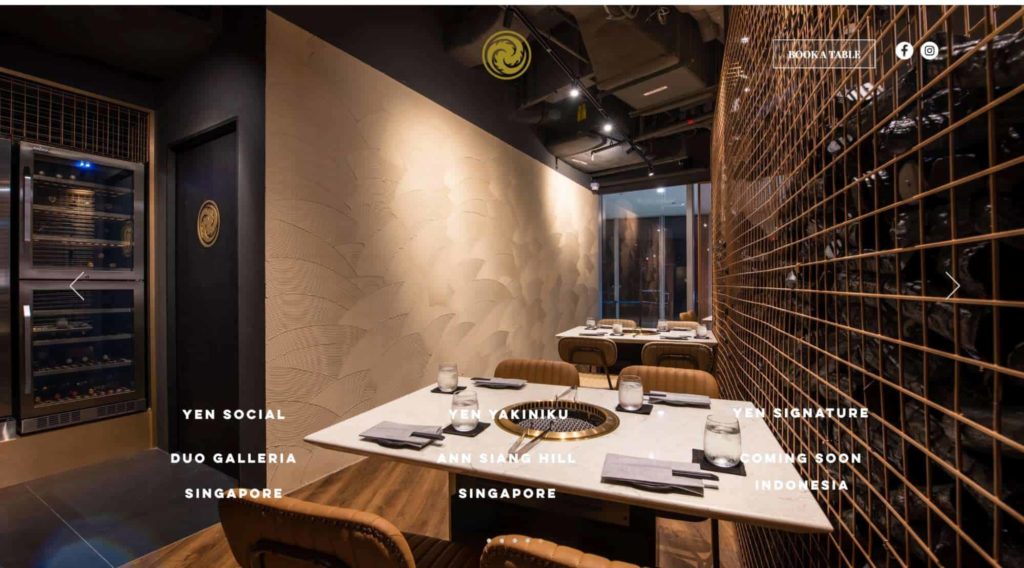 Yen Yakiniku has no shortage of the most premium beef cuts in Singapore. This yakiniku restaurant boasts the best meat and off-menu items that leave guests with lasting impressions.
The food quality here is the main highlight, which says a lot about the price point. It's quite expensive to dine at Yen Yakiniku, but for the premium meat and attentive service, it's worth every penny you spend here.
The ambience also speaks volumes about the premium you're paying for. Staff members are friendly, and the environment is perfect for a romantic Japanese restaurant experience.
That said, only dinner is served here. Lunch hours are not available, which could upset some guests who prefer Japanese food earlier in the day.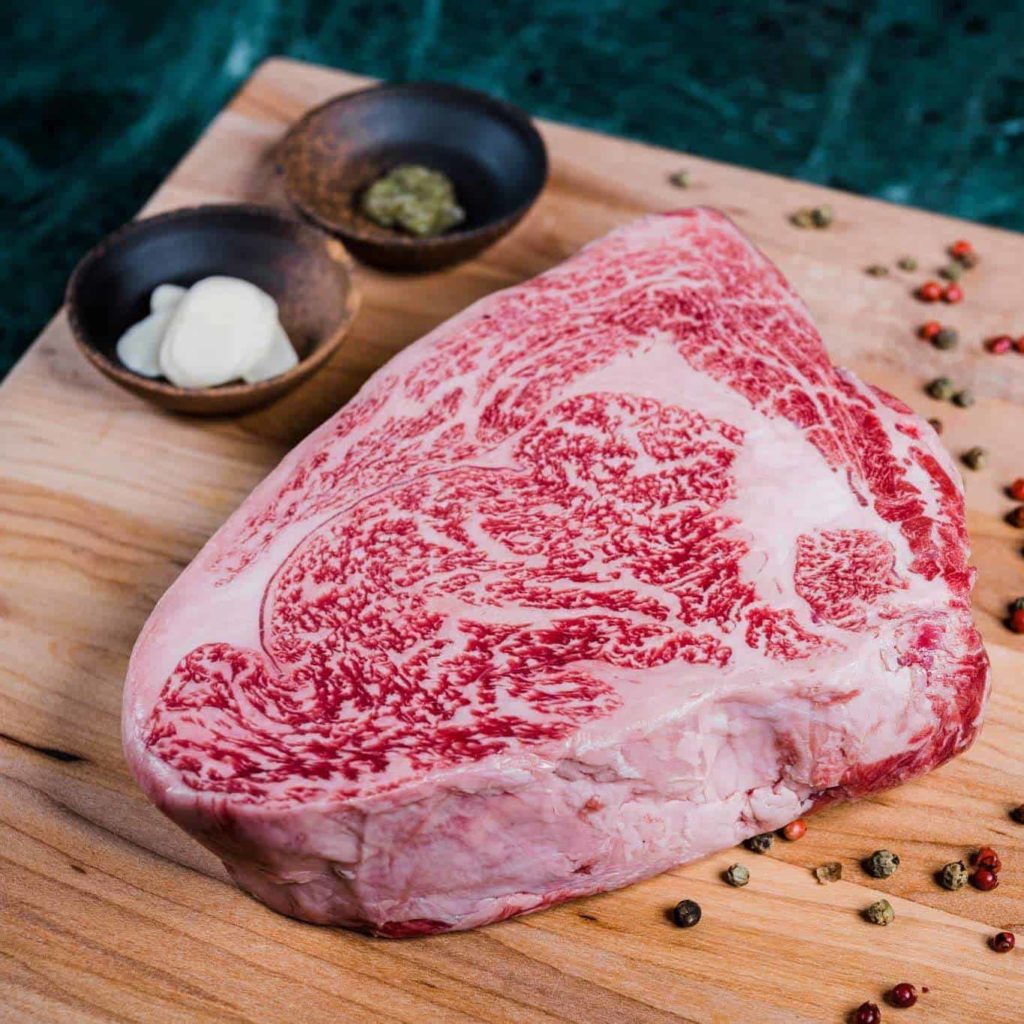 Customer Reviews
You get what you pay for
"The food was exceptional. You do pay for the quality so don't expect it to be cheap. Our bill was 260 sgd per person and it was definitely worth it. It has bar seats only and it's great to see the chef's cook right in front of you. if you want your out of town guests to have an outstanding meal, go here."—SuperCashSG, Google Reviews
The best quality guaranteed
"Melty beefy goodness in your mouth that tastes like heaven! Was so worth the anticipation & every cent spent. Although the price is steep, you're guaranteed quality in everything they serve. A very cosy restaurant so you're well taken care of by their attentive and friendly staff."—Fanny Elias See, Google Reviews
10. Sushi Jiro
Sushi Restaurant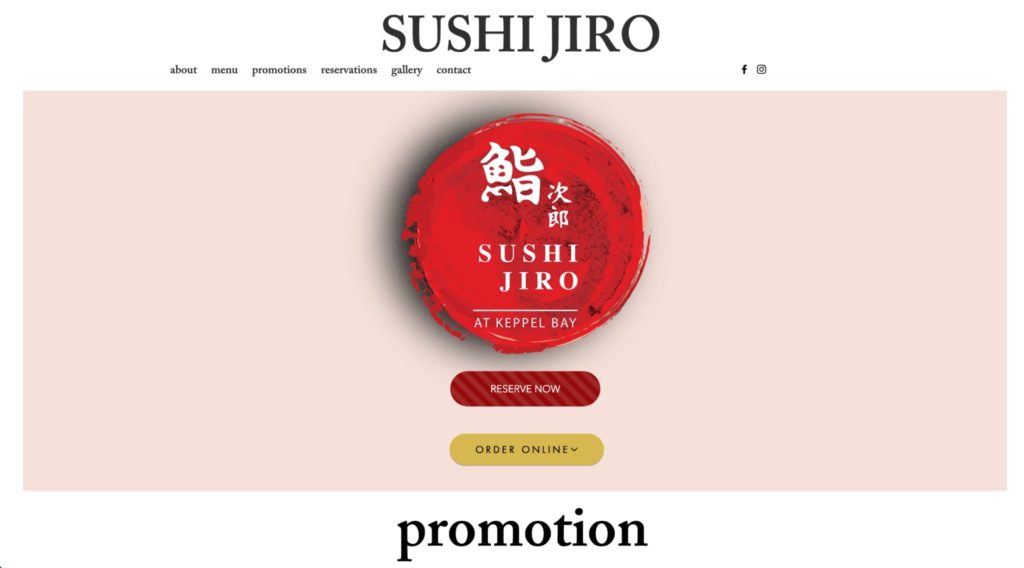 Sushi Jiro is a nice Japanese restaurant well known for its sushi. To make sure that each meal is made from fresh ingredients, Sushi Jiro flies handpicked ingredients from Japan at least four times a week—talk about dedication.
Those who want a seat in this restaurant need to fill out its online reservation forms. Guests who can't visit either location can still enjoy Sushi Jiro's meals, as this restaurant also has delivery and takeaway options.
For some, delivery services may be the best way to enjoy Sushi Jiro's food, especially since we've heard and read numerous complaints about its quality of service.
To add to this setback, you should know that Sushi Jiro is also among the most expensive Japanese restaurants in the city.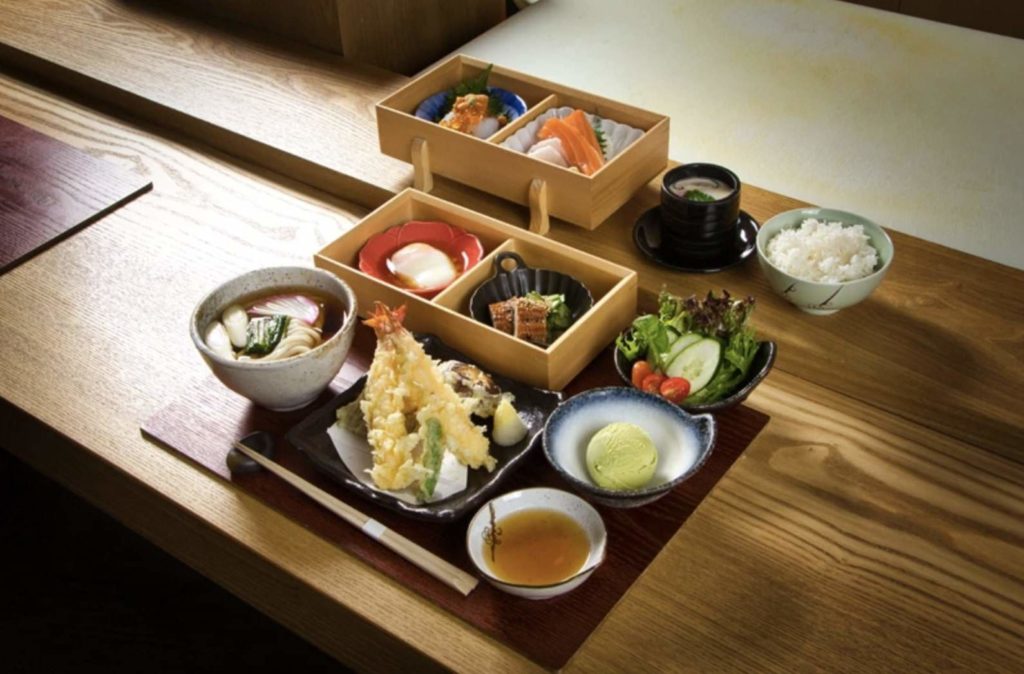 Customer Reviews
Excellent dining pacing
"TVery value for money as the quality of the fishes is very fresh. The sequence of eating the fishes make sure that the more over powering fishes are serve last so as to taste the freshness. Will definitely go back again."—Gwee Jie Ying, Google Reviews
Only the freshest ingredients possible
"Very fresh ingredients. Most of all their items were clearly made from scratch. Good stuff. Abit pricey but u get a decent marina view if u take the counter seats."—Hugh Kwan, Google Reviews
11. KOMA Singapore
Sushi Restaurant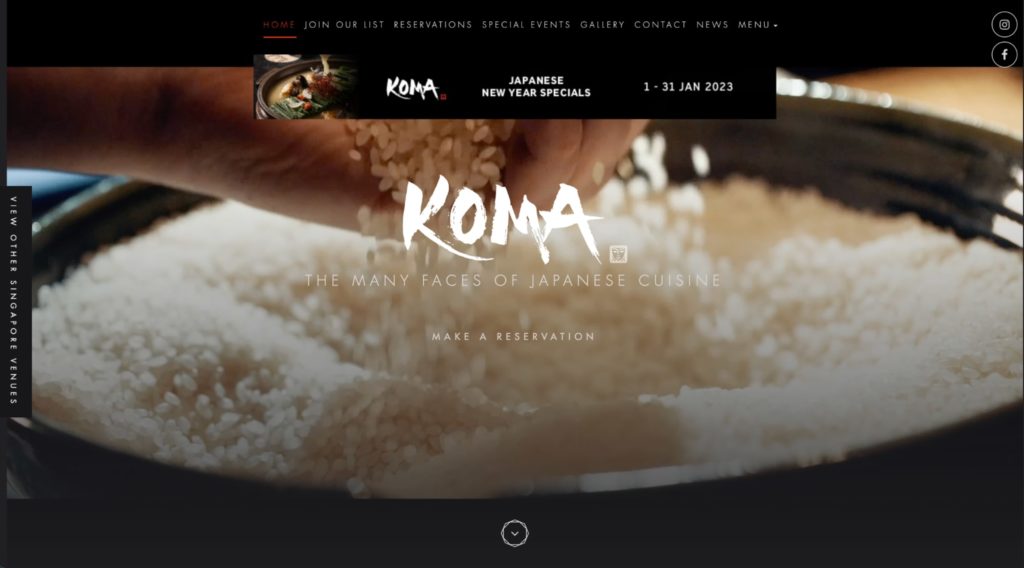 KOMA Singapore's tasteful interiors and Asian fusion cuisine are a few of the many highlights worth noting about this nice Japanese restaurant. It's also a great social hub for guests who like to stay up late, enjoying quality sushi and drinks.
Thanks to its long operating hours and comfy yet sociable ambience, KOMA is an excellent venue for social gatherings and special occasions.
The food is expertly plated, almost treated like works of art by the chefs. It's not surprising that a unique restaurant concept, like that of KOMA, would enforce a strict dress code.
While the website says to dress smart casual, it's best to dress up a bit formally instead. Customer service is notably concerning for some past guests, but we think service speed depends on the crowd levels.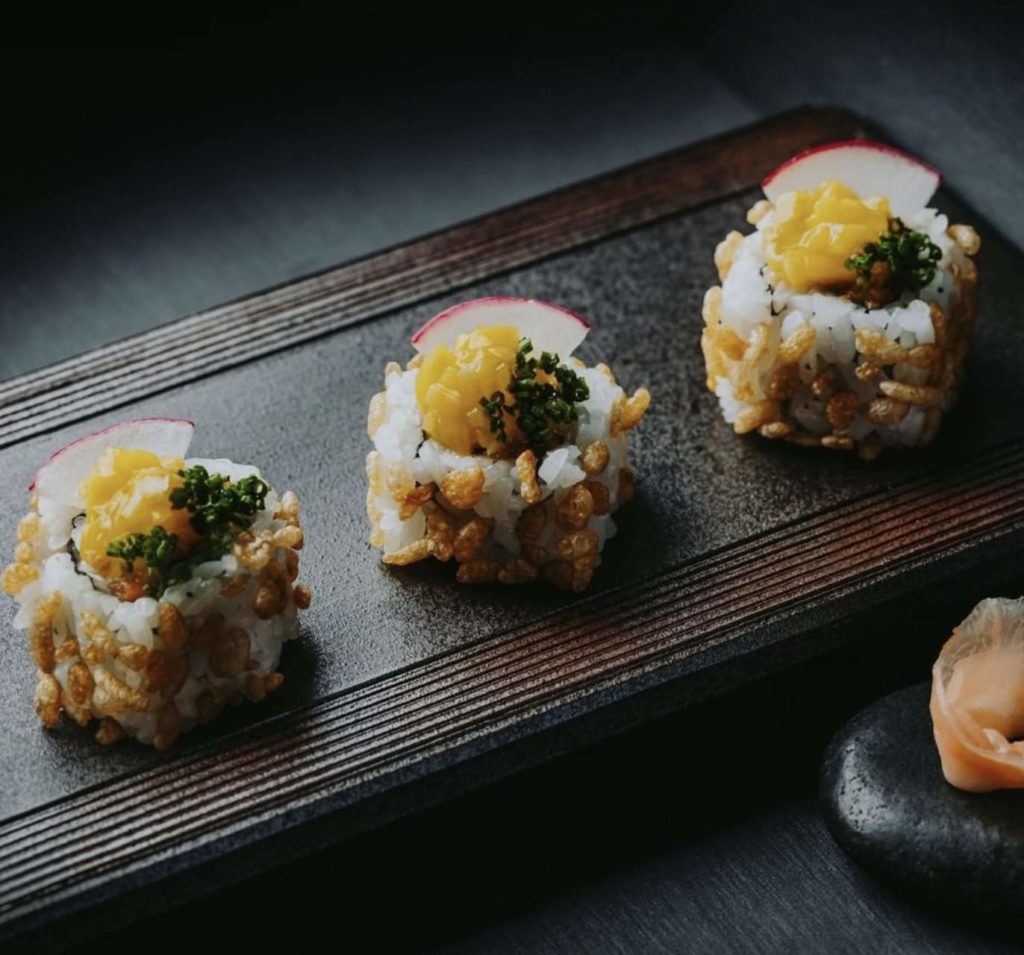 Customer Reviews
Amazingly decorated interiors
"The atmosphere is just wonderful. One of a kind even in Singapore. High ceiling. Amazingly decorated. Magical is a close word since it kinda transports you to a part of Japan."—Jacob, Google Reviews
One of a kind Japanese dining experience
"Super exotic, posh restaurant located in one of the best malls in the city. I knew about it, but the presence inside was too elegant. Food felt exotic, and special. The desserts are to die for. It was great experience. Highly recommended for a lavish lunch or dinner with a date or even to hang out with friends."—Vivekananda Bheemisetty, Google Reviews
12. Koji Sushi Bar
Sushi Restaurant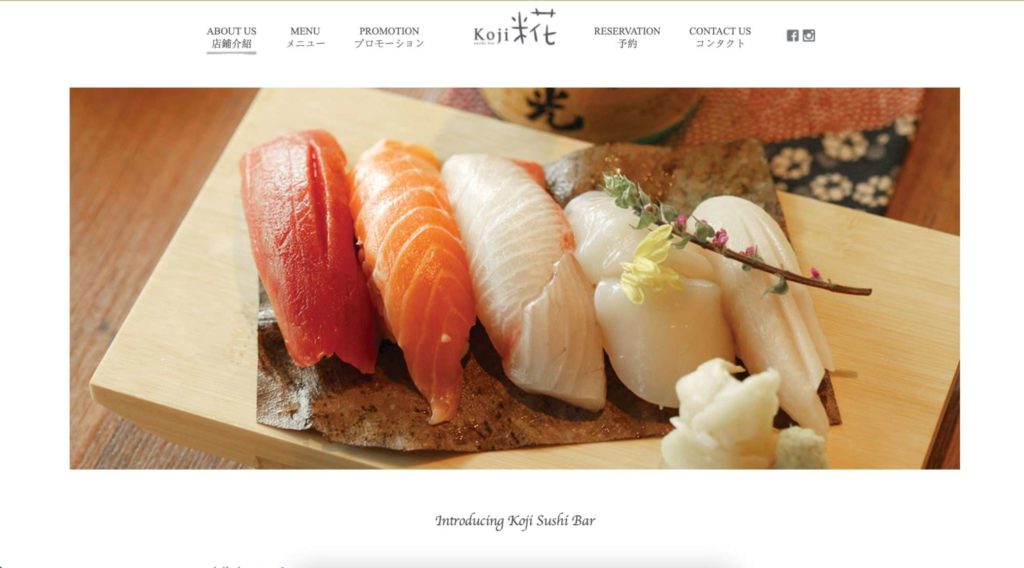 Searching for a different take on Japanese food? Let Koji Sushi Bar impress you with its innovative and creative platters.
This sushi restaurant has garnered the support of both locals and tourists for its impressive sushi creations and fresh seafood dishes. The amiable ambience amplifies that inviting aura inside Koji Sushi Bar.
The sushi restaurant likes to serve its specials in omakase style, so expect servings to be a bit smaller than usual. We also noticed slight inconsistencies with customer service and speed, but with the number of customers the staff serve daily, it's understandable.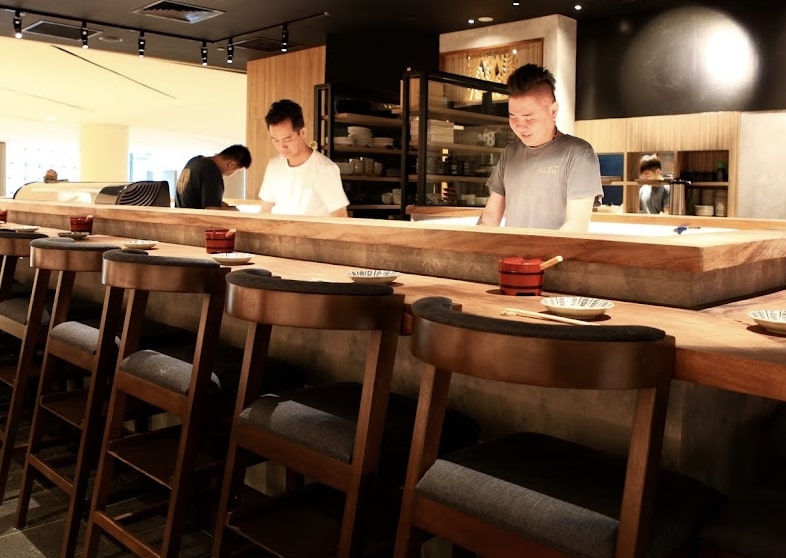 Customer Reviews
Unique sushi creations
"This is my first time to Koji and it was such an enjoyable experience. The ambience, service and food quality are all great. Impressed with the fresh ingredients. I can't wait to come back for their omakase! there are many innovative dishes that are not commonly found at other Japanese restaurants. I'll let the photo speak for itself!"—rik, Google Reviews
Thoughtful staff members
"Celebrated my son and grandson's birthday at our favourite restaurant, Koji today.We loved the food and ambience and also the good service provided. Today Chef Leong created something special for the birthday boy which made him so happy. Thank you for the sweet gesture."—Lilian Tan, Google Reviews
13. The Sushi Bar
Sushi Restaurant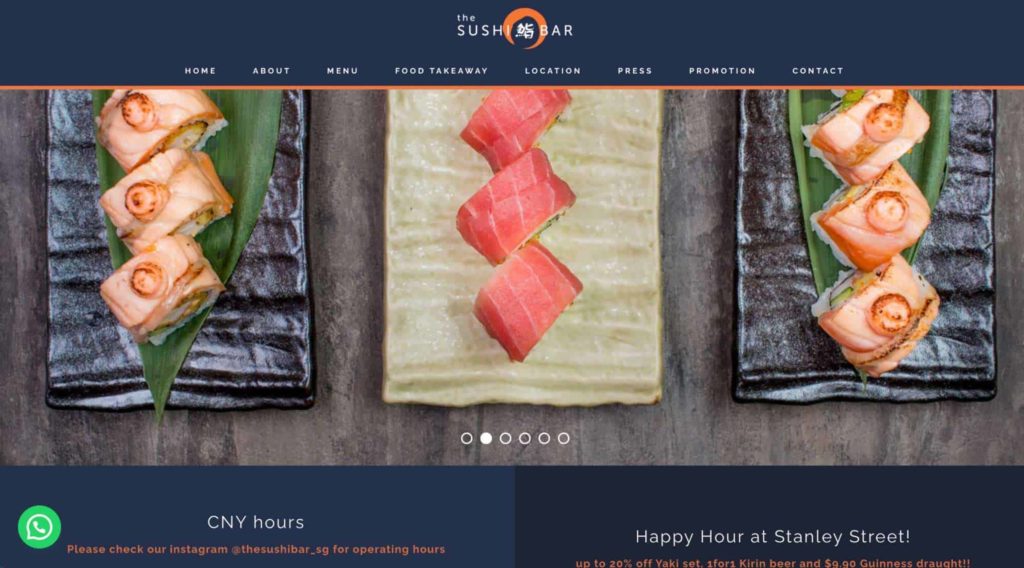 Aside from being a sushi restaurant, The Sushi Bar also serve mouthwatering yakitori and rice bowls that continue to wow guests, whether new or returning.
What we like most about The Sushi Bar is its portion sizes, which is impressive, as each dish is served in huge portions. There are many choices in the menu, and you can expect to leave with a satisfied palate.
That said, dining here may cost you a bit more than you'll expect from a quaint Japanese restaurant. You might want to book a table ahead of time as well, as The Sushi Bar tends to get fully booked quickly.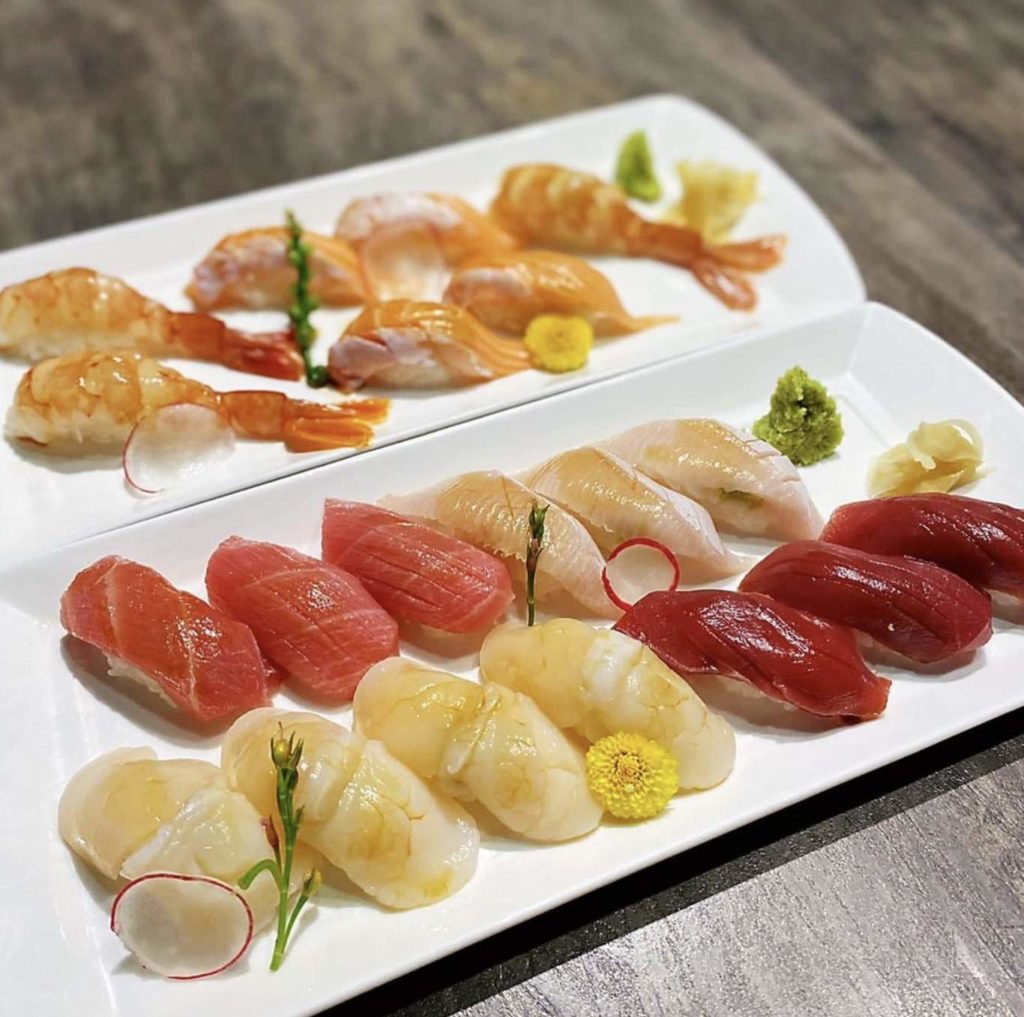 Customer Reviews
Consistent quality
"The food is great, simply put. The quality has been consistent through the other restaurants I have been. Thick cuts, very fresh fish, fast customer service. Pricing very reasonable."—Lionel, Google Reviews
Best sashimi for its price
"Sashimi! Best sashimi for this level and price
New kids on the block but already very crowded at night, don't forget to whatsapp them 1-2 days prior to secure a table."—Vicky Tan, Google Reviews
14. Izakaya Hikari
Yakitori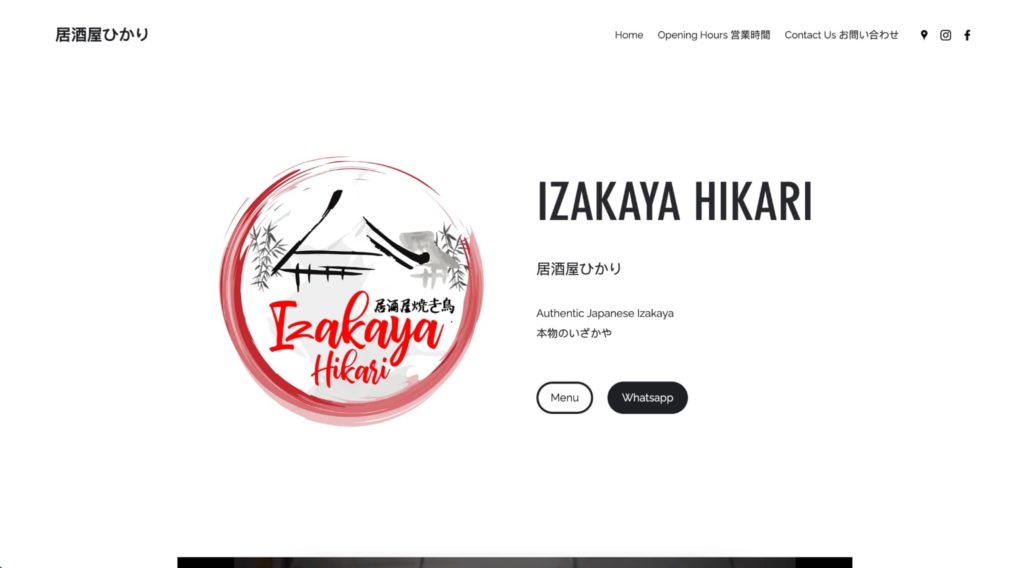 Yakitori restaurants in Singapore, like Izakaya Hikari, are usually crowded. Many guests are willing to wait for a seat at the table to try out dozens of yakitori dishes.
Even better, Izakaya Hikari's dishes are relatively affordable! The ambience is casual yet cosy, making it a great spot for hangouts.
Just note that service speed is notably slow here, and lunch hours are unavailable on Saturdays. It's best to line up early to avoid big crowds, especially if you prefer a quiet dining experience.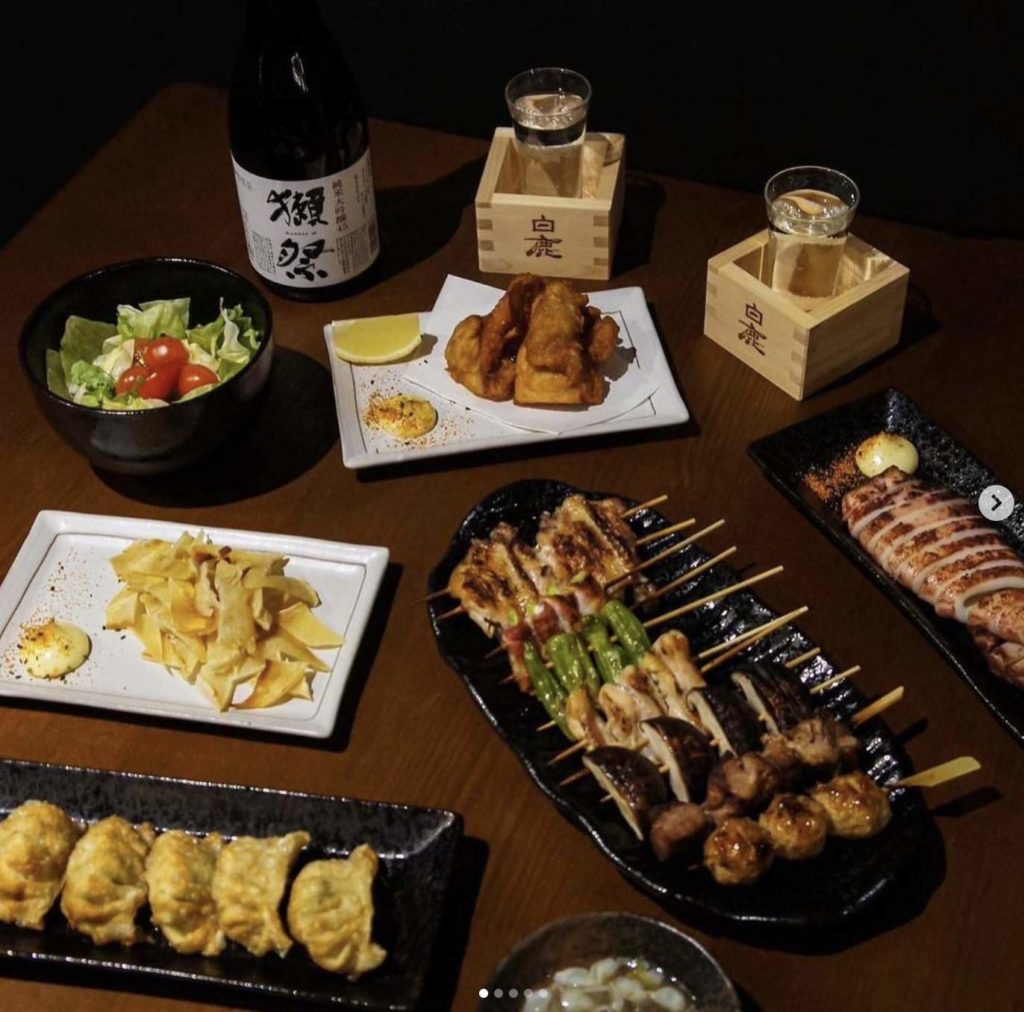 Customer Reviews
Front-row seats to watch the chef in action
"Great food, great ambiance. Enjoyed the potato croquette, highballs and salmon sashimi. Staff were friendly. Sit by the bar so you can see the chef's actions and what other people ordered :)"—Natasha Angeline, Google Reviews
Unique yakitori dishes
"Always one of my favourite go to places.
Food is unique – love the grilled sting ray which tastes like cuttlefish. And the Hikari crackers (the biscuit looking thingy)."—Rachel C, Google Reviews
15. Yakitori Yatagarasu
Yakitori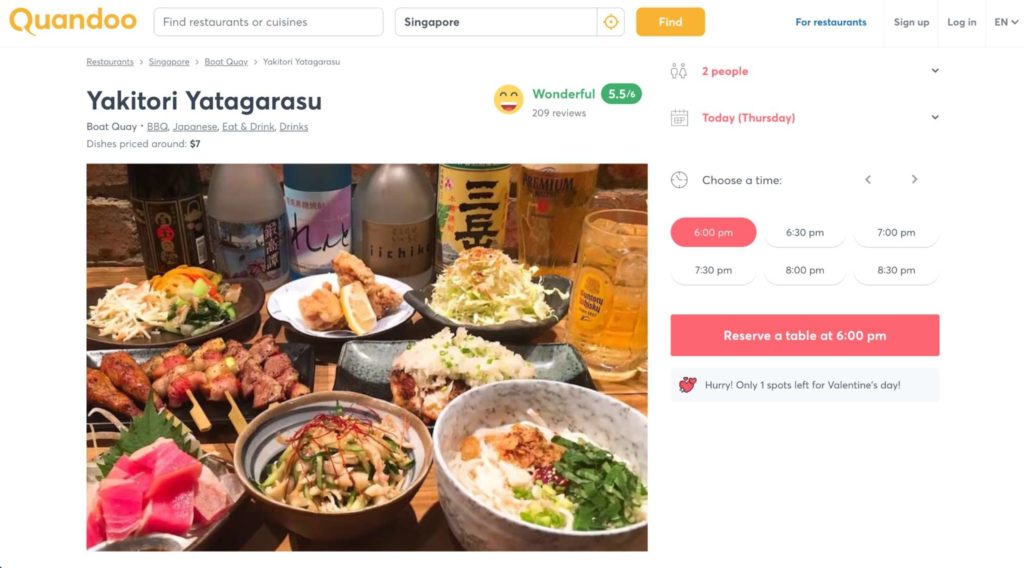 Yakitori Yatagarasu's menu is quite simple, and it's what makes it a good Japanese restaurant. You choose the meat you want on skewers, and the staff members will grill them to your liking.
If you're looking for a quaint yakitori restaurant that's just right for solo or a group of friends, Yakitori Yatagarasu is a solid place to visit.
Skewers are relatively affordable, and you have dozens to choose from. There are no lunch hours available though, so we suggest booking a seat for dinner in advance.
Since skewers are grilled on the spot, it's not surprising that service speed tends to be slow. In our opinion, the perfectly grilled meat is worth the wait.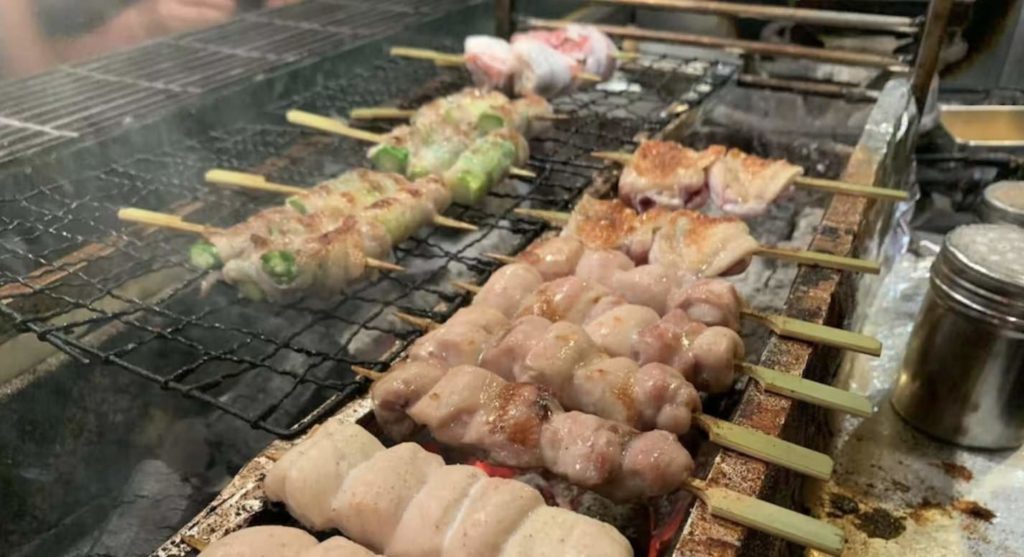 Customer Reviews
Local favourite
"Loved the experience at Yakitori Yatagarasu and definitely understand why many say that it's worth visiting. We ordered a mix of chicken and pork belly skewers and felt that overall, the chicken was the highlight. We especially enjoyed the chicken tail and loved how juicy it was. Definitely coming back here once we manage to get a booking!"—LHL, Google Reviews
Friendly service
"Friendly wait staff and good recommendation of sake. The coriander salad blew us away, so simple yet so delicious. Clam soup was amazing too with an umami broth. The skewers are served as and when and was very yummy in general.."—A.C., Google Reviews
16. Fat Cow
Japanese Fine Dining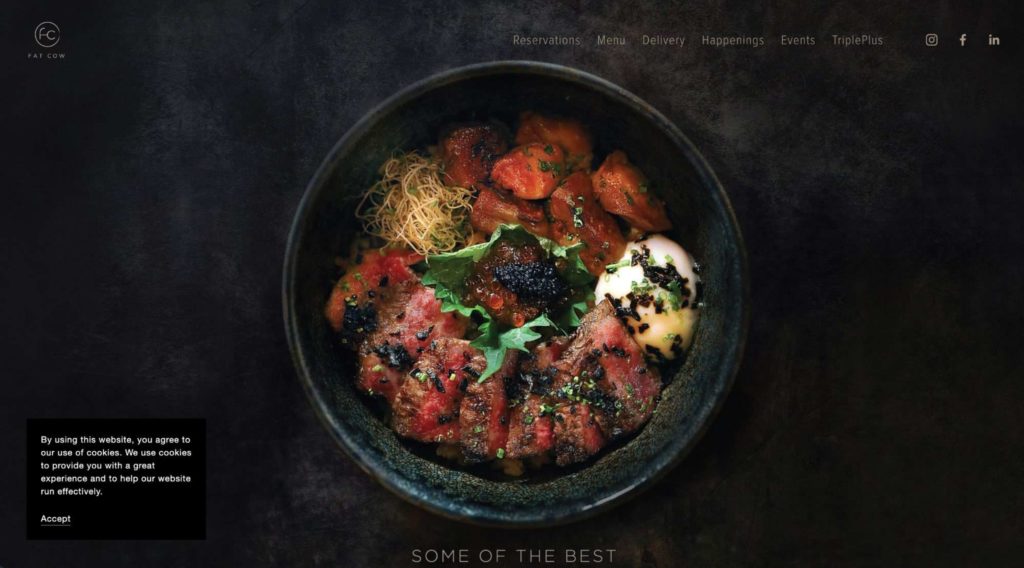 When it comes to the best-tasting and finest Wagyu in Singapore, there's only one place to visit: Fat Cow. You've probably heard of it as it's one of the most famous Wagyu restaurants on the island.
Fat Cow has different menu options including lunch, a la carte, dinner, desserts, and even sakes.
Service may take a while, but you won't get bored while waiting either because you can also engage in fun conversation with the chefs as they prepare your meal.
Obviously, this is a Japanese fine dining restaurant, so we can't recommend it if you're searching for a quick dining spot for a lunch break. With its menu and price, it's more appropriate for romantic dates and special occasions.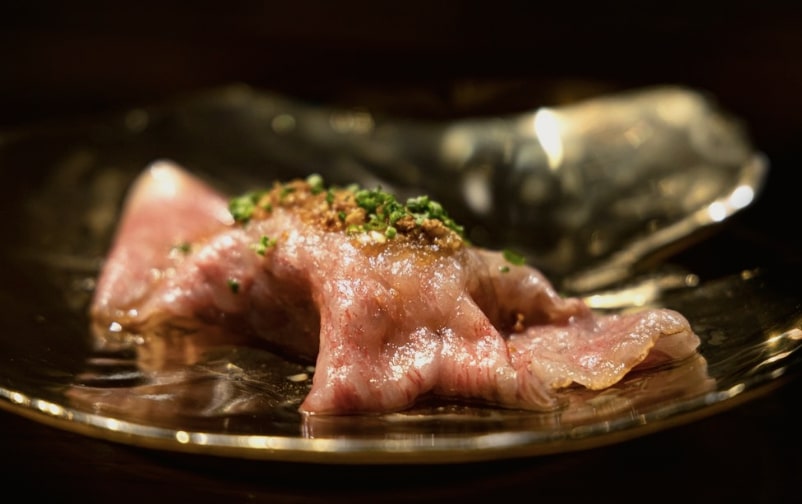 Customer Reviews
Top of the line meat quality
"Booking was simple and quick. Nearing to the date of the reservation, they will call, and confirm the reservation. Had a 1 for 1 deal, and it was worth it. The beef was fatty, and melts in the mouth. The truffle rice was delicious as well, where chunks of truffle were used. Every mouth of the rice, with the beef was delectable. Understand that it is pricey but the quality of the beef here is something one cannot find at other restaurants."—Nathaniel Tan, Google Reviews
Fantastic Japanese fine dining experience
"Had an omakase meal and the overall experience was fantastic. The ambience of Fat Cow and the interior setup were great. Upon entering, you were warmly welcomed and ushered to your seats by the waiter/waitress. They were great at introducing and having small chats to make you comfortable."—Amy Fu, Google Reviews
17. Rakuya
Japanese Fine Dining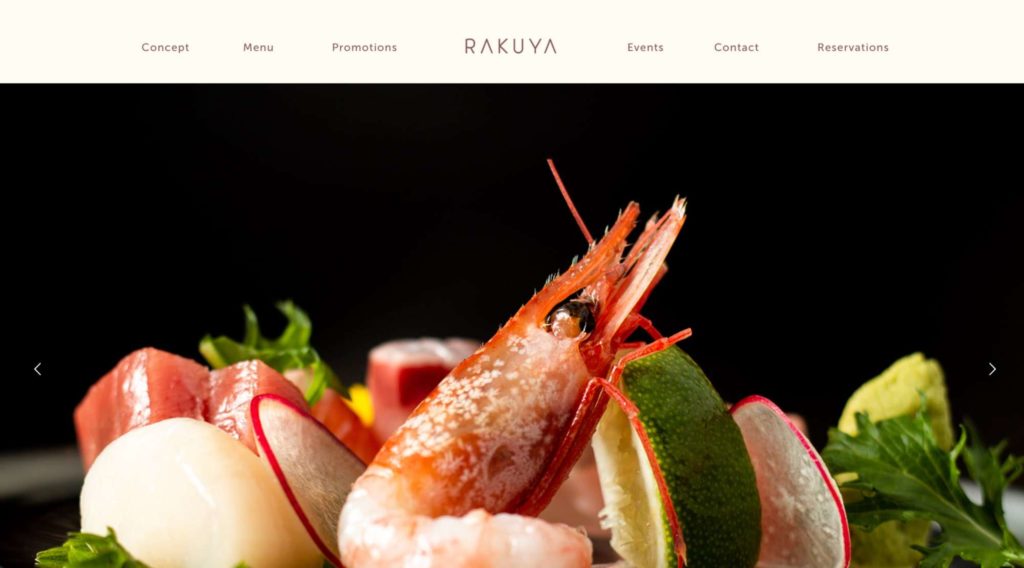 Rakuya is a restaurant that puts a fusion twist on classic Japanese cuisine, making it one of the most unique Japanese fine dining restaurants in Singapore.
Its unique take on Japanese cuisine is made possible through the brilliant mind of Chef Kenji, a chef with more than two decades of experience working at Japanese restaurants and hotels.
Another thing to know about Rakuya is that it frequently changes its menu to keep everything fresh, so every dining experience here will be a different one. We highly recommend trying the Chef's Customisation menu on your next visit!
Seats are often fully booked and delivery services are unavailable, so we highly suggest reserving a table ahead of time. For the Chef's Customisation menu, make sure to book at least five days in advance!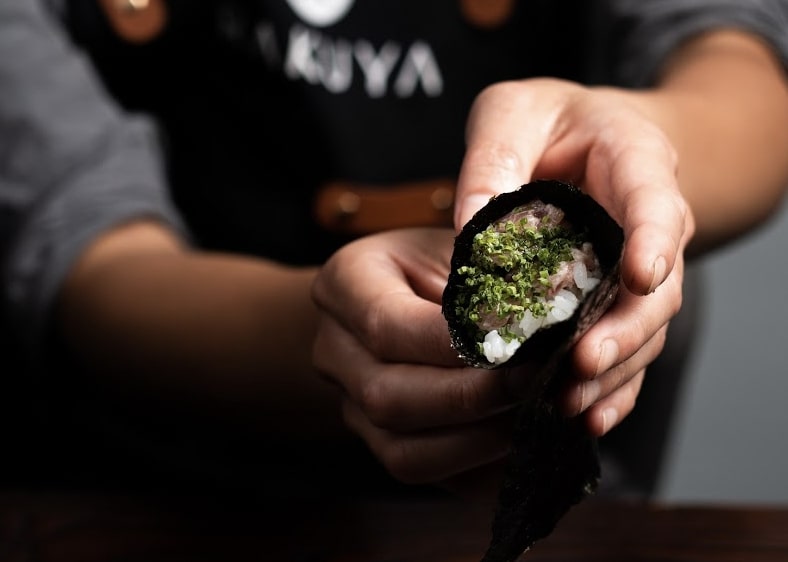 Customer Reviews
New dishes every month
"Booking was simple and quick. Nearing to the date of the reservation, they will call, and they change the menu monthly so there will always be new items to share regular guests.
Service was excellent as usual and the Suzukagawa sake recommendation was spot on with just a hint of sweetness and mildly fragrant.
Foodwise we have never been disappointed so far, being pleasing to the eye and tasting just as lovely."—Philiip Lim, Google Reviews
Prompt and friendly service members
"Prompt and friendly service. Food is great – tender sashimi, soft chawanmushi, and flavourful rice that comes in a cute fish bowl. Also gave a candle on the dessert for birthday. Very initiative in refilling our hot tea too. Even replaced part of the dessert as the candle unfortunately shedded some ashes on the fruit. Overall nice atmosphere and great food!"—Zi Ying Lim, Google Reviews
18. Mikuni
Japanese Fine Dining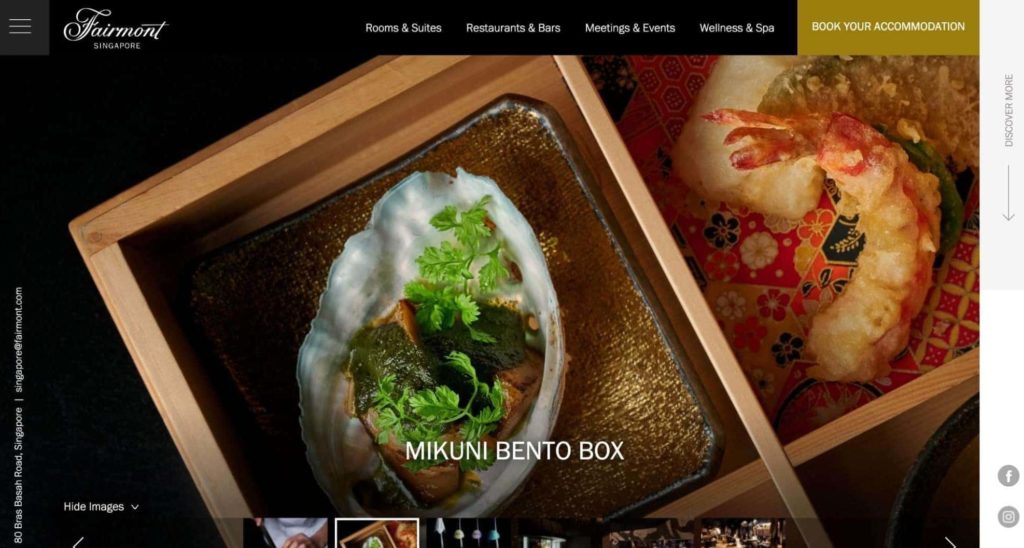 Located inside the Fairmont Hotel, Mikuni is another restaurant to consider if you're looking for a Japanese fine dining experience.
Some of its best-selling meals include the Wagyu beef steak, grilled unagi, assorted sashimi, tokujo sushi, and unagi kabayaki. Most of its mains are usually made with either meat or seafood, both of which are of premium quality.
It's safe to say that guests will never run out of meal options when dining here. However, it doesn't really have a budget-friendly menu, with its cheapest lunch set costing about $80.
If you're a vegetarian, you may want to think twice before dining here because of the limited vegan options. Other customers tend to look past this though, given that it's a restaurant that specialises in fresh Wagyu and seafood.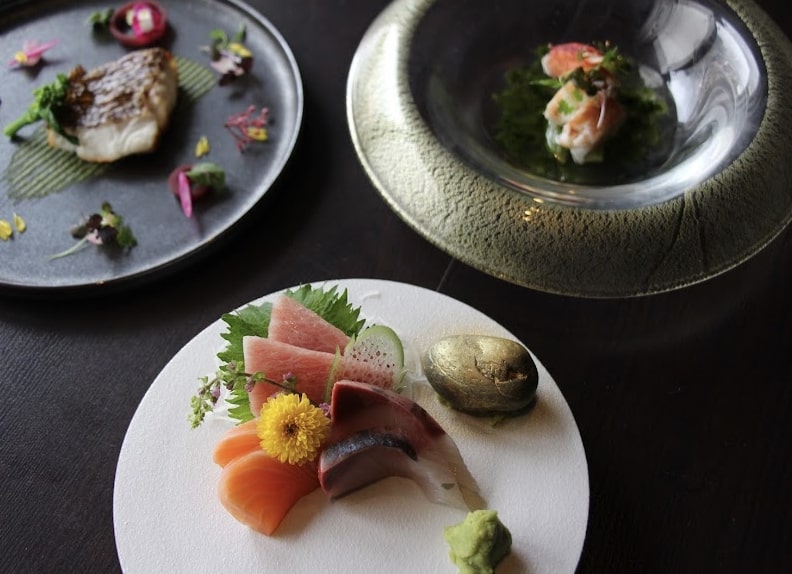 Customer Reviews
Entertaining fine dining teppanyaki experience
"I had the most wonderful teppanyaki experience here, period. Came here with much anticipation and expectations and it surpassed them in every way. It makes a world of difference sitting just in front of the teppanyaki hotplate as seeing the food prepared makes eating it thereafter even more mesmerising. The chef cooked the food with care and entertained us with the "fire show" flaming the food. All the dishes in the lunch set are amazing. Thanks to the very friendly staff Monica and the chefs for making our day."—CP, Google Reviews
World-class service
"Lovely ambiance at Mikuni with good food. The chiraishi don was teeming with hugely sliced, fresh seafood. My friend had the unagi set and the unagi was really soft and tender too. Staff were very attentive and quick to answer to our requests to top up our tea and to bring in the next course. Overall, a lovely experience."—Sitti Parti, Google Reviews
19. Shoukouwa Restaurant
Japanese Fine Dining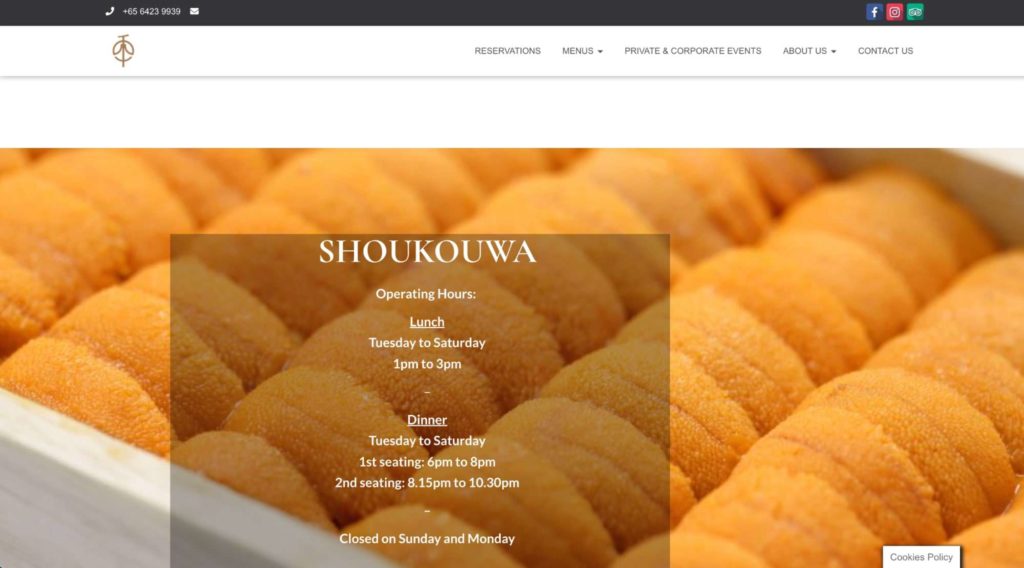 Shoukouwa Restaurant offers an exquisite take on authentic Japanese fine dining, made by Japanese chefs who are experts in their craft.
Located in One Fullerton, the restaurant is easily accessible within Singapore's business district. You won't have to fly to Japan to experience excellent Japanese food.
One thing to note is that Shoukouwa is quite expensive and best reserved for special occasions. There are no delivery and takeout options, which solidifies the exclusive experience.
Nonetheless, Shoukouwa is definitely a nice Japanese restaurant to visit at least once or even twice!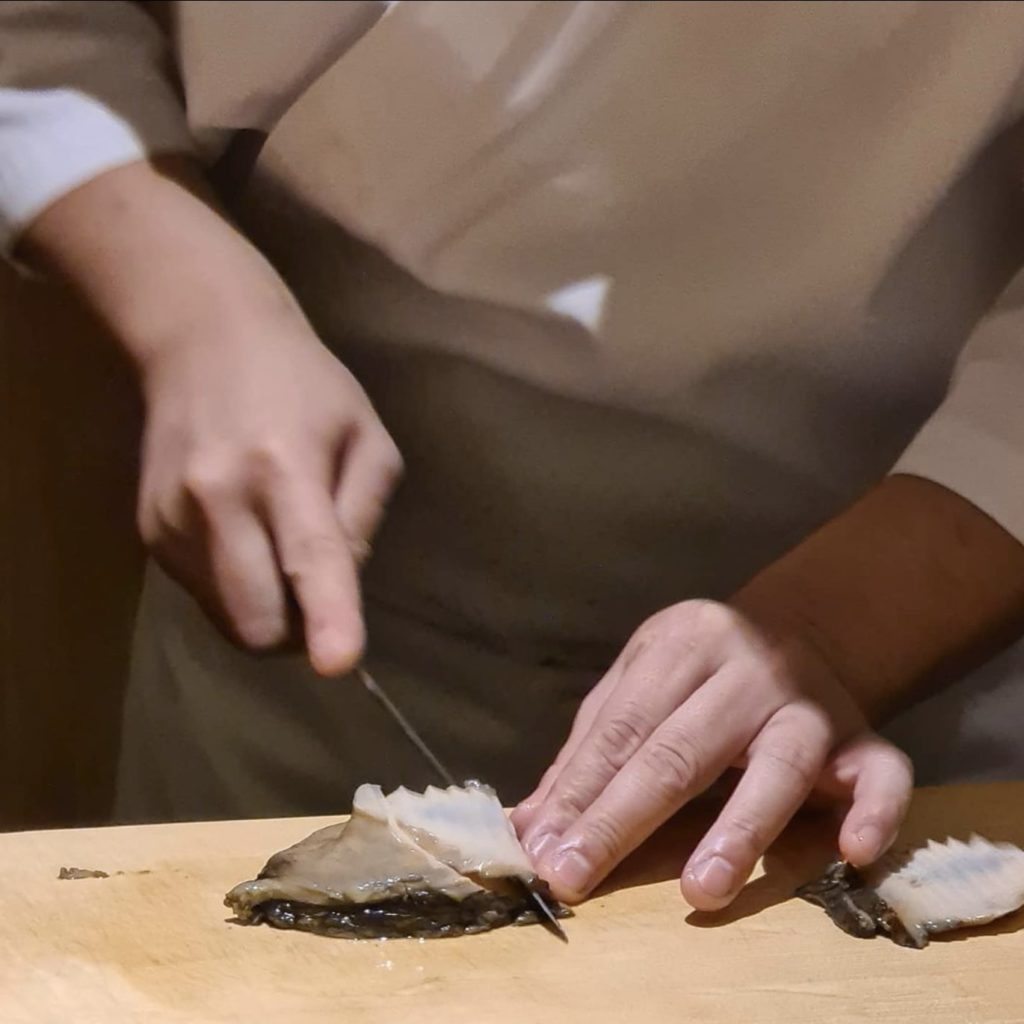 Customer Reviews
Unforgettable Japanses fine dining experience
"Quality of the product are amazing, every dish come with an explanation, the chef cook is magic in front of you. Unforgettable japanese fine dining experience."—Leo Leo, Google Reviews
Michelin-starred omakase
"Two Michelin stars – nothing else said. Head Chef Nishida-san was brilliantly part of the experience & humorous. One of the best omakase."—Jamie Wong, Google Reviews
20. Takayama
Japanese Fine Dining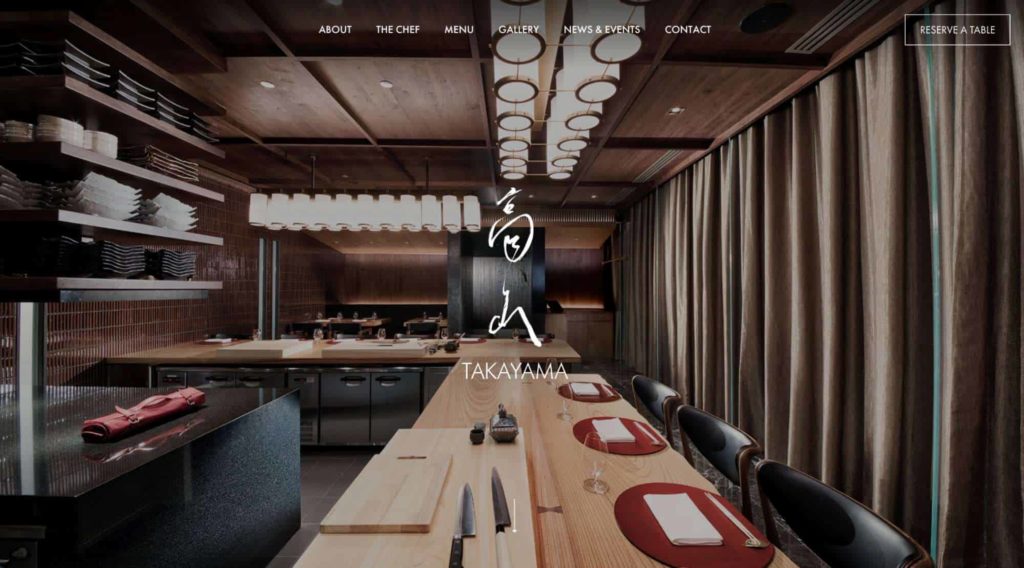 Takayama's seasonal menu has been praised by locals and foreigners for its freshness and diversity. If you're looking for a nice Japanese restaurant that offers a classy, fine dining experience, we recommend Takayama.
Prices are steep, which is expected from a Japanese fine dining restaurant. The service is also top-notch, with friendly staff members and talented chefs.
Seating is quite limited, so tables are often fully booked. We suggest booking a table in advance to ensure a comfortable seat for lunch or dinner.
Overall, Takayama continues to wow us with its classy ambience, top-notch food, and world-class service.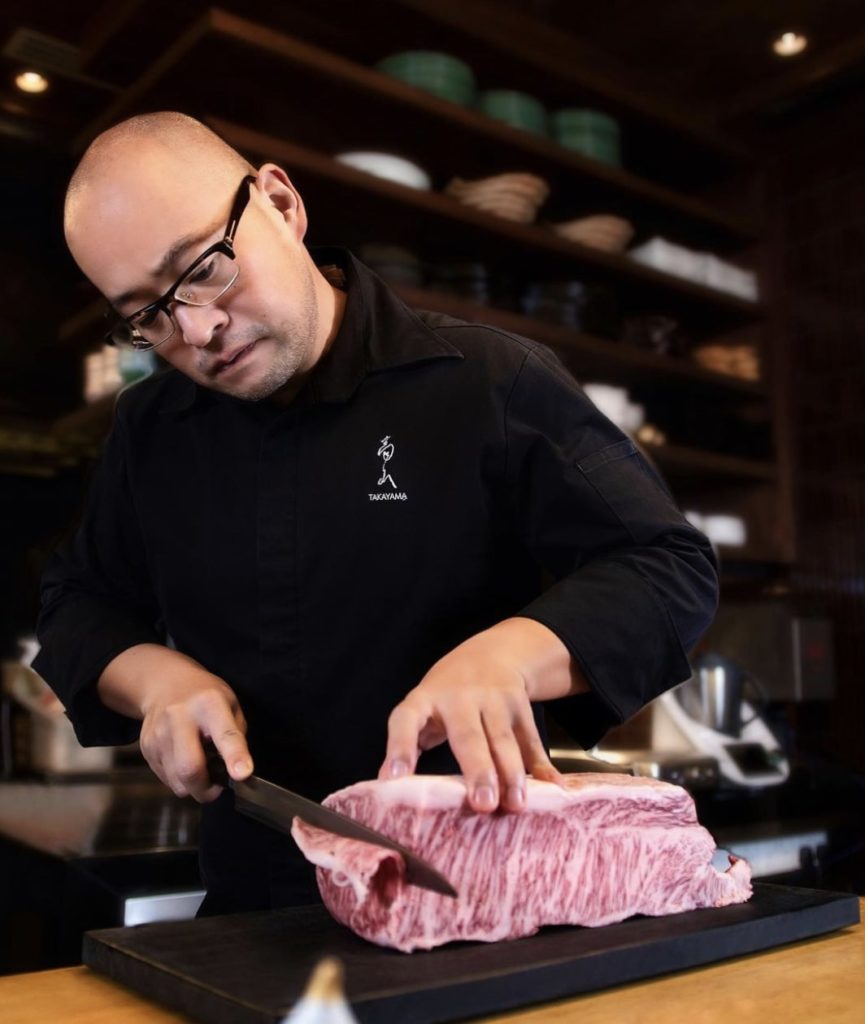 Customer Reviews
Excellent food quality and consistency
"Love the food and service here. Great quality and consistency – been here a few times now. The raw items were fresh and paired well with various condiments. The cooked items were fantastic and flavours will leave you wanting more. Drink selection is good too. Overall fantastic experience dining here and highly recommended."—A.C., Google Reviews
Surprises for special occasions
"We held our anniversary at Takayama, we love Omakase & the surprises it bring. We thoroughly enjoyed our almost 10 course dinner, every course was a delight, from start to last dish! The service was excellent as you might expect, especially from Chef/ Owner & his team who expertly serve each of us a course with a explanation of the dish. We even have a small surprise for our anniversary, a cake with candle & a Polaroid picture in a wonderful card."—Anthony Tay, Google Reviews
FAQS about Japanese Restaurants
---
More Japanese Dining Resources
Craving for more Japanese food? Here are more articles on Japanese dining in Singapore to help you find the best restaurants: