The Top 11 Restaurants for the Best Ramen in Singapore
Craving some Japanese food? Then you should try the best ramen in Singapore!
Some people consider ramen comfort food, and if you're one of them then you'll probably love to go on a food venture and explore different Japanese restaurants around the island!
To help you with that, here are few of the places that make the best ramen in Singapore, giving you a variety of tasteful flavours and styles suitable for everyone. Take a look at our list below to find out more about them.
1. Kanada-Ya Singapore
| | |
| --- | --- |
| BEST FOR | No 1 Ramen Brand in London, Voted by The Telegraph |
| WEBSITE | https://kanada-ya.sg/ |
| ADDRESS | 10 Paya Lebar Road, #03-30, PLQ Mall, Paya Lebar Quarter, Singapore 409057 |
| CONTACT DETAILS | (+65) 6966 0550 |
| OPERATING HOURS | Monday to Sunday, 11:oo AM – 10:00 PM |
Kanada-Ya is an award-winnning ramen brand that just opened its first branch on the island last year but it has already managed to capture the taste buds of locals through its authentic and flavourful ramen. It has branches in Japan, Spain, London, and Hong Kong, proving that customers all over the world have fallen in love with their ramen. Specialising in the authentic Tonkotsu Ramen, the award winning rich and flavourful pork bone broth is first boiled for 18-hours, making it rich and creamy before mixing in a secret sauce to add flavour and umami to the broth. Definitely the ramen you don't want to miss!
When it comes to ramen choices, Kanada-Ya surely doesn't disappoint. They are famous for their Truffle Ramen featuring black truffle oil and truffle jelly made from black truffle paste. At Kanada-Ya, you'll be spoilt with choices of additional 6 types of ramen which includes award winning Kotteri Tonkotsu Raman, Chicken Paitan Ramen, Tonkotsu Mix Ramen, Spicy Yuzu Ramen, Chashu Tonkotsu Ramen and Gekikara Ramen, savoury rice bowls and delicious side dishes. All of these are all available in the Singapore outlet with islandwide delivery available now!
? Order Here: https://bit.ly/KY_OrderNow
? https://bit.ly/KY_GrabFood
? https://bit.ly/KY_FoodPanda
⏰ Delivery Hours : 11am – 9pm
Highlights
Award winning Tonkotsu Ramen
Limited Edition Truffle Ramen (limited to 20 bowls per day)
2. Uma Uma Ramen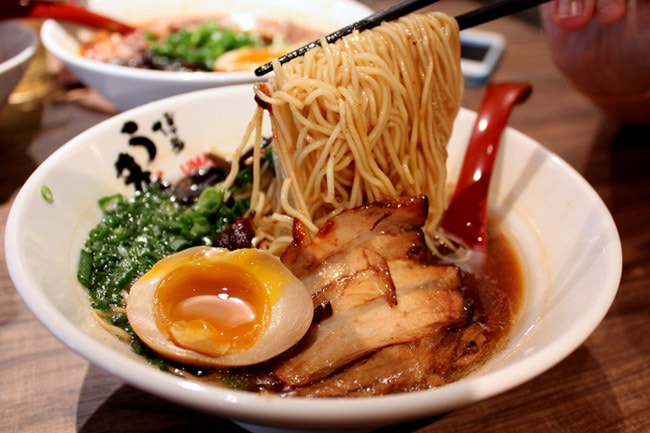 Uma Uma Ramen features a perfect blend of traditional and modern ramen recipes. They serve signature dishes and this includes one of the best ramen in Singapore, the dry-style ramen that has become a hit in Japan as well,
You can have casual dining while exploring the culture through their traditional Japanese decor. It's a great place to hang out or have a food trip with friends!
Highlights
Food delivery
Special promotions
Customer Reviews
Uma Uma Ramen has gained positive responses from the customers who've experienced great dining and excellent overall services. A customer posted this feedback on Google Reviews:
"This place has good Ramen. I have gone here twice so it is good food. I love their decor and they have sitting on the bar concept. I like the concept. Service is good and quick. They have lunch sets which are quite economical. They have deserts too and unlimited tea also. Food is quite good and lot of variety of Ramen. Enjoy your time and food. All I would need is no English music!"
3. Nantsuttei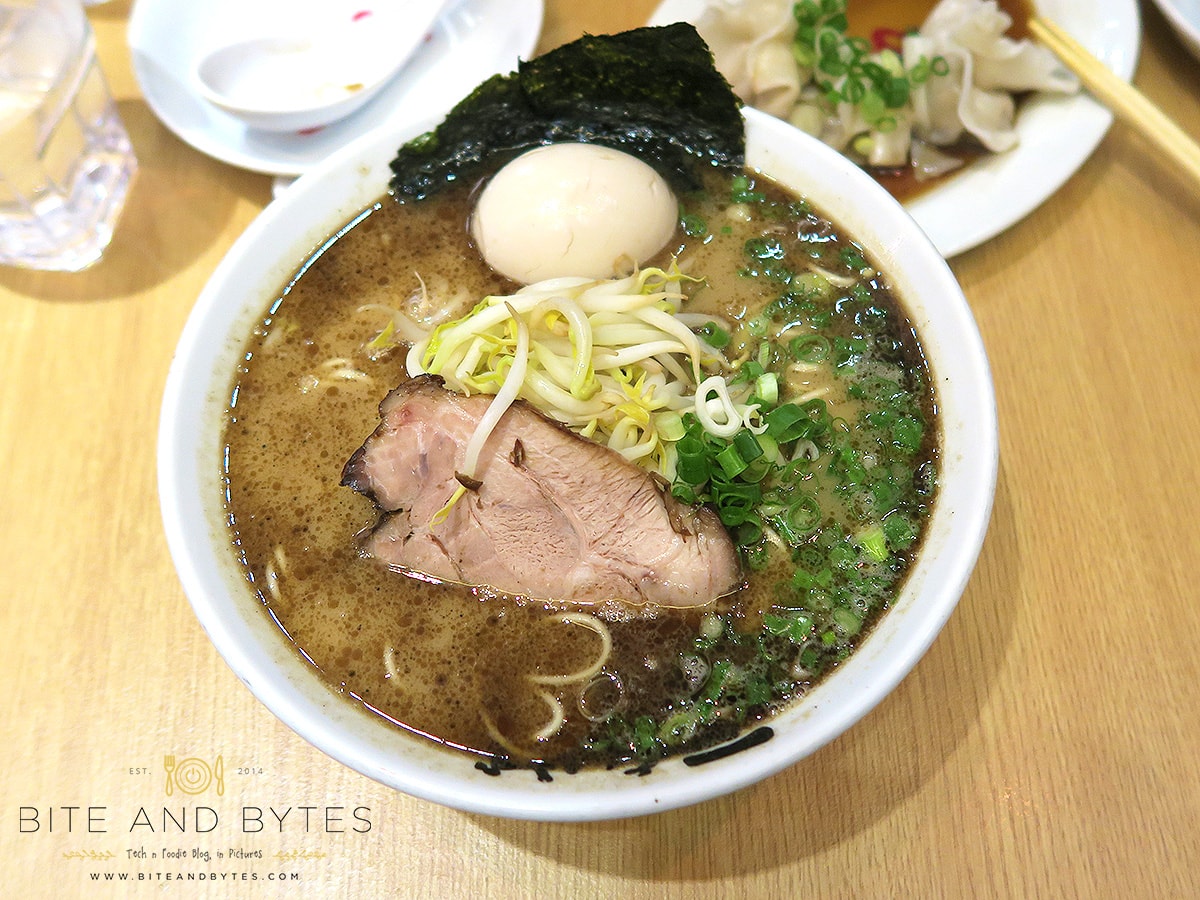 | | |
| --- | --- |
| BEST FOR | Authentic ramen flavour |
| PRICING | Menu |
| WEBSITE | http://www.nantsu.com/english/ |
| ADDRESS | 181 Orchard Road, 07-12/13 Orchard Central, Singapore 238896 |
| CONTACT DETAILS | +65 6337 7166 |
| OPERATING HOURS | Daily, 11am–10:30pm |
Nantsuttei brings you authentic ramen flavours with their simple yet flavourful menu options. The most special thing about their dishes is their homemade char siu, which is one of the reasons why they're known to have the best ramen in Singapore.
Their signature dishes have become well-known because of their ramen's consistent flavour and a broad range of toppings. Moreover, they serve all of their dishes with affordable prices, making them accessible to everyone.
Highlights
Authentic and consistent flavours
Affordable prices
Customer Reviews
With their well-curated menu, Nantsuttei has filled the appetites of many customers. They expressed their delight with the flavourful ramen, accommodating service, and pleasant ambience.
A customer recommended their services and wrote this post on Google Reviews:
"Came here after hearing great reviews. The store really lives up to the hype. The ramen broth is thick and full of flavor, and the noodle is just nice. The option to upside is greatly appreciated, though regular portion would be the best for normal customers. Side dishes are great too. Great service, great ambient, my personal favorite among all the popular ramen stores in Singapore, together with Keisuke Tonkotsu King Four Seasons, Sanpoutei and RamenSantouka. Indeed a must come for ramen lovers."
4. Konjiki Hototogisu
BEST FOR
Shellfish ramen broth
WEBSITE
Facebook
ADDRESS
#01-17, 30 Victoria St, Singapore 187996
CONTACT DETAILS
+65 6256 3155
OPERATING HOURS
Weekdays: 12–2:30pm, 5:30–10pm
Weekends: 12–10pm
Konjiki Hototogisu is famous for their ramen's shellfish broth, which has earned Michelin stars for consecutive years. Their one-of-a-kind recipes come in value sets with cheaper prices as well!
They also have seasonal specials that include a unique coconut-flavoured ramen. With their exciting range of menu options, you'll definitely have a blast!
Highlights
Daily specials
Seasonal specials
Customer Reviews
Most customers were very satisfied with their dining experience at Konjiki Hototogisu. It's one of the many reasons they're considered to have the best ramen in Singapore.
A customer from Google Reviews left this review:
"The best ramen I've ever tasted. The noodles and broth were exquisite and the side dishes were up to par. Definitely recommend to anyone in the area."
5. Afuri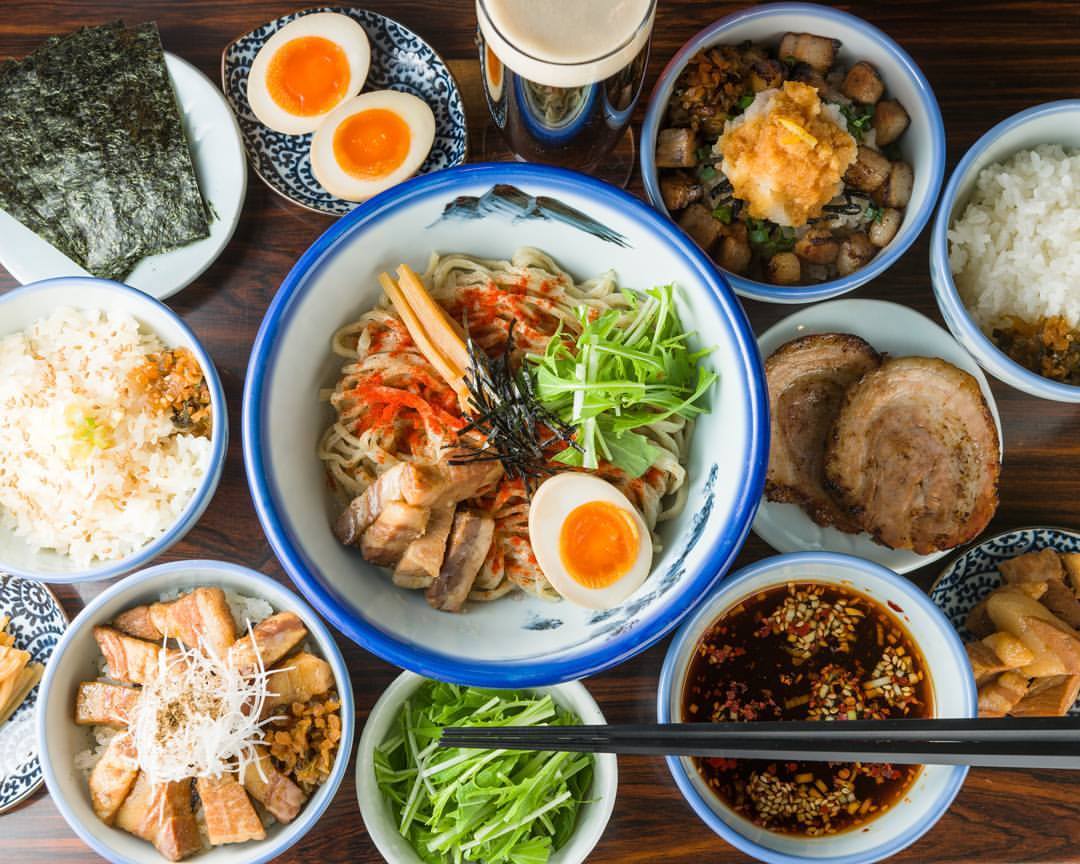 | | |
| --- | --- |
| BEST FOR | Ramen and dumpling specials |
| WEBSITE | Facebook |
| ADDRESS | Funan Mall, #B1-29, 107 North Bridge Rd, Singapore 179105 |
| CONTACT DETAILS | Daily, 11:30am–10pm |
| OPERATING HOURS | +65 6970 1386 |
Afuri makes one of the best ramen in Singapore with their original Yuzu Shio recipe, giving you a refreshing dish for the summer! It's made from light broth, local chicken, dry fish, seaweed, and vegetables with a touch of Yuzu citrus!
For as low as $15, you can have a taste of their best ramen in Singapore paired with their delicious broth! They also have the most delicious dumplings you could ever have.
Highlights
Special dumplings
Vegan salad options
6. Tsukada Nojo
BEST FOR
Ramen and Hotpot
WEBSITE
http://bitejapan.asia/tsukadanojo-westgate/
ADDRESS
3 Gateway Dr, #03-04 / 04A Westgate, Singapore 60853
CONTACT DETAILS
+65 6465 9356
OPERATING HOURS
Monday – Sunday
Lunch 11:30am – 14:30
Dinner 5:00pm – 9:00pm
Tsukada Nojo might be more famous for its hot pot dishes, but it also serves delicious ramen dishes that are worth trying out! Its dishes are also healthy because the meats used are native farm-raised and the vegetables are all organic.
On top of this, its dishes are also rich in collagen, a protein known for its rejuvenating properties. Indeed, Tsukada Nojo is the best option if you want to taste delectable food without ruining your diet.
If you're dying to taste its menu but don't know where it's located, then finding it won't be hard — there are multiple branches scattered all over the island. There's one in Westgate, another in Thomson Plaza and in Chinapoint Town.
Highlights
Farm-to-table
Rich in collagen
Multiple branches
Customer Reviews
Take a look at what customers have to say about Tsukada Nojo:
"Staff is super super patient and polite. Food is not bad too. They also give out your own 'assistant manager' cards and when you complete all the stamps in that card you'll get to upgrade to 'manager' and also get a small free gift. There are about a total of 6-8 different levels in total. Everybody who dined gets a beginner card/stamp. BTW place closes kinda early."
"Ordered the set for 2 pax and added scallop, clams and beauty noodles. The collagen soup was really good and it didn't make us thirsty at all, which was very healthy as advertised. Didn't really like the clams as it has the fishy smell which was very strong. Rest of the dishes were good. Service I thought was exceptional which is definitely worth a five stars."
7. Marutama Ramen
| | |
| --- | --- |
| BEST FOR | Ultimate thick chicken baitan soup |
| WEBSITE | https://marutama.com.sg/ |
| ADDRESS | 298 Tiong Bahru Rd #2-138 Central Plaza, Singapore 168732 |
| CONTACT DETAILS | +65 6261 0406 | [email protected] |
| OPERATING HOURS | Monday to Sunday, 11:00AM – 9:30 PM |
Marutama Ramen is famous for their home-made ramen both, which gives a special focus on chicken and salt. They developed such a taste in hopes of their ramen receiving acceptance across the globe.
The genuine chicken broth is created by fully extracting the goodness of chicken through a cooking process that takes hours. The broth is rich in collagen and has a full body.
Meanwhile, their "aosa" seaweed farmed in clean seawater helps to combine the taste of broth and noodles together. Marutama Ramen's ramen has reached new heights where you won't get bored of ramen no matter how many times you eat one.
Highlights
No MSG
Variety of ramen dishes
Multiple branches
8. Takagi Ramen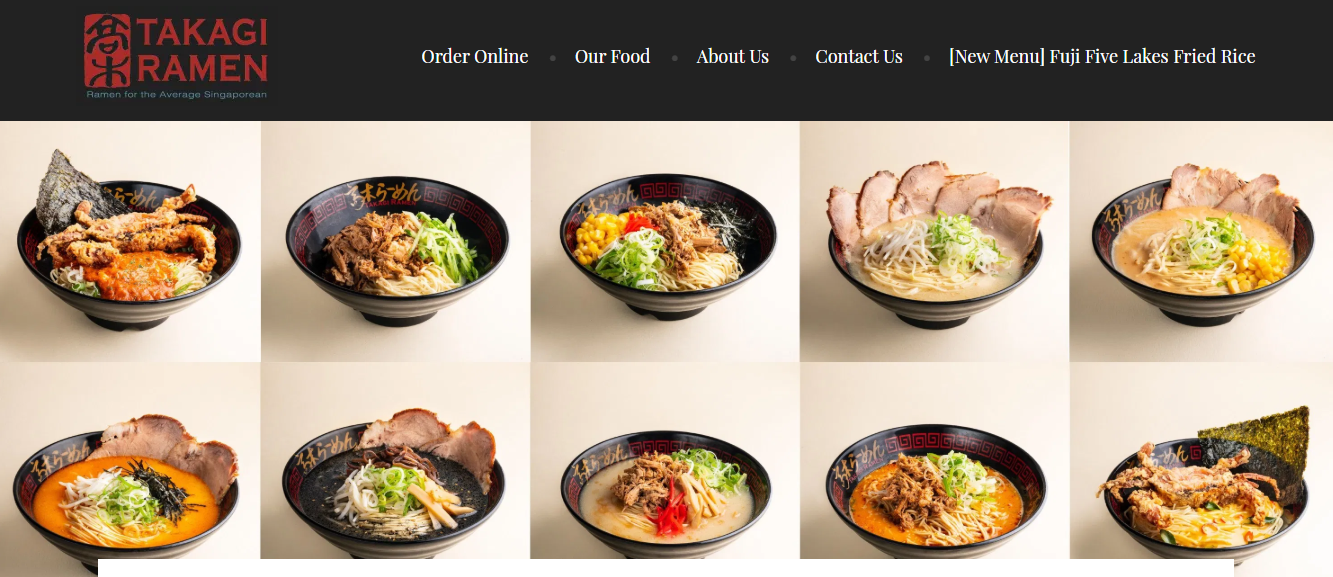 BEST FOR
Free Delivery
WEBSITE
https://takagiramen.com/
ADDRESS
AMK Outlet: 51 Ang Mo Kio Ave 3, [email protected], #01-01C.
NUS Outlet: Stall 3, 23 Prince George's Park.
Jurong West Outlet: Blk 492 Jurong West St 41, #01-74.
Pasir Ris Outlet: 1 Pasir Ris Close, #02-316 Downtown East E!Avenue.
CONTACT DETAILS
+65 9170 7870
[email protected]
OPERATING HOURS
Monday to Sunday, 11:oo AM – 12:00 AM
If you don't want to spend money eating at an expensive restaurant just to taste authentic ramen, then Takagi Ramen would be your best bet! It's famous for bringing mouthwatering yet affordable ramen to the tables of Singapore.
What's more, it also offers a wide variety of ramen dishes to choose from, all of which are rich in flavour. Besides the handcrafted noodles, you can look forward to the the tonkatsu soup boiled for 12 hours and the chasu marinated for more than 12 hours as well.
You may also opt for its free delivery service if you're craving ramen but don't have the time to drop by any of their branches.
Highlights
Delivery service
Affordable ramen
9. Hakata Japanese Restaurant
| | |
| --- | --- |
| BEST FOR | Traditional and Modern Japanese Dining |
| WEBSITE | http://www.hakatarestaurant.com/ |
| ADDRESS | 1 W Coast Dr, #01-93/70 NEWest, Singapore 128020 |
| CONTACT DETAILS | +65 6265-3680 |
| OPERATING HOURS | Monday to Sunday, 11:oo AM – 11:00 PM |
Hakata Japanese Restaurant is the perfect restaurant to satisfy your Japanese food cravings. It offers an extensive selection of Japanese cuisine such as ramen, gyoza, sushi, tempura, sukiyaki, shabu shabu, udon, and a whole lot more.
Another thing worth noting about Hakata Japanese Restaurant is that its fish products are flown directly from Japan to ensure its freshness — which is why its sashimi and sushi are among its most in-demand dishes, aside from the ramen.
Highlights
Fresh fish items
Online reservation
Delivery services
10. Keisuke Ramen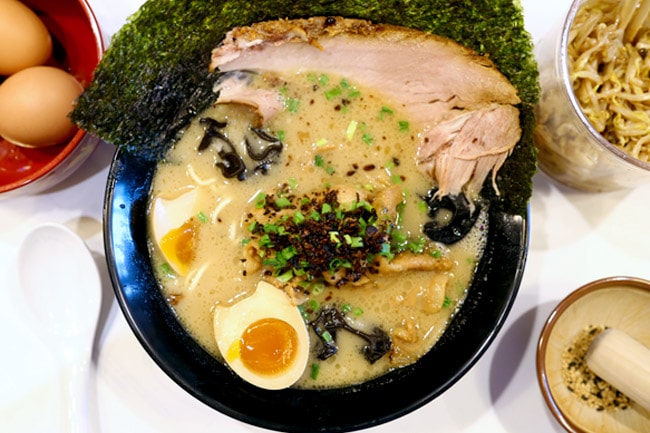 Being the biggest ramen chain on the island, Keisuke Ramen offers different types of ramen that have never been tried before. They're known for their flavourful pork-based broth, which is done in various styles.
With their countless outlets located in several cities, they truly make the best ramen in Singapore. They also cater to private events so if you're planning to have a simple celebration with your family and friends, this can be a great place for you.
Highlights
Private events
Accessible locations
Customer Reviews
Customers complimented the large portions of ramen bowls and the reasonable prices as well. That's why Keisuke Ramen is well-loved by many locals and tourists.
A customer from Google Reviews shared this experience:
"Excellent food at fantastic price. No wonder this place is highly reviewed and recommended. The queue is super duper long but don't be discouraged, because the wait is worthwhile. Large bowl of fully customized ramen with free-flow egg and fermented beansprout. To top it all off, diners can also order gyoza from next door."
11. The Ramen House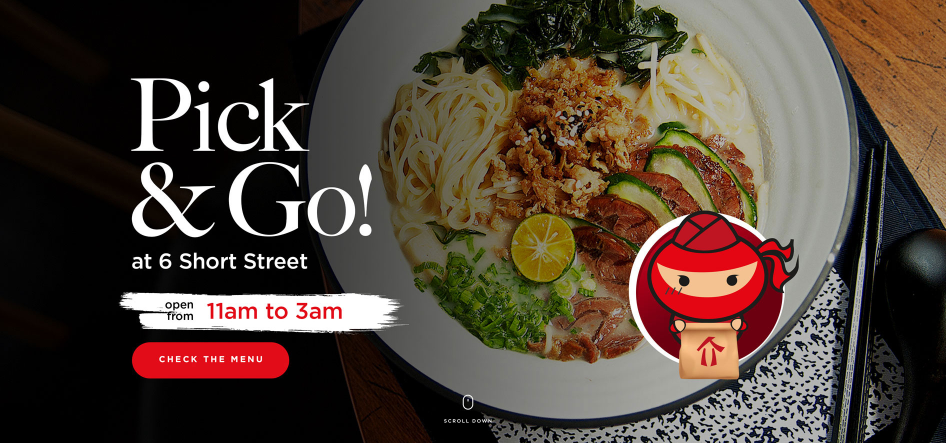 The Ramen House is a Japanese restaurant that brings the taste of Japan with a local twist. Every dish of theirs is prepared with nutrition and exquisite presentation in mind. Not only that, but they strive to make use of only the best ingredients as well.
Their ramen is one of the best in the country. It's carefully prepared by an expert team that boils meat and bones patiently for 30 hours, to achieve a rich, milky and smooth texture. It's paired with good quality ramen noodles which will surely leave customers satisfied.
Highlights
Open 7 days a week
No artificial flavouring added
Fresh and delicious cuisines
Customer Reviews
"Must Go when you are in the area. The Must Have when I'm there are Garlic Fried Rice with Onsen Egg. Grilled Endamame is good with beer. Tried their new dish – Mixed Seafood Truffle Maki. Will definitely come back again!"
"A Japanese experience in the heart of Singapore. A Small extablishment but with food of great quality. It is possible to sit by the counter and see the chef prepare food. Plenty of traditional Japanese dishes and sake. Definitely a nice Japanese experience."
And that's it for our list of the best ramen in Singapore! If you've got more places in mind, share them with us and tell us about your dining experience with them!
You may also want to see these best Japanese restaurants in Singapore as they also feature a dynamic range of ramen dishes, filling your belly with a good meal.