The 15 Restaurants for the Best Omakase in Singapore
If you're not too particular with your food choices and want to try different delicacies, then you should pick a restaurant with the best omakase in Singapore! With this service, you can have the chefs prepare some well-loved Japanese dishes for you!
In this way, you can be sure that you'll have a refreshing dining experience filled with delicious delicacies that you've never tasted before! So see our list of the best omakase in Singapore to know which places have the most recommended menus and chefs that everyone will absolutely love!
1. Ryo Sushi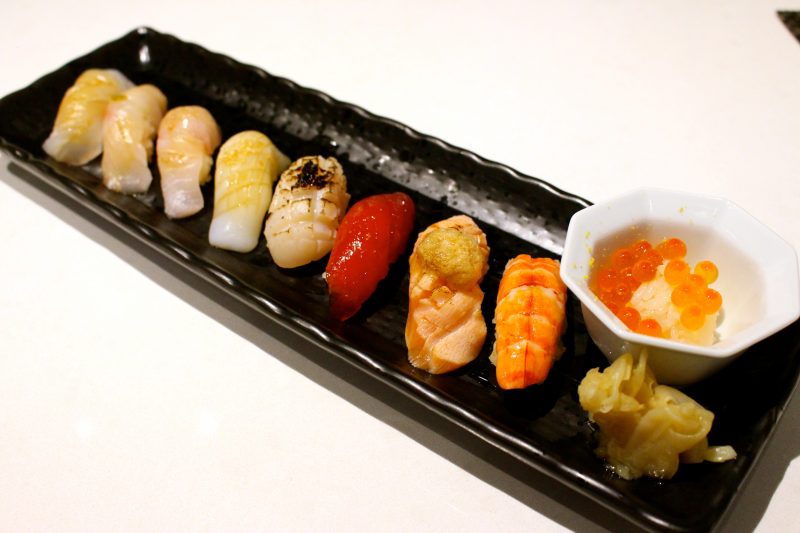 | | |
| --- | --- |
| BEST FOR | Large menu courses |
| PRICING | Menu |
| WEBSITE | Facebook |
| ADDRESS | 1 Tras Link, #01-06 Orchid Hotel Singapore |
| CONTACT DETAILS | +65 6443 3463 |
| OPERATING HOURS | Weekdays and Saturday: 11:45 AM – 2:45 PM, 6:00 PM – 10:30 PM |
For a modern and cosy cultural setting, you'll enjoy your dining experience at Ryo Sushi! They offer some of the most affordable and best omakase in Singapore.
Their menu consists of large courses that include soups, salads, sushi, and many more! They're also located near transportation stops so you can easily visit their restaurant.
Highlights
Contemporary setting
Accessible location
Customer Reviews
Customers who visited Ryo Sushi shared their worthwhile experience where they've tried a variety of fresh Japanese cuisines. A customer posted this review on Google Reviews:
"For the price that offered to you this place has an amazing deal. When it comes to food all the ingredients are fresh, and doesn't smell fishy at all. The sushi chef was kind enough to explain to us what are we going to eat with such detail ( because we asked). The ultimate dish in this place is the uni and ikura rice bowl.. reservation is mandatory in this place, because they serve lunch in two seating one is in 11.45, and then after that in 12.30..PS: please note if you're allergic to any seafood."
2. Hashida Sushi
BEST FOR
Fine and luxurious dining
PRICING
Menu
WEBSITE
https://hashidasushi.com/singapore-top/
ADDRESS
25 Mohamed Sultan Rd, Singapore 238969
CONTACT DETAILS
+65 8428 8787
OPERATING HOURS
Lunch: Tue 12.30pm
Wed to Sun 12.00pm
Dinner: 7.00pm
For the sushi lovers out there, you can have fine Japanese cuisine at Hashida Sushi. Once you step into their place, you'll be welcomed by a very luxurious and intimate setting.
The main chef of this restaurant specialises in modern culinary arts, specifically sushi meals. They offer different kinds of sushi rolls, giving you the best omakase in Singapore.
Highlights
Modern sushi style
International branches
Customer Reviews
Hashida Sushi has become well-loved by most customers because of their amazing omakase dinner set, accommodating staff, and overall services. A customer posted this feedback on Google Reviews:
"We had the Chef's Omakase Dinner set. Food were varied and fantastic. Chef Nakatani was very professional and amicable. The waitresses were prompt and polite. The setting was very calming and nice. Overall it was a very good experience. Do make a reservation if you want to dine-in with the chef right in front of you! (Makes the experience even more enjoyable!)"
3. Shoukouwa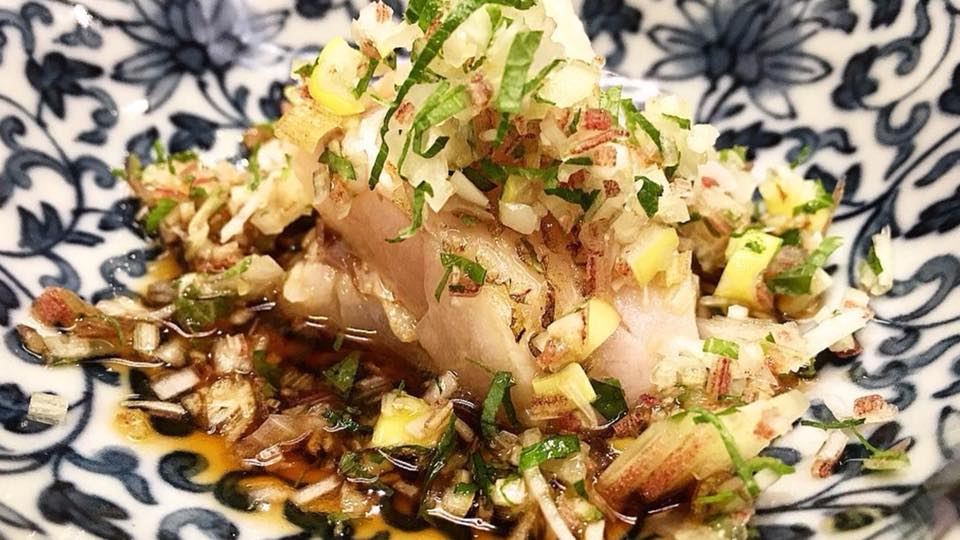 BEST FOR
Signature chef's dinner omakase
PRICING
Menu
WEBSITE
http://www.shoukouwa.com.sg/
ADDRESS
1 Fullerton Road #02-02A One Fullerton Singapore 049213
CONTACT DETAILS
+65 6423 9939
OPERATING HOURS
Tuesday to Saturday, 12pm to 3pm (last seating 1.30pm)
Tuesday to Sunday, 6pm to 11pm (last seating 8pm)
Closed on Monday
For the freshest seafood, you can rely on the fantastic menu of Shoukouwa! As they take pride in their selective suppliers and excellent chefs, they're confident in providing you with the best omakase in Singapore.
They have their own chef's dinner omakase where you can have a complete set of courses including appetisers, cooked dishes, nigiri sushi, miso soup, and dessert. They also have a wide range of sake, giving you a delightful Japanese dining experience!
Highlights
Customer Reviews
Customers complimented the cosy setting and wonderful chef at Shoukouwa. They mentioned the wide range of flavours that made them keep on coming back for more.
A customer shared this story on Google Reviews:
"Delish omakase menu. small sitting, feels cosy and gets to see the chef at work. plating is not too fancy but the food wows with array of flavours. exquisite ingredients, authentic experience. The staff is also helpful to explain more about the dishes (even showing images of fish). will be back!"
4. Ki-sho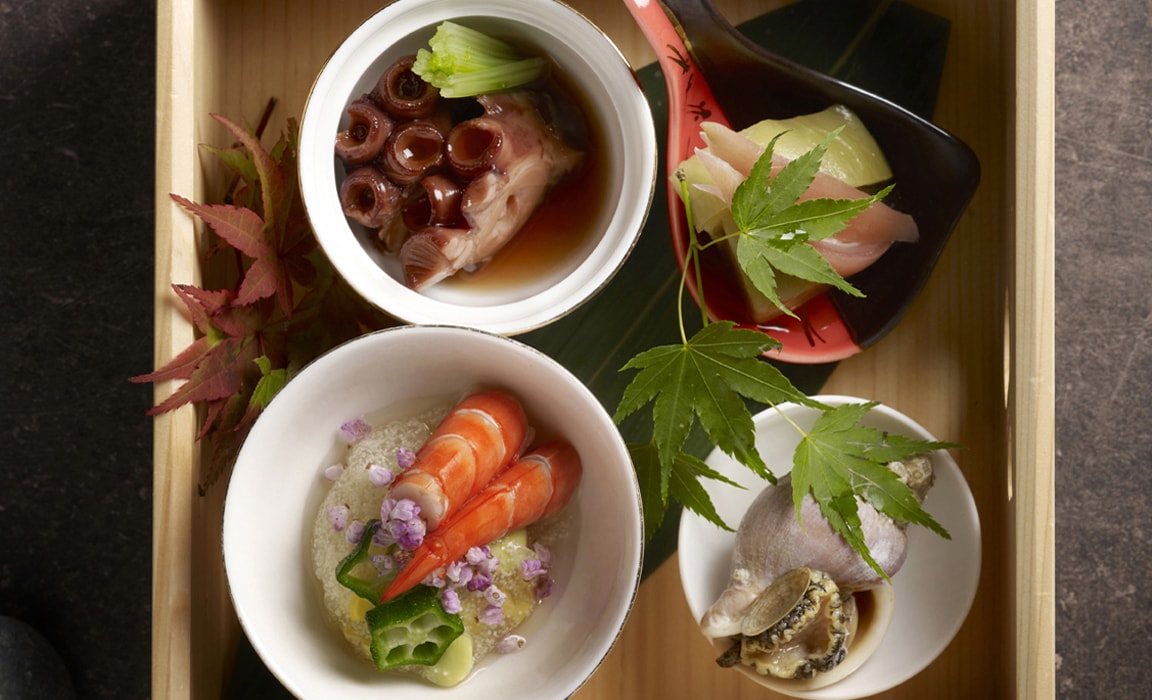 BEST FOR
Elegant corporate dining
PRICING
Menu
WEBSITE
https://ki-sho.com.sg/
ADDRESS
29 Scotts Road Singapore 228224
CONTACT DETAILS
+65 6733 5251
OPERATING HOURS
Lunch: Mon – Fri: 12pm – 2pm, last seating at 1.30pm
Dinner:
Mon – Fri: 6.30pm – 10.30pm, last seating at 8.30pm
Sat & PH: 6.30pm – 10.30pm, last seating at 8.30pm
Sunday: Close
For those who are searching for a Japanese restaurant where they can organize a private and formal company gathering, you should visit Ki-sho. They offer a sophisticated and elegant dining setup together with their artistic Japanese cuisine.
They have a full range menu that involves lunch, dinner, sake and whiskey collections, leaving you with the best omakase in Singapore. When it comes to their beverages, you can try their traditional and classic Juyondai and Shochu/Umeshu options.
Highlights
Cultural dining
Corporate gatherings
Customer Reviews
Most customers said that they had a fun and enjoyable experience at Ki-sho. They also praised the serene setting of the private dining rooms and the whole omakase menu. A customer wrote this review on Google Reviews:
"I enjoyed the seasonal dinner menu and it was just delightful. The food was fresh, extremely tasty and left everyone wanting more. The private dining room is quiet and allows you to have the complete omakase experience."
5. Shinji by Kanesaka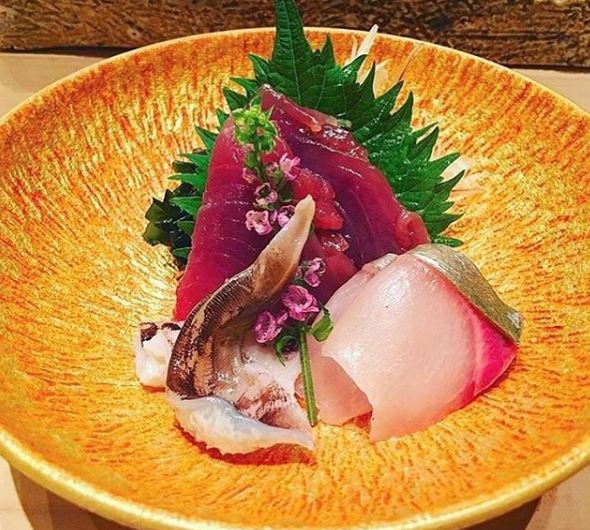 | | |
| --- | --- |
| BEST FOR | Authentic Japanese cuisine |
| WEBSITE | https://www.shinjibykanesaka.com/ |
| ADDRESS | 76 Bras Basah Rd, Singapore 189558 |
| CONTACT DETAILS | +65 6338 6131 |
| OPERATING HOURS | Weekdays and Saturday: 12–3pm, 6–10:30pm |
Shinji by Kanesaka is known to be handled by a Michelin star chef who uses classic Japanese culinary traditions for authentic cuisine.
Their best omakase in Singapore comes with lunch and dinner menus that include sashimi, nigiri sushi, Japanese fruits, and more.
You can find the restaurant in the leading hotels in Singapore, making it easy for you to try their traditional and seasonal courses.
Highlights
Seasonal courses
Sushi courses
Customer Reviews
Customers loved the sushi dishes of Shinji by Kanesaka. They've also recommended some of their menus and said that it was all worth it. A customer gave this review on Google Reviews:
"If you LOVE sushi, this is likely the best restaurant in Singapore. The dinner omakase is absolutely fantastic, recommend to have a very light lunch as the servings were never ending and all amazing! Of course it comes with quite a price, especially if you drink… so save it for a VERY special occasion!"
6. Peace Japanese Cuisine
Though it started just 3 years ago, Peace Japanese Cuisine has already established its name as one of the best japanese restaurants across Singapore. As a matter of fact, they are the first winner for the Singapore Food Masters 2018.
Every month, they introduce new dishes so their customers will always have a breath of fresh air.
Meanwhile, their choice of omakases are as follows: 7-course seafood, 8-course wagyu, and Premium 9-course
Highlights
Fresh and delectable menu

Premium omakase

Accepts reservations
Customer Reviews
"Service here is superb! We were greeted by a very friendly and accommodating Uncle to begin with. The food was served rather fast, and certainly came with great standards. The tastes were authentic probably because the restaurant is still run by the japanese Chef. You know you can always count on them! The side dishes that came with the main were pleasant surprises. I would definitely wanna come back to try more dishes!"
7. Torio Japanese Restaurant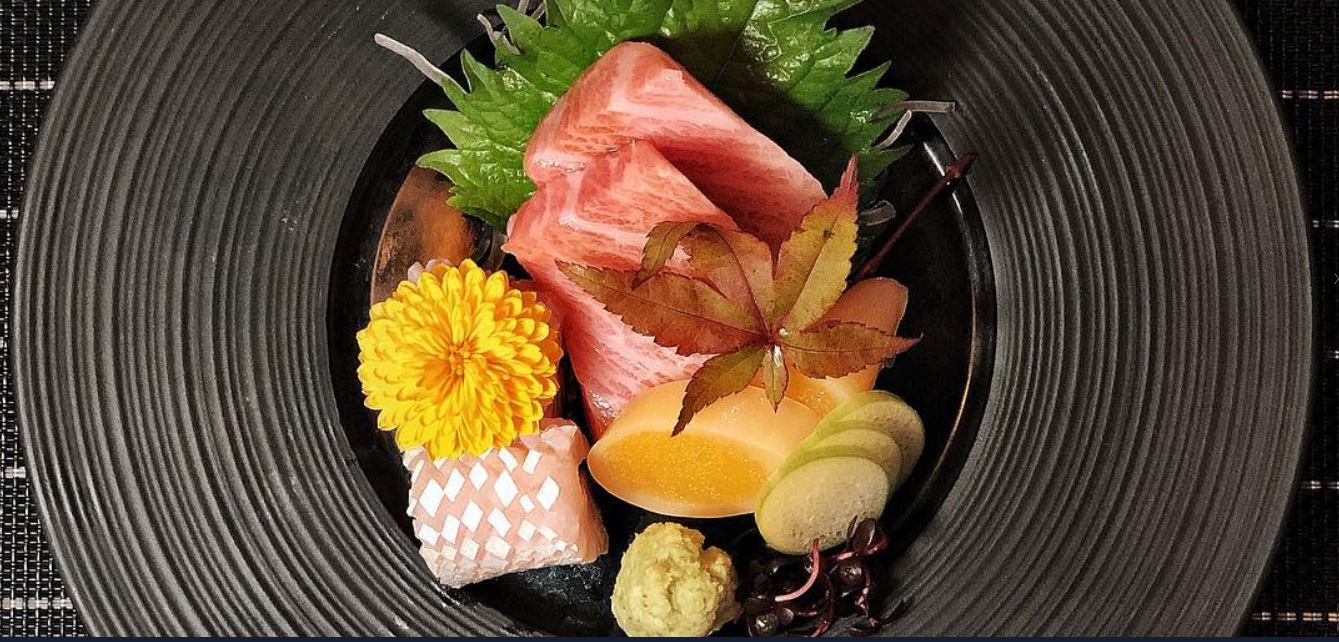 BEST FOR

High quality Japanese cuisine

PRICING

Menu

WEBSITE

https://www.torio.com.sg/

ADDRESS

10 Gemmill Ln, Singapore 069251

CONTACT DETAILS

+65 6514 0115

OPERATING HOURS

11:45 hrs – 14:30 hrs

18:00 hrs – 22:00 hrs
Torio Japanese Restaurant is one of the most visited Japanese restaurants in Singapore because of their delectable menu selection including their best known Omakase.
The restaurant takes pride in their fresh and high quality ingredients making their dishes some of the best across Singapore. They also aim to provide their customers with an authentic Japanese dining experience, hence their friendly and cozy environment.
Aside from Omakase, they also have an ala carte menu, lunch course, and lunch set that you can truly enjoy.
Highlights
Premium Japanese cuisine

Competitive prices

Fresh and authentic ingredients
Customer Reviews
"Amazing food and great service. Excellent quality seafood for a very reasonable price. Great value. One of the best Japanese restaurants I tried in Singapore. Will definitely come back!!" -Anna Infante Mestres
8. Tamashii Restaurant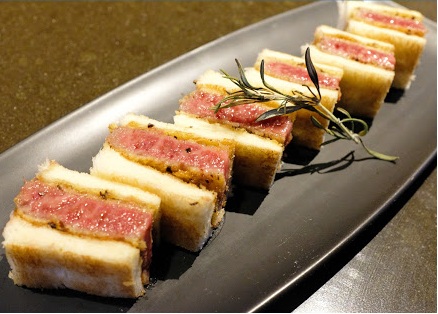 BEST FOR

Unique Japanese Cuisine

PRICING

Menu

WEBSITE

http://www.tamashii.com.sg/

ADDRESS

12 North Canal Road #02-01 Singapore 048825

CONTACT DETAILS

+65 6222 0316

OPERATING HOURS

Monday to Saturday

Lunch: 12:00 PM – 2:30 PM

Dinner: 6:30 PM -10:30 PM with free valet parking service
Tamashii Robataya is considered as one of the best restaurants that offers Japanese Cuisine. The two men behind this were Patrick Tan and co chef/owner Max See. They named their restaurant, Tamashii which means 'Soul' in Japanese.
Tamashii prepares different varieties of fresh dishes depending on their customers' preferences. The best part of their dining is the intimate counter which was based on Kappo cuisine. This puts significance on the proximity between the customer or diner and the chef. Thus, you can witness how they cook your food and serve it on your plate.
Aside from their tempura and ramen dishes, they also offer shabu-shabu to their customers. So, if you want to have a taste of Japanese flavors, you can visit their restaurant for lunch or dinner.
Highlights
Serves fresh ingredients imported from Japan

Awarded restaurant for 2 years consecutive

Seating capacity is at 40 pax

More intimate dining experience
Customer Reviews
Customers enjoyed eating together with their friends and family, giving positive feedback to the restaurant. They loved watching Chefs preparing their fresh foods while on their seats. A customer shared this experienced:
I really enjoyed the amazing and juicy Saga Beef that went along with the Onsen egg and truffle on the Japanese rice! Besides that, the turbo clam was very tasty and even had mushroom bites that was delicious. Overall I really enjoyed myself there and would come again but this time with family! – Tan T
9. Mizuya Singapore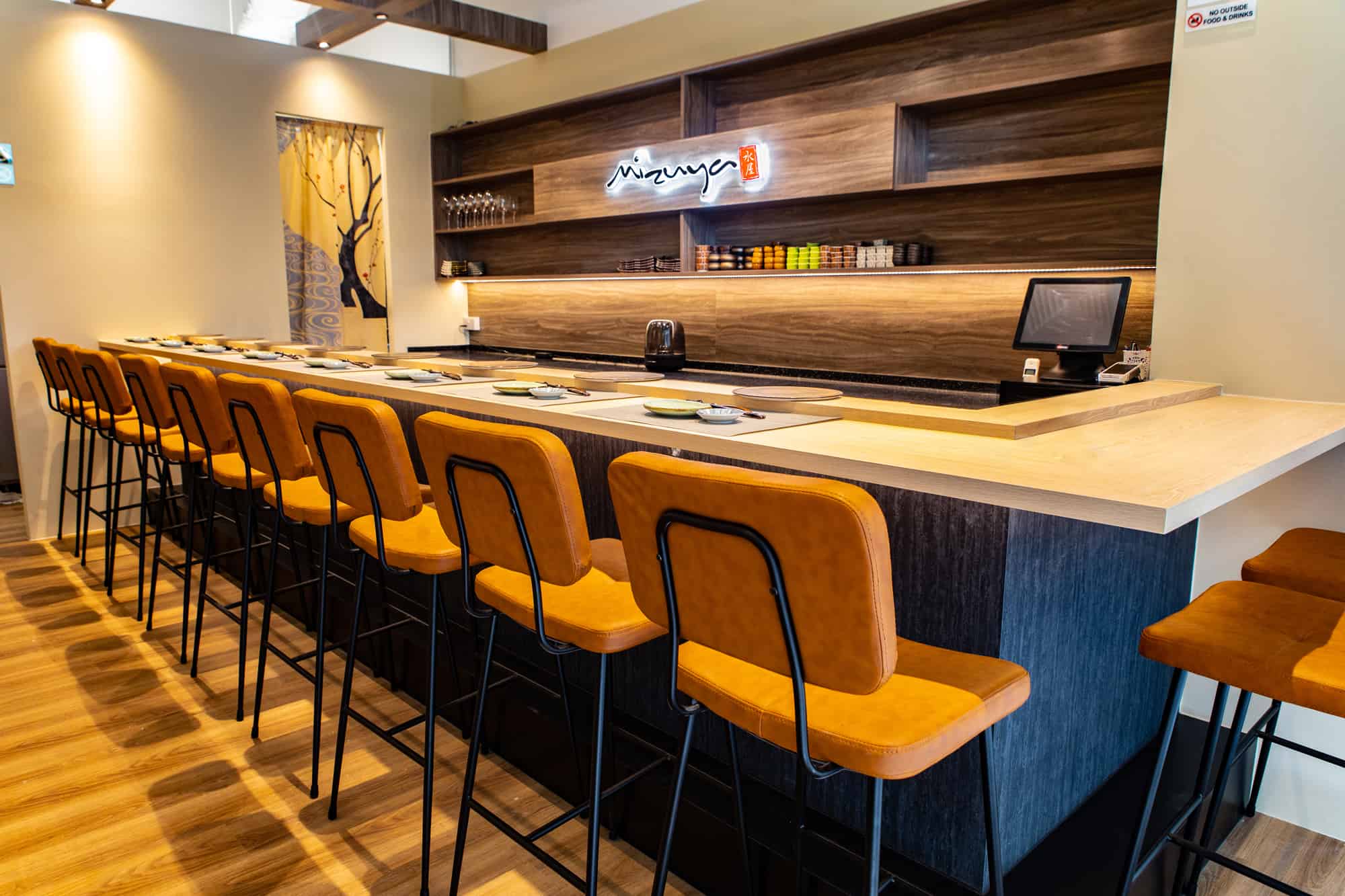 BEST FOR

Sushi, Omakase and Whisky

PRICING

Menu

WEBSITE

https://mizuya.sg/

ADDRESS

Mizuya @ Cavan
11 Cavan Rd, #04-01 Cavan Suites, Singapore 20984

Mizuya @ Orchid Hotel
1 Tras Link #01-12, Orchid Hotel, S078867

CONTACT DETAILS

Mizuya @ Cavan
+65 6721 9399
Whatsapp: https://wa.link/q0sk7r


[email protected] Orchid Hotel
+65 6980 8099
[email protected]
Whatsapp: https://wa.link/y122py

OPERATING HOURS

Monday 12PM – 2:30PM, 6.30PM – 10.30PM
Tuesday 12PM – 2:30PM, 6.30PM – 10.30PM
Wednesday 12PM – 2:30PM, 6.30PM – 10.30PM
Thursday 12PM – 2:30PM, 6.30PM – 10.30PM
Friday 12PM – 2:30PM, 6.30PM – 10.30PM
Saturday 12PM – 2:30PM, 6.30PM – 10.30PM
Closed on Sundays
You cannot miss out Mizuya Singapore when it's about omakase. This was formerly known as Southpaw Bar & Sushi and has been rebranded as such. The restaurant, headed by Chef Kenny, is among the best that offers an omakase menu. That being said, you can have a taste of different flavors when you visit the diner.
The good thing about Mizuya is that they provide seasonal menus along with their omakase. This means that their dishes are unique and refreshing to most of their customers. Further, their ingredients are sourced out from Japan as frequently as possible to maintain freshness.
Partnered with whiskies, the restaurant assures its clients that they will be satisfied with their food. So, if you want to chill out and relax, you may visit their restaurant.
Highlights
Fresh ingredients

Imported ingredients from Japan

Omakase menu with seasonal offerings
Customer Reviews
Mizuya Singapore receives positive reviews from its customers. You can check out some of their testimonies below:
Review from a true blue food addict Singaporean
Food and service quality was top notch. Had a good time, quiet joint, reflective of your experience in Japan omakase joint. Had the red wine house wine. Love the pairing – light and clean. Doesn't overpower the fresh food.
Looking forward to other celebration menu. – Michelle Tan
Hands down the best dining place in Singapore! Normally, I don't really enjoy Japanese food and there is a lot of sashimi that I can't eat (smell, texture). The chef was very attentive and made sure that he selected the ones that I can enjoy. Their seafood is fresh and nicely prepared which is a rare find in Singapore.
We had the simplest omakase and enjoyed every dish that we had there. The staff are nice and professional. Definitely coming back soon! – Estelle Yang
10. Mitsu Sushi Bar

Mitsu Sushi Bar offers different dining experiences to its customers. Well, they have various sets of menus to choose from. You may select their omakase menu or pick from their a la carte dishes. If you visit the restaurant during lunch or dinner, there is also a set of dishes which you may order from them.
Their ingredients are sourced out from famous markets in Japan such as Kyushu and Hokkaido. This is for the reason that they want to ensure the quality of the fishes and other components of their dish. As such, you can guarantee that their food tastes delicious.
They also offer sake and shochu alongside seafood and other dishes on their menus. They take pride in their fresh sake which was unpasteurized and delivered through a cold-chain supply.
Highlights
Fresh sake as complementary

High-quality ingredients and fine fishes from their best market

Reasonable price
Customer Reviews
There's no other place which can replace the service of Mitsu Sushi Bar. Their accommodation, ambience, and quality food provide satisfaction to their customers. Here's a 5.0 review from Google:
Quality food at decent prices if you book with an app. Service was good and the food was great. There's bar seating on level 1 and table seating on level 2. If you come in a big enough group, you can also get a traditional Japanese room where you have to remove your shoes. You can also buy an entire fish and have them cook it several ways – sashimi, grilled etc. – Gerald Lee
11. Maison Ikkoku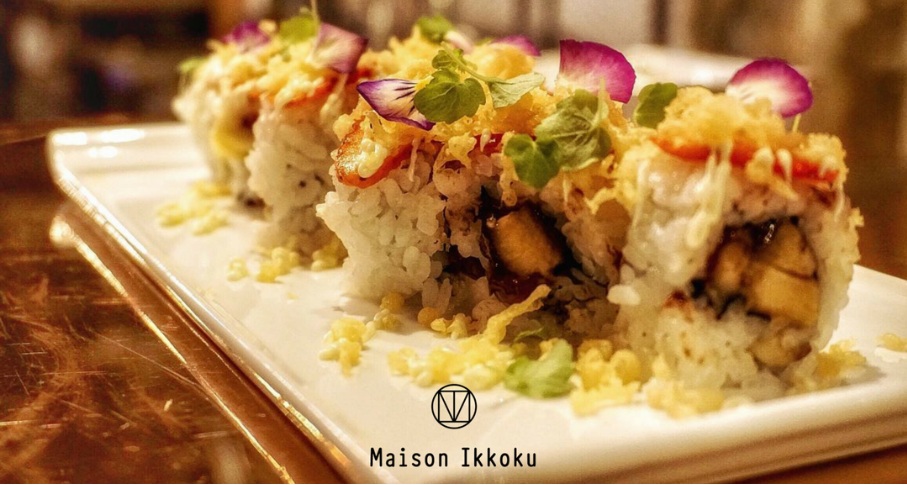 BEST FOR

Bespoke cocktails

PRICING

Menu

WEBSITE

http://www.ethanleslieleong.com/

ADDRESS

20 Kandahar Street, Singapore 198885

CONTACT DETAILS

+65 6294 0078/

[email protected]

OPERATING HOURS
Sunday – Thursday:

6:00 pm to 1:00 am

Friday – Saturday: 6:00 pm to 2:00 am
At Maison Ikkoku, you can always enjoy their omakase menu—as they have it by popular demand—with your friends, family, or colleagues. They offer this kind of service for two hours and on a daily basis. You must have an online booking to ensure that you will be served by them.
What makes this a good choice is that they make sure to cater the preferences of their customers. They are particular on your allergies or foods you dislike. You can inform them beforehand so their chef will modify the recipe or dishes to be served.
They also offer delivery to their customers. So, if you want to eat their food without going out, you may ask them to deliver some to your address.
Highlights
Provides delivery service to customers

Award-winning chefs

Offers bespoke cocktails (decorating and serving)
Customer Reviews
Customers loved how delicious the foods are in Maison Ikkoku. So, if you want to try out their dishes, you are free to do so. In the meantime, here's a review from one of their satisfied customers:
Fantastic. This place put a smile on my face. I went there because of my fascination of Japanese restaurants, but this is not really a Japanese restaurant but rather Asian fusion. Decor is dark, cozy and more European than Japanese, but very nice. There is a lot of attention to detail. It comes at a price but I was only in Singapore for 5 days and I went there twice, that's how much I liked my first visit. The second time I went for the omakase tasting menu, which seems quite popular, but I would actually recommend the à la carte menu. It gives you a better chance of really appreciating the food. I had the tuna tartar for starter and lamb chomps as main and a coffee cocktail for dessert, all were fantastic. The service was great and echoed the attention to detail that runs through the whole restaurant, from decor to food presentation. My favourite restaurant world wide in 2019. – Baldvin Gislason Bern
12. Gake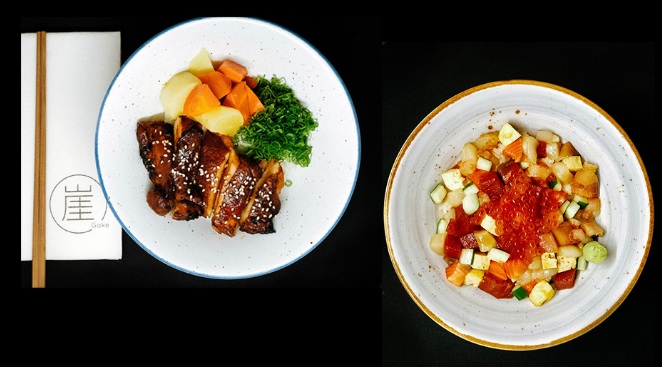 Another restaurant that offers an omakase menu is Gake. This is renowned for infusing European cooking in Japanese cuisine. Thus, reinventing new techniques in Japanese food using European's way of cooking and their local flavors. Their dishes are actually created with one main element but enriched with various ingredients. As such, you will experience a wide variety of flavors when you taste their food.
Gake is different from other Japanese restaurants as it aims to present two cultures in one plate. Their head chef travels around the world and studies local food and cuisine of that particular country. That being said, he is knowledgeable and skilled in what he does.
Highlights
Recreating Japanese cuisine by infusing European cooking

Seasonal and simple dishes

Offers contemporary Japanese cuisine
Customer Reviews
If you want to see a different approach on Japanese cuisine, then you can go to Gake restaurant. There's not much selection on their menu but their dishes are well-thought of and cooked with passions. Here's a review on their service:
Modern and spacious area, with nicely spaced out seats and has three core areas: sushi bar area, booth seats (up to 6 pax) and table seating.
Food's quite unique and tapas style (do note portions are quite small). Definitely recommend the charcoal chicken karaage, mushrooms, grilled pork jowl. Burpple has one for one for don/noodles.
Drinks are value for money, Chita highball & Roku gin are at one for one 6-8pm at $14++ and suntory beers at $12++.
Grateful for the delicious birthday cake given for free too! It was really yummy and they painstakingly wrote happy birthday as well. – Crystal Koh
13. Babasan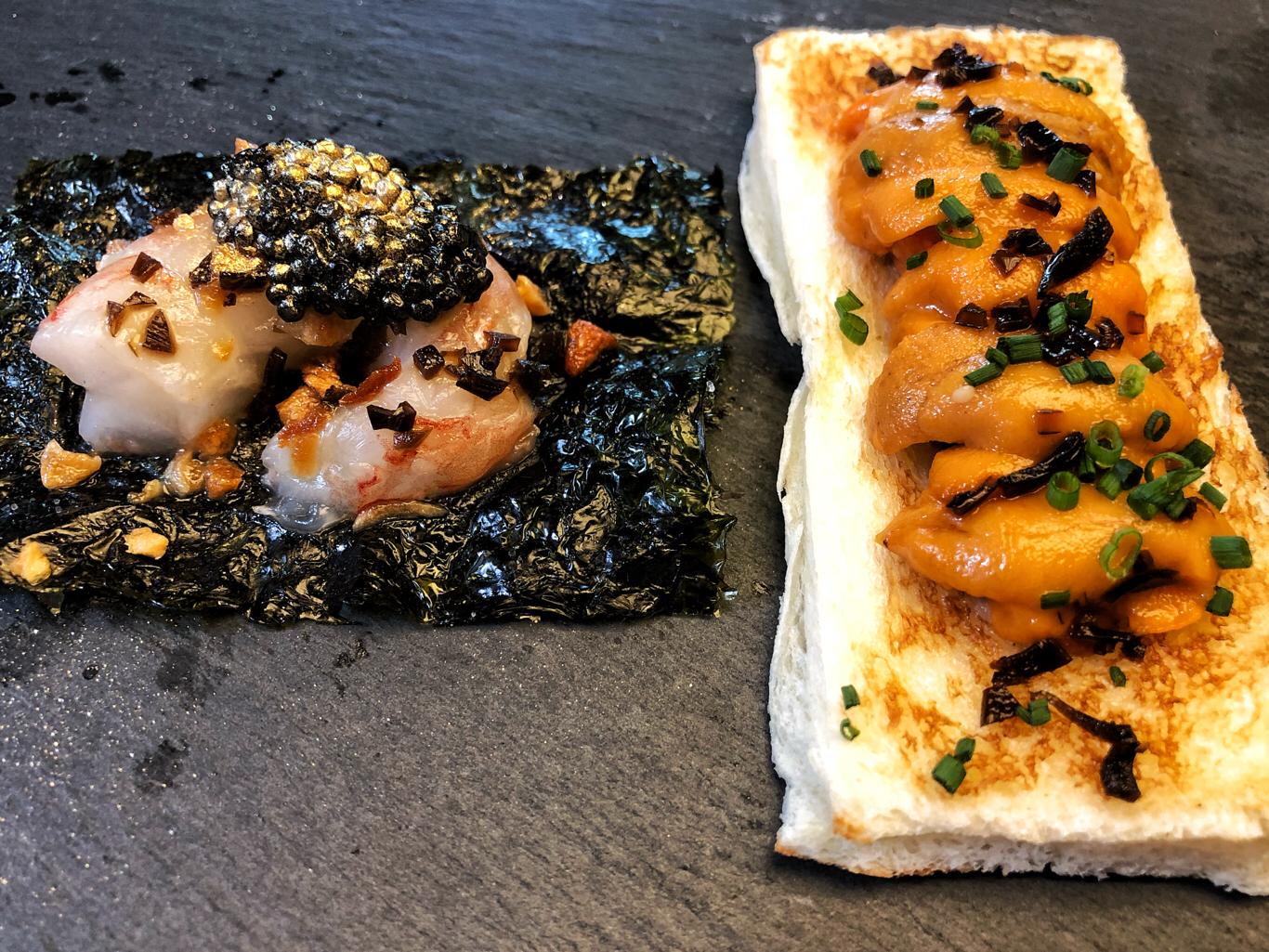 Like Gake, Babasan stirs away from the conventional way of presenting Japanese cuisine. They reinvent Japanese foods and adopt new techniques in cooking from other Asian countries. Nonetheless, their chef keeps the Japanese taste and flavours in their dishes.
The restaurant is not only built just to provide delicious food to its customers. They also aim to make a difference in places where they operate. For instance, there are programs which they organized to help in the betterment of marginalized people. Further, they provide at least one meal a day to any person whom they think deserves such. Thus, when you dine in at Babasan, you can think of helping other individuals.
Highlights
Food for a cause

Japanese-Asian countries fusion

6-course Omakase at $58 per head available on every night
Customer Reviews
Babasan by Uncle Kiisu received a high rating on their Google page. This is due to their quality food and their generosity to marginal groups. You can take a look at how their customers appreciate their food:
A great fusion restaurant. The menu is a showcase of creative blending between Japanese, Chinese and selective Western cuisine. Their ramen is fantastic with the right blend of spices and flavoring. Really enjoy the coconut ice-cream. Very rich texture but easy on the palate. Highly recommended for anyone who wishes to try something out of the ordinary. – Lian Jye Su
My friends treated me to lunch at Uncle Kiisu and I really, REALLY liked the food because every dish was flavorful and full of ingredients. I returned again with my family and everyone was impressed with the variety, ingenuity and taste of the food. I definitely recommend giving it a try!! – Lois Amaral
14. Sushi Ayumu
BEST FOR
Chef's Omakase
PRICING
Menu
WEBSITE
https://www.sushi-ayumu.com/
ADDRESS
333A Orchard Road #04-16 Mandarin Gallery (S)238897
CONTACT DETAILS
67332114 or 91590102
OPERATING HOURS
Lunch – Tuesdays to Sundays 12pm to 3pm (last seating at 2pm)
Dinner – Tuesdays to Sundays 7pm to10pm (last seating at 9pm)
Closed on Mondays
Sushi Ayumu symbolizes a fresh start with immense possibilities. It originates with the fervent desire to share our pleasure for rich Japanese culinary art form. Respecting the heritage and honouring key elements, our Tokyo (edomae) style sushi served "Omakase" or trust the chef uses produce sourced daily from Japanese fishermen and suppliers masterfully treated with traditional techniques to accentuate its natural flavour.
Highlights
Offers takeaways for a limited time period
Uses only the finest and freshest ingredients
15. Teppan Kappou Kenji
Teppan Kappou Kenji is one of the best spots for Japanese teppanyaki and kaiseki cuisine. It is headed by Chef Kenji Okumura, a chef with the goal of introducing a new Japanese gourmet experience.
They use only the finest and freshest ingredients in their cuisine. With their multi-course meals, diners will surely enjoy the intricate dishes Teppan Kappou Kenji offers.
Highlights
Uses only the freshest ingredients in season
Customised menu
That's it for our list of the best omakase in Singapore! Feel free to share with us more options, if you know of other places!
For more Japanese cuisines, take a look at these best Japanese restaurants in Singapore! They provide authentic and traditional dishes filled with flavourful and refreshing taste so there's no doubt that you'll have a good time!