7 Places for the Best Steamboat Buffet in Singapore (2021)
If you're a fan of steamboat Singapore restaurants, you may already know that most of them are quite expensive. That's why we've gathered the top places that offer the cheapest and yet the best steamboat buffets in Singapore!
You'll certainly love our list as it includes accessible locations, affordable prices, and of course, great food selections. So the next time a friend or a family member asks you if there is a Singapore steamboat near me or you, you can refer to this list!
1. Shi Li Fang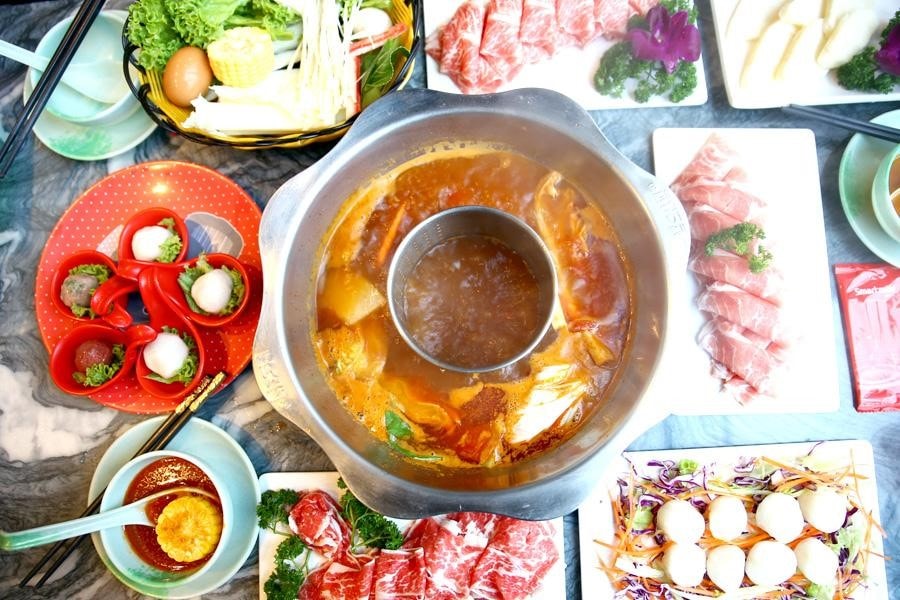 Image Source: Daniel Food Diary
With a total of 7 successful outlets, it's clear that Shi Li Fang has truly captured the hearts of many locals and tourists. Their lowest set price starts from $9, which is a great deal because the meal is good enough for one serving.
For their servings and meat and vegetable quality, that's one cheap hotpot in Singapore that's well worth the value!
Their meals include your own choice of meat, rice, noodles, soup, and vegetables. They also have additional dip sauces and drinks.
Ala carte options are also included in the menu. With all of these selections, they indeed serve the best steamboat buffet in Singapore if you're on a budget.  
Next time you and your friends feel like a group dinner, it's good to remember that this is a place for cheap steamboat in Singapore.
Highlights
Preferred choice of meat
Ala carte options
Accessible locations
Customer Reviews
Many customers gave compliments for their perfectly served meals and excellent choices of meat and vegetables. However, if you're a local looking for an exquisite food venture, they said that this might not be your best bet.
Still, it's a highly recommended place and has become one of the most famous eateries in the country. A customer shared this experience on Google Reviews:
"Very affordable prices for a filling meal. The soup bases are good, would recommend the tonic chicken soup. As with other hotpot chains, the soup gets very salty near the end of your meal.  Wide choice of meat and vegetables but nothing exceptionally stands out since it's DIY. Friendly and attentive staff who continued to serve even though we were the last to leave at closing time. Be prepared to queue for at least 30 min during dinner hours as it is a very popular eatery"
2. Danro Collagen Hotpot by MOF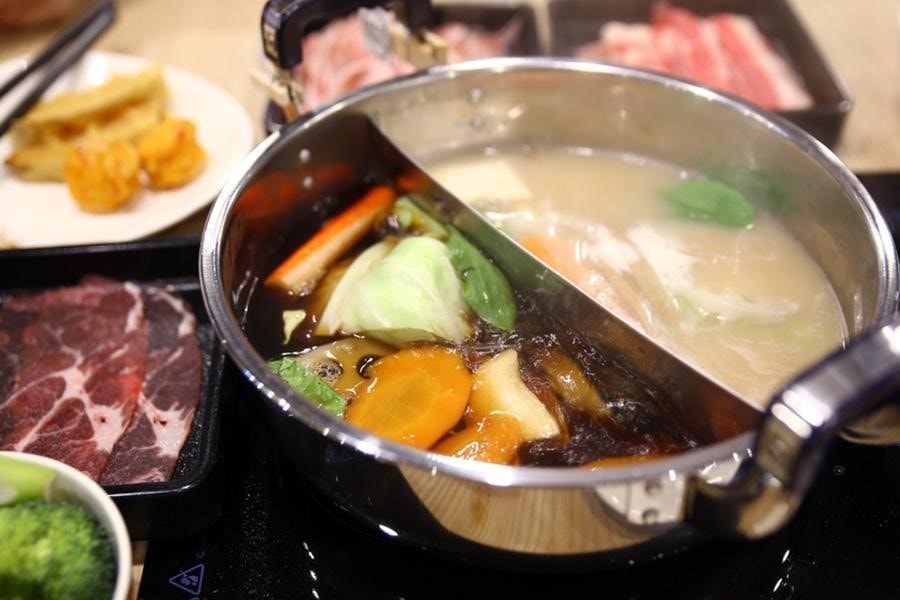 Image Source: Daniel Food Diary
BEST FOR 
Japanese hotpot
WEBSITE
http://ministryoffood.com.sg/danro/
ADDRESS
●     200 Victoria Street, #02-45 Bugis Junction, Singapore 188021

 

●     83 Punggol Central, #01-32 Water Way Point, Singapore 828761

●     #02-04/06 NEX, 23 Serangoon Central, Singapore 556083

●     17 Petir Road, #01-13/14 Hillion Mall, Singapore 678278
If you're into Japanese hotpot, then you should bring your family and friends to Danro Collagen Hotpot by MOF. It's the perfect place to experience Japanese cuisine and culture!
The menu features a tasty selection of collagen hotpot soups and an add-on cheese dip for a fully-loaded meal. All meals are offered at the lowest prices so you can definitely have a blast without going over your budget.
And we're sure you know all about the benefits of collagen to your skin, hair and overall youthfulness so this is the best steamboat in Singapore that has much added beauty benefits!
Highlights
Cultural cuisine
Collagen hot soups
Daily promotions
Customer Reviews
Despite the demand for more food selections, many customers were still impressed by the overall healthy servings and friendly services. Therefore, they consider Danro Collagen Hotpot by MOF one of the best steamboat buffets in Singapore.
A customer wrote this feedback on Google Reviews: 
"Great Japanese hot pot buffet with style! Freshly prepared healthy ingredients with tender loving caring skillful cooking and professional warm services. Love the beef and chicken collagen soup. Friendly fast attentive cosy comfy welcoming ambience for romantic intimates groups students tourists Expats locals and families."3.
3. Hao Lai Wu Steamboat & BBQ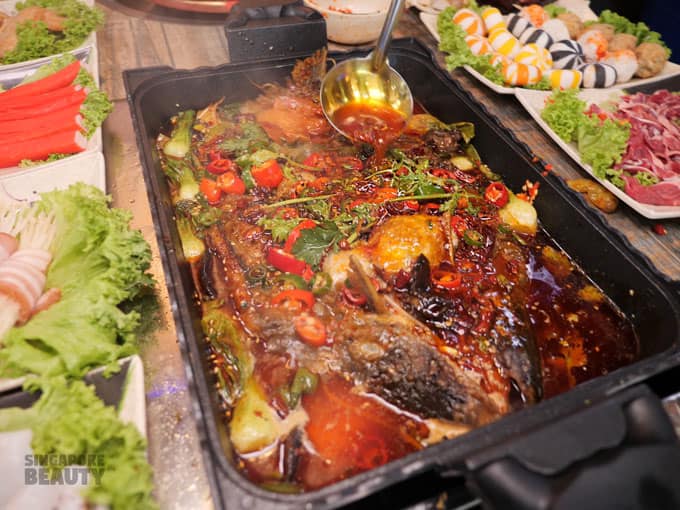 BEST FOR 
Wide range of seafood options
FACEBOOK
https://www.facebook.com/haolaiwu.bbq/
ADDRESS
●     8 Sago Street, Singapore 059012

 

●     175 Bencoolen Street, #01-57 Burlington Square, Singapore 189649

CONTACT DETAILS
+65 6221 0065 , +65 6732 0816
OPERATING HOURS
Daily, 11am–3am

 

(Chinese New Year) Hours might differ
If you're after a steamboat buffet in Singapore that specialises in Seafood, Hao Lai Wu should be a place to consider. 
With less than $20, you can have a full course Singapore steamboat weekday lunch at Hao Lai Wu Steamboat & BBQ. They're known to have a great seafood menu such as prawns, clams, and crabs!
Appetisers are also served at this restaurant. They have 2 branches so you can easily go to the nearest one.
Highlights
Seafood selections
Affordable full set meals
Customer Reviews
Most customers pretty much enjoyed their dining at  Hao Lai Wu Steamboat & BBQ. They liked the menu options that are all offered at fair prices, serving the best steamboat buffet in Singapore.
Their $20.00 SGD weekday lunch is a popular hotpot buffet Singapore special as well. 
A customer posted this review on Google Reviews: 
"Quite enjoyed our time here. Good range of food (especially the seafood), decent prices. Only complaint would be that the grill gets quite oily, but safe for that, would definitely recommend. Soups were decent too, but the split pot seems quite significantly smaller than the single pot."
4. Suki-ya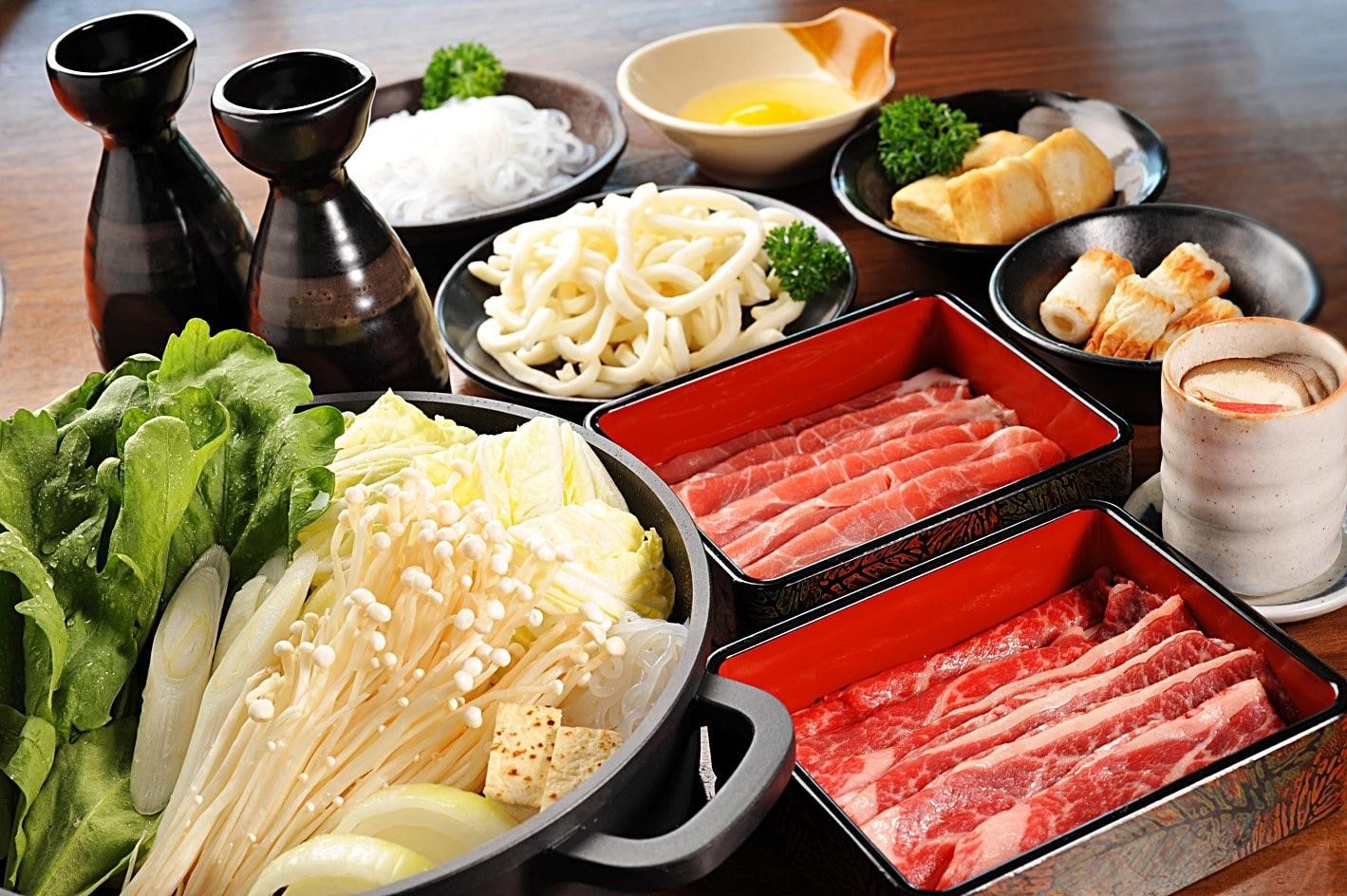 Image Source: Suki-ya
As much as we'd like to try premium meat quality during our steamboat buffet, most of the time, it can get quite costly. But worry no more, because at Suki-ya, you can have the best steamboat buffet in Singapore at an affordable price!
Another good thing about this place is that they offer unlimited servings of beef, pork, and chicken. They also have a wide selection of fresh vegetables for a balanced and healthy meal.
Their choice cuts of premium meats make them one of the best options for bbq steamboat buffet in Singapore.
Highlights
Signature Shabu-shabu dish
Unlimited servings
Salad bar 
Customer Reviews
Customers shared that the staff were able to manage a responsive service despite the overwhelming crowd. They also said that the seafood, soups, and meat filled their stomachs with delight.
This is why most of them were convinced that Suki-ya has the best steamboat buffet in Singapore. A customer left this feedback on Google Reviews:
"Extremely pleasant service despite a crazy crowd because of multiple tourist groups dining in at the same time, the manager named Raf and another server named Clam were always promptly refilling our soups and always replenishing our meats immediately when we were about to finish it. Raf also cut up apples and served it to us at the very end, delightful service and we'll be back again for sure!"
5. GoroGoro Steamboat & Korean Buffet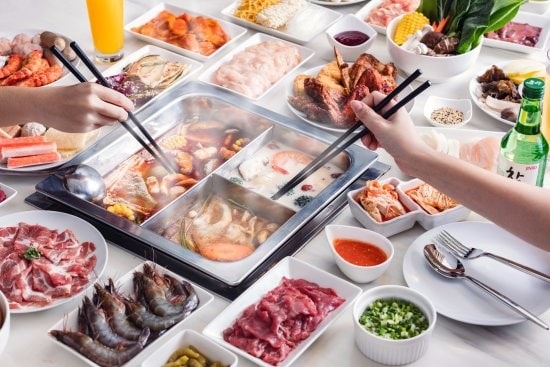 Image Source: Trip Advisor
If you're quite particular with your preferences, then you should try the steamboat buffet at  GoroGoro Steamboat & Korean Buffet. They provide different soup base selections to match your preferences.
Moreover, they have wide selections of raw food that are mixed with Korean and local cuisine. You'll also enjoy the perks that come with their free membership and have the best steamboat buffet in Singapore!
If you're a huge group with different dining preferences, GoroGoro is your option for the best steamboat buffet in Singapore due to their wide range of meat, vegetables and seafood. All dietary preferences are met!
Highlights
Special promotions
Membership perks
Customer Reviews
GoroGoro Steamboat & Korean Buffet has been recognised by many customers for its high-quality food and variations, services, as well as the ambience and affordability.
We're not too surprised to know that GoroGoro has been considered as one of the best steamboat buffet in Singapore for 2020.
Because of the different types of food that they can choose from, a customer recommended the place and wrote this review on Google Reviews:
"A spread of about 5 to 7 types of meat and one type of fish. Plenty of side dishes such as mala flavoured bok choy and lotus, kimchi, bringal and crispy sweet chicken joint , just to name a few. Free flow drinks such as water chestnut, lime juice and mango-flavoured drink."
6.  GUO FU STEAMBOAT
BEST FOR

Buffet with Free Flow Xiao Long Bao

FACEBOOK

http://www.facebook.com/guofu.steamboat

ADDRESS

20 Cross Street #01-31/32/33, Cross Street Exchange,

 

Singapore 048422

CONTACT DETAILS

+65 65570906

OPERATING HOURS

11:30 am – 10:30 pm/ Opens daily
If you're looking for a hot pot buffet in Singapore with free flow handmade Xiao Long Bao, then Guo Fu Steamboat is the place to be. Guo Fu Steamboat lets you enjoy a hot soup that is rich in flavour together with your choice of meat and veggies. When you dine in, you can select between three different options: Set Meal, Ala Carte, and Buffet—The hotpot buffet with free flow Xiao Long Bao being the most popular of all.
They have thirteen different soup bases and over hundreds of fresh ingredients that you can dip in your hotpot. You may also create your sauce among the condiments provided. 
Soup and broth lovers definitely choose this place as their buffet steamboat in Singapore.
Highlights
13 soup bases to choose from

Over hundreds of fresh and high quality meats and other ingredients

Free flow handmade Xiao Long Bao
Customer Reviews
Guo Fu Steamboat introduced small individual hotpot in Singapore in the year 2005. And since then, customers loved how they serve high quality and delicious foods for hotpot lovers.
Plenty of customers also rage about their affordable hotpot in Singapore.
Here's a 5.0 review of their customer:
My go-to place for affordable steamboat with high quality meat. The 肥牛 fatty beef is the highlight for me. Love the 微辣 mildly spicy soup. You can request for a personal pot if you dont want to share. Have to make reservations beforehand though, as it gets pretty crowded even on weekdays. Great customer service too – Hailey Teng
7. SUKI-SUKI THAI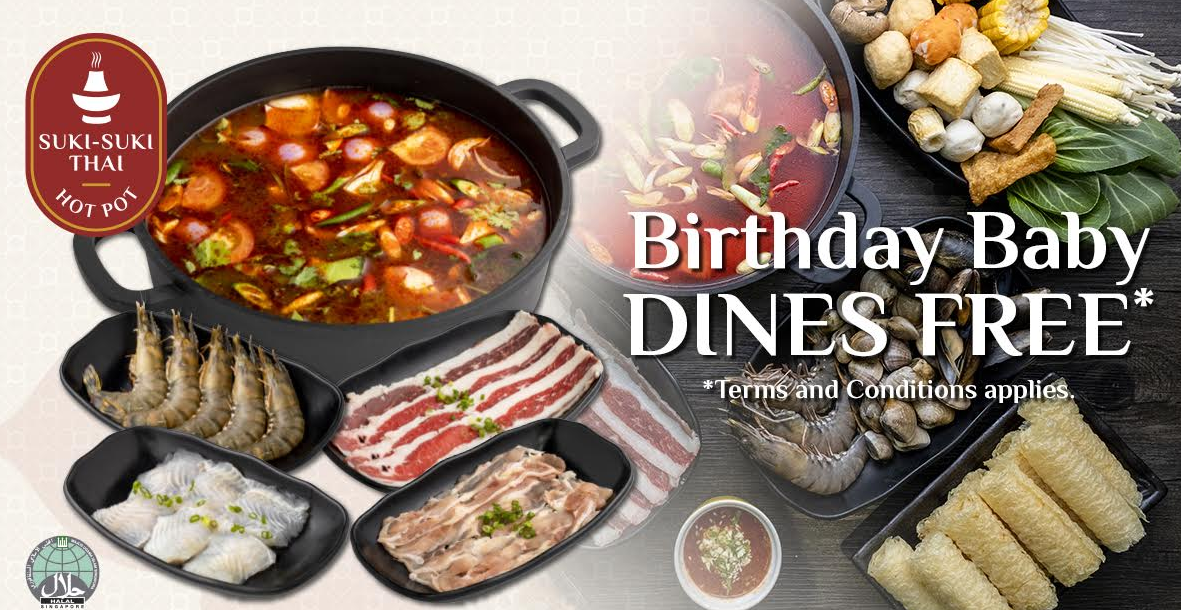 BEST FOR
All-you-can-eat Halal Thai Hot Pot Buffet
FACEBOOK
ADDRESS
HomeTeamNS Khatib Club House #01-01 Yishun Walk, Singapore 767944
SAFRA Toa Payoh 294 Lor 6 Toa Payoh #01-04, Singapore 319387
CONTACT DETAILS
 
OPERATING HOURS
Mon – Thurs : 11am – 3pm (last order 2.30pm), 6pm – 10pm (last order 9.30pm)
Fri – Sun : 11am – 10pm (last order 9.30pm)
Set in a vibrant Thai-inspired interior, Suki-Suki Thai Hot Pot combines the multi-dimensional elements of Thai cuisine in a pot, offering fresh ingredients, exciting flavours, and a heart-warming meal for all hot pot lovers. The restaurant serves an ensemble of sweet, sour, salty and spicy through six authentic Thai soup bases, which includes Tom Yum Yen Ta Fo, Tom Yum soup, and Sweet Basil Chicken Soup.
Priced from $17.90++ per pax, Suki-Suki Thai offers over 40 different ingredients to pair with the soup bases, which include fresh thinly sliced beef, chicken, home-made fish paste, vegetables, mushrooms, tofu, pot dishes and other staples. Diners who are seeking for more can opt to top up $10.90++ for unlimited servings of extensive selection of premium ingredients, ranging from Wagyu Beef, Dory Fish, Tiger Prawns, Black Mussels, Bean curd Skin and more.
Currently, Suki-Suki Thai is hosting a birthday promotion, which allows birthday celebrates to dine for free at the buffet restaurant. Some of the terms for this promo are:
Valid for dine-in only.
Minimum 2 diners, including the birthday baby to enjoy the promotion.
Available in Suki-Suki Thai Hotpot HomeTeam NS Khatib and SAFRA Toa Payoh.
Not valid on Public Holidays, Special Occasion (e.g Mother's Day) and their respective eves of.
Offer is valid only on regular buffet, and not applicable for additional top-ups. (e.g Premium Top-ups)
Valid for the whole birthday month. Valid ID bearing the birthday of the celebrant must be presented to enjoy the promotion.
This promotion should not be used in conjunction with the $20 birthday voucher, and other discounts, promos, offers or any card privileges.
Not applicable for private events, or bookings of more than 8 pax.
Highlights
Wide array of hotpot ingredients to choose from

Time limit of 80mins
6 soup bases to choose from
Lunch, dinner, and children's fees differ depending on the time of day
Do you already have a favourite from our list of the best steamboat buffets in Singapore? If so, let us know which one is it and why you chose to visit the place.
In case you're searching for other buffet options, you may take a look at these best buffets in Singapore! Each selection will surely fit with any preferred taste, ambience, and price!