So you're here looking for the best halal restaurants in Singapore. Whether it's because you're a Muslim looking for a great place to dine on a special occasion or even a non-Muslim who wants to try cuisine deemed permissible by the Quran, we've found the perfect restaurants for you.
The following establishments made the cut because of the quality of their food and good service. And of course, they're all scrupulous about ensuring their offerings are properly halal.
Without further ado, let's take a look at them! These are currently the best halal restaurants in Singapore.
1. Chix Hot Chicken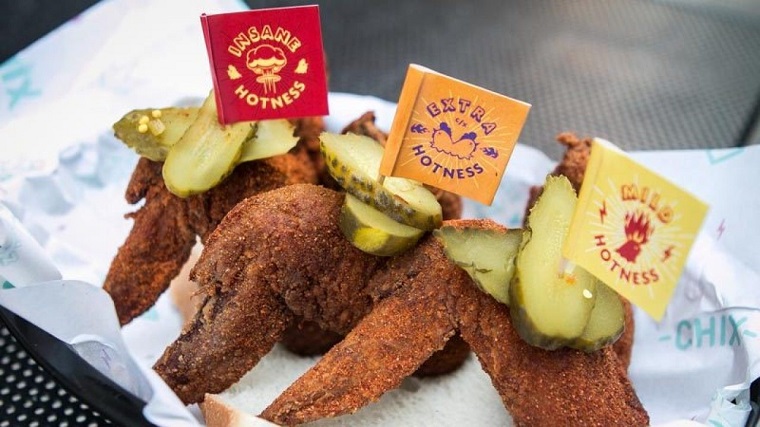 BEST FOR: Nashville-styled halal country chicken
PRICING: Menu
WEBSITE: http://chixhotchicken.com/
ADDRESS: 1 Jln Pisang, Singapore 199069
CONTACT DETAILS: +65 9839 0607
OPERATING HOURS: Monday to Thursday @ 11am to 11pm, Friday and Saturday @ 11am to 12am
The main pride of Chix Hot Chicken is their super-hot fried chicken that will spice up your food adventure. The spicy intensity in their main course meals is the focus of attraction.
This is the perfect choice for those who love spicy food. You can even get to have fun once you decide on your level of spiciness.
Of course, if you're not a fan of hot sauces, you can still enjoy their original fried chicken. It's pretty good too!
SERVICE HIGHLIGHTS
Enjoyable level of spiciness
Wide selection of side dishes and beverages
Accommodating service
CUSTOMER REVIEWS
Chix Hot Chicken is one of the more popular and accessible halal restaurants in Singapore. Customers praise its spicy chicken, as well as the option to choose spice levels.
Here's some 5-star feedback from Google Reviews:
"The chicken is good! Drinks are refillable. Insane hot is not the hottest thing I've ever eaten but it's pretty hot and has a great chilli flavour. The chilli sauce that comes with the fries is really good too. The guy who runs it is super nice and seems to care deeply about his chicken."
2. Tipo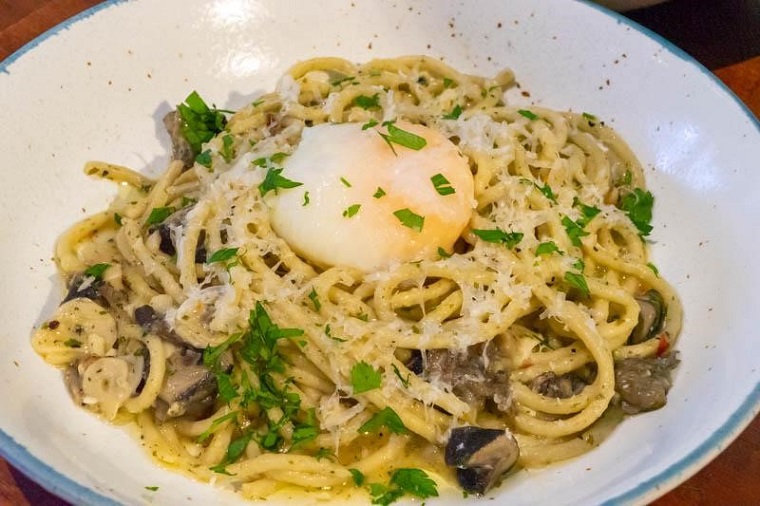 BEST FOR: Halal pasta with premium toppings
PRICING: Menu
WEBSITE: https://www.tipo.sg/
ADDRESS: 785 North Bridge Rd, Singapore 198753
CONTACT DETAILS: +65 8768 0785
OPERATING HOURS: Monday to Sunday @ 12pm to 10pm
Tipo is a Halal pasta bar that serves its own handmade pasta dishes. They infuse each dish with many classic Italian flavors such as lemon and garlic.
This is actually a great place to go to for a halal food date. You'll surely enjoy a sweet date with your loved one for it has a cosy ambience that'll encourage you to try their freshly made pasta.
The change of menu choices every few days will make you more excited and even come back for more. The Build Your Own Pasta event of the restaurant even lets you make your own dish by selecting a particular type of pasta and pairing it with a sauce.
This kind of activity is a good way to have a great time with family and friends. Overall, this is easily one of the best halal restaurants in Singapore.
SERVICE HIGHLIGHTS
Personalised menu dish
Modern and artistic interior design
Variation of pasta dishes
CUSTOMER REVIEWS
Despite their recent launch last year, Tipo have already impressed food bloggers with their innovative menu and creative interiors. Shahida Ariff wrote this top-rated review on Google Reviews:
"This place is fun cos you get to try and create your own pasta dish. Prices are very reasonable and if you create the right combo, the result is delicious. And if you're not the adventurous sort, they have pre-set dishes for you. Oh, and the best part is the pasta is made fresh daily, and every day there are three options. Each is infused with an ingredient ranging from beetroot to basil to garlic. Highly recommended." 
3. Yassin Kampung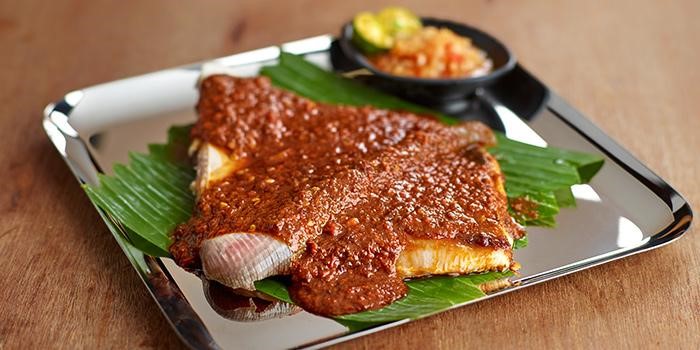 BEST FOR: Halal seafood dishes
PRICING: Menu
WEBSITE: https://yassin.com.sg/
ADDRESS: https://yassin.com.sg/locate-us/
CONTACT DETAILS: https://yassin.com.sg/locate-us/
OPERATING HOURS: https://yassin.com.sg/locate-us/
Yassin Kampung started out with a menu that focuses on Asian-flavoured halal seafood dishes. They have expanded since then, so this family restaurant now features a lot of hotplate dishes that are suited to the locals' palates.
Their several established outlets serve as proof of their success. This is the ideal restaurant for families looking for a comfortable and welcoming environment to dine in.
If you also have a large group of business colleagues or close friends, this can also be a safe option to impress them. Beverages, desserts, and sweets are no exception to their wide range of selections.
SERVICE HIGHLIGHTS
Best local favourites
Spacious area and comfortable environment
Function hall for special events and gatherings
CUSTOMER REVIEWS
Yassin Kampung has been a fan-favourite ever since the restaurant opened its first outlet. Their loyal customers showed their excitement every time they announce an official launch for their next new outlet.
Rachel Chua shared her very own experience on Burpple:
"The restaurant is MUIS Halal-certified and the founder/ head chef, Mr. Muhammad Yassin Ng has over 15 years of experience serving Halal Tze Char..
One of the highlights that night was actually the Asia's very first Kampung Durian Chicken! Yes, the love it or hate it durian fruit has found its way into a savoury dish at Yassin Kampung. Tender fried chicken drenched with creamy durian sauce similar in texture to buttermilk or condense milk chicken. The durian smell was mild, sweet and might feel confusing at first bite since the chicken was savoury. Before long, it became a dish which I start to appreciate rice." 
4. Hararu Izakaya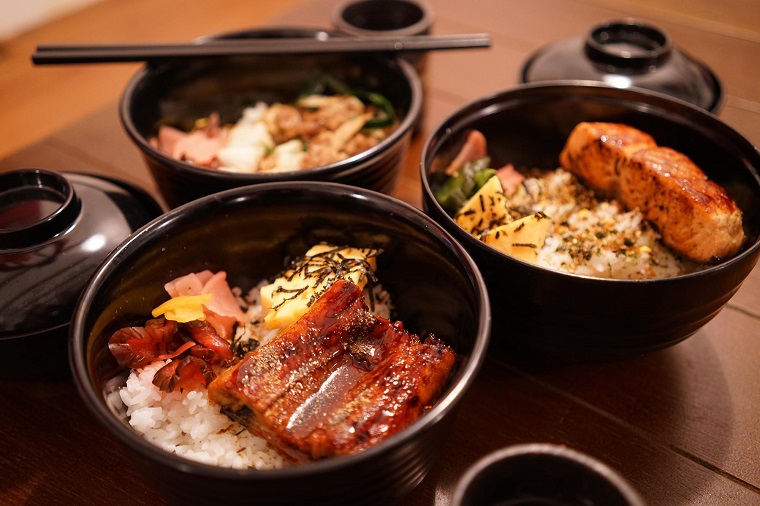 BEST FOR: Authentic halal izakaya cuisine
PRICING: Menu
WEBSITE: http://hararuizakaya.com/
ADDRESS: 16 Bussorah Street Singapore 199437
CONTACT DETAILS:  +65 62915373
OPERATING HOURS:  Mondays to Sundays @ 12pm to 11pm (Last order is at 10pm)
Who would have thought that the marriage of Japanese and Muslim cuisine could be possible? Hararu Izakaya pioneers the excellent combination of two enticing cuisines.
It is the first izakaya restaurant in Singapore that is owned by a Muslim. They serve classic Japanese dishes slightly influenced by modern tastes.
Because of this, both those of the younger generation and old souls will definitely have a good time here.

SERVICE HIGHLIGHTS
Great ambience
Traditional Japanese favourites
Friendly accommodations
CUSTOMER REVIEWS
Food bloggers have been raving about Hararu Izakaya for a while now, praising their convincingly Japanese interiors and dishes. If you are a Halal food lover and a fan of Japanese culture, this must be the ideal place for you!
Inshirah Majid of Halal Zilla wrote this review:
"This Japanese restaurant is actually the first Muslim-owned izakaya in Singapore. While hararu means halal in Japanese, izakaya is actually an informal Japanese bar that typically small dishes with alcoholic drinks. Fret not, Hararu Izakaya is fully halal! It provides a unique dining experience that is both family-friendly and is authentic to the Japanese experience.
Their menu features a wide selection of Japanese ramen to udon. But of course, their skewers or kushiyaki dishes are perfect for sharing as you'll be able to savour a variety of Japanese dishes. Be sure to get your orders in before 10pm!"
5. Afterwit – Mexican Taqueria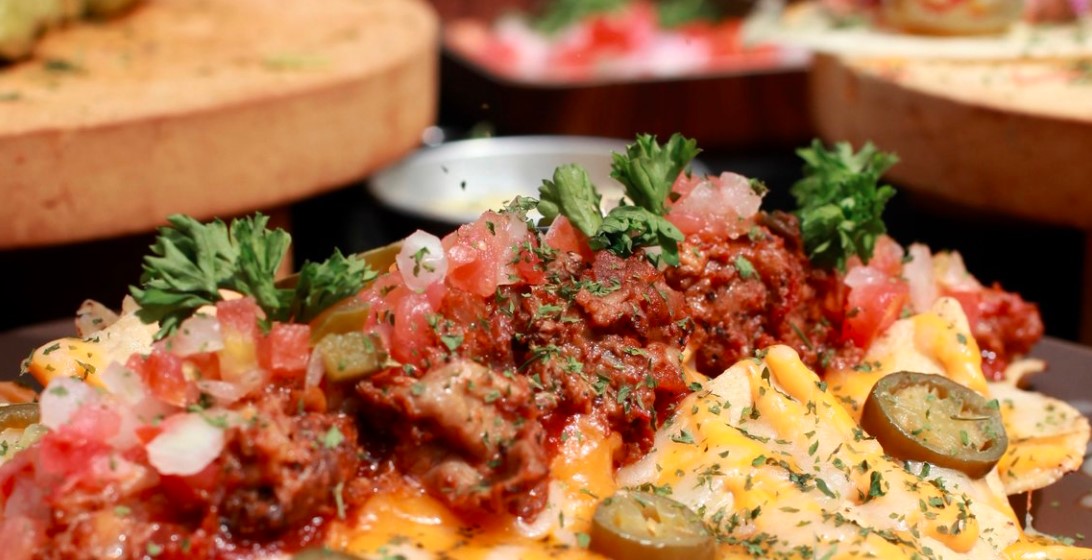 BEST FOR: Halal Mexican food
PRICING: Menu
WEBSITE:  http://www.afterwit.sg/
ADDRESS: 778 North Bridge Road Singapore 198746
CONTACT DETAILS: +65 6291 1773 | [email protected]
OPERATING HOURS: Sunday to Thursday – 12pm to 10pm / Friday and Saturday – 12pm to 11pm
Afterwit was initially another hipster cafe with a dreary menu, but they had an After-thought (Afterwit) and decided to spice things up a bit by becoming Mexican. Being Mexican-inspired Afterwit stands out with its menu boasting of a Double Cheeseburger Burrito and Butter Chicken Tacos, throw in some mocktails and you've got yourself a unique experience.
Afterwit has become a cult favourite among those with a penchant for spicy flavours, or looking for a sweet spot to chill out or do work.
SERVICE HIGHLIGHTS
Events such as Nacho Typical Move Night and Plug and Play Sessions
1-for-1 drinks
Kids dine free on Sundays
CUSTOMER REVIEWS
Attiya Ashraf Ali's 5-star Facebook review says it all:
"On 14th and 15th July, The Codette Project held Singapore's first women-only hackathon, during which dinner for the first day was catered by Afterwit. The spread was simply amazing, much to the delight of organisers and participants alike. This buffet included frijoles ysetas, pollo, mexican rice, corn tortilla, slaw, salsa picante and pico de gallo. Some went for seconds because the food was extremely delicious, especially after a full day of workshops! Service was excellent to, with the team coming in on time to set up, lay out the spread (very visually appealing!) and also in cleaning up after. We were glad to have worked with The Black Hole group to cater for the meal for this event. "
6. The Halia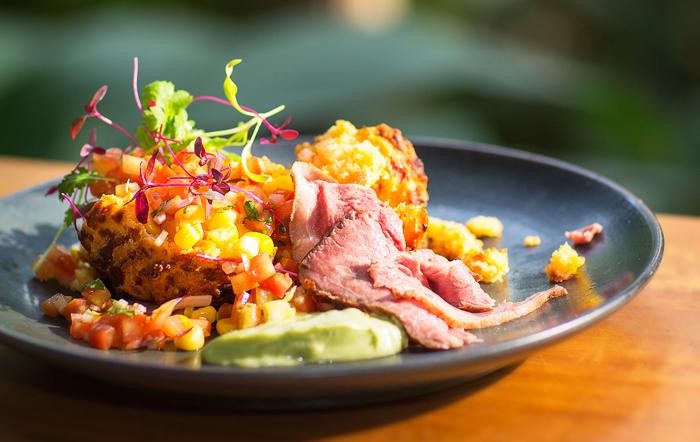 BEST FOR: Modern European cuisine with Asian influences of halal food
PRICING: Menu
WEBSITE: https://thehalia.com/
ADDRESS: 1 Cluny Road, Ginger Garden Singapore Botanic Garden, Singapore 259569
CONTACT DETAILS: +65 8444 1148
OPERATING HOURS: Mon-Thu: 9am-9:30pm / Fri & Eve of PH: 9am-10pm / Sat: 10am-10pm / Sun & PH: 10am-9:30pm
The Halia is best known for its nature-friendly ambience that will help you relax while treating yourself to good food and tasty drinks.
They also have different accommodations that can be based on certain events such as corporate meetings, personal gatherings, seminars, communal feast, as well as daily meals. 
SERVICE HIGHLIGHTS
Classic and elegant environment
Buffet packages and catering services
Special promotions
CUSTOMER REVIEWS
As The Halia is built within a UNESCO World Heritage Site, it has become one of the most visited destinations for locals and tourists. Customers expressed their satisfaction with the food at The Halia and stated that being located at the Singapore Botanic Gardens gives the establishment a peaceful and serene ambience.
A reviewer from Google Reviews gave this feedback:
"Attended a wedding session here. Great service and food. Loved the desserts. Had a buffet style dinner, mixed with salad, sushi, slow roasted beef and even laksa. Really great environment to dine imn and despite the rain, being surrounded by nature made it even better to indulge in my dinner."
7. Inariku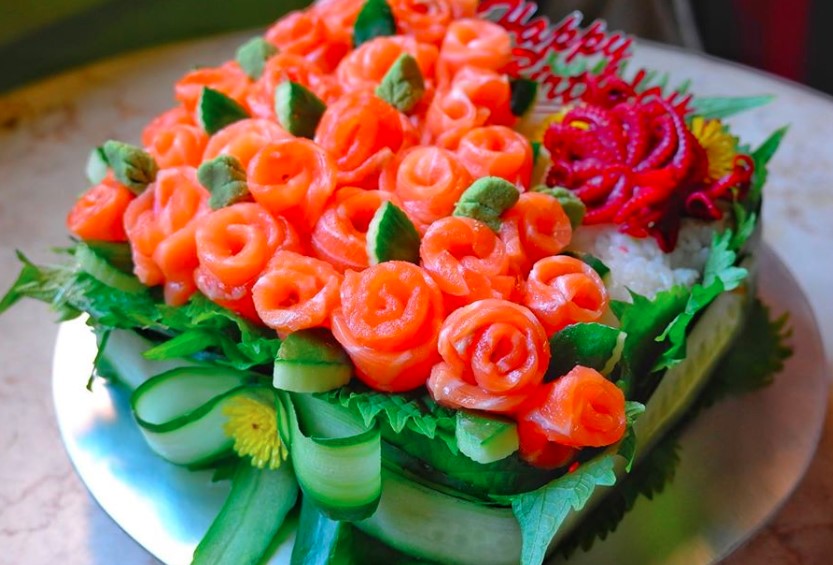 BEST FOR: Halal-Japanese cuisine
WEBSITE: https://www.inariku.com/
ADDRESS: Pasir Ris Street 13, Singapore 510155
CONTACT DETAILS: [email protected] | https://wa.me/6596999592
OPERATING HOURS: Monday to Friday: 11:00 am to 8:30 pm; Saturday: 11:00 am to 4:00 pm
Inariku is a humble home kitchen started by Stay-At-Home-Mom who loves Japanese Cuisine. With a strong background in Tokyo Sushi Academy, Le Cordon Bleu Tokyo and guidance from her sensei & Japanese chefs during her learning journeys in Japan, she has created a menu filled with scrumptious fusion food.
SERVICE HIGHLIGHTS
Event orders

Private Japanese Fine Dining Experience

Sushi/sashimi cake

Wedding catering
CUSTOMER REVIEWS:
5-star Facebook review from Nora Frente:
"If you're looking for halal authentic japanese meal to feast-on a good friday night or to satisfy that craving, well! you will be pleasantly suprised from Inariku. Tantan Ramen, the noodle stood among other hearty menu earns the distinction to die for! Tantan ramen at its best. "
8. Citrus by the Pool
BEST FOR: Fusion cuisine
PRICING: https://www.citrusbythepool.com/citrus-by-the-pool-woodlands
WEBSITE: https://www.citrusbythepool.com/
ADDRESS AND CONTACT DETAILS: Citrus By The Pool – 3 Woodlands Street 13, Woodlands Swimming Complex, Singapore 738600 (Tel: 6366 6581) / Citrus Bistro – 57 Anchorvale Road, Sengkang Swimming Complex, Singapore 544964
OPERATING HOURS: https://www.citrusbythepool.com/
Citrus By The Pool is a Halal-certified café restaurant located at the Woodlands Swimming Complex, serving Western and Asian Fusion cuisine.
Seeing a lack of Halal-certified cafés in the North, the owner Chris decided to bring the café experience to the residential estates, offering accessibility, relaxing ambience and good food. Their second branch, Citrus Bistro, is by one of the biggest public swimming pools in Singapore.
SERVICE HIGHLIGHTS
Citrus Bistro offers a relaxed alfresco dining experience, with view of the bustling swimming pool and water park facilities
Citrus by the Pool has a retro-themed space decked with large windows and cosy lights hanging from exposed wooden beams, and can accommodate up to 70 persons indoors and 70 persons outdoors
Diners can expect signature dishes like the Tom Yum Seafood Pasta, Da Burger Bomb and branch-exclusive dish like Curry Chicken w Rice/ Bread
CUSTOMER REVIEWS
Customers love these cafes. Take a look at Mirsha A. Hassan's 5-star Facebook review for an idea of what their average patron says:
"First time eating here and it was more than I expected. Cafe itself was a nice place to eat at and to hang out with friends/family. Cosy, warm ambience. Food was great, affordable price. Service was great. Staffs were very friendly. Especially the boss. Goes to every table to check if everything was fine, and striking up conversations. Made the night with his jokes. Would recommend people to eat here. Cause I would definitely come back again.."
9. Kucina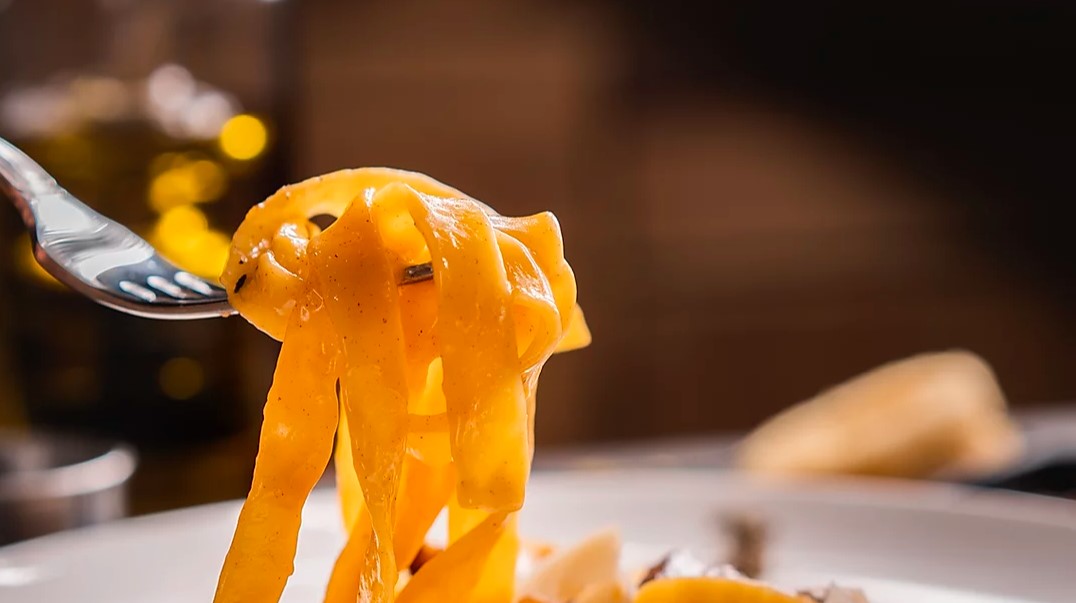 BEST FOR: Halal Meets Italian Cuisine
PRODUCTS: https://www.kucinaitalian.com/new-menu
WEBSITE: https://www.kucinaitalian.com/
ADDRESS: 11 Tanjong Katong Road, Kinex Mall (Fomerly known as OneKm Mall) #B1 -09/10 Singapore 437157
CONTACT DETAILS: Tel: +65 64932154 | Email: [email protected]
OPERATING HOURS: Open Daily from 11.30am to 10pm, Last Order: 9.30pm
KUCINA is a Muslim-owned Italian restaurant serving Halal & Authentic Italian cuisines. Sinec the 30th of April 2020, the restaurant has been MUIS certified.
KUCINA is founded by a highly experienced Italian Muslim chef, Chef Gero/Omar, who has been in the industry for more than 2 decades, specializing in Italian cuisines. KUCINA aims to provide authentic and high quality Italian food to its customers, both Muslims and non-Muslims alike.
SERVICE HIGHLIGHTS
Customers can enjoy signature Italian dishes such as Gnocchi (melt-in-the-mouth potato dumplings in salmon sauce) and the all-time favourite, Bistecca (black angus ribeye)
Aside from offering mains, they offer mouth-watering desserts such as tortino (chocolate lava cake), tiramisu nutella and pannacotta
CUSTOMER REVIEWS:
5-star Facebook review from Nasreen Bawazer: 
"Took my family with a small child who was visiting from overseas and they rarely visit Singapore and we wanted to experience authentic Halal Italian cuisine. All of the other Italian restaurants in Singapore are non-authentic, either too much sauce and food or service was horrible, but the overall experience of service, ambiance, and food were amazing at Kucina! We ordered the Seafood risotto, platter for appetizers, lasagna, and wanted to try the famous pasta cooked inside a large cheese bowl! Everything was amazing!!!! Food was delicious, service was great and the Chef even visited our table and took pictures with us! Never experienced this type of service ever since living in Singapore in the past year. Most restaurants, in general, are about taking the order and getting the food to you, but Kucina is different! Will definitely be back!"
10. A Poke Theory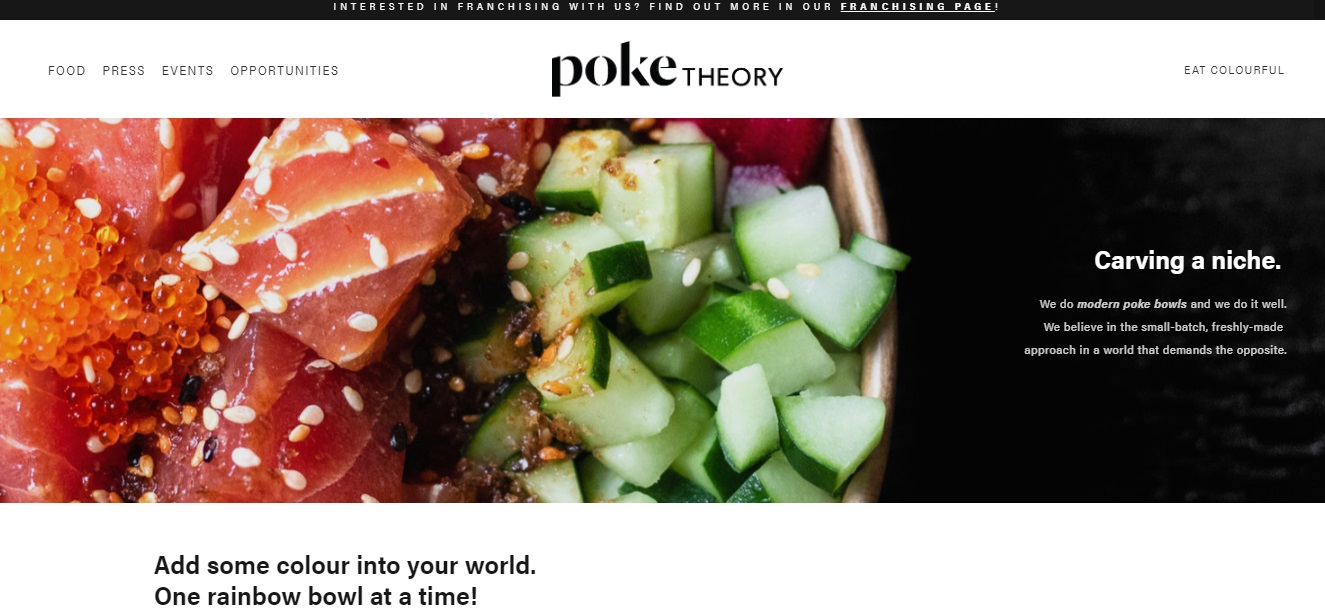 BEST FOR: Acai Bowl
PRODUCTS: Halal Foods
WEBSITE: http://www.poketheory.com.sg/
ADDRESS: Six branches
CONTACT DETAILS: [email protected]
OPERATING HOURS: Monday to Friday: 11:00 am to 8:30 pm; Saturday: 11:00 am to 4:00 pm
A Poke Theory has three branches across Singapore. These branches may have different operational hours, but their quality offerings and tasteful products are one of a kind. 
They offer delicious healthy foods that would surely make you feel full all day long. The food products also looks really good which is Instagrammable quality. 
You should try the Acai food offerings as it is equally satisfying for your tastebuds and your body.
SERVICE HIGHLIGHTS
Acai Bowl

Generous serving

Affordable pricing
CUSTOMER REVIEWS:
Want to learn more about the food and dining experience? What's the best way to describe it but by hearing it from the customers themselves. Here's some snippets of what they have to say about A Poke Theory. 
"Best poke in town. Great simplified menu. And checkout their açaí dessert too after a meal!"
"The best poke in Singapore IMO. The flavors are good (spicy sesame garlic my reliable fav!) and the portions are generous – always a hearty meal. Also they've been very attuned to customer preferences, tweaking their offerings to suit so there's always a size that works for everyone and new flavours to keep things fresh. Also BYO bowl for free toppings!"
11. Mel's Drive-In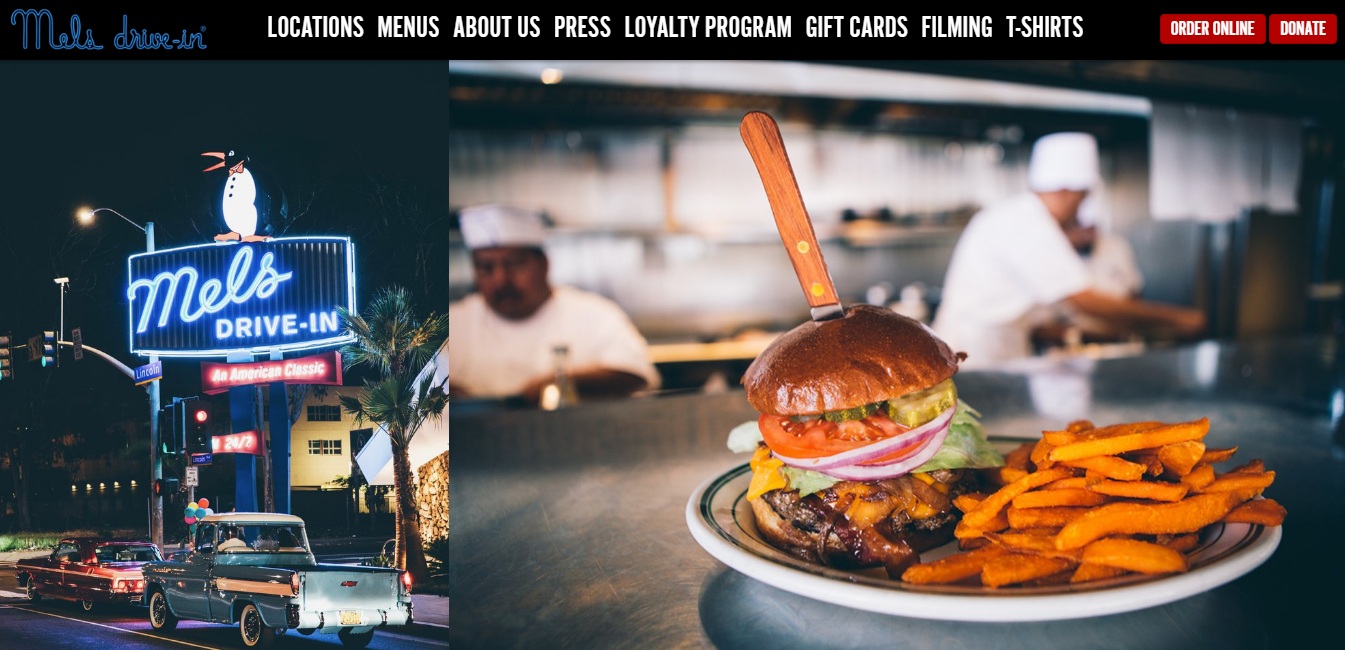 BEST FOR

All-American diner experience

PRICING

Menu

WEBSITE

https://melsdrive-in.com/

 

ADDRESS

30 Sentosa Gateway, Universal Studios Singapore, Sentosa Island, 098140, Singapore 098140

CONTACT DETAILS

+65 6577 8888

OPERATING HOURS

10 am to 7 pm, daily
If you find yourself in Universal Studios walking around aimlessly and downright hungry, might we suggest visiting Mel's Drive-In? This quirky restaurant will bring you to old American diner that will serve you the juiciest burgers and the perfect fries and shakes to top it all off. 
A visit at Mel's Dive In wouldn't be complete without ordering from their wide range of signature burgers or sliders so make sure you get to try one before continuing your adventures at the Universal Studios. 
Highlights
Decorations and ambiance that completes the American diner experience 

Wide selection of burgers

Refreshing collection of beverages and craft beers
Customer Reviews
Mel's Dive In has been a mainstay in RWS and continuous to feed hungry tourists with their lovely diner foods you'll surely love while taking a break from having too much fun at Universal Studios. Let's see what customers have to say about this restaurant: 
"The cheeseburger was surprisingly good! The portion is too big for me.😅 value for money is ok because the burger is big. So it's worth it."
"Mel's Drive-In is a fast food restaurant in Universal Studios Singapore. Food is halal and good. The service is fast and the decor is also good. It's suitable for all ages."
12. Fat Papas
BEST FOR 
Halal food items
PRICING
Menu
WEBSITE
https://www.fatpapas.sg/
ADDRESS
17 Bali Lane, Singapore
CONTACT DETAILS
+65 6291 8028
OPERATING HOURS
Opening hours: 12- 10pm

Fri/Sat/Eve PH/PH: 12 to 10.30pm
Fat Papas was born out of two strong-willed men's desire to introduce more international flavours to the Muslim community in Singapore. Haikel and Bernie were inspired by FatBoys burgers, which then eventually led them to starting their very own flagship restaurant in Bali Lane.
Fat Papas' menu features Western/American food items, from their renowned specialty burgers to their other main courses. Just as Haikel and Bernie wanted, everything on their menu is halal-certified, making it one of the most inclusive restaurants in all of Singapore.
If you're looking for the perfect restaurant that not only provides tasty burgers and drinks alongside a comfortable and casual dining experience, the Fat Papas should be your next food destination.
Highlights
Offers the option to build your own burger
Halal-certified menu
Affordable meals
---
---
So what are you waiting for? Start exploring the Halal cuisine and discover an amazing culture and lifestyle in the process!
By the way, if you need more suggestions for halal dining in Singapore, check out our list of the best food blogs in Singapore. One of the blogs we listed there is devoted to reviewing halal restaurants and dishes on the island, and can give you ideas for other restaurants to try.