24 Best Italian Restaurants in Singapore: Pasta Pizza,etc 2021
If you're hankering for artisanal pizza, mouth-watering ravioli, or some perfectly crisp and unctuously-filled cannoli… well, there's only one thing to do. You simpy must know where the best Italian restaurants in Singapore are.
However, not every Italian restaurant in Singapore can deliver a truly Italian dining experience. Some don't even make their own pasta — which any good Italian chef would call heresy.
So, to spare you the taste of "heretical pasta", we've scoured the island for the best and most authentic establishments serving up a taste of Italy. Below is our list of the best Italian restaurants in Singapore today!
1. BASILICO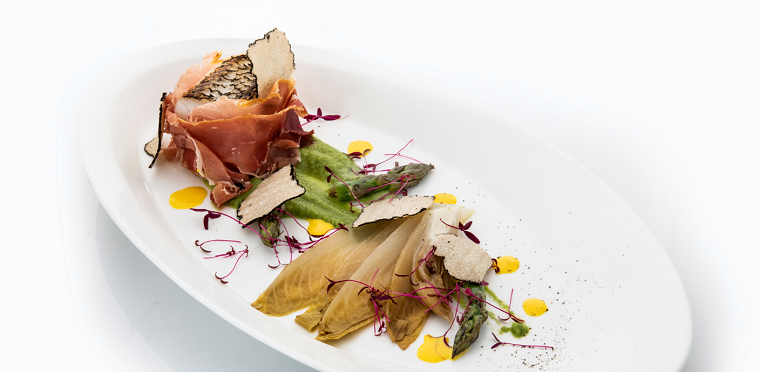 If you seek Italian restaurants in Singapore where you can indulge in your gluttony, you need the buffet at Basilico. You can get your fill of all-you-can-eat Italian food at this restaurant.
Their Italian lunch buffet during weekdays is also a great choice for a big group. Aside from pizzas and pastas, they have a generous variety of cheeses, cold cuts, seafood, meats, and stews.
Wine lovers will likewise love their walk-in wine cellar. Don't forget to enjoy their homemade Italian gelato for dessert! Needless to say, with their wide range of menu, this is the place to go to when you're craving for all kinds of Italian food in Singapore.
Service Highlights
Large, sophisticated dining area
Wine cellar and cheese room
Weeknight semi-buffet featuring specialties from different Italian regions
Customer Reviews
This family-friendly restaurant gets top marks from satisfied customers as illustrated in their high rating on Google Reviews. Jay Kovak wrote:
"Nice selection of Italian food, very tasty and delicious. It confirms that in Asia for some reason if you want good Italian you must pay big money. But here I had the feeling that I got good value for that price. I could not stop eating. Very good food, nobody will get slim here. 🙂 Better plan extra hours in the gym whenever making a booking here."
2. BUONA TERRA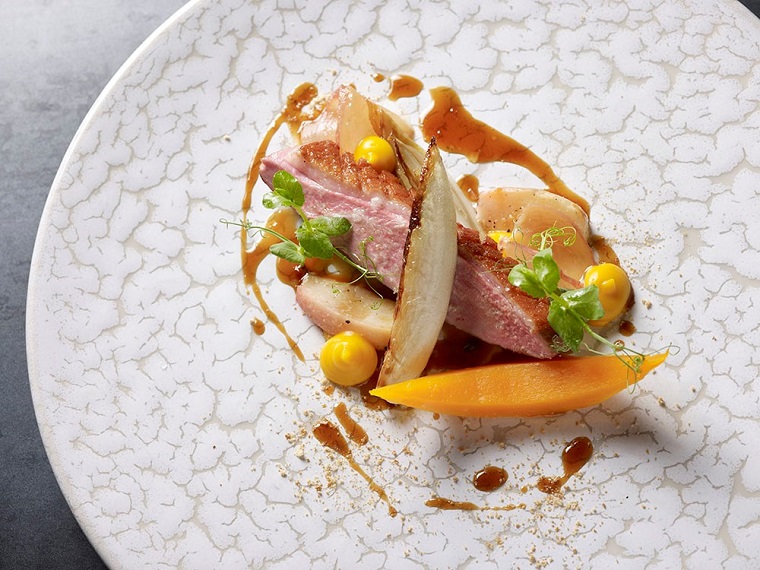 BEST FOR
Set menu, fine dining
PRICING
Lunch Menu: http://www.buonaterra.com.sg/downloads/LunchMenu-Sep2017.pdf
Dinner Menu: http://www.buonaterra.com.sg/downloads/DinnerMenu-Sep2017.pdf
WEBSITE
http://www.buonaterra.com.sg/
ADDRESS
29 Scotts Road, Singapore 228224
CONTACT DETAILS
(+65) 6733 0209 | [email protected]
OPERATING HOURS
Lunch: 12pm – 2:30pm (Mon – Fri)
Dinner: 6:30pm – 10:30pm (Mon – Sat)
Sunday: Closed
Last food order: 10:00pm
Buona Terra ("Good Earth" in Italian) is best for people who want an easy, luxurious dining experience. This place should be top of mind when you're looking for a good Italian restaurant in Singapore.
Instead of ordering from an ala carte menu, diners choose from their available four or five-course meal options according to their preferences.
You can also pair your meal with the perfect wine with the help of their expert wine director. All of this ensures you can have the full experience of Italian fine dining at one of the most refined Italian restaurants in Singapore.
Service Highlights
Fuss-free set menu
Personalised wine service
Perfect portions
Customer Reviews
Buona Terra is one of the most highly recommended Italian restaurants in Singapore. On Google Reviews, customers praise their delicious food, the elegant ancestral home setting, and creative dishes.
According to Melanie Tan, this is why it's worth visiting:
"Discrete service. General presentation was artistic. Quality of food was top notch. Good size portions for ladies/Asians. The cigar dessert was creative, and I enjoyed it!"
3. ETNA ITALIAN RESTAURANT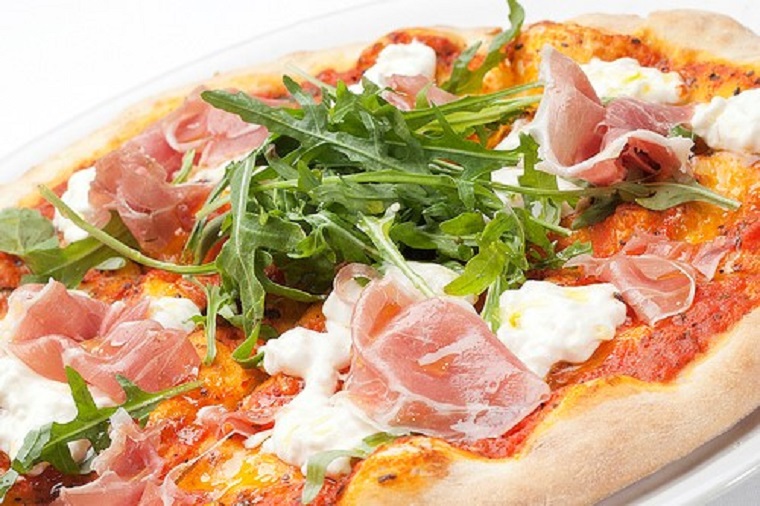 BEST FOR
Italian cuisine featuring Sicilian influences, contemporary Italian cuisine
PRICING
Menu
WEBSITE
http://etnaitalianrestaurant.com.sg/
ADDRESS
49/50 Duxton Road
Singapore 089513

110 Upper East Coast Road
Singapore 455298
CONTACT DETAILS
Duxton Road
6220 5513

Upper East Coast Road
6444 9530
OPERATING HOURS
Duxton Road
Monday to Sunday
12pm -2:30pm, 6pm-10:30pm

Upper East Coast Road
Monday to Sunday
12pm -2:30pm, 6pm-10:30pm
ETNA is named after Mount Etna, an active volcano on the east coast of Sicily… but it's also a clever abbreviation of "Every Table Needs Attention", referencing Italian hospitality.
At ETNA, customers are welcomed to an upscale setting where they can enjoy authentic Italian cuisine with a touch of Sicily.
They have been recognised with an Ospitalita Italiana Gold Seal Award for their high-quality authentic Italian food. That alone should tell you that this is one of the most representative Italian restaurants in Singapore.
Service Highlights
Authentic Italian dining experience with a personal touch
Exemplary service
Smaller portions make you savour the food
Great wine menu
Customer Reviews
5-star ratings on Google Reviews commend their fine wine selection, service and cosy ambience. Here's what Ben Wong has to say:
"Reservation is essential especially during Friday night and weekends. Authentic Italian food. Ask for something out of the menu, you may be surprised with what they can offer. One major concern is parking, taking public transport is a very good idea. Highly recommended!!!"
4. SUPER DARIO LASAGNE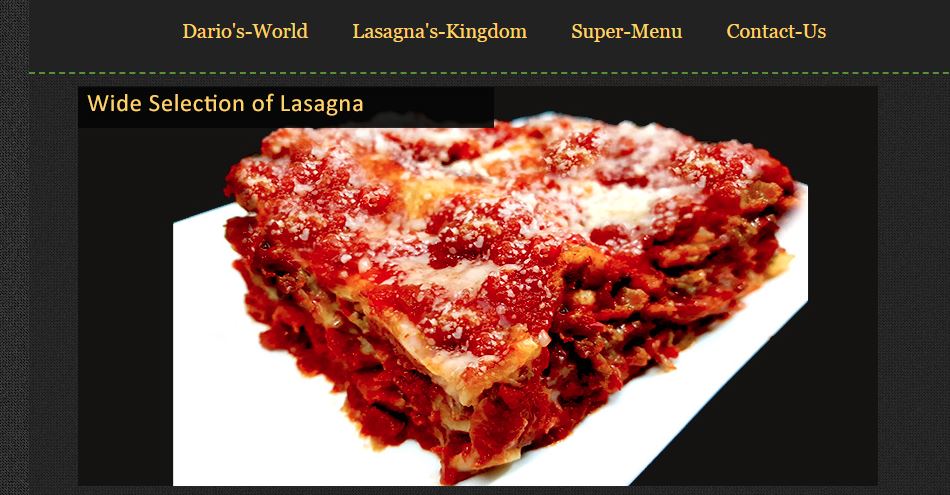 BEST FOR

New lasagna recipes

PRICING

http://superdariolasagne.com/#menulink

WEBSITE

http://superdariolasagne.com
https://superdariolasagne.oddle.me/en_SG/

ADDRESS

City Square Mall #04-17 (Opp Daiso)
Singapore 208539

CONTACT DETAILS

+65 3159 0682

OPERATING HOURS

—
There are those nights when you just suddenly crave good old hearty food, and you find yourself searching for "Italian restaurants near me". On those moments, you'd want a serving of Super Dario Lasagne. 
Super Dario Lasagne is focused on making freshly-made lasagna with a variety of recipes (including vegetarian options). They also serve Soups, Salads, Focaccia, and Traditional Italian Desserts.
Service Highlights
Wide range of pasta selections

Vegetarian options

Walk-Ins Welcome
Good For Groups, Good For Kids
Take Out and Delivery Options
Catering
Customer Reviews
Earning over 4.5-rating from 345 Google Reviews, here's one recommendation from David Whalley:
"I would give the owner, Dario five stars before I even tried his lasagne. A charming Italian man who takes pride in welcoming each customer to his restaurant. A credit to the business.
The lasagne is like nothing else I've tried outside of Europe. The hot, rich cheesy dish served individually or as a tray to share, is delightfully warming and reminiscent of home cooked food.
Definitely worth stopping by if you find yourself in City Square Mall. Five stars."
5. CARUSO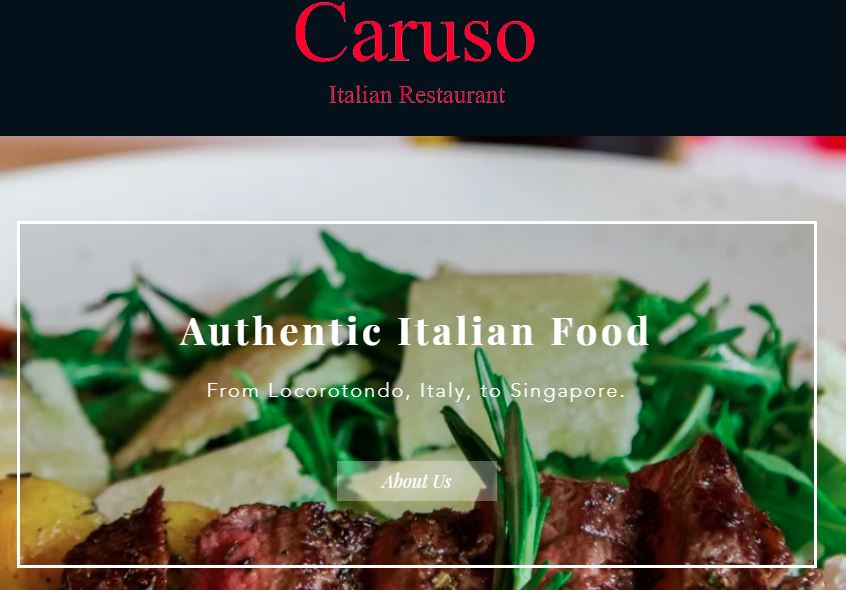 BEST FOR
Apulia Cuisine – Southern Italian restaurant
PRICING

Lunch: https://www.caruso.sg/set-lunch

Dinner: https://www.caruso.sg/copy-of-set-lunch 

Sunday brunch: https://www.caruso.sg/copy-of-set-dinner

WEBSITE
https://www.caruso.sg/
ADDRESS

#01-01 791 Bukit Timah Road, Singapore 269764

Nearest MRT: Sixth Avenue MRT Station

CONTACT DETAILS

6469 7508

OPERATING HOURS

Everyday
12pm – 2.30pm
6pm – 10.30pm
Caruso restaurant and bar is an authentic Italian restaurant with a strong flavour of southern Italian cusine. Managed by Leonardo Palmisano, they use the finest ingredients imported from Italy and classic cooking techniques. 
Service Highlights
Caruso can accommodate families as well as business dinner, with a private mezzanine
Small events can be set up for up to forty people for celebration, wine dinner, and cheese tasting or degustation menu
Reservations are available
Customer Reviews
5-star Facebook review from Christian Kaufmann:
"My favourite Italian restaurant! The dishes are very authentic and Caruso has a great wine menu as well. The Primitivos from Puglia are my favorites. Took my family for my birthday dinner yesterday and everybody was happy. Keep the good work up, Leonardo!"
6. CAPRI TRATTORIA AND PIZZERIA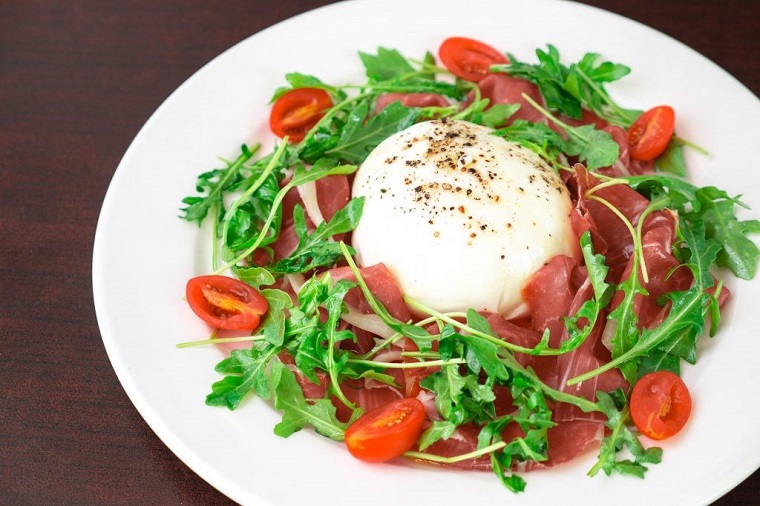 For a more casual dining experience, Capri Trattoria and Pizzeria is the perfect restaurant for you. With an emphasis on personal service, this is one of the top Italian restaurants in Singapore for fans of intimate dining establishments.
The owner and the team ensure customers feel the authentic Italian dining experience with special touches. These include a classical Italian playlist or the art on the wall.
Plus, the prices are affordable so you can enjoy their food more often!
Service Highlights
Casual and homey restaurant
Personal attention from Italian owner Fabrizio
Excellent seafood fare
Delicious desserts, such as the Torta al Limone
Customer Reviews
The small, intimate setting is part of the charm of Capri Trattoria & Pizzeria. Loyal customers make it a point to visit their place for authentic Italian food at reasonable prices.
Mark Rademaker wrote:
"I love little places like this. Very authentic Italian food. Pizza was supposed to be good, according to some friend recommendations. I was a little skeptical when I first saw it, but it was absolutely fantastic. We also tried the seafood risotto which was equally good.
Worth the drive to Bukit Timah in my opinion and now probably my favourite pizza spot in Singapore"
7. IO ITALIAN OSTERIA
BEST FOR
Affordable, delicious Italian food
PRICING
Menu
WEBSITE
https://io-osteria.com/sg
ADDRESS
4 Hillview Rise, #02-01, Hillv2 Singapore 667979
CONTACT DETAILS
 +65 6710 7150
OPERATING HOURS
Monday to Friday 11:30am – 10pm daily
Saturday & Sunday 10am – 10pm daily
iO Italian Osteria is all about the overall experience. Attention to detail is paramount as the restaurant's decor not only includes antique pieces but has also managed to recreate an authentic Italian tavern.
Apart from this, in the capable hands of well-known Restaurateur & Chef Anna Borrasi, their talented chefs create each meal from scratch.
Here, they combine the freshest and most flavourful ingredients to produce the finest Italian dishes, making your taste buds dance whilst remaining affordable. On a value-for-price ratio, it's easily among the top Italian restaurants in Singapore.
Service Highlights
In-house bakery for fresh, delicious, handmade breads, pizzas, and pastries
Shop for in-house products, ranging from pastas and Italian cheeses to extra virgin olive oil and truffle goodies
Choice of coffee beans for your perfect cuppa
Italian street snacks
Customer Reviews
Customers love iO's efficient and friendly service as well as their good food. Sam Ringwaldt wrote:
"Great atmosphere, and delicious food. We arrived after 9pm and the place was packed (always a good sign). Yet they squeezed us in and brought the food we ordered very quickly. The Rice Suppli' was delicious."
8. PIETRO RISTORANTE ITALIANO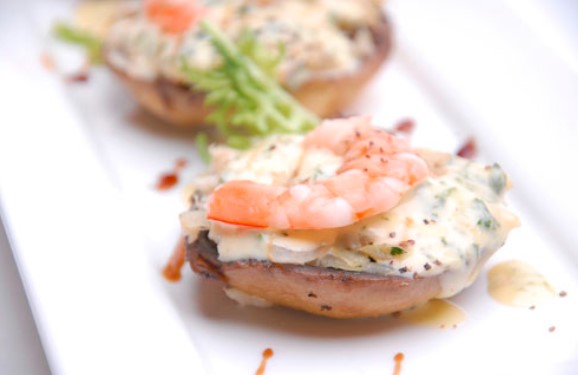 BEST FOR
Authentic Italian cuisine
PRICING
Menu
WEBSITE
http://pietro.com.sg/
ADDRESS
12 Jalan Kelulut Singapore 809030
CONTACT DETAILS
Tel: +65 6484 5528
Email: [email protected]
OPERATING HOURS
11.30am to 2.30pm (lunch)
6.00pm to 10.30pm (dinner)
Open daily
Pietro Ristorante Italiano's team is made up of people who are passionate about food and bring creativity and wit as well as delectable Italian cuisine to their customers. Pietro also has a luxurious touch to its interior decor as well, with a beautiful feature wall that blends into the alfresco dining area, making you will feel that you are in Italy
Service Highlights
Pietro Ristorante Italiano has a total seating capacity of 88 seats
Pietro has alfresco dining for 32 pax and indoor seating for 56 pax.
Customer Reviews
Lampert Partridgear's 5-star Google Review:
"We have been visiting this Italian restaurant for several times whenever we are craving for authentic Italian pasta taste. Full of flavors and you will enjoy every dish. Price is ok as well as the service."
9. GUCCIO RISTORANTE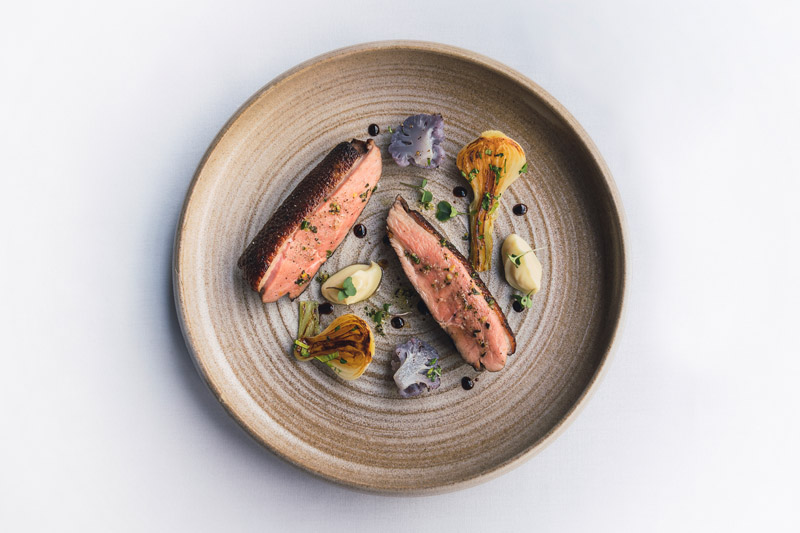 BEST FOR
Seasonally updated menu
PRICING
Menu
WEBSITE
http://www.guccioristorante.com/
ADDRESS
20 Gemmill Lane, Singapore 069256
CONTACT DETAILS
Telephone: (65) 6224 1684
Email: [email protected]
OPERATING HOURS
Open from Monday to Friday for Lunch & Dinner and Saturday for Dinner
Closed on Sunday
Guccio, representing the surname – and hence, the origins of Chef Marco – offers Executive Chef Marco Guccio's culinary philosophy: an Italian fine dining cuisine journey, from a home-made, hearty cuisine to a global fine dining success.
While the presentations are at times a contrast of colourful and complex textures, Marco's unique approach has won him a Bib Gourmand from the prestigious Michelin Star Guide for two years in a row, in 2016 and 2017.
At Guccio, customers will be at the center of the experience, with the colors and design elements to balance the surroundings. That focus on the diner makes this one of the top Italian restaurants in Singapore.
Service Highlights
Superior Italian wine labels
Reservations
Accepts credit cards
Table service
Outdoor seating
Full bar with wine and beer
Free WiFi
Customer Reviews
The place has spectacular reviews, as you might expect. Here's a TripAdvisor review from one customer:
"My son and his wife and myself were looking for a high quality restaurant with which to end our fantastic two week trip to Singapore which took in the F1 Grand Prix. Guccio's didn't disappoint. The menu is limited which you'd expect when all the dishes are freshly prepared by a top chef like Marco, but we had no problem finding suitable choices. I had Marco's signature dish of Sardinian Pulpo (Octopus) and it was delicious. The portions are not huge but we enjoyed everything about the place including the excellent attentive service. Highly recommended but be prepared to pay top dollar."
10. D.O.P MOZZARELLA BAR & RESTAURANT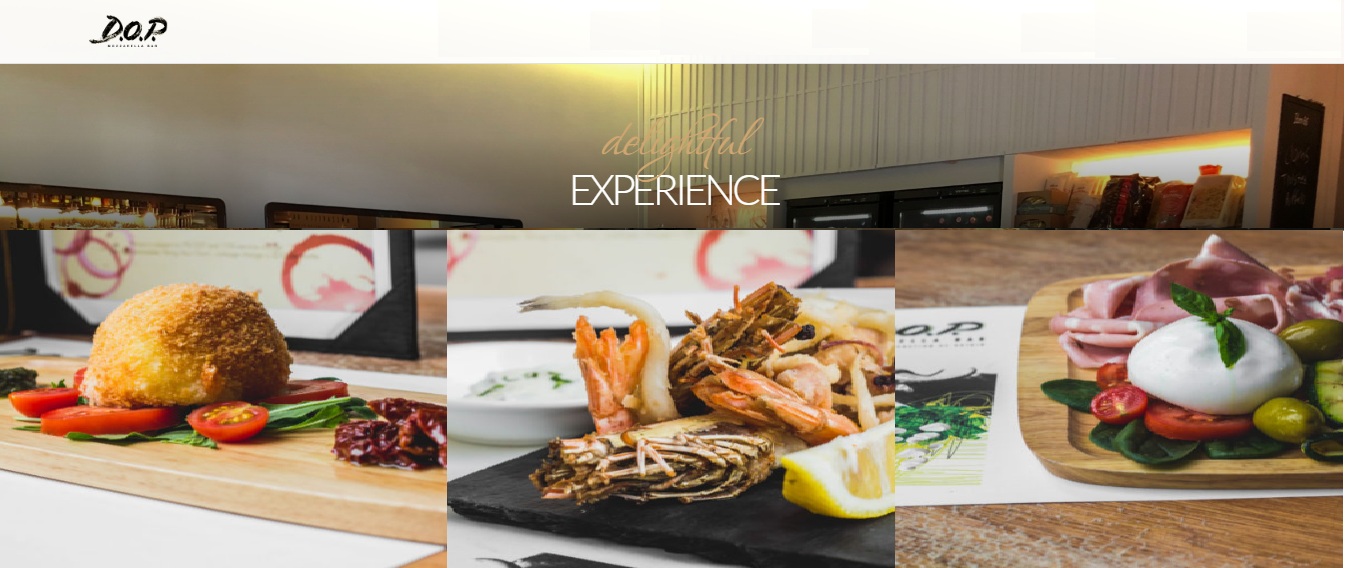 BEST FOR

Fresh and authentic Italian products and cuisine

PRICING

WEBSITE

ADDRESS

60 Robertson Quay, #01-04A, The Quayside, Singapore 238252

CONTACT DETAILS

+65 69080830 | [email protected]

OPERATING HOURS

Mon-Thu: 5pm – 11.30pm (last order 10.30pm)

Fri: 12nn – 3pm & 5pm – 11.30pm (last order 10.30pm)

Sat: 12nn – 11.30pm (last order 10.30pm)

Sun & Public Holiday: 12nn – 3pm & 5pm – 10.30pm (last order 10.30pm)
When we think of Italian food, one of the first things that comes to mind is cheese. From their business name itself, D.O.P Mozzarella Bar & Restaurant specializes in creating delicious, authentic, and fresh mozzarella cheese. 
The restaurant secures the quality of their cheese products by selecting only the best farms who milk their own herds. On the top of their menu is a selection of mozzarella products including classic buffalo cheese and hand-made Burratina.
They also own a fine collection of wine which you can match with their premium cold cuts for a delectable dinner. Definitely on top of our list for Italian restaurants in Singapore that specialises in cheese.
Service Highlights
Fine and fresh products

Affordable food selection

Cozy restaurant atmosphere
Customer Reviews
D.O.P Mozzarella Bar & Restaurant is praised for their exquisite and flavorsome Italian menu, most particularly their specialty— the mozzarella cheese. Here's one of their previous clients sharing his experience through Google Reviews.
"You have to get the mozzarella. You just have to. It's easily the creamiest, most flavourful and melts in your mouth morsel I've ever had. I will describe it as foie gras of cheese, if that makes sense. Great value for its amazing quality"
11. PASTARIA ABATE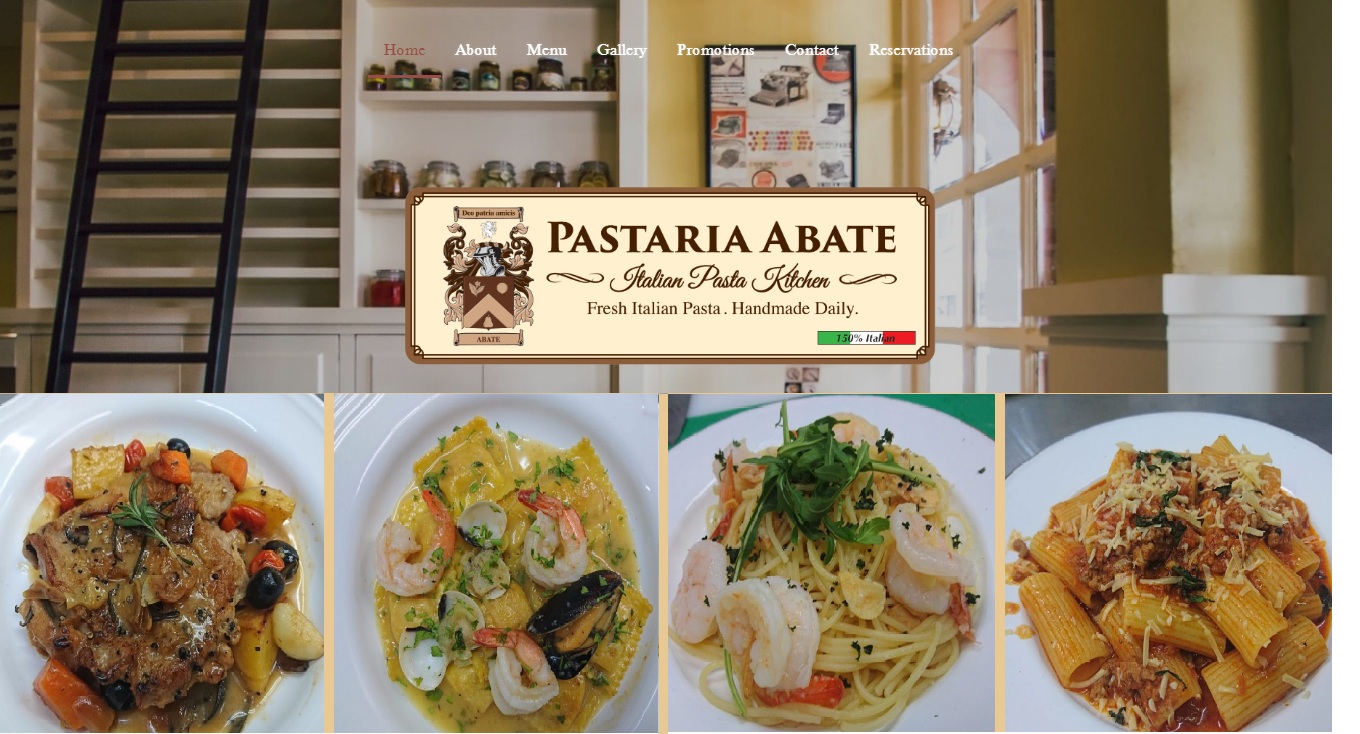 | | |
| --- | --- |
| BEST FOR | Delectable options for pasta |
| PRICING | |
| WEBSITE | |
| ADDRESS | 86 Neil Road, Singapore 088846 |
| CONTACT DETAILS | 6909 0672  |
| OPERATING HOURS | Daily: 11.30 to 10.30 (LO) |
Pasta is probably one of the most versatile types of food that you can think of. It comes in different shapes and sizes, mixed in numerous kinds and colours of sauce, garnished with either meat, vegetable, seafood, etc. 
There are just so many pasta recipes that you have probably yet to encounter so to get you started here's a sneak peak of Pastaria Abate. 
This restaurant specialises in making authentic Italian pasta with a touch of their chefs' exemplary skills and talent. Should you wish to select or create your own pasta, you may freely do so Just pick your desired kind of pasta and sauce and their highly accommodating staff will create them for you.
Pastaria Abate definitely gets our vote for one of the most affordable Italian restaurants in Singapore that does pasta really well.
Service Highlights
Wide range of pasta selections

Fresh, hand-made daily

Reservations

Your choice of sauce
Customer Reviews
Pastaria Abate is not only applauded for their undeniably delicious selection of pasta and other Italian delicacies. They are also highly appreciated because of their overall good service. Shimin Wong posted this on Google Review.
"Good pasta that won't burn a hole. They do not charge for service charge and it's all self service from ordering to getting your food but that's not stopping the guys from being nice & friendly! Definitely must try the 100% pasta and the truffle carbonara! The spicy Tuna is yummy too!"
12. GARIBALDI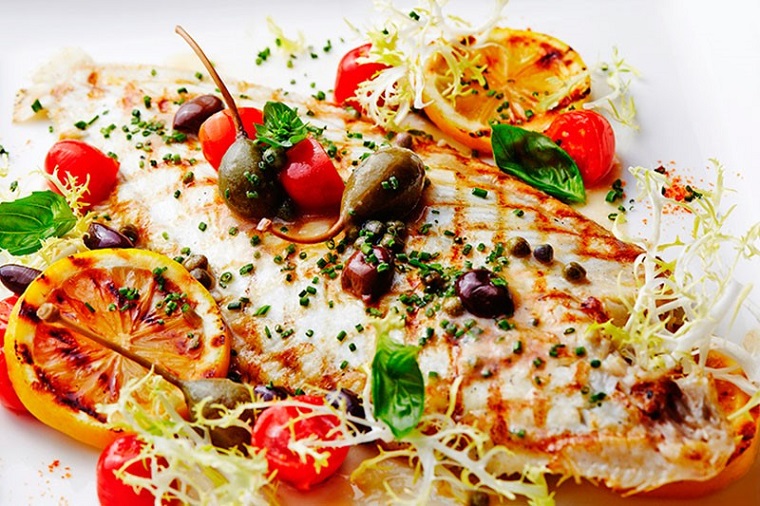 Garibaldi has been a favourite of Singaporeans for a long time. They opened in 2003 and quickly gained a reputation as one of the top Italian restaurants in Singapore.
Chef Roberto Galetti maintains the top-notch quality of their food, which got them a Michelin star. They have set lunches as well as customer favourites and signature Italian dishes like the pumpkin-stuffed pasta.
The flavours are authentic Italian using only the best ingredients. Many of their ingredients are also imported directly from Italy.
Service Highlights
Extensive wine list
Convenient location
Decent-sized portions
Michelin-starred restaurant
Customer Reviews
Garibaldi is another highly rated Italian restaurant on Google Reviews. They are complimented not just for their food and service but also for their extensive wine list and overall nice atmosphere .
Daniele Francilia wrote:
"Probably the best Italian restaurant in Sìngapore. Burrata lobster linguine and contoletta alla milanese must try! One of the Biggest selection of wines in town friendly staff and nice atmosphere. Thanks a lot! From an Italian missing home's cousine. Grazie"
13. BELLA PASTA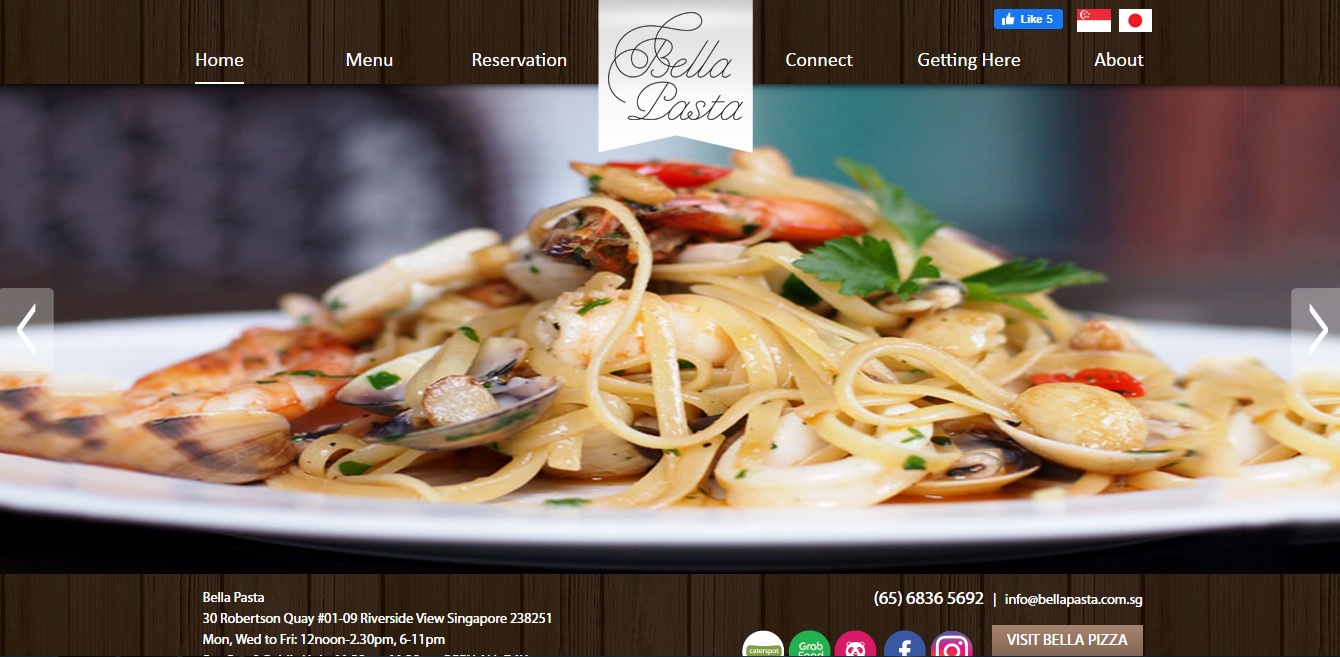 BEST FOR

Extensive Authentic Italian Pasta menu

PRICING

WEBSITE

ADDRESS

30 Robertson Quay #01-09 Riverside View Singapore 238251

CONTACT DETAILS

(65) 6836 5692   | [email protected]

OPERATING HOURS

Mon, Wed to Fri: 12noon-2.30pm, 6-11pm 

Sat, Sun & Public Hols: 11.30am-11.30pm OPEN ALL DAY

Tue is closed.
Bella Pasta was purposely created to complement its sister restaurant, Bella Pizza. With their flavorsome variation of pasta, you'd feel as if you are actually in Italy. 
The restaurant has made sure to hire only the best chefs in town to top Italian kitchens in Singapore who had actually training in Italy to bring authentic Italian cooking techniques. From time to time, Bella Pasta also invites over some guest chefs straight from Italy to cook for their beloved customers.
Should you want to devour your pasta alongside Bella Pizza, that is absolutely possible. Just make the request with the staff and they will happily bring you some on your table.
Service Highlights
Authentic Italian pasta

Ideal location for private parties and events

Reservation

Gluten-free pasta available upon request
Customer Reviews
The customers of Bella Pasta highly appreciate their wide, delectable menu as well as the peaceful ambiance of the store making the restaurant a great place for intimate dinners. Here's one of the many wonderful feedback that the shop has gotten.
"Pizza and pasta are nice and fresh. Fast and good service available. There is also a good view of the river and quiet."
14. LATTERIA MOZZARELLA BAR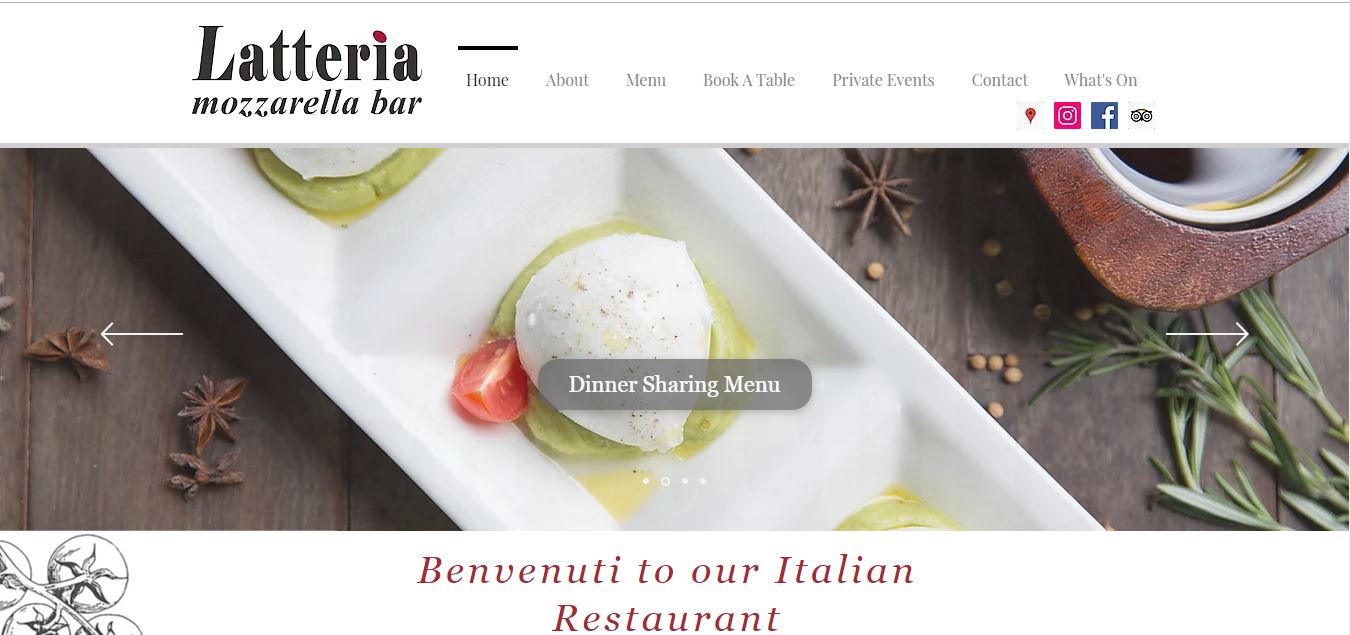 BEST FOR

Fresh Mozzarella & Burrata Dishes

PRICING

WEBSITE

ADDRESS

40 Duxton Hill Singapore 089618

CONTACT DETAILS

6866.1988 | [email protected]

OPERATING HOURS

OPEN DAILY

 

Lunch: Sundays to Fridays, 12 noon to 2:30pm

 

Dinner: Mondays to Sundays, 6:00pm to 10:30pm

Closed for lunch on Saturdays only.
Craving for some genuine Italian fresh mozzarella? Look no further because Latteria Mozzarella Bar got the whole package. The restaurant's large collection of mozzarella and Burrata cheeses are interpreted in various tasty ways. Apart from this, the restaurant also introduce other traditional Italian cuisine that you will definitely love.
Their restaurant is best for casual brunch dates with your friends, family, special someone, or even alone because of the fresh breeze and light atmosphere that it brings. They also accommodate private events, should you decide to bring your friends to Italy the fastest way.
Service Highlights
Fresh mozzarella and Burrata cheeses straight from Italy

Extensive set of menu

Strategic restaurant location

Available for delivery
Customer Reviews
"The lobster pasta was actually one of the best pastas I had in Singapore, ever. One of the few places where you don't have to salt your own pasta which is great. Mozzarella wS pretty good as well but I probably ordered too much. Portions are huge here" 
"Very charming place and they have a very good selection of wines that go well with their food. Best corner in this alley and very friendly staff and owner. This is definitely my new favorite place in town."
15. DA PAOLO DEMPSEY


BEST FOR

Modern Italian Cuisine

PRICING

WEBSITE

ADDRESS

8 Dempsey Road #01-13, Singapore 247696

CONTACT DETAILS

+6562613128

OPERATING HOURS

Monday to Thursday, Sunday:
8:00 AM – 10:30 PM
Friday to Saturday:
8:00 AM – 11:00PM
Bar Open till Late
Da Paolo Dempsey offers a modern twist to traditional Italian cuisine. They even have a live pasta making counter, an Italian wood-fired oven, and an extensive wine and cocktail menu to guarantee that everything they're serving is made fresh.
This experiential dining guarantees that whether you're here for gourmet shopping or to have a delectable meal, you can get an enriching insight into Italy's vibrant food and wine culture.
Service Highlights
Breakfast, lunch, dinner, and weekend brunch menu

Reservations available
Delivery available
Events hosting available
Customer Reviews
Facebook recommendation from Leyriesa Ann Tan:
"Absolutely love this place! Spacious, warm and inviting. From the wood fire pizzas to the hand made pastas to the Italian cheeses which you can buy for takeaway, and of course their to die for gelato. Everything you like in Da Paolo you can find here and much more!"
16. CASA MANINI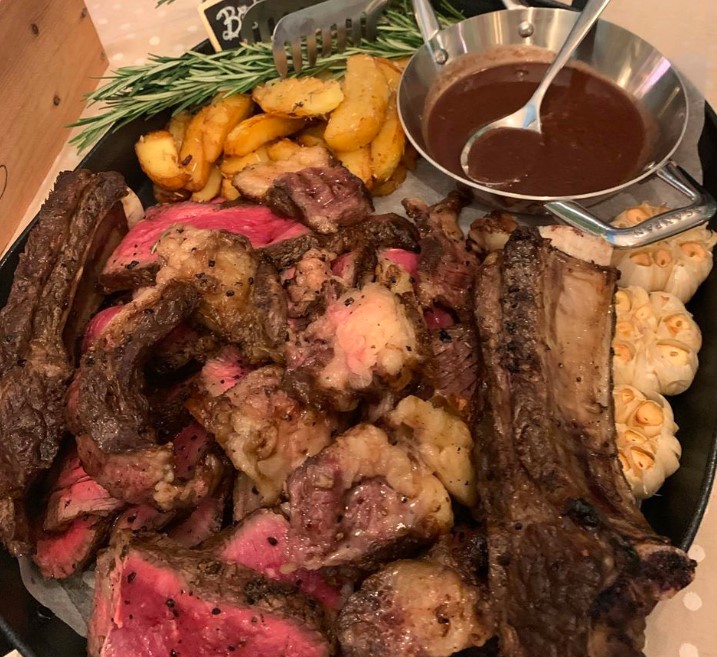 BEST FOR
Hearty, Rustic, Homestyle
PRICING
Menu
WEBSITE
https://casamanini.com/
ADDRESS
Serangoon Gardens, 14B Kensington Park Road, Singapore 557265
CONTACT DETAILS
[email protected]
OPERATING HOURS

Tuesdays 6pm – 9.15pm
Wednesdays – Sundays 12pm – 2.15pm, 6pm – 9.15pm
Casa MANINI is a new beginning to an old family legacy – from Italy to Singapore. Founded in the early 1900s by Chef and owner Fulvio Manini's paternal grandparents Francesco and Lucia Manini, the family-owned Ristorante Manini brings you Northern Italy in a simple yet charmingly eclectic, artistic and homely setting – conceptualised, designed, styled and curated by Chef Fulvio's wife, Fiona. She also curates the alcohol selections as well as crafts classic ItalIan cocktails while the Chef himself conjures up beautiful homemade dishes from timeless family recipes, served with the warm hospitality much associated with the Italians. 
Service Highlights
The piece de resistance at Casa MANINI is the classic beef and pork Lasagna
There are also many other must-try dishes, such as the traditional Carbonara with guanciale, the Rigatoni al Brasato di Manzo which is a four-hour braised Wagyu beef sauce as well as the
Pasta Buratta is a vegetarian's delight
Customer Reviews
5-star Facebook review from Fabien Gauthier:
"Love the place, great food, drinks, very professional and attentive service and nice atmosphere. Food comes quick and with quality ingredients. Very kids friendly too which is a plus. Great experience thanks to passionate and friendly owners…"
17. RISTORANTE DA VALENTINO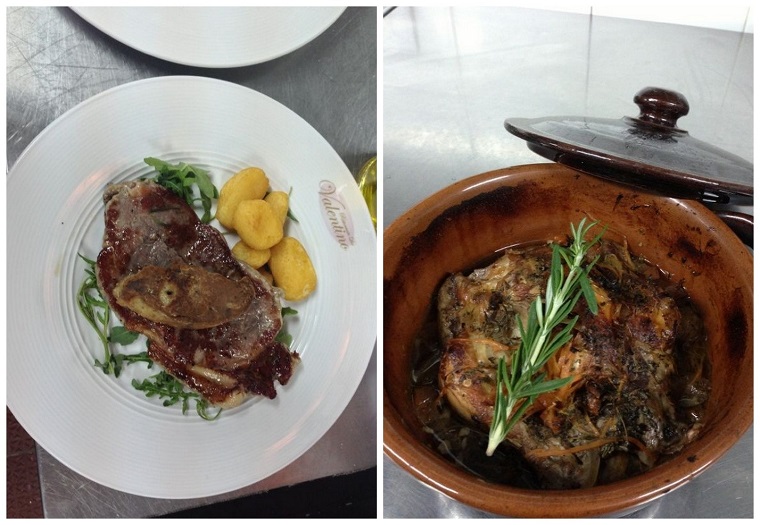 BEST FOR
Fine dining, classic Italian dining experience
PRICING
Menu
WEBSITE
http://www.ristorante-da-valentino.com/
ADDRESS
200 Turf Club Road, #01-19
Singapore 287994
CONTACT DETAILS
6462 0555 | [email protected]
OPERATING HOURS
LUNCH
Monday to Friday
12:00 – 2:30PM (last order: 2:15PM)
Saturday and Sunday
12:00 – 3:00PM (last order: 2:30PM)

 

DINNER
Monday to Sunday
6:00 – 10:30PM (last order: 10:30PM)

OPEN 7 DAYS
Ristorante Da Valentino is an Italian restaurant in Singapore managed by Chef Valentino and his family, together with a team of dedicated staff.
The restaurant started operating in July 2005 at a residential area along Rifle Range Road before relocating to its current location, The Grandstand, in July 2012.
This warm, family-operated restaurant sources small batches of seasonal ingredients from Italy, served fresh in heart-warming Italian dishes for their customers to enjoy.
Service Highlights
Family-managed Italian restaurant
Seasonal dishes sourced from Italy and served fresh to customers
Relaxing, cosy ambience
Family-friendly restaurant
Private dining option
Customer Reviews
For their cosy, welcoming restaurant, Ristorante Da Valentino earned rave reviews on Google. Many of them are from loyal customers who keep coming back for their delicious food.
For instance, one customer praised the restaurant's consistency with their standards. Another commended their personal touch when it comes to service and recommended their risotto for first-time customers.
One customer wrote:
"The food was excellent, and the service was even better. Sweet staff who were very accommodating. When we mentioned we were vegetarian they replaced our sauces with vegetarian versions. Would recommend visiting this place , especially if you're out on a date."
18. SBAGLIATO


| | |
| --- | --- |
| BEST FOR | Inexpensive Italian Cuisine |
| PRICING | |
| WEBSITE | |
| ADDRESS | 23 Pekin Street Inside Far East Square, Between Subway and Starbucks, Singapore 049946 |
| CONTACT DETAILS | +65 6787 9660 |
| OPERATING HOURS | Contact for more information |
SBAGLIATO Kitchen & Bar is an authentic and affordable Italian culinary journey in Singapore. They combine the best Italian recipes with a Fun Dining and Fine Drinking experience.
Service Highlights
Serves breakfast, lunch, dinner, drinks and coffee
Catering
Delivery
Good For Groups
Good For Kids
Outdoor Seating
Takes Reservations
Take Out
Walk-Ins Welcome
Customer Reviews
5-star Facebook review from Sahil Tomar:
"The best pizza and nice selection of Italian Wine in the island. A must visit for anyone who loves pizza and cheese."
19. Burlamacco Ristorante

BEST FOR

Curated Italian Menu 

PRICING

WEBSITE

ADDRESS

30 Stanley Street, Singapore 068739

CONTACT DETAILS

+65 62201763

OPERATING HOURS

OPEN DAILY

Lunch: 

Sundays to Fridays, 11:30to 2:30pm

Closed for lunch on Saturdays only.

Dinner:

Mondays to Sundays, 6:00pm to 10:30pm
 Burlamacco Ristorante will bring you to the old town of Viareggio in Tuscany and make you enjoy the carnival through their curated menu of stylish Italian cuisine, backed with elegantly designed dining and modernly approached interiors.
The restaurant aims to give you the warmest and friendliest Italy-like environment in Singapore, thus their divine atmosphere and undeniably scrumptious set of Italian cuisine. Adding to the relaxing environment is some soft music playing in the background. 
From the presentation to the actual taste, the food in Burlamacco Ristorante is truly exceptional, making them one of the best Italian restaurants in Singapore.
Service Highlights
Exhibition of stylish eatery

Elegant restaurant interior

Well-known executive chef

Extensive wine list
Customer Reviews
It is no secret that Burlamacco Ristorante is a well-loved Italian Restaurant in Singapore, further proven by its 4.2-rating on Google with 231 reviews. Here's one of the reasons why this restaurant remains on top.
"2nd time here, love the food, unpretentious hearty and filling portions of good Italian dishes. Would recommend the crab pasta, lobster pasta and manzo beef. Panna cotta was creamy and rich without being overly sweet as well. The ginger pudding/cake was the only average dish of the night. Overall highly recommended and would definitely be back."
20. Cacio e Pepe Cucina Italiana


BEST FOR

Relaxed Italian Dining

PRICING

WEBSITE

ADDRESS

No. 3 Chu Lin Road, Singapore 669890

CONTACT DETAILS

Tel : +65 6760 3534 | email : [email protected]

OPERATING HOURS

Tuesdays to Sundays
11.00am to 2.30pm
6.00pm to 10.30pm
"Cacio e Pepe" translates to "Cheese & Pepper" which are two things that always go well together. Cacio e Pepe Cucina Italiana provides relaxed Italian dining experience with authentic Italian cuisine using the highest quality ingredients.
Service Highlights
The restaurant can easily sit 50 people (indoor and outdoor combined) and provide group events as required. Free ample parking is available.
The kitchen serves lunch and dinner daily and the coffee bar is always opened for coffee and deserts.
We look forward to welcoming you for lunch, dinner, or even a cup of coffee.
Customer Reviews
5-star Google review from Bedolla Ashworthba:
"Good Italian cuisine with an authentic taste. We had a great experience here. Customer service is superb and ambience is great. Staff are very friendly."
21. AURA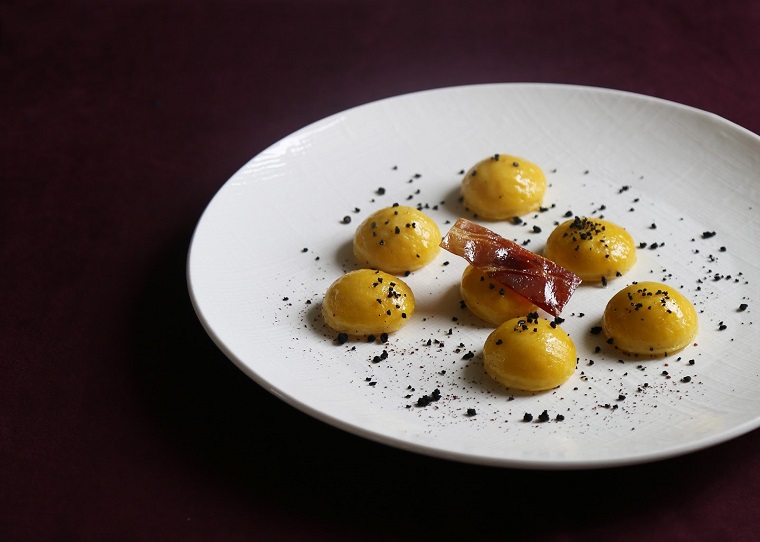 BEST FOR
A mixture of culture & Italian cuisine
PRICING
Menu
WEBSITE
http://www.aura.sg/
ADDRESS
1 Saint Andrew's Road, 05-03 and 06-02 National Gallery Singapore, Singapore 178957
CONTACT DETAILS
65 6866 1977
OPERATING HOURS
WEEKDAY SET LUNCH 
Monday to Friday, 11:30am to 2pm
A LA CARTE LUNCH 
Daily, 11:30am to 3pm
WEEKEND LUNCH 
Saturday, Sunday and Public Holidays,
Noon to 5pm
COCKTAILS AND HAPPY HOUR
Sunday to Thursday, 5pm to 8pm
This charming and culture-rich space is a great place for dining after visiting the National Gallery. They use only premium ingredients to elevate their Italian cuisine as well.
Service Highlights
Classy, contemporary interiors
Great for events
Cashless payment system
A wide variety of antipasti, pastas, and wholesome mains featuring the finest and freshest ingredients from the land and the sea
Customer Reviews
The food, the view, the staff, and the stunning interiors all get props from their customers. One customer commented:
"Great food and drinks in a stunning setting. Views of the city are wonderful. It is not cheap but definitely worth a visit. The food is delicious. The atmosphere is quiet and relaxed. Service is excellent. Definitely up market."
22. Solo Ristorante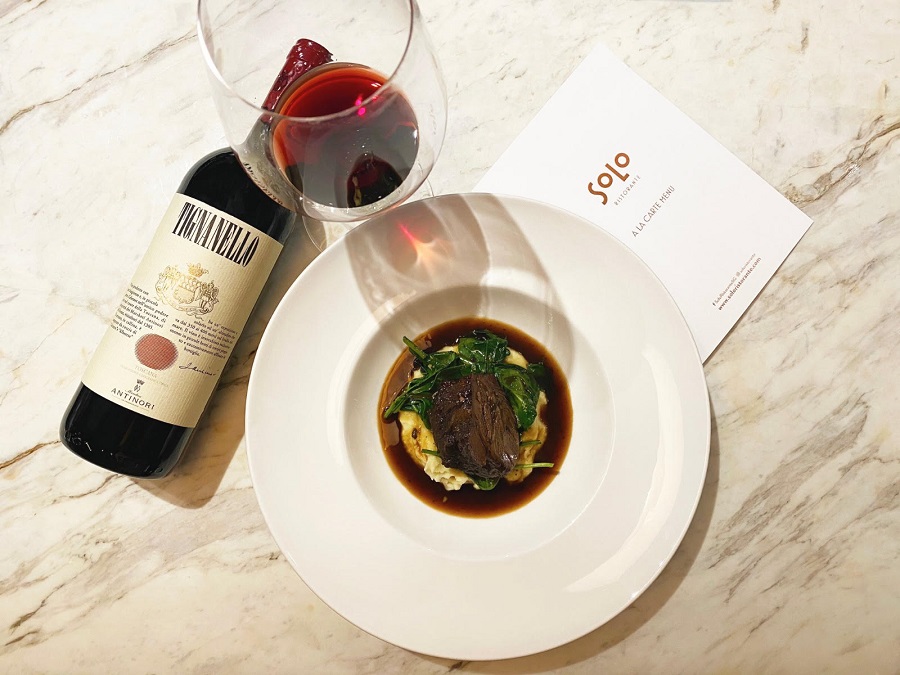 BEST FOR
Authentic Italian Food / Italian Wine
PRICING
Menu
WEBSITE
https://www.soloristorante.com/
ADDRESS
45 Amoy Street, Singapore 069871
CONTACT DETAILS
 Tel. 6260 0762 – Mobile 9134 3167 | ​[email protected]
OPERATING HOURS

Lunch
Tuesday – Friday 12pm – 230pm
Sunday 12-230pm

Dinner
Tuesday – Sunday 6-10pm

Mondays – Closed
Solo Ristorante has made it a habit to rotate their exquisite menu regularly, to allow their customers to have a taste of their every dish. They do have degustation or an a la carte menu, which is provided for the customers who have unique tastes.
Their resident Chef believes in keeping their à la carte menu short, for some customers have specific orders and the Solo Ristorante is very much delighted to comply with each customer's request. This also happens to ensure that the daily dishes are prepared only with the finest ingredients.
Their dishes, which are crafted from seasonally abundant ingredients, are also made sure to be at the peak of its freshness. They believe that the savoriness of a dish depends on the ingredients used. The fresher it is, the better the dish tastes.
Service Highlights
Menu That Rotates Regularly
Fresh Ingredients
Extensive Wine List
Customer Reviews
 Here is a review left by a very satisfied client:
"Great, authentic Italian food with friendly & efficient service at a good value. The pasta dishes we had were really great. Good wine selection also. Would be back again." – Thanespong Charusadhirakul
23. Pasta Fresca Da Salvatore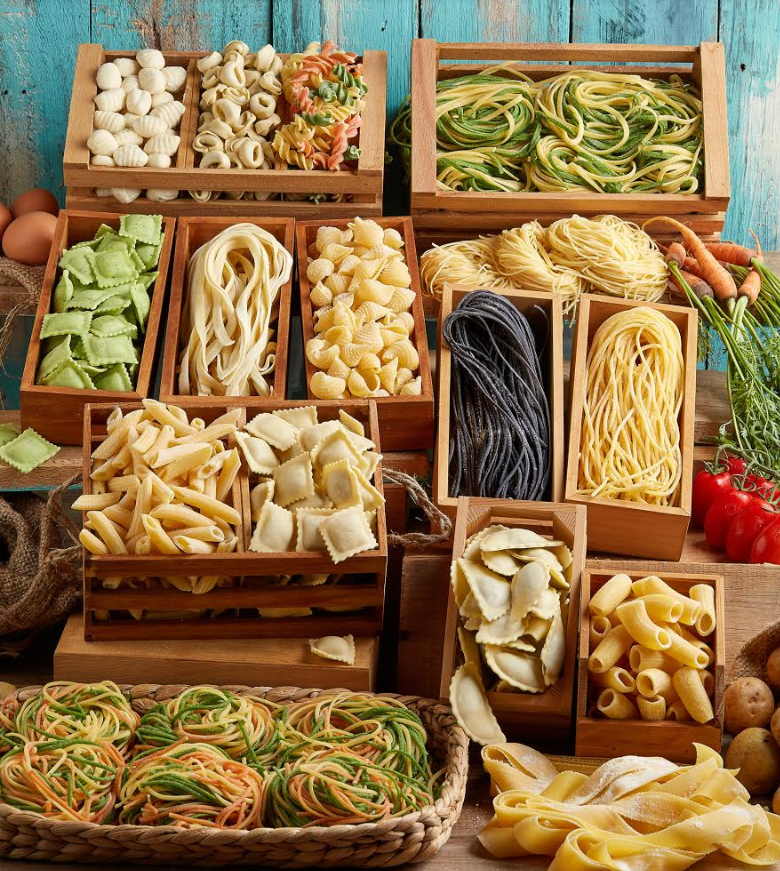 BEST FOR
Hearty Italian Food
PRICING
Full Menu
WEBSITE
https://www.pastafresca.com
ADDRESS
Boat Quay T:

30 Boat Quay

Singapore 049819

Bukit Timah T:

1 Fifth Avenue, Guthrie House

#01-02 Singapore 268802

Siglap T:

9 Upper East Coast Road #01-01
Singapore 455203

CONTACT DETAILS
Boat Quay T: 6532 6283
Bukit Timah T: 6469 4920
Siglap T: 6241 5560
OPERATING HOURS
Boat Quay T:

Lunch:
Mon – Thu

11.30am to 3.00pm (Last orders at 2.30pm)

Dinner:
Mon – Thu

6.00pm to 11.00pm (Last orders at 10.30pm)

Whole Day Dining:
Fri – Sun, Eve of PH & PH

11.30am to 11.00pm (Last orders at 10.30pm)

Bukit Timah T:

Lunch:
Mon – Thu

11.30am to 3.00pm (Last orders at 2.30pm)

Dinner:
Mon – Thu

6.00pm to 11.00pm (Last orders at 10.30pm)

Whole Day Dining:
Fri – Sun, Eve of PH & PH

11.30am to 11.00pm (Last orders at 10.30pm)

Siglap T:

Lunch:
Mon – Thu

11.30am to 3.00pm (Last orders at 2.30pm)

Dinner:
Mon – Thu

6.00pm to 11.00pm (Last orders at 10.30pm)

Whole Day Dining:
Fri – Sun, Eve of PH & PH

11.30am to 11.00pm (Last orders at 10.30pm)
When it comes to authentic Italian cuisine, Pasta Fresca Da Salvatore is a name that simply can't be forgotten. Having been established in Singapore in 1988, this restaurant and its team have over 33 years of experience in the restaurant business, continuously providing quality food and service to the residents of Singapore.
Regulars rave about Pasta Fresca for good reason. Not only is the staff quick and efficient in their service, but they're also warm and friendly to customers upon entry.
The food, the main star of the show, is simply mouthwatering. It's made from the finest and freshest ingredients, so one can expect mind-blowing flavours when tasting it. 
Some items to try are the Mare e Monti, creamy mushroom stuffed crepes, and parma ham pizza. Topping the meal off with tiramisu is also highly recommended. 
Aside from the scrumptious in-house dining, Pasta Fresca also distributes to five-star hotels and offers catering to those interested. Those who wish to enjoy the flavours of Italy from the comforts of their home can also look to major food delivery applications to have Pasta Fresca delivered.
Service Highlights
Vegetarian-friendly menu
Kids menu available
Open for delivery and takeout
Excellent view
Customer Reviews
Here are some comments left by happy diners:
"Every experience of ours as a family with PFDS, over several years, has been nothing but predictable! Predictably mouth watering Italian dishes galore!! This time, we opted for Piadina as Starter, Crespelle al fungi, Canneloni Ricotta e spinachi, Sphagetti San Giovannese, Pasta Arabiatta as Main Course & Iced Lemon Tea to go with it! Each item was tastier than the earlier & the family had a predictably sumptuous lunch! Any doubts we will repeat soon??"
"Good food excellent service, family enjoyed the food The tiramisu cake for desert was excellent and we all had a great evening."
24. Salvo by Pasta Fresca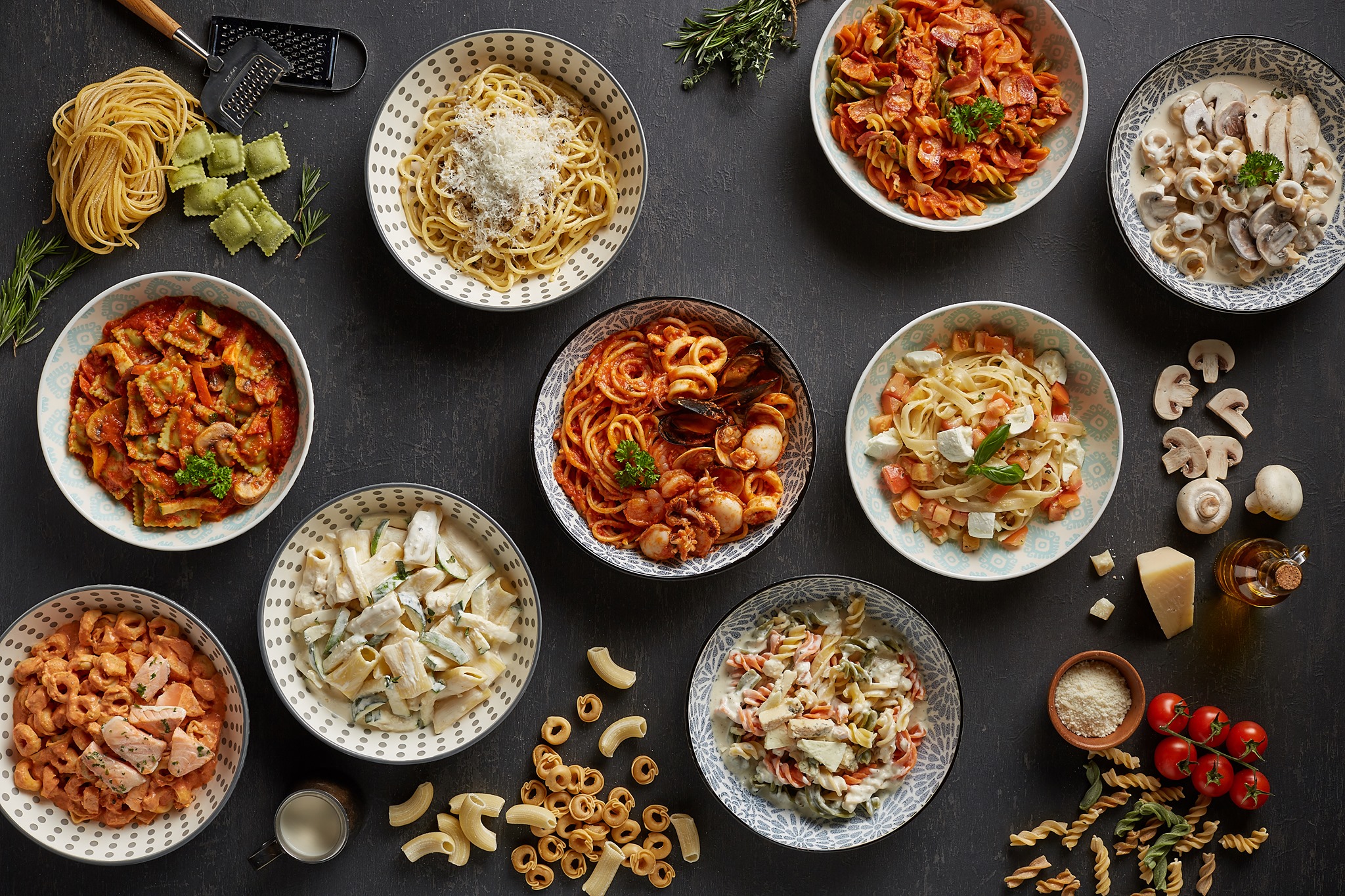 BEST FOR
Fast, casual Italian dining experience
PRICING
Menu
WEBSITE
https://www.salvobistro.com
ADDRESS
2 Tanjong Katong Road, #01-05, PLQ 3,
Paya Lebar Quarter, Singapore 437161
CONTACT DETAILS

Tel: +65 6970 6711

OPERATING HOURS

Mon – Thur
11.30am – 3.00pm (Lunch)
6.00pm – 11.00pm (Dinner)

Fri – Sun, Eve of PH, PH
11.30am – 11.00pm (Whole Day)
In recent times, people have come to associate Italian cuisine with pricey menus and stuffy settings. Salvo by Pasta Fresca operates to break this stereotype by providing authentic Italian flavours in a casual setting.
While more affordable than some of the other options on this list, Salvo doesn't skimp out on the freshness of its ingredients. Customers will be happy to know that they'll receive quality pasta and pizza dishes despite the low price tag.
Wines are very much the same at Salvo by Pasta Fresca. Pair off your next meal with Salvo's specially curated wine selection.
Some dishes to try out while you're in the area are the Salmon Aurora, which comes in salmon chunks and pink sauce; the Chicken Milanese; Burrata Pizza; and Tiramisu. 
Service Highlights
Affordable authentic Italian cuisine
Freshly made meals at reasonable prices
Extensive food and drinks menu
Comfortable and cosy setting
Customer Reviews
Here are some comments left by happy diners:
"Brand new restaurant. You can get customised pasta 🍝 here, pick your pasta, pick your sauce, viola! The taste is quite good! Can feel that it's a restaurant that treats its food seriously. We got tortellini beef bolognese, AOP prawns 🍤 penne (so many prawns in it!), and burrata with eggplant 🍆. Everything was nice. Price is fair too. Shaded outdoor seating available, surrounded by greenery. I recommend it!"

"I highly recommend this. Salvo serves above-average pasta dishes. Friendly service staffs. Generous food portion with intense flavour that excites the taste bud. To avoid huge dinner crowds, visit them during the weekdays."

Basically, any of the Italian restaurants in Singapore we've listed here should satisfy your craving for prime "cucina" from Italy. Try them… and be sure to let us know how it went in the comments!
If what you actually want is a more laid-back Italian experience though — say some pizza, particularly one you can eat at home — you may want to try our list of the best pizza in Singapore instead. Either way, buon appetito!