Top 5 Places to Have the Best Brunch in Singapore (2021)
Tracking down the best brunch places in Singapore? You wouldn't be alone — brunch is rapidly becoming one of the most popular social occasions on the island.
It's probably the opportunity to sleep in and yet still have something akin to a classic breakfast afterwards. Whatever the case, there's no denying the appeal of a laid-back and hearty brunch.
To ensure you savour the best brunches the island has to offer, we've put together a list of the places serving the best brunch in Singapore. Try out the lip-smacking offerings at these locations!
1. Bread and Hearth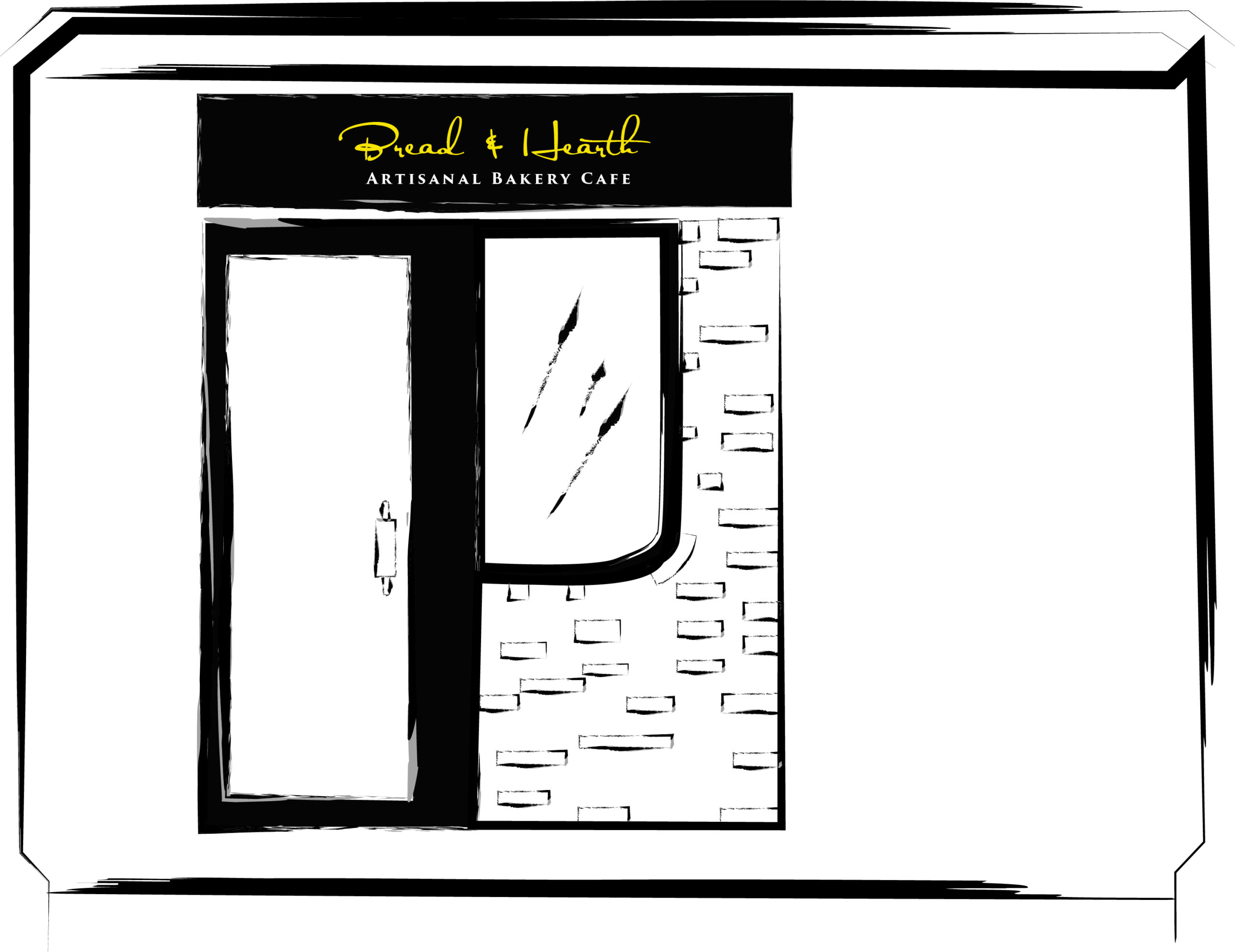 BEST FOR
Baked Goods
PRICING
The Big Breakfast ($17.90)
Avocatoast ($12.90)
Legendary Croissant ($13.90)
Pumpkin Pulled Pork (14.90)
Hot Pancake [Sweet or Savoury] ($15.90)
Yoghurt Granola Bowl ($12.90)
Fish and Chip ($16.90)
Steak Sandwich ($17.90) 
WEBSITE
https://www.breadhearth.com/
ADDRESS
18 Keong Saik Road Singapore 089125 ;
CONTACT DETAILS
+65 6534 7800, 6348 8068 or [email protected]
OPERATING HOURS
8:00 AM to 6:00 PM
Delight yourself with the mouthwatering pastries of Bread and Hearth, expertly crafted by hand to warm the spirits of a discerning gourmand. If quality European bread is part of your idea of a good brunch place in Singapore, look no further.
Making use of traditional European baking methods, Bread and Hearth pays careful attention to artistry in both taste and texture. Its dough is kneaded with utmost skill and patience, thus producing bread of the finest quality.
Home is where the hearth is. Indulge in the warmth and sweetness of their artisan pastry selection, baked to perfection for the satisfaction of your palette. 
Service Highlights
Burnt Cheese Cake with Blueberry Compote
Crispy Fish and Chip with Thick Cut Fries
Brioche Bun Burger
Customer Reviews
"Amazing pastry! Looking for somewhere near Dorsett hotel. Found a different place but much more of a local affair but this was a cross road. Lovely products, good service and prices not too bad for this quality. Had the Bacon pain with creme cheese, oh so delicious. Croissant delicious too. Nice fresh orange juice too. Highly recommended. Says Artisan bakery but not a bearded hipster in sight."
2. COLONY – THE RITZ-CARLTON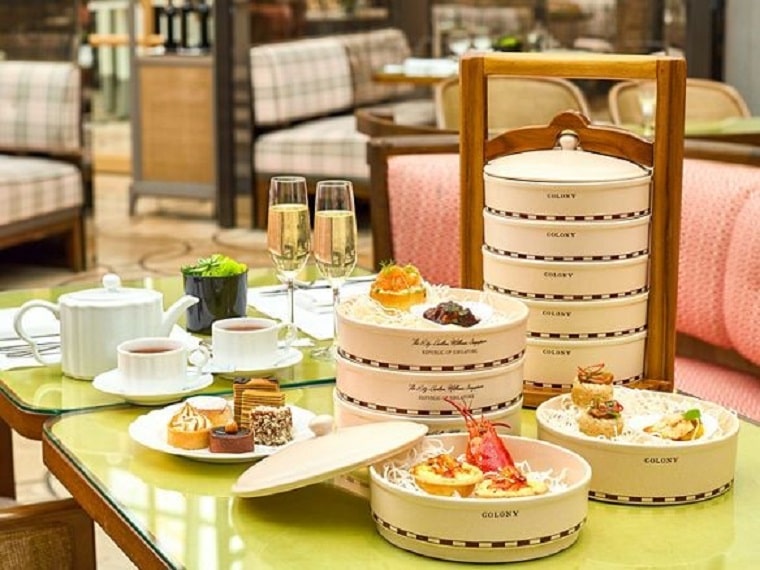 BEST FOR
International cuisine, hotel experience
PRICING
Breakfast Buffet
S$48 per adult, S$24 per child (6-12 y.o.)
Lunch Buffet (Mon-Fri)
S$60 per adult, S$30 per child (6-12 y.o.)
Lunch Buffet (Sat)
S$64 per adult, S$32 per child (6-12 y.o.)
The Journey Afternoon Tea (Mon-Sat)
S$49 per person
Vintage Champagne Brunch (Sun)
S$192 per adult
Dinner (Mon-Thu)
S$80 per adult, S$40 per child (6-12 y.o.)
Seafood Dinner (Fri & Sat)
S$96 per adult, S$48 per child
Dinner (Sun)
S$84 per adult, S$42 per child (6-12 y.o.)
WEBSITE
http://www.ritzcarlton.com/en/hotels/singapore/dining/colony
ADDRESS
The Ritz-Carlton, Millenia Singapore
7 Raffles Avenue Singapore, 039799
CONTACT DETAILS
 +(65) 6434-5288 | [email protected]
OPERATING HOURS
Monday – Saturday
Breakfast, 6:30 a.m. – 10:30 a.m.
Lunch, 12 p.m. – 2:30 p.m.
Afternoon Tea, 3:30 p.m. – 5:30 p.m.
Dinner, 6:30 p.m. – 10:30 p.m.
Sunday
Breakfast, 6:30 a.m. – 10:30 a.m
Brunch, 12 p.m. – 3:30 p.m.
Dinner, 6:30 p.m. – 10:30 p.m.
This is another nice brunch place in Singapore for your indulgence. So as with the previous location, come here for the best brunch in Singapore served with elegance.
The buffet at the Colony showcases local, Chinese, Indian, Indonesian, Malaysian, and Western cuisine through seven open kitchens. So if you're looking for the best brunch in Singapore that offers a wide array of international culinary delights, you should try and take stroll to the Ritz-Carlton.
Note that they have breakfast, lunch, and dinner buffets where you can sample the best of Singapore's heritage cuisines, by the way. So if you find yourself googling 'best brunch near me' and then changing your mind because you now want lunch or dinner, the Colony has got all your meals covered!
What People Like
Seven 'Live' conservatory kitchens for a view of culinary showmanship
A leisurely afternoon tea where customers can step back in time and journey through Singapore's culinary heritage
A boozy beverage package for unlimited Prosecco, Domaine Baron de Rothschild Lafite (red/white) wines, and local draft beer
Personalised gluten-free options for guests with dietary requirements
Customer Reviews
Customers of the Colony praise their fantastic buffet spread, great atmosphere, and friendly staff. According to Shaun Chong:
"Wow I love the buffet! 1st time for me and 2nd time for my wife. My wife doesn't really like buffet and Colony actually made her willing to come back again. Selection is more than enough. Oysters are very fresh! Its super value for money to me! It won't go wrong for you to dine with Colony!"
3. Brawn & Brains Coffee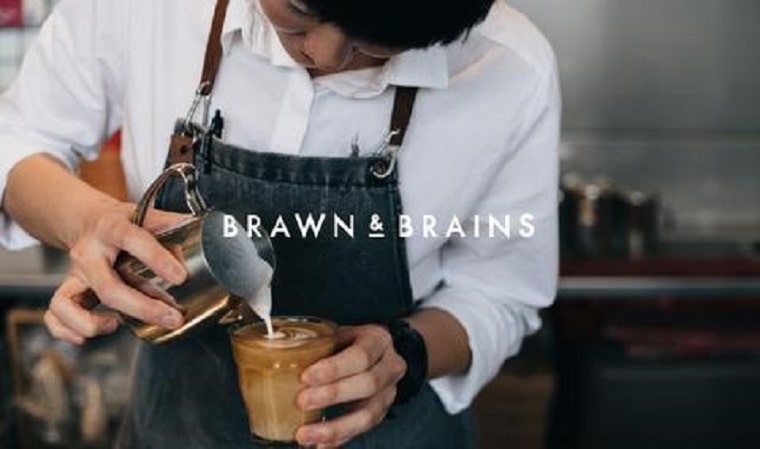 BEST FOR
Artisanal coffee, hearty brunch dishes
PRICING
 
WEBSITE
https://www.brawnandbrains.sg/
ADDRESS
100 Guillemard Road #01-02 Singapore 399718
218 East Coast Road Singapore 428916
CONTACT DETAILS

[email protected]

OPERATING HOURS
Guillemard Road
Monday Closed
Tuesday – Sunday & P.H: 0830-1800         

East Coast Road
Monday Closed
Tue – Fri : 0800 – 1800
Sat, Sun & P.H : 0830 – 1800
Brawns & Brains has been popular for coffee lovers to get the best brunch in Singapore for 2020. They serve artisanal coffee and also offer a monthly subscription of different roasts, so you get your regular delivery of your chosen caffeine fix.
Of course, you can pair your delicious coffee with their equally delicious food for brunch, from baked eggs with cheese and grain bowls to sandwiches and avocado eggs. Feel free to take photos of their Instagram-worthy spread!
Service Highlights
Customers can buy bags of carefully-roasted coffee beans while getting some of the best brunch in Singapore
Millennial-approved brunch selections
Also conducive for remote workers
Customer Reviews
Brawn & Brains is rated highly on Google Reviews. Most 5-star reviews mention their top-notch coffee, whether it's cold brew or hot espresso.
They also rave about the food, which they say perfectly complements their coffee. According to Oleg Kurochka:
"Might be one of the best cold brews I tried in Singapore. Good food, good atmosphere. Though the place can get busy during weekend brunch so be there earlier to get the best spot."
4. CAFÉ MELBA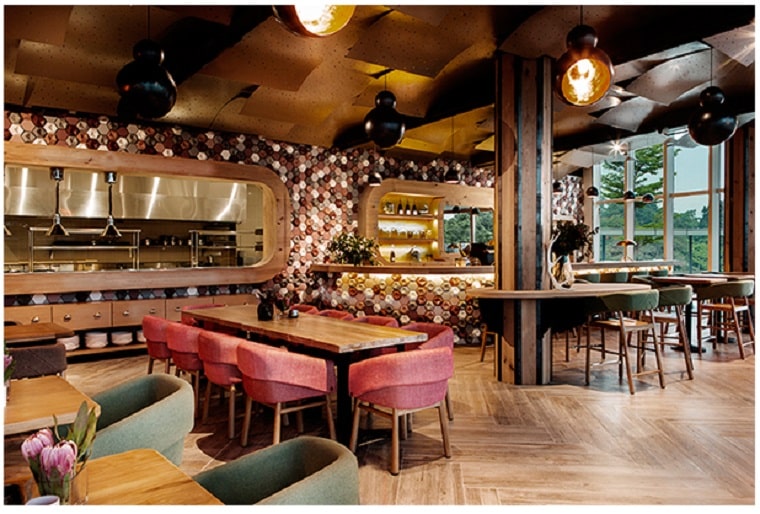 BEST FOR
Kid-friendly brunch
PRICING
Mediapolis Menu: https://www.cafemelba.com.sg/mediapolis-menus
Goodman Arts Centre Menu: https://www.cafemelba.com.sg/goodman-arts-centre-menus
WEBSITE
https://www.cafemelba.com.sg/
ADDRESS
1 Stars Avenue, #03-01
Singapore 138507
Nearest MRT: One-North

90 Goodman Road, Block N #01-56,
Goodman Arts Centre, Singapore 439053
Nearest MRT: Mountbatten
CONTACT DETAILS
Mediapolis
65 6352 2721 | [email protected]
Goodman Arts Centre
65 6440 6068 | [email protected]
OPERATING HOURS
Mediapolis
Open Daily, from 8am-10pm

Goodman Arts Centre
Weekends & Public Holidays from 830am – 10pm
Weekdays from 10am – 10pm
Cafe Melba has two locations: at the Mediapolis and at the Goodman Arts Centre. It's a cafe and restaurant that blends influences from (Melb)ourne and (A)sia, hence the name.
It's largely about the ambience, an oasis away from the hustle and bustle of the city, but the food is also great. If an all-day breakfast menu is your idea of brunch heaven, then you may have found your match for best brunch in Singapore. 
Service Highlights
All day breakfast and brunch in Singapore
Family-friendly events
Great weekend place for the entire family, where parents can relax while the kids play
Ample parking
Customer Reviews
Cafe Melba gets props on Google Reviews for their great ambience, ample parking, and affordable food. Customers also like the family-friendly environment and attentive staff.
According to Danny Wong:
"Excellent place for a weekend brunch. We went there on a Sunday with a bunch of friends and brought our children along. The kids enjoyed the bouncy castle immensely! Lunch was an excellent roast beef with all the trimmings, matches any roast I've had in the UK! Would love to come again."
5. HABITAT CAFÉ