By Colin Ng
Tracking down a good place for brunch in Singapore? You wouldn't be alone — brunch is rapidly becoming one of the most popular social occasions on the island.
It's probably the opportunity to sleep in and yet still have something akin to a classic breakfast afterwards. Whatever the case, there's no denying the appeal of a laid-back and hearty brunch.
To ensure you savour the best brunches the island has to offer, we've put together a list of the places serving the best brunch in Singapore. Try out the lip-smacking offerings at these locations!
1. Bread and Hearth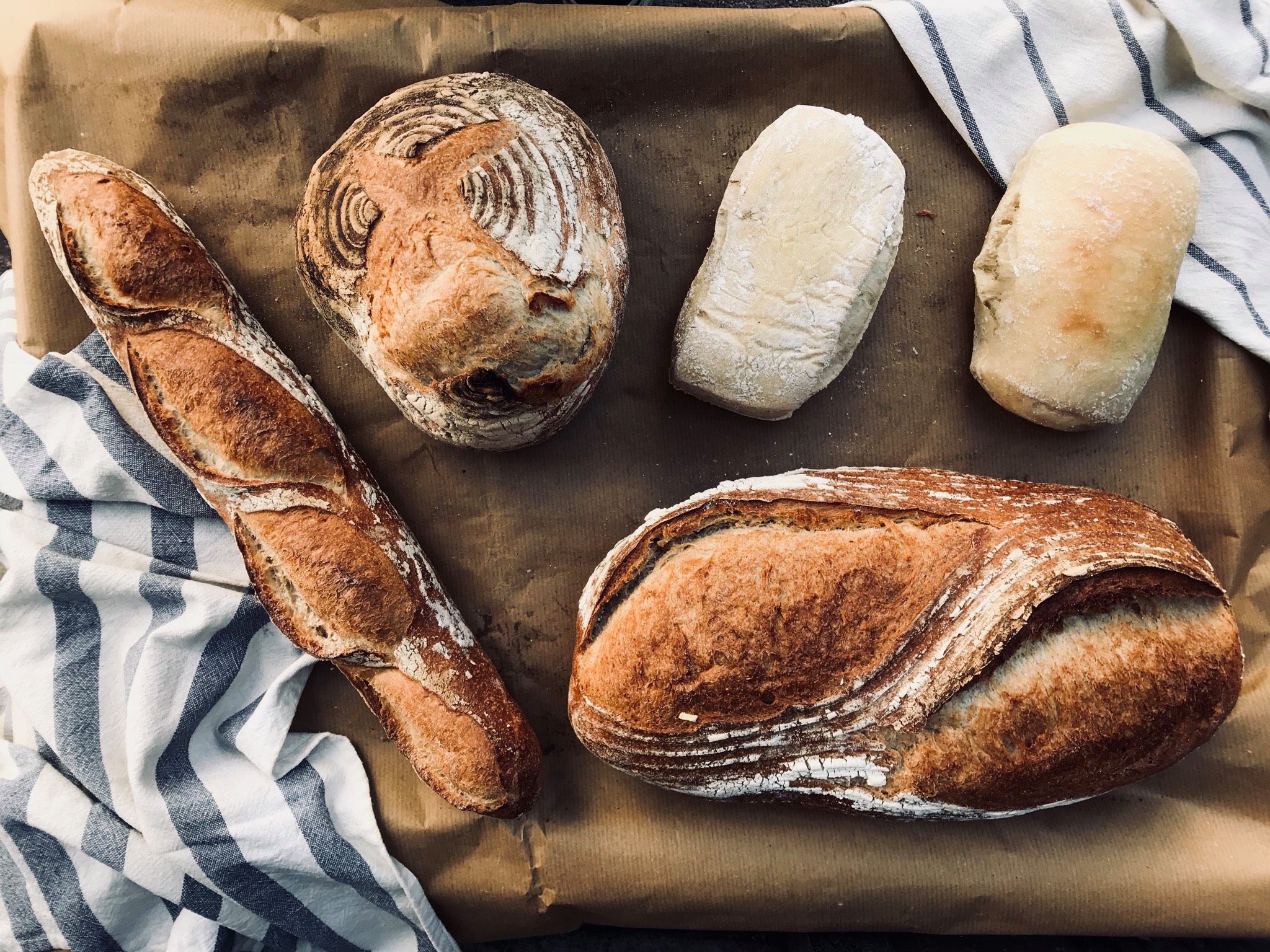 BEST FOR
Baked Goods
PRICING
The Big Breakfast ($17.90)
Avocatoast ($12.90)
Legendary Croissant ($13.90)
Pumpkin Pulled Pork (14.90)
Hot Pancake [Sweet or Savoury] ($15.90)
Yoghurt Granola Bowl ($12.90)
Fish and Chip ($16.90)
Steak Sandwich ($17.90) 
WEBSITE
https://www.breadhearth.com/
ADDRESS
18 Keong Saik Road Singapore 089125 ;
CONTACT DETAILS
+65 6534 7800, 6348 8068 or [email protected]
OPERATING HOURS
8:00 AM to 6:00 PM
Delight yourself with the mouthwatering pastries of Bread and Hearth, expertly crafted by hand to warm the spirits of a discerning gourmand.
Making use of traditional European baking methods, Bread and Hearth pays careful attention to artistry in both taste and texture. Its dough is kneaded with utmost skill and patience, thus producing bread of the finest quality.
Home is where the hearth is. Indulge in the warmth and sweetness of their artisan pastry selection, baked to perfection for the satisfaction of your palette.
SERVICE HIGHLIGHTS
Burnt Cheese Cake with Blueberry Compote
Crispy Fish and Chip with Thick Cut Fries
Brioche Bun Burger
CUSTOMER REVIEWS
"Amazing pastry! Looking for somewhere near Dorsett hotel. Found a different place but much more of a local affair but this was a cross road. Lovely products, good service and prices not too bad for this quality. Had the Bacon pain with creme cheese, oh so delicious. Croissant delicious too. Nice fresh orange juice too. Highly recommended. Says Artisan bakery but not a bearded hipster in sight."
2. COLONY – THE RITZ-CARLTON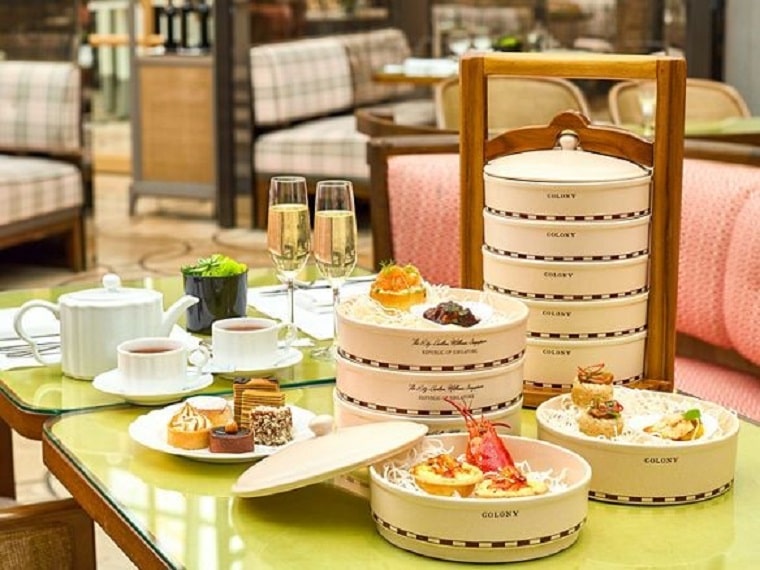 BEST FOR
International cuisine, hotel experience
PRICING
Breakfast Buffet
S$48 per adult, S$24 per child (6-12 y.o.)
Lunch Buffet (Mon-Fri)
S$60 per adult, S$30 per child (6-12 y.o.)
Lunch Buffet (Sat)
S$64 per adult, S$32 per child (6-12 y.o.)
The Journey Afternoon Tea (Mon-Sat)
S$49 per person
Vintage Champagne Brunch (Sun)
S$192 per adult
Dinner (Mon-Thu)
S$80 per adult, S$40 per child (6-12 y.o.)
Seafood Dinner (Fri & Sat)
S$96 per adult, S$48 per child
Dinner (Sun)
S$84 per adult, S$42 per child (6-12 y.o.)
WEBSITE
http://www.ritzcarlton.com/en/hotels/singapore/dining/colony
ADDRESS
The Ritz-Carlton, Millenia Singapore
7 Raffles Avenue Singapore, 039799
CONTACT DETAILS
 +(65) 6434-5288 | [email protected]
OPERATING HOURS
Monday – Saturday
Breakfast, 6:30 a.m. – 10:30 a.m.
Lunch, 12 p.m. – 2:30 p.m.
Afternoon Tea, 3:30 p.m. – 5:30 p.m.
Dinner, 6:30 p.m. – 10:30 p.m.
Sunday
Breakfast, 6:30 a.m. – 10:30 a.m
Brunch, 12 p.m. – 3:30 p.m.
Dinner, 6:30 p.m. – 10:30 p.m.
This is another fancy Sunday brunch for your indulgence. So as with the previous location, come here for the best brunch in Singapore served with elegance.
The buffet at the Colony showcases local, Chinese, Indian, Indonesian, Malaysian, and Western cuisine through seven open kitchens.
Note that they have breakfast, lunch, and dinner buffets where you can sample the best of Singapore's heritage cuisines, by the way. Those are usually big draws.
WHAT PEOPLE LIKE
Seven 'Live' conservatory kitchens for a view of culinary showmanship
A leisurely afternoon tea where customers can step back in time and journey through Singapore's culinary heritage
A boozy beverage package for unlimited Prosecco, Domaine Baron de Rothschild Lafite (red/white) wines, and local draft beer
Personalised gluten-free options for guests with dietary requirements
CUSTOMER REVIEWS
Customers of the Colony praise their fantastic buffet spread, great atmosphere, and friendly staff. According to Shaun Chong:
"Wow I love the buffet! 1st time for me and 2nd time for my wife. My wife doesn't really like buffet and Colony actually made her willing to come back again. Selection is more than enough. Oysters are very fresh! Its super value for money to me! It won't go wrong for you to dine with Colony!"
3. Brawn & Brains Coffee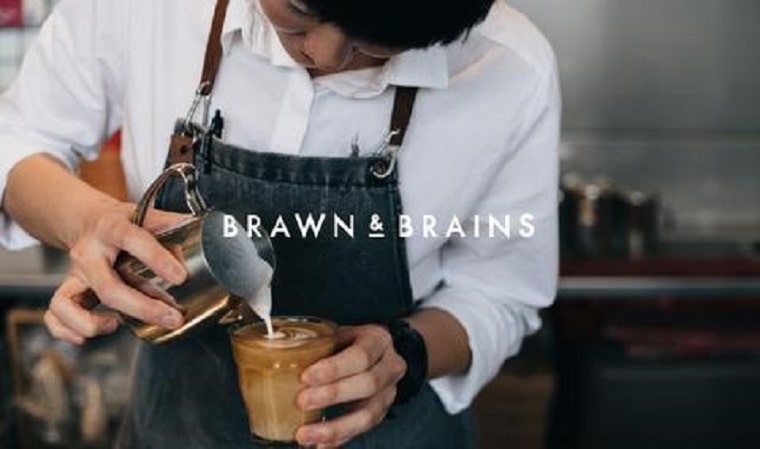 BEST FOR
Artisanal coffee, hearty brunch dishes
PRICING
 
WEBSITE
https://www.brawnandbrains.sg/
ADDRESS
100 Guillemard Road #01-02 Singapore 399718
218 East Coast Road Singapore 428916
CONTACT DETAILS

[email protected]

OPERATING HOURS
Guillemard Road
Monday Closed
Tuesday – Sunday & P.H: 0830-1800         

East Coast Road
Monday Closed
Tue – Fri : 0800 – 1800
Sat, Sun & P.H : 0830 – 1800
Brawns & Brains is where coffee lovers go to get brunch in Singapore. They serve artisanal coffee and also offer a monthly subscription of different roasts, so you get your regular delivery of your chosen caffeine fix.
Of course, you can pair your delicious coffee with their equally delicious food for brunch, from baked eggs with cheese and grain bowls to sandwiches and avocado eggs. Feel free to take photos of their Instagram-worthy spread!
SERVICE HIGHLIGHTS
Customers can buy bags of carefully-roasted coffee beans while getting some of the best brunch in Singapore
Millennial-approved brunch selections
Also conducive for remote workers
CUSTOMER REVIEWS
Brawn & Brains is rated highly on Google Reviews. Most 5-star reviews mention their top-notch coffee, whether it's cold brew or hot espresso.
They also rave about the food, which they say perfectly complements their coffee. According to Oleg Kurochka:
"Might be one of the best cold brews I tried in Singapore. Good food, good atmosphere. Though the place can get busy during weekend brunch so be there earlier to get the best spot."
4. CAFÉ MELBA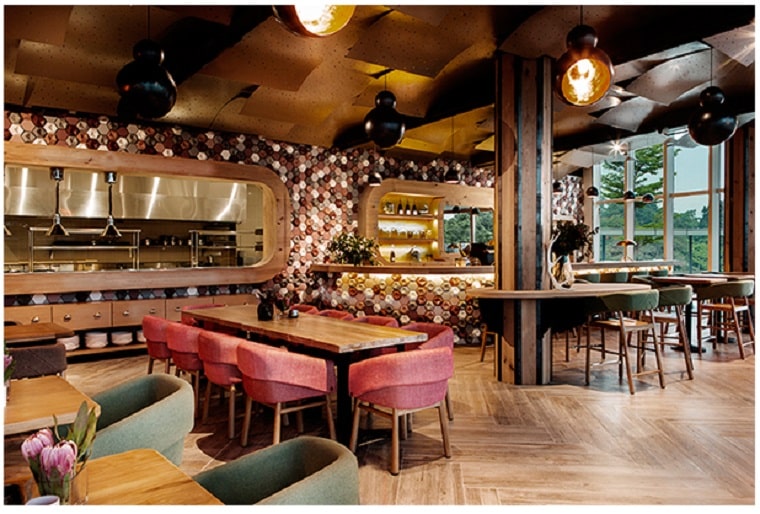 BEST FOR
Kid-friendly brunch
PRICING
Mediapolis Menu: https://www.cafemelba.com.sg/mediapolis-menus
Goodman Arts Centre Menu: https://www.cafemelba.com.sg/goodman-arts-centre-menus
WEBSITE
https://www.cafemelba.com.sg/
ADDRESS
1 Stars Avenue, #03-01
Singapore 138507
Nearest MRT: One-North

90 Goodman Road, Block N #01-56,
Goodman Arts Centre, Singapore 439053
Nearest MRT: Mountbatten
CONTACT DETAILS
Mediapolis
65 6352 2721 | [email protected]
Goodman Arts Centre
65 6440 6068 | [email protected]
OPERATING HOURS
Mediapolis
Open Daily, from 8am-10pm

Goodman Arts Centre
Weekends & Public Holidays from 830am – 10pm
Weekdays from 10am – 10pm
Cafe Melba has two locations: at the Mediapolis and at the Goodman Arts Centre. It's a cafe and restaurant that blends influences from (Melb)ourne and (A)sia, hence the name.
It's largely about the ambience, an oasis away from the hustle and bustle of the city, but the food is also great. They serve breakfast all day, every day!
SERVICE HIGHLIGHTS
All day breakfast and brunch in Singapore
Family-friendly events
Great weekend place for the entire family, where parents can relax while the kids play
Ample parking
CUSTOMER REVIEWS
Cafe Melba gets props on Google Reviews for their great ambience, ample parking, and affordable food. Customers also like the family-friendly environment and attentive staff.
According to Danny Wong:
"Excellent place for a weekend brunch. We went there on a Sunday with a bunch of friends and brought our children along. The kids enjoyed the bouncy castle immensely! Lunch was an excellent roast beef with all the trimmings, matches any roast I've had in the UK! Would love to come again."
5. HABITAT CAFÉ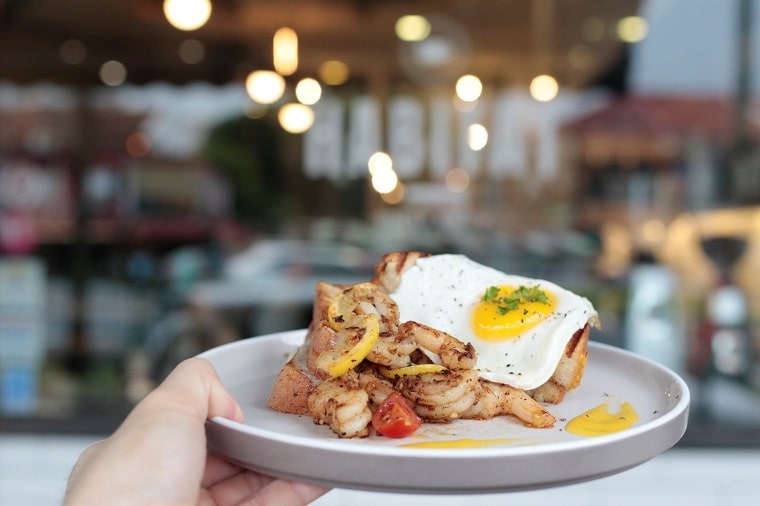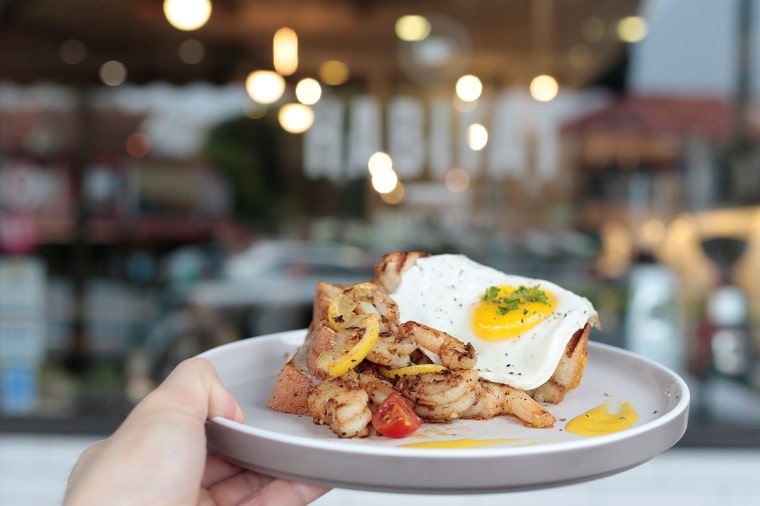 Habitat Cafe is another great brunch place for coffee connoisseurs. Their coffee uses 100% Arabica beans roasted locally and specially curated for their establishment.
To balance the strength of their coffee, they also have artisanal cakes and desserts. Furthermore, there are hearty food selections — breakfast food included, of course.
From Japanese rice bowls to Asian-infused pastas and desserts, there are plenty of choices when coming here for brunch in Singapore. You're sure to walk out of their cafe with a full and satisfied tummy.
SERVICE HIGHLIGHTS
Homey and cosy interiors
Fast and friendly service
Hearty food
Delicious coffee crafted carefully by expert baristas
CUSTOMER REVIEWS
On Google Reviews, they received a lot of 5-star ratings for their delicious coffee and excellent service.
For example, one review noted the great flat white done beautifully by the barista. Another complimented their fast and friendly service, while another praised their fabulous breakfast selection.
Gina Chiang wrote:
"Came here with my 2 other friends after a charity walk because we heard that this cafe is good. Ordered 3 mains (1 main each) and a side for sharing.
Indeed, we aren't disappointed at all! The staff are very friendly and approachable, the food is delicious, and the brunch's portion are big, and the prices are slightly cheaper as compare to other cafes! We stayed at that cafe for 4hours!"
6. PENNY UNIVERSITY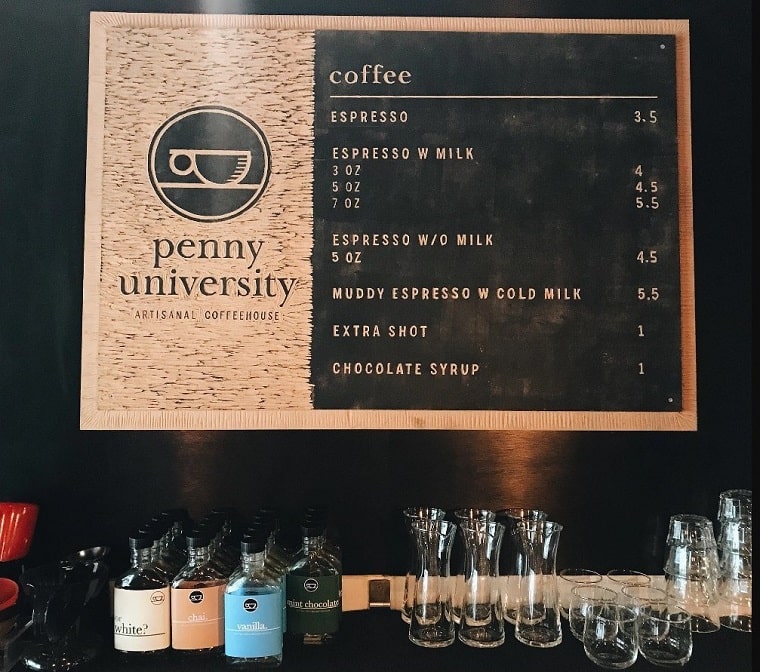 BEST FOR
All Day Brunch, Students and Yuppies
PRICING
Menu
WEBSITE
https://www.pennyuni.com/
ADDRESS
402 East Coast Road
Singapore 428997
CONTACT DETAILS
 +65 6345 9055 | [email protected]
OPERATING HOURS
Monday – Thursday 8.30am – 6pm
Friday – Saturday     8.30am – 10.30pm
Sunday                       8.30am – 7pm

Last order for food: 3.45pm for Mon-Thurs, Sun
                                   8.45pm for Fri & Saturday
This is another great place to get brunch in Singapore. Penny University is an artisanal café founded in London that has since put down roots in the island.
Since 2012, their presence in Singapore has drawn coffee and brunch enthusiasts for their specialty beans sourced from local roasters.
They also serve artisanal cakes and bread baked daily by local bakers to perfectly complement a good cuppa.
Their food offerings include all the brunch staples and breakfast favourites, from egg on toast to sandwiches, salads and main courses.
SERVICE HIGHLIGHTS
Artisanal cakes, breads, and coffee
Hip, coffee-culture vibe
Instagram-worthy food and beverage selection
Coffee workshops
Great for corporate meetings
7. PS. CAFÉ HARDING ROAD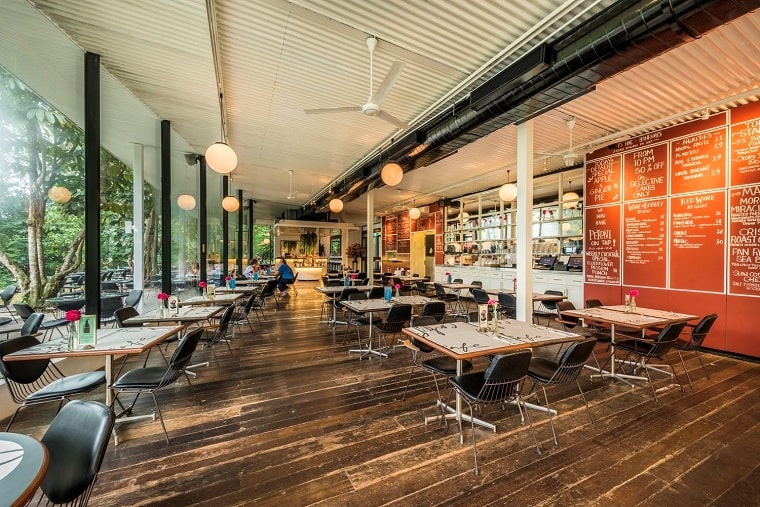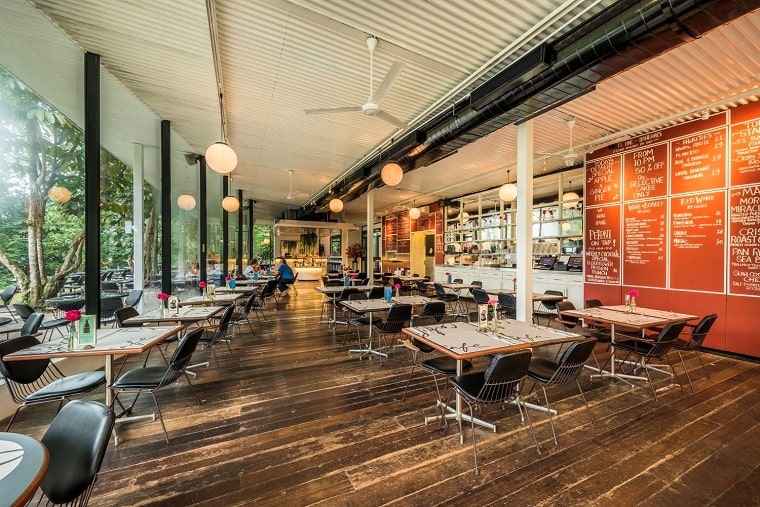 PS. Cafe at Harding Road is a charming café with several branches in Singapore. The Harding Road branch is the best one if you like a quiet brunch or for a romantic date.
Their interiors are elegant, and the lush scenic location provides a conducive environment for meaningful conversations or quiet "Me time".
SERVICE HIGHLIGHTS
Bubbles and wine for brunch
Conducive for dates or quiet power brunches
Lifestyle events
CUSTOMER REVIEWS
Their many 5-star ratings on Google Reviews can be attributed to the beautiful setting, consistent quality of food and service, romantic ambience, affordable prices, and friendly staff.
Most customers say it's the overall experience that makes this a perfect place to have a sedate, luxurious brunch in Singapore. According to Angelo Maniatis:
"A hidden gem of a cafe, this is worth the trek out to Dempsey. Though part of the PS Cafe chain, this location feels unique. The breakfast menu offers a number of interesting options and it's always a good idea to check what the specials are. Coffee can be a tad on the weak side, but still decent. The outside seating makes the most of surrounding trees and greenery but be prepared to move if a storm blows through. Service is good, though lactose free milk and almond milk options would be welcome additions."
8. SARNIE'S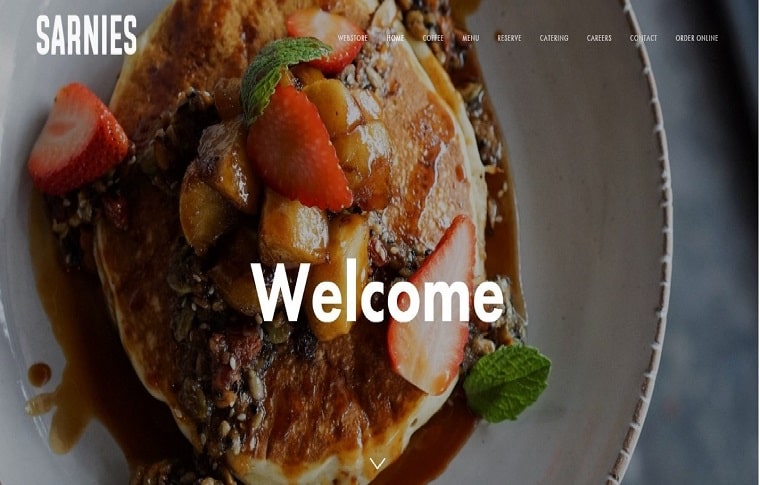 Conveniently located in the bustling CBD, Sarnie's is a convenient place to enjoy brunch in Singapore.
Customers can enjoy organic, ethically-sourced food, from grass-fed beef to antibiotic-free chicken, and even bacon cured in-house.
Aussie owner Ben Lee named the establishment from the Aussie slang for sandwich, though they also serve other hearty meals as well as house-made baked goods and treats to go with a good cuppa.
SERVICE HIGHLIGHTS
Delicious, organic, ethically-sourced food
Specialty beans roasted in-house
Healthy food options
CUSTOMER REVIEWS
While on the pricier side, Sarnie's still gets top marks on Google Reviews. 5-star reviews praise their delicious food, excellent selection, and house brews.
One review reads as follows:
"Great open terrace available, nice food combinations, both small and bigger portions. Nice vibe. Good selection of drinks also available. Would recommend."
9. THE FABULOUS BAKER BOY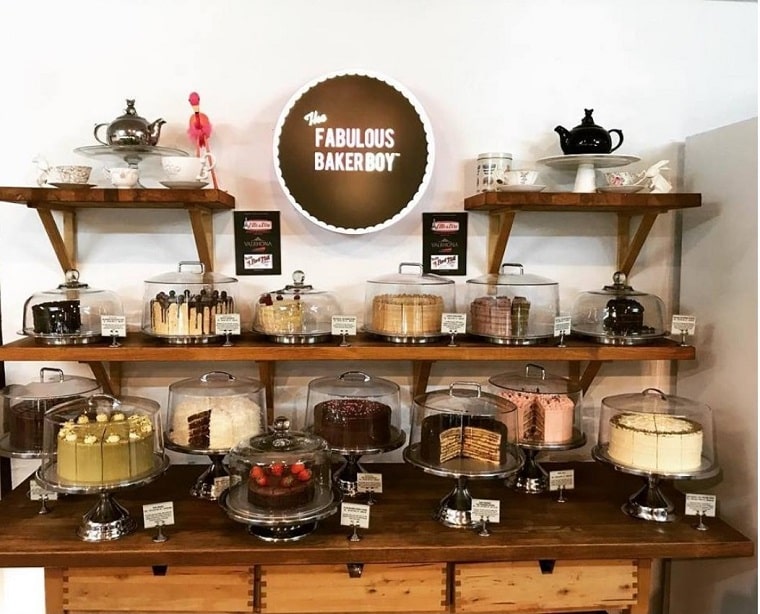 BEST FOR
Halal ingredients, delicious cakes
PRICING
Menu
WEBSITE
https://www.thefabulousbakerboy.com/
ADDRESS
70 RIVER VALLEY ROAD, #01-15. SINGAPORE 179037
CONTACT DETAILS
Tel : 66948336 / WhatsApp: 97298560 | [email protected]
OPERATING HOURS
SUN : 8:30 AM TO 5:00PM
TUE, WED, THUR : 8:30 AM TO 6:00PM
FRI & SAT : 8:30 AM TO 10:00PM
CLOSED ON MONDAYS

LAST ORDER FOR BRUNCH DAILY @ 2:45PM
FRI AND SAT DINNER ORDERS STARTS  AT @ 6:00PM
CAKES & COFFEES ALL DAY
Those with a sweet tooth should have their brunch at The Fabulous Baker Boy. Self-taught cook and baker Juwanda has been consistently impressing customers here with delicious cakes for the last decade.
The cakes are inspired by travels, old secret recipes and people, using only the best ingredients while baking from the heart. This is one of the most charming places to get brunch in Singapore, especially if you like pastry and bread.
SERVICE HIGHLIGHTS
Quality halal ingredients
Large portions
Sourdough bakes
CUSTOMER REVIEWS
The airy space, really good cakes, fabulous French toast, and generous portions all contribute to the positive reviews they have on Google Reviews. One customer wrote:
"The best French toast ever dusted with cinnamon sugar. Portions are generous too. We were so full but simply couldn't resist the amazing looking cakes on display. Great service from staff complements with the garden setting makes this an awesome place for brunch."
10. TOBY'S ESTATE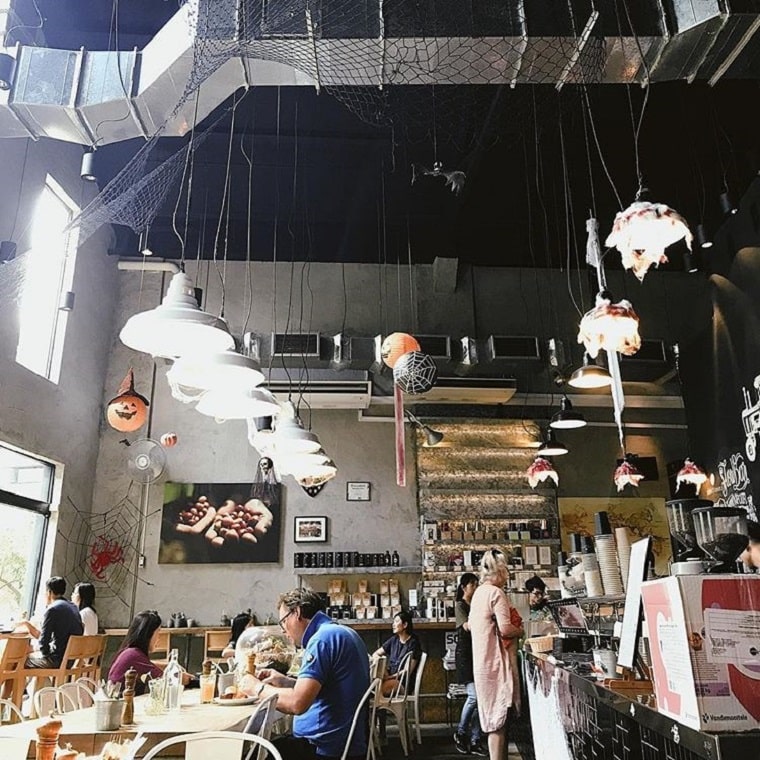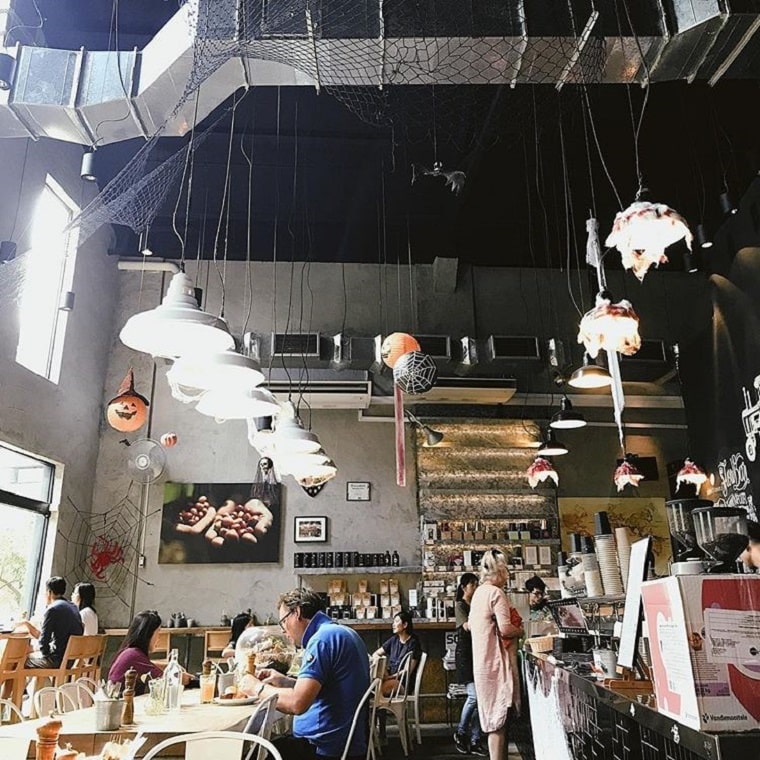 BEST FOR
Award-winning coffee
PRICING
See their website for their current menu
WEBSITE
https://www.tobysestate.com.sg/
ADDRESS
8 Rodyk Street, 01-03/04
Singapore 238216
CONTACT DETAILS
 +65 6636 7629
OPERATING HOURS
Sunday-Thursday 7.30am-6pm
Friday-Saturday 7.30am-8pm
Toby's Estate is a mainstay in any list of the best coffee shops in Singapore. And they're equally great with their brunches.
Known for their award-winning coffee, Toby's Estate has perfected their specialty brew, so be sure to try it with your brunch. Jumpstart your weekend with a caffeine-boosted brunch here!
SERVICE HIGHLIGHTS
Premium beans sourced from exotic locations worldwide, from Ethiopia to Indonesia
Perfectly portioned meals
Granola made in-house
Single-origin cocoa
Pet-friendly outdoor seating
CUSTOMER REVIEWS
Customers left 5-star ratings on Google Reviews because of their above average service, excellent location, delicious food, and expertly crafted coffee. Arnab Ghosh wrote:
"Toby's Estate is a nice chill cafe by the waterside along Robertson Quay, perfect for Sunday brunches. Went with a group of 9 people and had a good time."
11. KITCHEN BY FOOD REBEL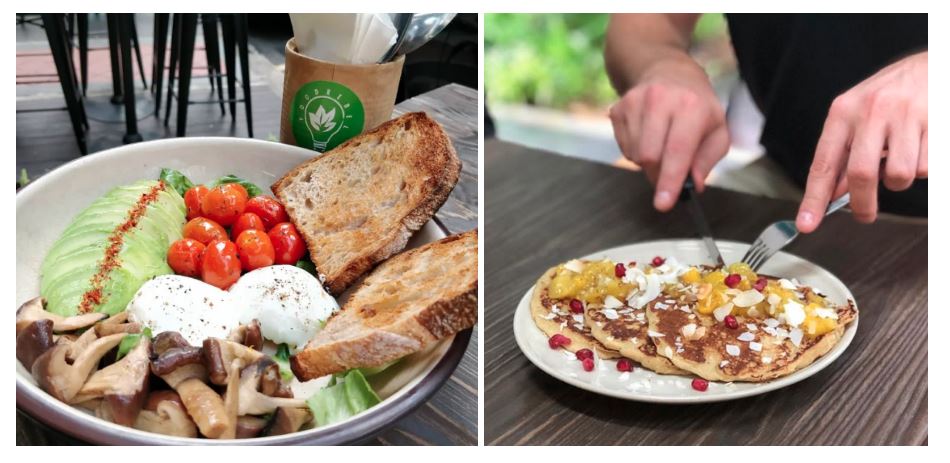 BEST FOR
Healthy food choices
PRICING
Check their menu here: https://www.foodrebelsg.com/menu
WEBSITE
https://www.foodrebelsg.com/
ADDRESS
28 Stanley St, Telok Ayer (S) 068737
CONTACT DETAILS
+6562247088
OPERATING HOURS

Open Monday to Friday: 8am to 6pm

Open Saturday: 9am to 3pm

Closed: Sunday & Public Holidays
Kitchen By Food Rebel gives their customers the option to eat healthy, knowing how their food is produced and understanding the impact food has on the body.
The restaurant was founded in January 2016 in the heart of Singapore CBD at Telok Ayer and wholly owned by Elika Tasker. From the start, it was about empowering customers with a recipe of awareness, education, and great, wholesome food.
SERVICE HIGHLIGHTS
40-seater cafe caters to vegans, vegetarians, athletes, clean-meat lovers, those with food intolerances, and those just looking to lead a healthy lifestyle
Breakfast, lunch, brunch, drinks, and wine menu
Corporate catering
CUSTOMER REVIEWS
Reviews are great for this spot offering a healthy brunch in Singapore. 5-Star Google Review from Elisabeth Lee:
"If you subscribe to sustainability, health, quality, than this place is for you… plus has relaxed ambience with many pp taking their time to drink their coffee and work on their laptops…"
12. BOUFÉ BOUTIQUE CAFÉ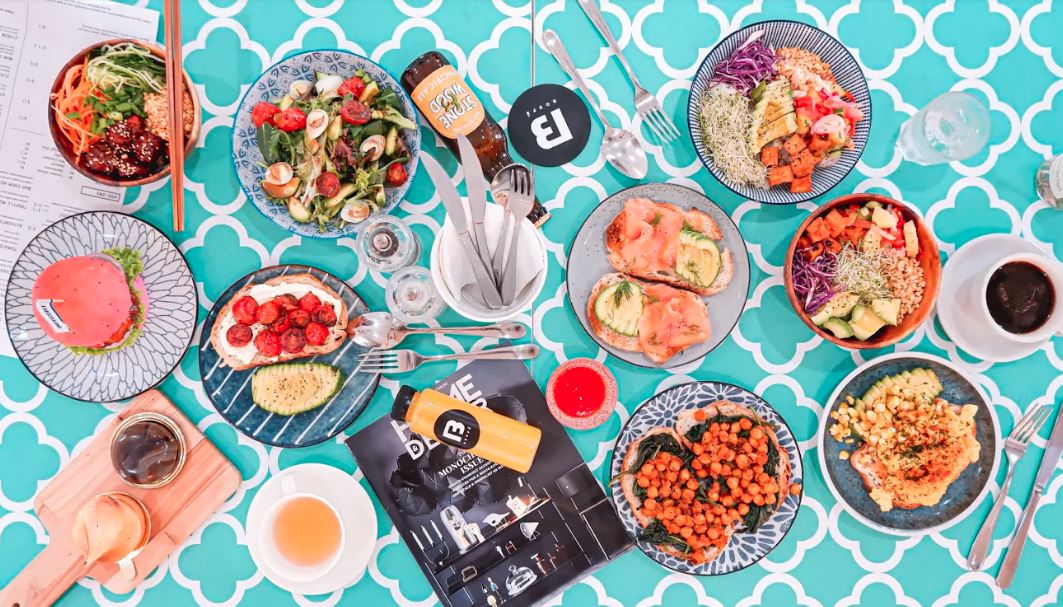 BEST FOR
Make-your-own-meal cafe
PRICING

https://www.boufesg.com/tanglin-menu

https://www.boufesg.com/raffles-menu

WEBSITE
https://www.boufesg.com/
ADDRESS

308 Tanglin Road #01-01

Phoenix Park

S(247974)



16 Collyer Quay #02-12

Income At Raffles

S(049318)

CONTACT DETAILS
+65 6734 7656, +65 6909 9778
OPERATING HOURS

Tanglin branch: 10am to 7pm, Daily

Colle Quay: 8am to 5pm, Mon to Fri
Boufé Boutique Café was founded by Sean Lee, Erik Wang & Dennis Lim in February 2015. Their Head Chef, Pan Jiajian, has been part of Boufe's journey since day one.
They offer all-day brunch, specialty coffee, and insta-worthy cakes inspired by classical cuisine. 
SERVICE HIGHLIGHTS
Catering
Good for groups
Good for kids
Outdoor seating
Takes reservations
Take out
Waiter service
Walk-ins welcome
CUSTOMER REVIEWS
This Facebook recommendation review from Anh Mai Tran says everything you need to know about the place:
"Good food, friendly staff. If you look for something different on the menu, this is the place. The only cons is the location, but we enjoy the walk. Serene and quiet, far from the usual crowd :)"
13. FRESH FRUITS LAB GROUP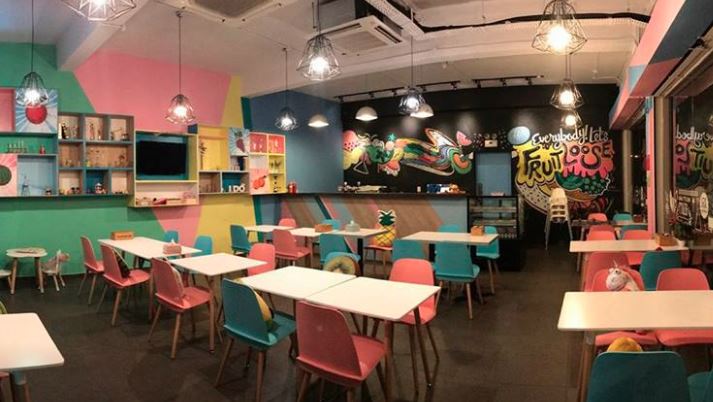 BEST FOR
Fusion cuisine
PRICING

Contact for their present selection

WEBSITE
https://www.ffl.com.sg
ADDRESS

351 Changi Road Lor Marzuki Singapore 419818

CONTACT DETAILS

+65 6677 6741

OPERATING HOURS

Daily last order at 9.30pm.
They serve their brunch menu every weekend from 10am to 3pm.

Regular menu starts from 3pm.
Through Fresh Fruits Lab Group, you can explore exciting food concepts and the latest offerings in their group of restaurants. From fusion to local cuisines, they  continuously innovate to provide the finest delicacies and most exquisite dining experience for customers.
SERVICE HIGHLIGHTS
Tapas bar & restaurant
The menu is specially designed and handcrafted to incorporate a fruity element in many of the dishes
A healthily balanced dining experience in a comfortable, relaxed setting
CUSTOMER REVIEWS
There are many reviews applauding this restaurant for its comfortable ambience and cutting-edge recipes. Look at this Facebook recommendation review from Bernard Ong:
"Ambience was very cosy and they have a variety of food choices. We were greeted with two test tubes of vegetable juice and it was surprisingly tasty. Afterwards we ordered the pasta and it was one the best pasta I have tried. I forgot the name but it was the first option under the pasta section. The taste was very unique and you can't find it else where! The scallop was very fresh too! Recommended to bring your date here for a chill night out!"
14. NASSIM HILL BAKERY BISTRO BAR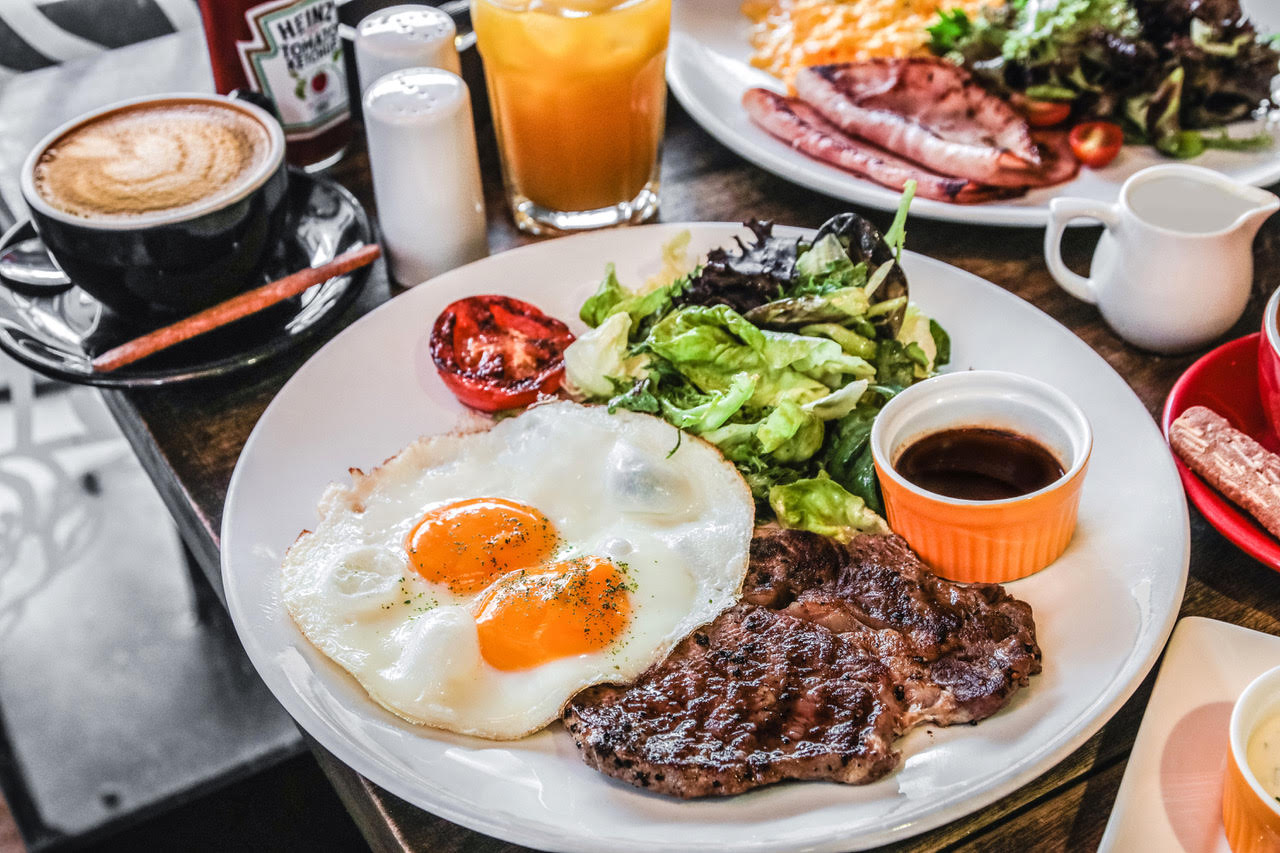 BEST FOR
Brunch, fresh baked products, drinks
PRICING
https://nassimhill.com.sg/menu/
WEBSITE
https://nassimhill.com.sg/
ADDRESS

56 Tanglin Road, #01-03
(Tanglin Post Office Building)
Singapore 247964

CONTACT DETAILS

6835 1128
[email protected]

OPERATING HOURS

Mondays: closed
Tuesdays, Fridays, Saturdays, Sundays: 8AM – 10.30PM
Wednesdays & Thursdays: 8AM – 11PM
Nassim Hill was created out of the desire to have a place for people to relax and gather with family and friends over good food and drink. They're located downtown at Tanglin Post Office, easily accessible from Orchard Road.
SERVICE HIGHLIGHTS
Their baked goods are European-inspired, with influence from local taste profiles
Pastries include their popular scones and donuts.
They do bulk orders
CUSTOMER REVIEWS
Patrons appreciate the bakery's freshly-baked offerings and fresh pasta dishes. Here's a 5.0-Star Google Review from Evan Sidarto:
"With its late night dinner and bar bites offerings, and a comprehensive drinks menu, Nassim Hill Bakery, nestled in the Tanglin Post Office building, offers an all-day brunch menu along with a dinner menu too. I recommend visiting during off peak hours, like after 9am during weekdays, or after 4pm during weekends. I recommend a few dishes here: the Reuben sandwich, the Laksa pasta, and Chili Crab pasta. For dessert, I tried their Hazelnut cake which was divine. Would definitely come back here again, but again, only during off hours. Service was brisk and friendly."
15. SYMMETRY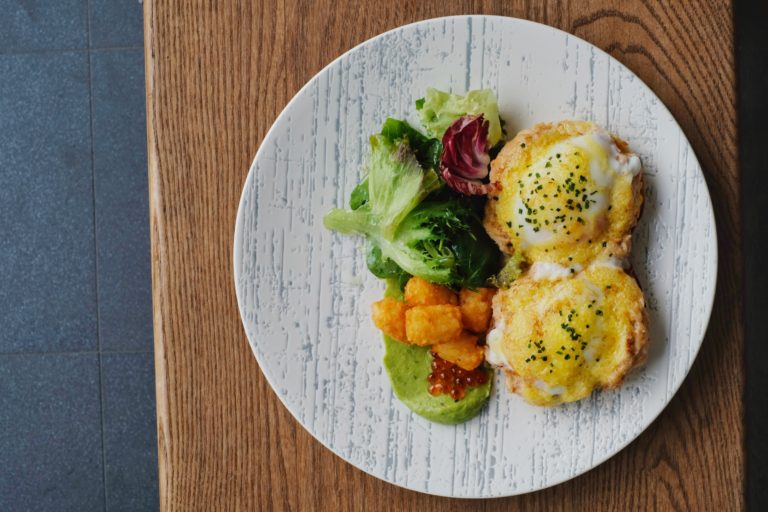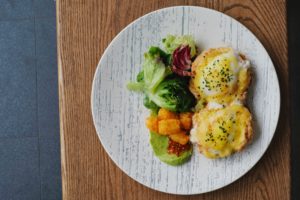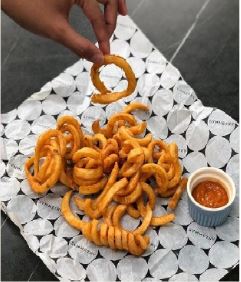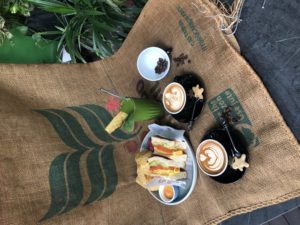 | | |
| --- | --- |
| BEST FOR | Quintessential Australian fare with a contemporary spin |
| PRICING | |
| WEBSITE | |
| ADDRESS | 9 JALAN KUBOR #01-01 SINGAPORE 199206 |
| CONTACT DETAILS | +65 6291-9901 | [email protected] |
| OPERATING HOURS | Mon: 10:30am-9pm,  Tue-Thu: 10:30am-11pm,  Fri: 10:30am-12am, Sat: 9am-12am,  Sun: 9am-7pm |
If you are craving for some delightful Aussie grubs, Symmetry Cafe is the place to go. The refined menu of this cafe will make you feel that Australia is just a bite away, yet keeps the sense of familiarity and comfort.
The cafe also makes an effort to set the mood through their curated playlist so you can have a rather relaxing brunch alone, with family, or with friends.
Most of their brunch mains include eggs cooked in different manners, but should you wish to have a vegan meal, they also offer some with the same top quality among others.
SERVICE HIGHLIGHTS
A perfect convivial gathering space for all occasions

Vibrant and bold flavours

Ever-evolving menu

Offers delivery services
CUSTOMER REVIEWS
Symmetry Cafe is loved for their scrumptious set of meals as well as their very accommodating staff who welcome their guests with warmth. Here is a feedback posted on Google Reviews.
"Yum yum yum. The food is super delicious. And staff are very friendly. They serve mimosa over the weekends which makes for the perfect brunch. Reserve before coming if you can. Though staff will do their best to accommodate you without reservation too."
On the whole, these brunch locations are some of the best restaurants and cafes to be found on the island. If you've been to them yourself, let us know what you ordered in the comments below — and tell us how you liked it!
If you've already moved from brunch to a heavier meal (like lunch or dinner), though, you may want to look at some of our other restaurant roundups. In particular, we'd suggest our list of places serving the best steak in Singapore.
16.THE LOKAL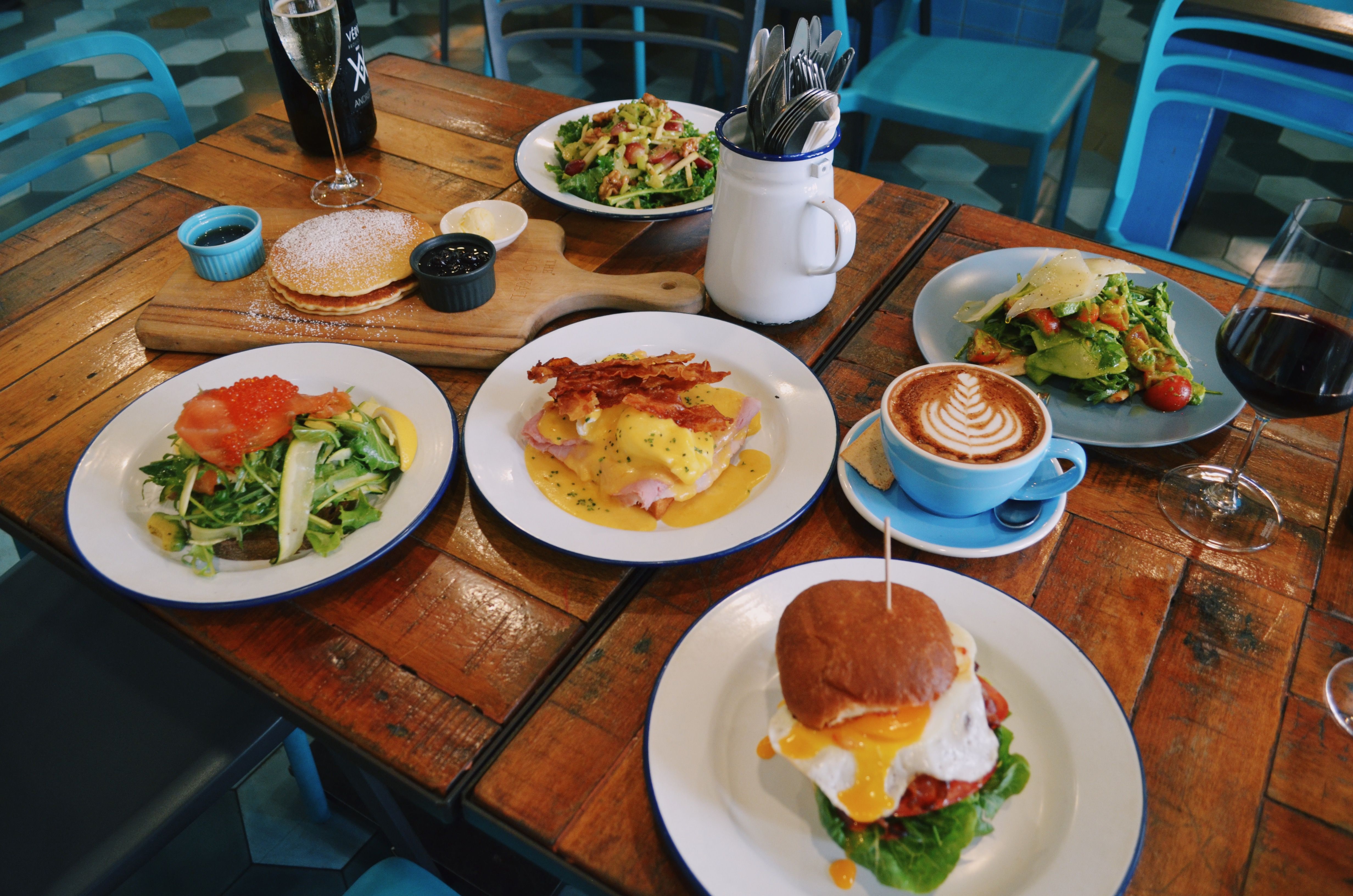 BEST FOR

Casual Australian Restaurant-Bar

PRICING

WEBSITE

ADDRESS

136 Neil Road, Singapore 088865

CONTACT DETAILS

(65) 6423 9918 | [email protected]

OPERATING HOURS

Monday & Tuesday : 8am to 4pm

Wednesday to Friday : 8am to 10pm

Saturday : 9am to 10pm

Sunday : 9am to 4pm




*For Public Holidays, please check their social media platforms for the operational hours
House-made comfort food for day and night is the specialization of The Lokal. This Australian Restaurant is home to healthy and hearty brunches and cozy, versatile after-work drinks and snacks. Aside from the normal menus, both Chef Darren & Max also prepare Daily Specials with fresh seasonal produce.
You can also find in there one of the best tasting coffees by Paradise Coffee Roasters with alternative milk options like Minor Figures Oat Milk, Bonsoy and Coconut Milk available. But, should you wish to take less caffeine in the morning, you may opt for their wide selection of smoothies, freshly squeezed juices, housemade sodas and teas.
SERVICE HIGHLIGHTS
Extensive brunch menu
Delicate set of food and drinks
Friendly restaurant ambiance
CUSTOMER REVIEWS
With 4.2-rating on Google and a total of 755 reviews, The Lokal is undoubtedly one of the crowd's favorite when it comes to selection of brunches.
"The LoKal is really great Australian based food at reasonable prices. The ambience was relaxing and there was sufficient space for everyone. Service was impeccable and speedy. I would recommend anyone in the area to go for the brunch menu here. Enjoy yourself guys!"
17. MONTI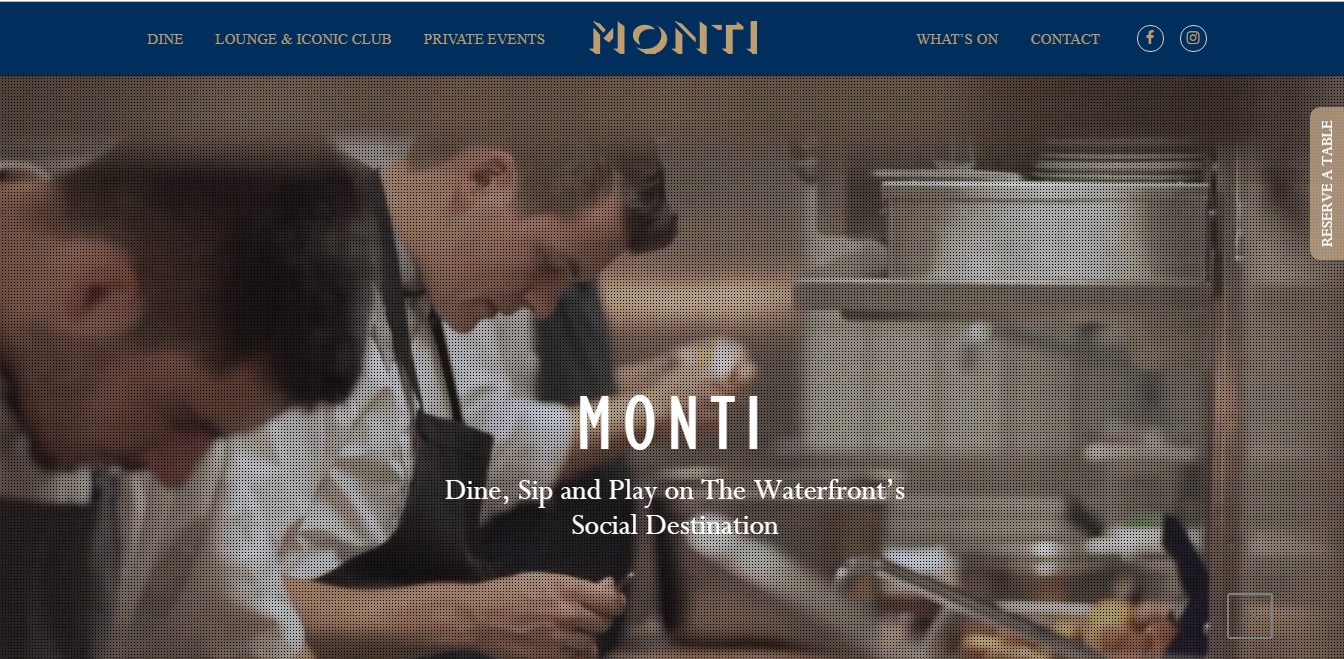 BEST FOR

Authentic Italian-tuscan Cuisine

PRICING

WEBSITE

ADDRESS

Monti at 1-Pavilion, 82 Collyer Quay Singapore 049327

CONTACT DETAILS

65350724 | [email protected]

OPERATING HOURS

Weekday Brunch Mon to Fri at 11:00AM – 3:00PM

All-You-Can-Eat Weekend Brunch Sat, Sun & PH at 11:00AM – 3PM

Dinner Mon to Sun at 6:00PM – 10:30PM
Inspired by the bounty of fresh produce used in Italian cooking, MONTI offers detail-orientated Italian cuisine that captures the soul of Italy's diverse culture. Be it a cozy evening among friends, a romantic dinner for two, or a celebratory party, a memorable dining experience awaits.
Enjoy your favorite cocktail mix and Italian tapas with a twist either in their chic indoor lounge or cozy rooftop terrace. Both will certainly make your night a relaxing one especially after a long day at work.
While they offer an extensive set of Italian menu, you may freely customize yours according to your preferences for a truly wonderful experience.
SERVICE HIGHLIGHTS
Customizable Italian Menu

Accommodate private parties and events

Authentic Italian-tuscan Cuisine
CUSTOMER REVIEWS
The people in Singapore are delighted to know that there is a place like MONTI that actually serves authentic Italian dishes so they'd have a taste of the country without actually having to be physically present.
"Dining at Monti was an amazing experience, the service was excellent and the food was out of this world. If you are looking for an authentic Italian dining experience, Monti is the place to be."
18. BEARDED BELLA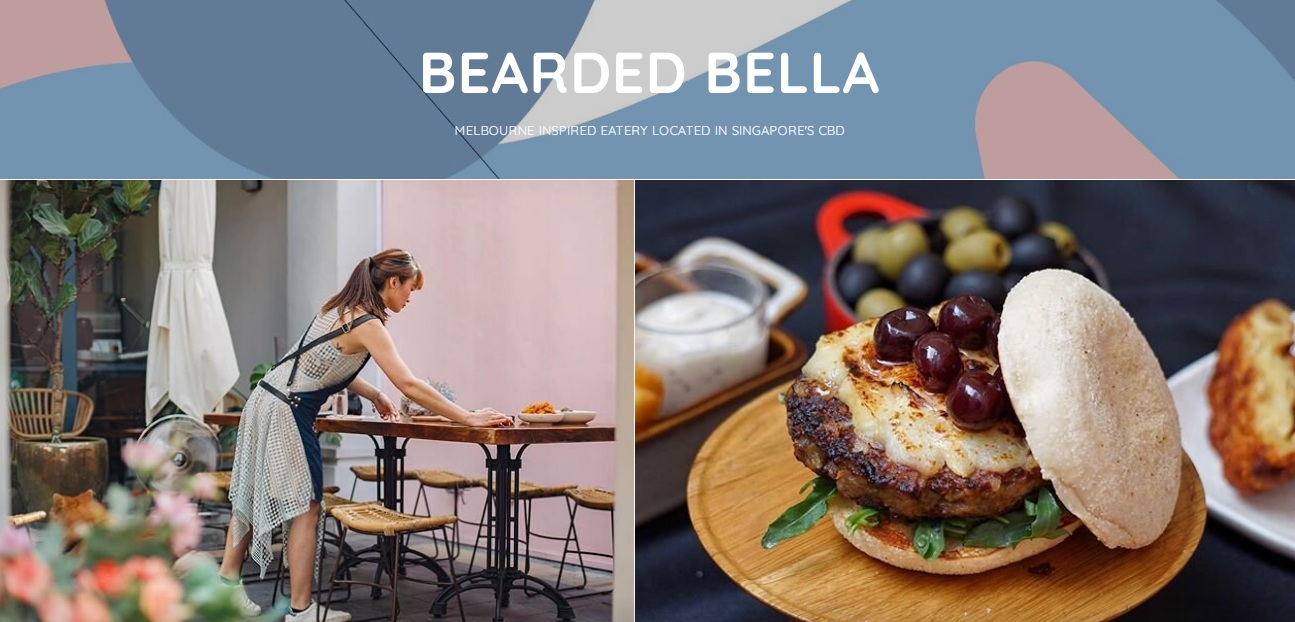 BEST FOR

Excellent coffee flavors

PRICING

 

WEBSITE

ADDRESS

8 Craig Rd., Tanjong Paagar, Singapore

SOCIAL MEDIA

https://www.facebook.com/beardedbella/

CONTACT DETAILS

+6598800775

OPERATING HOURS

Monday – Thursday : 7:30 am – 5:00 pm

Friday:7:30 am – 11:00 pm

Saturday – Sunday:  7:30 am – 6:00 pm
Bearded Bella is a small yet excellent brunch place in Singapore. It captivated Singaporeans through its well seasoned food offering and flavorful coffee drinks. 
Aside from your usual breakfast food, they also offer interesting food items like hummus, kale, roasted chicken, and other lunch favorites. 
You'll definitely have to taste their coffee and other beverages as these are some of their bestsellers. Couple those up with a few pastry or cakes that are also a show stopper. 
SERVICE HIGHLIGHTS:
INTERESTING FOOD ITEMS

EXCELLENT FLAVORS OF FOOD

AMAZING HOT CHOCOLATE AND COFFEE
CUSTOMER REVIEWS
"Comfortable breakfast joint. They do offer lunch and dinner, but I cannot attest to the quality of these meals as I was here for breakfast. The quality of the food was superb and the coffee options were quite lengthy and delicious.
"Really loved this place. As stated, it has a definite Melbourne vibe. Menu was full of interesting items that I would love to try again. Recommend the Kale salad. Baked goods were insanely good as was the coffee. They actually roast in a house which is cool imo. Outdoor seating is nice, and dog friendly."
19. SINGAPORE POLO CLUB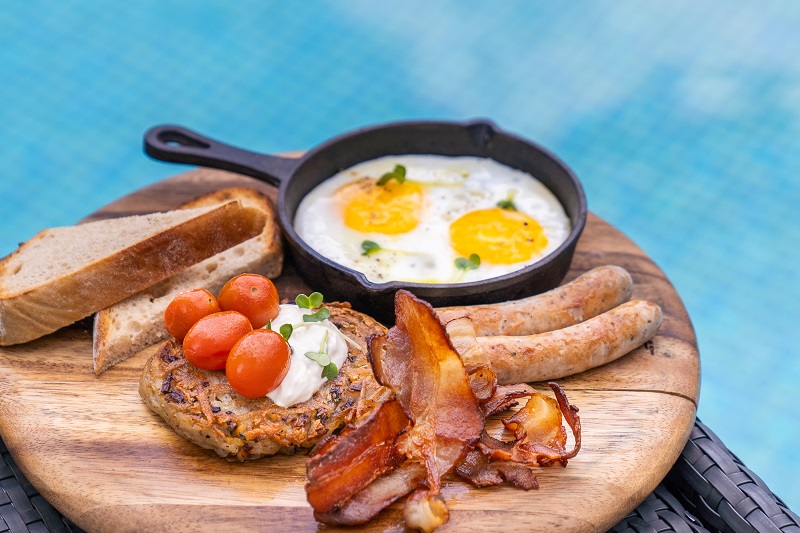 Singapore Polo Club has been a part of Singapore's history. It is a monumental sports club that was first established in 1886. It might be old, but it still has a lot of charm and edge. 
If you are into sports or you just wanted to spend quality time with your family, you need to visit this place. You and your family will definitely enjoy the activities and the food served by the club's restaurant, Coriander Leaf, and poolside bistro, The Paddock. 
The food is really great here. Their menu is interesting as they offer different cuisines from Pan- Asian, Middle Eastern, and Western. They also have a lot of space for business gatherings or family gatherings.
SERVICE HIGHLIGHTS
Exquisite Menu offerings

Tasty Dessert 

Spacious restaurant
CUSTOMER REVIEWS
" It's all quite nice and I wouldn't mind coming back in the evening to try the restaurant."
"I thought the baked cod fish and lamb shank were tasty. Given that the Polo Club is in the Mount Pleasant area, one might want to make a short trip to see Bukit Brown Cemetery first. "
20. EAGLE WINGS LOFT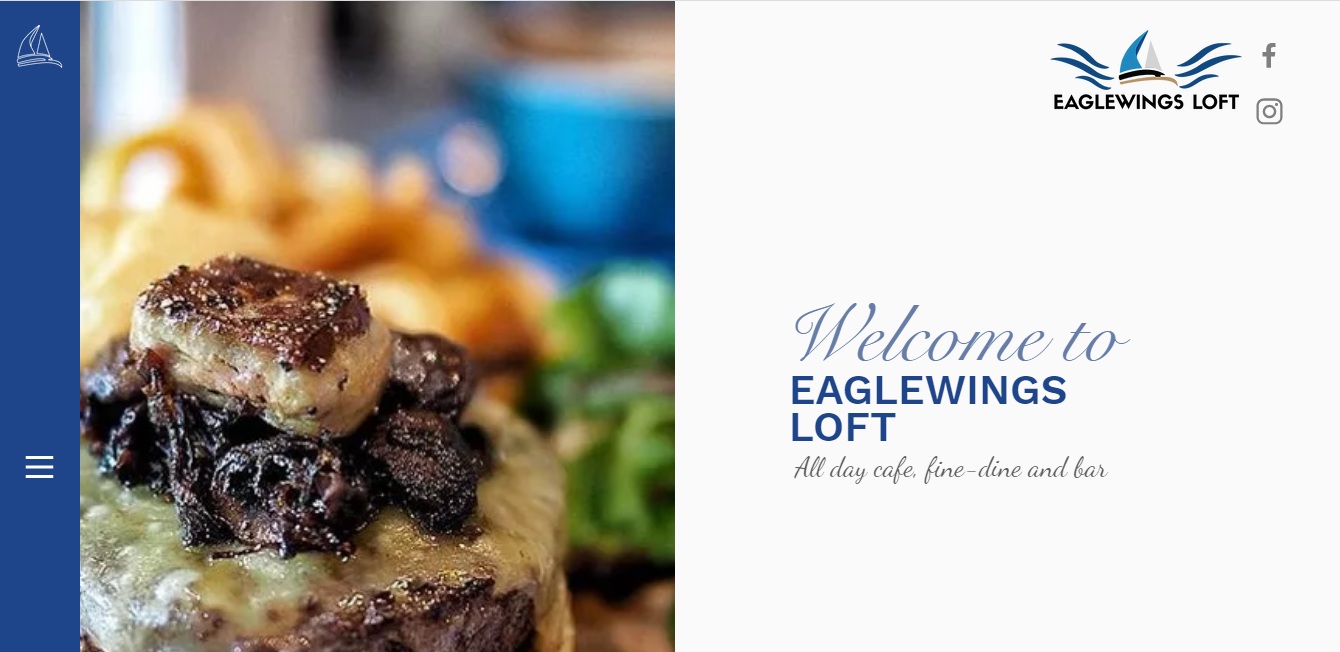 BEST FOR

Wagyu Beef

PRICING

Full Steam Ahead: $ 18

Captain Benedict: $ 13

First Mate Florentine: $ 13

Port Side Pancake (Sweet): $ 10

Port Side Pancake (Savoury): $ 12

Cabin's Gourmet Croissant: $ 7

Many more

WEBSITE

ADDRESS

9 King Albert Park, #01-14/33/34/35/56/57 KAP Residences Mall, Singapore

SOCIAL MEDIA

CONTACT DETAILS

+65 6264 7787 / [email protected]

OPERATING HOURS

Monday to Thursday: 10:30 am to 12:00 am

Friday: 10:30 – 1:00 am

Saturday & Sunday: 8:30 am – 1:00 am
Eagle Wings Loft offers your favorite comfort food in a totally chill space. The place is perfect for a small chit chat before heading to work or a get together after work. 
The menu is an exploration of the East & West cuisines. They have a simple yet intriguing menu that would compel you to try out. Good thing is it doesn't really disappoint. You could even enjoy your own breakfast meal by choosing on a range of breakfast favorites. 
The place is quite spacious which would be perfect for a special meeting or a small gathering. 
SERVICE HIGHLIGHTS
Fancy food offerings

Flavorful comfort food

Fresh ingredients

Excellent customer service

Cozy and sophisticated place to hangout
CUSTOMER REVIEWS
Customers loved the food, ambience and service of this cafe. The wagyu beef and pasta were the crowd's favorite. 
"Wow so yummy 🙂 the service staff were really friendly, and the food arrived really quickly too! Great for a quick casual lunch! Definitely recommend going to eat here! The food was also really affordable 👍🏻💕"
"We were at Bt Timah Plaza and decided to walk over and find this place as it was dark and cant really see. Beautiful deco internal like a ship. The staff were friendly, drinks came first. Coffee is very good. Love the high tea.  Definitely will come back again."
21. HARRIANNS NONYA TABLE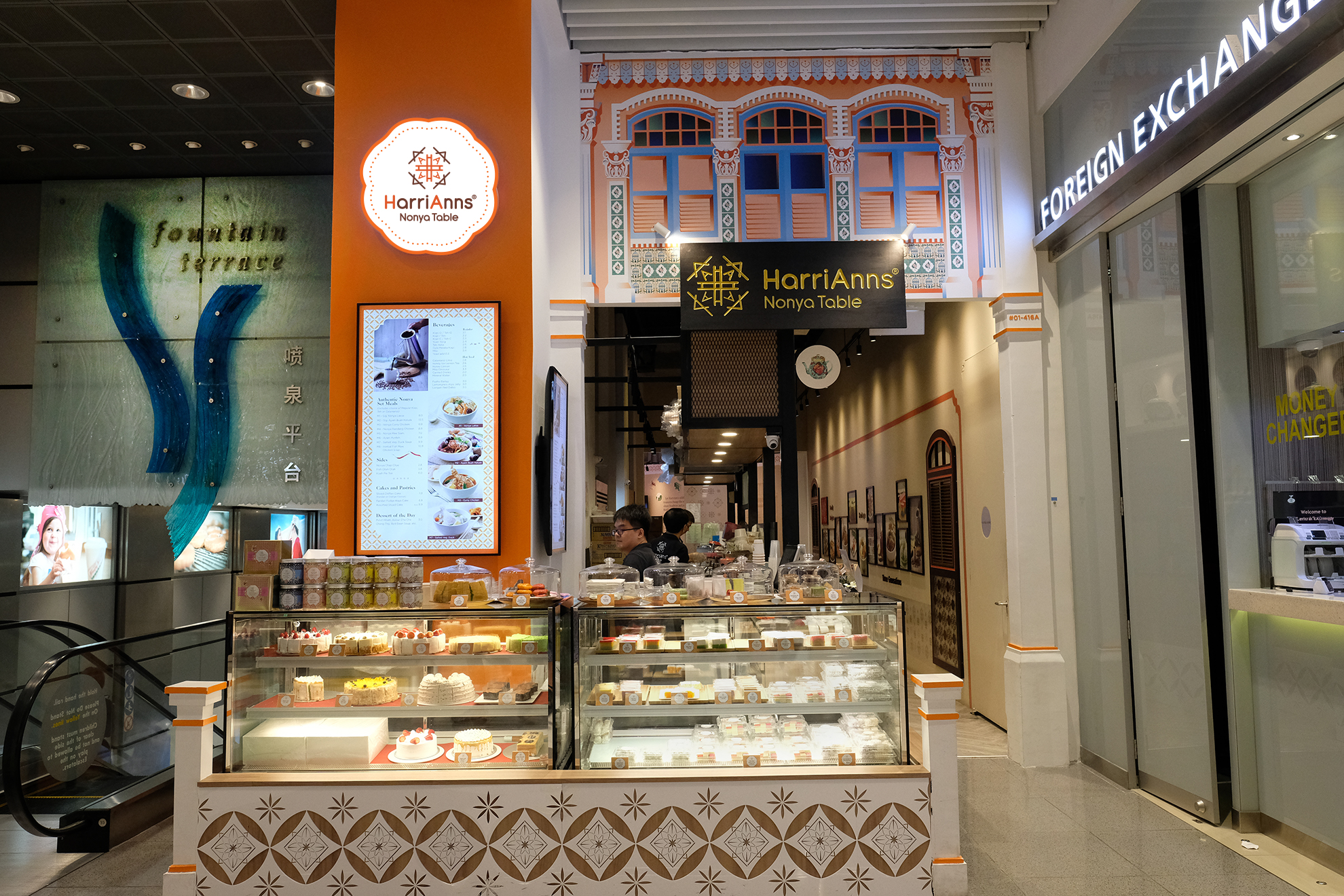 BEST FOR

Authentic Peranakan food

PRICING

WEBSITE

ADDRESS

Suntec City Mall
3 Temasek Boulevard
#01-416A Suntec City Tower 5
S 038983
Mon- Fri 0730 AM – 930PM
Sat – Sun 10AM – 930PM

Ocean Financial Centre
10 Collyer Quay
#B1-03/04
S 049315
Mon – Fri 7AM – 8PM

Bugis Junction Towers
230 Victoria Street
#01-01A
S 62381200
Mon – Sun 7AM-9PM

Keppel Bay Tower
1 Harbourfont Avenue
#01-02
S 098632
Mon – Fri 730AM – 9PM


Tiong Bahru Food Centre
30 Seng Poh Road
#02-25
S 168898
Tue – Sun 700AM – 200PM
Closed on Mon

CONTACT DETAILS

+65 9736 7449

+65 62641900

OPERATING HOURS

Tue – Sun, 7:00am – 2:00pm, Mon, Closed (except PH)

Mon – Sun, 07:30am – 09:30pm
Harrianns Nonya Table takes pride in their delectable meal menu of authentic Peranakan cuisine, mostly consisting of Signature Nonya Laksa, Curry Chicken and MeeSiam, with extended dessert selection of Nonya Sweets which are proudly made from scratch.
Also one of the crowd's favorites, both locals and foreign visitors, is their Rainbow Lapis Kueh. An edible work of art whose natural sweetness comes from freshly-squeezed coconut milk.
All of their dishes are served in huge portions so you may opt to share it with your friends or family, or better yet devour it by yourself and enjoy the delicious meals Harrianns Nonya Table has to offer.
SERVICE HIGHLIGHTS
Hand-crafted meals

Creative and presentable

Extensive beverage menu

Minimal sugar used

Fresh and Natural ingredients
22. OSCAR'S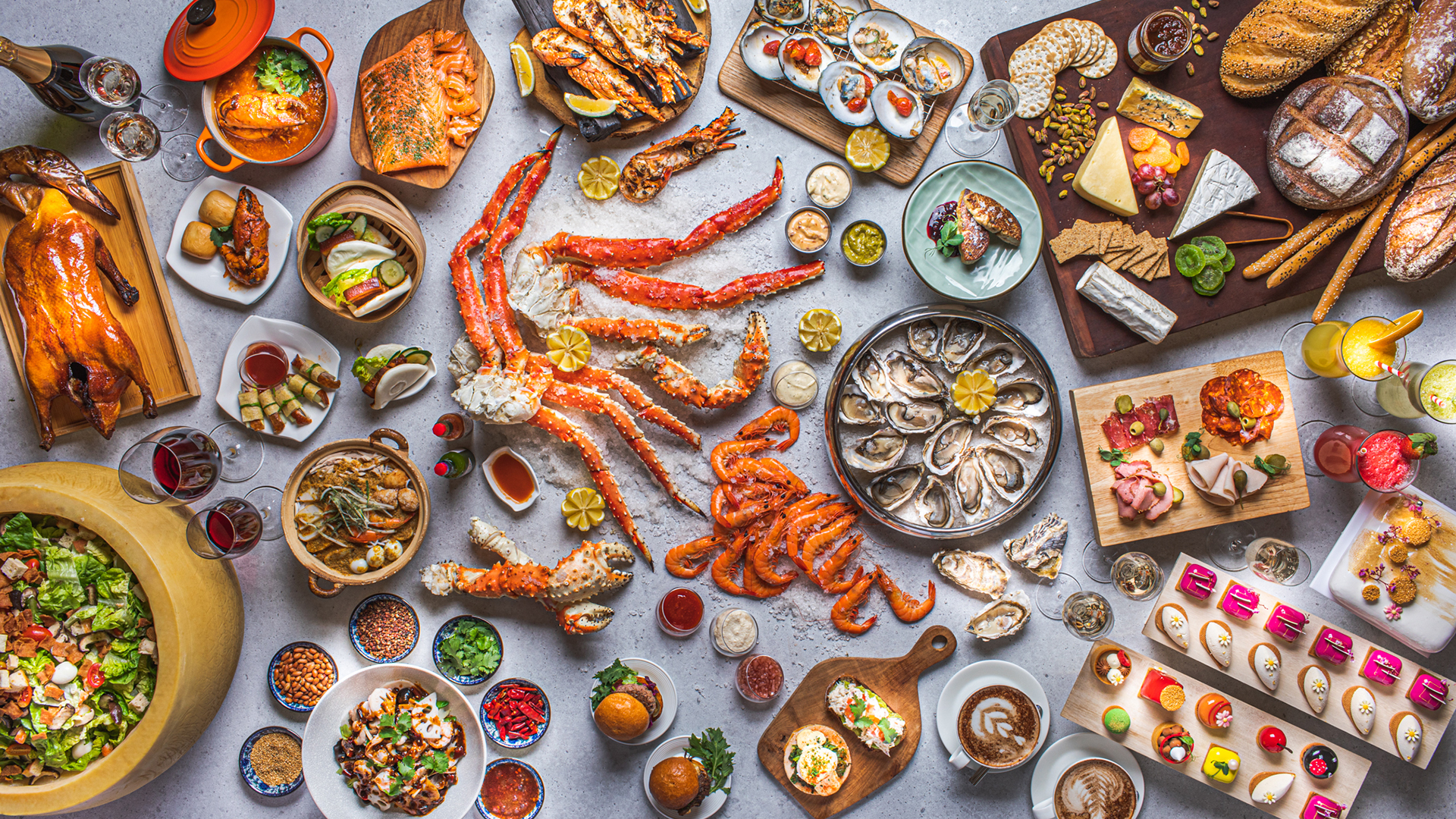 BEST FOR

Delectable seafood buffet

PRICING

$98.00++ per person inclusive of unlimited ice tea, coffee and tea

S$128.00++ per person inclusive of unlimited Rose sparkling wine, wines, cocktails and craft beers

S$158.00++ per person inclusive of unlimited Champagne, premium wines, cocktails and craft beers

WEBSITE

ADDRESS

Conrad Centennial Singapore, Two Temasek Boulevard, Singapore 038982

CONTACT DETAILS

65 6432 7457

OPERATING HOURS

Sunday, 12:30-3pm
If you are looking for a fancy place to have brunch with your friends or family, you can check out Oscar's. The location alone gives a classy and sophisticated vibe and their endless Sunday brunch is filled with a delicious selection mostly of fresh seafood. 
They have grilled lobsters, fresh oysters, Alaskan crab, and even a truly delightful foie gras. They source their products from across the globe to make sure that they only get the best and freshest kinds.
You can also match these delectable dishes with some premium champagnes and wines, as well as cocktails and craft beers for a full brunch experience.
SERVICE HIGHLIGHTS
Unlimited serving

Premium quality food and drinks

Classy restaurant vibes

Internationally sourced products
CUSTOMER REVIEWS
The customers of Oscar's were truly delighted to have their brunch spent in the restaurant. The delicious selection of food plus their wonderful customer services have definitely made their experience even better. This review was posted in Google Review.
"Great selection of food and drink for the Sunday brunch. This is so much better than the weekday buffet dinner I had last year. Good service from the staff too, especially Tweet who is very attentive and courteous. Excellent piano playing in the lobby too."
23. Caffe Zeppin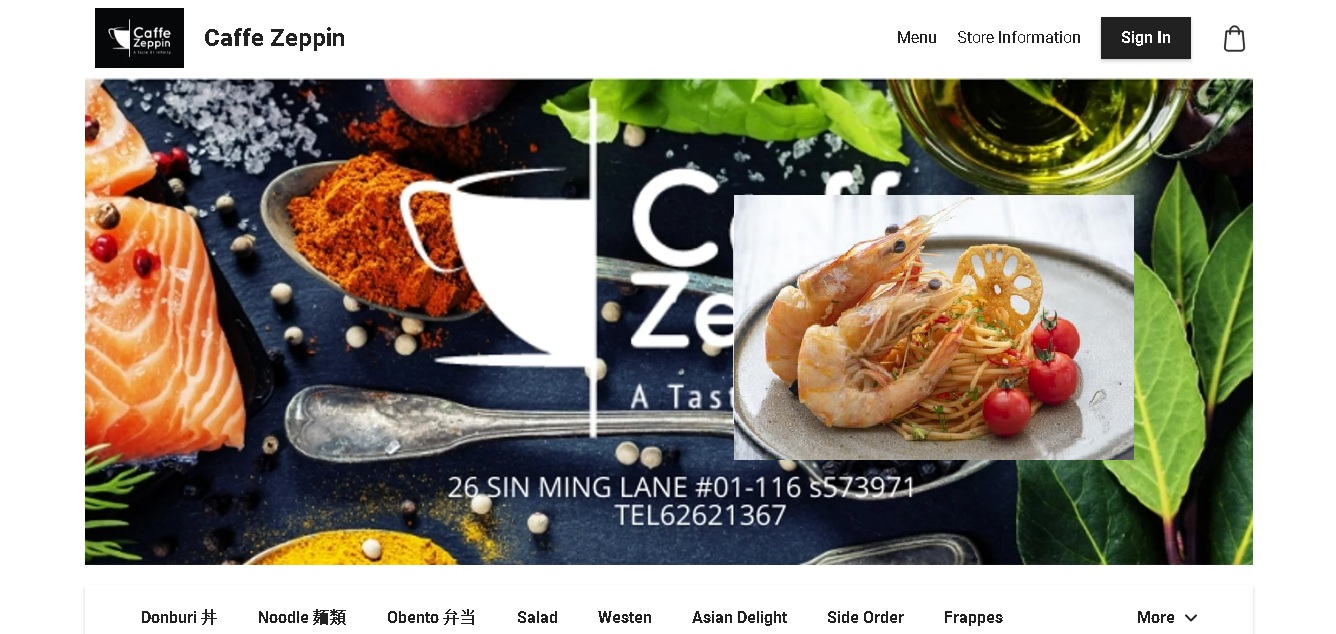 BEST FOR

Different cuisine or delicacies in the menu

PRICING

Coffee – $3 to $5

Fresh Juice/Iced drinks – $3

Side orders – $3.80 to $14.80

Asian delight – $4.80 to $13.80

Western cuisine – $7.80 to $14.80

Salad – $4.80 to $10.80

Bento – $13.80 to $17.80

Noodles – $10.80 to $12.80

Donburi – $9.80 to $13.80

WEBSITE

ADDRESS

26 Sin Ming Ln, #01-116, Singapore 573971

CONTACT DETAILS

62621367

OPERATING HOURS

Monday – Saturday: 11:00 am – 8:30 pm
Forgot to eat your breakfast and lunch? Don't worry because at Caffe Zeppin, you can have a good brunch to fill your stomach. 
You can have a Donburi at $9.80 or heat up your belly with delicious noodles. There are also bento boxes and salads on their menu. For those who want to have pasta, you may try their white spaghetti.
You can also find lots of rice meals. As for drinks, the restaurant has frappe, juice, coffee and other things you can enjoy alongside your food.
SERVICE HIGHLIGHTS
Offers delivery of food

Free delivery within Midview City

Bunch of choices
CUSTOMER REVIEWS
Nothing needs to be said as Caffe Zeppin has always been regarded as one of the best restaurants in town. Nevertheless, here's a 5.0 review from its customer
Food was nice and suitable for the entire family. The staff were very friendly and able to give good recommendations. There's also plentiful parking here so it's really quite easy to pay a visit here if you drive. However, you'll need to walk a bit from the nearest bus stop at Ai Tong School if you're coming by bus. -Lionel Tan
24. Walking on Sunshine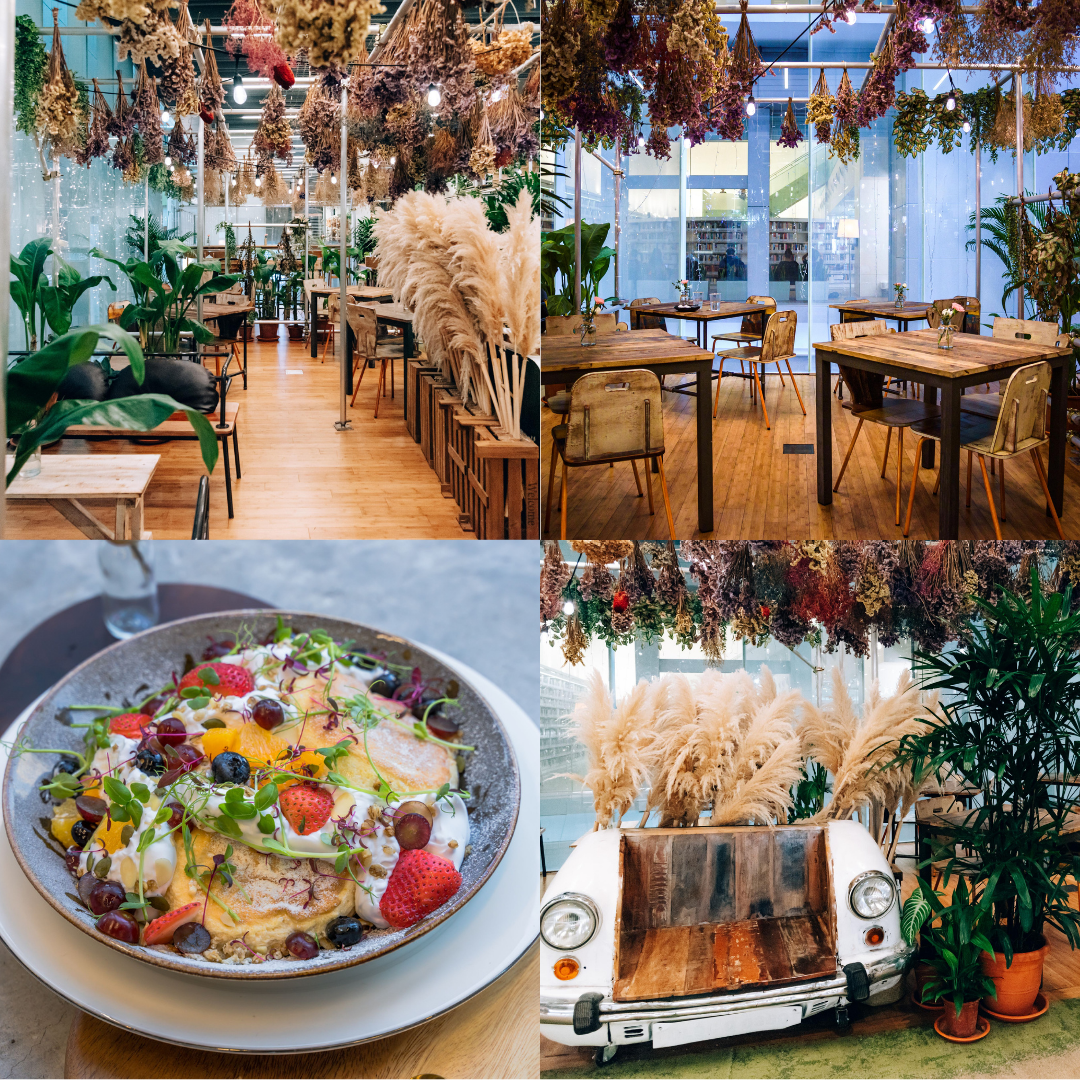 BEST FOR

Hair Services & Café

PRICING

Click here to see their full menu: https://www.walkingonsunshine.sg/cafe

WEBSITE

ADDRESS

181 Orchard Rd, #03-07 Orchard Central, Singapore 238896

CONTACT DETAILS

Salon: (+65)8877 8800

Cafe: (+65)8877 0088

OPERATING HOURS

Salon:
10 AM – 8 PM daily

Cafe:
Monday to Friday: 11am to 10 pm
Saturday to Sunday: 10am to 10pm

Daily last order at 9pm
With all the work that needs to be done every single day, your body deserves a break. With such a fast-paced lifestyle, there is no better place to relax other than Walking on Sunshine.
Pamper your hair with healthy, affordable treatments, or discover a new style that suits your personality. Enjoy these top-notch services with delicious Korean food and dessert, all made from natural ingredients. And don't forget to capture each moment with the help of WOS's expert photographers!
Treat yourself to the various offerings of Walking on Sunshine. Find solace in this relaxing garden amidst the city, with the promise of therapeutic leisure with your loved ones.
SERVICE HIGHLIGHTS
Skillful staff
Cosy atmosphere
Tasty foods
High quality products
25. KYUSHU PANCAKE CAFE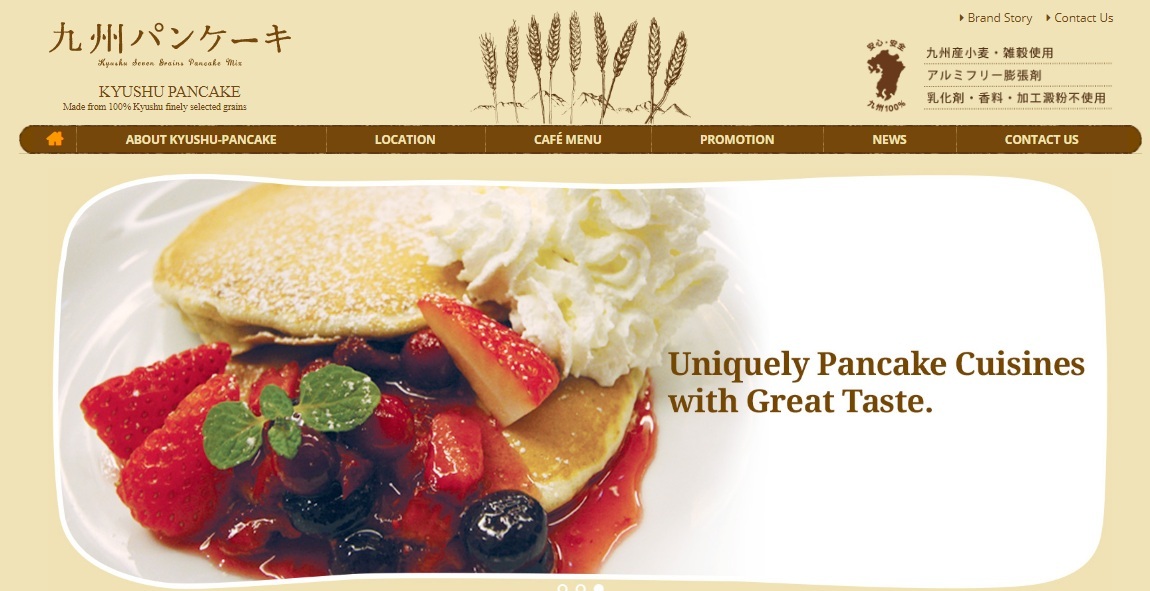 | | |
| --- | --- |
| BEST FOR | Unique Pancake Cuisine |
| PRICING | |
| WEBSITE | |
| ADDRESS | 275 Thomson Road Novena Regency #01-08 Singapore 307645 |
| CONTACT DETAILS | +65 63526265 |
| OPERATING HOURS | Tuesday – Sunday: 11:00 am – 9:00 pm |
Kyushu pancakes are of course known for their signature pancake dishes. They only use freshest and high quality ingredients to create their equally top quality pancakes. Finest kyushu wheat and grains are used to create their signature pancake flour mix. 
They were able to unleash the right ingredients of wheat and flour for the perfect pancake batter mix. Apart from that, they only use 100% raw sugar from Okinawa and Kagoshima. No artificial starch, emulsifier, and aluminum based emulsifier is used. 
Moreover, you'll be surprised at the range of pancake recipes that they offer. From the classic pancake, butter, and syrup to arrabiata bacon pancake, you'll surely find a pancake dish that would fit your taste. 
SERVICE HIGHLIGHTS
Finest and freshest ingredients

Quality food offerings

Classic and unique pancake dishes

Flavorful pancake dishes
CUSTOMER REVIEWS
Kyushu Pancake Cafe garnered a 4.1 rating on Google Reviews which is significantly high. Especially since they received a whopping 294 reviews here. Customers loved the different pancake dishes, even the savory ones. 
VS loved the uniqueness of how pancakes are utilized in other comfort foods.
"This place surprised me. When my SG friends offered to take me out for pancakes, I did not envision this at all. They have pancakes burger! I ordered one immediately and was delighted with the fluffy pancakes as bun."
John Wu loved the food and the ambience.
"Never tasted pancakes like these, but definitely worth a try. Goes well with both savoury and sweet options! Also, a quiet place even when packed, and filled with natural light. Will be back some time!"
26. Summerlong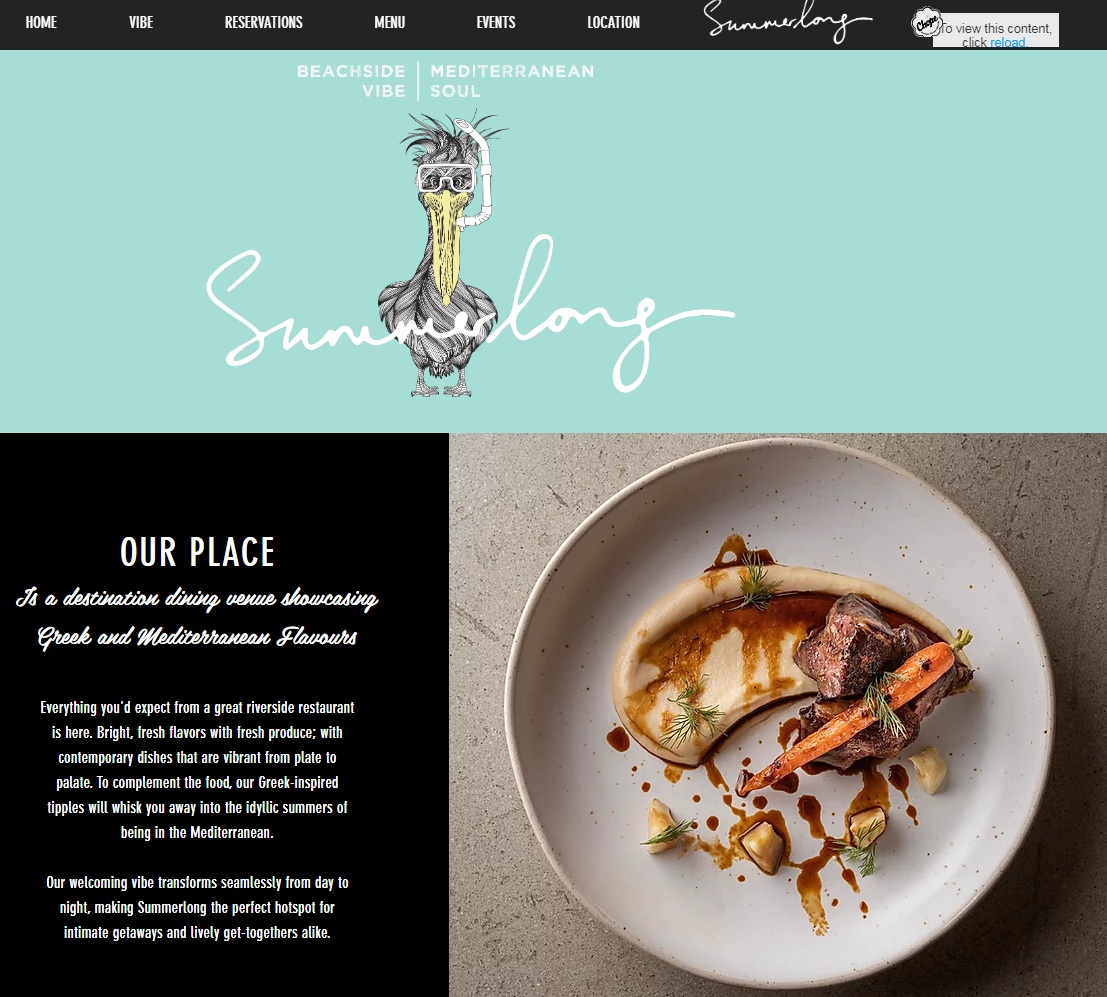 BEST FOR

Greek and Mediterranean Flavours

PRICING

WEBSITE

ADDRESS

The Quayside

60 Robertson Quay

#01-04

Singapore 238252

CONTACT DETAILS

Tel:   +65 6235 1225

OPERATING HOURS

MONDAY – THURSDAY

11.30AM – 2.30PM (LUNCH)

5PM – 10PM (DINNER)


FRIDAY – SUNDAY

10.30AM – 3PM (BRUNCH)

5PM – 10PM (DINNER)
If you are up for some beachside vibe overflowing with Mediterranean soul, you'll never be wrong with Summerlong. This restaurant aims to make your brunch experience bright and fresh! 
Summerlong has been the go-to for get-togethers in Singapore. First of all, the place and location really work with their on-going theme. As a riverside restaurant, they're able to play with natural light and indoor and outdoor setups so from day to night, the restaurant changes with the time. 
The food is fantastic as well. Just what you'd expect. Great flavors come from the freshest produce which they guarantee. The whole brunch menu champions Greek and Mediterranean flavors that you and yours will surely love.
Service Highlights
Wide range of heavy brunch platters

Excellent wine collection (White, Rose, Red)

2-Hour Free-Flow of Drinks Available

Guests can dine al fresco during dinner amidst lush greenery

Bright and Cheerful Ambiance
Customer Reviews
Simply put, people love Summerlong. Their fantastic food and cheerful place make for a brunch experience you'd want to share with your loved ones. Just read some of the reviews left by their happy customers:
"Love the ambience, love sitting at the outdoor area. Menu is simple and food tasted great. Had the hummus starter plater and kebab salad.  Both were amazing. A kid-friendly and expat-driven place. Very relaxing."
"Delicious seafood by the Singapore river. The seabass was very juicy and teasty, pasta was very unique and delicious. Octopus was the best I tried in a long time. And the dessert was exceptional. Compliments to the chef!!!"
27. Artisan Boulangerie Co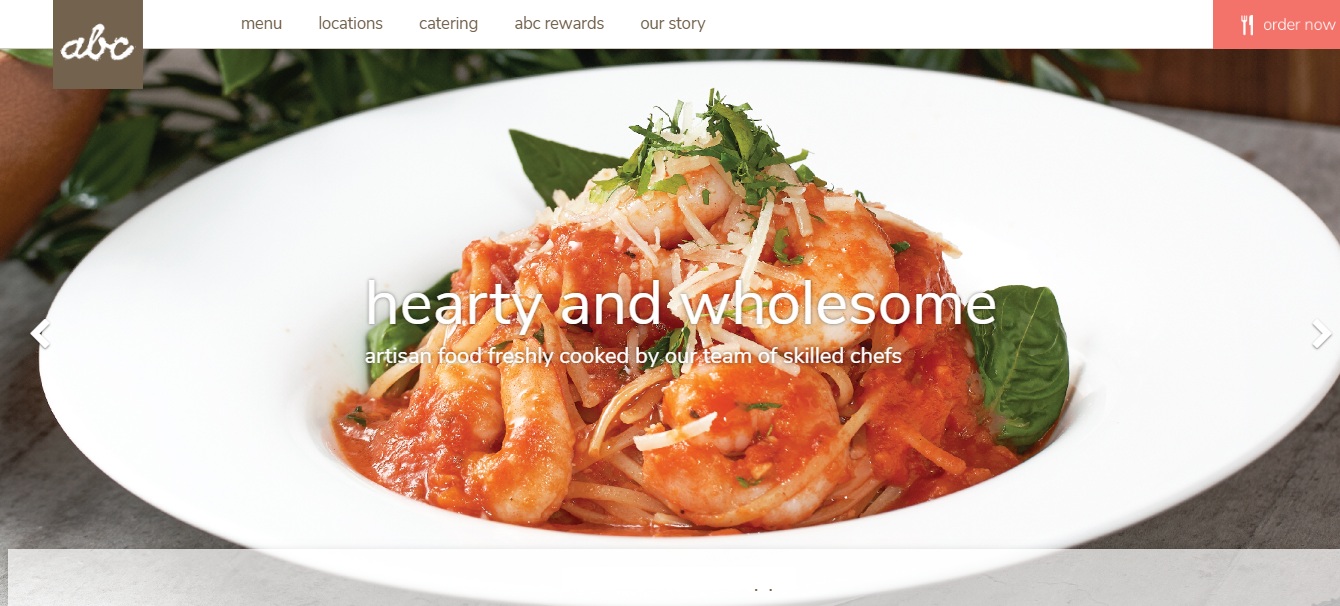 BEST FOR

Delectable breads and pastries

PRICING

WEBSITE

ADDRESS

312, balestier road, #01-01, singapore 329743

#01-01, 118 killiney road, singapore 239555

#01-12 the metropolis, 9 north buona vista drive, singapore 138588

#01-02 asia square tower 2, 12 marina view, singapore 018961

#01-163/164 vivocity, 1 harbourfront walk, singapore 098585

118 killiney road, singapore 239555

CONTACT DETAILS

62505047/64448130/63342320/68449907/62788500/66943148

OPERATING HOURS

312 balestier

weekdays: 9 am to 10 pm

weekends: 8 am to 10 pm




killiney road

everyday: 7.30 am to 8 pm




the metropolis

weekdays: 7.30 am to 7 pm

saturday: 8.30 am to 2.30 pm

sunday & public holidays: closed




asia square tower 2

weekdays: 7 am to 7 pm

saturday: 8 am to 2 pm

sunday and public holidays: closed




Vivocity

weekdays: 10 am to 10 pm

weekends: 9 am to 10 pm
Like any other businesses, Artisan Boulangerie started its humble beginnings in 2013 as a small local bakery within the vicinity Orchard Road specializing in freshly baked breads, pastries, and artisanal morning treats.
Eventually, the bakery has expanded its reach and has now 6 operational outlets all over Singapore. Along with their store location expansion is the continuous evolvement of their menu that is undoubtedly delightful.
Now, they sell more than just breads but also a wide range of delectable brunch options that you can definitely enjoy alone or with friends.
SERVICE HIGHLIGHTS
Casual and comfortable restaurant vibe

Offers catering services

Heart-crafted café classics and 'bistro' signature entree
28. BELLE-VILLE PANCAKE CAFE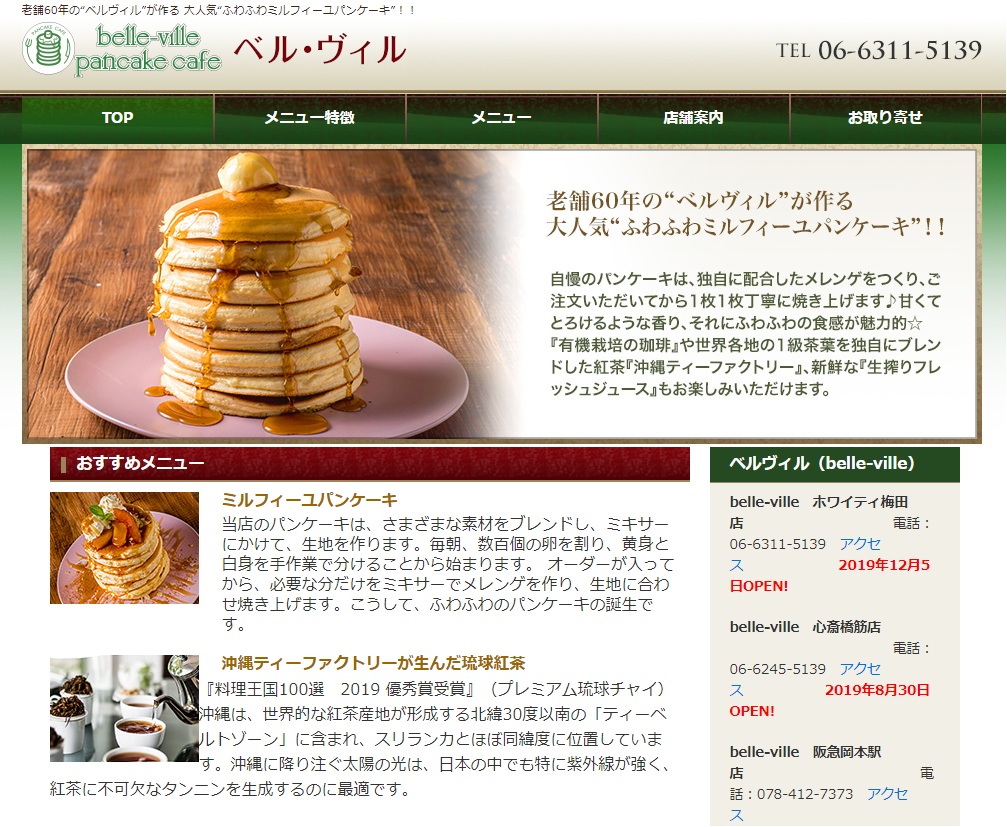 BEST FOR

Fluffy pancakes

PRICING

WEBSITE

ADDRESS

100 Tras Street #01-14B 100 AM Singapore 079027

230 Victoria Street #01-01B Bugis Junction Towers Singapore 188024

10 Sinaran Drive # 01-152 to154 Singapore 307506

CONTACT DETAILS

+65 6255 5456/+65 6787 4389/+65 6259 8229

OPERATING HOURS

Victoria Street

8AM To 8PM, Daily




Tras Street & Sinaran Drive

9AM To 9PM, Daily
Belle-Ville Pancake Cafe is a Japanese restaurant with 3 operational locations all over Singapore and pancake is their featured and best-selling product. These pancakes vary in types and flavors and are definitely perfect for brunch because of their quite large servings.
They took the liberty to be creative and unique when it comes to their menu so you'd see a pancake burger, pancake sandwich, and etc.
You may also instantly proceed with the dessert as they offer delectable sweets like cakes, ice creams, and parfaits.
SERVICE HIGHLIGHTS
Variety of flavored pancakes

Cozy and dreamy restaurant setup

Heavy and light meals available
29. HEI KIM CAFE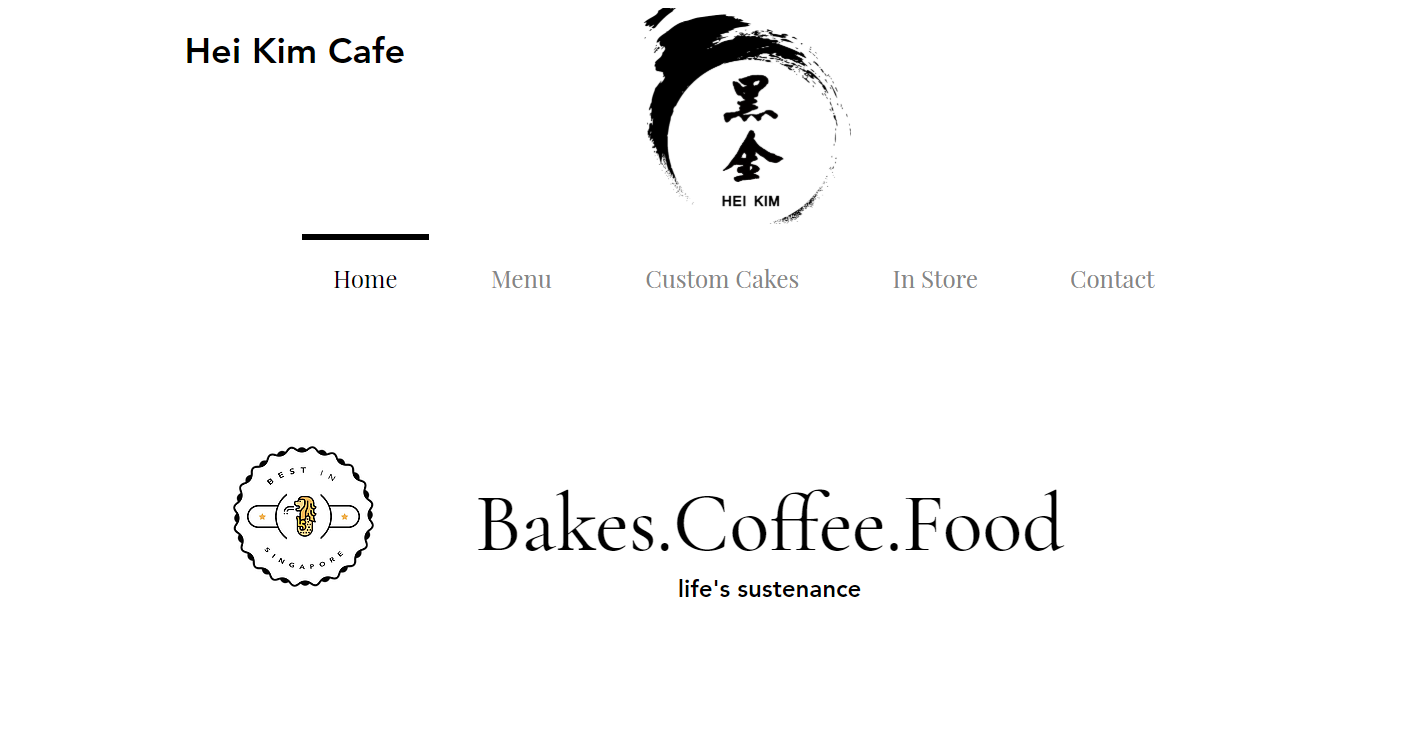 BEST FOR

Vegetarian and meat & fish dishes

PRICING

WEBSITE

ADDRESS

285 Changi Road

Singapore 419764

CONTACT DETAILS

Tel: +65 8368 1707

OPERATING HOURS

Mon – Tues: 9am – 4pm   ​​

Thurs – Sun: 9am – 4pm

Wed: Closed, except public holidays
Nestled in the heart of Singapore, Hei Kim Cafe is the perfect brunch spot for any person who wants a combination of great coffee, delectable meals, and a comfy atmosphere.
The cafe offers a beautiful selection of dishes, ranging from those that are vegetarian-friendly like Hummus on Toast and Granola, to scrumptious healthy meals like the Breakfast plate and Pancake stack.
If you're in need of a sweet treat to accompany your savory brunch, Hei Kim Cafe also offers pastries and treats on their menu.
SERVICE HIGHLIGHTS
Brunch and all day breakfast
Variety of meat-free dishes
Custom cakes available
Chill and comfortable ambiance
30. The Populus Cafe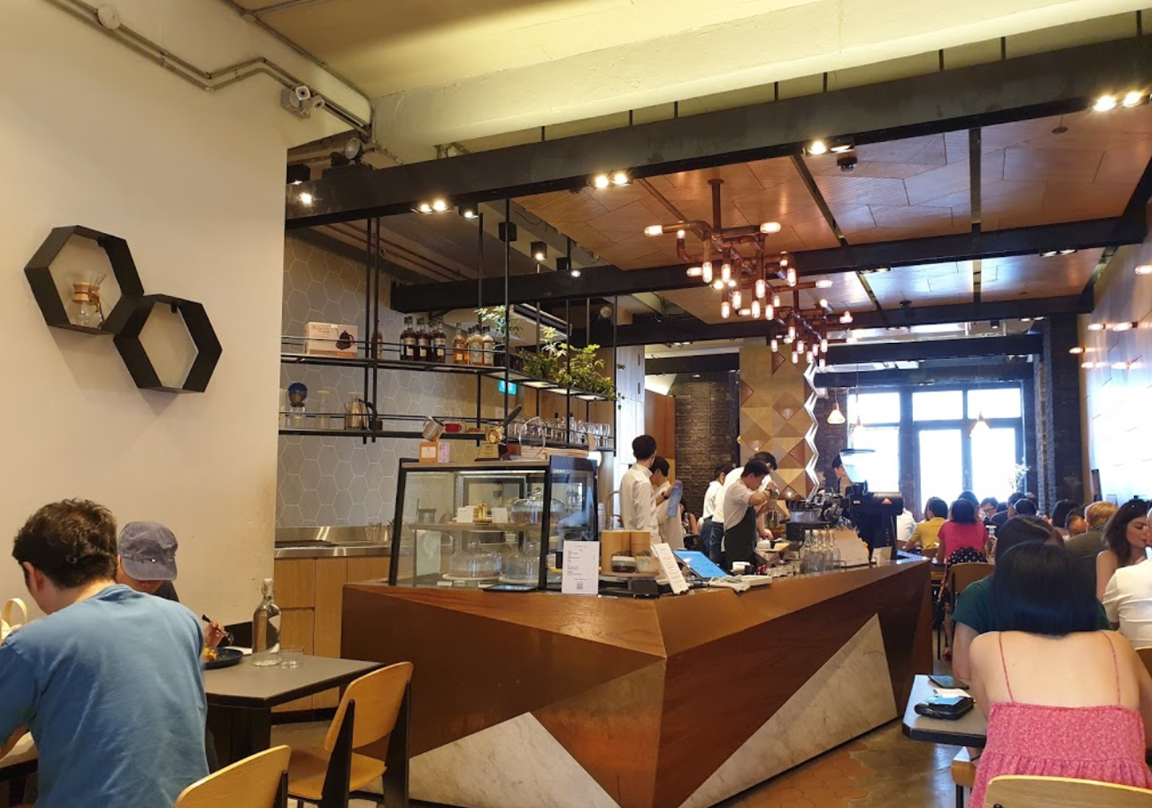 If you're in need of a quick breakfast fix, or in the mood for a romantic lunch date, then The Populus Cafe is certainly the brunch place you should go to. They offer a wide array of dishes, ranging from your typical french toast, to nibblers like potato wedges, and even your hearty pasta bolognese, they make sure to have something for everyone to enjoy.
Aside from their amazing food, another thing that customers seemed to love is their coffee. It's definitely on par with your mainstream coffee shops but the catch is, it's much cheaper compared to others.
The taste is really commendable as well, beans roasted fresh for your daily coffee runs. So it doesn't matter if it's in the morning or in the afternoon, you definitely need to try and have a sip of their hot brews, and we can assure you, you'd be wanting more right after.
SERVICE HIGHLIGHTS
Efficient Delivery Service
Cosy cafe ambiance
Affordable rates
Mouth watering dishes
31. MELT CAFÉ – MANDARIN ORIENTAL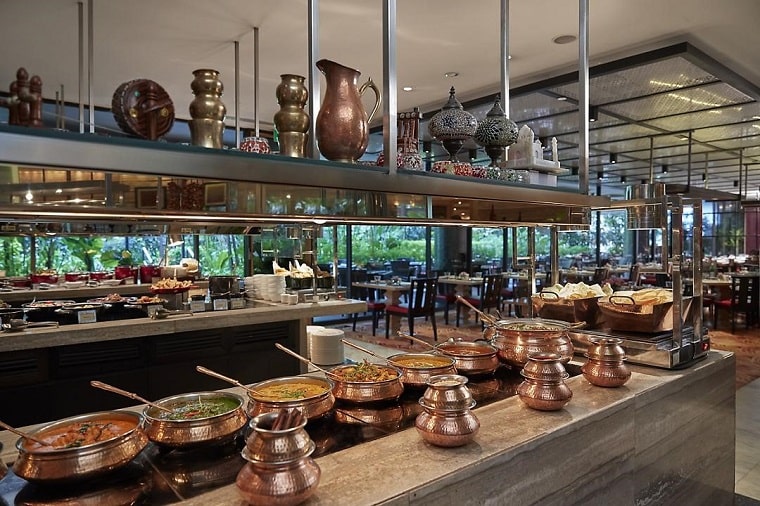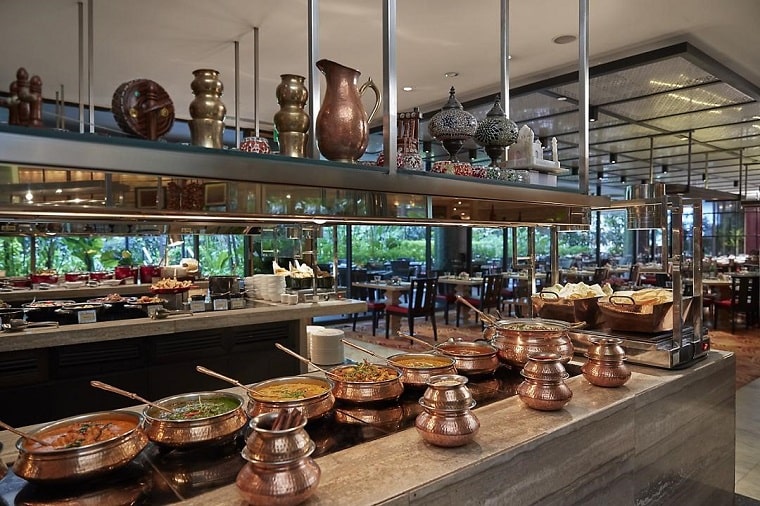 BEST FOR
Live chef stations, award-winning BBQ, tandoori
PRICING

S$118 per person (inclusive of free flow of chilled juices)

S$178 per person (inclusive of free flow of "R" de Ruinart Champagne, red wine, white wine, beer, selected cocktails of the day, soft drinks and chilled juices)

S$218 per person (inclusive of free flow of Ruinart Blanc de Blanc Champagne, red wine, white wine, beer, selected cocktails of the day, soft drinks and chilled juices)

WEBSITE
https://www.mandarinoriental.com/singapore/marina-bay/fine-dining/buffets/
ADDRESS
5 Raffles Avenue, Marina Square, Singapore 039797
CONTACT DETAILS
 +65 6885 3500 | [email protected]
OPERATING HOURS
BREAKFAST
6:30 – 10:30AM
LUNCH
12 – 2:30PM
DINNER
6:30 – 9:30PM
BRUNCH
12 – 3PM (SUN)
Melt Cafe is at the Mandarin Oriental. So, if you want your brunches a little bit fancy (say, when meeting clients), this is the place to go.
They have Sunday brunch from 12 noon to 3 in the afternoon. For Sunday brunch, they have a salad bar with house-made dressing, daily selection of fresh home-made bread, oyster and premium seafood, a farmer's egg station, a BBQ section, and a Chef's Station for gourmet food.
SERVICE HIGHLIGHTS
Wide range of cuisine
Excellent tandoori and BBQ sections
Live gourmet stations
Guests can dine al fresco during dinner amidst lush greenery
Award-winning pastry theatre for the perfect cap to your buffet experience
CUSTOMER REVIEWS
Melt Cafe has a high customer rating on Google Reviews. 5-star reviews usually cite sumptuous seafood selection, wide variety of foods, and posh design as the things that cement its brunch's status as one of the best brunches in Singapore.
Joyce Lim has this to say:
"We first patronised this place in 2011 and now again just a couple of days ago in May 2019, as excellent as we remember, huge variety, fresh seafood, attentive service and all smiles, made my meal enjoyable and wonderful, will definitely be back for the service, quality and ambience. Try the fresh and baked oysters, fresh crayfish, seafood stew, green curry beef, chicken roulade, chicken and fish tikka, pappadum. For desserts, clafoutis, earl grey ice-cream, home-made marshmallow, melt's choc cake."
32. Tolido's Espresso Nook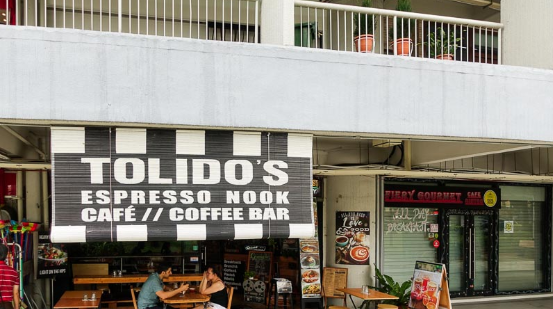 Are you searching for a great place to have your brunch over the weekend? Then look no further than Tolido's Espresso Nook! Their company is committed to bringing you good tasting dishes and excellent services at an affordable price.
You can have their great artisan coffee partnered with all-day breakfast meals. Their place has a cosy ambiance, so you will surely love the company while you have your brunch.
Don't miss out the opportunity of having the best brunch of your life. Visit them now or have their food delivered right at your doorstep!
SERVICE HIGHLIGHTS
Family-friendly cafe
All day breakfast and brunch
Coziness of the place
Great prices
CUSTOMER REVIEWS
Tolido's Espresso Nook gets an outstanding reviews from their customers for the quality of food and the great ambiance. They also liked the excellent customer service and the friendly staffs. Here are some comments posted in their Facebook page:
"Awesome Place to have some Great Food !!!"
"Great Coffee, food and service – what else can you ask for!"
33. Group Therapy Cafe

BEST FOR

Wide Menu Selection

PRICING

The prices vary on the food ordered

WEBSITE

ADDRESS

30 East Coast Road, Katong V, #01-11

CONTACT DETAILS

+65 6222 2554 or m.me/grouptherapycoffee

OPERATING HOURS

Monday to Saturday (8:00am to 10:00pm)
Sunday (8:00am to 4:00pm)
Located at the heart of Tanjong Pagar, Group Therapy Coffee is one of the great places to enjoy a quiet, laid out atmosphere. The aroma of the delicious delights that will welcome you, is definitely something to consider if you are thinking of brunching.
With a variety of all-day breakfast meals and tasty sandwiches, salads and burgers offered on a regular basis, it's almost difficult to choose just one item from the menu. Therefore, it's highly suggested to be courageous and order a bit of everything. You'll probably be delighted with the result, from their Pumpkin Pancakes to the Grilled Chicken & Pesto Focaccia.
SERVICE HIGHLIGHTS
Wide array of dishes
9 years of experience
Quiet and cosy ambiance
Ideal for corporate workshops, networking events and celebrations
CUSTOMER REVIEWS
With a perfect combination of cozy atmosphere and delicious foods, Group Therapy Coffee receives an excellent ratings and reviews from their customers. One customer wrote this on Facebook:
"1st timer and great experience here at GTC katong. The staff were effecient to host our group of 6 when the was a shortage of tables. Small request made to the meal and it was delivered as well ! Kudos to great crew and food "
34. Cedele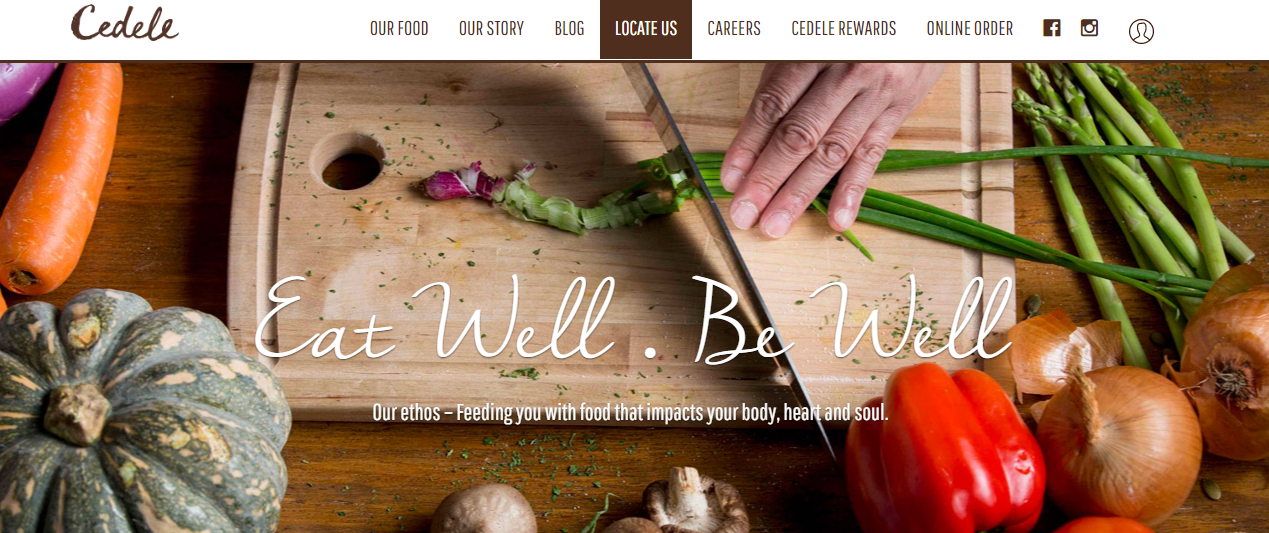 BEST FOR

Artisan Baked Goods

PRICING

Enquire with the company for the prices of their products

WEBSITE

ADDRESS

1 Kaki Bukit Road 1, #02-41, Enterprise One, Singapore 415934

CONTACT DETAILS

6922 9700 or 6448 0035
Order-Related: [email protected]
Product and General Enquires: [email protected]
Partnerships: [email protected]

OPERATING HOURS
Since 1997, Cedele has been offering the best handmade, artisan baked goods. Over the years, Cedele has expanded to operate more than 30 outlets in Singapore, due to their dedication and excellent service.
They make sure to maintain the highest standard of baked goods and dishes by using fresh and organic ingredients. Their company is highly dedicated to bringing you amazing delicacies and outstanding services.
SERVICE HIGHLIGHTS
More than 20 years of experience
Uses fresh and natural ingredients
Time-tested methods of cooking
35. Grid & Circles

| | |
| --- | --- |
| BEST FOR | Multi-concept Space |
| PRICING | Enquire with the company for more details |
| WEBSITE | https://www.gridscircles.com/ |
| ADDRESS | 200 South Bridge Road, Singapore 058749 |
| CONTACT DETAILS | 6935 3546 or [email protected] |
| OPERATING HOURS | 9:00am to 5:00pm (Last Orders: 4:30pm) |
Grids & Circles is a perfect place to have your brunch at Chinatown. It is a newly-established cafe that offers a multi-concept space including art gallery, event space and lifestyle retail outlet. Their interior and decor enhance the mood adding to the warm vibe of the cafe. It is considered as one of the best places to eat, drink and chill.
They have various menus for different times of the day so surely, you will have different dishes to tease your taste buds. Whether you want to eat a healthy rice bowl or drink some artisanal tea, Grids & Circles has a dish for you.
They guarantee that they only provide high quality food, excellent service, location and ambiance. Visit them now and have your cravings sated.
SERVICE HIGHLIGHTS
Friendly and accommodating staff
Ideal for workshops and events
Delicious food and drinks
CUSTOMER REVIEWS
Here is a review posted in their Facebook:
"Huge fan of the tamago sandwich! The menu is quite extensive so I couldn't decide what to eat because everything seemed delicious. Settled for the bentos, which were great. I couldn't resist the poached apples granola too. Delivery was on-time even though I placed the order in less than 2 hours before, settled everything quickly on Messenger and Pay Now."
36. All Things Delicious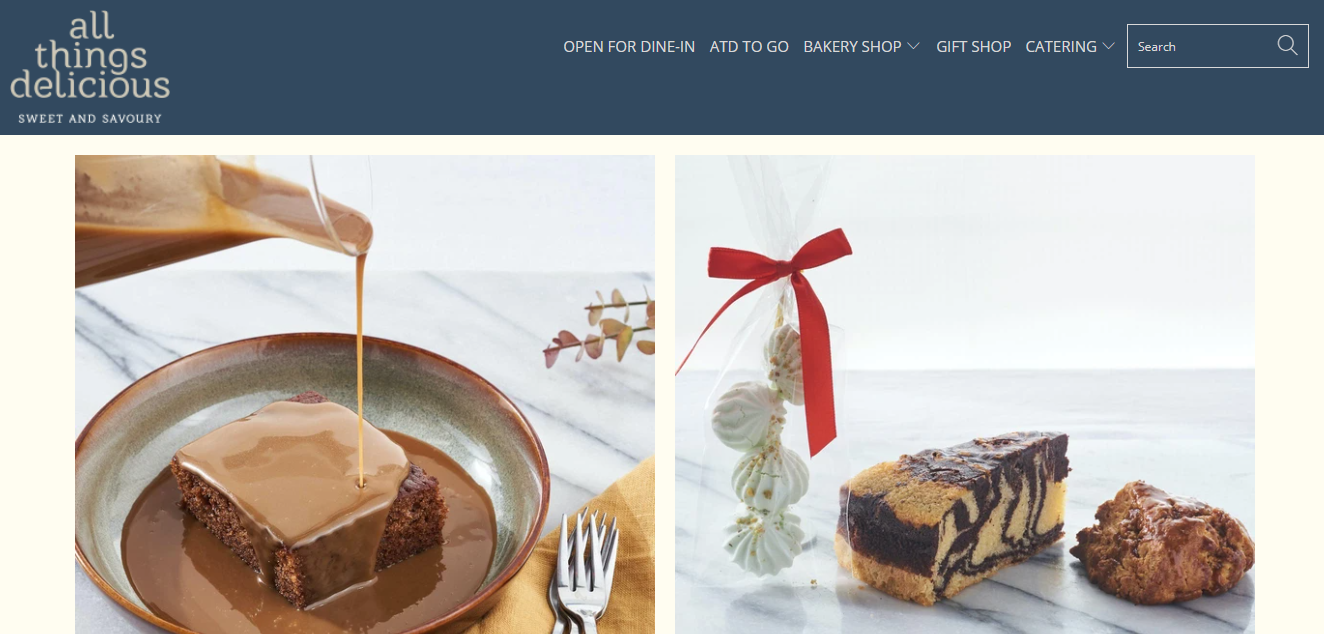 If you're looking for a great place to eat at Arab Street, then you must visit All Things Delicious. It has gained a reputation over the last few years because of its delicious cakes. It is also a destination of choice for those looking for a cosy spot while enjoying various delicacies.
If you plan to have a special meeting or party, don't hesitate to inform the staff of All Things Delicious and express your ideas. They will definitely make it an enjoyable experience!
SERVICE HIGHLIGHTS
Cosy ambiance
Good tasting dishes
Excellent customer service 
37. Attap House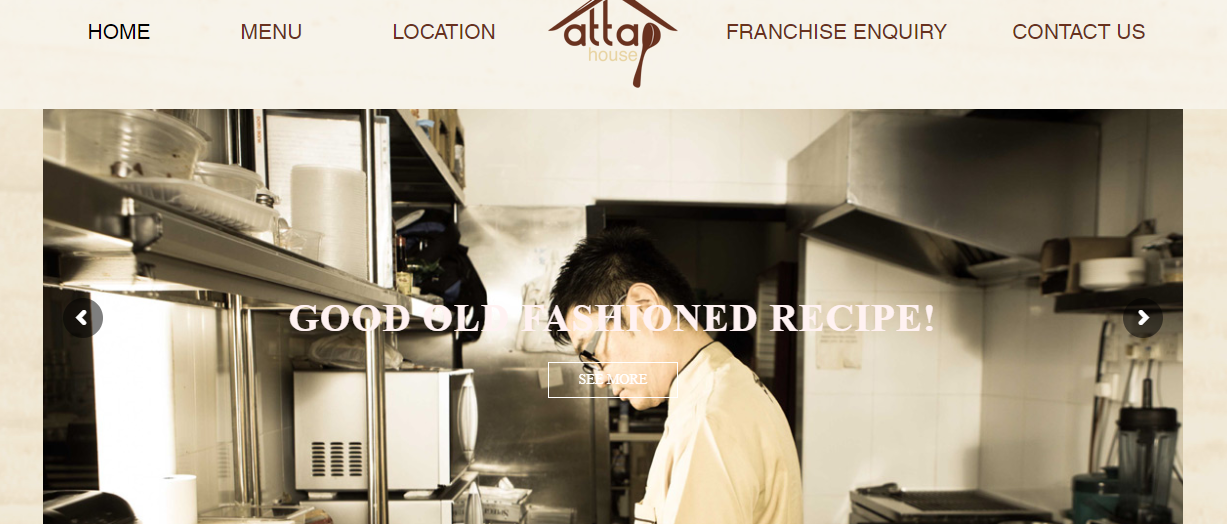 | | |
| --- | --- |
| BEST FOR | Modernised Local Cuisine |
| PRICING | Contact them for enquires |
| WEBSITE | |
| ADDRESS | Marina Square, Metropolis, Galaxis, Singapore 138522 |
| CONTACT DETAILS | +65 9052 2669 or [email protected] |
| OPERATING HOURS | Opens at 7:30am to 8:00pm |
Experience the old fashion coffee and delicious foods of Attap House. They offer modernised environment that gives comfort and nostalgia to their customers.
One of the best dishes they serve is Hokkien Mee and Satay Mee Hoon. It is made with satay sauce mixed with peanuts and cashews, providing a unique taste. Another best-selling dish is the Otah toast, perfect for breakfast and tea breaks.
Visit Attap House– you will surely enjoy the old-fashioned style of foods and environment!
SERVICE HIGHLIGHTS
Cozy Atmosphere
Traditional Interiors
Delicious and Unique Local Cuisine
---
Images taken from each company's official websites/social media.