Top 9 Places to Have the Best Brunch in Singapore (2021)
Tracking down the best brunch places in Singapore? You wouldn't be alone — brunch is rapidly becoming one of the most popular social occasions on the island.
It's probably the opportunity to sleep in and yet still have something akin to a classic breakfast afterwards. Whatever the case, there's no denying the appeal of a laid-back and hearty brunch.
To ensure you savour the best brunches the island has to offer, we've put together a list of the places serving the best brunch in Singapore. Try out the lip-smacking offerings at these locations!
1. Bread and Hearth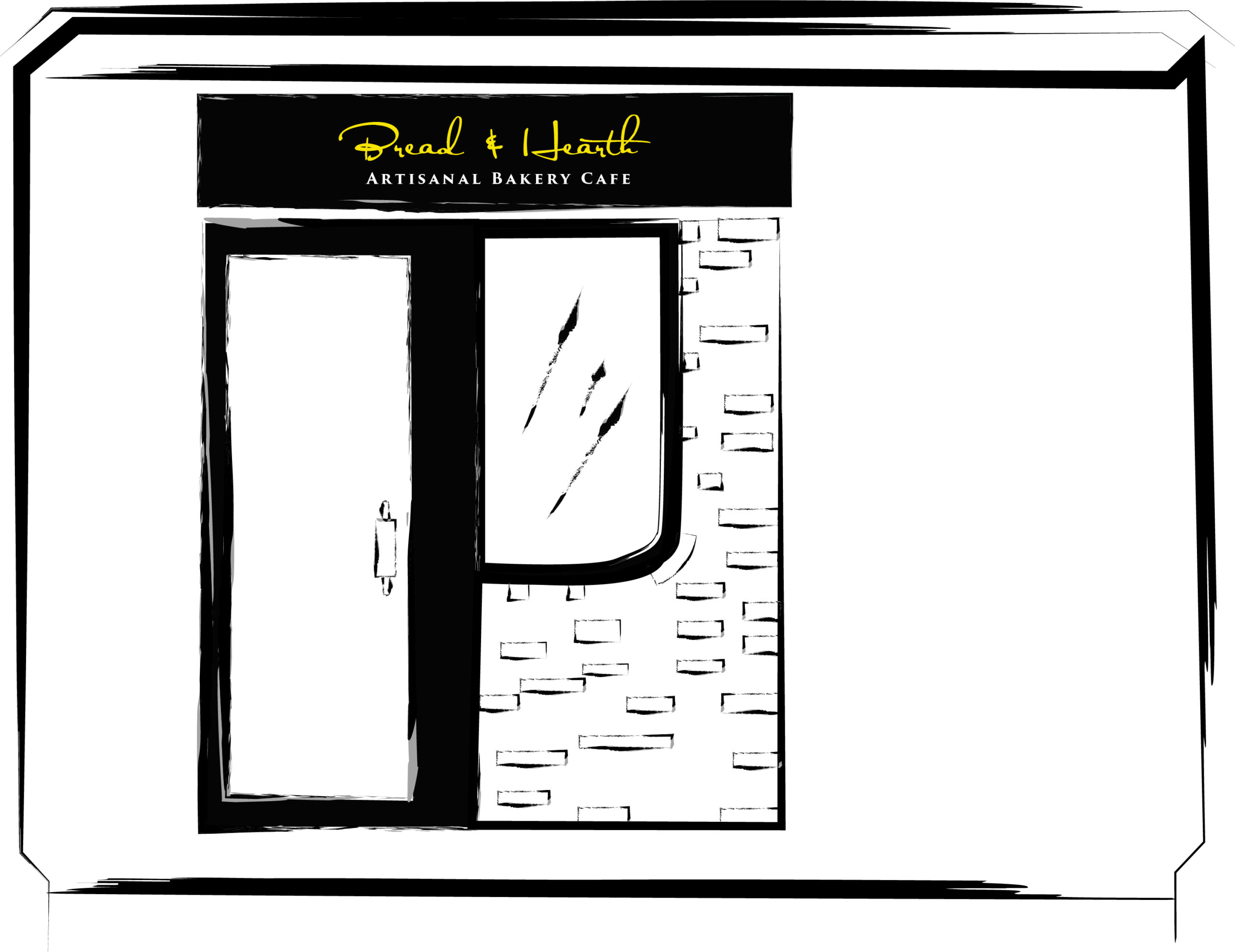 BEST FOR
Baked Goods
PRICING
The Big Breakfast ($17.90)
Avocatoast ($12.90)
Legendary Croissant ($13.90)
Pumpkin Pulled Pork (14.90)
Hot Pancake [Sweet or Savoury] ($15.90)
Yoghurt Granola Bowl ($12.90)
Fish and Chip ($16.90)
Steak Sandwich ($17.90) 
WEBSITE
https://www.breadhearth.com/
ADDRESS
18 Keong Saik Road Singapore 089125 ;
CONTACT DETAILS
+65 6534 7800, 6348 8068 or [email protected]
OPERATING HOURS
8:00 AM to 6:00 PM
Delight yourself with the mouthwatering pastries of Bread and Hearth, expertly crafted by hand to warm the spirits of a discerning gourmand. If quality European bread is part of your idea of a good brunch place in Singapore, look no further.
Making use of traditional European baking methods, Bread and Hearth pays careful attention to artistry in both taste and texture. Its dough is kneaded with utmost skill and patience, thus producing bread of the finest quality.
Home is where the hearth is. Indulge in the warmth and sweetness of their artisan pastry selection, baked to perfection for the satisfaction of your palette. 
Service Highlights
Burnt Cheese Cake with Blueberry Compote
Crispy Fish and Chip with Thick Cut Fries
Brioche Bun Burger
Customer Reviews
"Amazing pastry! Looking for somewhere near Dorsett hotel. Found a different place but much more of a local affair but this was a cross road. Lovely products, good service and prices not too bad for this quality. Had the Bacon pain with creme cheese, oh so delicious. Croissant delicious too. Nice fresh orange juice too. Highly recommended. Says Artisan bakery but not a bearded hipster in sight."
2. COLONY – THE RITZ-CARLTON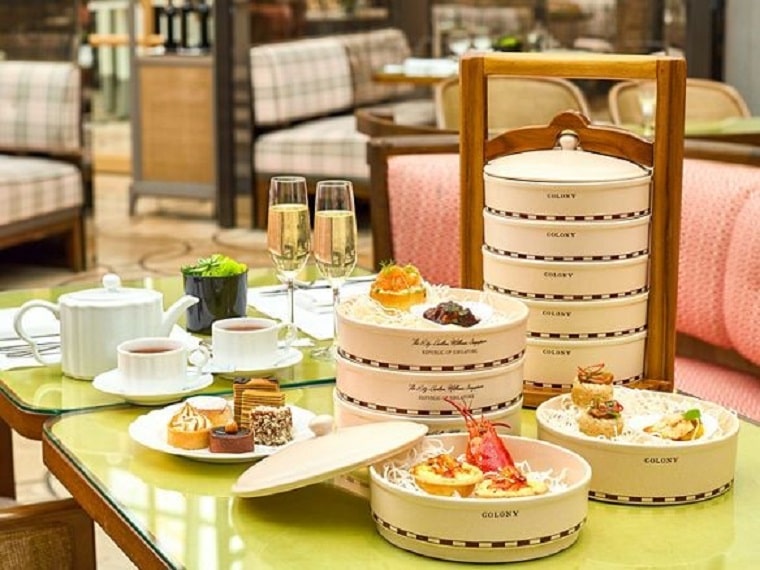 BEST FOR
International cuisine, hotel experience
PRICING
Breakfast Buffet
S$48 per adult, S$24 per child (6-12 y.o.)
Lunch Buffet (Mon-Fri)
S$60 per adult, S$30 per child (6-12 y.o.)
Lunch Buffet (Sat)
S$64 per adult, S$32 per child (6-12 y.o.)
The Journey Afternoon Tea (Mon-Sat)
S$49 per person
Vintage Champagne Brunch (Sun)
S$192 per adult
Dinner (Mon-Thu)
S$80 per adult, S$40 per child (6-12 y.o.)
Seafood Dinner (Fri & Sat)
S$96 per adult, S$48 per child
Dinner (Sun)
S$84 per adult, S$42 per child (6-12 y.o.)
WEBSITE
http://www.ritzcarlton.com/en/hotels/singapore/dining/colony
ADDRESS
The Ritz-Carlton, Millenia Singapore
7 Raffles Avenue Singapore, 039799
CONTACT DETAILS
 +(65) 6434-5288 | [email protected]
OPERATING HOURS
Monday – Saturday
Breakfast, 6:30 a.m. – 10:30 a.m.
Lunch, 12 p.m. – 2:30 p.m.
Afternoon Tea, 3:30 p.m. – 5:30 p.m.
Dinner, 6:30 p.m. – 10:30 p.m.
Sunday
Breakfast, 6:30 a.m. – 10:30 a.m
Brunch, 12 p.m. – 3:30 p.m.
Dinner, 6:30 p.m. – 10:30 p.m.
This is another nice brunch place in Singapore for your indulgence. So as with the previous location, come here for the best brunch in Singapore served with elegance.
The buffet at the Colony showcases local, Chinese, Indian, Indonesian, Malaysian, and Western cuisine through seven open kitchens. So if you're looking for the best brunch in Singapore that offers a wide array of international culinary delights, you should try and take stroll to the Ritz-Carlton.
Note that they have breakfast, lunch, and dinner buffets where you can sample the best of Singapore's heritage cuisines, by the way. So if you find yourself googling 'best brunch near me' and then changing your mind because you now want lunch or dinner, the Colony has got all your meals covered!
What People Like
Seven 'Live' conservatory kitchens for a view of culinary showmanship
A leisurely afternoon tea where customers can step back in time and journey through Singapore's culinary heritage
A boozy beverage package for unlimited Prosecco, Domaine Baron de Rothschild Lafite (red/white) wines, and local draft beer
Personalised gluten-free options for guests with dietary requirements
Customer Reviews
Customers of the Colony praise their fantastic buffet spread, great atmosphere, and friendly staff. According to Shaun Chong:
"Wow I love the buffet! 1st time for me and 2nd time for my wife. My wife doesn't really like buffet and Colony actually made her willing to come back again. Selection is more than enough. Oysters are very fresh! Its super value for money to me! It won't go wrong for you to dine with Colony!"
3. Brawn & Brains Coffee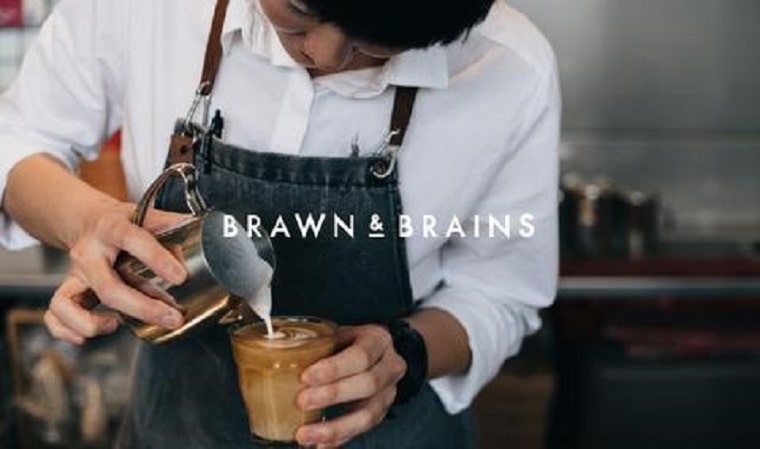 BEST FOR
Artisanal coffee, hearty brunch dishes
PRICING
 
WEBSITE
https://www.brawnandbrains.sg/
ADDRESS
100 Guillemard Road #01-02 Singapore 399718
218 East Coast Road Singapore 428916
CONTACT DETAILS

[email protected]

OPERATING HOURS

Guillemard Road
Monday Closed
Tuesday – Sunday & P.H: 0830-1800         

East Coast Road
Monday Closed
Tue – Fri : 0800 – 1800
Sat, Sun & P.H : 0830 – 1800
Brawns & Brains has been popular for coffee lovers to get the best brunch in Singapore for 2020. They serve artisanal coffee and also offer a monthly subscription of different roasts, so you get your regular delivery of your chosen caffeine fix.
Of course, you can pair your delicious coffee with their equally delicious food for brunch, from baked eggs with cheese and grain bowls to sandwiches and avocado eggs. Feel free to take photos of their Instagram-worthy spread!
Service Highlights
Customers can buy bags of carefully-roasted coffee beans while getting some of the best brunch in Singapore
Millennial-approved brunch selections
Also conducive for remote workers
Customer Reviews
Brawn & Brains is rated highly on Google Reviews. Most 5-star reviews mention their top-notch coffee, whether it's cold brew or hot espresso.
They also rave about the food, which they say perfectly complements their coffee. According to Oleg Kurochka:
"Might be one of the best cold brews I tried in Singapore. Good food, good atmosphere. Though the place can get busy during weekend brunch so be there earlier to get the best spot."
4. CAFÉ MELBA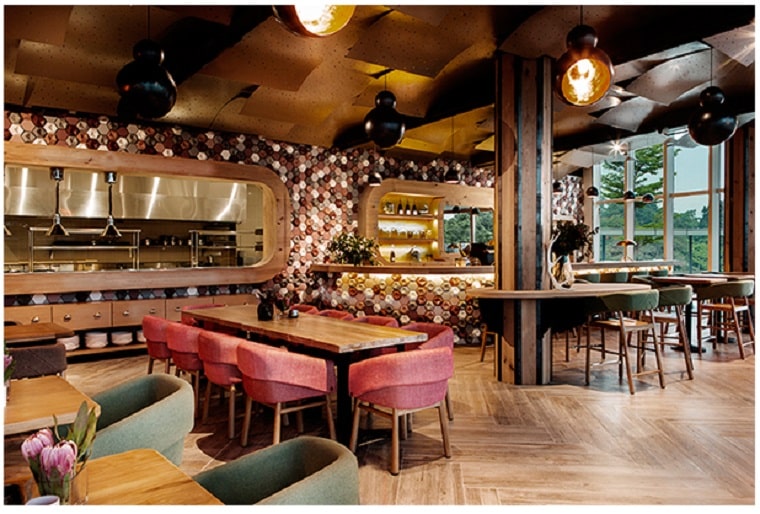 BEST FOR
Kid-friendly brunch
PRICING
Mediapolis Menu: https://www.cafemelba.com.sg/mediapolis-menus
Goodman Arts Centre Menu: https://www.cafemelba.com.sg/goodman-arts-centre-menus
WEBSITE
https://www.cafemelba.com.sg/
ADDRESS

1 Stars Avenue, #03-01
Singapore 138507
Nearest MRT: One-North

90 Goodman Road, Block N #01-56,
Goodman Arts Centre, Singapore 439053
Nearest MRT: Mountbatten

CONTACT DETAILS
Mediapolis
65 6352 2721 | [email protected]
Goodman Arts Centre
65 6440 6068 | [email protected]
OPERATING HOURS

Mediapolis
Open Daily, from 8am-10pm

Goodman Arts Centre
Weekends & Public Holidays from 830am – 10pm
Weekdays from 10am – 10pm
Cafe Melba has two locations: at the Mediapolis and at the Goodman Arts Centre. It's a cafe and restaurant that blends influences from (Melb)ourne and (A)sia, hence the name.
It's largely about the ambience, an oasis away from the hustle and bustle of the city, but the food is also great. If an all-day breakfast menu is your idea of brunch heaven, then you may have found your match for best brunch in Singapore. 
Service Highlights
All day breakfast and brunch in Singapore
Family-friendly events
Great weekend place for the entire family, where parents can relax while the kids play
Ample parking
Customer Reviews
Cafe Melba gets props on Google Reviews for their great ambience, ample parking, and affordable food. Customers also like the family-friendly environment and attentive staff.
According to Danny Wong:
"Excellent place for a weekend brunch. We went there on a Sunday with a bunch of friends and brought our children along. The kids enjoyed the bouncy castle immensely! Lunch was an excellent roast beef with all the trimmings, matches any roast I've had in the UK! Would love to come again."
5. Group Therapy Coffee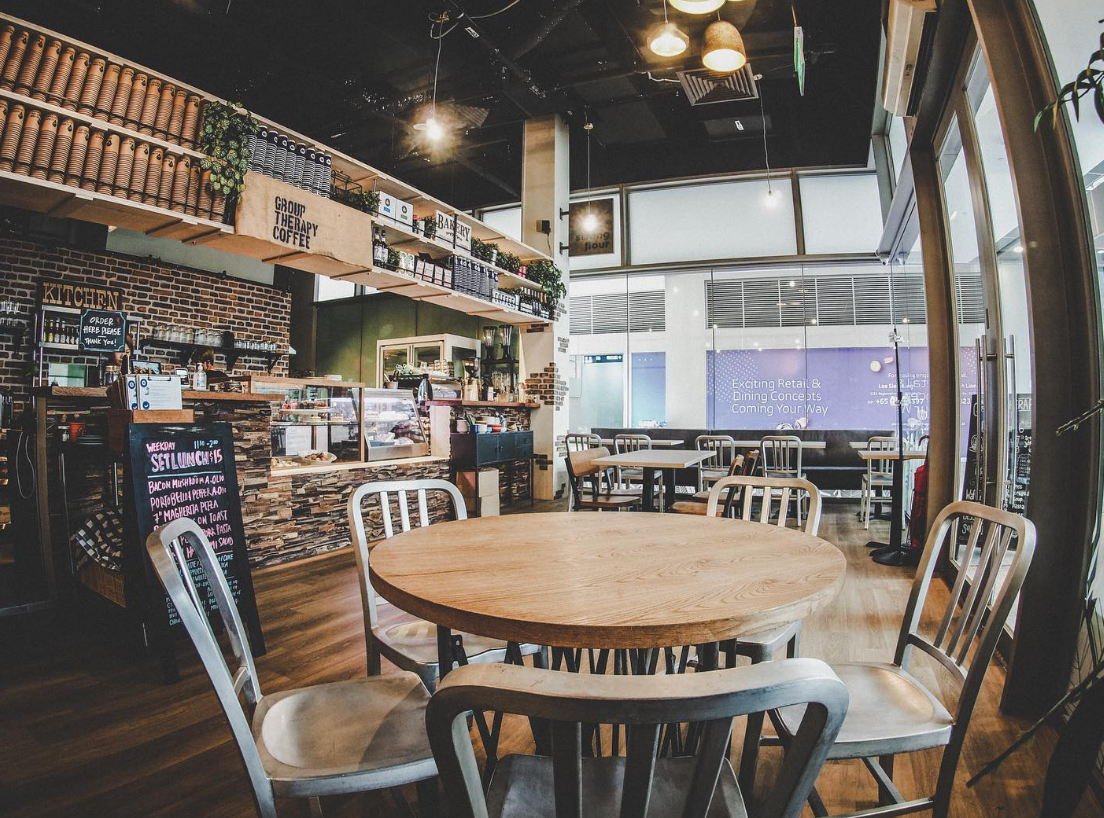 BEST FOR
Freshly-made brunch and event space
PRICING
WEBSITE
https://www.gtcoffee.com
ADDRESS

KATONG V

30 East Coast Road
#01-01
Singapore 428751

CROSS STREET EXCHANGE

181 South Bridge Road

#01-05 & #K1-04
Singapore 058743

CONTACT DETAILS

KATONG V

+65 6440 0457

CROSS STREET EXCHANGE

+65 6222 2554

OPERATING HOURS

KATONG V

8am – 6pm Daily

CROSS STREET EXCHANGE

Sun – Tue : 8am – 5pm

Wed & Thu : 8am – 9pm

Fri & Sat : 8am – 10pm
Group Therapy Coffee began as a humble events space before it grew into something more. Now, the brand has two cafe branches in Singapore, one in Katong and the other in Cross Street Exchange.
Regardless of the branch one enters, they're sure to experience only top-notch service alongside quality food and drinks. The almond latte, in particular, is popular amongst locals, offering a subtle nutty taste to the coffee option. 
Those who are looking for hearty meals need not look further, either. Group Therapy Coffee cooks and bakes their pastries and dishes in-house, with the finest and freshest ingredients. A highly recommended option is the Pumpkin Pancake with smoked salmon.
So, if you're looking for a cosy spot in Singapore that provides excellent service and mouthwatering dishes, do check out Group Therapy Coffee.
Service Highlights
Clean and open space
Quick service
Made to order food and drinks
Available for delivery
Customer Reviews
Group Therapy Coffee has been commended for its ambience, service, and food and drinks. A previous customer commented:
"Pumpkin pancake is a must try! My go to place to satisfy pancake cravings 😋 Just ordered through grabfood today and I have to say that the quality is always consistently good!"
Another said:
"One of the best coffee around, the roasted almond latte is my fav!"

6. HABITAT COFFEE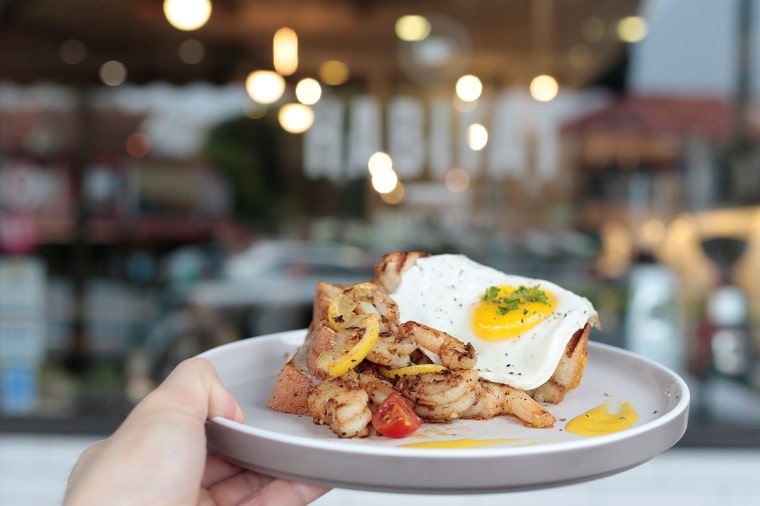 For those who can't get started with their day without coffee, Habitat Coffee is an excellent choice for brunch.
This cosy cafe found in Upper Thomson Road is well-known for its locally roasted and specially curated coffee. They also offer comfort in a plate, with their freshly-made brunch options.
What makes Habitat Coffee even better is that they now cater to customers who don't feel like going out given the current situation. Customers can easily order their food and drink of choice on Habit Coffee's website and expect it to arrive on their doorstep in no time. 
Service Highlights
Food delivery and pickup available
Weekly roasted coffee
Vegetarian options available
7. Wild Honey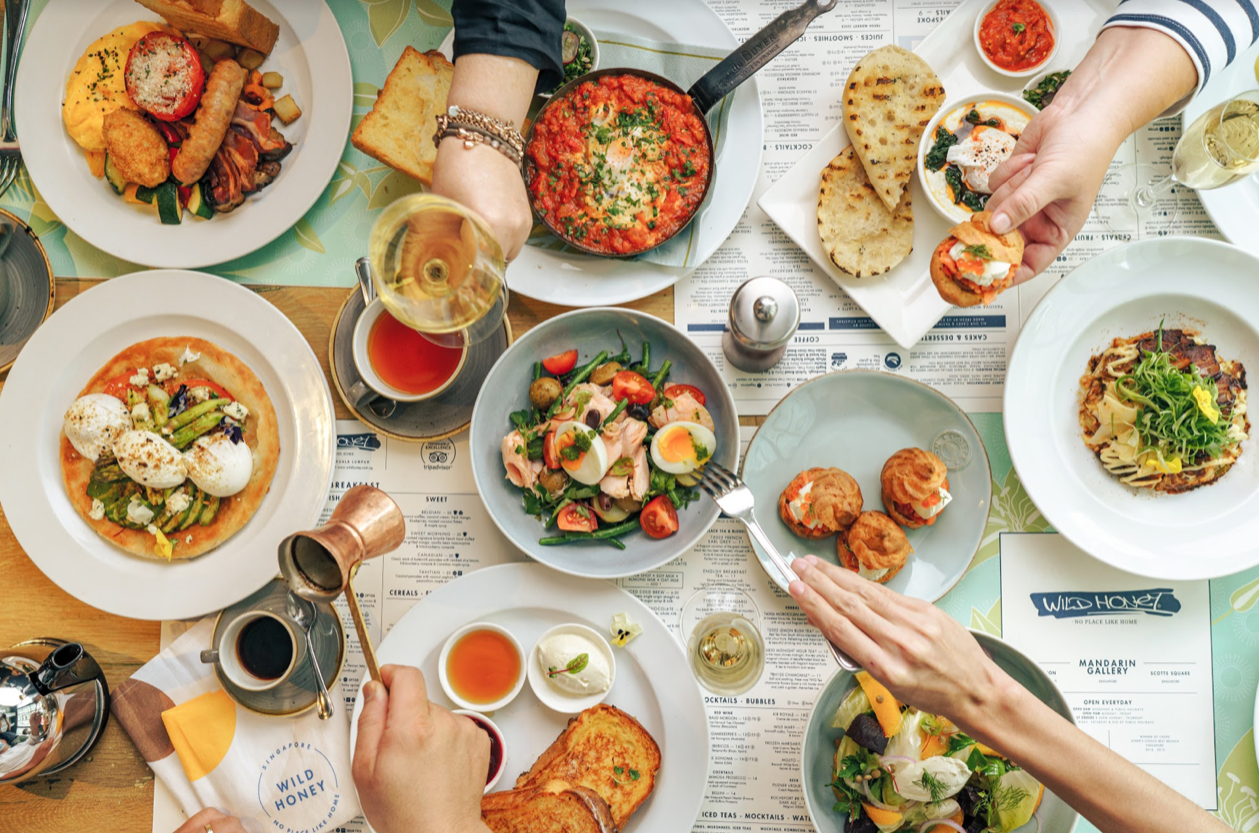 BEST FOR
All Day Breakfast
PRICING
https://wildhoney.waitrr.com/restaurants
WEBSITE
https://wildhoney.com.sg/
ADDRESS

Wild Honey Mandarin Gallery
#03-01/02 Mandarin Gallery,
333A Orchard Rd,
Singapore 238897

Wild Honey Scotts Square
#03-01, 6 Scotts Square,
6 Scotts Rd,
Singapore 228209

Wild Honey South Beach
26 Beach Road
#B1-18 Singapore
Singapore 189768

CONTACT DETAILS

Mandarin Gallery

+65 6235 3900 

Scotts Square

+65 6636 1816 (weekdays)

+65 6235 3900 (weekends)

South Beach

+65 6214 3398 (weekdays)

+ 65 6235 3900 (weekends)

 

Email: [email protected]

OPERATING HOURS

Wild Honey Mandarin Gallery

Mon-Thu 9am-9pm (last order 8.30pm)

Fri/Eve of PH 9am-10pm (last order 9.30pm)

Sat 8am-10pm (last order 9.30pm)

Sun/Eve of PH 8am-9pm (last order 8.30pm)

Wild Honey Scotts Square

Open daily from 9am-9pm (Fri/Sat 10pm)

Wild Honey South Beach

Open daily from 8am-5pm (last order 4pm)
The next brunch place on our list offers the opportunity to enjoy good food in three beautifully designed locations: Wild Honey.
Established in 2009, Wild Honey was born from the owner's love of travel and breakfast food. It soon grew into three branches in Singapore: Mandarin Gallery, Scotts Square, and South Beach.
Wild Honey never lost the core of its brand, despite the growth experienced in recent years.
All three branches still offer mouthwatering, imaginative breakfast options to be had in three restaurants which showcases ambience, decor, and overall experience unique to the branch.
Mandarin Gallery, for example, is reminiscent of a Brooklyn Loft that overlooks Singapore's own Times Square. Here, diners can complete the entire feel by ordering Wild Honey's New York scramble with sturgeon and smoked salmon.
Meanwhile, the latest branch, South Beach, is inspired by Miami's Ocean Drive and is donned with splashes of pastel and watercolour hues. It also has a large open-air dining area, a perfect get-away from the rush that's part and parcel of Singapore's CBD.
It's also worth noting that diners with dietary restrictions can still have their fill of Wild Honey's delicious menu. Staff only needs to be notified and they'll recommend vegetarian, vegan, and gluten-free options to customers. 
Service Highlights
Island-wide delivery
Multiple locations available
South Beach location is dog-friendly 
Customer Reviews
Wild Honey has garnered over 1000 reviews offering mostly praise for the restaurant decor and food. Here are some comments left by diners who visited the Mandarin Gallery branch:
"This was a day of good food. The Reuben sandwich was the best I have had. The Belgian waffles with mango and coconut cream was divine. I just loved the vibe of this place. It was a quiet weekday dinner so there wasn't any crowd. Special mention to the staff who were so attentive and positive with such big smiles! It was such a delight. I am didn't this to my all time favourite cafes in Singapore. Cry"
"Not Once, Twice, but three times a charm… have tried a few places for all days breakfast but I was always spoil for choices at Wild Honey, though I have not tried everything on the menu but this place will always have place in my heart for its unbelievable concept of bringing breakfast from all over the world to our table… stay tune as I update other choices."

8. Hup Chong Hakka Yong Dou Foo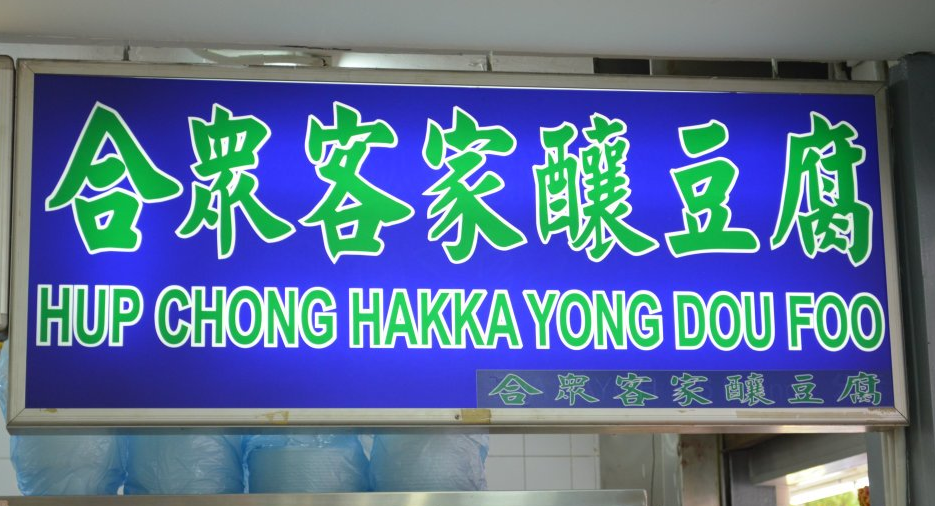 Hup Chong Hakka Yong Dou Foo is a humble stall that serves Hakka Yong Tau Fu, bean curds that have been stuffed with meat, deep-fried, and served with various sauces. It's worth mentioning that this stall serves the original variation of this dish instead of the one stuffed with fish paste, hence the "Hakka" in its name.
Customers looking for an affordable and casual place to dine at will love Hup Chong Hakka Yong Dou Foo. Aside from their signature Hakka Yong Tau Fu dish, the stall also serves other deep-fried meats, which can be purchased by piece at very low prices.
Service Highlights
Affordable meals
Wide array of food items to choose from
Mix-and-match dishes
9. The LoKal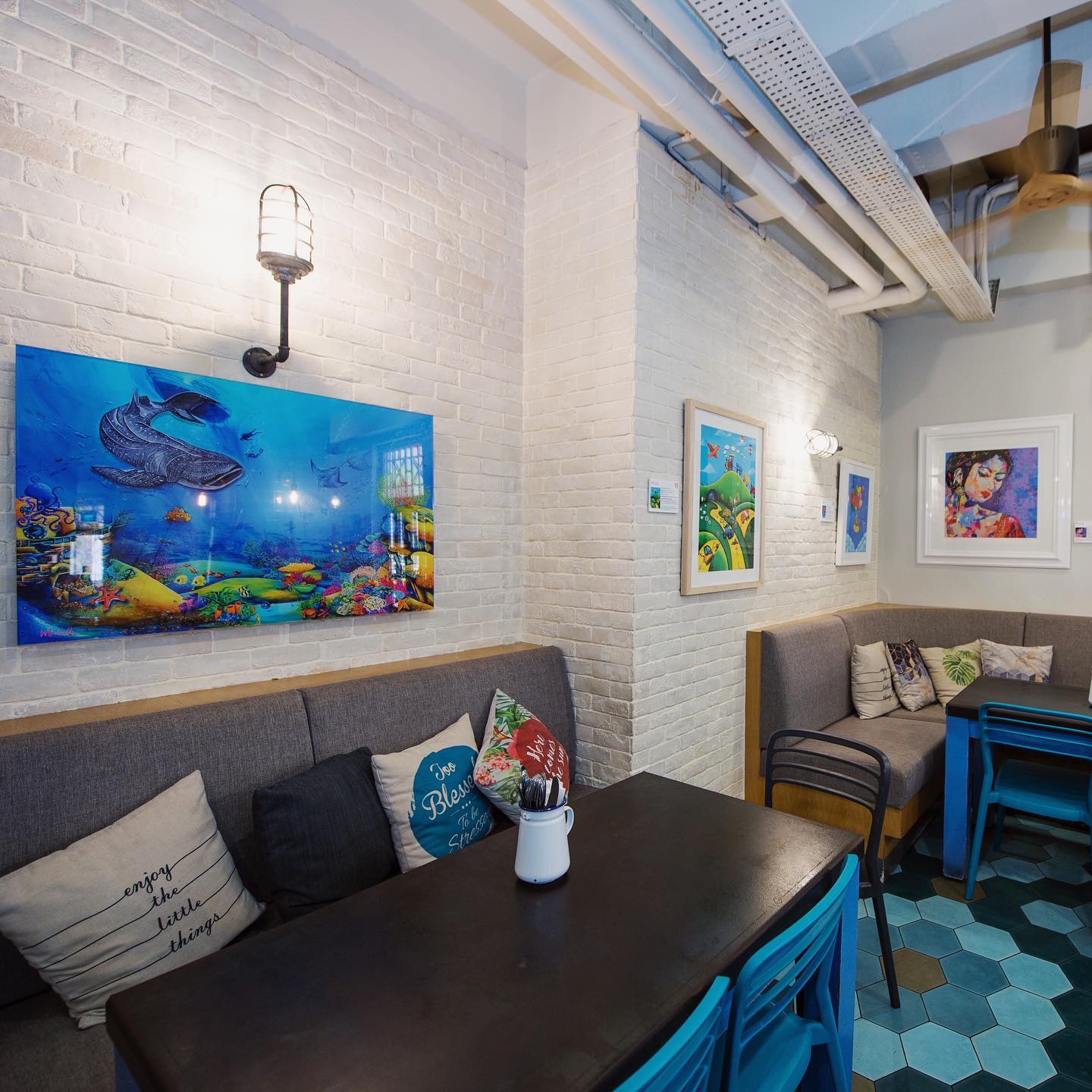 The LoKal is a restaurant bar that offers casual dining to customers looking for a contemporary twist into Australian and German dishes as well. It is local and was founded by Chef Darren Farr back in 2014 and has since then been then incorporating a diverse and worldly approach to all the food they serve.
The website is simple and showcases the beauty of each dish that they serve and a comprehensive list of the menu and the specials. These are however lacking the usual menu that they offer, and the specials are also only available for only a limited time as well.
Each ingredient that they use is local and of high quality to come with honest and freshly made dishes that are handmade according to the order of each customer.
The menu also features a wide range of options to accommodate customers of all walks of life and ages so that all of them can have an equally enjoyable stay and have a delectable taste bud experience as well.
Furthermore, they take health and safety precautions very seriously and accommodate a wide range of contactless payment methods and apply the needed protocols to their staff and guests. No reviews are readily available which could have been better for clients who would like to have a glimpse of their food.
Service Highlights
The cuisine is of diverse cultures
Each meal is freshly made
Safety protocols are implemented
10. Atlas Coffeehouse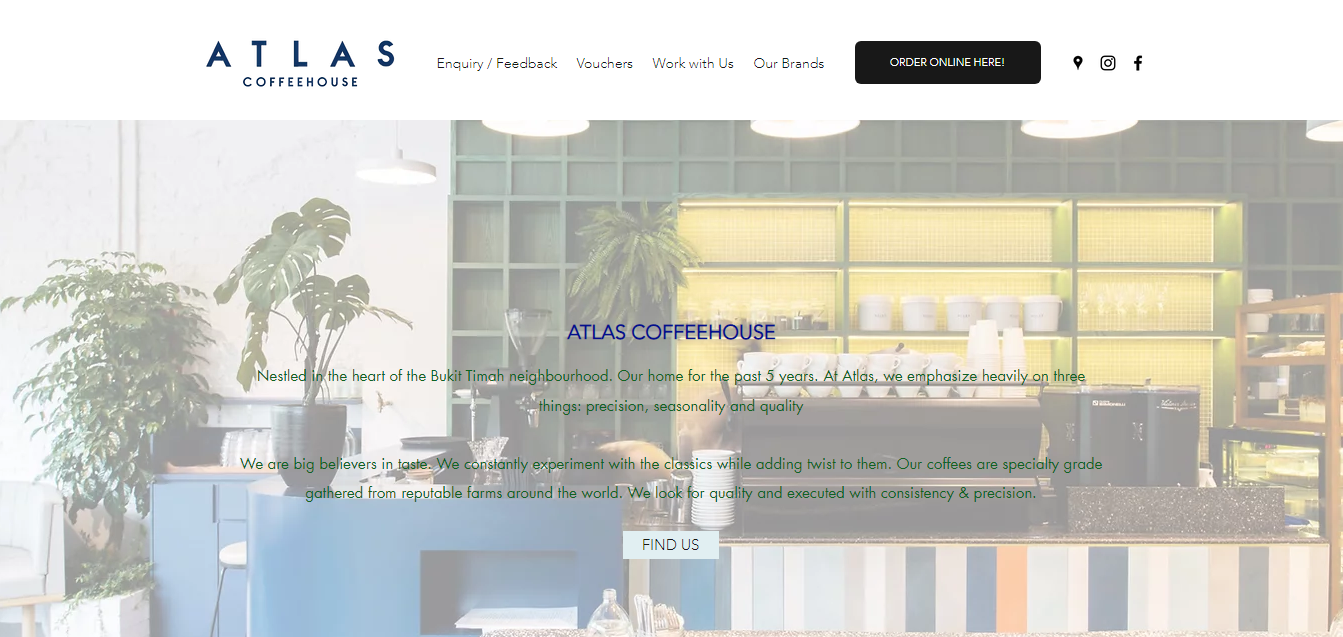 BEST FOR
Premium Coffee Blends
PRICING
 
WEBSITE
https://www.atlascoffeehouse.com.sg/
ADDRESS
6 Duke's Road, Singapore 268886 
CONTACT DETAILS
Email : 

[email protected]


Tel : 6314 2674
Whatsapp : 8489 3176
OPERATING HOURS

Tuesday to Sunday: 8am to 7pm (last orders at 630pm)
Atlas Coffeehouse is a collection of various coffee brands which is nestled at the centre of the Bukit Timah community as well. Apart from their own brand, they also feature coffee blends and products from Lunar Coffee Brewers and Columbus Coffee Co.
Their website is simple and straightforward with the information and fits the physical location of their coffeehouse.
The menu is readily available along with a variety of food that is best taken with their main coffee products. Customers can order all of this online on their website for their convenience.
Capitalizing on bringing a new twist to the classics of coffee flavours, this is then very ideal for clients looking for something new to try that is consistent with every blend they select to taste.
Each of their coffee variations is also gathered from reputable farms all around the world so clients can have access to international-class coffee and quality with every sip.
Service Highlights
High-quality ingredients
Online ordering is accommodated
Accessible location