By Michaela Koh
Looking for the restaurant nearest your office? You probably have an upcoming business lunch appointment or you just want to try out new places. Today, we'll show you where to get the best set lunch in Singapore, giving you affordable and convenient food menu options for your lunch!
So, to help you find some lunch spots where you can still have a fine dining experience despite the cheaper prices, we've searched the cities until we ended up with only the best set lunch in Singapore!
Whether you want to impress a business client or simply want to explore more cuisines, you'll definitely find the right place from our list below!
1.  Mitzo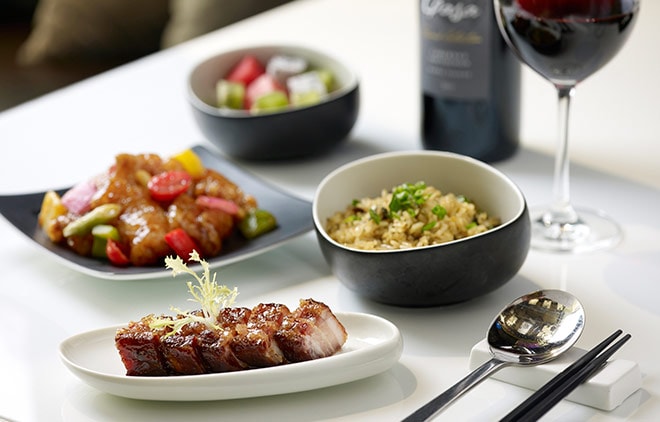 BEST FOR 
 Authentic Cantonese cuisine
PRICING
Menu
WEBSITE
http://mitzo.sg/
ADDRESS
Level 4 Grand Park Orchard, 270 Orchard Road Singapore 238857
CONTACT DETAILS
 +65 6603 8855
OPERATING HOURS
Lunch: 12pm to 2.30pm
Dinner: 6.30pm to 10.30pm
Supper: 10.30pm to 1am
(Thur to Sat; eve of Public Holidays)
Bar: 12pm to 1am (Sun to Wed),
12pm to 2am (Thur to Sat; eve of Public Holidays)
If your client's favourite cuisine is traditional Chinese dining, then Mitzo can be the ideal place for you! Their authentic menu dishes are prepared with a modern take, making them suitable for everyone's tastes.
When it comes to their best set lunch in Singapore, they offer Cantonese dishes in which they bring out new flavours of seafood, meat, tofu, and vegan dishes. Most of their servings are designed for group sharing so your guests can taste the variations of the dishes.
The place is also designed with a contemporary and aesthetic design, showing the grand beauty of Chinese culture so you and your client will surely experience cultural dining.
Highlights
Private dining for corporate functions and events
Special promotions
Customer Reviews
Customers admired the cosy ambience at Mitzo and most especially, their large menu courses for set lunch. A customer from Google Reviews shared this experience:
"We had a great time at Mitzo. We chose the 4-course dim sum set lunch and since we could have a choice of 3 items. The double boiled abalone soup, seafood porridge (lobster claw, fish & pork) and combo dessert really whet our appetites! Great experience overall! Love the cozy interior too and free parking!"
2.  Gordon Grill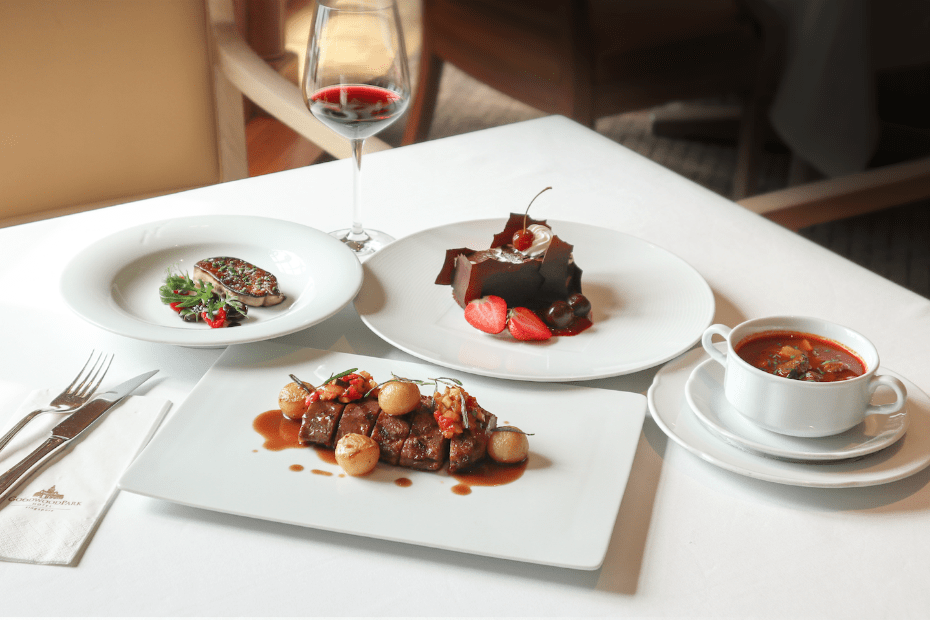 For those who have an upcoming business meeting at Goodwood Park Hotel, you should try to book a reservation at Gordon Grill. The place is known to serve European cuisine, especially their finest steak dishes.
From the fresh seafood, grilled meat and beef, up to their desserts, each dish is prepared with high-quality ingredients. Their signature dishes are all made by Michelin-starred chefs, giving you the best set lunch in Singapore.
The dining area displays a classic European style and they also have a bar where you can have some after-dinner drinks.
Highlights
Special promotions
Meetings and events services
Wedding reception venue
Customer Reviews
Many customers had a delightful dining experience at Gordon Grill. They said that they have excellent menu options as well as attentive staff. A customer left this feedback on Google Reviews:
"Good selection of choices for the weekend roast lunch. We enjoyed the meal. I was given a birthday cake as it was my birthday. Service staff were attentive and friendly. A good place for dates and family gatherings to celebrate the special occasion. I noticed the restaurant offers set lunch during week days too."
3.  Wolfgang's Steakhouse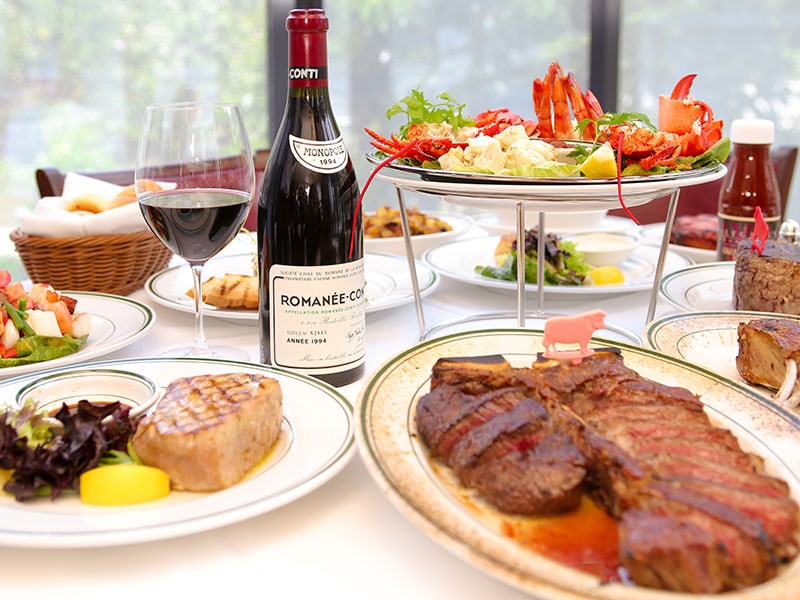 BEST FOR 
Western cuisine, a variety of steak dishes
PRICING
Menu
WEBSITE
https://wolfgangssteakhouse.sg/
ADDRESS
1 Nanson Road #02-01 Intercontinental Singapore Robertson Quay Singapore 238909
CONTACT DETAILS
+65 6887 5885
OPERATING HOURS
LUNCH 11:30 ~ 15:30 (LO 14:30)
DINNER 15:30 ~ 23:30 (LO 22:30)
Once you visit Wolfgang's Steakhouse, you can discover more things about Western cuisine in which they feature premium quality beef dishes. Many believe that they have the best set lunch in Singapore.
Their menus are categorized into lunch, brunch, dessert, drinks, and happy hour menus. You can have some salads, pasta, burger, sandwich steak dishes, seafood, and other vegetarian meals.
Highlights
Vegetarian options
Fine quality wine
Customer Reviews
Wolfgang's Steakhouse has earned a lot of positive reviews due to their steak selections and large portions for set lunch. A customer from Google reviews gave these compliments:
"The best steak I've had in a while, if not ever. The ribeye was really succulent and tender, almost melts in your mouth. The taste is delicious enough that you don't need any sauce to accompany it. Went for the lunch set which was a generous portion. It was inclusive of sides too so all in all good value for money. I'm told the dinner portions are humongous and you can probably share 1 portion between 2 people. I've also heard great things about their porterhouse so am looking forward to try it the next time I eat here."
4.  The Black Swan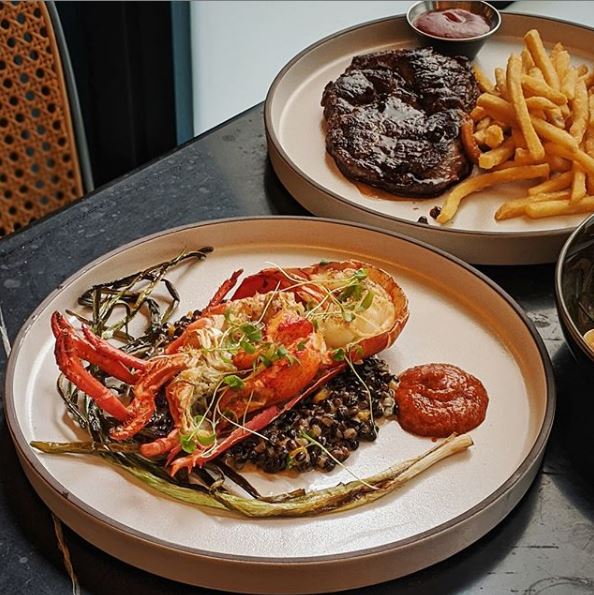 BEST FOR 
Classic and glamorous business setting
PRICING
Menu
WEBSITE
https://www.theblackswan.com.sg/
ADDRESS
19 Cecil Street, Singapore 049704
CONTACT DETAILS
+65 6438 3757
OPERATING HOURS
Monday – Tuesday: 11:30am – 10.30pm
Wednesday – Friday: 11:30am-10:30pm
Saturday: 530pm – 10.30pm
Closed on Sun & PH
Being an award-winning restaurant, The Black Swan is designed with a professional setting where you can invite executives and clients for a grand and fine dining experience. They offer classic steak dishes with a vintage wine list.
For their best set lunch in Singapore, you can have their signature salad, pasta, seafood, burger, and some vegan meals as well. If you're organizing a private corporate event, this place can also be the perfect venue for the gathering.
Highlights
Private events
Special promotions
Customer Reviews
The main dishes and elegant ambience of The Black Swan are well-loved by many customers who've experienced their high-quality menu and service. A customer wrote this on Google Reviews:
"Service was impeccable, from the moment we stepped in till we left. We went for the 3-course set lunch, which was reasonable for the quality of the food. The bacon chowder was a little lackluster at the start of the meal, but the burger mains we had were delicious, with a pickle at the side and a generous serving for fries. We had the twix tart and the roasted pineapple, I preferred the roasted pineapple, which had honeycomb at the side and the pineapple itself was beautifully caramelised. The ambience of the conserved building is stately and perfect for business lunches.
5.  Cure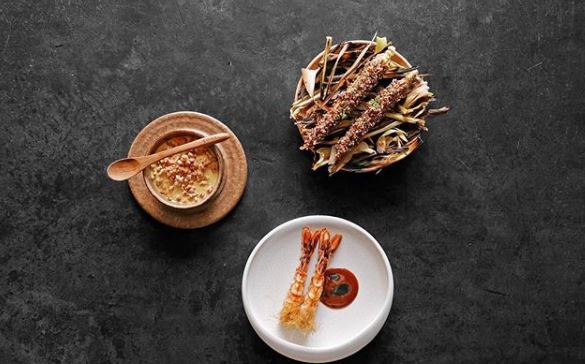 BEST FOR 
Casual and relaxed dining setting
PRICING
Menu
WEBSITE
https://www.curesingapore.com/
ADDRESS
21 Keong Saik Road Singapore 089128
CONTACT DETAILS
+65 6221 2189
OPERATING HOURS
Mon-Sat: Dinner from 6pm-10:00pm
Thurs-Fri: Lunch from 12pm-2:00pm
For a casual and modern style, Cure is the place to be! At this restaurant, you can have the best set lunch in Singapore as you just relax and have a good time with your loved ones.
You'll also admire their seasonal menu changes that'll keep you coming back for more new and refreshing dishes. This includes their meat and seafood selections.
They also have a snack and cocktail bar where you can enjoy a few drinks after your sumptuous meal. It's truly the perfect place to spend a lovely time with your family and friends.
Highlights
Seasonal menu changes
Catering and food service delivery
Customer Reviews
Most customers have given a lot of positive feedback to Cure, saying that they absolutely loved the traditional dishes and some even had their favourites after a single visit to the place. A customer from Google Reviews posted:
"Had the 4 course lunch. The bread with marrow was excellent. The very unusual laksa dish was also very good, I thoroughly enjoyed it- traditional noodles were replaced by thin strips of squid and mixed with laksa foam. Very tasty! Short rib was nicely cooked."
6. The Masses Singapore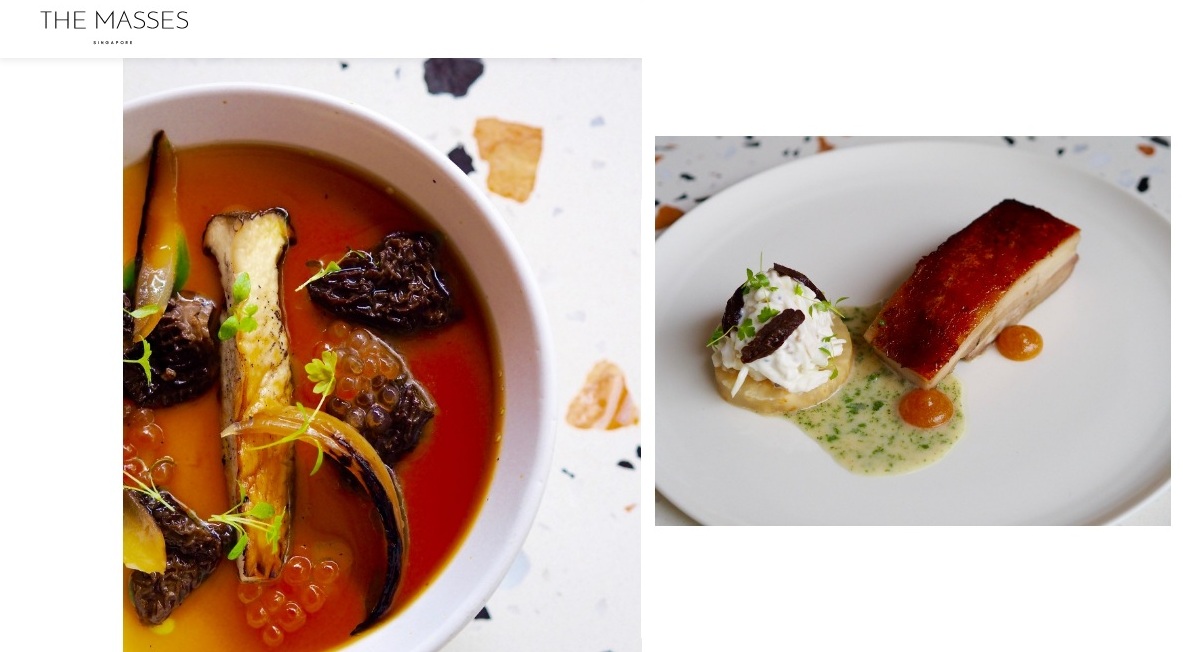 BEST FOR

French-Asian fusion cuisine

PRICING

Menu

WEBSITE

http://www.themasses.sg/

ADDRESS

85 Beach Rd, #01-02, Singapore 189694

CONTACT DETAILS
+65 6266 0061/ [email protected]
OPERATING HOURS
Monday – Saturday

: 12:00 pm to 9:30pm (last order) 

Sunday: 12:00 pm to 9:00 pm (last order) 

Wednesday, Friday & Saturday: Bar open till 12am
The Masses is also good choice when you want to have lunch in Singapore. They specialize in French-Asian fusion cuisine which was developed by their talented chefs. Their belief is that everyone (in your family or group) should be able to enjoy the food. As such, their menus are curated to satisfy the taste of almost all individuals.
They have a team of passionate and dedicated cooks who love to provide joy in their service and food. If the restaurant does not satisfy you in any manner, you are free to give constructive criticism to them. They welcome such as they want to improve serving their customers.
Highlights
Provides delivery

Fusion of French and Asian cuisine

Online reservation
Customer Reviews
The Masses does not only have good food but also aesthetic and Instagrammable ones. You can check out some of the reviews from their customers: 
A very interesting take on French and Asian fusion food, with very nice mixes of flavours. Highly instagrammable food, at an affordable price, with an excellent service and presentation. Notable effort from the restaurant, as its menu changes every three months or so. The signature dishes are worth it every time. – Matthieu De Mari
The food at Masses has always been awesome. They take pride in creating innovative, high quality and tasty dishes, yet not charging an arm and a leg for it. There's heart in every single dish. Their menus also change once every few months so you never get bored! Service is prompt and friendly, and they make the effort to explain to you exactly what you're eating (and the best way to eat it). Good for both date night or dinner with family (incl kids) – Grace Ho
7. Rhubarb Le Restaurant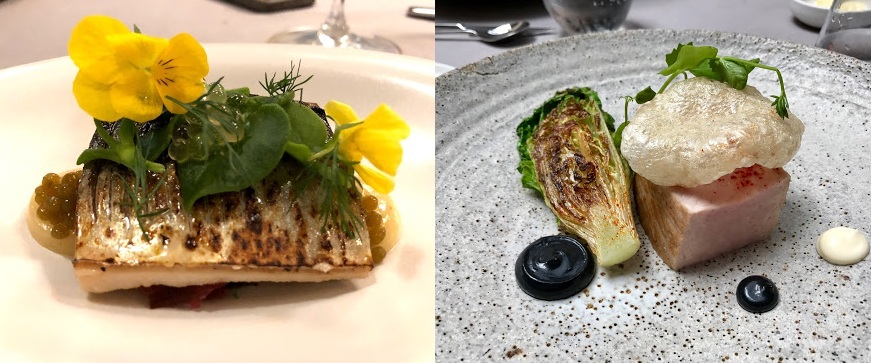 BEST FOR

French cuisine

PRICING

Menu

WEBSITE

http://www.rhubarb.sg/

 

ADDRESS

3 Duxton Hill Singapore 089589

CONTACT DETAILS

8127 5001 |

[email protected]

 

OPERATING HOURS

Monday – Friday

Lunch : 12pm – 2.15pm (Last order)

Dinner : 6.30pm – 9.30pm (Last order)

Saturday

Dinner : 6.00 – 10pm (Last order)
French cuisine is probably one of the most luxurious and delectable dishes there is and everyday Rhubarb serves their customers with the most authentic French experience through their menu.
They source their ingredients from only the best suppliers to ensure that they keep their standards high. Their set lunches are filled with exquisite menus that totally give the best value for money.
They have also matched their scrumptious meals with a perfectly elegant restaurant ambience to make their customers' French lunch experience more genuine than ever.
Highlights
Authentic and luxurious menu

Good customer services

Stunning dining arrangements
Customer Reviews
Their customers loved both the restaurant's set of menu and ambiance, plus the fact that all of their staff are very warm and friendly with them.
"The lunch menu is excellent! Very generous portion and extremely fine food. It deserves more star! I especially love the quail and the dessert. Taste is flawless, staff is very friendly, will definitely come back to try other dishes."
8. Royal Indian Restaurant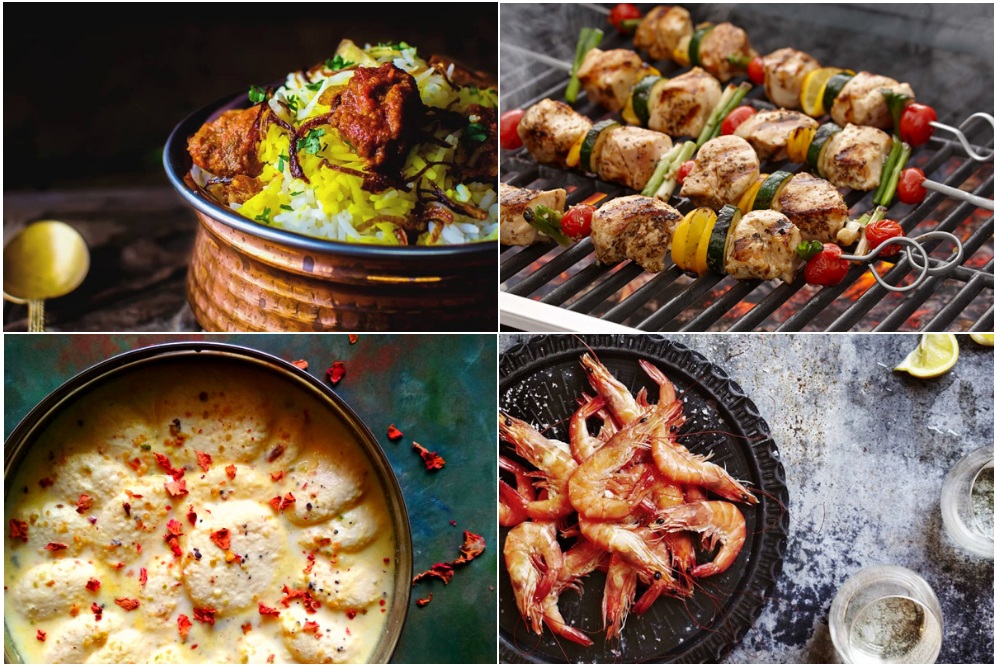 BEST FOR

Middle Eastern Cuisine

PRICING

Menu

WEBSITE

https://www.royalindianrestro.sg/

 

ADDRESS

227, Jalan Besar, #01-01, Singapore – 208904

CONTACT DETAILS

+65 69093476/+6592227635/+65 91562786 /+65 92227635
Royal Indian Restaurant is one of Singapore's middle eastern cuisine haven. They have a wide range of meal options from salads, breads, and soup to kebab, mashawi grill, mutton, and even desserts.
Their executive chef, Mr Khan, has over 30 year experience working at 5 star hotels in India, Saudi Arabia and Singapore. They make sure not only to create dishes that will please their customers' stomachs but will also make their eyes feast.
Enjoy Middle East's royal local food along with the restaurant's elegant and unique interior design that really gives that authentic Indian ambiance.
Highlights
Expert executive chef

Full range authentic Middle East cuisine

High quality and fresh ingredients
9.  Artemis Grill & Sky Bar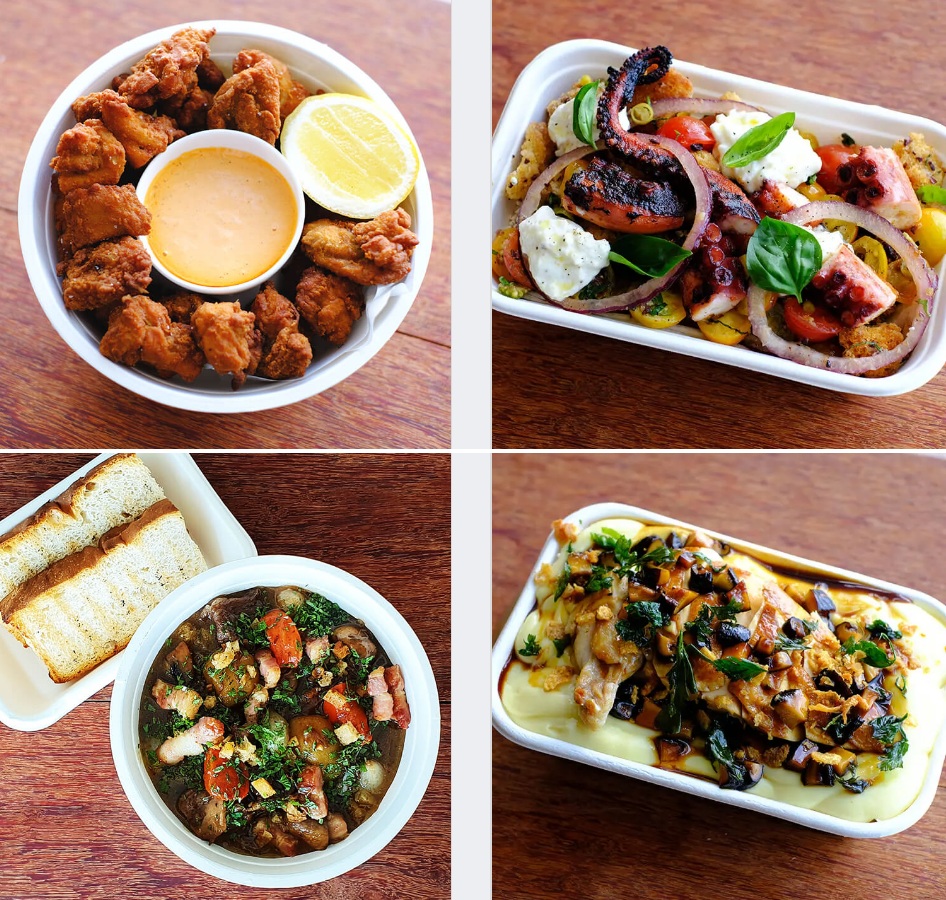 BEST FOR

Mediterrenean Dish

PRICING

Menu

WEBSITE

https://artemisgrill.com.sg/

 

ADDRESS

138 Market Street,

CapitaGreen Rooftop (Level 40),

Singapore 048946

CONTACT DETAILS

+65 6635 8677

+65 9850 7954

OPERATING HOURS

Monday to Friday: 11:30 am to 9pm

Saturday: 5:30pm to 9pm
Craving some Mediterreanean food in the middle of Singapore? Search no more because Artemis Grill & Sky Bar has got some of the most delectable Mediterrenean dishes that will definitely please your palate.
From starters to dessert, this restaurant sure does have a fine selection of dishes and guaranteed to be made of only the highest and finest ingredients. They even have vegetarian options as well as keto-friendly and gluten free meals.
Artemis Grill & Sky Bar also offers delivery services daily from 11:30 AM to 9:00 PM.
Highlights
Fresh ingredients

Exquisite menu

Fine wine selection
Customer Reviews
The restaurant received an overall rating of 4.5 on Google with 521 reviews. Here's one of the written feedback.
"Food is surprisingly interesting. I did the set lunch n chose the salmon, beef, coconut. Salmon match with the seasoning sauce was good. Steak was grilled to a perfect medium pink. Birthday cake was a complimentary as gesture from the restaurant."
10. Collin's Grille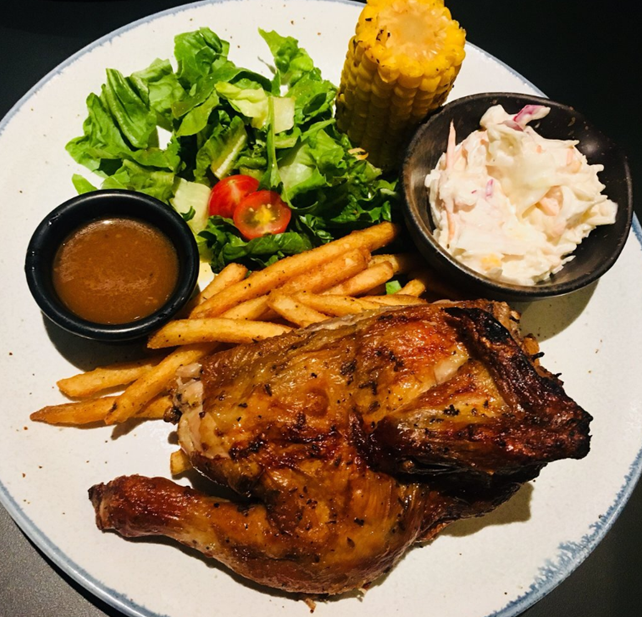 | | |
| --- | --- |
| BEST FOR | Grilled delicacies |
| PRICING | |
| WEBSITE | https://www.collins.sg/ |
| ADDRESS | 19 Hougang Avenue 1 #01-1358 Hougang, Singapore 538871 Singapore |
| CONTACT DETAILS | https://contact.collins.sg/ |
| OPERATING HOURS | n/a |
Collin's Grille is an award-winning restaurant established in the year 2012. Since then, they've provided the people of Singapore the freshest catches and the best tasting food.
Their goal is to make sure delicious dishes are made accessible to anyone, and for everyone to enjoy. The menu consists of your typical wings and chicken dishes, as well as seafood platters, salads, and of course, lunch sets.
You won't have to worry about emptying your pockets as even when the food is made with premium quality ingredients and prepared in the best way; you can bet that they're all affordable in price.
Aside from their branches in Singapore, you can also get Collin's Grille's amazing food outside the country!
They've extended their business to Cambodia, Indonesia, as well as China. In a few years, they'll have restaurants all over the world! Have the best tasting grilled food sets only with Collin's Grille.
Highlights
Wide selection of food
Top class servicing
Special Promotions
Customer Reviews
To prove just how amazing the food is at Collin's Grille, here's one of the feedbacks left on their Google Review:
"First time we tried this restaurant was last November at Northpoint City. My husband and I was curious of always long Q. So we decided to give it a try. And unexpectedly, its really worth queueing up!
During our first time there, we ordered grilled short ribs, seabass & a steak. And it was all nice. This month, we've been there twice and trying up different french dish.
Not only their food you'll get to appreciate but also their dedicated and good customer service staffs (especially those Filipinos!), not because I'm also a Filipino, but they really do.
Thumbs up Collin's Northpoint City!"
11. COMO Cuisine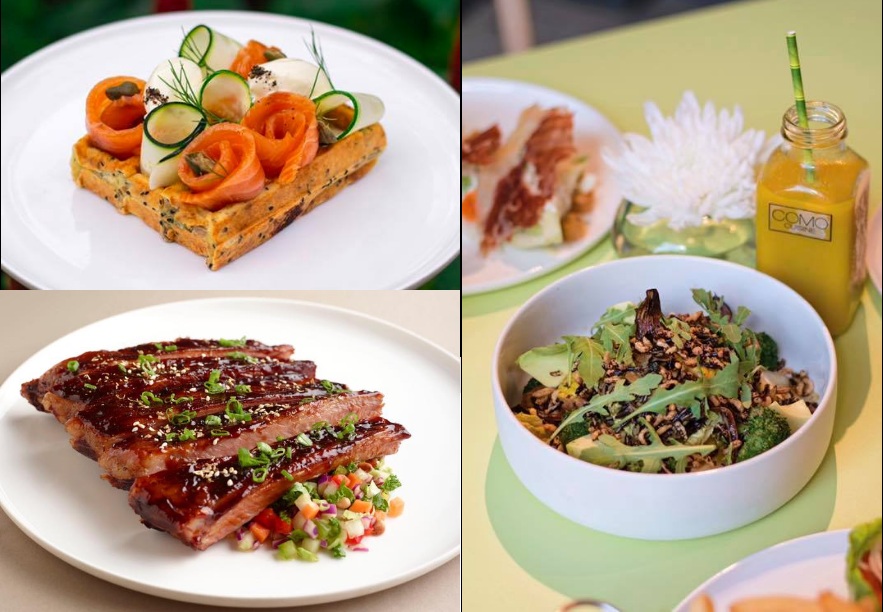 BEST FOR

International signature favourites 

WEBSITE

https://www.comodempsey.sg/

 

ADDRESS

Block 18A Dempsey Road, Singapore 249677

CONTACT DETAILS

1800 304 6688

+ 65 8121 6120 (For takeaway orders)

OPERATING HOURS

Schedule
For tomorrow's lunch, treat yourself for some international cuisine especially brought to you by Como Dempsey. The restaurant serves a wide selection of dishes that are totally made from scratch and uses only the freshest and organic ingredients to ensure the quality of their products.
They also take pride in sourcing their ingredients locally as a contribution to sustainable food production.
Should you want to have your lunch spent in the convenience of your home, Como Cuisine will happily deliver your orders any day of the week from 12:00pm to 4:00pm.
Highlight
Exquisite set lunch selection

Available for pick-up and delivery

Fresh and organic
Customer Reviews
"Beautiful ambience, great service and delicious food. Waitress was patient in answering our questions and recommended dishes based on our preferences. Prices are reasonable given the environment and service. Loved the IPA which had notes of guava and passion fruit!! Free olive bread was surprisingly delicious. Will revisit!"
12. FOC Restaurant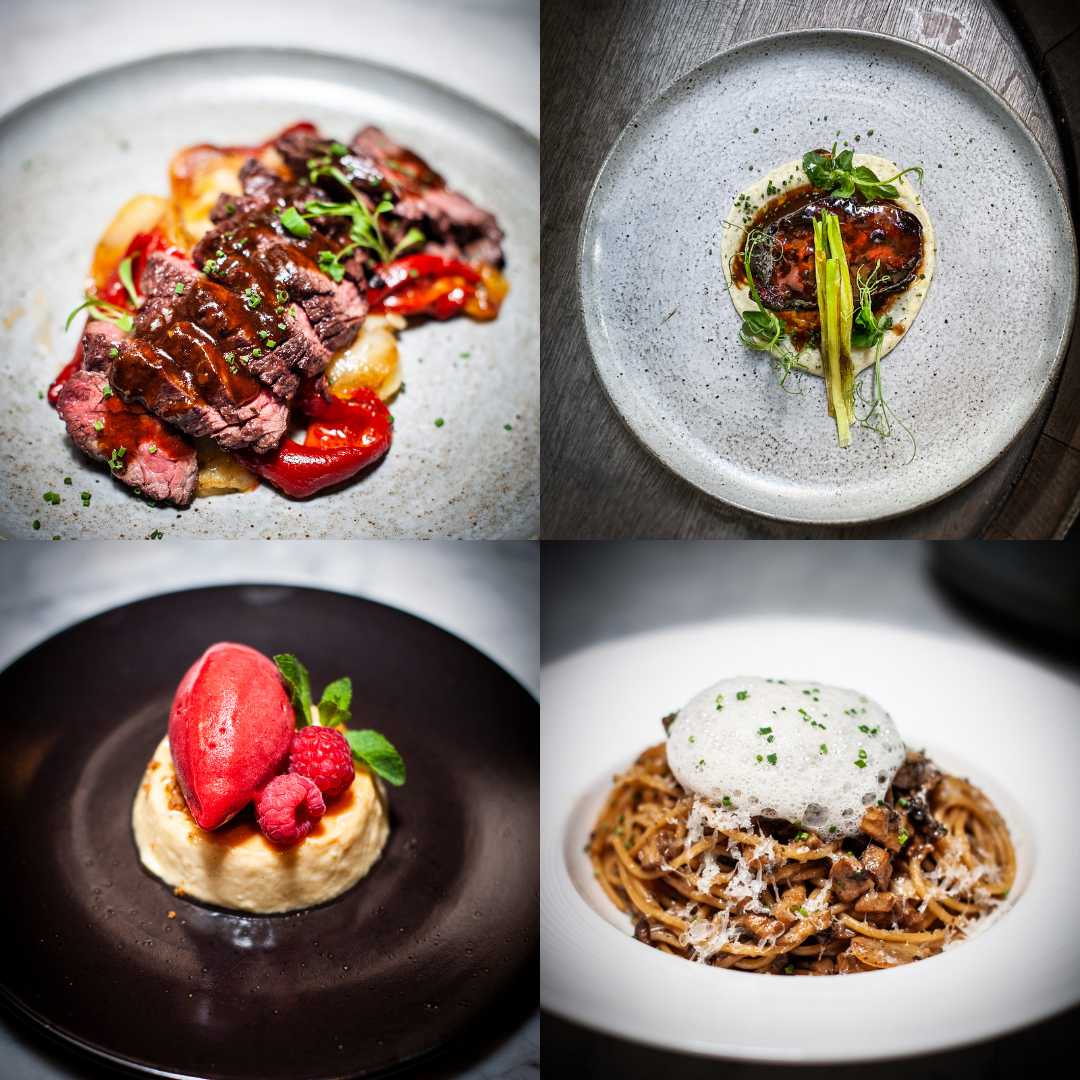 Established in 2014, FOC Restaurant at HongKong Street was borne from the collaboration of Michelin Star Chef Nandu Jubany and a group of local Spain-aficionados. They aspired to bring Singaporean locals a taste of authentic Barcelona flavours.
At FOC, dining is never a dull experience. Upon entering the premises, you'll be met by a busy site — from the kitchen to the dining area itself. Quality foods and drinks are made better by exemplary staff and 80's rock beats.
Highlights
All-around dining experience
Open for Lunch and Light Bites & Drinks in the afternoons
Wide range of seating options
Now that you have an idea of which places have the best set lunch in Singapore, get ready to make some reservations for meetings or invite your friends to hang out!
If you've already experienced the cuisine and services from our list, share with us your story as we'd love to hear more about them!
And in case you prefer to eat in the office or at home, you may see these best food delivery service in Singapore. Each of our picks offers amazing cuisine options, letting you have a variety of menus to choose from.