Top 10 Cheap Hotels in Singapore: Great Value for 2021
Tourists and travellers will never run out of options for budget hotels in Singapore. Of course, if what you want are cheap Singapore hotels that still offer a quality stay, you'll have to do a bit more research.
Fortunately for you, we've done the research on your behalf. Below, we'll present you with the best affordable hotels in Singapore.
1. HOTEL NUVE URBANE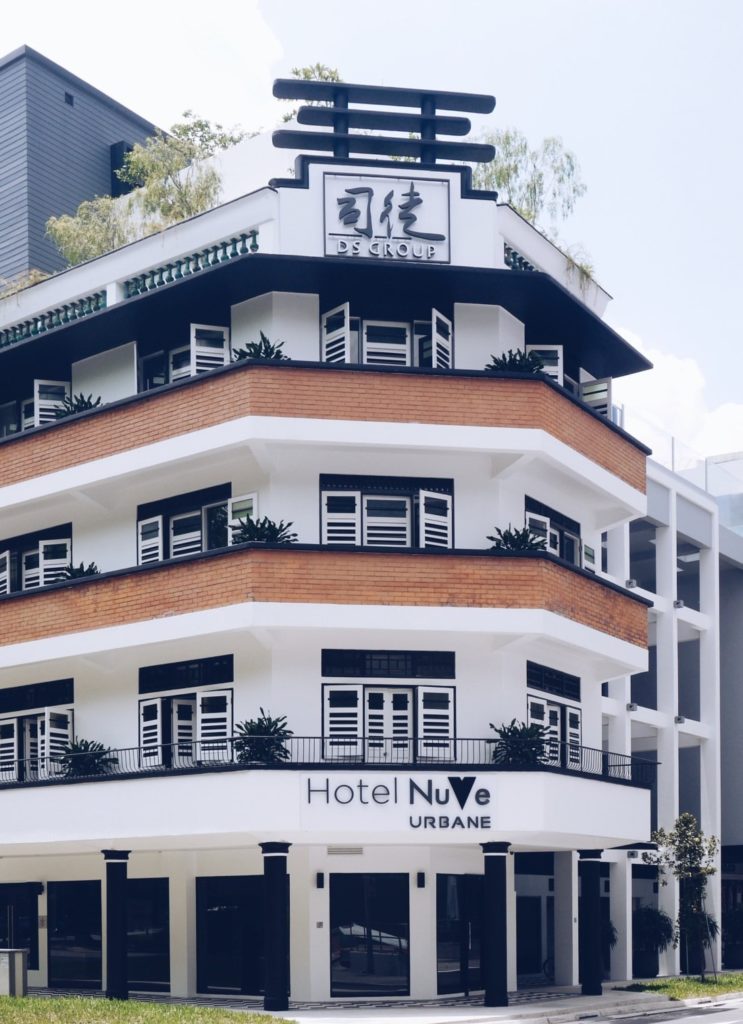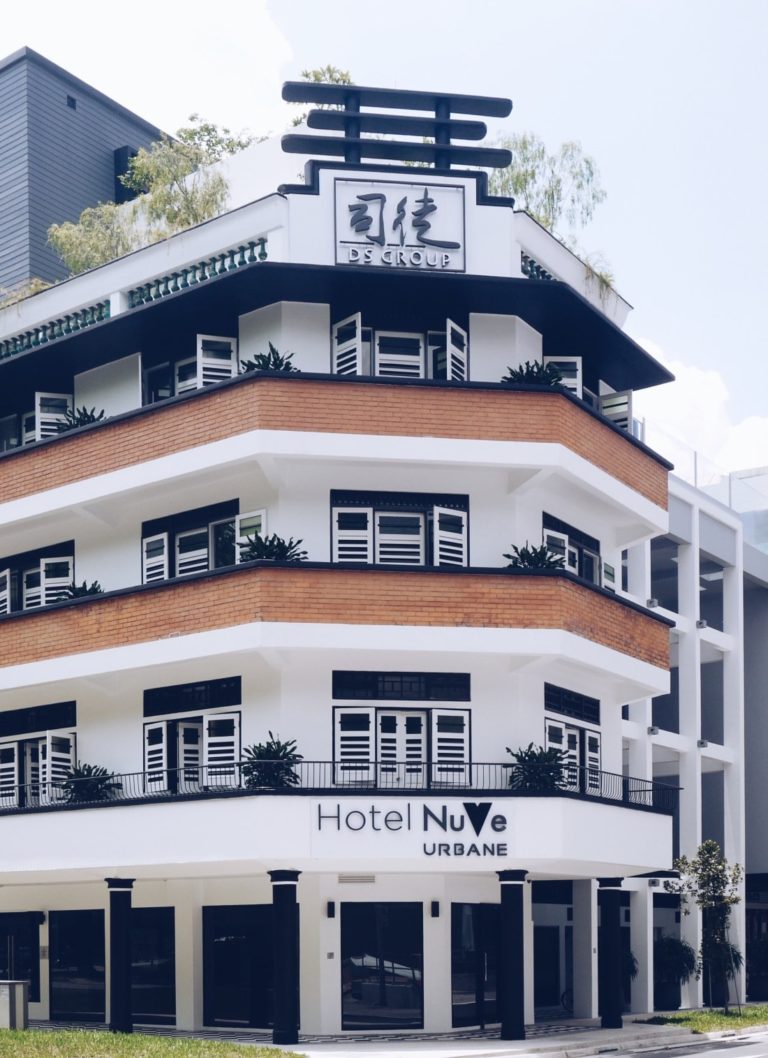 BEST FOR
Modern boutique hotel for staycation, single travellers & couples
FACILITIES
Baggage Storage, Elevators, Laundry Service, Photocopying Service, Room Service, Swimming Pool, Welcome Drink, Complimentary Wi-Fi, Complimentary Mini Bar (replenish daily), Complimentary In-room Nespresso and Complimentary Tea-making Facilities (replenished daily), Flat-Screen Smart TV, Daily Housekeeping, 24-Hour Front Desk, FREE Handy Phone, FREE Local & International Calls (selected countries)
PRICING
From SGD 88.40
WEBSITE
https://hotelnuveurbane.com/
ADDRESS
3 King George's Avenue, Singapore 208582
CONTACT DETAILS
Telephone: +65 6372 5299 / WhatsApp (message only): +65 9345 5536 |

[email protected]

CHECK-IN/CHECK-OUT POLICIES
Check-In: 3:00 PM
Check-Out: 11:00 AM
Hotel NuVe Urbane is the third establishment in a collection of curated hotels by The NuVe Group. It is a 4-star lifestyle and boutique hotel located in the Lavender district, a mere 5-minute walk to Lavender MRT Station.
In spite of being a 4-star hotel, it's still among our top cheap hotels in Singapore. That's because of its affordable rates and value for money.
It features an outdoor pool with a cabana area. Guests can also savour a meal at the restaurant or drink at their bar.
For a more comfortable stay, book a Deluxe Double, 13 to 15 sqm, which comes with complimentary in-room minibar and complimentary/free breakfast when you book directly on their website.
Hotel Nuve Urbane may be one of the cheapest hotels in Singapore but their chic interiors and amenities will surely make you feel otherwise.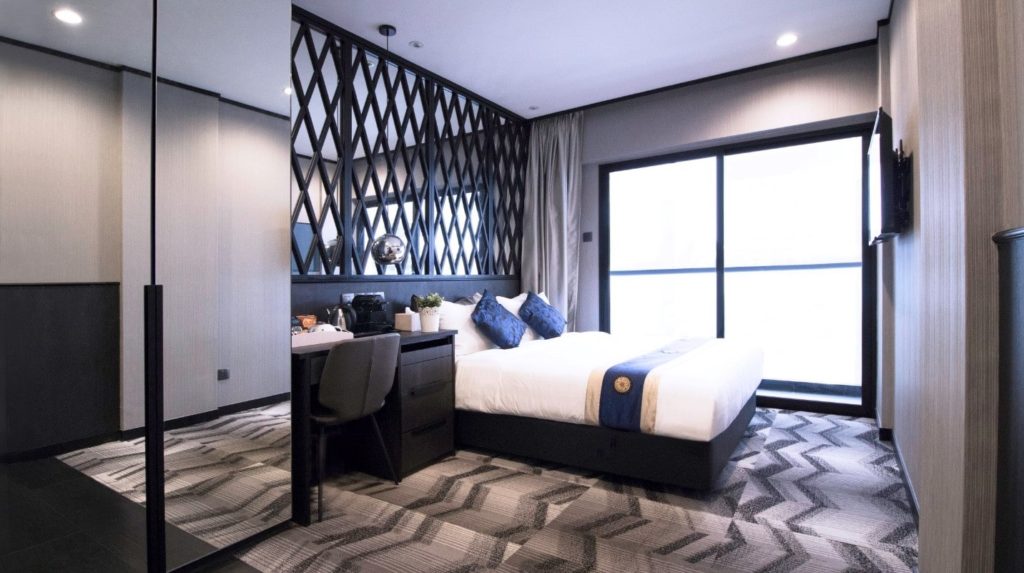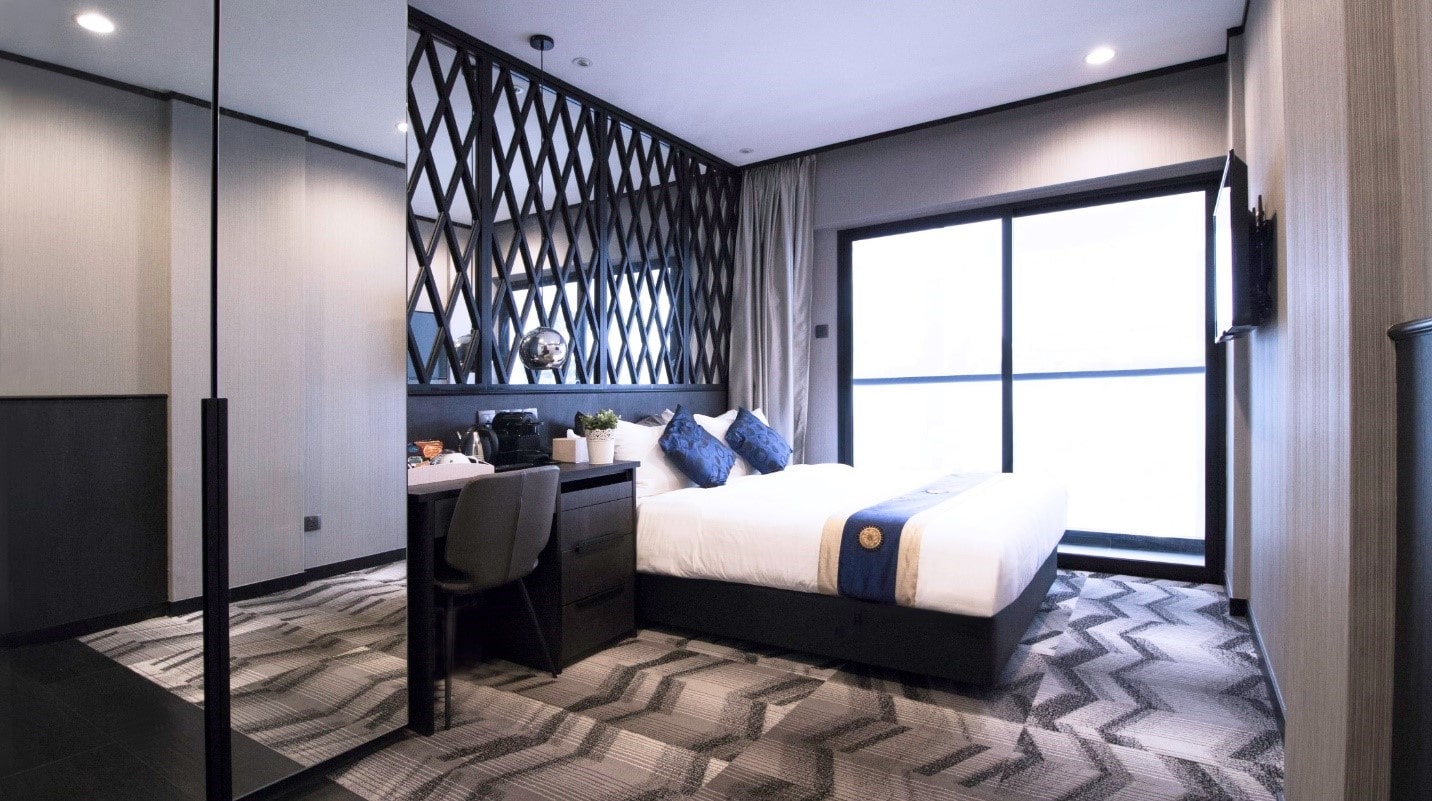 Service Highlights
Free WiFi to all guests
All spacious rooms are air-conditioned and are fitted with flat-screen cable TV and a complimentary minibar. En-suite stylish bathrooms include a hairdryer and free toiletries.
An outdoor swimming pool that can be enjoyed day or night
24-hour front desk for assistance
Minutes away from major attractions & cafes
Complimentary mini bar
Complimentary handy phone
Customer Reviews
Guests left positive comments for a comfortable stay, friendly staff, convenient location and special complimentary services as perks. Eunos Chong in, Google Reviews wrote:
"The ambience was great; rooms were comfortable and top notch. Breakfast was really good as well with a menu of dishes to choose from. Staff were very courteous and friendly. Hotel was walking distance to tourist areas. Overall a great hotel to stay in and would definitely recommend this place to everyone"
2. THE GREAT MADRAS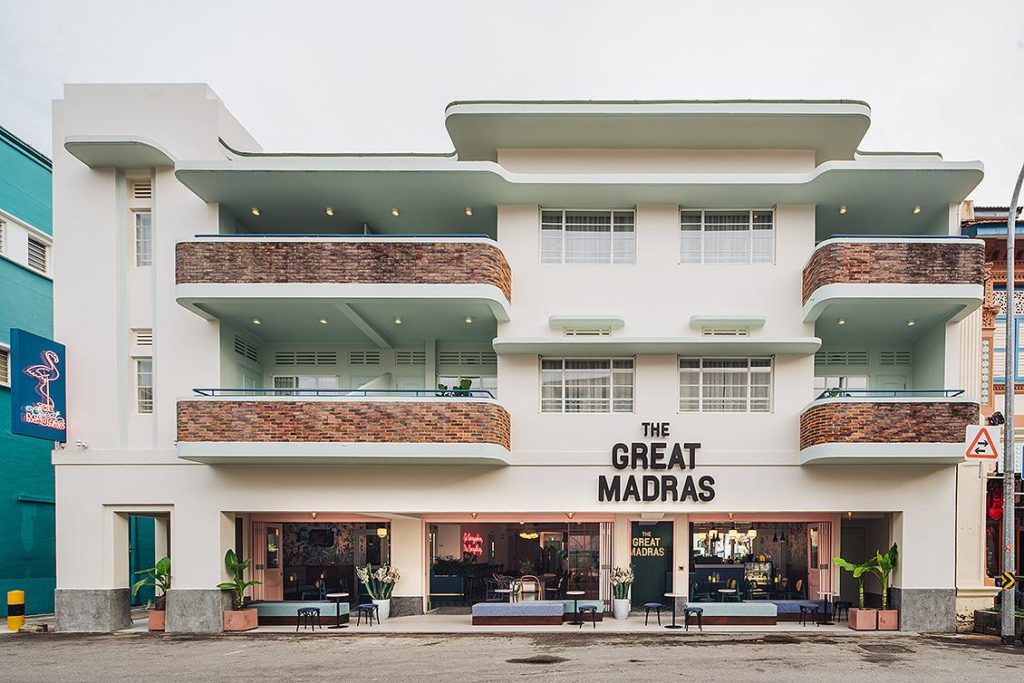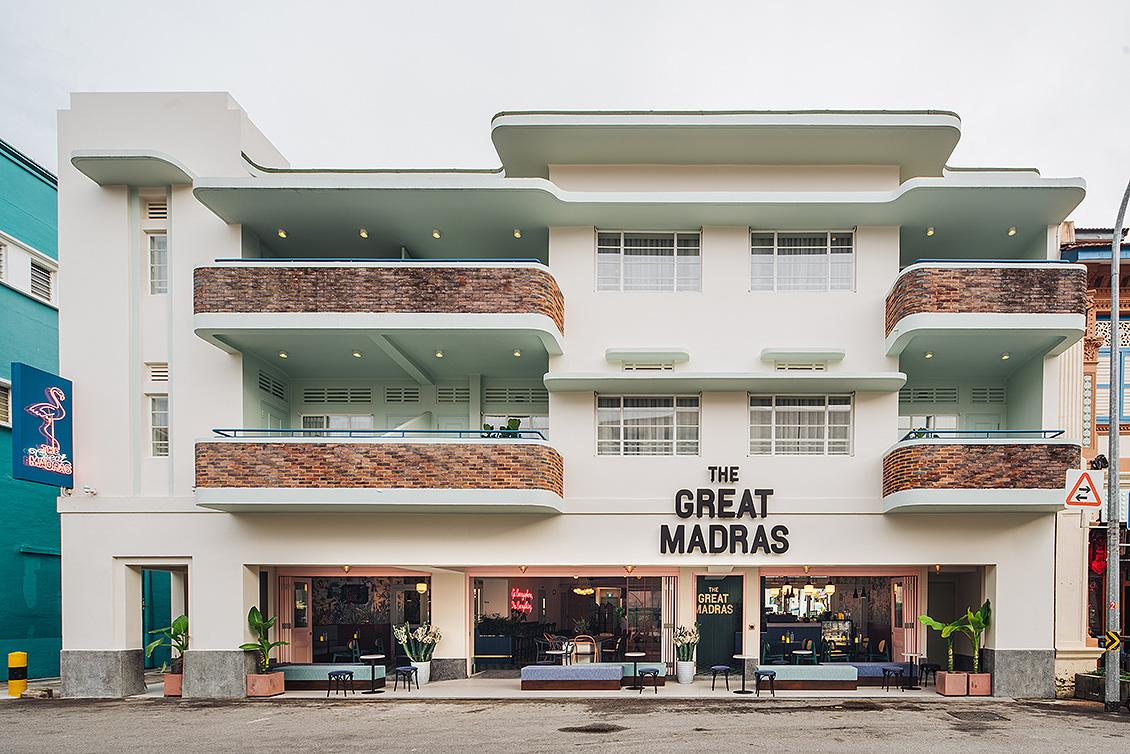 BEST FOR
Hip, Instagram-friendly luxe hostel; vibrant nightlife
FACILITIES
Baggage storage, Concierge desk, Elevators, Fax services, Laundry service, Photocopying service, Printer, Swimming pool, Café
PRICING
From SGD 85.25 | The Deluxe Room: From SGD 123.75
WEBSITE
https://thegreatmadras.com/
ADDRESS
28 Madras Street, Singapore 208422
CONTACT DETAILS
 +65 6914 1515 |

[email protected]

CHECK-IN/CHECK-OUT POLICIES
Check-In: 3:00 PM
Check-Out: 12:00 PM
The Great Madras Boutique Hotel, formerly the Madras Hotel, is a 35-room hotel set in a beautifully-restored building in the vibrant neighbourhood of Little India.
A striking feature of the hotel is the pink neon flamingo on the side of the building which immediately informs you of its modern and quirky aesthetic. It also tells you that it's among the most interesting cheap Singapore hotels we've found.
The Great Madras is also strategically-located, near public transportation such as Rochor and Little India MRT station, and within close proximity to shopping districts such as Mustafa Centre, City Square Mall and Bugis. There's no shortage of activities within its surroundings.
Their Deluxe Room is spacious with windows to the outside. Inside, you'll find prints of a hand-painted forest lining the wall. This non-smoking room is 15 square metres with an ensuite bathroom and the usual hotel amenities, including air-conditioning, safe, phone, hair dryer, TV, free Wi-Fi, and daily room service.
Book early to get an early bird rate. You can get The Great Suite for 40% less! That's if you book 30 days prior to your date of stay.
The Great Madras is definitely one of the best cheap hotels in Singapore that offer great promotions regularly. Hunters of Singapore cheap hotels must take note!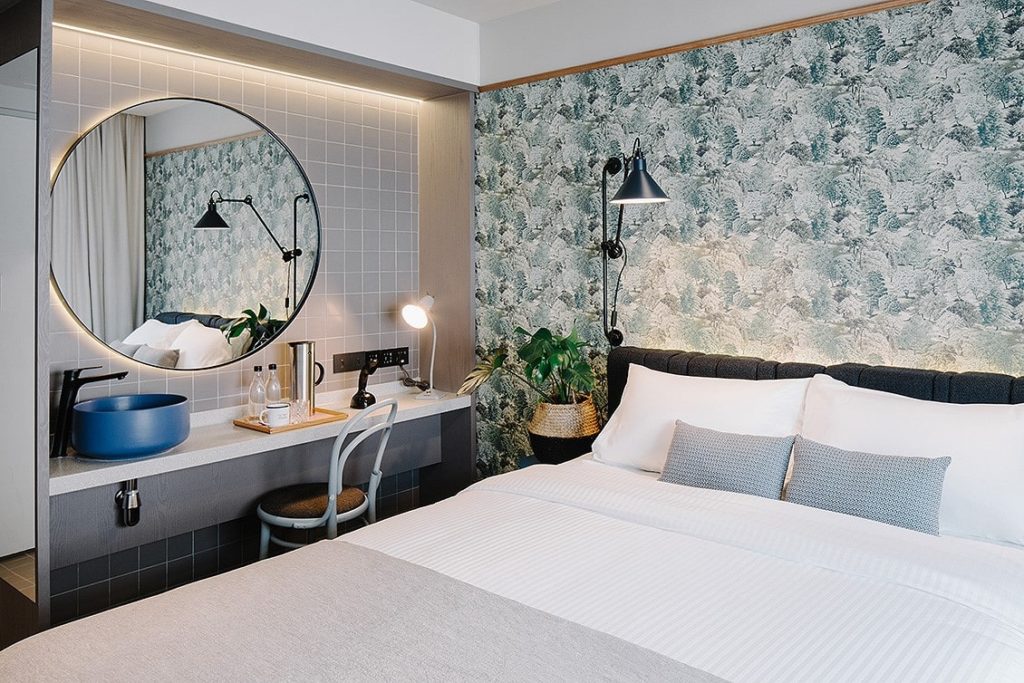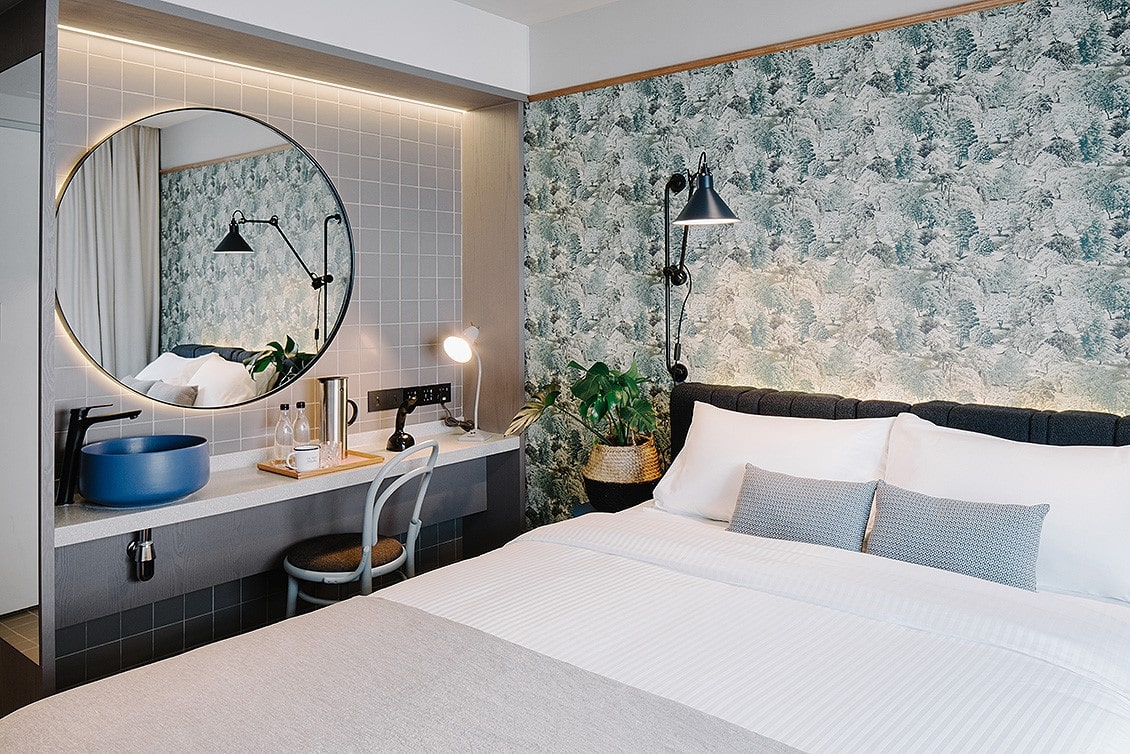 Service Highlights
Barber in the lobby for a good ol' gentleman's hair cut
Bistro serving tasty Halal food
Instagram-friendly pool
Convenient and accessible location
Customer Reviews
Customers find the rooms to be on the smaller side, but they love the quirky ambience of the hotel. They also like the strategic location and comfortable beds, and of course, the fact this is one of the best cheap Singapore hotels.
Here's a review from a TripAdvisor reviewer:
"I only stayed one night but was very impressed by the size and comfort of the bed, its convenience (very central, with 3 metro stops within about 10 mins walk) and the overall cool vibe of the place. The front desk was eager to help with any enquiries and I enjoyed a deep sleep. Very happy to stay here again."
3. HOTEL MONO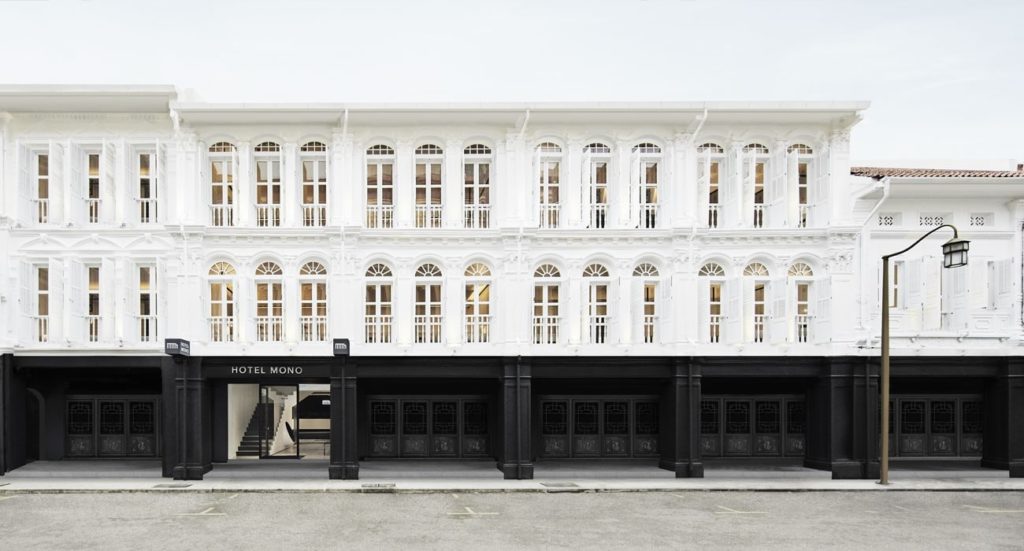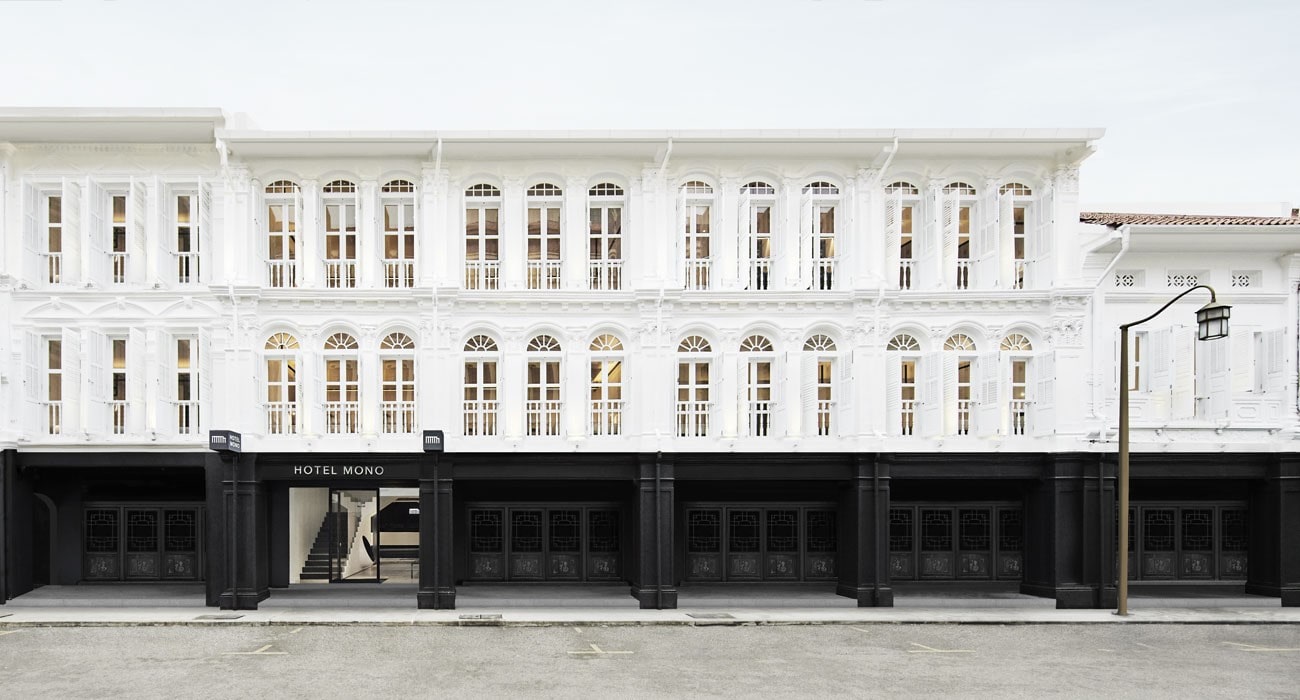 BEST FOR
Modern, minimalist aesthetic
FACILITIES
High Speed WiFi, Electric Kettle, Digital In-room Safe, Standard hotel amenities
PRICING
From SGD 111 | Deluxe Double from SGD 140.18
WEBSITE
https://www.hotelmono.com/
ADDRESS
18 Mosque Street, Singapore
CONTACT DETAILS
 +65 63260430 |

[email protected]

CHECK-IN/CHECK-OUT POLICIES
 
Hotel Mono, as can be gleaned from the name, is a stylish hotel with a modern, minimalist design. The interiors are (surprise, surprise!) monochromatically-furnished and are surprisingly sophisticated for a cheap Singapore hotel.
It's housed in six historical shop houses beautifully renovated to retain their original charm while boasting the comforts of modernity.
With forty-six stylish rooms, travellers and locals alike can enjoy comfortable accommodations and get a good night's rest after exploring the vibrant city.
A Deluxe Double room (17 sqm) here includes a queen-sized bed with big windows that peer into the bustling street. In-room amenities include:
Complimentary high-speed Wi-Fi
Flat screen TV
Hair dryer
Two bottles of complimentary mineral water
Mini fridge
Custom King Koil pocketed spring bed
Micro-gel fibre pillows
Cable TV
Complimentary toiletries
Digital safe
Complimentary coffee and tea
Dry cleaning and laundry (extra costs apply)
Electric kettle
There are many other room options at this cheap Singapore hotel, though. For example, there are loft rooms as well as studios like the one below.
If you want to stay in a budget hotel in Singapore with luxurious feels, Hotel Mono is your best bet.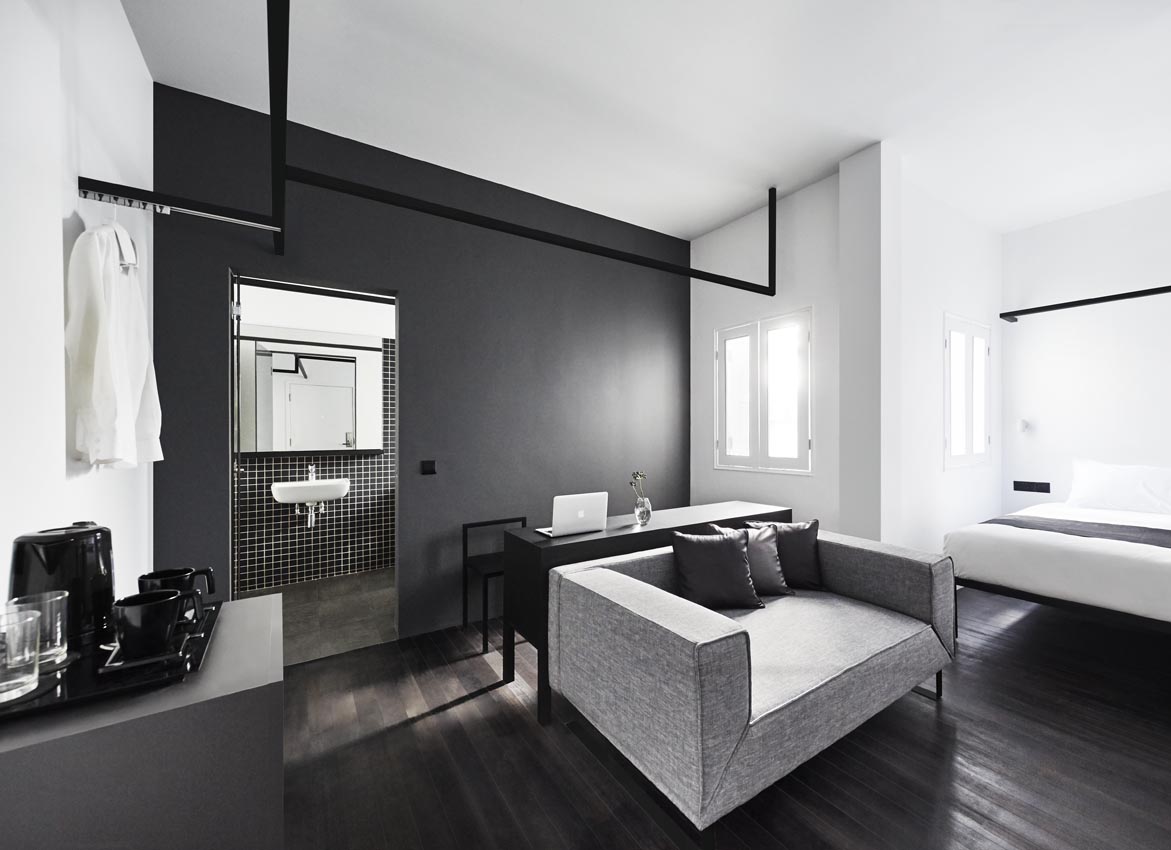 Service Highlights
Complimentary high-speed Free Wi-Fi
Hairdryer
Flat screen television
Mini fridge
Two complimentary bottles of mineral water
Room slippers
Cable TV
Digital in-room safe
Towels
Custom King Koil pocketed spring bed
Electric kettle
Complimentary coffee and tea
Micro-Gel fibre pillows
Complimentary amenities pack
Customer Reviews
Modern design, ample amenities, convenient location and good value for money are only some of the reasons given by satisfied guests for rating this one of the best cheap Singapore hotels. Lu H. left this 5-star review on Google:
"Stayed here as a solo traveller. Convenient location, a few minutes' walk from DT19 MRT station (use Exit A). Very helpful and friendly staff. Clean, the linens are very new and fresh, the bed is comfortable. A/C is very good. Eateries everywhere. I would stay again if I ever visit Singapore again."
4. HOTEL INDIGO SINGAPORE KATONG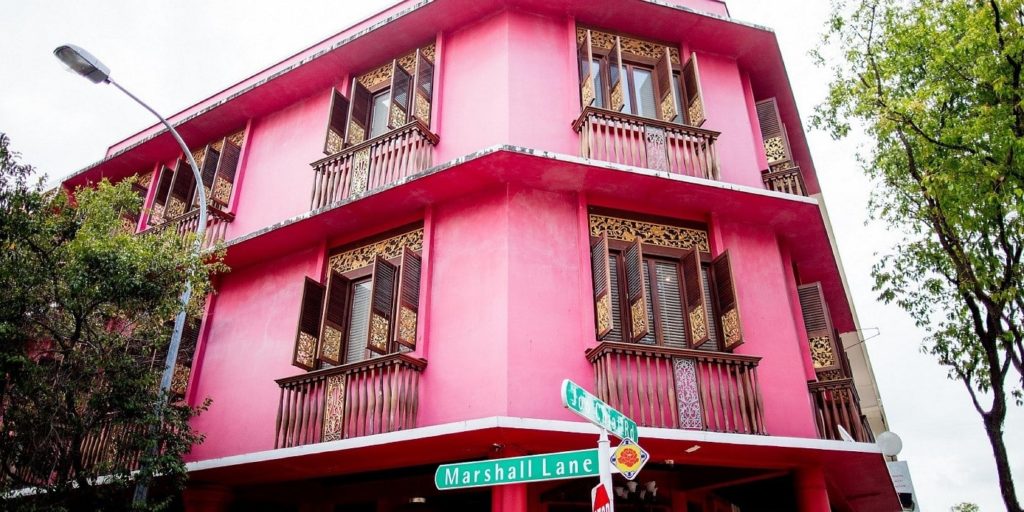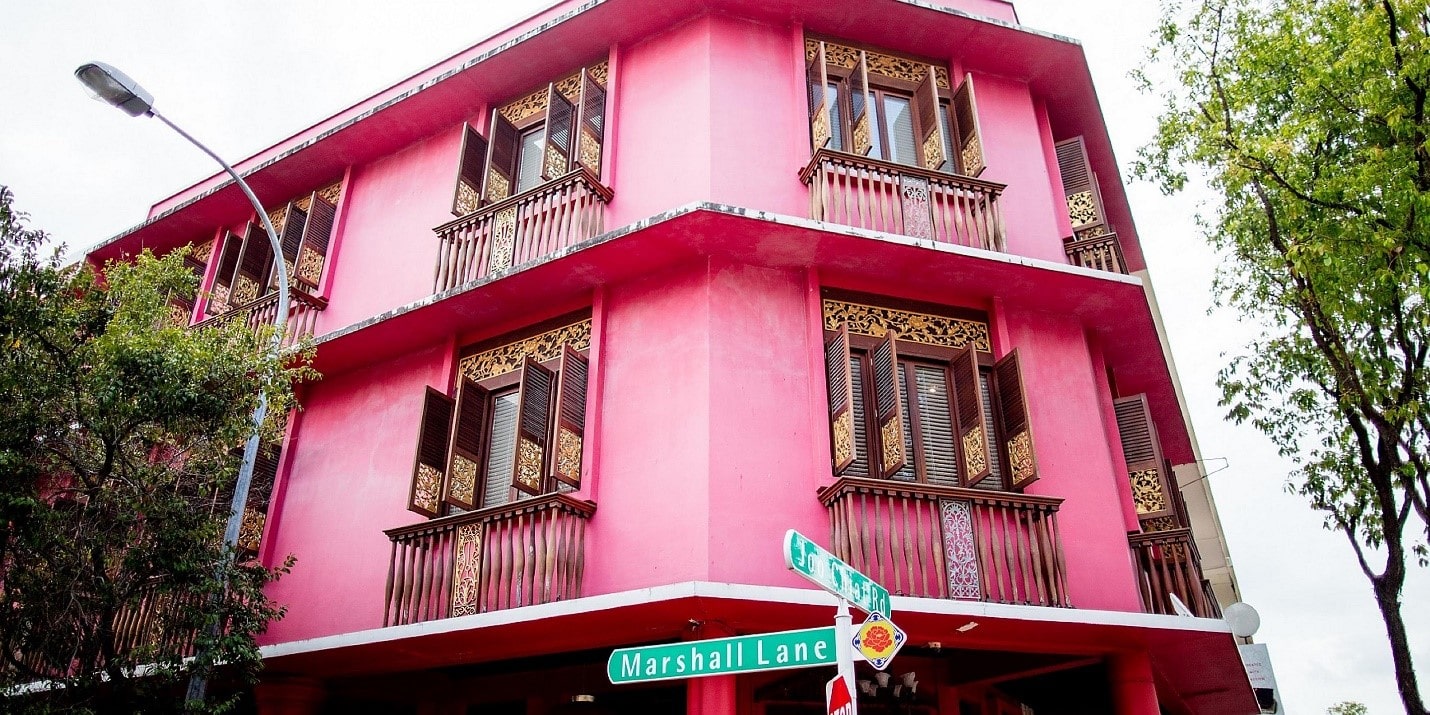 Hotel Indigo is part of the IHG chain of hotels and resorts.
Here, guests get to experience the life of a local from a comfy and luxurious room. It certainly doesn't feel like staying in one of the best budget hotels in Singapore. 
The hotel is housed on the site of the former Joo Chiat Police Station, now a conservation building. The unique design is inspired by the Peranakan culture, which pays tribute to the heritage of its lively neighbourhood.
Their rooftop infinity pool overlooks the whole of Singapore's first heritage. Take a dip at sunset to marvel at the beautiful Katong skyline from a lofty perch you wouldn't think to be part of a cheap Singapore hotel.
Their spacious 30sqm Deluxe Room has a king-sized bed with a vibrant and modern design reflecting the colourful neighbourhood. It comes with an LED TV, sofa, WiFi, minibar and floor-to-ceiling window to bring in ample daylight. 
For those looking for cheap hotels in Singapore that offer both history, culture and comfort, we highly recommend Hotel Indigo.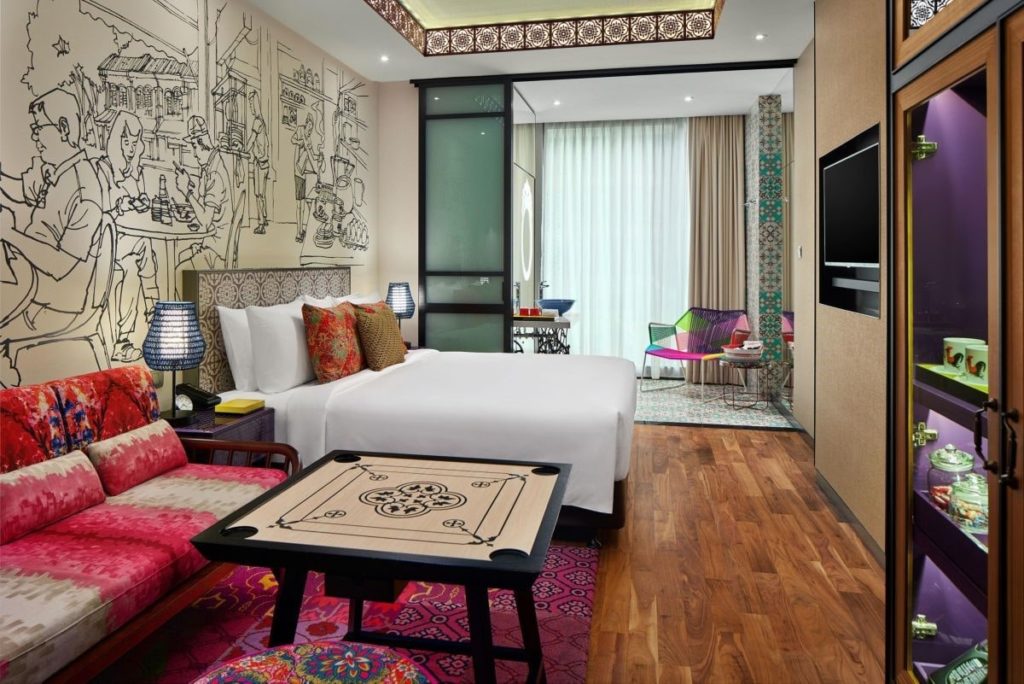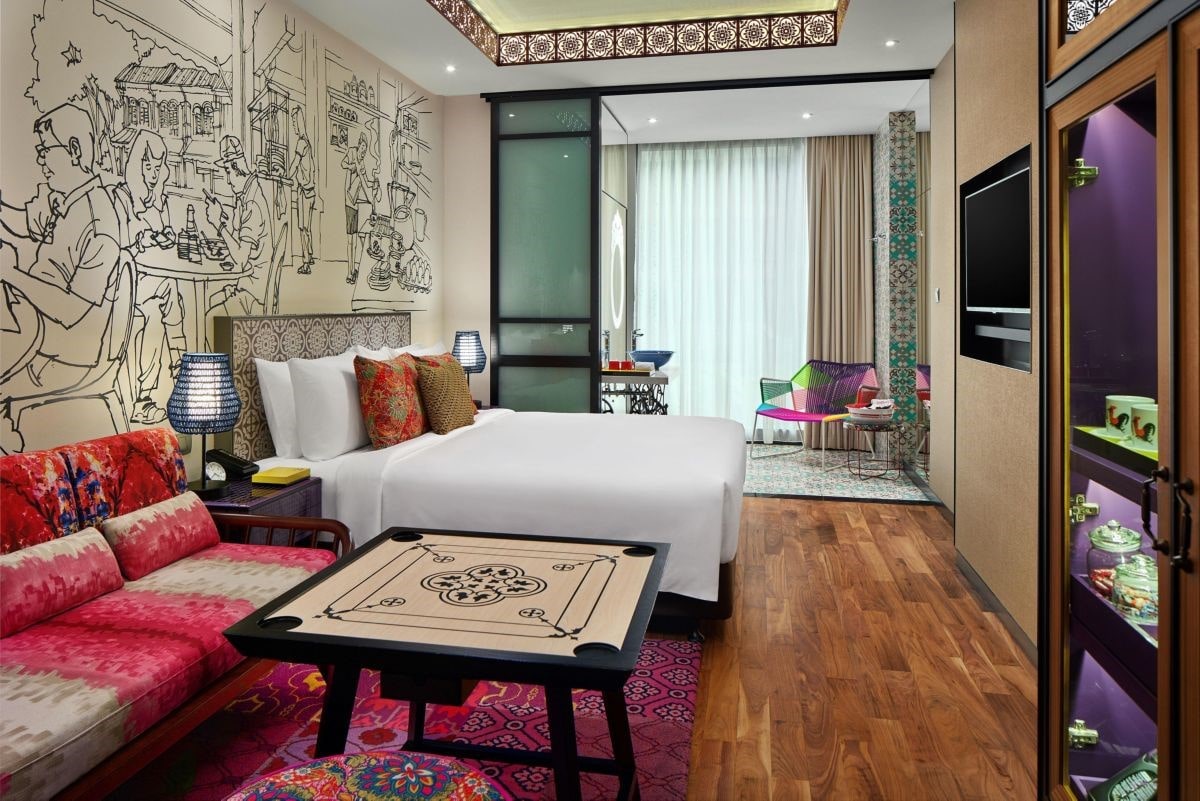 Service Highlights
Complimentary WiFi
24-hour fitness centre and function room
Baba Chews Bar and Eatery, an all-day neighbourhood café
Malls and East Coast Park are within walking distance from the hotel
Changi Airport, Singapore Expo, Changi Business Park, and Singapore's financial district are less than 20 minutes away by car
Infinity pool overlooking the whole of Singapore's first heritage town with stunning views especially at sunset
Customer Reviews
Satisfied customers of Hotel Indigo praise the privacy and comforts offered by the hotel. They also commend the friendly and helpful staff, clean rooms, generous amenities and value for money at this cheap Singapore hotel.
Song Kwang Lee on Google Reviews wrote:
"Nice hotel with a great view. Strong peranakan influence. Lots of eateries around the hotel with 2 malls within walking distance. Modern and cosy place to stay with a nice old school local flavour street just outside. Nice infinity pool view as well."
5. KAM LENG HOTEL


BEST FOR
Staycation at a historic boutique hotel
FACILITIES
Free Wireless Internet Access, Free Local Call, LCD TV, Cable TV Channels, Digital In-room Safe, Mini-fridge, Coffee & Tea Making Facilities, International Direct Dialling, Automated Wake-up Call, Air-conditioning, Dry Cleaning & Laundry Services, Electronic Door Lock
PRICING
From SGD 73.63 | Executive Queen from SGD 104.75
WEBSITE
https://kamleng.com/
ADDRESS
383 Jalan Besar Singapore 209001
CONTACT DETAILS
 +65-6239 9399 |

[email protected]

CHECK-IN/CHECK-OUT POLICIES
Check-in time: 14:00 Check-out time: 12:00
Established in 1927, Kam Leng hotel's mysterious owner remains unknown to this day, adding to the allure of this historic boutique hotel. With their rates starting at just over 70.00 SGD, they're certainly close to getting the title of the cheapest hotel in Singapore.
Located along the bustling Jalan Besar road, its re-opening in 2012 brought back the magic and nostalgia of the past while incorporating modernity for a contemporary hotel experience.
The hotel has 70 guestrooms with 4 different room categories, a restaurant at level one and terrace at level 2.
The Executive Queen rooms (Approximately 17 – 20 sqm each) are furnished with one queen-sized bed. Each room also has coffee/tea facilities & 2 complimentary bottles of water.
Smoking, non-smoking, and handicapped rooms are available too. In-room amenities and services include:
Air Conditioning
Bath Amenities
Bathroom with Shower
Cable-Satellite TV
Coffee Facilities
Daily Maid Service
Direct-dial Telephone
Electronic Locks
Flat Screen TV
Free Local Calls
Guest Laundry
Hairdryer
High-speed Internet Access
Individually-controlled Air Conditioner
Movie Channels
Refrigerator
Safe Deposit Box
Slippers
Television
Wake-up Call
WiFi Internet Access (free)
Writing Desk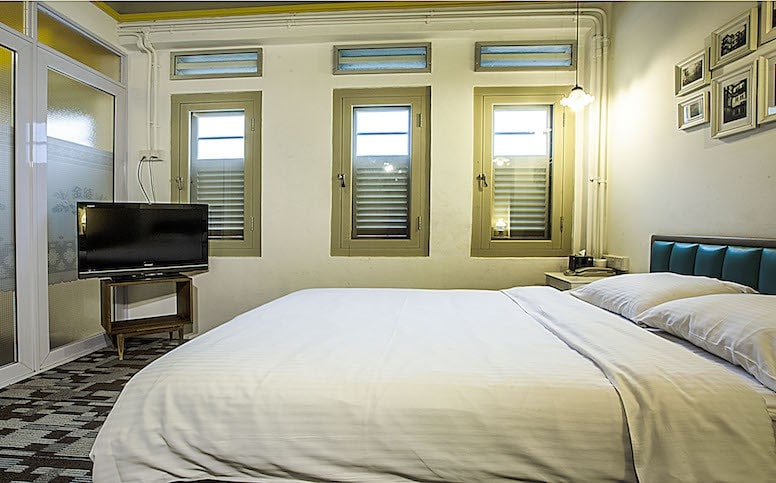 Service Highlights
Exclusive deal for direct reservations, discount up to 40% percent
Automated wake-up call
Electronic door lock
Affordable rates
Customer Reviews
The hotel's location, affordability and historical feel are some of the reasons cited by customers for their positive reviews of it. It has a strong reputation as one of the best cheap Singapore hotels.
Tan Jun Jie on Google Reviews wrote:
"Had revisited kam leng hotel multiple time. Awesome location with fine room where you can relax after a hectic day. Charge up and go for more site seeing. Night life is just steps away, you do not need to go far. There are many cafes around the corner. Kam leng has room that are comfy and also the staff are friendly. Price wise are still affordable compare to other premium hotel which cost a few hundred dollars."
6. MERCURE SINGAPORE BUGIS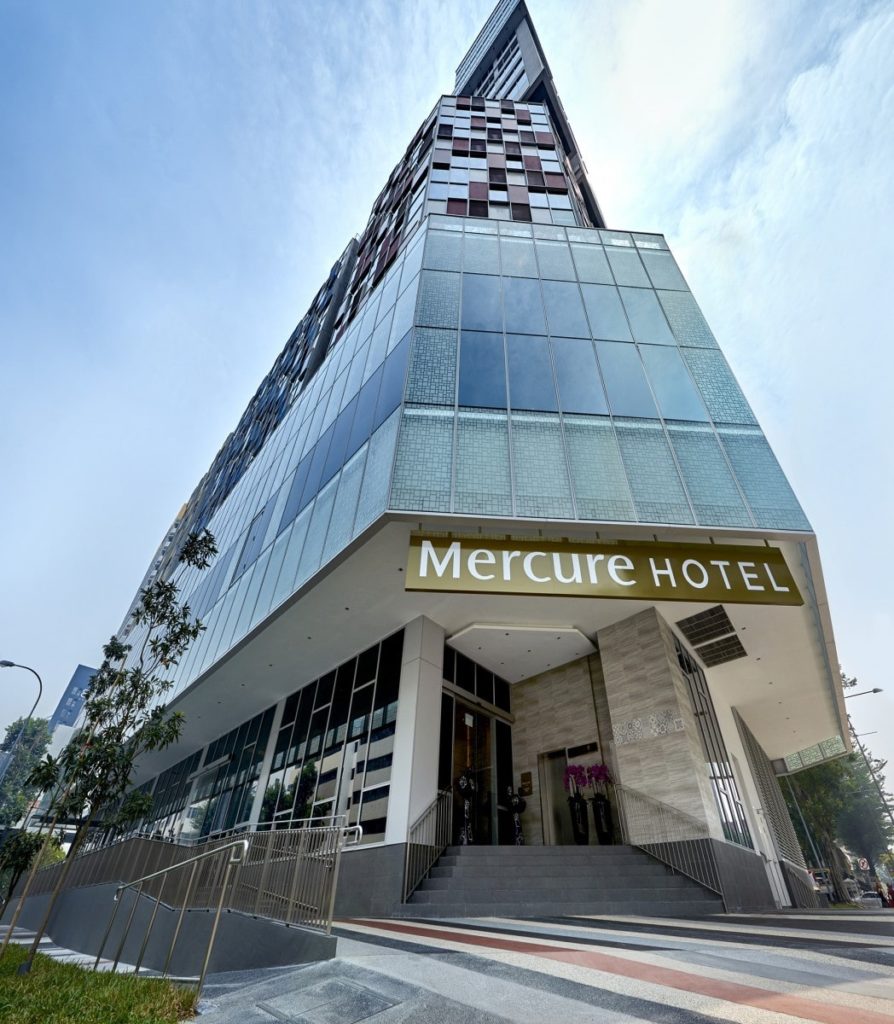 BEST FOR
Child-friendly hotel
FACILITIES
Internet access, Car park, Restaurant, Bar, A/C, Swimming pool, 100% non-smoking hotel, Child-friendly facilities
PRICING
From SGD 117.57 | Signature Room with Queen Bed from SGD 168
WEBSITE
https://www.mercure-singapore-bugis.com/
ADDRESS
122 Middle Road, 188973 , Singapore
CONTACT DETAILS
Phone: (+65)65216088 – Fax: (+65)68228901
CHECK-IN/CHECK-OUT POLICIES
Check-in from 14:00
Check-out until 12:00
Mercure Singapore Bugis is a contemporary 4-star hotel situated in Bras Basah-Bugis. It has a fun, colourful design reflecting the equally vibrant charm and heritage of the neighbourhood.
From here, guests can visit inspiring places of worship, historic monuments, street markets, shopping malls, and a surplus of appeal. They can also enjoy Arab Street's Middle Eastern ambiance alongside Orchard Road's numerous boutiques.
This 15-storey high hotel offers stunning views of the city at the sky deck as well as clear views of the city from many rooms and loft suites. For facilities, they have two restaurants, a lounge bar, private dining options, a ballroom, and meeting facilities.
Their Signature Loft Room overlooks the streets of Singapore with soaring windows, and a queen-size bed on the mezzanine floor. Guests can work at a sleek desk with fantastic city views, a minibar, and coffee- and tea-making facilities.
Two flat screen TVs – one upstairs, one down – are available to keep you entertained. For Internet service and IDD calls, guests can use their complimentary smartphone.
This is perfect for those looking for a cheap hotel in Singapore but want to experience the luxury, comfort and reliability of a well-known hotel chain.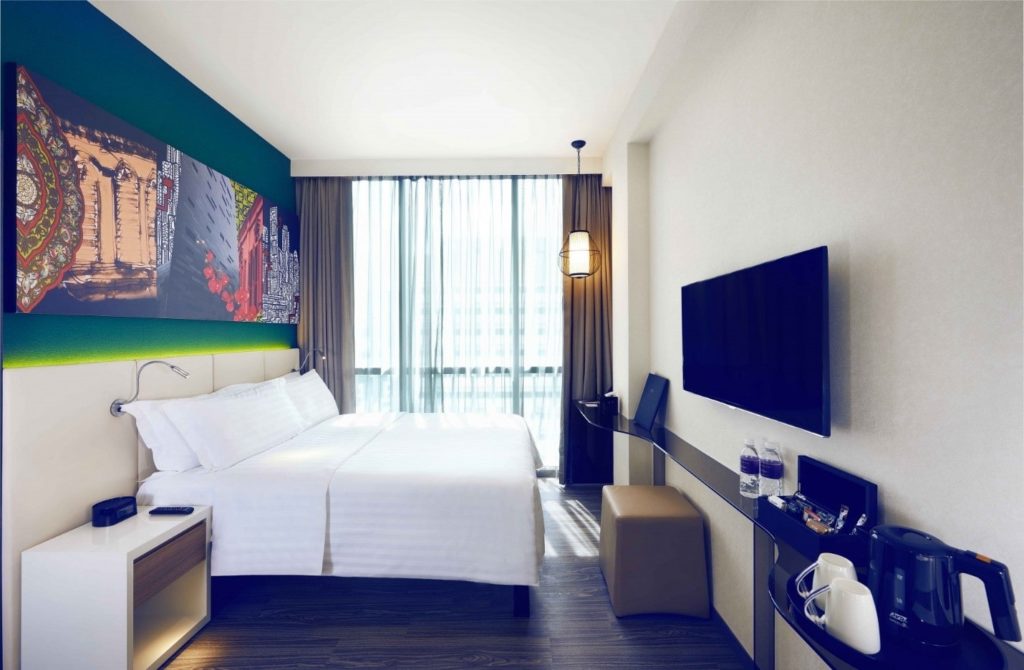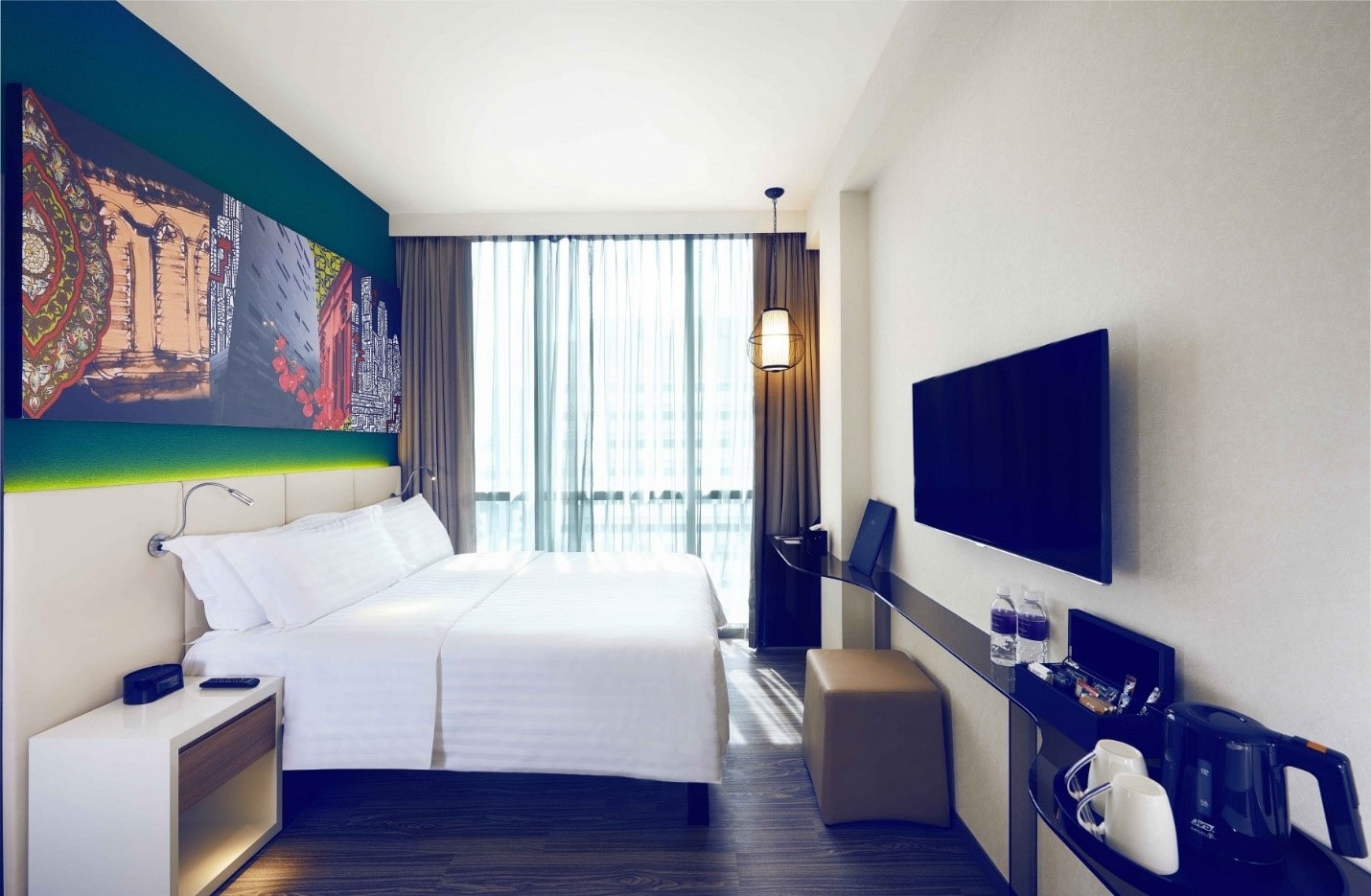 Service Highlights
Located in the heart of Singapore's shopping, arts, and cultural district
Unlimited Internet access on a handy smartphone with free calls
Meeting rooms with natural daylight, free WIFI, and 24-hour room service
5 min to Bugis MRT, within close proximity to SUNTEC and MBS by train, 15min walk to Orchard
24-hour gym access, a Sky Deck, and infinity lap pool
Non-smoking, child-friendly hotel
Customer Reviews
The pool area, stunning views, delicious breakfast buffet, and comfy beds are among the reasons for 5-star ratings given to Mercure Singapore Bugis across different platforms. On Google Reviews, Christian Neuner wrote:
"I use the hotel 2 to 3 times a year. The staff is incredibly friendly and helpful too. The rooms are very nice and there is also a sumptuous breakfast buffet. The price is absolutely okay for Singapore only to be recommended."
7.PARK 22 HOTEL LITTLE INDIA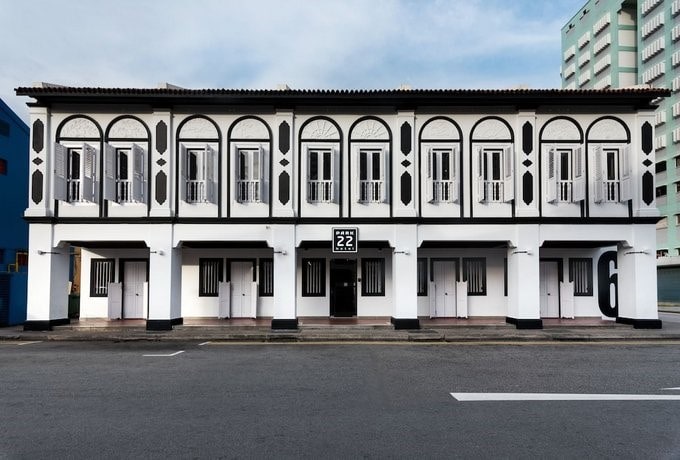 BEST FOR
Long-term guests, cosy comforts in colourful neighbourhood
FACILITIES
Standard in-room facilities; free WiFi in public areas; WiFi; complimentary printing, photocopying and faxing of documents; airport transfers; personal limousine hire; city tours and trip planning services; arrangement of dinner reservations; ticket purchases for shows
PRICING
From SGD 83 | Deluxe Room from S$ 103.54
WEBSITE
http://www.park22hotel.com/
ADDRESS
60 Kerbau Road, Singapore 219184
CONTACT DETAILS
+65 6291 7120 |

[email protected]

CHECK-IN/CHECK-OUT POLICIES
 Check-in: 1500 Check-out: 1200
Park 22 Hotel Little India is located in 60 Kerbau Road in centre of Little India, Singapore. It's one of the best cheap Singapore hotels due to its high-quality services and trendy furnishings. 
It's approximately 500 metres away from Little India MRT station. It's also only 20 minutes by car to Changi International Airport.
The Deluxe Room is approximately 13sqm with premium mattresses and high thread-count sheets. It's air-conditioned and equipped with a 32-inch TruColor LED TV as well as an ergonomic workspace.
The en suite bathroom also includes a hairdryer and free toiletries.
Those who are looking for cheap hotels in Singapore that are quite close to the airport should consider Park 22 Hotel Little India.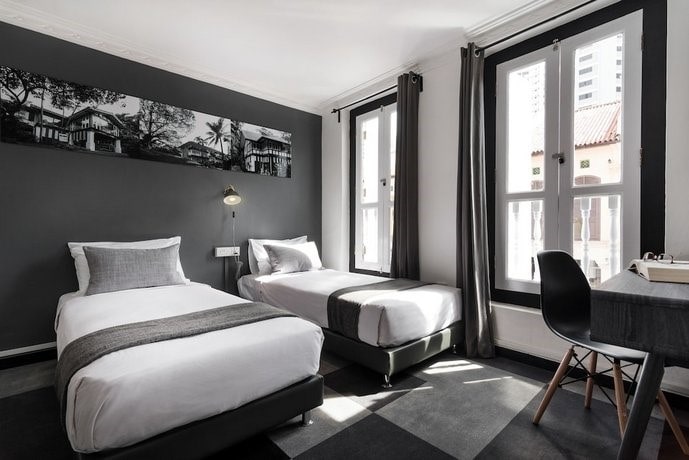 Service Highlights
Family room
Free WiFi
Parking
24-hour front desk
Tea/coffee maker in all rooms
Customer Reviews
It's accessibility, family-friendly environment, and hip design get props from satisfied guests. Mithun Nair on Google Reviews wrote:
"If you are travelling along with parents or people who prefer Indian cuisine then this hotel is the right place for you. Just right at the entrance of Little India and right behind the Little India MRT Exit E this is a perfect location. The staff here is really helpful giving you all the information and directions you need to know while travelling in Singapore. Would really love to mention the great help given by Koh, Priyanka, Kala, Linda and Shanta. "
8. HOTEL KAI
BEST FOR
Modern, economically-designed rooms for travellers and modern nomads
FACILITIES
Baggage storage, Concierge desk, Elevators, Welcome Drink
PRICING
From SGD 100.75 | Urban Studio from SGD 113.75
WEBSITE
http://www.hotelkai.com/
ADDRESS
14 Purvis Street
Singapore 188593
CONTACT DETAILS
65 6643 9999 | [email protected] / [email protected]
CHECK-IN/CHECK-OUT POLICIES
Check-In: 2:00 PM
Check-Out: 12:00 PM
Hotel Kăi is strategically located in Singapore's historic Civic District. It's designed to fit into its surroundings, as it's housed in a beautifully-restored conservation shophouse, a mixture of old-world heritage and modernity.
While the pre-war shophouses were already remarkably space-efficient, Hotel Kăi took efficient space planning to whole new level with Kăi Urban Cabins. They owe a big part of their fame to these.
The Urban Studio room is approximately 8 sqm to 9.5 sqm, with a queen-sized bed and the following amenities:
Slippers
220-240-volt circuits
Air-conditioning
Hairdryer
Wireless Internet (WiFi)
Iron
Iron Board
Kettle
Bottle Water
Safe
Coffee
Tea
Biscuit
Television
Because of their eco-friendly design and operations, Hotel Kai is considered to be the best budget hotel in Singapore for the environment-conscious.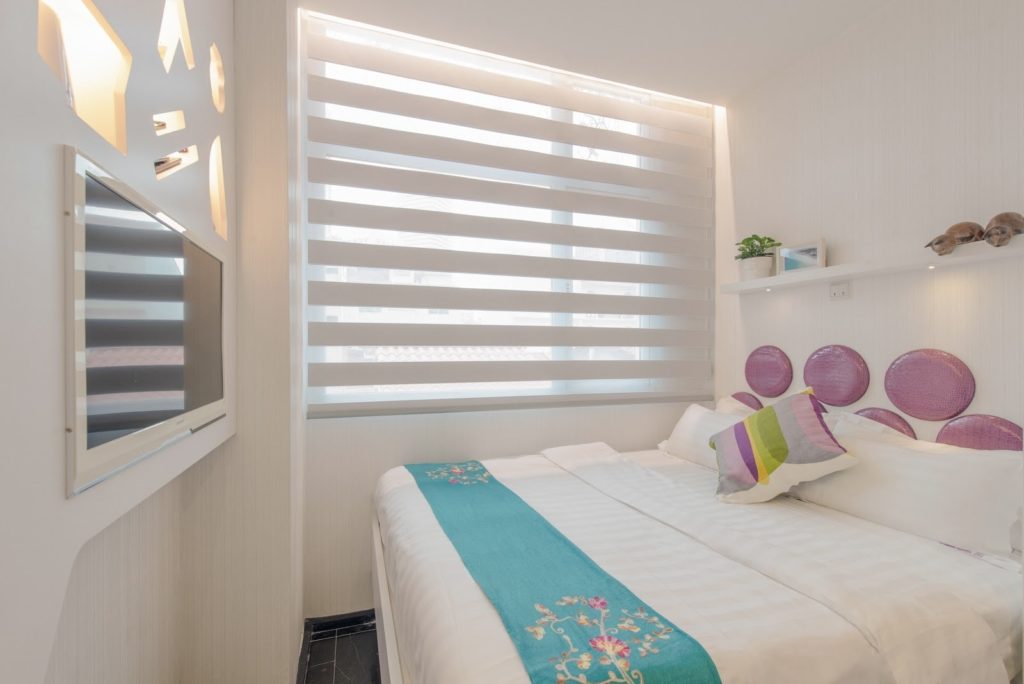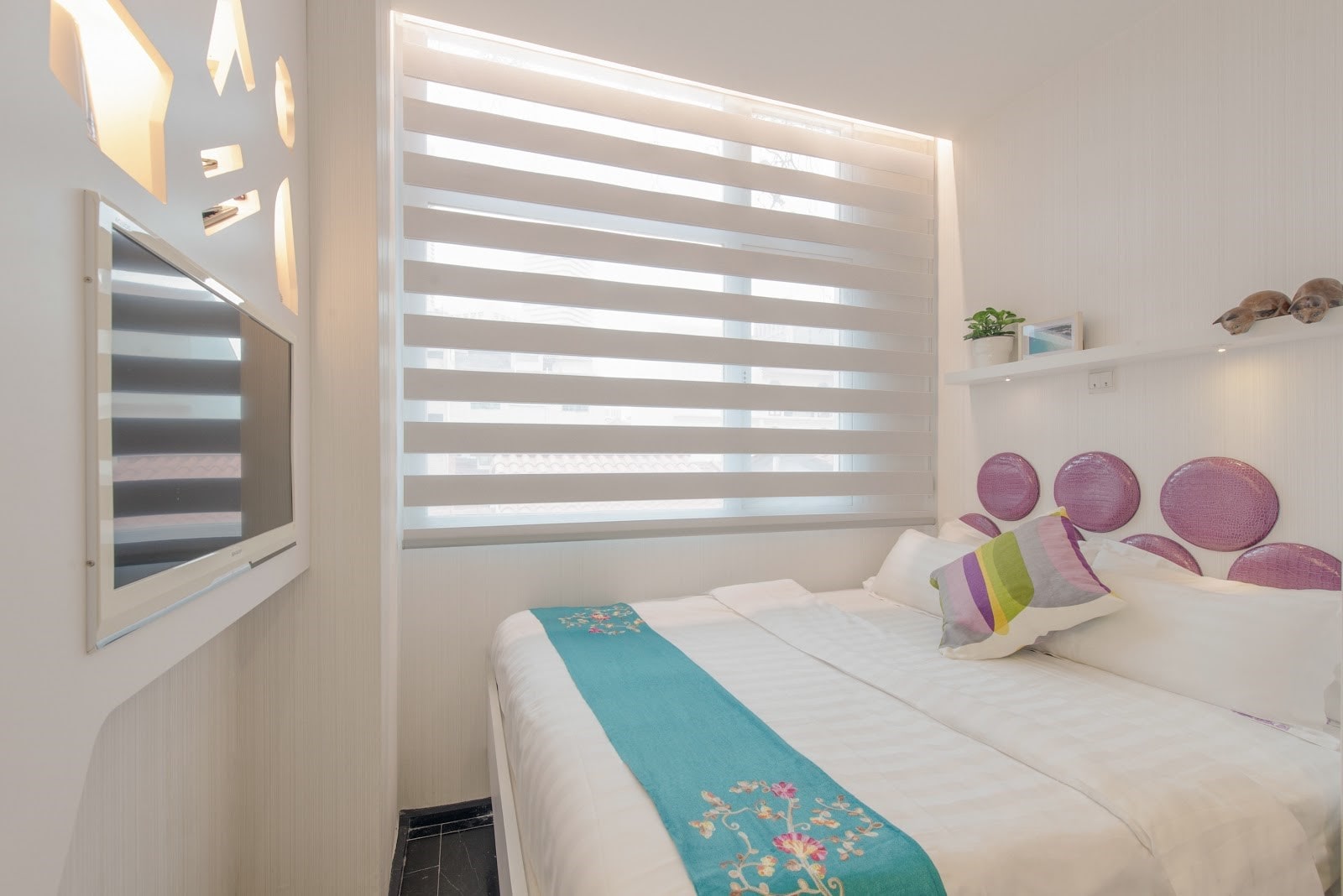 Service Highlights
Building & Construction Authority Green Mark Gold Plus-certified building
Free ultra-fast 4G personal WiFi device with island-wide coverage
Remote controlled, ergonomically adjustable bed with lumbar support
Cutting edge Mood-Enhanced® LED lighting
Spectacular open sky terraces
Service apartments with private lift lobbies
Customer Reviews
Some of the reasons given for their stellar ratings on various platforms are great location, modern design, and value for money. Ryo Sekine on Google Reviews left this feedback:
"This is a little hotel with big value. The location is excellent on the foodie favourite Purvue street, and a short walk from Bugis station. Very friendly staff too. I will go back again, especially if for a short stay to Singapore."
9. FRAGRANCE HOTEL SELEGIE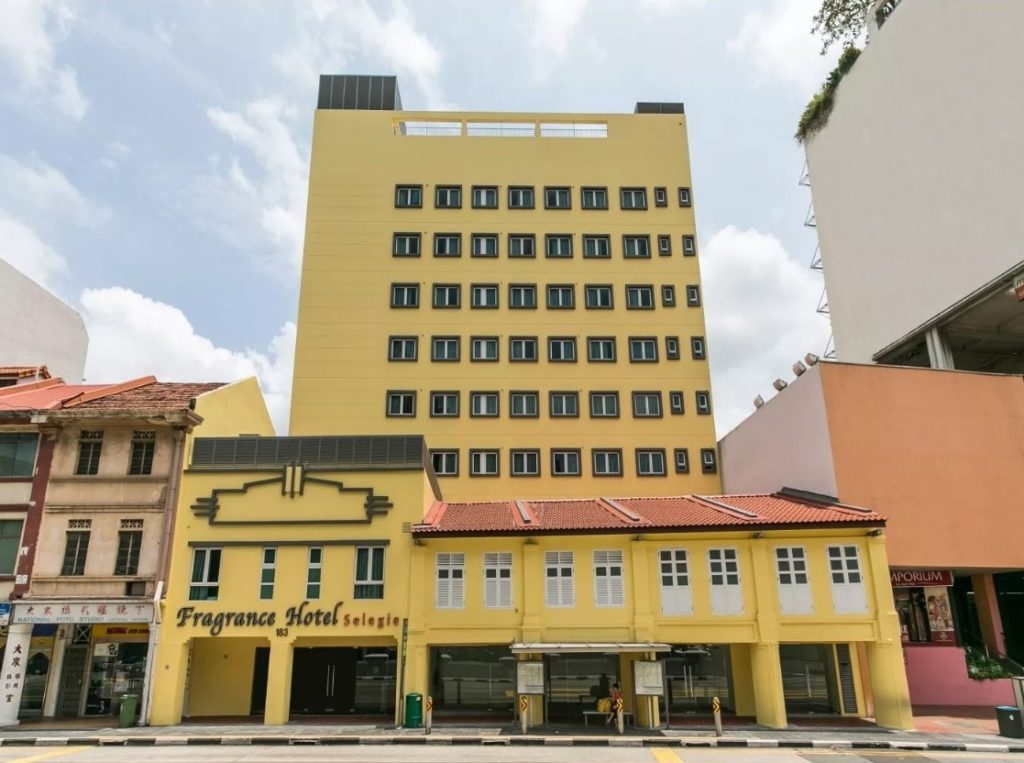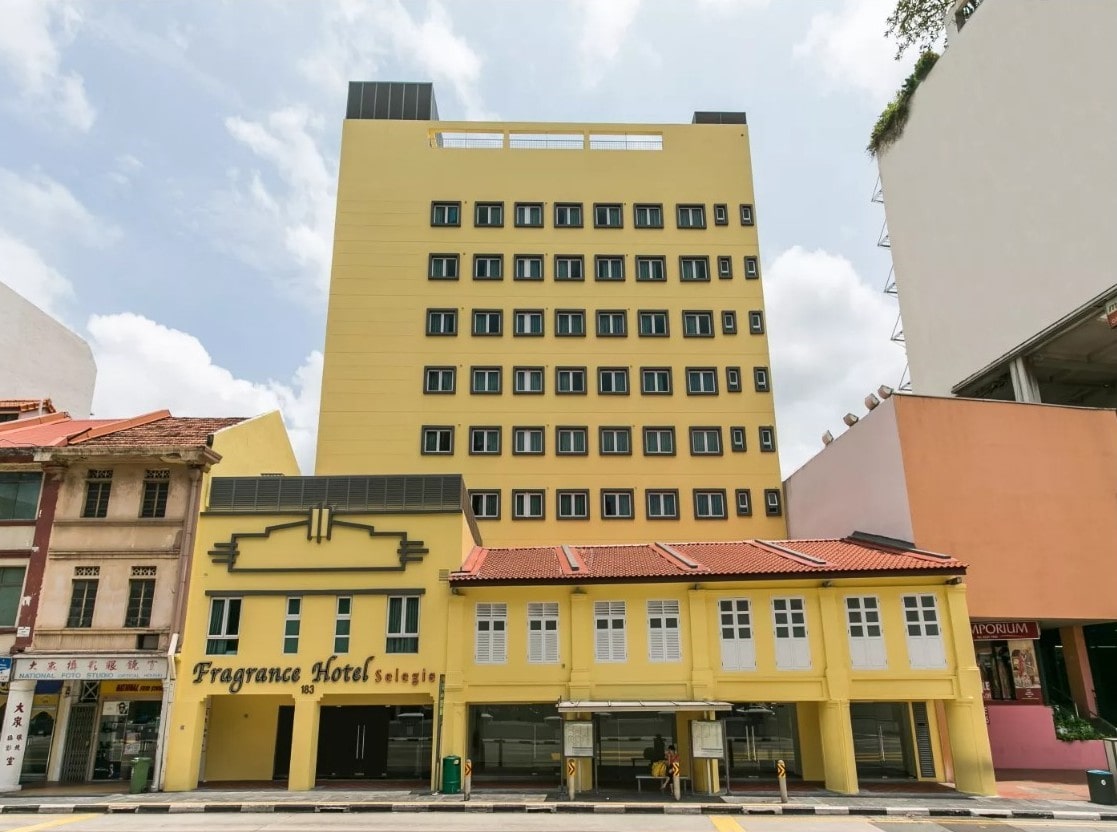 Those looking for convenient and cheap Singapore hotels certainly cannot miss Fragrance Hotel-Selegie.
Fragrance Hotel-Selegie is centrally located, a mere 2-minute walk from Little India MRT Station and a 15-minute walk from the popular Orchard Road.
This affordable, cosy hotel has a rooftop pool with views of Singapore's city skyline. It's close to many cultural sites, including Sri Lakshmi Narayanan Temple and the National Museum.
The rooms are decorated simply but with all the essential amenities, such as a flat-screen TV and tea/coffee making facilities, as well as a private bathroom with hot shower.
The hotel also provides laundry services and has a tour desk to assist guests with travel arrangements.
Their Superior Room is approximately 11 sqm. It is furnished with either queen-size bed or single-size beds and the following facilities:
Cable TV
Hairdryer
Bathroom amenities
Telephone (free local call)
Complimentary coffee/tea
Complimentary bottled water
Service Highlights
Established track record and reputation of providing cheap but quality accommodation
Strategically located
Hassle-free booking experience
Customer Reviews
They get props for the friendly staff, affordable rates, strategic location, and great neighbourhood. Vanessa Viana wrote this review on Google:
"Very well located, few minutes' walk from Little India station, nice staff, modern and clean rooms. Swimming pool on the roof top. Fair price."
10. Blanc Inn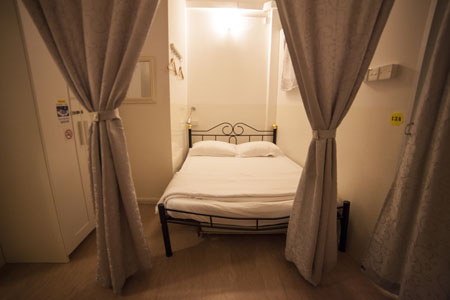 Blanc Inn is definitely one of the best hostels to book in Singapore, as it offers luxurious accommodations for an affordable price. Providing one-of-a-kind alcove style lofts, they ensure that you have both the spacious sleeping area and privacy you need. If you're uncomfortable with strangers, you won't have to worry– they don't have dormitory bunkbeds like most hostels, so you don't have to worry about feeling uncomfortable with strangers.
They're located near numerous restaurants and shopping malls. It's also accessible to three MRT stations, making it easier for you to explore more of Singapore's best tourist spots while keeping the return to your place stress-free.
With comfortable accommodations and a good location, Blanc Inn is definitely Singapore's cheap hotel that offers amazing value.
Service Highlights
Great discounts and promotions
Super clean rooms
Comfy bed linens
And that completes our list of the top 10 cheap Singapore hotels! Let us know if you've stayed at any of these yourself and how you'd rate the experience.
By the way, if you came here looking for cheap Singapore hotels specifically for a staycation, you may want to look at our list of the best staycation hotels in Singapore. That can also yield some amazing high-quality-but-affordable options for your lodgings!
---
Images taken from each company's official websites/social media.