The 5 Best Airbnbs in Singapore
If you're here to look for accommodations on the island, then you've come to the right place! We created a list of the top Airbnbs in Singapore for short-term travellers with a limited budget.
Since there's a lot to know about the Airbnbs on the island, we're also going to share some tips on how to pick one. In the process, we'll also cover some common questions about the topic.
The Best Airbnbs in Singapore
1. Capsule Atlantis Pods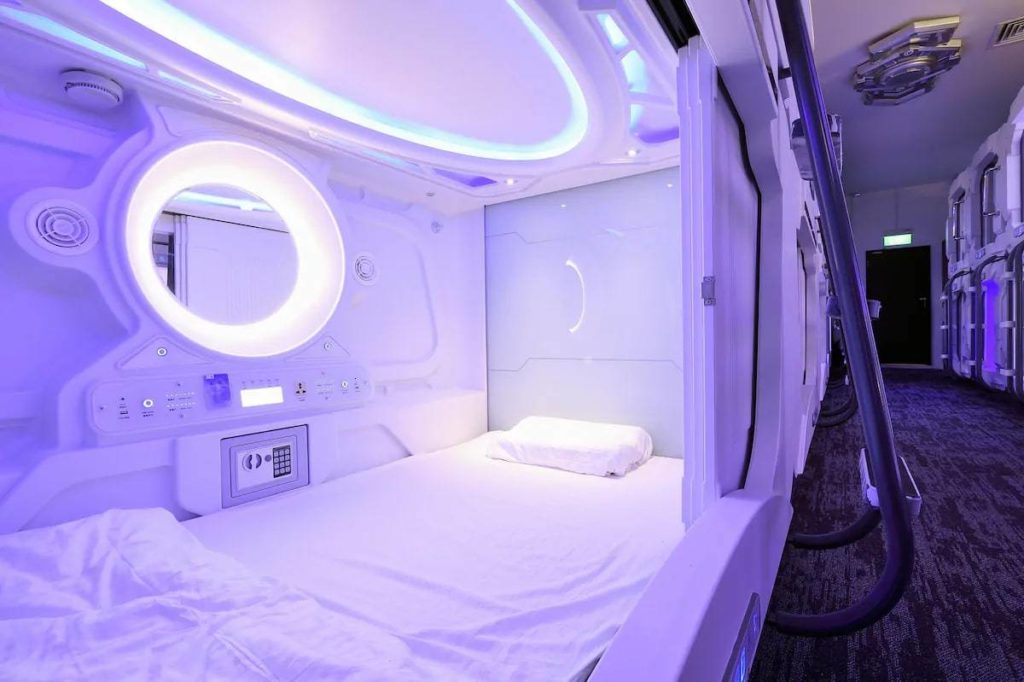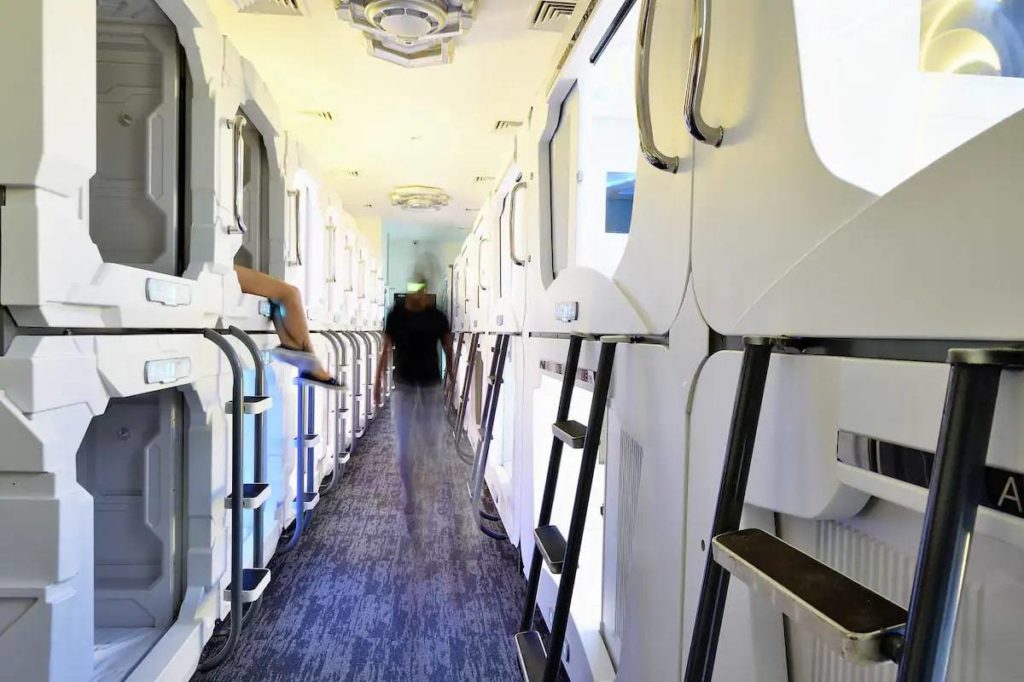 If you're looking for the cramped feeling of a hostel accommodation but with a twist, then you'd want to check out Capsule Atlantis Pods. It's a futuristic capsule pod hotel located in Little India.
Capsule Atlantis Pods features a total of 30 space-themed modern capsules that make you feel like you're in a sci-fi film. Each capsule comes with a charging port, mirror, reading lights, mini table, safe box, air-conditioning unit, and television.
Other items provided are towels, bed linens, blankets, pillows, and Wi-Fi. There's also a complimentary breakfast served from 8am to 10 am daily and self-serve coffee and tea available any time of the day.
When it comes to privacy, guests have nothing to worry about because each pod is built with a sliding door with a do-not-disturb button. One issue that most guests will likely encounter is the noise of other guests, but it's a common problem with shared accommodations.
Budget-friendly accommodation
Ideal for backpackers
Limited space
Shared amenities
Customer Reviews
Here are some comments from people who have stayed in Capsule Atlantis Pods in the past:
"Stylish space, good for the price. Pods were cool, a bit small if you're on the taller side. There were long black hairs on my pillowcase when I got in so I just used a t-shirt instead. Bathrooms were a bit unclean, a shared toilet/shower in one stall. Overall good for a cheap one night stay."
"Modern cabins to stay in Singapore! A good experience and very excellent customer service!! Great location near little India and close to the underground."
2. The Lily Room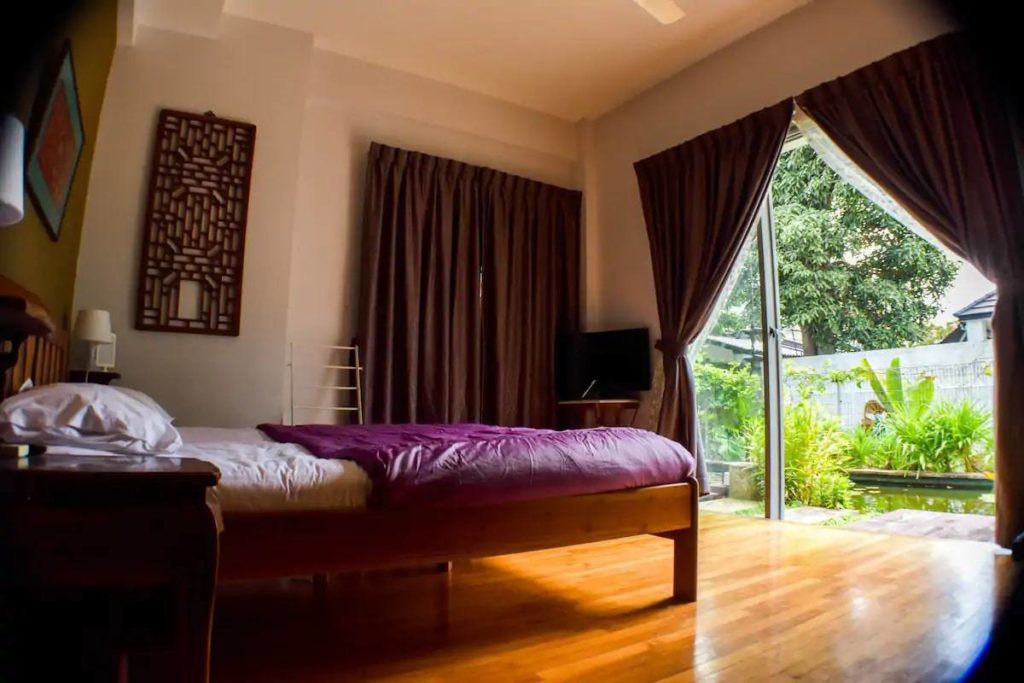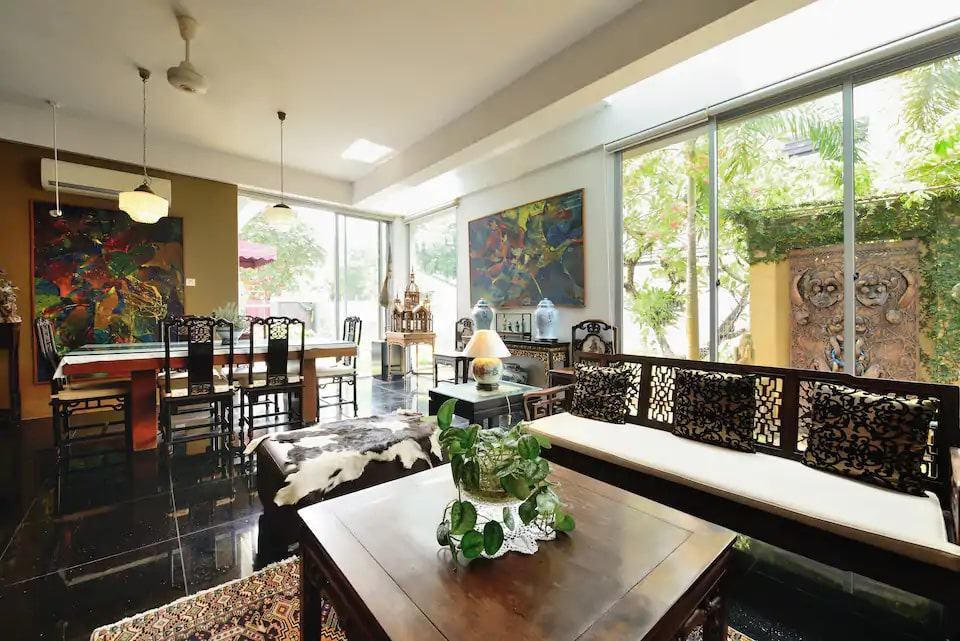 The Lily Room is a Bali-reminiscent living space with a gorgeous garden setting and lily pond, surrounded by towering trees. It's the perfect option for travellers looking for peaceful and quiet accommodation located in the heart of the island.
For only S$60 per night, guests will be able to enjoy a relaxing and rustic view from inside their rooms. The Lily Room is a huge co-living space with multiple private rooms, which is perfect for those who like lodging and interacting with other travellers.
All guests are free to sit in the garden outside, take a rest in the living room, and prepare a meal in the kitchen whenever they want. If guests need to do some work, there's a fast and stable Wi-Fi connection free for everyone.
The Lily Room is a 5-minute walk from the train station, so guests will be able to reach other parts of the island without any trouble. It's only a 10-minute bus ride away to and from the Changi airport as well.
Quiet and relaxing space
Responsive host
Ideal location since it's near the MRT
Customer Reviews
Take a look at what previous guests had to say about their stay at The Lily Room:
"The Lily Room is a beautiful homey space that overlooks a peaceful lily pond. The bathroom has a door opening out into the pond, and I love that my showers were accompanied by gorgeous postcard scenery and the lovely sounds of a froggy choir. Just a 10 min cab ride to the airport, the space was perfect for my partner who was catching an early morning flight. A stay at Eddie's house is recommended for those keen on exploring the east of Singapore, though travel to the west and north will take more time by public transportation."
"Best place for some peace and quiet and relaxation. Dog lovers would love the cute corgi Sunshine. The host was super and his helper Susan were very nice people that helped us get into our room and helped us with any needs."
3. Luxe 2 BR City Centre Loft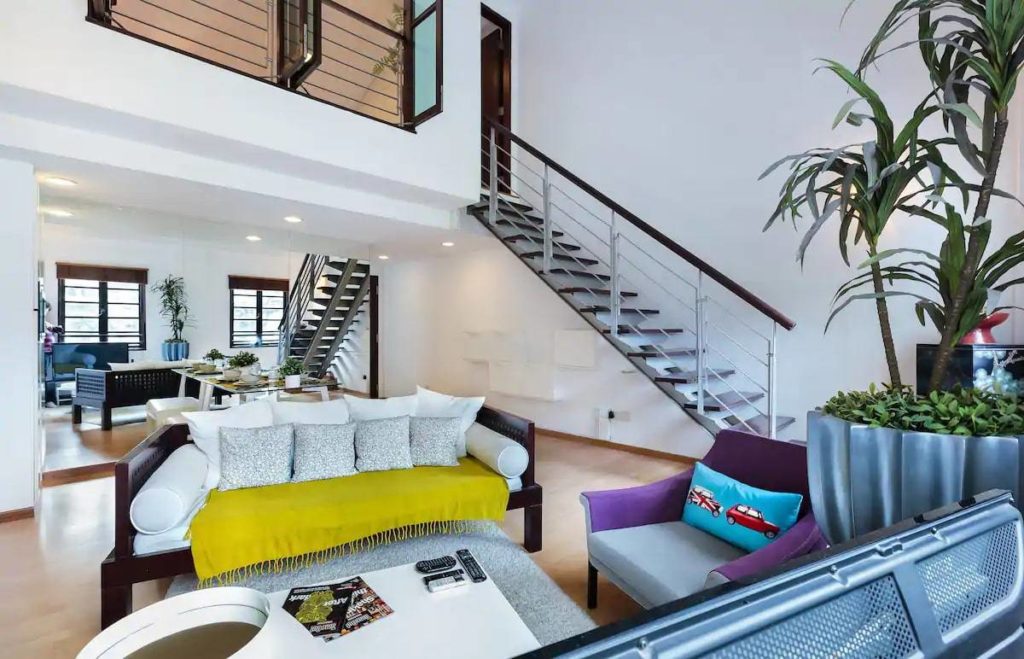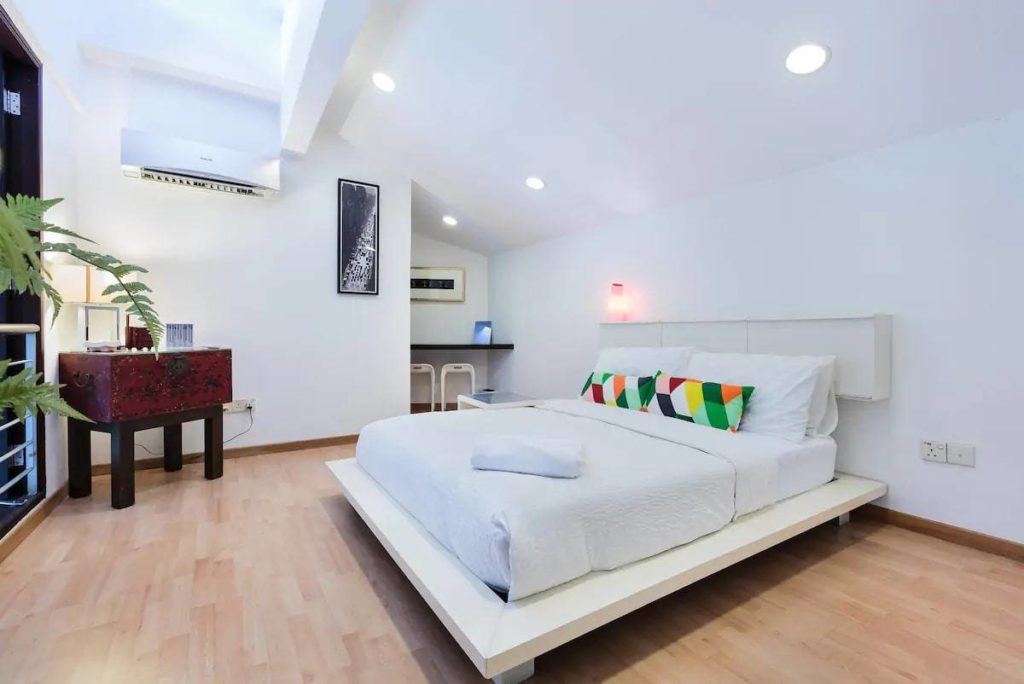 The Luxe 2 BR City Centre Loft is an elegant, spacious, and modern accommodation located in the green central suburb of Robertson Quay. It's a 1100 sq ft. two-level loft with two bedrooms, two bathrooms, and high ceilings.
It costs S$243, so it's a lot more expensive compared to the previous options… but if you don't mind going slightly above your budget, then you wouldn't want to miss this one.
Its multiple bedrooms and large space is perfect for those travelling with friends, but also nice even if you're travelling on your own.
Other amenities included are a fridge, cooking stove, washer, wireless Internet, heated shower, bath and face towel, soap and shampoo, iron, and air-conditioning, among others.
The Luxe 2 BR City Centre is found in an ideal location too, as it's close to major tourist attractions such as Singapore River, China Town, Orchard Road, Clarke Quay, and Boat Quay.
What's more, it only takes 15 minutes to reach the nearest MRT station, making it easy for guests to reach other spots on the island.
Spacious rooms
Located near tourist attractions
With two bedrooms and bathrooms
Expensive nightly rate
Ideal mainly if you're travelling with friends and family
Customer Reviews
Here are some comments proving that it's one of the top Airbnbs in Singapore:
"An airy, spacious and comfortable place in central Singapore, close enough to the train and therefore anywhere. Two large bedrooms with their own en-suite bathrooms, and galley kitchen with a large fridge which was great. Highly recommended for those visiting Singapore."
"Everything is exactly as shown on the picture. We would highly recommend your place for its localization, your high level of hospitality, your good advice for the places to visit and food to taste. Thank you for everything, you made our stay in your beautiful state unique!"
4. Relaxed & Spacious Studio with Jacuzzi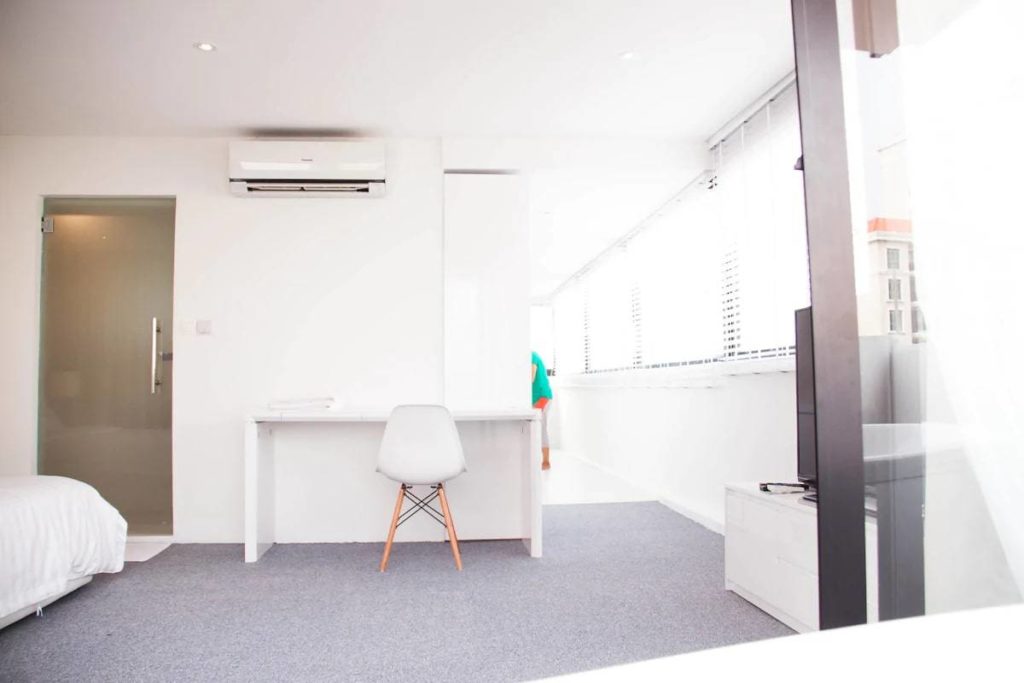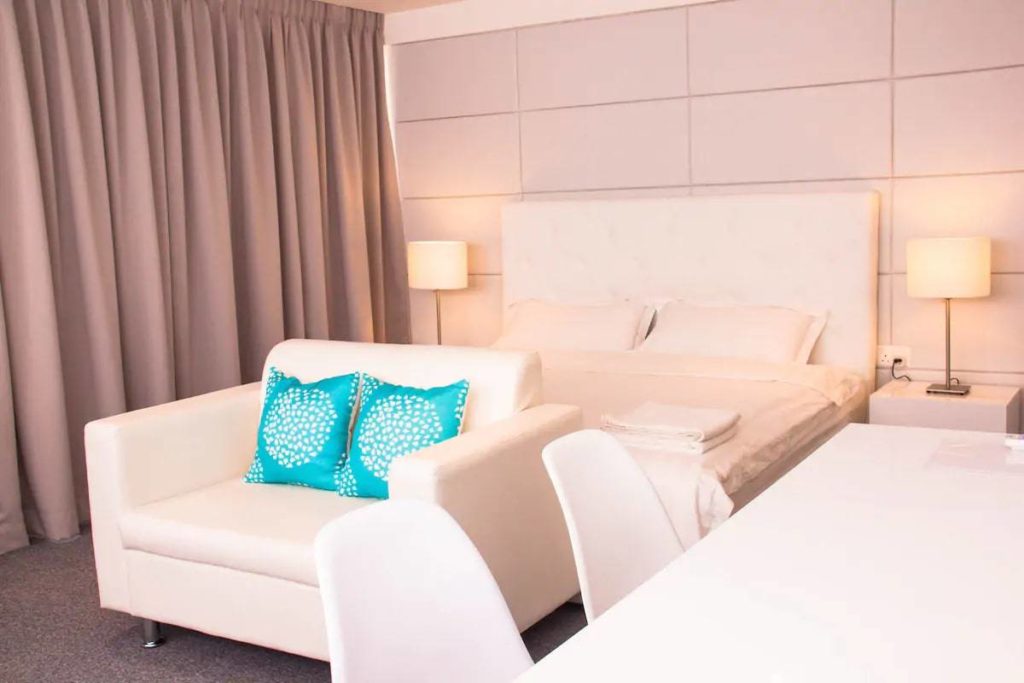 It may look like an average loft accommodation in Singapore, but it comes with amenities and features that can make your stay a lot more comfortable. It's located in the heart of the Mecca Orchard Road, close to different shopping spots, tourist areas, and restaurants.
One thing about it that immediately catches anyone's attention is that it has minimalist interiors that look straight out of a magazine. It has a fully furnished bathroom with a king-size bed, private bathroom, kitchenette, and an outdoor jacuzzi.
It's a spacious loft that can host up to four guests, but if you're coming as a group of six, you need to book an extra mattress for the two additional guests. If you're going alone, that's no problem as well!
There's a wireless Internet connection for Internet calls and web surfing. However, you might not be able to use it for streaming Netflix.
Guests don't have to worry about their safety because it's located in a friendly neighbourhood and the building can only be accessed through a magnetic card.
Can house up to 7 guests
Located in a safe neighbourhood
Walking distance to different tourist and dining spots
Internet connection is limited to work-related use
Customer Reviews
Take a look at some comments posted by previous guests on its website:
"This is a really nice place with a great location! Less than 10 minutes walk to Orchard Rd, (Cuppage area/Somerset MRT). We had a good time and we only wished we had more time to enjoy hanging out indoors but we had plenty of things to do outdoors during our short, 2 day stay. We will definitely come back again!"
"Love the jacuzzi, the balcony. Very pleasant, quiet, clean, bright and safe place to stay! Location is convenient. Personally I think the room could use some darker blinds/curtains as it gets really bright early in the morning. Definitely will book this place again!"
5. Semi-Detached House (Central-Novena)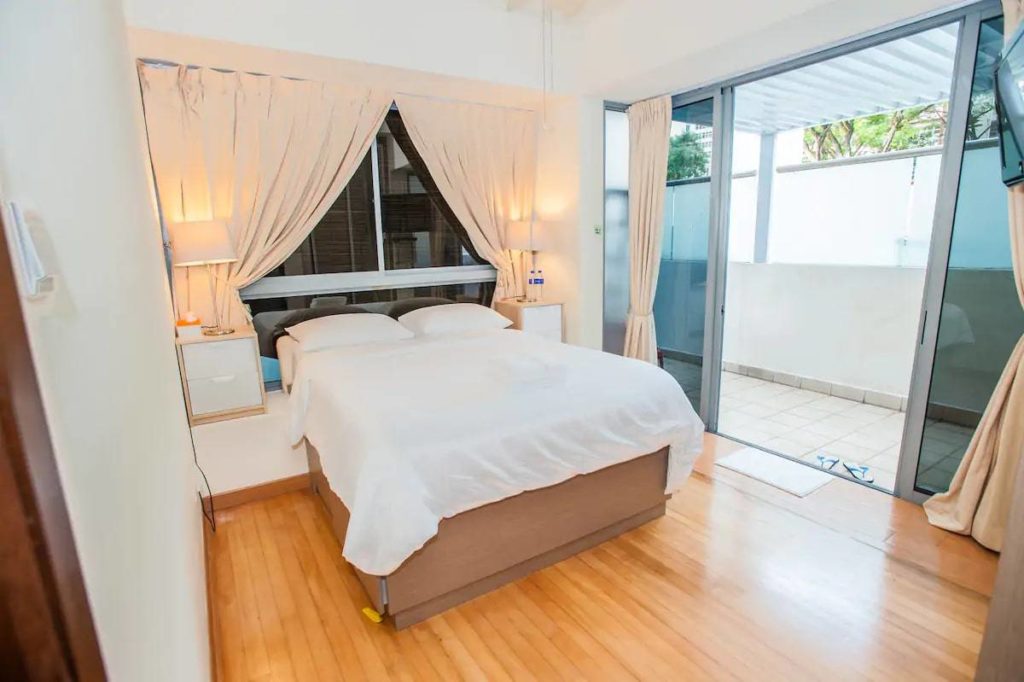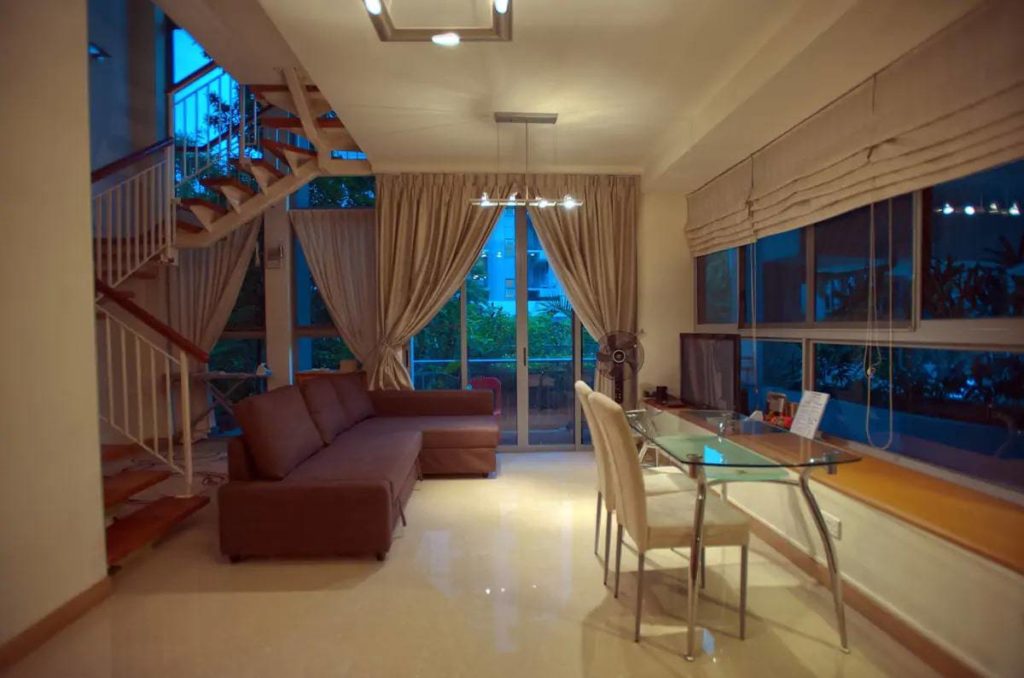 Most of the accommodations listed on Airbnb Singapore are apartments and condominiums, so it's rare to find a listing that allows guests to enjoy a house all to themselves. This semi-detached property in Novena is one of those exceptions.
It's a 1300 sq ft, two-storey house consisting of a ground floor living area, three toilets, three bedrooms, a swimming pool, and a kitchen. You will be able to use everything that's inside the house.
Since it's a large semi-detached house, it can accommodate up to five people, but guests are free to stay on their own. It's one of the most sought-after listings on the island, so it's always fully booked either by locals or travellers.
In terms of location, guests will be able to relax as it's away from busy and noisy main roads, but not too far from main tourist areas and dining spots. It's surrounded by a safe and friendly neighbourhood as well.
Considering all these, a one-night stay costs S$400, so make sure that your wallet is prepared. Its hosts don't charge clients with cleaning fees though, but they're encouraged to keep the place clean at all times.
Located in a quiet and safe neighborhood
Ideal for travelling families
Complete amenities
Customer Reviews
It's received mainly positive feedback from previous guests. Here's what some of them had to say about their experience:
"Chi's 2-storey detached house was just amazing. It was my first time using airbnb and Chi guided me well. He was very accommodating and patient with my queries. He asked my requirements and delivered more than expected. My family from the states and the Philippines were visiting and they were so amused with how comfortable the place is. My parents at 70 slept comfortably with ease at the sofa bed in level 1, my super active nephew at 6 has a small bed of his own in the masters. We were able to do our planned tours as there are 2 and half toilets to share"
"Chi Siang's place is wonderful. The location is great. My family from overseas could easily find the place and explore the surroundings themselves. The house is very clean and comfortable for 5 adults and 2 kids. The kids really enjoyed the stay and swimming pool, and they even refused to go out:) Chi Siang is a wonderful host and very responsible. I will definitely recommend his place to others."
What to Look for in Airbnbs in Singapore
Looking for comfortable and budget-friendly accommodation in Singapore isn't going to be a walk in the park. If you're using Airbnb, you need to know how to make the most of the platform and what to look for in an accommodation in order to find the right listing.
Here are some of the things you need to keep in mind when looking for accommodations in Singapore through Airbnb:
1. Legality
Airbnb in Singapore is mostly legal, but it's restricted by a number of strict laws that if violated, could result in harsh penalties. That's why it's important to know the type of property when looking for listings in Singapore.
You see, while there are no laws that prevent guests from staying in Airbnb-listed properties, the government states that short-term rentals of residential properties and hotels are required not to go beyond 3 months long.
On top of that, flats can't be rented out to tourists. They can only be rented out to non-Singapore nationals who have either long-term or student visas.
2. Location
If there's a place in Singapore that you've always wanted to visit, it'd be ideal to get a listing that's close to it or near a train station. Airbnb has a filter that allows users to see only accommodations in a certain location.
For safety reasons, the exact address of the listing isn't displayed, but each listing has to declare its location and neighbourhood. Most listings in Singapore have a map of the general area that includes how to reach it using public transportation.
3. Amenities
Sometimes, a listing's comfort is synonymous to its amenities. One thing that you should never forget when looking for an accommodation is the list of amenities provided, which usually include beds, hot showers, toiletries, kitchen access, access to different appliances, air-conditioning, washers, and Internet connection.
Airbnb requires hosts to list down all the amenities that guests are allowed to use, so make sure to take note of the basic ones and don't be afraid to ask for extra amenities if needed.
4. House rules
All listings on Airbnb Singapore comes with their own house rules. Some places are more relaxed while others are a lot more strict when it comes to what guests are allowed to do.
Some of the most common house rules are no smoking, no group parties, pet policies, check-in and check-out times, and quiet hours. Guests are required to follow these rules, unless they're willing to pay a huge fine for violating at least once.
One rule when booking through Airbnb: when you book a listing, it's assumed that you're acknowledging and agreeing to the terms of the host.
---
And with that, we conclude our list of the best Airbnbs in Singapore. Already made a choice? Tell us all about it, please!
If you know other Airbnb listings that deserve to be part of our list, share them with us so we can check if they're worthy of being added to our list.
For more budget-friendly alternatives, you might want to read our list of the best budget staycation hotels in Singapore. These are high-quality accommodations that won't make your pockets bleed!