Best Waffle Makers in Singapore for Great Breakfasts
Want a quick way to get the waffles you crave for breakfast? Luckily for you, we're listing the best waffle makers in Singapore for today's roundup.
The waffle makers we've found are great time-savers, especially when you are in a rush to get to school or to work. They're easy to use, consistent, easy to maintain, and offer good value for their prices.
We'll go over them later in this article. But before that, we'll give you a few tips on how to pick out the proper waffle maker in Singapore — that way, you can make your choice much easier later.
What to Consider When Choosing a Waffle Maker
While waffle makers may look plain on the surface, there are a lot of things to consider if you want one that is worth your money. It is better to take your time searching than be sorry for buying one that cannot cater to your needs.
One of the first things should consider is the type of the waffle maker. On top of this, size, plates, and durability of the waffle maker are also some of the things worth noting.
Let's go over each of these points below:
1. Type
Waffles come in different shapes and sizes. There are the common waffles that come in a flat and circular shape, while there are those that are long and cylindrical instead.
Whatever your desired waffle shape is, there is definitely a type of waffle maker for it. So, you must be careful when choosing the type of waffle maker you will buy.
You may use this guide:
Standard – If you are a heavy waffle eater, this is perfect for you. This type of waffle maker can create waffles that range between five to seven inches in width.
Belgian – This is a match for those with big appetites because it creates thicker waffles than the standard ones
Lolly – This one creates long waffles that are usually pierced with sticks — perfect for children's parties.
Multiple-Use – Beyond making waffles, this can also be used as a grill.
Rotating – If you have to feed two people at once, this is the one you should get because it allows two waffles to be cooked at the same time.
2. Size
Generally, all things that are compact in size are much better because they are easier to store anywhere. In the case of a waffle maker, a small one would be ideal if you have a cramped kitchen and have no extra space for new appliances.
On the other hand, bigger waffle makers could also be great, especially if there are more mouths at home to feed. If you have spare space in your kitchen, no need to worry about getting a much larger one.
3. Plate
It is highly recommended to get a waffle maker with a non-stick plate just so you would not have a hard time cleaning it up afterwards. Instead of hurting your arms trying to scrub the remaining batter, all you need to do with a non-stick plate is wipe it with a clean tissue!
In addition, non-stick plates are generally more attractive. You just need to be extra careful in using metal utensils because they can damage the plate.
4. Durability
Of course, the quality of the product should always be considered before buying and taking it home with you. Nobody wants to spend their hard-earned money on products that will not last.
In choosing a waffle maker, it is important to get a feel of the materials that went into its creation. It also does not hurt to pick one with a sturdy finish because it can usually withstand long usage.
If you have kids at home who love eating waffles, you might have to use your waffle maker regularly, so it is just wise to pick out one that can endure regular usage.
The Best Waffle Makers in Singapore
Now you know what to look at when evaluating your options for waffle makers. Let's go to the ones we judged to be the best options on the island.
Without further ado, here are the best waffle makers in Singapore!
1. PowerPac Electric Waffle Maker
Best for Time Efficiency
Price: $26.90
If you want the best waffle maker in Singapore that can give you perfect waffles in mere minutes, this one is for you. The PowerPac Electric Waffle Maker allows you to cook 2 waffles at a time, perfect for those who can down 2 waffles and are not satisfied with just one. This is also a great option for those who have two kids who love eating waffles for breakfast and as snacks!
Unlike other waffle makers, it's extremely easy to use. There's no need to read the long instructions in the manual — just open it up, fill it up with batter, and then lock it after closing.
It also has a non-stick plate, so you won't have to struggle scraping off the remaining cooked batter. A piece of tissue is more than enough to clean it up.
With its compact size, it will be easier for you to carry it around and store it anywhere in your kitchen. 
Highlights
With side lock feature
Heat-resistant
Non-stick surface
Durable
Hassle-free cleaning
2. Tefal Snack Collection
Best for Multifunctionality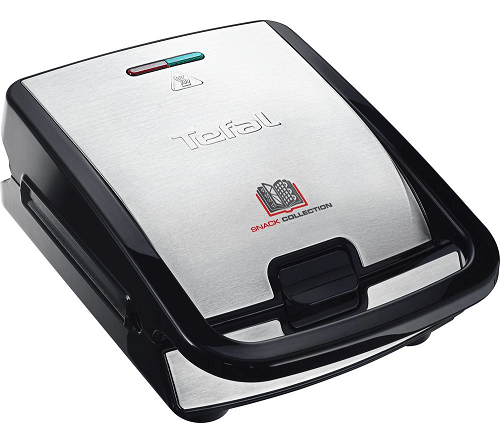 Price: $149.00
 One of the things that will probably attract you to Tefal Snack Collection is its multi-purpose design. Instead of spending your money on different appliances, you can get a single product that serves multiple functions!
If you tend to get distracted while waiting for the waffles to cook, this one is great. That's because it has a light-notification system that will turn green once the waffles are ready to be eaten.
Storing it will also not be a struggle because of its small size. It can easily fit within the tight spaces in your kitchen. This is easily the best waffle maker in Singapore for those with tight living spaces. 
Highlights
Has different grill plates
Easy cleaning
Dishwasher-safe plates
Customer Reviews
One of the recurring positive remarks in the reviews about this product is that it removes the need for another ten machines or appliances. For the price of one, you can get something that does the work of ten other appliances in this waffle maker.
Take a look at this review:
"A single machine with interchangeable plates is a brilliant idea. Apart from the obvious – pancakes in the pancake plate, donuts in the donut plate…. just the imagination limits what you can make in this machine.
We have had this appliance for nearly a year and overall we are extremely happy. We now have sandwich plates, waffle plates, mini donut plates, and pancake plates. They interchange easily. They wash up easily. They come in VHS size boxes that store easily."
3. Happycall Waffle Maker
Best for Snacks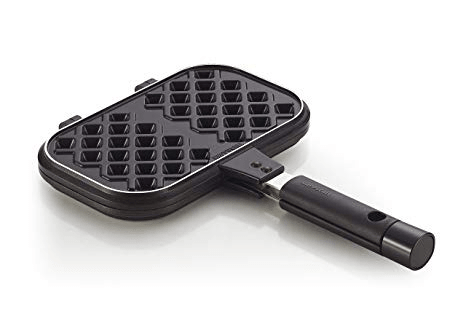 Price: $85.58
If you are looking for a waffle maker in Singapore that can give you waffles within five minutes, then you should check out Happycall Waffle Maker! This is perfect for those who need a snack but can't spend a lot of time preparing it.
You have the option to bake two waffles at the same time with this appliance. If you're really hungry, this should be able to satisfy your cravings for crispy and chewy waffles.
It also has an overflow channel where excess batter goes to avoid spilling. So, you don't need to worry about making a mess when baking waffles with this (particularly important for all the clumsy cooks out there).
On top of this, its black ceramic finish makes it extremely nice to look at! And it can surely complement the interiors of your kitchen. Hands-down the best waffle maker in Singapore for multi-taskers.
Highlights
Double-sided pan
Clip-type handle
Non-stick plates
Easy to clean
3-layer titanium coating
Customer Reviews
Owners of the waffle maker were really impressed by its non-stick property. It allows them to enjoy even the process of cleaning afterwards because they do not have a hard time making sure no batter is left inside the plates.
Here's a customer review describing the experience of using it:
"Weight of the pan is good. Made my first batch of waffles using regular batter. Even though the recipe wasn't too great, the waffles turned out fine! The edges were crispy and insides soft and fluffy. A great buy!"
4. Cornell 2 Slice Waffle Maker
Best for Kiddie Parties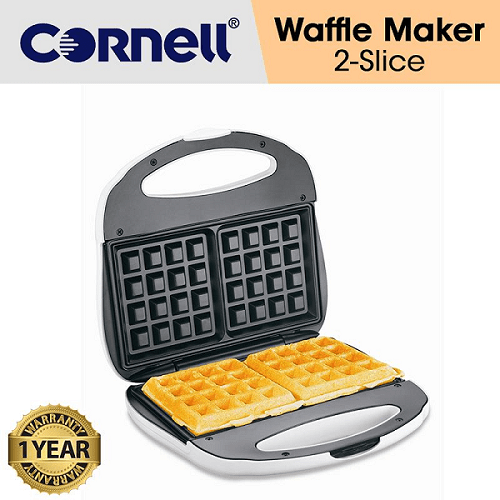 Price: $49.90
A perfect waffle is one that is both crunchy and fluffy. The Cornell 2-Slice Waffle Maker can provide you with waffles that get the perfect balance between the two.
Besides the safety lock-clip, it also has status light indicator that will notify you if the waffle is already good to go. With this feature, you can make sure that waffles will not be overcooked
It also comes with a 1-year warranty, so if you encounter problems with this waffle maker, having it checked or fixed will not be a problem.
Finally, it's worth noting that Cornell is among the most trusted brands in kitchenware in Singapore. It's fairly reassuring to get a product from brands this well-established and with such a good reputation. 
Overall if you're after a moderately-priced one that produces the best crisp yet fluffy waffles, this is the best waffle maker in Singapore for you.
Highlights
With safety lock-clip
1-year guaranteed warranty
Non-stick plates
Customer Reviews
A customer commented that there is nothing to dislike about this waffle maker, and that their son even gets to use it whenever he wants some waffles.
Here's another user's remarks on the quality of the waffles it produces:
"[T]he waffle maker makes wonderful waffles fluffy and crispy. Highly recommended. Good value and serves its purpose simply well." 
5. Cuisinart Belgian Waffle Maker
Best for Durability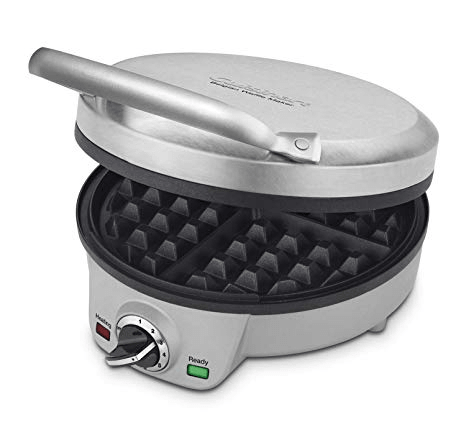 Price: $174.32
If you're planning to have a quick waffle party at home, the Cuisinart Belgian Waffle Maker will make sure that your guests won't starve. It can whip up large waffles quicker than most waffle makers.
With its six-setting browning control, you get to decide how fluffy and crispy your waffles will be. You may also adjust its temperature if you want them to be cooked slowly but surely — everything is up to you!
Lastly, what makes this waffle maker stand out is its audible alert system. It allows you to focus your attention on other things and still be notified once the waffles are done, preventing them from being burned or overcooked.
Oh, and it also comes with a recipe book if you want to explore other waffle recipes. Of course, you can just get your own recipes online, but we still thought that was a nice touch. 
Highlights
Non-stick plates
Audible alert system
1-year warranty
Customer Reviews
Buyers especially liked that this waffle maker has clear instructions and is not complicated to use. You can pretty much learn how to use it on your first try, is the consensus.
They were also impressed with how easy it is to clean, as well as with the size of the waffles it puts out. Generally, this seems to be recommended for those who eat waffles often and don't have the patience to wait for slower waffle makers.
6. Fumiyama FWM55 Waffle Maker
Best for Affordability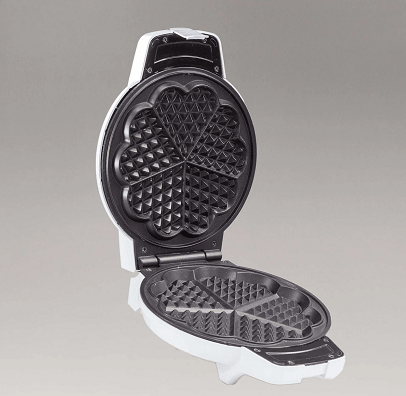 Price: $26.60
If you want to make mouth-watering and fluffy waffles without shelling out too much money, then the Fumiyama FWM555 Waffle Maker is a great choice for you. It is one of the cheapest yet most durable waffle makers in Singapore today.
Despite being cheap, it does the job of making waffles pretty well. It has non-stick plates that allows for easy cleaning once you're done whipping up waffles.
It might not have an audio alert to warn you if your waffles are done, but it does come with a warning light. That should do the job for most people, if they're willing to check on it while using it.
Overall, we think this is a steal of a waffle maker for those who are on a tight budget. It doesn't have spectacular features or multiple functions, but it does its main job (making waffles) well. 
Highlights
Non-stick plates
With a light system indicator
Hassle-free cleaning
Adjustable temperature control
7. Cuisinart Vertical Waffle Maker
Best for Foolproof Waffles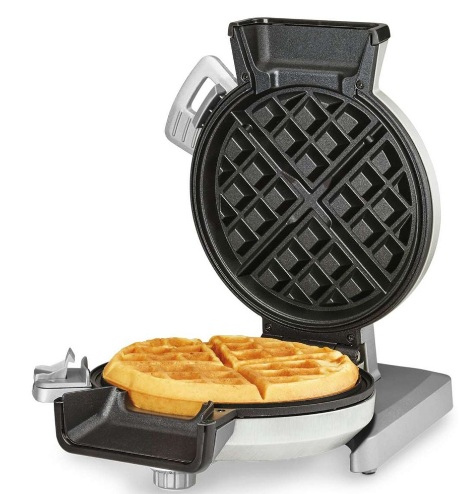 Price: $112.00
The brushed stainless steel Cuisinart's Vertical Waffle Maker takes up less room on the counter while making foolproof perfect Belgian waffles. 
Just add your favorite batter through the spout up to the fill line for consistent waffle thickness, top to bottom and side to side, that won't spill over the edges.
Indicator lights and an audible alert, plus five browning levels, guarantee crowd-pleasing waffles are perfectly baked for all your family and friends. This is the best waffle maker in Singapore for those who host meals frequently at home.
Highlights
Bakes one round Belgian waffle

Five-setting browning control

Ready-to-Bake/Ready-to-Eat indicator lights

Nonstick baking plates
And with that, we conclude our list of the best waffle makers in Singapore! We hope that you were able to pick out the waffle maker you think can accommodate your household's needs!
By the way, should you be thinking of getting into baking too, you may want to take a look at our list of the best ovens in Singapore. With these ovens, you can produce things with your batter that you may never have thought of before!