Our Picks for the 12 Best Bars in Singapore
One of the most relaxing ways to unwind after a day of work is having a drink with friends at some of the best bars in Singapore. Sometimes, one drink is enough to drain out all the stress that you receive from working all day.
More than this, drinking at the best bars in Singapore is also a way of meeting new friends and widening your network. If you manage to visit a bar with a great crowd, cool ambiance, and a wide variety of drinks, then you've definitely hit the jackpot.
So, if you're on the lookout for some of the best bars in Singapore, then you've come to the right place. We're making a list of the ones worth checking out.
1.  Idlewild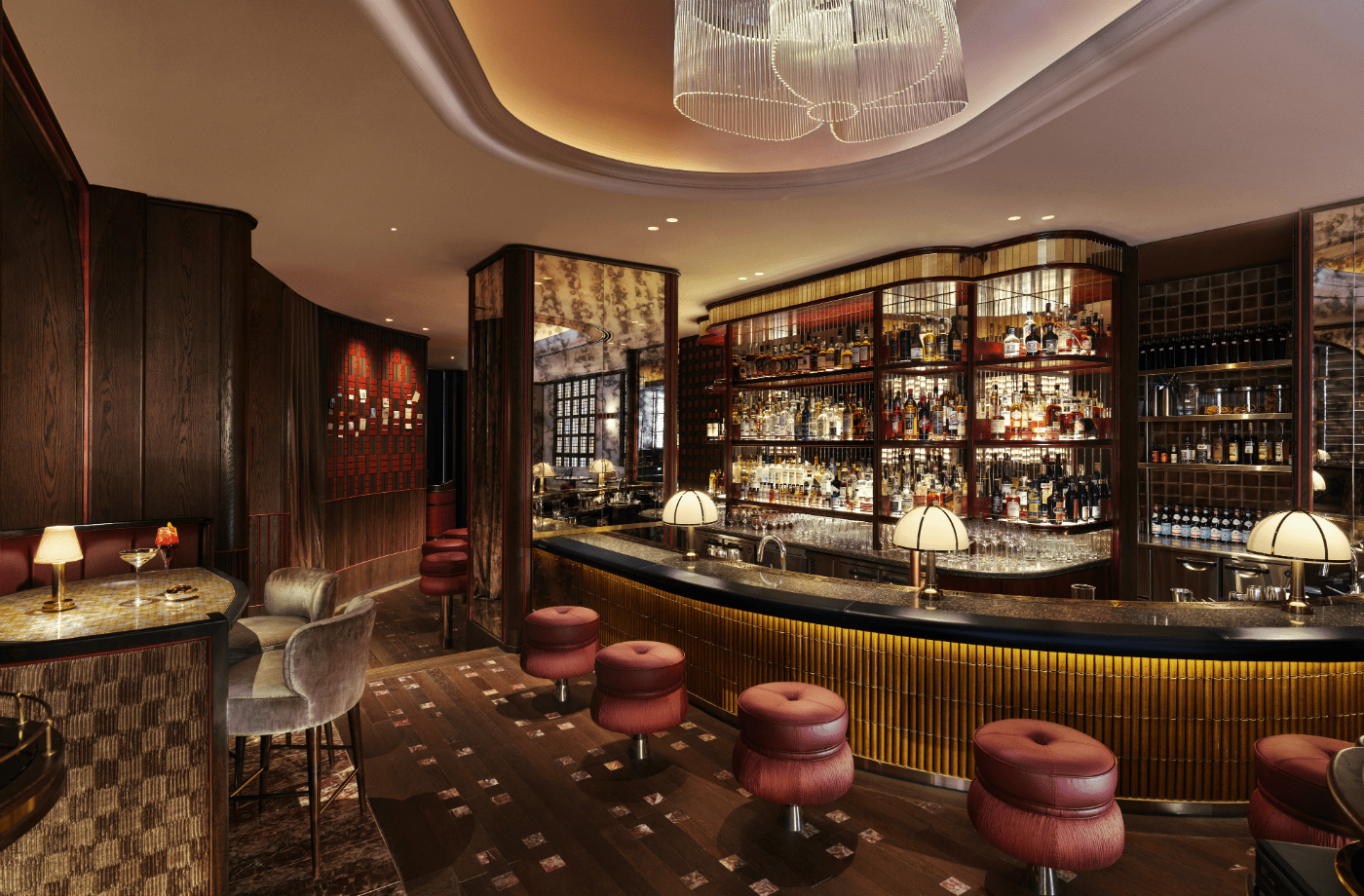 | | |
| --- | --- |
| BEST FOR  | Luxury Drinks |
| MENU | Cream Soda Caddy, Journey of Limun, French Cook, Sugarloaf, and Passage to Havana |
| WEBSITE | https://idlewild.sg/ |
| ADDRESS | Lobby Level, 80, Middle Rd, Singapore 188966 |
| CONTACT DETAILS | +65 6825 1045 |
| OPERATING HOURS | Monday – Saturday, 5:00 PM to 1:00 AM |
It's no secret that Idlewild is among the most in-demand bars in Singapore, frequently visited by young millennials to unwind and have a drink with their friends.
It's also one of the few bars on the island that serve high-end drinks, which makes us consider it one of the best bars in Singapore.
Among its attractive features are the pleasant and quiet atmosphere, mid-century modern interiors, live band, and world-class drinks. If you don't want to stay away from a rowdy crowd, then make sure to drop by Idlewild, and you will surely not be disappointed with how calm and intimate its overall vibe is.
Highlights
Quiet crowd
Modern interiors
World class drinks
Live band
Customer Reviews
Here's what customers have to say about the services of Idlewild in Singapore:
"Enter an era of hot jazz, cool drinks and a smooth vibe. This hidden gem reinvigorates the old Victoria bar at the Intercontinental into a modern speakeasy. If you can't find it you're looking in the wrong place. Professional staff, luxurious atmosphere and a transatlantic cocktail menu. My drink – The last crusade"
"A really chill jazz bar with really good drinks! Usually in Singapore you only get good cocktails or good music.. Here you get both! Was lucky enough to get an amazing seat up close to the band who were fantastic, the crowd here clearly appreciated the music as much as we did. Service was top notch, and prices are what you would expect from a hotel bar. I only removed a star as half the drinks we had were much better than the other half… But don't let that stop you from enjoying the fantastic ambience here."
2.  Manhattan Bar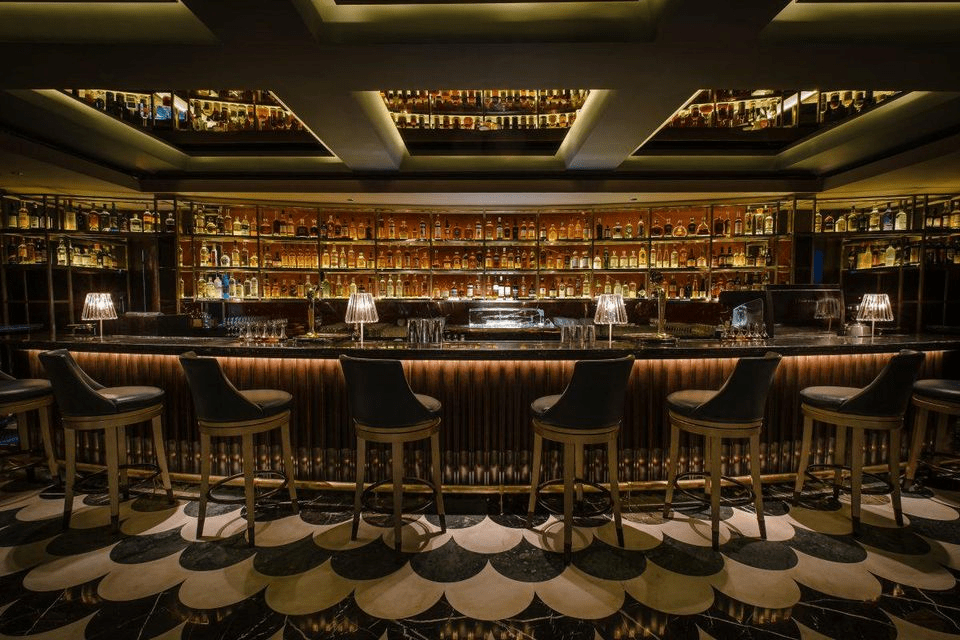 If you're looking for a bar that not only serves quality cocktails but delectable food as well, then look no further than Manhattan Bar. Located on the 2nd floor of Regent Hotel, it's become a hangout for women in dresses and men in suits after a long day at work.
While it might be a bit expensive for some, you will definitely fall in love with everything it has to offer: from food and cocktails down to interiors and ambience. It's no surprise that it's considered one of the best bars in Singapore and among the top 50 bars in Asia.
What's more, it also offers different food and drinks per hour, which makes their menu rich in flavor and in characters.
Highlights
American cuisine
Intimate vibe
Experienced bartender
Customer Reviews
Take a look at some of the reviews posted by its patrons on Google Reviews:
"Well, first off -the place isn't cheap. The price aside, the food and drinks are stellar. They keep the table supplied with memorably tasty popcorn. The drink selection is worth a return. I went with two other colleagues for a send off and we weren't disappointed. The food was on point. The service is on point. And the ambiance is on point. All in all, the price point is well deserved."
"This is a great bar. Not only is there a diverse and amazing selection of cocktails, the staff is very friendly and makes you feel good about being there. The bartenders are helpful with advice about the cocktails, and it's fun taking a trip through New York City's history. Definitely recommend a visit here if you're able. Worth going out of your way to go here."
3.  Smoke & Mirrors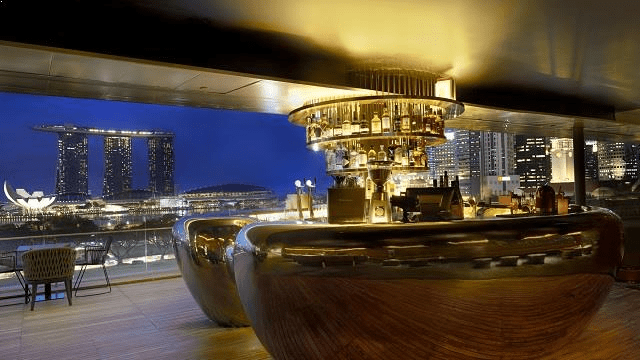 | | |
| --- | --- |
| BEST FOR  | Rooftop View |
| MENU | Cocktails, Wines, and Bar Bites |
| WEBSITE | https://www.smokeandmirrors.com.sg/ |
| ADDRESS | 1 St. Andrew's Road, #06-01 National Gallery Singapore, Singapore 178957 |
| CONTACT DETAILS | +65 9380 6313 |
| OPERATING HOURS | Monday – Saturday, 3:00 PM to 1:00 AM |
Smoke & Mirrors is perfect for people who want a view of Singapore's skyline while sipping drinks and talking to friends. It's nestled on the rooftop of the National Gallery Singapore, one of the most famous landmarks on the island.
Besides the beautiful view, it boasts an innovative and modern menu that caters to everyone's taste. It offers various cocktails, a wide variety of wine, and delectable bar bites that can satisfy anyone's taste buds.
All drinks are mixed by Jorge Conda, one of the most renowned Spanish bartenders in Singapore. He can come up with the most unique drinks that you will never get to taste in other bars, which is why we've added Smoke & Mirrors to our list of the best bars in Singapore.
Highlights
Pleasant crowd
Distinctive cocktails
Private events
Customer Reviews
Here are some of the reviews on Google Reviews left by satisfied customer:
"Great service, very friendly and attentive staff. Views are amazing and seats are pretty comfy. Choice of drinks is good, although I would maybe welcome a bit more extensive cocktail menu. It serves only the home created ones, which is good, but maybe 2/3 classics should be added. But that's a minor thing. Overall, very good."
"Yes, yes, a million times YES. This is the place to go for drinks, bites, and a gorgeous view of Singapore's MBS, cricket field, and a plethora of other sites. Reserve a table outside, ask for comfy chairs! The cocktail menu is off the charts in creative, exotic drinks and worth every penny. Put your phone down and be in the moment. It is an extraordinary experience and one I hope to recreate again soon."
4.  The Horse's Mouth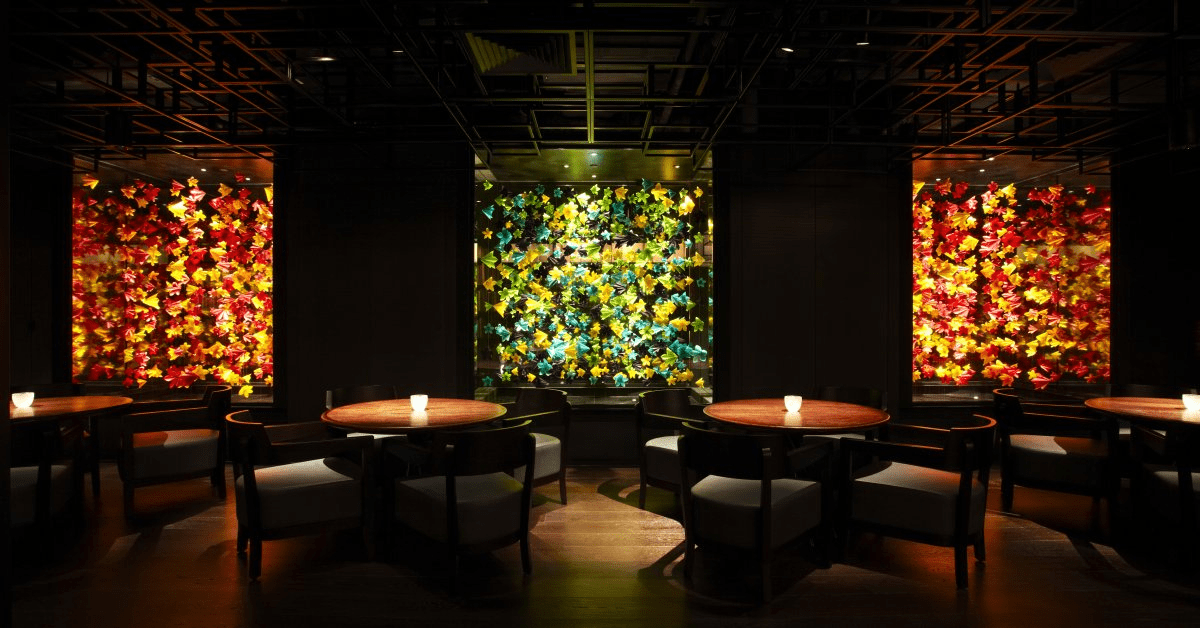 BEST FOR 
Japanese Food
MENU
Cocktails, Spirits, Sake, Barfood, and Uma Uma Ramen
WEBSITE
https://horsesmouthbar.com/
ADDRESS
583 Orchard Road, Forum the Shopping Mall, #B1-39, Singapore 238884
CONTACT DETAILS
+65-8188-0900 |

[email protected]

OPERATING HOURS
Monday – Saturday, 6:00 PM to 12:00 AM
If you're in the mood to snack on Japanese food while drinking cocktails, then consider dropping by The Horse's Mouth after work. It has a total seating capacity of 50 persons and standing capacity of 100 persons.
Despite its large capacity, it doesn't feel overcrowded even during the end of the week. It has a calm, quiet, and pleasant crowd that allows you to unwind and destress after a tiring and long day at work.
Another reason we call it one of the best bars in Singapore is its food — mouthwatering bar bites and umo umo ramen.  It's one of the few bars in Singapore that offer Japanese food on top of a great variety of alcoholic drinks.
Highlights
Appetizing menu
Pleasant ambience
Great crowd
Approachable staff
Customer Reviews
The Horse's Mouth is a famous speakeasy in Singapore, and it has received a lot of praise from customers who have accidently stumbled into its premises. Here are some feedbacks from them:
"This is a hidden restaurant/secret kitchen not easy to find in forum shopping malls on Orchard Road. They offer fantastic bar food, super summy Ramans, the most important is they don't charge corkage and there is a wine shop, 75cl in this mall. The deco of this restaurant is like a night club, very relaxing and a very good spot for the weekend night with friends to hang out."
"Stumbled upon this place, no sign at the door, opened the door and found people eating and walked in. They share the same menu for food as the Uma Uma Ramen above it. Had a few cocktails and they were great, the bar staff were engaging and willing to talk about the drinks they like to make and to try others they have not done."
5.  Kabuke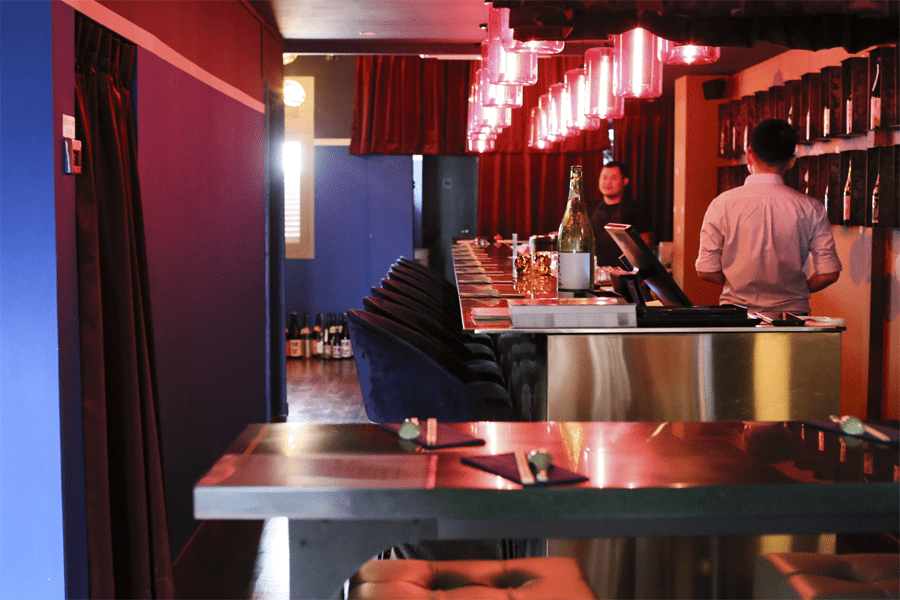 If you're in the mood to drink for hours and don't intend to stay too long, then Kabuke would be the perfect option for you! It starts operating at 11:30 in the morning to serve brunch and closes exactly at 12 midnight, just in time for you to get enough sleep and prepare for tomorrow's work.
Unlike other bars, Kabuke both focuses on food and cocktails. If other bars only offer bar bites, consider Kabuke different as it provides meals that will keep you full for the rest of the day, which is why we deem it one of the best bars in Singapore.
More than these, it also has a wide variety of alcoholic drinks to choose from that can drain all your stress from the day. Kabuke's indeed the ideal bar to destress after being stressed at work the entire day!
Highlights
Full meals
Wide variety of drink
Experienced chefs and bartenders
Customer Reviews
Check out these comments posted by customers on Google Reviews:
"My colleague recommended this place for a Friday night hangout and we were blown away at the ambience and food quality. We were also fortunate enough to have the chef to explain the food we had and made us enjoy the cuisine on another level. I highly recommend it if you are looking for high quality Japanese food at an original cozy setting."
"If not for being turned away at another restaurant due to over an hour of wait time, we would not stumble across this discreet restaurant located on the second floor along the streets of telok ayer. The place is full house too but the server told us if we waited for 5-10 minutes he could secure us a table as someone was leaving. Service here is top notch and the staff is very accommodating and willing to explain the menu. We ordered several dishes to share and all were flavorbombs. Did not realize this was on an entertainer app. Will return again to order the donburi!"
6. 1927 Rooftop Bar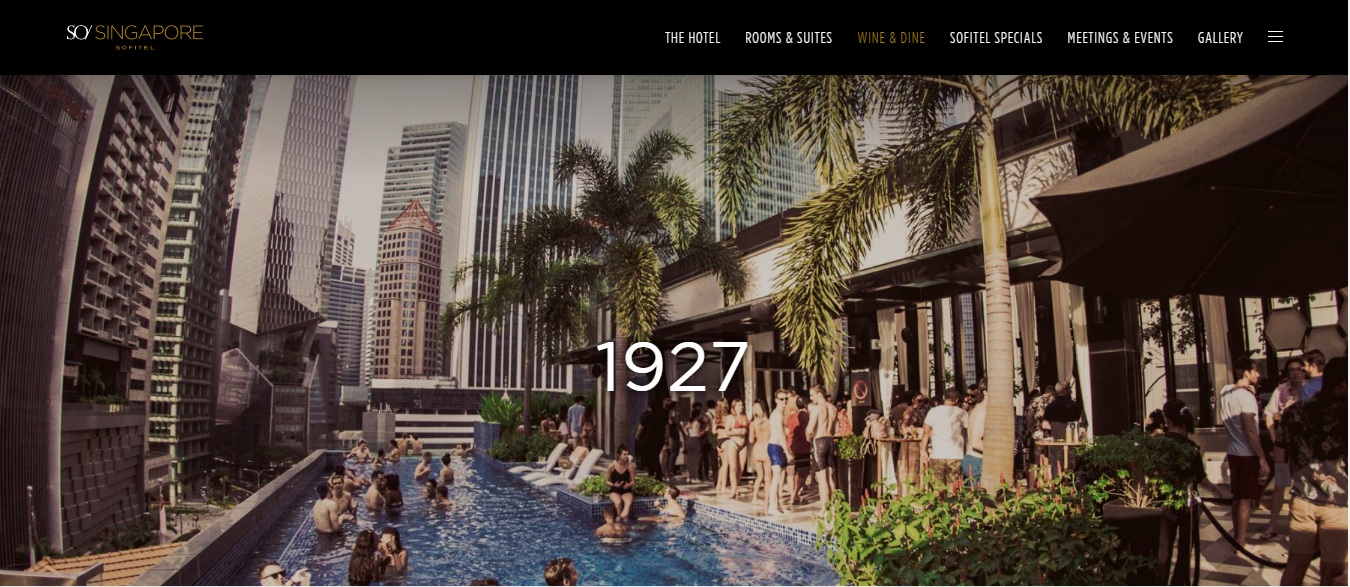 Level up your rooftop party and enjoy a wet and wild night at 1927 Rooftop Bar. This bar features a fun filled pool party experience on top of one of the most renowned hotels in Singapore. 
Their infinity edged rooftop pool gives a summertime vibe all year round plus a DJ's deck that fills up the whole area with entertaining and upbeat music. They also pair this up with some delectable cocktails and chef's selection of small and large bites.
Highlights
Summertime pool party vibe

Delectable food and drinks selection
Customer Reviews
"Awesome little rooftop bar with downtown views- feels secluded and cozy. Drinks are pricey, but expected for the view ($20-30 / drink). Specialize in rum and Caribbean drinks. Pool there too that looks fun during the day."
7. Blu Jaz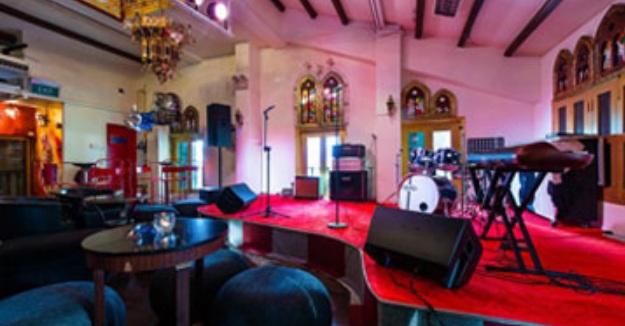 BEST FOR

Live music and private events

MENU

Menu

WEBSITE

https://www.blujazcafe.net/

 

ADDRESS

11 Bali Lane, Historic Kampong Glam

Singapore 189848

CONTACT DETAILS

+6581262936/+6591990610
Are you in the mood for some jamming sessions while sipping your favorite cocktail? Go ahead and let yourself enjoy the multi-leveled bar of Blujaz Cafe. They take pride in their wide selection of food and beverages that perfectly match the total ambiance and music in the area.
Everyday, different groups and bands perform in Bluejaz Cafe and they are free of charge. This plus a bunch of affordable snacks and drinks will definitely make your night a blast.
Should you need to place to have your own party settled, the bar also accommodates such.
Highlights
Live music and bands

Affordable snacks and drinks

Lively bar ambiance
Customer Reviews
"Lovely bar located close to Arab street. Fan of jazz music do visit this place. It is always crowded so please do reservation before, you can walk in as well but you might have to wait to get a seat. The food is good too, a variety of food options! The drinks menu offers some nice Cocktails."
8. La Terre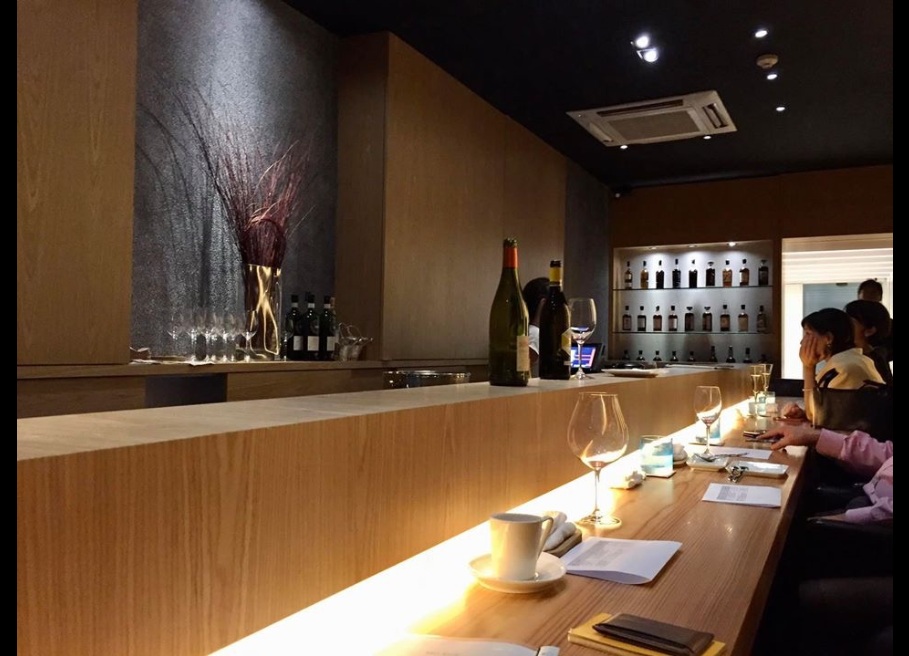 BEST FOR

Japanese wine and whisky bar

MENU

Menu

WEBSITE

http://www.laterrewine.com/

 

ADDRESS

11 Upper Circular Rd Singapore 058409

CONTACT DETAILS

+65 6532 1031 |

[email protected]

 

OPERATING HOURS

Monday – Sunday

Opens From 18:00

Last Order At 23:00
If you are looking to experience an intimate wine and whisky experience within Singapore, La Terre is definitely the place to go. This bar showcases a huge inventory of premium wine, whiskey, and other alcoholic drinks perfect to cap off the night.
They also hold related events such as wine tasting and parties that require a private and cozy ambiance.
Highlights
Intimate and cozy bar ambiance

Superior quality drinks
Customer Reviews
Here are some of the reviews by their customers are posted on Google.
"Amazing bar with amazing drinks! You will not regret coming here if you're a fan of Japanese whiskey. Even if you're not, you should still go."
Another one
"One of the best wine experience in town. Daisuke-san is a very pleasant host. The wine selection is superb. And you can get a night cap with a dram of fine whisky."
9. ZIGGY'S Karaoke & Cocktail Bar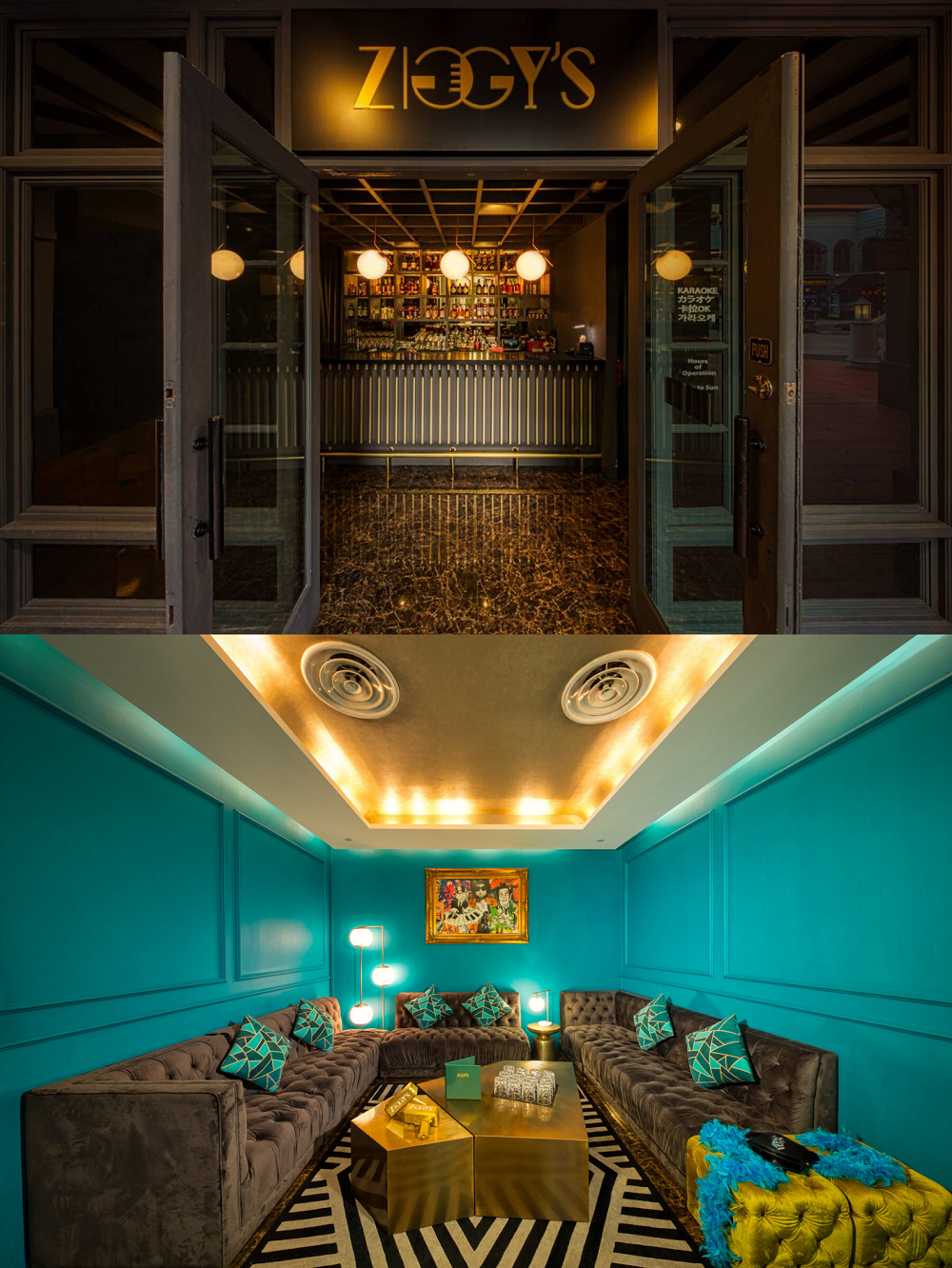 Do you want a different bar experience? Something that does not involve a dance floor or a DJ booth but still has lively music and, better yet, music of your own choice? Take our advice and visit ZIGGY'S Karaoke & Cocktail Bar for the best karaoke experience one can have in Singapore.
ZIGGY'S features a full-fledged cocktail bar as well as various luxuriously appointed karaoke rooms discreetly hidden away from plain sight. Relax in the comfort of one of the many private rooms available and enjoy a drink from their extensive list of premium liquors and craft cocktails while you sing your favorite songs in the company of your friends.
What sets this karaoke bar apart from the rest, besides the high-quality sound system and extensive song selection, are the impeccable service standards of the staff. Besides going out of their way to attend to any requests from customers, they also provide costumes, fancy dress and props so that guests can just let loose and have an amazingly fun night out. A night at ZIGGY'S is a unique experience – best described as karaoke re-invented for grown-ups. 
Highlights
Full range snacks and cocktail options

Luxurious karaoke rooms that suit any occasion, some rooms can fit up to 40 guests
Extensive range of snacks, liquors and cocktail available
Perfect venue to celebrate special occasions or to hold corporate events
Customer Reviews
The bar has a 4.4-rating on Google and the common words their customers used to describe them are comfortable, sophisticated, and enjoyable.
"Clean, classy karaoke bar with best  drinks selection I've ever seen in a karaoke. Not expensive either, 10 of us had 3 bottles of whisky between us and it only came to $80 each. Busy on weekends, best to book online in advance."
10. The Exciseman Whisky Bar
The Exciseman is a Whisky Bar created for the whisky-lovers who aren't afraid to try new things. Offering various brands, this bar is sure to have something in store that will surely fit your tastes.
From the alcohol's rarity to it's age, The Exciseman is proud to have a wide selection of not only of Whisky, but also other beverages– Gin, Vodka, Tequila, Grappa, Vermouth, Rum, and more.
Each bottle holds a different feel. Start your Whisky journey with the expertise and help of The ExciseMan.
Highlights
Ample Parking Space
Excellent Customer Service
Unique Selection of Drinks
11. Bar Intermezzo

Imagine an unhurried afternoon while enjoying delectable bites while sipping tea at the start of Orchard Road. Bar Intermezzo's Afternoon Tea offers that and more, with a refreshed menu showcasing heritage flavours.
Savoury Highlights include award winning restaurants such as Mango chicken tarts, Duck Spring Rolls with Plum Sauces and Lamb Kemma in Kueh Pie Tee. They also offer Traditional Pandan Kueh Lapis, Chinese Egg Tart and Traditional Pulut Inti.
This bar is loved by the locals for their ambience and music. Not only that, their delicious and affordable food made their client's come back every time.
Highlights
Delectable food choices
Intimate and cosy ambience
High-quality service
12. Wine Connection Tapas Bar & Bistro (Robertson Walk)

Next on our list is a bar and bistro owned by one of the most highly regarded wine providers in all of Singapore: Wine Connection Tapas Bar & Bistro.
Wine Connection Tapas Bar & Bistro can be found on Unity Street, with the restaurant operating seven days a week from early morning until late. The restaurant menu is one of the largest we've come across so far, featuring a wide array of proper meals, bar snacks, alcoholic drinks, and non-alcoholic drinks.
For alcoholic drinks, Wine Connection Tapas Bar & Bistro offers various spirits, aperitif and digestif, cocktails, wine by the glass and bottle, draft beer and bottled beer, and ciders. Their tapas menu, which is available from 5PM onwards, are cooked to order, and offers diverse flavours — from savory to salty to spicy.
Aside from the admittedly impressive menu, Wine Connection Tapas Bar & Bistro is also highly regarded for its customer service and ambience. The bar and bistro is comfortable and warm, and the staff are highly professional and friendly to each and every customer. 
Highlights
Extensive food and drinks menu
Multiple locations island-wide
Open seven days a week
Online shop for wine and other alcoholic drinks
Value Set Deals from $6.90++
13.  The Bar at 15 Stamford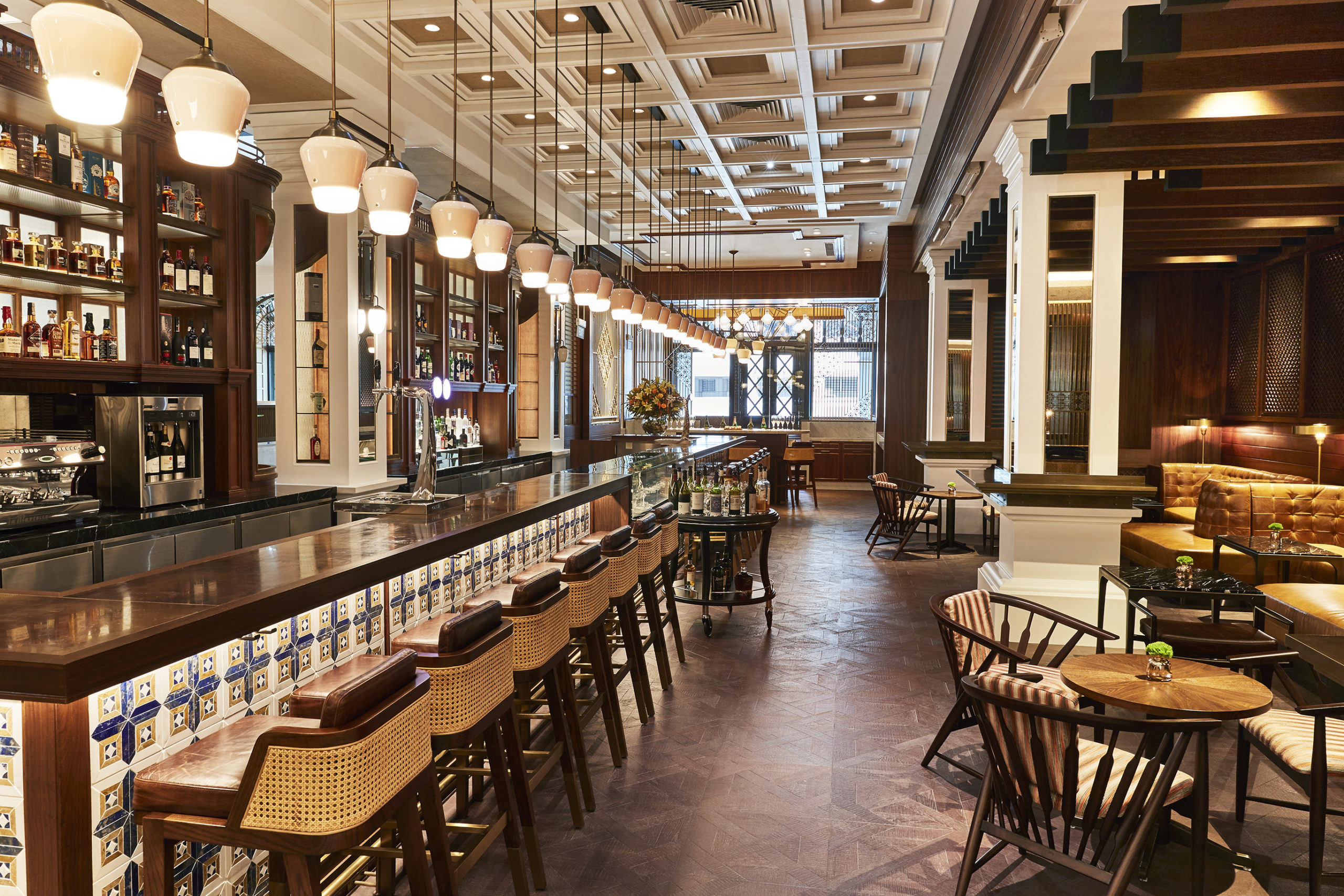 The Bar at 15 Stamford is a bar that offers a wide selection of rum that has been procured both at Old and New Worlds. Known to offer one of the most comprehensive and largest selections in Singapore, they also have a rich history to come with their selection as well.
Currently, their bar can seat 80 individuals and is adequately designed at the interior to accommodate an ambiance that is best in taking their selection of over 250 brands of wine and 160 labels of rum.
Vintage and historically rich, they have since then looked to expand their plantation to offer clients local ingredients and then create unique and freshly procured blends that clients can look to try from their expanding selection.
Since they are also located within a hotel, they also offer an Asian fusion cuisine to complement the wines and rum that they offer.
Though they are mostly positive reviews regarding their services in general, there could be some improvements needed to be done when it comes to customer services and interaction.
Highlights
Wide selection of wines and rum
Smart casual dining
Free parking
Customer Reviews
Here are some reviews from their clients:
"My family stayed at Capitol Kempinski for 2 nights and we just checked out today. Throughout the staycation, my family was treated with warm hospitality from the staff from the hotel lobby, 15 Stamford and the housekeeping team. The room was spacious and clean. The highlight had to be the Christmas-themed tent in the room, my son really liked to stay in the tent! Thank you to all the staff of Capitol Kempinski for creating such a wonderful experience for my family! Cheers!"
"The staffs are friendly and service is good. My kids enjoy the bathtub in the room and the pool. The staff at the pool was very nice when she saw my son had a small cut. Gave him plaster and send cookies , milk n a card to him."
Dropping by the best bars in Singapore is surely an effective way of getting rid of the stress of the day. We hope that you were able to pick at least one to visit the next time you and your friends are in the mood to hang out after work!
If you know other bars in Singapore worth checking out, don't hesitate to share their names with us as we'd also love to try out their services!
If you're in the mood to listen to a live band while drinking cocktails, then you'd definitely love our list of bars with the best live music in Singapore.There's no better combination than good music and delicious cocktails!