5 Best Ebook Readers in Singapore Less Than $500
You might relate to having a lot of books to read but little space to place them. It's also a struggle to bring a bundle of them during travel. This is where the best eBook readers in Singapore come in.
eBook readers are devices where you can store countless books digitally, giving you a wonderful experience with paperlike E ink technology.
There might not be a lot of brands but Amazon has released a series of Kindle versions that are designed with various features and functions. They actually dominate our list of picks for the best ebook readers in Singapore, but that's probably no surprise.
Still, it'll be a bit confusing if you're not aware of the things that you must consider before buying one. As such, we'll go over those first, then move on to our list of the best ebook readers in Singapore. Read till the end especially if you've been wondering about Kobo vs Kindle in Singapore.
Factors to Keep in Mind When Buying an Ebook Reader
To make sure that you can pick the best reader for your needs, we're here to remind you about some things to consider when you go looking for the right one. Let's start with the screen.
1. Screen Type
As mentioned earlier, eBook readers feature an E ink technology that produces a paperlike display. So if you prefer to read with a display that is close to an actual book, you should choose one with this feature.
E ink is also said to help reduce eye strain and provides longer battery life than most other modern screens. For example, another screen type is the LCD screen, which displays colour and even has touchscreen functions.
Some eBook readers have an electronic paper display, which is a combination of both types. With this one, you may need to compare the models because they offer different resolutions.
2. Weight and Size
These factors are basically dependent on your needs. If you travel a lot and you enjoy reading a bunch of books during a long trip, then you should consider a small and lightweight one.
However, for those who value large screens in their ebook reader, then portability shouldn't matter. There are several eBook readers that give a wide and full display for a better reading experience.
3. Controls
You can use an eBook reader by selecting actual or touchscreen buttons. You can also have both!
The button-based types are more energy-efficient and accurate while the touchscreens are preferred by many, even with E ink-based readers. Yet, the latter option can be a bit laggy and consumes more battery life.
Both types can be great as long as choose a model with a reliable battery.
4. Battery Life
Whether you read often at home or you always bring it during travel, battery life must always be considered. The eBook readers without a lot of fancy features usually have longer battery life.
On the other hand, those with WiFi feature and apps tend to operate for a shorter time.
5. Features
A fair number of eBook readers in Singapore are also very similar to tablets now. The latest versions are accompanied by plenty of features such as music or web browsing apps.
Are you thinking of buying one that can also act as a tablet and do more tasks other than reading? If so, you should look for a dynamic model.
6. Format Compatibility
Have you already had an experience where you can't read the book because the format is not readable on your device? You can prevent this from happening by checking the supported formats first before buying.
EPUB is a general format for all eBook readers. Other formats such as PDF, TXT and HTML would also be better if included so you can read as much as you want.
7. Storage Capacity
Bigger storage is generally something you want on a reader. After all, that means you can save and read more books.
Larger capacity also lets you store more multimedia files including apps, music, and videos. There are also eBook readers that offer SD card slots for expandable storage memory.
8. Access to eBook Stores
Some readers give you direct access to eBook stores — and trust us when we say you want that. It means you can easily see the latest releases, find your favourites, and save them without any hassles.
The eBook readers in Singapore without direct store access will need a third-party source, which can be a bother.
9. Pricing
In every purchase, it's extremely important to take note of the pricing. The basic models are, of course, much cheaper while those with multiple features and bigger screens are on the pricier side.
If you're going for an expensive model, then you should make sure that it's the one you'll use for a long time.
But an economical option is not that bad either, as the price doesn't entirely define the value of a product — that's also largely determined by your requirements, after all.
The Best eBook Readers in Singapore
As you consider the factors stated above, get ready to pick one from our list of the best eBook readers in Singapore! Models vary in size, features, and prices, so we've listed the pertinent information about each one below.
1. Amazon Kindle Paperwhite
Best for Overall Value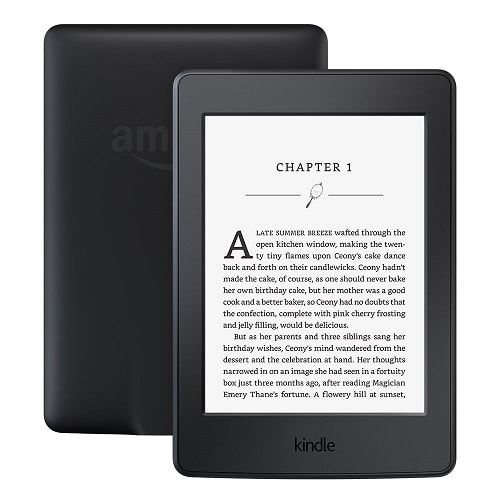 Price: $275.00
This brand needs no introduction as it's considered by many to be the best ebook reader in Singapore.
The Amazon Kindle Paperwhite is the best-selling version of the brand. From the display to the multiple reading features and battery life, everything is designed for a serious reader.
It has built-in adjustable light, so be it day or night, you'll be able to read comfortably and prevent eye strain due to long-time reading.
The layout and margins will automatically be adjusted and the font sizes can also be customised so you can enjoy a delightful reading experience.
In the midst of reading a chapter, you can instantly search for some unfamiliar words and get references from the New Oxford American Dictionary. It also has a large collection of books, all offered at affordable prices.
It's also capable of translating books and documents into other languages, so you can easily understand the contents of foreign-language texts.
As it is mainly built for reading, there are no other apps installed on the device. This would be helpful to keep you from any kind of procrastination while reading.
Its battery life can last up to a few weeks, which is great if you want it as a travel buddy. It's also WiFi-enabled so you can check the latest updates from your favourite authors.
Highlights
LED type and E ink-based
8 GB or 32 GB storage
Language translation
Instant dictionary
Massive book collections
Library sharing
Customised font sizes
Adjustable light for eye strain protection
Wi-Fi enabled
Customer Reviews
Many customers seem to be convinced of the superior qualities of the Amazon Kindle Paperwhite. This includes eye strain protection, large library, and long battery life.
An Amazon customer posted this review:
"I love this!! I waited a long time before deciding to buy this since I own an iPad, but when I was offered the option to purchase it with 5 payments, I decided to go ahead and I'm so gladFirst, it's much better for my eyes than my iPad. It doesn't strain them at all at night and it's great not . having that glare in the sunlight. Second, I don't have the distractions I have on my iPad. I've always loved to read, but it's so easy these days to stop in the middle of a book when you see a social media notification pop up. Third, it takes up much less space than my rather large library and it's easier to carry around. It easily fits in my purse and I don't have to worry about bent pages. Lastly, it actually motives me to read more. Between the look and feel, the size, the fact that it's only for reading, the deals I get on kindle books, and the extremely long battery life, this was worth every penny! If you enjoy reading even a little bit, you'll love this!"
2. Amazon Kindle Basic
Best for Beginners, Casual Readers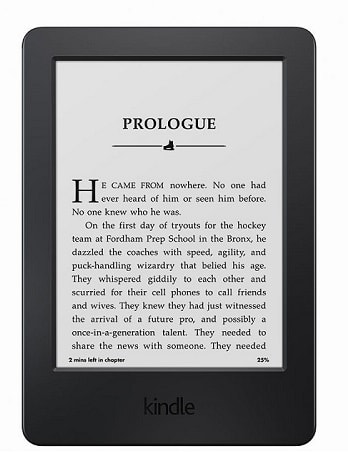 Price: $188.00
If you prefer a smaller and lighter eBook reader, then the Amazon Kindle Basic is a good choice for you.
It offers an adjustable display and hand-built fonts to make it look like a physical book. It also provides a built-in dictionary, language translation and more.
It's quite similar to the previous option but this one is not Wi-Fi enabled. This model is much simpler, in fact, so it'd be a good pick for those who just want the basic features or those who just started using an eBook reader.
Highlights
E-ink based
Compact and lightweight
Personalised display settings
Easy reading features
Library sharing
Customer Reviews
Most reviewers claimed that the Amazon Kindle Basic is the best eBook reader in Singapore for those who read casually. They also complimented its audiobook features, backlight, and many more.
A few of the reviewers also shared that it's not waterproof, though, that the display is just average compared to more expensive models. Still, they said that it's a nice option if you're just beginning to take an interest in eBook readers.
The TechRadar blog gave it this verdict:
"It's by no means the best ereader money can buy, but introducing a backlight to the cheapest Kindle means it's now much more difficult to justify buying a more expensive, top-end ereader. If you're always reading, the Kindle Paperwhite or Oasis may be more for you, but as an all-round and affordable option it's very difficult to fault the latest Amazon Kindle."
3. Amazon Kindle Oasis
Best for Paperlike Display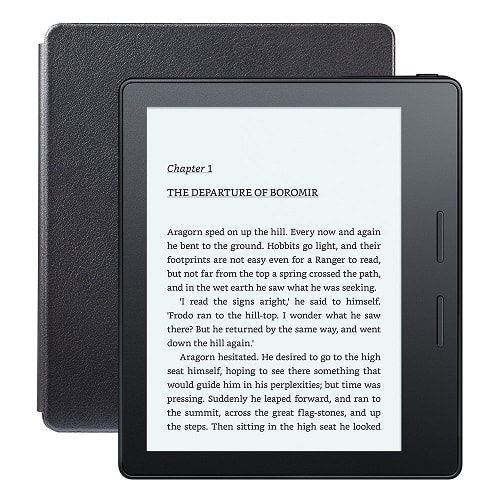 Price: $429.00
The most impressive trait of the Amazon Kindle Oasis is the ultra-thin and lightweight design. It means you can hold it comfortably while reading and carry it around easily during travel.
It specifically features an ergonomic handgrip so it won't slip from your hands while you do hours of reading. Page turn buttons are also included on the handgrip for smooth page transitions.
Excellent resolution is provided for improved text quality. It also takes pride in its dual-battery charging system and hibernation mode that boosts the battery capacity so you can use it for a whole month without charging.
All the trademark features of the brand such as eye strain protection, library sharing, a built-in dictionary, language translation, a wide range of book selections, and other functions are included in this model.
Highlights
LED type and E ink-based
8 GB or 32 GB storage
Thin and lightweight design
Adjustable light feature
Waterproof
Ergonomic handgrip
Page turn buttons
Customer Reviews
Some reviewers have named it the best eBook reader in Singapore due to a warmer-toned display that has an extremely paperlike look. They've also recognised the waterproof design, which is very convenient.
They pointed out its downsides, though, saying that it's on the pricier side and has an outdated Micro-USB charging port instead of USB-C. Yet, they still recommend it to all dedicated readers.
The Guardian wrote this verdict in their published review:
"Amazon hasn't changed much for the latest edition of the Kindle Oasis. Side-by-side they are identical on the outside. But what looks to be a small change – the ability to shift the colour of the frontlight from cold to warm white – makes a surprising amount of difference to the reading experience.
The warmer tones of white can match the colour of paper novels, not just the brilliant white of printer paper, and ease strain on your eyes as the sun sinks below the horizon. This is the best e-ink screen going, in the most sumptuous of e-readers.
But not every change is good. The loss of the magnetic cases means it's more difficult to use the Oasis in its purest, most balanced form without anything attached to it. Amazon's premium leather case is particularly nice, but given I'd want a case just to protect the screen I'd be more inclined to find a slip case or similar.
But in the era of constant distractions by notifications and the hubbub of modern life, the Oasis is the luxury antidote to overload. It only does one thing, but it does it better than anything else."
4. Kobo Forma
Best for Wider Screen Display, Strong Battery Life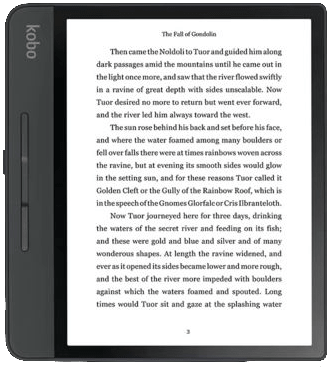 Price: $422.00
Being the only eBook reader that is not from Amazon, the Kobo Forma introduces a new design with its thinner edges, providing a wider screen. You can read your book/document on either landscape or portrait mode on it too.
An adjustable front-light lessens blue-light exposure to bring ease to your reading experience. For the library feature, it features direct access to OverDrive with integrated eBook borrowing so you can search for, borrow, and buy your desired books.
You can also sync your files into the Kobo App for continuous reading.
Highlights
LED type and E ink-based
8 GB – 32 GB storage
Wider screen
Adjustable front-light
Lightweight and portable
Waterproof
OverDrive and Kobo App access
Customer Reviews
Reviewers said that it might have limited eBook store collections and it's also on the expensive side, but it's built with a powerful battery and larger display that opts for a longer and more comfortable reading experience.
These features are the reasons why it's a part of the best eBook readers in Singapore. PCWorld gave this feedback:
"Those who consume a lot of graphic content, or whose eyesight requires them to use a larger font size while reading, will love the Kobo Forma's crisp, expansive display. That the Forma is waterproof and insanely light, and offers multiple methods to stock it with content, could make it appealing to some readers. However, quality control issues, and a high price could make others wary."
5. Amazon Kindle Voyage
Best for Advanced Page Turn Function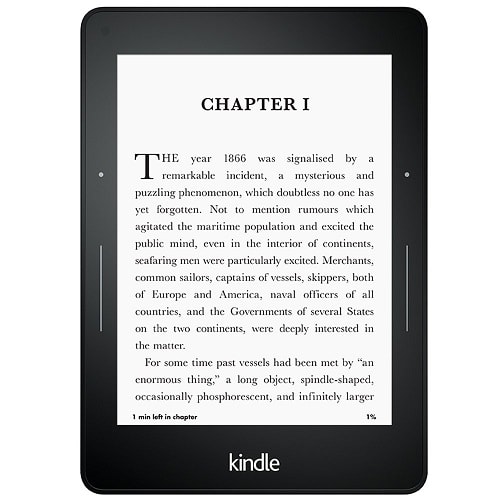 Price: $258.31
Aside from all of the original features of the brand, the best thing about the Amazon Kindle Voyage is the PagePress function that lets you read the next page without clicking or pressing any button.
As you can see at the side edges, it has pressure-based page turn sensors. You can just simply apply pressure on the bezel and it'll give an immediate response.
It's very similar to the Amazon Kindle Paperwhite, yet this one has a thinner and lighter design. This is one of the reasons it's considered possibly the best eBook reader in Singapore.
Highlights
LED type and E ink-based
4 GB storage
WiFi-enabled
Language translation
Instant dictionary
Massive book collections
Adjustable light for eye strain protection
Customer Reviews
Most customers were very impressed with the sleek design, one-of-a-kind page-turning feature, and brilliant screen display of the Amazon Kindle Voyage.
They also stated that despite being similar to the other Amazon Kindles and a bit expensive, it still has its own distinct traits, making it a worthy purchase.
Trusted Reviews wrote this feedback:
"We'd prefer it if the Amazon Kindle Voyage were £20 cheaper – it feels expensive. But it's also an outstanding product and the very best e-reader on the market. The screen is great, the PagePress system is a small but useful improvement, and the Amazon Kindle ecosystem remains incredibly strong."
And with that, we have our list of the best eBook readers in Singapore. We hope that you enjoyed our carefully chosen picks.
Don't be too shy to let us know if you've already decided on which one best suits your reading preferences! We'd love to know which of these most of our readers end up picking.
Oh, and as you can also listen to audiobooks, podcasts, and even music through some of our listed eBook readers, you may want to have the best noise-cancelling headphones in Singapore as well. Take a look at our picks for that too!