The 9 Best Fishing Rods in Singapore Less Than $50
Is fishing one of your favorite hobbies? If so, you can make this activity much more enjoyable when you're equipped with the best fishing rod in Singapore!
We looked for the best-performing fishing rods in Singapore available today. The ones we found are convenient, easy to use, and offer excellent value for you money.
Before we go over them, we'll give you a few important things to consider before getting yourself a fishing rod. If you already know what you want, though, feel free to jump ahead to our list of the best fishing rods in Singapore now!
What to Consider When Choosing a Fishing Rod
All anglers know that one of their most important pieces of equipment is the fishing rod. A good rod can make all the difference between landing a fish and losing it.
If you're relatively new to this, though, it's better to take your time knowing about what makes a fishing rod great. That way, you can make sure you pick the best rod for your requirements.
For example, one of the first things you should consider is the type of fishing rod. Do you prefer a basic one or a one fishing tackle? Next to this, the material, length, and power of a fishing rod are also worth remembering.
To further expound on what we're talking about, let's go over each point below:
1. Type
The different fishing rod types in Singapore are meant for different environments and fish. The two most common types are called casting rods and spinning rods, both of which have their own unique uses and features.
If you like catching larger fish, then a casting rod would be perfect for you. This fishing rod usually comes with the guide on top of the blank — that allows you to place your casts with accuracy.
Casting rods are also ideal for deepwater fishing. This is because they work well with most techniques and lure types.
On the other hand, if you only plan to catch small fish, then it's best to use a spinning rod. It's also perfect for beginners because it's smaller and doesn't weigh a lot.
What makes spinning rods different from casting rods is that their guides are at the bottom of the blank, not at the top. This option makes the rod easier for beginners to use and control.
2. Material
Since fishing rods should be able to carry the weight of a fish, it's only proper that they're made with strong and durable materials. More often than not, great fishing rods are made with either fiberglass or graphite — sometimes with both!
If you're a professional angler, you should consider the materials of your fishing rods carefully. In addition, there are materials that are great for beginners sharpening their fishing skills.
In terms of preference, professional anglers usually like fishing rods made from graphite because of their durability. Graphite rods are also known for their fighting power.
Fishing rods made from fiberglass are a great match for beginners because of their easy maintenance, on the other hand. Fiberglass rods are also known to be sturdy but can be a bit heavy.
3. Length
Right after the materials, the next thing you should consider is the length. Fishing rods come in a variety of lengths.
If you don't already know, the usual length of a fishing rod usually ranges from 6 to 12 feet. It's measured from the end of the tip down to where the handle ends.
In choosing the length of a fishing rod, you should consider the environment in which you usually catch fish. It's also beneficial to think of the types of fish you prefer to catch.
For beginners, it's advisable to go with a length not more than 7 feet. Shorter rods are generally easy to control and less likely to bend.
For more experienced anglers, we believe that the length of 7 feet and up would be better. However, you should also consider your casting styles and techniques before choosing the length.
4. Power
As anglers, you will be met with a variety of fish that will test the strength and power of your fishing rods. The power of a fishing rod usually boils down to its ability to lift and carry both bait and fish while bending.
Power usually ranges from ultra light and light to heavy, medium heavy, and ultra heavy. Light rods are ideal for smaller types of fish while heavy ones are perfect for deep sea fishing.
The Best Fishing Rods in Singapore
Now that you know what to look for in a fishing rod, it's time to move on to our list of the fishing rods we found to be worth your attention and money. By the end of this article, you should have chosen the best fishing rod in Singapore just for you.
1. Goture Xceed
Best for Overall Value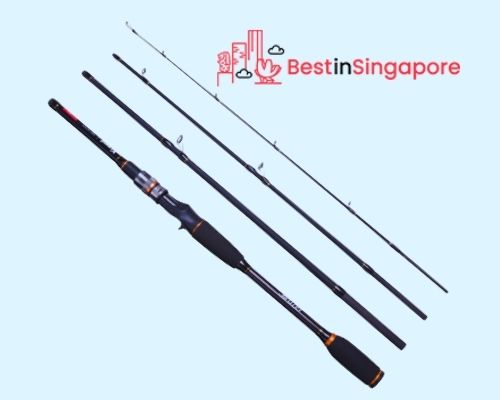 Price: $41.67
If there's anything that we love about the Goture Xceed fishing rod is that it's perfect for both beginners and professional anglers, making it one of the ultimate fishing rods in Singapore.
Unlike most fishing rods, this one comes in both spinning and casting options. So, if you prefer to use one over the other, then there's nothing to worry about!
On top of these, it also comes in a variety of lengths that allows users to pick out their desired rod length.
In terms of its power, it's specified as heavy to medium heavy. As such, it's a great match for those who like deep-sea fishing and catching large fish!
It's also made with premium materials that are designed to be durable. This one will definitely last for a long time, and that's why it's at the top of our list.
Highlights
Made with premium ABS materials
Comes in multiple lengths
Stainless steel guides
Carbon fiber blank
Eva split grip
Customer Reviews
Many buyers were impressed with the quality of the Goture Xceed Fishing Rod, as well as its affordability and unique features. Trying to find out its strength and power, a customer even used it to lift a gallon of water (successfully).
A reviewer on Amazon commented:
"This rod has been pretty handy for this exact purpose. It's lightweight and easy to assemble and comes with a handy hard carry case, to protect it as I go through the woods. I have taken it out twice and each time it has worked great, I'm surprised at how sensitive it is but I can easily feel my eggs bumping on the bottom when I'm drifting eggs. Totally recommend this rod, pair it with a 4000 size reel and the uses are pretty wide." 
2. Goture Aquila
Best for Catching Large Fish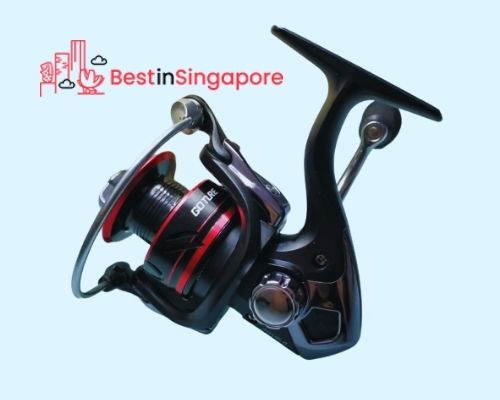 Price: $29.39
If you want a fishing rod in Singapore that can last for a long time and endure multiple uses, then you should check out the Goture Aquila. We think it's one of the most amazing fishing rods in Singapore today.
Similar to the previous Goture model, this one can be used by both professional and beginners. You are also free to choose your desired rod length.
Being lightweight and portable, it can be ideal for beginners who are looking forward to sharpening their fishing skills. You won't have a hard time carrying this one anywhere.
It even comes with a carbon blank that provides extra support and toughness for catching heavy and large fish. What's more, it has a comfortable and wear-resistant handle that won't hurt your hands even after hours of fishing.
Highlights
Spinning and casting rod
Comes in multiple lengths
Medium heavy
Extremely portable
Carbon blank
Spiral-mounted reel seat
Customer Reviews
A customer who bought the product on Amazon commented:
"My new Goture Aquila spinning reel is one of the smoothest spinning reels that I have ever used. I love saltwater surf fishing and bought this reel for that purpose. It handled some redfish action with no problem at all. I plan on purchasing another one of these reels in the very near future and would highly recommend this to anyone looking for a great reel. I think I have a co-worker sold on this reel also." 
3. Sougayilang Mini Telescopic
Best for Catching Small Fish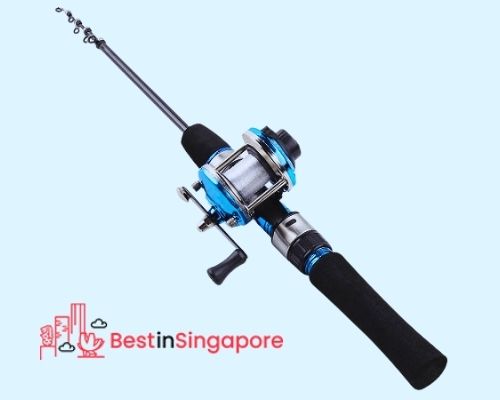 Price: $12.34
For those who don't want to carry a bulky and heavy fishing rod, then the Sougayilang Blue Mini is a must-have for your fishing trips! Having a portable fishing rod will definitely make your fishing sessions hassle-free and easy.
Despite being lightweight, it does the job of catching fish pretty well. That said, we recommend that you use it only for small fish because it may not be able to handle bigger ones.
It's still pretty strong for its size, though. Additionally, it's made with premium carbon materials, so you shouldn't worry about it breaking anytime soon if you take care of it!
Highlights
Casting rod
Affordable
Lightweight and portable
Made with quality materials
4. Tokushima Fishing Rod
Best for Durability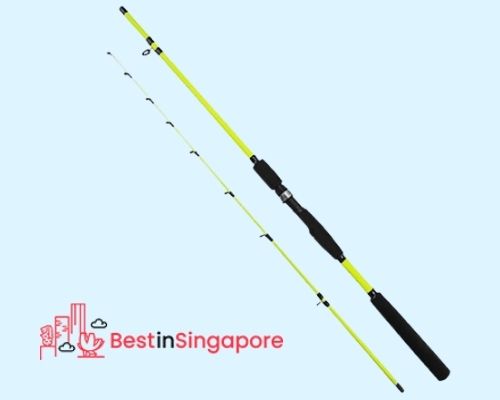 Price: $12.68
Are you looking for a fishing rod that can fit within a tight budget? If you are, look no further than the Tokushima Fishing Rod, one of the most affordable fishing rods in the market today.
If you don't buy the idea of cheap items being durable, then consider this one different! Most who have purchased this product are in awe of how sturdy and durable it is despite its low price.
If there's a downside to this fishing rod, it's that it's only ideal for catching small fish. Still, we think that it's perfect for people who want to try out fishing but have no experience, because it's easy to use and has no complicated features.
Highlights
Durable and affordable
Baitcasting rod
High carbon pole
EVA handle
5. Goture Sword
Best for Travelling Anglers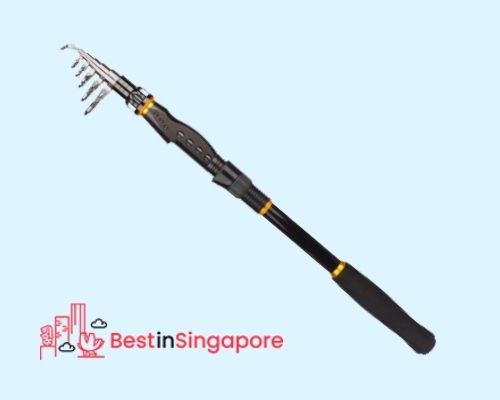 Price: $27.84
Since Goture is one of the most trusted names in fishing rods, it's no surprise that another one of their models ended up on our list. This is the Goture Sword, and we believe that it's one of the most attractive options out there.
Like the models mentioned before, you can choose to have either a spinning or casting rod with this one. It's also one of the few fishing rods made with high-density 24 carbon fibre and glass fibre, which contributes to the strength and power of the rod.
If you prefer to go after large and heavy fish, then you should definitely get this one because it's one of the strongest fishing rods out there. In spite of that, it's amazingly light and portable!
Highlights
Spinning and casting rod
Extremely portable
Made with high-quality and durable materials
Comes in various lengths
Customer Reviews
Most buyers of the Goture Sword adore how perfect it is for catching heavy fish. Some even claim that it hits two birds with one stone because it's also capable of catching small fish, should users be in the mood to catch some. 
Overall, most customers said that they would buy the Goture Sword again if given the choice. A customer who attested to its reputation of being travel-friendly commented:
"This is perfect for traveling, I was able to take this to our vacation home in Taos, New Mexico and it was perfect for trout fishing and easy to store with our limited travel space. It takes up minimal space and is so easy to use!! My father used it more than I did, although we both used it, and he thinks it is great quality and wanted me to leave it with him to use in Taos. It is easy to use for those of us that are amateurs and great for the advanced fishermen as well."
6. Sougayilang Telescopic
Best for Regular Use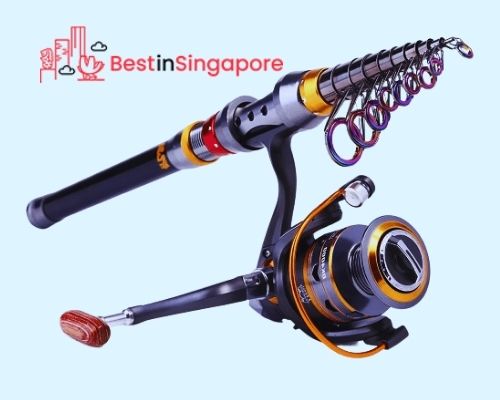 Price: $40.40
If you've used the Sougayilang Mini Telescopic before but want to move on to a heavy duty variant, then you should take a look at the Sougayilang Telescopic.
Despite being more on the expensive side, this fishing rod will definitely make your fishing sessions more enjoyable and productive. Not only is it ideal for deep sea fishing and catching large fish, it can also be used in almost any environment.
Unlike most fishing rods, its length goes up to 3.6 meters, making it perfect for professional anglers who already know how to control longer fishing rods. Additionally, it has a collapsible handle that's interchangeable, so don't worry about being left or right handed
Lastly, it's one of the most beautifully crafted fishing rods we've ever seen! Just look at its elegant and sleek design!
Highlights
Spinning and casting rod
Metal spool with high-tensile gear
Fully adjustable
Collapsible EVA handle
Customer Reviews
Many customers who purchased the Sougayilang Telescopic were very satisfied with its unique features. On top of this, most of them agreed that it's one of the most eye-catching fishing rods they'd ever laid their eyes on. 
A customer from Amazon wrote this feedback:
 "All in all an awesome product. Very impressed with its strength vs it's weight. Very impressed with its action and sensitivity. Especially for its price. I am a big backpacker and backcountry hunter/angler and have always owned various break down or telescoping rods. This is definitely the highest quality rod I've owned. It makes me want to upgrade my cheapo real."
7.  JIGBUTT
Best For Detachable Rod Extension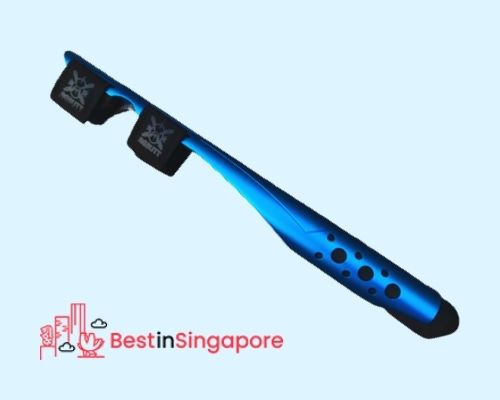 Price: $99
Jigbutt takes pride in having the very first detachable rod extension in the market. This means that you won't have to customize your existing rod just to fit your preference. 
The rod is lightweight so it's comfortable to use and portable—you can bring it anywhere you go. Further, it has an easy grip which makes it more convenient to fish.  
Highlights
Lightweight

Durable

Comfortable grip

Easy maintenance

Saltwater corrosion resistance
8. OCEAN THUG
Best For Smaller Reef Fish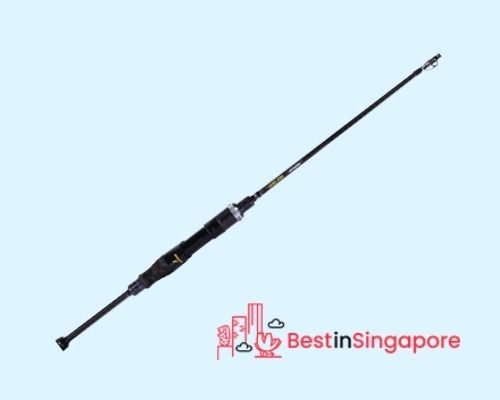 Price: $180
Shop Now on Bone Fishing World
Ocean Thug's Light Jigging Model is designed for a more sensitive fishing with light jig works in shallow waters. Its rod is made for those who love fishing in reefs. Yet, it is also sturdy if you want to hook a bigger fish.
This model still retains the signature multi-axis wrapping of other Jigbutt's rod. Thus, if you're a fan of their products, you won't ever go wrong with this.  
So if you're after catching bigger fish, this is probably one of the best fishing rods in Singapore for you.
Highlights
Durable

Designed for sensitivity

Good for smaller reef fishing
9. Voyage Travel Rod Series
Best For Travelers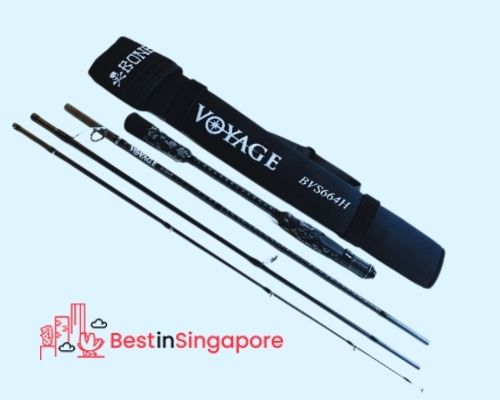 Price: Starts at $210
Avail here at Bone Fishing World
If you're a traveler and you love fishing, then Voyage Rod should be your choice. Their travel rod series is designed specifically to cater individuals who love to venture places or spots for fishing. This is a good thing to get and add to your collection.
The best feature of the rod is that it eliminated the uneven weight on each joint. Thus, what you have is a smooth bend when you load the road. Nonetheless, it remains to be durable, versatile, and flexible. Their travel rod series is available both in spinning and baitcasting style so you can choose between the two. Further, it is ultra-sensitive to movements and it has a superior grip power.  
Highlights
Lightweight and portable yet durable

Comes with warranty and pouch for convenience

High sensitivity for movements
Anyway, with that, we end our list of the best fishing rods in Singapore. Any of these options will definitely improve your fishing trips for the better. Better head to the best fishing tackle shop in Singapore now so you can get started on your fishing journey!
Do you have a fishing rod in mind that wasn't part of our list? If so, let us know about it so we can evaluate it too!
If your heart's set on making fish and chips out of your catch, by the way, you may want to look at our list of the best deep fryers in Singapore. These should crisp up your meal perfectly for a truly satisfying dinner to cap off your day!