The 16 Options for the Best Wedding Catering in Singapore
If you're looking for the best wedding catering in Singapore for your reception, worry no more because we have you covered! Today, we're making a rundown of the top options for the best wedding catering in Singapore.
Since planning a wedding is no easy task, every bit of help you can get is already a huge burden off your shoulders. So, we're here to present our list of places with the best wedding catering in Singapore for your convenience.
Check out our picks below to see which one offers the food choices you're looking forward to seeing at your own reception!
1. FoodLine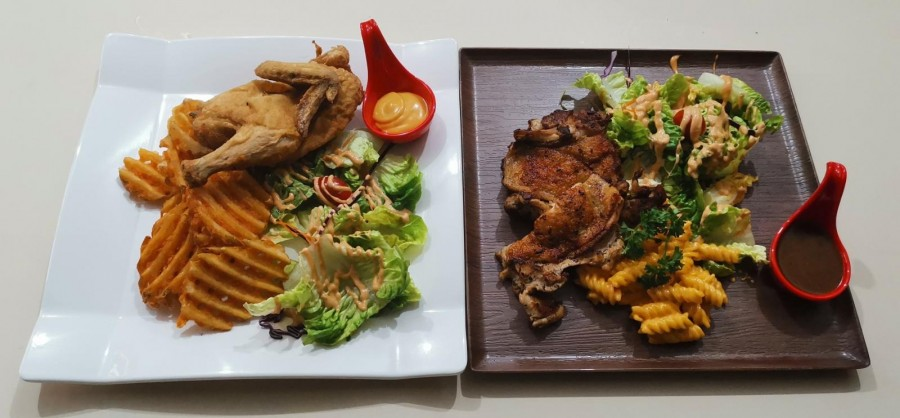 BEST FOR
Wide Range of Cuisines and Food Choices
PRICING
Message Food Line for Customised Quotations
WEBSITE
https://www.foodline.sg/
ADDRESS
51 Tai Seng Avenue
#03-03 Pixel Red
Singapore 533941
CONTACT DETAILS
[email protected]
Hotline: 6100 0029
WhatsApp: 8432 6505
OPERATING HOURS
Mon – Fri 9.30am to 6pm
Established in 2009, FoodLine was created by owners Joseph and Shawn. Their goals is to make other people's lives easier when it comes to finding the perfect catering service for their party or event. The portal they've created shows the reviews and dishes; each catering can offer to the customers.
Budget and preference for food can be placed on the site to narrow down the options a client can choose from. Aside from your normal food catering services, you can find cake and desserts on FoodLine, together with several wine stores as well. You can say it's a one-stop-shop for any of your dining needs.
To this date, FoodLine has become the biggest catering portal in Singapore, housing over 500 catering services on their site for you to consider. Make sure to have them help you if you're in search of the best food catering service in the country.
Highlights
Halal catering
Wedding Catering
Birthday Catering
Available for personal and corporate events
Customer Reviews
FoodLine has received nothing but high praises from their clients. Their amazing platform helped tons of people looking for the best catering service that fits their needs and budget. Check out some of the reviews below:
"A great food catering marketplace to select the best deal in town for events. Ever since I was introduced to this website, it has become my default website to order food for all my events. The ordering is simple and fast. Great job foodline !"
"Lots of caterer to choose from, easy and convenient to order using Foodline. Their customer service staff will also recommend base on customer preference. Most important can earn points and offset orders."
2. Continental Delight Catering Services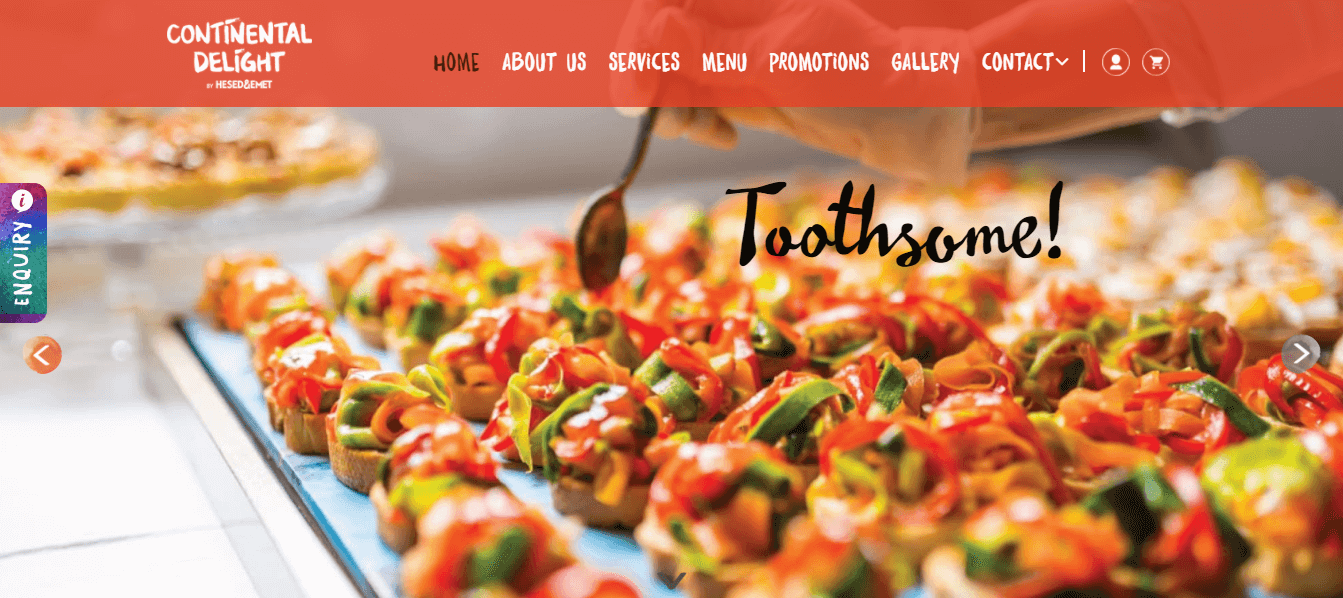 | | |
| --- | --- |
| BEST FOR | Halal Food |
| COURSES | Wedding Catering, Corporate Catering, Events Catering, Household Catering, and Bento Meal Catering |
| WEBSITE | https://www.continental-delight.com.sg/ |
| ADDRESS | 21 Second Chin Bee Rd, Singapore 618780 |
| CONTACT DETAILS | +65 6665 0222 |
| OPERATING HOURS | Monday – Friday, 9:00 AM to 6:00 PM |
Established in 1986, Continental Delight Catering Services has grown into one of the most trusted catering services on the island. Some of the events it caters to are weddings, corporate events, birthdays, anniversaries, and even simple celebrations at home.
Another reason we consider it one of the top options for the best wedding catering in Singapore is the fact that it's the first Halal-certified food caterer on the island. It's an HACCP-certified food caterer too, so rest assured that everyone on its staff observes strict food hygiene practices.
On top of that, Continental Delight Catering Services boasts a huge clientele made up of customers from all sectors, from business owners down to soon-to-be-wed couples.
Highlights
34 years of experience
Halal-certified
3. Luxe Catering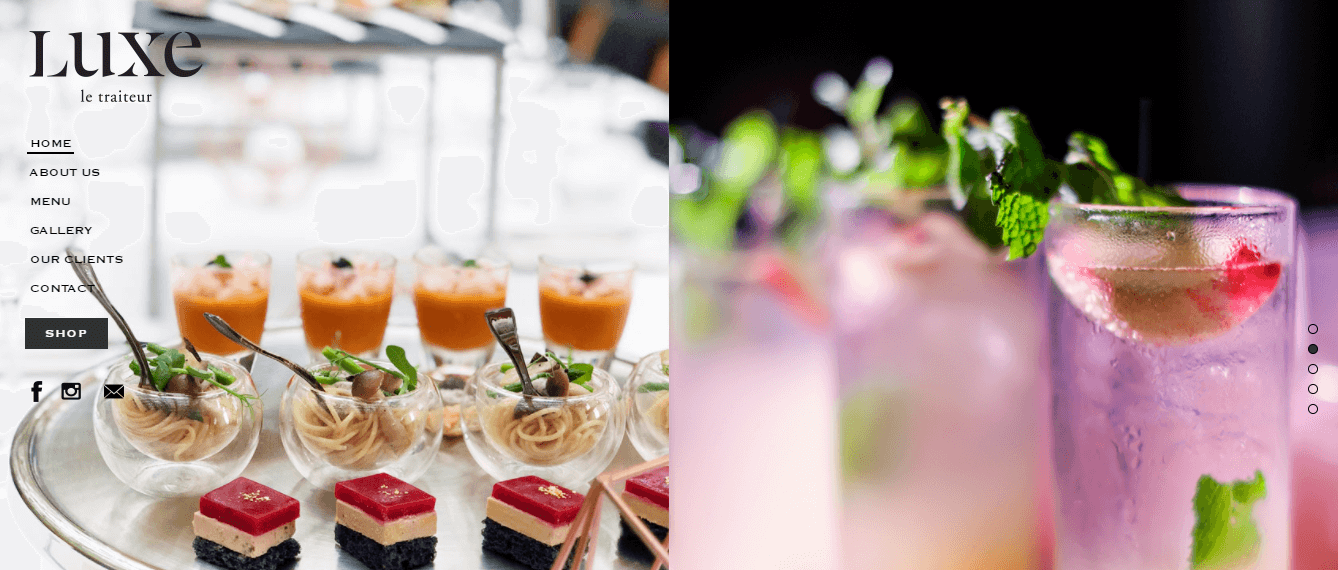 | | |
| --- | --- |
| BEST FOR | French Cuisine |
| COURSES | Wedding Catering and Corporate Catering |
| WEBSITE | https://www.luxecatering.com.sg/ |
| ADDRESS | 8A Admiralty St, #01-34/35, Singapore 757437 |
| CONTACT DETAILS | +65 6570 9353 |
| OPERATING HOURS | Monday – Friday, 9:00 AM to 6:00 PM |
If you're thinking of treating your guests to mouthwatering French cuisine, then look no further than Luxe Catering. It's one of the few food caterers on the island that serve mainly French food, complete with the serving too!
Luxe Catering offers its services to wedding ceremonies, corporate functions, family events, and even cocktail receptions. It will truly make your special day a lot more memorable through its warm and topnotch services.
Above all, Luxe Catering employs a team of professional and trained waiters who will make sure that every guest is comfortable and accommodated — which is why we consider it one of the top options for the best wedding catering in Singapore.
Highlights
Wide selection of French cuisine
Hospitable waiters
4. Lagun Sari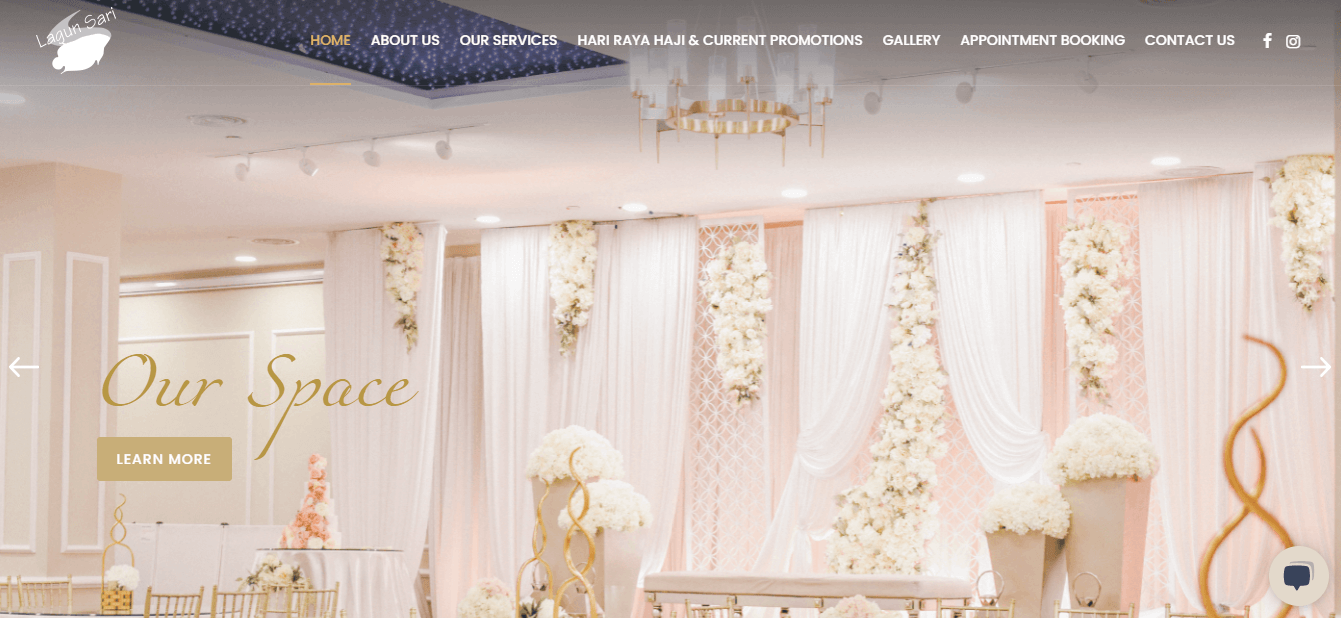 | | |
| --- | --- |
| BEST FOR | Wedding Services |
| COURSES | Wedding Catering and Wedding Planning |
| WEBSITE | http://www.lagun-sari.com.sg/ |
| ADDRESS | 381 Joo Chiat Rd, Lagun Sari Building, Singapore 427621 |
| CONTACT DETAILS | +65 6440 7274 |
| OPERATING HOURS | Monday – Friday, 11:00 AM to 6:00 PM |
Lagun Sari is one of the few wedding service providers that specialise in Malay and Muslim weddings. Some of the services it offers are wedding planning, wedding reception hall rentals, wedding videographers, and of course, the best wedding catering in Singapore.
Since its inception 25 years ago, it's witnessed thousands of Muslim and Malay weddings, taking part in every step of the wedding, from planning down to the catering.
On top of that, Lagun Sari is known for its reasonable rates for all its services, so it's no surprise that it's always fully booked. If you want to avail of its services, make sure to call their hotline and schedule a meeting with their staff.
Highlights
25 years of experience
Malay and Musline weddings
Competitive service rates
Customer Reviews
Take a look at what a customer had to say about its services:
"A place to hold events where the venue is spacious, great ambience and settings that is upheld by the decor, an array of buffet food that is available. Very friendly staff that is willing to help and answer any queries you might have in regards to the place and food. Definitely enjoyed my time at a function there."
5. Kigi Catering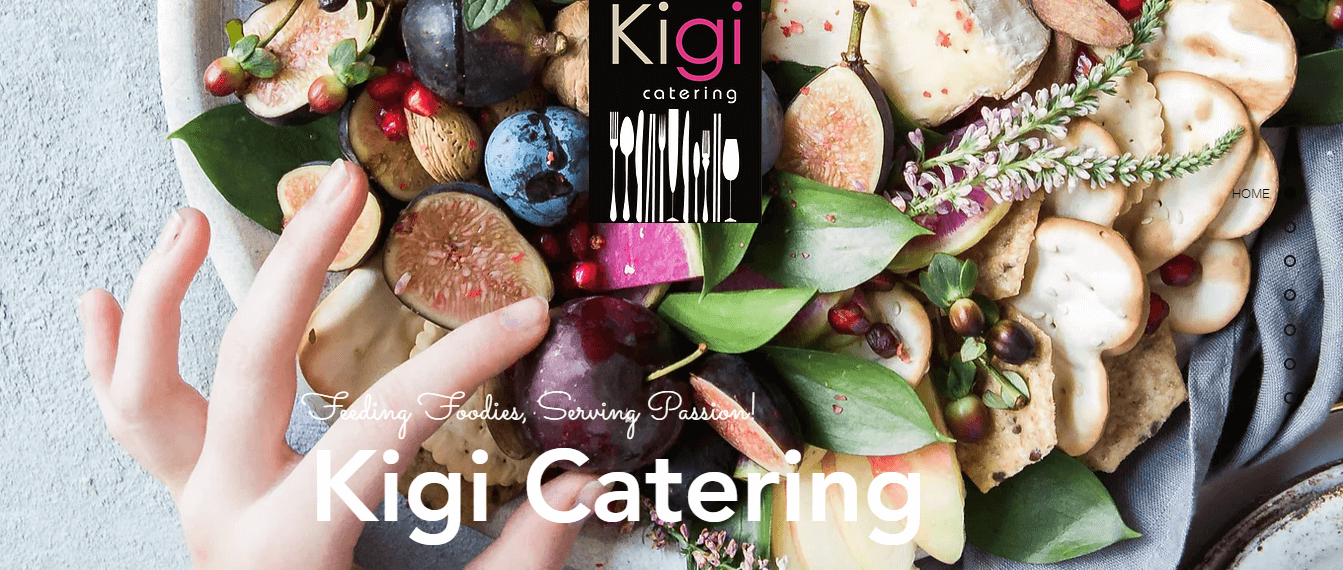 | | |
| --- | --- |
| BEST FOR | Fast and Easy Booking |
| COURSES | Wedding Catering, Corporate Catering, and Private Functions |
| WEBSITE | https://www.kigicatering.com/ |
| ADDRESS | 11 Kaki Bukit Rd1 #05-01 Eunos Technolink, Singapore 415939 |
| CONTACT DETAILS | +65 6749 4858 |
| OPERATING HOURS | Monday – Friday, 9:00 AM to 5:30 PM |
If your wedding guests are mostly health-conscious people, then you might want to check out the menu of Kigi Catering. On top of the all-Halal menu, almost every food item served is low in calories, sugar, and fats!
Booking the services of Kigi Catering is quite easy too. All you need to do is go to their website, pick a menu, select the date of your wedding, and enter the address of the reception — which is kind of like ordering food online!
Highlights
Online ordering
Healthy foods
Halal-certified menu
6. Lavish Dine Catering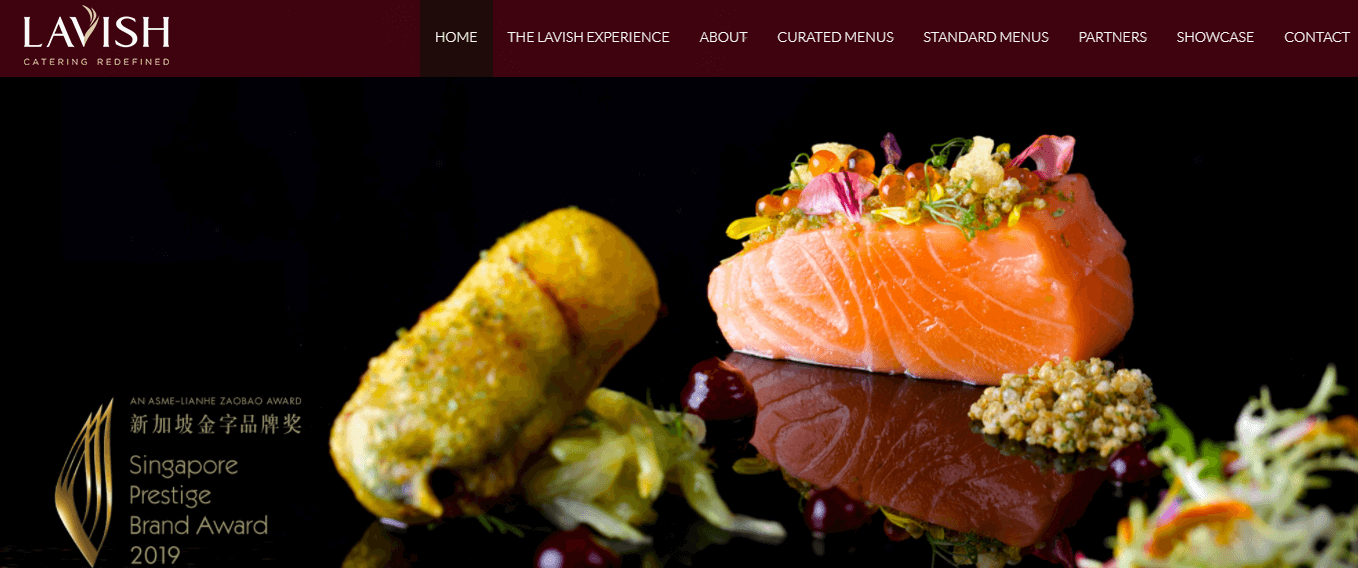 | | |
| --- | --- |
| BEST FOR | Curated Menus |
| COURSES | Wedding Catering, Home Caterings, Corporate Catering, and Private Events |
| WEBSITE | http://www.lavish.com.sg/#home |
| ADDRESS | 20 Bukit Batok Cres, Singapore 658080 |
| CONTACT DETAILS | +65 6392 2688 |
| OPERATING HOURS | Monday – Friday, 9:00 AM to 6:30 PM |
If you're willing to spend to give your guests a one-of-a-kind luxurious dining experience, then we highly recommend booking the services of Lavish Dine Catering. It will take your wedding reception to a whole different level through its curated menus and topnotch services.
Its wedding catering services might not be the cheapest out there, but rest assured that you and your guests will definitely have a time of your lives, indulging in mouthwatering foods that are only served at some of the most exclusive restaurants.
Above all, Lavish Dine Catering's services come with a team of professional and hospital waiters who will make sure that everyone will leave the reception with a full and happy stomach.
Highlights
World-class cuisine
Hospitable servers
Prepared by executive chefs
7. The Catering Concerto
The Catering Concerto offers delicious, beautiful, and high-quality gourmet options for all your catering needs.
They can take on buffets, weddings, corporate events, and any event, big or small. They even offer delivery services for their scrumptious food.
Highlights
Excellent Service Award 2015

Gourmet food

Open to catering any event
Customer Reviews
Here's a review from one of The Catering Concerto's clients:
"Ordered six dishes for 9pax and it was too much. Would be better for 15adults. Quality ingredients hence justified for the higher price. Complimentary cake was an icing to the deal. Delivery uncle was cheerful and polite, which is very important for me. great experience!"
Here's another one:
"The food arrived 30 mins early. But it was nice and warm. Taste and quality was within expectations. My guests had good praise for it especially the mini burgers and teriyaki chicken. Will order from TCC again for future parties. 🙂"
8. Cheeselads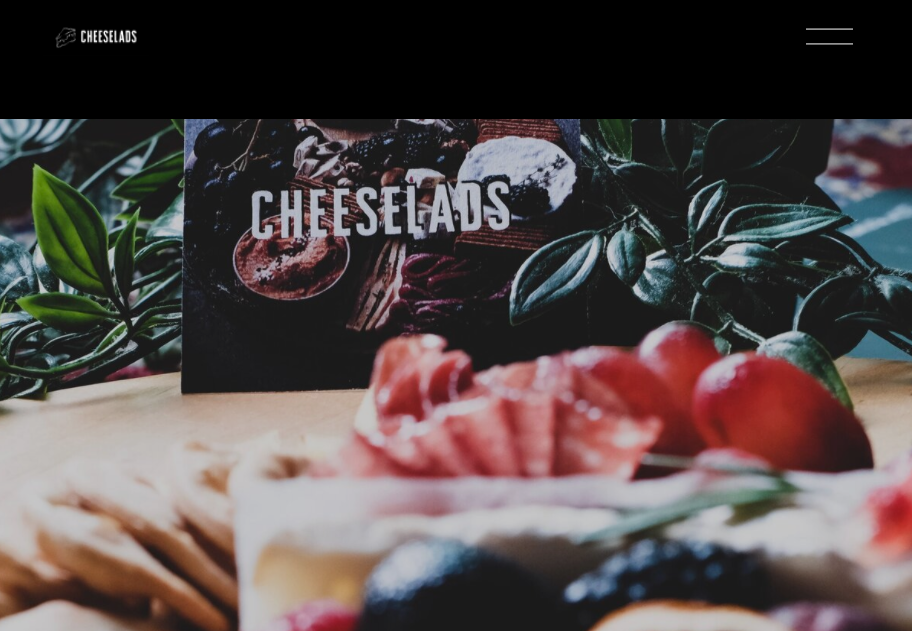 | | |
| --- | --- |
| BEST FOR | Artisanal Cheese Catering |
| COURSES | https://cheeselads.com/make-a-reservation |
| WEBSITE | https://cheeselads.com/ |
| ADDRESS | The Promenade @ Pelikat Singapore 537643 |
| CONTACT DETAILS | 88074851 | [email protected] |
| OPERATING HOURS | |
Cheeselands' is a cheese lover's dream. They specialize in artisanal cheeses, with handmade dips, cheese platters, grazing tables, and many more.
They're a great option for those looking to give the perfect corporate gift.
Highlights
Artisanal Cheese

Corporate gift

Grazing tables
Customer Reviews
Here's a review from one of Cheeselads' clients:
"I personally bought the petite platter to start with 3 type of cheese and add on with truffles. I believe I've eaten the best platter I had so far. Every combination is just great! Love it! Great job Cheeselads! You've gained a loyal customer!"
Here's another one:
"The best cheese platter in Singapore! Am not a cheese person, but super in love with their brie, nougats, crackers and the signature jam!!! Definitely will order again! Great job, Cheeselads!"
9. D'Fine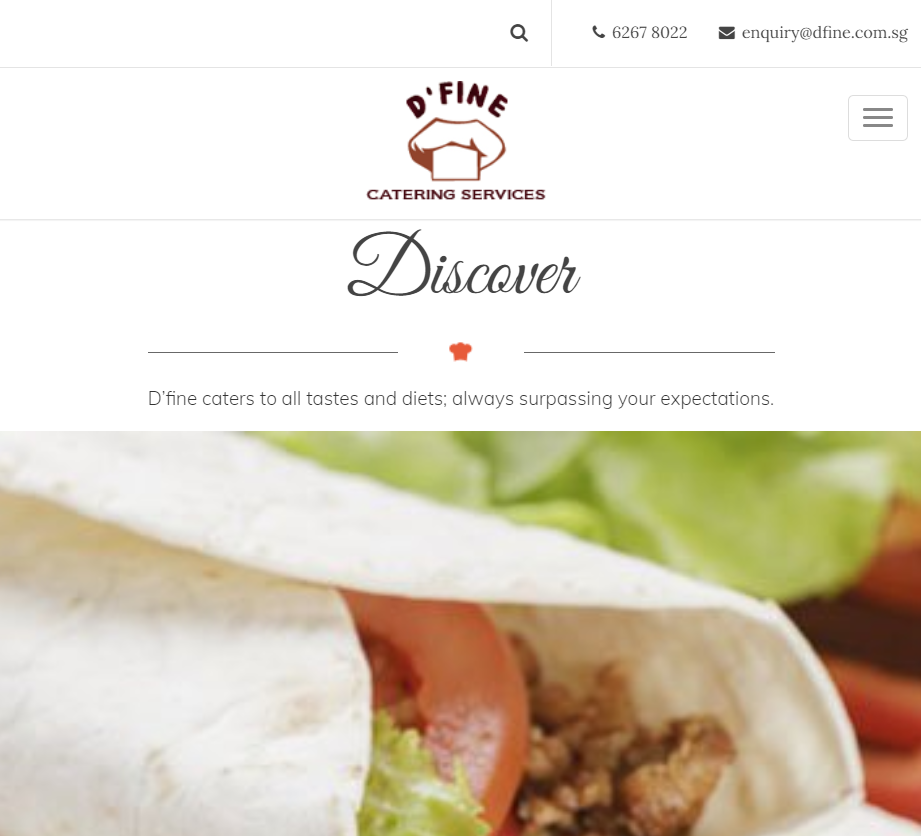 | | |
| --- | --- |
| BEST FOR | Healthy Food Catering |
| COURSES | http://dfine.com.sg/catering-menu/ |
| WEBSITE | http://www.dfine.com.sg/ |
| ADDRESS | 20 Bukit Batok Cres, Singapore 658080 |
| CONTACT DETAILS | 6267 8022 | [email protected] |
| OPERATING HOURS | Monday to Sunday 8:30 AM – 6 PM |
D'Fine should be your go-to option for healthy food catering in Singapore. They pride themselves in preparing healthy buffets that provide great nutritional benefits without sacrificing taste and satisfaction.
They boast over two decades of experience and have a great reputation in the catering industry. Contact them now to enquire about their services!
Highlights
Healthy Food

Delicious health options

Halal and High Tea Catering options
Customer Reviews
Here's a review from one of D'Fine's clients:
"Overall have a great experience with them, friendly service and food is good"
Here's another one:
"I would like to commend D'Fine for their good customer service. One of the dishes catered for my family's Christmas party on 25Dec was not what I expected. When I notified D'Fine, they promptly investigated and arranged to rectify the matter. Thanks so much to Victoria for arranging with the chef to cook the dish we wanted and personally delivering it to us. Much appreciate the effort."
10. Jentayu Gallery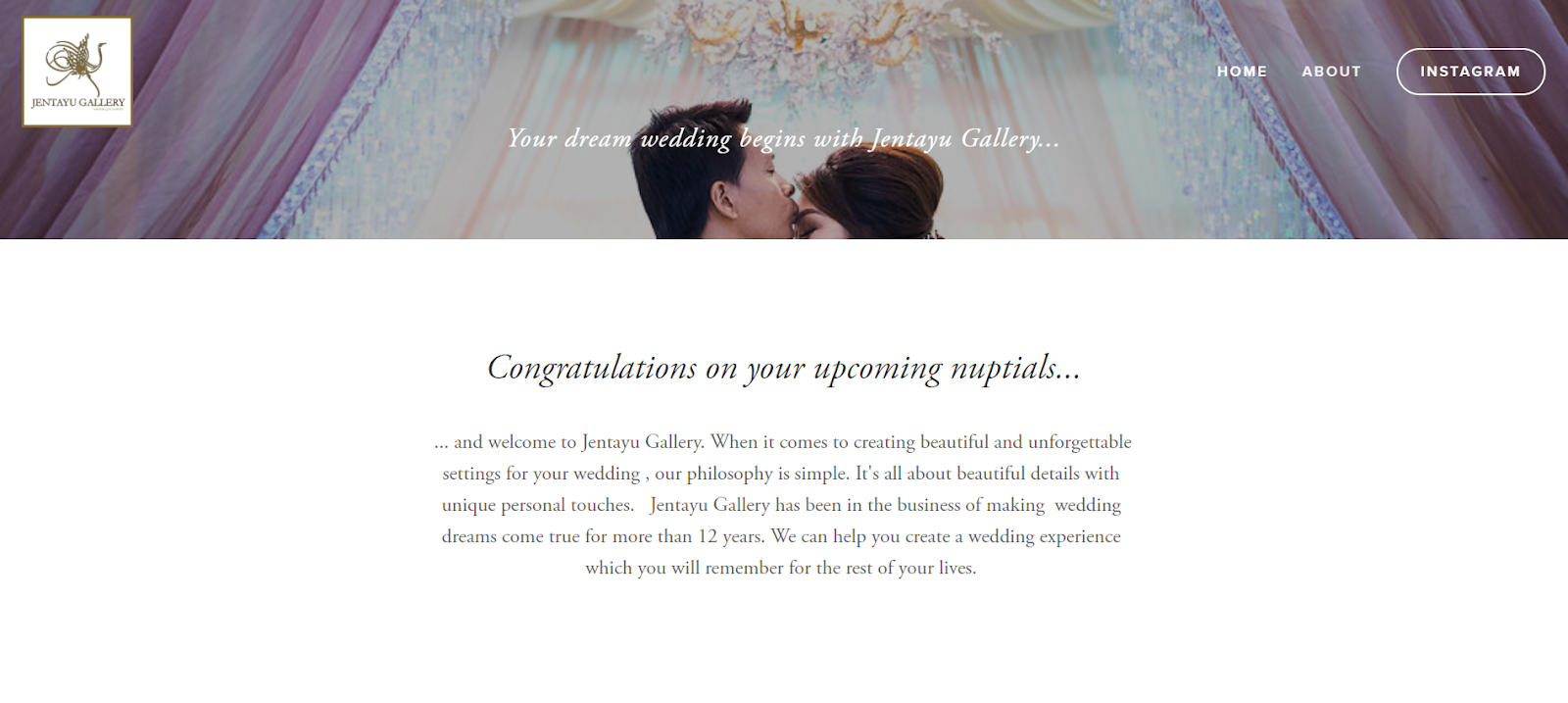 BEST FOR

Wedding Decorations

COURSES

http://www.jentayugallery.com/services

WEBSITE

http://www.jentayugallery.com/

ADDRESS

Bukit Place Eunos Techpark #06-14 Lobby A Exit C Singapore 415979

CONTACT DETAILS

+65 65471745 |

[email protected]

OPERATING HOURS

Monday to Saturday 11 AM – 8 PM (By appointment only)
Jentayu Gallery ensures that your wedding looks as unforgettable as it feels. They've been in the wedding decoration and styling industry since 2004 and have handled a number of weddings, producing nothing but beautiful results.
They proudly tout that their main goal in design is to make your wedding dreams come true. They certainly deliver it in spades.
Highlights
16 years experience

Beautiful decors

Personal wedding decors
Customer Reviews
Here's a review from one of Jentayu Gallery's clients:
"Jentayu decorations for wedding events are marvellous.
11. Kafve Coffee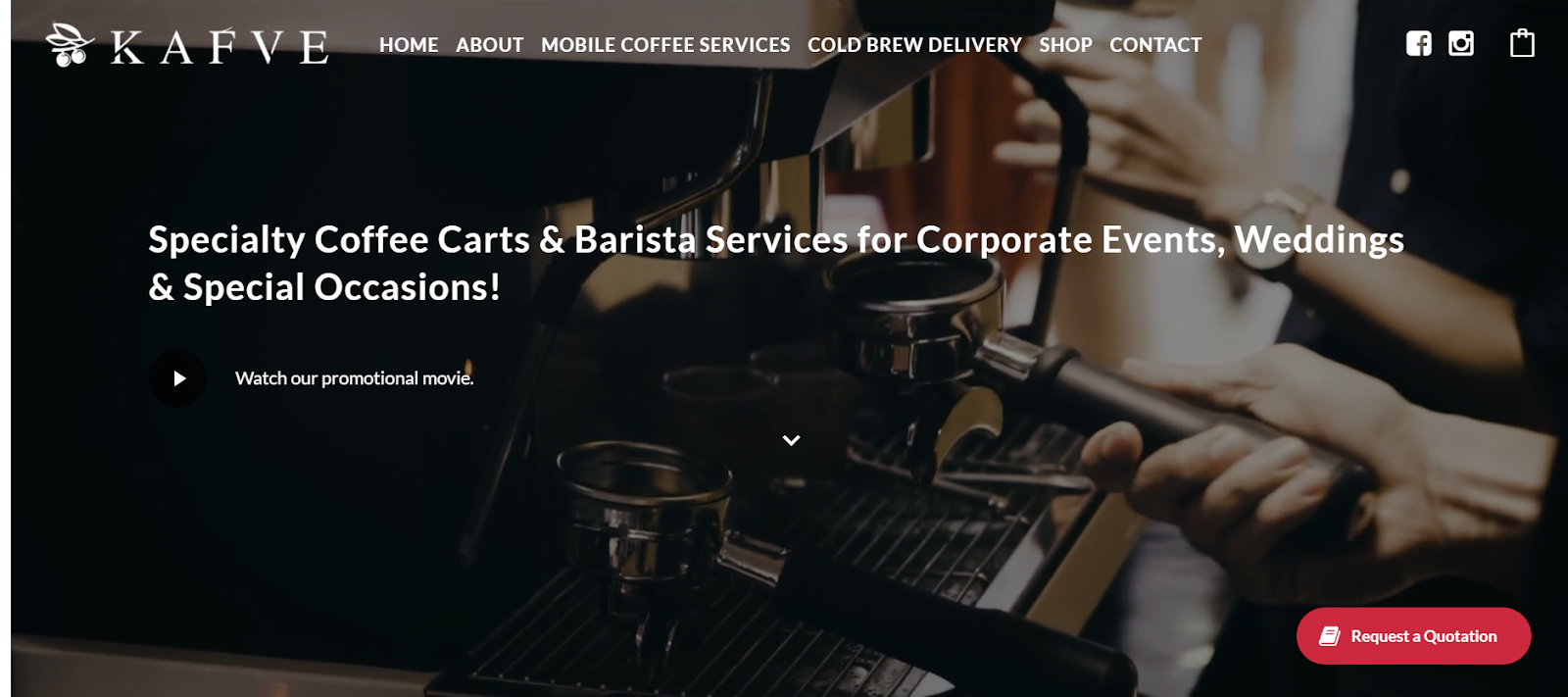 | | |
| --- | --- |
| BEST FOR | Coffee Catering |
| COURSES | https://kafvecoffee.com/mobile-coffee-services/ |
| WEBSITE | https://kafvecoffee.com/ |
| ADDRESS | |
| CONTACT DETAILS | +65 8779 8380 |
| OPERATING HOURS | Monday to Saturday 8 AM to 8 PM |
For all coffee catering needs, Kafve Coffee is the best option. Their speciality coffee bar services are great picks for any corporate function, wedding, birthday, and many more.
They source only the highest quality beans and make sure to work with each client rigorously to offer the best catering experience possible.
Highlights
Mobile Coffee Services

Speciality coffee

High-quality beans
Customer Reviews
Here's a review from one of Kafve Coffee's clients:
"We hired Kafve coffee for our church wedding and it was really a very good choice. I have to be honest I didn't get to try the coffee but I saw so many of my friends posted that they enjoyed the lovely drinks. What I observed: the crew was on time, and served drinks quickly. Throughout our liaison, replies were prompt and very fuss free. We also had free customised stamping on our cups which we asked to stamp a caricature drawing by my brother in law, and the outcome was just beautiful! The team even gave us the stamp itself at the end of the event which is a happy surprise for us. Highly recommended!"
Here's another one:
"Everyone loved the coffee and the matcha latte! Every cup was done with care and much love, we could tell. the latte art was complimented many times, for how quickly you guys churned out the drinks. Thank you Eileen & Syai for being there at our wedding; we'd engage you guys again in a heartbeat.
12. Le Rainbow Catering
Le Rainbow Catering is one of the few catering companies that offer halal food. As a plus, they also have a diverse set of food available at the most affordable prices.
Their management and service crew has a wealth of experience in the industry. With their skills and excellent food, you can entrust any of your events to them.
Highlights
Halal catering available
Affordable menu prices
13. Grain


Grain is a food and service company that endeavours to create memorable experiences for clients through the use of well-made, great tasting food.
Aside from the company's goal, one of the things that set Grain apart from the rest of the catering companies is their dedication to crafting healthy menus. They do so by curating fresh produce and other quality ingredients and spices, resulting in mouthwatering dishes curated to suit specific events, like one's wedding.
Finally, it's also worth noting that Grain completes the entire catering experience by providing top-notch customer-centric services alongside optional add-ons that will make the event even more special.
Highlights
Various add-ons available to complement event theme
Healthy and tasty dishes included in catering
Several catering menu options available
14. Nectar
If you're looking for something a little healthier for your wedding, why not consider Nectar?
Nectar is a Greek Yogurt and Smoothie Bar that offers a wide array of food selections, including but not limited to the aforementioned yogurt and smoothies, as well as egg tarts, acai bowls, toasties, and specialty drinks.
Everything is made from the freshest and finest ingredients, ensuring not only good taste but quality as well.
In terms of catering, there are various packages available, but customers also have the option to customise their own spread per request.
The customisability and health benefits as well as the opportunity to see one's yogurt orders made in front of them makes Nectar an excellent choice for food catering as it works well with guests of all ages.
Highlights
Customisable food catering packages
Fresh and healthy ingredients
15. Rasel Catering Singapore Pte Ltd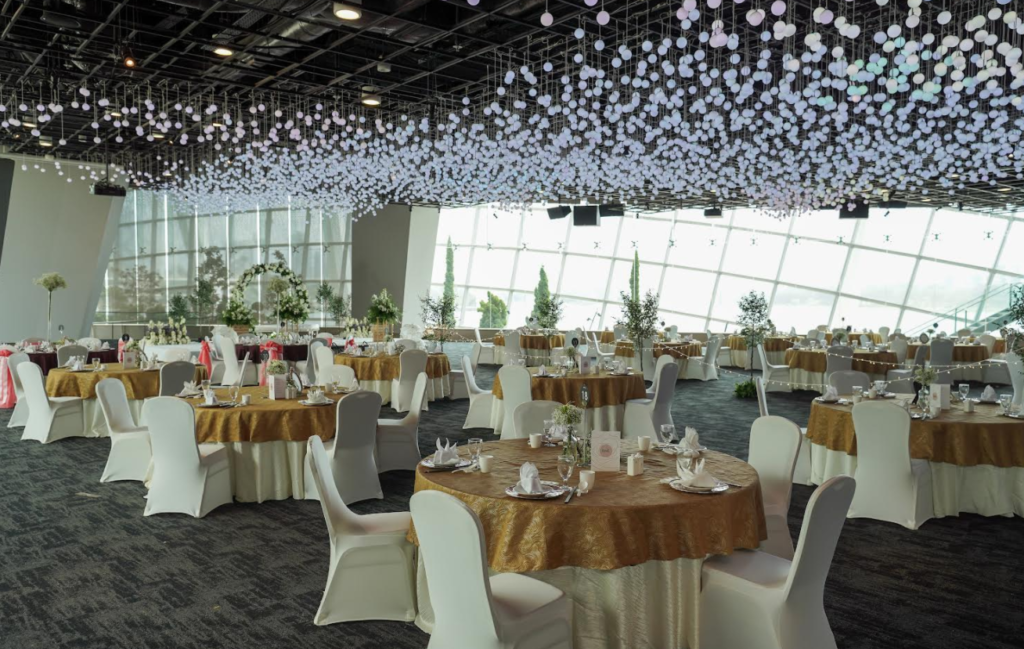 Not many know about catering inclusivity more than Rasel Catering Singapore. We say this because this wedding caterer serves Halal-certified meals.
Rasel Catering does buffet catering services for weddings, birthdays, and corporate events and can even customize their menu to fit any themes for the event. Since this caterer's expertise is with weddings, it can even create the themed decor for this memorable union.
For wedding catering, customers can choose either Chinese banquet or Western sit-down cuisine. Rasel Catering even has bento sets or snack boxes for events like meetings.
And you should know, Rasel Catering has received approval from the Health Promotion Board for its healthy menu.
To add to all these benefits, Rasel Catering also offers occasional promos. It can even give as big as 15% off on its wedding packages.
However, this caterer may not be for everyone, especially those who aren't having their wedding in any of Rasel's partner venues.
Highlights
Hala-certified caterer
Customizes menu according to the event's theme
Western or Chinese cuisine buffet
Bento boxes, kids menu, and snack sets available
Over 17 partner venues
Customer Reviews
Customers also praised Rasel Catering for going beyond just to give its clients a warm and stress-free reception. Here are some reviews that can tell you more:
"We've already ordered the bento sets twice: my sister's wedding in Jan 2021 and mine 2 weeks ago. The food was incredibly tasty and we've received countless compliments from guests on both occasions. A special shout-out to Kelly who has been extremely accommodating and helpful. Thank you! In fact, we've already ordered their mini- buffet set for this weekend and we can't wait to devour it."—Joshua Michael
"Amazing food from an amazing team. I ordered their wedding buffet and everything went so well despite tight timings. The decor was beautifully done and my guests enjoyed the food very much. The sous vide chicken was a definite must order as it was still delicious even after I had packed back to the hotel room to enjoy. All in all, Kelly and her team were great to communicate with. Thank you for being our wedding caterer. No regrets."—Magdalene Bernadette Tan
16. Shiok Kitchen Catering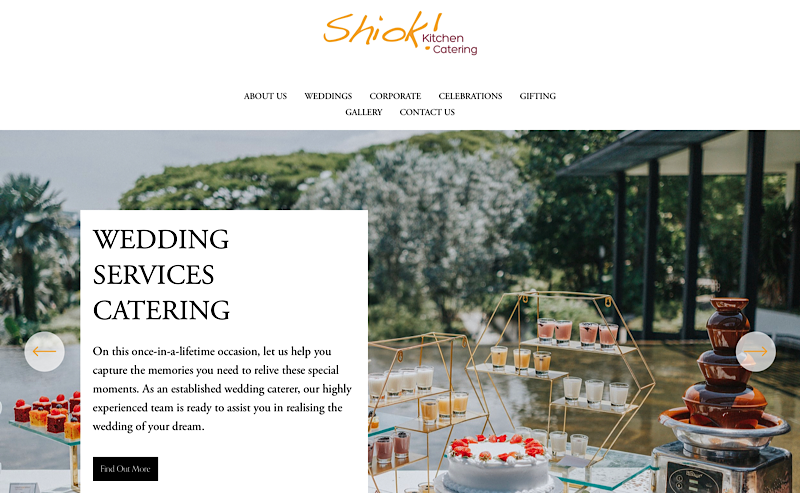 BEST FOR
Wide food selection and buffet catering
PRICING
Contact for more info
WEBSITE
https://www.skcatering.com
ADDRESS
Henderson Building, 211 Henderson Rd, #05-03, Singapore 159552
CONTACT DETAILS

[email protected]


6411 4994
For couples looking for a wedding caterer with a wide selection of food, Shiok Kitchen Catering might be the caterer you're looking for. They have been in the catering business since 2004 which helped them buil their reputation over the years.
As a halal-certified brand, Shiok Kitchen Catering offers a one-stop services for your wedding such as venue, food, reception and florals so you don't have to worry about a thing!
From wedding solemnizations to receptions, engagement parties & sit down western course meal, Shiok Kitchen relishes in working our magic for your wedding. You can choose from wide range of cuisines from Thai, Asian, Western to International delights, all handcrafted specially for the perfect occasion,
Apart from weddings services, they also offer buffet catering, tea receptions, corporate catering, bento catering, Halal buffet catering, cocktail receptions, baby shower.
As a plus, they offer Halal catering besides their selections. They are inclusive for those with various preferences which are important in every event.
Shiok Kitchen Catering can also be a one-stop-shop for all your wedding event needs. Their venues include The Ahava, iFly Sky Garden, Cargo39, and the Multi-Purpose Hall in HortPark.
To ease your worries in finding a reliable caterer, Shiok Kitchen Catering has a track record from their previous clients. Throughout their career they have worked with American Express, Singapore Management University, Morgan Stanley, and a lot more corporations.
Highlights
Offers a wide selection of food
Over 15 years of experience
Has different venues to choose from
Worked with reputable companies
Halal-certified
Customer Reviews
Here are some testimonials from their previous clients:
"Thank you Chris Tay and Shiok Kitchen Catering for the being such a great help as the food vendor of our wedding. Had such a positive experience working with Chris.
During our food tasting, all of the modifications to the menu were executed perfectly and all our guests enjoyed the food on the actual day!" – Adora Lee
"Highly recommended. Delicious food with good service. I'm always satisfied when I order from SK catering. You can rely on them to give only the best.
Thumbs up especially for Jimmy who always handle my last minute order. He never lets me down." – Vinna Nasa
And with that, we conclude our list of the options for the best wedding catering in Singapore. If you've already decided which one to go with, share with us your reasons for choosing them!
By the way, if you ever need help in planning your wedding, you might want to hire the services of the best wedding planners in Singapore. Our list features only the most trusted and professional wedding planners with years of experience to back them up.