Our 4 Favourite Non-Surgical Hair Replacements in Singapore
Afraid of going under the knife to treat hair loss and thinning? Then this article is for you. Thanks to modern technology, you can actually get a realistic hair replacement system now to address your thinning mane.
In this guide, we've listed the best places to get non-surgical hair replacements in Singapore. We'll discuss their pros and cons as well as who should get them.
And of course, we'll also talk about their costs. After all, there seems to be a sense that good hair replacement solutions now are always prohibitively priced, which isn't necessarily true.
How much do non-surgical hair replacement systems cost in Singapore?
In Singapore, non-surgical hair replacement systems normally range from $450 to $2,000. There are different factors that affect prices including hair length, quality, and coverage.
To get an exact quote, we recommend booking a consultation with our entries below, which is normally free of charge. However, we've also laid out some benchmarks of our entries' products in the table below to give you an idea of how much to expect.
SALON
PRICE RANGE
Rehair Lab
From $388 (Promotional Price)
Aremyhair
$488 – $1,800 (Hair Replacement Systems)
$85 (Per Session; Hair Maintenance)
UEC Hair Studio
From $688
Aderans
From $5,000
Svenson
From $1,500
The Best Places for Non-Surgical Hair Replacements in Singapore
Now that we covered the cost, let's head over to our top picks for non-surgical hair replacements in Singapore.
1. Rehair Lab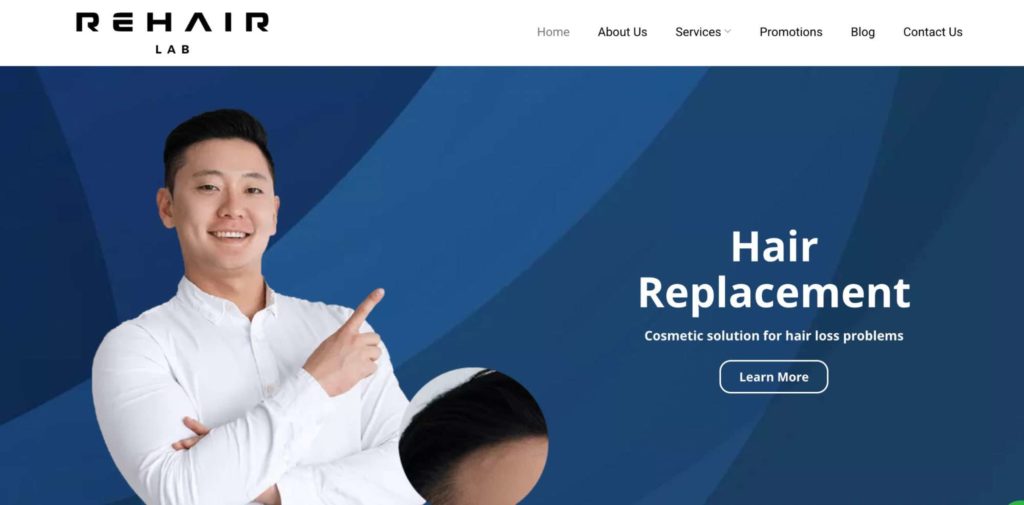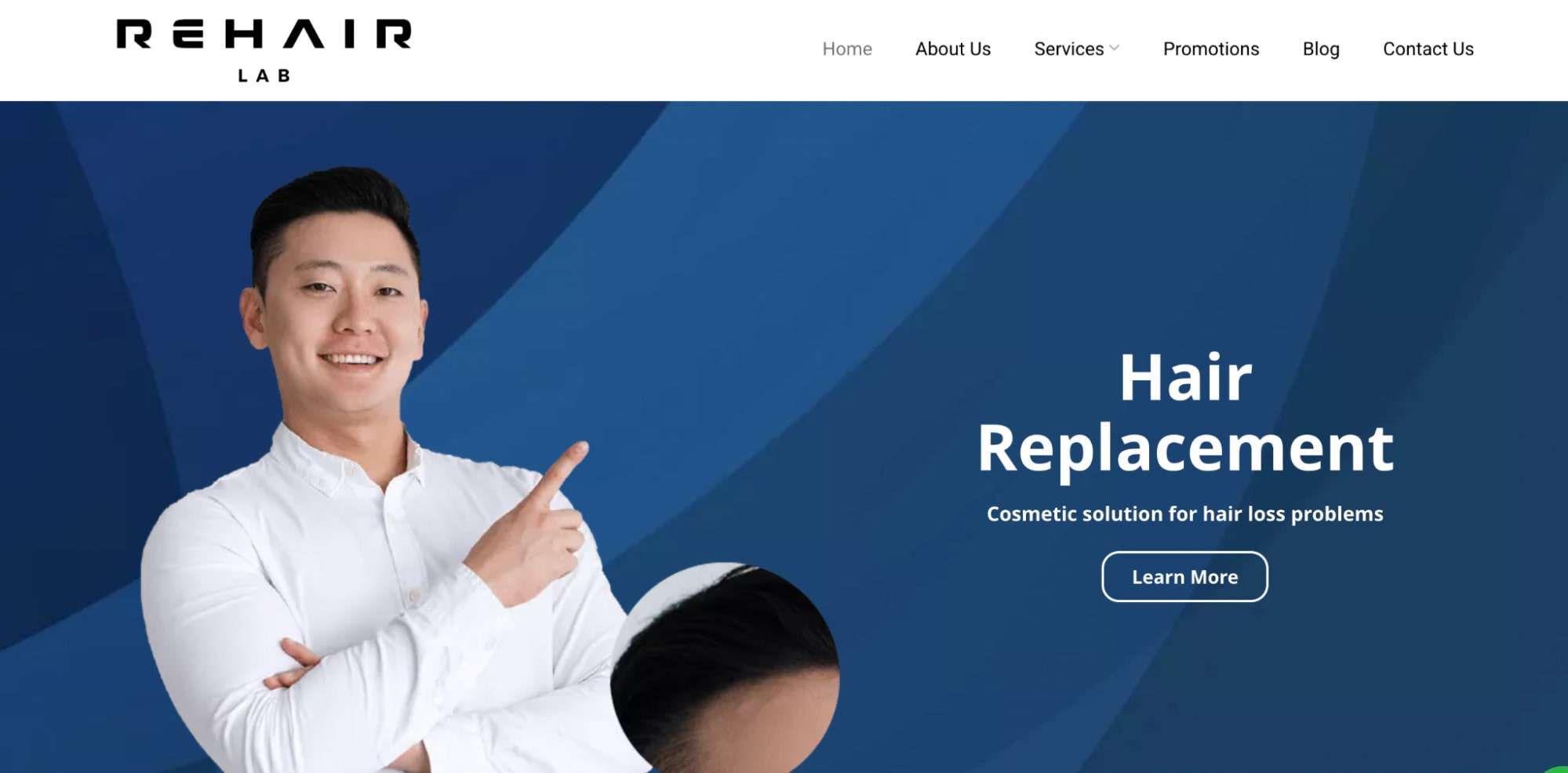 If you're worried about the potential side effects of getting a hair transplant, then you might want to consider seeing what Rehair Lab can do for you.
For one, they offer hair replacement systems to provide balding clients with a natural-looking toupée that's seamlessly blended with their natural hair.
What we really love about Rehair Lab is that their hair replacement systems only use 100% human hair—a good indication of quality. This is a huge step up from many other hair replacement systems that use both real and synthetic hair, which can also be a bit of a pain to maintain.
Despite being a relatively new company, they've also already earned a reputation for having head pieces that are lightweight, comfortable, undetectable, and easy to maintain. The ones we've seen certainly look and feel good.
Unfortunately, you won't find the full range of their prices online since their hair systems are 100% customised. That also means it's harder for us to provide a universal review of their products – each one is literally unique (and this caveat applies to all of the entries here that fall in the same boat).
On the bright side, you can come in for a free consultation so you can get an exact quote. Their promotion package starts from $388.
Uses 100% real hair
Lightweight and undetectable
Free consultation
Long business hours
100% customised toupees
Closed every Sunday
Mostly caters to men
Customer Reviews
Excellent service
"It's my first time trying such new thing. They are very experienced and professional to explain recommend me the hair piece. After using the product for few months it still feel very comfortable. The service they provide is really excellent, they did explained all the knowledge for the hair care. Thumbs up 👍" —Sean Wang, Google Reviews
Explained without being pushy
"Found out about rehair Lab through advertisement and managed to get an appointment with Eric. He explained the services without being pushy and suggested a solution catered to my requirements. My next appointment was with Alex and he explained further on the solution I am getting. I am satisfied and happy to have met Alex and Eric who are both professionals at what they do. Process was very tailored to my type of outcome I wanted. Kudos to Rehair Lab!!!" —Neo Joel, Google Reviews
2. UEC Hair Studio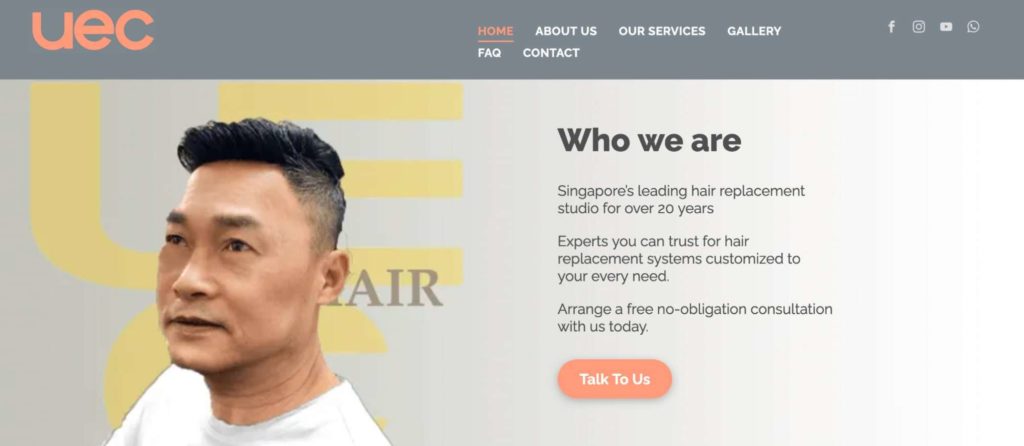 Here's another trusted name when it comes to hair replacement systems: UEC Hair Studio. It's led by hair specialist Elainne Yu, who brings with her over 30 years of experience in providing hair replacement solutions and hairdressing services to men and women.
UEC Hair Studio provides a complete suite of salon and customisation services no matter what your hair styling needs are. Whether you want to cover up that bald patch or simply want a new trim and colour, this salon's team of stylists can get the job done.
Each hair piece is 100% customised to match the client's natural hair colour, density, and texture. This also means that crafting your perfect hair system can take a bit of time, which takes about 4 to 8 weeks in this case.
Despite this minor issue, we still think that it's worth the wait, seeing that their systems are made with real hair. You don't have to worry about yours looking unrealistic.
After your first consultation, you can come back after the waiting period so they can attach your hair piece.
From there, you'll have the option to choose whether to maintain your hair system yourself at home or have them do it at the salon. And don't worry, they'll also teach you how to attach and detach your hair, and keep it in tip-top shape.
Ideal for men and women
Salon services available
100% customised real hair systems
Free consultation
Has a 4-8 week waiting period
No information about lifespan
Customer Reviews
Very friendly service
"Very friendly service, like their environment, the hairstyle looks natural, highly recommend. Thank you Elaine for her professional service." —Jocelyn Ng, Google Reviews
Very professional
"I have been wearing hair piece for the past 16 years and I have been to many hair replacement salon all over Singapore. Compare to other hair replacement salon, UEC staffs are very professional. I am always satisfy with the way they style my hair. On top of that, the price is very affordable. That's why I never want to join other hair replacement salons anymore." —Tioronto Tiong Sutrisno, Google Reviews
3. Aderans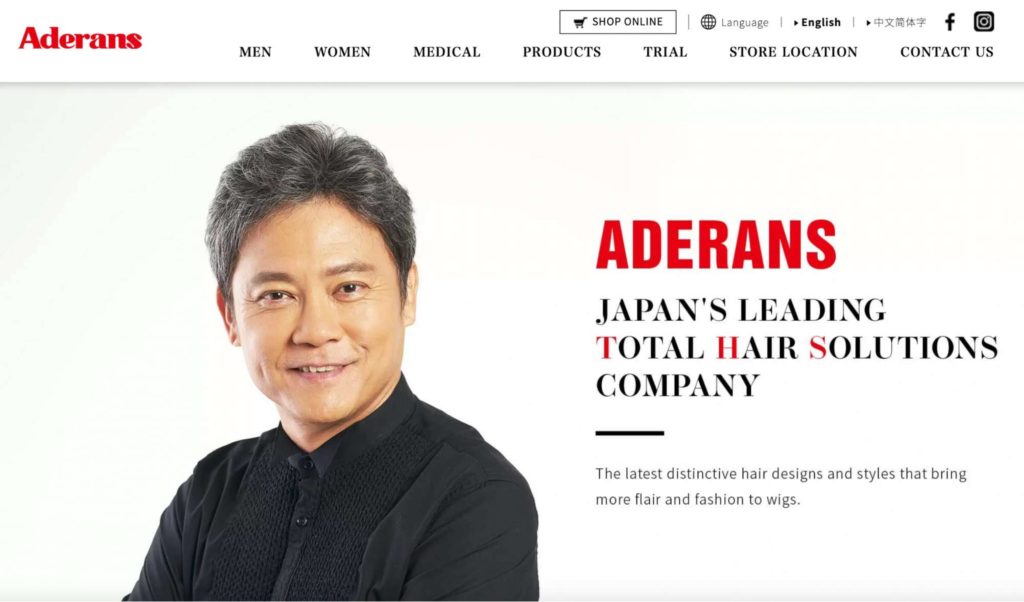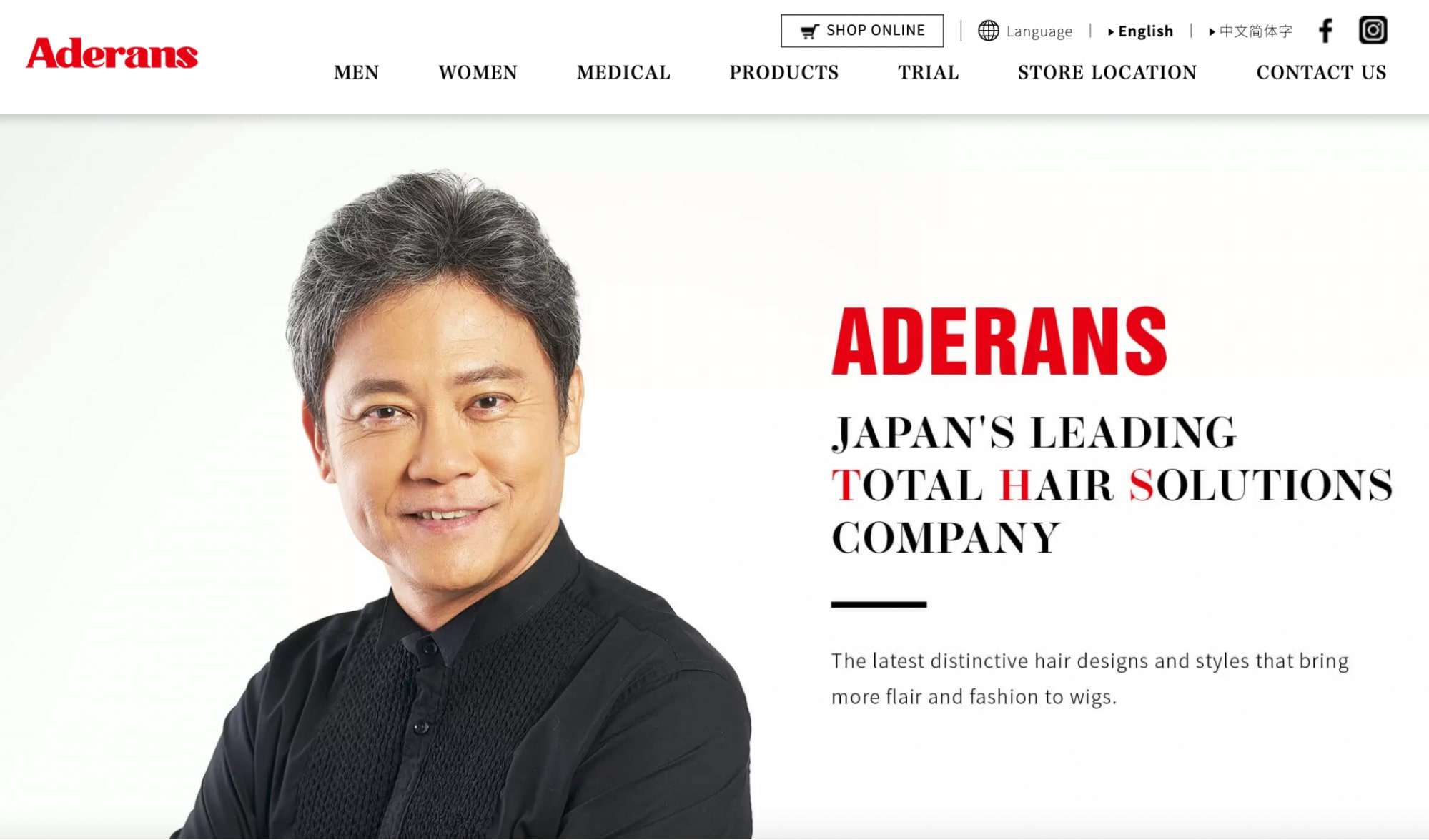 | | |
| --- | --- |
| SERVICES | Non-surgical Hair Replacement Systems, Hair Treatments, Medical Wigs, Caps for Hair Loss, Maintenance Service |
| WEBSITE | https://www.aderans.com.sg/ |
| ADDRESS | 360 Orchard Road, #02-03/04 International Building, Singapore 238869 |
| CONTACT DETAILS | +65 6735 9696 | Online Form Available Here |
| OPERATING HOURS | Mon to Sun (except Tuesdays and PH): 10:30 am – 7:30 pm |
Aderans is another name to consider if you want to avoid hair transplants at all costs. They're a Japanese brand that offers all sorts of hair solutions to men and women, from hair replacement systems to volumising hair treatments.
As far as their hair replacement systems go, they provide ready-made and customised products alike. We really like how suitable these systems are for Singapore's climate, seeing that their wigs' nets are well-ventilated and easy to dry.
But what really sets them apart from other salons and hair system providers is that they specialise in medical wigs. This means that they can provide all sorts of hair solutions for clients who have lost their hair due to chemotherapy.
Some of these solutions include caps for hair loss, as well as antibacterial wigs in different lengths and styles. On top of that, we also love how comprehensive their services are when it comes to medical wigs.
You have the option to try a wig in a private consultation room in-store or from the comfort of your home or hospital room. You don't often see this flexibility in hair replacement providers, which is why we had to highlight it here.
It takes a bit of digging to find estimates of their products… but we're telling you now that they're one of the most expensive ones out there. However, they do offer amazing quality and you can come in for a free consultation to get an exact quote, just so you can plan your budget accordingly.
Wide range of services and products
Ideal for cancer patients
Private consultation rooms available
Home consultation services available
Free consultation and wig trials
Open daily
Rates unavailable online
Closed on Tuesdays
Expensive
Customer Reviews
Very experienced and skilled
"After having treatment in Aderans Salon, I found that my hair is much healthier, especially my scalp. I'm very thankful to Alicia, my hair therapist, who's very experienced and skilled. I asked her for recommendation for products and so far she's given great suggestions that are all very suitable for me. Furthermore, the products used in the salon are high quality. My hair condition has really improved from before, and I highly recommend Aderans Salon if you are looking for a hair treatment solution." —Fiona Ang, Google Reviews
Very private and comfortable
"I was greeted by the friendly staff of Aderans, and treatment was by Meggy. the experience was so surreal, and Meggy was very knowledgeable and patient in explaining the various steps, hair care, and details surrounding the product and treatment process. the ambience was very private and comfortable, and one feels totally at ease. I would highly recommend to everyone , thank you very much." —Dominic Pan, Google Reviews
4. Svenson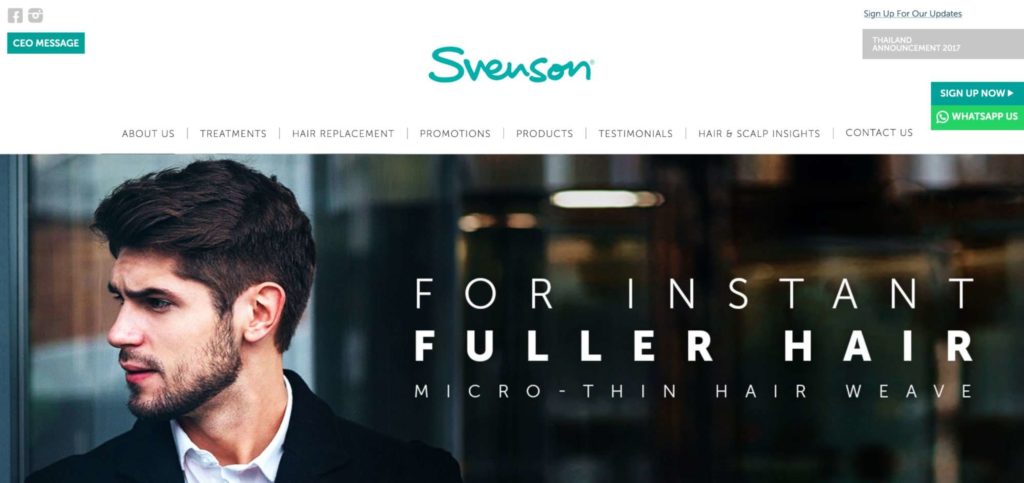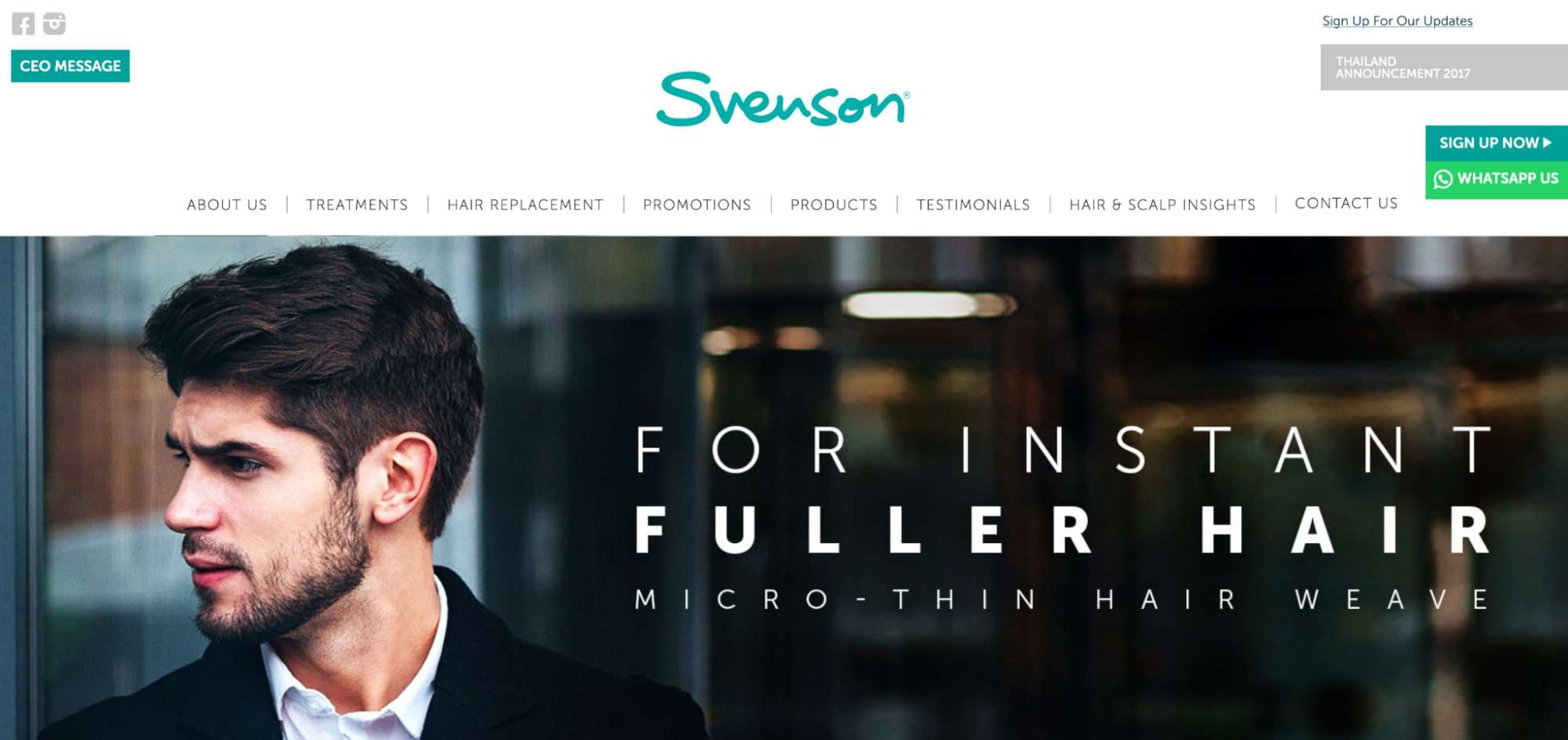 Svenson looks at hair loss and thinning with a holistic approach. Rather than provide their patients with a wig or a toupée from the get-go, their team of trichologists (hair scalp specialists) also provides clients with advice on lifestyle habits to improve hair and scalp health.
This is why they have an extensive lineup of hair treatments that prevent premature hair fall and rejuvenate hair follicles. There's quite a few of them on their menu, so we highly recommend maximising their free consultation service to know if you qualify for their treatments or not.
Otherwise, they offer hair replacement systems made with 100% natural hair. For its base, it's made out of a micro-thin and virtually invisible mesh that's merged with your own hair using a non-invasive adhesive.
In comparison to our other entries, their hair replacement systems certainly don't come cheap—but for good reason. Apart from your hair piece, their package also comes with 12 maintenance visits, which includes shampooing, conditioning, head colouring, and touch-ups.
Another minor drawback is that they only cater to a limited number of clients per day to avoid crowding. Hence, you might want to schedule your visit ahead of time to avoid disappointments.
Ideal for men and women
Made with real hair
Wide range of services
3 locations available
Free consultation
Relatively expensive 
Closed on certain days
Customer Reviews
Ensures customer safety during pandemic
"I have been with Svenson for a couple of months. I could see my hair start to get better with less clogging and visible hair growth. I met Emily before I decided to come here for treatment. She explained to me my hair scalp condition thoroughly and she offered a package which suitable for my scalp. Very thoughtful and professional service provided by her. She always concern for my hair improvement whenever I visit them. Not forgetting my therapist who is so professional and friendly when she served me. I feel save whenever I go there for treatment, they ensure customer`s temperature is taken before entering the premise. All the staffs were capable in terms of arranging seats to make sure social distancing is in place. I am impressed by how they put a plastic layer on the seat where they wash my hair. The therapists were wearing a face shield in addition to the face mask. I could see that Svenson has put an effort to ensure customer's safety as priority. Thank you Svenson for keeping me safe during this pandemic." —Tia, Google Reviews
Gives practical advice on suitable treatment
"Great service and amazing staff. Emily is very attentive listener and gives good practical advise on suitable treatment, very friendly and cheerful approach. They also practice good hygiene and social distancing norms religiously. Moriko is doing a great job at the front desk. Overall a worthwhile experience, highly recommended." —Gaurava Mishra, Google Reviews
FAQs about Hair Replacement Systems
More Resources for Hair Loss Treatments