The 11 Options for the Best Sofa Cleaning in Singapore
Do you have a wine-stained couch at home that needs to be cleaned immediately? You've come to the right place if so, because we're making a rundown of companies doing the best sofa cleaning in Singapore.
Before we get right to it, though, we're going to look at the average cost of getting your sofa and other upholstery cleaned in Singapore. Knowing this will give you an idea of how much to shell out for this type of cleaning service.
The Cost of Sofa Cleaning in Singapore
The average price of sofa cleaning on the island can range anywhere from $40 to $360 depending on the upholstery, number of seats, and how big it is.
The two most common types of sofa materials in Singapore households are fabric and sofa. Both have their own look, feel, and pros and cons.
Fabric sofas are known for providing a warm and comfortable feeling. The problem with them is that they easily collect dust, debris, and bacteria due to the natural fabrics.
On the other hand, leather sofas give a modern look and are more durable. They don't collect dust and other microorganisms as much as fabric sofas, but they're more prone to wear, scratches, and stains.
When it comes to cleaning costs though, it's cheaper to have a fabric sofa cleaned than leather ones.
Here's a more detailed look into the cost of sofa cleaning in Singapore:
AVERAGE COST
SIZE
LEATHER
FABRIC
1-seater
$60 – $90
$40 – $80
2-seater
$120 – $180
$80 – $160
3-seater
$180 – $270
$120 – $240
L-shape
$240 – $360
$200 – $320
Ottoman
$40 – $80
$30 – $60
Dining chair
$20 – $40
$15 – $35
Office chair
$15 – $30
$10 – $25
The Options for the Best Sofa Cleaning in Singapore
Anyway, now that you know how much cleaning companies typically charge for sofa cleaning services, it's time to move on to which ones are worth hiring.
Continue reading below to see which cleaning company has the best sofa cleaning in Singapore for your needs.
1. DW Mattress Cleaning Singapore
DW Mattress Cleaning is your one-stop shop for your sofa cleaning needs here in Singapore. They offer professional cleaning services including sofa cleaning, mattress cleaning, bed cleaning, upholstery cleaning, and couch cleaning.
The rates in their sofa cleaning are highly competitive, offering 5 different rates depending on the size of the sofa. Furthermore, they have a 5-step sofa cleaning process which involves deep vacuuming in step 1, shampooing in step 2, scrubbing in step 3, steaming in step 4, and hot water deep extraction in step 5.
Being certified by HACCP for their professional cleaning, you can rest assured that the chemicals and processes used are environmentally friendly and do not leave any chemical residue.
We highly recommend DW Mattress Cleaning, they have knowledgeable customer support, and environmentally friendly cleaning service, they are also easy to contact with their hassle-free point of contact.
Competitive rates
Credited technicians with extensive experience
Environmental friendly
Customer Reviews
Professional and Patient
"My mattresses got stain mark , so I engaged dw mattress cleaning company to perform mattress cleaning services for us. The 2 technicians who came to our house are very professional and patient to explain to us different mattress cleaning methods. After their work, the stain marks are removed and mattress seemed very clean and smell nice now. Thank you for the great job."- Tan Sherilyn
Most responsive and competitive pricing
" I contacted a few companies to enquiry about mattress cleaning service or my mattress. Among the companies enquired, DW Mattress cleaning company customer service team is the most responsive and the pricing is competitive, hence I decided to engage them. On the day of work, the technicians are on time, unlike the previous mattress cleaning company I engaged. During the whole mattress cleaning process, the technicians are very thorough in the cleaning, I can see their extra effort of making sure the mattress are cleaned thoroughly. After the works are done, they also took extra effort to tidy up the area. Overall, very satisfied with the service. " – Yihang Ong
2. HVAC Engineering

| | |
| --- | --- |
| SERVICES | Cleaning and disinfection, air quality testing, air cleaning, bio-medical waste management, sofa cleaning, mattress cleaning, carpet cleaning, mold cleaning, and cleaning services. |
| WEBSITE | https://hvacengineering.com.sg/ |
| ADDRESS | 21 Senang Crescent, HVAC Building, Singapore 416594 |
| CONTACT DETAILS | +65 9770 3545 |
| OPERATING HOURS | Monday – Sunday, 24 hours. |
Cleaning your sofa can sometimes be a hassle, especially if you don't have the right equipment for the job; luckily, HVAC engineering offers quality sofa cleaning at the right price. They have professional and experienced staff that does the job quickly.
Using different kinds of sofa cleaners and techniques depending on the sofa materials is one of the critical things they provide. They also offer several services related to cleaning and disinfection.
This comprises general cleaning and disinfection, air quality testing, air cleaning, bio-medical waste management, sofa cleaning, mattress cleaning, carpet cleaning, mold cleaning, and cleaning services.
They have excellent evaluations and are renowned for their exceptional attention to detail; thus, we highly suggest their service. Take advantage of HVAC engineering's sofa cleaning service to get the brand new-looking sofa you deserve.
Great attention to detail
Great customer service
Professional and experienced staff
Customer Reviews
Gave us peace of mind
"HVAC Disinfection provided complete services for Coronavirus Disinfection and Sanitizations for our retail premises, we were very pleased with the thorough job. This gave us peace of mind to continue to have our premises open, we recommend them to other business owners "- Madura Maha
Great Professionalism
"HVAC showed great professionalism for the disinfection at my office. RK the Ops Manager was meticulous on managing the entire job done at my premises. Highly Recommended." – Gayarthi A.
3. De Hygienique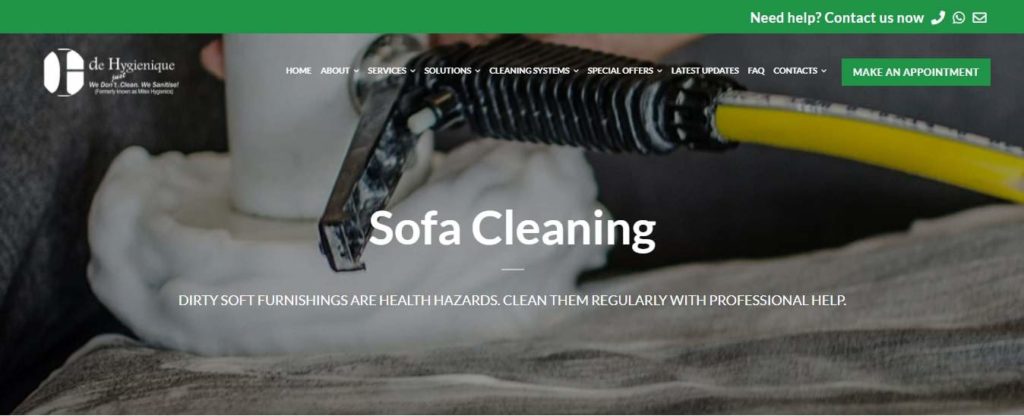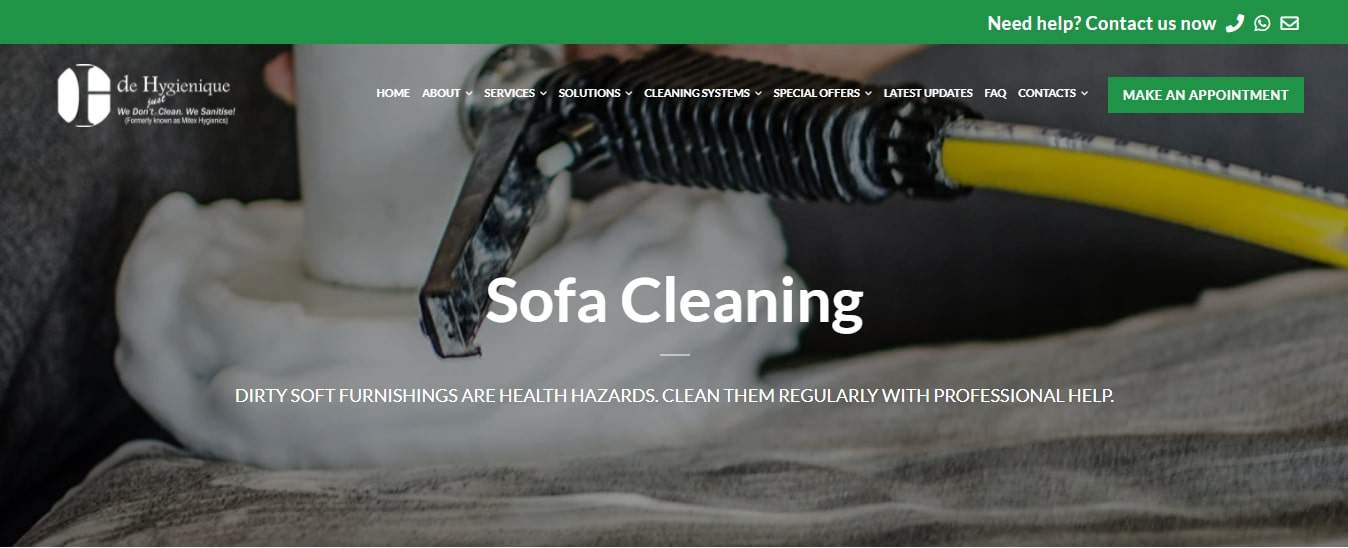 | | |
| --- | --- |
| SCOPE OF SERVICES | Sofa cleaning, dining chair cleaning, fabric wall cleaning, mattress cleaning, rug cleaning, leather cleaning, upholstery cleaning, and disinfection services |
| RATES | Call their hotline for a quotation |
| WEBSITE | https://www.dh-asia.com |
| ADDRESS | 53 Ubi Avenue 1 #03-44 Paya, Ubi Industrial Park, Singapore 408934 |
| CONTACT DETAILS | +65 6749 1950 |
| OPERATING HOURS | Monday to Sunday: 9:00 AM – 6:00 PM |
De Hygienique is an all-around cleaning company that's been featured in various local publications for its excellent workmanship. It landed on our list of the best upholstery cleaning in Singapore for three main reasons:
First, it's equipped with a cleaning system that doesn't require downtime, so you will be able to sit on your sofa as soon as the job is done. It uses dry, non-toxic shampoo encapsulation technology originating from Europe.
Second, its cleaning system is safe for any type of sofa, even if it's neither leather nor fabric. It's perfect for those who have aging and outdated couches sitting inside their home.
Lastly, if most cleaning companies can only get rid of stains, dust, and debris from sofas, De Hygienique can sanitise them as well. Its impressive cleaning system can eliminate bacteria and fungi, and delay the re-infestation of dust mites.
Another thing we like about this cleaning company is its dedicated customer service. You can expect to have your questions answered and be assisted promptly.
By the way, De Hygienique holds frequent promos for their new and loyal customers, which are usually posted on their website. If you want to get discounts, make sure to check out their website regularly.
18 years in the business
Safe for all sofas
No drying time
Dedicated customer service
One-stop cleaning company
Handles multiple customers every day, so delays can be expected
Customer Reviews
Wacky Duo said the following about De Hygienique's cleaning services:
"Used them for Mattress and Sofa Cleaning. Communication was prompt and appointment made was speedy. Took about less than an hour to clean the mattress and we were shocked to see the amount of dirt and dust from just 5 minutes of cleaning. As for the sofa cleaning, they protected the carpet before the clean. I was impressed with the final result as they managed to remove the yellow stain from the sofa. Would recommend their service!"
Another customer named Valroy Miranda shared this comment:
"The workmen who came over were punctual, called and kept me informed and also updated me that they could be 30min early!!! Two individuals came and started with a quick demo and then went about their work efficiently. I was so impressed I added one more mattress to the job order. I slept well last night knowing my mattress has at least 3-5kgs of dust and god-knows-what removed!!! See you in 6months!!! This is more important than Ac servicing"
4. SureClean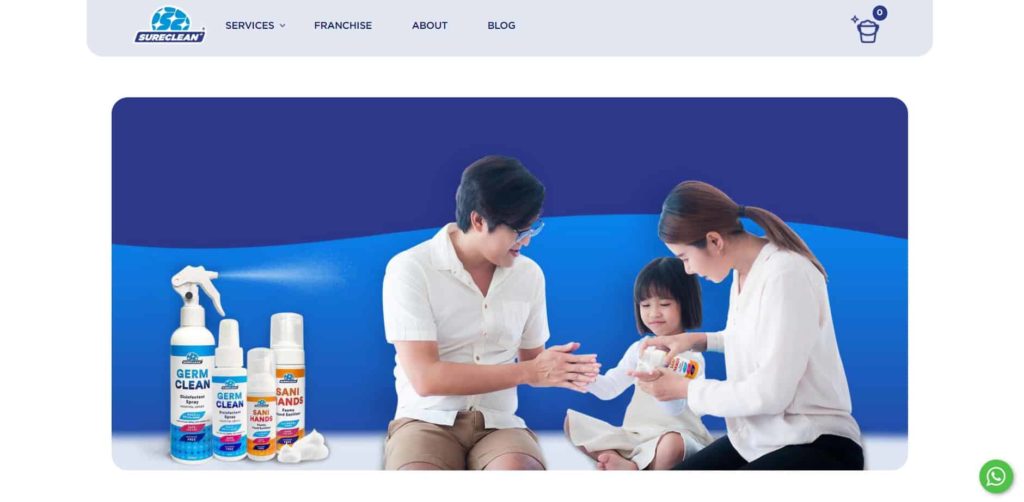 SERVICES
Concierge Class House Keeping Service
Professional Home Cleaning Service
Home & Commercial Disinfection
Wet or Dry Mattress Cleaning Service
WEBSITE
https://sureclean.com.sg/
ADDRESS
10 Bukit Batok Crescent #14-02 The Spire Singapore 658079
CONTACT DETAILS
+65 6983 9523
[email protected]
OPERATING HOURS
Monday – Saturday: 9:00 AM – 7:00 PM
SureClean is one of the leading providers of cleaning and disinfecting services for households and offices in the area. Established in 2013, they have since been consistently trusted by the medical, education, and childcare industries, which just says a lot about the level of their cleaning expertise.
We like that their products and services are tested and certified by various organizations such as PSB Singapore and HACCP International Food Safety Accreditation for their cleaning brands so that clients can be ensured that their products are child-friendly and effective for all cleaning situations.
Furthermore, their services can also be booked immediately online through their well-integrated online features and have the entire job done in just about 3-5 hours only.
Rates aren't readily available apparently so clients who are concerned with the budget and the fees charged within each job they handle.
Nonetheless, with their NEA Licensed workers, laboratory-tested solutions, and long-term protection from their germs, we highly recommend them to clients in the area looking for reliable cleaning services.
Convenient booking process
Professional and fast services
NEA licensed workers
Diversely experienced
Customer Reviews
Here are some reviews from their clients:
"Process to engage them was seamless and easy. Cleaners were professional and thorough with the post renovation cleaning of our place. They even went the extra mile to help move some items out of the way. Highly recommend."
"First time I used SureClean, I was apprehensive but in the end I was delighted. A team of 3 came, they were very fast, efficient and professional. They took as much care as they could and they were very thorough. The even cleaned places which I didn't expect. Interestingly, they left the place neater. All done in 4+ hours. Couldn't have done a better job myself. Will surely recommend."
5. AlphaKleen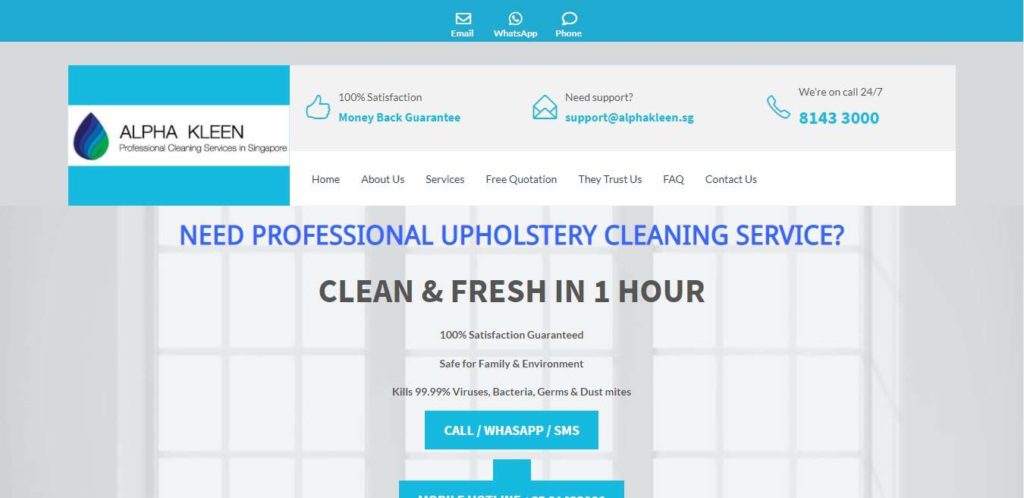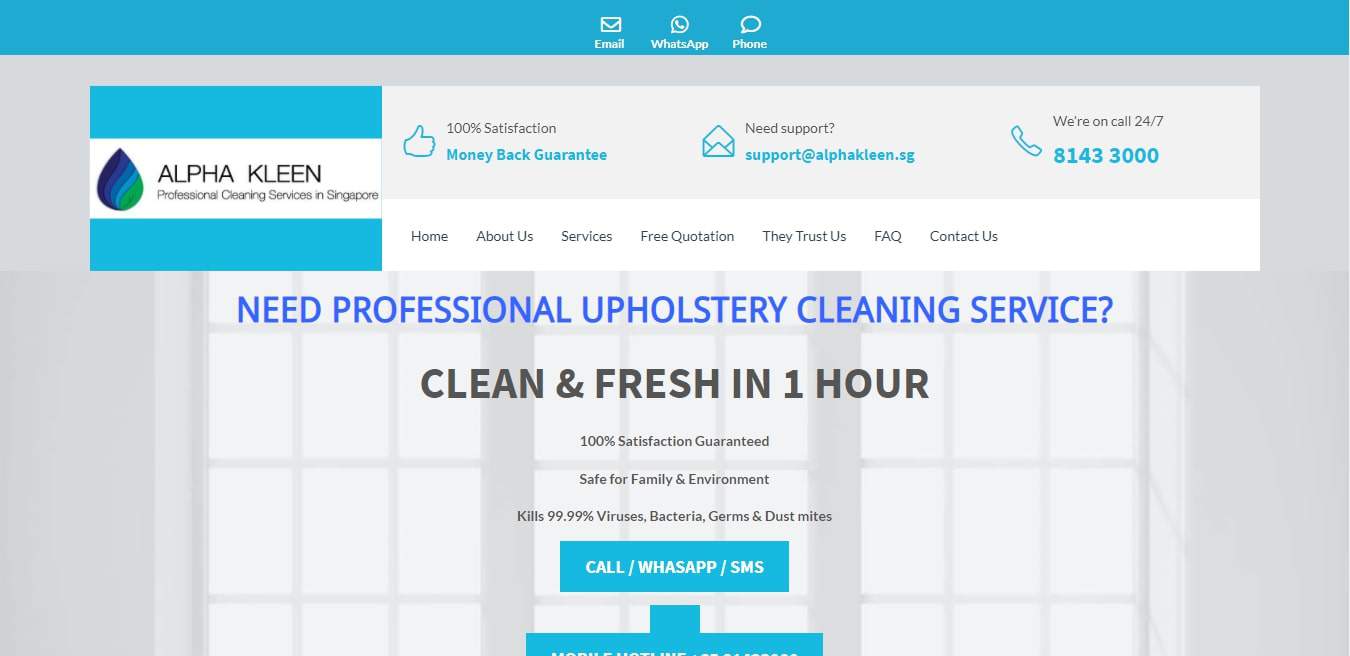 SCOPE OF SERVICES
Leather sofa cleaning, upholstery cleaning, rug cleaning, mattress cleaning, window cleaning, curtain cleaning, carpet cleaning, carpet stain removal, and car interior cleaning
RATES
Call their hotline for a quotation
WEBSITE
https://alphakleen.sg/
ADDRESS
50 Serangoon North Ave 4, #06-07 First Centre, Singapore 555856
CONTACT DETAILS
+65 8143 3000


[email protected]

OPERATING HOURS
Monday to Saturday: 9:00 AM – 6:00 PM
Established in 2010, AlphaKleen has grown into one of the most trusted cleaning companies on the island, catering to residential and corporate clients. It may be younger than most of our picks, but the quality of its cleaning services doesn't disappoint.
If what you're after is quick and efficient sofa cleaning, then AlphaKleen may be the right choice for you. It can dispatch its cleaners to your address in less than two hours, so no worries about waiting for days or weeks.
In terms of cleaning equipment, it uses only safe and high-end cleaning tools and products. You can be sure that your loved ones and pets aren't being exposed to potentially harmful cleaning products – which other locals cleaners use discreetly.
Aside from sofa cleaning, AlphaKleen also offers carpet cleaning, curtains leaning, window cleaning, car interior cleaning, mattress cleaning, and rug cleaning, among others.
10 years in the business
Safe cleaning equipment
Quick dispatch of cleaners
Doesn't use harmful cleaning products
Customer Reviews
Here are some comments shared on Google Reviews:
"AlphaKleen was responsive and pleasant to deal with. Their prices were really reasonable (I got a few quotes and a competitor charges twice for the same service) for a deep extraction cleaning of my IKEA L-shaped couch and my queen sized bed. The team who did my cleaning were really professional and thorough … My couch and bed look like new! Would definitely recommend them and use them again in future." -Candice Aw
"I have recently engaged Alpha Kleen to clean my couch and mattresses after a renovation. I must say that I am extremely satisfied with their service. They were prompt in responding to my queries . Most of all, they were thorough in cleaning my couch and they even managed to remove the cat pee stain on my mattress. The couch and mattresses smelled good after too. Would definitely engage them again in the near future. Well done Alpha Kleen!" -Beelin Khor
6. Art of Cleaning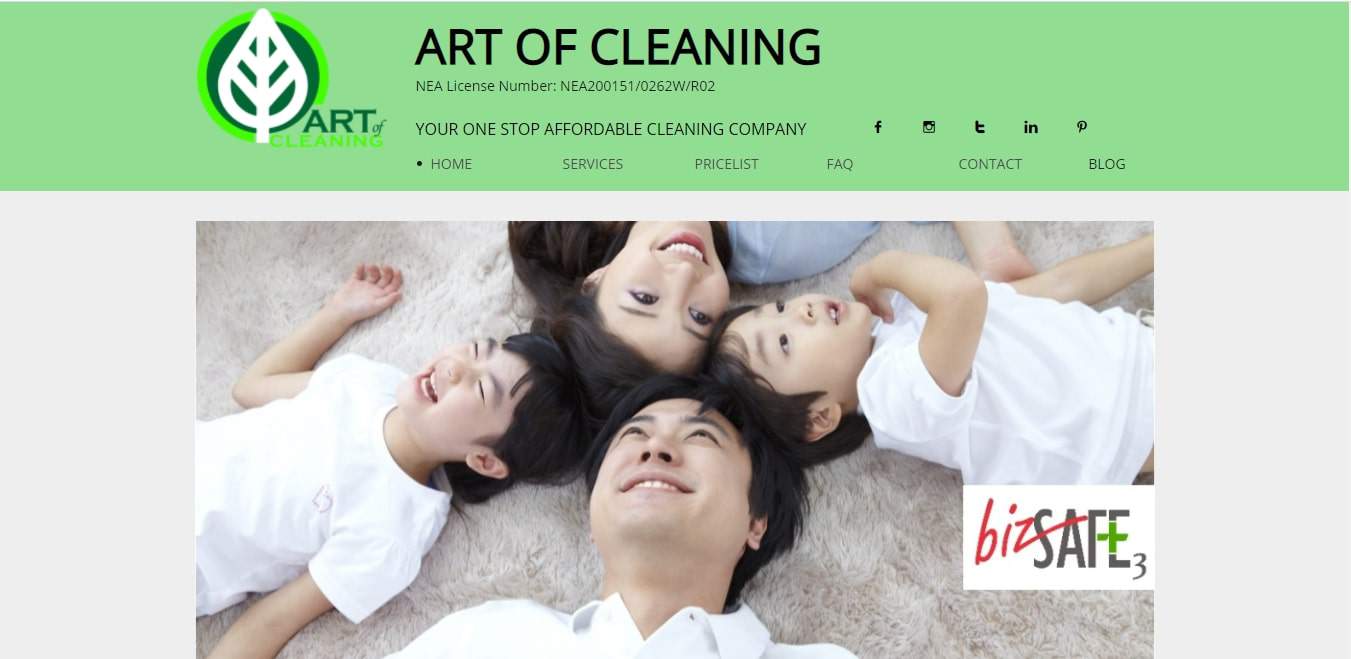 SCOPE OF SERVICES
Sofa cleaning, house rug cleaning, office carpet cleaning, mattress cleaning, house cleaning, office cleaning, and disinfection services
RATES
1-seater: $60 to $80
2-seater: $120 to $150
3-seater: $150 to $200
WEBSITE
http://www.artofcleaning.com.sg/
ADDRESS
Blk 51 Ubi Ave 1 #05-02 Paya, Ubi Industrial Park, Singapore 408933
CONTACT DETAILS
+65 6788 1788
OPERATING HOURS
Monday to Sunday: 7:00 AM – 11:00 PM
If you're looking for a cleaning company with a positive track record, then look no further than Art of Cleaning. It's a one-stop cleaning company that's open to both residential and commercial spaces.
Art of Cleaning is trusted not only by homeowners on the island, but by prominent commercial clients as well, including Reliance Capital, Parkway East Hospital, GlobeCast, Abacus Property, and Founder Bak Kut Teh. This already says a lot about the quality of its services.
When it comes to rates, this cleaning company has some of the lowest rates for sofa cleaning services. A one-seater sofa costs as little as $60 to clean, while the rate for cleaning a three-seater sofa starts at $150.
Additionally, Art of Cleaning can accommodate more customers per week as it's open from Monday to Sunday. Its operating hours are longer than most cleaning companies as well, starting from 7 in the morning and ending at 11 at night.
Its longer operating hours make it easier for customers with urgent concerns to hire its services. It's why we call it one of our top options for the best upholstery cleaning in Singapore.
However, if you take a look at its terms and conditions, some lines imply minimal accountability to missed stains and damage.
Budget-friendly services
Open from Monday to Sunday
Longer operating hours
Islandwide services
Tricky terms and conditions
Customer Reviews
A previous customer named Sam Kitchin said the following about his experience with Art of Cleaning:
"I reached out to this company for sofa cleaning at 9am in the morning, they were able to fit me into their schedule at 4:30pm that same day. Ranidu and Sonu were very polite, friendly and professional. The cleaning service was fantastic, my horribly greasy sofa now feels like new again. I will be using this company on a regular basis moving forward."
Here's what another customer had to say:
"Never engaged a professional cleaning company before and did not know what to expect. On the day itself, I really appreciate their call notice of the approximate time they will be reaching to give us a heads up. Although it's just cleaning mattresses and sofa, I'm pleased to say Ranidu and Sonu are swift and know what they are doing. Thank you for your service and professionalism!" -Michelle Kong
7. Clean Care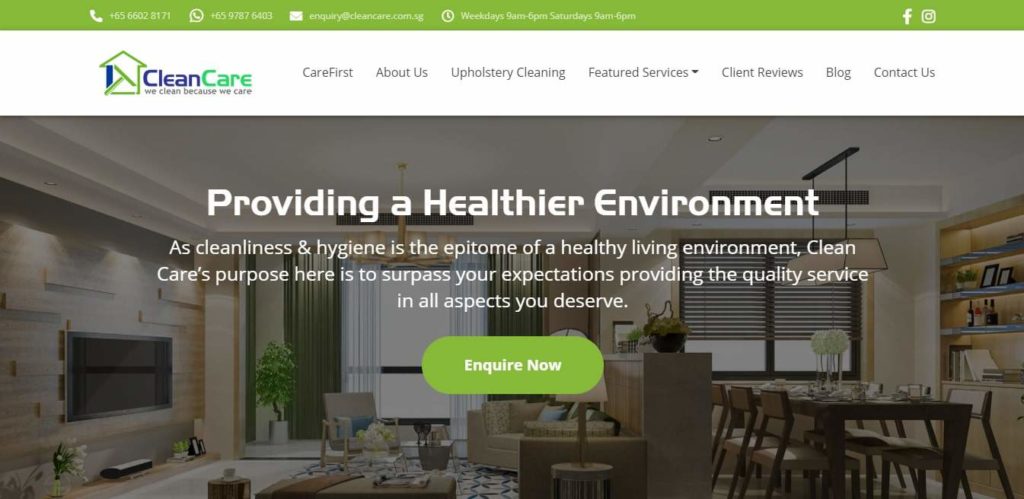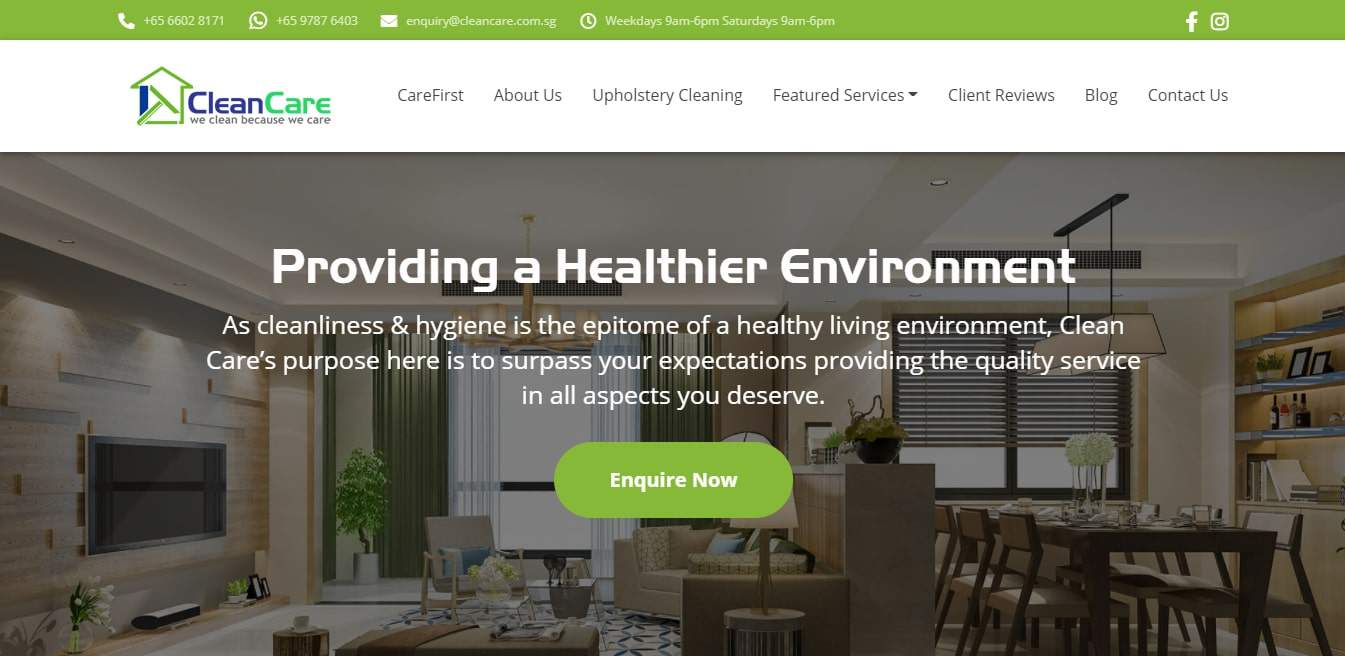 SCOPE OF SERVICES
Fabric sofa cleaning, leather sofa cleaning, upholstery cleaning, office carpet cleaning, residential carpet cleaning, mattress deep cleaning, and laundry and dry cleaning
RATES
Call their hotline for a quotation
WEBSITE
https://cleancare.com.sg/
ADDRESS
North Spring Bizhub, 5 Yishun Industrial Street 1, #01-23, Singapore 768161
CONTACT DETAILS
+65 6602 8171
+65 9787 6403


[email protected]

OPERATING HOURS
Monday to Saturday: 9:00 AM – 6:00 PM
Clean Care is a cleaning company that offers full-range professional cleaning solutions to customers all over the island.
Its cleaning services cover both residential and commercial spaces, ranging from office carpet cleaning down to sofa cleaning. Other services include mattress cleaning, laundry services, dry cleaning, and upholstery cleaning, among others.
One quality about Clean Care that makes it stand out from other cleaning companies is its commitment to caring for the environment. Its cleaners are equipped only with safe and eco-friendly cleaning tools and materials, all of which are pet and child-friendly.
When hiring Clean Care's sofa cleaning, expect them to get rid of the following: stains, soils, dirt, allergens, germs, bacteria, odours, fleas, and dust mites. This applies to both fabric sofas and leather couches.
If you've experienced shrinkage after having your sofa cleaned in the past, don't expect the same with Clean Care. Its cleaning method doesn't need drying time as well, so customers can use their sofas within the day.
Apart from home upholstery, its cleaners can deal with fabric upholstery for office fabrics, mattress headboards, and even yachts.
Once you've become one of its regular customers, you will be entitled to exclusive promos and discounts, which mean cheaper cleaning rates!
Safe cleaning products
No drying time
Can remove dust mites and fleas
All-around cleaning services
Rates are slightly above average, if no discounts are applied
Customer Reviews
A customer named Laurent Sia shared the following feedback on Google Reviews:
"Talking about sanitation and disinfecting, Clean Care really does the job. That is the main thing I really need from them. now my sofa is free from bad odour and no longer feels itchy when using it. also those sweat patches are now gone. their deep clean does remove certain stains too. I am happy with them."
8. Big Mama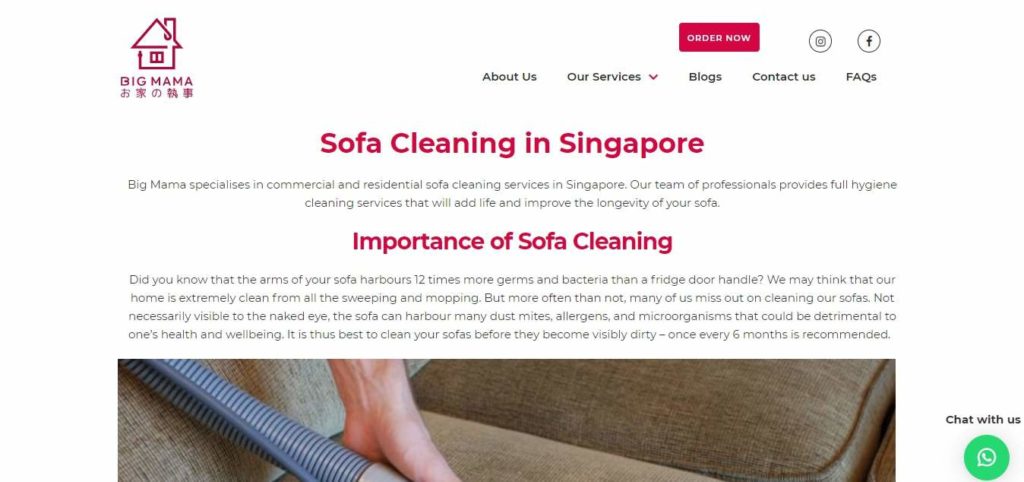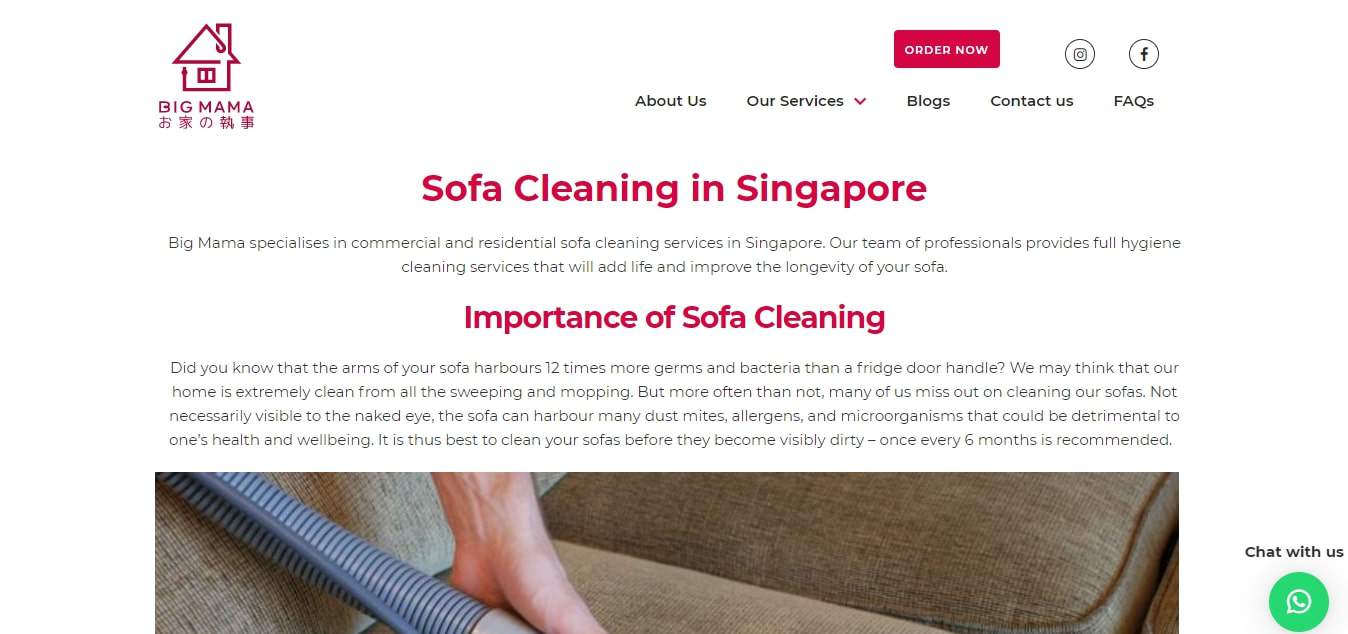 SCOPE OF SERVICES
Laundry and dry cleaning, alteration, curtain cleaning, sofa cleaning, bag cleaning, sneakers cleaning, aircon cleaning, upholstery cleaning, car seat cleaning, and house cleaning
RATES
Call their hotline for a quotation
WEBSITE
https://big-mama.com.sg/
ADDRESS
391 Orchard Road, #03-11B, Singapore 238872
CONTACT DETAILS
+65 6238 7600
+65 8518 4188


[email protected]

OPERATING HOURS
Monday to Sunday: 8:00 AM – 11:00 PM
Big Mama is famous for its laundry and dry cleaning services, but we've tried its sofa cleaning and believe that it's worth checking out as well. Here's why you should consider it:
For one, it operates seven days a week, allowing those who only have free time during the weekends to hire its cleaners either on a Saturday or Sunday. You no longer have to worry about looking for a sofa cleaner who can come over on weekends.
Second, its eco-friendly cleaning products can go deep into the fibres of any type of sofa, effectively flushing away stains, soils, dirt, dust mites, and other allergens. It can deal with both leather and fabric sofas.
Since Big Mama is relatively new to home cleaning services, its rates are still a bit more affordable than most cleaning companies. It's their way of attracting more customers to try out their home cleaning solutions.
Despite the lower rates, it doesn't compromise the quality of its cleaning services. If you're impressed with its laundry and dry cleaning, you won't be disappointed with its sofa cleaning services.
For what it can offer, Big Mama is a cleaning company worth considering, especially if you've tried its laundry services in the past and loved them.
Uses eco-friendly products
Lower cleaning rates
Open from Monday to Sunday
New to home cleaning services
9. Singapore Carpet Cleaning Service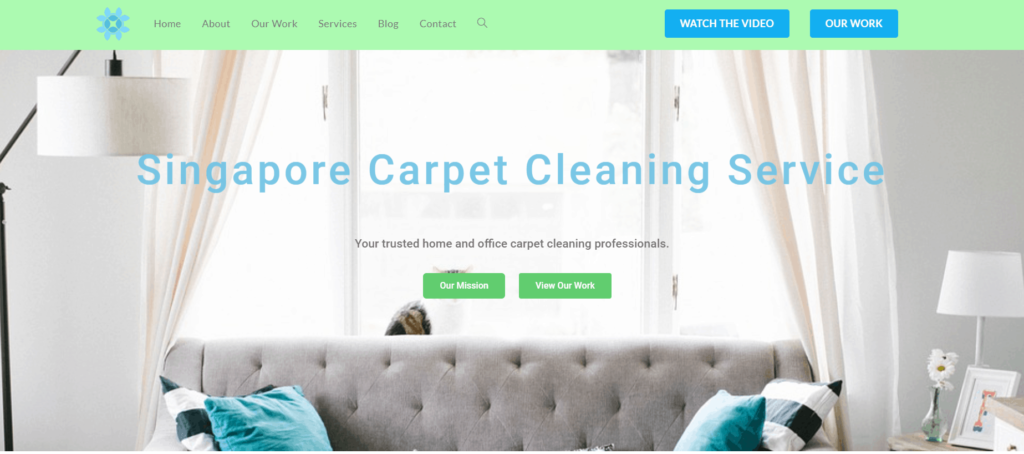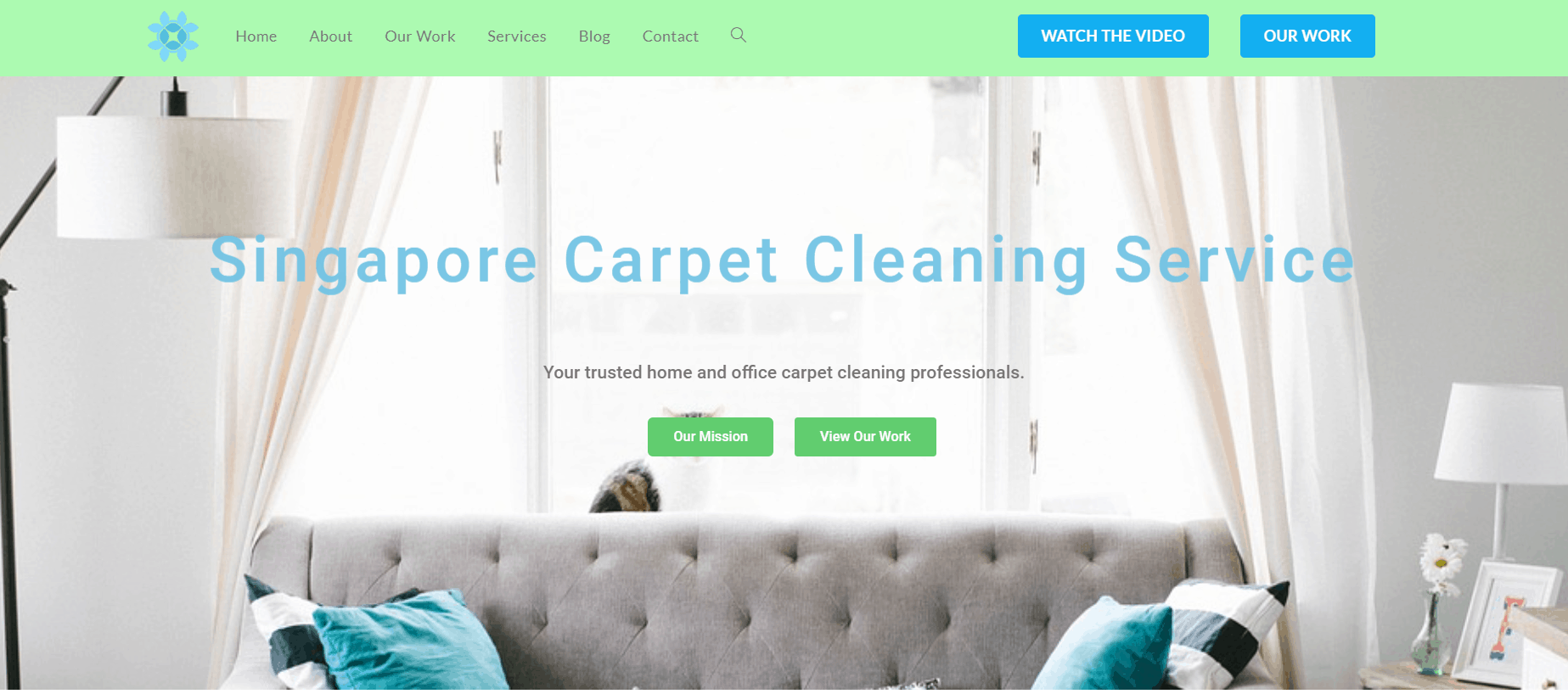 SCOPE OF SERVICES
Office wall to wall carpet cleaning, Home rug cleaning, Mattress cleaning, Curtain cleaning, Upholstery cleaning, Marble Floor Polishing, Granite Floor Polishing, Vinyl Floor Polishing
RATES
Contact for more information
WEBSITE
https://singaporecarpetcleaning.com.sg/
ADDRESS
Blk 1 Defu Lane 10 #01-563 Singapore 539182
CONTACT DETAILS
(+65) 82475558 | [email protected]
OPERATING HOURS
Monday to Saturday: 9 AM – 9 PM
Closed on Sundays
Do you have no time to clean and maintain your sofa? Or maybe there's just no time left for you to attend to this dreadful house chore?
Singapore Carpet Cleaning may be the solution you're looking for. They are a professional sofa cleaning service provider in Singapore who are fully equipped with advanced sofa cleaning equipment to help you get those filthy carpets cleaned up.

Their high quality yet affordable service is always available whenever you need well-trained staff to thoroughly wash up your carpets. After the session, they promise to leave your carpet spotless and free from any infectious bacteria.

They can also extend their service to upholstery cleaning and room disinfection. Just let the team know your requests and they will happily grant it seamlessly.
Offers excellent after care support service
Affordable rates
High customer satisfaction
10. Carpet Clean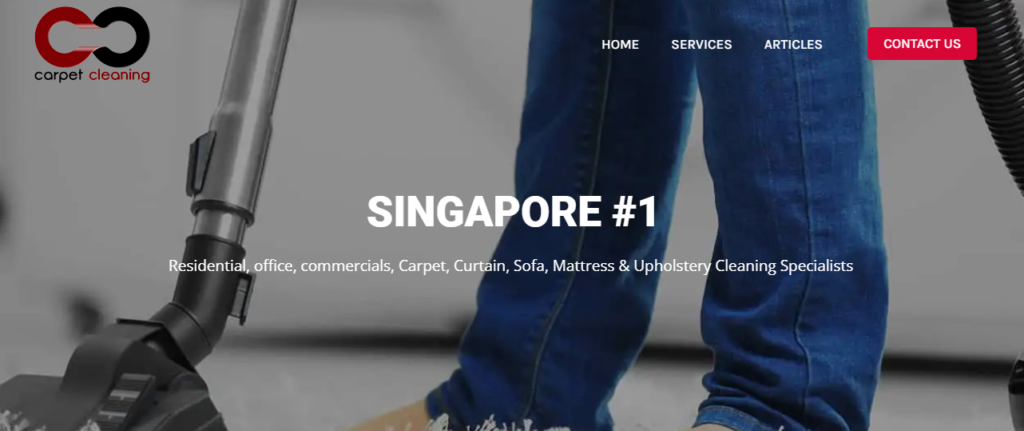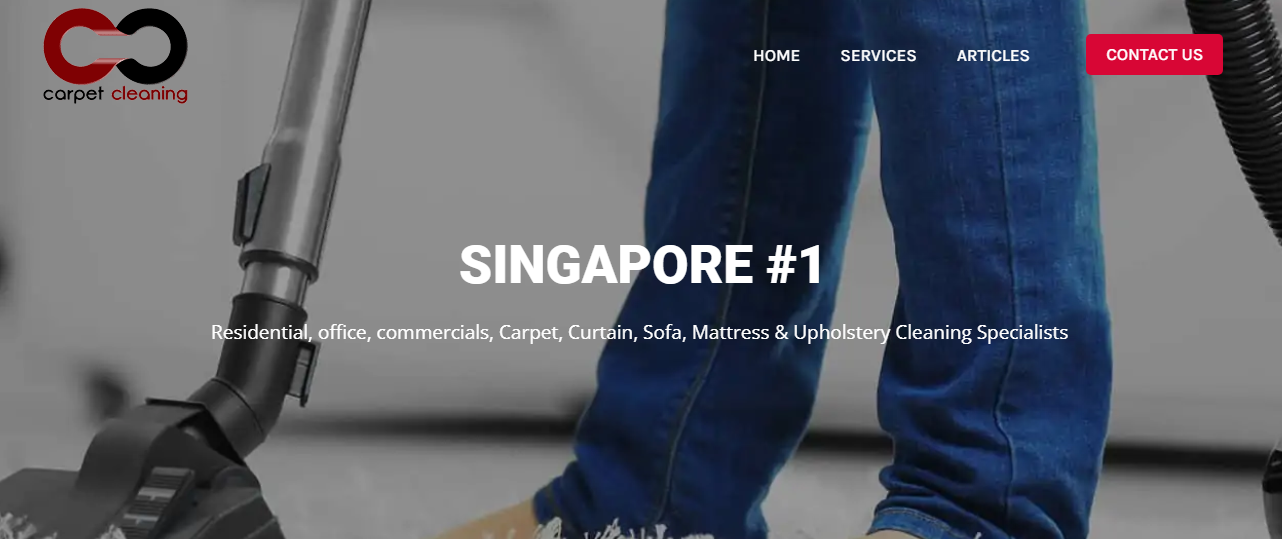 Another company to consider for quality cleaning services in Singapore is Carpet Cleaning.
Carpet Cleaning, as one may guess from the company's name alone, specialises in carpet cleaning services. However, the company's offerings don't stop there as they also provide disinfection services, curtain cleaning, rug cleaning, and of course, upholstery cleaning.
The cleaners at Carpet Cleaning have undergone thorough checking from the company, helping ensure that the cleaners can be depended on in terms of skills, cleaning knowledge, and professionalism.
Carpet Cleaning cleaners takes great care in every job they take on, removing all dirt, grime, and other unsavory marks and finishing on time.
Sofa cleaning from Carpet Cleaning starts at $50 for single seater sofas and can go up to $150-170 for 3-seater L sofas. Discounts can be provided for clients who are willing to apply for yearly contracts.
Transparent and affordable rates
Offers discounts for yearly contracts
Caters to residential and commercial clients
11. Clean Lab


SCOPE OF SERVICES
Office Cleaning
Carpet Cleaning
Disinfection
House Cleaning services in Singapore
Mattress Cleaning
Upholstery Cleaning
Rug Cleaning
Curtains Cleaning
Leather Sofa Cleaning
Post Renovation Cleaning
Moving In/Out Cleaning
Odour Treatment
Infection Prevention
Steam Cleaning
Event Cleaning
RATES
Contact for more information
WEBSITE
https://cleanlab.com.sg
ADDRESS
25 Kaki Bukit Pl, Singapore 416203
CONTACT DETAILS
Phone: 67411522 / 83231522
Email:

[email protected]

OPERATING HOURS
By appointment
Next on our list is Clean Lab, one of the most trusted names in the field today.
Clean Lab is known for its scope of services, which is the widest we've come across so far. See, Clean Lab offers cleaning and disinfecting services to numerous industries and clients, accommodating requests for properties such as commercial buildings, offices, gyms, laboratories, healthcare centres, food establishments, and residential properties.
Aside from cleaning these properties from top to bottom, Clean Lab also accepts requests for specialised cleaning, such as rug cleaning, curtain cleaning, leather sofa cleaning, and event cleaning.
Another noteworthy aspect about Clean Lab is its team of cleaners and consultants.
See, Clean Lab makes it a point to train every single member of their staff in-house, requiring 160 training hours to ensure that they are ready to be deployed in the field. Regular weekly meetings and trainings are also conducted to keep their employees updated with the latest skills and knowledge.
These cleaners are skilled and knowledgeable, and have access to top of the line, environment-friendly cleaning products and equipment. Their attention to detail is also second to none, resulting in cleaning jobs ending in a swift and efficient manner.
Wide range of cleaning and disinfecting services
Accommodates residential and commercial clients
Great attention to detail
Uses environment-friendly and EPA-approved chemicals
FAQs about Sofa and Upholstery Cleaning
---
And that concludes our picks for the cleaning companies with the best sofa cleaning in Singapore. Any of these trusted cleaners can make your sofa seem brand new again!
If you want to suggest other sofa cleaners in Singapore, drop their names so we can check if they're worthy of being added to our roster.
For more options, you might want to check out our list of the best home cleaning services in Singapore. Almost every cleaner in that list can clean sofas as well.