16 Shops for the Best Car Detailing in Singapore Reviewed
Do you have an old car that you want to refurbish to make it look like you just bought it a few months ago? If so, then you should look for the car service centres that offer the best car detailing in Singapore.
Taking care of your car is like taking care of a friend. That's why we tend to be more particular and meticulous when it comes to maintenance, repairs, and most especially, the entire grooming process.
We've searched for various car shops in Singapore that fit the bill for skill and services here. We ended up with this list of places that have the best car detailing in Singapore.
1. Detail Mania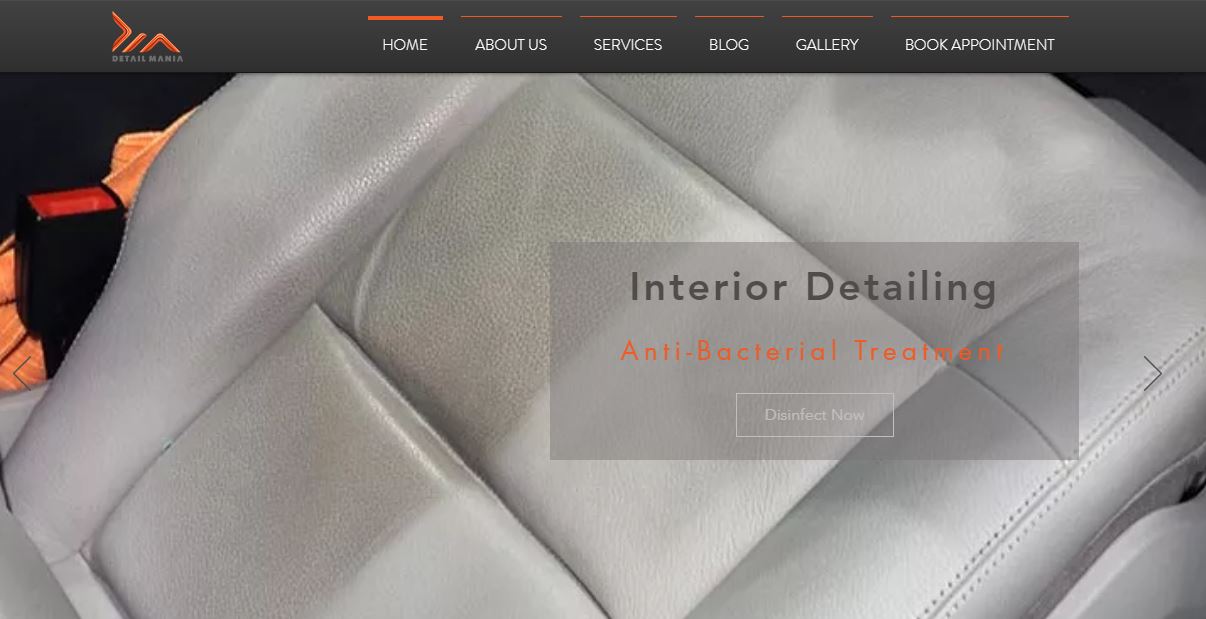 | | |
| --- | --- |
| BEST FOR | Signature detail packages |
| WEBSITE | https://www.detailmania.com.sg/ |
| ADDRESS | 80 Rhu Cross #01-04 Singapore 437437 Marina Bay Golf Course |
| CONTACT DETAILS | 81826987 |
| OPERATING HOURS | Weekdays: 9:00am – 6:00pm |
Detail Mania provides various car grooming services in Singapore including paint protection coating, interior detailing, complete polishing, and enhancement services.
For their interior car detailing, they clean all surfaces inside the car along with windows, wipe, and leather areas. They have specialised treatments such as anti-pest fumigation and activated oxygen treatment that removes all the odours inside.
While for their enhancement services, they have anti-brake dust coating, headlights restoration, windscreen coating, and engine bay detail. They also offer regular maintenance services and bike detailing.
If you have pets that always take a ride in your car, this could be one of the best car detailing service in Singapore for you.
Highlights
In-house paint protection coatings
Regular maintenance
Bike detailing
Customer Reviews
Many customers left positive responses to the overall services of Detail Mania. They said that the coatings used are long-lasting and highly effective. A customer from Google Reviews posted this feedback:
"Finally tried their paint protection coating for my car. First impression was that the paintwork became extremely shiny even for a 5 year old car. After 3 months of usage, the shine and water beading effect is still there. It definitely outlasted the last coating that I had. Paid double the price then and didn't even get 50% of the effect. 2 thumbs up to the guys at Detail Mania. Super highly recommended."
2.

QMI ToughGuard Car Grooming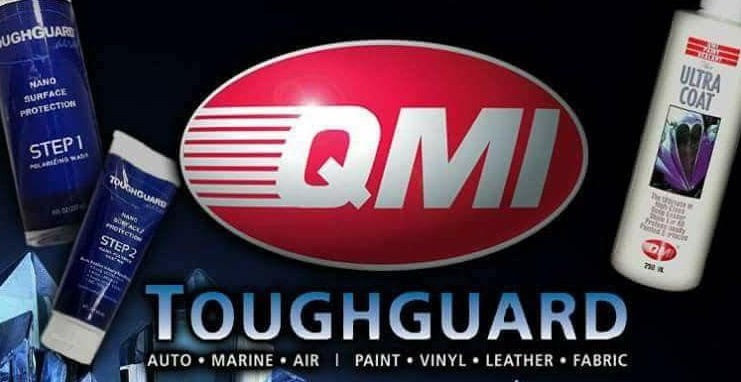 | | |
| --- | --- |
| BEST FOR | Car Paint Protection Coating |
| SERVICES | Paint sealant, Paint protection coating, |
| WEBSITE | http://www.toughguardsingapore.com/ |
| ADDRESS | 5, #03-35 Soon Lee St, Pioneer Point, Singapore 627607 |
| CONTACT DETAILS | 6563 2545 / 9479 0355 | [email protected] |
| OPERATING HOURS | Monday – Sunday, 10:00 AM to 6:00 PM |
QMI ToughGuard Car Grooming specialises in car protection painting, but it also provides other services such as car polishing, car grooming, car wash and cleaning. They also sell numerous products used in these services so you can do it at home.
Their most recommended product used in their services is the TFE-based and Ceramic 9H paint protection system. This provides a smooth protective layer that creates a long-lasting shine that lasts up to 5 years.
They provide satisfactory customer care with their car grooming, which is why they are considered as a top detailing company in Singapore. Their car detailing services in Singapore will surely bring your car back as good as new.
Highlights
Car Paint work Restoration
PTFE Coating Technology
24 Years in the business
Customer Reviews
Here are some reviews left by previous clients:
"I sent my new car to QMI after reading several reviews and I never regretted since. The paintwork had maintained its gloss over the past months. Removal of stains like bird shit is so much easier.
Mr Lim and staff are also very professional and responsible. I send my car in for maintenance regularly and they continue to do an excellent job. I had a slight scratch at the door handle and they managed to notice it and removed it…..Real eyes for details."
"It's been almost 8 months since I sent in my BMW car to their centre at IMM to do the coating for my car paint and its protection. I was indeed very satisfied with the job done and the glass shine effect that the products had delivered. The older staffs there seem skillful as I was told that they had been in this line for more that a decade.
To my surprise, my car today is still very shinning and without water marks or bird shoot marks which they claimed the product can protect. Washing has been easy with just a wet microfibre cloth as taught by them. QMI is not new to me as in the past I had tried their treatment at Autobacs before and found it was good.
With the current enhancement and combination with Toughguard, another US product that they claimed Glass Coating and QMI as Teflon Coating, I certainly was enthusiastic and entrusted my car to them again. Indeed, I am writing regarding my amazement of these 2 products and of course the nice attitude of the service staffs and their professional dedication.
Keep up the good work guys!"
3. Elite Image Detailing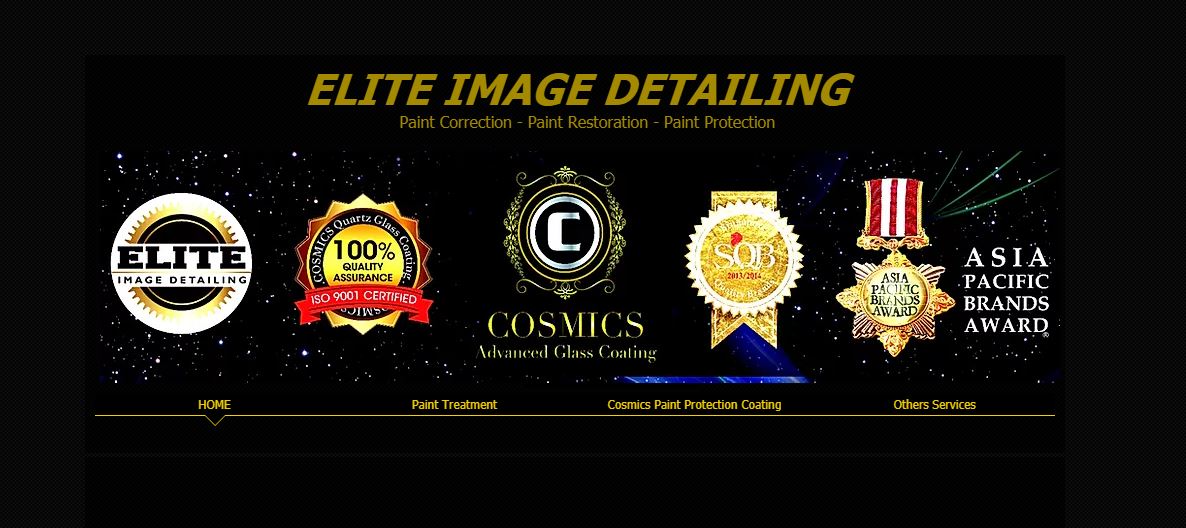 BEST FOR
Additional beautification
WEBSITE
https://www.eliteid.com.sg/
ADDRESS
50 Serangoon North Ave 4 #01-06 First Centre Singapore'555856
CONTACT DETAILS
+65 6636 4466
OPERATING HOURS
Monday to Saturday: 9:30 am – 7:00 pm

Sunday or Public Holiday: By Appointment, Night Drop Available
When it comes to paint treatments, Elite Image Detailing has a broad range of selections. They can perfectly groom and enhance your entire car, adding more protection, depth, and clarity.
Their treatments focus on the enhancement, correction, and restoration of the overall appearance of your car. This award-winning service centre has established international branches, which is just another indication that they have the best car detailing in Singapore.
Highlights
Various paint treatments
Upholstery cleaning
Customer Reviews
Customers have mentioned that the premium services of Elite Image Detailing are totally worth it, for they serve professional and efficient solutions. A customer from Google Reviews left this review:
"On day 1 I took my car for the protective coating with Elite Image Detailing. Their service is top notch and they really do care about the car. Friendly and very professional, equally well reputed.  Cosmics coating is used here, that has its own popularity. Compared to others these are on the premium side but well accepted by seasoned car owners."
4. Waxoyl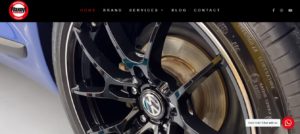 BEST FOR 
Professional Car Care
WEBSITE
https://waxoyl.com.sg/
ADDRESS
7 Kaki Bukit Rd 1, Eunos Technolink #01-10, Singapore 415937
CONTACT DETAILS
Tel: +65 6425 0660
Whatsapp: +65 6425 0660
Email:

[email protected]

OPERATING HOURS
Monday to Saturday: 10:00 – 19:00
Sunday: Closed
Waxoyl is an international brand that has more than 60 years of heritage and the year 2021 marks its 19th year in Singapore. (and 2022 marks its 20th year in Singapore)
In comparison to others, just by visiting their detailing centre, you will immediately feel at home. You will not get bored waiting for your car as their lounge is equipped with a television, high speed internet, and of course, there are drinks such as sodas and coffee.
At Waxoyl Singapore, you will be spoiled for choice as a car enthusiast. They specialise in detailing for all makes and models, including motorcycles. Choosing a service for your car can be quite daunting. Their menu is straightforward and not confusing with packages and services to suit your every need. There is confidence in leaving your car with the professionals.
Their washing services are pretty affordable and inexpensive. We can really say that you will get what you pay for because they do more than just simply washing your car. They offer a basic, Wash & Shine for $15 and their Hydrocoat Wash & Vacuum for $30.
We absolutely approve of getting the latter one since their Hydrocoat Wash will give your car a hydrophobic effect that can last up to three months. Water will be gliding off your car and leave fewer watermarks after it dries!
The only catch here is that they have a no rush policy, which means that their service duration is longer than others. But do take in mind that they have this in order to not make their workers compromise the integrity of their work. But do bear in mind that this is done in the name of quality!
Highlights
Offers both exterior and interior care services
Can do glass treatment, engine protector, and interior sanitization
Can work with vehicles from JDMs to exotics, vans to buses
5. Finest Detailing Express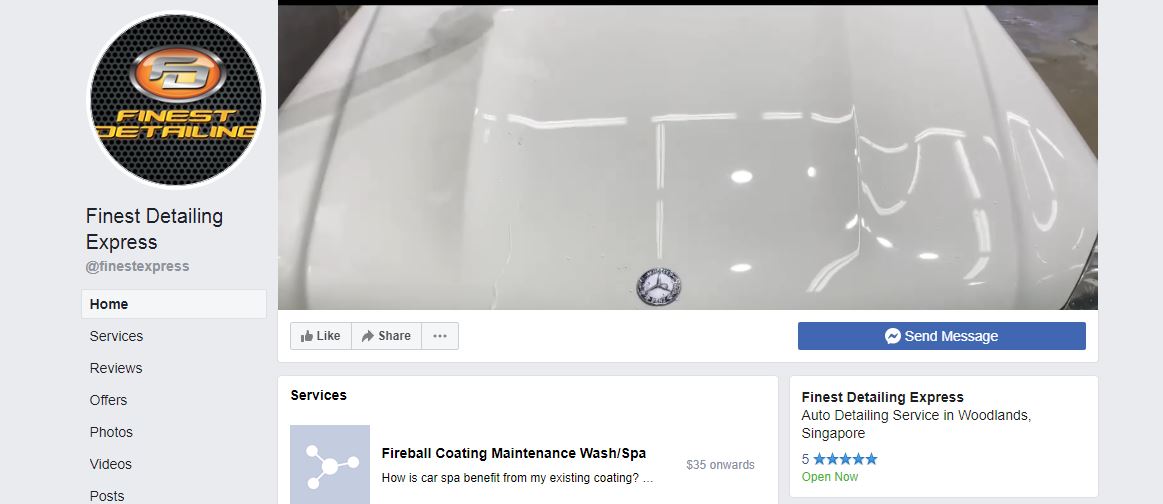 BEST FOR
Car spa services
PRICING
Rates
FACEBOOK
Facebook
ADDRESS
61 Woodlands Park E9 , #01-18 Premium 9 SINGAPORE 757047

Woodlands, Singapore

CONTACT DETAILS
+65 9754 1833
OPERATING HOURS
Weekdays: 9:00am to 9:00pm

Saturday: 9:00am to 7:00pm
If you'd like to have your car cleaned and polished with extra-special treatments, you should visit Finest Detailing Express. They provide high-quality car spas, car washes, and even bike washes!
They use fine paint coating protection to give your car the treatment that it deserves. They also have pest fumigation, headlight restoration, solar film tinting, and steam cleaning interior.
These services will surely maintain the cleanliness of your car for a very long time. This is why they're part of the shops that offer the best car detailing in Singapore!
Highlights
Detailing and restoration services
Car wash
Steam cleaning
Customer Reviews
Finest Detailing Express was recommended by a lot of customers who experienced their car grooming services. A customer from Google Reviews shared these compliments on Google Reviews:
"Done coating for 2 of my car and also car spa for another unit. Very good workmanship meticulous. No rush at all. Truely is the finest detailing so far I can find in SG. My family is happy with the great job done! More to come!Thank you so much Liang Wei and Faizal!"
6. Lambency Detailing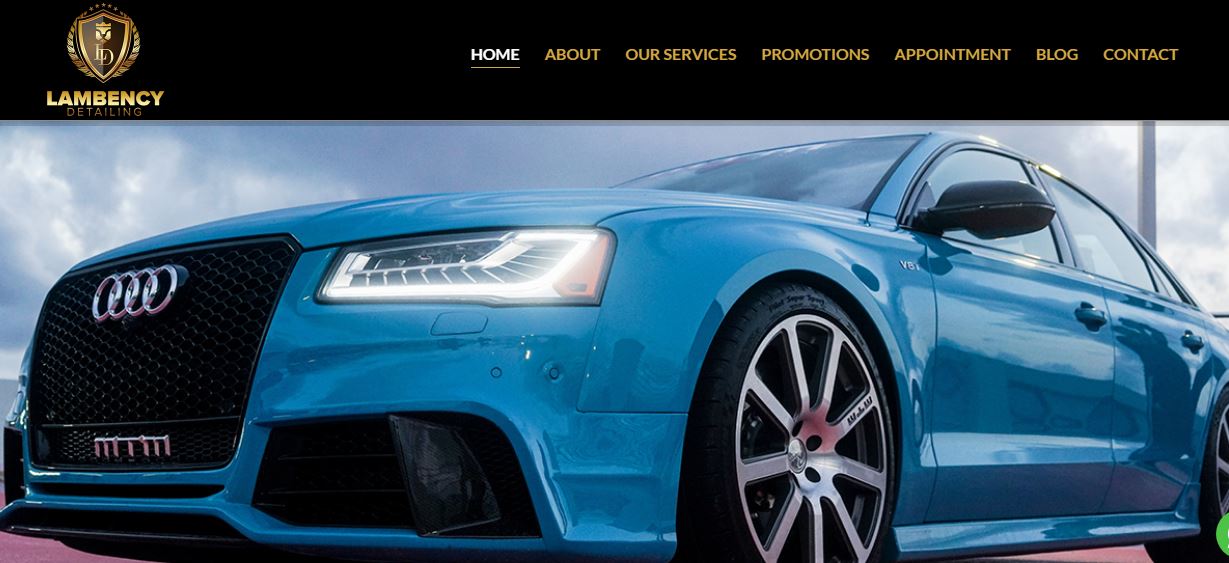 BEST FOR
Full range of grooming services
WEBSITE
https://lambencydetailing.com/
ADDRESS
9008 Tampines Street 93 #01-67, Tampines Industrial Park A
CONTACT DETAILS
(65) 6810 9918
OPERATING HOURS
Monday – Friday : 9:00am – 6:00pm

Saturday & Sunday : 9:00am – 9:00pm
Lambency Detailing is one of the leading car shops in Singapore that offers several grooming and maintenance services such as interior and exterior detailing, hand washes, paint corrections, and more paint solutions.
They use quality products that provide long-lasting effects and protection for your car. Hence, they've become a shop that offers the best car detailing in Singapore.
Highlights
Extensive grooming treatments
Special promotions
7. ARCH PERFORMANCE THE WRAP SPECIALIST
BEST FOR
Vinyl Wrap Shop
WEBSITE

https://www.archperformance.sg/

ADDRESS
3 Ang Mo Kio St., 62, # 01-11, [email protected] 569139
CONTACT DETAILS

+65 8660 0516

OPERATING HOURS

Monday to Friday: 11:00 am – 11:00 pm

Saturday: 11:00 am – 8:00 pm
Arch Performance The Wrap Specialist ensures the quality of the products that they used by handpicking the materials that they used. They also employ only the most skilled mechanics and wrappers in their shop.
They want only what's best for their customers by using the materials that could last longer than expected. They were the pioneer of Nano Tech Vinyl Coating as first certified by 3M.
Moreover, they also install solar film on windows.
Highlights
Vinyl Sticker Wrap

Window Solar Film Tint

Point Protection Solution

Point Protection Film
Customer Reviews
Their customers seem to be satisfied with the service that they provide. Particularly, they liked the quality wraps that they used on the cars.
"Very professional and patient. thanks to the team. Provides quality wraps and excellent workmanship. A quick fix on my slight issue after the wrap has been done, without any doubt from them. Do not hesitate to contact them."
"Very good wrap staff. Detailed and will redo if it is not up to their standards. Recommended. However do not expect a fast job as they want to ensure quality."
8. 178 AUTO CARE X BEST IN SINGAPORE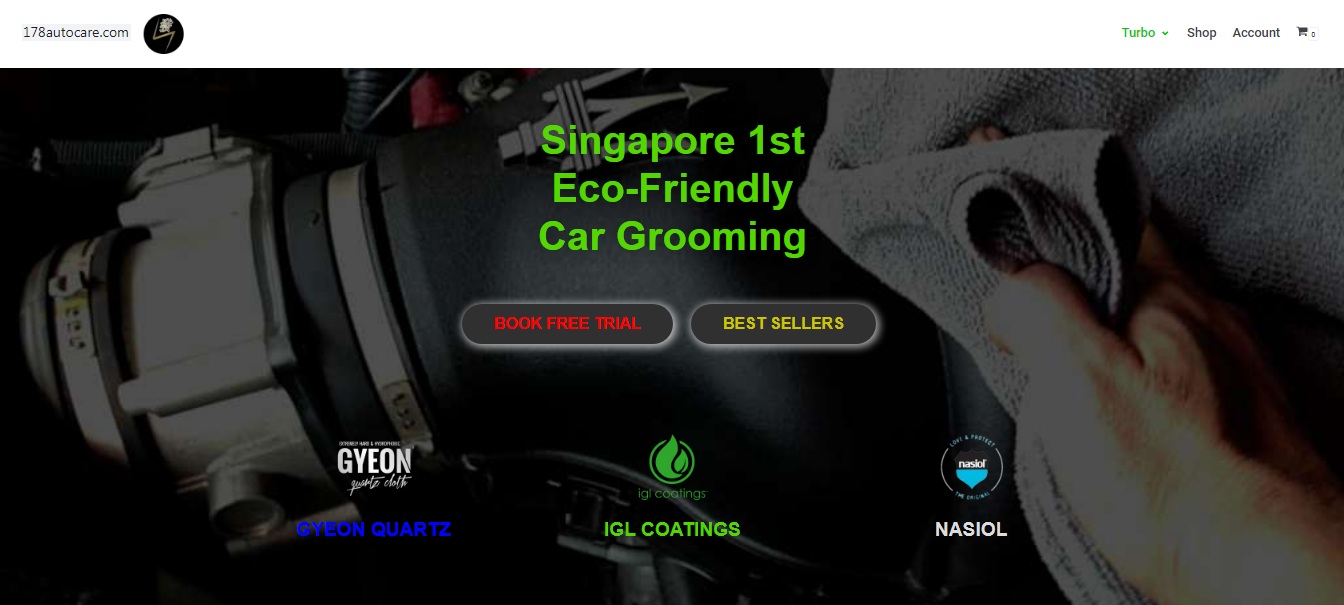 | | |
| --- | --- |
| BEST FOR | Excellent workmanship |
| PRICING | Service and Prices |
| WEBSITE | https://178autocare.com/ |
| ADDRESS | 18 Ubi Road 4, #01-09, Singapore 408616 |
| CONTACT DETAILS | + 65 6917 8178 |
| OPERATING HOURS | Monday – Saturday: 10:00 am – 7:00 pm |
Over the years, 178 Auto Care has serviced 9,973 cars with services like car maintenance, car protection, and enhancing appearance.
These numbers truly reflect the excellent craftsmanship that they provide to their customers at a reasonable price. You could try one of their bestsellers, EcoGreen Car Wash for only $ 28. This already includes Eco Shampoo, Interior Vacuum, Rims Scrub, Tire Shine, and Free Odour Killer.
Moreover, the products that they used in your car are of best quality to keep the coating longer and eco-friendly to keep your family safe from chemical byproducts.
Highlights
Eco-friendly and safe products used

After Sales support to customers

Digital transactions like booking and payment

Quality Workmanship
Customer Reviews
178 completes a job with truly excellent quality as their customers can't stop raving about it. In fact, they have a 5 star rating in Google.
Know more about what their customers love about 178 here:
"Stayed for the entire 9 hours and witness how they meticulously polish every inch of my car. No shortcuts, pure dedication. Arthur the boss and his team definitely take pride in what they are doing."
"Very knowledgeable staff explaining how they clear the micro scratches, the coating strength and also providing maintenance tips. "
9. ACE GT PTE LTD
| | |
| --- | --- |
| BEST FOR | Restoration |
| PRICING | Rates |
| WEBSITE | http://sgpaintprotection.com/ |
| ADDRESS | 9 Yishun Industrial St., 1 #01-70, North Spring Bizhub, Singapore 768163 |
| CONTACT DETAILS | +665 9171 0359 |
| OPERATING HOURS | Monday to Saturday: 9:00 am – 6:00 pm |
Ace GT PTE LTD has a lot of services offered to ensure that your car is protected and of best quality. In fact, they have received a number of certifications and awards for their quality of service. They offer carpeting, steam cleaning, paint restoration, car detailing, and many more.
In general, they provide ceramic pro exterior, ceramic pro interior, paint protection film, and general care services. This ensures that your car looks brand new and free from scratch or dirt.
If you want a car shop in Singapore that provides a wide range of services, this could be one of the best car detailing shops in Singapore for you.
Highlights
Attention to Details

Wide range of services offered

Top quality products tools
Customer Reviews
Their customers appreciate their attention to details and ability to restore any car issues.
"Had recently sent my 14 years old car for restoration. Very satisfied with the work done…thumbs up!"
"Good service and excellent..my car looks so shiny..george also very friendly..staff very professional.. I'll give 5 stars for that!..
10. CARs International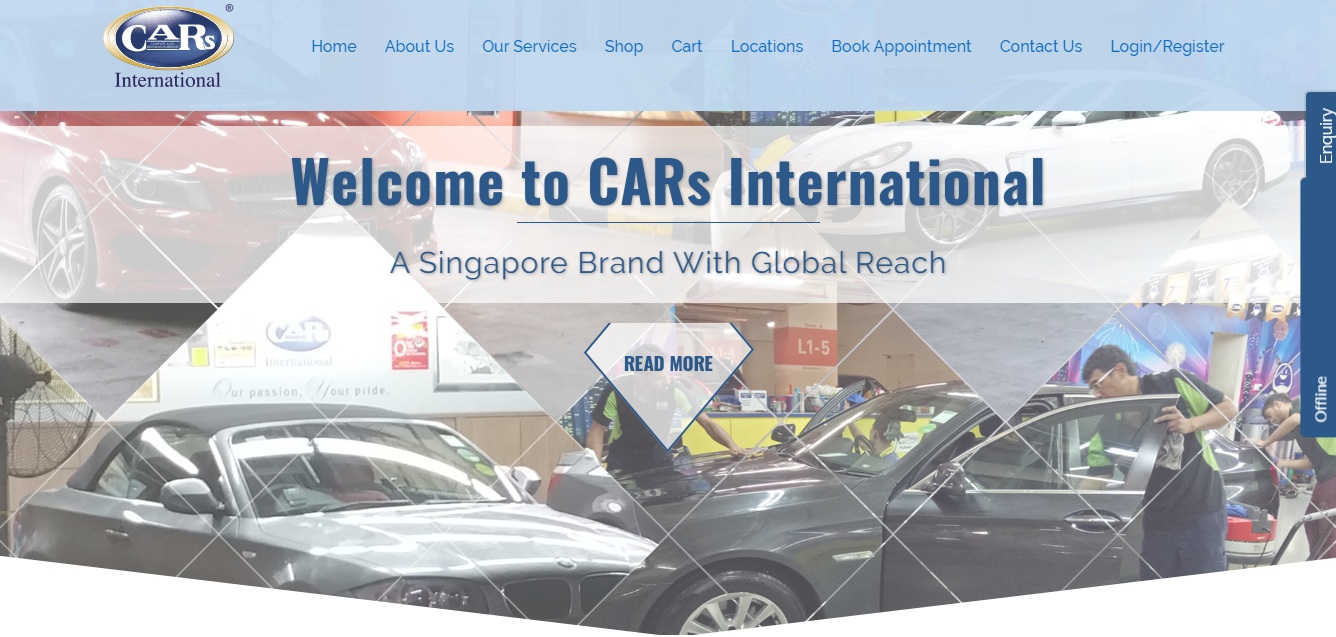 BEST FOR

Complete Car Restoration

SERVICES

Services

WEBSITE

http://www.carsbeauty.com.sg/

ADDRESS

514 Bishan Street 13, level 2 deck 1 (Above bus interchange, Singapore 570514

CONTACT DETAILS

Tel: +65 6846 0663

Fax: +65 6846 0603

Email: [email protected]

OPERATING HOURS

10:30 am to 7:30 pm, daily
When it comes to car beauty care, CARs International is one of the leading companies in Singapore. This company is proud to offer a full spectrum of services–dubbed as their 60 Point Check System–for the complete restoration, preservation, and maintenance of both exterior and interior of your car.
Highlights
Honest pricing

Expert car detailers and dealers

Full car detailing for complete car restoration
Customer Reviews
CARs International is very well-known as one of the best car detailing shops in Singapore for its continuous ability to deliver top-tier and premium service packages for car owners of all budgets. Expect a lasting car beauty after you tried their services.
11. EnGloz
BEST FOR

Premium Ceramic Coating

WEBSITE

https://www.engloz.com/

ADDRESS

Proxima @ Gambas, 50 Gambas Crescent #04-18

Singapore 757022

CONTACT DETAILS

[email protected]

9181 1938

OPERATING HOURS

Sunday

10:00 AM – 8:00 PM

Monday

12:00 AM – 8:00 PM

Tuesday

Closed

Wednesday

12:00 PM – 8:00 PM

Thursday

12:00 AM – 8:00 PM

Friday

12:00 AM – 10:00 PM

Saturday

12:00 AM – 10:00 PM
Highlights
Full Detailing Services Available

Expert team with professional grooming certification

H9 Car Ceramic Coating available for premium coating
Customer Reviews
Team EnGloz continues to charm Singapore car and motorcycle owners with an efficient way of handling each vehicle with ease and professionalism. Many reviewers praise their attention to detail and their work attitude:
"Positive: Professionalism, Quality
Collected my Ninja 400 a few days ago and after changing my exhaust pipe, the only other thing that was of immediate urgency was coating of my bike. Went to EnGloz through a friend's recommendation and I'm very amazed at the amount of workmanship on my vehicle. The team at EnGloz really values their work and puts in tremendous attention to details, be it washing or coating of my bike. Seems like I'll be visiting more in the future to let them wash my bike!"
12. Precision Wrap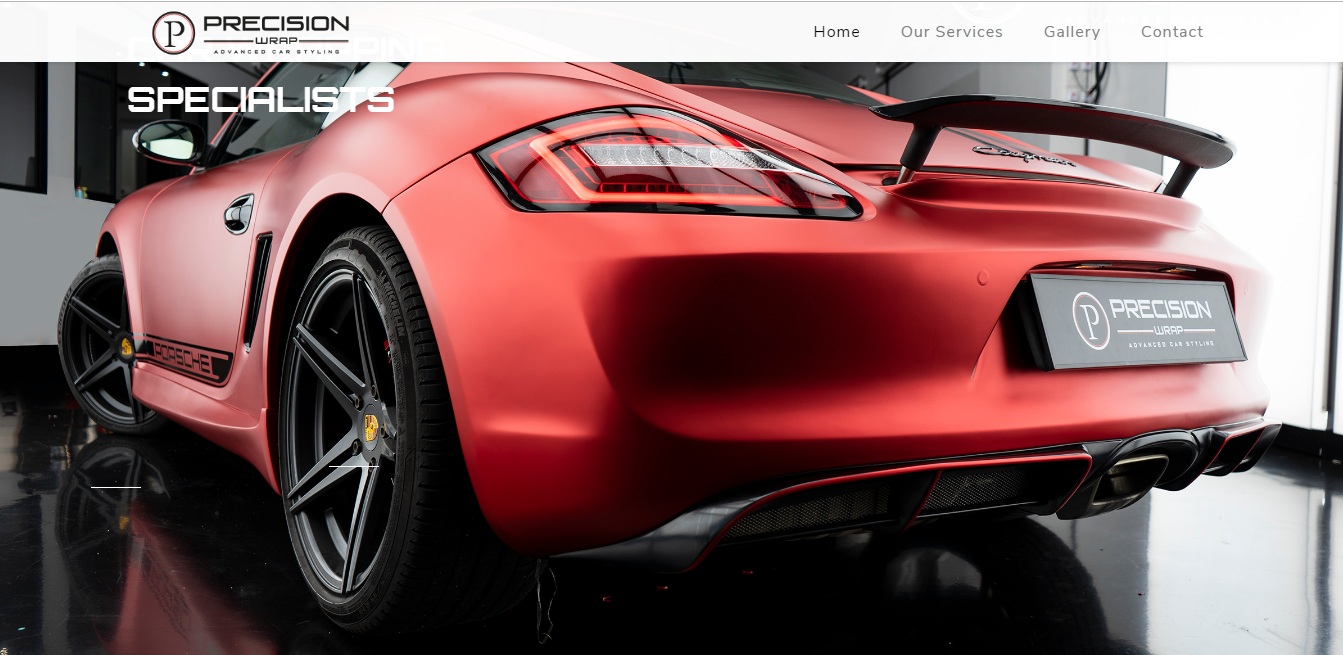 BEST FOR

Premium car wrapping

WEBSITE

https://precisionwrap.com.sg/

ADDRESS

68 Kaki Bukit Ave 6 # 01-03 ARK @ KB Singapore 417896

CONTACT DETAILS
+6596907777 | [email protected]
OPERATING HOURS

Monday to Friday:10:00am – 7:00pm

Saturday :10:00am – 3:00pm

Sunday :Closed
Want to make your car look cooler than it already is? Bring it to Precision Wrap and they will take care of that bad boy design wise. Their premium car wrapping service is truly a must-have for those who want to change their car's coating from basic to premium, and from standard color to specialty ones.
If you want to take it to the next level and have some customized prints all over your car, you can also avail their graphic design service.
With their 10 years of experience in car detailing in Singapore, surely Precision Wrap will bring the most out of your car.
Highlights
High quality vinyl wraps

Experienced and competent staff
13. MintGroom Car Detailing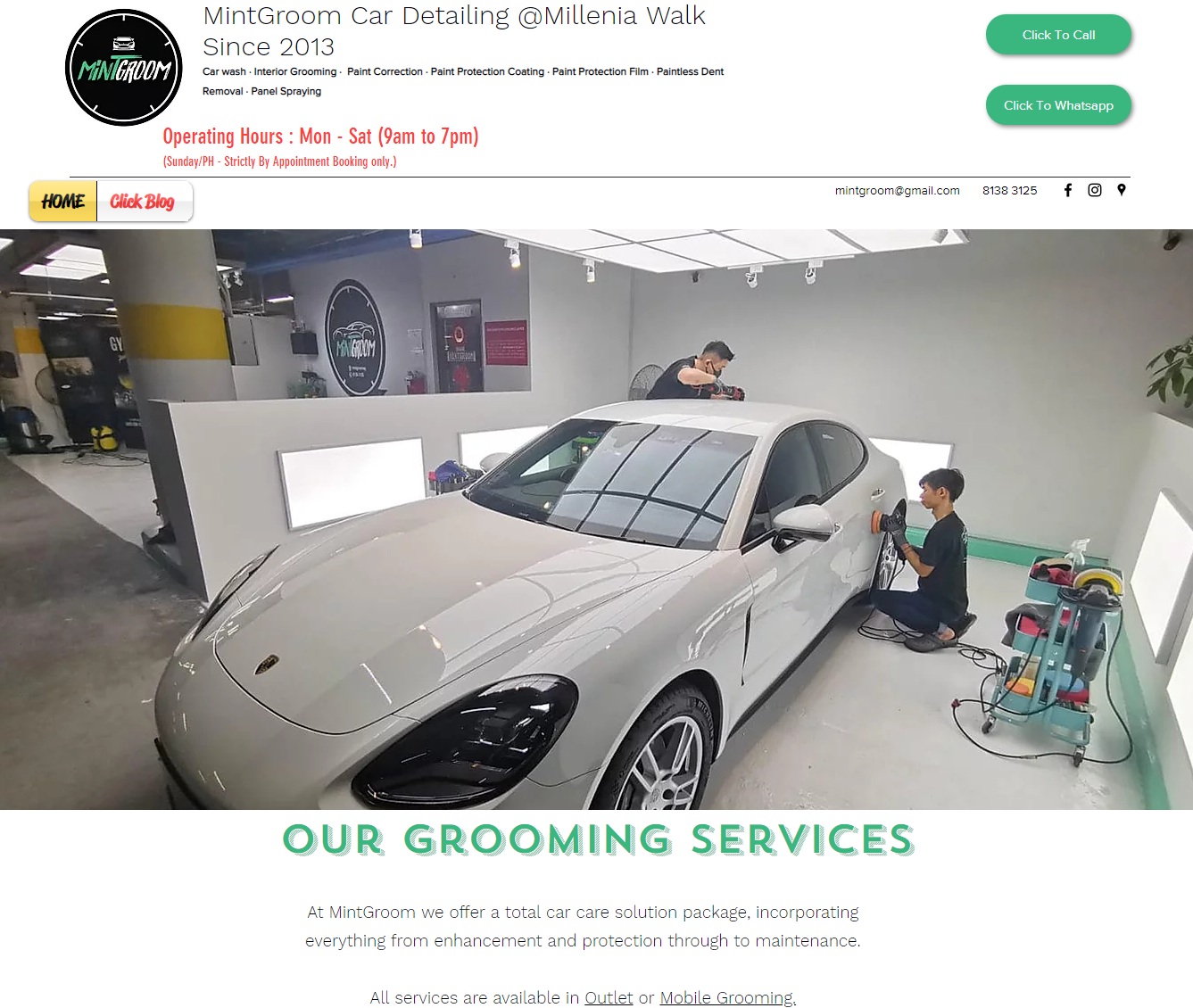 BEST FOR

Full Body Restoration/Full Range of Paint Protection Coat/Film

WEBSITE

http://www.mintgroomsg.com/

ADDRESS

Millenia Walk Carpark Basement 1 (Yellow Zone). S039596

CONTACT DETAILS

+65 81383125 |

[email protected]

OPERATING HOURS

Weekdays – 9am to 7pm

Sat – 9am to 5pm

Sun – Closed
MintGroom Car Detailing offers a total car care solution package from enhancement to maintenance so you won't have to jump from one shop to another just to achieve the desired look for your car.
They offer services such as Car wash, Interior Grooming, Paint Correction, Paint Protection, Coating, Paint Protection Film, Paintless Dent Removal, and Panel Spraying. Since 2013, they have been handling different car makes and models so safe to say that they truly are an expert in car detailing.
MintGroom makes sure to deliver an honest and transparent service so their clients are carefully walked through all the process by their in-house experts.
MintGroom Singapore is definitely one of the most trusted car detailing shops in Singapore and we can easily see why.
Highlights
All services are available in Outlet or Mobile Grooming

Uses high quality and special kind shampoo for car wash

Certified GYEON Detailer
Customer Reviews
Here's what one of their clients had posted on Google Reviews.
"Special thanks to friendly Calvin & his team for detailing and wrapping paint protection film over my whole car. It looks superb amazing with the hydrophobic effects.
Price is reasonable too. Definitely introduce my families and friends to MintGroom for their car protection."
14. EA Detailer
BEST FOR
Self-Disinfecting Coating / Spray Painting / Paint Protection
WEBSITE
https://www.eadetailer.com/
ADDRESS
130 Dunearn Rd, Singapore 309436
CONTACT DETAILS
+ 65 6917 8396 /

[email protected]

OPERATING HOURS
Tuesday – Sunday: 09.30 AM- 07.00 PM (Excluding Public Holidays)
EA Detailer is a regional brand in car detailing in Singapore that offer services from interior sanitization to paint protection to spray painting. They are in technical partnership with Sonax Gmbh and Glasurit, as well as their own facilities for spray painting
Customer satisfaction remains their top priority, even after all their years in the industry. You can rest assured that they will handle any detailing job with ease and skill. Their impressive list of clienteles, which include the Royal Family around the regions will offer you an additional layer of assurance towards their commitment to excellence.
Highlights
Top-notch products and services
One-Stop Solution for Refinishing
Customer Reviews
Here are some reviews left by satisfied clients:
"Great service and quality detailing by EA Detailer, as always. My ride looks as good as new, and Bruce was a delight to communicate with. Always my trusted choice for auto-detailing for my rides." -Rayner Lee
"Excellent service. Did try to offer other packages but was never pushy at all.
Car looked like showroom quality upon collection, with zero dirt and shiny leather. Very impressed
Also, yes. They killed all the roaches. Good job EA Detailer!" -Alphonsus Liang
15.

Revol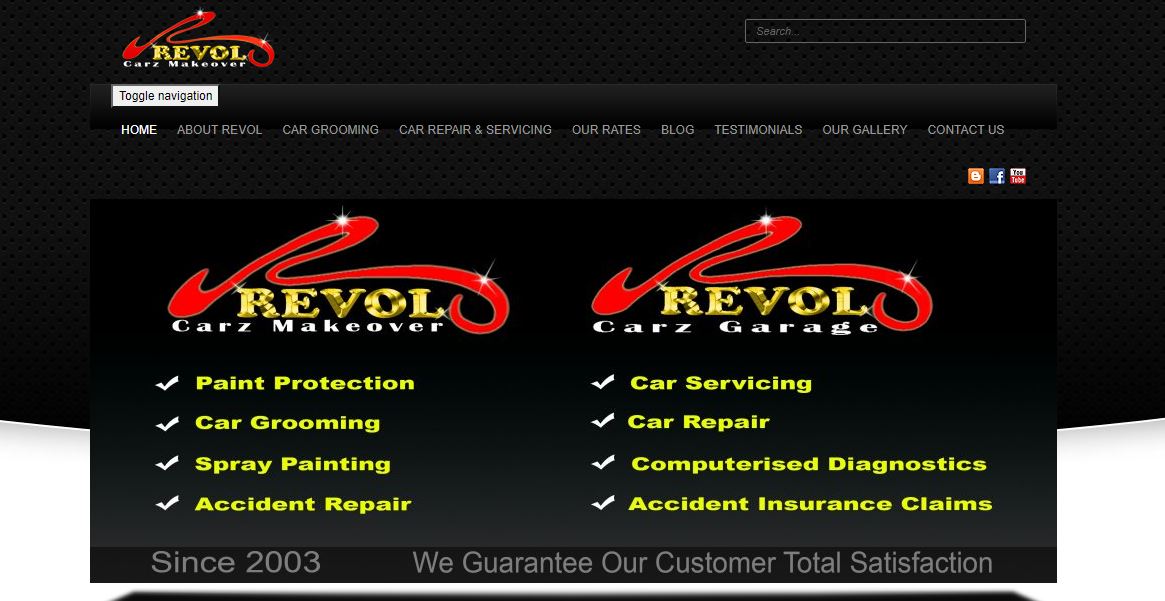 | | |
| --- | --- |
| BEST FOR | Full body restoration |
| PRICING | Rates |
| WEBSITE | https://www.revol.com.sg/ |
| ADDRESS | 10 Ang Mo Kio Industrial Park 2A #01-12 AMK Autopoint Singapore 568047 |
| CONTACT DETAILS | 6555 1181 |
| OPERATING HOURS | Monday to Sunday: 8:30am to 6:30pm |
Revol is known as a one-stop service centre that offers both detailing and repair services. They use competent coating quality and advanced repair technology to ensure a high-quality service.
They take pride in their remarkable paint protections that are categorised into titanium, ceramic, and glass. They also do intensive grooming on both the interior and exterior surfaces of the car.
Window glass, exhaust pipe, and wheel polishing are also a part of their services. Spray painting also plays a vital role in their amazing full body restoration work.
Highlights
Wide range of polishing services
Spray painting
Accident repair and claims
Customer Reviews
Revol has gained plenty of positive feedback from the customers. They mentioned the responsive staff, excellent work, and fair prices.
A customer from Google Reviews wrote:
"I had 2 scratched side panels resprayed at Toh Guan branch. The price is reasonable and the service was very fast – I received the car the next day. Alan and his team, as well as customer service officer Grace are all very attentive and polite. They even made a follow-up call the next day to ensure the car is in good condition. Very happy with their service and will definitely recommend them to others."
16. Wrapstyle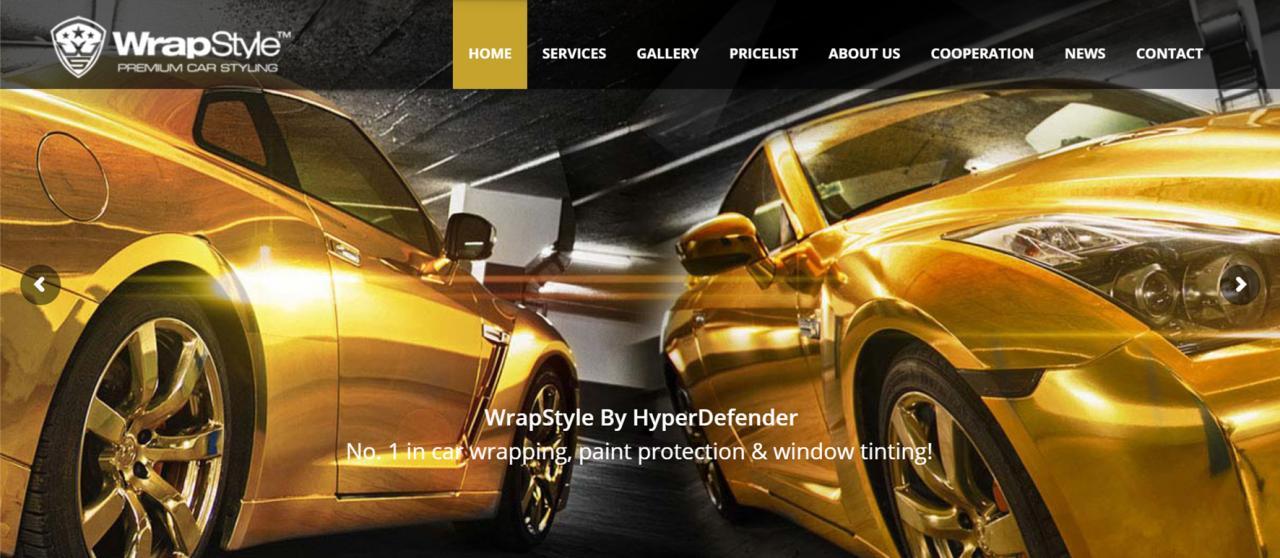 BEST FOR
Car Wrapping and Paint Protection
WEBSITE
http://www.wrapstyle.com.sg/
ADDRESS
24 Leng Kee Road, #04-03 B, Singapore 159096
913 Bukit Timah Rd, #02-02, Singapore 589623
CONTACT DETAILS
OPERATING HOURS
Mon-Sat from 0900 – 1800
Leave your car with Wrapstyle for a few hours or days, and come back with your ride looking better than ever! As car enthusiasts, the team in Wrapstyle ensures to put out the best quality of work for each vehicle that drives into their shop.
They can wrap your baby in premium wrap foils, or coat it with paint protection. They can even create a design that would surely make you pop out. Whatever you need, refurbishing, detailing, whatsoever, Wrapstyle can accommodate.
Contact them now or simply look more into their site for extra details.
Highlights
Regular maintenance
Graphic design
High quality ceramic coating
Customer Reviews
Wrapstyle has received an average of almost a perfect rating from all their previous clients. Their overall service is said to be top notch, proving to be worth the hype and the moeny, Check out these claims left on their google review:
"Excellent service. Follow up for touch-up was also easy to arrange and the overall quality of finish is top notch. Will definitely recommend to anyone who wants to get their car wrapped."
"staff was professional in handling the job. provided good recommendations and advice. quality materials used and customer orientated. highly recommended for owners who wants to do something for their ride."
Maintaining the cleanliness and visuals of your car can be too expensive, so it's a great help to have our list of the best car detailing in Singapore. This will give you more efficient and affordable options to choose from!
Do you already have a preferred car service shop in mind? Let us know all about it and why you chose to inquire with them.
For more options, here are some of the shops that provide the best car grooming in Singapore! They offer all-around services that'll bring you smart solutions for your car issues.