16 Options for the Best Pest Control in Singapore
Having problems with destructive foreign creatures in your home? If that's the case, then you definitely need the best pest control in Singapore to ease your worries!
Luckily, that's what you'll find here because we've rounded up the best pest control companies in the country. We also have a list of FAQs right before the end of the article so you can make the best decisions for your pest control services.
But first, we'll help if you're struggling to determine which pests you may have at home.
How to Choose Pest Control Services
The next thing you need to learn about before checking out our top-tier list is how to choose which pest control provider is the best for you.
First, you have to consider their scope of expertise because not every pest control company can cater to your needs. Make sure they have the right equipment, expertise, and experience in dealing with whatever pests are in your home.
The next thing you should check out is what kinds of substances the company is using. You should hire someone with toxin-free and fragrance-free pest control chemicals to keep your family, especially young children, safe.
Third of all is a company's safety nets because you need to find someone with insurance and warranty. Insurance ensures the company is accountable for possible damage or injuries on the job while the warranty ensures the quality of the pest control job.
Customer service is also important because it tells you how the company will treat you and your home. You can check out customer reviews and testimonials to get a feel of the company's customer services.
Lastly, you should check out the company's prices, from the cost of treatment to additional fees. If you still don't know how much pest control should cost, check out our next section to learn more.
The Best Pest Control Services in Singapore
We hope you're now ready to choose an exterminator because it's time to share our top picks of pest control companies! Of course, we've only listed those with NEA licences and sustainable products and practices for your convenience.
1. Pest Control Compared
This first entry doesn't exactly provide pest treatments. Instead, Pest Control Compared helps clients from all over the world connect with pest control companies near them.
So why did we include it? Because it works so well! It's an excellent way to find the best part control companies in your area, in our experience.
Pest Control Compared covers many types of services, including pest treatments, fumigation, corrective soil treatment, and disinfection services.
All that you need to do is to input your name, email, and postal code. Then, Pest Control Compared will send you quotations from numerous pest control companies, so you can compare them in real-time.
This company also guarantees that its partner companies will visit each client and conduct free inspections. Pest Control Compared also guarantees that its partner companies use only the latest techniques and non-toxic substances.
2. Singapore Pest Control Service
Singapore Pest Control Service offers its services to exterminate whatever pests there may be. It can handle insects, bugs, and even rodents for homes, offices, and even bigger institutions like schools.
This company also guarantees only the best and most effective treatments because most of its exterminators have more than a decade of experience.
One of the best things about Singapore Pest Control Service is that it is available 24/7. So, clients can call this company and ask them to capture unwanted critters even in the middle of the night.
3. PestOff
Pest Off may just offer the best pest control in Singapore for the food and beverage industries. It prides itself on its extensive research efforts, a wide range of technologies, and premium-grade chemicals.
With these services, Pest Off can provide customised pest treatments for residential and industrial spaces. It also caters to some of the biggest names in Singapore's food and beverage manufacturing industry.
What sets this company apart is its impressive follow-up services. After treatment, Pest Off's staff will conduct site visits and take proper documentation to ensure properties remain pest-free and their clients satisfied.
Additionally, Pest Off also delivers high-quality mould removal and decontamination services. This way, clients can enjoy an all-around clean and sanitary living space.
Customer Reviews
Here are just some of the company's reviews from commercial and residential clients:
"I approached Pest Off to install bird spikes to solve birds issue for my condo unit, the consultant Jocelyn was very professional and helpful, the technician was also quite patient and careful. I'm very satisfied with the final result."—Ji Feng
"Having well-trained and experienced staff, they offer uncompromising attention to details and took the burden of pest management from me. They freed up my time to concentrate on my business, thumbs up for this fantastic company's Pest Services."—Ms Lily
4. The Pest Control Company
The Pest Control Company is a Wicleansoon unit that, as the name suggests, endeavours to rid clients' properties of unwelcomed crawly guests.
Their specialised services address a wide array of pests, which includes termites, rodents, bees and wasps, ants, roaches, as well as mosquitoes. Depending on what's present on the premises, The Pest Control Company adjusts their solutions to fix the problem.
Once treatment has been applied, The Pest Control Company also coordinates with the clients for monitoring, on the off-chance that the pests do come back. Not only that, but they also perform preventive measures to lower the chances of pests returning.
Unfortunately, the properties they can currently fumigate are limited to food establishments, and residential and commercial areas.
Still, The Pest Control Company's thoroughness with the pest control job makes them one of the best options in Singapore.
Customer Reviews
Customers also agree that the Pest Control Company provides some of the most comprehensive services in town, just like these reviews will tell you:
"Very pleasant with their service rendered as well as the quality of work done. House was assessed thoroughly before the commencement of treatment.."
"Interaction was efficient and accommodating. Service was exceptional and very thorough. Overall very satisfied with the service they provided! 👍🏻"
5. PESTBUSTERS
Pest Busters uses innovative technologies to cater to residential and commercial clients alike. It utilizes light traps, rodent cameras, pesticide-free termite treatments, and sensor-equipped cages for stand-alone pest management.
Of course, it also offers pest control services such as fumigation, mosquito control, and termite management. This company also has a command centre that can answer customer's calls anytime.
Additionally, it also has a GPS tracking system so it can deploy the mobile team closest to the calling client's location. Each staff member also wears body cameras to deliver fully transparent and accountable pest control.
With these technologies, Pest Busters provides some of the most prompt pest control services in the country. Pest Busters has also won numerous awards from various organizations, thanks to its quality of services.
Customer Reviews
Customers also agree that Pest Busters provides some of the most prompt services in town, just like these reviews will tell you:
"I had sent pest busters an inquiry about ants through their website 'contact us'. They got back to me within 24 hours with all sorts of questions about where, how many, flooring and what I'd used to treat the area so far. They in turn sent pictures of possible ant type. Overall I was on WhatsApp with Sally for about half an hour as she patiently ascertained the situation and answered my questions too. But what's particularly good about this company is that this first consultation is free! I really appreciated the time and expertise on a Sunday night."—Eileen McGowne
"I appreciate the time spent to explain and advise on the problems I faced at home with the home pests. Sally is patience, professional and dedicated in her service to customer. Highly recommend others whom wishes to find a trustworthy company to help them with their pest problems."—Tracy T
6. IKARI
Ikari is the pioneer of integrated pest management (IPM), a pest control service that ensures human-safe and environmentally-safe procedures.
It can handle any type of pest, from small pests like termites and mosquitoes to larger ones like lizards and rodents. Through its IPM process, Ikari also conducts thorough planning and regular inspections.
Aside from its wide area of expertise, Ikari also takes pride in having a board-certified entomologist and in-house research and development team. With these features, it aligns its client's pest control treatments with the latest technologies and products.
To add to their already high-quality services, IKARI also does disinfection and sanitation services. Thus, its clients can book a complete day for this company to remove all types of foreign living organisms like fungi, pests, and viruses.
Customer Reviews
Ikari has received many positive ratings, focusing on its excellent pre-treatment and post-treatment briefing and instructions. Read these to know more things that customers like about Ikari:
"The ease of communication over Whatsapp to schedule appointments and share monitoring information has enabled a rapid response to my pest problem. Thank you Angela! IKARI's expert and well equipped technician for my area is very professional, honest, and friendly. After very thorough inspections inside and outside my apartment, laying of indoor monitoring traps, queries with condo cleaning staff, combined with knowledge sharing, he has helped to uncover and immediately address the root causes of the pest problems on my floor – which are actually related to each other! Thank you Taufiq!"—Sheng Yang Tan
"Ikari offer contracted services to my work place with competitive price . All employees I have dealt with have always been helpful, friendly and professional. Any pest call outs have been addressed promptly with full investigation. Recommended !"—Desmond Teo
7. ORIGIN EXTERMINATORS
Origin is yet another international pest control company. The company can handle ants, bed bugs, cockroaches, flies, mosquitoes, rodents, and termites.
And if clients need more to make their offices or houses clean, Origin can also do disinfection services for a complete package. It has been the first pest control company awarded with the ISO 4001 EMS Certification for its environmental substance and practices.
This company even goes beyond because it has biologists, entomologists, and environmental experts as part of its team. With this deep expertise, Origin can provide the best pest control in Singapore backed by science.
Additionally, Origin also delivers its prompt and effective services at affordable rates and with a 1-year warranty. This along with all its other features ensure high levels of customer satisfaction.
Customer Reviews
Some of the most commendable aspects of their services are excellent communication, transparency, and professionalism. Here are the reviews that say so:
"I find the service staff very responsible, responsive and professional. Of the years they have provided us with their service, I have not had any complaints from our tenants. Pictures of their every visit to the property were sent to landlord and tenant. I feel very reassured by their service when dengue mosquitoes are so prevalent in parts of Singapore."—Angela Wong
"The staff are all well trained. The company has been very responsive whenever there are pest infestations and they are thorough in their inspections. Origin Exterminators is very reliable and trustworthy."—Edwin Low
8. INNOVATIVE PEST MANAGEMENT
If you're looking for another company that can cater to commercial and industrial clients, Innovative Pest Management may be a good fit for you. This relatively small company has seven mobiles with reliable staff members on the go for prompt services.
Innovative's name really derives itself from the fact that this company uses the latest technologies, sometimes even using robotic and environmental substances and methods.
The company can help with ants, bed bugs, cockroaches, mosquitoes, flies and rodents. Innovative also has a speciality with termites as it can do anything from management and prevention to termite eradication.
With this versatility and its customisable treatments, Innovative can cater to offices, warehouses, schools, and even child care centres. Because of these services, Innovative has also received awards and become the go-to company of famous brands.
Customer Reviews
The company received much of its praises from its industrial and commercial clients, including these reviews:
"Such dedicated and professional team. Really appreciate their prompt responses in all my questions. They are also very thorough in their processes. Well done!"—Jeanette Chong, Executive at National Kidney Foundation Singapore
"I've been with Innovative Pest Management for the past year since my cafe opened. Services have been very prompt. Technicians were attentive in the monthly routine inspection. They ensured my premises were in tip top condition before the NEA inspection and since then, pest control has been very effective. Will certainly continue with their service :)"—Raymond Ding
9. ECO SENSE
As its name suggests, Eco Sense is an environmental pest control service. It doesn't just support the environment by using safe products because it also uses technologies that use less energy and produce less pollutive gases.
The company's pest control services go beyond the usual laying of traps and spraying of chemicals. Eco Sense also fortifies and seals all possible pest entry points.
Another great thing about this company is that it delivers its services at the right time and at affordable prices. To add to all the great things, Eco Sense also guarantees consistent and high-quality services for all types of setting.
Additionally, Eco Sense also has other ways to keep homes clean. Thus, homeowners can hire this company for mould removal, anti-mould painting, decontamination, mattress, and upholstery cleaning.
Customer Reviews
Customers appreciate the transparent pricing and responsiveness that Eco Sense consistently provides. If you need more details on this, read these reviews below:
"Eden was patient to answer all my questions and reply my emails promptly. Their prices were reasonable for mould removable & pest control. James was friendly and he explained to my father. Since i was not there, he updated me n my husband throughout the whole process step by step via whatsapp. There was a hiccup with the electrical n water issue at our new place but James managed to sort it out quickly."—Farahliza Zulkifli
"On the whole, they are very detailed in explaining to me the infestation of bug and what it is, as compared to 3 other pest controllers (name should not be name) that I consulted and had site survey with, could not give me a solution and name the bugs. Ecosense gladly advise and educate on the mites called psocids aka mold mites."—Blake Cara
10. NBW PEST CONTROL
NBW Pest Control offers its services to all types of establishments, from small houses to large condominiums and food factories. Its treatments are for ants, bugs, roaches, wasps, and flies.
What sets NBW apart is that its experts are also skilled and equipped enough to handle infestations of snakes and other exotic pests. These infestations may be rare but it is still better to know these things, especially during emergencies.
Another great thing about NBW is its 24-hour services and quick response message box which clients can access online.
As an assurance to customer guarantee, this pest control service also provides prompt and affordable services.
Customer Reviews
Customer reviews were short but still substantial, nonetheless. Here are such reviews to tell you how customers feel about NBW's services:
"Engaged nbw for a cockroach infestation ongoing at the basement. Now it looks pretty good. Fast and good rates as well."—Valerie Seow
"Very professional service and useful advice from the team. Thanks a lot!"—Alaryce Teen
11. Protect Pest Control
Protect Pest Control is yet another company providing the best pest control in Singapore for residential and commercial spaces. Its main focus is on bed bugs but it can also exterminate ants, roaches, bugs, mosquitoes, and rodents.
For its bed bug treatments, Protect Pest Control uses non-toxic pesticides as a spray to walls, ceilings, beds, mattresses, and even furniture items.
It also has a 7-day guarantee after two of its pest control services. So, if clients are unsatisfied after this period, Protect Pest Control will do re-treatments with no additional costs.
Its prices are also available on its site so clients can budget how much they need for yearly pest control services. So, if you're thinking of hiring them, just make sure you're ready to partner with them only once or for the long run.
Customer Reviews
Protect Pest Control has perfect 5-star ratings thanks to its friendly and efficient services and affordable prices. Read these reviews to know more about what customers have been saying about Protect:
"Good service… they explain and inspect properly and show u the infected areas… good and cheap service.. 2 thumbs up!!!?? Will definitely recommend to others"—Fai Senshi
"Marvellous Team!! Team is dynamic. A professional, friendly and easy to speak with on my areas of concerns!! We have ants in our new apartment, despite alternative pesticides but all failed!! Called Protect Pest Control, was beyond words- now ZERO ants seen!! Thank you Protect Pest Control!! Highly recommended :)"—Hezlin Adenan
12. Greencare
Greencare is yet another environmentally-friendly pest control service catering to commercial, industrial, and residential buildings.
The best thing about Greencare is that it can customise its pest control services to cater to all types of industries. Whether for education, government, pharmaceutical, health services, and food and manufacturing, Greencare can take care of it.
Its pest control services come in a 6-point process so clients can pinpoint which stages they'd like to focus on more. The detailed process includes inspection, fortification of possible entry points, real-time pest monitoring, regular check-ups, and detailed reports.
Aside from its detailed prices, Greencare also prides itself on its affordable prices, with treatments starting as low as $80.
Customer Reviews
If you need more info to make your decision about Greencare, these customer reviews can help you out:
"Affordable, efficient and effective pest control service in Singapore! Thank you guys for helping us get rid of our long-time rodent issue!!!!!"—Bertha Ong
"Greencare pest control Singapore did a very thorough inspection and pest control + disinfection service at my commercial premise plus several of my company's F&B outlets. on the regular maintenance plan as well. Affordable cheap price. Now no more cockroach, ants, mosquito, termites & other pests. Good job highly recommend."—Jack T
13. PENTA PEST
With over 20 years of experience, Penta Pest provides pest control services to homes, warehouses, and even restaurants. It's one of the well-known companies for termite control but it also offers treatments for ants, bed bugs, cockroaches, flies, and rodents.
Penta Pest is also available 24 hours a day so Singaporeans can ask for its help any time. Whatever the time or weather, its staff will come to rescue you and your house or establishment.
Aside from services, Penta Pest also provides a free online resource on how to prevent pests. With its excellent features, Penta Pest has even received the national SME 500 award for two consecutive years.
This company also makes payment easy because it has bank partners to cater to mobile and cashless payments.
Customer Reviews
Customers describe Penta Pest's services as prompt and methodical. Here are some reviews to tell you more:
"Penta Pest has very effective solutions on pest issues. I booked one for company apartment, they arrived within 3 hrs and get the job done effectively. After 13 days, no sign of recurrence."—Corrine Oh
"Sulaiman was amazing. Came on short notice for me, especially when I had returned from a long time of not being in my flat. Added baits, flushed completely and was very reassuring. Came back a few days after to add in more protection and better control. He was amazing, will definitely use regularly to flush out my flat.—Nik Dama
14. Pest Clinic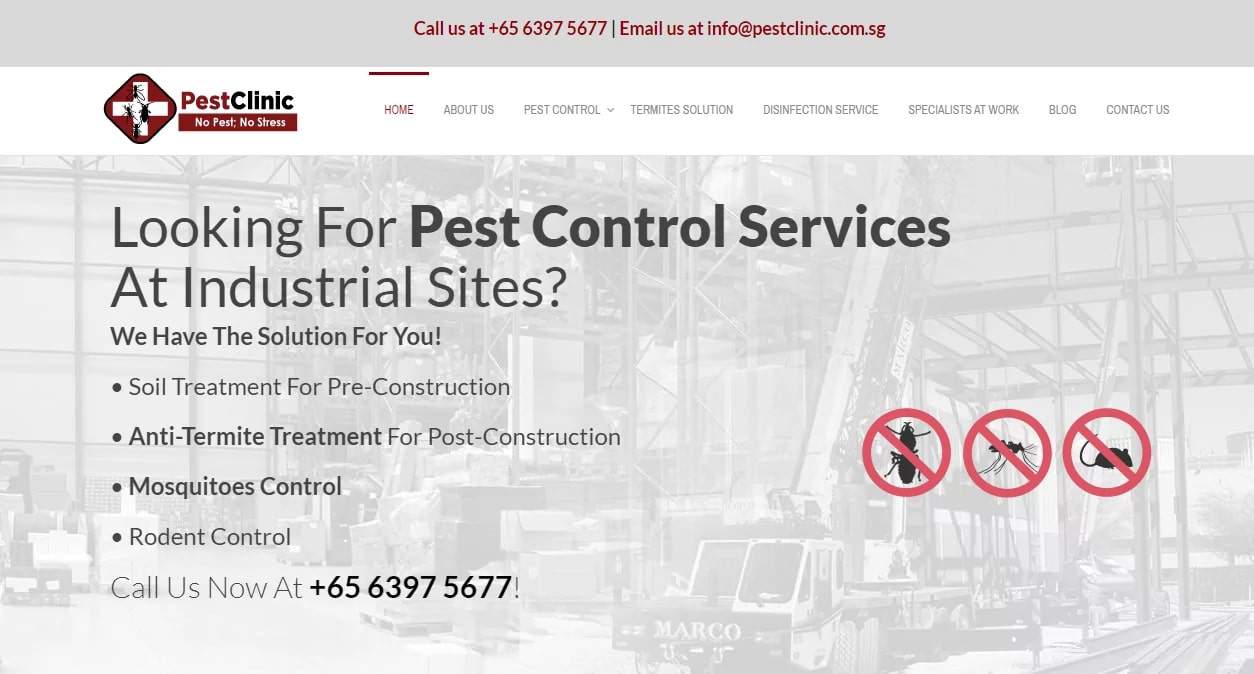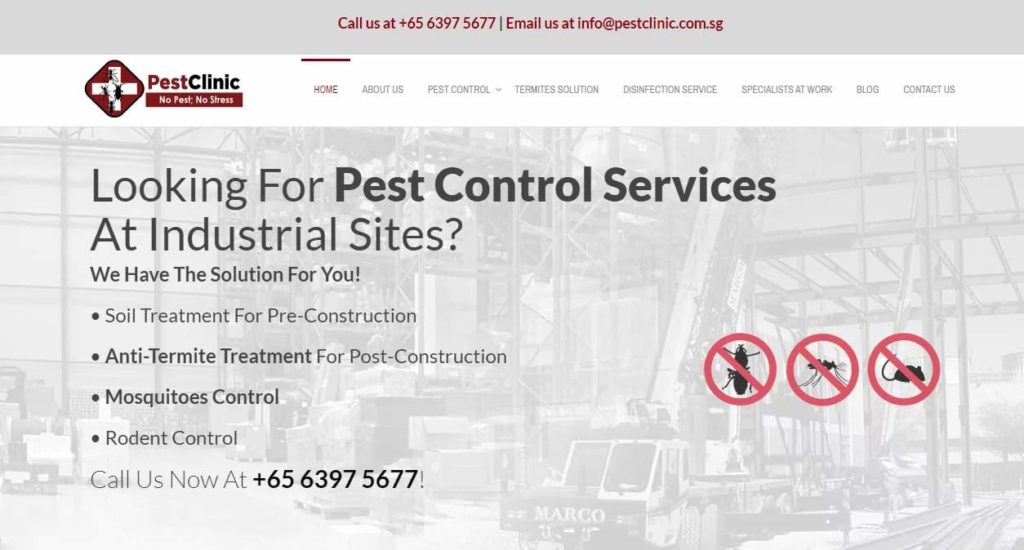 Pest Clinic provides the best pest control in the country using two steps: eliminating the source and reducing the population. For termites alone, it already has numerous treatments like baiting, spot cleaning, and soil treatment that can have up to 5 years of warranty.
It uses fumigation, fogging, spraying, and spot cleaning to exterminate any type of pest. What makes Pest Clinic unique is that it combines the best of traditional methods and the latest technologies.
With these tactics, Pest Clinic also guarantees that its treatments will be long lasting. Aside from taking out pests, this company also leaves houses and offices with not a trace of clutter.
This company's services also extend to disinfection services using non-irritant, non-corrosive, and non-toxic chemicals. This way, it can maintain a space that's free of possible nesting sites for pests and illnesses.
Customer Reviews
Read these reviews from customers who claimed they received the best pest control in the country from Pest Clinic:
"Used Pest Clinic for Termite Bating Control service. Termites in my house are all effectively gone! Impressive monitoring process.Overall a comforting experience with all the people i dealt with in PestClinic. Will definitely recommend this treatment to all my friends facing the same problem."—
"Great service overall. Very responsive and accommodating to my landlord tailored requests. The technician, Pater Mathews, was very patient and detail oriented. Went through the whole apartment with careful inspection and Very detailed procedures. Plus, he has gone through all the potential safety issues with me in terms of what types of the chemicals they used. Strongly recommend."—Kinty Zhou
15. Termibug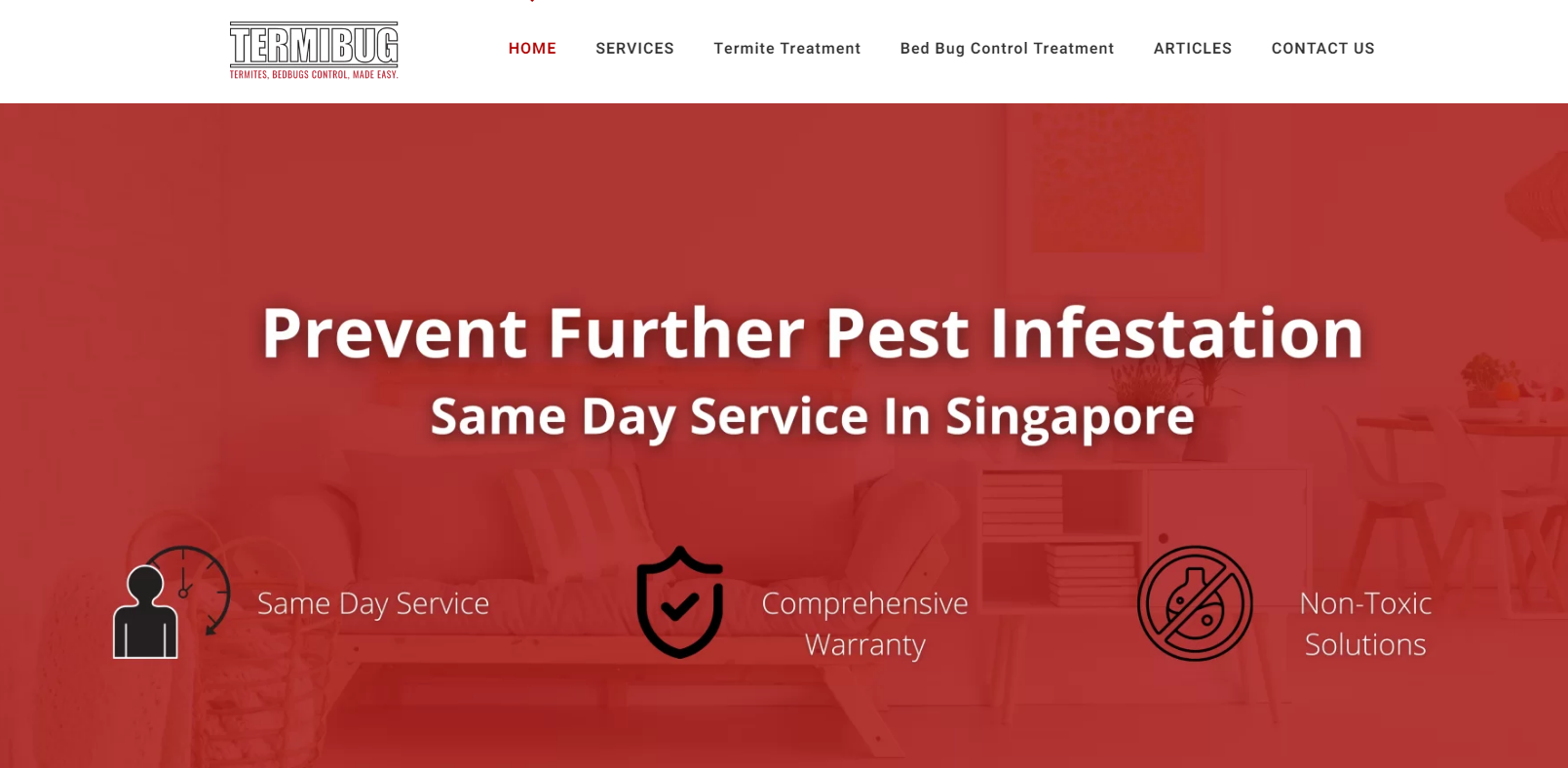 Termibug is a leading pest-control service company in Singapore, most known for their reasonably priced, eco-friendly solutions. Not only are they affordable, but also easily reached as well thanks to the 24-hour support hotline they have running.
While Termibug typically caters to residential locations, they have recently started accepting requests for commercial spaces as well. Their team does free consultations and makes a thorough sweep of the area, honing in on the problem spots, before applying targeted treatments to rid the property of pests.
On the off-chance that the pests do come back, Termibug will happily reapply the treatment for free provided that the area is still under their 90-day warranty. They also perform regular check-ins to ensure that no such thing happens, which helps forge strong relations with clients.
If you're looking for a reliable and affordable pest-control company in Singapore, do check out Termibug.
Customer Reviews
Read these reviews from customers who claimed they received the best pest control in the country from Termibug:
"Fast and responsive, very smooth communication flow from the office staff to have my appointment arranged. Technicians are knowledgeable and reliable, service was carried out in a very detail manner. Thank you very much."
"We had ants issue for quite sometime now, and been trying DIY products in NTUC to try eliminate the problem but to no avail. Took their yearly ant program it was a lot more affordable. we have no more ants in our home now. Their gel baiting and residual is spot on. Great job guys. 🤝"
"Engaged termibug for my parents home bedbugs issues. Highly recommend to all to use their service. Appreciate the prompt replies and service rendered. now my parents can sleep peacefully at ease."
16. Anticimex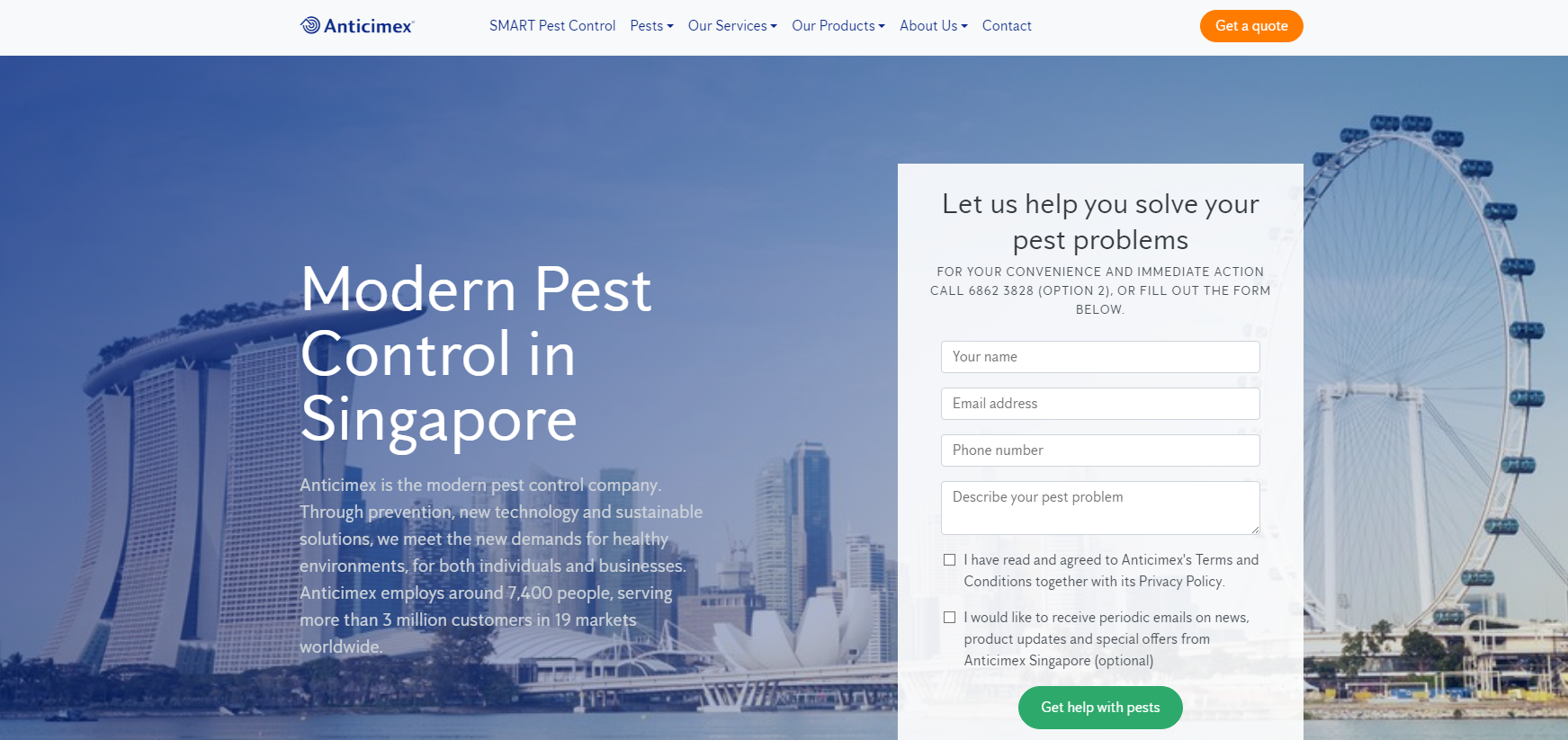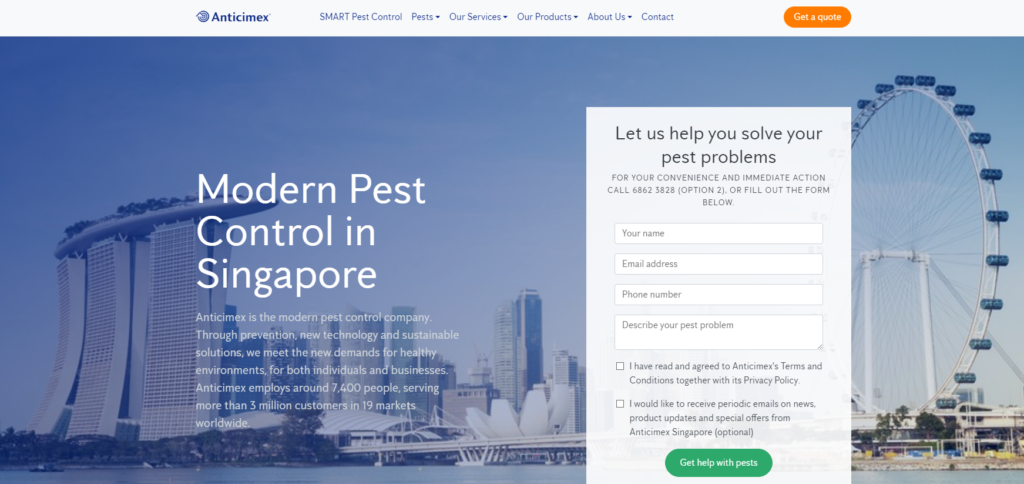 Anticimex is one of the longest standing pest control companies in the world, having been founded in Sweden in 1934. Currently, it has 150 branches with around 7,400 trusted experts serving 3 million customers in 19 countries worldwide.
One of the branches is in Singapore, which is also one of the largest professional pest control providers on the island.
Now, Anticimex is on this list for several reasons, one of which is the foundation of their services. Unlike the other selections on this list, Anticimex places greater focus on prevention rather than cure.
They make use of top of the line technology as well as non-toxic, sustainable solutions to ensure that no unwanted guests will step foot on your property. However, if you already have them, there's no need to fret since Anticimex can also address those issues using the latest technologies, too.
Another thing worth mentioning about Anticimex is the company's values, which are trust, innovation, and passion. The constantly strive to attain 100% customer satisfaction, which is why they go out of their way to do the job right the first time around.
Moreover, the company is very upfront with the costs, and spends a lot of time researching ways that would make their job more efficient and more successful long term.
Finally, they're passionate about helping their clients with pest control. If you're looking for a company that you can trust, then Anticimex may be the one for you.
Customer Reviews
Learn more about Anticimex through comments left by previous clients:
I have requested Anticimex to treat the whole house of potential bird/dust mite infestation. They had done a wonderful job by sending 2 seniors technicians to look into the problem when I complaint that I could not identify the bug issue. The whole conversation and transaction was pleasant. I found that they are knowledgeable and professional in their area of pest management. I will definitely engage them again for future and I highly recommend them to be the solution provider for your pest issue. –– Grace Ngan
By far the best of the best company that I seek their service. From calling in and their staff who came over, they are super nice, friendly and most important, they are concerned over your home situations. I checked all the prices among the leading pest management companies, Anticimex has the best prices and services included. And best of all, I am pleased super with their services they are super nice and professional. Thumbs up!!! And thank you for solving my house pest problem. –– Desmond Low
Frequently Asked Questions about Pest Control
---
And that's it for our list of the companies providing the best pest control in Singapore! So, go ahead and hire any of these service providers because they'll surely give you pest control services that are worth both your time and money.
Do you think we could add more to the list? If so, leave us a note so we can take a look at the pest control service providers we can possibly add to our roundup.
But remember, your house won't stay pest-free for long if it stays dirty and disorganized. Now, if you're too busy to also do your own tidying up, you can also check out our list of the top cleaning services in Singapore!