20 Options for the Best Pest Control in Singapore
Under siege by termites or getting deprived of groceries by rats? If so, it's time to call on pest control Singapore companies to rid you of the creepy-crawlies terrorising your home.
The top pest control Singapore services deal with everything from rats to booklice. To illustrate their capabilities, we've rounded up the island's top pest control companies for your consideration.
1. PestOff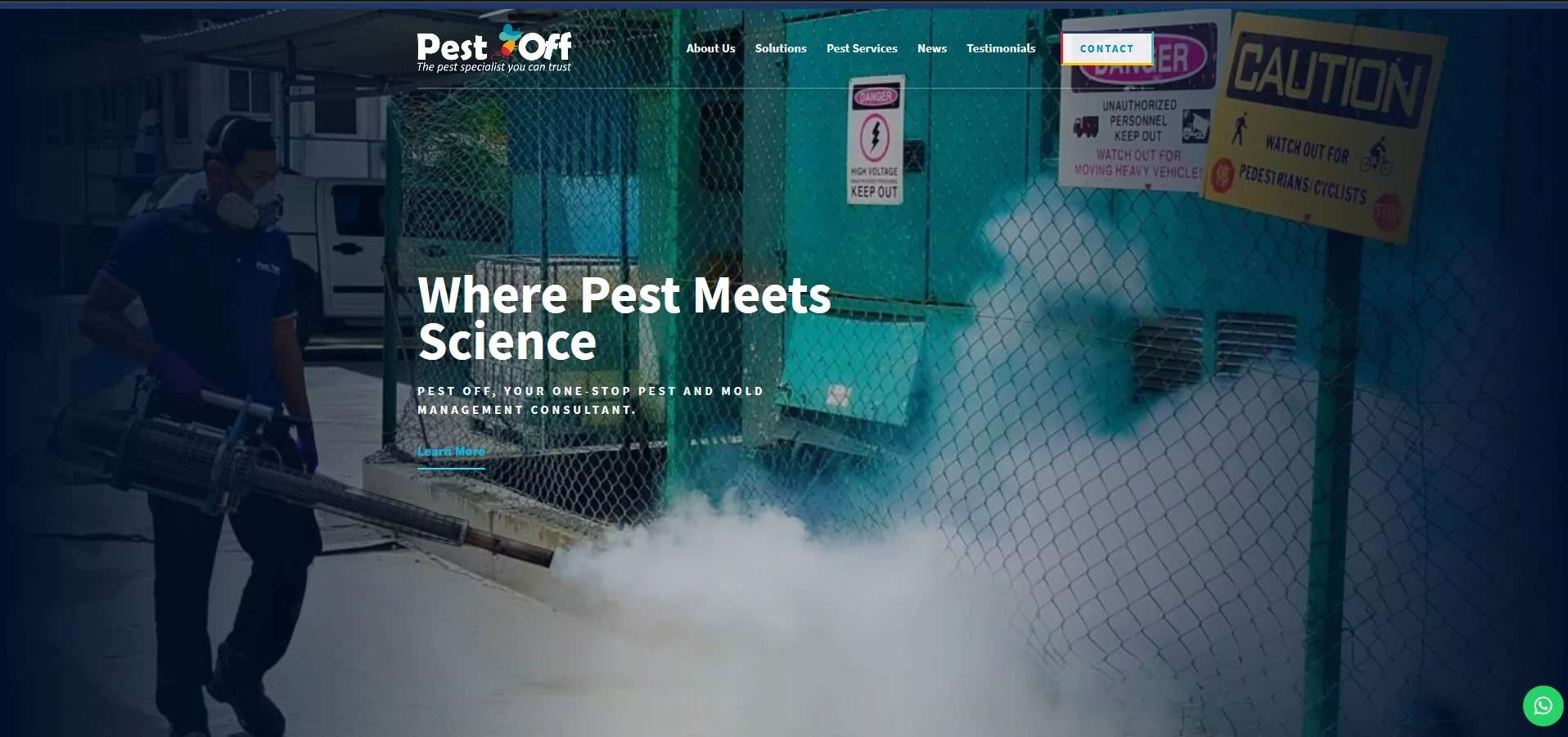 BEST FOR

Pest Control services

SCOPE OF SERVICES

Termites
Rodents
Cockroaches
Mosquitoes
Ants
Flies
Bed Bugs
Fleas and Mites
Molds & Fungus
Birds
Decontamination

PRICING

Depends on the Service

WEBSITE

https://pestoff.com.sg/


 

ADDRESS

25 Kaki Bukit Pl, Singapore 416203

CONTACT DETAILS

+65 6432 8276

OPERATING HOURS

Open 24 hours
If you need pest or rodent control in Singapore that offers quality services, then look no further. PestOff offers the best pest control solutions with utmost professionalism and dedication.
Their team is composed of professional technicians, trained to provide the best specialised solutions for your pest problems– may it be at home or any other space. They also make sure that they attend to your concerns on time. With them, you can have the pest-free property that you've always wanted.
You won't have to worry about mites and other pests that might damage your property anymore– all it takes is one call to PestOff.
Service Highlights
Quick relief from infestation
Safe and Government-registered chemicals
Highly skilled team
Accessability to professional methods
Specialised inspection
2. Ironman Pest Control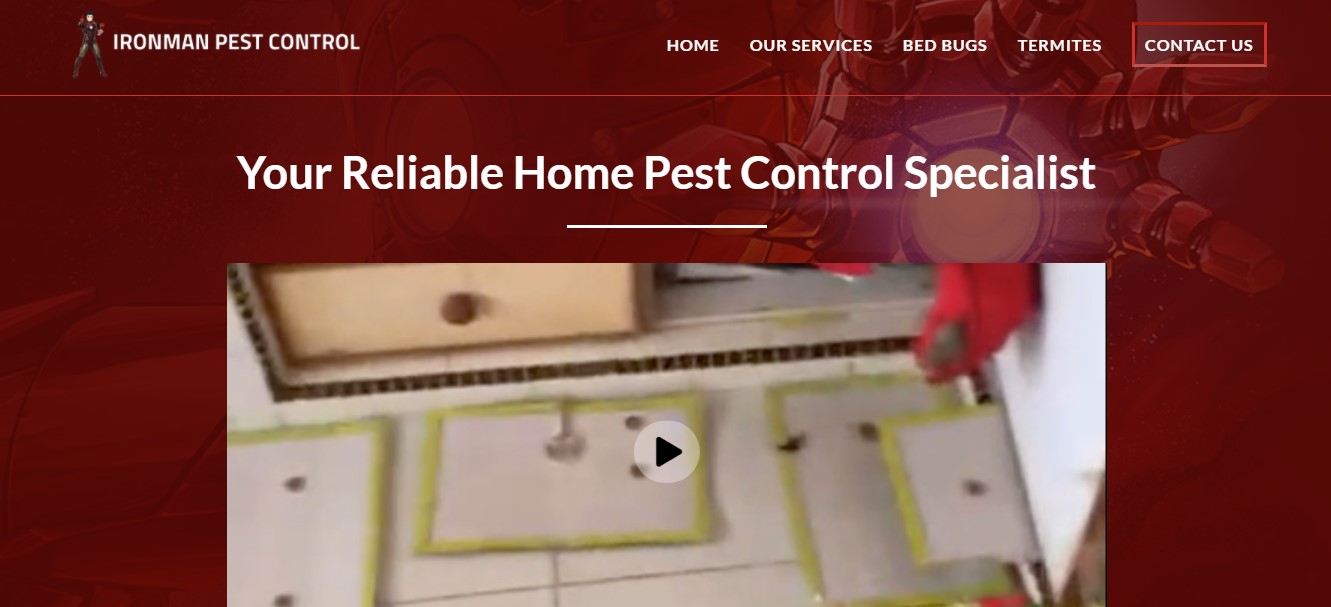 Ironman Pest Control specialists are known as superheroes as they are on standby 24/7 which means you will be entertained immediately. Similar to other companies, they also offer free in-depth onsite inspections.
We prefer them to other companies because they do not do the same techniques in different situations. Their methods depend on the situation of the client and the industry they are in.
With Ironman Pest Control, unwanted visitors will never occur anymore. If you see signs like wood damage, mud tubes in the corner of your ceilings, or discarded wings, you may want to consider them as your go-to company for an inspection. 
This inspection will allow them to see where the root cause and source of the termites are.
Unlike others, they also use their termiticide solution in the soil because this is a possible area where the termites will pass through to avoid the solution. This liquid is used to destroy their colony completely and make sure that they never come back.
Service Highlights
Provides tips on what you can do to prevent termite infestation
24/7 Customer service
Safe & lasting treatment methods
3. The Pest Control Company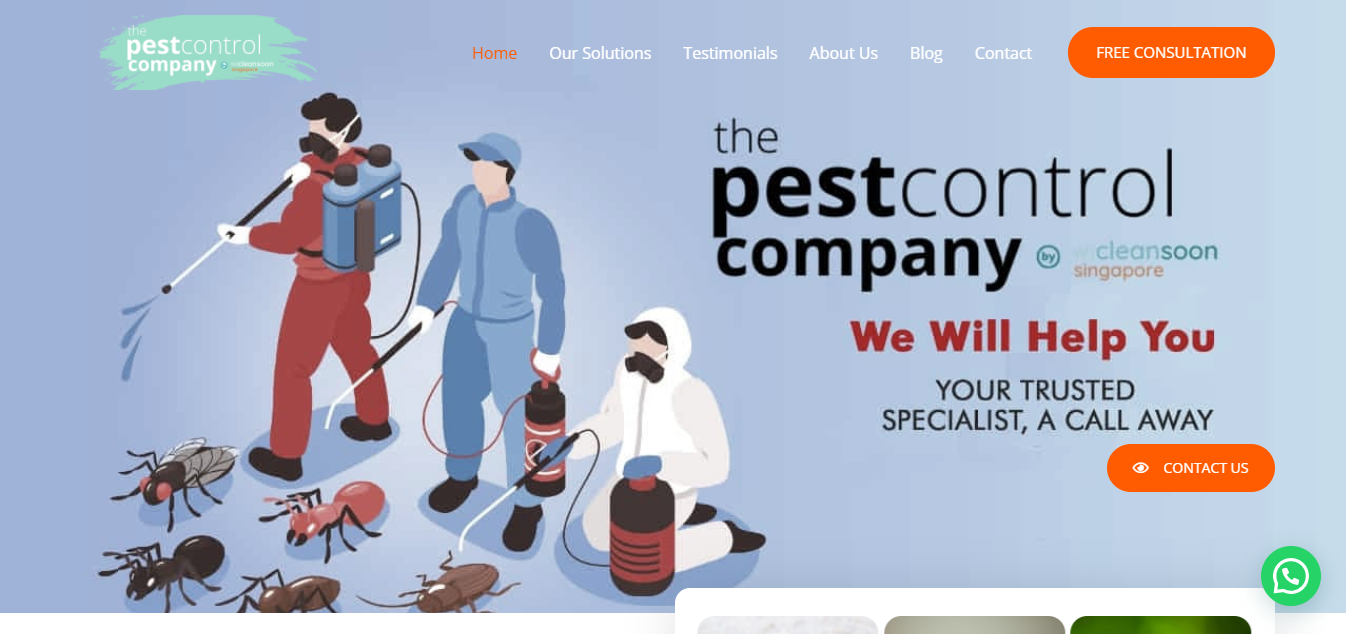 The Pest Control Company has been in service for over 15 years. Their team is filled with professionals that can serve you like no other.
People like how their services are catered to a variety of customers in Singapore. Whether it is food establishments, commercial, or residential clients, they are ready to serve.
According to their previous customers, their method is spot on and worth the price. Their process consists of five steps, inspect & assess, create a strategy & action plan, do the treatment & solution, make preventive controls, and report & monitor.
They can definitely make your home and workspace a safer environment for all your loved ones.
Service Highlights
Team of well-trained pest control experts
Services are beneficial and environmentally friendly
Responds quickly
Customer Reviews
Here are some reviews from their previous clients:
"Very professional and knowledgeable service provided for cockroach/pest cleaning. Will definitely look for wicleansoon again for any cleaning and pest control services. Thank you."
"Interaction was efficient and accommodating. Service was exceptional and very thorough. Overall very satisfied with the service they provided! 👍🏻"
4.  Pest Control Compared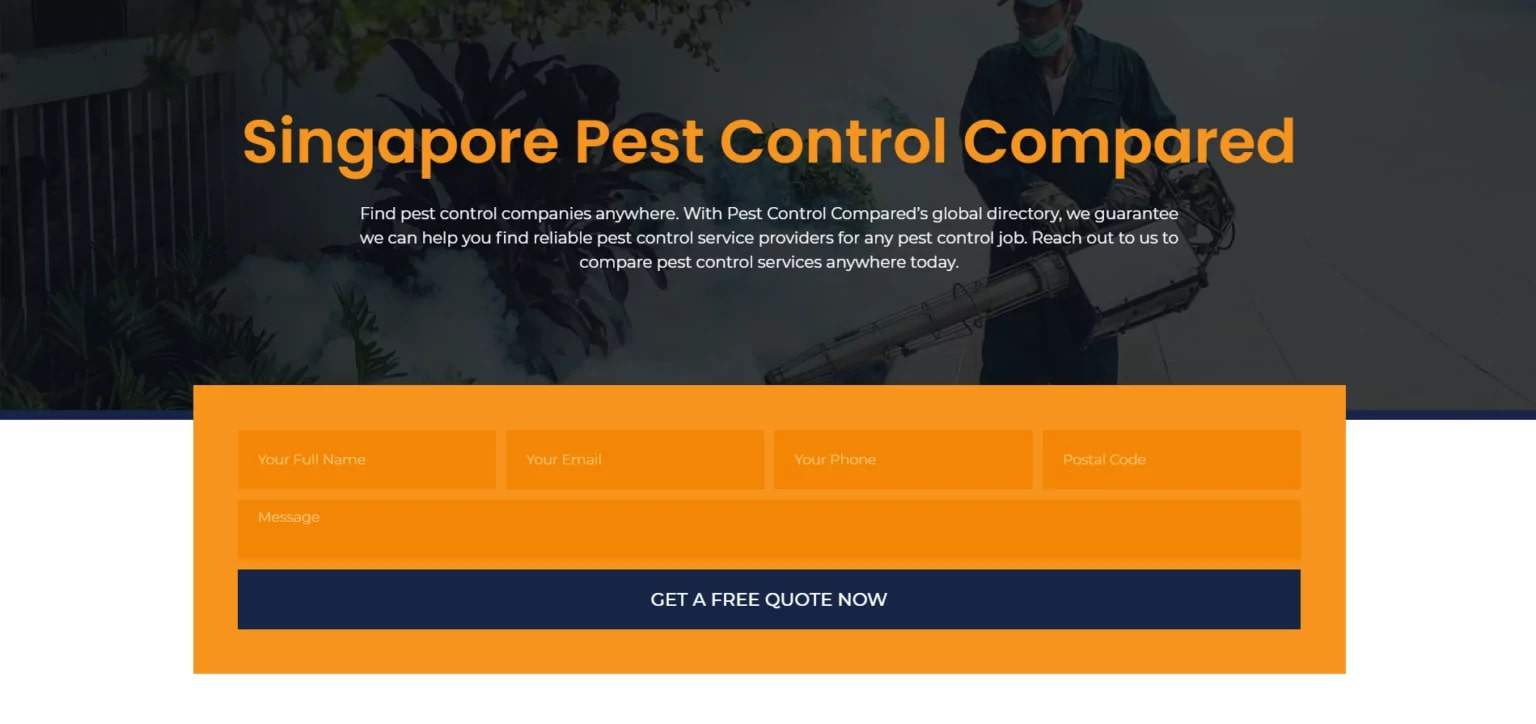 Pest Control Compared is a platform that can help you find the best pest control service providers. This is great for those who want to compare various pest control in Singapore in price, service and range
Quality won't be an issue, as they're partnered with only the most reliable pest control companies available. With their wide range of pest control services covered, you can rest assured that they will be able to find the right company for you.
Pest Control Compared is ideal for those searching for the best and also the cheapest pest control in Singapore.
Service Highlights
Wide range of pest control services
Expansive directory of pest control providers
Free inspection
Free quote available
5.  Singapore Pest Control Service 

BEST FOR

24/7 Pest Control Service

SCOPE OF SERVICES

Bug Control | Rodent Control | Office Treatments | Rat Problem Control | Home Treatments | Bed Treatments

PRICING

Enquire for fees

WEBSITE

https://www.singapore-pest-control.com/

 

ADDRESS

11 Woodlands Close #05-40 Woodlands 11,Singapore 737853

CONTACT DETAILS

+65 6432 8275

OPERATING HOURS

24/7
Singapore Pest Control Service believes that a pest-free environment is the best place in the world. When you don't have pesky creatures biting you and waking you up from sleep, then that makes your house a place of rest and relaxation.
Singapore Pest Control helps you achieve a critter-free home with its effective pest management services in Singapore. Not only that, they can perform pest inspections and rapid pest control for commercial premises.
When it comes to rodent control in Singapore and other pest issues, Singapore Pest Control is one of the country's go-to. Plus, you can call them any time of the day or night and they can come to your rescue anytime!
Service Highlights
24/7 Service
Guaranteed Solution
Professional Work
6. IKARI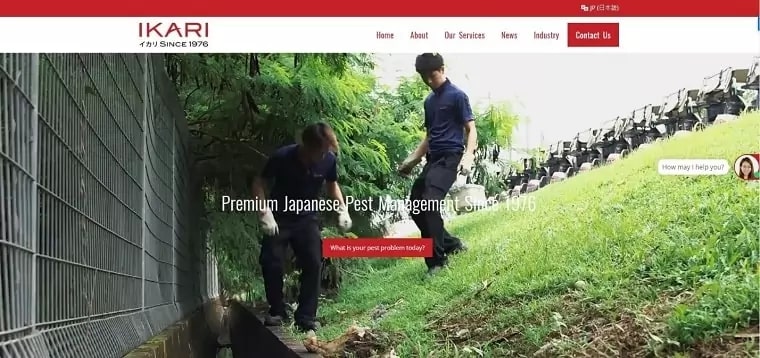 BEST FOR
Integrated pest management (IPM) & eco-friendly pest control
SCOPE OF SERVICES
Pest Control, Odour Control, Fungi Control
PRICING
Contact the company for a quote
WEBSITE
https://ikari.sg/
ADDRESS
625 Aljunied Road, #03-07
Aljunied Industrial Complex
Singapore 389836
CONTACT DETAILS
(+65) 6743 1313 | [email protected]
OPERATING HOURS
 
IKARI Services Singapore was established in December 1976. It is part of the IKARI Environmental Group, which was founded in Japan in 1959.
They specialize in pest, odour and fungi/bacterial control services. As one of the leading players among pest control Singapore companies, IKARI invests heavily in employee training and hires only experienced personnel.
Service Highlights
Proven track record
In-house entomologist
Long-term solutions
Human-safe and eco-friendly solutions
Skilled professional team with specialized IPM knowledge
Highly-trained service specialists
Customer Reviews
IKARI is rated highly by clients on Google Reviews. Customers praise their timely and efficient service as well as their post-treatment briefs with instructions about what to do after the treatment.
One customer also shared that their technicians make it a point to explain the process before carrying out the treatment.
7. ORIGIN EXTERMINATORS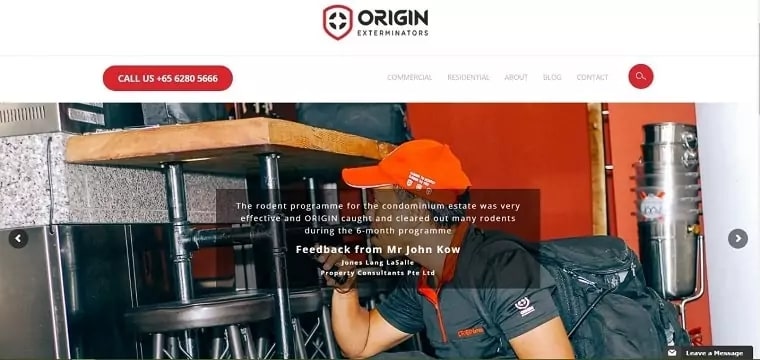 | | |
| --- | --- |
| BEST FOR | Customised, science-based & safe pest control solutions |
| SCOPE OF SERVICES | Commercial & Residential Pest Control |
| PRICING | Contact the company for a quote. |
| WEBSITE | https://www.origin.com.sg/ |
| ADDRESS | #01-01 Tailee Industrial Building Singapore 577182 |
| CONTACT DETAILS | (65) 6280 5666 | [email protected] |
| OPERATING HOURS | Monday-Sunday, 8:00 am – 6:00 pm |
With over 30 years of experience in tropical pest management, ORIGIN has always focused on the value of science and its principles in formulating their pest control/treatment methods.
They have in-house biologists, entomologists and environmental science professionals undertaking consistent R&D efforts. These projects translate the latest research into the most effective and safest solutions for pest control.
Service Highlights
Over 30 years of experience
Continuous research and development of new treatment options based on key scientific principles
Customer care professionals with vast field experience who mentor and guide their team to attain their personal best field performances
Environmentally sustainable treatments
Experienced pest control Singapore professionals adopt a holistic approach to pest management
A passion for Corporate Social Responsibility
Customer Reviews
Customers left generally positive reviews with mostly 5-star ratings on Google Reviews. Some of the most commendable aspects of their services include a thorough and professional job as well as fast and responsive service.
For example, Chen Jiarun praised them because "(s)ervices rendered on site was timely and professional. They were also serious about their warranty commitment and repeated their treatment at no extra charge until the problem was resolved".
8. INNOVATIVE PEST MANAGEMENT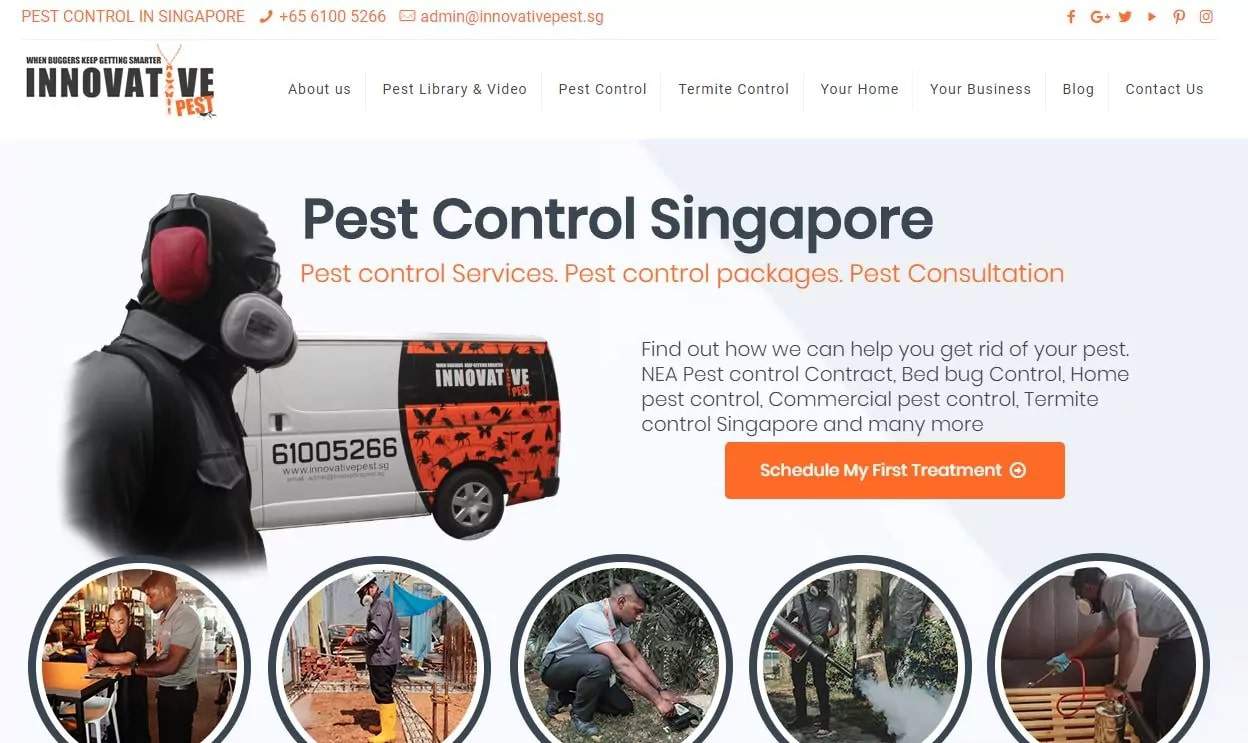 | | |
| --- | --- |
| BEST FOR | Customised, science-based & safe pest control solutions |
| SCOPE OF SERVICES | Ant Control, Cockroach Control, Rodent Control, Bedbug Control, Mosquito Control, Comprehensive Termite Control (includes termite-baiting and anti-termite treatment) |
| PRICING | Contact the company for a quote. |
| WEBSITE | https://innovativepest.sg/ |
| ADDRESS | 192 Pandan Loop #05-24 Pantech Business Hub Singapore 128381 |
| CONTACT DETAILS | +65 6100 5266 | [email protected] |
| OPERATING HOURS | — |
Innovative Pest Management is one of the top names in pest control Singapore.
It has experienced pest technicians who can help get rid of pests in your home, school, office, restaurant, or even a vessel. They also offer complimentary pest inspection before proceeding to fix any pest issues.
Innovative Pest Management has been awarded Bizsafe 3 from Ministry of Manpower and BCA certification by the Building and Construction Authority. It also has 1 million Public Liability Insurance, enabling them to manage massive pest control projects.
Service Highlights
Fulfilling 1,000+ jobs each month
Customisable pest package
Pets and child-safe solutions
Customer Reviews
The company has garnered much praise from its customers, particularly the commercial and industrial ones. Here's an example:
"Such dedicated and professional team. Really appreciate their prompt responses in all my questions. They are also very thorough in their processes. Well done!" – Jeanette Chong, Executive at National Kidney Foundation Singapore
9. ECO SENSE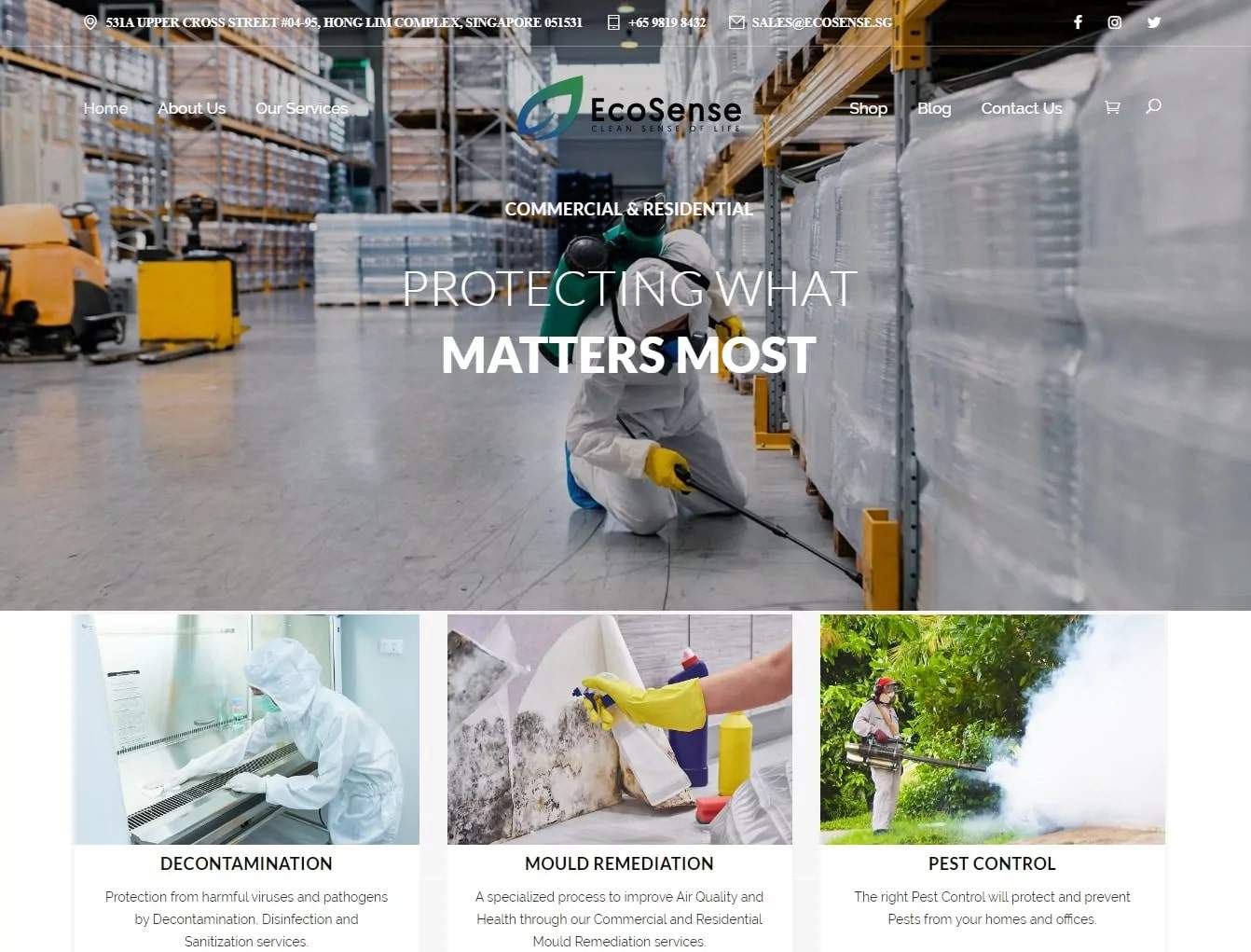 | | |
| --- | --- |
| BEST FOR | Fast-response and integrated pest control services |
| SCOPE OF SERVICES | Pest Control, Mould Removal, Termite Control, Bedbug Control |
| PRICING | Contact the company for a quote. |
| WEBSITE | https://www.ecosense.sg/ |
| ADDRESS | 531a Upper Cross Street #04-95, Hong Lim Complex, Singapore 051531 |
| CONTACT DETAILS | +65 9819 8432 | [email protected] |
| OPERATING HOURS | — |
EcoSense is a pest control company striving to provide a 'Clean Sense of Life' to all of their clients. Their main contribution in attempting to do so is offering a wide array of pest control and decontamination services as a means of ridding properties of unwanted bacteria and viral pathogens. All of which are known to ruin the environment in general.
Hinted by their name, Eco Sense completes every job with the environment in mind. They use eco-friendly products and equipment while also reducing their energy consumption, air and noise pollution. 
For urgent concerns and emergencies, EcoSense keeps their lines open 24/7.
Service Highlights
NEA & EPA Approved Chemicals
Commercial Grade Equipments
Certified & Professional
10. NBW PEST CONTROL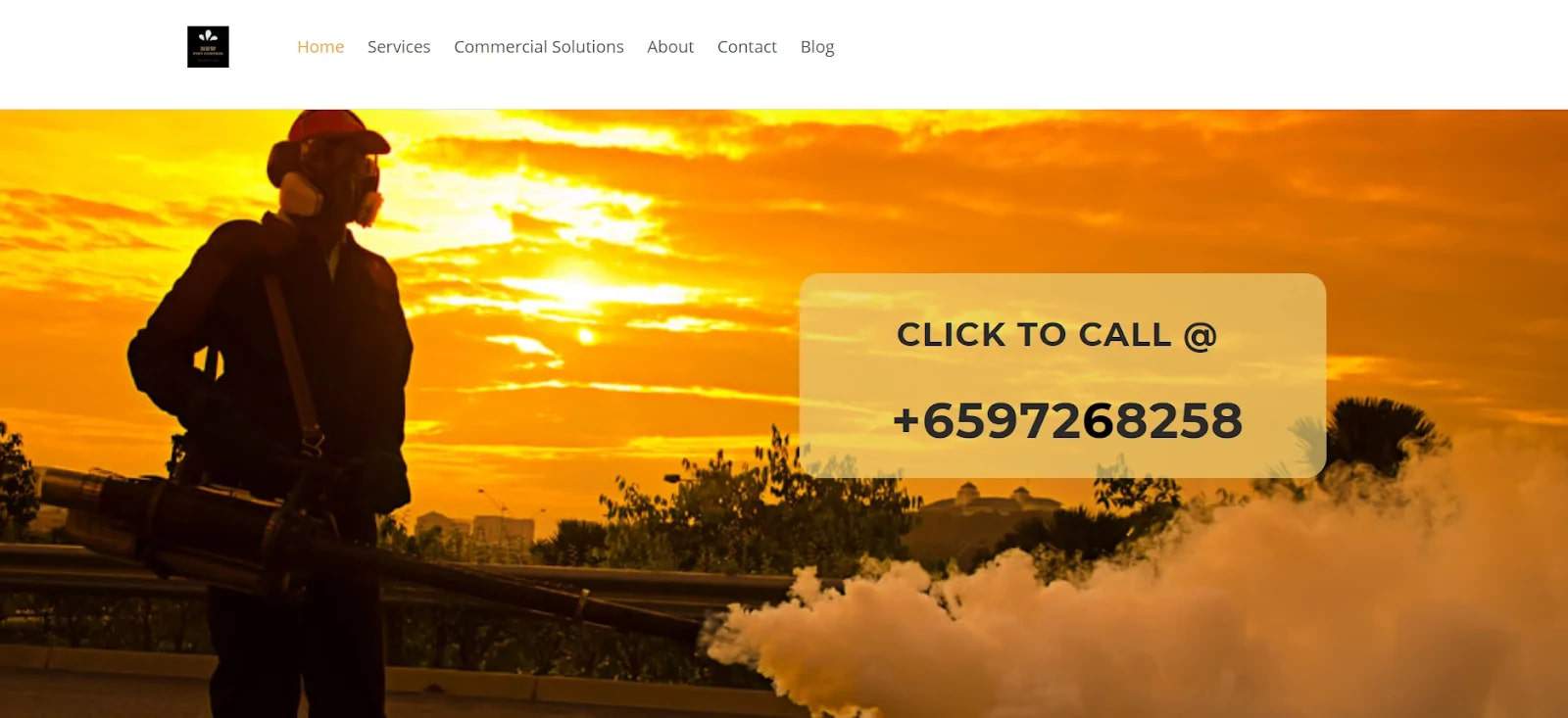 | | |
| --- | --- |
| BEST FOR | Residential and Commercial pest control |
| SERVICES | Pest control for F&B Businesses, Offices, Residential |
| WEBSITE | https://www.nbwpestcontrolsg.com/ |
| ADDRESS | 653 Hougang Avenue 8 #05-395 Singapore 530653 |
| CONTACT DETAILS | +65 3159 4308 |
| OPERATING HOURS | Open 24 Hours |
Pests can be annoying especially in businesses. Thankfully, NBW Pest Control provides affordable and efficient solutions.
Their team of pest control specialists are skilled and experienced. Along with this, they are are also equipped with the right tools and equipment to work with quality.
Their efficiency is not only noticeable through their fieldwork, but also throughout their quick and convenient customer response. Pest control can be done quickly and at an affordable price with NBW Pest Control.
Highlights
Quick Response Message Box
Solutions and affordability
Customer Satisfaction
11. Protect Pest Control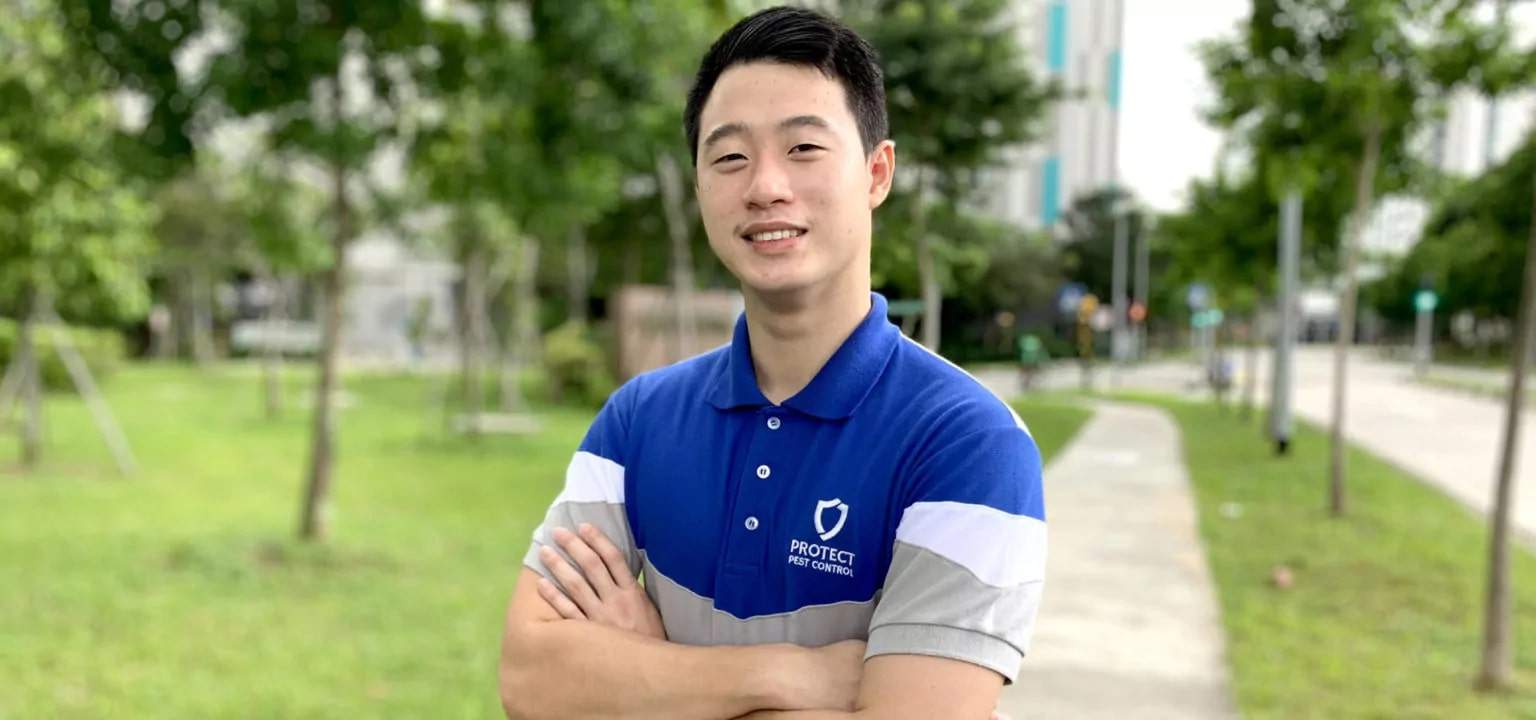 BEST FOR

Affordable Pest Control Services That Deliver Results

SCOPE OF SERVICES

Residential & Commercial Pest Control for Ants, Bed Bugs, Bees, Booklice, Cockroaches, Flies, Hornets, Mosquitoes, Rodents, Termites, Wasps, etc.

 

Offices, Warehouses, Industrial, Factories, F&B Pest Control Contract.

PRICING

For HDB

Ants: $90

Bed Bugs: From $360

Cockroaches: $80

Rodents: $280

Termites: $150

WEBSITE

ADDRESS

21 Woodlands Close #09-37 Singapore 737854

CONTACT DETAILS

97941957 | [email protected]

OPERATING HOURS

24 Hours
Protect Pest Control is a home-grown pest control company that packs a punch when it comes to exterminating and getting rid of unwanted pests in your home or office.
The 100% Singaporean team has the local knowledge & expertise of common pest problems in homes and businesses. They keep their prices very affordable and are always ready to serve our customers as swiftly as possible.
Their team consists of experienced and dedicated pest control experts who have been in the field for more than 30 years. This means that they can effectively solve a wide range of pest issues and deliver results.
Protect Pest Control is the only company in Singapore that allows customers to purchase a pest control service directly from their eCommerce website.
Service Highlights
Over 30 years of Experience

100% Local Experts

Focus on complete customer satisfaction

Free and thorough inspection

Safe for Children & Pets
Customer Reviews
Protect Pest Control has a perfect 5-star rating on Google Reviews. Many customers complimented their friendly and efficient service while some highlighted their affordable prices.
One customer, Fai Senshi wrote, "Good service… they explain and inspect properly and show u the infected areas… good and cheap service.. 2 thumbs up!!!?? Will definitely recommend to others"
12. Greencare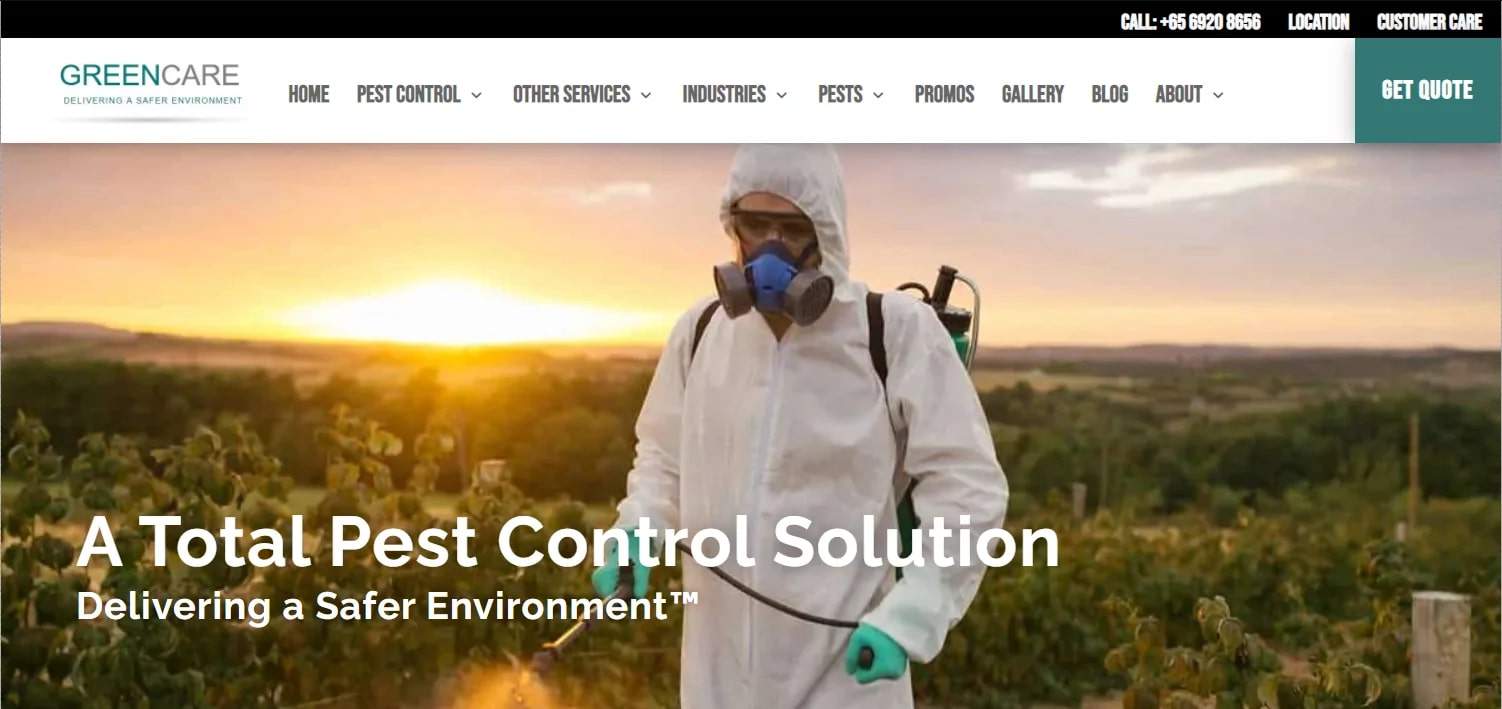 BEST FOR

Pest Control

SCOPE OF SERVICES

Pest Control, Disinfection Service, Exclusion Services, Janitorial Cleaning & Maintenance, Lawn Treatment, Moisture Control, Odor Control, Restroom Care, Service Documentation, Staff Training

PRICING

Enquire for more information

WEBSITE

ADDRESS

60 Albert Street
#08-02 OG Albert Complex
Singapore 189969

CONTACT DETAILS

+65 6920 8656

OPERATING HOURS

 N/A
Greencare is one of the leading pest control companies in Singapore. They also have other services to offer, such as cleaning services and lawn care treatments.
Their team of technicians are more than skilled when it comes to their work. With their help, your property is sure to become pest-free.
Service Highlights
Free quote available
Expert pest control technicians
13. PENTA PEST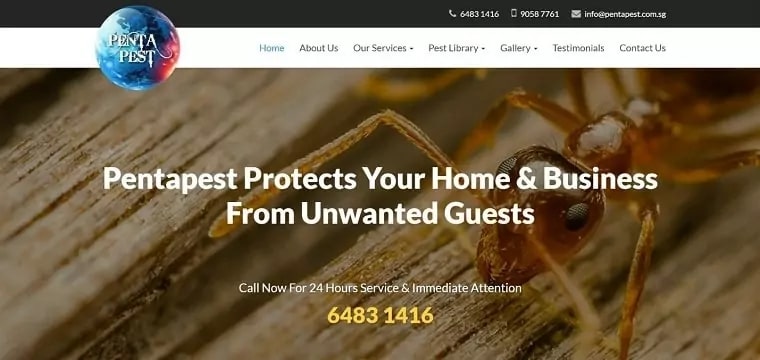 BEST FOR
Comprehensive range of pest prevention, control & reactive Services
SCOPE OF SERVICES
Residential Pest Control, Commercial Pest Control, Industrial Pest Control
PRICING
Contact the company for a quote.
WEBSITE
https://www.pentapest.com.sg/
ADDRESS
31 Woodlands Close #04-02
Woodlands Horizon
Singapore 737855
CONTACT DETAILS
6483 1416 / 9058 7761 | [email protected]
OPERATING HOURS
24-hour emergency services
Penta Pest is an NEA-registered pest control Singapore company with a certified permit to handle hazardous substances. They have a team of dedicated, reliable, and highly-trained specialists.
The company's specialists have a combination of more than 20 years of experience in the pest control industry.
Service Highlights
24-hour emergency services
NEA-registered vector control operator licensed company (NEA201837308M)
Comprehensive range of pest prevention, control, and reactive services
Competitive rates
A team of dedicated, reliable, and highly trained specialists with over 20 years combined field expertise
Customer Reviews
Customers describe their service as meticulous and methodical, starting from a thorough inspection to customized treatments and follow-up treatments.
On Google Reviews, Corrine Oh wrote: "Penta Pest has very effective solutions on pest issues. I booked one for company apartment, they arrived within 3 hrs and get the job done effectively. After 13 days, no sign of recurrence."
14. Pest Clinic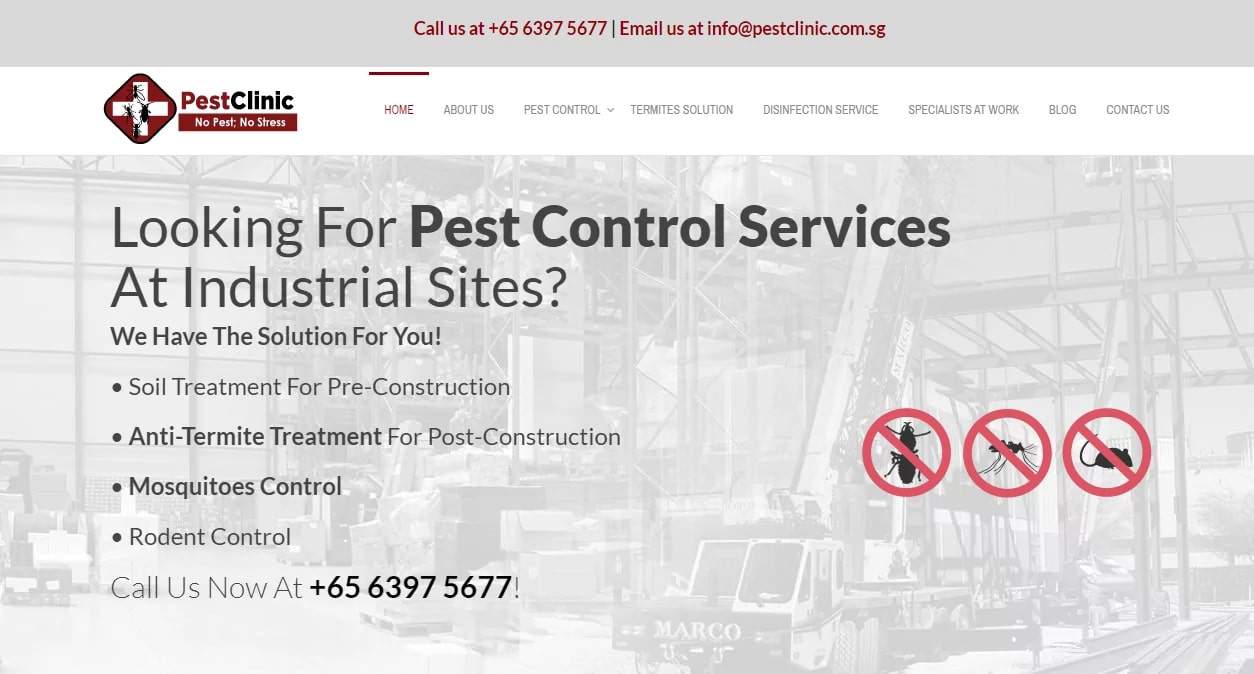 Best For
Pest control services for various industries
Scope of Services
Pest Control, Termites Solution, and Disinfection Service
Price
Depends on the Service
Website
https://www.pestclinic.com.sg/
Address
3 Ubi Avenue 3,
#05-03A Singapore 408857
Contact Details
[email protected] or 65 6397 5677
Operating Hours
Monday to Sunday,
8.30am to 6.00pm.
Including public holidays.
With over 30 years of experience in this industry, PestClinic provides quality service at an affordable price. They have a wide array of services such as pest control, termites solution, and disinfection service good for both home and workplaces.
PestClinic utilises the latest pest control techniques and technology to practice the effective method of pest control. Moreover, they have highly trained personnel that has certified NEA to provide you the safe and effective in cleaning the pests.
All it takes is a call, and you won't have to worry about the pests that might damage your property!
Highlights
NEA Certified
Free Consultation
With over 30 years of experience
15. Anticimex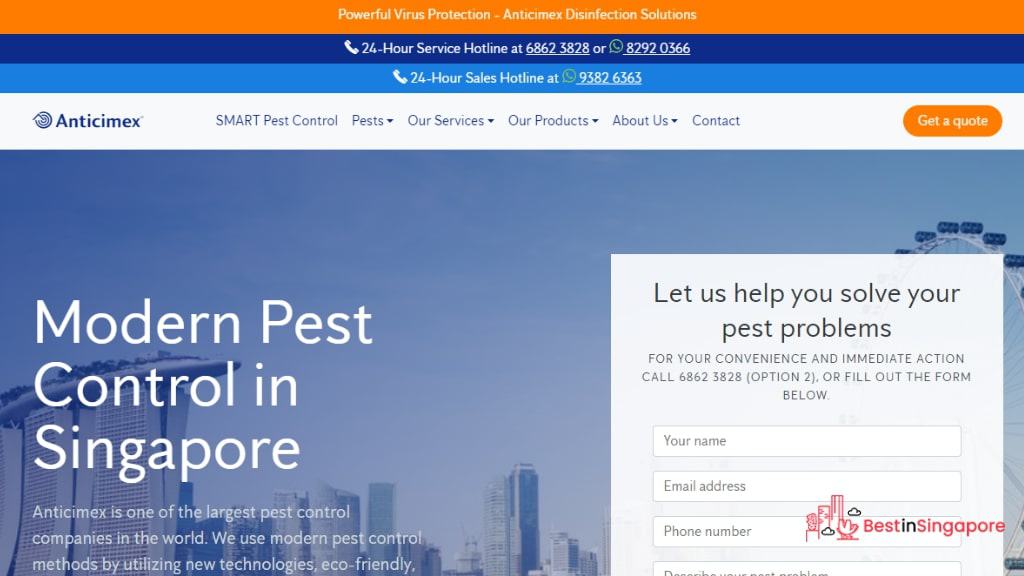 Best For
Prevention and Removal of Pests
Scope of Services

Anticimex Disinfection Solutions for Offices, Hospitals, Schools, Hotels, Kindergartens, Shopping Malls, Childcare Centres, Residential Homes, Public Areas
General Pest Control for Individuals and Businesses
Garden Pest Control for Individuals and Businesses
SMART Pest Control for Individuals and Businesses

Price
Contact for more information
Website
https://www.anticimex.com.sg/smart-pest-control
Address

3A International Business Park,

#11-01 [email protected],

Singapore 609935

Contact Details

Telephone:+6568623828

Mobile: 93826363

Operating Hours

Monday – Friday, 8:00 AM – 6:00 PM
We have all been taught that prevention is better than cure. Well, this is the mindset that Anticimex also adapts in all of their operations.
Anticimex is a renowned pest control and disinfection company that has endeavoured to create safe and healthy spaces for its clients since the time of its inception. The company is known to use new technology and sustainable solutions to accomplish such a feat.
When it comes to pest control, Anticimex uses Anticimex SMART, a non-toxic pest control solution that involves round the clock surveillance of the premises. By constantly monitoring and instantly reacting, it prevents costly infestations in an environmentally-friendly way. 
Meanwhile, the disinfectants Anticimex utilises are the same industrial grade, safety rated ones selected by governments worldwide for Emergency Disease Control and are listed in the biosecurity guides of the United Nations Food and Agricultural Organisation.
Their disinfectant has a broad-spectrum, non-selective range of oxidation reactions which ensures they have achieved destruction of their target organisms, with studies showing kills to pathogens in seconds.
Anticimex Singapore offers quality services with value for money, get a quote and obtain expert advice on disinfection and pest-control services today.
Highlights
Modern disinfectant and pest-control services
Worldwide choice
Thorough and smart solutions
Non-toxic and top-of-the-line equipment and products
16. PESTBUSTERS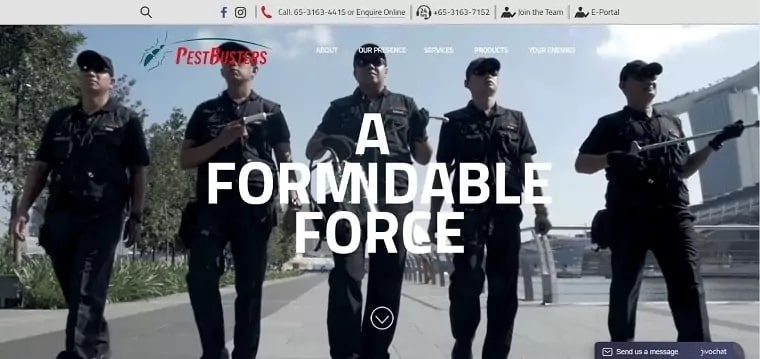 BEST FOR
Hi-tech & innovative pest management
SCOPE OF SERVICES
Fumigation, Commercial & Residential Pest Control, Termite Management, Mosquito Control
PRICING
Contact the company for a quote.
WEBSITE
https://www.pestbusters.com.sg/
ADDRESS
22 New Industrial Road
Singapore
CONTACT DETAILS
+65 6432 8288
OPERATING HOURS
24 hour-availability 
PestBusters is a global pest management company founded in 1991. Their commitment to quality and performance has earned them various accolades including the People Developer Award and Singapore's National Training Award.
Service Highlights
Growing international presence
Boasts high-profile clients in the hospitality industry
Innovative technology applications for integrated pest management solutions
Customer Reviews
Pestbusters has an almost perfect 5-star rating on Google Reviews.
A couple of customers left feedback, but most left their reviews empty. One customer praised their professional appearance and left a 5-star rating.
17. Rapid Pest Control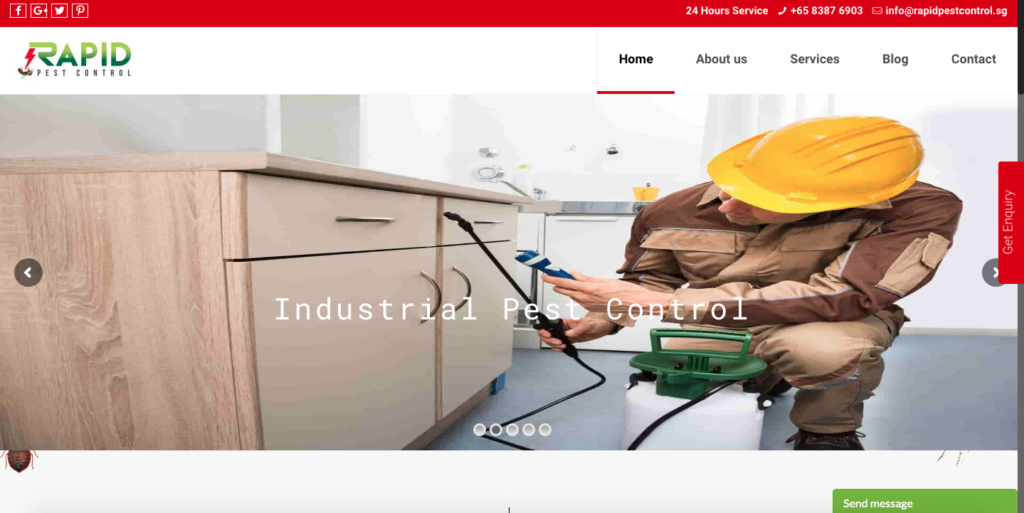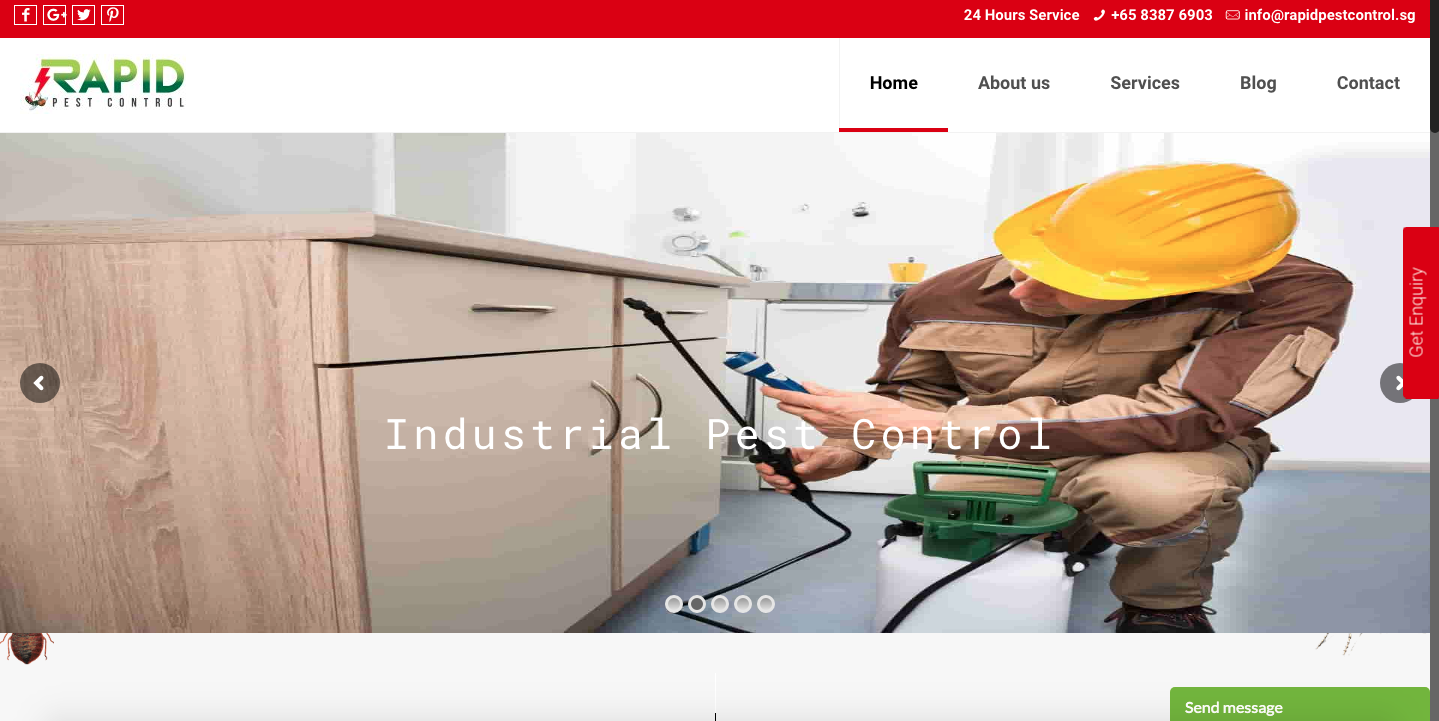 | | |
| --- | --- |
| BEST FOR | Advanced rodent management techniques |
| WEBSITE | https://www.rapidpestcontrol.sg/ |
| ADDRESS | 35 Selegie Road # 01-29B Parklane Shopping Mall (S) 188307 Singapore |
| CONTACT DETAILS | +65 64557962, +65 83876903 |
| OPERATING HOURS | Weekdays and Saturdays: 9am–6pm |
Rapid Pest Control uses the latest techniques in managing rodents, offering long-lasting solutions. Their trained technicians apply hygienic and eco-friendly methods, so there's no need to worry about possible health risks.
They offer an integrated pest management program that features tailor-made solutions to meet clients' needs.  Using the most suitable treatments will help solve the current problems as well as the potential issues in the future.
All services come with affordable rates and timely delivery. So, for those who are on a tight budget, they have the best rodent control in Singapore for you!
Their rodent control specialists serve the residential, industrial, and commercial sectors.
Pros
24/7 support system
Effective spray and credible solutions
State-of-the-art technology and equipment
Cons
Customer Reviews
Rapid Pest Control may only have a few online reviews but they are mostly from impressed clients. Here's one left by Jorgr Mov, a client of theirs:
Rapid Pest Control Pte Ltd is a trusted Pest control service provider company in Singapore. I'm highly impressed from its dedicated team and their services. Chemicals used by them are eco-friendly and odourless. I highly recommend them.
18. Aardwolf Pestkare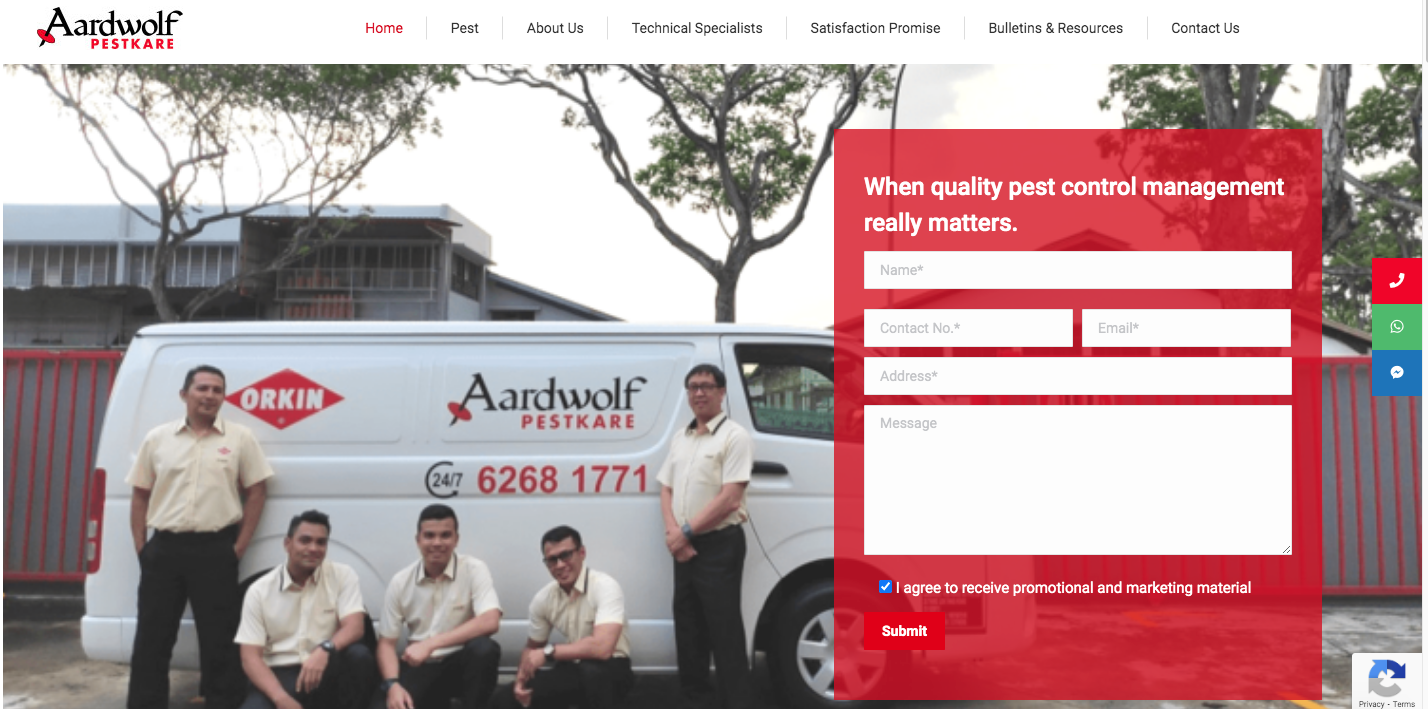 | | |
| --- | --- |
| BEST FOR | Comprehensive rodent monitoring method |
| WEBSITE | https://aardwolfpestkare.com/ |
| ADDRESS | 26 Third Lok Yang Road Singapore 628015 |
| CONTACT DETAILS | +65 6268-1771 |
| OPERATING HOURS | 24 hours |
Aardwolf Pestkare eliminates pests and ensures a hygienic environment through eco-friendly pest control programs. They design their own pest management program to meet the different needs of every property.
Their treatments start with an installation of a mini-video camera to monitor the entrance of the rodents. The recordings will help the technicians develop more suitable termination methods.
They'll place traps, baits, and monitoring stations to get rid of the rodents. They'll also eliminate burrows, rodent-proof gaps, and entry points to completely prevent them from entering the place again.
Aside from residential services, they're also well-versed in local food safety and requirements. So, for those who are running a restaurant/eatery business, they have the best rodent control in Singapore!
Pros
Traditional treatments and digital technology
Food outlets and factories services
Pest control and prevention program
Cons
No outright rates available
Customer Reviews
Aardwolf has almost 200 reviews online and most of them are from happy and impressed clients. Here's a review written by Siok King Lek, a recent satisfied client:
Sales staff was very helpful and patient. Even managed to calm my mum and ensure her that the issue could be fixed . Service staff was very polite and detailed. Very responsive to our questions and concerns when on site. They also paid attention to the safety of my old parents who were at home during 2nd follow up. Office staff also responded quickly to my request for a 3rd follow up during guarantee period. Overall, I will recommend d this company to my friends who need help.
19. Pest-Pro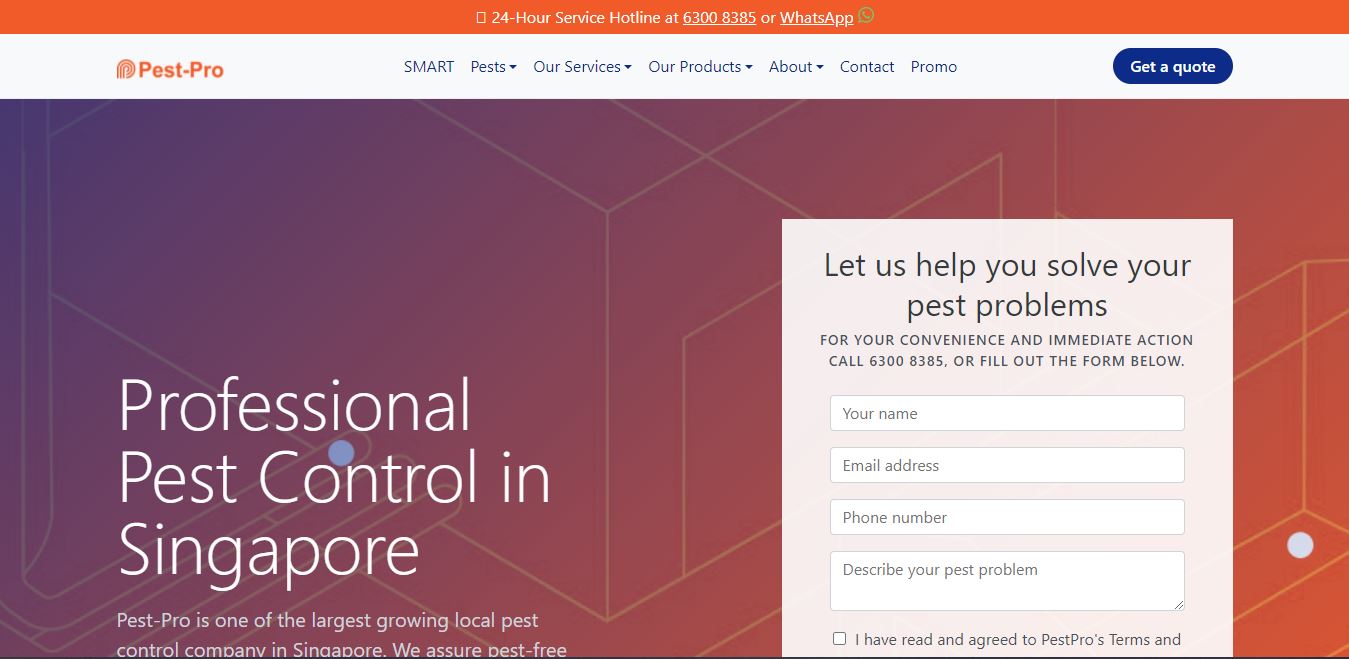 | | |
| --- | --- |
| SCOPE OF SERVICES | General pest control, garden pest control, termite control disinfection services, pest control product sales |
| WEBSITE | |
| ADDRESS | 3A, #11-05 International Business Park Rd, [email protected], Singapore 609935 |
| CONTACT DETAILS | +65 6300 8385 |
| OPERATING HOURS | 24/7 |
Pest-Pro is yet another pest control expert that has high-tech solutions. Its pest solutions may be non-toxic and eco-friendly, but they're still effective against bed bugs, mites, ants, cockroaches, bees and wasps, rats, and mice. 
Additionally, Pest-Pro Management is also equipped for the removal of wildlife animals like snakes and birds.
Those who want DIY pest solutions can also consult with and purchase pest control products from Pest-Pro. Its selection of products includes smart trap boxes, insect light traps, and metered sprays.
Additionally, Pest-Pro Management has disinfection services that keep healthcare and educational institutions, commercial spaces, and industrial grounds free from viruses and bacteria.
One of the best things we like about this pest management company is that it is available 24/7. So, if you ever have emergency exterminating needs in the early morning or late evening, you can consider Pest-Pro.
Despite this, we've still read reviews complaining about Pest-Pro's poor service and slow response.
Pros
24-hour response

Eco-friendly and non-toxic solutions

Disinfection services available

Pest control products for sale
Cons
Some complaints about poor communications

No access to stronger pesticides
Customer Reviews
Customers have praised Pest-Pro for its all-day availability and professionalism. Here are some of Pest-Pro's reviews to tell you more:
"With innovation SMART system – 24/7 monitoring gives me a peace of mind!"—Li May Lim
"Good service and  show when professionalism in dealing with cases.."—SoonLoy Seow
20. Pest Control Islandwide Pte. Ltd.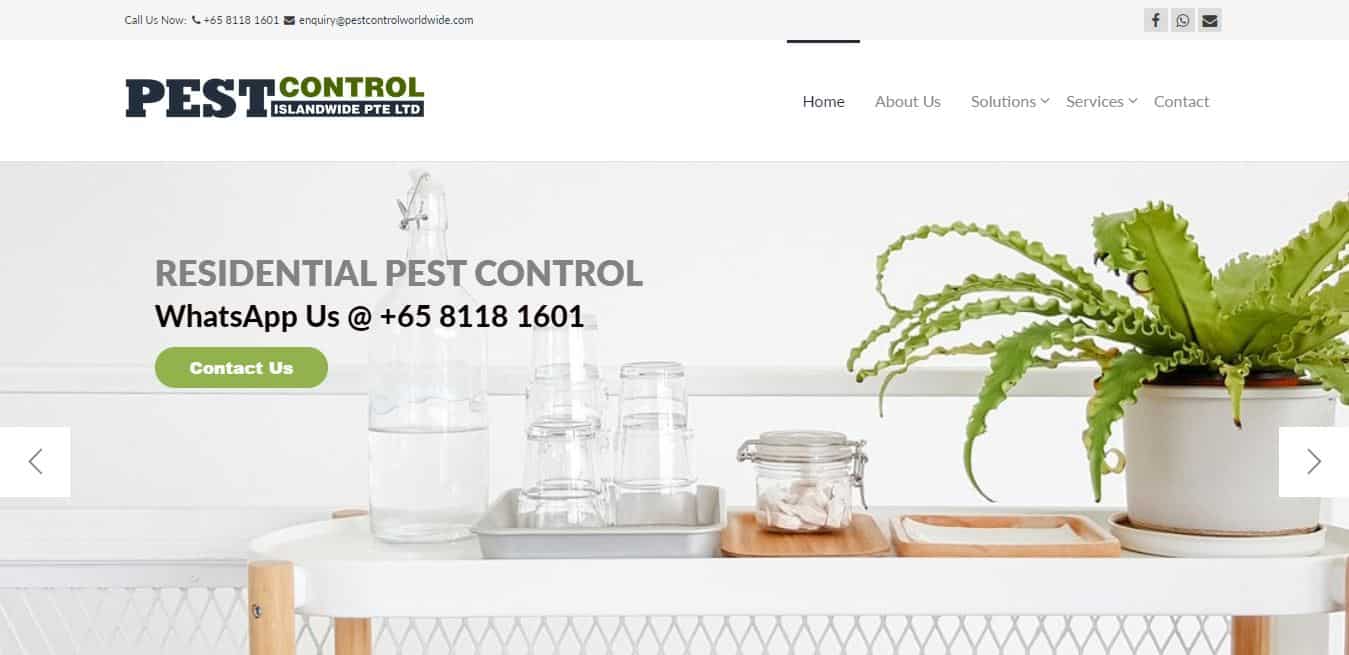 | | |
| --- | --- |
| SCOPE OF SERVICES | Ants, bed bugs, bees, cockroaches, flies, mosquito, termites, rodent control, mould and fungi remediation |
| PRICING | Contact for details |
| WEBSITE | |
| ADDRESS | 10 Anson Rd, International Plaza, Singapore 079903 |
| CONTACT DETAILS | +65 8118 1601 |
| OPERATING HOURS | 24/7 |
Pest Control Islandwide is an NEA-trained vector control company, so it can handle insects, birds, mammals, and reptiles invading your house. It even offers services for mould and fungi removal.
It can also handle any type of customer, whether from high-stakes food & beverage industries to simpler spaces like residential and commercial grounds. Pest Control Islandwide can thus handle long-term pest control requests as well as one-time removal services.
Aside from its NEA license and versatility, Pest Control Islandwide also takes pride in its 24/7 operations.
When it comes to residential spaces, Pest Control Islandwide uses water-based and non-staining solutions for pest control.
To ensure the effectiveness of its services, Pest Control also conducts follow up sessions until the infestation is gone. Clients need only call Pest Control Islandwide's for appointments.
But do know that Pest Control Islandwide has received some complaints about its rude staff. Luckily, the company still values accountability and reaches out to correct mistakes.
Service Highlights
Handles all types of pests

Available for industrial, commercial, and residential spaces

Water-based solutions for residential pest control

24/7 operation
Customer Reviews
Here are some of Pest Control Islandwide's reviews to give you an idea of what clients appreciate the most about the pest control company.
"I called Pest Control Islandwide Pte Ltd. The Manager was so much more knowledgeable and can describe what his services will be. He came the following day and discovered hundreds of bed bugs in my masterbed room. He assisted with dismantling TWO bed frames (even though I supposed that's not in the service description). He explained what he was going to do before proceeding with the service. So far after a few days (of this post), no bed bugs anymore! The Manager checks in via WhatsApp on how is the condition of the house. Great job!"—Bryan Chung
"Strongly recommended for cost effective pest buster solutions! One of my clients had a bad termite infestation in her entire condo unit. Called on over 8 companies for quotation and assessment, PSI stands out not only on prices but the professionalism in reporting, educating myself and my client on the options as well as processes in busting the termites."—Benjamin Sng
At any rate, that's it for our top pest control Singapore providers. Do you think this should have been a "top 19" list and we missed a great pest control provider in our roundup?
If so, leave us a note about it in the comments so we can check the company out! You can also check out our list of the top cleaning services in Singapore if you need help sorting out the mess your pest infestation left behind.