22 Best and Most Reliable Maid Agencies in Singapore (2021)
Juggling familial responsibilities, a career, and other commitments can be too much for most Singaporeans to handle. That's where the top maid agencies in Singapore come in.
Having a maid around can free up your time and let you focus on other important matters while keeping your home clean and safe for you and your family. Fortunately, hiring a maid in Singapore is easy, thanks to the many maid agencies around the island.
Under the Ministry of Manpower (MOM)'s watchful eye, the best maid agencies in Singapore can match you with the perfect maid for your home, as well as take care of all the necessary paperwork. That said, some agencies are more meticulous than others.
Before we proceed with our list of best and most reliable list of maid agencies in Singapore, we'll first go through the criteria that MOM uses to rate the maid agencies in Singapore. This way, you'll be able to choose the best maid agency in Singapore for you and your family.
How to Find the Right Maid Agency in Singapore
For those who are hiring maids for the first time, welcoming a stranger into your household can be nerve-wracking. 
Luckily, MOM and maid agencies around Singapore work hand in hand to make sure that they only employ skilled and trustworthy foreign domestic workers (FWDs) for their clients. 
MOM's employment agencies and personnel search (EA Directory) is accessible to anyone in Singapore looking for some help around the house. There are certain technical terms used by MOM to determine a maid agency's performance and service quality, and we'll go over them quickly.
Retention Rate
This refers to the rate of agency-appointed FDWs who stay with the same employer for at least a year. It goes without saying that the higher the retention rate, the better.
As of 2020, the average industry retention rate is 48.25%, according to MOM statistics. That said, an agency with retention rates in the 50s or 60s is considered high and therefore, more desirable.
Transfer Rate
This is the percentage of FDWs that have been transferred to three or more employers within one year. The lower the transfer rate, the better.
According to MOM, the industry average transfer rate is 1.78%, so make sure that the agency you're looking at has a lower transfer rate—or better yet, an agency with 0% (Yes, those exist)!
Placement Volume
This refers to the number of work passes that an agency applies for within a year. Another way of looking at this is the number of FDWs that passes an agency's screen process in one year.
The 2020 industry average is 36. A higher placement volume is good, as the agency will have more workers and resources to help you in case you want to hire a replacement maid.
However, also note that the higher the placement volume, the bigger the maid agency is. As big companies usually come with a large clientele, you may experience longer waiting periods for your requests to be handled.
Experience
This is simply how long the agency has been operating with an active license. If an agency has been operating for a long time, there's probably a good reason why. 
However, it's not fair to equate experience with service quality, especially in the case of newer maid agencies. Always check the previously-mentioned factors along with the experience to make sure that you're hiring the right maid agency.
Frequently Asked Questions
Now that we've covered what makes a great maid agency, let's move forward to our list of the best maid agencies in Singapore!
1. Universal Employment Agency Pte Ltd – Since 1986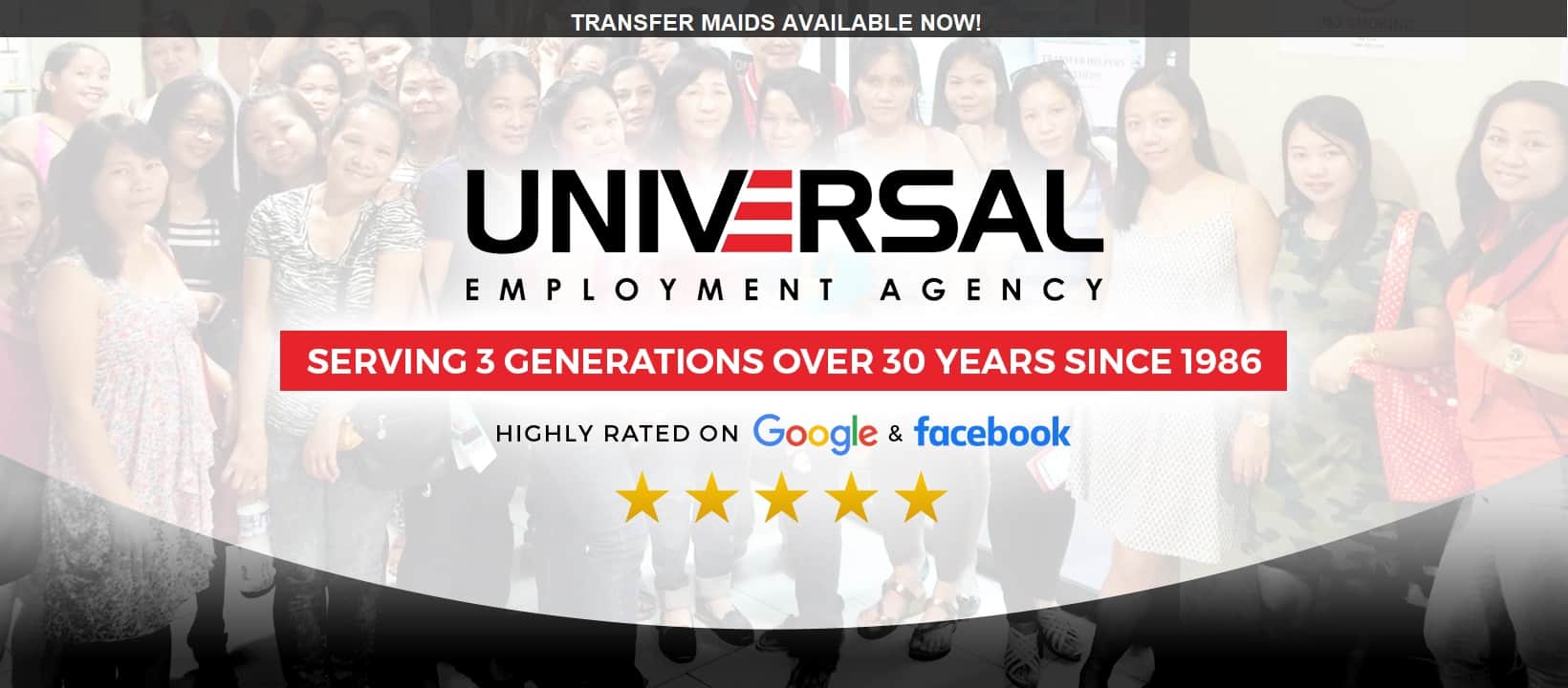 With over three decades worth of industry experience, Universal Employment Agency firmly established itself one of the best maid agencies in Singapore especially when it comes to the hiring of transfer maids as they have the widest selection of transfer maids which is something that most other maid agencies do not have currently. Boasting high success rates and low transfer rates, they guarantee to match you with a helper for the long term.
They employ helpers from the Philippines, Indonesia, and Myanmar. Regardless if you're looking to hire a transfer maid who is already in Singapore or a maid who is currently overseas, rest assured that with their vast years of experience in this industry, they can definitely take the workload off your shoulders and assist you throughout the entire process.
They offer a wide range of services, including passport renewal, medical check-ups for maids, home leave applications, maid repatriation services, and more. And if you're looking for maid insurance plans, they have one of the most competitively-priced plans in the market.
MOM Rating (as of January 2021):
Customer Reviews
Universal Employment Agency boasts numerous 5-star reviews from satisfied clients. If you're still having doubts about hiring a maid from their agency, maybe these reviews will convince you otherwise:
"I was attended by their staff name Sophie that is very helpful and friendly. This is the fastest decision I made on employing a helper because she listens on my needs specifically and connected me for an on-the-spot interview to a willing helper that we needed. (Hopefully). Will surely recommend this employment agency!"
"This is my fifth time engaging a maid.  During this pandemic period when new maids are not available, my last agency does not have ready transfer-maid.  Through friends' recommendation, I have approached Universal Employment Agency.  The staff assigned to my case is Sophie.  She is helpful and professional, she sent me a list of available maids and connected me to the shortlisted maid through zoom at night as that is the only time the maid is available at her current employer house.  She is very responsive and it has been a breeze working with her."
2. EELIT Maid Agency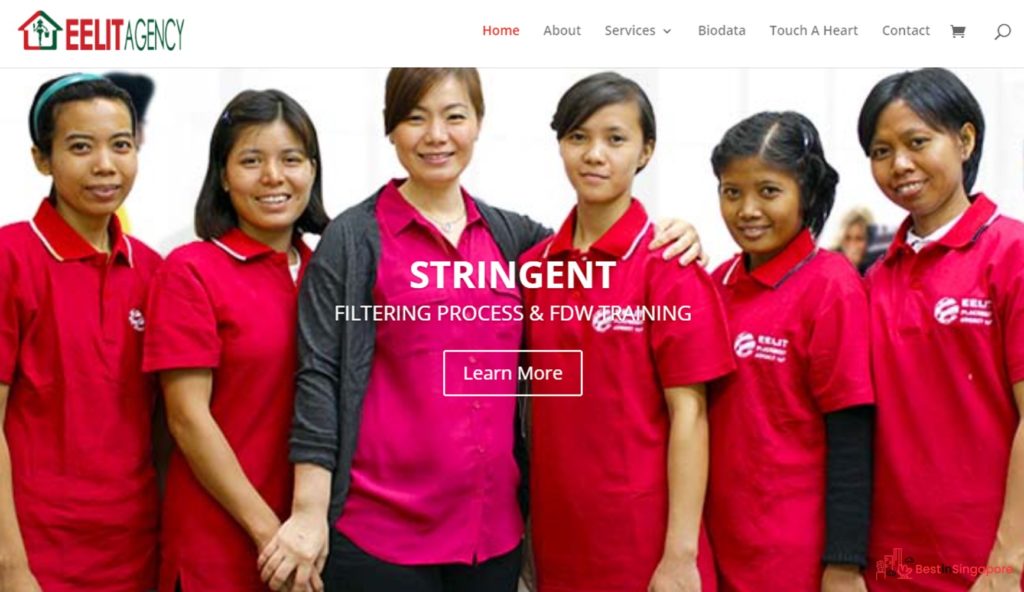 Operating since 2012, EELIT Maid Agency has established itself as one of the leading maid agencies in Singapore. Through a strict selection criteria, they make sure to only hire helpers that have proven track records of being honest, reliable, and skilled.
Since hiring a maid can be a tiresome affair, EELIT promises its clients a transparent, thorough, and hassle-free process. From providing the necessary skills and communication training to counselling services after placement, the agency does everything in its power to ensure a healthy and long-lasting employer-helper relationship.
EELIT Maid Agency is also a hiring agency with a heart. Since EELIT believes in social responsibility, it does its part in society by being actively involved in multiple charitable activities such as the TOUCH A HEART Charity Drive, Willing Hearts, and various volunteering projects.
MOM Rating (as of January 2021):
Customer Reviews
EELIT Maid Agency truly stands out from other maid agencies because of their rigorous and transparent maid hiring process. As such, many clients have attested to the quality of their services and regard them as one of the best maid agencies in Singapore.
Let's read some of the client reviews they've received:
"Recommended by a friend to get my maid from Eelit. Provided my requirements and they did a very close matching for me. Staff was very sincere and patient, not pushy and even helped me interview the maid to make sure she can handle my requests. The maid already worked with us for 3 months and i can only say she is a blessing to us."
"This agency is by far the best one than the few other agencies i have engaged previously. The 1st maid i got from Eelit works for about 1 year. Got a replacement and the maid completed her 2 years of service.  Whenever we hit problem with the maid, the agent will help us to solve also. Now with the 3rd maid from Eelit, so far so good after 2 months with us."
3. JForce Employment Services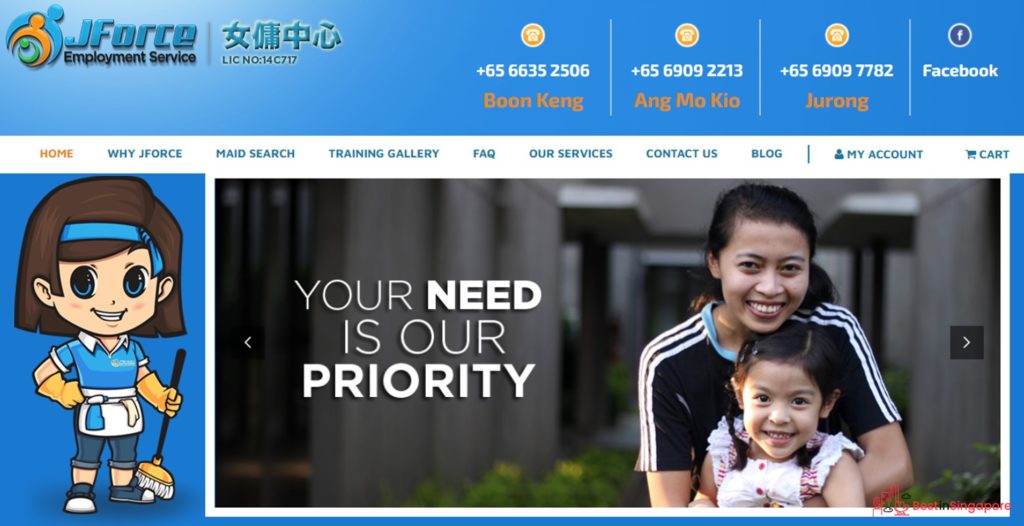 JForce Employment Services is one of the most widely recognised names in the employment industry, having serviced many Singaporean households and establishments for over a decade. They're one of the best maid agencies in Singapore for Myanmar and Indonesian maids. 
The agency prides itself in being able to provide workers with the right skills to cater to the needs of their clients. Through their strict screening process and thorough training programmes, JForce promises their clients both skilled and compassionate workers.
Because of their excellent track record, they've been the recipients of multiple awards throughout the years, including the Singapore Enterprise Award and the Singapore Brand Prestige Award.
MOM Rating (as of January 2021):
Customer Reviews
JForce Employment Services does all the work for you and makes sure that you hire only the best maids in Singapore. Take a look at this glowing customer review from a client named Chin Y.:
"Incredible quality service provided by the Agency (Jeffrey), not just prompt, but the sincerity and effort put in to ensure that the maid matches the job requirements. Having a suitable, well disciplined and well prepared maid makes a huge difference to the family! Definitely a recommended maid agency!"

 
4. Swift Maids Pte. Ltd.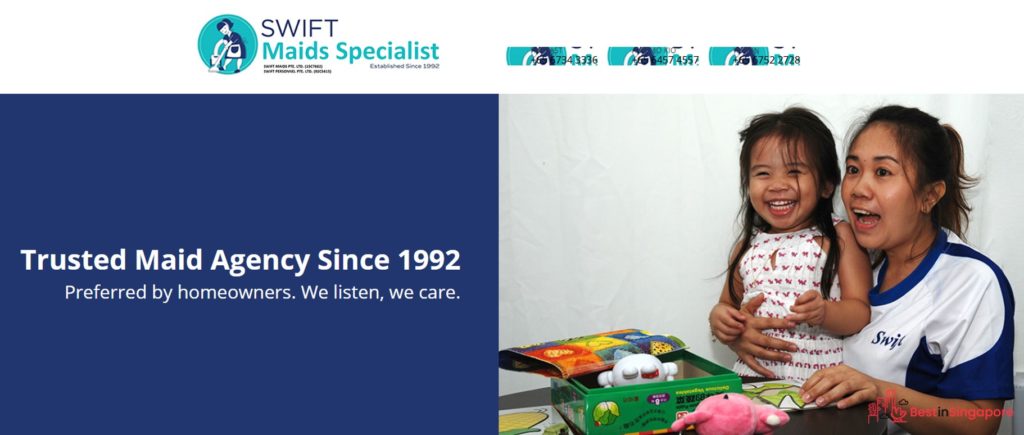 Since 1992, Swift Maids has helped thousands of Singaporean families find the perfect helper, proving to be a fairly trusted maid agency in Singapore. Not only do they provide professional services for the well-being of their clients but also their employed FDWs.
When you hire their services, you can trust that Swift Maids will provide you with clear breakdowns of costs, so that you'll know where your money is going. And if you encounter any problems and concerns regarding your employed maid in the future, you can rest assured that their exceptional after-sales service will help you resolve them.
Aside from helping their clients, they also extend their excellent customer services to their maids. They'll help their maids take care of everything before, during, and after their employment from placement loans to training.
MOM Rating (as of January 2021):
Customer Reviews
Many homeowners rely on Swift Maids's services to help them find the best helpers for their home. Don't take our word for it, though—check out these glowing customer reviews from happy clients:
"I had been using the services of Swift agency for approximately 8-10 years. Services provided by them had been efficient throughout these years. As a matter of fact, services provided by them towards my friends and families who had used their services had also been efficient."
"Staffs were very professional, experience and understanding. Sharing with them my concerns, they are able to understand and help me select the right helper to all my needs.Also, they assist me all the way through and after sales support was excellent. I would recommend them to anyone"
5. Tailormaid Services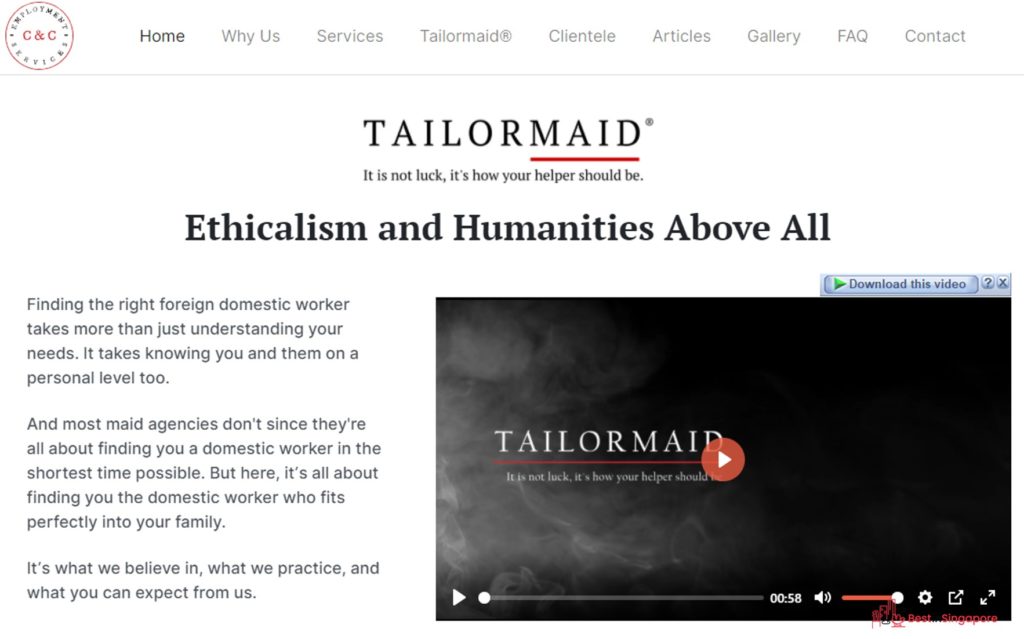 If your search for the best maid agency in Singapore is starting to get frustrating, you may want to enlist the help of Tailormaid Services. As their name suggests, they're one of the best maid agencies in Singapore for their tailored services.
The agency is operated by a two-person team who promise to be hands-on throughout the entire process. Aside from taking care of all the technical stuff, they take note of all your expectations, needs, and wants, so that they can help you find a helper who's a perfect fit for your home.
Best of all, when you hire their services, you can expect cost transparency and absolutely no placement fees or loans. And if you ever need a place for your helper to stay in for a while, you can have them stay at their boarding house.
MOM Rating (as of January 2021):
Customer Reviews
Clients find that Tailormaid Service's personal approach to maid employment helped them find a helper for the long run. Here's what their past clients think of their professional services:
"So much to say but let's keep it sweet and simple. Highly recommended company. Chloe has been nothing but efficient, knowing I've three kids to handle alone, she made all the arrangements for me. All I had to do was sit back, sign and pay. Super affordable as compared to other agencies, which is a surprise cause her services are tip top. Not pushy, super friendly. I'm glad all went smoothly and crossing paths with her. Thanks Chloe!! Much appreciated."
"Professional and detailed consultation by Chloe and Carmen to understand requirements for employers and match it with the correct helpers. Ethical process from them ensures the fairest practice in the market. Look for Chloe and Carmen to get your tailor made helper services!"
6. Best Housekeeper Singapore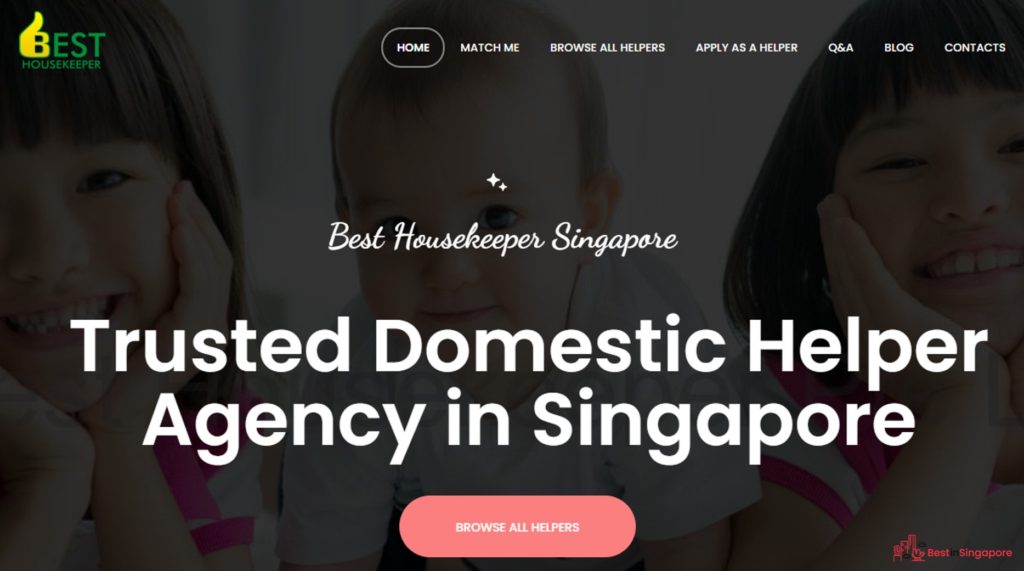 Looking for experienced maids that can quickly take charge of all your household chores? Best Housekeeper Singapore will help you find them.
As one of the best maid agencies in Singapore, you can trust them to only match you with helpers that fit their hiring criteria. And to make sure that you and your helper are a good match, they have a proprietary matching system called "Match Me" that filters helpers' profiles to match your needs and wants.
Their primary goal is customer satisfaction, and they do this by providing you with honest and transparent services. If you ever find that you're unsatisfied with your helper's work, Best Housekeeper Singapore will guarantee a replacement within 1 year of the contract.
MOM Rating (as of January 2021):
Customer Reviews
Clients found the entire hiring process to be smooth and professional with Best Housekeeper's help. Here are some choice reviews from clients who found the perfect maid through their services:
"I used to be very doubtful about hiring a domestic helper because of all the bad experiences I heard. However, when a friend introduced Best Housekeeper to me, they changed my perception about getting one. They actually have their own online platform Match Me which gave me a hassle-free experience in hiring a helper to take care of my mother. I would rate my online experience with Match me 9/10 as it made the process of finding a quality helper for my family so much easier."
"Best Housekeeper has this Match Me function that is extremely useful. It helped me to match me to a maid of my choice based on my criteria. Thank you for this hassle-free experience, which allowed me to save time in only interviewing relevant maids. A very innovative idea indeed! Good job guys!"
7. JL Maid Specialist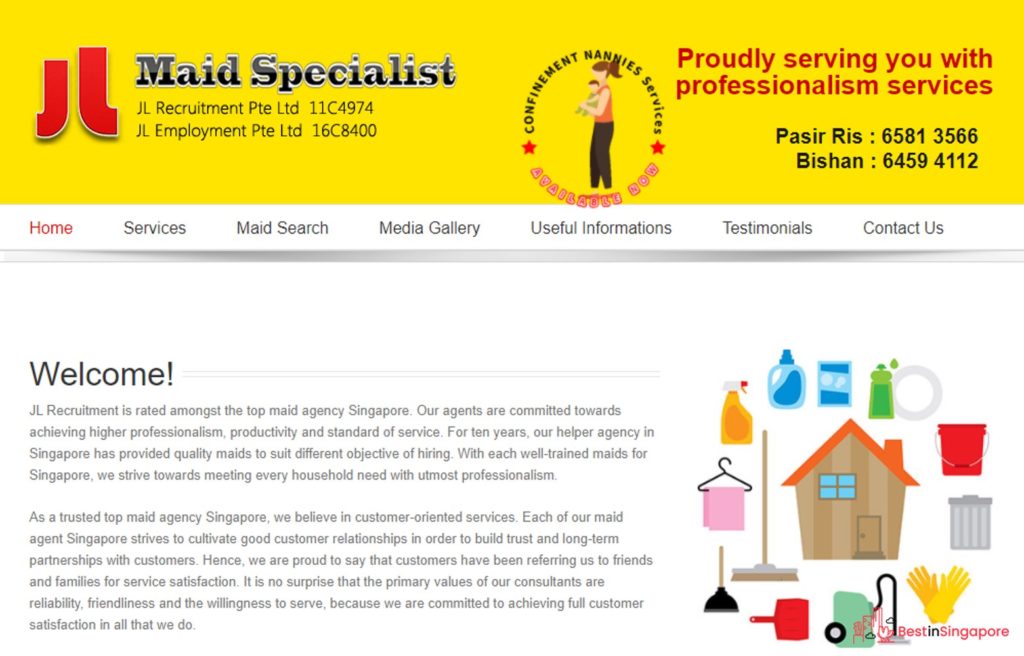 If you want a no-frills professional maid hiring services, then look to JL Maid Specialist. Whether you need a nanny for your children or a helper who can cook for your family, JL Maid Specialist can surely find you the perfect maid for your home and needs. 
They're considered as one of the best maid agencies in Singapore because they make sure all of their domestic helpers are trained in aged care, cleaning, cooking, and child care before they're dispatched. This is so that their maids can easily transition into their new role in your home.
They make sure to thoroughly screen each maid they hire from the Philippines, Myanmar, Mizoram, and Indonesia and check whether they have the skills and dedication to be a great housemaid.
If you want to enquire about their services, they have two branches you can visit: one in Pasir Ris and the other in Bishan.
MOM Rating (as of January 2021):
Customer Reviews
Clients are thankful for JL Maid Specialist's super professional and easy application process. Thanks to them, many families have found the right housemaid to stay with them for the long term.
Here are some testimonials from current clients:
"Excellent response time and wonderful helpers. My helper has been with me for 4 years and we have just renewed her again! My in laws have also found a good helper though JL. Cathy has been very helpful and professional. Thank you so much!"
"Even pandemic we managed to get suitable maid, all thanks to Cathy for being honest and reliable agent. She really guide us all through out and update us time to time. She is indeed professional."
8. Maid Avenue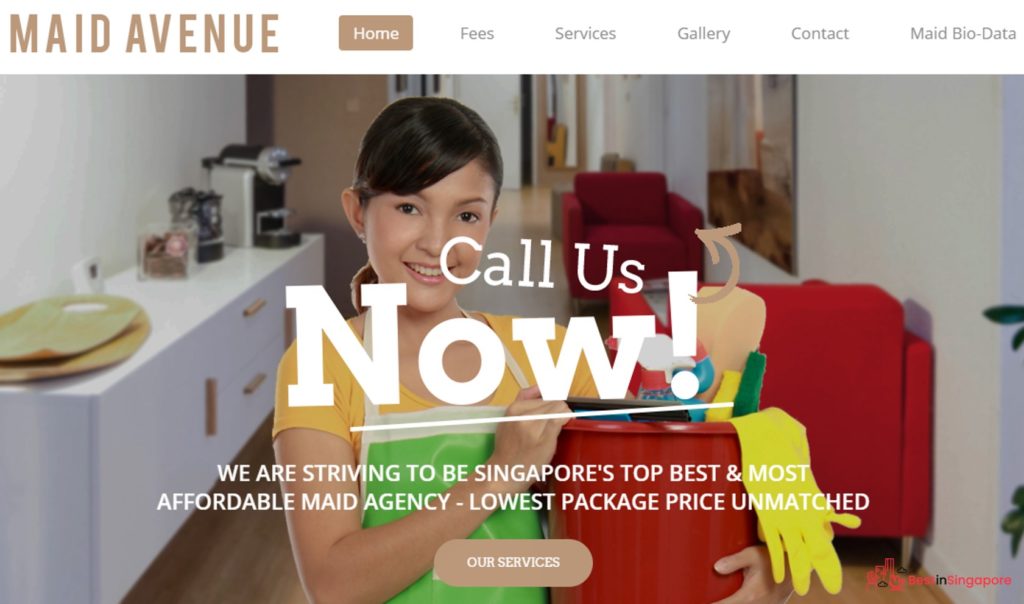 Maid Avenue claims to be one of the best maid agencies in Singapore, as well as the one of the most affordable agencies out there.
You don't need to worry about hidden costs or fees because they have detailed package offerings on their website. From three packages, you can choose whether you want to hire a transfer maid, an ex-Singapore maid, or a new maid—all depending on your budget.
Maid Avenue operates on the promise of providing one of the cheapest maid hiring services on the island without sacrificing the quality of work of their maid hires. You can rest assured that any maid you hire from them is equipped with the right training to fulfill your needs.
MOM Rating (as of January 2021):
Customer Reviews
With over 600 positive client reviews and a rating of 4.9 out of 5 stars on Google, there's no doubt that Maid Avenue can supply you with some of the best maids in Singapore.
Check out some of the reviews:
"Rest assured; Maid Avenue is reliable and would respond promptly to any queries. Staffs were friendly and full of patience while attending to you. Every details you need to know were explained 'crystal clear'; nothing for you to worry about. Really appreciate the time and effort by Yvette Cristobal as well as William in expediting the process for us. Kudos to Maid Avenue!"
"The most affordable maid agency I can find in town. Yvette is helpful and patience with all questions and in explaining the process of hiring maid especially in covid situation. Maid is doing great so far. Highly recommended."
9. Homekeeper Maid Agency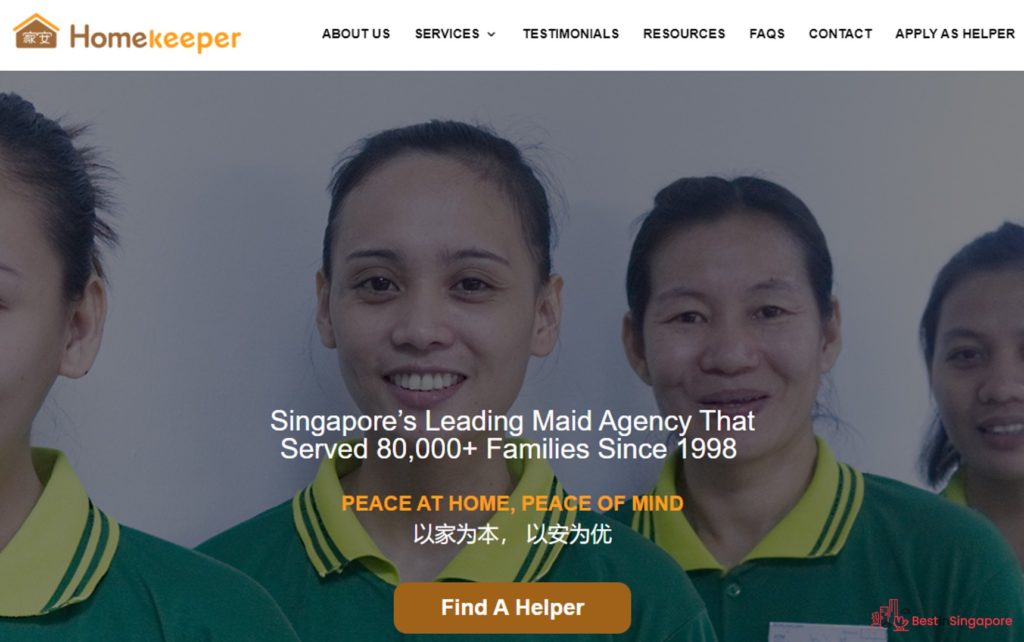 Operating since 1998, Homekeeper Maid Agency has helped match over 80,000 families with the perfect househelper. Since then, they've expanded to over five locations around the island to better service their clients.
When you hire their services, you can expect their support staff to assist you during the entire process, from pre- to post-employment. They'll also be hands-on with matching you with the most suitable maid for your home's needs to save you both time and money.
To maximise training, they have partner training centres located in source countries like Myanmar, Indonesia, the Philippines and India. And if you want to take a look at a potential maid hire's biodata, their database of over 300 profiles are available to you for browsing.
MOM Rating (as of January 2021):
Customer Reviews
Homekeeper Maid Agency is one of the best maid agencies in Singapore, according to many of their satisfied clients. In fact, they boast a proven track record of superb client testimonials on their site.
Here are some of the testimonials about their services:
"Thanks for helping to match a more suitable helper for our family. This is not the first time we have returned to seek your help to source a new helper and we are pleased with most of the helpers you have sourced for us so far.

The new helper is currently into her second week and I think she is doing fine and has already gotten most of the chores well. Thank you very much because having a good helper is really important for us, full time working mothers."
"Thank you Rebecca for helping us find a domestic helper in this Covid-19 situation to take care of my elderly father. You are very efficient, and you gave us your honest opinion. We got our helper without hassle. Will recommend your service to those needing a helper. Keep up the good work!"

 
10. Westrama Management(s) Pte. Ltd.

Westrama Management has been in the industry for over 38 years, providing employment for workers from all over India, Bangladesh, China, the Philippines, and Indonesia. 
They're one of the best maid agencies in Singapore if you're looking for Indian, Tamil, or Punjabi maids. They also employ maids from countries like the Philippines, Myanmar, Malaysia, and more. 
The agency promises to make the entire maid hiring process as hassle-free as possible. Aside from taking care of all the paperwork and permits, they'll also train their maids for child care, elderly care, cooking, and how to communicate better in English.
Before hiring their services, you can look over their extensive database of maid hires. You can also set filters if you're looking for a helper who can speak certain languages, specializes in certain skills, in a certain age group, and more.
MOM Rating (as of January 2021):
Customer Reviews
Many Singaporean families have stuck with Westrama Management for many years to help them find the best maids for their households. Check out these rave reviews from loyal clients:
"I have been looking for different maids (Filipino, Myanmarese, Indonesian, Indian)through various maid agencies, and came across Westrama Maid agency. Their HR (Baby madam) was so helpful in finding the suitable maid for us to take care of our 1.3 months old baby as we both were working couple. Their process is seamless and they are also supportive in resolving conflicts with maid if any, post placement. Its been a month now, the new maid has joined her job and so far she is good in taking care of baby. I would suggest Westrama Agency, if anyone is looking for a professional maid."
"Very thank full to Baby in assisting to fetch the helper. Being it for the first time employer, Baby guided in through out the process and proactively providing the details which were not aware. Thank you Baby🙏, hope the journey continues well😀"
11. Super Employment Specialist Pte Ltd

SUPER Employment Specialist was first established in 2002 and has now grown to be one of the largest hiring agencies in Singapore. They're one of the few maid agencies on the island to have overseas training centres, making them among the best maid agencies in Singapore.
SUPER hires qualified and skilled workers from countries such as the Philippines, Indonesia, Myanmar, Thailand, India, and Sri Lanka. And if you're having a hard time picking out the right maid from their long list of hires, their highly-experienced consultants are there to help you.
From documentation to placement, SUPER makes the entire process simple and easy, with reasonable agencies fees and no hidden costs. Have peace of mind knowing that their staff will do their best to assist you and your maid even after maid placement.
MOM Rating (as of January 2021):
12. 1 Assist Agency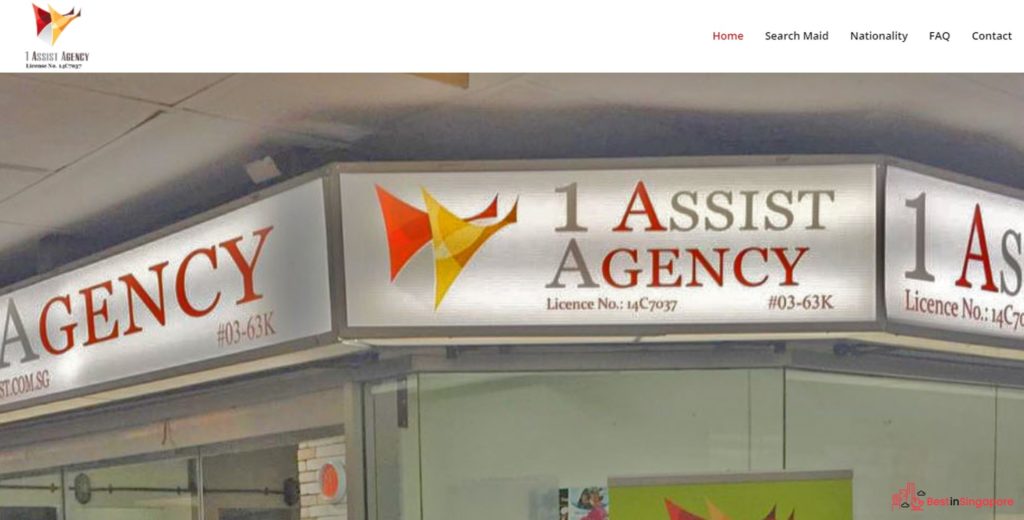 1 Assist Agency is a premium maid hiring agency that puts customer satisfaction above all else. And to make sure that each client is satisfied with their hires, they only employ qualified and skilled workers from the Philippines, Myanmar, and Indonesia.
They operate with a strict assessment program where they test the suitability of candidates through a Practical Household Skills Test. Those who will pass the test will then undergo even more training to develop their practical, communicational, and interpersonal skills.
1 Assist Agency also offers some of the lowest maid agency fees in the market, with a guarantee of no hidden costs.
If you're looking for a no-fuss, client-oriented agency, you'll find that 1 Assist Agency is one of the best maid agencies in Singapore for that. 
MOM Rating (as of January 2021):
Customer Reviews
Clients of 1 Assist Agency are quick to note the high level of professionalism and convenience that the agency provided them during their search for a maid. One happy client shares her experience with the agency in this review:
"I dealt with Huishin who is simply the most patient and helpful person one could wish for if ure looking for a suitable helper . Very happy with her service and they have a good variety of resumes proceeded with video interview.
I went through almost 10 agencies n settled on this one becoz Huishin was simply wonderful . She makes sure she screens through each resume first according to your needs and requirements , not just dumping a whole file in front of you like some other agencies do."
13. Raymond Maids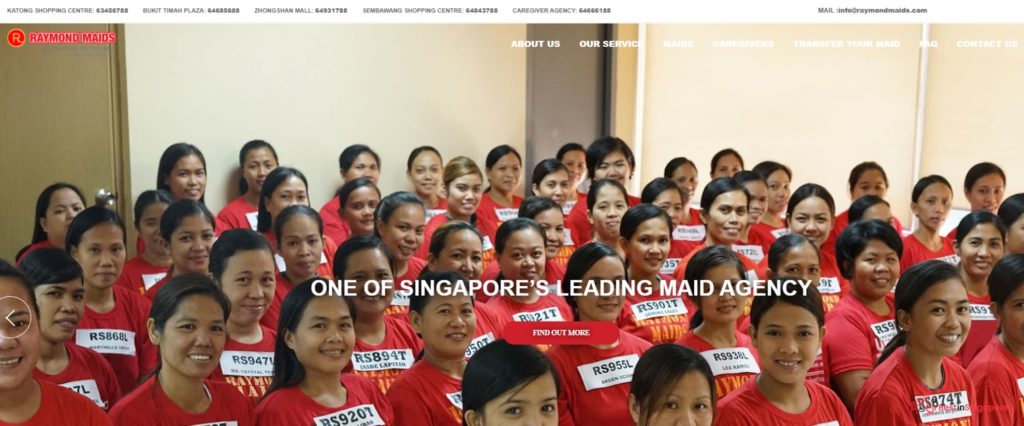 Finding the best maid for home can be a stressful affair, but not with Raymond Maids. They're one of the best maid agencies in Singapore, specializing in caregivers for elderly or disabled care. 
When choosing candidates, Raymond Maids makes sure that their caregivers have the necessary skills and qualifications to care for clients with dementia, cancer, stroke, cardiovascular diseases, and more. They also look for candidates that have experience in working in hospitals or nursing homes and also those who have taken care of eldery patients or children with special needs.
Since communication is important when caring for the elderly or disabled, the agency also makes sure to assess the language ability of the caregivers they employ. Whether you need a caregiver that speaks Mandarin, English, Malay, or a certain dialect, Raymond Maids will match you with one that suits your needs.
But if you're only looking for a maid who can do general household chores, no problem. Raymond Maids keeps a database of hundreds of experienced and dependable maids that you can choose from.
MOM Rating (as of January 2021):
Customer Reviews
Numerous clients have attested to Raymond Maids's invaluable part in providing them with the most suitable household helpers. Take a look at some of the satisfied client reviews:
"Very efficient and professional in maid handling. They ensured that the process of getting a maid was simple, quick and fast. Told them my requirements of the house and very quickly they found a suitable maid that met the needs of my house. They train their maids very well, so far i have no complains or any issues with the maid. Highly recommended."
"Through Raymond Maids Employment Agency, I was able to get a good helper who is of great help and taking good care of my aging parents in their late seventies and early eighties. Personal selection of maids in home country by boss to ensure quality is not commonly found in other agencies and with a wide database they are quick in shortlisting helpers that suit my requirements, I was able to find a suitable helper fast. I highly recommend this agency!"
14. Reliable Maids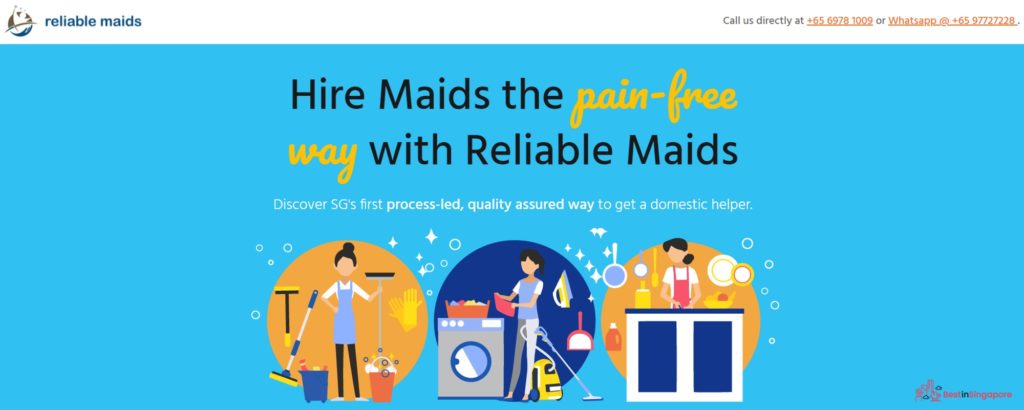 Reliable Maids provides a different kind of maid hiring experience than most maid hiring agencies. For one, it's a fully digital employment agency that uses a 100% process-led method of assigning you the best candidate tailored to your needs.
There's no need to orient the househelper yourself because Reliable Maids takes care of all the necessary language and skills training. To maximise training and avoid miscommunication, they conduct all of the training in their helpers' native languages.
You also don't have to worry about any hidden fees because Reliable Maids breaks down their maid hiring packages on their website for you to see. And if you want to look over the biodata of potential hires, their service team is just one Whatsapp message away.
MOM Rating (as of January 2021):
15. Nation Maid Agency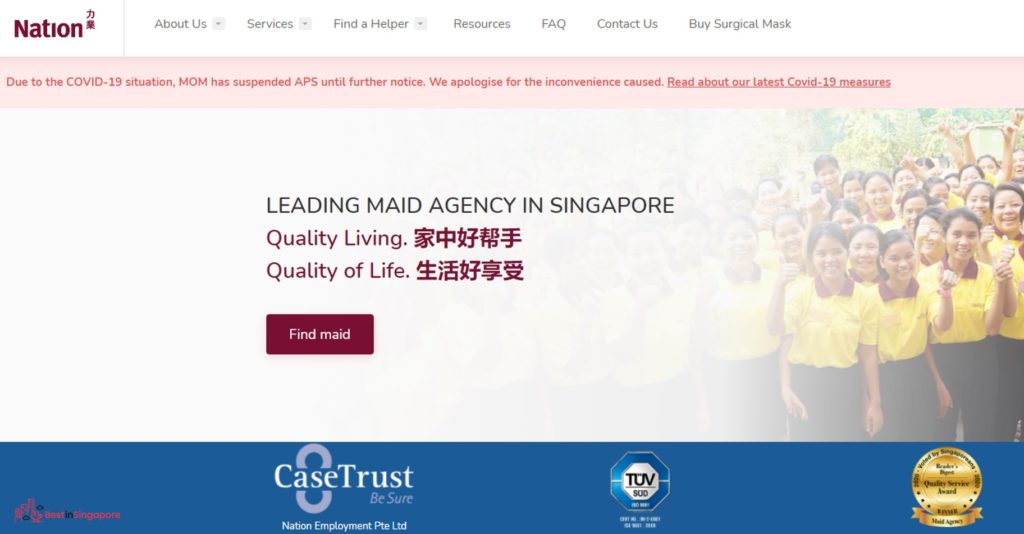 Since 1992, Nation Maid Agency has held true to its promise of providing skilled and reliable maids for thousands of households across the island. Throughout its more than two decades of operation, it has received numerous awards from local and international award-giving bodies for the quality of their services.
They have over 20 experienced consultants who are ready to assist you during the whole hiring process. In fact, they even have a team of experts on standby if ever you have any enquiries during non-working hours.
The agency offers quality services for both clients and FDWs, from work permit application to counselling services. If you want a seamless maid hiring experience, Nation Maid Agency is one of the best maid agencies in Singapore.
MOM Rating (as of January 2021):
Customer Reviews
Many clients have been pleased with the helpers they've hired from Nation Maid Agency. They noted reasonable agency fees and top-notch customer services.
Let's take a look at some of the client reviews for the agency:
"Nation Maid is the finest maid services there is! We have been customers for more than a year now, and we would highly recommend this company. Fantastic cleaning and great maids. They go out of their way to do things above and beyond."
"I just hired a maid at Nation Maid. I'm thrilled with the results. Their prices are reasonable and they did a superb job! All the rooms they worked on were spic and span and they cleaned areas I never even expected – the covers to my cat litter boxes were wiped down and I swear the pot I had on my stove looked cleaner and shinier than when I left it. The maid that I got is really good! I am so glad for having decided to get a maid at Nation maid! Would recommend to everybody."
16. Unistarr Employment Pte Ltd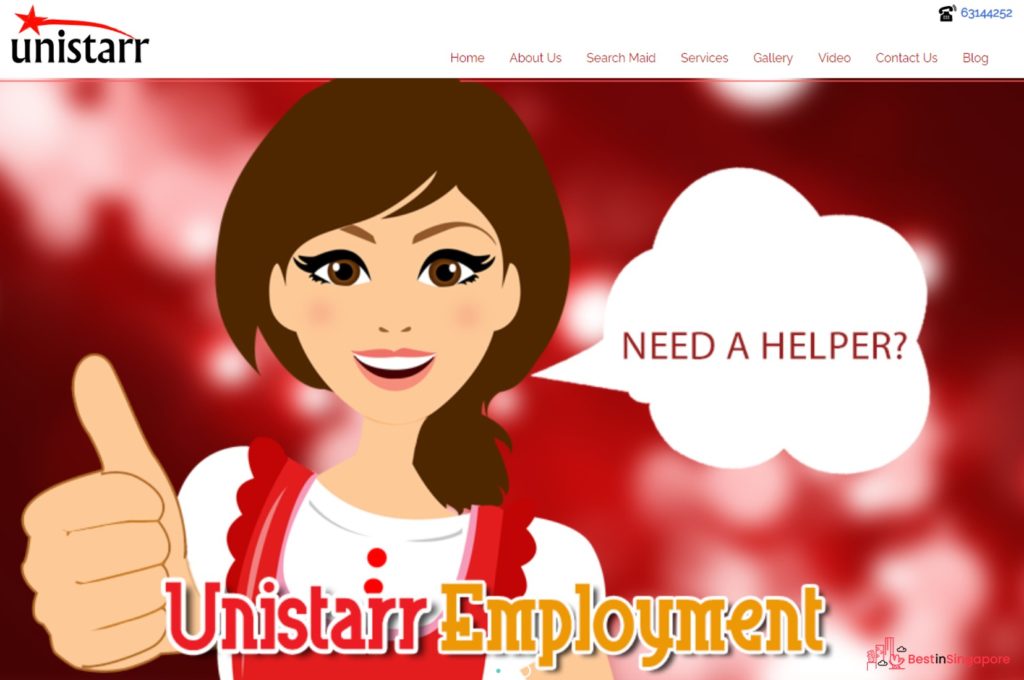 Unistarr Employment is one of the top maid agencies in Singapore that employs highly-skilled househelpers from Indonesia, Cambodia, Philippines, Manipur, Mizoram, and Myanmar. 
With the aim of being a one-stop portal for all your household servicing needs, Unistarr makes sure to provide you with domestic maids that can cater to a variety of services such as housekeeping, cooking, elderly care, and child care. Whether you're looking for a new, transfer, or experienced maid, they're one of the best maid agencies in Singapore to call. 
For their outstanding services and performance throughout the years, they've received multiple awards, such as the Singapore Enterprise Award and the Promising SME 500 Award.
With Unistarr, you're guaranteed a hassle-free hiring process as they make sure to prioritize the needs of their clients. If you're interested in their services, you can call them via phone for a free consultation. 
MOM Rating (as of January 2021):
Customer Reviews
For many Singaporean homeowners, Unistarr Employments proves to be a provider of the best maids in Singapore. Check out some of the positive customer reviews:
"Friendly and caring team. Taken two FDW from unistarr, both were well trained and well discipline. Thanks Steve for the pleasant service. Steve and his team knows and understands what exactly the employer needed. Thanks and keep up good work."
"5 star service! Thank you for the great service and for helping us get the right helper that meets my requirement. Very knowledgeable staff and after service was also excellent! Thank you and definitely highly recommended!!!"
17. OkayLah Services Maid Agency

OkayLah Services Maid Agency is a maid agency that's dedicated in providing its clients with the best maids in Singapore. From house cleaning to eldery care, OkayLah has a large database of well-trained and qualified FDWs that are fully capable of any household task you throw at them. 
They employ helpers from multiple countries such as the Philippines, Indonesia, Myanmar, India, and Sri Lanka. From start to finish, you can trust that OkayLah will handle everything smoothly while you wait for a suitable candidate.
To match you with the perfect helper for your home, they screen each candidate's profile thoroughly to make sure that their skills are fit for your home's needs. Furthermore, they make sure to provide the necessary training for their maids to facilitate better communication between the maid and employer.
MOM Rating (as of January 2021):
Customer Reviews
OkayLah clients are amazed at how efficient and convenient the entire process was for them. And because of their amazing services, clients often refer OkayLah Services Maid Agency to their friends.
Here are some of the glowing client reviews we found:
"Amazing team ..  They work really hard and pick up all my calls even out of office hours.  Hired an Myanmar Helper from them in Covid period and everything was well managed  .  Thanks  for your help..   I will recommend you to my friends …"
"Hired an Darjeeling Indian maid from Okaylah recently.  They helped to bring new helper from India . I will recommend them to friends.. Very friendly staff. Thanks a lot Okaylah Indian Maid agency Singapore and specially Mrs Singh !!!!!!"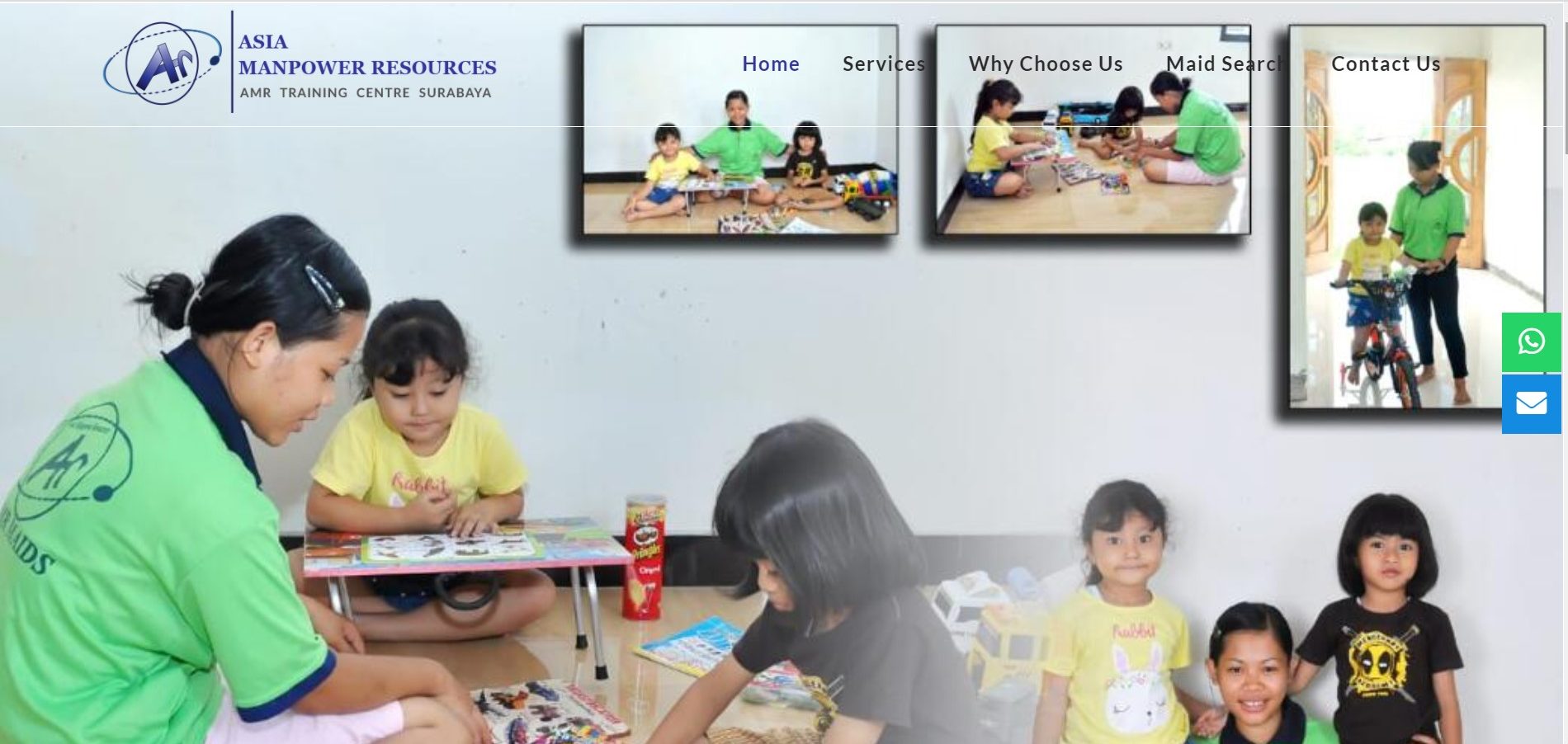 EA LICENSE NUMBER
13C6812
SCOPE OF SERVICES
WEBSITE
http://amrmaids.com/
ADDRESS
Tampines Mart, 11 Tampines Street 32,
#01-02B, Singapore 529287
CONTACT INFORMATION
[email protected]
+65 62417440 / +65 83839448
OPERATING HOURS
Monday – Saturday: 10:30am to 8:30pm
Sunday: 10:30am to 5pm
Public Holiday By Appointment
Another great agency to consider if you're looking for help at home would be Asia Manpower Resources. They're one of the best when it comes to providing competent and skillful workers.
Asia Manpower Resources is known worldwide, having received multiple awards for their service, guaranteeing safe and hassle-free hiring of maids.
To top it off, Asia Manpower Resources' domestic workers come from varying countries, all carefully picked and trained.
As a one-stop solution to hiring maids, Asia Manpower Resources truly is one to look into if you want quality assistance with no hidden fees and minimal charges. You can head to their website to check the maids they have available, as well as each of their skills and previous reviews.
MOM Rating (as of January 2021):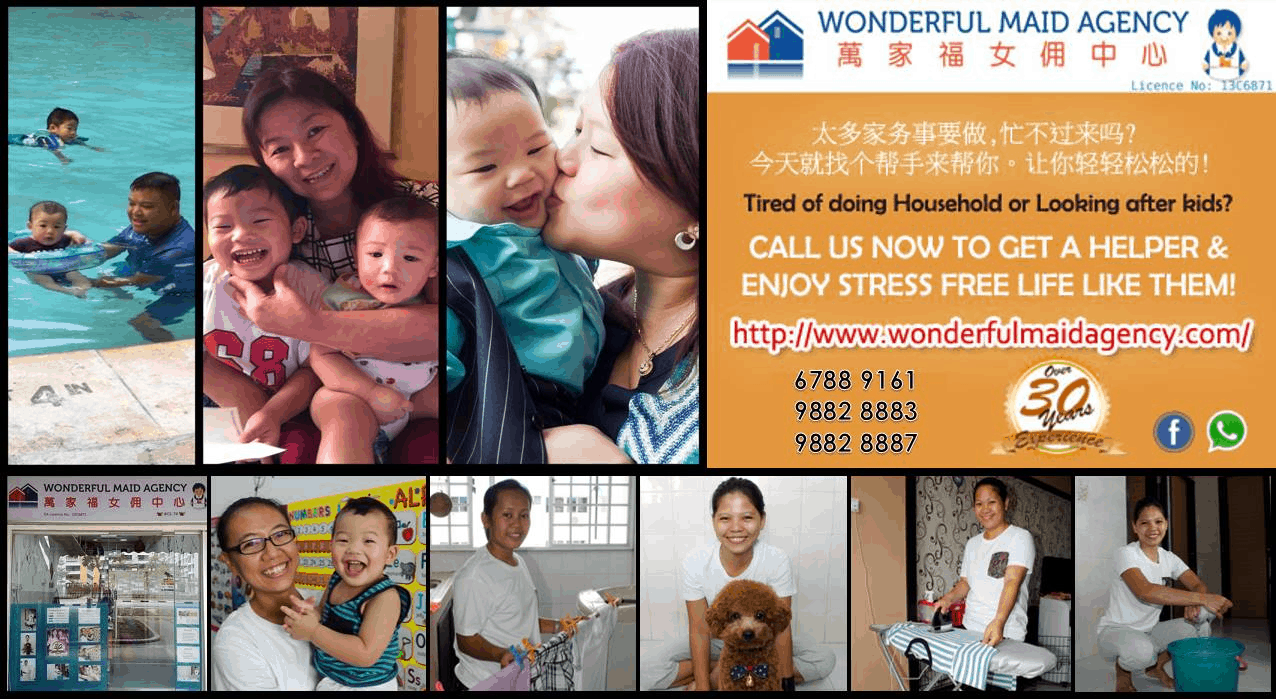 True to their name, Wonderful Helper provides helpers and babysitters that are more than capable of assisting any household with their tasks. Their employees are more than qualified when it comes to their work, leading to satisfying results every time a client hires their services.
Many praise them for their responsiveness when it comes to communication. If you're in urgent need of their services, they'll be able to get back to you within a day.
Each and every one of their employee undergo training to ensure that they are not only capable of doing what their clients want, but will also be able to exercise patience and friendliness in the process. They aren't just people who help around the home– they're also companions that go above and beyond in helping you with what you need.
Finally, they make sure to follow up with their clients to see if their services are still needed beyond the agreed-upon period. This attentiveness is what sets Wonderful Maid Agency apart from other agencies.
MOM Rating (as of January 2021):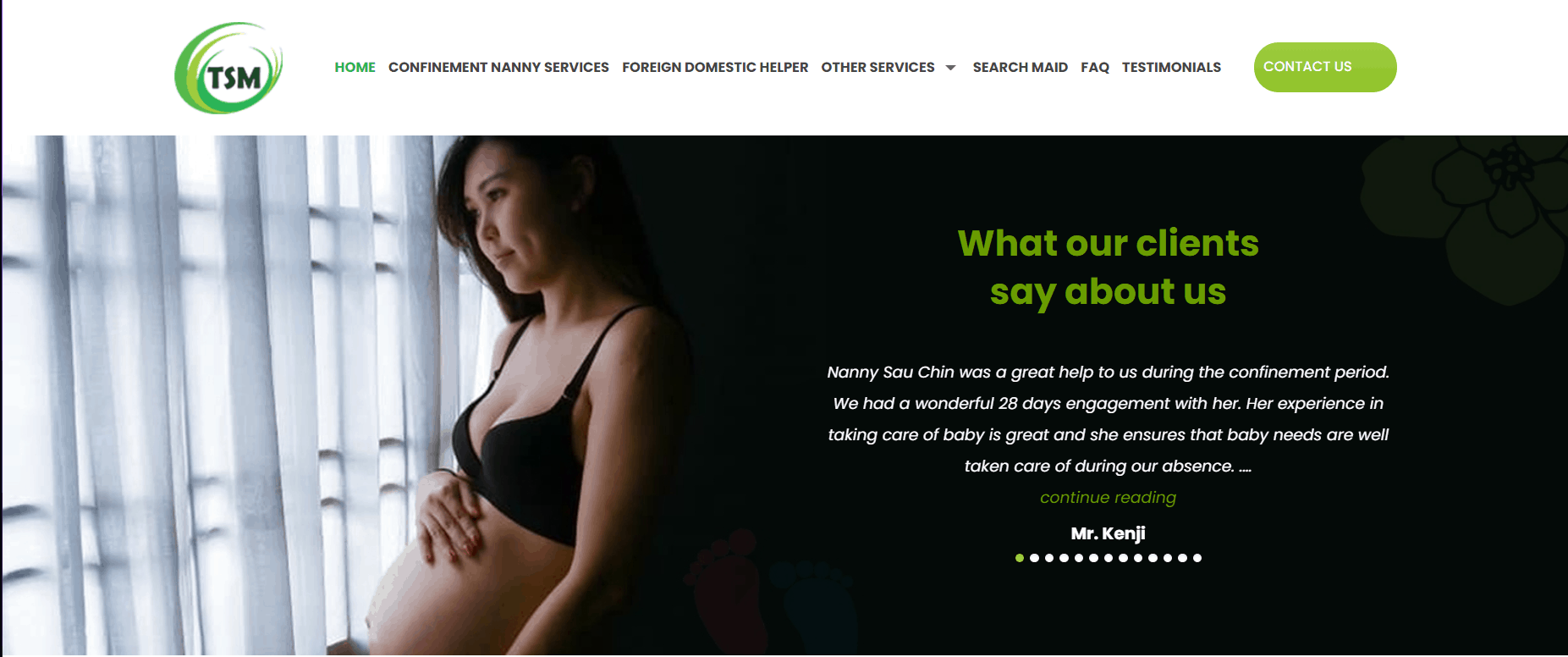 EA LICENSE NUMBER
17C9004
SCOPE OF SERVICES
Confinement Nanny, Foreign Domestic Helper, Pre and Post-Natal Services
WEBSITE
https://tsmnanny.com
ADDRESS
623 Aljunied Road, #02-01A Industrial Aljunied Complex Singapore 389835
CONTACT INFORMATION
+65 63371793
[email protected]
OPERATING HOURS
Always Open
TSM Maid & Confinement Agency specialises in aiding clients in need of nanny services and foreign domestic helpers. They take pride in offering high-quality services for affordable prices.
They have an experienced team of nannies and helpers who are reliable when it comes to what they do. They are not only skilled with taking care of the house but also friendly and trustworthy people you can get along with.
Past, present, and future mothers will also have a lot to benefit from their services. They provide confinement herbal packages, pre and post natal massages, as well as lactation consultancy services to clients who need it. 
Given their comprehensive services and reasonable prices, the TSM Maid & Confinement Agency is a one-stop solutions provider that's recommended not only for mothers, but also for anyone in need of skilled and reliable helpers for the home. They're available 24/7, so you're more than welcome to contact them if you're interested in acquiring their services.
MOM Rating (as of January 2021):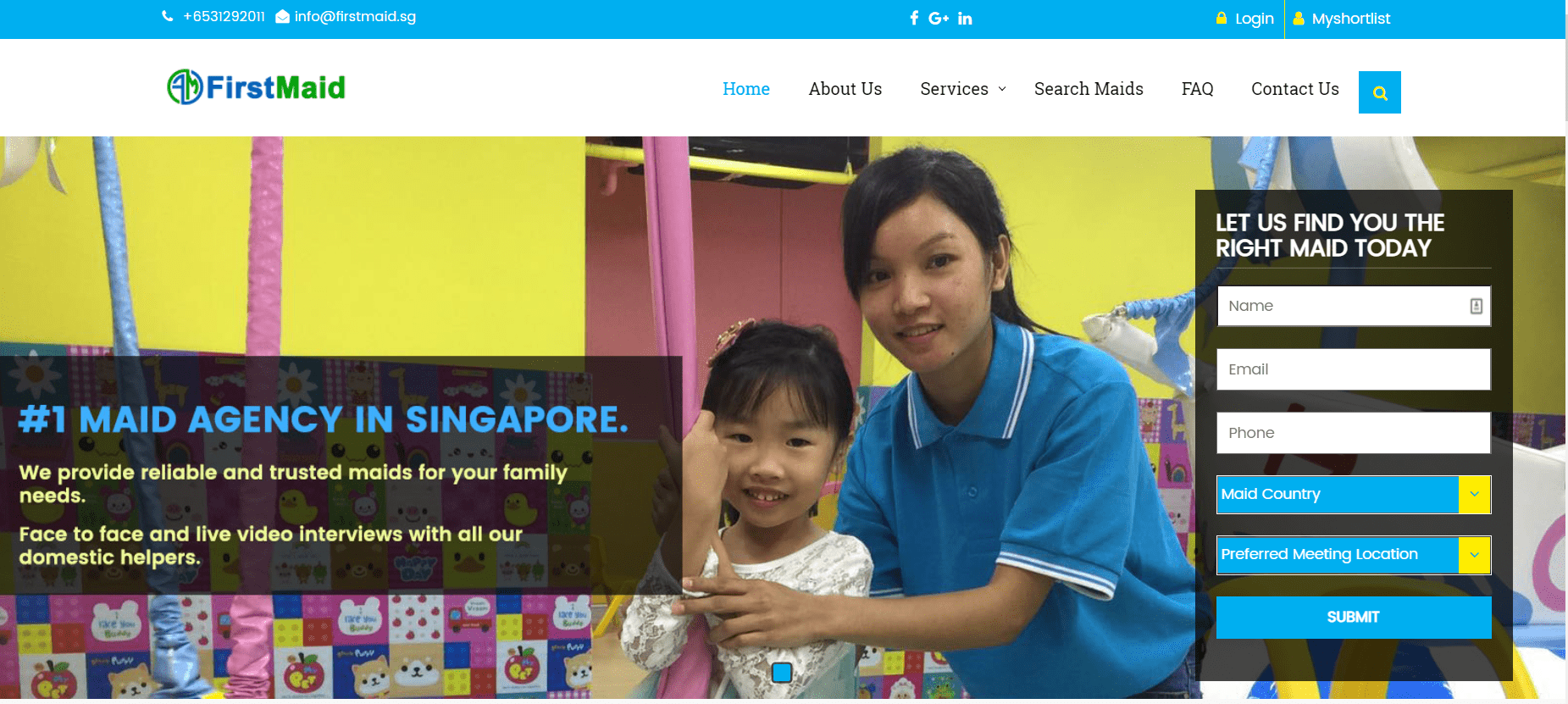 EA LICENSE NUMBER
20C0141
SCOPE OF SERVICES
Direct Hire Application
Work Permit Application, Renewal & Cancellation
Personal, Medical Insurance & Security Bond
Full Package Medical Check-up
Consultation and Counselling
Housekeeping, Elderly and Baby Care Training
Booking of Air Tickets
Transportation Services
Holiday drop off
WEBSITE
https://www.firstmaid.sg
ADDRESS
Locations
CONTACT INFORMATION
+6531292011
[email protected]
OPERATING HOURS
Locations
Finding a reliable domestic helper can be hard, especially if you throw in cultural differences in the mix. Fortunately, FirstMaid has an extensive set of maids from various countries ready to assist you in your home.
They have transfer maids from Myanmar, Indonesia, Philippines, and India, all of which have a variety of skillsets suited for house and resident care. Their specialisations include cooking, all-around cleaning, elderly care, and child care. 
To keep their quality of services at their best, they provide their employees with excellent incentives to keep them motivated. Moreover, they make sure to frequently inform and train in the latest when it comes to housekeeping and resident care.
FirstMaid's extensive database comprises individuals who are more than qualified as maids. Given their excellent track record and reliable services, it's no surprise that many rely on them when looking for a maid.
MOM Rating (as of January 2021):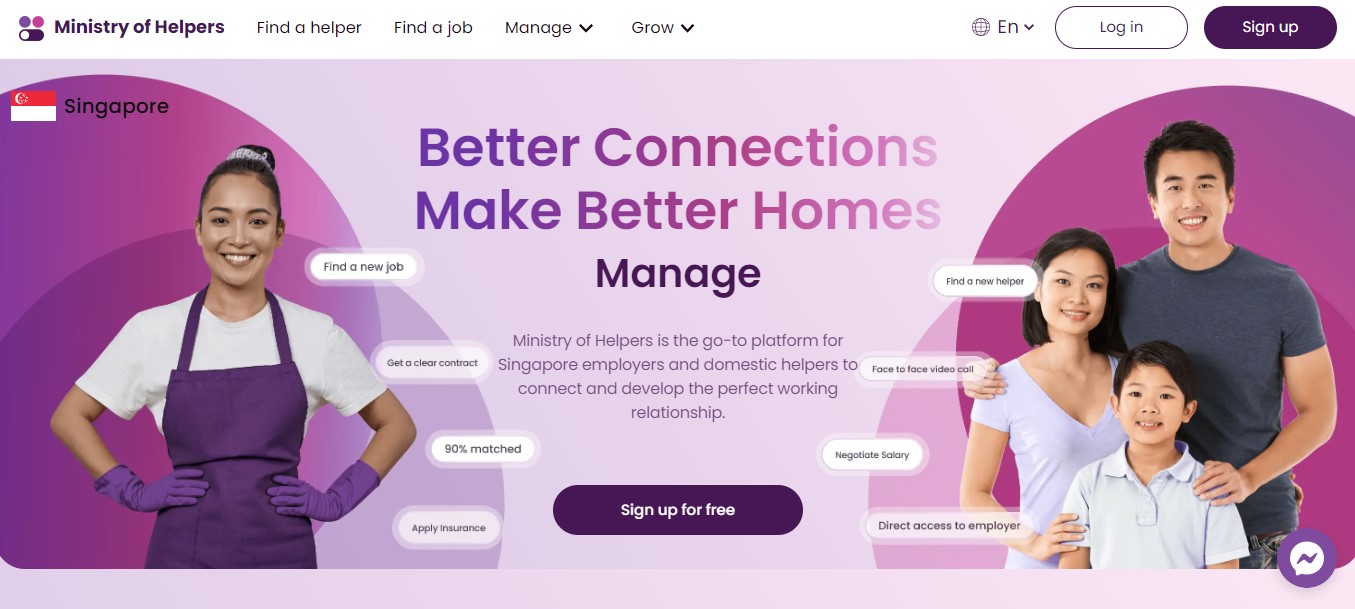 EA LICENSE NUMBER
Contact for more information
SCOPE OF SERVICES
Domestic Helpers
Concierge Services
WEBSITE
https://ministryofhelpers.com/
ADDRESS
Singapore
CONTACT INFORMATION

+65 80101532

OPERATING HOURS
Contact for more information
Ministry of Helpers empowers both employers and foreign domestic helpers. With them, you will be able to build a relationship that will make your home a better place for your loved ones.
With help of their platform, you will be able to search for the perfect helper free of charge. Aside from this, their website can also guide you along the maid hiring process directly without an agent.
We love how they are the only one who has helpers that are available immediately. Perfect for those who need one as soon as possible.
Not a fan of cash lying around your house? Do not worry, because, in comparison to other companies, they offer cashless household expenses.
They have partnered with LUCY to allow employers to pay through debit cards, monitor household expense tracker, and record helper's salaries digitally.
Unlike others, you can easily buy insurance for your helpers here. If you are an employer, you are recommended to do this because you are required to bear the full cost of the medical care of your foreign domestic worker.
MOM Rating (as of January 2021): Contact them for more information
—
And that wraps up our list of the best maid agencies in Singapore! With the help of these agencies, you're sure to find the perfect maid that can help you deal with all your household woes.
Did we miss anything in our list? Leave us a message and we'll update our list ASAP!
If you're looking for a one-off or periodical cleaning service, look no further. We've listed down the top cleaning services in Singapore for your convenience. Check 'em out!