The 15 Best Part-Time Cleaners in Singapore
If you constantly stumble upon dirt and dust in spots you often forget to clean, then maybe it's a sign that you're often too busy to bust out that broom. In that case, don't be shy to call a part-time cleaner.
And to help you out with that, we've rounded up the best part-time cleaners in Singapore to provide fast, efficient, and dependable cleaning. We've reviewed their services for you, and included everything you need to know before hiring them for the job.
So without further ado, allow us to begin by talking about costs first.
The Best Part-Time Cleaners in Singapore
Moving on, let's dive right into the best part-time cleaners that Singapore has to offer.
1. Helpling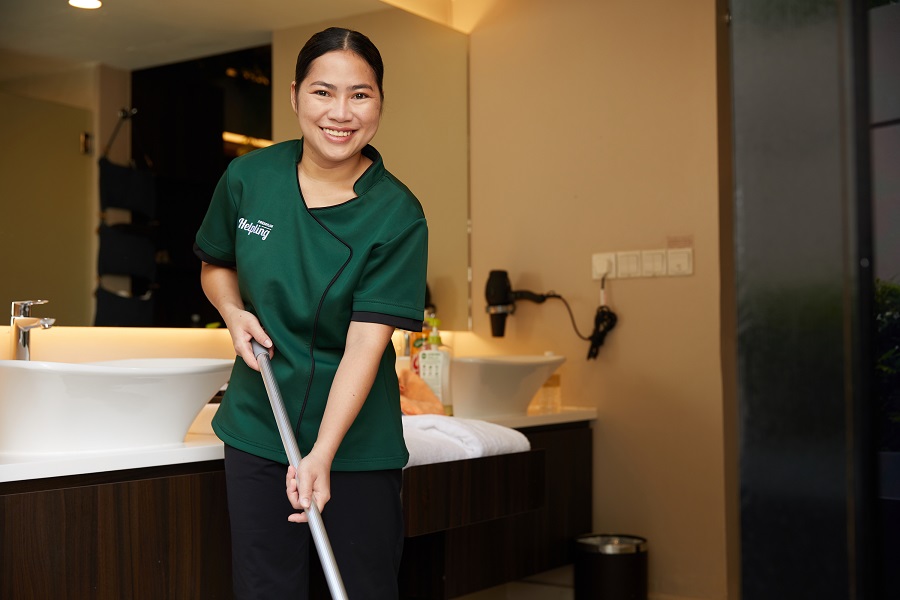 In top spot is none other than Helpling. They truly understand the needs of the busy working population and that's why they've made it so convenient to book whatever service you need.
Whether it's a part-time cleaner or upholstery cleaning, you can book them easily on Helpling. This convenience gets points in our book!
All cleaners on the platform have gone through a rigorous selection process and constantly undergo performance reviews to ensure their service quality. From just $28/hour, you can engage the most experienced cleaners on the platform to spruce up your home.
With every weekly or fortnightly booking, you are even assigned a dedicated team of home advisors who will provide you with a seamless personalised experience. They act as your personal concierge to help you resolve any booking issues or book additional services.
Customer Reviews
Take a look at what homeowners said about Helpling's services:
"This is my first time engaging a part-time helper and was quite sceptical at the start. Cherry (Dao) is very professional and completes the assigned cleaning tasks diligently and promptly. She is also proactive and sweeps and mops my floor before leaving though it is not listed on my tasks. My child takes a liking to her and sits beside her as she is cleaning our balcony door. She is also friendly and courteous. Overall satisfied with the cleaner but I took a 1-time appointment so the charges are pretty high per hour for my first visit." —Joyce Lim, Google Reviews
"Employed Helpling cleaning service for my home on 11 September, very pleased with the customer services from Marie and Iqa. I would also like to commend Tran Thi Phuong for her prompt, efficient and intelligent way of cleaning my common toilet. She ensured that my sink was not clogged and made all taps and showerhead shine. She managed to vacuum and mop my house thoroughly and I could feel that everywhere was spotless at the end of the session. She would help to wash all the hand towels as well as floor mats and hang them up to sun on the hanging racks. Besides that, she helped to fold clothes, hang up wet laundry and dust all areas in my home. I would rate her service as 10/10 & give her 100% satisfaction rating." —Brenda Chong, Google Reviews
2. KMAC International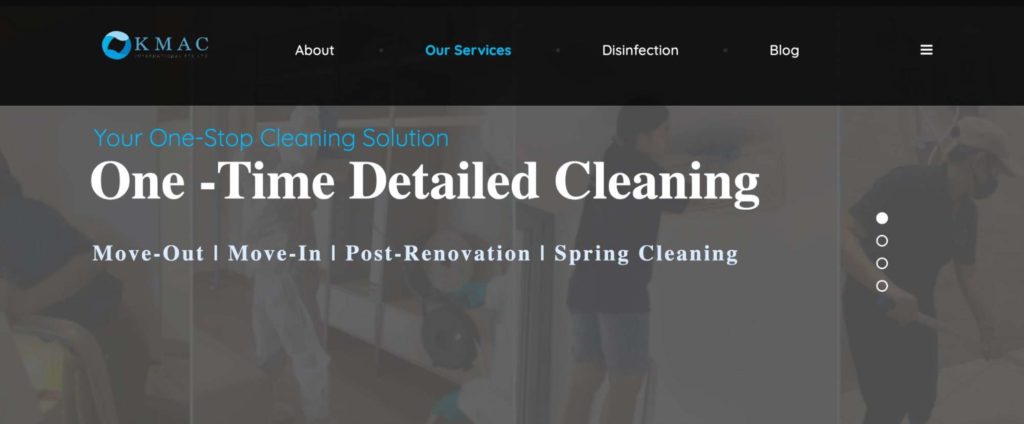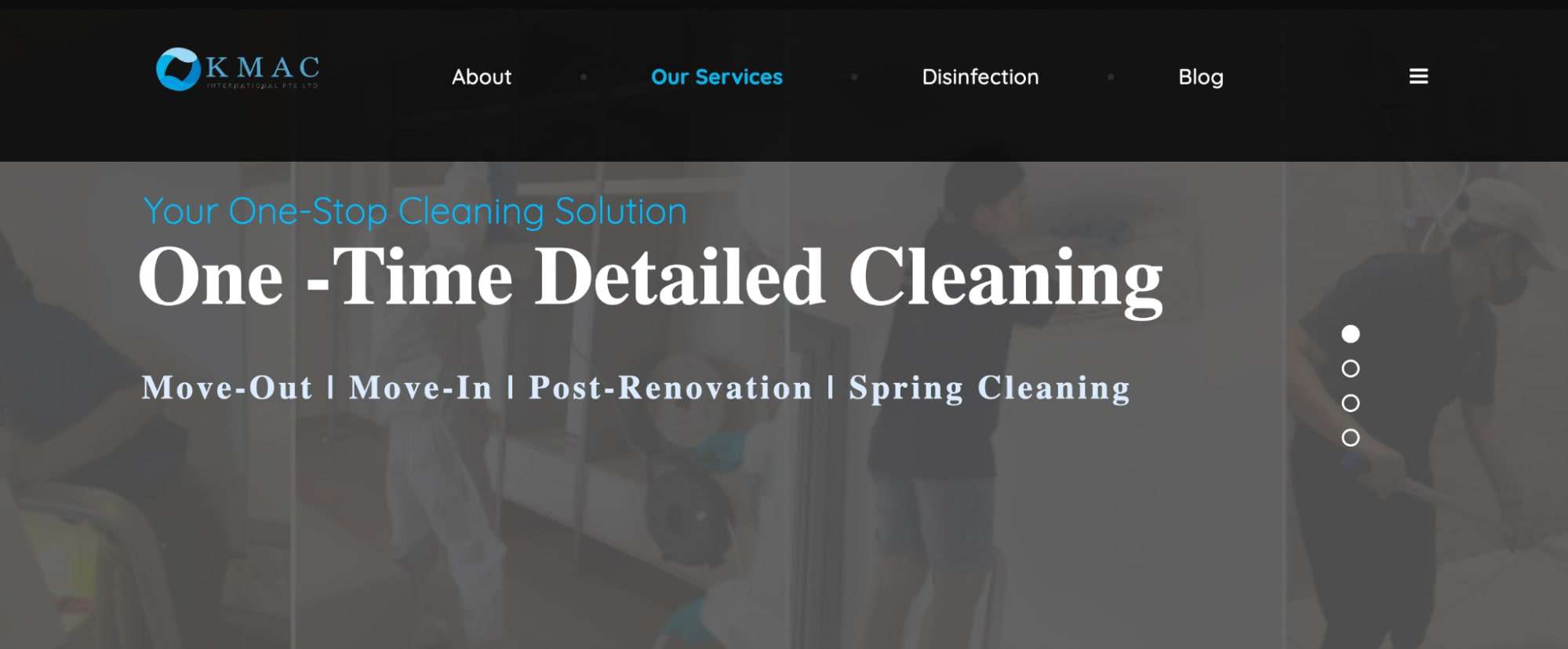 KMAC International provides professional cleaning services for both residential and commercial establishments, making them a one-stop shop for all your cleaning needs.
Unlike other agencies that host a network of cleaners, KMAC's cleaners are all under their employment. From this, you can be assured that each cleaner is carefully vetted.
While they offer one-time services such as spring cleaning and post-renovation cleaning, there is a minimum commitment period of 1 month for general cleaning services. So, if you're looking to get a part-time cleaner just for minimal cleaning tasks, this agency may not be right for you.
On the other hand, this is a huge plus for those who prefer to sit back and skip the majority of chores on a regular basis. You can expect your cleaner to come by weekly for general cleaning services.
From what we've seen though, KMAC seems to be a big hit among companies for their commercial cleaning services, seeing that they've serviced Decathlon, Under Armour, and Mitsubishi, to name a few.
For a fast response, we highly recommend sending them a message on WhatsApp to make your booking. Just give them a few hours or a day at most, and they'll get back to you in no time!
Customer Reviews
Check out what clients had to say about KMAC International:
"Hired KMAC for Post Renovation Cleaning. Appreciate Jayme and her team for accommodating us at such short notice. My contractor did a horribly job in clearing up the mess. I was desperately trying to book a cleaning service at 9pm. Jayme was very responsive and got back to me within an hour. Managed to book an appointment for the very next day!!! Her team was thorough and meticulous! Cleaning every single inch with care and precision. Mighty impressed! Strongly recommend!" —Alleson Yap, Google Reviews
"KMAC was prompt in confirming my last minute request to clean on a Sunday (one-time general cleaning). Also gave me the trust and flexibility with a simple reply via email as form of engagement. Billing was swift the next working day. Cleaners were polite and thorough. I would consider KMAC again – this time for my regular household one!" —Lorraine Lee, Google Reviews
3.   SureClean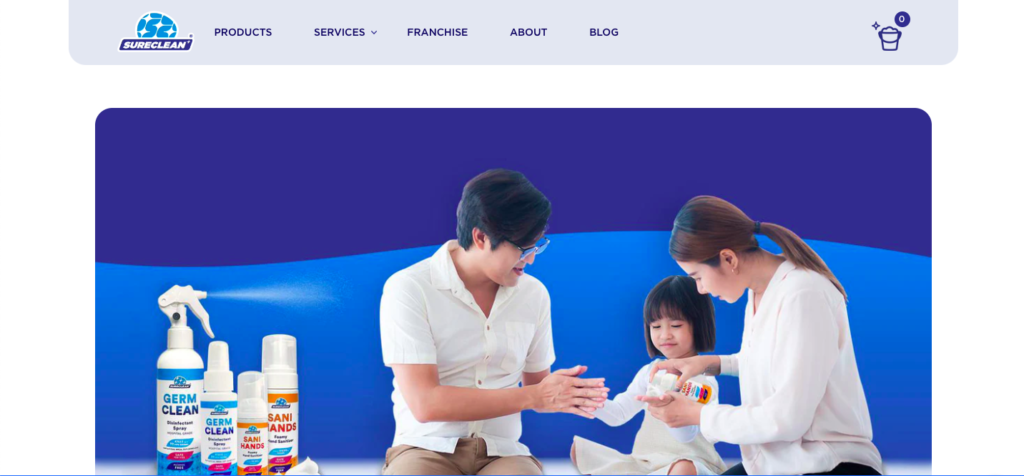 Since 2013, SafeClean has been a trusted hygiene partner. They're currently the country's leading supplier of hygiene and disinfection products and services, as well as leading hygiene supplier for the local childcare industry.
They have different cleaning services including Concierge Class Housekeeping Service, Professional Home Cleaning Service, Home & Commercial Disinfection, and Wet or Dry Mattress Cleaning Service.
We like their home cleaning services since they're completely child-safe. This is why they're trusted hundreds of thousands of parents and schools all over Singapore.
We also like that they cover every possible corner of your home and will leave no pillow unturned.
Booking their services is quick and easy which we find very convenient.
They even offer a free quotation for their services so you can have an idea of their costs beforehand.
We think there's no reason to doubt the capabilities of their cleaners because they're all highly experienced and WSQ trained.
Customer Reviews
Here are what past clients have to say about SureClean:
"Process to engage them was seamless and easy. Cleaners were professional and thorough with the post renovation cleaning of our place. They even went the extra mile to help move some items out of the way. Highly recommend." — Benjamin Tay
"First time I used SureClean, I was apprehensive but in the end I was delighted. A team of 3 came, they were very fast, efficient and professional. They took as much care as they could and they were very thorough. The even cleaned places which I didn't expect. Interestingly, they left the place neater. All done in 4+ hours. Couldn't have done a better job myself. Will surely recommend." — Mingxiang Guo
4.   Mop Squad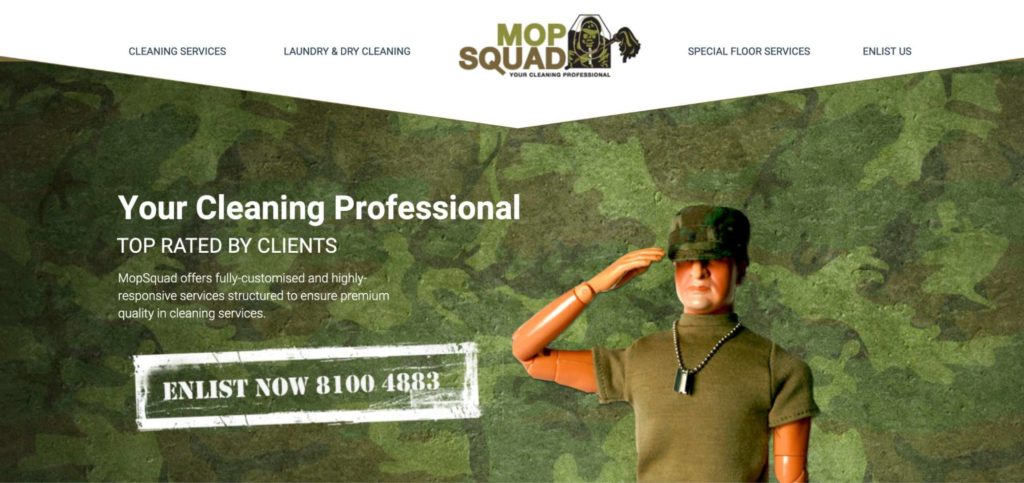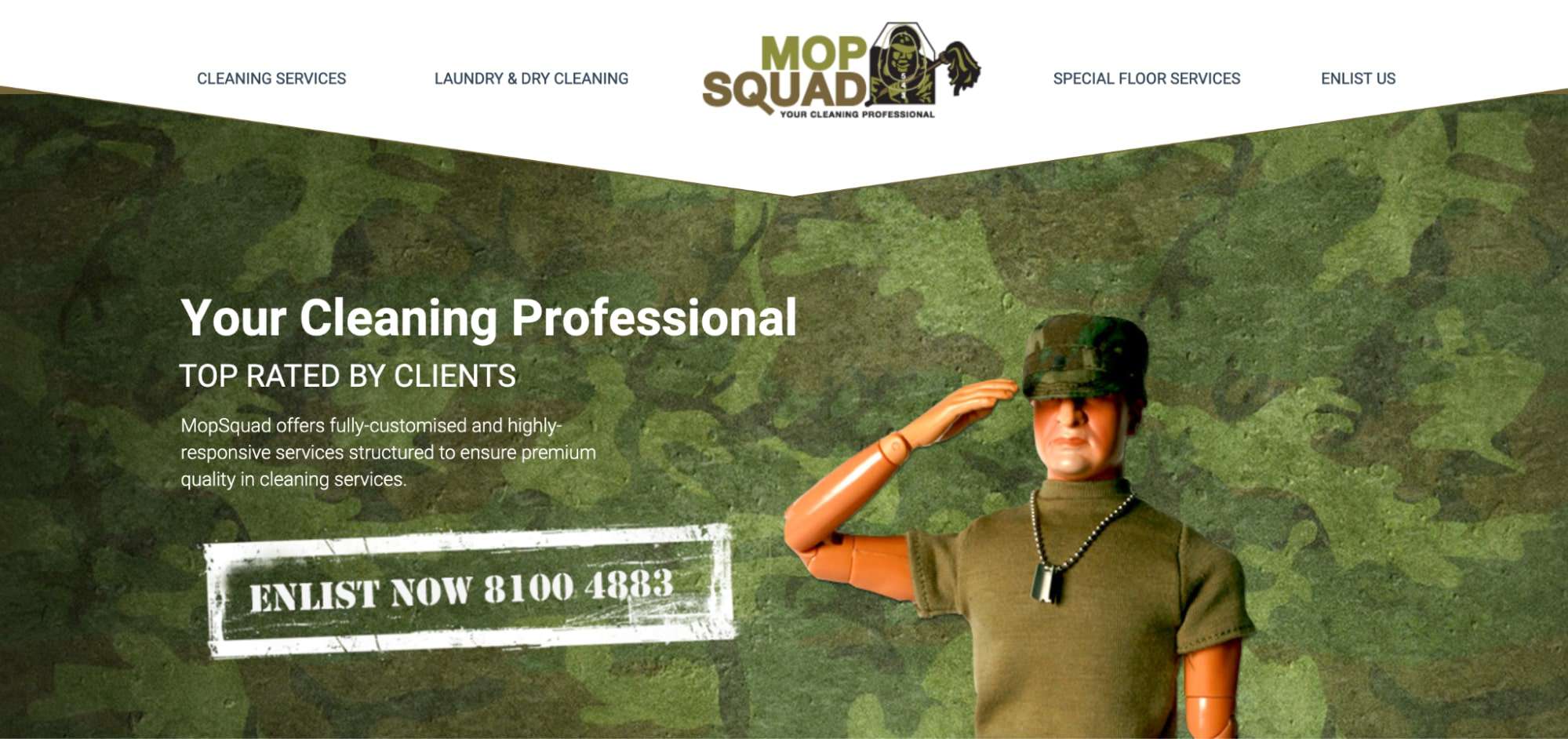 At first glance, you can already tell that Mop Squad specialises in cleaning floors—and that couldn't be more accurate! In fact, they have their own "special floor services" that involve polishing and restoring carpets, tiles, stones, and marble floors.
We know how much of a pain it is to scrub away the pesky grime that plagues our bathroom floors and walls. So, if this is something that you have trouble with, we highly recommend giving this company a call for this specific service!
Speaking of bathrooms, they also have their own in-house laundry and dry cleaning service so you don't have to worry about that either. Just toss your items in a bag and they'll deliver them back to you all fresh and folded.
Apart from that, they have about the same set of cleaning services as your next agency—spring cleaning, moving in/out deep cleaning, commercial cleaning, and more.
Their website isn't very helpful, though. It would've been helpful to know if they require minimum commitments and price range, among other things.
Still, you can always request a free quote of their services. After all, their services are fully-customisable to best suit your needs and budget.
So, if you want to enlist Mop Squad as your next cleaning brigade, just give them a heads up and they'll get back to you within a day.
Customer Reviews
Here's what some customers said about Mop Squad:
"I am very impressed with the quality of service of Mop Squad. When I enquired, they were very quick to reply with a very reasonable quote and to schedule the cleaning in a way that accommodated my time constraints. The cleaning itself was done by a large team – larger than I had expected. They cleaned diligently and conscientiously and the supervisor was there to make sure everything was up to scratch, which it was. I will definitely use Mop Squad again and will happily recommend them." —Kenneth Paul Tan, Google Reviews
"The team is very responsive and answers our queries quickly. The whole discussion process was very smooth and the reminder was set prior to our appointment (so it's a relief to know that they remember it as well since the appointment was set a few weeks back). 2 guys came to clean and the job was pretty well done, the flooring looks much cleaner than before." —Valerie Tan, Google Reviews
5.   Part Time Maid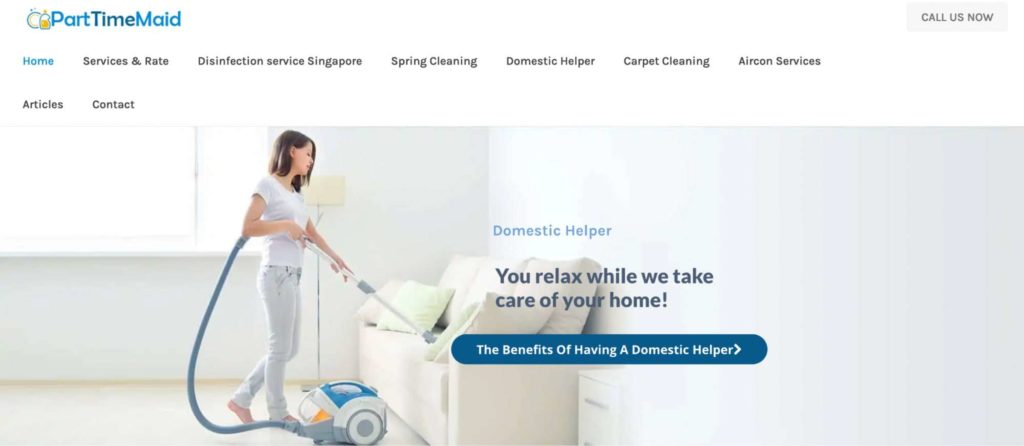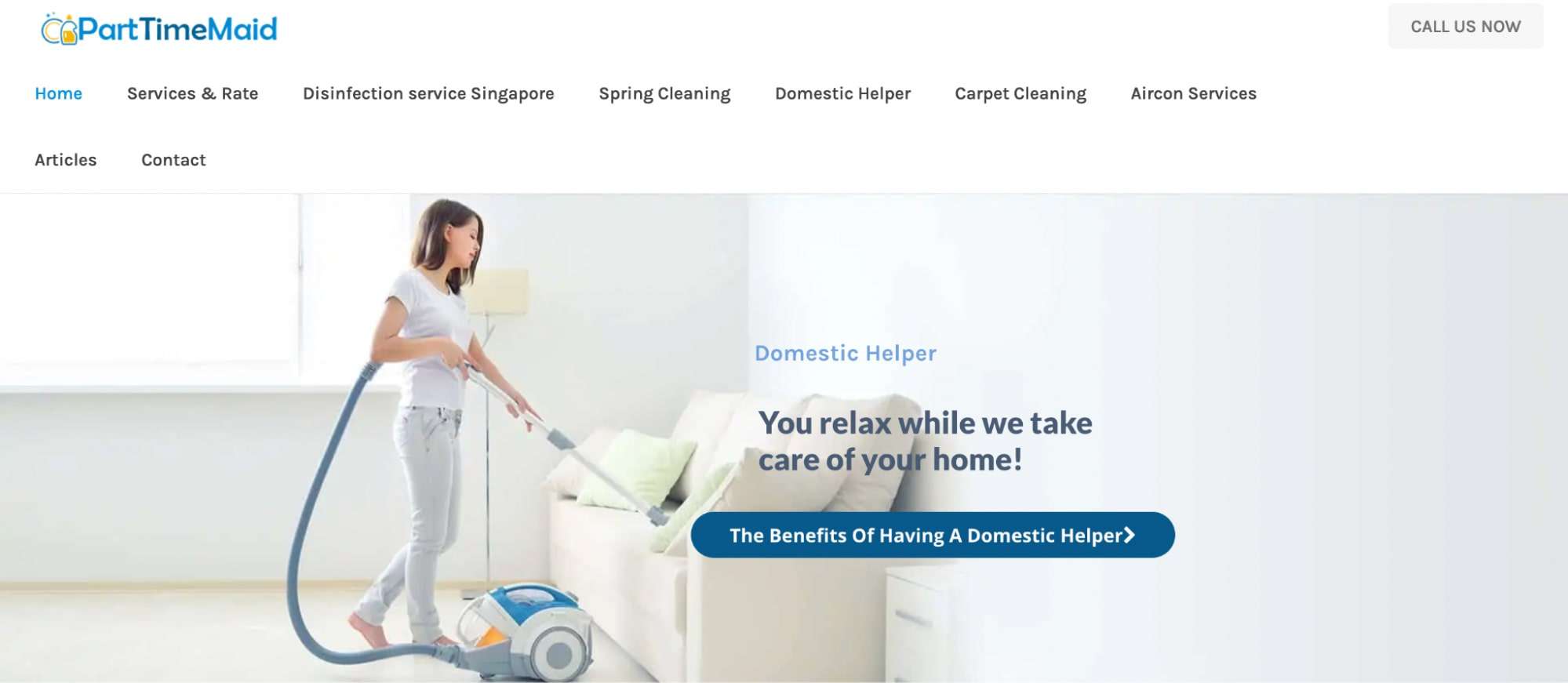 Part Time Maid functions like your typical cleaning agency. Give them a call and they'll provide you with a part-time cleaner who best suits your needs and schedule—plain and simple!
Their network of professional cleaners mostly caters to residential cleaning needs, though. So, if you're looking for a cleaner for your office or company, we suggest contacting them to get a more accurate list of services before assuming they can handle your needs.
Now, for residential cleaning services, there are only 2 options to choose from: weekly house cleaning or spring cleaning.
The former is a great choice for those who have very little time to clean, including busy professionals and working parents. We think that their packages are flexible enough to accommodate the amount of work you want done in a week.
For instance, you can schedule bi-weekly cleaning sessions if you want to keep your home in tip-top shape throughout the week. Otherwise, you can just request a weekly cleaning if you think it would suffice.
Prices are a bit on the steep side if you consider their hourly rate, though. On the plus side, you'll only be paying for the services you requested since there aren't any admin fees involved.
Customer Reviews
Here's what customers have to say about their cleaning services:
"The cleaners know their work very well. I just moved out from my out rented condo, the place is very clean and the landlord is very happy." —Akun Dika, Google Reviews
"Good job, very efficiency and hardworking, book for 3 hours, job done within 2 hours and they automatic deducted 1 hours for me, really very amazing." —Linda Quek Wan Jun, Google Reviews
6.   Axgee Cleaning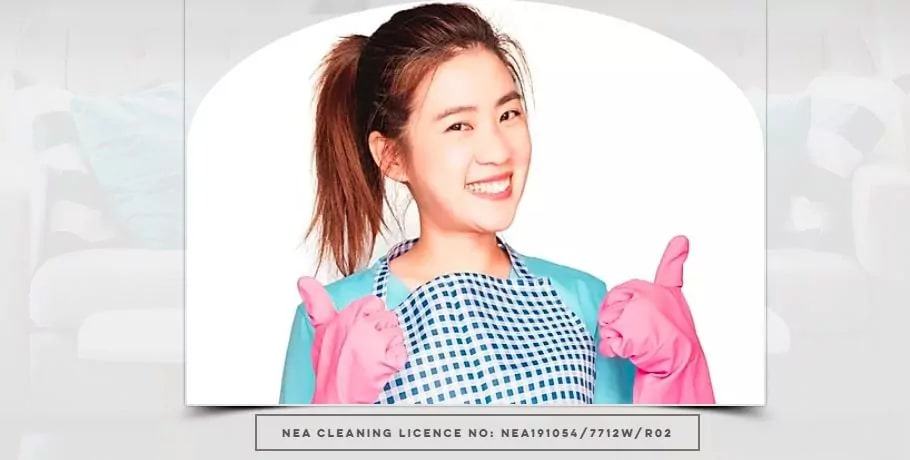 Axgee Cleaning is made up of a team of professional cleaners ready to take on whatever cleaning task you have—be it move-in cleaning or disinfection.
The first thing we like about them is their care in hiring staff. They conduct rigorous background checks to ensure that each cleaner can be trusted in clients' homes, even without supervision.
On top of that, their cleaners are also insured, which means that you don't have to worry about any liabilities should a cleaner encounter accidents while on the job. Of course, that also means that the company takes care of their own employees—and that scores them a point with us!
We really appreciate the fact that exact rates are published on their website to provide customers an easy point of reference. This also means that you don't have to worry about hidden costs since everything is already there.
And speaking of costs, they also have some of the most affordable rates on our list. So, that's something that you should take advantage of too!
Unfortunately, you'll have to provide your own cleaning supplies beforehand. But that's a small inconvenience compared to the pros of hiring this company, we think.
Customer Reviews
Take a look at what customers have said about their cleaning services:
"I engaged Axgee Cleaning for move-out cleaning based on positive Google reviews. They were very responsive to all my questions on WhatsApp, and the booking and billing process was easy and smooth. On the day of cleaning, the two cleaners Anna and Cristina were punctual and friendly. They worked through the whole period of time (5 hours) and cleaned the whole place thoroughly. At the end, they gave me the cleaning set which I paid extra to bring home (didn't expect that), which showed that Axgee Cleaning is a very honest company and their staff are well trained. On top of that, their price is quite reasonable. Big thanks to Anna and Cristina for doing a fantastic job! I would definitely use Axgee Cleaning again, and would highly recommend them to anyone." —Yue Yang, Google Reviews
"I chose Axgee because it has the most positive review. Indeed I was awe by the cleaners. They are punctual, diligent and experience. Also, Axgee managed to accomodate my tight schedule and get it done. My husband and I are very satisfied with their professionalism. We will definitely recommend their service and use them again in near future!" —Joey Chan, Google Reviews
7.   Hiremop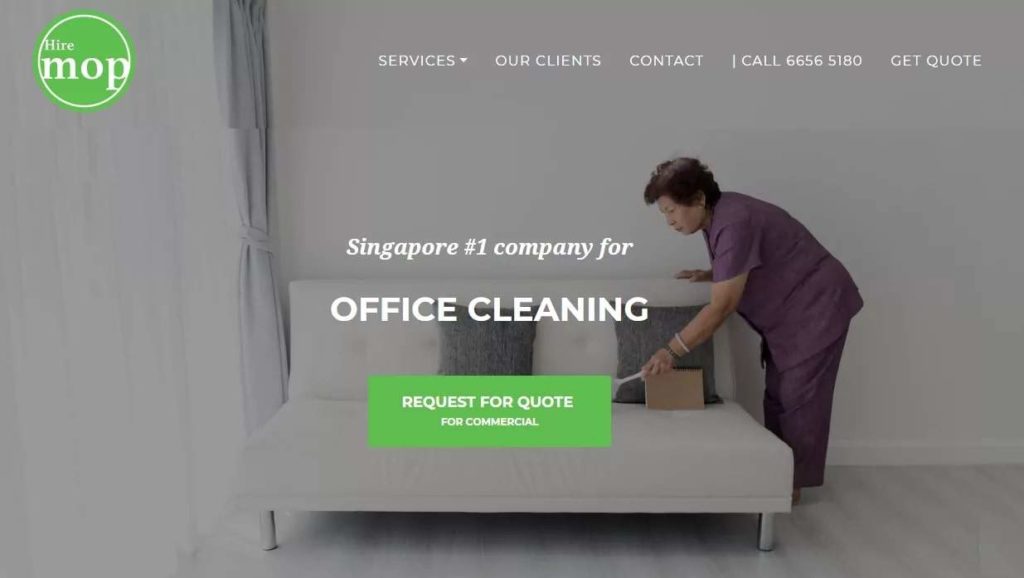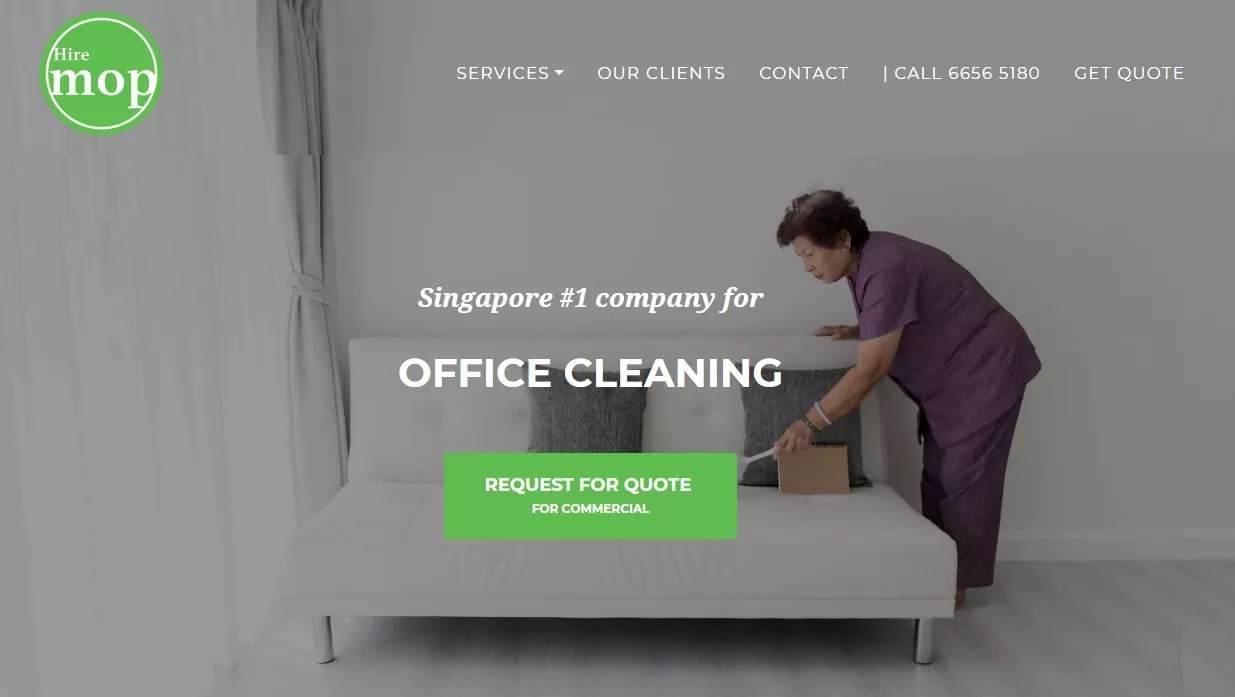 At first glance, Hiremop may seem like an ordinary cleaning agency. But when you look further, you'll see why they've actually earned a reputation for their office and after-party cleaning services.
So, what exactly makes them different from the rest?
For one, they don't have any fixed packages for commercial cleaning services. They customise their services according to your property configuration and specific requirements.
To give you an example of tasks they've done in the past, a regular showroom cleaning session will involve dusting, mopping, and wiping all accessible surfaces. This is fully customisable and will depend on your unique needs.
They've had quite a few big clients attesting to their skill. The fact that they've been used by offices like the Ministry of Trade and Industry and Deliveroo tells us that they're a trusted name in the industry.
As for their after-party cleaning services, let's just say that they're fully equipped to clean up even the wildest of parties on the island in a short amount of time.
Glitter sprinkled all over your furniture? Alcohol stains on your walls? That's no problem with Hire mop, we hear.
Moreover, their cleaners are covered with an insurance policy worth $500,000, which also keeps you protected from liabilities.
Unfortunately, you won't find their rates online since services are tailor-made to each client. Just be sure to clarify all prices involved prior to hiring them.
8.   Budget Cleaning & Housekeeping Services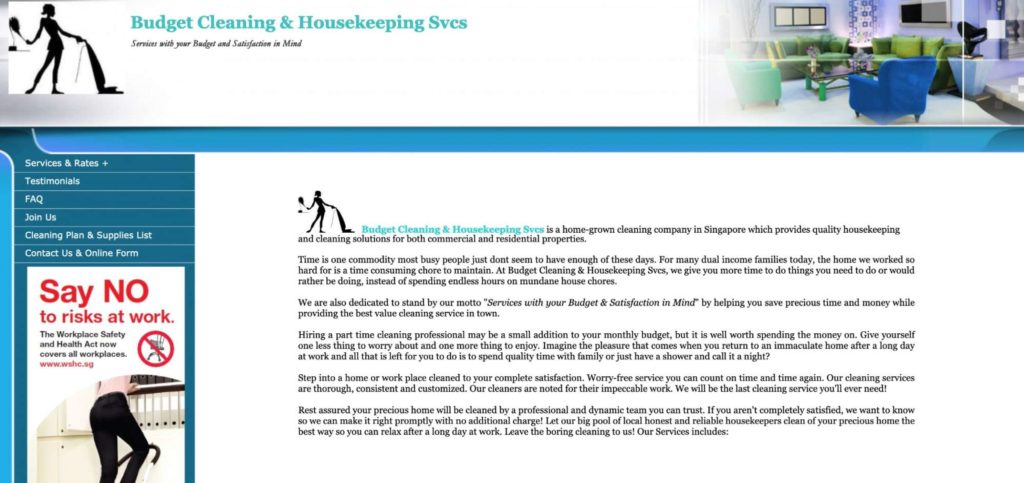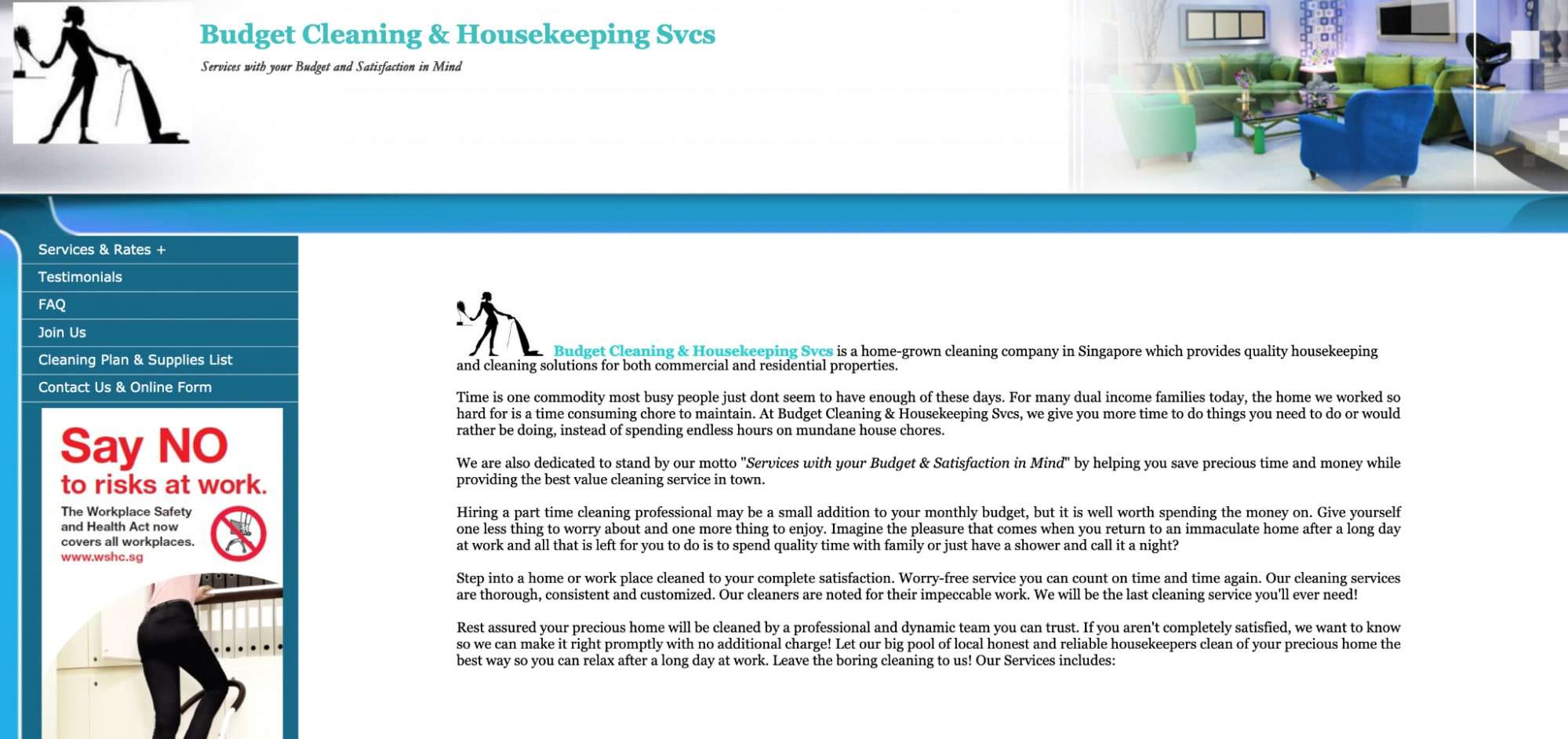 We think that Budget Cleaning & Housekeeping Services is worth considering primarily for their extra-low rates.
In particular, hiring a cleaner on a weekly basis doesn't have to cost an arm and a leg when you have this cleaning company around. Weekly cleaning fees begin at $288, which is considerably lower than most companies and agencies nowadays.
While these packages include the basics such as sweeping and wiping most surfaces, we see the lack of ironing services as a drawback for most customers. If you need to have your clothes ironed, you still can—for a separate cost.
Each weekly package also comes with a complimentary cleaner replacement should it ever come to a point where you're unhappy with your current cleaner.
Normally, the company used to charge customers an admin fee to cover replacements, among other costs. But we're glad to know that these are all waived as of writing!
Not only that, but there are no additional service costs involved as well. Basically, you'll only pay for the services you requested, no questions asked.
9.   6 Days Cleaning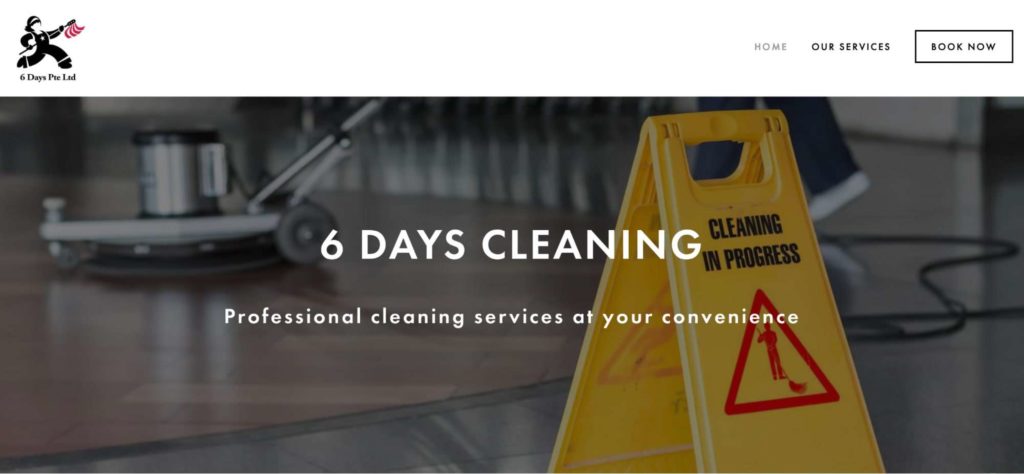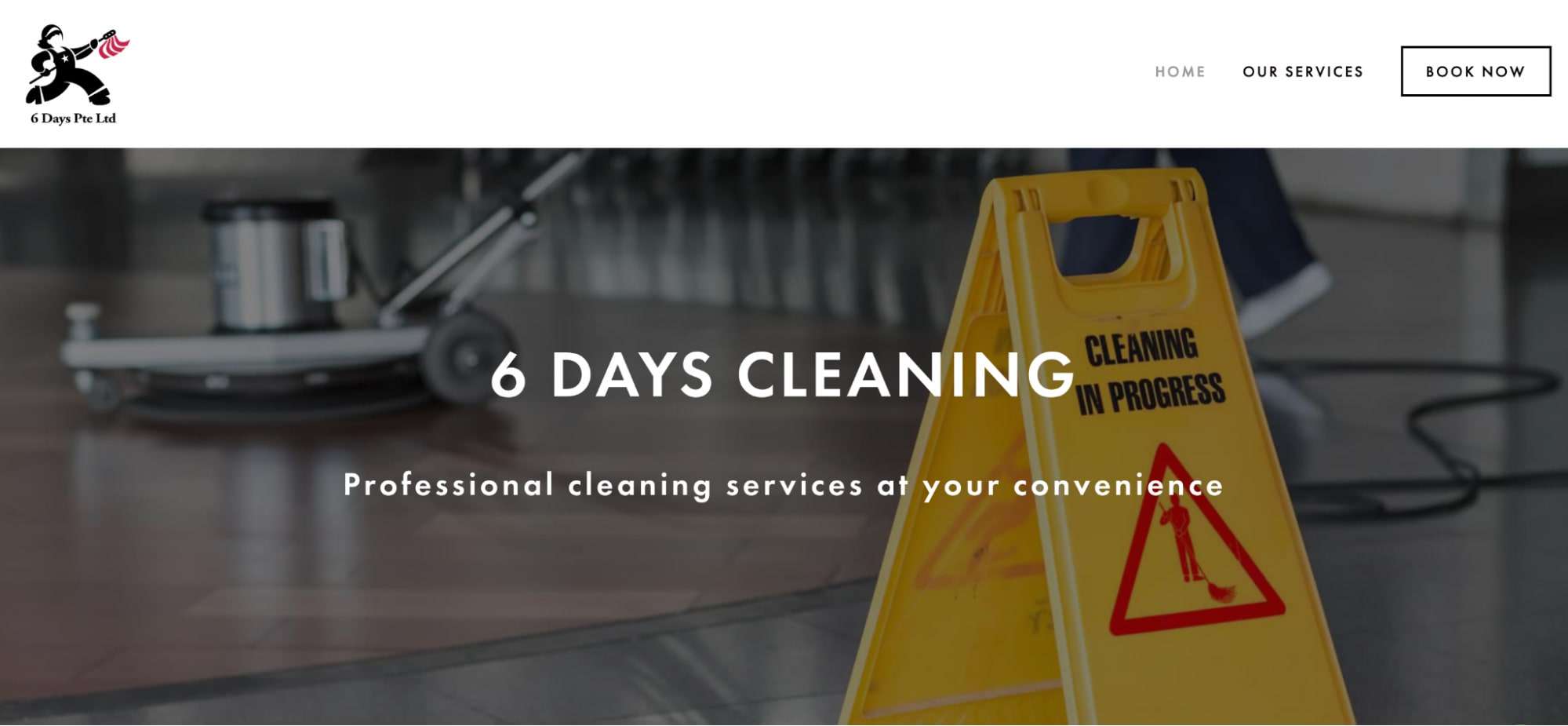 6 Days Cleaning has been servicing homes and offices in Singapore since 2014. Just like your regular cleaning agency, they have all the basic services you can ask for, from ad-hoc cleaning to weekly general cleaning.
What's worth noting about this company is that they have pretty low rates for their weekly cleaning services, which are at a flat rate regardless of the size of your home. In fact, they offer even lower rates for sessions booked after 7 PM at just $19 per hour!
Despite these low prices, we're a bit disappointed to learn that there's a minimum commitment of 3 months for their weekly cleaning services. This is considerably long compared to most cleaning agencies in Singapore.
There are a few redeeming factors, though. For instance, there are no agency fees involved when you book with them.
Next, you have the flexibility to change your cleaner in case you're unhappy with them. While we're on the subject, don't hesitate to use this option, seeing that there are mixed reviews about some of their cleaning ladies' quality of work.
This isn't a reflection of the quality of all cleaning ladies, however. So, make sure to consider that prior to booking.
Customer Reviews
Check out some positive comments about 6 Days Cleaning:
"I booked 6days services for Deep House Cleaning and Sofa Cleaning. They do very clean, clean my house very carefully. Wowww, 6days cleaning company very good services." —Nhung Le, Google Reviews
"Very impressed with how easy it is to book a session with them, just a few clicks to get a calendar reminder – and they even send an email & SMS reminder the day before the session too. Myo Myo showed up on time and was professional and polite! She did an excellent job cleaning our 3bdrm apartment for our post-tenancy handover. Want to note that we didn't require any deep cleaning though, as we left the place relatively clean to begin with. :)" —Amanda Yap, Google Reviews
10.   Art of Cleaning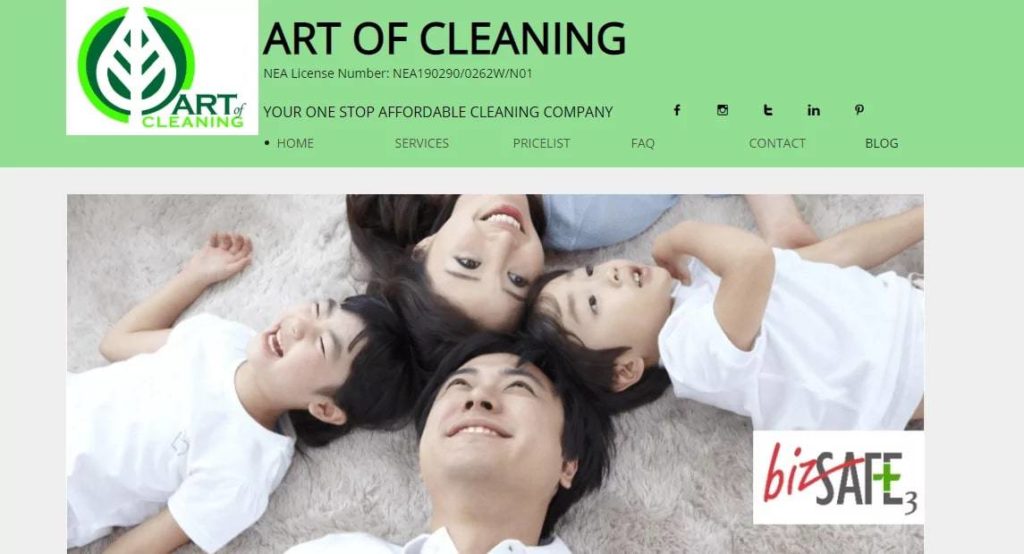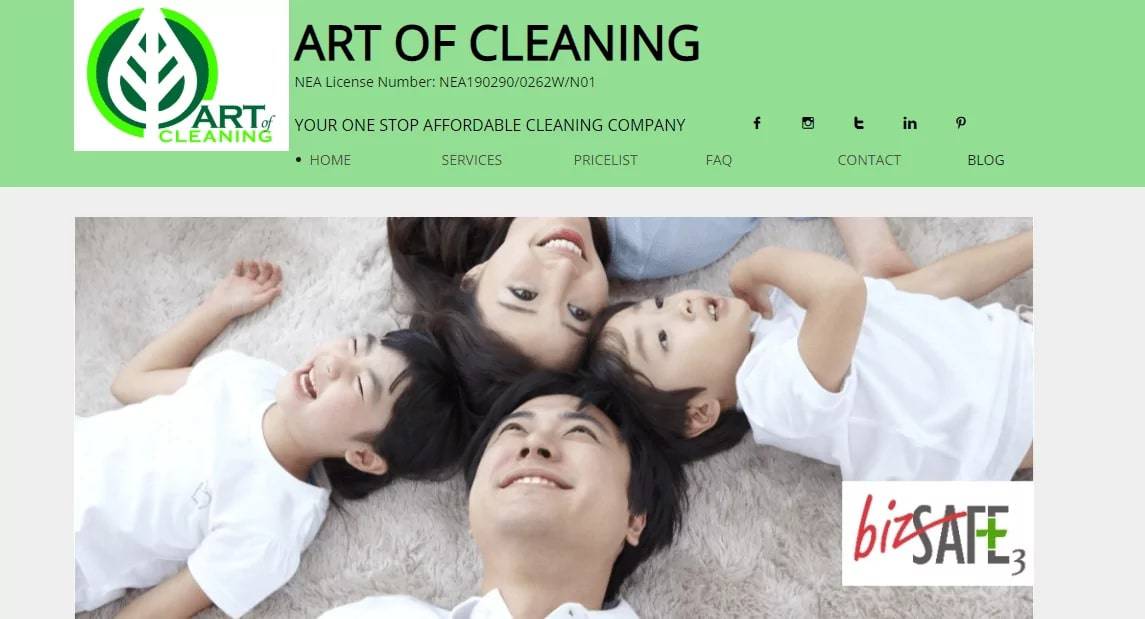 Servicing both residential and commercial spaces, Art of Cleaning can deal with all your cleaning problems, from mattress cleaning down to sofa cleaning.
They're actually a trusted name when it comes to carpet cleaning—one of the very few who offer this niche service in Singapore. Despite their using both dry and wet cleaning methods, we've heard from customers that the drying time is quite fast after their work.
The same can be said about their prompt customer service, which has earned them a positive reputation among customers.
But beyond these, what really impressed us with Art of Cleaning is how thorough and efficient they are in handling cleaning tasks.
Their specialty lies in removing stubborn stains. So, if you've been having trouble scrubbing those spots away, we highly recommend letting Art of Cleaning handle it instead.
Their range of house cleaning packages may not be as extensive compared to others, but that doesn't mean that they can't do a solid job. In fact, the cleaning products they use are safe and hypoallergenic, so no need to worry about your children catching allergies.
Customer Reviews
Art of Cleaning has a 4.9-star rating on Google Reviews. Check out some comments below:
"Great home carpet, sofa, chair and bed cleaning service. Excellent service and communication. The project took longer than expected so needed two days vs one due to the number of objects. However the team quickly responded by booking follow up service in their next available slot, less than 48 hrs after they first came. The house smells great and it's a night and day difference with the furniture. They all look practically like new!" —Sophie Guerin, Google Reviews
"Great Service. Customer service was very prompt to reply. Robie and krishan came on time as stipulated timing and spent more than an hour cleaning our 3 seater L shape sofa. They worked as a team. Make sure all areas of our sofa is throughly deep clean. We are so surprised all the dirt and stains were completely remove! Thank u for the excellent service!" —Sandy Tan, Google Reviews
11.    A1 Facility Services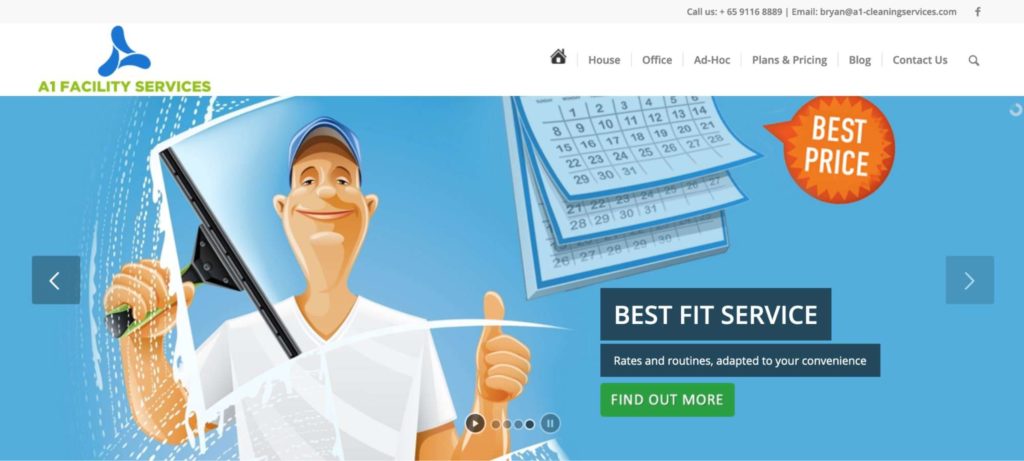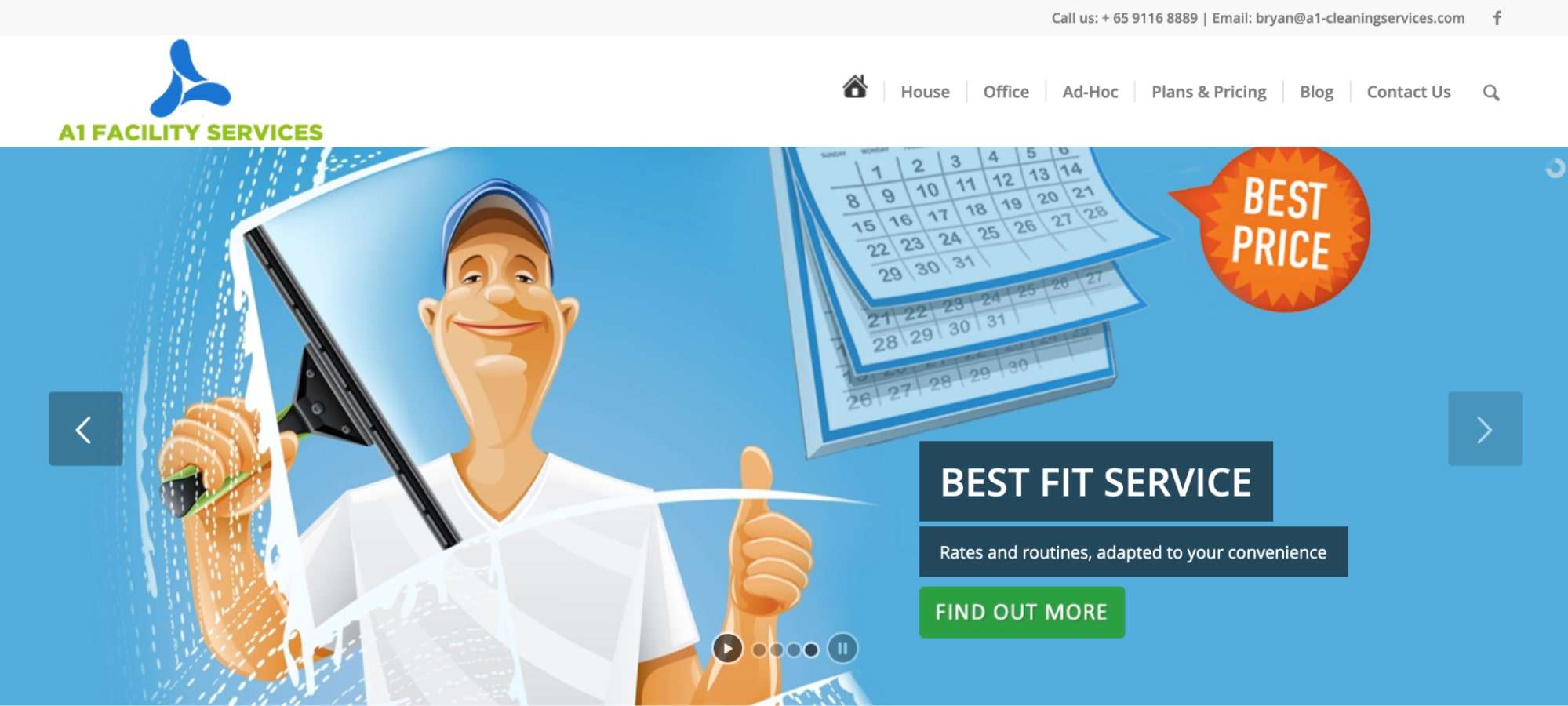 A1 Facility Services is a licensed cleaning agency with over 100 cleaners ready to serve customers around Singapore. They're highly regarded for their professionalism and punctuality, which is why they earned a spot here!
Apart from the usual cleaning services you normally see in an agency, they also have a couple of ad-hoc cleaning services including pest control, aircon servicing, and dishwashing.
This makes them a great choice if you're looking for several services at once.
Beyond that, they also have regular cleaning services for those who are searching for cleaners on a weekly basis. Prices are adjusted according to the size of your home, which means that you can enjoy lower rates if you only have a studio apartment.
At the end of the day, they have pretty reasonable prices in comparison to our other entries. Just take note that a surcharge of $20 applies on weekends.
Customer Reviews
Take a look at what some clients said about their cleaning services:
"Enquired for a spring cleaning for my house, I can say is, the office staffs were pretty responsive towards my request. They also scheduled a site visit, a manager came down to my house for a survey. I was quite impressed! After that once confirmed, they schedule a session (Deep cleaning) to my requested date. On the actual cleaning day, the cleaning staffs came and were punctual and look very professional. The cleaning process was very meticulous and there was a supervisor leading the cleaning! Overall, the cleaning was superb. I would really recommend my family and friends to engage A1 facilities ! Keep up the good work ! :D" —Wilson Wu, Google Reviews
"Well trained staff! Very satisfied with their services. Engaged their deep cleaning session once and i am very impressed with their standards. Have continued using their weekly cleaning services since then and would definitely recommend them to anyone! Good job." —Hui Bin T, Google Reviews
12.        Domestic One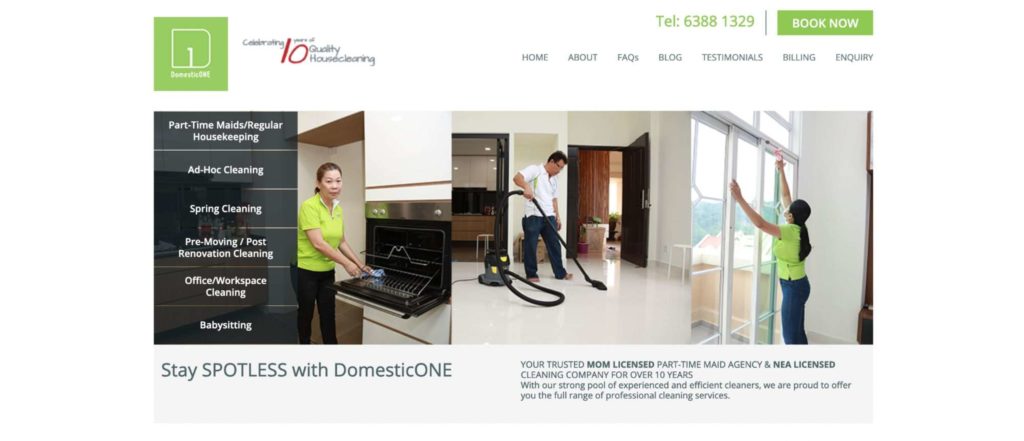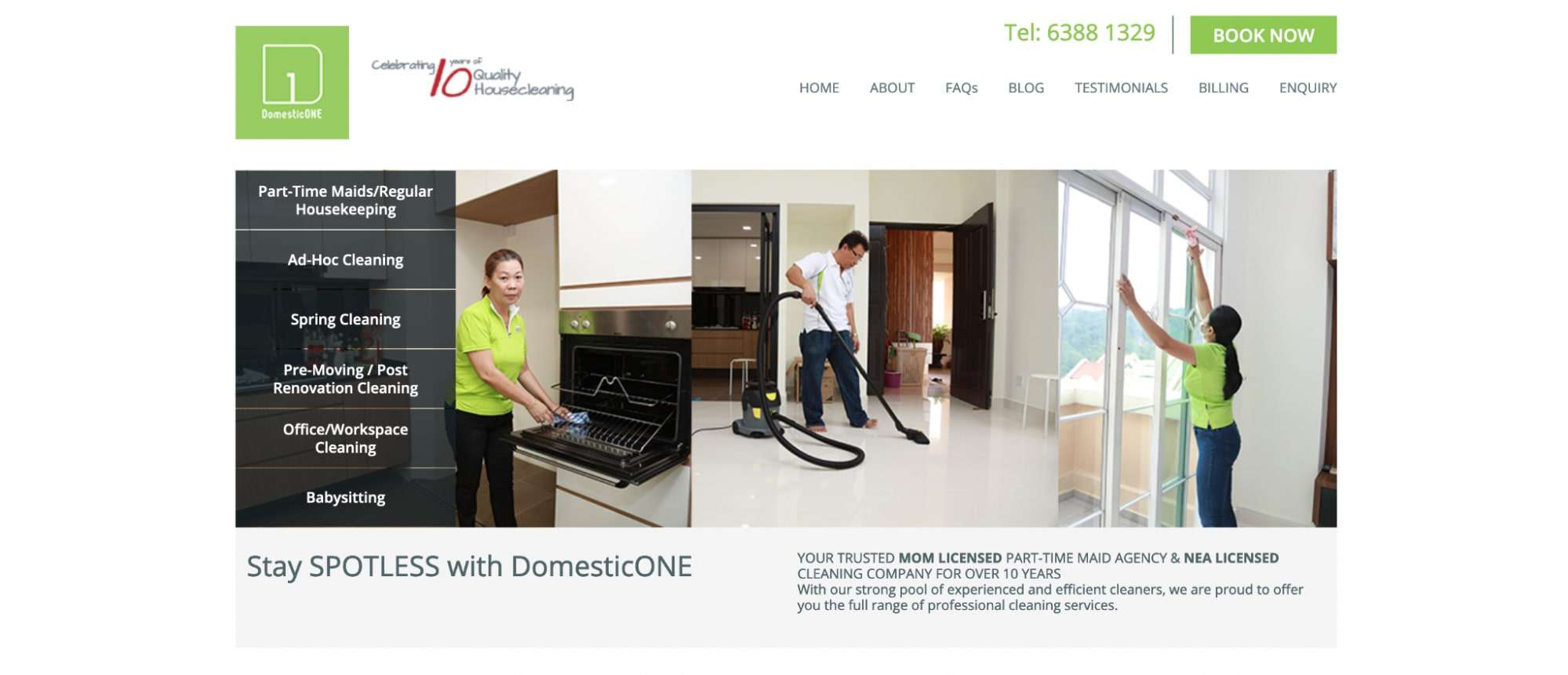 Domestic One is another trusted name when it comes to part-time cleaners. With their pool of experienced and efficient cleaners, they can cater to a wide range of cleaning services island-wide.
As far as their weekly cleaning services go, our favourite thing about them is how low their rates are. When you take into account their hourly rates, they go for as low as $16 for weekdays and $17 on weekends—that's even lower than the industry standard in Singapore!
The only drawback here is that you'll have to pay a one-time agency fee of $188, which can be a bit hefty. On the bright side, this fee includes unlimited cleaner replacements, just in case you're unhappy with the one assigned to you.
Now, what sets Domestic One apart from other regular cleaning agencies is that they have babysitting services. Parents have the option to engage their services on a one-time or regular basis.
This service includes all responsibilities you would expect from a babysitter including cooking, changing diapers, and light housekeeping. So, if you ever need a last-minute babysitter and cleaner at the same time, this agency is the one to call.
Customer Reviews
Here are some comments about Domestic One:
"I've been using Domestic One for years to recommend Part Time Helpers for residential cleaning services. The quality of domestic helpers are great. From the time my kids were just newborn till now, 15 years later. One of the domestic helpers worked part time with me for 5 years. I have tried many other different ones between Domestic One before because at one point, it was hard to find a part time domestic help where I was staying (central part of Singapore). But the other agencies I tried out recommended domestic helpers who came only for short 3 to 4 mths period and suddenly disappeared without accounting for their whereabouts. Another agency sent domestic helper who in turn sent someone else to my house without proper permits. Yet another agency sent me helper who refuse to clean certain parts of the house. These were recommended through other agencies, which all appears to have excellent ratings online. Since then, I've only used Domestic One as the services are prompt, professional and honest and true to ratings on Google, after repeated personal experience myself… Keep things up, Domestic One. Thank you for the excellent and honest service over these years. I sincerely appreciate it." —Geraldine Lian, Google Reviews
"DomesticOne are very professional. They will help find a replacement cleaner if your scheduled cleaner does not turn up. Cookie is an excellent cleaner, she is a fast learner, works efficiently and the house is always spic and span after." —May Ying Tan, Google Reviews
13.    Meide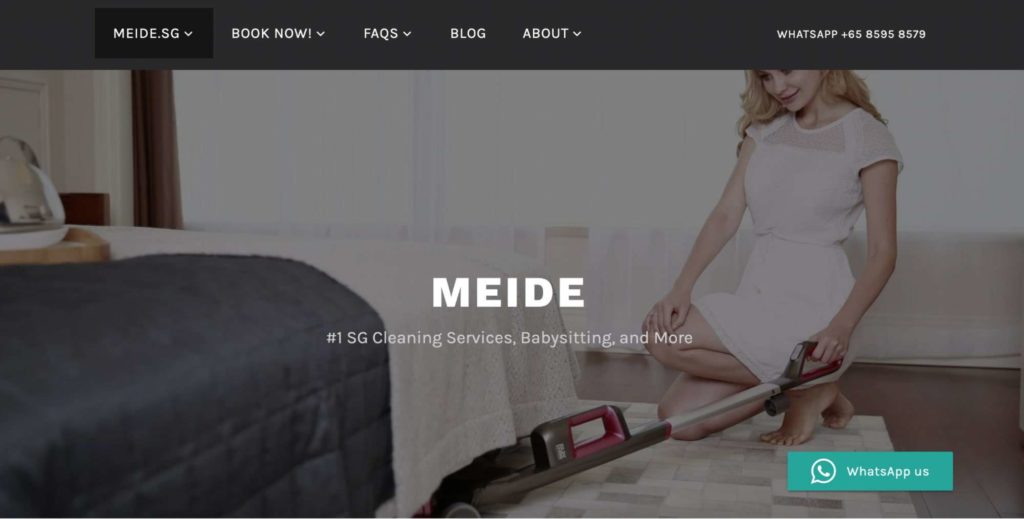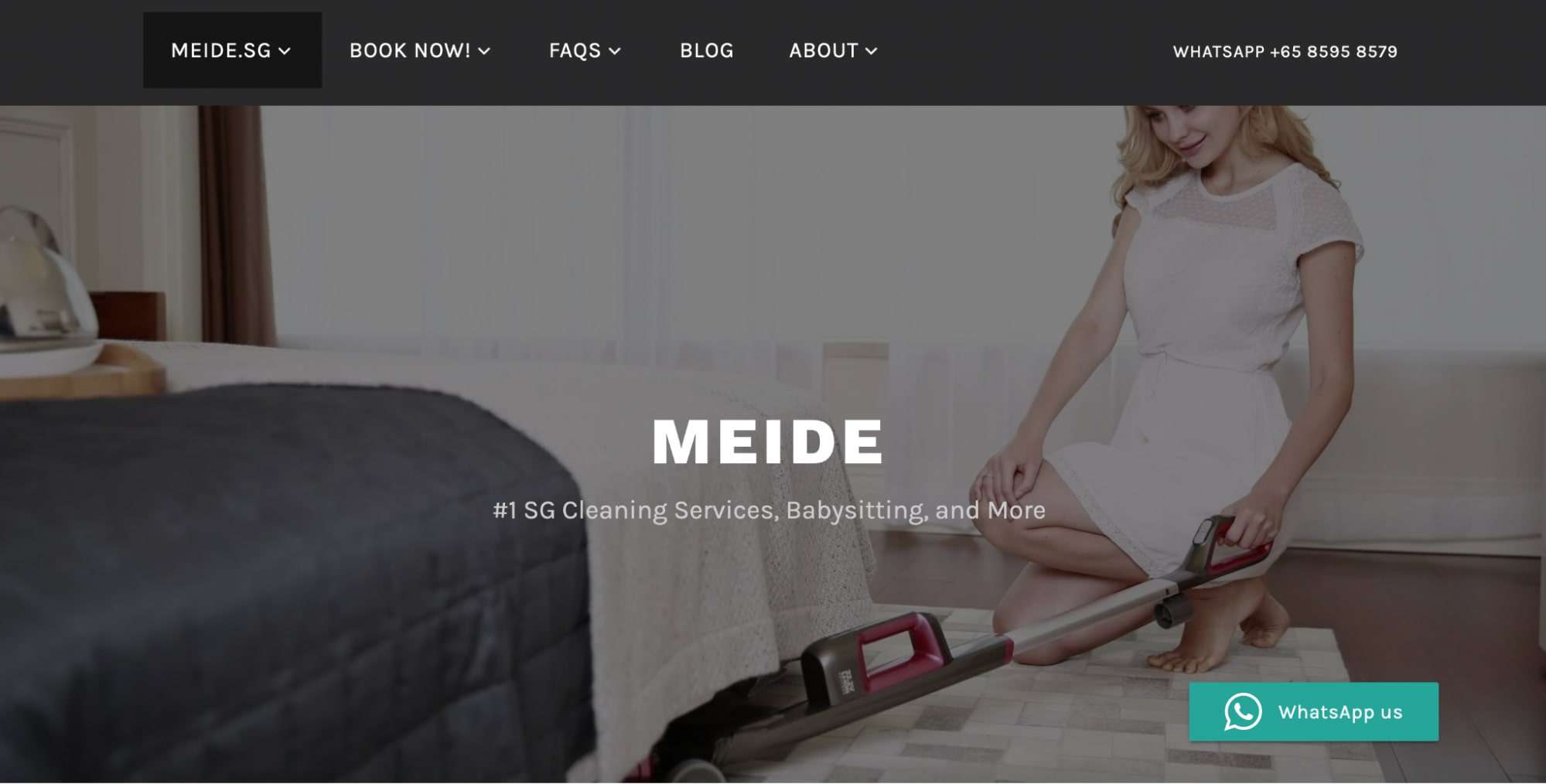 Meide is more than your average cleaning agency. You won't really find packages and standard services here because they offer personalised one-time and regular cleaning services.
Whether you need help with an after-party clean up or twice-a-week regular cleaning, just say the word and they'll get the job done for you.
What's unique about them is that they don't use automated systems to match you with the next cleaner available on your preferred schedule. In fact, they personally find the best one to suit your needs and requirements themselves, so you can go into detail as much as you like!
At Meide, homeowners only have to pay $20 per hour regardless of the service they need. We think that this standard pricing clears the confusion that most customers have regarding multiple price tables in other agencies.
Apart from the convenience, prices are pretty low and reasonable too. There are no agency fees involved, plus you can change your cleaner at no additional cost!
They also have babysitting services available for busy parents. Each sitter has undergone a rigorous vetting process, from what we've seen.
We're pretty impressed by all these services, which is why we won't hesitate to recommend them for your cleaning needs!
Customer Reviews
Here's what customers have to say about Meide:
"Did a standard weekly cleaning package, booked for 1 month, and fabulous work was done by MEIDE's helpers!!! Really impressed that the helper is polite and cleans well too. Cannot wait to get their cleaning again same time same day next week! Highly recommended. Thank you team!😊" —Heyline Sim, Google Reviews
"Peter is so professional and fast to response. He take into consideration all my needs and delivers on time. We are able to have a good babysitter via this platform and it's really a great help." —Christian Besas, Google Reviews
"Peter is really very helpful. Gave me a few suggestions on the arrangement of helpers. Very responsive. Helpers are really on task. My parents are satisfied with their service. It is quite affordable too. Would recommend them to my friends. Thank you!" —Nur Ain Burhan, Google Reviews
14.    Sparkling Housekeeping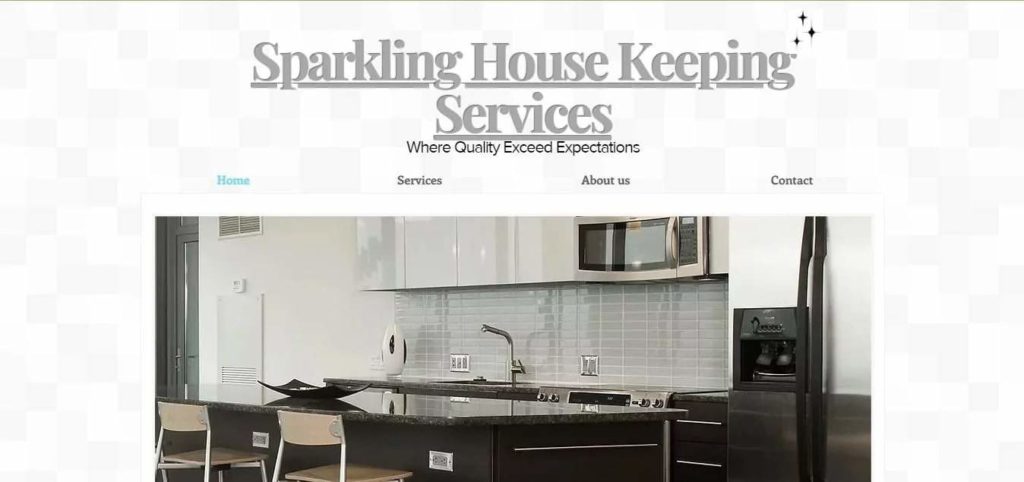 Sparkling Housekeeping provides quality house cleaning at affordable prices. That's because they have connections with numerous individual cleaners in Singapore.
This cleaning company offers part-time cleaning, spring cleaning, post-renovation and moving out cleaning, and office cleaning services.
For part-time cleaning services, Sparkling Housekeeping requires a minimum commitment of 4 cleaning sessions, plus a one-time agency fee.
While these things can be disadvantageous for some, the agency fee payment luckily comes with an up-to-12-month guarantee. Should you be dissatisfied, Sparkling Housekeeping also allows for at most 3 instances of helper replacement.
Sparkling Housekeeping also provides flexibility by allowing their customers to set the frequency and day of service. They're even open to doing any cleaning job, as long as the client provides the cleaning tools and specifies their requests in advance.
However, you should know that we've heard and read complaints about the late arrival of cleaning staff and rushed cleaning service.
And since Sparkling Housekeeping only connects their clients to cleaners, this company doesn't have insurance to cover accidents or losses during the cleaning job. That can be an issue for some homeowners.
Customer Reviews
Take a look at some sample comments about their services here:
"The helper was so professional and friendly, offer to clean the areas where we wouldn't notice which is filled with dust. So glad my family found this cleaning company, would highly recommend!" —Xin Min, Singapore
"The cleaner reached on time and completed the cleaning nicely. It is clean and well done! Even though time is up, she take the effort to check any areas might have left out. Will definitely engage them for my next cleaning arrangement." —Valerie Lim, Google Reviews
15.       Clean on Demand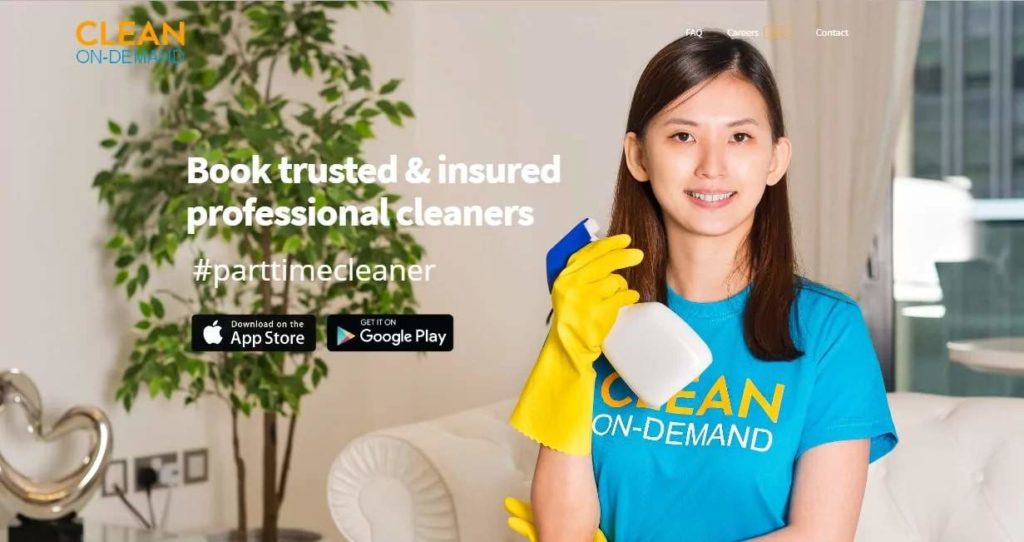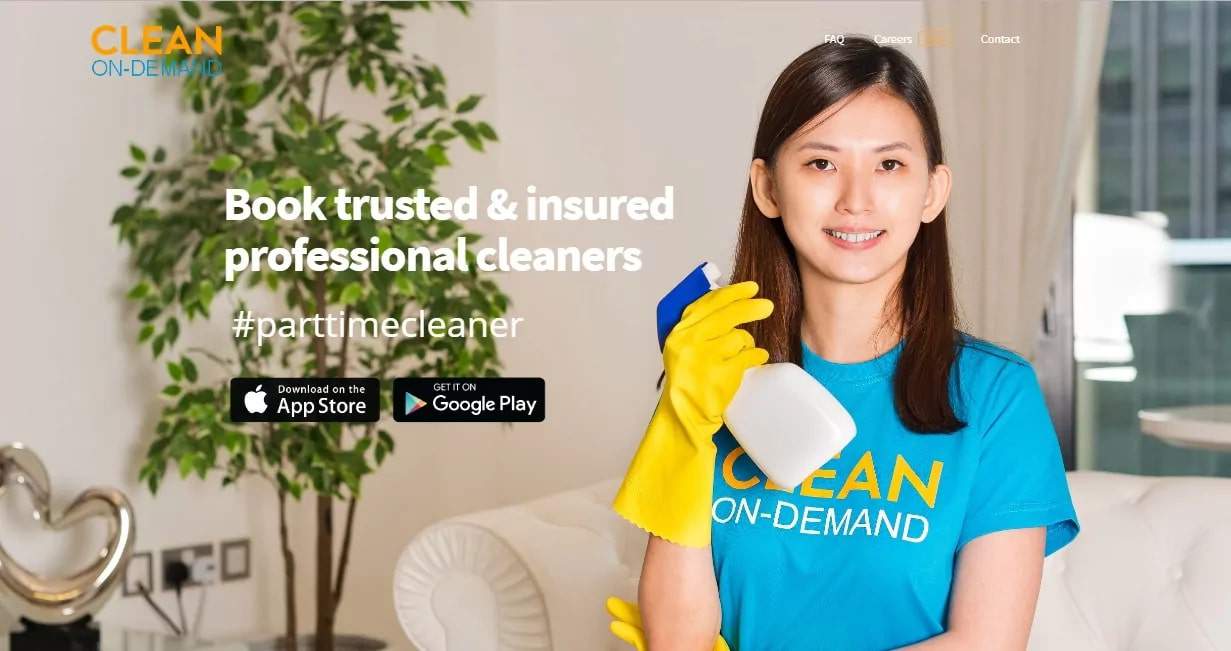 Clean on Demand is another app that you can rely on for part-time cleaners on call.
You'll see that their packages include the basics such as spring cleaning, general cleaning, and move-in/out cleaning services. These packages also depend on the size of your apartment or landed property.
Just download the app from the App Store or Google Play. And from there, you can pick out a cleaning package that best fits your needs.
Compared to most cleaning agencies nowadays, you can book a cleaning service for a minimum of 2 hours only here. This makes them a great choice for those with a limited budget or who only need minimal cleaning.
On top of the general cleaning services you requested, you can also add ad-hoc services like fridge cleaning, disinfection, aircon cleaning, and much more. The prices will adjust according to the service you added, and not on an hourly basis.
Another thing that may make them preferable to other agencies is that they provide their own cleaning materials and tools. You don't have to worry about purchasing additional agents, if you don't have those yet.
However, while same-day bookings are accepted, you can only book a service anytime between 9 AM to 5 PM. This can be a bit disadvantageous to working professionals who are only available at nighttime.
We're also just a bit disappointed to see that their website isn't available most of the time. Fortunately, you can always reach out to them via their contact numbers.
Customer Reviews
Here's what customers have to say about their services:
"I engaged them for spring cleaning. Faiq and his partner were professional and helpful. Willing to answer all my queries and do what I requested. Will definitely engage their service again." —Gwyn Pamela Goh, Google Reviews
"Clean on Demand performed an "end of tenancy" apartment cleaning and dry cleaning of curtains. They were fast, efficient, professional and friendly. They did a great job and I'm completely satisfied." —Matthew Hindle, Google Reviews
"Great service- I managed to get a cleaner for the same day when I contacted them. Very good customer service and our lovely cleaner Faiq did a fantastic job." —Sandra Jan, Google Reviews
FAQs about Part-Time Cleaners in Singapore
---
That wraps up our list of the best part-time cleaners in Singapore! Just give these companies a call, and they'll send a cleaner to your home in no time!
Feel free to leave us suggestions if you think there are other part-time cleaning agencies that also deserve a spot here.
If you think your home needs a little more attention, then you could also consider hiring a full-time maid instead. No need to look further as we also have a guide of the best maid agencies in Singapore too!