13 Best Handyman Services in Singapore: Trusted List
Have you already tried all the possible DIY solutions to fix your household problems — but to no avail? If so, it's now time to get professional help and look for a great shop with the best handyman in Singapore!
Fortunately for you, we've already done the research and handyman Singapore review for you. We went around finding locals' favourite repair shops on the island.
So, see our list below to know more about these places where you can have the best handyman in Singapore and get all of your household problems fixed in no time!
1.  A1 Handyman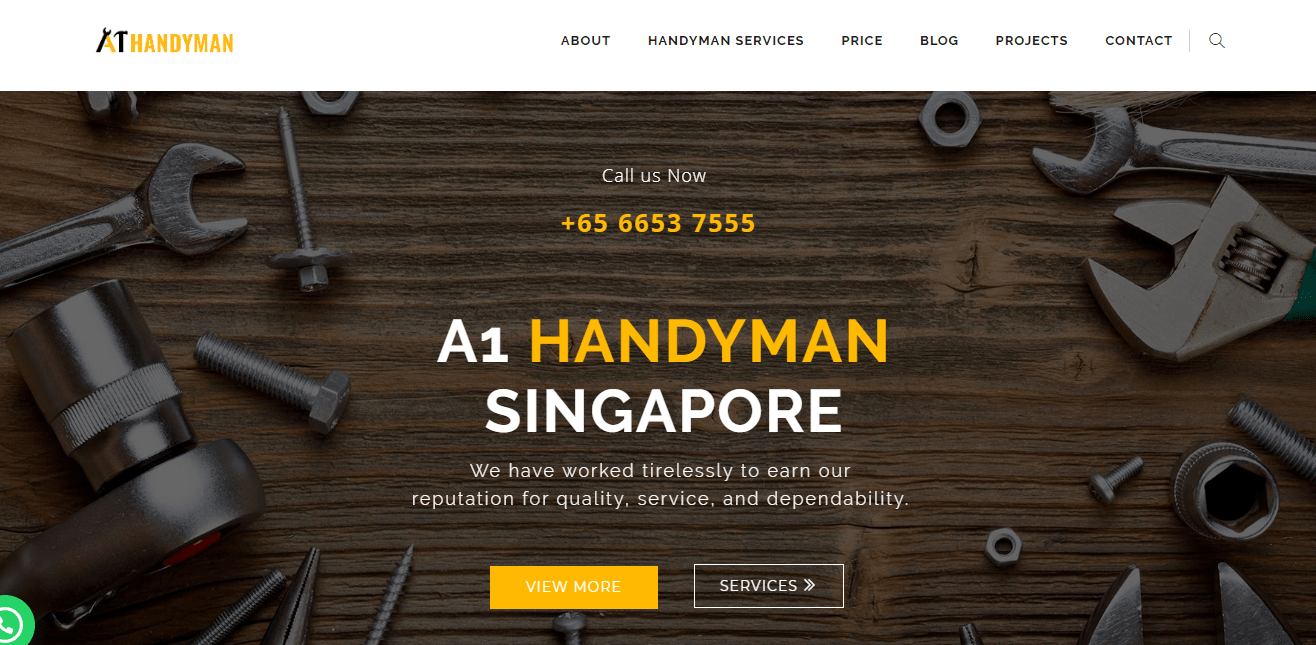 | | |
| --- | --- |
| BEST FOR    | Door repair and locksmith services  |
| WEBSITE | |
| ADDRESS | 1090 Lower Delta Road #03-07L, Singapore 169201 |
| CONTACT DETAILS | +65 6980 0911 (Phone) / +65 8241 0032 (WhatsApp) | [email protected] |
| OPERATING HOURS | Monday – Sunday : 9am to 9pm |
A1 Handyman Singapore provides an extensive range of specialities and their main services are electrical, plumbing, water heater installation, painting, locksmith replacement/installation, furniture assembly, and TV bracket installation.
All of their handyman services in Singapore is applicable to both residential and commercial areas. They're also open 7 days a week so you can call for their services whenever you're available.
Highlights
Carpentry services
Residential and commercial services
Affordable costs
Customer Reviews
Many have recommended the services of A1 Handyman due to their best handyman in Singapore who provided long-lasting solutions. A customer posted this review:
"Handyman did the drilling works neatly and ensured there was no mess. They provide good rates and are transparent and reliable. Highly recommend them."
2.  Superstar Handyman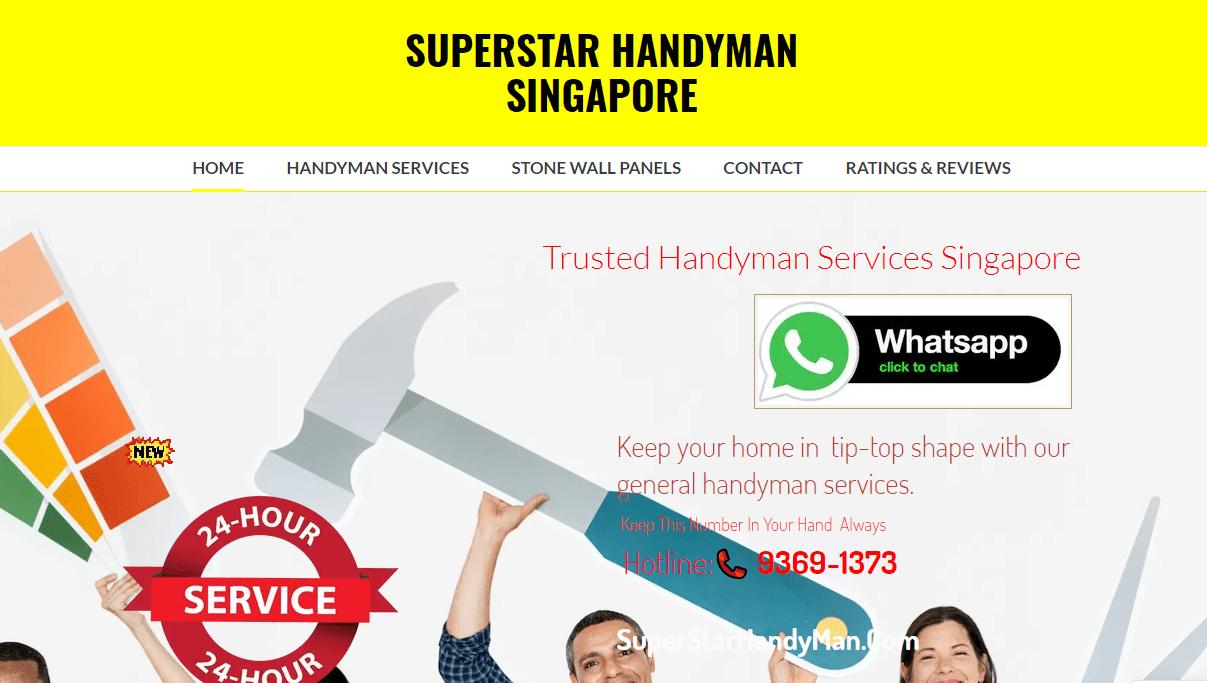 Those looking for a 24 hour handyman in Singapore need not look further. Superstar Handyman operates 24 hours a day.
Superstar Handyman is fully equipped with skilled technicians who have years of experience in electrical, plumbing, and painting services. Whether it's for installation, repair, replacement, painting, or furniture repair problem in Singapore, you can rely on their services.
Some of their offered services include furniture assembly, blinds/curtains installation, floor repair, and more!
They even offer miscellaneous work, so even if the solution that you need is not part of their services, you can still reach out to them and they'll immediately help you.
Highlights
Decoration works
Renovation and refurbishment
24-hour service
Customer Reviews
Customers praised the responsive service and solutions of Superstar Handyman. Some even said that they truly have the best handyman in Singapore.
Here's feedback from one of their customers:
"Good job done and really appreciated. Alot of other handymans told me that my door cannot be fixed and needed to replace whole door costing more than $1k. But thankfully I found this handyman and he fixed it for me!"
3.  HRD Professional Handyman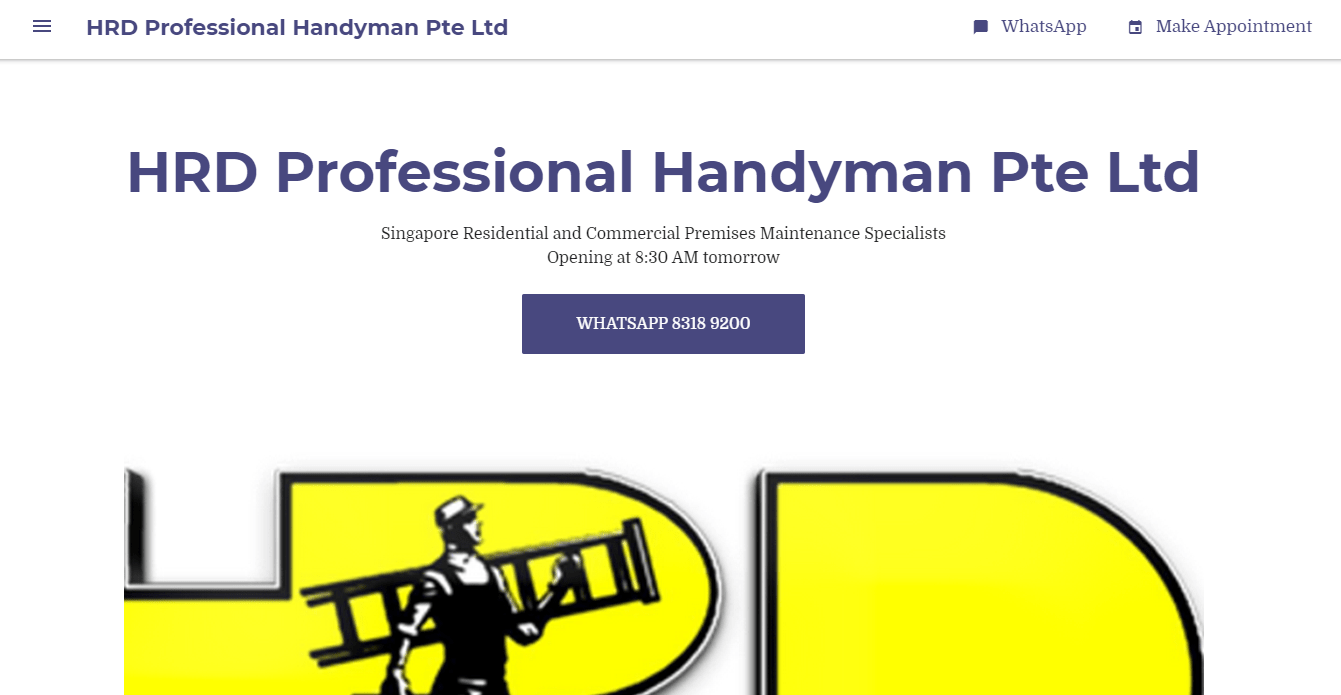 BEST FOR 
Renovation and maintenance services
WEBSITE
https://hrd-professional-handyman-pte-ltd.business.site/
ADDRESS
9003 Tampines Street 93 #04-192 Tampines Industrial Park A Singapore 528837
CONTACT DETAILS
8318 9200 , 6782 9200 , 6909 0999
OPERATING HOURS
Weekdays: 8:30am–5:30pm

 

Weekends: 8:30am–4pm
Through decades of service, HRD Professional Handyman has helped thousands of home and business owners maintain the value of their property by being to g0-to handy man in Singapore and fixing household problems.
They have a team that consists of a full-time carpenter, electrician, plumber, painter, and of course, the best handyman in Singapore. They're also a BCA and HDB licensed company that provides renovation, repairs, and maintenance services.
Highlights
Furniture works
Aircon installation and repairs
Insured services
Customer Reviews
HRD Professional Handyman has gained a lot of wonderful feedback from the customers who've encountered fast responses and reliable services.
A good number of customers consider them to be the best handyman in Singapore.
A customer shared this story:
"My experience with HRD has been excellent. I had a leaking kitchen sink / faucet which resulted in a replacement requirement of the wooden kitchen sink cabinet. The response time was quick. The assessment was well done. The carpentry and plumbing work was carried out to maximum satisfaction. Top marks for the company and especially Mr Chen who did an excellent job."
4.  Joydom Engineering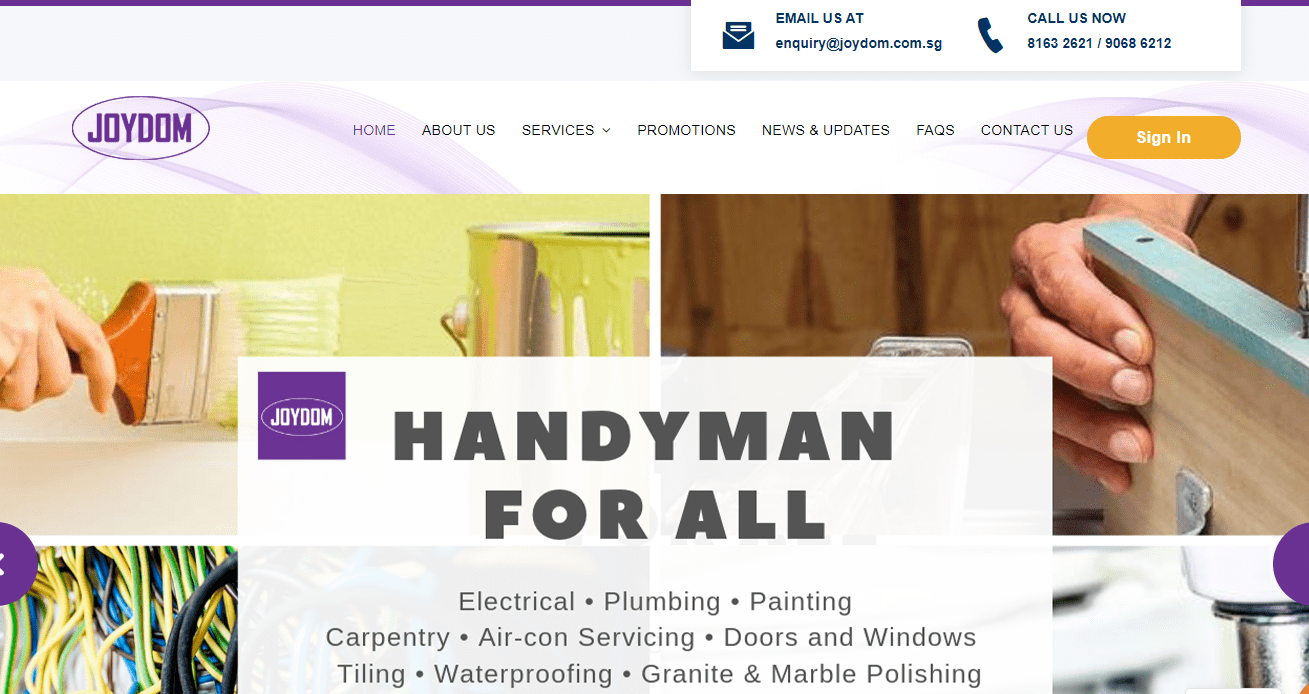 | | |
| --- | --- |
| BEST FOR  | Full range of handyman services |
| WEBSITE | https://www.joydom.com.sg/ |
| ADDRESS | 5 Little Road, #03-01 Cemtex Industrial Building, Singapore 536983 |
| CONTACT DETAILS | 8163 2621 / 9068 6212 |
| OPERATING HOURS | Daily, 8:30am–6pm |
If you're looking for a good handyman in Singapore that can repair and do almost anything in the househld, you're in luck!
Joydom Engineering is widely considered a one-stop solution not only for residential and commercial services but even for industrial needs. Their best handyman in Singapore offers a full range of services such as installation, assembling, repair, replacement, and wall demolition.
They also provide painting services for interior and exterior areas. With this, you can truly find the right handyman in Singapore to your household problem.
Highlights
Complete set of installation and repair services
Waterproofing service
Customer Reviews
Many customers keep on going back for the services of Joydom Engineering especially their handyman sg. They said that whether it's a minor or major issue, the technicians were able to give a solution right away.
A customer posted this review:
"I have engaged Joydom Engineering for jobs such as curtain removal and installation, and their handymen have excelled at all the projects I hired them for. They complete their projects efficiently and effectively, and with great quality"
5.  ISO Homecare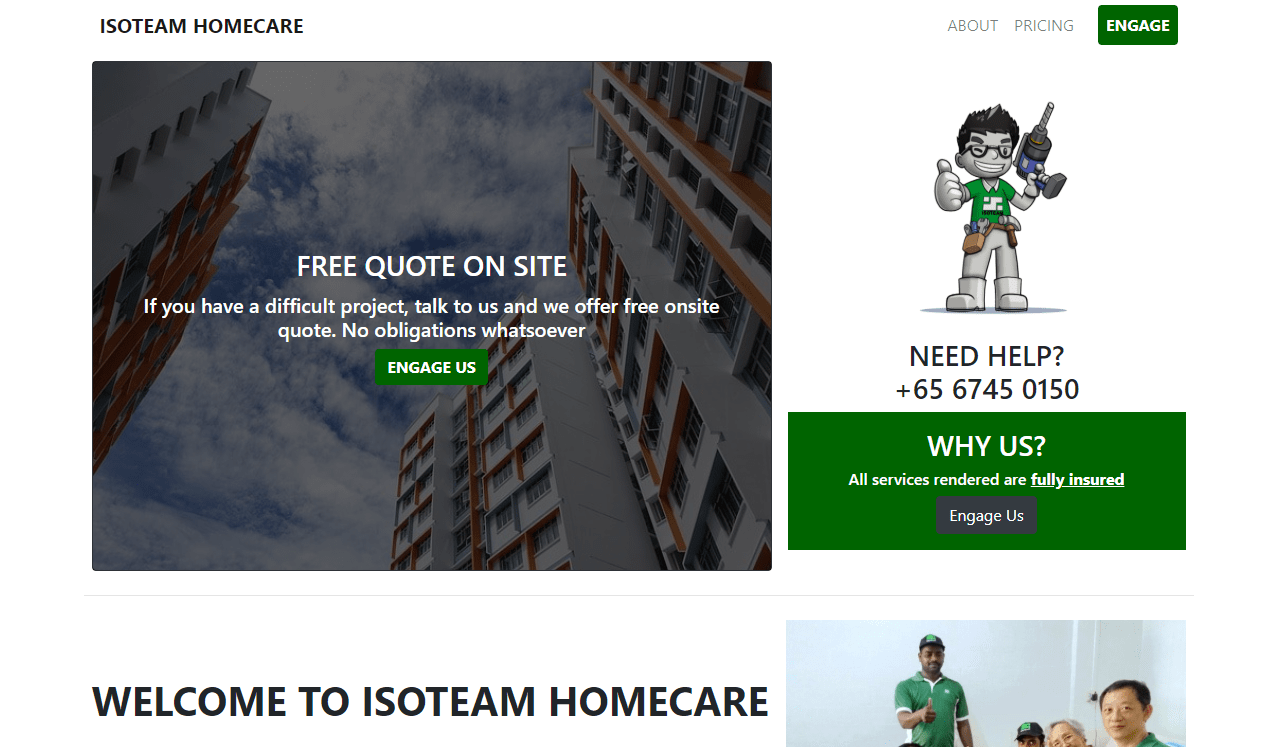 BEST FOR 
Home improvement and maintenance services
WEBSITE
https://www.isohomecare.com/
ADDRESS
8 Changi North Street 1, ISOTeam Building, Singapore 498829
CONTACT DETAILS
+65 6745 0150
OPERATING HOURS
Weekdays: 8am–6pm

 

Weekends: 9am–12pm
ISO Homecare is one of the largest handyman service in Singapore that offer solutions for all the home improvement and maintenance needs of every homeowner. This includes home painting, plumbing, electrical wiring, installation, and general repair works.
With their best handyman in Singapore, you can rest assured that you'll receive quality workmanship. You can also get a free quote on-site so you can immediately estimate the cost and see if it fits within your budget.
Highlights
General repair work
Assembly and organization tasks
Insured services
Free quote on-site
Customer Reviews
Many customers shared that ISO Homecare has given them the most suitable Singapore handyman service for their household problems. A customer left this post:
"Looking around for a contractor to change the bathroom basin. Finally found ISOHomeCare, I did not regret it. Took out the old basin (fill with mould) and they did a fantastic job of it. They even troubleshoot a circuit problem and solve the problem. They clean up the place. They got my vote a good job well done."
6.  A&J Painting and Handyman Services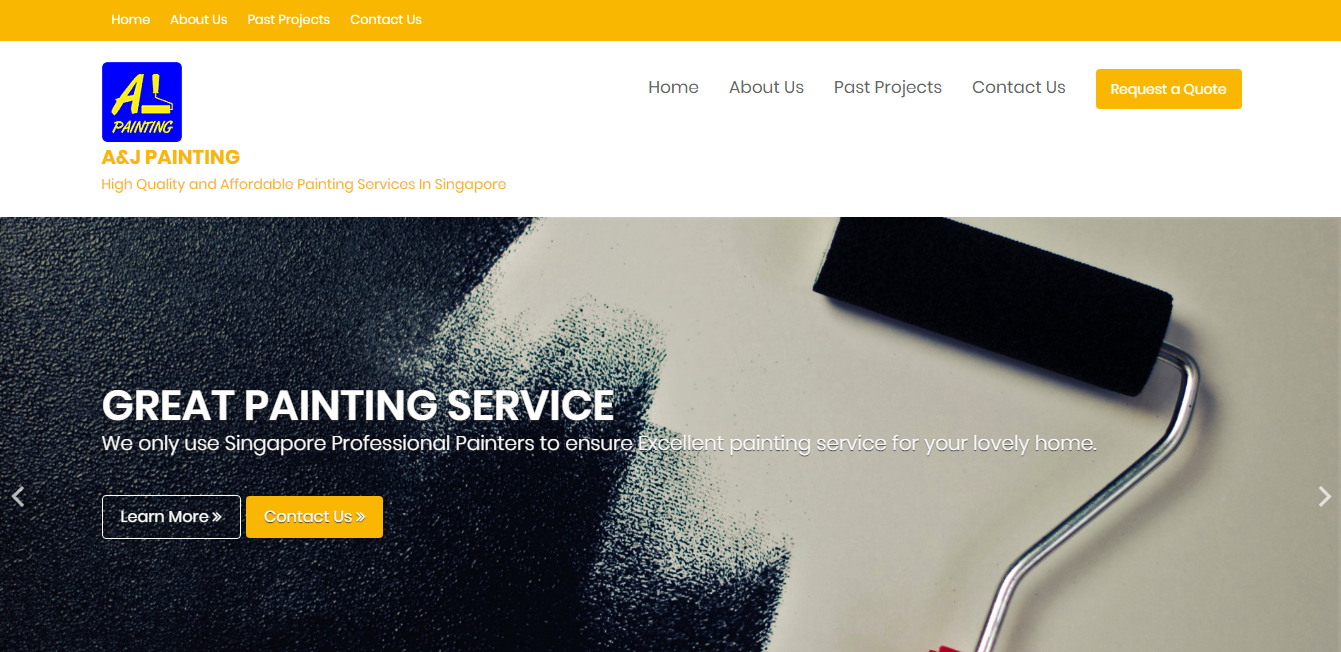 The A&J team cares deeply for the overall condition of your home. They always see to it that their assistance is made readily available to you every time you need it.
The success of A&J is fuelled by the exemplary performance of its painters and handymen. They are very efficient, thorough, and honest towards their work. They do not stop at finishing their respective tasks; they make sure that the end result is always excellent and flawless.
The A&J team specializes in painting, polishing, setting up wallpapers, carpentry, plumbing, and other renovation and repair services. Its workers surely possess the best capability in tending to the maintenance of your lovely home.
Highlights
Wide variety of services
Home Maintenance
Customer Reviews
Customers praised the responsive service and solutions of A&J Painting And Handyman Services.
"Alvin and his Team did a Fantastic Job for our penthouse unit with roof top terrace. We are hugely impressed by their professionalism, speed, quality, value, punctuality and responsiveness. Definitely a well deserved 5star rating agency."
7.  Everyworks Singapore: Handyman Services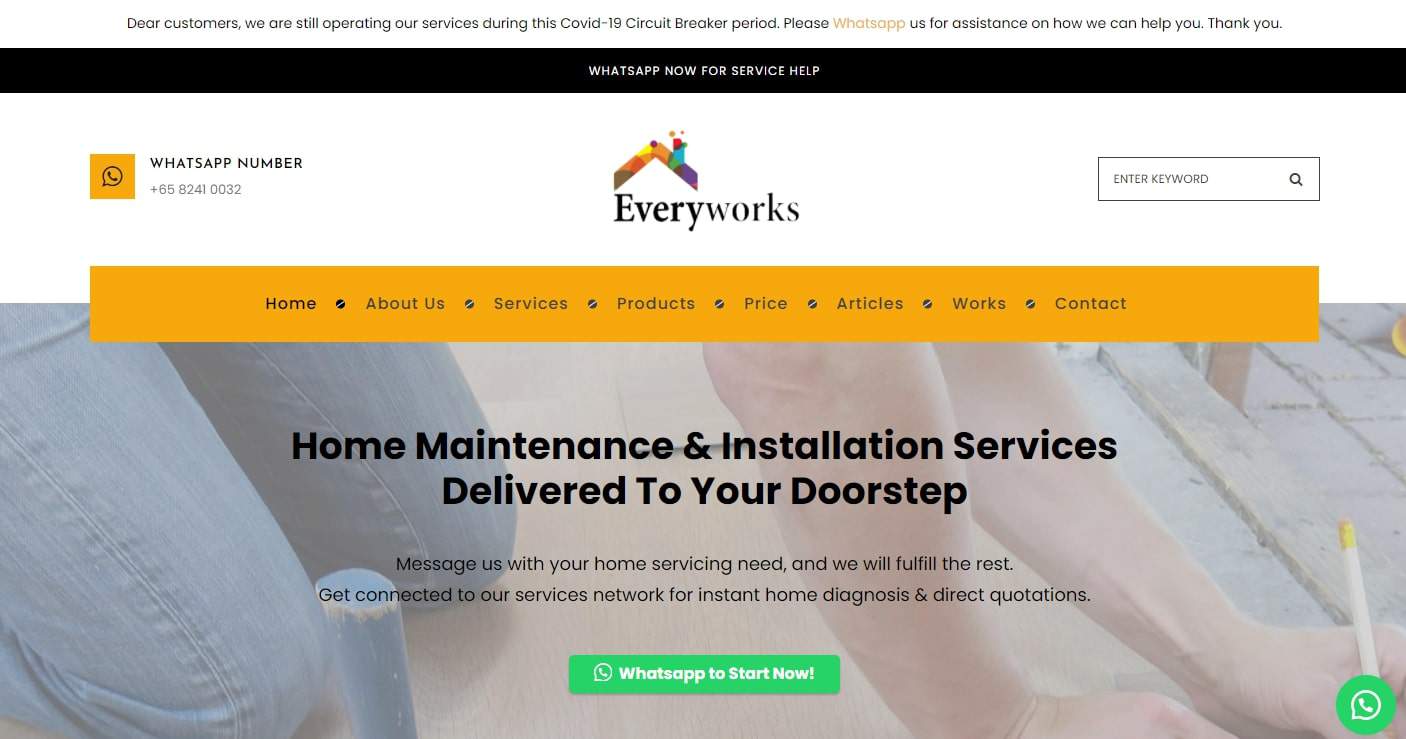 Everyworks offers service for Singapore handyman, and offers a diverse set of home maintenance services for their clients. They provide aircon servicing, plumbing services, electrician services, and other handyman services.
Their qualified and licensed professionals are experts in their work, so you can count on them to be prompt and efficient in their work. With their transparent prices and detailed quotations, you're sure to get your money's worth.
Highlights
Instant diagnosis
Direct quotations
24/7 services
8. Plumber Meng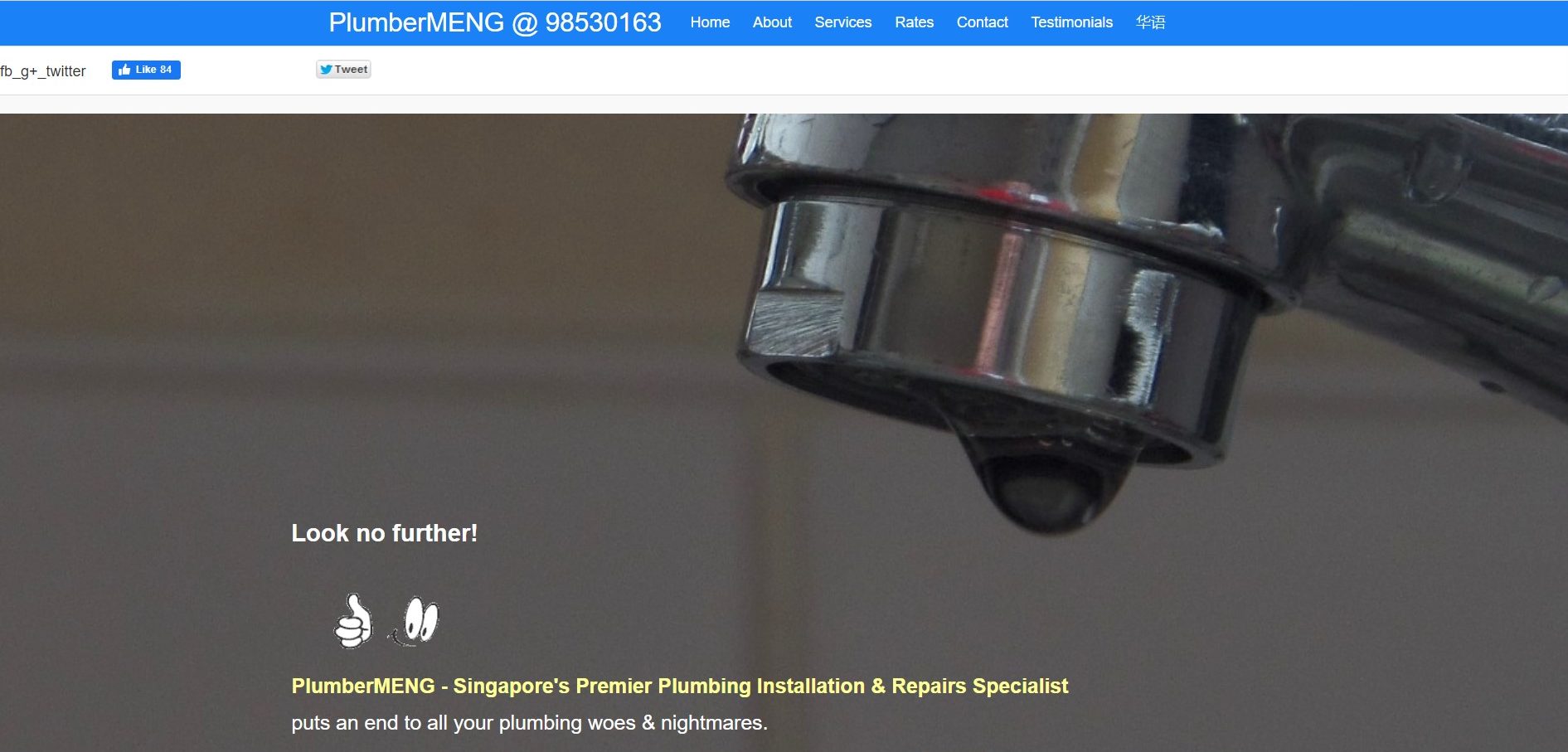 Plumber Meng is known to provide the people of Singapore high-quality plumbing services at the best price. Their specialties include chokage, leakage, and replacements, but they also do installments if needed.
What's more, is that each of their service has 1 month warranty in case there is a need to recheck repairs. Plus they are open 24 hours a day so if you search for a 'handyman near me' chances are Plumber Meng can cater to your need. 
With Plumber Meng, money-back is guaranteed, but with the way they do their jobs best, you surely won't be needing refunds.
Highlights
Honorably competitive rates
Money-back guarantee
Free professional consultation
Customer Reviews
"Plumber Meng is recommended by many of their clients for being affordable yet great with their plumbing services. Here are some of the feedbacks left on their website:"
"I want to thank Ah Meng for righting a bad experience I previously had with a dishonest plumber. A certain plumber claimed to be very good but he charged me $500 for fixing a faulty toilet bowl and still did not manage to fix it. Three days later, the same problem came back and when I called him, he refused to rectify the problem despite the warranty and had the nerve to charge me for a brand new job. I refused to give in to his bullying ways and instead called Ah Meng off the internet. He came and fixed my toilet bowl for less than a quarter of the price that the thuggish plumber previously charged me!!!! I should have called Ah Meng in the first place and that dishonest plumber wouldn't have a chance to rip me off! Just because I live in a landed property doesn't mean I deserved to be ripped off nor does it give people the excuse to rip me off!!!! Thanks Ah Meng for being an honest businessman!!"
"Thanks so much for coming to repair our leaking problem so quickly. You did a great job! I will highly recommend your company to anyone I know who may need you."
9. AVV Electricals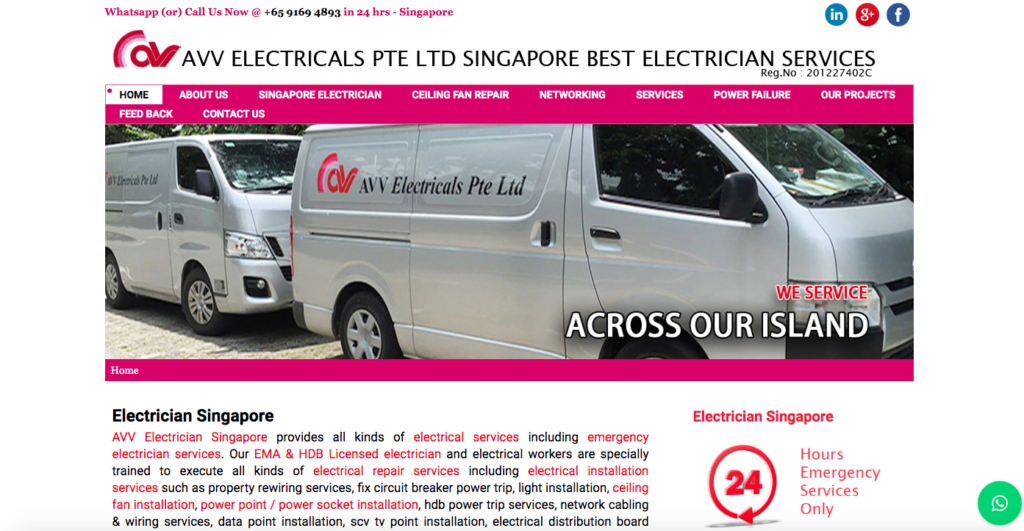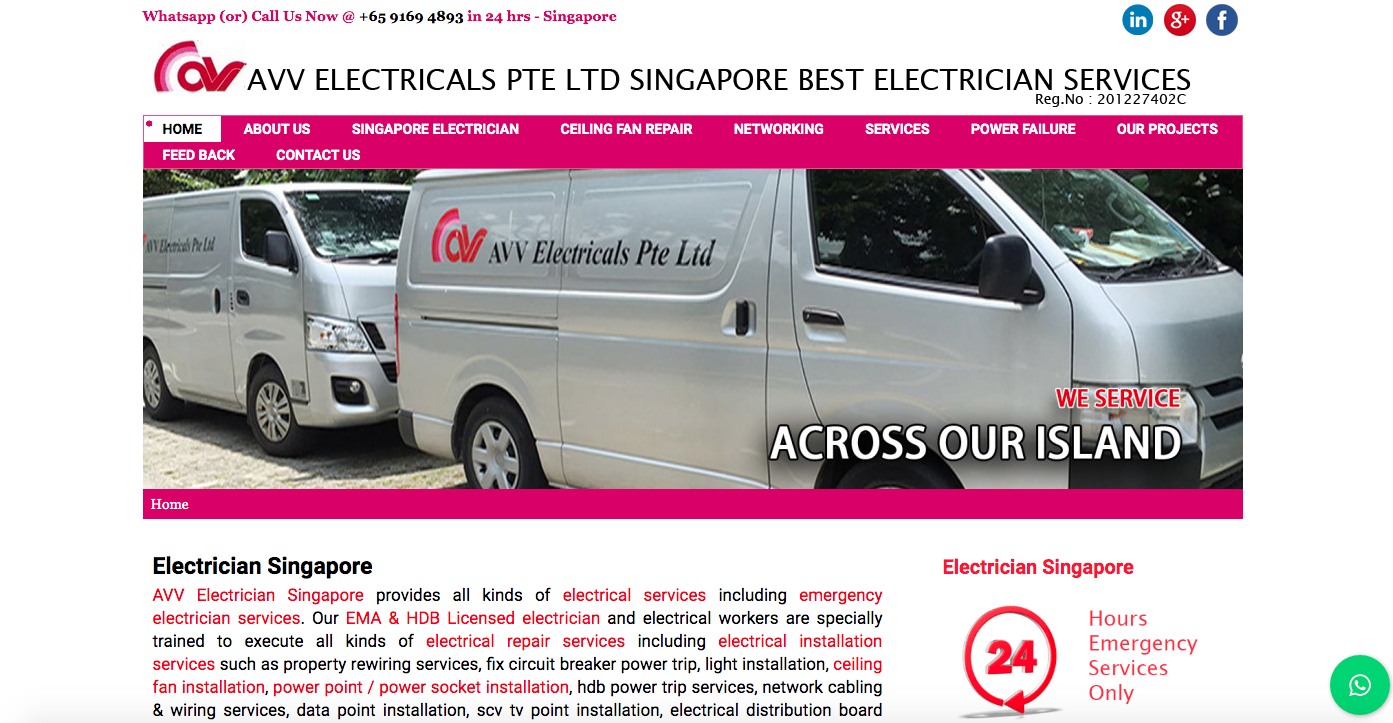 | | |
| --- | --- |
| BEST FOR  | Electrical troubleshooting, Network cabling services, Water heater and electrical appliance services |
| WEBSITE | https://avvelectrical.com/ |
| ADDRESS | 48 Toh Guan Road East Enterprise Hub, Singapore 608586 |
| CONTACT DETAILS | +65 9169 4893 |
| OPERATING HOURS | 7:00 AM –10.00 PM daily |
If you're having electrical problems at home like flickering lights or blackouts, you can rely on the repair services of AVV Electricals. They offer installation, repair, and maintenance services for both residential and commercial properties.
Some of their works include telecommunication wiring, power socket installation, bulb replacements, network cabling, and more. For those who are planning on constructing a new building, they can also take charge of the entire electrical wiring of the place.
They also repair electric ovens, water heaters, auto gates and barriers, and other electrical appliances. To ensure home security, they even provide installation services for CCTV, fire alarms, and home automation.
Pros
24/7 emergency services
Power failure and trip repair
Circuit breaker replacement
Free on-site services
Cons
Not exactly a con but it would be good to know that they specialise in electrical repairs and ceiling fan maintenance, installation and repairs.
Customer Reviews
Customers gave positive remarks for AVV Electricals, saying that the staff were professional and well-trained. They also said that the electricians were responsive and prompt when dealing with emergency cases.
This is why AVV Electricals is known for providing the best home repair services in Singapore. A customer wrote this feedback:
"First time customer who was looking for someone to fix a ceiling fan light problem. Stumbled upon AVV Electricals and gave them a message. Within an hour, their 2 technicians came and quickly helped to resolve the issue. 10/10 would recommend AVV Electricals to fix your electrical problems!"
10. LS Handyman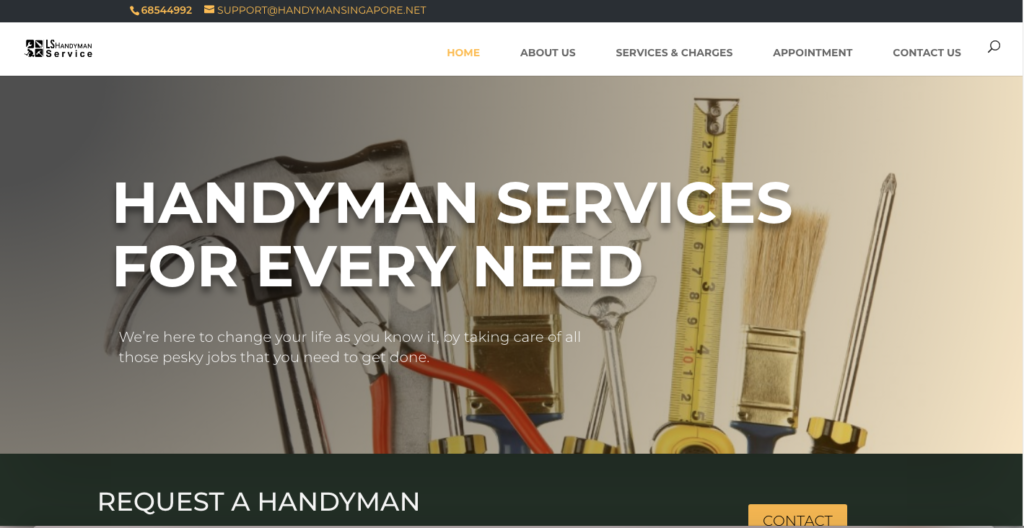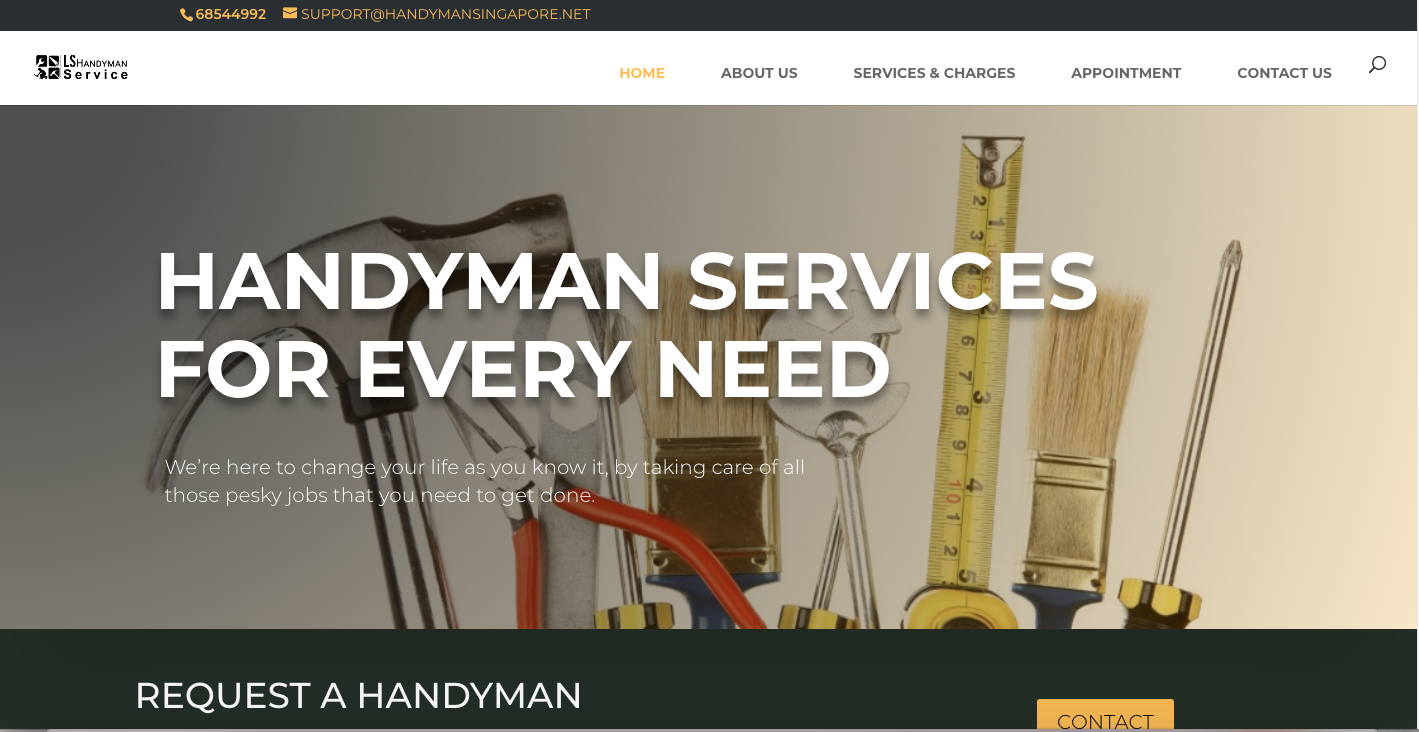 | | |
| --- | --- |
| BEST FOR | Furniture repair and carpentry services |
| WEBSITE | https://www.handymansingapore.net/ |
| ADDRESS | 45 Sims Dr, #12-152, Singapore 380045 |
| CONTACT DETAILS | +65 6854 4992 |
| OPERATING HOURS | 8:00 AM – 11:30 PM |
LS Handyman specialises in carpentry works like repairing doors, windows, locks, and painting services. Aside from these, they also provide installation services for telephones, wall-mounted appliances, artworks, etc.
Plumbing repairs and replacements are also part of their services. They work on leaking pipes, choked floor traps and other common plumbing issues.
They also offer furniture assembly, dismantling, and disposal services. Due to their extensive range of services, they've become one of the top service centres that offer the best home repair services in Singapore.
Pros
Emergency services
Free consultation
Plumbing installation
Aircon servicing
New radiator and shelving unit installation
Cons
Customer Reviews
Clients shared that LS Handyman's staff were approachable and friendly. They also mentioned the efficient and prompt service as well as the long-lasting solutions offered by the team.
A customer recommended the shop's services and wrote this review:
"Excellent service. Quick to respond with a call back from the locksmith. Came that day a few hours later. Was fast and experienced and charged a reasonable rate. Awesome service, thank you."
11. Handyman King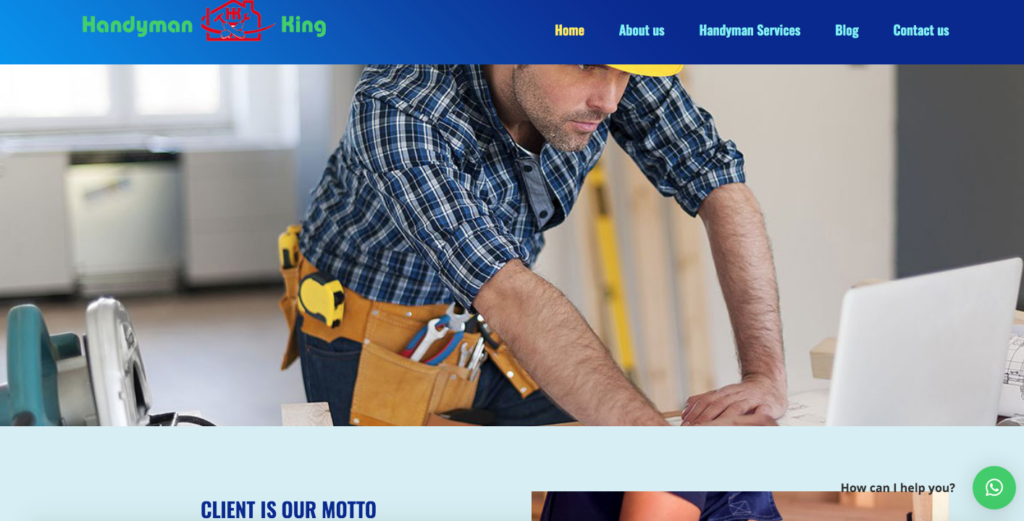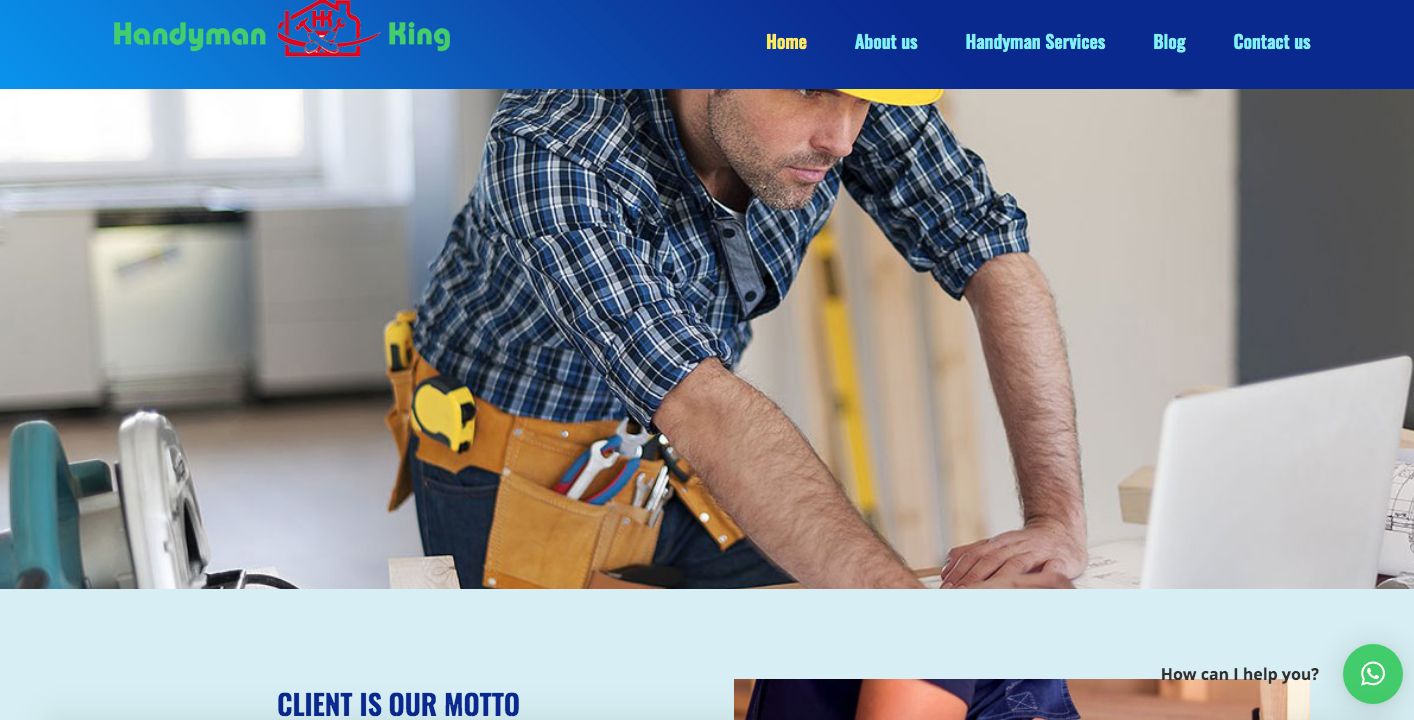 | | |
| --- | --- |
| BEST FOR | Carpentry, landscaping, plumbing, and electrical works |
| PRICING | Rates |
| WEBSITE | https://handimanking.com/ |
| ADDRESS | 10a Joo Ave, Singapore 219306 |
| CONTACT DETAILS | +65 9470 4068 |
| OPERATING HOURS | Open 24 hours / 7 days |
Handyman King provides all-in-one repair solutions with additional services like gardening, moving, and even cleaning!
Their repair services consist of lights and wiring, plumbing replacement, door installation, and wardrobe and cabinet repair. Installation of home security systems like CCTV cameras and smart door locks is also included on their services.
Whether you're doing construction or renovation, they can also help you with painting works, landscaping, and polishing.
They've worked for residential properties, offices, and schools on the island, proving that they provide one of the best home repair services in Singapore.
Pros
Preventative maintenance
24/7 emergency service
Water heater repair and replacement
Pool service
Online quotation and assessment available
Cons
Customer Reviews
Handyman King has received positive feedback from the clients who've experienced excellent repair and installation works. This is what their client named Alex Sg left as a review:
Arrived on time & job was done extremely well and quickly. In addition unlike many tradesman there was no dust or mess left behind. highly recommend – price was also very competitive. picture hanging and TV mounting. Update – Requested follow up to hang additional pictures – arrived next day exactly on time, pictures hung fast and professionally. looks great. thank you so much!
12. Fixwerks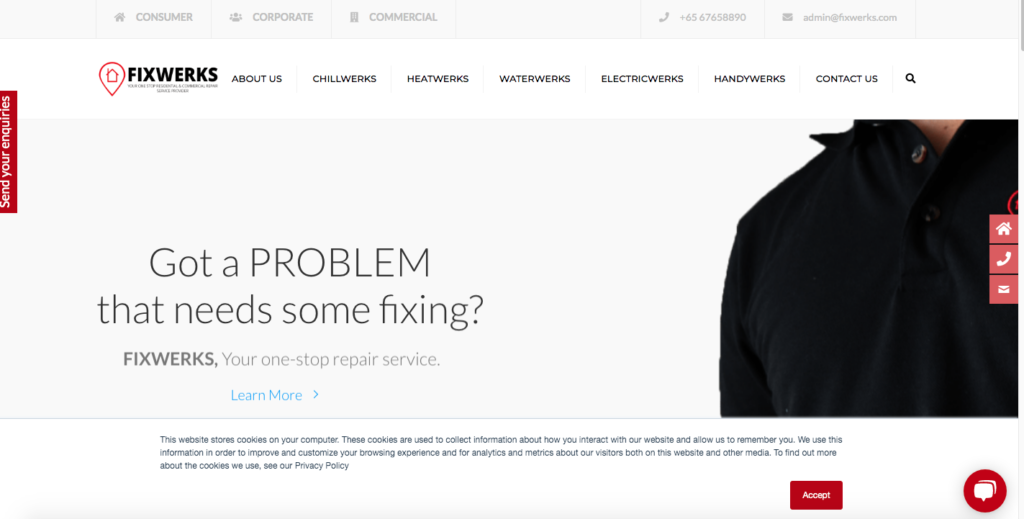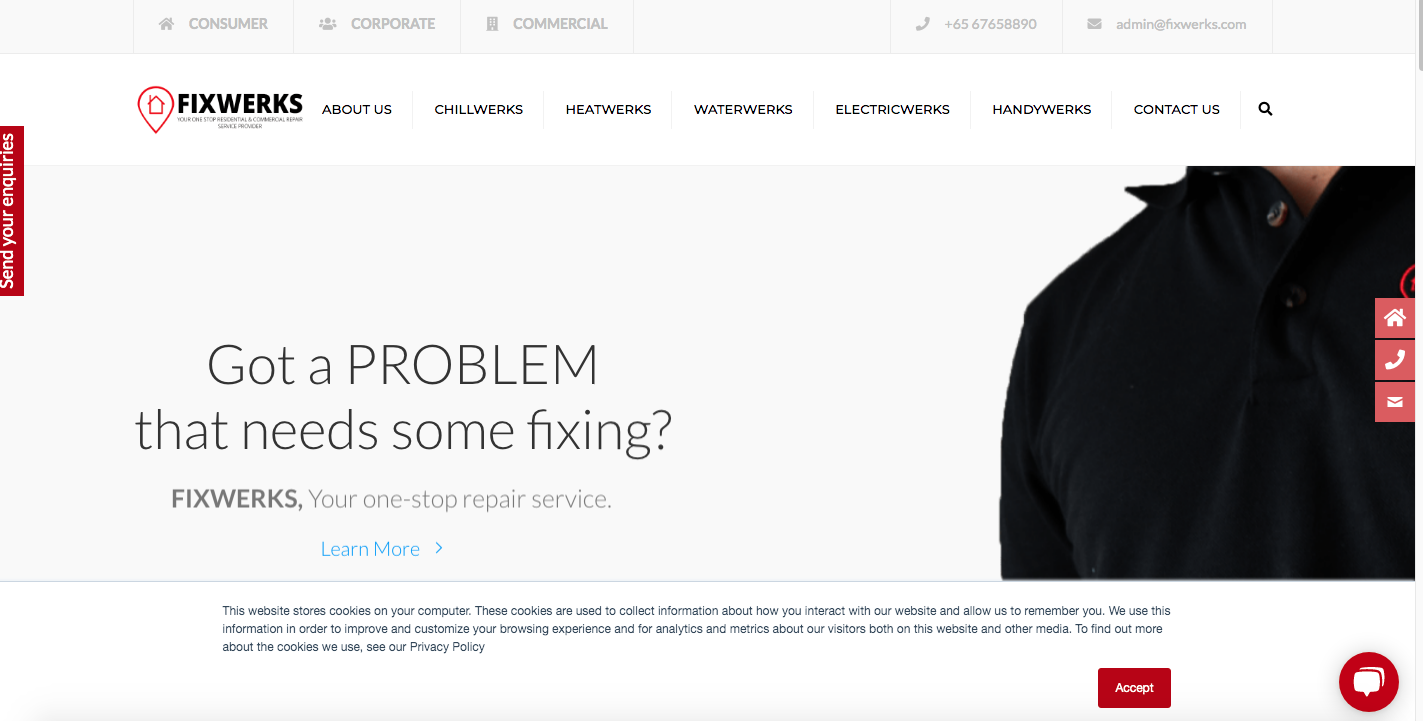 BEST FOR
Home appliance repairs, Plumbing/sanitary repair
WEBSITE
https://www.fixwerks.com/
ADDRESS
55 Serangoon North Avenue 4, #06-11, Singapore 555859
CONTACT DETAILS
+65 67658890
OPERATING HOURS
Monday – Friday: 9:00 AM – 5.30 PM

 

Saturday: 9:00 AM – 12:30 PM
Fixwerks is one of the most well-known service centres on the island. They provide a great range of repair solutions for electrical, plumbing, and carpentry issues.
For electrical repairs, they're capable of fixing wine chillers, refrigerators, freezers, aircon units, ovens, stoves, washing machines, and many more.
When it comes to their plumbing services, their qualified technicians can work on kitchen, laundry, and washroom plumbing. Furthermore, their handyman services also include appliance and wall mounting installations, cabinet repairs, and home improvement.
Pros
Water heater services
Power tripping repair
Power socket installation
Carpentry services
Islandwide repair services
Cons
Customer Reviews
Fixwerks gained a lot of recognition from the customers because of their experienced and trained engineers. Customers said that the team truly has the skills and knowledge in fixing appliances and other repairs.
This is what Cynthia Hoo, one of their most recent satisfied clients, had to say:
Urgent require to get a quick fix on my washing machine. To my surprise, Fixwerks is fast to respond on the rescue. Technician Zhen Wei was friendly, patient & efficient to resolve my problem. He is very knowledgeable & clearly explain to me the issue to ease my worry. One stop service. Zhen Wei is able to hand over my issue his team without me to explain who promptly follow up with me within 1 day. High 5 & thank you.
13. Kiasu Plumber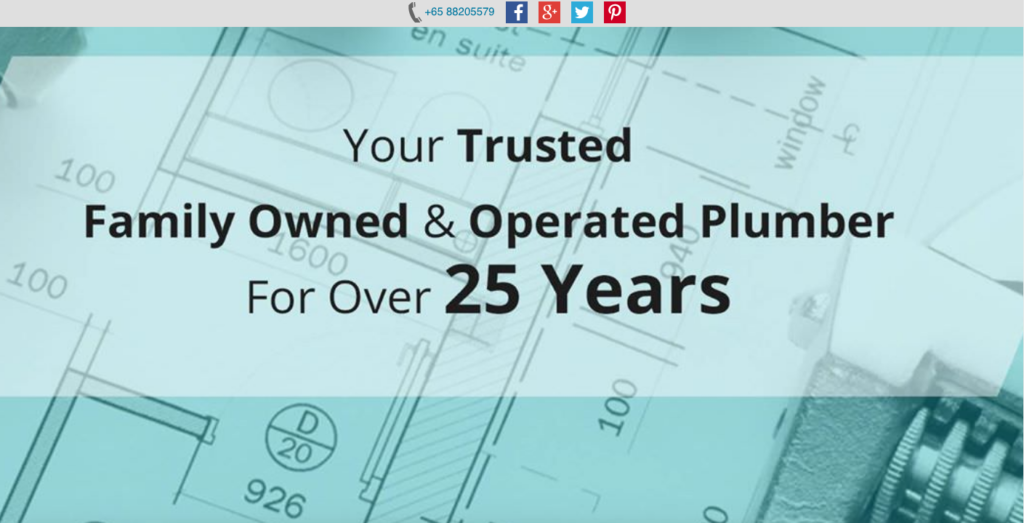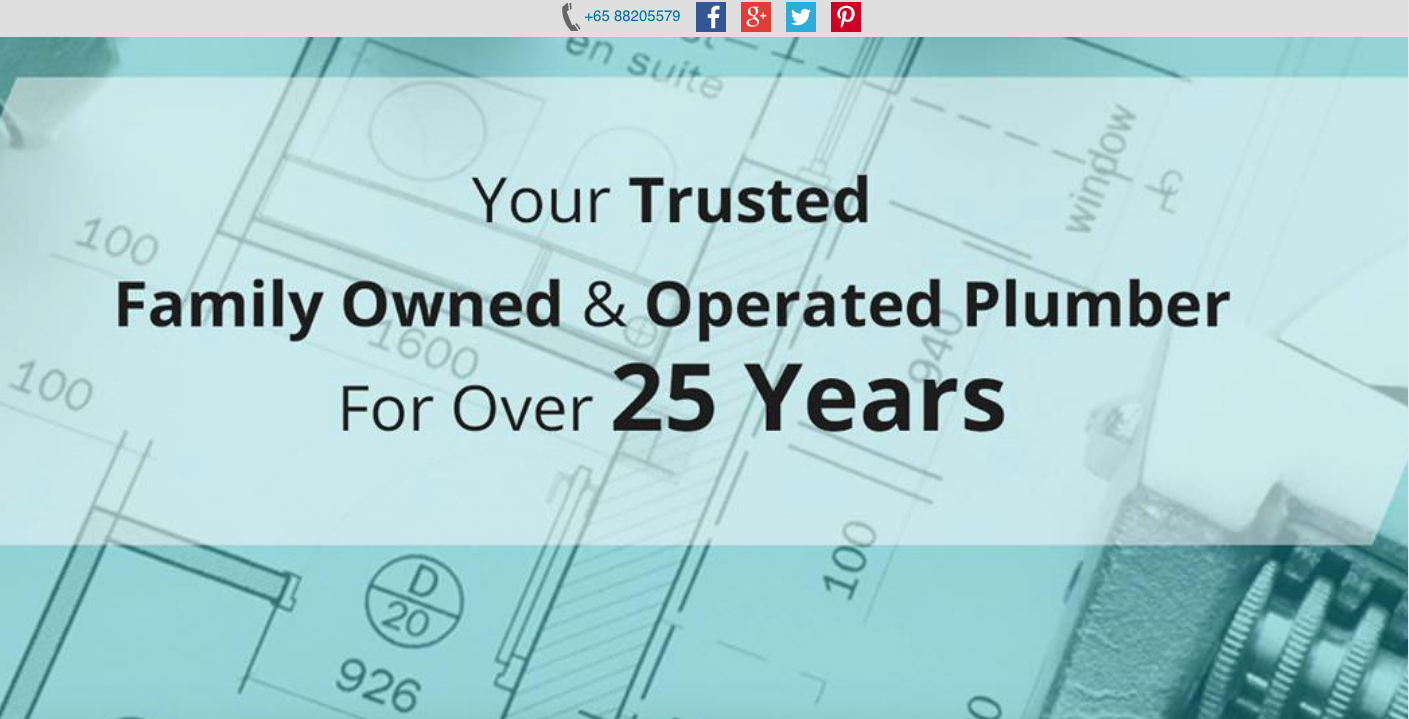 | | |
| --- | --- |
| BEST FOR | Plumbing, electrical, and handyman works, Personalised painting services |
| WEBSITE | https://kiasuplumber.com/ |
| ADDRESS | 20 Maxwell road #09-17 Maxwell House Singapore 069113 |
| CONTACT DETAILS | +65 8820 5579 |
| OPERATING HOURS | Open 24 Hours |
Kiasu Plumber specialises in repairing household plumbing problems–no matter how general or complex the problems are. This includes water leakages, clogged faucets and sinks, backflow preventions, water heater issues, pipe bursting, and more.
Aside from these, they also deal with electrical works like wall socket installations, circuit breaker replacement, and fixture repairs.
Installations of rubbish chutes, TV brackets, and bathroom accessories are also part of their handyman services.
They also provide interior and exterior painting services as well as wallpapering, staining and paint removal–making them a great choice for renovation or new construction projects.
Pros
Complete bathroom installation
Drywall repair
24 hour Emergency services
Free estimate and consultation
Cons
Not a con but it's good to note that they specialise in plumbing
Customer Reviews
Most customers are highly satisfied with the overall services of Kiasu Plumber. They said that the technicians have done a great job in repairing different fixtures and appliances at home.
They also mentioned that the service centre has one of the best home repair services in Singapore. One of their customers, Simphiwe Gama, left this review:
Their service was very exceptional and the job that they did is remarkable. One thing I liked the most was the fact that they replied to all my concerns when I was asking endless questions about the drain they were patient and made me feel at ease…
And that's our list of shops with the best handyman in Singapore! Do you already know which one you'd like to consult with? If you do, then we'd like to know about your chosen shop, so feel free to share your thoughts with us!
Also, if you're looking for door installation/repair services, take a look at these selections that offer the best door repairs in Singapore!