The psychologists in Singapore can provide mental aid and healthcare when you need assistance. Fortunately, there are a fair number of highly skilled and experienced ones on the island.
If you don't know where to begin looking for one, though, we're here to help. That is, we've gone ahead and found some of the most-recommended psychologists in Singapore so you have a good starting list of options for when you do seek psychological aid.
Our list consists of some of the most highly regarded specialists we could find in this field. These are essentially the Singapore psychologists a lot of the people we approached recommended to us.
So, if you're not sure which psychologists to approach, these are just a few of your options on the island!
(Note: This list is neither exhaustive nor in any particular order.)
1.  Dr Geraldine Tan (The Therapy Room)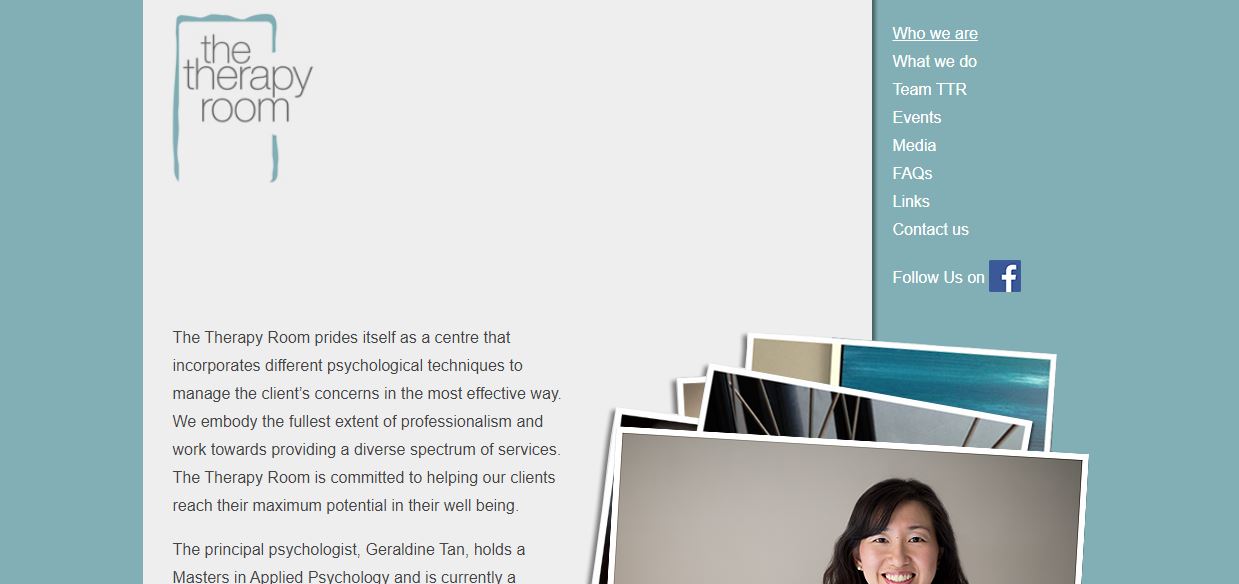 BEST FOR 
Clinical disorders, behavioural issues, individuals with learning disabilities
WEBSITE
https://www.thetherapyroom.com.sg/
ADDRESS
Orchard Shopping Centre #08-03 321 Orchard Road Singapore 238866 (beside [email protected])
CONTACT DETAILS
6467 8903 |

[email protected]

OPERATING HOURS
Mondays to Fridays: 9am to 5pm

Saturdays: 9am to 1pm
Dr Geraldine Tan is the principal psychologist at The Therapy Room, and she has decades of experience working with different psychological problems. She helps clients manage their well-being through psychological techniques and therapeutic interventions for both adults and children.
Whether you need psychological assistance to help you deal with personal issues, family matters, or your career, people tell us she's one of the top psychologists in Singapore for that. She can help you handle each situation with a healthy mind.
For those who have depression, anxiety, autism, eating disorders, marital issues, addictions, or other conditions, her therapy centre can also provide psychological tests, healing activities, and workshops that may give you insights and lessons on how you can properly cope with your situation.
Highlights
Workshops and outreach programmes
Customer Reviews
Dr Geraldine Tan has been featured on various media channels and has even been called the "people's psychologist". Some clients even told us that she made them feel comfortable and motivated after sessions, which is generally a good sign.
A client shared this experience:
"Geraldine n Ning Xin impress me with their commitment, professionalism and dedication. Absolutely deserving of their nomination as SHEROES!"
2.  Dr Piyali Chakrabarti (Scott Psychological Centre)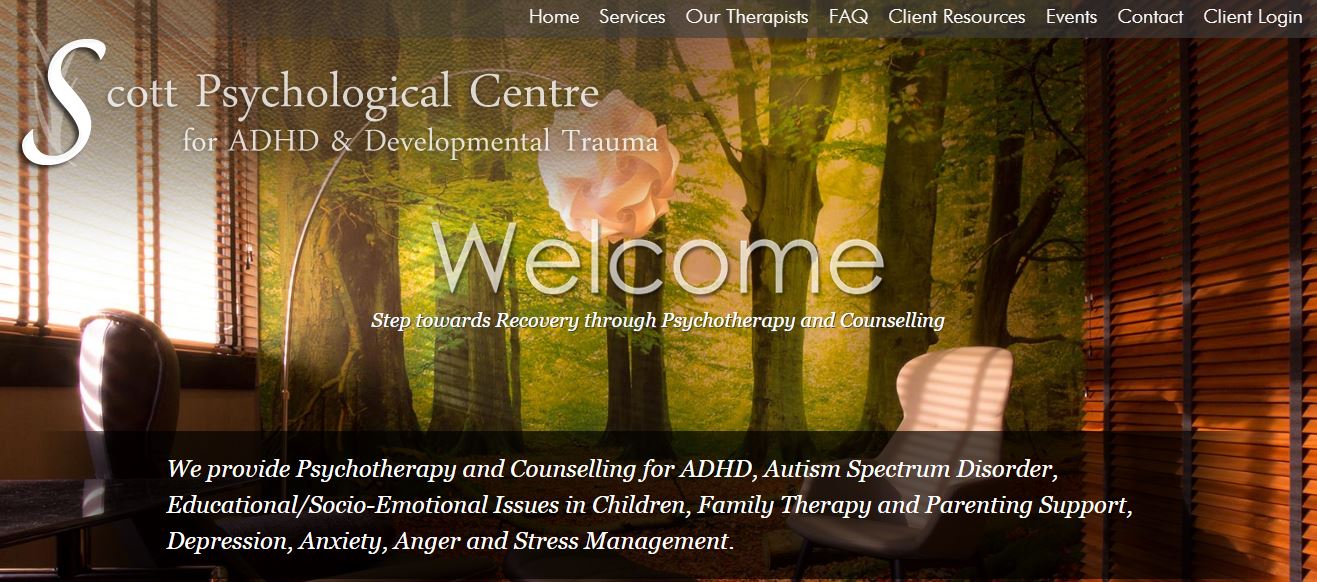 Dr Piyali Chakrabarti is one of the principal clinical psychologists at Scott Psychological Centre and she has achieved accolades from local and international institutions. This is why several recommended her to us for those seeking psychologists in Singapore.
She has gained different therapeutic specialities throughout her career. These include Cognitive-Behaviour Therapy, Narrative Therapy, Choice Theory Reality Therapy, and more.
Some of her patients also told us that she is effective at helping them manage their responses to major lifestyle changes such as marriage, parenting concerns, relationship changes, and more.
Highlights
Wide range of psychological and behavioural issues
Bilingual counselling
3.  Dr Joanne Chua (Mind what Matters)
BEST FOR 
Psychiatric conditions and neurocognitive disorders
WEBSITE
https://www.mindwhatmatters.com.sg/
ADDRESS
314 Tanglin Road, Phoenix Park #01-18, Singapore 247977
CONTACT DETAILS
+65 9172 9132 |

[email protected]

OPERATING HOURS
Weekdays and Saturday: 9am–6pm
Dr Joanne Chua provides therapy sessions for those who have mood and anxiety disorders, workplace stress, identity and relationship issues, and other life changes.
She practices different principles and therapies as well to conduct assessments for ADHD, dementia, and general intellectual functioning. With this range of specialities, she has managed to establish a reputation as one of the most professional psychologists in Singapore.
Highlights
Individual and group therapy sessions
Assessments for dementia and ADHD
4.  Mr Muhammad Haikal Bin Jamil (Impossible Psychological Services)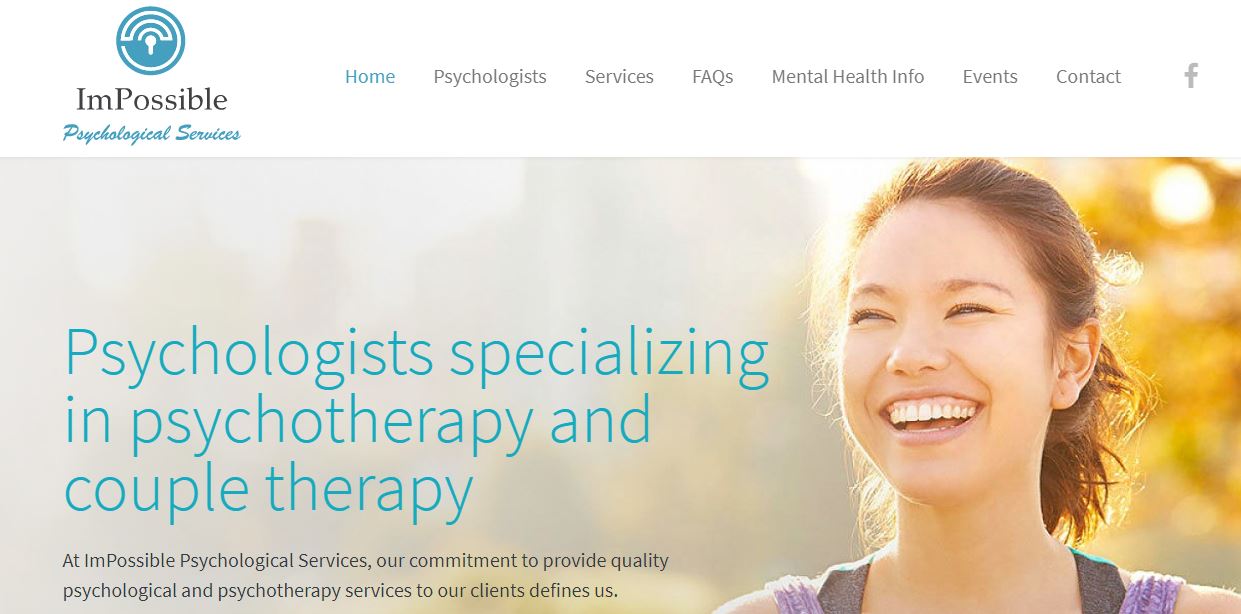 BEST FOR 
Psychotherapy and couple therapy
WEBSITE
http://www.impossiblepsychservices.com.sg/
ADDRESS
Icon @ Changi 228 Changi Road #03-07 Singapore 419741
CONTACT DETAILS
Mobile: 9688 2790

Telephone: 6538 2686

Email: [email protected]

OPERATING HOURS
Mondays to Fridays: 9am – 5:30pm.

*Consultation strictly by appointment.

*After hours and weekend services offered. After hours and weekend fees apply.

We are closed on public holidays.
Impossible Psychological Services has a group of psychologists and counsellors who are said to be experienced when it comes to managing adult and child mental health as well as couple counselling. This includes Mr Muhammad Haikal Bin Jamil, who is the founder of the clinic, senior clinical psychologist, and psychiatric rehabilitation practitioner.
Mr Haikal has a good bit of experience in this field. He practices a broad range of approaches too, which is one of the many reasons many recommend him to those who need a psychologist in Singapore.
Highlights
Psychiatric rehabilitation practitioner
Couple counselling
Customer Reviews
A lot of clients have praised Mr Haikal because of his compassion for his clients. Here's a bit of feedback from one of his clients:
"Haikal is a dedicated psychologist who exudes empathy and genuine concern for his clients, and provides them with a safe environment to share their thoughts and emotions. He has a wealth of experience and is very skilled in therapy. He uses a variety of techniques to help individuals understand and work on their thoughts, emotions and behaviour. In addition, he is sensitive to cultural differences. Overall, a good experience at ImPossible Psychological Services."
5. Rudy Goubet Bodart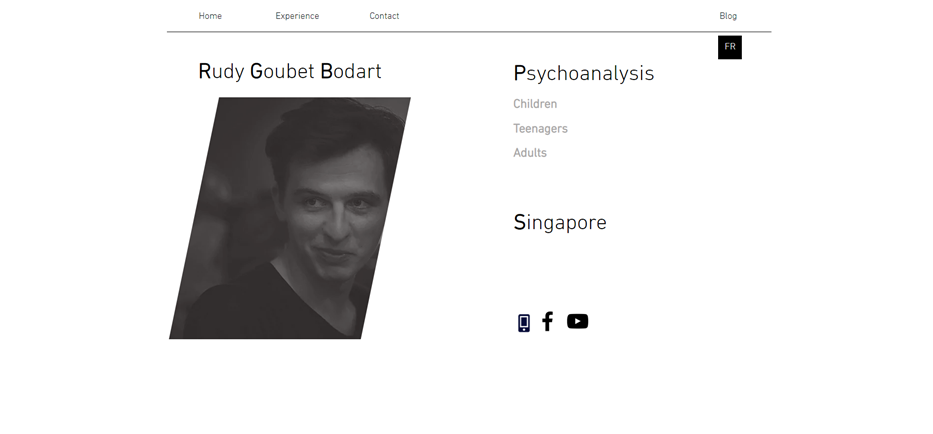 Mr. Rudy Bodart is a French psychologist that offers his services both in France and Singapore. He has accumulated 19 years of experience with various institutions and clients over the years.
He specializes in Etho-Psychoanalysis, which focuses on the language, religion, and cultural background of a person to help them overcome their crisis in life. He graduated Master 2 in Clinical Psychology and Psychopathy. He offers his help to any person who needs his professionals skills– may it be a child or an adult.
Mr. Rudy loves helping people find their most authentic self and strengths, assisting them when it comes to exploring the questions they have about their problems and life in general. He aims to help people find genuine satisfaction and fulfillment in life.
Highlights
Highly skilled psychologist
Vast experience in psychology
Well-known in France and Singapore
Patient and Accommodating practices
6. Elephant Therapy & Training

Adriana Giotta is the founder and clinical director of Elephant Therapy & Training. She's vastly experienced when it comes to various psychological treatments for all ages and genders, locally and globally.
She has been trained to know the models of psychology and psychotherapy and is now a HCPC Registered Consultant Clinical Psychologist.
She's known to be highly skilled in therapy, wherein she integrates various treatments into customized sessions to best fit the needs of her patient. She is also an expert in treatments for emotional trauma and psychological problems.
Highlights
Over 50 years of experience
Highest Standards of Ethical Practice
Effective and Empowering Manner of Support
7. The Psychology Clinic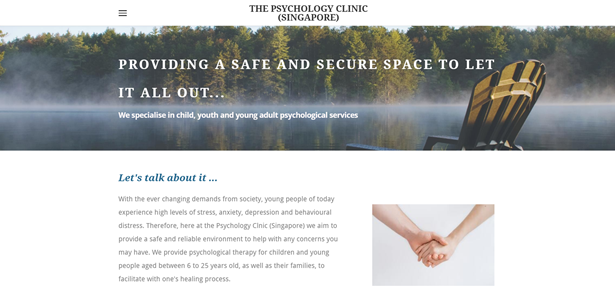 The Psychology Clinic always ensures that they're able to accommodate any change and demands that may occur with society and the people in it. They focus on the wellbeing of young adults who are more prone to mental distress.
They offer their services for children as young as 6 years old and adults up to the age of 25– as well as their families, if needed. They have tons of readily available sessions to choose from, so you can rest easy knowing that whatever you may need assistance with, they'll be able to help you.
Highlights
Great Schedule for Appointments
Friendly staff and psychologists
Comfortable therapy room ambiance
Customer Reviews
This is a feedback left by a client to The Psychology Clinic's Google Reviews:
"A safe place for parents and children. The Child Psychologist is patient and understanding to our needs."
8. The Gifted Lab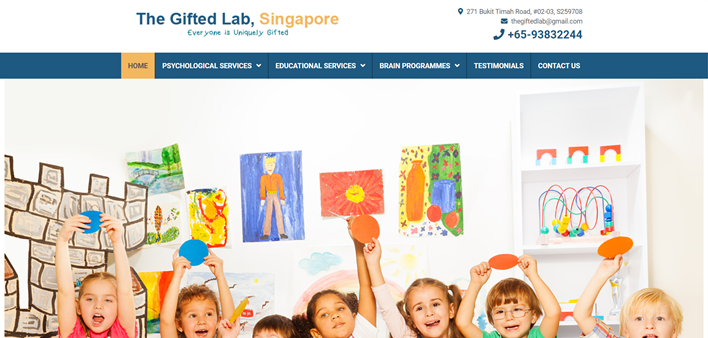 The Gifted Lab is a good place to consider for your counselling and psychological needs. They not only offer simple psychological help, but also provide educational services for gifted children.
They have Brain Programmes as well. Each of their services are personalized to cater to the needs of every client they have, ensuring the improvement of their well-being without compromising the comfort that a client should receive.
Highlights
High quality performance therapy
Personable psychologists
Competitive therapy rates
Customer Reviews
Take a look at what a previous client had to say about The Gifted Lab's amazing service and performance:
"I recommend the Cognitive assessment and report without reservation. Certainly one of the most worthwhile investments I have made for my daughter so far. I now have a far better understanding of her strengths and weaknesses. Best of all, with the detailed recommendations provided, I know exactly how to support my daughter and help her to attain her fullest potential. Dr. Chan's expertise and experience helped my little girl feel absolutely at ease and she enjoyed the session immensely. A huge vote of thanks once again!" – Mark Sim
9. Hope for Tomorrow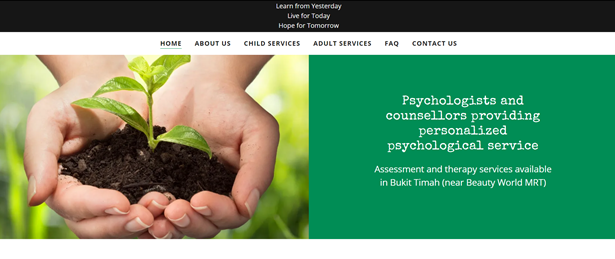 BEST FOR 
Quality Mental Health Services
WEBSITE
https://hope4tmr.com/
ADDRESS
19 Lorong Kilat, #01-04 Singapore 598120
CONTACT DETAILS
 +65 85514673 | [email protected]
OPERATING HOURS
Tuesdays, Wednesdays and Thursdays 10am – 6pm
Fridays 10am – 8pm
Saturdays 10am – 5pm
Alternate Sundays 3 – 5pm
Dr. Sng Khai Imm is a Clinical Psychologist in Hope for Tomorrow. She is a registered psychologist in Singapore and Australia, finishing her Psychological degree in the UK and her Doctoral Degree in Sydney.
She is an expert in the field of therapy and counseling for both children and their parents, due to the experience she gained while working for private and government facilities.
She handles each of her clients with an individualistic approach, which motivates her to always be ready to accommodate whatever challenges they may face psychologically and emotionally.
Highlights
Personalized Psychological Service
Wide range of psychology services
Intervention to help with emotional and behavioural problems for children and adults
10. iGROW Online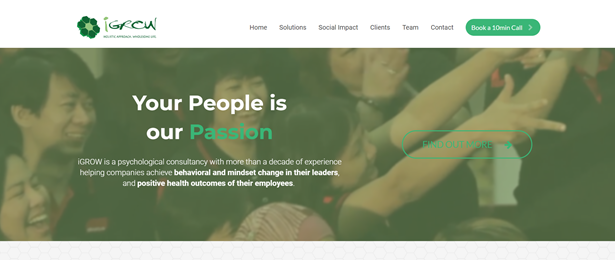 | | |
| --- | --- |
| BEST FOR  | Business-based Counselling |
| WEBSITE | https://www.igrow.sg/ |
| ADDRESS | 60 Paya Lebar Road, #09-25  Singapore 409051 |
| CONTACT DETAILS |  +65 6871 8777 |
| OPERATING HOURS | Monday – Saturday: 9am–6pm |
Benedict Lim is the Chief Psychologist and CEO of iGrow, with over a decade of experience in the field after finishing his course and master's degree.
It doesn't matter for him if he's helping a large company or small business. This passion for helping people succeed makes him one of the best and most sought after in the industry.
Aside from his long list of clients in Singapore, he has had to serve international clients on occasion– proving how great he is in his line of work. He also helps develop great leaders and better employees, enabling them to be the best version of themselves.
Highlights
Improves Employee Health
Helps increase employee engagement
Helps in massive growth in business
11. Mind Care Therapy Suites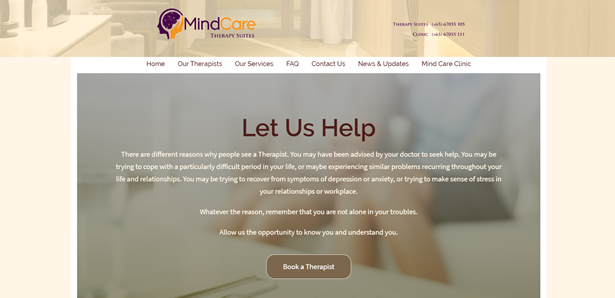 BEST FOR 
Psychotherapy
WEBSITE
http://suites.mindcarespecialists.com
ADDRESS
1 Farrer Park Station Road, #10-15 Farrer Park Medical Centre Connexion, Singapore 217562
CONTACT DETAILS
(+65) 67055 105
[email protected]
OPERATING HOURS
Mondays – Fridays: 9 am – 5.30 pm
Saturdays: 9 am – 1 pm
Mind Care Therapy Suites is headed by Principal Clinical Psychologist Mr. Gifford Chan. His experience in therapy is unparalleled, always exceeding the expectations of his clients.
He has worked previously with the Department of Child and Adolescent Psychiatry (DCAP) at the Institute of Mental Health, along with various organisations and hospitals that focus on children's welfare. He's qualified to assess, diagnose, and remedy various disorders.
While they have the most skilled therapists, Mind Care Therapy Suites still ensures that you're comfortable with the therapist or counsellor you're seeing, giving you the chance to switch people if needed.
Highlights
Wide range of psychological treatment techniques
Affordable rates
Highly-skilled team of psychologists
12. International Counselling & Psychology Centre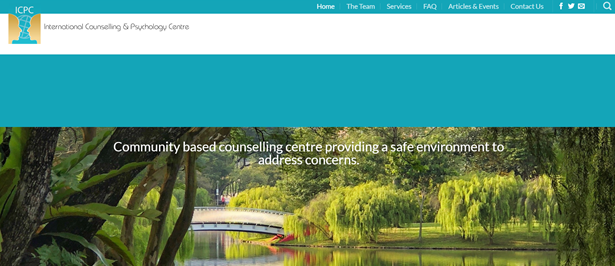 BEST FOR 
Wide variety of counselling and therapy services
WEBSITE
http://www.intlcounselling.com/
ADDRESS
360 Orchard Road, #06-08 International Building, Singapore 238869
CONTACT DETAILS
Phone +65 6734 6463
Fax +65 6734 6865
Email [email protected]
OPERATING HOURS
Daily: 9:00 a.m. to 4:30 p.m.
International Counselling & Psychology Centre offers a multitude of services to whomever may need their assistance. They're open minded when it comes to troubles or problems, with one's age, gender, ethnicity, or race not being an issue. They always ensure that everyone feels safe in their establishment.
ICPC makes sure to have only the best workers in the field. Ms. Sarah Haas is a Psychotherapist that conducts counselling for adolescent children and their family– she's an expert in parent coaching as well.
As a member of the Singapore Association for Counsellors, Ms. Haas is reliable and capable enough to help you with any of your questions or family troubles. She also offers in-home support at any time if you're unable to go to a scheduled session.
Highlights
Professional and Expert Psychologists and Psychotherapists
Flexible sessions
13. InPsychful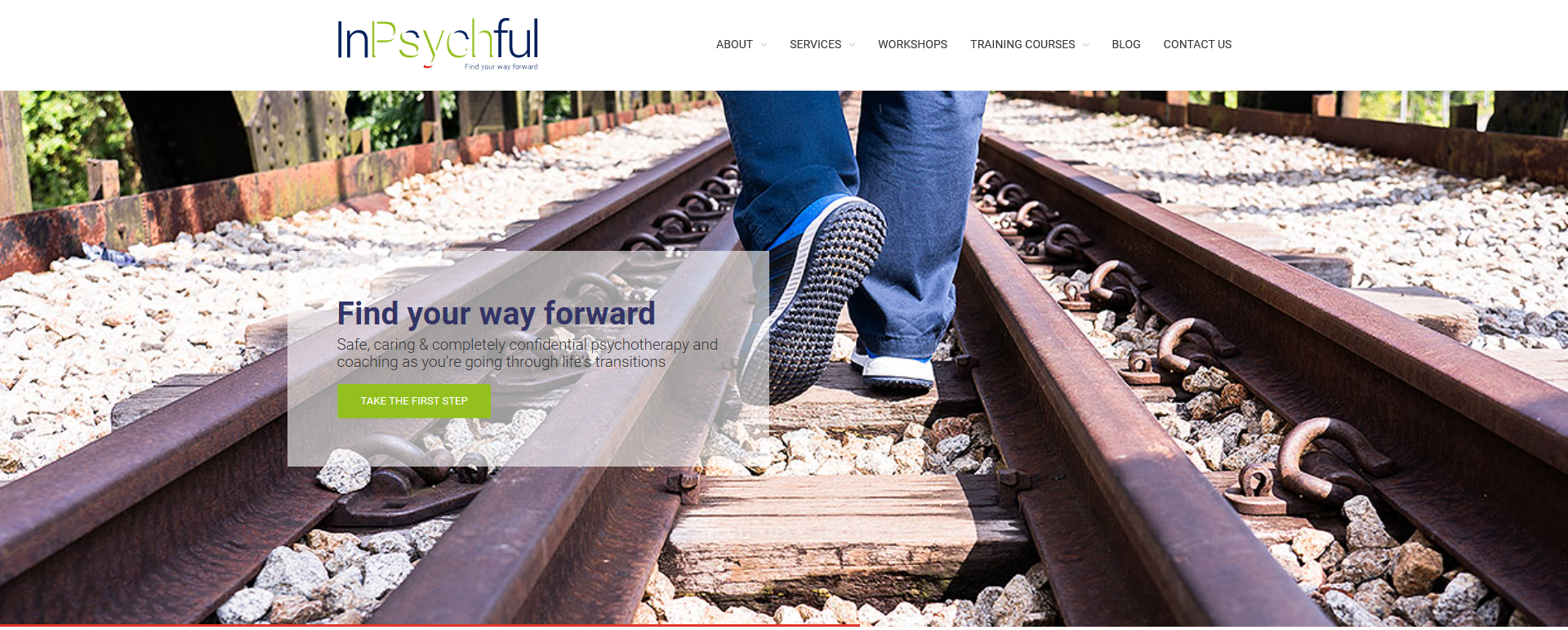 Camelia Wong, the co-founder of InPsychful, believes that everyone has their own side of the story and that they have the ability to transform their situation if they wanted to. She thinks that no matter how bad your situation is, it can still be changed.
Her background as a Forensic Psychologist has allowed her to work with troubled youth and offenders struggling within the legal system. This helps her better understand different kinds of people.
For InPsychful, the difficult situation you're going through can also be your greatest opportunity for growth and empowerment. They want you to know that that is the time to learn deep lessons, discover your strengths, and gain a new perspective.
Highlights
Therapy Sessions

Mental Toughness Coaching

Wellness Workshops
14. Thrive Family
| | |
| --- | --- |
| BEST FOR  | Psychological and Well-Being Services |
| WEBSITE | https://thrivefamily.sg/ |
| ADDRESS | 10 Winstedt Road #02-10,  Singapore, 227977 |
| CONTACT DETAILS | +65 6909 6123 / +65 9233 0602  | [email protected] |
| OPERATING HOURS | 8:00am – 9:30pm |
With an intention to support local communities and nurture the provision of good quality psychological care, Nina and Emma set up the Thrive Family. Their goal is to reduce the stigma associated with mental health issues.
The Thrive Family prides themselves on being motivated by more than financial reasons. They all have a shared commitment to use evidence based practises in their work.
To reach a greater amount of audiences, they have also adopted an LGBTQ friendly approach in their practises. The Thrive Family makes sure that they help everyone find their way in this complicated system of mental health.
Highlights
Therapy Sessions

Psychotherapy

Wellness Workshops

Clinical Hypnotheraphy

Child and Adult Assessments

Professional Supervision
Customer Reviews
 Here is a review left by a very satisfied client:
"Both locations are great centres with open, colourful and inviting spaces full of toys and activities for young children of varying ages. The staff are friendly, respectful, helpful, and educated so as to be the best support for most any parent and child."                                           – Yvonne Campbell
And that's it for our list of picks for top psychologists in Singapore if you don't know where to go for psychological assistance. Whether you need a clinical consultation or you just want to seek advice, these specialists will help you find the light and hope that you need.
However, if you have a kid currently going through psychological or behavioural issues, it may be better to bring him/her to the best paediatrician in Singapore first.
These professionals specialise in analysing and comprehending a child's thoughts and actions so you can be sure that you'll be given a thorough explanation and your child will receive proper therapy sessions.