The 9 Best Health Screening Centres in Singapore for 2021
It can be helpful to know where to get the best health screening in Singapore if you live on the island. Health screenings are essential for early detection of many diseases or conditions… which means they can help you take better care of yourself.
However, it can be challenging to find the perfect provider of health screening in Singapore. That's because there are a lot of considerations when choosing the perfect health screening package, facility, professionals, etc. 
To help you out, we've taken a look at the most popular providers of health screening, including full body check up in Singapore with price. We've researched their offerings, found what patrons have to say about them, and what healthcare professionals think.
At the end of it, we ended up with a list of the best options for health screening in Singapore. So now, here are the top health screening centres in Singapore, offering basic to comprehensive packages for all budgets.
(Note: This list is in no particular order.)
DB MEDICAL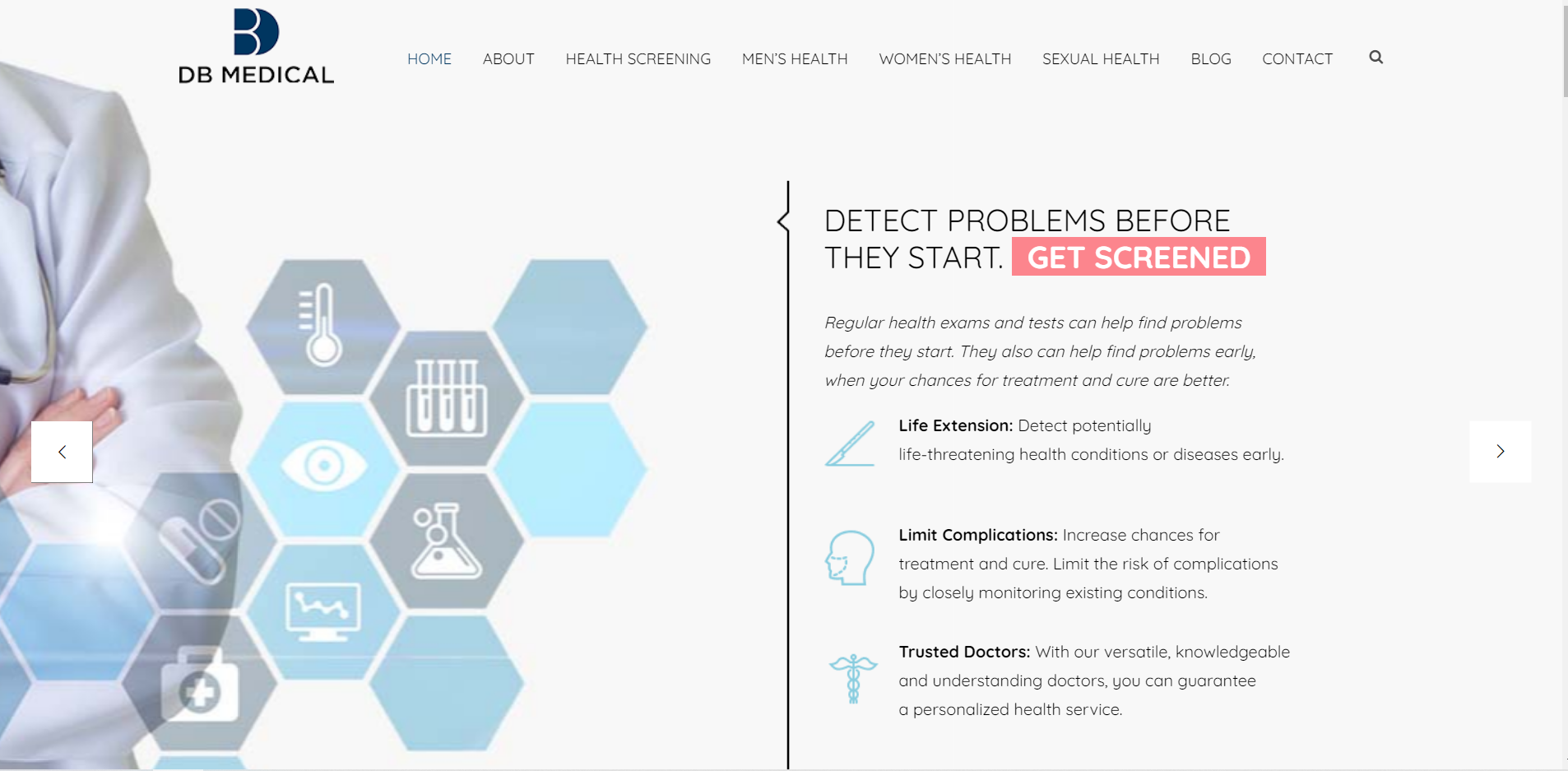 Dr Khoo Yee Xuen of DB Medical obtained her Bachelor of Medicine (BM) and Bachelor of Medical Science (Bmedsci) from the University of Southampton, United Kingdom in 2012. She holds a distinction for postgraduate study in Practical Dermatology conferred by the University of Cardiff, United Kingdom. She is in the midst of completing her Master in Practical Dermatology (Msc Derm) with University Cardiff. She is currently undertaking research studies and write-ups on immunobullous conditions, skin malignancies and venereology conditions.
She has worked with the National Health Services (NHS) UK before returning to Singapore for training. Over the years, she has rotated through a broad area of expertise ranging from Dermatology, Rheumatology and Allergy, Internal Medicine, General Surgery, Primary Care Medicine and Health-Screening.
She was a trainee doctor in Tan Tock Seng Hospital for Rheumatology and Allergy posting. Understanding the common relation between allergy and skin, she then embarked on training in various Dermatology departments in Singapore including National Skin Centre, Singapore General Hospital, Changi General Hospital, and Department of Sexually Transmitted Infections Control (DSC).
If you're looking for a centre that does a full body checkup in Singapore, we highly suggest DB Medical. 
Service Highlights
Dr Khoo is competent with various Dermatology procedures
Believes in empowering patients with preventive medicine and health screening
Wishes to provide a one-stop individualised holistic men and women healthcare services focusing on both internal and external wellbeing
LIFESCAN MEDICAL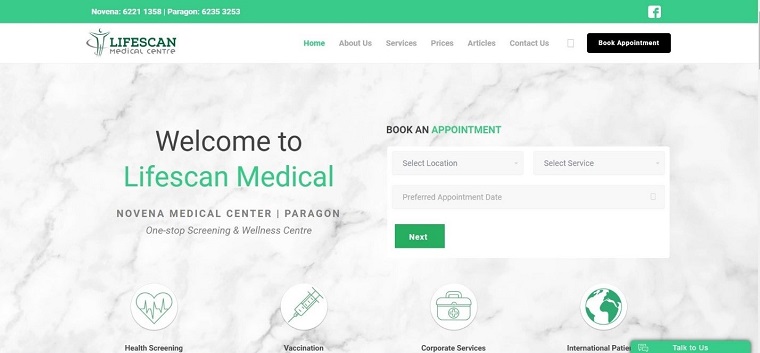 BEST FOR
Personalised and executive screening
SCOPE OF SERVICES
Health Screenings, Vaccinations, Corporate Health Programmes
PRICING
Basic: $88
General: $180
Enhanced: $340
Comprehensive: $493
Advanced: $608
Premier: $1667
Statutory Health Screening: Enquire for pricing
Golden Years Screening Package: $288
WEBSITE
https://lifescanmedical.sg/
ADDRESS
PARAGON MEDICAL
290 Orchard Road #07-18 to 20
Singapore 238859

 

NOVENA MEDICAL CENTER
10 Sinaran Drive #08-02 to 04
Singapore 307506

CONTACT DETAILS
+65 62211358
OPERATING HOURS
NOVENA
Monday to Friday: 8:30am – 5:30pm
(Lunch hour: 1- 2pm)
Saturday: 8:30am – 12:30pm

 

PARAGON
Monday to Friday: 8:30am – 5:30pm
(Lunch hour: 1-2pm)
Saturday: 8:30am – 12:30pm
Incorporated in 2005, Singapore Medical Group (SMG) is a private specialist and primary healthcare provider with a network of more than 20 medical specialties.
The Group is committed to its promise of providing patient-centred medical care and experience to every individual. SMG also has 35 clinics and a growing network of SMG Associates all across the island.
Because they also offer breakfast to clients, Lifescan Medical has been one of the more famous centres that offer a comprehensive health screening package in Singapore.
Service Highlights
Personalised and flexible health screenings
Hearty breakfast offered
NUFFIELD MEDICAL SIGLAP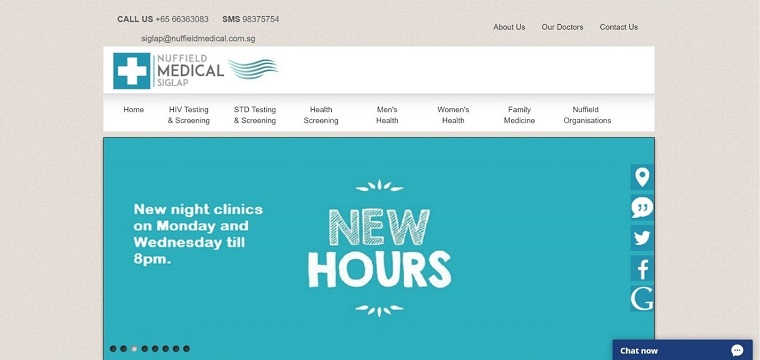 BEST FOR
Comprehensive health screening
SCOPE OF SERVICES
HIV Testing & Screening, STD Testing & Screening, Health Screening, Men's Health, Women's Health, Family Medicine
PRICING
Lite Screening SG$75
Basic Screening SG$100
Essential Screening SG$200
Pre-Marital Screening Male SG$300 (Male & Female Package SG$600)
Pre-Marital Screening Female SG$320 (Male & Female Package SG$600)
Advance Screening SG$400
Heart Wellness Screening SG$700
Male Wellness Screening SG$700
Female Wellness Screening SG$700
Optimal Screening SG$750
Elite Screening  SG$1400
WEBSITE
http://www.nuffieldmedical.com.sg/
ADDRESS
914 East Coast Road #01-03, The Domain, Singapore 459108
Diagonally opposite Siglap Centre
CONTACT DETAILS
65 66363083  / 98375754 | [email protected]
OPERATING HOURS
Monday and Wednesday 9am – 8pm
Tuesday, Thursday and Friday 9am – 6pm
Saturday 9am – 1pm
Closed on Sundays and Public Holiday. Doctor's lunch/Dinner break varies, please call to make an appointment in advance.
Nuffield Medical Siglap is a family medicine practice clinic in Siglap, East Coast of Singapore. They provide comprehensive and quality primary healthcare services for patients including basic medical checkup in Singapore.
Of special interest is that they offer some of the most affordable health screening in Singapore. You can customise packages to suit your needs too.
For example, they have the Lite Screening if you only need the basics. Then, there's Elite Screening, which includes:
Consultation on Medical History and Physical Examination by Doctor
Height/Weight/BMI
Visual Acuity
Medical Report
Post Examination Review by the Doctor
Service Highlights
Basic health screening package includes post-examination review by the doctor
Convenient & simple process
Proper and detailed explanation
All necessary documents provided
Family and kid-friendly
FULLERTON HEALTH SCREENING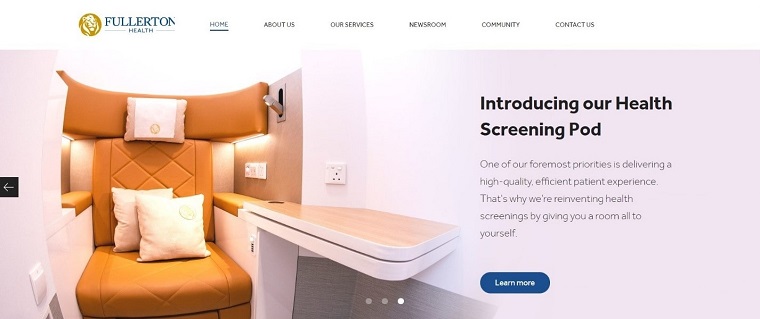 BEST FOR
Executive health screening
SCOPE OF SERVICES
Managed Care & Network Management; Primary Care; Executive Health Screening; Diagnostics, Specialty & Ancillary Care
PRICING
Live Fuller Premium
S$468.00 (excl. GST)
S$500.76 (incl. GST)

Live Fuller Gold
S$668.00 (excl. GST)
S$714.76 (incl. GST)

Live Fuller Sapphire
S$888.00 (excl. GST)
S$950.16 (incl. GST)

Live Fuller Platinum
S$1,688.00 (excl. GST)
S$1,806.16 (incl. GST)
WEBSITE
https://www.fullertonhealth.com/contact-us/locate-clinic
ADDRESS
Multiple
CONTACT DETAILS
(65) 6333 3636 | [email protected]
OPERATING HOURS
Branches
Fullerton Health is a leading vertically-integrated healthcare platform in the Asia Pacific region.
After being founded in Singapore in 2011, they now own and operate an extensive network of healthcare facilities across 8 countries. They also partner with established and reputable healthcare providers in the region.
If you want a private and comfortable screening and health check up in Singapore, their executive health screening experience is especially designed so patients can be screened in private, and in a single location.
Service Highlights
Luxurious health screening pod for comfort and privacy
Tests conducted in a single location
Prompt feedback
Complimentary breakfast
HEALTHHUB – SCREEN FOR LIFE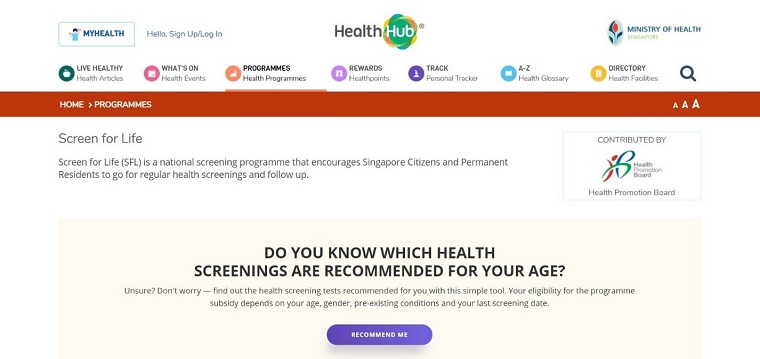 BEST FOR
Subsidised health screenings
SCOPE OF SERVICES
Above Age 50
Colorectal Cancer
Breast Cancer
Chronic Illness
Cervical Cancer

Above Age 40
Chronic Illness
Cervical Cancer

Above Age 25
Cervical Cancer
PRICING
Pioneer Generation (PG) – SG$0
Health Assist (CHAS) Card Blue or Orange – SG$2
Eligible Singaporeans – SG$5
WEBSITE
https://www.healthhub.sg/programmes/61/Screen_for_Life
ADDRESS
Directory
CONTACT DETAILS
1800 223 1313 | [email protected]
OPERATING HOURS
Directory
HealthHub is an initiative by the Ministry of Health (MOH) and Health Promotion Board. It's supported by Integrated Health Information Systems and public healthcare institutions.
Their health screening programme, Screen for Life, is a national screening programme that encourages Citizens and Permanent Residents to go for regular health screening and body check up in Singapore.
Eligibility for the programme subsidy depends on age, gender, pre-existing conditions and the date of your last health screening in Singapore.
They also have a nation-wide functional screening programme for Singaporeans aged 60, a National Cervical Cancer Screening Programme, and Student Immunisation and Screening Services. This makes them an ideal choice for those looking for women's health screening packages in Singapore.
Service Highlights
Find out which screenings are suitable for you with their online tool
Only pay $0-$5 for your screenings!
NTUC INCOME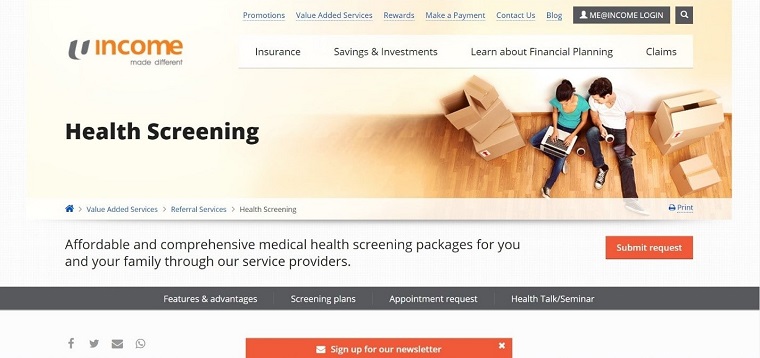 BEST FOR
Affordable & flexible health screening in Singapore
SCOPE OF SERVICES
Orange Health Screening, Health Screening for everyone, for women, pre-baby screening for young couples, for hormone screening, for 45 years old and above, for cancer screening, for heart and stroke screening, for union members, for corporates, for eye screening, men's health
PRICING
Orange Health Screening: $15 (inclusive of GST)
Basic: $187.25
Special: $329.56
Deluxe: $494.34
One Stop Ear, Nose and Throat Evaluation $409.81
Comprehensive Kidney and Bladder Evaluation $354.17
Liver Evaluation $450.47
WEBSITE
https://www.income.com.sg/value-added-services/referral-services/health-screening
ADDRESS
Orange Health Screening will be conducted by their partners Unity Family Medicine Clinic and Raffles Medical
CONTACT DETAILS
[email protected]
OPERATING HOURS
Partners
Unity Family Medicine Clinic
Serangoon Central
Mondays to Saturdays

Raffles Medical
Selected clinics under Raffles Medical
Mondays to Fridays
Income is an insurance company driven by a social purpose. Their health screening programme allows people access to affordable and comprehensive medical health screening packages.
Service Highlights
Rewards programme. If you are in the acceptable ranges for all four check-ups during the Orange Health Screening, you are entitled to receive a special gift:

$50 discount off your 1st year# premiums if you sign up for an Enhanced IncomeShield or IncomeShield Standard Plan
$50 CapitaVoucher shopping voucher if you are already insured under any IncomeShield plans~
HEALTHWAY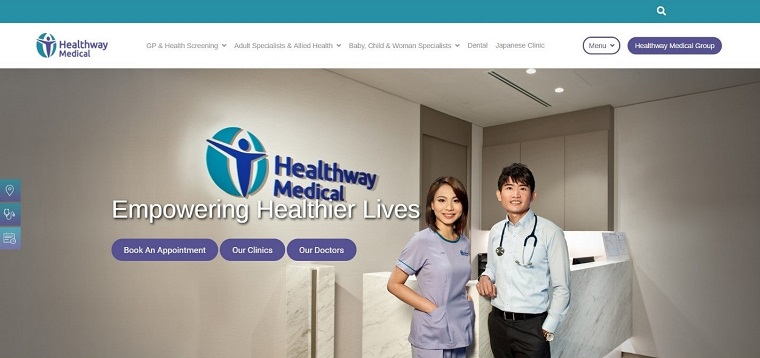 BEST FOR
Corporate & family health screenings
SCOPE OF SERVICES
GP & Family Medicine
PRICING
Health Screening: $270 nett
Classic: $350 nett
Elite: $500 nett
Deluxe: $650 nett
Imperial: $850 nett
Sapphire: $1200 nett
Diamond: $1800 nett
Royal: $4500 nett
WEBSITE
https://www.healthwaymedical.com/
ADDRESS
6A Shenton Way, #03-11/12/13 Downtown Gallery, S068815
CONTACT DETAILS
68118686 | [email protected]
OPERATING HOURS
Monday to Friday: 8.00 am – 5.00 pm
Saturday: 8.00 am to 12.00 pm 
Healthway Medical Group (the "Group") is a healthcare provider with a network of medical centres and clinics in Singapore. They began operating in 1990 and now they own, manage, and operate over 100 clinics and medical centres.
These facilities are located across Singapore, as well as within major private hospitals, so you can find the nearest facility for your convenience.
Their comprehensive range of health screening packages and wellness programmes are tailored for the individual who demands quality and convenience.
Their medical professionals also offer personalised recommendations and treatments to guide you in your journey to better health and wellbeing.
Service Highlights
Health Screening Services they provide:

Comprehensive Blood and Urine Tests

Resting ECG and Treadmill ECG

Bone Mineral Densitometry
TRUCARE MEDICAL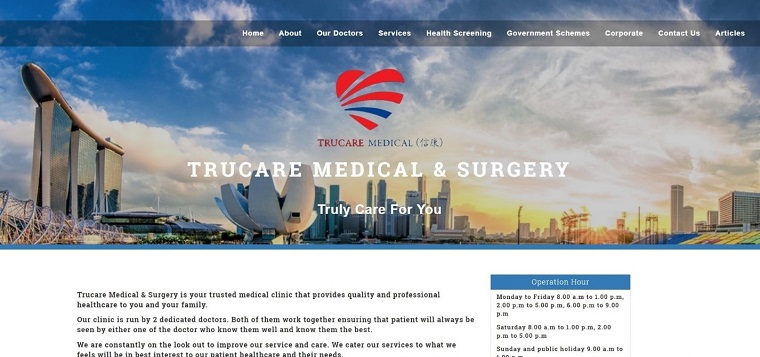 BEST FOR
Comprehensive, budget-friendly health screening
SCOPE OF SERVICES
Their medical services include but are not limited to the following:
ACUTE AND CHRONIC MEDICAL CONSULTS
URGENT CARE
HEALTH SCREENING & VACCINATIONS
MINOR SURGERY / PROCEDURES
WEIGHT MANAGEMENT
TRAVEL MEDICINE
SKIN, NAIL AND HAIR
MEN'S AND WOMEN'S HEALTH
SEXUALLY TRANSMITTED DISEASES
PERMANENT RESIDENCE/ SOCIAL PASS/ PRE EMPLOYMENT/ PERMIT RENEWAL / WORK PLACEMENT
OCCUPATIONAL MEDICINE (DWD)/ OFFSHORE MEDICAL/ PILOT MEDICAL
INSURANCE / ACCIDENT REPORTS / LASTING POWER OF ATTORNEY
CHILDREN AND BABY
ELDERLY CARE
PRICING
Trucare Lite
$90 (before GST)

Trucare Lifestyle     
$150 without pap smear (before GST)
$170 with pap smear (before GST)

Trucare Deluxe        
$220 without pap smear (before GST)
$240 with pap smear (before GST)

STD General Package        
$220 (before consultation fee and GST)

Trucare Premarital
$ 138 for Male
$ 170 for Female (additional rubella and chickenpox antibody)*
(prices before GST)
WEBSITE
https://trucaremedical.com.sg/
ADDRESS
Hougang branch
1187 Upper Serangoon Road, #01-53, The Midtown, Singapore 533971

AMK branch
226A Ang Mo Kio Ave 1, #01-631, S561226
CONTACT DETAILS
Hougang branch
+65 638 535 25 / +65 638 532 73 | [email protected]

AMK branch
+65 625 588 49 / +65 625 528 11 | [email protected]
OPERATING HOURS
There might be changes during some public holiday, advance notice will be given

Hougang
Monday to Friday 8.00 a.m to 1.00 p.m, 2.00 p.m to 5.00 p.m, 6.00 p.m to 9.00 p.m
Saturday 8.00 a.m to 1.00 p.m, 2.00 p.m to 5.00 p.m
Sunday and public holiday 9.00 a.m to 1.00 p.m

AMK
Monday to Tuesday 8.00 a.m to 1.00 p.m, 2.00 p.m to 5.00 p.m, 6.00 p.m to 9.00 p.m
Wednesday to Friday 8.00 a.m to 1.00 p.m, 6.00 p.m to 9.00 p.m
Saturday 8.00 a.m to 1.00 p.m
Sunday and public holiday 8.30 a.m to 12.30 p.m
Trucare Medical & Surgery is a trusted medical clinic providing quality and professional healthcare to Singaporeans.
Their clinic is run by 2 dedicated doctors working together to ensure their patients will always be seen by either one of the doctors who know them well and are committed to providing an affordable full body check up in Singapore.
They also strive to provide affordable and tailored health screening packages. Their doctors are committed to working with patients to stratify risk and help their patients choose the appropriate package.
Service Highlights
Consultation and post-result consultation
Trusted family physicians
HOMAGE HOME CARE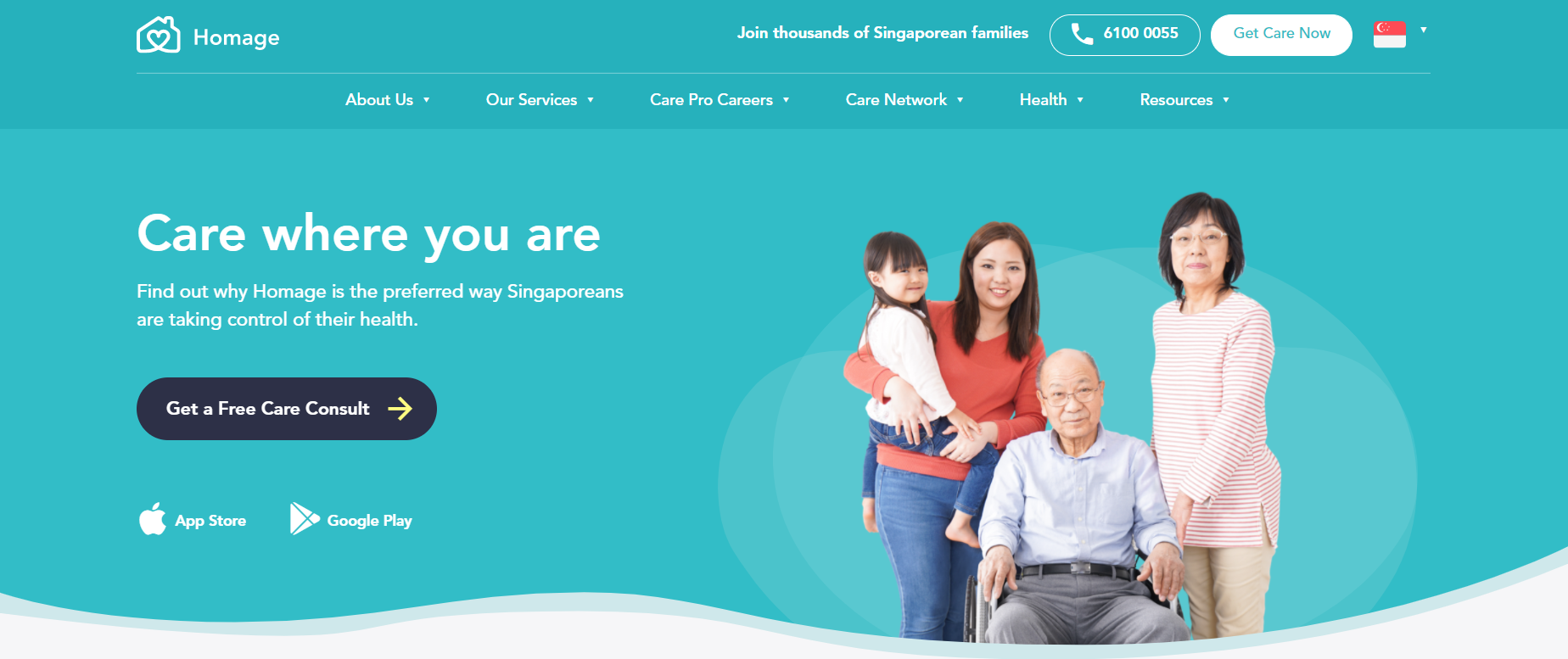 Homage Home Care provides holistic home care services enhanced by the innovation of smart home care technology. These services can be personalised according to one's needs, which helps their patients maintain their good health and live a longer, more fulfilling life.
Their services range from assessments to home nursing, home rehabilitation, and home medical care. Their specialisation lies in creating solutions for mobility issues, as well as a few specialised cases such as speech disorders, post-surgery care, and more.
To determine the right treatment for their patient's condition, they conduct a thorough assessment of their patient's health. Moreover, they also have health screenings to those who are prefer having frequent check ups, even if there's no cause for concern.
Their full-body medical checkups are not only swift and accurate, but can also be done in the comforts of your home. You can take advantage of their home screening services, no matter where you are in Singapore.
Service Highlights
Leading care services provider
Holistic personal care
Knowledgeable staff
Sincere and encouraging
If you think we overlooked some other places with health screening, please do tell us. We'd love to see more medical centres to review, in case we do need to add them to this list.
Finally, bear in mind that we have other lists of the best medical service centres here on the island. Check out our list of the best dermatologists in Singapore if you need help with skincare, for instance.