Our 21 Favourite Back Pain Doctors in Singapore
If you're a sporty person who enjoys doing physical activities on a daily basis, experiencing frequent back pain is already part of your lifestyle. However, you don't have to suffer through those if you have one of the back pain doctors in Singapore.
Not only can the best back pain doctors in Singapore end your recurring back pains, but they can also help you avoid body pains in the future, especially if you live a pretty active and intense lifestyle.
With the help of the best pain doctors in Singapore, you can get to explore more physical activities without being held back by frequent body pains.
If you take a look at our list, you will see where these back pain doctors are located:
(Note: The list is in no particular order.)
Dr. Henry Chan – HC Orthopaedic Surgery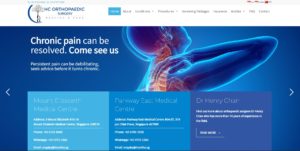 BEST FOR
Orthopaedic surgery and post-surgery care
SERVICES

Total Hip Replacement Surgery

Total Knee Replacement Surgery

Viscosupplementation

Slipped Disc Treatment

Sciatica Treatment

Tennis Elbow

Carpal Tunnel Syndrome

General Geriatric Fractures

General Paediatric Injuries

Elbow Fractures in Children

PRICING
Call their hotline for fees
ADDRESS

Mount Elizabeth Medical Centre

3 Mount Elizabeth #15-14

Singapore 228510

Parkway East Medical Centre

319 Joo Chiat Place #04-07

Singapore 427989

CONTACT DETAILS

Tel: +65 6732 8848

Emergency: +65 9755 5366

Email: [email protected]

WEBSITE
https://www.hcortho.sg
OPERATING HOURS
Monday – Friday: 9:30 AM to 5:30 PM
Saturday: 9:30 AM to 1:00 PM
Dr. Henry Chan is the resident orthopedic specialist at HC Orthopaedic Surgery and one of the best back pain doctors in Singapore. He has undergone and completed advanced surgical training and has been a certified fellow in Orthopaedic Surgery in the Royal College of Surgeons of Edinburgh since 2013.
The clinic fully evaluates the cause of sciatica, and determines other possible sinister causes such as pathological fractures and spine cancer spread. This is accomplished through x-ray procedures and MRI scans.
We'd also like to point out that they offer a number of non-operative treatments, such as traction therapy, anti-inflammatory medications, and physical therapy. Minimally invasive options like micro-discectomy and nucleopasty are also available.
HC Orthopaedic Surgery is also well-known for its post-surgery care, which is geared towards ensuring your recuperation is as stress-free as possible.
All in all, we highly recommend HC Orthopaedic Surgery for the superior quality of care they provide to their patients. You can also count on them for any other orthopaedic issues you may have.
Highlights
Emergency 24-hour hotline

Provides comprehensive post-surgery care

Treats the injuries of children
Dr Thor Timothy Chutatape
BEST FOR
Wider range of services offered
SERVICES

Annuloplasty
Epidural Steroid Injections
Greater Trochanteric Block
Hip Radiofrequency Procedure
Knee Radiofrequency Procedure
Nucleoplasty
Occipital Nerve Block & Radiofrequency Treatment
Plasma Rich Platelet
Pulsed Radiofrequency
Radiofrequency Ablation
Sacroiliac Joint Injection & Radiofrequency Treatment
Spinal Cord & Peripheral Nerve Stimulator Trial
Stellate Ganglion Block
Sympathetic Nerve Blocks
Trigeminal Nerve Injection & Radiofrequency Treatment
Trigger Point Injections

WEBSITE
https://paindoc.sg/
ADDRESS

Novena Pain Management Clinic
Mount Elizabeth Novena Hospital
38 Irrawady Road
#08-50
Singapore 329563The Pain & Perioperative Clinic @ Farrer
Farrer Park Hospital
1 Farrer Station Road
1 Connexion
#15-19
Singapore 217562

CONTACT DETAILS
+65 8860 1861
OPERATING HOURS
Monday – Friday: 9:00AM – 5:00PM
Saturday: 9:00AM – 12:30PM
One of the best pain specialists in the country, Dr Thor Timothy Chutatape, is housed by Pain Doc. He's known for conducting pain-free procedures and helping treat conditions, mostly without needing surgery.
Dr Chutatape is both an amazing anesthesiologist and pain specialist, so you should know that you're in good hands. He's an expert in various fields like neck pain, joint pain, and of course, back pains.
No matter what pain you're feeling, make sure to head out to one of Dr Chutatape's clinics to have a consultation and treatment. With his help, you're sure to feel better in no time.
Highlights
Ministry of Health Human Manpower Development Programme Award to specialize in Cancer and Chronic Pain
Minimally invasive treatments
Multiple locations available
Dr. Mathew Tung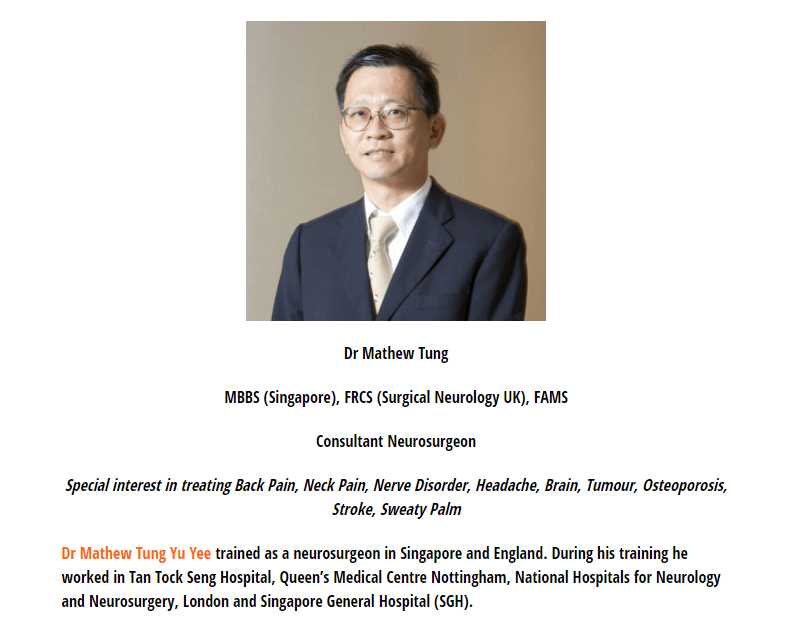 | | |
| --- | --- |
| BEST FOR | Sports Clinic |
| SERVICES | Back Pain, Neck Pain, Nerve Disorder, Headache, Brain Tumor, and Osteoporosis |
| WEBSITE | https://www.bonespecialist.com.sg/ |
| ADDRESS | 6 Napier Road #02-12 Gleneagles Medical Centre Singapore 258499 |
| CONTACT DETAILS | (65) 6432 8236 |
| OPERATING HOURS | Monday – Friday, 9:00 AM – 6:00 PM |
If you're looking for a clinic that knows how to deal with athletes, then Bone Clinic comes highly recommended. It houses some of the best back pain doctors in Singapore, one of whom is Dr. Mathew Tung.
Some of Dr. Tung's areas of expertise are back pain, neck pain, brain tumor, and even osteoporosis. He also has a long list of clients who are into physical activities, so rest assured that he knows the right treatment for athletes.
Speaking of treatments, the Bone Clinic has an extensive range of medical procedures for back pain alone, from non-surgical treatments to rehabilitation. And that's why we've named it a clinic with the best back pain doctors in Singapore.
Highlights
Non-surgical treatment
Muscle rehabilitation
Comfortable clinic
Healing Hands Chiropractic
BEST FOR
Attentive Chiropractic Care for the Family
SERVICES
Migraine, Shoulder Pain, Back Pain, Knee Pain, Pregnancy, Sport Injuries, Herniated Disc, Scoliosis, Sciatica
WEBSITE
https://www.healinghands.com.sg/
ADDRESS
Locations
CONTACT DETAILS
6970 7730 / [email protected]
OPERATING HOURS
Monday: 10.00am-1.30pm, 3.00pm-8.30pm
Tuesday : 1.30pm-8.30pm
Wednesday : 1.30pm-8.30pm
Thursday: 10.00am-1.30pm, 3.00pm-8.30pm
Saturday : 9.00am-1,00pm, 1.30pm to 4pm
Fri, Sundays, PH: Closed
Unlike most chiropractic centres, Healing Hands Chiropractic focuses on providing personalised services to offer the best level of care. Their use of time-tested techniques ensures that you end up with the best results you can get after undergoing treatment.
Their chiropractic practitioners undergo rigorous training in order to ensure that they deliver only the highest quality services. Their holistic treatments remain excellent due to their commitment to their 3 Core Values: Care for Patients, Integrity, and Attention to Detail.
With Healing Hands Chiropractic, you can rest assured that they will always prioritise your satisfaction. Give them a call today, and experience the customer centered chiropractic care you deserve.
Highlights
For Families by Family
Core values centric
Holistic & effective
Dr. Choo Chee Yong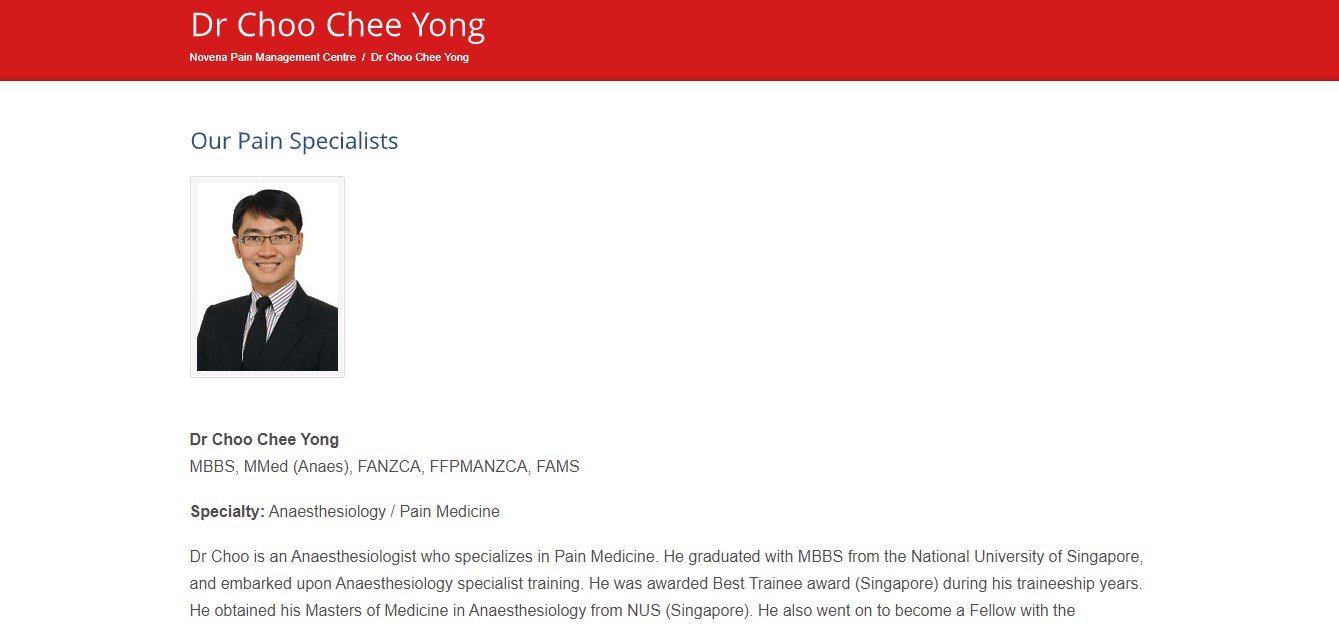 | | |
| --- | --- |
| BEST FOR | Minimally-invasive Procedures |
| SERVICES | Back Pain, Neck Pain, Neuropathic Pain, Sciatica, Post-Surgery Pain, Cancer-related Pain, and Fibromyalgia |
| WEBSITE | https://novenapain.com.sg/ |
| ADDRESS | 38 Irrawaddy Road, 08-50, Mount Elizabeth Novena Hospital, Singapore 329563 |
| CONTACT DETAILS | +65 6694 3833 |
| OPERATING HOURS | Monday – Friday, 9:00 AM – 5:00 PM |
Considered among the top orthopaedic clinics in Singapore, Novena Pain Management Singapore boasts a team of professional and trained pain specialists, including Dr. Choo Choo Yong. He's an expert in pain medicine and anaesthesiology, backed up by years of practice and experience — which is why he's deemed one of the best back pain doctors in Singapore.
In terms of variety of services, Novena Pain Management definitely doesn't fall short. It specialises in minimally-invasive procedures such as epidural injections, caudal injections, neurolytic blocks, facet joint blocks, radiofrequency therapy, and a whole lot more.
Novena Pain Management is also known for having a friendly and approachable medical and support staff.
Highlights
Experienced doctors
Friendly support staff
Non-surgical treatments
Dr. Ambrose Yung
BEST FOR
Sports Injuries
SERVICES
Knee Replacement, Knee Surgery, Shoulder Sports Surgery
WEBSITE
https://sportsorthopaedics.com.sg/doctor/dr-ambrose-yung/
ADDRESS
#02-10/11/12 Gleneagles Medical Center
Singapore 258499
CONTACT DETAILS
+65 6432 8242
OPERATING HOURS
Monday – Friday, 9:00 AM – 6:00 PM
Saturday, 9:00 AM – 6:00 PM
Sports Orthopaedics Singapore is an orthopaedics specialist centre driven to helping patients return to their normal activities. With this in mind, their staff is comprised of professionals practising in various disciplines of orthopaedics. Dr Ambrose Yung is part of their experts, one that specialises in knee injuries and treatments.
He has made many contributions to his field, as evidenced by his accolades. He was awarded the Minister for Health Award, Singapore and the Certificate of Honor by the Hospital Authority of Hong Kong. He is also a Senior Clinical Lecturer in the Department of Orthopaedic Surgery, Yung Loo Lin School of Medicine.
Dr Yung is also researching treatments for spinal disorders– ones that are focused on motion preservation and reversible treatments. You can entrust any of your back pain issues to him. So if you're experiencing any back issues make sure to drop Sports Orthopaedics Singapore a call now!
Highlights
Specialises in knee injuries
Minister of Health awardee
Certificate of Honor awardee by the Hospital Authority of Hong Kong
NATRAHEA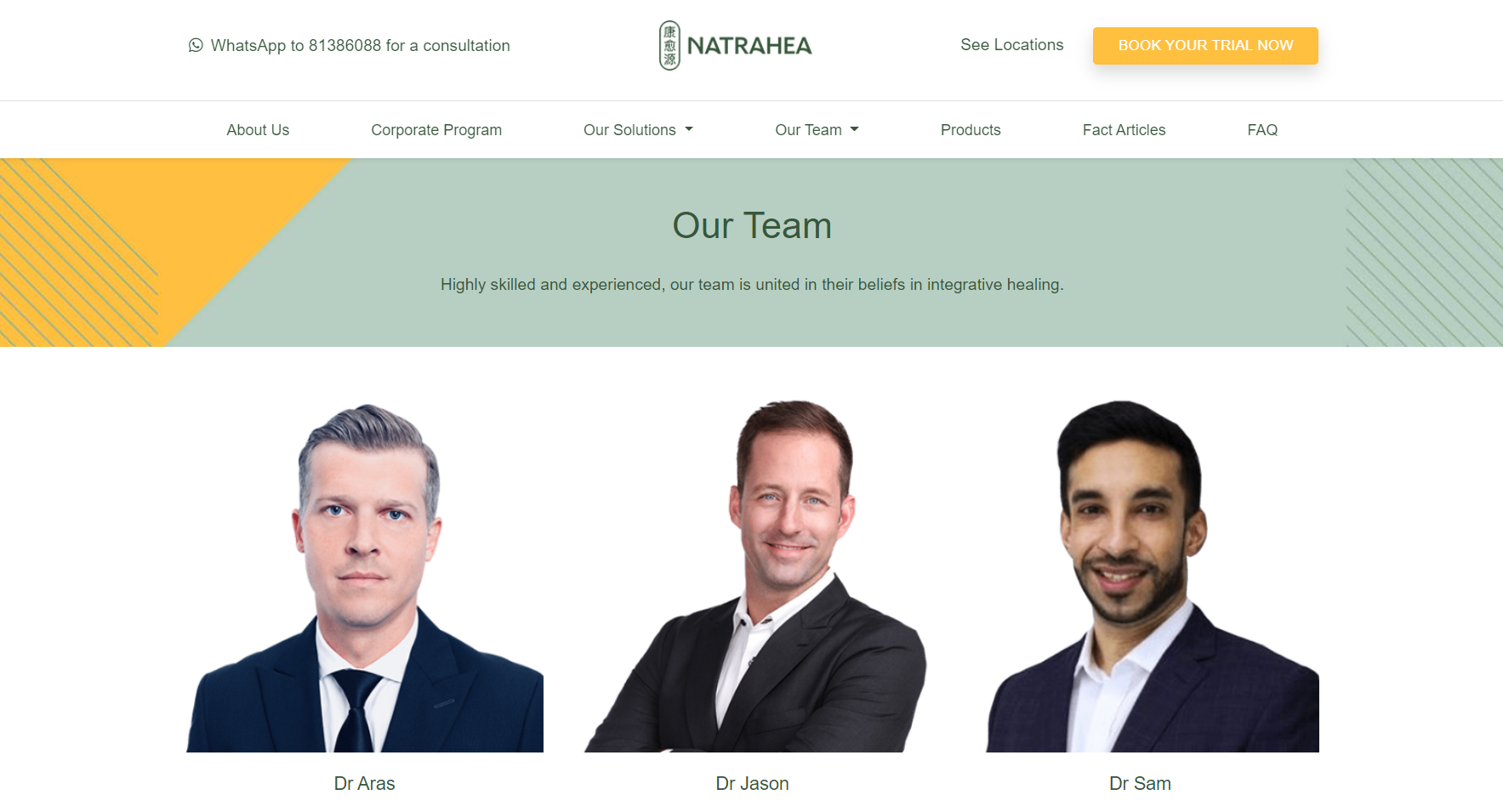 BEST FOR
Chiropractic Care, Traditional Chinese Medicine, Functional Wellness
SERVICES
Chiropractic
TCM
Functional Wellness
Spinal Decompression
Orthotics
Corporate Program
WEBSITE
https://natrahea.com.sg/
ADDRESS
Locations
CONTACT DETAILS
63441192 / 81823386
OPERATING HOURS
Monday – Friday, 10am – 2pm, 4pm-8pm,
Saturday 9am – 2pm
NATRAHEA offers the highest quality of healthcare services, focusing on non-invasive approaches. They aim to improve the overall health of their clients with the help of their expertise in Chiropractic Care, Functional Wellness, and Traditional Chinese Medicine.
Their physicians are all known to work with the utmost professionalism, competence and excellence. Dr. Aras is their head and leading consultant– he's highly experienced in different aspects, one of which is treating back pain.
With his knowledge and great skills, he, along with his co-physicians, can alleviate any of your medical issues, as well as provide you healing and comfort in a safe and natural way. You can count on them to give you the personalised service and focused attention that you deserve. Visit their clinic today and become one of their satisfied clients!
Highlights
Non-surgical Treatment
Muscle Rehabilitation
Approachable Staffs
Dr. Kenney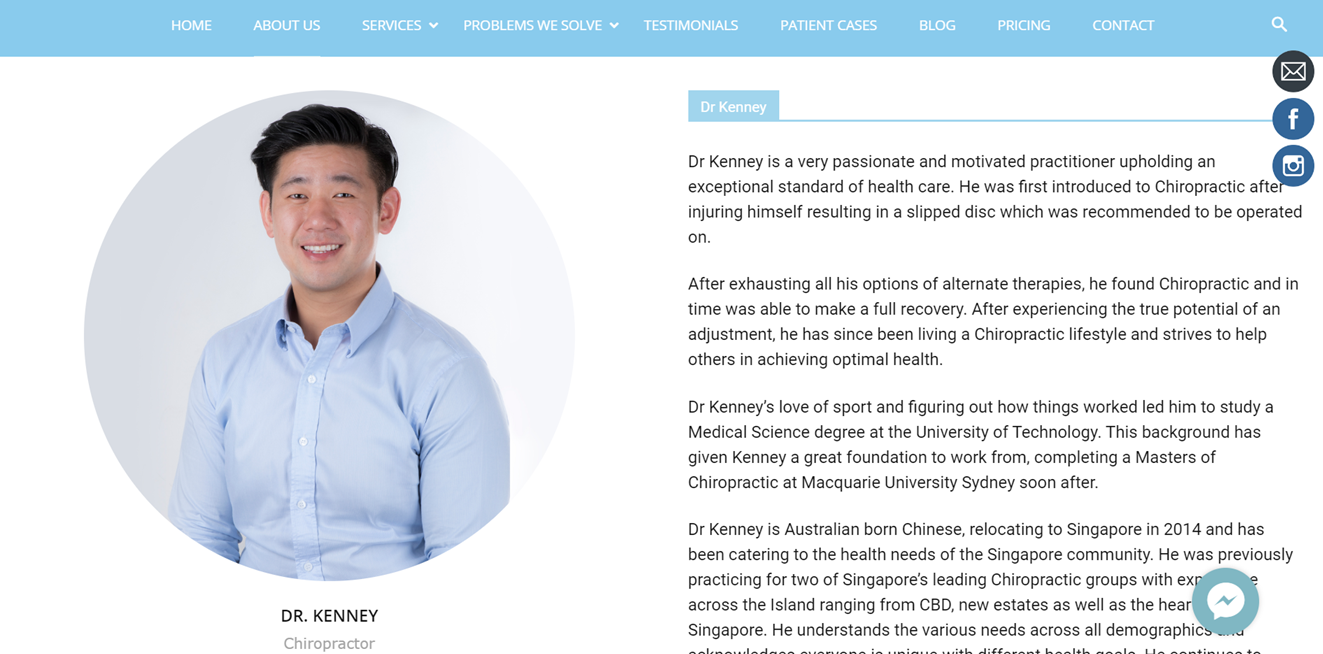 BEST FOR
Wide range of services
SERVICES
CHIROPRACTIC ADJUSTMENTS
DECOMPRESSION THERAPY
SPINAL TRACTION
FUNCTIONAL REHABILITATION
KINESIO/RIGID TAPING
WEBSITE
http://www.livewellchiropractic.com.sg/
ADDRESS
RIVERVALE MALL, 11 RIVERVALE CRESCENT # 01-29/30 SINGAPORE 545082
CONTACT DETAILS
6284 4878 | 9817 2361
[email protected]
OPERATING HOURS
Sunday: 10am–6pm
Monday – Friday: 10am–9pm
Live Well Chiropractic was established to help people achieve their optimal state in health. It is led by amazing doctors, one of which is Dr. Kenney.
Dr. Kenney has a wide background in sports– he has experienced what it feels like to injure himself and not immediately find someone competent enough to fix his problems. That is where his passion in chiropractic emerged, and has continued to grow through the years. He's not only experienced, but also has proven himself to be established and highly skilled in the field, specialising in back pains and other chiropractic injuries.
Here is a list of his achievements to further prove how amazing he is as a physician:
Licensed and Registered Chiropractor of the Australian Health Practitioner Regulation Agency (APHRA)
Masters Degree of Chiropractic (Australia, Macquarie University)
Bachelors of Medical Science (Australia, University of Technology Sydney)
Graduate Diploma of Chiropractic (Australia, University of Technology Sydney)
Certified Radiographer in NSW, Australia
HILLS Decompression Certified
Chiropractic Biophysics / Scoliosis Certified
Kinesio / Rigid Taping Certified
Highlights
High class chiropractors
Amazing chiropractic clinic
Accessible Location
Dr. Theo Kieu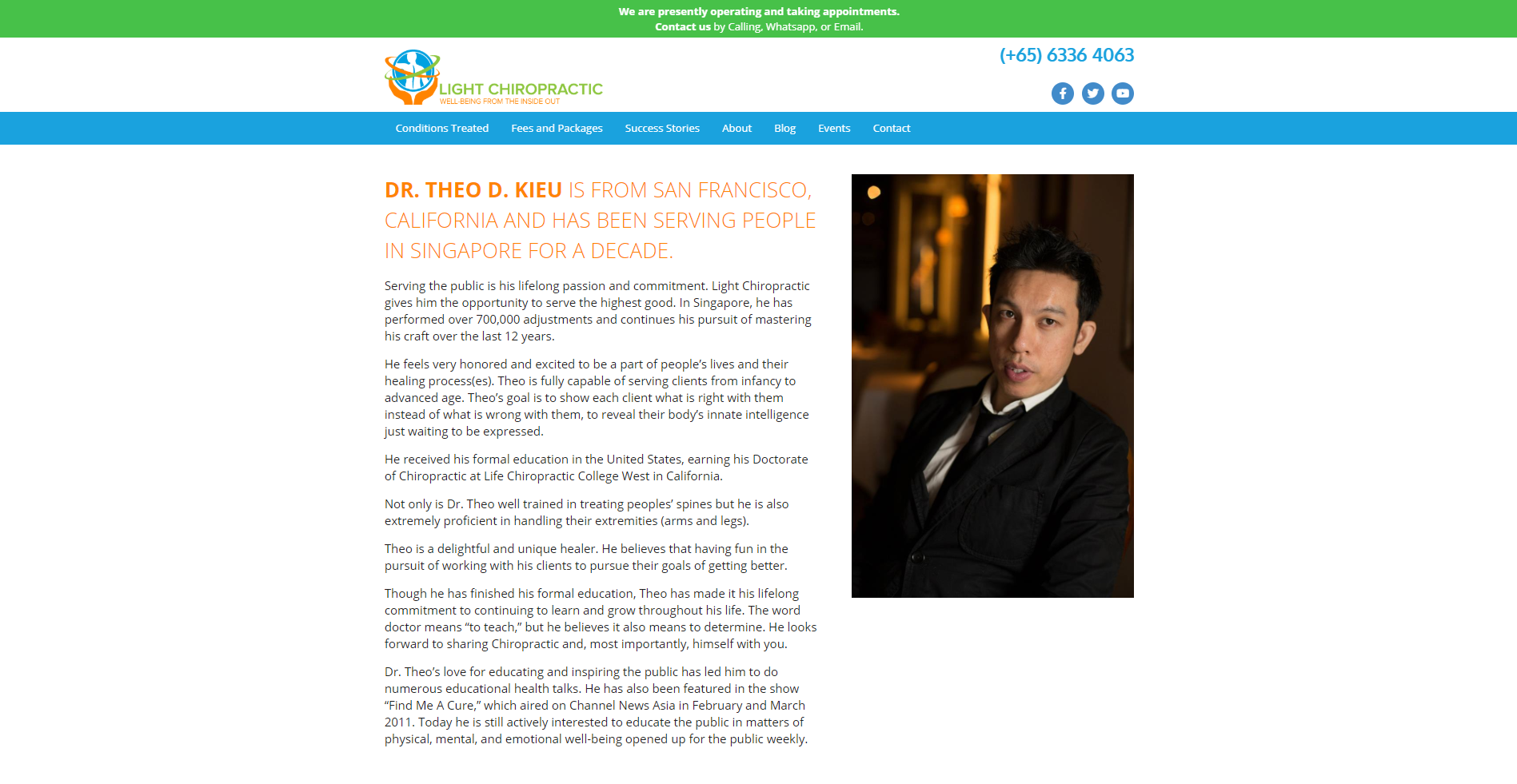 Endure the pain no longer, as Light Chiropractic is here to provide the best chiropractic care in all of Singapore. Whether that stubborn ache plagues your neck, shoulder, or even your back, you will surely find relief with the help of their top-notch services. You won't be needing medication, or frequent trips to the clinic to soothe the discomfort if you try Dr Kieu's assistance– he will provide you with the treatment you need, ridding you of your pain in the most natural way possible!
Dr Theo Kieu is a chiropractic that has been in the field for a long time, someone who has over a decade of experience and has performed over 700,000 adjustments and counting. He's certainly one of the best, both in and out of Singapore. His expertise lies in treating people's spines, which includes the back and the neck, as well as their arms and legs.
Whatever the pain you might be feeling, it's best to be sure and go to a professional chiropractic. Dr Kieu, along with his team in Light Chiropractic, offers their services from Monday to Saturday, the whole day.
Highlights
Non-invasive treatments
International Exposure
High Education for Chiropractor
Team of experts in chiropractice
Dr. Brian Morris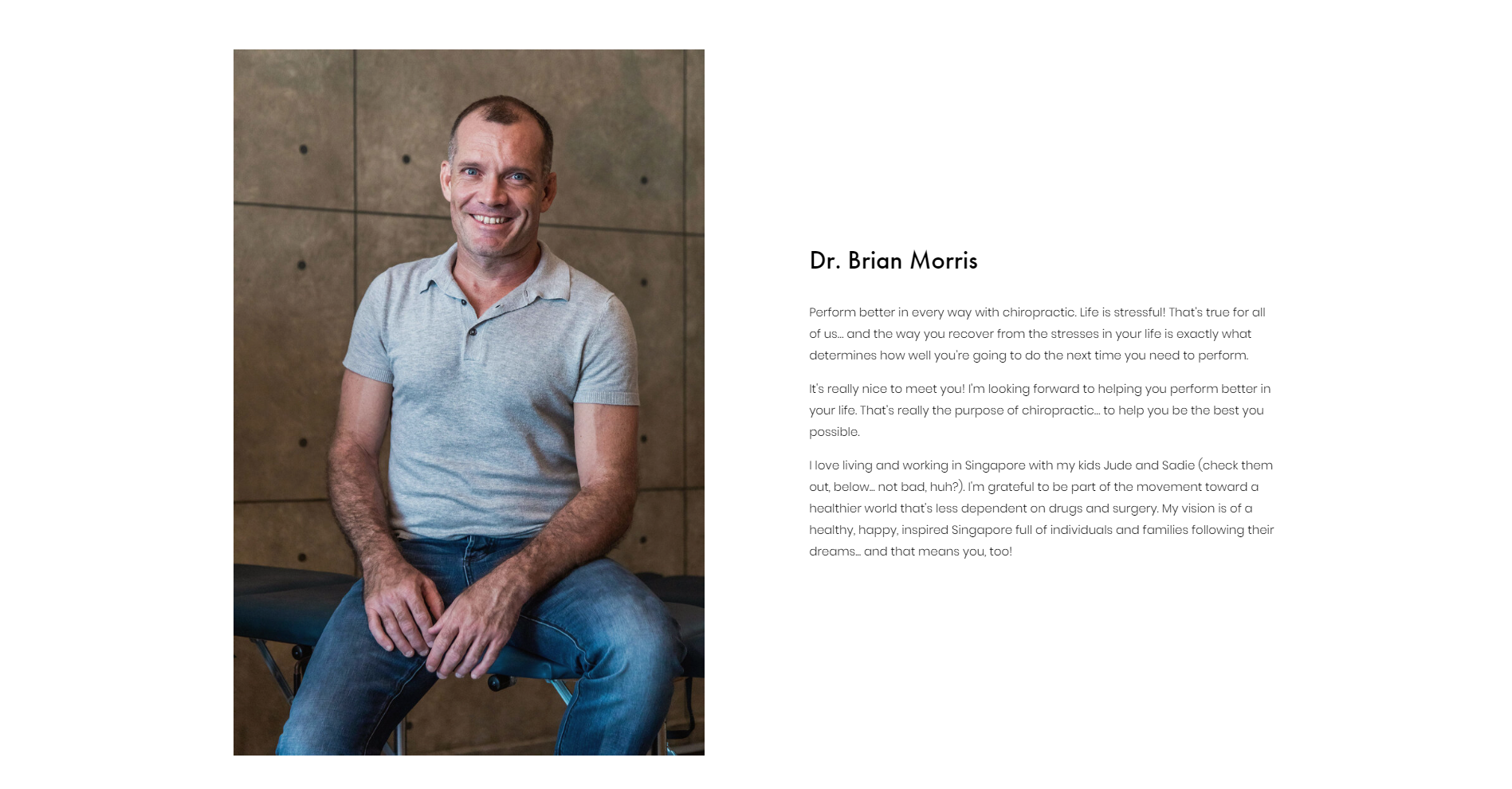 BEST FOR
Chiropractic Care
SERVICES
Depends on the Session
WEBSITE
http://www.lifechirocentre.com/
ADDRESS
307 Joo Chiat Road, Singapore 427558
CONTACT DETAILS
9176 8065 l [email protected]
OPERATING HOURS
Tuesday 10–11am
Wednesday 4:30–7:15pm
Thursday 10–11am
Friday 4:30–7:15pm
Saturday 8–11am
Are you in need of a chiropractic care on the CBD and Eastern Coast of Singapore? Life Chiropractic Centre has you covered! Whether it's for your back ache, stiff shoulders, lower back pain, neck immobility, or even for your headaches, they make sure to help alleviate or at least lessen the pain and discomfort you're feeling.
Dr. Brian Morris, a highly successful chiropractic doctor, is the head of the facility. He's known as simply one of the best when it comes to non-invasive treatments, and has experienced enough in the field to know almost everything when it comes to body pain. Rest assured that with him, you're in great hands.
Light Chiropractic Centre is proud to offer premium health services of the highest standards, through customised services suited to your needs. We assure you that you can count on them when it comes to detailed attention and care that you deserve. Visit their clinic today and become one of many of their satisfied clients!
Highlights
Advanced Chiropractic Services
Speedy Rehabilitation
Highly skilled physician
Dr. Travis Fisher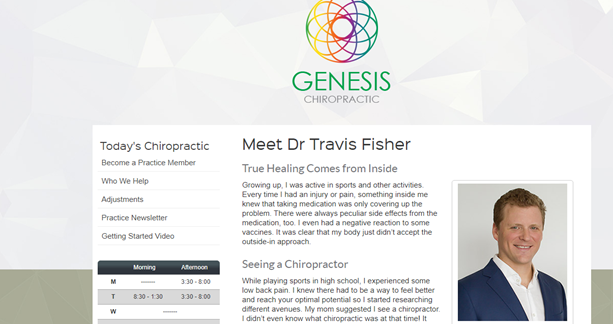 | | |
| --- | --- |
| BEST FOR | Chiropractic Care |
| SERVICES | Gonstead Techniques: Chiropractic Singapore, Motion Palpation, Thompson, Pettibon |
| WEBSITE | https://www.genesischiropractic.sg/ |
| ADDRESS | TripleOne Somerset #08-13, 111 Somerset Rd, Singapore, 238164 |
| CONTACT DETAILS | 9810 9909 |
| OPERATING HOURS | Monday: 3:30–8pm, Tuesday: 8:30am–1:30pm, 3:30–8pm, Thursday: 10:30am–1:30pm, 3:30–8pm, Saturday: 9am–2pm |
Genesis Chiropractic has been providing their patients high-quality healthcare since they first opened in 2015. With their focus on the philosophy and science of chiropractic, they offer chiropractic services that will help alleviate your spinal problems, especially the ones that are the source of your uneasiness and pain.
Their head and leading chiropractor, Dr. Travis, is widely recognized as one of the best chiropractors in Singapore. He is highly experienced and equipped with advanced training in paediatrics and athletics. With his skills and knowledge in chiropractic care, he can greatly help you relieve your pain and reach your true health potentials, to live a more holistic life.
If you are in need of chiropractic services, don't hesitate to consult Genesis Chiropractic. Invest in yourself by calling their clinic today and get to know their safe methods!
Highlights
Careful and knowledgeable staff
Professional and dedicated services
Dr. David Liew
| | |
| --- | --- |
| BEST FOR | Chiropractic Care |
| SERVICES | Full Chiropractic Adjustment, Chiropractic Care for Children, Parental Chiropractic, Professional Massage Theraphy, Orthotics for Feet |
| WEBSITE | https://chiroclinic.sg/ |
| ADDRESS | 8 Eu Tong Sen St, #11-84 The Central, Singapore 059818 |
| CONTACT DETAILS | +65 6681 6698 | [email protected] |
| OPERATING HOURS | N/A |
Are you looking for a safe chiropractic treatment with high-quality service? Then look no further, as Chiropractic Health and Wellness Clinic has got you covered! They offer you the best quality of chiropractic services with their non-invasive approaches. They ensure to alleviate your discomfort and restore the balance of your physical and mental well-being in a natural way.
Their clinic consists of some of the best chiropractors in Singapore, one of whom is Dr. Liew. He is well-known for his various achievements in the field of chiropractic, as well as his specialisation in pain management. With the help of his expertise, rest assured that you will receive the right treatment and personalised service that you need.
You will go never go wrong in consulting them with your health concerns. Visit their clinic today and receive the focused attention that you deserve!
Highlights
Family-friendly chiropractic clinic
Affordable and personalized chiropractic treatment plan
Natural and holistic treatment approaches
Dr. Rebecca Teo
| | |
| --- | --- |
| BEST FOR | Chiropractic Care |
| SERVICES | Full Initial Assessment & Adjustment, Follow-up visits |
| WEBSITE | http://www.elderchiro.com.sg/ |
| ADDRESS | #02-19 The Bencoolen Singapore 189646 |
| CONTACT DETAILS | (+65) 6235 9843 l [email protected] |
| OPERATING HOURS | Monday – Saturday: 8am – 5pm |
Founded in 1978 by Dr. Carol Elder, Elder Chiropractic Clinic is the first and oldest chiropractic clinic established in Singapore and Southeast Asia. Since then, they have been providing the highest quality chiropractic services for people of all ages.
Dr. Rebecca is one of their highly experienced and licensed chiropractors– she has received advanced training in various chiropractic adjusting techniques, such as taping, rehabilitation exercise and muscle release techniques. With her great skills and knowledge, you will be provided with a specialised and comprehensive approach towards stimulating your body to heal.
Rest assured that they will be there for you and your family when you need them for chiropractic care. Give them a call and experience the high-quality service that you need!
Highlights
Professional and high-quality services
Friendly and compassionate staff
Dr. Chew Wei Lun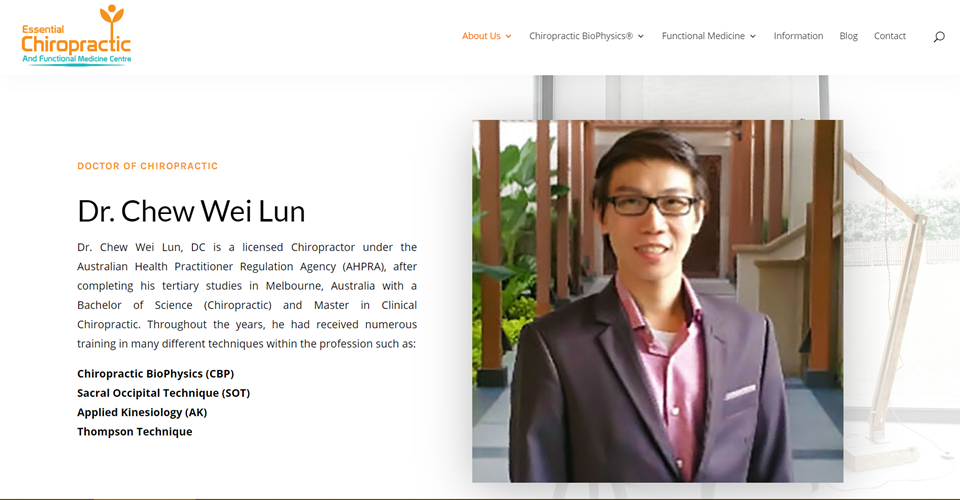 BEST FOR
Chiropractic Care
SERVICES
Chiropractic BioPhysics Corrective Care, Functional Medicine/Nutrition
WEBSITE
https://essentialchiropractic.sg/
ADDRESS
21 Tan Quee Lan Street, #02-04 Heritage Place 188108 Singapore.
CONTACT DETAILS
(+65) 6493 7293 / (+65) 9854 6806
[email protected]
OPERATING HOURS
Monday 10am–8pm
Tuesday 10am–8pm
Thursday 10am–8pm
Friday 10am–8pm
Saturday 9am–2pm
If you're looking for a clinic that delivers proven and effective chiropractic treatment for your spinal problems, then Essential Chiropractic and Functional Medicine Centre is highly recommended for you. They aim to address various aspects of your health needs and struggles using appropriate evaluations and treatment methods.
Considered one of Singapore's leading chiropractic care clinic, Essential Chiropractic and Functional Medical Centre has a team of skilled and trained chiropractors, including Dr Wei. He is highly trained in performing Chiropractic BioPhysics (CBP) which is the specialization of the health institution. Through his expertise, you can rest assured that you will receive accurate diagnosis and treatment.
They look forward to serving and assisting you in reaching your health goal. Come and visit their clinic today and experience a healthcare service like no other!
Highlights
Comprehensive healthcare management
Patient-centered and science-based approach
Dr. Aymun Kamal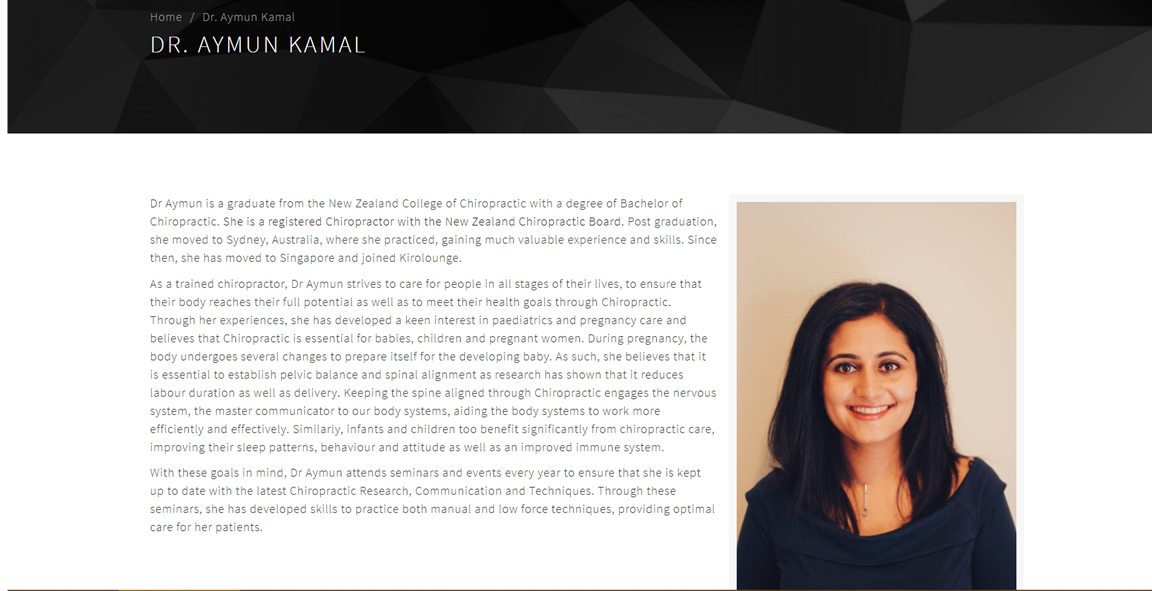 BEST FOR
Wide Range of Services
SERVICES
LOWER BACK PAIN
NECK PAIN, HEADACHES, POSTURE
EXTREMITIES
SPORTS
WEBSITE
http://thekirolounge.com/
ADDRESS
Golden Landmark Shopping Centre (Bugis Branch) 390 Victoria Street, #03-34, Singapore 188061
CONTACT DETAILS
(+65) 6336 3738 / (+65) 6295 5424 l [email protected]
OPERATING HOURS
Tuesday – Friday: 10am–1:30pm, 3–7:30pm, Saturday: 9am–1:30pm
Dr. Aymun of Kirolounge is widely recognised for her exceptional skill in chiropractic care. She has earned her expertise from years of practice in institutions abroad, as well as from various seminars concerning the field.
These hard-earned abilities enable her to provide optimal care to people from all walks of life. Dr. Aymun is well-versed not only in chiropractic treatment itself, but also in the fields of pediatrics and pregnancy care. She applies her knowledge and techniques into helping mothers conceive and improving infants' behavioral patterns.
If you are feeling discomfort in any part of your body, or if you simply want to maintain a healthy well-being, come visit Dr. Aymun in Kirolounge. Her methods of treating patients remain unparalleled in Singapore.
Highlights
Skilled Techniques
Trained Chiropractor
Full Potential Chiropractic

BEST FOR
Pain Relief and Preventive Care
SERVICES
Chiropractic, Physiotherapy and Traditional Chinese Medicine
WEBSITE
https://www.chiropractic-singapore.com.sg/
ADDRESS
Harbourfront Tower One
1 Harboufront Place #01-05
S (098633)Novena Specialist Center
8 Sinaran Drive #05-21
S (307470)Westgate Tower
1 Gateway Drive #10-13
S (608531)
CONTACT DETAILS
+65 6274 9939 | [email protected]
OPERATING HOURS
Monday 8:30am – 1:00pm
2:30pm – 7:30pm
Tuesday 3:00pm – 7:30pm
Wednesday Closed
Thursday 8:30am – 1:00pm
2:30pm – 7:30pm
Friday 8:30am – 1:00pm
Saturday 9:00am – 1:00pm
Sunday Closed
Established in 2008, Full Potential Chiropractic's objective is to help you discover a life beyond pain, and for you to reach your health's full potential through an all-natural, drug-free treatment that they call chiropractic care.
They believe that with proper spinal alignment, the flow of the nervous system will be optimised and unlock the body's innate healing abilities. They are dedicated to being the centre of their clients' healing.
For chiropractors are not medical doctors. They focus on helping the nervous system reach optimal flow so that the body can heal itself. You can rest assured that their chiropractors are fully accredited and have gone through an intensive four-year programme that focuses on the different fields– all to provide the best service.
Highlights
All-Natural and Drug-Free Treatment
Chiropractors are Fully Accredited
Dr Yeo Sow Nam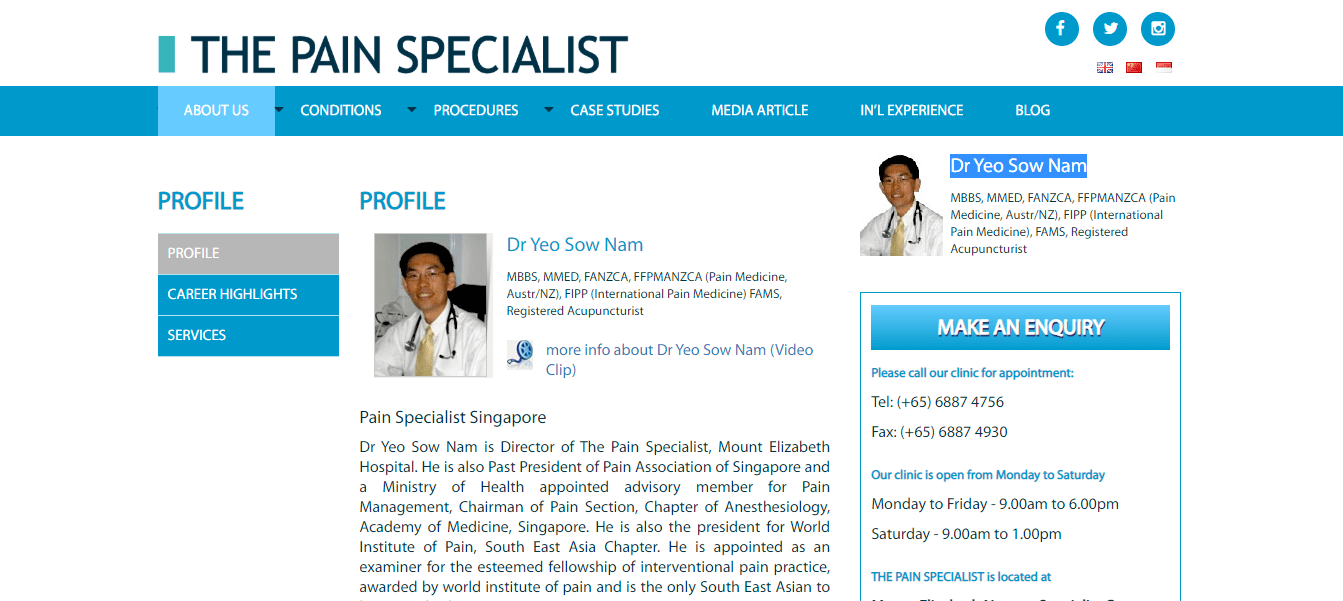 | | |
| --- | --- |
| BEST FOR | Experienced Doctor |
| SERVICES | Back Pain, Cancer Pain, Neck Pain, Neuropathic Pain, and After Pain Surgery |
| WEBSITE | https://www.painspecialist.com.sg/ |
| ADDRESS | 3 Mount Elizabeth, #15-09 Medical Centre, Singapore 228510 |
| CONTACT DETAILS | (+65) 6887 4756 |
| OPERATING HOURS | Monday – Friday, 9:00 AM – 6:00 PM |
Dr. Yeo Sow Nam is considered one of the most renowned pain doctors on the island. He serves as the president of both The Pain Specialist, located at Mt. Elizabeth Hospital, and World Institute of Pain — so experience is not going to be an issue with him.
His clinic offers various services for different types of body pains, including back pain, neck pain, cancer pain, and even after-surgery pain. His clinic is also known for being equipped with state-of-the-art medical technology important to treating body pains.
We consider him one of the best back pain doctors in Singapore as he's practiced pain management here in Singapore and abroad. He works as a professional anaesthetist, with accreditation from Australia and New Zealand.
Highlights
International exposure
Advanced medical equipment
Minimally invasive surgeries
Dr. Jason Rutkauskas
BEST FOR
Chiropractic Care
SERVICES
Neck and low back pain
Headaches and migraines
Stiffness in neck and shoulders
Illness
Future injuries
WEBSITE
https://www.alignchiropractic.com.sg/
ADDRESS
Eon Shenton, 70 Shenton Way, #07-11/12 (Singapore 079118)
CONTACT DETAILS
+65 6909 5987 or [email protected]
OPERATING HOURS
Monday and Thursday – 8:30am to 7:30pm
Tuesday and Wednesday – 2:30pm to 7:30pm
Saturday – 9:30am to 2:00 pm
Driven by the desire to elevate the health and mindset of patients, Align Chiropractic works to provide only the most effective and personalized care available.
They adopt the most reliable methods in treating spinal health problems, may it be in the form of Chiropractic adjustment, manual muscle work, or stability exercises. With special attention to detail, the doctors of Align Chiropractic aims not only to render excellent care, but also to give relief that lasts.
With the help of their refined expertise in the field of spinal care, the Align Chiropractic team dedicates itself to upholding a warm, friendly environment for the optimal health of its clients.
Highlights
Chiropractic Adjustments
Muscle Release Technique
Stability Exercise
Blocking Technique
Core-Score Analysis
Homage Home Care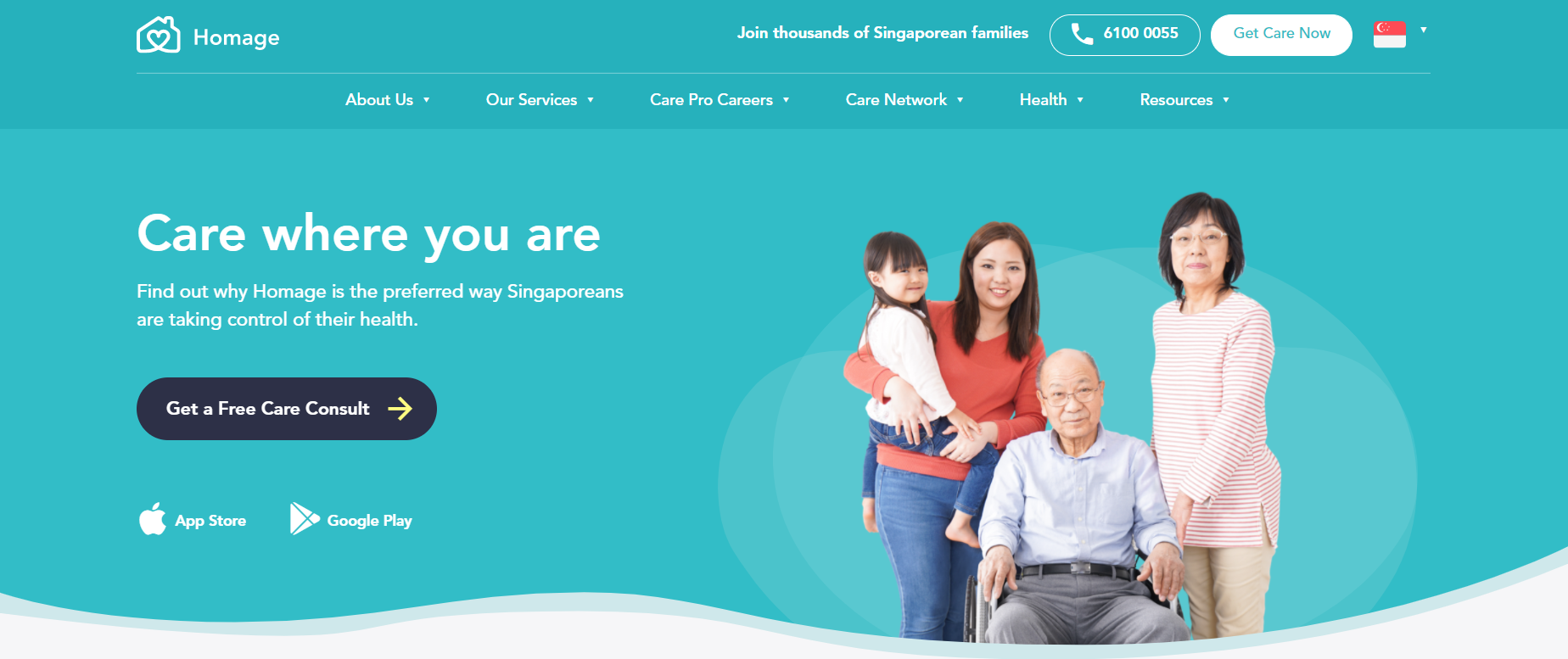 Homage Home Care is a care service provider that offers a wide range of holistic, personalised home care solutions in Singapore. They make use of smart technology to improve their patient's quality of life, helping them enjoy it at their peak health.
Some of their services include assessments, home nursing, home rehabilitation, and home medical care. With their wide range of treatments, they focus on providing solutions for mobility conditions and other specialised cases.
One of the conditions they cover include upper and lower back pain.
Back pain may be an inevitable part of life but they can help you minimise, if not remove, that pain. There's no need to resort to surgery immediately either, since they have various non-invasive methods, particularly physiotherapy, available for healing chronic back pain.
Their physiotherapy sessions focus on not only relieving back pain, but also strengthening your back to prevent further complications in the future. Best of all, you won't have to go to their clinic for a session — they have home physiotherapy providers available for you.
Highlights
Leading care services provider
Holistic personal care
Knowledgeable staff
Sincere and encouraging
Rapid Physiocare

BEST FOR
Holistic Care
SERVICES
MUSCULOSKELETAL CONDITIONS
NECK
SHOULDER
THORACIC
LOW BACK
ELBOW
HANDS
HIP
KNEE
ANKLE
FOOT
PRE/POST OPERATIVE
SPINE CARE
SPINAL REHABILITATION
SPINAL DECOMPRESSION
POSTURAL ERGONOMIC ASSESSMENT
MEDTECH
SHOCKWAVE THERAPY
MANUAL LYMPHATIC DRAINAGE
HOMECARE REHAB & CAREGIVER TRAINING
PEDS/WOMENS HEALTH
ANTENATAL/POSTNATAL CARE
INCONTINENCE
PAEDIATRIC
CLINICAL PILATES
BACK TO SPORTS
RUNNING AND GAIT ANALYSIS
CHRONIC DISEASE MANAGEMENT
EXERCISE FOR HEALTH
WEIGHT MANAGEMENT
WEBSITE
https://www.homage.sg
ADDRESS

[email protected] Tanjong Pagar
10 Anson Road 21-15,
International Plaza
Singapore 079903

[email protected] Novena
8 Sinaran Drive 02-02/03,
Novena Specialist Center
Singapore 307470

[email protected] Paya Lebar
1 Paya Lebar Link #01-06
PLQ 2, Paya Lebar Quarter
Singapore 408533

CONTACT DETAILS

+65 6904 4900
+65 9654 0427

OPERATING HOURS
Mon – Fri: 8 am – 7 pm
Sat: 8 am – 6 pm
Sun: Closed
Known as a prominent physiotherapy clinic in Singapore, Rapid Physiocare always makes sure to provide only the most effective specialist physiotherapy services. To make this happen, the therapists they hire are highly trained and qualified professionals, with extensive experience in treating a multitude of conditions.
They aim to improve the quality of life of as many people as possible by empowering them and helping them realise their potential. For many years they have been delivering the best clinical service to their clients with excellent outcomes, which makes them the most trusted choice for physicians, families, and health professionals.
Acquiring their services is a must, if you ever need specific treatments to better improve your life. You will not have to worry, for their staff is thoroughly experienced– you are safe in their hands.
Highlights
Musculoskeletal Physiotherapy
Pre / Post Orthopaedic Conditioning
Manual Lymphatic Drainage
Chiropractic First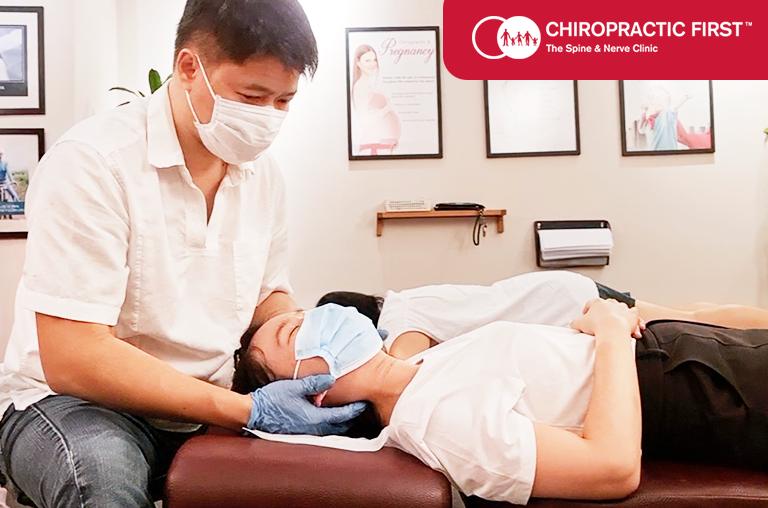 Chiropractic First is a wellness group that specializes in treating problems related to particularly the spine and the nervous system. They have since then been offering efficient treatments that have helped resolved clients who experience pain in the neck, shoulders, back and joints, scoliosis, slipped disc issues, chronic migraines, and sports injuries.
The company has a global reach in which they have over 30 clinics operating in various countries in Asia, the UK, and even Europe as well.
They are comprised of 50 certified and adequate doctors in the field from all over the world to accommodate world-class quality service and scope.
Continuously updating their methodologies and with over 20 years in the industry, clients have since then commended them for producing efficient and excellent results for them and has built loyalty among them as well.
Furthermore, their services accommodate all members of the family and is geared to be able to treat individuals of all ages since their treatments do not involve drugs or surgery of any form.
Highlights
Wide range of Chiropractic services
Comprehensive consultation prior to treatment
Safe for babies, pregnant mothers, and elderlies
Effective for slipped disc, scoliosis, headaches, neck pain, back pain, numbness & tingling, shoulder pain, and subluxation
And that's the end of our list of the best back pain doctors in Singapore. You will no longer have to tolerate frequent back pains, thanks to the help of these more-than-qualified doctors.
If you know of other back pain doctors in Singapore, drop their names and we'll check if they can be included in our list.
And of course, we know back pains are often due to spinal complaints. If you think that's your problem, don't hesitate to consult with the best orthopaedic specialists in Singapore, because they can often help with joint and back issues.