The 9 Best Men's Health Clinics in Singapore
There are a lot of medical clinics scattered all over the island, but only a few specifically cater to the medical needs of men. If you're searching for the best men's health clinics in Singapore, then you've come to the right place.
Today, we're making a roundup of the best men's health clinics in Singapore that offer excellent and dependable medical services. With the help of these medical clinics for men, all your concerns related to your manhood will be properly addressed!
Check them out one by one to see which clinic offers the treatment you're looking for.
(Note: This list is in no particular order.)
Noah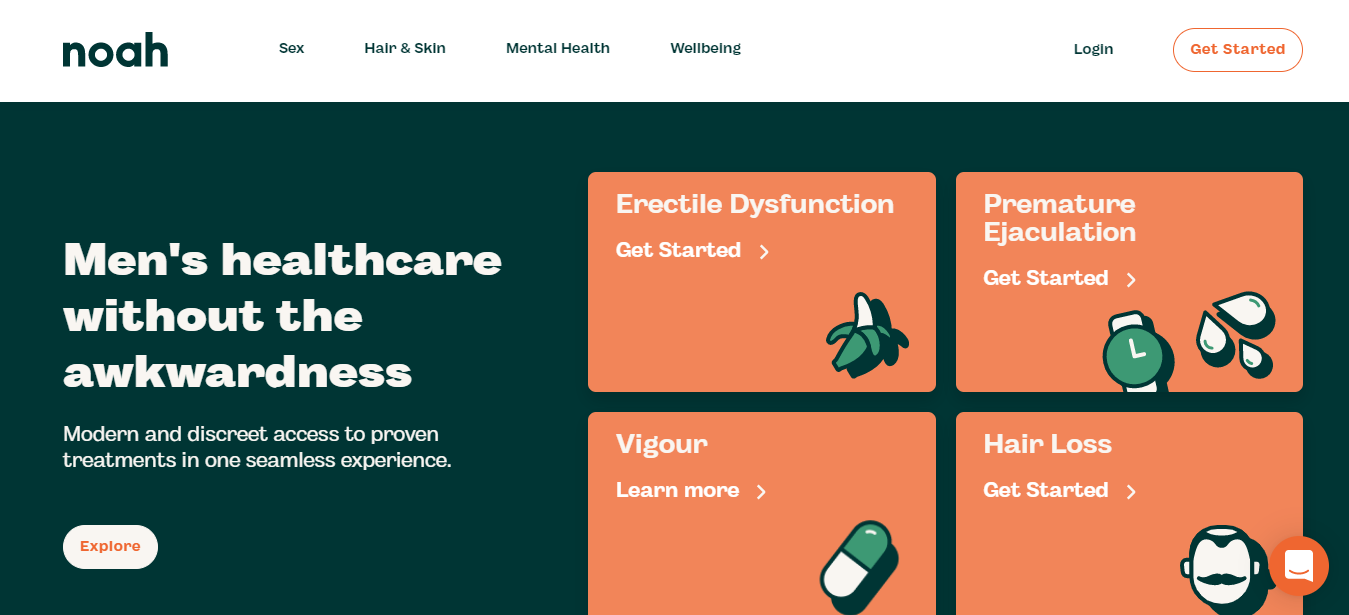 BEST FOR
Men's healthcare
CLASSES
Sex
Hair and Skin
Mental Health
Wellbeing
WEBSITE
https://www.ofnoah.com/
ADDRESS
CONTACT DETAILS

OPERATING HOURS
Contact for more details
With Noah you will experience the most seamless healthcare experience you ever had. They acknowledge that asking for help is a hard step for pthers, therefore they keep things simple by handling everything for you.
Unlike other clinics, you will answer the toughest questions through an online evaluation that can be done in the privacy of your home. This is to give your doctor more time to find out the most appropriate treatment for you.
In consulting a doctor with them, their doctor will call you at a time that is convenient for you. They do this to ensure that your consultation period could be done discreetly.
If you are prescribed with medications, they will handle the delivery fee and the medicines will arrive at your doorstep within 4 hours after the consultation.
From online evaluation to discreet delivery of your meds and free doctor follow-ups, Noah is the perfect clinic to contact when you pprefer a modern and discreet way to get healthy.
Highlights
May use code "SG56" at checkout to enjoy 21% off Vigour and Sex Therapy
24/7 Patiemt Care Support
All-natural products
Customer Reviews
"Service was good,friendly and last not least…product genuine,unlike others online fake. Most important is your product approved by the board and safe to consume.kerp up the pure work."
"Great experience from the online assessment, doctor phone assessment and the medication arrival. Non intrusive, fast and simple."
DTAP Clinic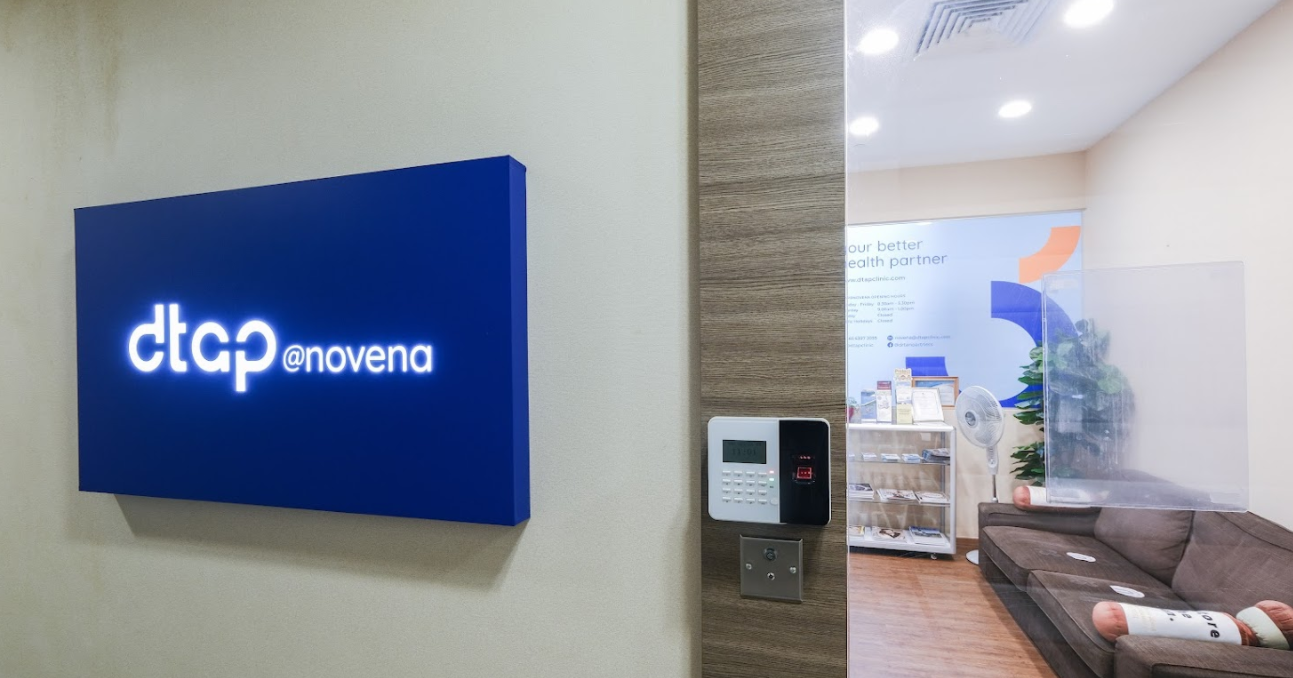 BEST FOR 
Comprehensive Health Services
SERVICES
Erectile Dysfunction, Prostate, Ejaculation Issues, Male Fertility, Premarital Screening, Andropause, HIV Testing, and Weight Loss Treatment
WEBSITE
https://www.dtapclinic.com/mens-health/
ADDRESS
10 Sinaran Dr, Novena Medical Centre, #08-31, Singapore 307506
CONTACT DETAILS
+65 6397 2095
OPERATING HOURS
Monday to Friday 8:30am–5:30pm
Saturday 9am–1pm
Sunday Closed
If you're looking for a men's clinic that offers a wide range of services, then DTAP Clinic would be a great match for you! Established in 2005, DTAP Clinic believes in diving into healthcare with you.
It's a GP chain with a special focus on comprehensive and holistic care for men's health, women's health, as well as other acute and chronic medical issues. 
Some of the services offered by DTAP Clinic are health screenings, HIV testing, men's fertility, prostate cancer screening, penile infection treatment, adult circumcision, and a whole lot more. Its long list of services is why we consider it one of the best men's health clinics in Singapore!
What's more, DTAP Clinic's approach to medicine is slightly different. It uses a holistic approach in diagnosis, treatment, and managing all of men's medical concerns, including ageing and reproductive problems.
Moreover, DTAP Clinic is fully accredited for HIV / STD testing and treatment, our HIV / STD testing, screening, treatment and management services adhere strictly to Singapore's Ministry of Health (MOH) guidelines. 
Highlights
Holistic approach
Wide range of services
Experienced staff and specialists
Dr. Ben Medical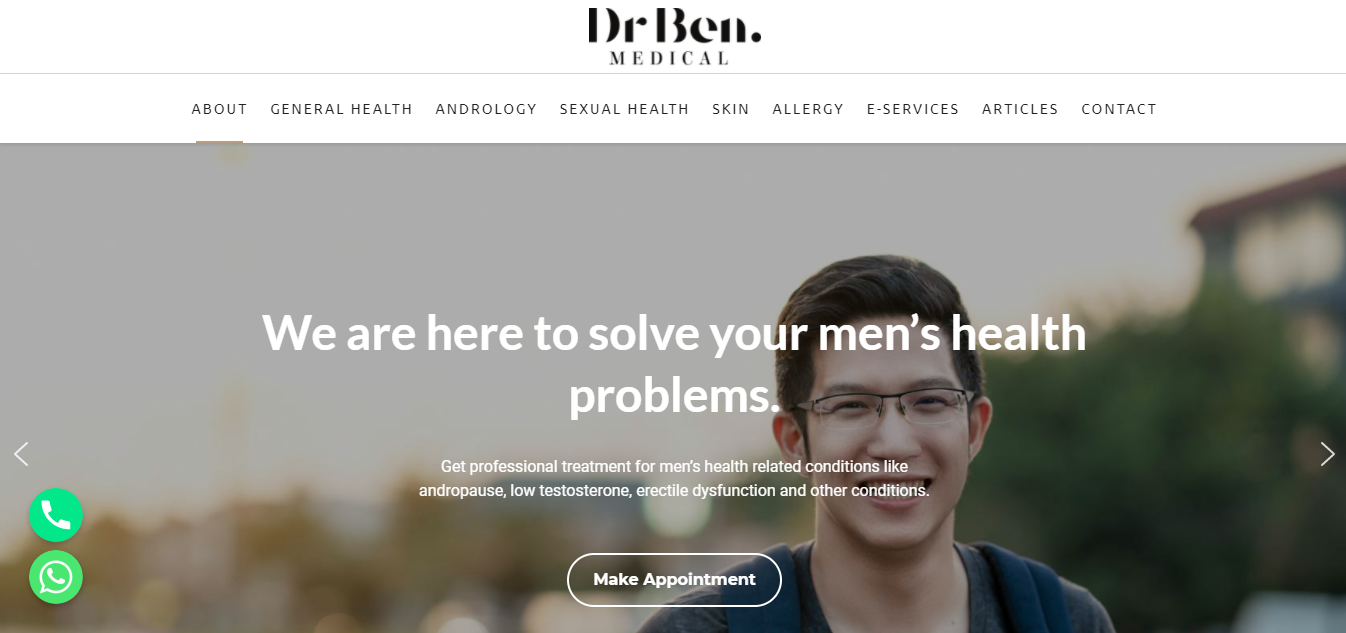 BEST FOR
Discreet services
SERVICES
Health Screening, Cancer Screening, Ear Wax Removal, Vaccination, Weight Loss, Snoring, Smoking Cessation, Erectile Dysfunction, Fertility, Ejaculation Issues, Prostate. Testosterone Deficiency, Hematospersmia, Penile issues, HIV, STD, HPV, Acne, Hair, Keloid Scars, Hives, Eczema, Psoriasis, Fungal Infection, Seborrheic Dermatitis, Shingles, Plantar Warts Removal, Palmar Warts Removal, Allergy Testing, Allergy Treatment, Teleconsult, Medication Delivery, After hours Enquiry, and Self Testing
WEBSITE
https://www.drbenmedical.sg/
ADDRESS
Raffles Place
1 Raffles Place, #04-50
048616

Jurong West
221 Boon Lay Place, #02-160
Boon Lay Shopping Centre
640221

CONTACT DETAILS
Raffles Place


Jurong West


OPERATING HOURS
Raffles Place
Monday to Friday: 8am – 6pm
Saturday: 9am – 2pm
Sunday: 9am – 2pm

Jurong West
Monday: 6pm – 9pm
Wednesday: 6pm – 9pm
Friday: 6pm – 9pm
(by appointment only)
Dr. Ben Medical is a men's heralth clinic in Singapore. In comparison to other clinics, they believe in creating a non-judgmental, accessible space for men to speak openly about their issues, with safety and first class care.
Dr. Ben is a General Practitioner that focuses on men's health, ears, nose, throat, and dermatology. Regarding their andrology services, we have observed that they have almost all solutions for these kind of issues.
Whether it is erectile dysfunction, fertility, or even ejaculation issues, they have your back.
If you are looking for a clinic that is fast, private, and discreet, we think they are the perfect choice for you. No matter what your issue is, you can put your trust in them and they will help you without a doubt.
Highlights
Provides services to local and international patients
Friendly and approachable staff
Ensures that everything is kept confidential
Tanjong Pagar Medical Clinic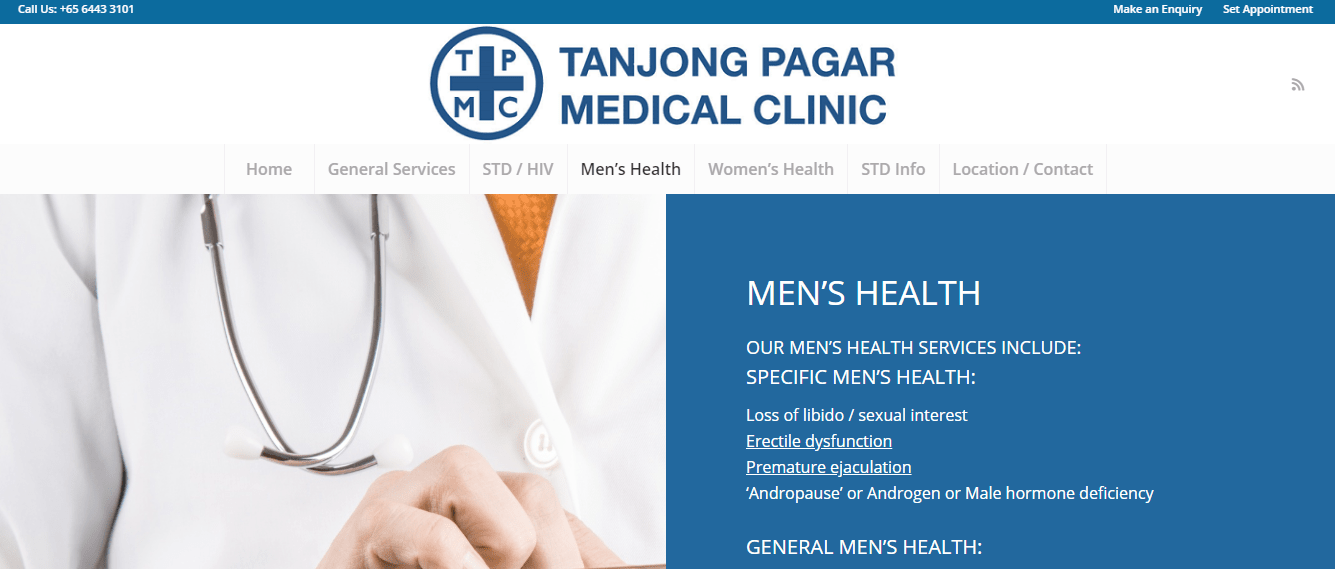 BEST FOR
General Health Screenings
SERVICES
Loss of Libido, Erectile Dysfunction, Premature Ejaculation, Hair Loss, Weight Management, Adult Vaccinations, and Male Hormone Deficiency
WEBSITE
http://www.tanjongpagarclinic.com/men-s-health
ADDRESS
1 Tanjong Pagar Plaza, #01-06, Singapore 082001
CONTACT DETAILS
+65 64433101

+65 96622880

OPERATING HOURS
Monday – Friday, 8:30 AM – 08:30 PM
It's no secret that Tanjong Pagar Medical Clinic is one of leading medical clinics on the island. It has clients from different walks of life that can attest to how excellent and dependable its medical services are.
Moreover, one of Tanjong Pagar Medical Clinic's areas of expertise is men's health. On top of providing STD tests for men, it also offers medical treatments for a handful of medical conditions specific to men, such as erectile dysfunction, loss of libido, premature ejaculation, and male hormone deficiency.
Another reason we consider it among the best men's health clinics in Singapore is that it doesn't limit itself to a certain area of specialisation. It is also open to offering medical services to women, children, and even babies.
Highlights
Full range services
Health screenings
Experienced doctors and nurses
OneCare Medical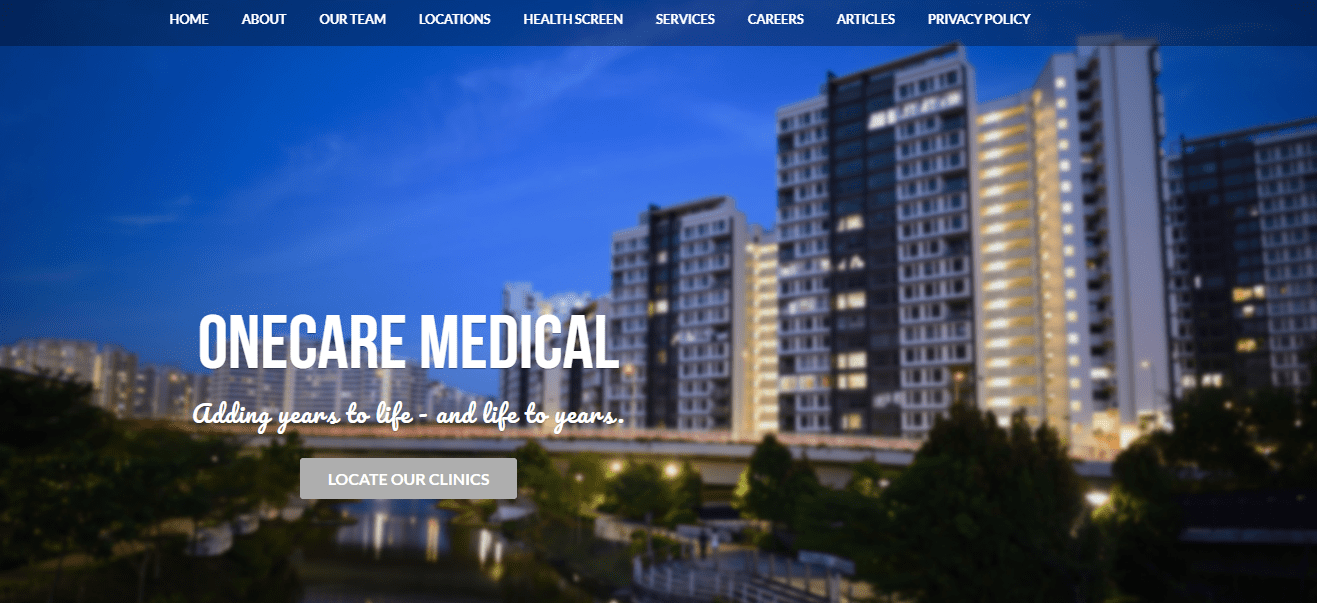 OneCare Medical is probably one of the most accessible medical clinics on the island. It has more than 15 branches scattered all over Singapore, making it the only medical clinic on the island with that number of branches.
Moreover, we like that it personalises its medical treatments to match the needs of its patients. So, whatever your medical problem may be, OneCare Medical wil make sure that the treatment you receive is right for your condition.
Lastly, OneCare Medical prides itself on offering preventive, accessible, and professional healthcare. These qualities are what set it apart from other medical clinics, and this is also why we deem it one of the best men's health clinics in Singapore.
Highlights
Affordable healthcare
Accessible locations
Competent medical staff
Atlas Pacific Medical

BEST FOR

HIV and STD/STI testing

SERVICES

HIV Screening and Sexually Transmitted Disease/Infection (STD/STI) Screening

WEBSITE

http://www.hivstdscreening.com/

ADDRESS

428 River Valley Road

01-10 [email protected]

Singapore 248327

CONTACT DETAILS

+65 6386 9098 |

[email protected]

Operating Hours

Mon: 8:30am to 8:00pm

Tues – Fri: 8:30am to 2:00pm, 5:00pm to 8:00pm

Sun: 5:00pm to 8:00pm

Public Holidays: Closed
If you are looking for a clinic that specialises HIV and STD/STI testing, Atlas Pacific Medical could be one of your choices. They take pride in their highly qualified professional doctors that address a variety of concerns related to HIV and STDs/STIs.

They offer expert advice on the symptoms and signs that you might experience and how you will be able to conquer it. They believe that there is no shame in being cautious with your health, in fact, it actually lessens the problem and helps you to bring back your health in good condition.
Highlights
Qualified Doctors

Friendly and Approachable Doctors
InSync Medical

BEST FOR

Sexual wellness and women's health

SERVICES

Women's Health, Men's Health, Sexual Pleasure, Sexual Problem, Genital Aesthetics, STI, Health Screening

WEBSITE

https://www.insyncmedical.sg/dr-jessherin-sidhu

ADDRESS

66 East Coast Rd

The Flow #07-01

Singapore 428778

CONTACT DETAILS

6635 2551

Operating Hours

Mon & Tues – 9am to 9pm

Wed & Thurs – 2pm to 9pm

Fri – 9am to 5pm

Sat – 9am to 3pm

Sun – 9am to 1pm (reserved for FDWs & urgent cases)
If you are looking for a clinic that deals with sexual wellness and health problems, InSync Medical could be one of your choices. It is a GP+ clinic that places special interest in sexual wellness, men's health and women's health.
Having a sexual wellness and health problem might become an embarrassing concern to some, but with InSync Medical, they will assure your privacy and information is fully confidential and extremely secured with them.
They promise to make you feel comfortable in opening about your issues to them without shame or guilt.
Service Highlights
Professional Doctors

Approachable Doctors

Efficient Service
Sincere Healthcare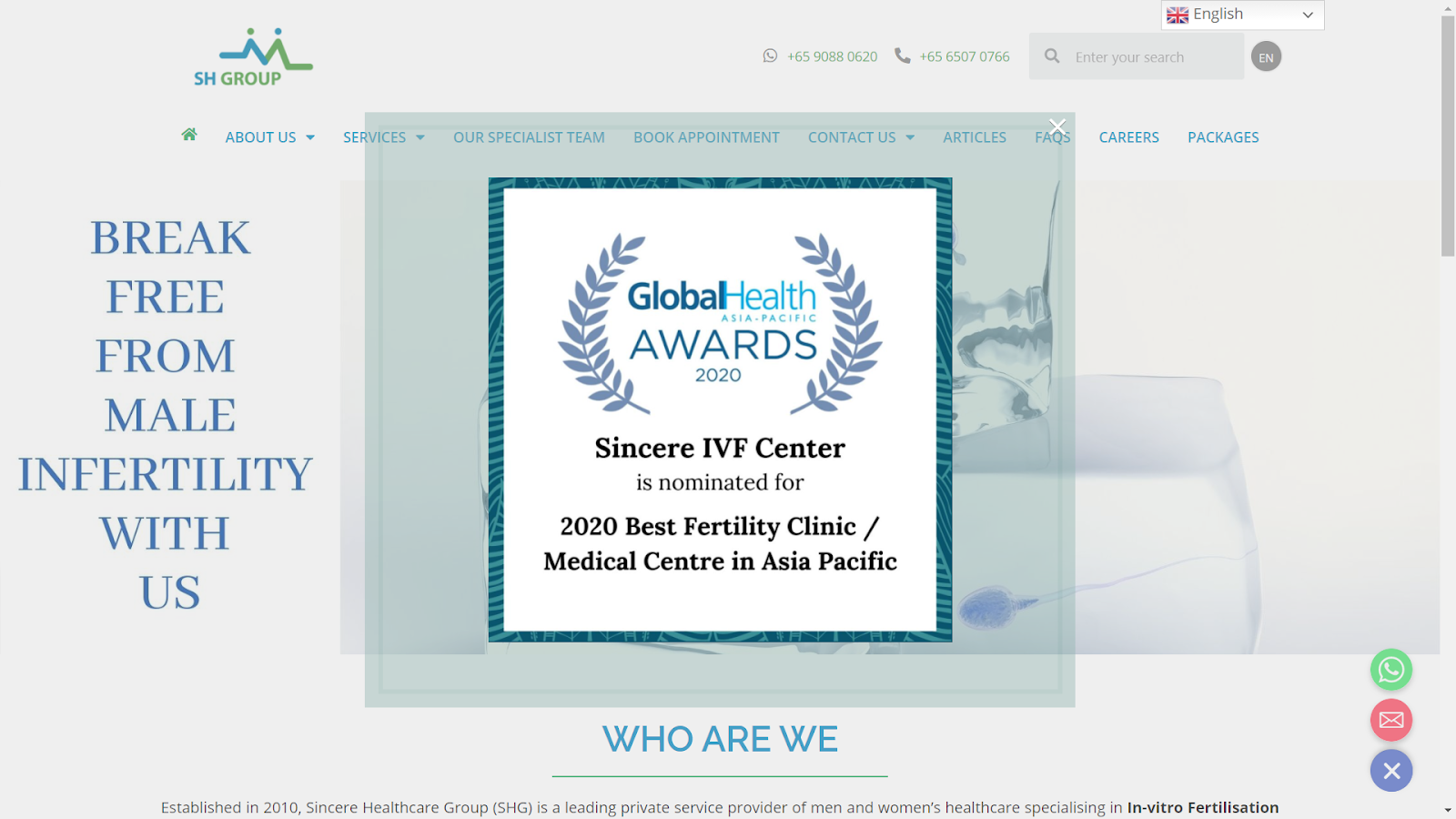 BEST FOR

Men and Women Healthcare

SERVICES

IVF, OBGYN, Urology, Sexology, Aesthetics & Wellness, Vascular & Interventional, Andrology Laboratory, General & Colorectal Surgery

WEBSITE

https://sincerehealthcaregroup.com/

ADDRESS

8 Sinaran Drive #06-08/09/10/11/12/13/14/ 16/17/18/19 Novena Specialist Center Singapore 307470

CONTACT DETAILS

+65 6507 0766

+65 9088 0620 (Booking / Enquiries)

OPERATING HOURS

Weekdays, 8:30 AM – 5:30 PM

Saturday, 8:30 AM – 12:30 PM
Since 2010, Sincere Healthcare Group provides a wide variety of healthcare services for both men and women. Delivering good quality services, their IVF success rate proves their excellent service.
They also engage in different training and research and development to further expand the scientific and educational field.
Highlights
Highly professional

A warm and caring environment

Nominated for 2020 Best Fertility Clinic / Medical Centre in the Asia Pacific
Customer Reviews
Here's a review from one of Sincere IVF Center's clients:
"[Myself and my wife have been trying to conceive for many years, and visited several specialists for help, but in vain. We approached your clinic after googling. At first, we came with a feeling of just trying. I remembered my wife was crying when she was sharing with your staff and she gave us the comfort and hope. Today, we are told tat my wife is finally pregnant.
Thank you again to all doctors and nurses for everything you did for us through this journey – your caring and kindness, your professionalism and support. Most of all, for your success in helping to grant us little soul, who has added such joy to our lives" – Desmond Christopher
Here's another one:
"A friend recommended Professor Ng to me and I decided to pay him a visit, and true enough, I was blessed with my own baby boy. During my first trimesters saw quite a few episodes of bleeding and urgent trips down to A&E. But throughout the journey, Professor Ng and the staff at Sincere were always calm and reassuring. This gave me tremendous amount of confidence that my pregnancies will pull through." – Jamie Yee
MY Clinic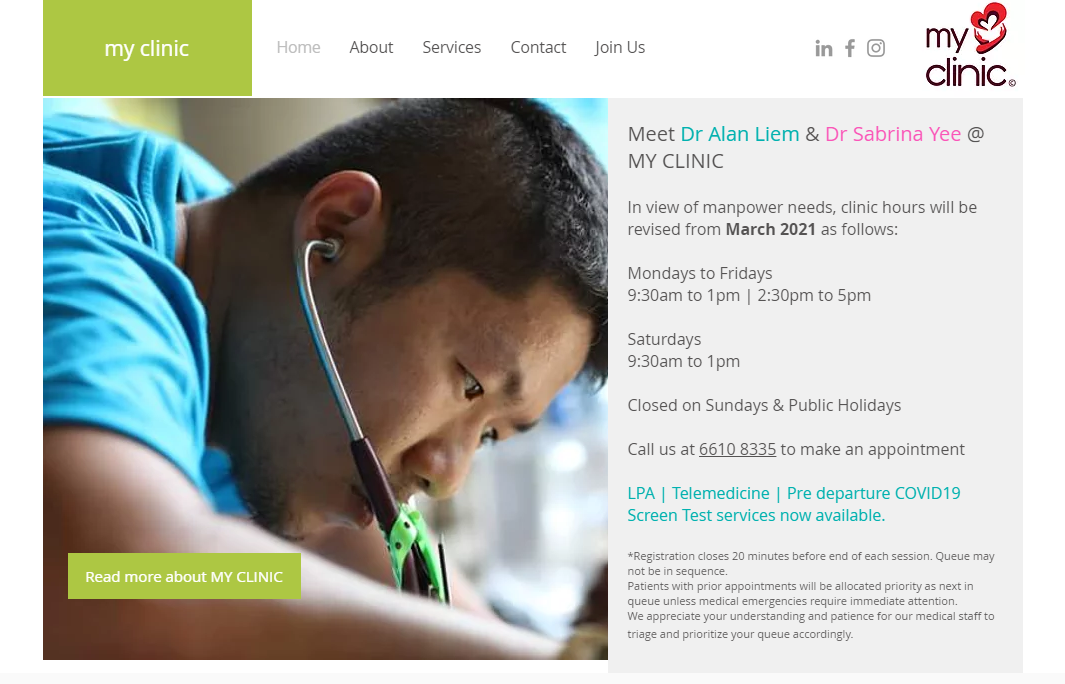 BEST FOR

Men's Health

SERVICES

Acute / General Medical Care
Personalised Medical Reports
Chronic Care
Minor Procedure
Employment / Work Permit Check-ups
Children's Health
Vaccinations & Travel Medicine
Men's Health
Lasting Power of Attorney
School Health Checks
Skin / Nail / Hair Care
Women's Health

WEBSITE

https://www.myclinicsg.online

ADDRESS

9 King Albert Park #01-50 S598332

CONTACT DETAILS

+65 6610 8335

OPERATING HOURS

Mondays to Fridays
9:30am to 1pm | 2:30pm to 5pm

Saturdays
9:30am to 1pm

Closed on Sundays & Public Holidays
Next on our list is MY Clinic, which is located in King Albert Park.
MY Clinic is led by Dr Alan Liem and Dr Sabrina Yee, both of whom offer a wide range of services that cater to male and female adults as well as children. Some of their services include General Medical Care, Chronic Care, Children's Health, Vaccinations and Travel Medicine, School Health Check, Women's Health, and of course, Men's Health.
Dr Alan of MY Clinic is certified in Family Medicine and has an extensive background in clinical practice, with a focus on the fields of general surgery, emergency medicine, pediatric medicine, and family healthcare.
He, Dr Sabrina, and the rest of their staff endeavours to deliver affordable and quality healthcare to the community. Currently, the clinic operates six days a week, from Monday to Saturday.
Highlights
Wide range of services and treatments
Accommodates adult and child patients
Open six days a week
And with that, we end our list of the best men's health clinics in Singapore! Any of these clinics can provide a solution to all medical conditions related to one's manhood.
If you know other men's health clinics in Singapore, don't hesitate to share their names with us. If they're also great like the ones on our list, we'll add them to the roster!
By the way, if you're also planning to get tested for an STD soon, then you might want to check out our list of the places with the best STD testing in Singapore. More than bringing awareness, these clinics will also guide patients throughout the treatment stage!