By Colin Ng
There are a lot of medical clinics scattered all over the island, but only a few specifically cater to the medical needs of men. If you're searching for the best men's health clinics in Singapore, then you've come to the right place.
Today, we're making a roundup of the best men's health clinics in Singapore that offer excellent and dependable medical services. With the help of these medical clinics for men, all your concerns related to your manhood will be properly addressed!
Check them out one by one to see which clinic offers the treatment you're looking for.
(Note: This list is in no particular order.)
1. Dr. Colin Teo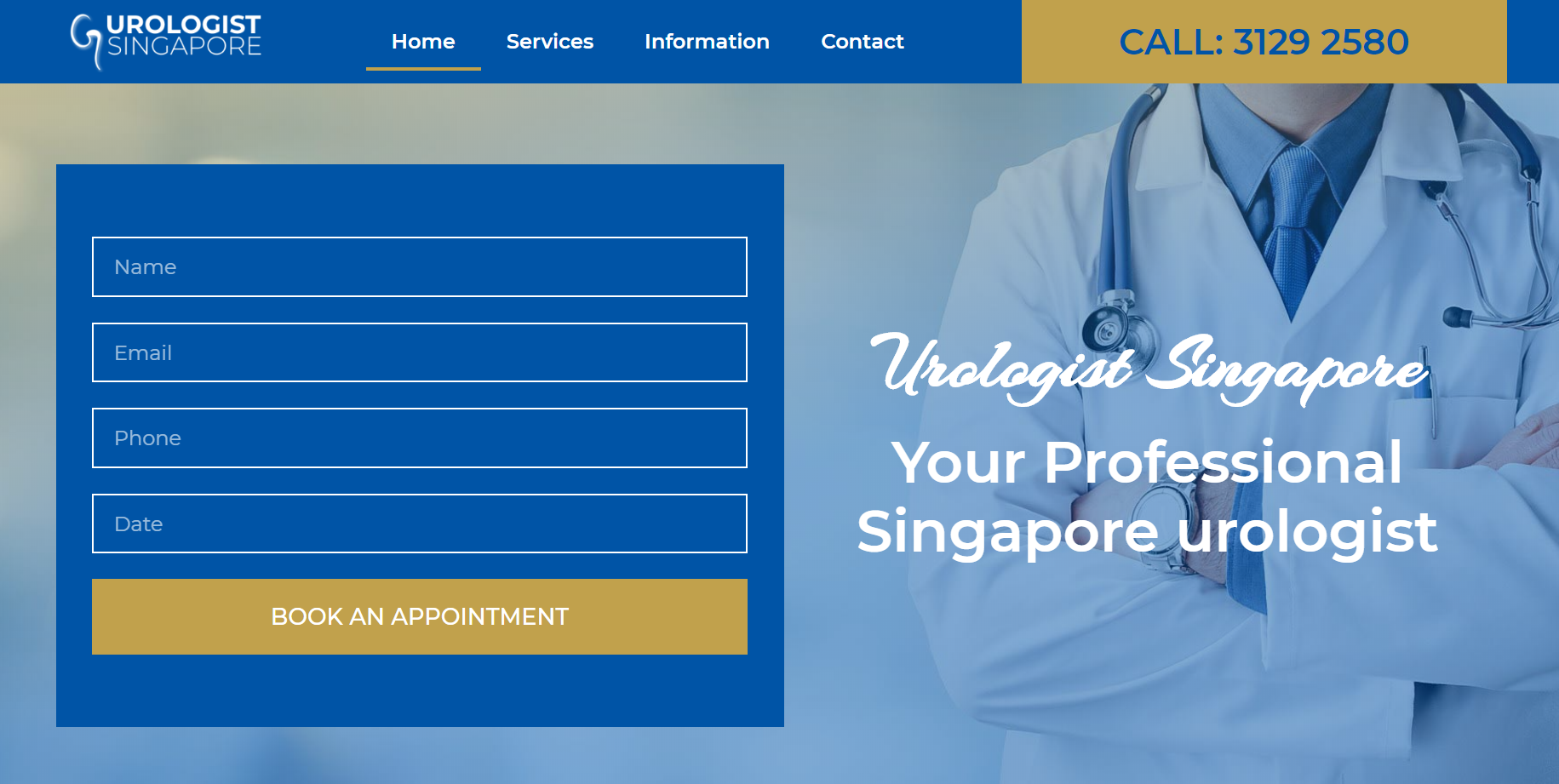 BEST FOR
Urological Care
SERVICES
Urological Evaluation
Bladder Cancer Bladder Diverticulum
Men's Health
Penile Surgery
Testicular Surgery
Fertility & Sterilization
Overactive Bladder & Incontinence
Urinary Tract Infection (UTI)
Sexually Transmitted Infections (STI)
Common Urological Surgery
Urology Stone Disease
Benign Prostatic Hyperplasia (BPH)
Chronic Prostatitis
Prostate Cancer
Kidney and Renal Pelvis Cancer
Kidney Cyst
Kidney Pelvic-Ureteric Junction Obstruction (PUJO)
Ureteric Strictures
WEBSITE
https://www.urologistsingapore.com/
ADDRESS
Gleneagles Hospital Annexe Block 6A, Napier Road, #05-36D, Singapore 258500
CONTACT DETAILS
3129 2580
OPERATING HOURS
Monday to Friday : 8.30 am to 5.00 pm
Saturday: 8.30 am to 12.30 pm
Sunday & PH: Closed
Urologist Singapore's exceptional services are motivated by the deep concern they have for their patients. Under this agency, Dr. Colin Teo, the president of the Men's Health Association, makes sure to assess every problem with the utmost attention.
Their team is skilled when it comes to dealing with major and minor issues involving the excretory system. The urologists not only focus on the treatment of such problems, but also on its possible causes and the future effects it can have on their patients.
Urologist Singapore provides a wide variety of services, including physical examinations, urine analysis, as well as surgery and therapy. Their urologists, besides prescribing medication, also try to educate their patients regarding their condition.
Highlights
Expert medical team
Professional urological care for all ages
2.  International Medical Clinic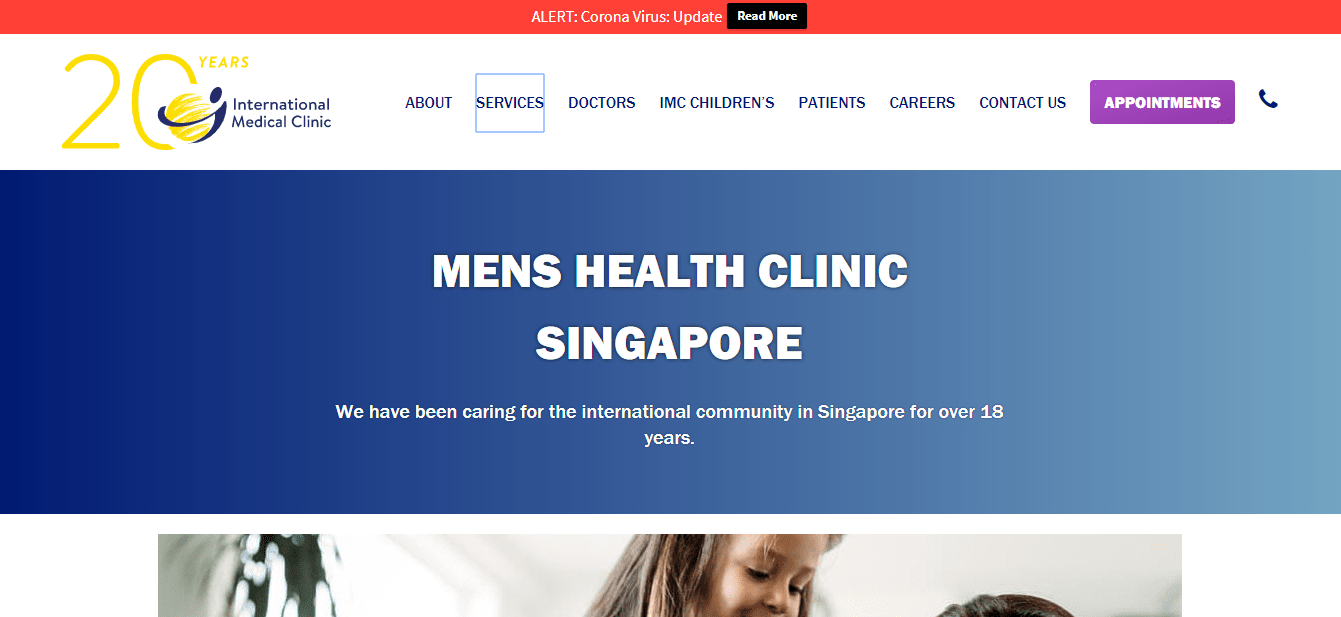 BEST FOR 
Health Screenings
CLASSES
Family Medicine, Consultation, Laboratory Tests, Cancer Screening, and Cardiac Screening
WEBSITE
https://www.imc-healthcare.com/
ADDRESS
86-88 E Coast Rd, #02-07, Singapore 423371

293 Holland Road, #02-03/04 Jelita Cold Storage Shopping Centre, Singapore 278628

1 Orchard Blvd, #14-05/06/07 Camden Medical Centre, Orchard Blvd, Singapore 248649

CONTACT DETAILS
+65 6733 4440

[email protected]

+65 6465 4440 [email protected]

+65 6342 4440 [email protected]

OPERATING HOURS
Monday – Friday, 9:00 AM – 5:30 PM
Considered one of the best men's health clinics in Singapore, International Medical Clinic has been offering quality healthcare to Singaporeans since the early 2000's. It also has 4 branches all over Singapore, making its services extremely accessible.
International Medical Clinic recognises that men and women have different needs too, so it also provides medical care specific to the needs of every man.
Among the services it offers are cardiac screenings, cancer screenings, testosterone checkup, and cholesterol management.
More than this, it has a team of experienced doctors who each have local and international experience. Every doctor on its team is also dedicated to providing high-quality healthcare to Singaporean men.
Highlights
Quality healthcare
Diverse doctors
Online appointment
Customer Reviews
Here are some reviews received by International Medical Clinic:
"Warm and friendly medical centre with a quick and professional turn around.  You are treated like a person and not a number. IMC are a one stop clinic, they have the ability to take bloods, give vaccines and dispense medication all in one clinic which I personally find convenient and efficient. They also direct bills to a variety of insurance companies, which is an added bonus."
"Great experience and great service. The clinic was extremely busy but that did not stop the team there from catering to me in my time of need.  I have spent lots of time in clinics around the world and my experiences here at the International Medical Center in Camden were some of the best when it comes to care and service!"
3.  Dr Tan & Partners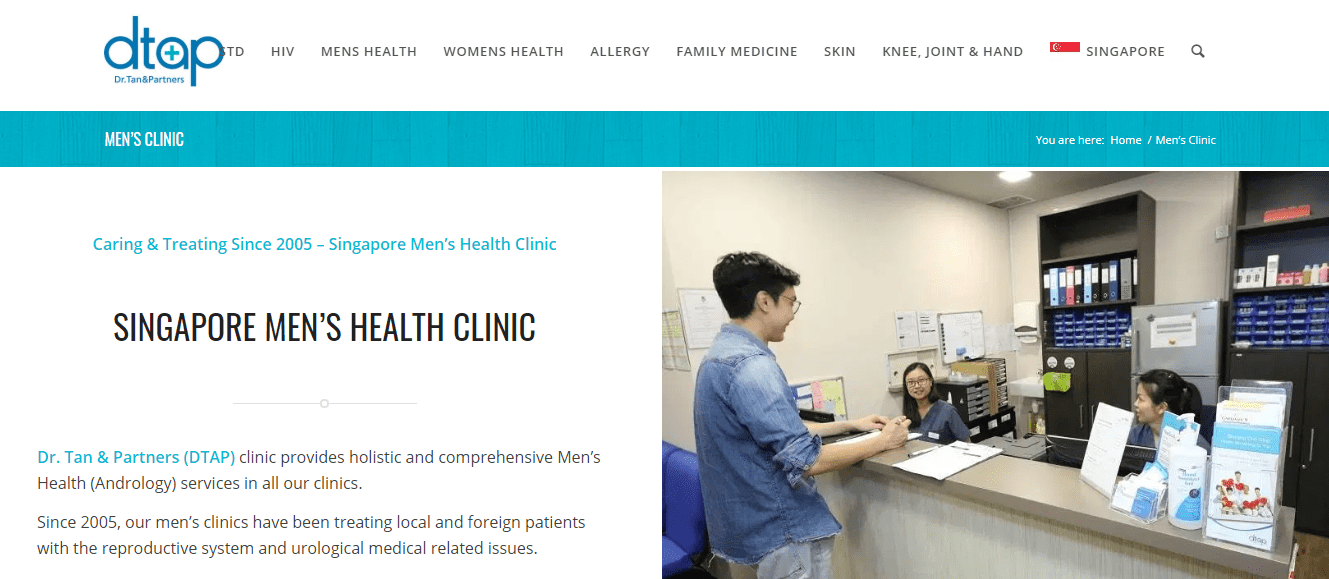 | | |
| --- | --- |
| BEST FOR  | Comprehensive Health Services |
| SERVICES | Erectile Dysfunction, Prostate, Ejaculation Issues, Male Fertility, Premarital Screening, Andropause, HIV Testing, and Weight Loss Treatment |
| WEBSITE | https://www.dtapclinic.com/mens-health/ |
| ADDRESS | 20 Cecil St, #02-01 PLUS, Singapore 049705 |
| CONTACT DETAILS | +65 6962 7144 |
| OPERATING HOURS | Monday – Friday, 8:00 AM – 5:00 PM |
If you're looking for a men's clinic that offers a wide range of services, then Dr. Tan & Partners would be a great match for you! Established in 2005, it has been improving the lives of most Singaporeans through accessible quality healthcare ever since.
Some of the services offered by Dr. Tan & Partners are health screenings, HIV testing, men's fertility, prostate cancer screening, penile infection treatment, adult circumcision, and a whole lot more. Its long list of services is why we consider it one of the best men's health clinics in Singapore!
What's more, Dr. Tan & Partners' approach to medicine is slightly different. It uses a holistic approach in diagnosis, treatment, and managing all of men's medical concerns, including ageing and reproductive problems.
Highlights
Holistic approach
Wide range of services
Experienced staff and specialists
Customer Reviews
As one of the best men's health clinics in Singapore, Dr. Tan & Partners has received heaps of praise from previous and current clients. Most previous patients have noted how professional, friendly, and efficient its doctors are.
Take a look at some of these reviews:
Fantastic doctors. When I walked in and explained my situation, he actually referred me to good specialist doctors at another clinic, who turned out to be so amazing. The process was so prompt and I really felt his compassion and dedication. I want to say thank you, because his referral really solved my health issue I was facing.
4.  Tanjong Pagar Medical Clinic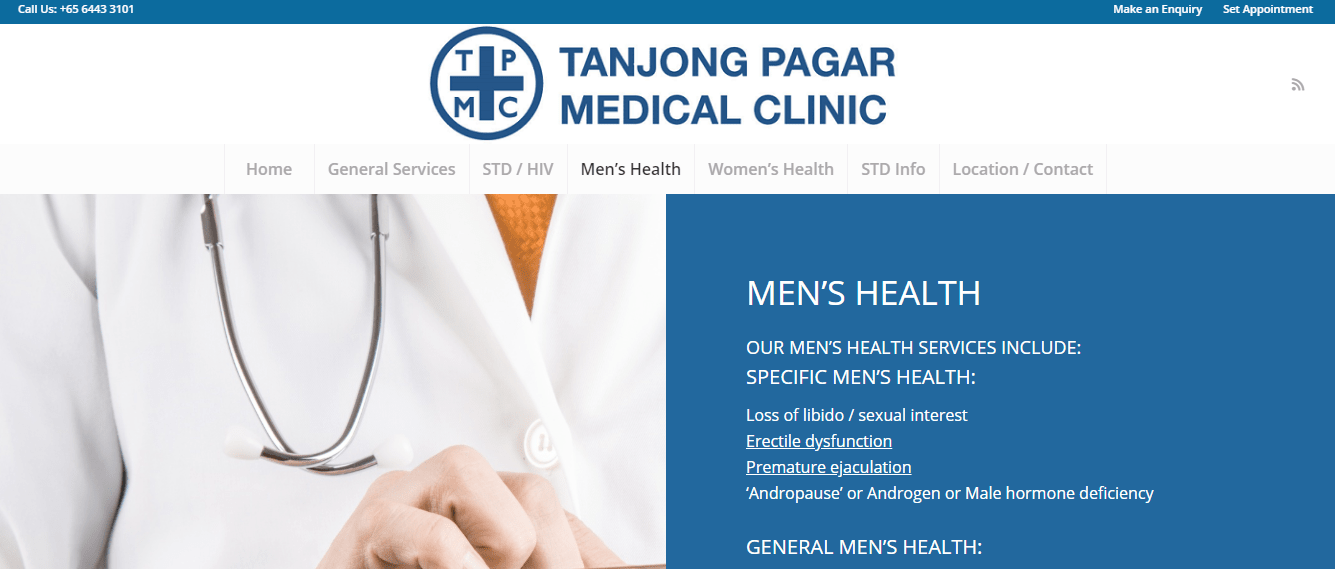 BEST FOR 
General Health Screenings
SERVICES
Loss of Libido, Erectile Dysfunction, Premature Ejaculation, Hair Loss, Weight Management, Adult Vaccinations, and Male Hormone Deficiency
WEBSITE
http://www.tanjongpagarclinic.com/men-s-health
ADDRESS
1 Tanjong Pagar Plaza, #01-06, Singapore 082001
CONTACT DETAILS
+65 64433101

+65 96622880

OPERATING HOURS
Monday – Friday, 8:30 AM – 08:30 PM
It's no secret that Tanjong Pagar Medical Clinic is one of leading medical clinics on the island. It has clients from different walks of life that can attest to how excellent and dependable its medical services are.
Moreover, one of Tanjong Pagar Medical Clinic's areas of expertise is men's health. On top of providing STD tests for men, it also offers medical treatments for a handful of medical conditions specific to men, such as erectile dysfunction, loss of libido, premature ejaculation, and male hormone deficiency.
Another reason we consider it among the best men's health clinics in Singapore is that it doesn't limit itself to a certain area of specialisation. It is also open to offering medical services to women, children, and even babies.
Highlights
Full range services
Health screenings
Experienced doctors and nurses
5.  OneCare Medical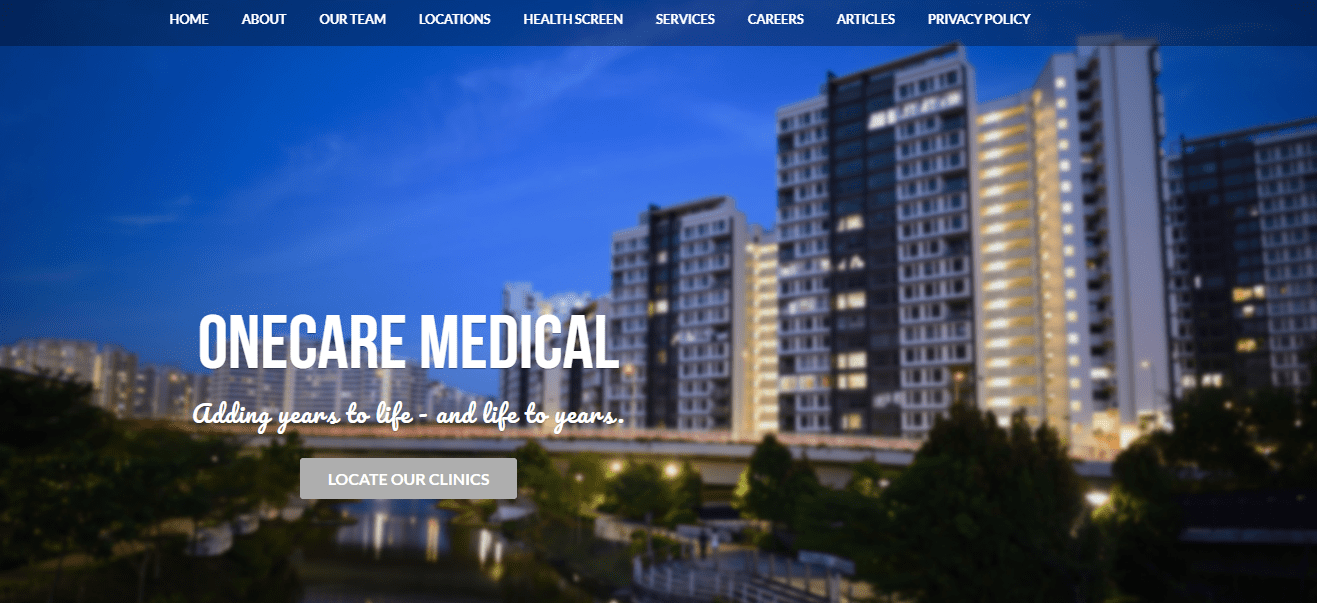 OneCare Medical is probably one of the most accessible medical clinics on the island. It has more than 15 branches scattered all over Singapore, making it the only medical clinic on the island with that number of branches.
Moreover, we like that it personalises its medical treatments to match the needs of its patients. So, whatever your medical problem may be, OneCare Medical wil make sure that the treatment you receive is right for your condition.
Lastly, OneCare Medical prides itself on offering preventive, accessible, and professional healthcare. These qualities are what set it apart from other medical clinics, and this is also why we deem it one of the best men's health clinics in Singapore.
Highlights
Affordable healthcare
Accessible locations
Competent medical staff
6. Atlas Pacific Medical

BEST FOR

HIV and STD/STI testing

SERVICES

HIV Screening and Sexually Transmitted Disease/Infection (STD/STI) Screening

WEBSITE

http://www.hivstdscreening.com/

ADDRESS

428 River Valley Road

01-10 [email protected]

Singapore 248327

CONTACT DETAILS

+65 6386 9098 |

[email protected]

 

Operating Hours 

Mon: 8:30am to 8:00pm

Tues – Fri: 8:30am to 2:00pm, 5:00pm to 8:00pm

Sun: 5:00pm to 8:00pm

Public Holidays: Closed
If you are looking for a clinic that specialises HIV and STD/STI testing, Atlas Pacific Medical could be one of your choices. They take pride in their highly qualified professional doctors that address a variety of concerns related to HIV and STDs/STIs.

They offer expert advice on the symptoms and signs that you might experience and how you will be able to conquer it. They believe that there is no shame in being cautious with your health, in fact, it actually lessens the problem and helps you to bring back your health in good condition.
Highlights
Qualified Doctors

Friendly and Approachable Doctors
Customer Reviews
Atlas Pacific Medical's doctors are really approachable, they really listen to their patients and give them accurate and expert advice that could really help them a lot.

"I have visited this clinic for vaccinations and consultations. All my visits have been pleasant so far.  The receptionist was very helpful and the doctors were very attentive to whatever health concerns I had during my visits. Definitely would go back but not too soon hopefully "

7. InSync Medical

BEST FOR

Sexual wellness and women's health 

SERVICES

Women's Health, Men's Health, Sexual Pleasure, Sexual Problem, Genital Aesthetics, STI, Health Screening

WEBSITE

https://www.insyncmedical.sg/dr-jessherin-sidhu

ADDRESS

66 East Coast Rd 

The Flow #07-01

Singapore 428778

CONTACT DETAILS

6635 2551

Operating Hours 

Mon & Tues – 9am to 9pm

Wed & Thurs – 2pm to 9pm

Fri – 9am to 5pm

Sat – 9am to 3pm 

Sun – 9am to 1pm (reserved for FDWs & urgent cases)
If you are looking for a clinic that deals with sexual wellness and health problems, InSync Medical could be one of your choices. It is a GP+ clinic that places special interest in sexual wellness, men's health and women's health. 
Having a sexual wellness and health problem might become an embarrassing concern to some, but with InSync Medical, they will assure your privacy and information is fully confidential and extremely secured with them.
They promise to make you feel comfortable in opening about your issues to them without shame or guilt. 
Service Highlights
Professional Doctors

Approachable Doctors

Efficient Service
Customer Reviews

With InSync Medical's professionalism and approachable doctors, a lot of their clients are satisfied and happy with their service.
"The clinic reception staff are so warm and welcoming! The space has a lot of practical, education materials around. Dr Jess is very friendly, knowledgable, professional and gives empowering, concise advice suited to the individuals lifestyle. The examinations don't feel overly clinical and I was able to relax much more than I have with other doctors. I can't rate this clinic enough, I hope more women find it!"
And with that, we end our list of the best men's health clinics in Singapore! Any of these clinics can provide a solution to all medical conditions related to one's manhood.
If you know other men's health clinics in Singapore, don't hesitate to share their names with us. If they're also great like the ones on our list, we'll add them to the roster!
By the way, if you're also planning to get tested for an STD soon, then you might want to check out our list of the places with the best STD testing in Singapore. More than bringing awareness, these clinics will also guide patients throughout the treatment stage!