Our 7 Favourite Haematologists in Singapore
One of the best ways to keep track of your health is to do frequent blood tests to see if you have any blood-related disorders. After doing such tests, we highly recommend consulting with the best haematologists in Singapore to get an idea on how to better take care of your health, especially your blood.
If you don't know where to find best haematologists in Singapore, consider yourself lucky… because we're having a rundown of the hospitals that house the top haematologists on the island. Check them out below to see which one offers reliable and accessible services.
(Note: This list is in no particular order.)
Dr Daryl Tan – Clinic for Lymphoma, Myeloma, and Blood Disorders

| | |
| --- | --- |
| BEST FOR | Diagnosis and treatment for lymphoma, myeloma, and leukaemia |
| WEBSITE | https://sghaematology.com/ |
| ADDRESS | 38 Irawaddy Road, #06-47, Mount Elizabeth Novena Specialist Centre, Singapore 329563 |
| CONTACT DETAILS | 6262 6058 |
| OPERATING HOURS | Weekdays, 8:30am–5:30pm; Saturday, 8:30am-1pm |
Dr Daryl Tan is undoubtedly one of the best haematologists in Singapore. A Ministry of Health appointee for the Residency Advisory Committee for Haematology training in Singapore, he is also the Director of Research at Raffles Hospital and a prolific author.
Given his experience and expertise, it's no suprise that Dr Tan's clinic is on our list. Today, he provides some of the highest-quality care possible for those suffering from haematological complaints.
His special interest in lymphomas, myelomas, and blood disorders makes him a particularly good choice for those with such complaints.
Highlights
High expertise in lymphomas and multiple myelomas

Personalised therapies
Blood Specialist Clinic

| | |
| --- | --- |
| BEST FOR | Haematology diagnoses and treatments |
| WEBSITE | https://bloodspecialistclinic.com/ |
| ADDRESS | Gleneagles Medical Centre, 6 Napier Road, #10-09, Singapore 258499 |
| CONTACT DETAILS | +65 6479 4282 |
| OPERATING HOURS | Weekdays, 9am–5pm; Saturday, 9am-12:30pm |
The Blood Specialist Clinic boasts one of the best haematologists in Singapore, Dr Lim Lay Cheng. She has more than 15 years of experience in her field and has trained in both Singapore and the US, besides having previously served as Senior Consultant at Singapore General Hospital's Department of Haematology.
Under her guidance, the Blood Specialist Clinic offers some of the highest-quality haematology services on the island. From comprehensive diagnostics to therapeutics and patient education, they're among your top choices for haematological care.
Highlights
Wide range of specialised investigations, including HLA typing & immunophentoyping

Cutting-edge therapies
Mount Elizabeth Medical Centre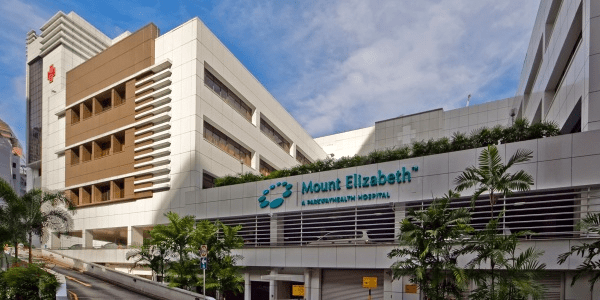 Mount Elizabeth has always been one of the best healthcare providers in Singapore, so it's no surprise that its haematology departments ended up on our list. It has a team of highly-trained and professional hematologists who can guide patients through diagnosis down to the treatment.
Moreover, Mount Elizabeth's haematology department provides treatments for different types of blood disorders such as antimicrobial therapy and chemotherapy. Of course, it's capable of running these tests and treatments because it's equipped with cutting-edge and leading medical and surgical technologies.
Some of its other areas of expertise are general haematology, coagulation issues, and haema-oncology. That's why we consider it one of top options for the best haematologists in Singapore.
Highlights
Doctors with local and international exposure
Advanced medical technologies
Wide area of expertise
Novena Medical Center (Dr. Teoh Keng)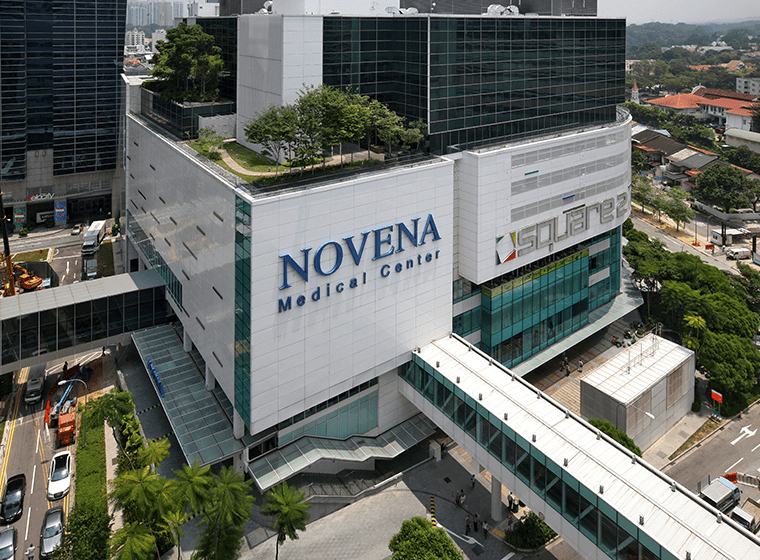 Novena Medical Center houses one of the best haematologists in Singapore, Dr. Teoh Kheng. He has over 25 years of experience practicing haematology and immunohaematology, and has also practiced overseas — so rest assured that his every patient will be in great hands.
Dr. Kheng specialises in immunohaematology, a sub-branch of haematology. It focuses on the body's mechanism for treatment and healing against blood-related disorders by providing treatments that help our bodies to recover.
What's more, Dr. Kheng can also deal with general medicine, internal medicine, and even adult medicine. We can say that he's a doctor that knows his way around and even beyond his specialisation.
Highlights
25 years of experience
Accessible location
Singapore General Hospital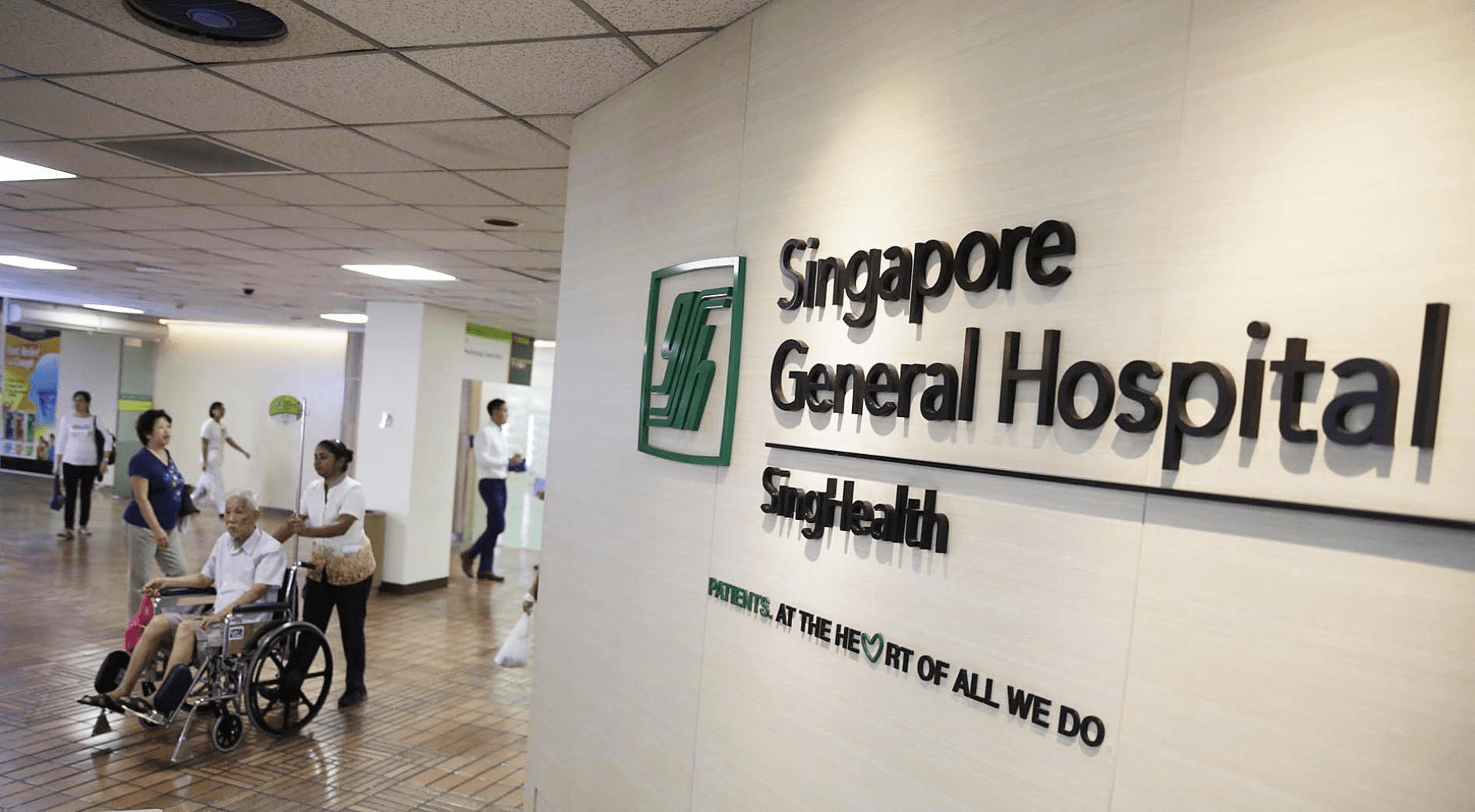 When talking about excellent healthcare, Singapore General Hospital remains one of the most brought-up names. It's no surprise given that it houses some of the best specialists on the island, especially the best haematologists in Singapore.
Singapore General Hospital offers a wide variety of services and treatments to blood-related disorders. Among the services it offers are diagnosis, treatment of tumours, transfusion services, and of course, laboratory services.
Moreover, Singapore General Hospital's haematology department specialises in different areas. Some of these include general haematology, blood cancer, bleeding disorders, and clotting disorders.
Highlights
Surgical procedures
Laboratory tests
Blood transfusions
Centre for Clinical Haematology (Mount Elizabeth Novena Hospital)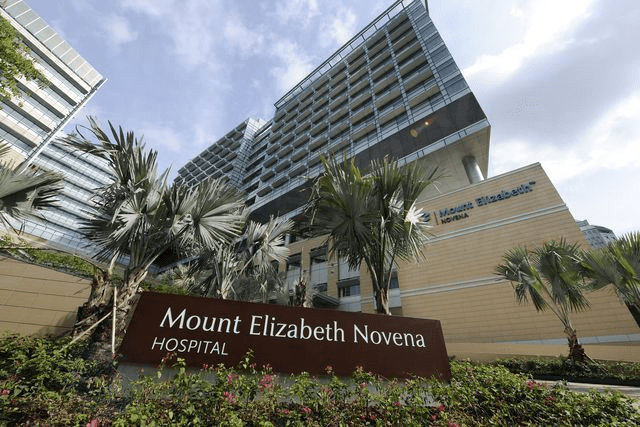 | | |
| --- | --- |
| BEST FOR | Personalised Medical Care |
| WEBSITE | https://cfch.com.sg/ |
| ADDRESS | 38 Irrawaddy Rd #04-27 to 29 Mount Elizabeth Novena Specialist Centre, Singapore 329563 |
| CONTACT DETAILS | (65) 62568836 |
| OPERATING HOURS | Monday – Friday, 8:30 AM – 5:30 PM |
Since you're here to look for the best haematologists in Singapore, then we'd like to recommend the Centre for Clinical Haematology, which is in Mount Elizabeth Novena Hospital.
It's the hospital's haematology department, which focuses on innovating treatments and services in haematology.
More than this, we believe it's the best hospital to go to if you want to know the health of your blood as it offers treatments for a series of conditions. Some of these conditions are stem cell transplantation, myeloma, lymphoma, myelodysplastic syndrome, and acute myeloid leukaemia.
Another reason we think it's among the top hospitals for the best haematologists in Singapore is its advanced and state-of-the-art medical equipment.
Highlights
Advanced equipment
Professional specialists
Comfortable environment
DR COLIN PHIPPS DIONG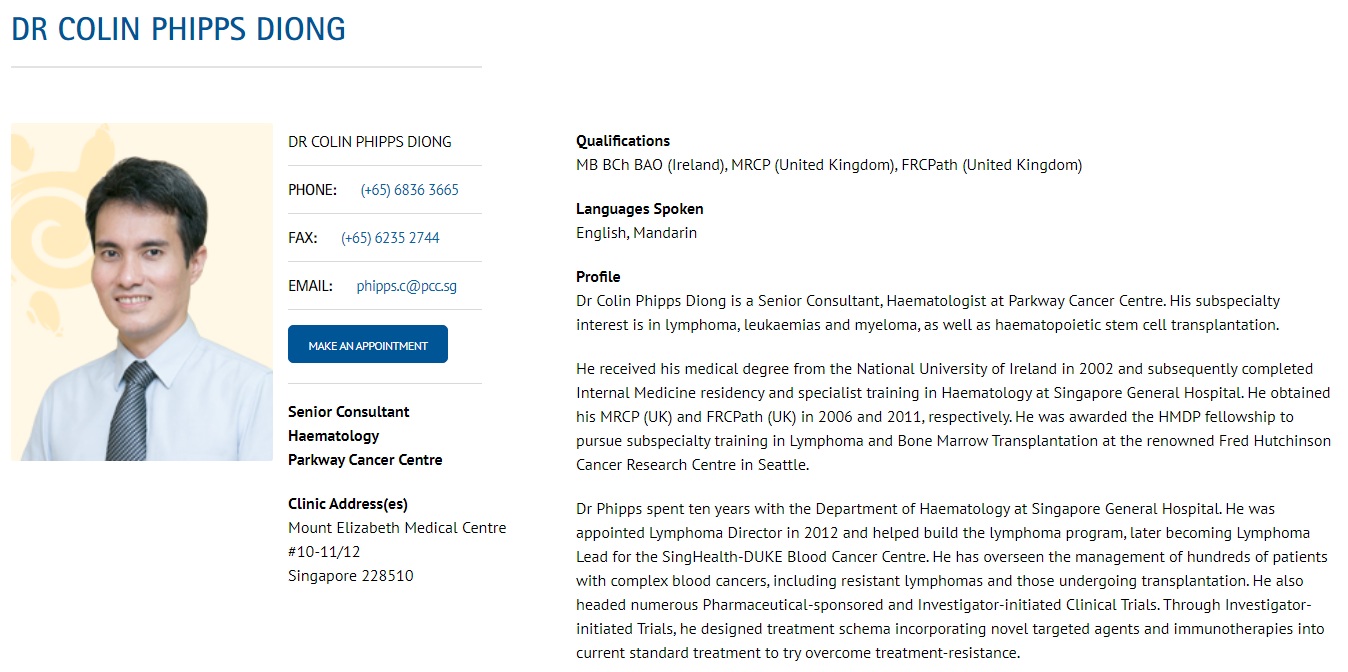 Dr Colin Phipps Diong specializes in lymphoma, leukemia, and myeloma. He is also interested in hematopoietic stem cell transplant. So, if you have these conditions, you can always rely on Dr Collin for treatment and medical diagnosis.
His specialization in lymphoma and bone marrow transplant made him popular in the medical field. In fact, he has been tapped to become the advisor for Expert Panels and Education Programs. This only goes to say that he has what it takes to become a specialist in the field.
Highlights
Professional and expert doctor

Proven and well-tested treatment
And that's the end for our list of the best haematologists in Singapore! We guarantee that any of these hospitals can provide you with the superior treatment and services that you deserve!
If you know other haematologists on the island, don't hesitate to share their names with us, and we'll add them to our list!
By the way, if cancer is something that's part of your family's history, then it's ideal to consult with the best oncologists in Singapore to know more about your health status regarding cancer. It's better to consult with specialists even before symptoms show up because it makes preventing cancer much easier!