The 7 Best Gastroenterologists in Singapore
Are you currently suffering from severe stomach pains? Then you should look for one of the top gastroenterologists in Singapore.
These are medical experts who are capable of analysing and treating ailments related to the digestive system. The best stomach specialists in Singapore can even identify obscure causes for digestive problems.
We've made it easier for you to find the most prominent clinics for that, as we've done extensive research and have come up with the most recommended and best gastroenterologists in Singapore. These are the ones with doctors who can be considered candidates for the title of best stomach specialist Singapore.
(Note: This list is in no particular order.)
Nobel Gastroenterology Centre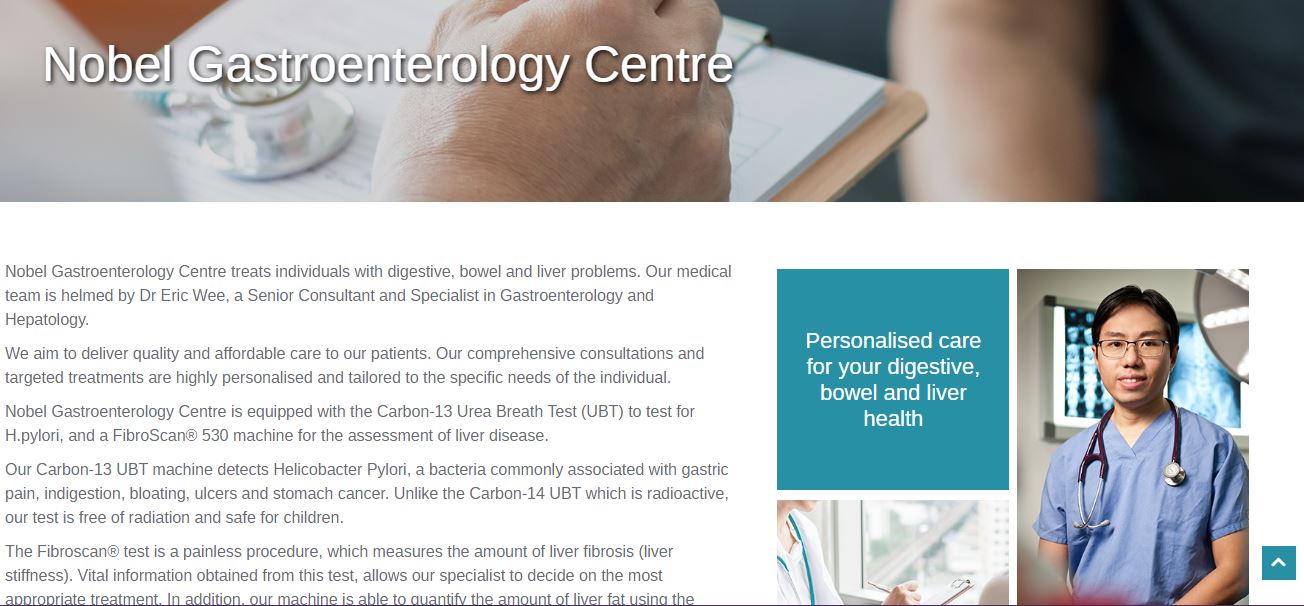 BEST FOR 
 Broad range of screening and treatment services
WEBSITE
 https://nobelmedicalgroup.com/nobel-gastroenterology-centre/
ADDRESS
38 Irrawaddy Road Mount Elizabeth Novena Hospital Specialist Centre, #05-39, Singapore 329563
Gleneagles Medical Centre, 6 Napier Road, #04-01, S(258499)
CONTACT DETAILS
66940764
OPERATING HOURS
Weekdays: 8:30am–5:30pm

 

Saturday: 8:30am–12:30pm
Nobel Gastroenterology Centre, part of Nobel Medical group, is managed by a senior consultant and specialist who treats digestive, bowel, and liver problems. Their treatments are tailored based on the condition and needs of an individual, as you may expect from someone considered the best stomach specialist in Singapore.
They're equipped with advanced technology for accurate assessment and detection of possible indigestion, ulcers, stomach cancer, and many more.
Highlights
Health screening packages
Affordable rates
Gleneagles Hospital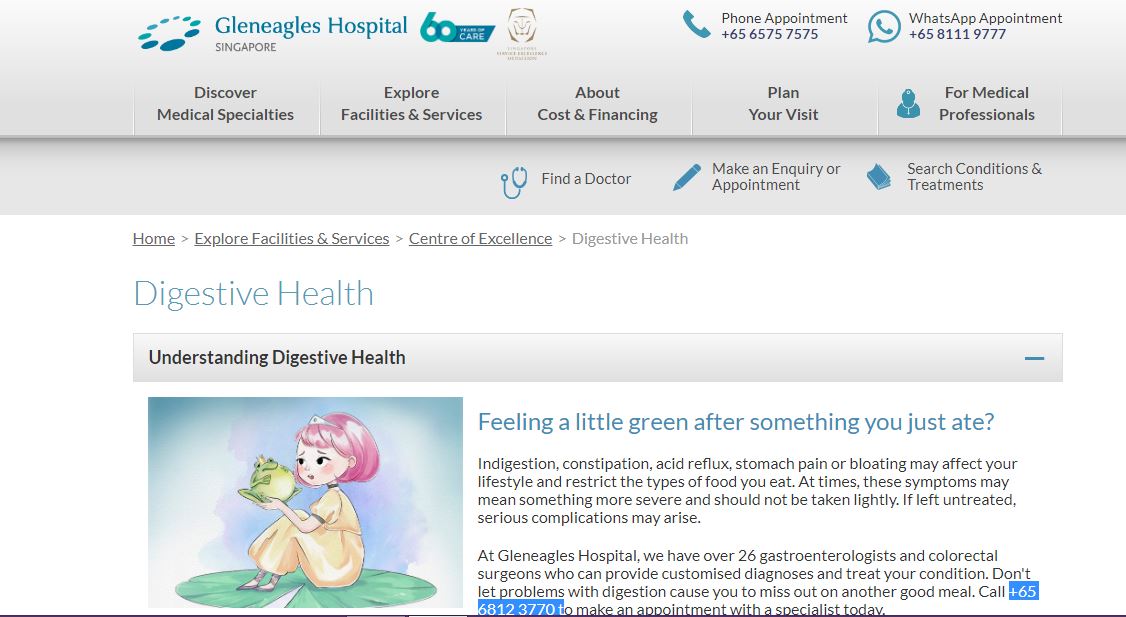 Gleneagles Hospital has a total of 26 gastroenterologists as well as colorectal surgeons who specialise in upper and lower digestive tract disorders, liver, gallbladder, pancreas and bile duct disorders. Several of their team members have been dubbed the best gastroenterologist in Singapore at one time or another.
They have their own endoscopy centre where the medical professionals perform a broad range of diagnostic and therapeutic endoscopic procedures, to cite precise results and diagnosis.
Highlights
Therapeutic endoscopic procedures
Colorectal surgeries
Andrea Digestive Clinic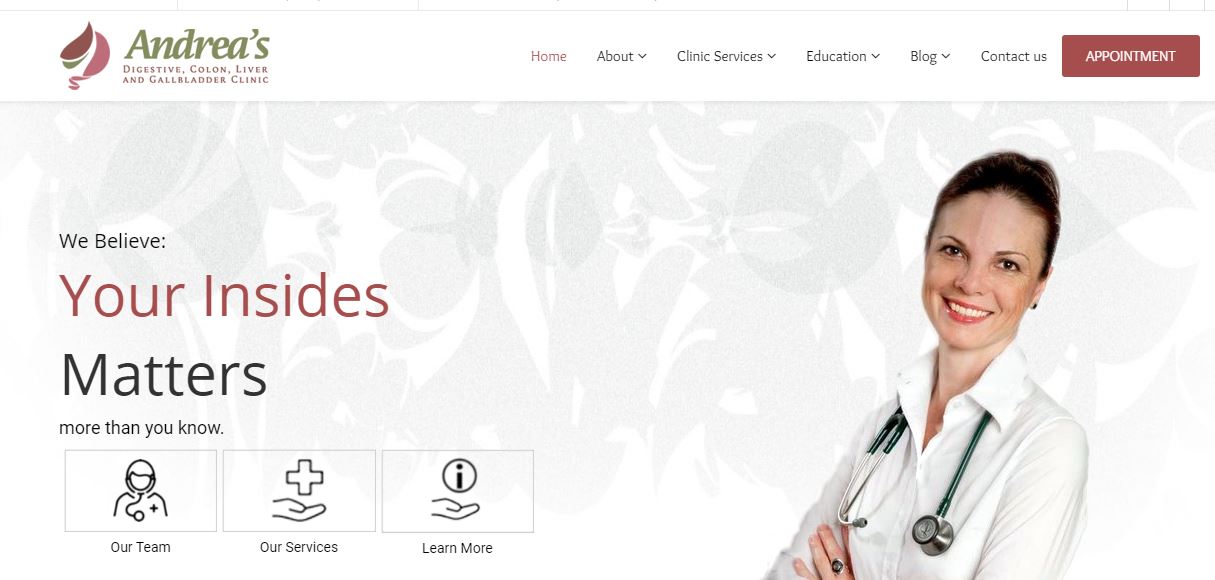 BEST FOR 
Full coverage of assessment services
WEBSITE
https://www.andrea-digestive-clinic.com/
ADDRESS
Royal Square at Novena 101 Irrawaddy Road Singapore 329565
CONTACT DETAILS
+65 6264-2836
OPERATING HOURS
Weekdays: 9am – 5pm

 

Saturday: 9am – 1pm
Andrea Digestive Clinic provides complete and inclusive treatments for digestive problems and illnesses, as well as performs allergy tests and gives nutrition advice for absolute healthcare services.
They also have additional tests such as a test for gluten intolerance, hydrogen breath tests, and more to fully identify your current condition.
These comprehensive assessments and their best gastroenterologists in Singapore have treated a variety of cases including stomach, gallbladder, colon, and liver issues.
Highlights
Diet and nutrition counselling
Additional tests
SGH (Singapore General Hospital)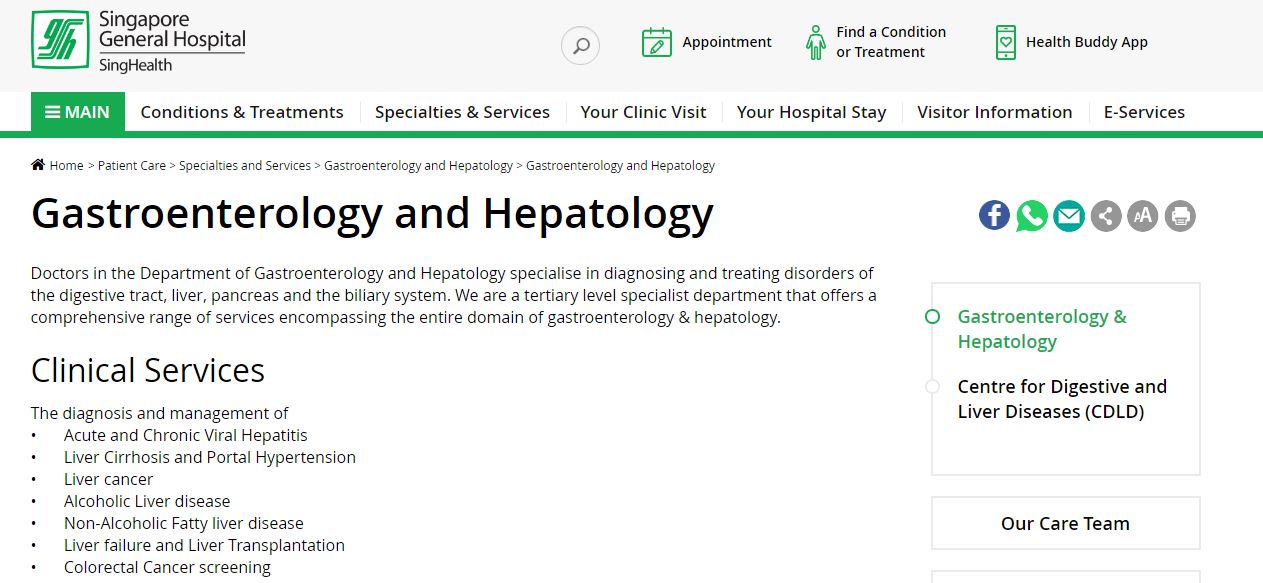 SGH (Singapore General Hospital) offers a wide range of medical services including gastroenterology, in which they specialise in analysing and treating digestive tract, liver, pancreas, and more.
They provide several clinical services and perform surgical procedures. Their services and their gastroenterologists have treated many patients successfully.
Some of their specialists have also been given the title of the best gastroenterologist in Singapore by patients. One visit to them should show why.
Highlights
Full range of services
Digital payment services
GI Endoscopy and Liver Centre at Royal Square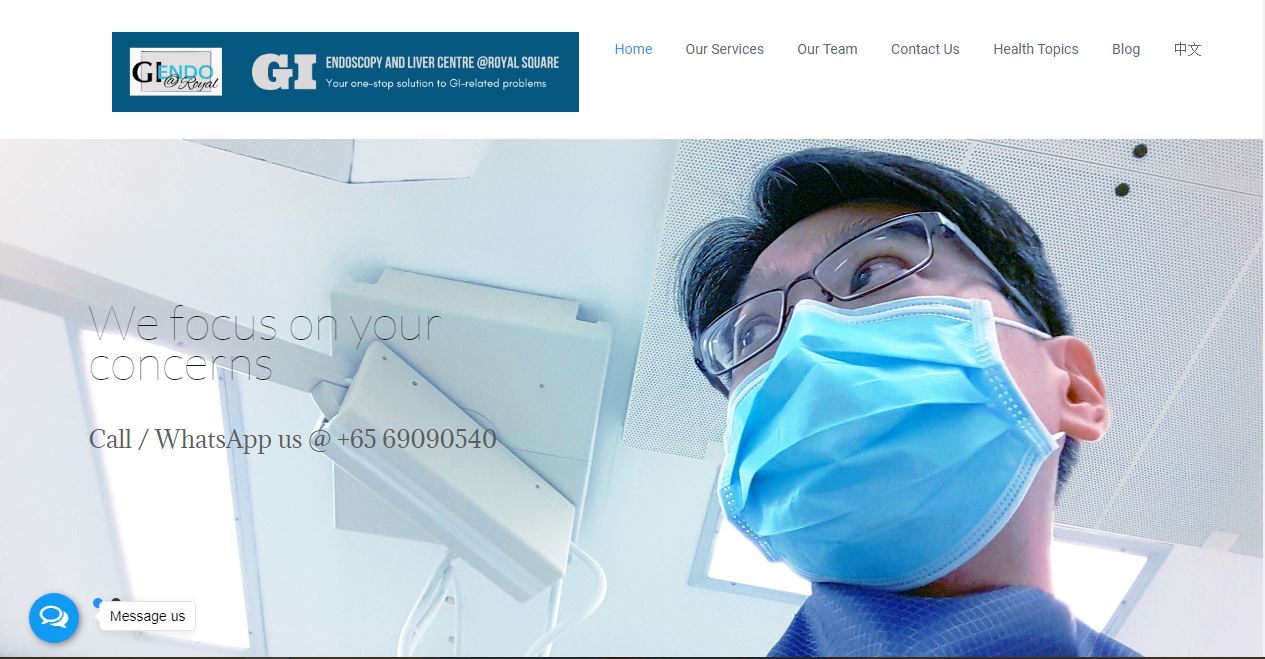 GI Endoscopy and Liver Centre is equipped with up-to-date equipment and state-of-the-art facilities that help them to provide accurate and reliable gastroenterology procedures. Aside from this, the specialists and staff are praised by their clients due to their utmost professionalism and intensive care to their patients.
The clinic offers a comprehensive range of services including but not limited to Gastroscopy with biopsy (OGD), Colonoscopy with biopsy (Colono), Esophageal and Gastric Variceal treatment, Lactose Hydrogen Breath Test, Glucose Hydrogen Breath Test, and Liver Biopsy for various conditions.
Highlights
Modern clinical equipment and facilities

Team of highly dedicated specialists and staff
Digestive Centre
BEST FOR 
Digestive-related Conditions
WEBSITE
http://digestivecentre.com.sg/
ADDRESS
3 Mount Elizabeth, #12-14 Medical Centre, Singapore 228510
CONTACT DETAILS
+65 6737 5388 | 

[email protected]

OPERATING HOURS
Monday – Friday, 8:30 AM – 5:30 PM
Digestive Centre has been among the go-to clinics for digestive and gastrointestinal surgeries for some time now as it's composed of trained surgeons who each have years of experience under their belt.
It also provides patients post-surgery care and lifestyle guidance to help them move on from their unhealthy lifestyle — which is why we consider it one of the best clinics for hernia surgery in Singapore.
More than that, its services go beyond just hernia surgery. Its team of surgeons can also conduct bariatic surgery, robotic surgery, anal surgery, endocospy, gastroscopy, and a whole lot more.
Highlights
Wide range of treatments
Trained surgeons and nurses
Post-surgery care and counselling
Have you already decided which one from the list you'd like to go to in search of the best gastroenterologist in Singapore?
If you have, tell us about your chosen clinic and let us know about your experience with them afterwards. Tell us too if you think your chosen doctor is indeed the best stomach specialist in Singapore!
To lessen possible costs for your healthcare, by the way, take a look at these best health insurance in Singapore. They'll provide the financial assistance that you need for such occasions.