By Ryan Lim
Visiting our dentists regularly is one of things we can do to take care of our teeth. If you haven't found the right dentist for you, then worry no more because we have a list of the best dental clinics in Ang Mo Kio that might be what you're looking for.
Searching for the most reliable dental clinic in Ang Mo Kio might be a bit hard to do, though, especially when you don't know much about how these dental clinics operate.
Since we want to make everything easier for you, we searched for the best dental clinics in Ang Mo Kio on your behalf and compiled them in a list.
Here are the ones we found worth checking out:
(Note: This list is in no particular order.)
1.  Advanced Dental Clinic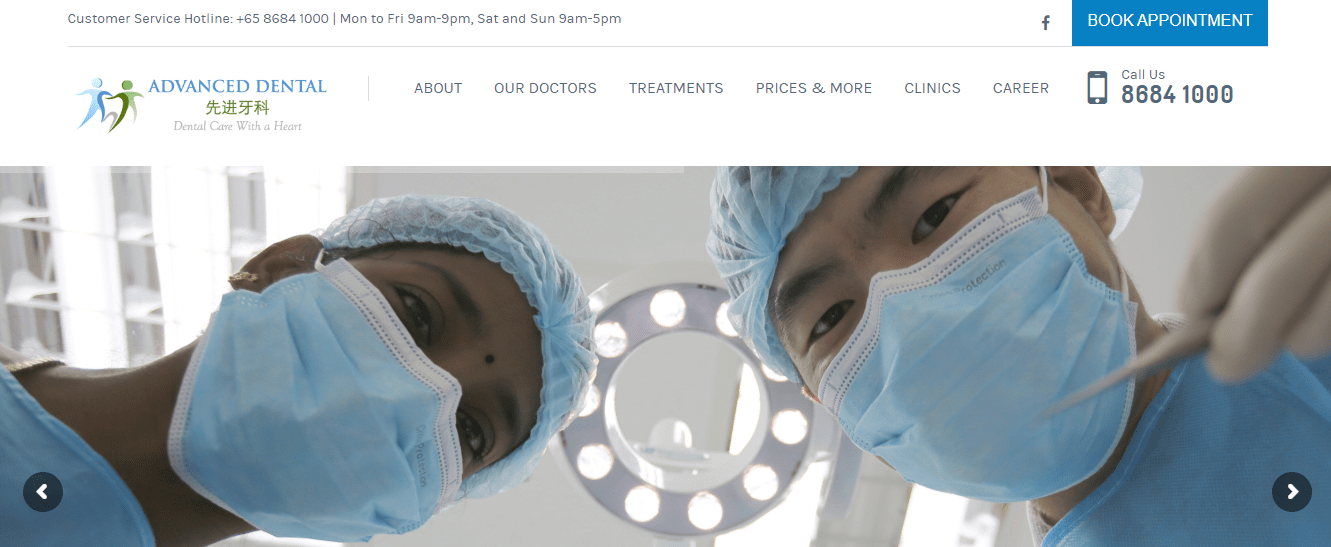 | | |
| --- | --- |
| BEST FOR  | Cosy Environment |
| SERVICES | Braces, Children's Dentistry, Crowns and Bridges, Dentures, Extractions, Fillings, Fluoride Treatment, and Gum Treatment and Surgery |
| WEBSITE | https://www.advanceddental.com.sg/ |
| ADDRESS | 449 Ang Mo Kio Ave 10, #01-1719, Singapore 560449 |
| CONTACT DETAILS | +65 3138 4386 |
| OPERATING HOURS | Monday – Friday, 9:00 AM – 9:00 PM |
Like the previous options, Advanced Dental also has another branch in Tampines and other areas in Singapore. It's famous for being a dental clinic that offers a wide range of services including dentures, implants, extractions, and even braces.
It's comprised of a team of licensed and experienced dentists and nurses. If you get anxious when visiting a dentist, there's no need to be scared when it's Advanced Dental, one of the best dental clinics in Ang Mo Kio.
In terms of the clinic's vibe, a lot of customers have mentioned how clean, comfortable, and safe it is. Advanced Dental Clinic prides itself on having a cosy and pleasant environment.
Highlights
Experienced nurses and dentists
Warm and friendly environment
Different payment methods
Customer Reviews
Here are some reviews that Advanced Dental in Ang Mo Kio has received:
"The dentists here are always so patient and very professional! Never felt pain during the scaling process, and they will make an effort to follow-up with patients on how they feel the day after. Also, special shoutout to the receptionist, Peiwei (I think that's how you spell her name), as she is always so bubbly, bringing smiles to every patient, even kids, making the experience less scary!"
"Fastest ever tooth extraction. It Has been a phobia for me to visit the dentist due to bad past experiences. The dentist here is really good. She could explain clearly and given a few options. Never over promise and did it really fast. Before I could say ouch….everything was over….haha. Friendly staff. Strongly recommend it."
2.  Greenlife Dental Clinic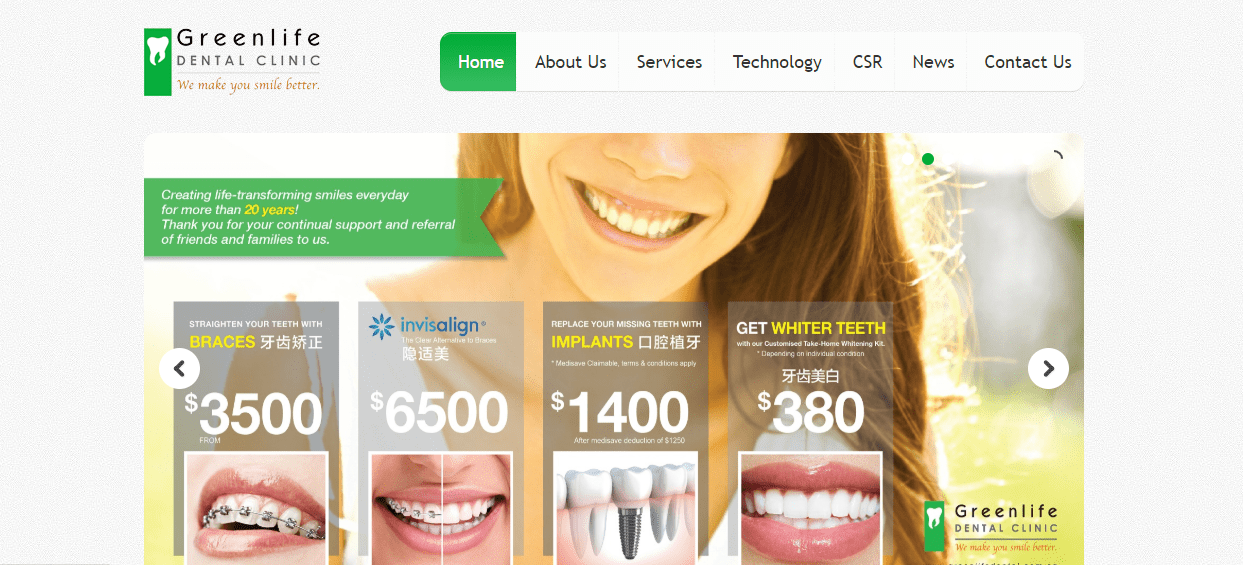 | | |
| --- | --- |
| BEST FOR  | Dental Implants |
| SERVICES | Tooth Restoration, Crowns and Bridges, Dental Bonding, Orthodontics, Invisalign, Endodontics, and Teeth Whitening |
| WEBSITE | http://www.greenlifedental.com.sg/ |
| ADDRESS | AMK Central Blk 727 Ang Mo Kio Avenue 6 #01-4270 Singapore 560727 (Near to AMK MRT station & Broadway Plaza) |
| CONTACT DETAILS | 6452 4222 |
| OPERATING HOURS | Monday – Friday, 9:00 AM – 9:00 PM |
Greenlife Dental Clinic has been operating in Singapore since 1996, making it one of the oldest dental clinic chains on the island. Throughout its years of operation, it has become one of the most trusted dental clinics in Ang Mo Kio, boasting a list of clients that can soar up to thousands.
Some of the services it offers are teeth whitening, invisalign, braces, wisdom tooth surgery, root canal therapy, and dental implants. It aims to deliver safe and effective treatments without discomfort to every customer.
Speaking of dental implants, Greenlife Dental Clinic is famous for this treatment. It will make sure that the replacement teeth will feel like they're your own.
Above all, Green Dental Clinic uses only the most effective, advanced state-of-the-art dental technology. This is why we consider it one of the best dental clinics in Singapore!
Highlights
Friendly nurses and dentists
Advanced dental technologies
Customer Reviews
Here are some customer reviews detailing their experience with Greenlife Dental Clinic:
"Dr. Phay is very professional in planning my braces journey by accommodating my schedule to ensure that the treatment does not cause much disruption to my personal life. He is also very patient and meticulous. Remembering every conversation we had and would follow up to ensure my braces journey is a pleasant one. Will definitely go back to AMK Greenlife dental for future treatment & maintenance."
"It was my first time extracting my wisdom tooth and the experience was really assuring explaining to me all the general details about the extraction and post extraction treatment. It was also a very comfortable experience no doubt the scare extraction portrays. And not to forget, efficient, I was told it should take 2 hrs for both extraction and a minor surgery for the bottom tooth but it took only 1 hr! At least my mouth didn't hurt from opening too Long! Thank you Dr Caslin for a very quick and painless extraction!"
3.  Casa Dental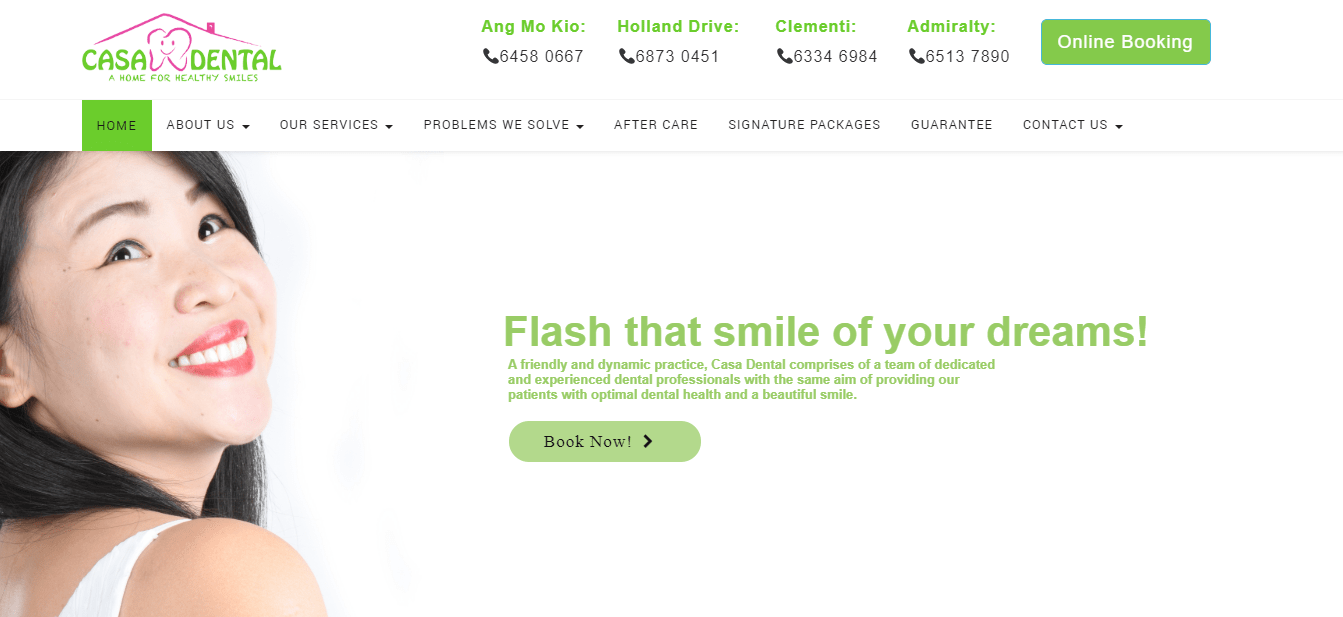 BEST FOR 
Digital Dentistry
SERVICES
General Dentistry, Cosmetic Dentistry, Implant, Invisalign, and Smile Makeover
WEBSITE
http://www.casadental.com.sg/
ADDRESS
710 Ang Mo Kio Ave 8, Singapore 560710
CONTACT DETAILS
6458 0667

9739 8306

OPERATING HOURS
Monday – Friday, 10:00 AM – 9:00 PM
Casa Dental offers a wide variety of dental treatments that range from general dentistry to cosmetic dentistry. If you want to restore a smile that's been hiding due to teeth problems, then make sure to drop by its clinic, easily one of the best dental clinics in Ang Mo Kio.
Moreover, Casa Dental is made up of competent and experienced dentists who can deal with almost any dental concern. If you let its dentists take care of your teeth, you'll be able to flash a bright smile with confidence again.
In terms of affordability, Casa Dental ensures that its services don't go beyond the budget of its customers. This is why they have come up with multiple dental packages that make its treatments more affordable.
Another thing we love about this dental clinic is that it's very accessible. It has a total of 4 branches all over Singapore, bringing its services closer than ever to its customers.
Highlights
4 branches in Singapore
Friendly dentists and staff
Signature packages
Customer Reviews
Casa Dental has an average rating of 4.8 on Google Reviews. Take a look at some of the reviews:
"I had my first dental implant at CASA Dental. Dr Chan is attentive and patient in assessing my condition and providing advice. He is also incredibly skilled during the operation as well. Together with Serena and all other kind staff, the experience has been smooth and painless. I appreciate the concerted effort of CASA team" 
"I had my 4 wisdom teeth removed at Casa Dental. Dr Chan is very gentle and professional. He would always ensure that I'm doing ok during my surgery. I had no pain after my wisdom tooth surgery thanks to a very skilled Dr Chan. 🙂 Serena and the staff there are all very nice and friendly as well. I'm very happy with the entire process and results. Their service is superb highly recommended!!"
And with that, we conclude our list of the best dental clinics in Ang Mo Kio. If you already have a pick from our list, tell us about it below!
For more options, we also have a list of the best dental clinics in Tampines. Any of these dental clinics can offer services just as great as the ones on this list!