By Ryan Lim
Are you searching for the best treatment to improve the overall texture and appearance of your face? Restoring the smooth features of your face is now possible with the help of the top aesthetic clinics that offer the best microdermabrasion in Singapore.
Did you know that microdermabrasion is one of most famous facial treatments offered on the island? It's used by most people because it's painless, non-invasive, and has a lot of benefits including reduced fine lines and lighter acne scars.
Microdermabrasion also helps unclog pores, treats premature aging, moisturises skin, evens skin tones, and many more. These are just some of the wonders that microdermabrasion can do.
Now you're probably raring to try it yourself, right? So, without further ado, here are the clinics for the best microdermabrasion in Singapore!
(Note: This list is in no particular order.)
1. 

The Clifford Clinic
The Clifford Clinic is an excellent choice for microdermabrasion treatments. The treatment that the clinic offers can help address issues that have to do with acne and scars, pockmarks, and skin discoloration.
Dr. Gerard Ee, their head dermatologist, works with his team of expert aesthetic doctors in delivering the best services. With his interest in minimally invasive surgery and aesthetic medicine, you can rest assured that any treatment you undergo in Singapore Aesthetic Practice will go well.
Highlights
Minimal Downtime
Minimal Scarring
Safe Procedure
Accurate Treatment
2. Estheva Spa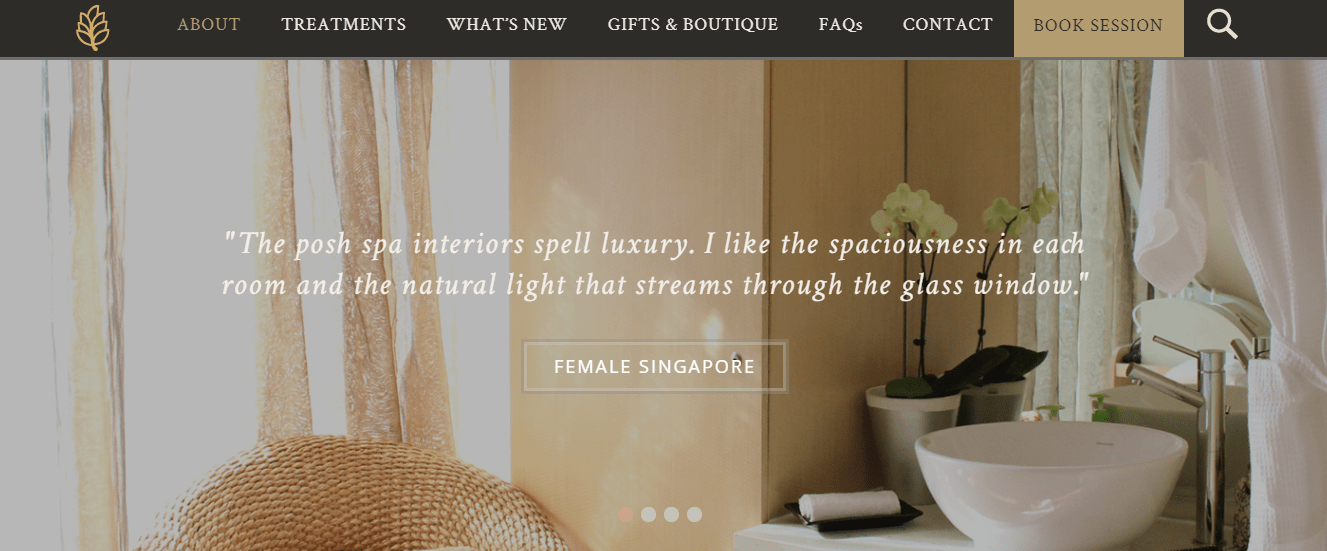 | | |
| --- | --- |
| BEST FOR  | Luxury Day Spa Services |
| SERVICES | Anti-Aging Spa, Facial Treatments, Manicure and Pedicure, Massages, Bridal Spa, and Spa Parties |
| WEBSITE | https://estheva.com/ |
| ADDRESS | 6 Raffles Boulevard, #05-00 Marina Mandarin Singapore, Marina Square, Singapore 039594 |
| CONTACT DETAILS | +6562666833 |
| OPERATING HOURS | Monday – Friday, 10:00 AM – 10:00 PM |
If you're looking for a clinic that offers a wide range of treatments, then look no further than Estheva Spa. Since it's one of the most in-demand clinics in Singapore, it has managed to collect a lot of clients that stand by the excellence and efficacy of its treatments.
Although it's primarily known as a wellness centre, Estheva Spa also offers facial treatments that can improve the overall appearance of your skin.
One of the reasons we consider it one of the top options for the best microdermabrasion in Singapore is that it has received various awards that prove the quality of its treatments
Estheva also makes use of the most advanced skincare technology to ensure that clients witness the results that they paid for. What's more, it only uses skincare products that are proven safe and non-toxic, on top of being eco-friendly.
Highlights
Full range services
Eco-friendly products
Cosy and comfortable vibe
3.  Singapore Aesthetic Centre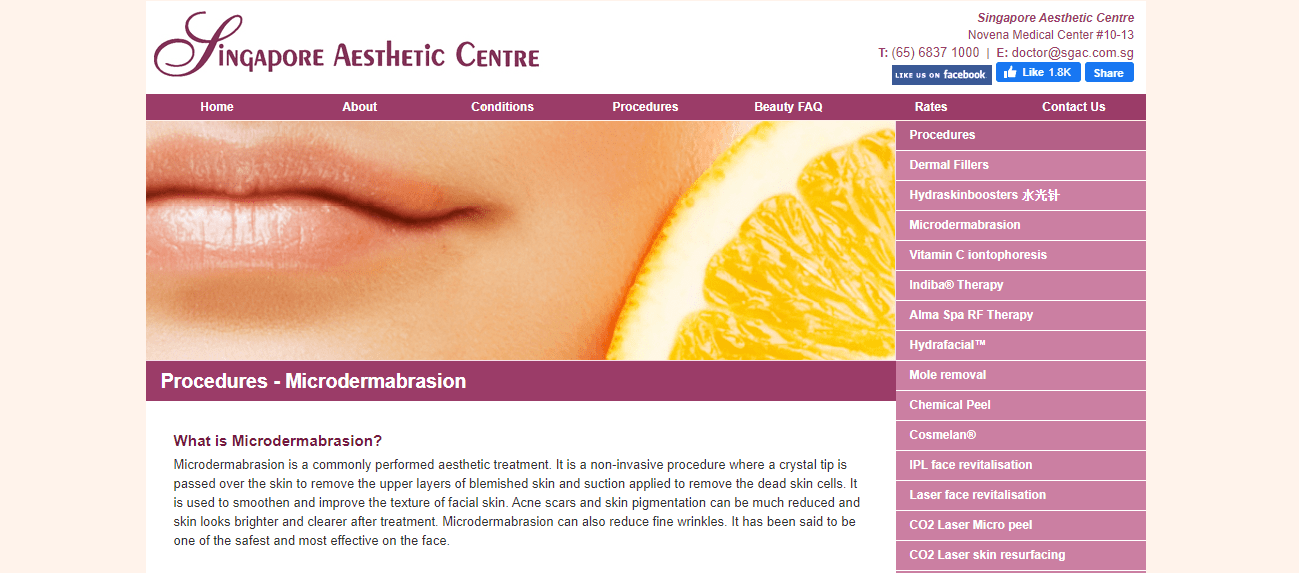 BEST FOR 
Facial Treatments
SERVICES
Microdermabrasion, Dermal Fillers, Hydraskinboosters, Chemical Peel, Mole Removal, Thermage CPT, Nose Threadlift, Hydrafacial, and Coolsculpting
WEBSITE
http://sgac.com.sg/
ADDRESS
10 Sinaran Dr, #10-13 Novena Medical Center, Singapore 307506
CONTACT DETAILS
(65) 6837 1000


[email protected]

OPERATING HOURS
Monday – Friday, 10:00 AM – 7:00 PM
With over 12 years of experience, Singapore Aesthetic Centre has become one of the most trusted names in the beauty industry of the island. It offers a wide range of aesthetic treatments that can definitely boost anyone's confidence significantly.
Among the aesthetic treatments provided by Singapore Aesthetic Centre are microdermasion, dermal fillers, facelift, chemical peels, mole removal, skinboosters, hydrafacial, and a whole lot more.
Every treatment is done by a professional and licensed aesthetic doctor who has years of experience under his or her belt.
In terms of microdermabrasion, Singapore Aesthetic Centre remains the top option for this treatment due to the countless positive reviews. We guarantee that you will never be disappointed with its beauty procedures!
Highlights
Competitive rates
Experienced doctors
Evidence-based procedures
Customer Reviews 
Take a look at some of the reviews left by satisfied customers:
"I am writing this letter to express my heartiest compliments to Dr. Yeak of Singapore Aesthetic Centre. My session with Dr. Yeak begins with a personal consultation. Initially, I thought it was just a pigmentation, but after having carefully assessed my skin condition, Dr. Yeak customised the treatment by removing the pigmentation as well as a patch of skin tag. She is extremely professional and patient at the same time. I notice improvements after 2 sessions and I would highly recommend her to anyone who needs aesthetic services. Her staff and their good services are an asset to the organization." 
"Dr Yeak was extremely sincere when giving me options for treatment. She was both friendly and professional at the same time. Counter staff were very pleasant as well. Highly recommend this to aesthetic clinic to everyone interested in improving themselves"
4.  True Shape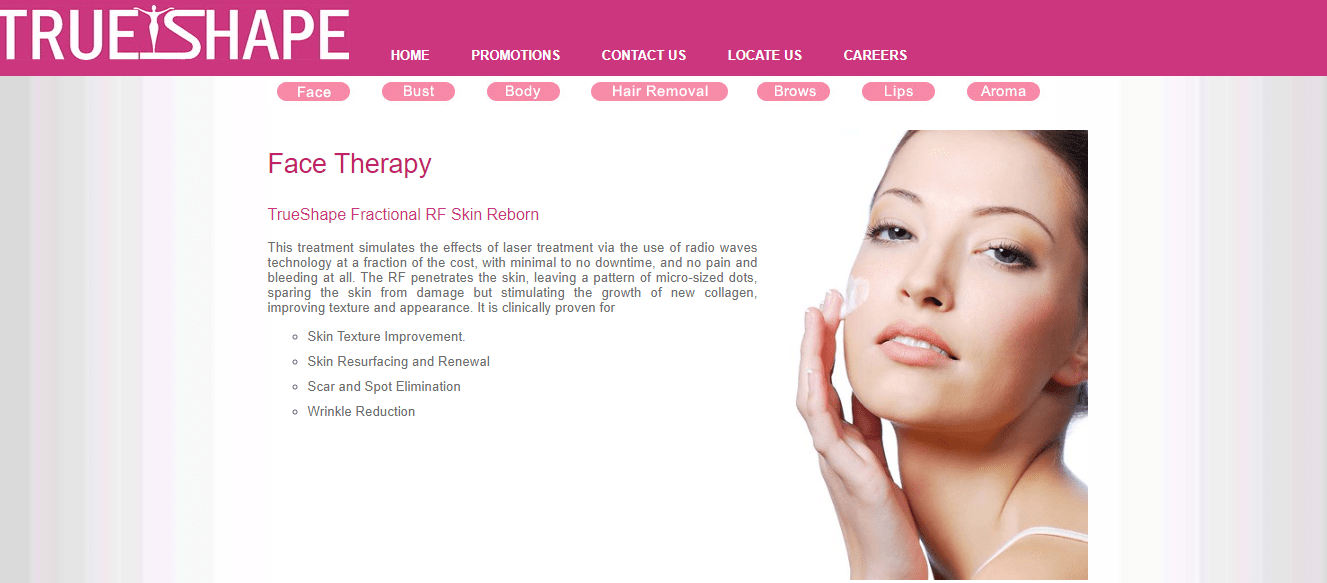 | | |
| --- | --- |
| BEST FOR  | Facial and Body Treatments |
| SERVICES | Microdermabrasion, Light Rejuvenation, Face Lift, Stem Cell, Ultrasaropy, Face Therapy, Eye Lift, Eye Contour, Body Contouring, and TrueWrap Therapy |
| WEBSITE | http://www.trueshape.sg/ |
| ADDRESS | Orchard Shopping Centre, #04-03/04, near Somerset MRT, Singapore, Singapore 238866 |
| CONTACT DETAILS | +65 6336 6596 |
| OPERATING HOURS | Monday – Friday, 11:00 AM – 8:00 PM |
True Shape has been improving the facial and body features of Singaporeans for more than 20 years now. Despite the growing competition, it has remained one of the top aesthetic clinics on the island due to its personalised and customised beauty procedures.
More than this, it's also equipped with state-of-the-art skincare technology, and that's why we consider it one of the top options for the best microdermabrasion in Singapore.
Some of the benefits of its microdermabrasion service are fewer blackheads and whiteheads, skin rejuvenation, removal of dead skin cells, and brighter skin.
True Shape has also been endorsed by a lot of customers, stating that its team of aestheticians can deal with any type of facial blemish and make them go away. It's one of the few aesthetic clinics in Singapore with positive reception from customers.
Highlights
Professional staff
Customised services
Effective beauty procedures
Customer Reviews 
Here are some reviews left by customers satisfied with the services of True Shape: 
"Recommended by a friend to seek help on black spots and freckles and sign up for their IDPL treatment which works like magic! All my spots and freckles are gone after a few sessions! I'm extremely joyful and grateful! 10 thumbs up!" 
"I tried microdermabrasion a few weeks back and was impressed with the result, with my skin visibly brightened after just one treatment, and I signed up for a package. Price is not steep and customer service is good. Recommended!"
5.  Edwin Lim Clinic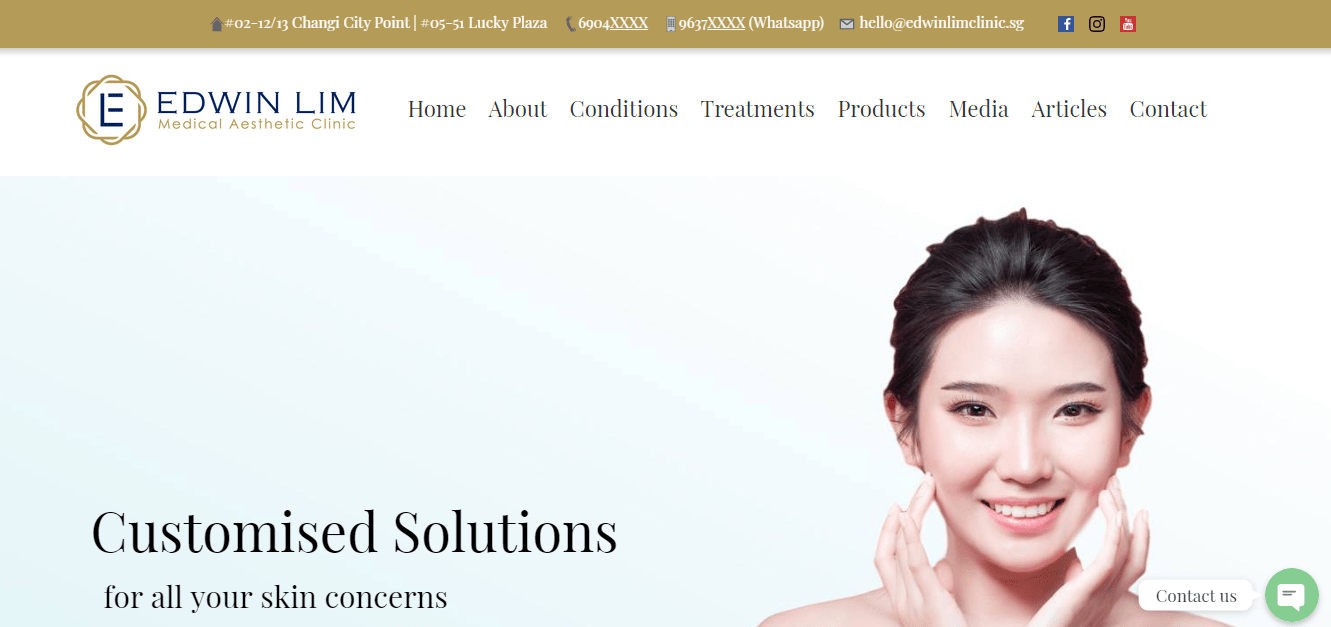 BEST FOR 
Personalised Skin Treatments
SERVICES
Microdermabrasion, Skinboosters, Wrinkle Treatment, Nose Fillers, Rejuran Fillers, Acne Laser Treatment, PICO Laser, Hair Removal Laser, Fat Freezing, and Chemical Peels
WEBSITE
https://edwinlimclinic.sg/
ADDRESS
#05-51, Lucky Plaza, 304 Orchard Road Singapore 238863

02-12/13 Changi City Point 5 Changi Business Park Central 1, Singapore 486038

CONTACT DETAILS
+65 69042218


[email protected]

OPERATING HOURS
Monday – Friday, 11:00 AM – 8:00 PM
Unlike other aesthetic clinics, Edwin Lim Clinic combines four facial treatments into one comprehensive facial procedure called Aquapure Medi-Facial. So, if you're searching for a different form of microdermabrasion, then it would be the ideal option for you!
Its microdermabrasion treatment includes cleansing, peeling, acne prevention, and skin rejuvenation. Once the procedure is finished, your skin will be looking fresher, younger, and brighter than before!
Moreover, since it's non-invasive treatment, it's perfect for people who are afraid to go under the knife.
Edwin Lim Clinic also makes use of the safest and most eco-friendly skincare products, and that's why we consider it one of the top clinics for the best microdermabrasion in Singapore.
Highlights
Non-surgical
Experienced doctors
Non-toxic skincare products
6.  Cecilia Westberry Beauty Spa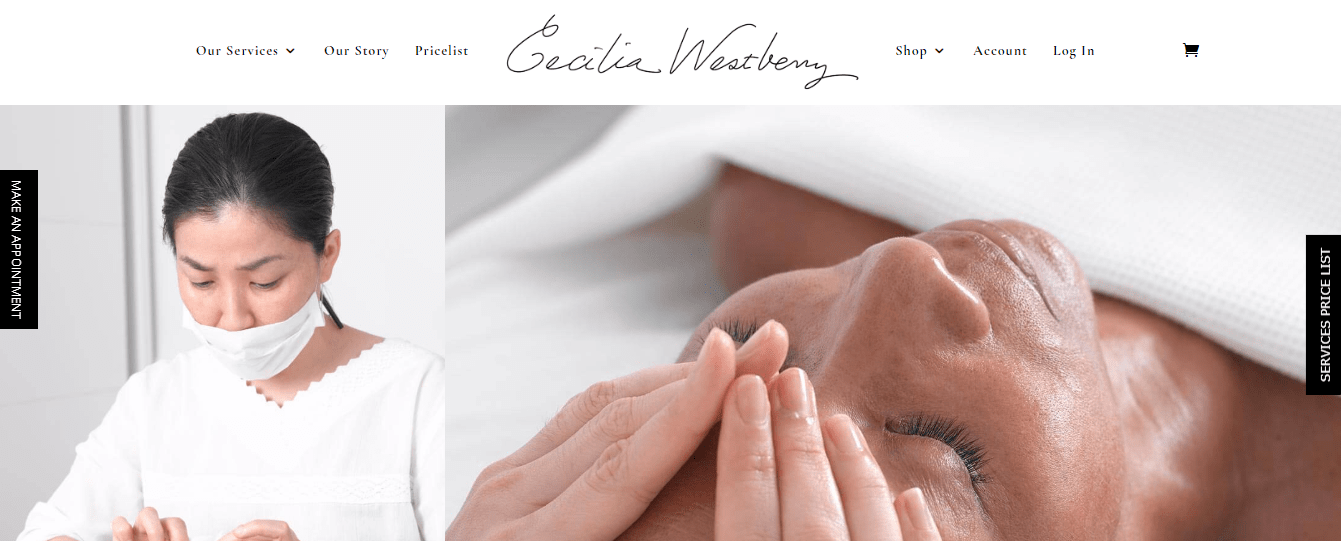 | | |
| --- | --- |
| BEST FOR  | Personalised Skin Treatments |
| SERVICES | Microdermabrasion, Deep Cleansing Facial, Aqua Peel, Face Lift, Hydrafacial, Infra-red Sauna, Eyelash Extensions, Thermojet Marfologic, and Hair Waxing |
| WEBSITE | https://www.ceciliawestberry.com/ |
| ADDRESS | 6 Holland Cl, Singapore 271006 |
| CONTACT DETAILS | +65 9271 9422 |
| OPERATING HOURS | Monday – Friday, 8:00 AM – 8:00 PM |
If you're searching for an aesthetic clinic with an excellent track record, then Cecilia Westberry Beauty Spa would be a great match for you. It offers a wide array of beauty treatments that include microdermabrasion, face lifts, facials, eyelash extension, spray tanning, and more.
Cecilia's Westberry Beauty Spa's microdermabrasion has a long list of benefits, and that's why we deem it one of the top clinics for the best microdermabrasion in Singapore. Some of these benefits are brighter-looking skin, lighter acne scars, increased penetration of creams and serums, and removal of blackheads and whiteheads.
Highlights
Immediate results
Cosy environment
Friendly medical staff
Customer Reviews
As one of the leading clinics for the best microdermabrasion in Singapore, Cecilia Westberry has received a lot of praise from its customers. Here are some of them:
"Look no further! The best spa with attention to detail staff is here for you! You can walk in and get all your beauty needs done in one go. Cecilia is a true professional and her team is stellar! If they have availability, take it, as you can't go wrong at Cecilia Westberry Spa"
"Efficient and professional spa services. Bright and clean feel. simple yet tastefully designed interior . Facials and massages are top of the class. Using the best brands in skincare. Cecilia will analyse skin and recommend the most suitable treatment to bring out your best. Ask her. There's nothing she doesn't know!"
7. My Cozy Room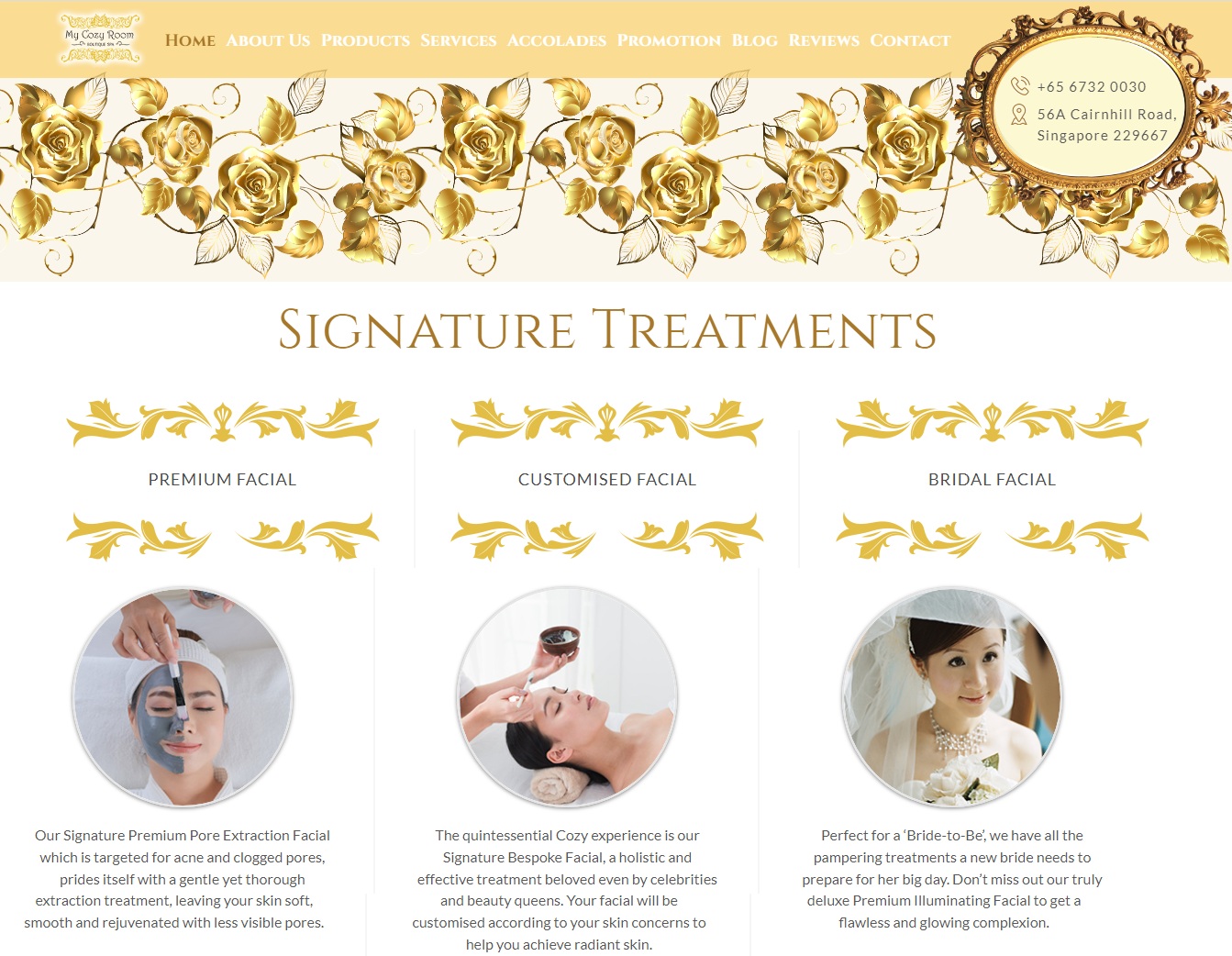 BEST FOR

Best Extraction Facial

SERVICES

Facial treatments for acne, clogged pores, dry, dehydrated, dull, blackheads and other skin conditions

WEBSITE

http://www.mycozyroom.com.sg/

 

ADDRESS

56A Cairnhill Road (Opp Paragon Shopping Centre), Singapore 229667

125 Devonshire Road (Opp 111 Somerset), Singapore 239884

CONTACT DETAILS

Cairnhill: 6732 0030, WhatsApp: 8666 0030

OPERATING HOURS

Monday – Friday, 11:00 AM – 9:00 PM; Saturday, Sunday, and Public Holidays: 10:00 AM – 8:00 PM
Blackheads begone with this gentle and pain-free facial treatment – HydroPeel Facial with serum infusion (120min) to cleanse and infuse your skin with anti-oxidant goodness! 
Specially formulated for oily and acne prone skin, this exfoliating water-based suction treatment guarantees your skin a deep cleanse with a heavy focus on exfoliating and clearing impurities from your congested pores. 
Combining the use of pore-diminishing serum with Salicylic Acid, the rough dead skin cells on the surface of your skin will first be exfoliated gently to remove dead skin cells for an easier extraction. Meanwhile, your blackheads and whiteheads will be removed by the Aqua peel device using a suction technique like a vacuum for acne-free and clarified skin! 
Immerse your skin at the end of your treatment with our luxurious double layer treatment masks – Cream + Premium Treatment mask made from natural ingredients to help inject a new lease of life into dull skin.
Final results? Smooth, glowing and dewy skin!
Highlights
Gentle yet thorough extraction with minimal pain and redness

Premium plant-based products from No. 1 Professional Brand in Germany

Professional therapists with at least 8 years of experience 
Customer Reviews
"My skin was dry and oily before the facial and I had acne marks on my cheeks area and blackheads on my nose.
However, after one session of the facial treatment at My Cozy Room, my skin became hydrated and less oily. Also got the glowing effect. My acne marks on my cheeks area are also lightened, not that red and obvious anymore. The blackheads on my nose are also removed during the facial treatment. The extraction was not very painful compared to how other therapists at other facial salons do it.
I really enjoyed my time at My Cozy Room! What I'm most afraid of is actually the extraction, because I cant tolerate pain but glad to find the BEST 👍🏻 extraction facial in Singapore here in My Cozy Room!"
(By Charmaine Tay on FB)
"I have combination skin type and clogged pores have always been an ongoing issue for me. After trying out My Cozy Room Aquapeel facial treatment, the results were surprisingly instantaneous! My face felt cleaner with less blackheads (especially on my nose area). I like how the extraction treatment is detailed as compared to the usual ones I have tried, the way they squeeze is also not as painful. Overall, the treatment is really effective and pampering. I'll definitely recommend it to my friends who are also looking for an effective and painless facial treatment to solve acne issues. thanks My Cozy Room!!"
8. Pure Element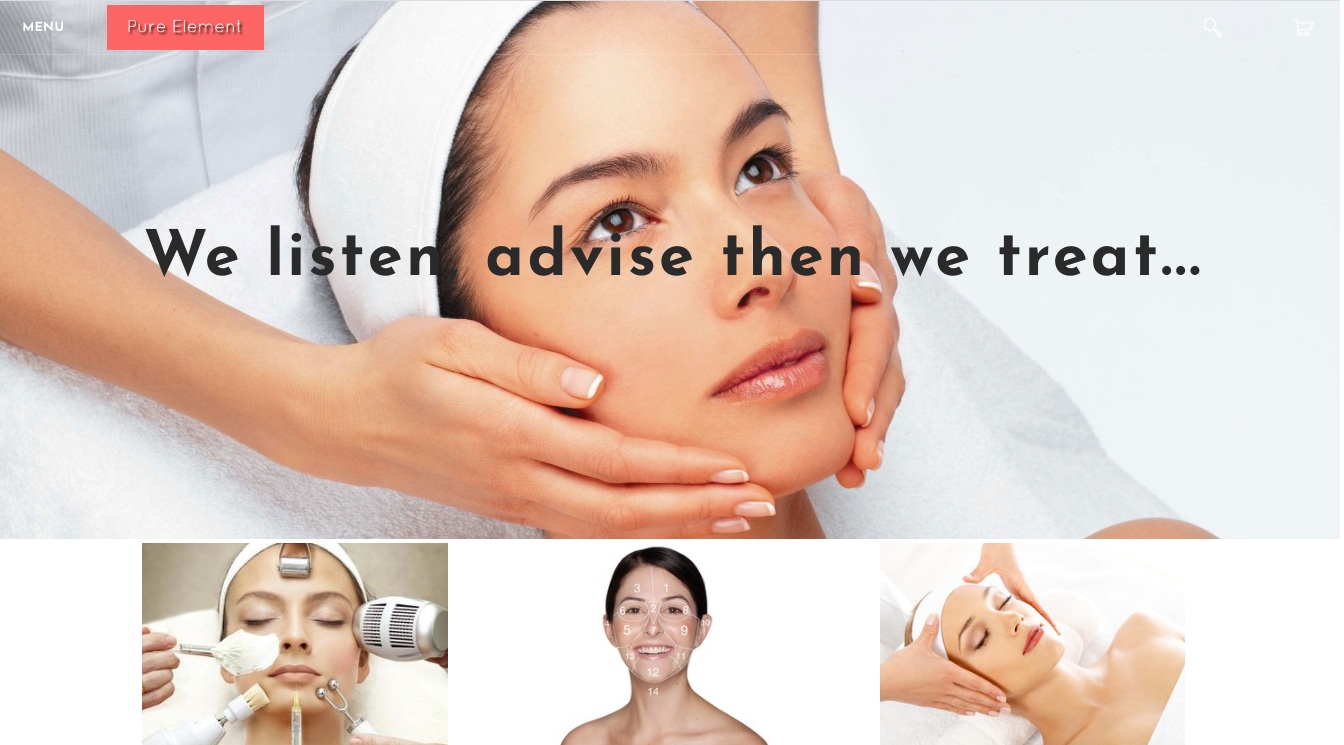 BEST FOR

Online booking or appointment 

SERVICES

Facial Treatments, Eye Therapy, Neck Therapy, Body Treatments, E-Light IPL Hair Reduction, E-Light Skin Lightening

WEBSITE

https://www.pureelementbeauty.com/

ADDRESS

Ang Mo Kio

Blk 233 Ave 3 unit no. #01-1180 Singapore 560233

CONTACT DETAILS

65 64553004

OPERATING HOURS
Weekdays

: 11:00 am to 8:00 pm (Last appointment: 630 pm) 

Saturday: 10:00 am to 7:00 pm (Last appointment: 530pm)

Sunday/Holiday: 10:00 am to 6:00 pm (Last appointment: 4:30 pm)
Pure Element was founded in 2007 and since then, it provided excellent dermatological skin care service in the country. It is comfortably located at the center of Singapore. They use the most effective facial treatment standard in treating their clients. Further, natural ingredients are utilized for their procedure. 
The clinic offers almost 50 facial treatments that their customers may choose from. These are designed in order to cater different skin types and facial conditions. Their staff ensure that their clients will walk out from their clinic satisfied and feeling better.
At Pure Element, you won't have to worry about your money. They promise each customer that only high-quality products will be used for their facial treatments. In fact, their microscopic skin analysis device, which is from Korea, is among the best devices in the field. 
Highlights
Provides members privileges

Free sign up for membership

Online appointment or booking confirmation
Customer Reviews
Pure Element does not fail to deliver good service to their clients. Here's what the customer has to say regarding the clinic: 
Professional and friendly staff everytime I visit. Managed to solve all my skin problems. thank you pure element. – Liu Venice
9. Bio Aesthetic Medispa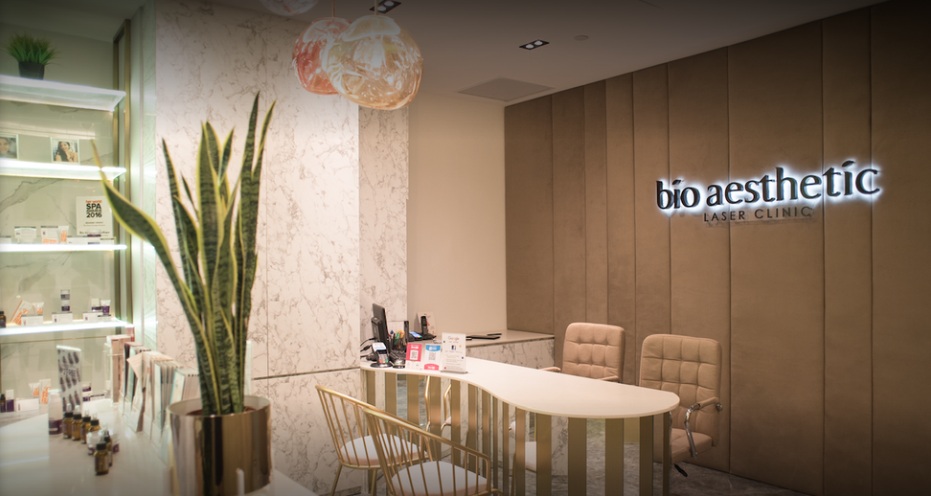 BEST FOR

Multi-awarded spa

SERVICES

Lip Fillers, Hydrating Booster for Intense Hydration, Chemical Peel Express, Fractional RF Skin Tightening, PhytoPeeling Hulk Acne Therapy, Opsis EyeLift Antitox, Thavma Wrinkle Control Therapy

Fat Freezing

WEBSITE

https://bioaesthetic.com.sg/

 

ADDRESS

Palais Renaissance, 390 Orchard Road #03-01 Singapore 238871

CONTACT DETAILS

+65 6333 4566

OPERATING HOURS

Mon- Fri 11am to 8.30pm

Sat: 10am to 6pm

Sun & Public Holidays Closed
Bio Aesthetic Medispa is a multi-awarded clinic offering an extensive range of aesthetic treatments that redefine and achieve beauty goals of all shapes and colors. They provide numerous procedures from the face down to the body.
Their clinic is completely equipped with the latest technology to ensure the quality of their work as well as the safety and comfort of their clients. They also feature some of today's most sought after beauty brands.
Highlights
Wide spectrum of aesthetic services

Medically Designed Treatments

Experienced Aestheticians
Customer Reviews
Here's one of the reviews as posted on Google Reviews.
"Had an amazing experience at this clinic. Dr fin, Jennifer, Rachel and xiao man were really friendly and helpful in explain the details to me. Nice ambience and atmosphere was great. Felt really relaxed throughout the whole procedure. Highly recommend and will totally visit again!"
10. 8 Medical Aesthetic Clinic
BEST FOR
Complete Aesthetic Treatments
SERVICES
Skin Treatments, Face Treatments, Body Treatments
WEBSITE
https://www.8medicalaesthetic.com/
ADDRESS
SOMERSET BRANCH
51 CUPPAGE ROAD, #06-22, SINGAPORE 229469

DHOBY GHAUT BRANCH
2 HANDY ROAD, #04-19/20 THE CATHAY, SINGAPORE – 229233

CLEMENTI BRANCH
41 SUNSET WAY, #01-05, CLEMENTI ARCADE, SINGAPORE 597071

TAMPINES BRANCH
TAMPINES PLAZA, 5 TAMPINES CENTRAL 1 #03-01 S529541

CONTACT DETAILS
Tel: +65 3157 5947

SMS/WHATSAPP : +65 9151 9017
8 Medical Aesthetic offers a diverse set of medical aesthetic procedures. They primarily offer non-surgical treatments.
They have high standards of quality, from their doctors to their equipment. 8 Medical Aesthetic is a clinic you can count on to fulfil any of your aesthetic needs.
Highlights
Excellent attention to detail
FDA approved technology
11. 8 Medi Aesthetics Group
BEST FOR
Non-invasive and non-surgical procedures
SERVICES
Skin/Face Treatment, Body Treatment
WEBSITE
https://8medigroup.sg/
ADDRESS
SOMERSET BRANCH
51 CUPPAGE ROAD, #06-22, SINGAPORE 229469

DHOBY GHAUT BRANCH
2 HANDY ROAD, #04-19/20 THE CATHAY, SINGAPORE – 229233

CLEMENTI BRANCH
41 SUNSET WAY, #01-05, CLEMENTI ARCADE, SINGAPORE 597071

TAMPINES BRANCH
TAMPINES PLAZA, 5 TAMPINES CENTRAL 1 #03-01 S529541

CONTACT DETAILS
Tel: +65 3157 5947

SMS/WHATSAPP : +65 9151 9017
The 8 Medi-Aesthetics Group provides quality aesthetic treatments for their clients. They are equipped with the latest skin care and aesthetic services in the industry.
Their team of medi-aestheticians are more than qualified, with each specialising in certain treatments. You can rest assured that they will provide the right solution for any of your aesthetic concerns.
Highlights
Team of qualified medi-aesthetician experts
Clinically proven
And with that, we end our list of the top clinics for the best microdermabrasion in Singapore. We hope that you were able to pick out which one you think can provide you with your ideal microdermabrasion experience.
If we missed out on other aesthetic clinics that offer microdermabrasion, don't hesitate to share their names with us! If we find them great, we'll definitely add them to our roster.
By the way, if you're also planning to get a chemical peel soon, then we suggest that you read our list of the best chemical peels in Singapore. Any of these clinics can make your face look brighter and younger with a single beauty procedure!