Our 10 Favourite Clinics for Liposuction in Singapore
No matter how hard you try, some fat just won't budge easily. Luckily, there are reasonably priced liposuction clinics in the city that can help.
In this article, we've compiled not only the clinics with the best liposuction cost in Singapore but also a wealth of other information. This includes a list of the price averages of various procedures.
You'll also learn about the limits and inclusions of liposuction treatments, just to make sure you know what you're getting into. In fact, let's begin with that!
What Do Liposuction Procedures Include
Liposuction is not a quick fix for when you're overweight and want some fat removed quickly and in one go. Instead, it's a procedure to remove stubborn fat deposits in your neck, arms, tummy, and thighs for when you've already achieved your desired weight.
Usually, cosmetic surgeons also pair liposuction with liposculpture to tone the muscles in the area according to the desired shape and profile. But you should know, liposuction doesn't involve the removal of stretch marks and other skin imprints.
Types of Liposuction Procedures
Here are the most common types of liposuction:
Tumescent liposuction, or fluid injections, are the most common type of liposuction procedure. During this liposuction, your surgeon will inject a mixture of salt solution, anesthesia, and blood-contracting drugs.
Super-wet liposuction is much like fluid injections, but only uses smaller amounts of the fluid.
Ultrasound-assisted liposuction uses ultrasonic vibrations to liquify fat cells, making them easier to suction out.
Laser-assisted liposuctions are best for relatively small spaces like the neck. This type also stimulates collagen production to avoid skin sagging after the procedure.
How Much Do Liposuction Procedures Cost in Singapore
Doctors charge different rates for liposuction procedures and may require a minimum of five body parts per procedure.
Most surgeons also charge according to body part and of course, bigger areas, such as the belly, cost more than neck liposuction. Here are the usual costs for fat removal treatment.
| | |
| --- | --- |
| Expenses | Costs |
| Total liposuction costs | $15,00-$25,000 |
| Liposuction | $1,500 to $4,000 per area |
| Consultation costs | $35-$330 |
| Sculpting services | $250-$700 per area treated |
The Best Liposuction Clinics in Singapore
We've only listed clinics that have the best liposuction cost in Singapore with personalised treatments. Note that the list is in no particular order, though.
Plastic Surgeon Singapore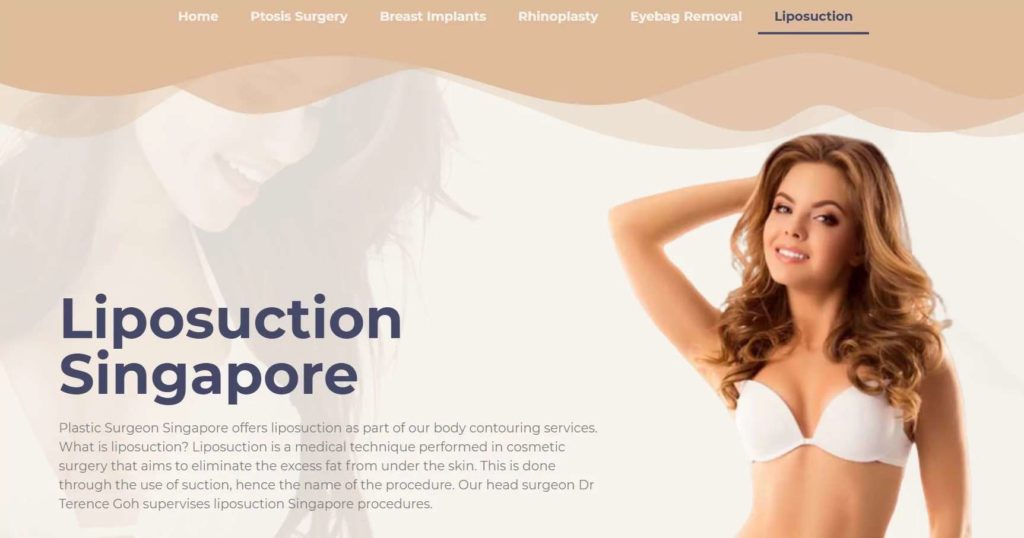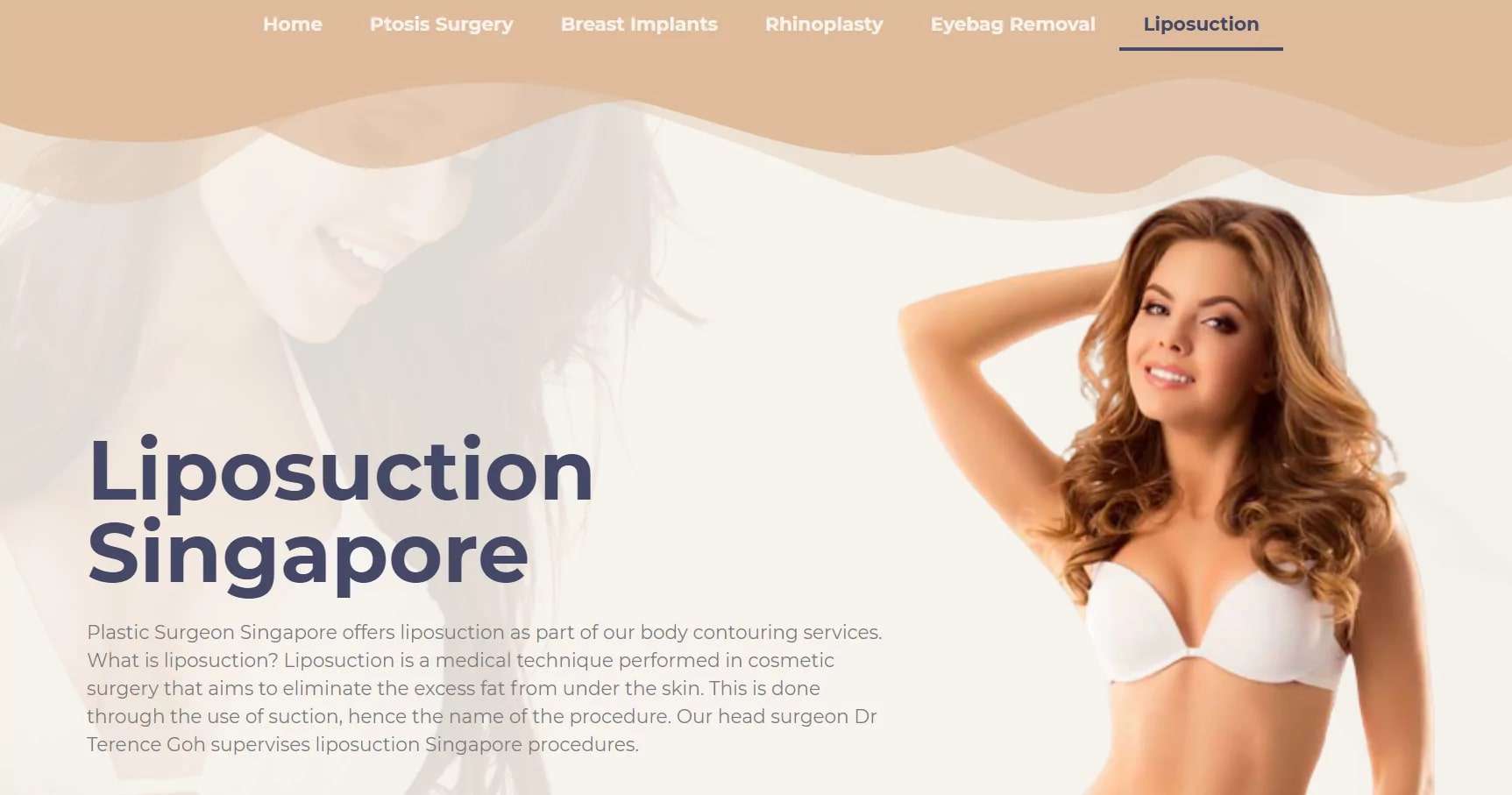 BEST FOR
Attention to detail
WEBSITE
https://www.plasticsurgeonsingapore.com/liposuction/
ADDRESS
Royal Square Medical Centre
101 Irrawaddy Road #14-09
Royal Square Medical Centre
Singapore 329565

Mount Elizabeth Orchard
3 Mount Elizabeth #15-11
Mount Elizabeth Medical Centre
Singapore 228510
CONTACT DETAILS
Main Line: (65) 6778 8648 (Novena), 
(65) 6767 1648 (Orchard)
WhatsApp: (65) 9649 6648
Email: 

[email protected]

OPERATING HOURS
Monday – Friday: 9:00 AM – 6:30 PM
Saturday: 9:00 AM – 1:00 PM
From simple eyelid surgery to whole-body liposuction, Plastic Surgeon Singapore offers all types of cosmetic surgeries. Clients also claim that this clinic's staff and surgeon have the best attention to detail.
The clinic pairs other procedures with liposuction to provide its clients with gynaecomastia correction, mommy makeover, and abdominoplasty procedures.
Dr. Terence Goh, the head surgeon, practises at the Mount Elizabeth Novena Hospital and is a part of the Royal College of Surgeons. Additionally, he is unique for being one of the few surgeons in the field skilled in microsurgery and aesthetic surgery.
Specific expertise in microsurgeries
Liposuction packages
Speaks 4 languages
Member of Royal College of Surgeons
Polaris Plastic & Reconstructive Surgery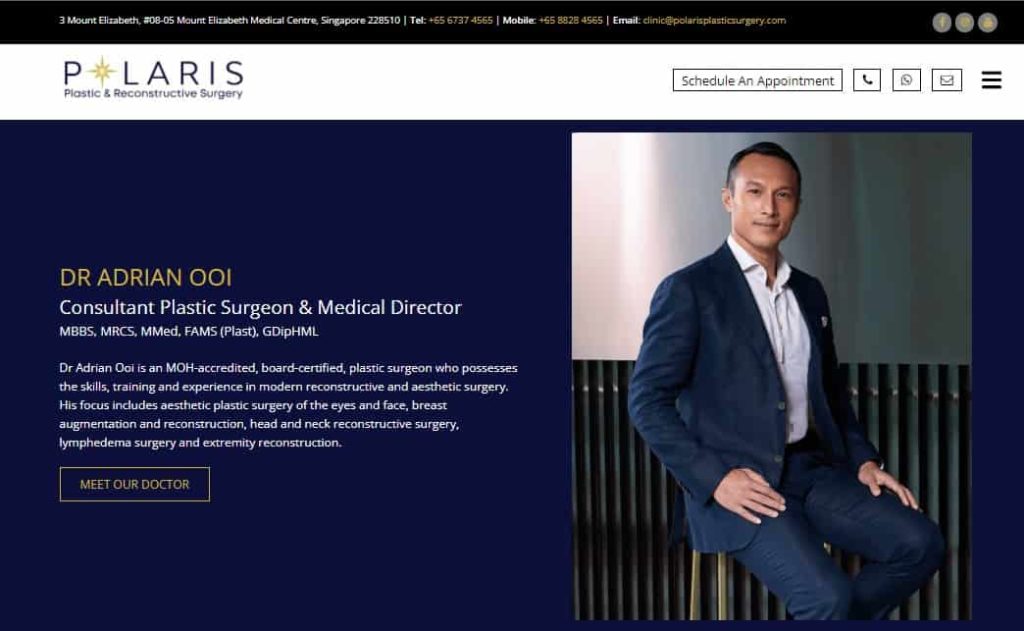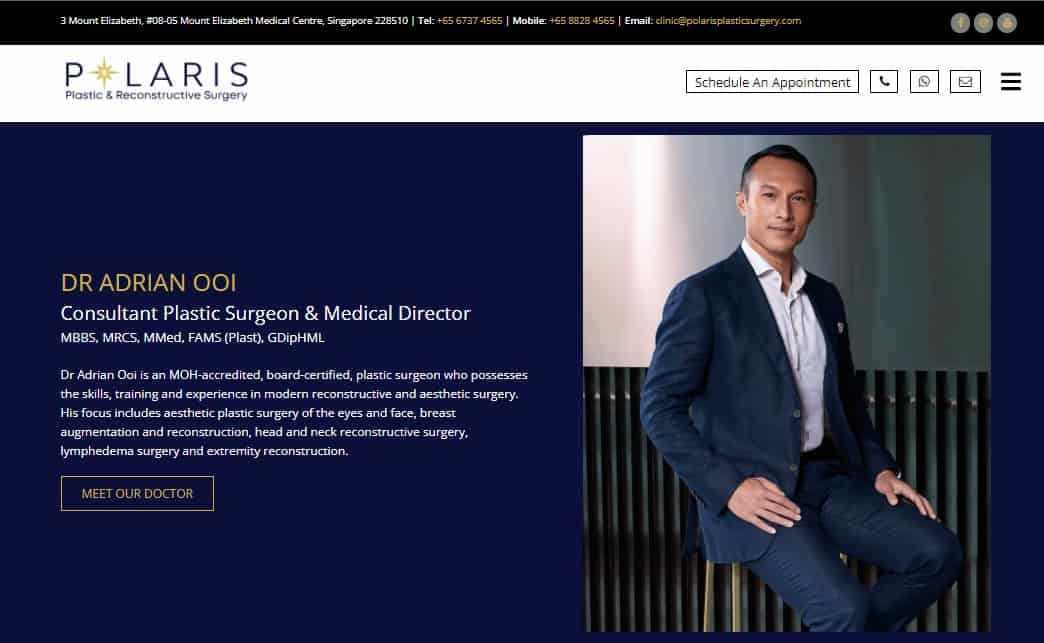 BEST FOR
Tailor-made, Modern Techniques
WEBSITE
https://www.polarisplasticsurgery.com
ADDRESS
3 Mount Elizabeth, #08-05 Mount Elizabeth Medical Centre, Singapore 228510
CONTACT DETAILS
Tel: +65 6737 4565
Mobile: +65 8828 4565
Email: [email protected]
OPERATING HOURS
Mon – Fri: 9am – 6pm | Sat: 9am – 1pm | Sun / PH: Closed
Polaris Plastic & Reconstructive Surgery provides aesthetic procedures that can modify the body from head to toe. They make use of the latest methods and technologies to deliver quality services and meet their patient's aesthetic needs.
Aesthetic surgeries and reconstructive procedures are what they primarily offer. They can handle large body modifications, such as body lifts and liposuction, as well as finer, more intricate treatments, such as face contouring and dimple creation.
Their liposuction procedure makes use of various techniques to achieve your desired results. Besides manual methods, they also have power-assisted and ultrasound-assisted liposuction means to remove extraneous fat.
It's worth noting that their ultrasound-assisted liposuction is one of the most effective ways to get finer results, as it makes fine contouring easier while reducing the chances of complications. This is how they end up with outcomes that are not only natural looking, but also last for a longer time.
If you're looking to get a liposuction from their clinic, be prepared to endure a longer waiting time — they only work with a small team of surgeons and nurses. However, they make up for it by providing quality aesthetic services to each and every one of their patients.
Services of the utmost quality
Individualised treatments per patient
Professional and ethical standards
Quality and compassionate care
Small team of surgeons and nurses
Allure Plastic Surgery / Dr. Samuel Plastic Surgery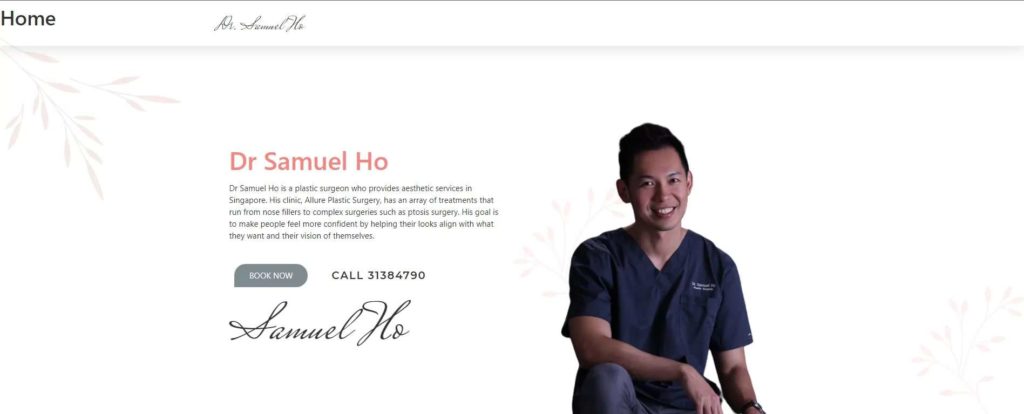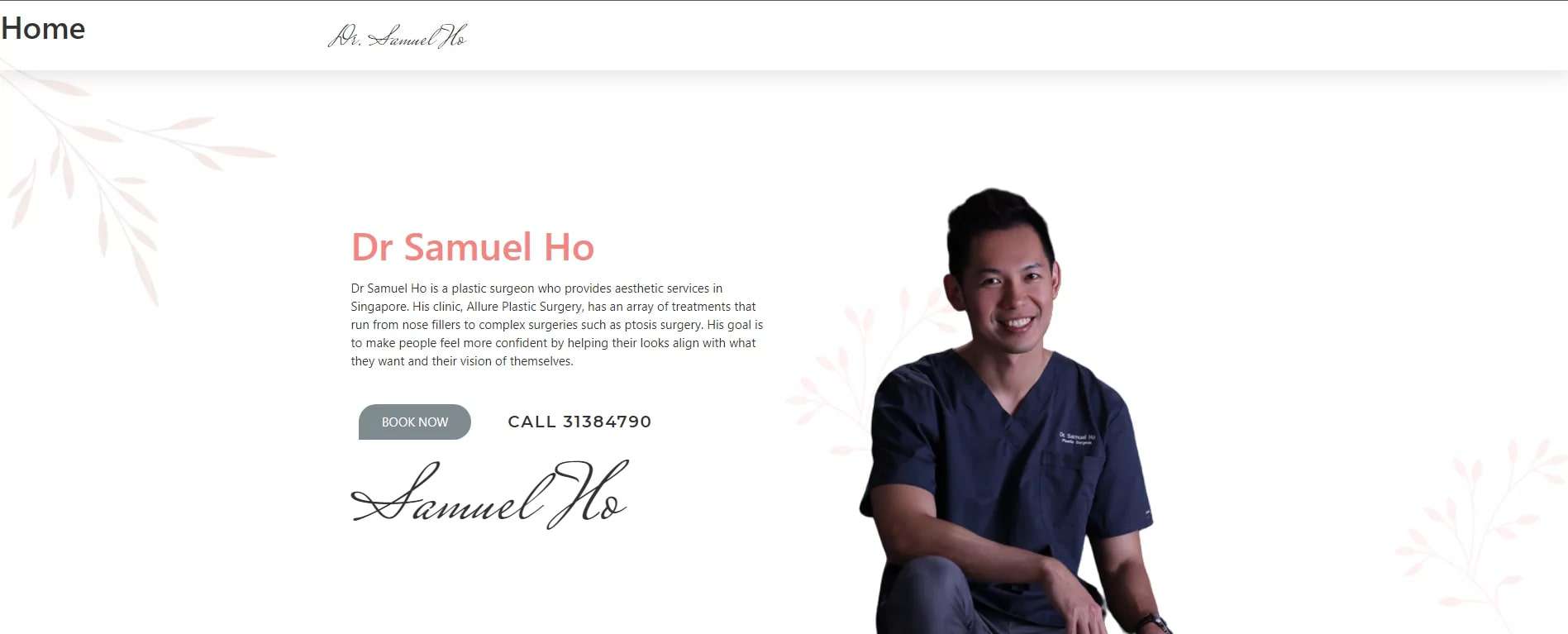 Dr. Samuel Ho from Allure Plastic Surgery is an expert in all types of cosmetic procedures. He is also active in plastic surgery research and is even one of the authors of the famous textbook, Grabb's Encyclopaedia of Flaps.
Additionally, Dr. Ho is known for being compassionate: he uses his expertise to volunteer and provide pro-bono surgeries for those in need. His clinic also has packages so clients can enjoy more than one treatment for reasonable prices.
Allure Plastic Surgery also offers the best liposuction cost in Singapore not only for locals, but also for international clients. To make their international clients comfortable, the clinic even assists with chauffeur services to clients' hotels.
Compassionate care
Excellent local and international client care services
Leading researcher and author of plastic surgery publications
Some complaints about poor follow-up
Hong Plastic Surgery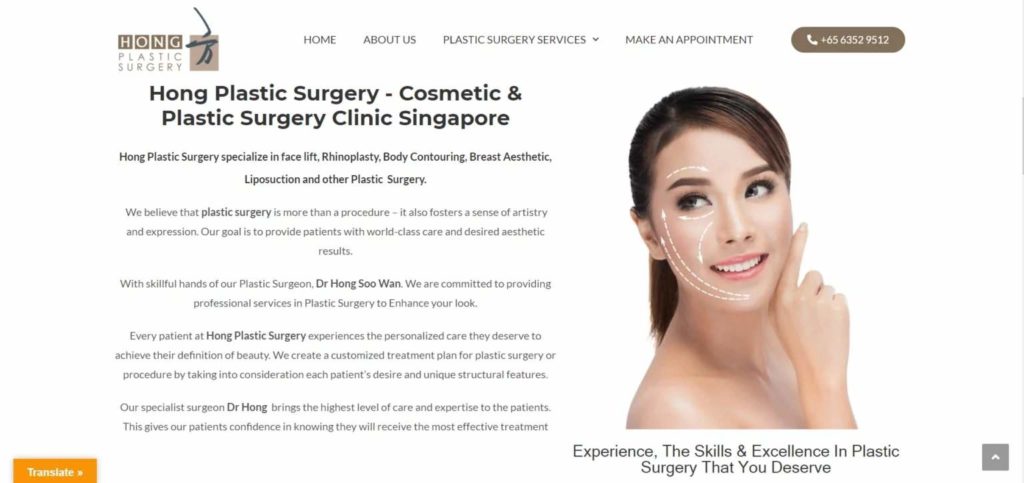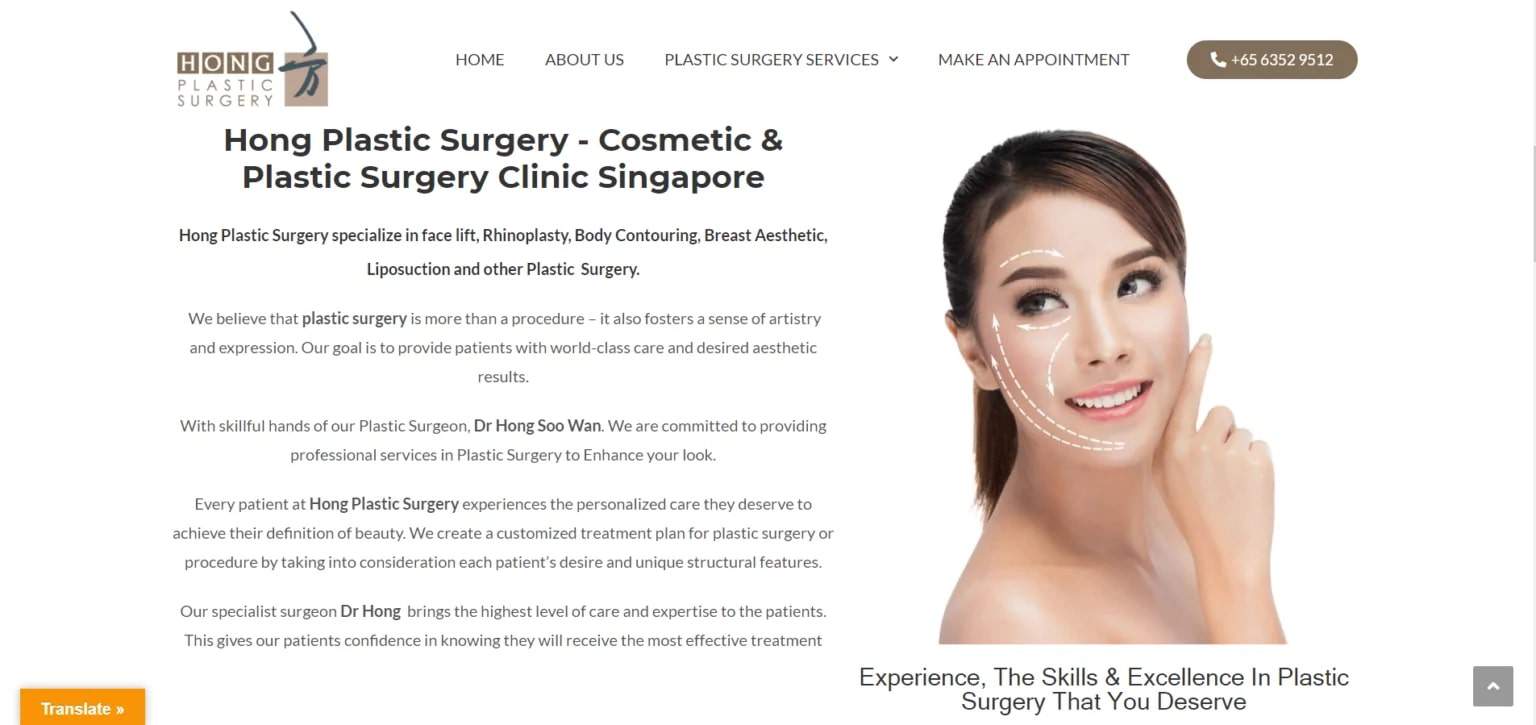 Hong Plastic Surgery offers all types of cosmetic and reconstructive surgery. Dr. Hong Soo Wan, the head surgeon of the clinic, has been practising for over 35 years in the country
Dr. Hong Soo Wan also serves in public hospitals and outreach programs in other Asian countries like Myanmar.
The clinic claims to provide liposuction for neck, arms, belly, hips, buttocks, and thighs with a fast recovery period. Additionally, Dr. Hong is known for using gentle stitching to avoid scarring and maintain a natural look.
Aside from these services, Hong Plastic Surgery also offers chin reshaping to complement the effects of neck liposuctions.
Fast recovery
Liposuction with naturally-looking results
Additional chin reshaping options
Speaks 4 languages
Royal College-certified surgeon
Sweng Plastic Aesthetic and Reconstructive Surgery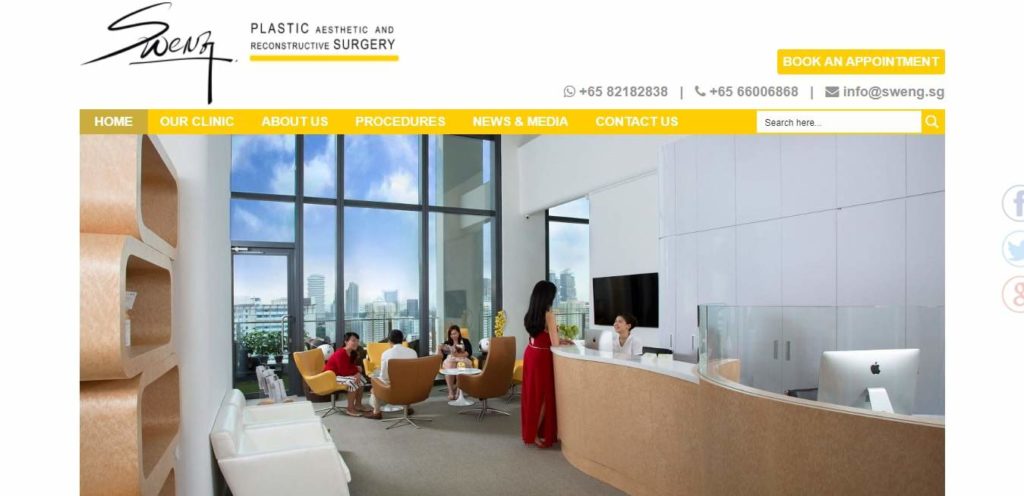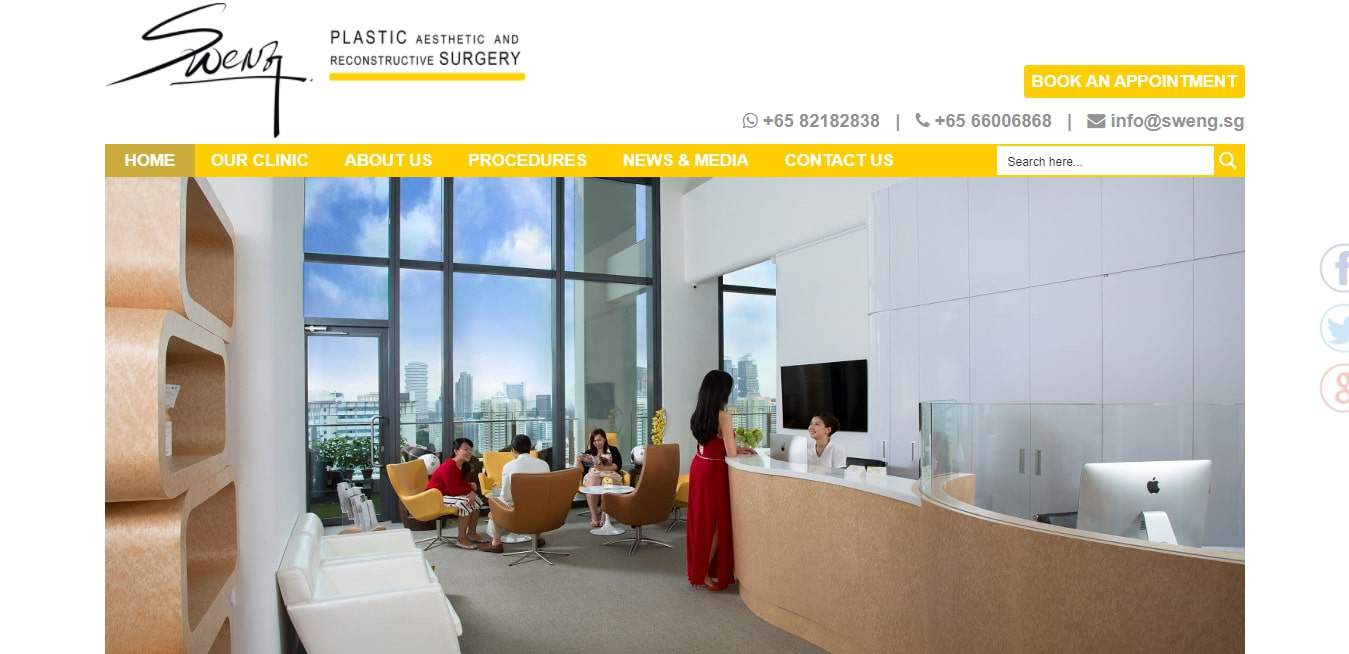 BEST FOR
Surrounding amenities
WEBSITE
https://www.sweng.sg/
ADDRESS
Farrer Park Station Rd, #16-08 to 10 Connexion, Singapore 21756
CONTACT DETAILS
+65 6600 6868
OPERATING HOURS
Monday – Friday: 8:30 AM – 5:30 PM
Saturday: 8:30 AM – 1:00 PM
Sweng Plastic Aesthetic and Reconstructive Surgery is home to Dr. Ng, one of the best cosmetic surgeons in the city.
Dr. Ng performs fat grafting for the breast and face so clients can have natural-looking results. He has over 30 years of experience in cosmetic surgeries.
Aside from his vast expertise, Dr. Ng is also well-known for his volunteer work in reconstructive surgery for those with birth defects or burns. He has travelled to China, Indonesia, Laos, and Uzbekistan for medical missions.
Sweng Clinic is also a part of the Farrer Park Medical Centre, a complex complete with a hotel, medical centre, and spa. With these amenities, you can truly rest and relax as you recover from your liposuction treatment.
Liposuction and fat grafting options for natural results
Extensive voluntary work
Connection with hotel and spa centres
Excellent patient care
Complaints about booking and scheduling
Shens Clinic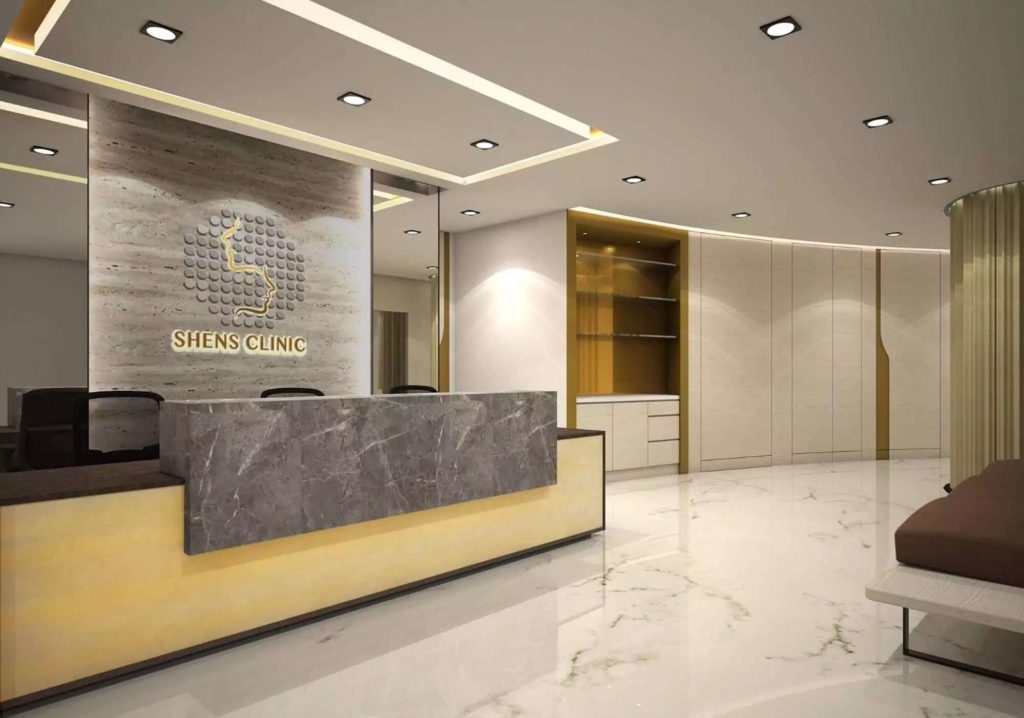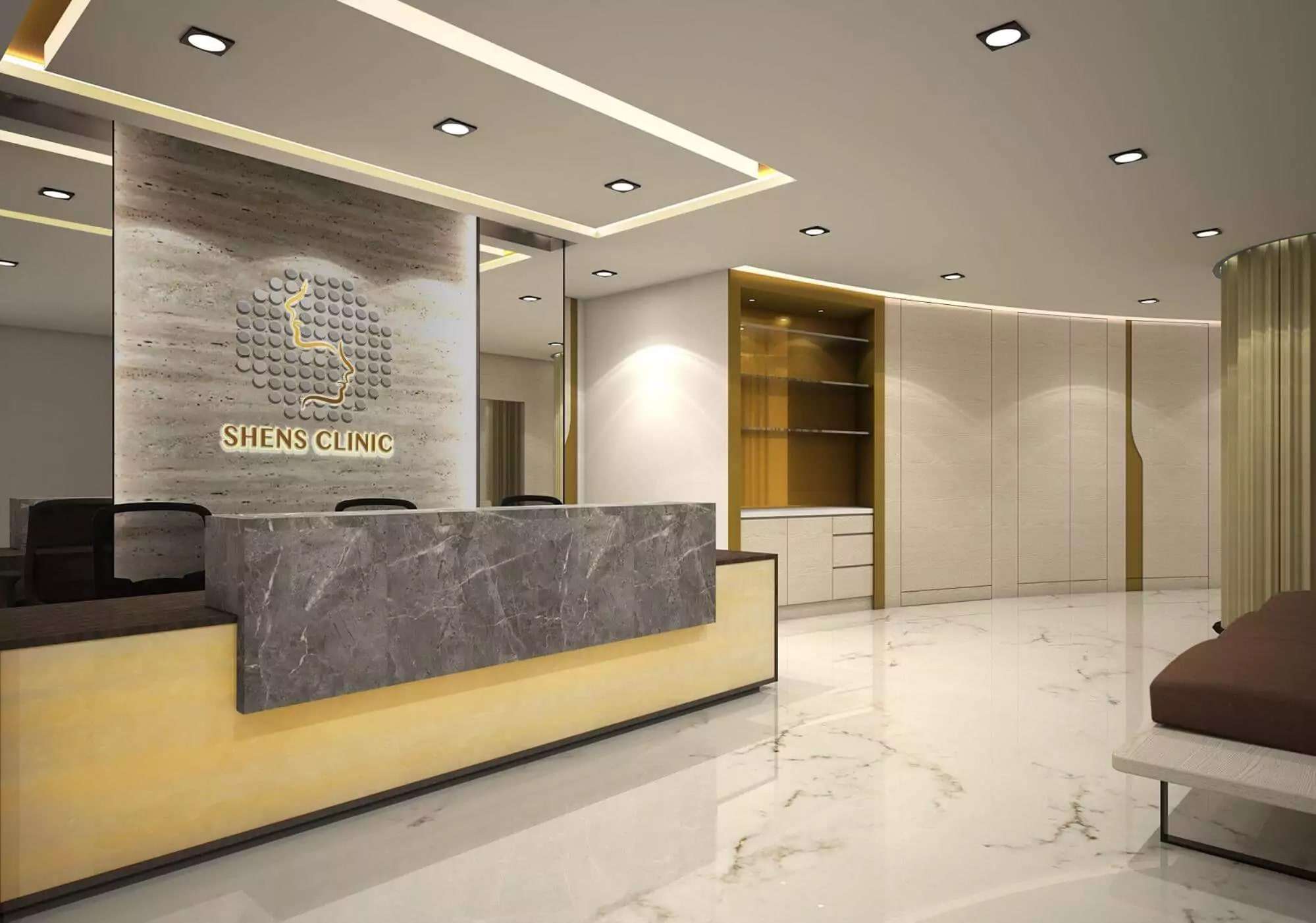 BEST FOR
Aftercare procedures
WEBSITE
https://www.shensclinic.com/
ADDRESS
Winsland House 1, #09-08, 3 Killiney Road, Singapore, Singapore 239519
CONTACT DETAILS
+65 3138 4395
OPERATING HOURS
Monday – Friday: 9:30 AM – 6:30 PM
Saturday: 9:30 AM – 2:30 PM
Shens Clinic is a well-known Korean-style plastic surgery clinic right here in Singapore. The owner of this clinic, Dr. Shenthilkumar Naidu (Dr. Shens), is a Royal College-certified surgeon with experience going way back to 1998.
It uses the 4D High Definition liposuction technology for athletic and countered results. To cater to clients anywhere, Shens Clinic also offers tele-consultation appointments via WhatsApp or Zoom.
Another trait we can recommend about Shens Clinic is that it schedules a review session so that Dr. Shens can check your progress after the surgery. Some clients even praise Shens Clinic for their consistent follow-up check-ups.
Korean-style liposuction
Advanced 4D High Definition lipo technology
Online consultations
Excellent aftercare services
Aesthetic and Reconstructive Centre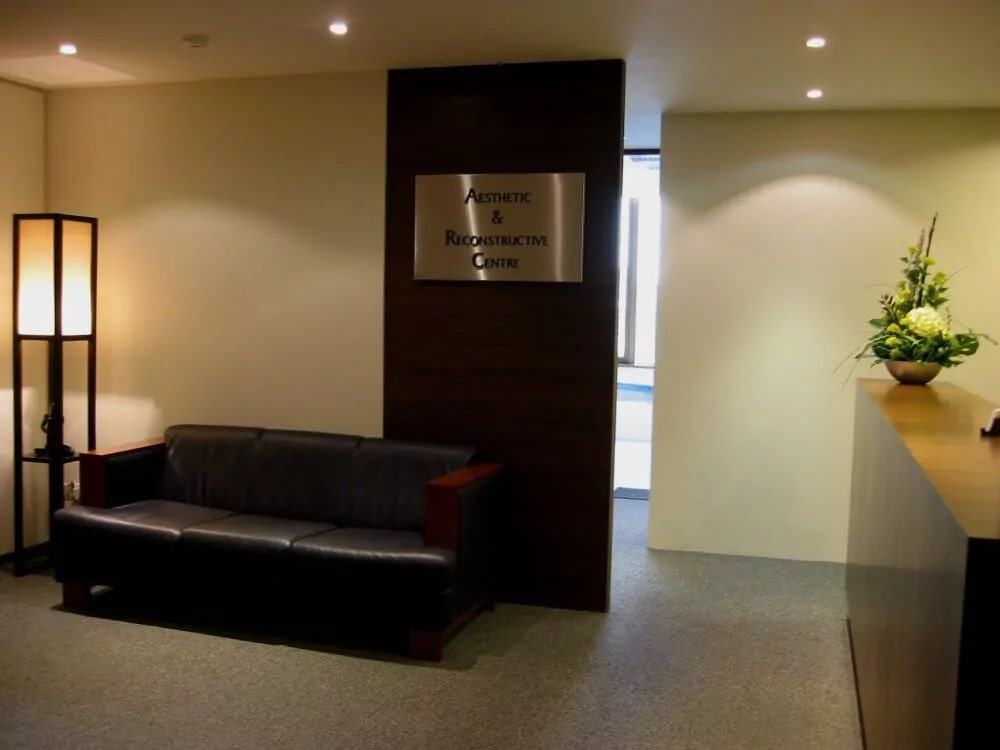 The Aesthetic and Reconstructive Centre is yet another part of the Mount Elizabeth Hospital. This clinic also offers various types of surgeries not only for locals, but also for international clients who want to improve their looks.
At Aesthetic and Reconstructive Centre, they also pair liposuction with other treatments such as contouring procedures. The clinic also offers fat grafting so clients can have natural and relatively safer body implants.
The head surgeon of this centre, Dr. Andrew Khoo, is active not only in cosmetic surgery practice but also in research – he's published 16 studies and 2 book chapters. He is also an expert for all body types.
With Dr. Khoo's expertise, Aesthetic and Reconstructive Centre has become known as one of the top liposuction centres in Singapore for both men and women.
Caters to men and women
Local and international reach
Additional contouring and fat grafting options
Short waiting time
Understanding surgeon
Some issues with booking and scheduling
Leslie Kuek Plastic Surgery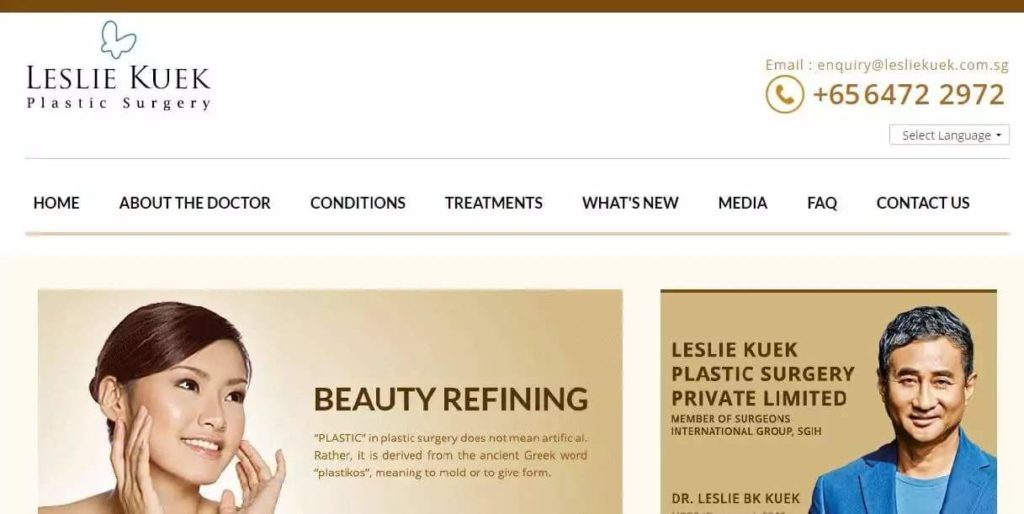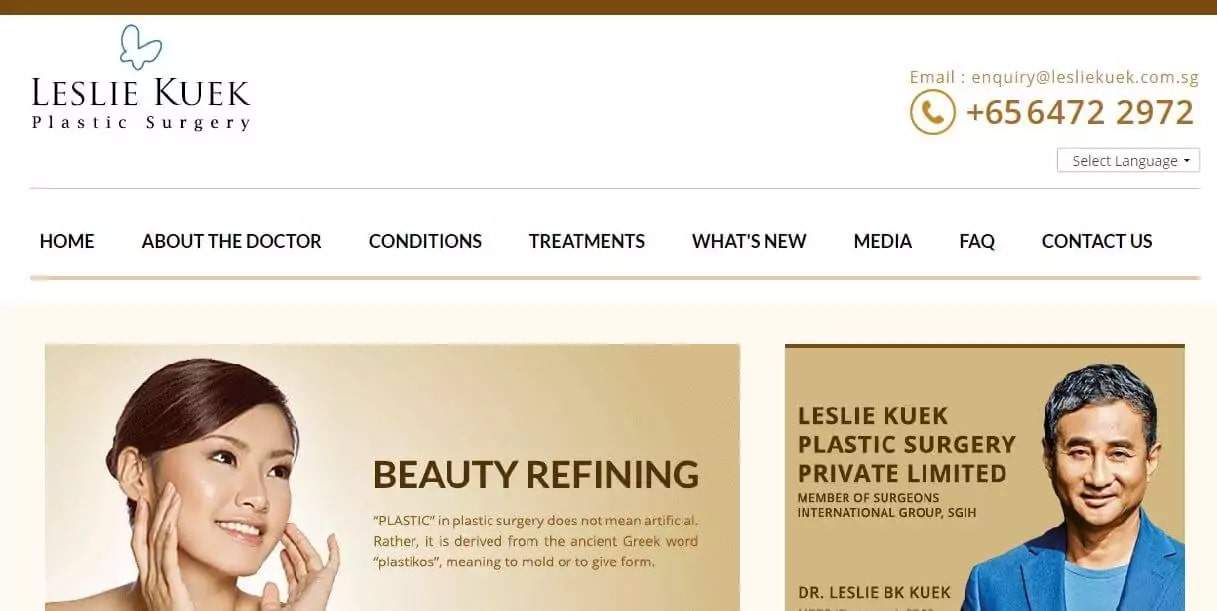 Dr. Leslie Kuek has over 30 years of experience in plastic and reconstructive surgery. He has even served as the president of two Singapore organizations.
Aside from his years of service, Dr. Kuek also has numerous certifications, including one from the prestigious Royal College.
His clinic offers liposuction with body contouring and tummy tucks to provide its clients with all types of options for their bodies. With these packages, clients no longer have to worry about saggy skin after lipo.
But the best thing this clinic offers is its Body to Breast Contouring, wherein additional fat can go to your breasts, face, or buttocks—wherever you may wish.
Body to Breast contouring procedure
Royal College-certified surgeon
Liposuction procedure automatically has contouring
Non-customizable packages
Woffles Wu Aesthetic Surgery and Laser Centre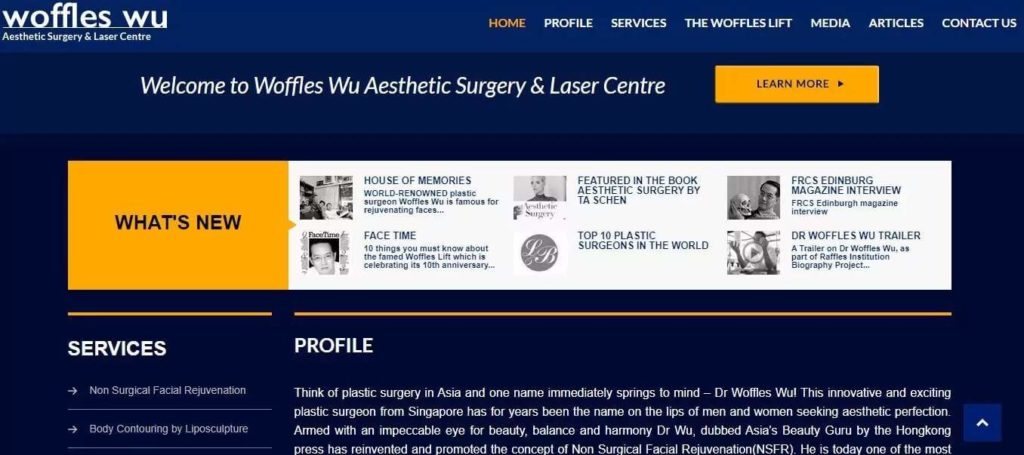 Dr. Wu is renowned worldwide for his expertise in Non-Surgical Facial Rejuvenation. But his skills don't end there because he also offers high-quality aesthetic surgeries such as rhinoplasty and body contouring.
For its body treatments, Woffles Wu Aesthetic Surgery and Laser Centre offers liposuction, liposculpture, and fat grafting. With these options, clients aren't stuck with a one-time-big-time treatment that they may not be financially prepared for.
The clinic also has high-volume liposuction treatments. Woffles Wu clinic can even take up to 5 kgs of fat in sessions.
High-volume liposuction treatment
Liposuction, sculpture, and grafting options
Internationally renowned surgeon
Focused more on facelifts
DR MARCO FARIA CORREA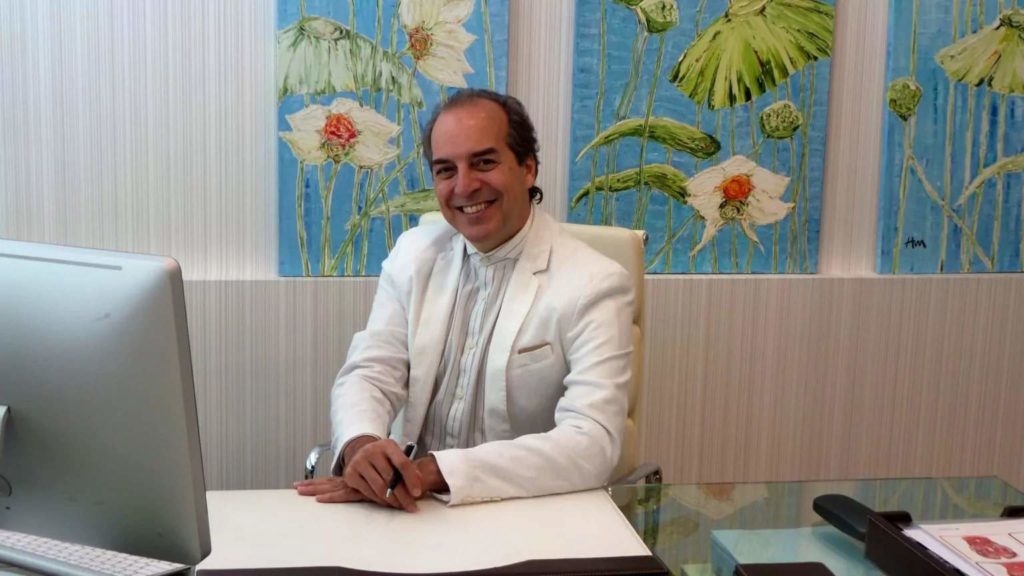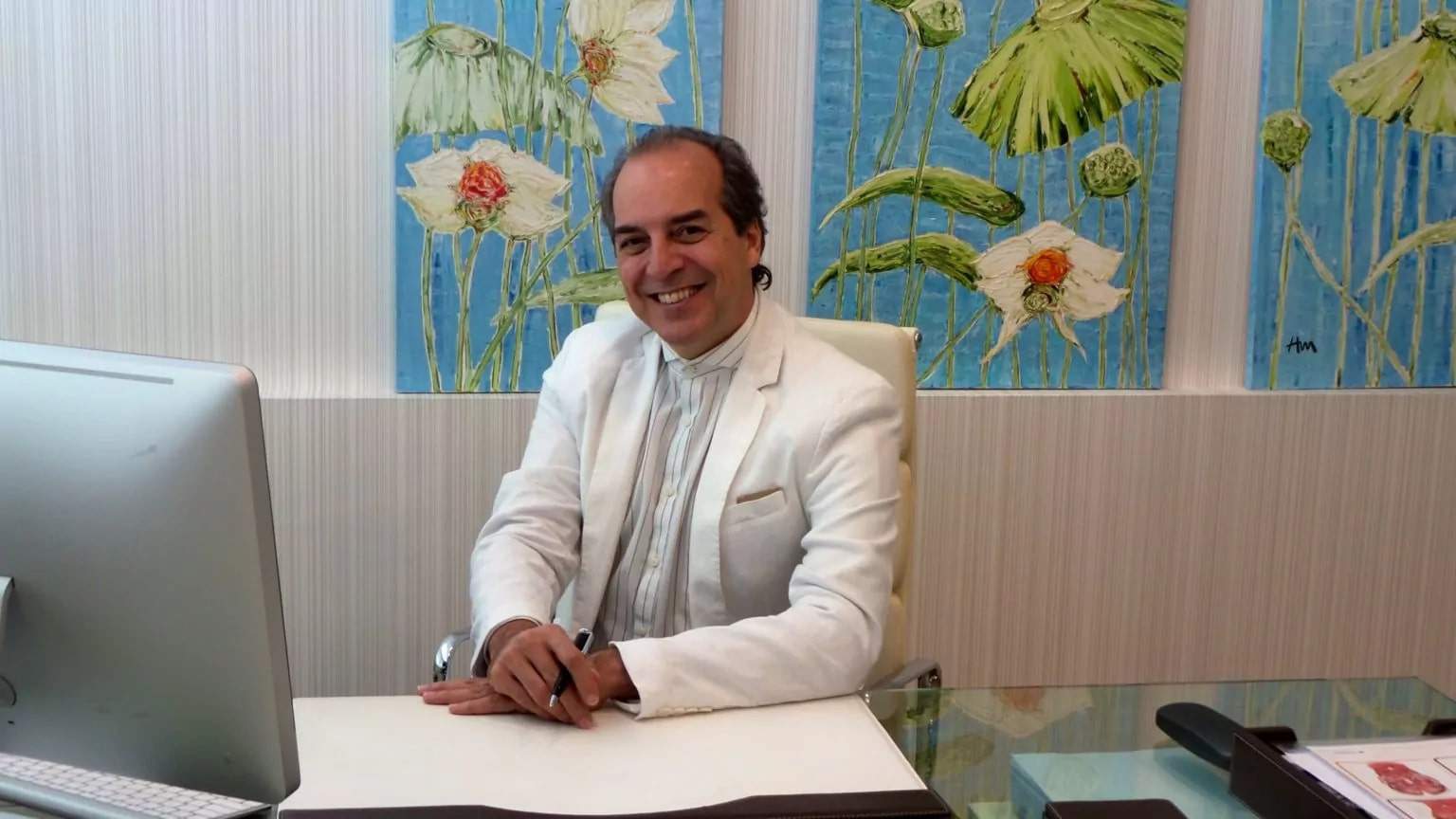 | | |
| --- | --- |
| BEST FOR | New technologies |
| WEBSITE | https://www.drmarco.com/ |
| ADDRESS | 38 Irrawaddy Road Mount Elizabeth Novena Specialist Centre, #10-26/27, Singapore 329563 |
| CONTACT DETAILS | (+65) 6464 8075 |
| OPERATING HOURS | Monday – Friday: 10:00 AM – 6:00 PM |
Dr. Marco Faria Correa started his plastic surgery practice and received his license way back in 1984. He specializes in endoscopy, which is why he also offers abdominoplasty that is minimally invasive and results in fewer scars.
Aside from abdominoplasty, Dr. Correa also offers other body contouring services like fat grafting, liposuction, and standing liposculpture.
And because Dr. Correa never stops learning, he has recently become one of the few members of the Robotic-assisted Microsurgical & Endoscopic Society.
This internationally-recognized surgeon also practises in other countries like Brazil. So just make sure to book an appointment with him while he's still in the city.
Multi-awarded surgeon
Integration of advanced surgical technologies
Minimally invasive abdominoplasty procedures
Almost 40 years of service
May be unavailable in the summer and winter
Frequently Asked Questions
---
And that concludes our list of where you can find the best liposuction services in Singapore! But remember, liposuction is not a permanent solution because you can still gain weight and unwanted fats if you continue with an unhealthy lifestyle.
Do you know more clinics that deserve to be on our list? If you do, please tell us more about their services so we can also review, and hopefully add them to the list!
If you're looking for other clinics to provide you with body transformations, you can also check out our list of the best aesthetic clinics in Singapore. Most of our picks also have liposuction, among other treatments, so you can enjoy a one-stop-shop for your cosmetic needs!