Our 15 Favourite Clinics for Invisalign in Singapore
Have you always wanted to straighten your crooked teeth but been afraid to get braces? If so, then you should look for a dental clinic that offers the best Invisalign in Singapore.
Compared to braces, Invisalign is more comfortable to wear. It's also a more convenient solution for overcrowded teeth, bite issues, and even gum diseases.
So, to help you gain more self-confidence and be less self-conscious about your appearance, we give you the top clinics where you can have the best Invisalign in Singapore! Check out our list below to find out more about their services and see which one is the nearest your place.
(Note: The list is in no particular order.)
Zenyum
BEST FOR
Accessible dental services
PRICING
Contact for more information
WEBSITE
zenyum.com
ADDRESS
298 Jln Besar
Singapore, Singapore
CONTACT DETAILS

Email: [email protected]

Tel: (+65) 3165 4923

WhatsApp: (+65) 8768 1823

OPERATING HOURS
24/7
Many dream of being able to smile without worry. Fortunately, you'll be able to do just that with the help of Zenyum. Their mission is to help empower their clients with the most reliable solutions available.
Their staff is composed of some of the top dentists in Southeast Asia. They work together with the best industry professionals in order to continue providing the best and latest services they can offer.
If you're looking for clear aligners, make sure to try their ZenyumClear Aligners! Use the promo code BestSGAligners to get $100 off your purchase. 
Highlights
Safest and smartest dental solutions
High quality products
Large network of industry professionals
Works with trusted orthodontists and dentists
Align Braces Clinic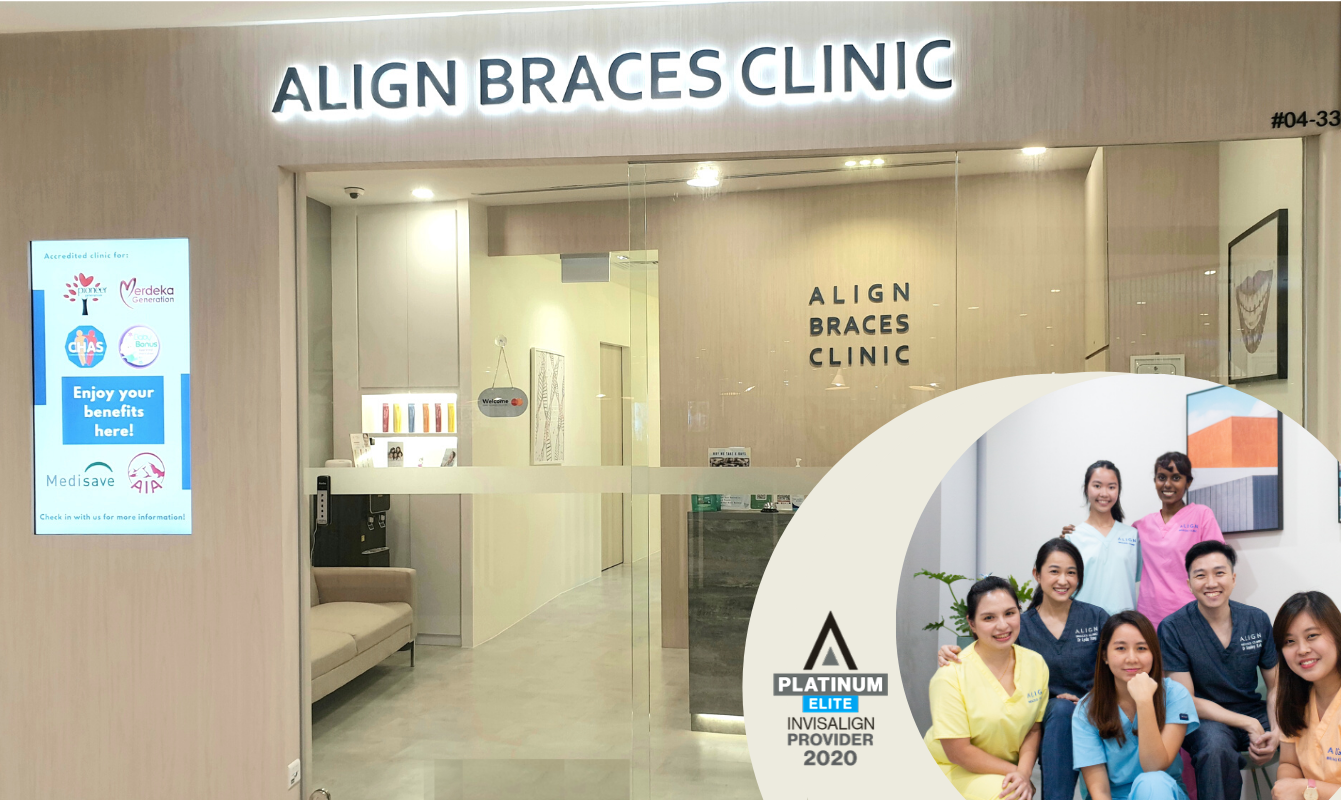 BEST FOR
Comprehensive Invisalign and Braces Treatment Plans
WEBSITE
https://www.alignbracesclinic.com/
ADDRESS
68 Orchard Road, Plaza Singapura #04-33, Singapore 238839
CONTACT DETAILS
Tel: 6513 0686
WhatsApp: 8348 0708
Email: 

[email protected]

alignbracesclinic.com
OPERATING HOURS

Monday to Friday: 11 am — 8 pm
Saturday to Sunday: 10 am — 5:30 pm

Closed on selected public holidays
You'll surely love the services at Align Braces Clinic, as they offer personalised and affordable dental treatments. You will be examined by their well-trained and knowledgeable team – qualified with a Masters Degree in Orthodontics. Their clinic is equipped with modern technology to deliver high-quality and effective treatment. 
They're known for their stellar services when it comes to  Invisalign and regular braces. Once you've scheduled a consultation, they'll do a comprehensive checkup to recommend if Invisalign is suitable to help improve your smile. Invisalign can be used to treat cases with crowding, gaps between teeth, and fix bite issues. Align Braces Clinic also provides a state-of-the-art digital smile simulation and treatment plan so you can visualise your new smile. 
Highlights
Braces specialist accreditation
Invisalign for teens and adults
Invisalign Platinum Elite provider status
Comprehensive analysis and treatment of teeth condition
Cost-effective dental solutions
Accessible location at Plaza Singapura (Dhoby Ghaut MRT)
T32 Dental Group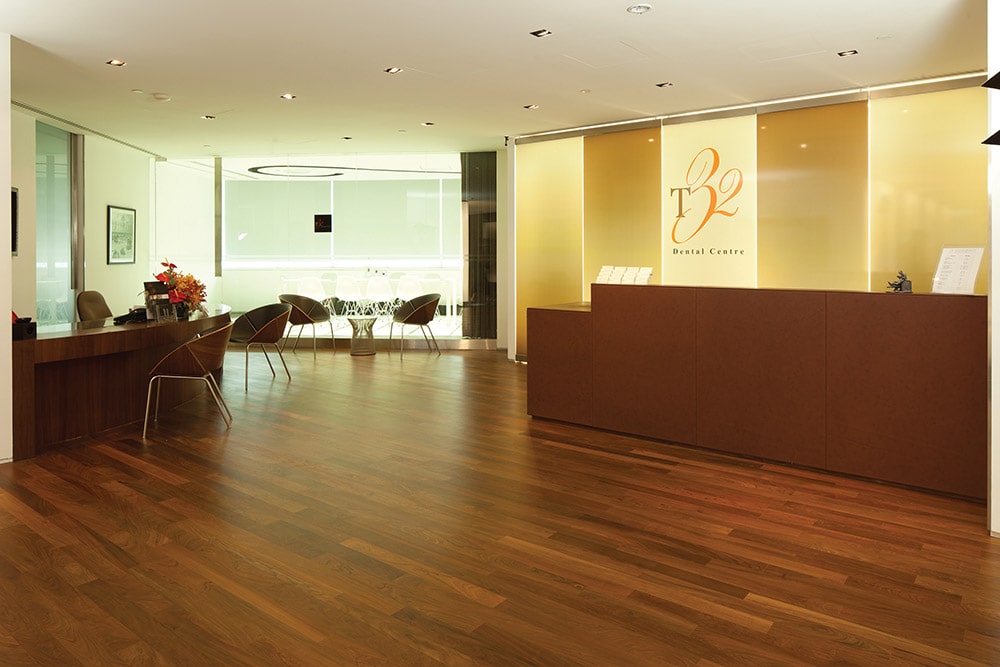 T32 Dental Group provides general and specialist dental care, including Invisalign services. Unlike other clinics, they offer different brands of Invisalign.
One of their offered products is made of eco-friendly material. It's also suitable for both adults and kids.
This award-winning clinic has also established several branches across the island, proving that they indeed have the best Invisalign in Singapore.
Highlights
Children's dental care
Medisave and CHAS accreditation
Toof Doctor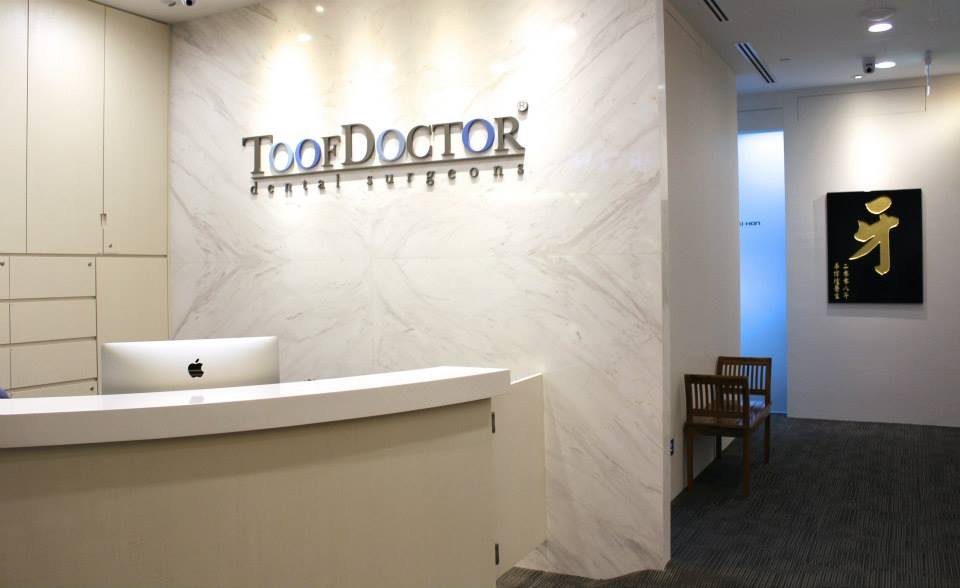 Toof Doctor is known for their advanced technology and techniques. For their orthodontics services, they offer the best Invisalign in Singapore that can resolve complex dental cases.
Aside from this, they also have clear aligners made by their own in-house laboratory. These are mainly designed for simpler cases such as mild crowding, single tooth movement, and braces relapse cases.
Highlights
Low-cost aligners options
Accessible locations
Nuffield Dental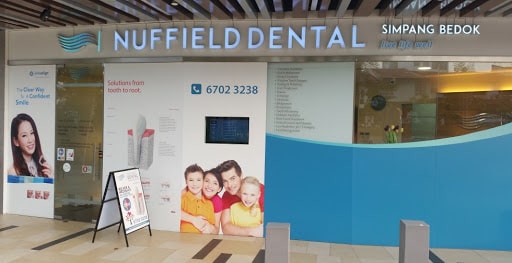 Nuffield Dental specialises in aesthetic dentistry and orthodontics. They offer Invisalign treatments that can treat a variety of conditions like gaps, bite issues, crowding, and more.
For those who are on a tight budget, this clinic might have the best Invisalign in Singapore for you. They offer different forms of financial assistance so you can have the treatment without going over your budget.
Highlights
Pioneer, CHAS, Baby Bonus, and Medisave accreditations
Dental insurance
i.Dental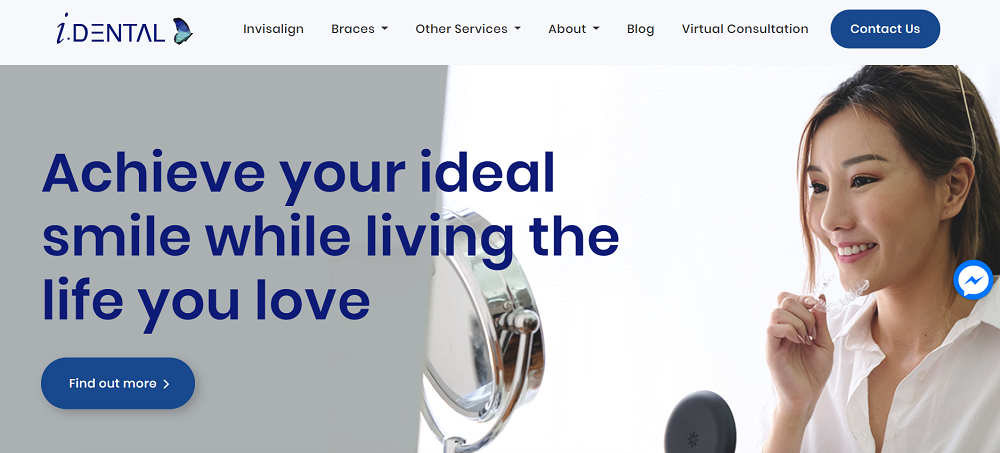 BEST FOR 
Invisalign and braces
SERVICES
Cosmetic dentistry, Restorative dentistry, Dental anaesthesia, Children's dentistry
WEBSITE
https://idental.com.sg/invisalign/
ADDRESS
168 Robinson Road, #13-04, Capital Tower Singapore 068912
CONTACT DETAILS
[email protected]
+65 3165 4519
OPERATING HOURS
Monday-Friday: 9:00AM-8:00PM
Saturday: 9:00AM-4:30PM
Sunday & PH: Closed
i.Dental has been dedicated to helping patients achieve healthy and beautiful smiles since they first opened their doors to the public in 1989. While they may specialize in cosmetic dentistry, the professionals at i.Dental are still capable of handling other matters that concern the mouth. From general dentistry to orthodontics.
Furthermore, they're known for their professional services when it comes to regular braces and Invisalign. Choosing them means gaining access to an experienced team that will ensure you achieve your desired smile.
Highlights
Great with kids
Award-winning clinic
Partnered with Medisave
My Braces Clinic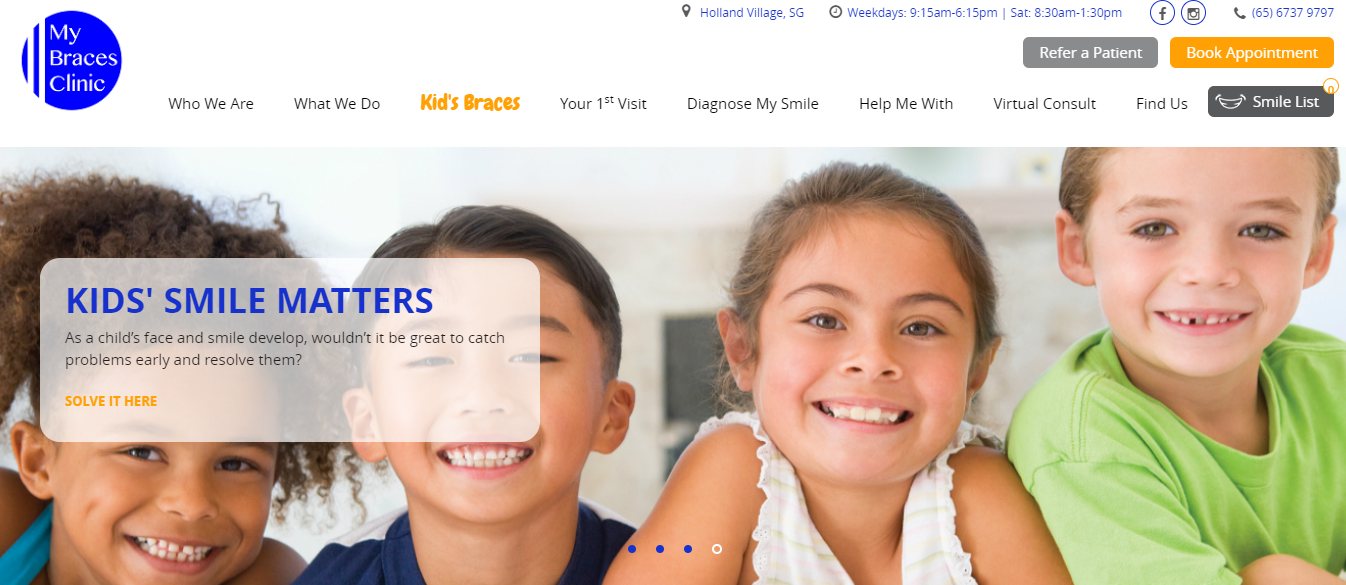 BEST FOR 
Children's Dentistry
SERVICES
Invisible Braces, Speed Up Braces, Tooth Replacement, Jaw Surgery Sleep Apnea Treatment
WEBSITE
https://www.mybracesclinic.com/
ADDRESS
43 Jalan Merah Saga #01-80
Chip Bee Gardens
Singapore 278115
CONTACT DETAILS
(65) 6737 9797
[email protected]
OPERATING HOURS
Weekdays: 9:15am-6:15pm Saturdays: 8:30am-1:30pm
Closed: Sundays, Public Holidays
If you are looking for a reliable and cozy clinic to get your dental problems solved, My Braces Clinic is the perfect choice for you. While they were voted as the "Children's Specialist Orthodontic Clinic", the clinic also accommodates adults' dental needs.
Their services range from simple procedures, to extensive ones such as Invisible Braces, Ceramic Braces, Invisalign, and Jaw Surgery. They persistently improve through constant innovation, and their high quality, evidence based treatments are fueled by one thing: the desire to see their patients smile better.
Highlights
Great Customer Service
Mentor and Internship Program
State of the art Equipment
TP Dental Surgeons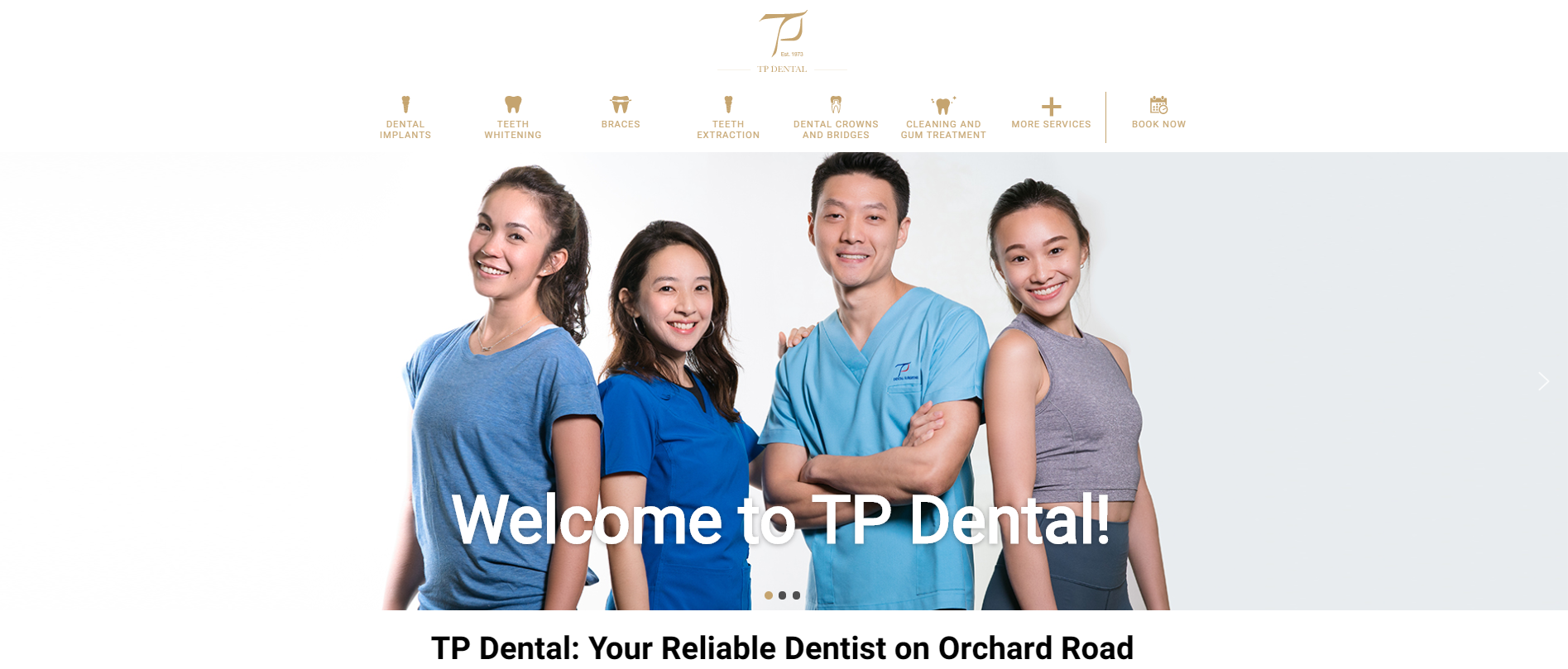 BEST FOR 
Dental Services
WEBSITE
https://www.tpdental.com.sg/
ADDRESS
The Penthouse
391B Orchard Road, Ngee Ann City Tower B #26-01, Singapore 238874
CONTACT DETAILS
(+65) 6737 9011| [email protected]
OPERATING HOURS
Monday to Friday, 8:30am – 7:00pm
Saturdays, 8:00am – 5:00pm
Sundays & Public Holidays, 9:30am – 1:00pm
Located in Orchard Road is TP Dental, a multi-disciplinary dental clinic that aims to provide reliable, high quality care for patients of all ages. Their services continuously fulfill their client's high standards as they utilise only the latest, cutting edge technology in their treatments.
They offer a wide variety of dental treatments, ranging from simple dental cleaning to more complex dental procedures. One of the services they offer is orthodontics, which includes but is not limited to fixed metal or ceramic braces, retainers, and Invisalign.
Unlike other dental clinics, TP Dental's braces treatments are only done by orthodontic specialists who are fully qualified and listed on the Ministry of Health Dental Specialist list. You can rest assured that under their capable hands, your teeth will be corrected and your dental health will improve.
Highlights
Dental Implant
Teeth Whitening
Braces
Teeth Extraction
Bridges
Cleaning
Gum Treatment
Wondersmile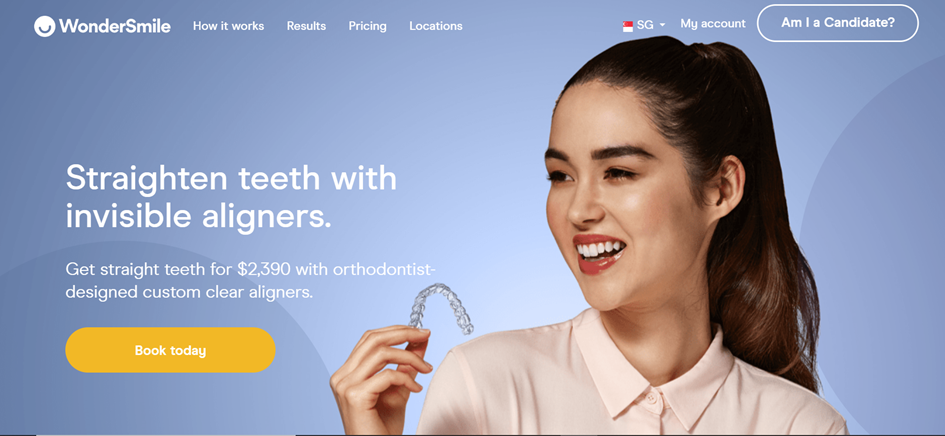 | | |
| --- | --- |
| BEST FOR | 60% cheaper invisalign |
| WEBSITE | https://www.wondersmile.com/sg/locations |
| ADDRESS | Level 3, 111 Somerset Road, Orchard, Singapore |
| CONTACT DETAILS | +65 6956 6241 |
| OPERATING HOURS | Monday – Friday: 8:30am–6pm |
Wondersmile is a leading dental clinic in Singapore. They offer the best invisible aligners to straighten your teeth, which is better than most dental companies providing Invisalign. This method is good for you in case you don't want regular braces that are too bulky and noticeable.
The process with invisible aligners are much easier with Wondersmile, and you still get the same results so you won't have to worry about slowing down the actual procedure. Have the orthodontist on duty scan your teeth, and you're good to go! You get to have your Invisalign at your doorstep in no time.
Get the perfect smile for only about $2000 with their custom-fit designs for Invisalign, only at Wondersmile.
Highlights
Cheaper rates
Fast results
Custom-made Invisalign
Big Smile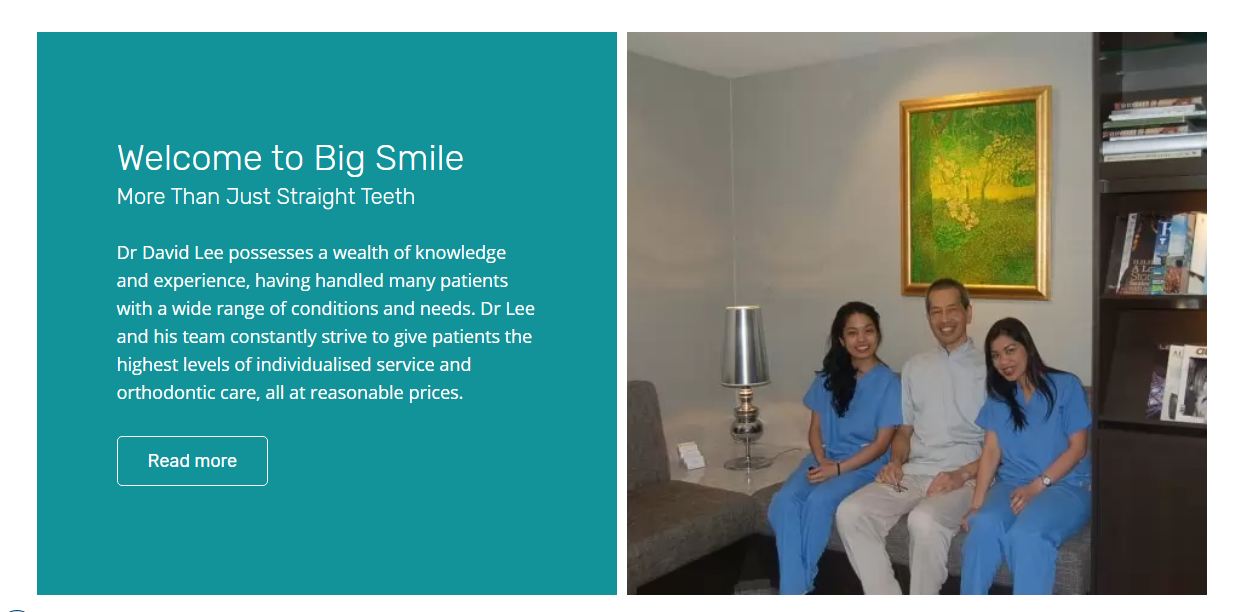 BEST FOR 
Full range of orthodontics specialities
WEBSITE
https://www.bigsmile.com.sg/
ADDRESS
Mount Elizabeth Medical Centre #04-04/5, 3 Mount Elizabeth (S)228510, Singapore 228510
CONTACT DETAILS
+65 6734 0007
OPERATING HOURS
Weekdays: 9am–6pm

 

 

 

 

Saturday: 9am–1pm
Big Smile has a resident orthodontist who holds years of experience in teeth alignment, gum disease, and more. This clinic advises Invisalign treatment for those who don't need major corrections.
If you're confirmed to be suitable for Invisalign, they'll show you an animated simulation of your treatment so you'll know the expected changes. It's also located at one of the largest medical hospitals on the island, Mount Elizabeth, so you can easily find their clinic.
Many customers praised the wide selections of treatments, which is why many believe that they have the best Invisalign in Singapore.
Highlights
All kinds of teeth straightening options
Affordable instalment plans
Ocean Dental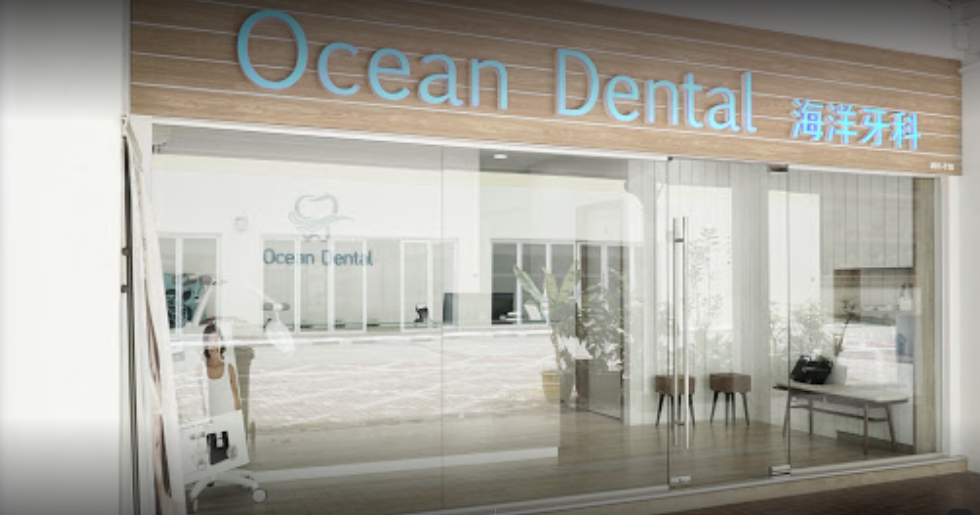 BEST FOR   
Complimentary retainers
WEBSITE
https://www.oceandental.sg/braces/
ADDRESS
Blk 721 Clementi West Street 2 #01-118 Singapore 120721
CONTACT DETAILS
+65 6266 3011


[email protected]

OPERATING HOURS
Monday – Friday: 9:00 AM – 9:00 PM
Saturday – Sunday: 9:00 AM – 6:00 PM
Ocean Dental is a full-service dental clinic that is also an expert in cosmetic procedures such as braces. For cosmetic treatments, it has four different types of braces options: metal, ceramic, self-litigating, and Invisalign.
They conduct X-ray examinations pre and post-Invisalign using panoramic & lateral cephalogram and OPG X-ray. You can also avail of these imaging services alone for $200.
Another benefit of Ocean Dental's Invisalign services is that it comes with a complimentary set of retainers.
Highlights
Professional treatment from dentists
Invisalign and three other braces options
Pre and post-braces X-ray photography
Dental Designs
With the hustle and bustle of work life, finding time to get to the dentist can be tricky. It's a good thing Dental Designs offer the convenience of having an accessible location at the central business district of Singapore.
They offer various dental treatments, including but not limited to aesthetic dentistry, general dentistry, and emergency dental services. Their aesthetic dentistry service includes Invisalign, a treatment that makes use of transparent aligners to move and straighten teeth.
Dental Designs has on hand state-of-the-art technology that allows their specialists to scan the patients' teeth and personalise their Invisalign treatments. Not only that, but these specialists have extensive background in Invisalign treatment, making them highly competent in helping treat even most difficult of cases.
Highlights
Accessible location
Transparent rates
Personalised treatments
TLC Dental Centre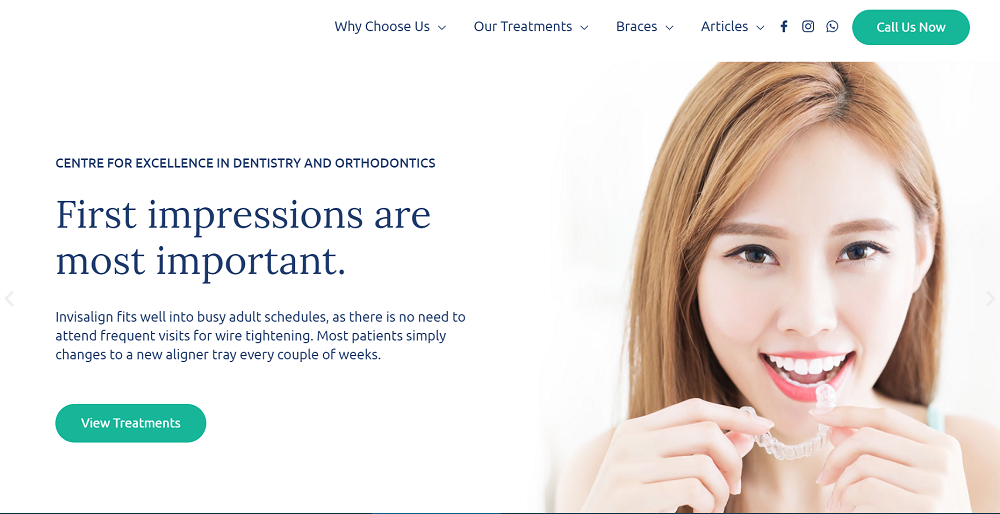 BEST FOR 
Technologically Advanced Dental Services
PRICING
Contact for more information
WEBSITE
https://www.tlcdental.com.sg/
ADDRESS
360 Orchard Road #05-05, International Building, Singapore 238869 (next to Orchard MRT)
CONTACT DETAILS
+65 6338 6639
OPERATING HOURS
Weekday – 9am to 7pm
Saturday – 9am to 4.30pm
Sunday & Public Holiday – Closed
Next on our list for the best Invisalign in Singapore is TLC Dental Centre. This premier dental clinic is renowned for specialises in various dental procedures, like dental implants, root canal treatments, crowns, veneers, and, of course, Invisalign.
The standards that TLC Dental Centre is one of the highest in the country, with an experienced staff handling technologically updated equipment. You'll find that the combination results in quality dental services for every client.
If you're in need of dental upkeep, then contact TLC Dental Centre today to avail their affordable quality services.
Highlights
Experienced orthodontist with multidisciplinary team
Affordable rates
Same day CEREC Crown (Ceramic restorations in one visit)
Approved healthcare institution under the Baby Bonus Scheme
G Dental Centre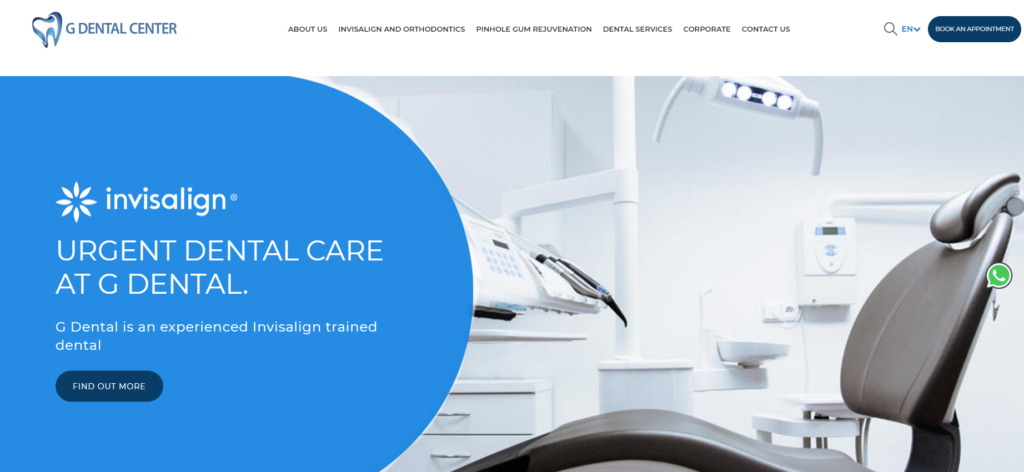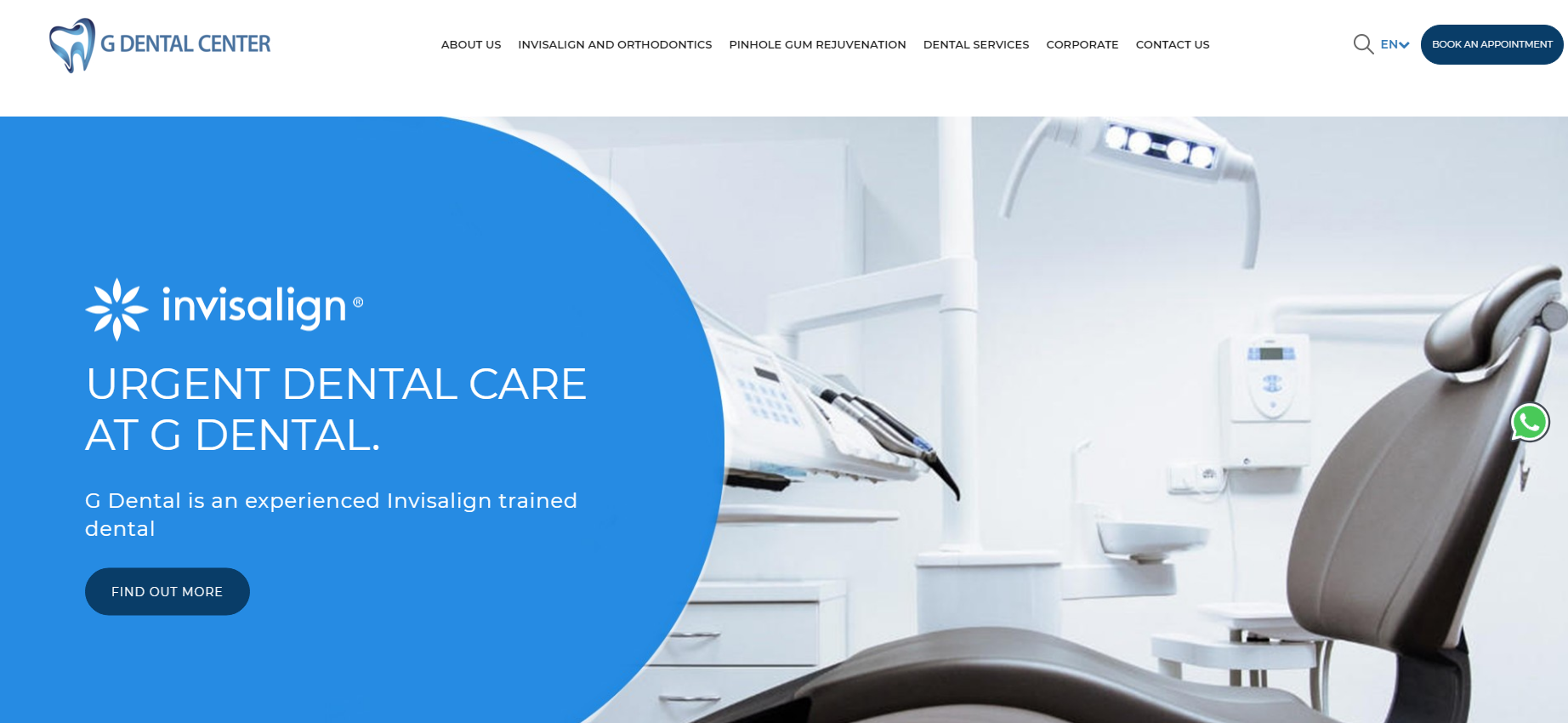 BEST FOR 
Urgent Dental Care
PRICING
Contact for more information
WEBSITE
https://gdental.com.sg/
ADDRESS
25 Ghim Moh Link
01-04, Singapore 270025

Camden Medical Centre
1 Orchard Boulevard #02-01
Singapore 248649
CONTACT DETAILS
Tel: +65 6262 1580
Email: [email protected]
OPERATING HOURS
Monday, Wednesday, Friday
10am-6pm
Tuesday, Thursday
10am-8:30pm
Saturday
9am-3pm
Established in 2001, G Dental Center Singapore is a renowned clinic comprising of surgeons and dentists who are experienced in a wide range of dental treatment services and procedures. These specialists all share a common goal: to improve the quality of life of local and international patients.
Aside from this goal, G Dental Center Singapore is also dedicated to achieving both functional and aesthetic outcomes, making use of top-of-the-line equipment and dental products accompanied by years of experience in the field. These equipment are used in a wide array of dental procedures, including Invisalign and orthodontics, pinhole gum rejuvenation, root canal treatments, veneers, and many more.
Patients will find that choosing G Dental Center Singapore for their dental needs will gain them access to the aid of experienced professionals who all take the time to consult with each patient, learning their tooth history, before offering the necessary procedures to improve upon their dental health.
Finances aren't a huge worry with G Dental Center Singapore either since the clinic strives to provide consultations and treatments that are affordable and effective.
Highlights
More than 15 years of experience
Friendly and dedicated doctors and staff
Convenient location near central
First consultation and treatment are affordable
You will be scanned with the iTero digital scanner on your first visit
Comprehensive consultation & customized treatment plan
Financial payment options available
Platinum Elite Invisalign Provider
Joy Dental

| | |
| --- | --- |
| BEST FOR | Patient-centric dental treatment, Fearful or anxious patients. Orthodontic/Invisalign, root canal treatment. |
| PRICING | Contact for more information |
| WEBSITE | https://joydental.sg/ |
| ADDRESS | 164 Bukit Merah Central #01-3641 Singapore 150164Buangkok Square Mall. 991 Buangkok Link #02-17 Singapore 530991Canberra Plaza. 133 Canberra View #02-15 Singapore 750133 |
| CONTACT DETAILS | Bukit Merah Branch Tel/Whatsapp: 6909 3088 / 9021 4939Buangkok Branch Tel/Whatsapp: 6909 5461 / 9101 4502Canberra Branch Tel/Whatsapp: 6909 8595 / 9106 2564Email : [email protected] |
| OPERATING HOURS | Mon to Sat 9am-6pm (Bukit Merah Branch)Mon to Fri 10am-9pm, Sat/Sun 10am-6pm (Buangkok and Canberra Branches) |
Joy Dental Centre has a close-knitted team of Dental Surgeons and a Specialist in Orthodontics who offer a wide range of dental services. As a whole, Joy Dental offers services such as Invisalign, root canal treatment, dental implants, teeth whitening, crowns and bridges and of course, general dental check-ups.
Another great quality about their clinics is their focus on utilising technology and the latest equipment to aid them in the provision of implant treatment. To add to this, Joy Dental Centre also has impeccable infection control with their hospital-grade autoclave sterilisation. 
Finally, on top of all these great qualities from Joy Dental Centre, their focus on providing patient-centric dental treatment so as to give the best dental service possible is a great reassurance to anxious patients. They have several locations across Singapore that's all easily accessible. 
Highlights
Gentle and Patient-centric 

Invisalign

Damon Braces

Metal Braces

Children's jaw and growth development

Braces with Orthognathic surgery

Retainers
Dr Catherine Lee Orthodontics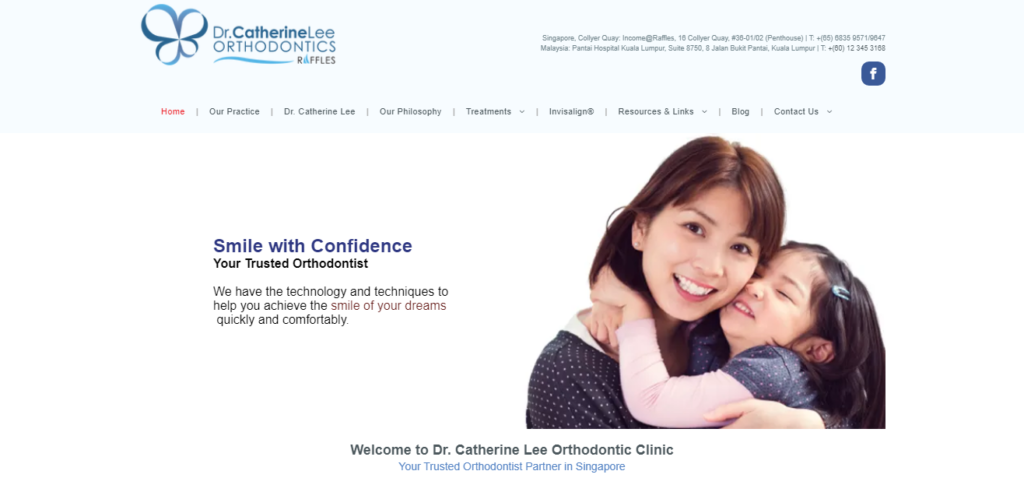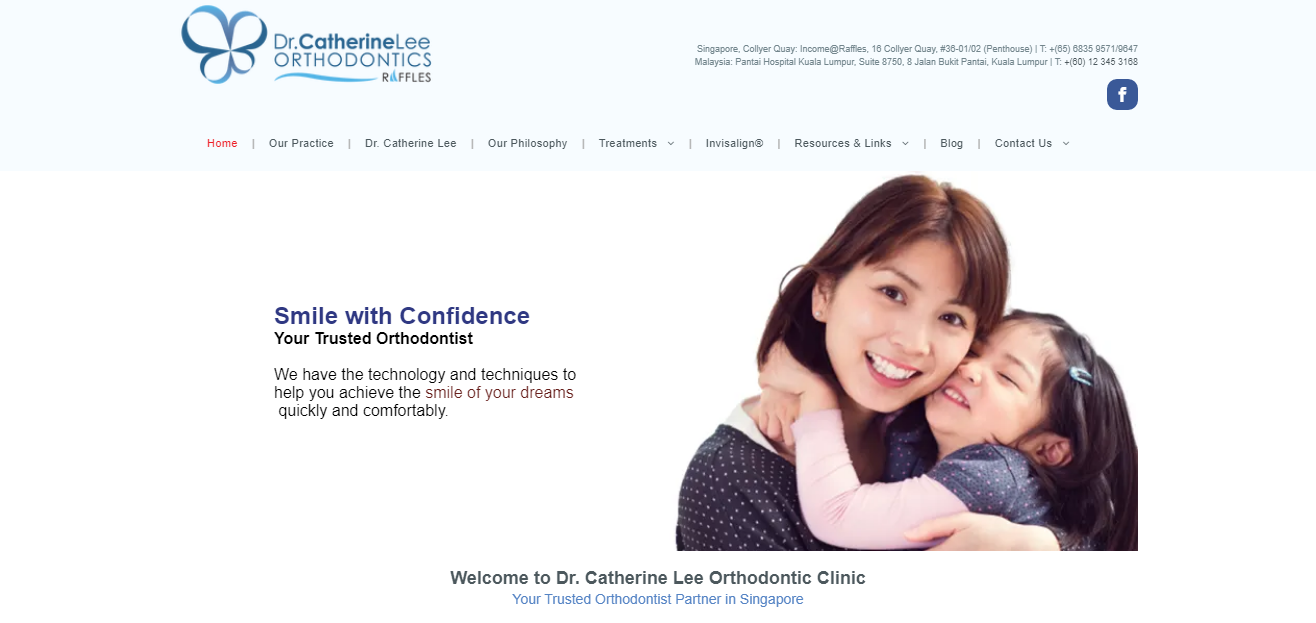 Dr Catherine Lee Orthodontics is a clinic that, given by its name, specialises in Orthodontics treatments. The clinic provides a comprehensive range for all ages — children, teenagers, and adults.
The clinic is conveniently located at RAFFLES, previously known as Hitachi Tower. Here patients will be treated by one Dr Lee, an American-trained orthodontist with an additional sub-specialty in surgical orthodontics.
Aside from the range of services and the head dentist, Dr Catherine Lee Orthodontics also offers a spacious open treatment area that overlooks the city and sea, making for a comfortable space where clients can relax and enjoy themselves even when getting treated. Not only that, but the clinic also has modern facilities and private enclosed treatment suites for individuals who require more privacy.
Highlights
Convenient Location

Open space and cosy clinic

Top of the line equipment and products
Professional and friendly staff
Now that you know the most-recommended clinics where you can get the best Invisalign in Singapore, have you already decided which one you'd like to visit? If so, then book an appointment now and share your experience with us!
But if you haven't found the nearest clinic to your place, then see these best dental clinics in Singapore. Some of these options also offer Invisalign and other orthodontics services so make sure to check them out.