Our Favourite Clinics for Colonoscopy Screening in Singapore
Colonoscopy screening may be one of the most frightening and uncomfortable medical tests to take, but it's essential if you want to monitor or look out for things like colon cancer. Since it's your health that's on the line, you should only undergo the best colonoscopy screening in Singapore.
We want to help you. So, we made a list of clinics that offer the best colonoscopy screening in Singapore. We looked for the ones with proper equipment, experienced specialists, and pleasant ambiance.
Check out our list below:
(Note: This list is in no particular order.)
Colorectal Surgeon Singapore, Dr Aaron Poh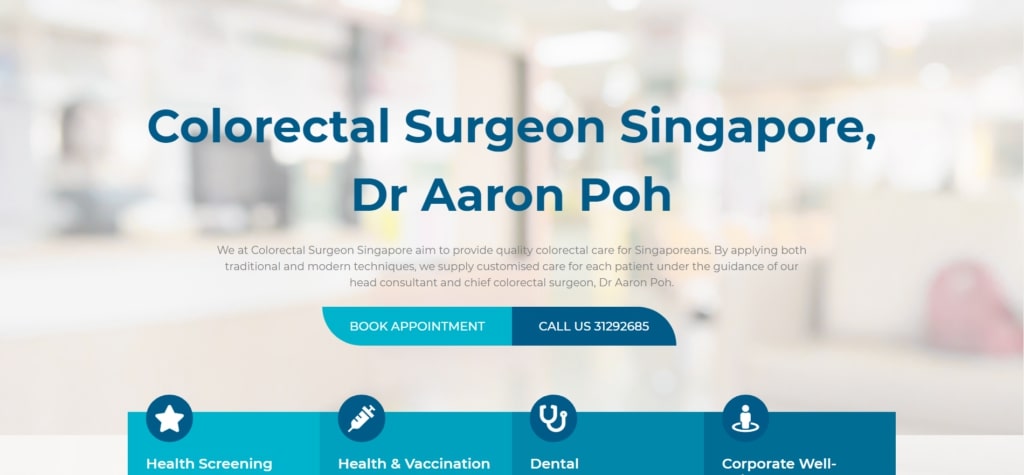 BEST FOR
Trauma surgery
SERVICES
Diagnosing and Treating Colorectal Cancer, Anal Conditions, Pelvic Floor Disorders, Hemorrhoids, Diverticulitis, and Inflammatory Bowel Diseases
WEBSITE
https://colorectalsurgeonsingapore.com/
ADDRESS
3 Mount Elizabeth #17-16 Medical Centre Singapore 228510
CONTACT DETAILS
69515363 |

[email protected]

OPERATING HOURS
Mon–Fri: 9:00AM – 5:00PM
Saturday: 9:00AM – 12:30PM
Sunday & PH: CLOSED
At Colorectal Surgeon Singapore, their team aims to provide Singaporeans with quality colorectal care. By applying both traditional and modern techniques, they are able to offer customized care for each patient under the guidance of theur head consultant and chief colorectal surgeon, Dr Aaron Poh.
Dr Aaron Poh specializes in Trauma Surgery. He finished his medical studies in 2004 at the National University of Singapore and acquired his Fellowship at the Royal College of Surgeons of Edinburgh in 2015.
Highlights
24/7 customer care and support
Compassionate and skilled medical professionals
Has all the latest medical tools and equipment
Dr. Chunhai Tan
BEST FOR   
Keyhole Surgery
SERVICES
Bariatric and Metabolic Surgery
Upper Gastrointestinal & Stomach Surgery
General Surgery
Emergency & Acute Care Surgery
Gastroscopy & Colonoscopy
WEBSITE
https://www.drchunhaitan.com/colonoscopy
ADDRESS
6A Napier Road, #03-00, Gleneagles Hospital Annexe Block
258500
CONTACT DETAILS
+6564328319
OPERATING HOURS
Contact for more details
Dr. Chunhai Tan is not your usual surgeon. He is one of the most trusted surgeon that specializes in keyhole surgeries.
Whether you are getting a bariatric, metabolic, stomach, or gastric cancer operation, you can be sure that he can give you a scarless surgery.
He has a wealth of clinical experience and strong research background. Furthermore, he can provide you with holistic and comprehensive quality care.
Colonoscopy is a diagnostic procedure examining the large intestine and parts of the small intestine. During this, a long, thin tube, with a camera, is passed through your anus to look through your colon.
With his level of expertise, Chunhai Tan can easily and properly diagnose your condition and find the root cause/s of your problem.
People prefer to get their services because he has a multi-disciplinary approach, numerous diagnostic and treatment options, excellent patient care, and comprehensive colon care.
A previous client mentioned that their experience with them was pretty amazing. They stated that Dr. Chunhai Tan and his staff made them feel comfortable and less nervous before the procedure.
They also liked how Dr. Chunhai Tan explained the process in detailed and simple terms.
Highlights
Online booking system
Responsive hotline
Accepts numerous insurance plans
Livingstone Digestive & Liver Clinic – Dr. John Hsiang

SERVICES 

Abdominal (Gastric) Pain

Abnormal Liver Tests

Loss of Weight or Loss of Appetite

Blood in Stools

Diarrhea / Constipation

Difficulty Swallowing

Dyspepsia

Excessive Gas / Bloating

Jaundice

Reflux

Vomiting / Nausea

WEBSITE

ADDRESS

3 Mount Elizabeth, #13-14, Singapore 228510

CONTACT DETAILS

+65 6235 8890

+65 8028 5047

OPERATING HOURS

Monday – Friday, 8:30 AM – 5:30 PM

Saturday, 8:30 AM – 12:30 PM
Livingstone Digestive & Liver Clinic's services centers around providing  a full range of gastroenterology and hepatology services tailored to every patient's needs. 
Among the services they provide, their colonoscopy screening is particularly well-received for their efficient doctors and well-maintained facilities that helps patients be confident to do the procedure. 
Their gastroenterologist and hepatologist, Dr. John Hsiang, has special clinical interests in managing fatty liver disease, viral hepatitis, Helicobacter pylori infection, and the effects of the gut microbiome on irritable bowel syndrome, as well as extensive experience in gastrointestinal cancer screening.
He is multilingual, able to speak fluent Mandarin and Hokkien which helps put his patients at ease as he explains complex medical conditions. He is known for providing patient education seminars and radio talk shows in fluent mandarin. 
We like how he believes in empowering his patients with more knowledge so that, in turn, they can know more about their own medical condition so that the patient can be in control with the doctor's guidance. 
Highlights
Personalized Patient Care

Most Insurances Accepted

Evidence-Based Approach
Customer Reviews
Dr. John Hsiang and his team are amazing!
"Dr. John Hsiang and his team are amazing!  Dr. John was very accommodating and very knowledgeable. He patiently explained my condition which allowed me to think objectively about my situation.  The staff, headed by Ms. Hannah, were very helpful. They guided me all throughout from checking in until i got discharged and made sure my expenses were covered by my insurance. They were also very friendly. Highly recommended." – Matthew Dela Serna
 Hanna, his staff was cheerful, caring and helpful. 
"Thankful to have found Dr John. He was able to help me zero down to the cause of my jaundice and prescribe proper treatment for me. Appreciate his effort to communicate my test results at the earliest possible time so as to elevate anxiety and his patience in explaining what's happening to my liver. Hanna, his staff was cheerful, caring and helpful. They made this episode of going to the doctor less stressful and very pleasant. Thank you Dr John and Hanna. May God bless your work!"  – Pei Yee Chua
Ho Kok Sun Colorectal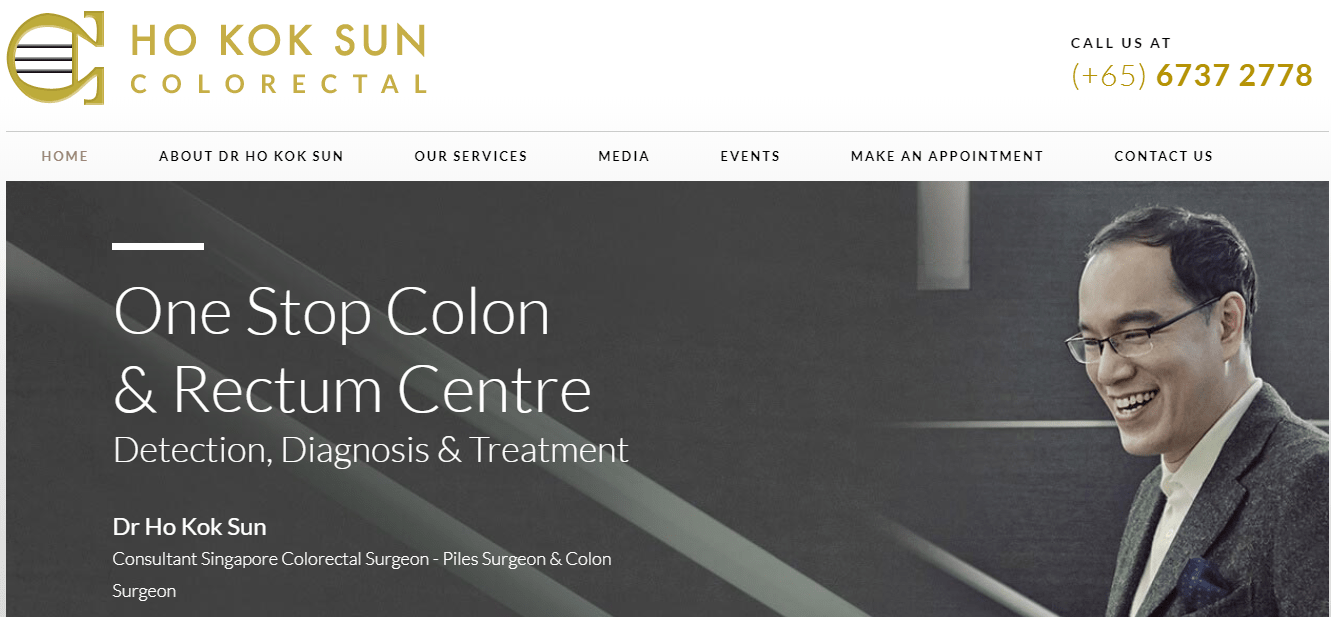 BEST FOR 
Surgeries
SERVICES
Colonoscopy, Piles Surgery, Appendix Surgery, Hernia Surgery, Anal Fistula, Colorectal Cancer, and Colon and Rectum Surgery
WEBSITE
https://www.hkscolorectal.com.sg/
ADDRESS
3 Mount Elizabeth, #12-09 Medical Centre, Singapore 228510
CONTACT DETAILS
(+65) 6737 2778 |

[email protected]

OPERATING HOURS
Monday – Friday, 9:00 AM – 5:00 PM
Since colonoscopy is among the leading medical procedures on the island, Ho Kok Sun Colorectal strives to give every patient only the best colonoscopy screening in Singapore. It's headed by Dr. Ho, who facilitates every colon-related procedure and is among the most renowned colorectal surgeons in Singapore.
Dr. Ho has studied and practiced medicine not only in Singapore but in other countries as well, making him a very qualified specialist. His areas of expertise include anal diseases, haemorroid, and colon cancer.
Another reason it's a clinic worth visiting is in its varied colon-related services. Patients with colon-related conditions can sign up for colon and rectum surgery, endoscopy, hernia surgery, anal fissure treatment, and of course, colonoscopy.
Highlights
Experienced physician
Colon surgeries
Convenient appointment
Colorectal Clinic Associates

| | |
| --- | --- |
| BEST FOR  | Experienced Physicians |
| SERVICES | Colonoscopy, Endoscopy, Anorectal Surgery, Anal Fissures, Anal Fistula, and General Surgery |
| WEBSITE | http://www.colorectalclinic.com/ |
| ADDRESS | 38 Irrawaddy Rd, #10-48/49, Singapore 329563 |
| CONTACT DETAILS | (+65) 6643 9922 |
| OPERATING HOURS | Monday – Friday, 9:00 AM – 6:00 PM |
If you're looking for a clinic that offers the best colonoscopy screening in Singapore, then Colorectal Clinic Associates would be the right match for you. It's among the trusted medical clinics for colon-related conditions given its commitment to providing patients with quality yet affordable healthcare.
Some of its medical services include colonoscopy, endoscopy, anorectal surgery, anorectal physiology testing, and general surgery. Colorectal Clinic Associates also has a team of experienced specialists and medical support staff.
It also has 4 branches scattered all over the island, so gaining access to its treatments wouldn't be much trouble. Besides Mount Elizabeth Novena Hospital, it operates in Connexion, Mount Alvernia Hospital, and Parkway East Hospital.
Highlights
25 years of experience
Quality healthcare
Internationally-trained doctors
Colorectal Practice

BEST FOR 
Patient-Centric Services
SERVICES
Colonoscopy, Rectal Cancer,  Hernia Repair, Diverticular Disease, Appendix Surgery, Minimally Invasive Colorectal Surgery, and Surgery for Anal Diseases
WEBSITE
https://www.colorectalpractice.com/
ADDRESS
3, #12-14 Mount Elizabeth, Medical Centre, Singapore 228510
CONTACT DETAILS
(+65) 6262 1226 |

[email protected]

OPERATING HOURS
Monday – Friday, 9:00 AM – 5:00 PM
Colorectal Practice is known for providing comprehensive and detailed cancer screening and treatment to ensure that patients and their family remain healthy for the years to come. It's a one-stop medical centre for all colorectal conditions, offering patients quality and affordable healthcare.
Another reason we call it one of the clinics with the best colonoscopy screening in Singapore is that all its medical treatments are tailored to the needs of every patient. It's also equipped with diagnostic tools and medical technologies to ensure accurate and correct colonoscopy results at all times.
What's more, Colorectal Practice is headed by Dr. Dennis Koh, a specialist in the field of colorectal surgery with both local and international exposure.
Highlights
Non-invasive treatments
Experienced medical staff
Proactive services
Raffles Surgery Centre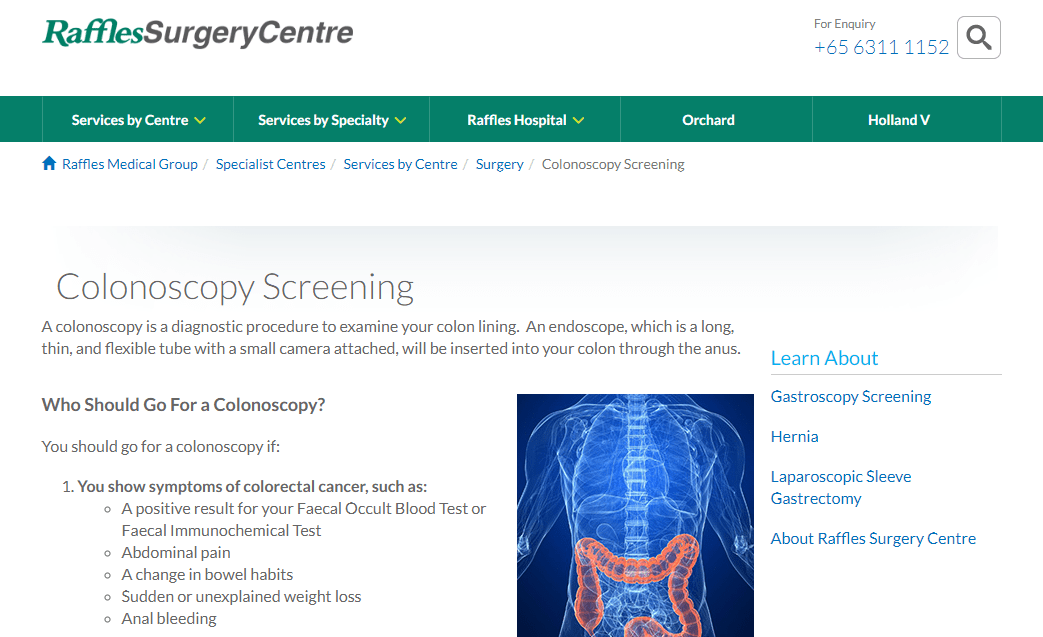 | | |
| --- | --- |
| BEST FOR  | Easy Appointment |
| SERVICES | Colonoscopy and Colorectal Surgery |
| WEBSITE | https://www.rafflesmedicalgroup.com/ |
| ADDRESS | 585 North Bridge Rd, Level 13 Raffles Specialist Centre, Singapore 188770 |
| CONTACT DETAILS | +65 6311 1140 |
| OPERATING HOURS | Monday – Friday, 8:30 AM – 6:00 PM |
Since most patients are afraid to undergo colonoscopy, Raffle Surgery Centre promises that they will make the process as fast and uncomfortable as possible. With the help of its competent medical staff, patients have nothing to worry about before and during a colonoscopy.
What's more, the colonoscopy screening takes only 20 minutes of their time, so the test can be taken even during their free time from work. After the screening, patients will be given refreshments while waiting for the doctor who will explain the results.
Highlights
Comfortable environment
Quick and hassle-free colonoscopy
KH Ng Surgery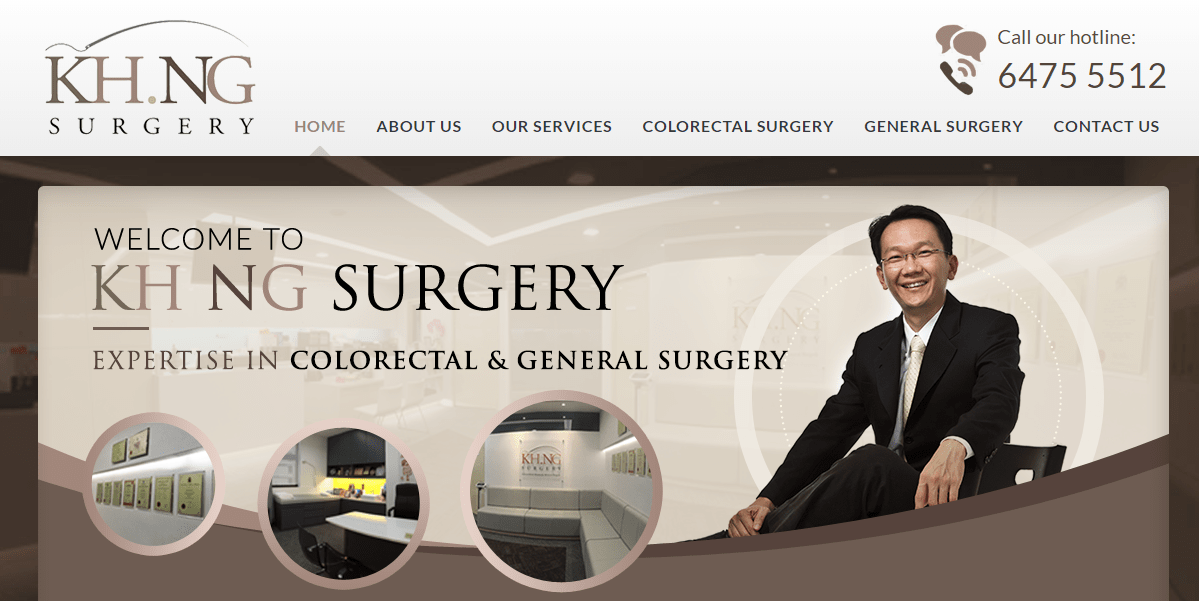 | | |
| --- | --- |
| BEST FOR  | Easy Appointment |
| SERVICES | Colonoscopy, Keyhole Surgery, Single Port Surgery, and Hernia Surgery, and General Surgery |
| WEBSITE | https://www.khngsurgery.com.sg/ |
| ADDRESS | 6 Napier Rd, Suite #03-13 Gleneagles Medical Centre, Singapore 258499 |
| CONTACT DETAILS | (65) 6475 5512 |
| OPERATING HOURS | Monday – Friday, 8:30 AM – 5:30 PM |
If you're searching for the best colorectal surgeon in Singapore, then look no further than KH Ng Surgery. It's headed by its namesake Dr. Ng Kheng Hong, a physician of great renown locally and internationally.
What's more, KH Ng Surgery also has a wide variety of colon-related services such as colonoscopy, hernia surgery, keyhole surgery, piles treatments, anal fistula treatment, and more.
We can guarantee that all of its services are personally conducted by Dr. Ng., with the help of his competent medical support staff — which is why we call it one of the top clinics with the best colonoscopy screening in Singapore.
Highlights
Experienced specialists
Quality medical treatments
Concord International Hospital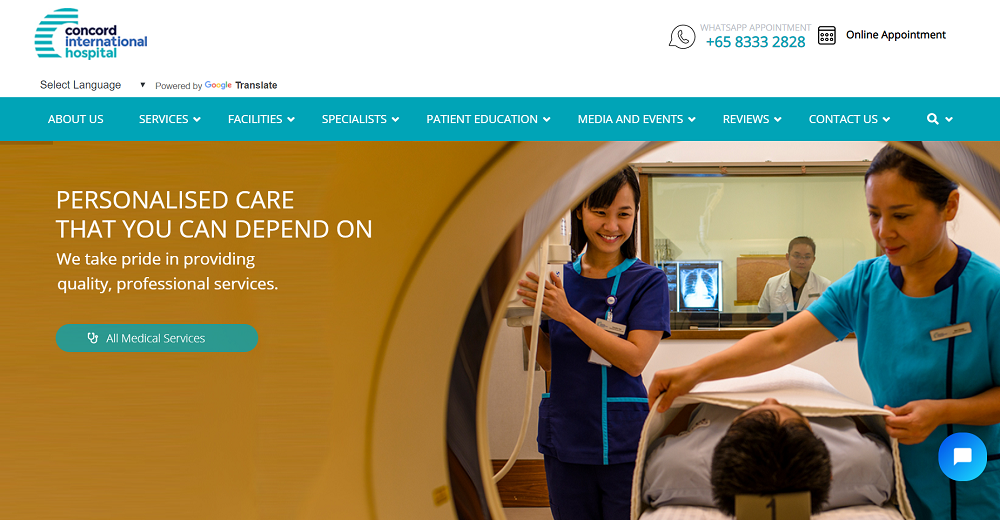 | | |
| --- | --- |
| BEST FOR  |  Personalised Healthcare Service |
| SERVICES | General Surgery, Colonoscopy , Minimally Invasive Surgery, Radiation Therapy, Immunotherapy and Chemotherapy |
| WEBSITE | http://www.cih.com.sg/ |
| ADDRESS | 19 Adam Road Singapore 289891 |
| CONTACT DETAILS | +65 6933 3722 | [email protected] |
| OPERATING HOURS | Open 24/7 |
Concord International Hospital provides 24-hour inpatient and outpatient care and services. They offer high quality medical and nursing care in a boutique setting which is both elegant and cosy to ensure that their patients are as comfortable as they can be.
Furthermore, here at Concord International Hospital, they pride themselves on their patient education. They provide reliable materials to help you and your families understand your health conditions and treatments.
Highlights
Environment is comfortable and welcoming
Hospital staff is patient and accommodating
Quality service
GutCARE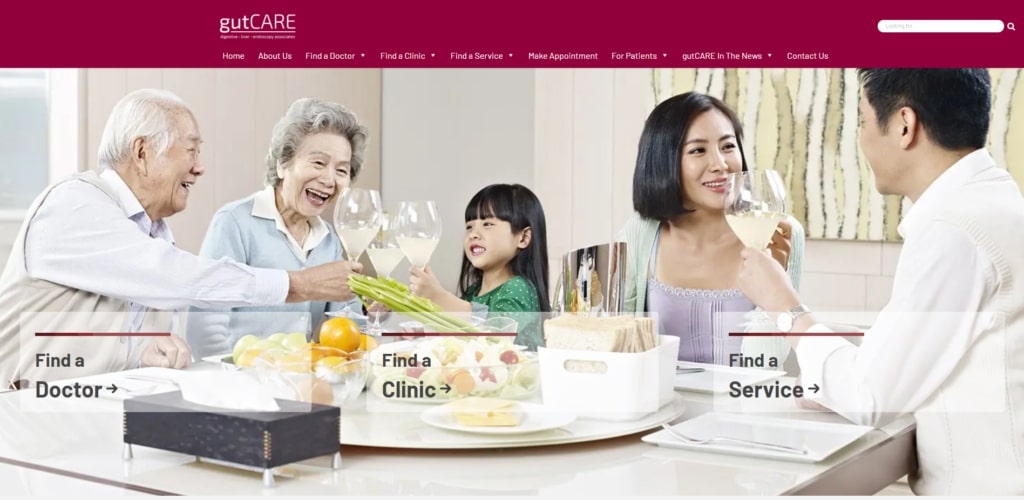 | | |
| --- | --- |
| BEST FOR  | General and Advanced Endoscopic Services |
| SERVICES | Gastroscopy (OGD),Colonoscopy,Polypectomy, Feeding Tube, Piles Ligation, Emergency Hemostasis, Foreign Body Removal, ERCP, EUS, Image Enhanced Endoscopy (IEE), Complex Polyp Removal, Small Intestine Endoscopy, Dilatation & Stenting, Endoscopic Ablation, 24 hour pH/impedance study, Colon Transit Study, Fibroscan, High Resolution, Manometry, Hydrogen/Methane Breath Test, Specialized Dietitian, Specialized Psychologist, Specialized Services Referral Form |
| WEBSITE | http://www.gutcare.com.sg/ |
| ADDRESS | 38 Irrawaddy Road #10-58, Mount Elizabeth Novena Specialist Centre, Singapore 329563 |
| CONTACT DETAILS | (+65) 6734 3435 |
| OPERATING HOURS | Monday – Friday, 8:30 am – 5:30 pm |
GutCARE was founded with the aim of providing Singapore a specialised digestive practitioner. Gastroenterology is becoming one of the fastest developing fields in medicine– it is no longer possible for a single specialist to excel in all the different areas of digestive disorders.
With this in mind, GutCARE brings together established gastroenterologists in each subspecialty into a single team, with an aim to provide specialised digestive care under one roof. Because of this, patients can have access to a complete team of specialists and services, normally found only in established gastroenterology departments in renowned institutions in Singapore and the region.
They have multiple clinic locations and doctors to choose from, so that they can provide good quality service at the patient's convenience. With GutCARE, there will always be a doctor available to see any patient, even when the patient's regular doctor is not available.
Highlights
Endoscopic Services
Diagnostic and Screening Endoscopy
Gastroscopy
Colonoscopy
Standard and Advanced Polyp Removal
Piles Ligation
Endoscopic Ultrasound
And that's it for our list of the clinics with the best colonoscopy screening in Singapore. There's no reason not to get tested for colon cancer when these clinics are located conveniently across the island.
If you know other clinics that offer colonoscopy screening, share their names with us and we'll check if we can add them to our roster.
By the way, there are also medical centres all over the island that offer quality health screenings for all ages. So, if you want to know the overall status of your health, then we suggest dropping by the best places for any type of health screening in Singapore.