The 5 Best Powerline Adapters in Singapore
Suffering from delayed work submissions or interrupted streaming because of a slow Internet connection? To ensure a fast and stable network, you need the best powerline adapter in Singapore!
With a powerline adapter, you can connect your devices directly to the router even if not they're not in the same room as your router. This way, you can have a reliable Internet connection.
But if you prefer to have a wireless connection, especially for gadgets without an Ethernet port, no worries, because some powerline kits offer powerful WiFi hotspots too. Most are easy to set-up and affordable as well.
But with the wide range of options to choose from, how can you be sure that you've bought a good one?
Well, before you see our list of the best powerline adapters in Singapore, you may want to see our guide to picking a powerline adapter. That way, you'll get some tips first for selecting the right one suitable for your needs.
How to Pick a Good Powerline Adapter
Installing a low-quality or incompetent powerline adapter will only worsen your browsing/streaming experience — and obviously, that's the last thing you want!
That's why you must know first which features to consider before you buy one. Here are the most important points, in that regard.
1. Speed of Ethernet Ports
If you need a powerline adapter for general Web browsing only, then you may opt for a 200Mbps device.
For an ultimate streaming experience, you should go for 500Mbps and above so you can binge-watch your favourite movies/series without an interrupted connection.
It's also highly recommended to choose one with Gigabit Ethernet ports.
However, it won't be effective unless your computer and router have Gigabit Ethernet ports too. So, make sure to check the powerline adapter's ports and compare it to your device's ports at home.
2. Size
Huge powerline adapters often perform better than the small-sized ones. But they can also be obtrusive, especially if they're just in plain sight or placed in small spaces.
There are some compact adapters that offer quality features, so if you don't want to have a large device placed in front of your power socket, then you might need to consider the size.
3. Number of Ethernet Ports
This will depend on the number of devices that you'll plug into the adapter — specifically, in each room. If you have your smart TV and computer placed in one room, then you need an adapter that has two ports.
Most powerline adapters come with only one port, which is a good option too if you're okay with swapping cables.
The Best Powerline Adapters in Singapore
Now that you have an idea of how to choose the right one among the countless models available on the market today, let's now see some of the best powerline adapters in Singapore!
Each one of our picks features versatility, excellent functionality, and durability — so you'll certainly find the best powerline networking adapter!
1.   TP-Link AV1300 TL-WPA8630P KIT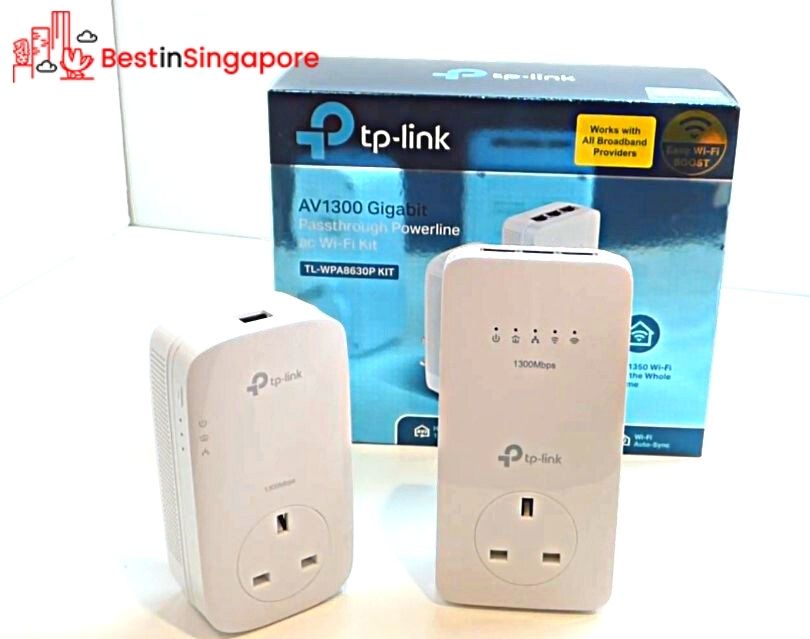 Price: $137.75
If you have two or more devices at home, then the TP-Link AV1300 TL-WPA8630P KIT can be the best powerline adapter in Singapore for you! It has a total of 3 Ethernet Gigabit ports where you can experience 1350 Mbps Internet connection even with multiple devices.
This best powerline adapter in Singapore also provides extensive coverage to eliminate any dead zones at home.
It'll also be easy for you to configure the settings because any changes on the main router's settings will be automatically synchronized to the adapter. This way, you can instantly manage the Internet connection in all rooms.
An additional power socket is also included so you can make full use of the ports. Similar to the previous option, it comes with a built-in noise filter to ensure stable and the best powerline networking adapter transmission.
Pros
Three wired ports
Decent performance
Pass-through outlets
Easy to install
Cons
Bulky
Blocks the access to the second outlet
Customer Reviews
Most users recommended the TP-Link AV1300 TL-WPA8630P KIT because of its fast and stable Internet connection. They also said that it's so easy to use and works well with any device.
A customer shared this experience:
"With the TP-Link AV1200 Powerline Starter Kit, you can bring wired Ethernet connectivity to any room in your house without having to run cables. The adapters use MIMO transmission technology to deliver solid throughput and offer more Ethernet ports than any other powerline device we've reviewed. Moreover, you can control network traffic using the free TP-Link Management Utility. That said, the D-Link Powerline AV2 2000 Gigabit Starter Kit (DHP-701AV) delivers the best performance and remains our top pick for powerline adapters."
2.   TP-Link AV2000 TL-PA9020P KIT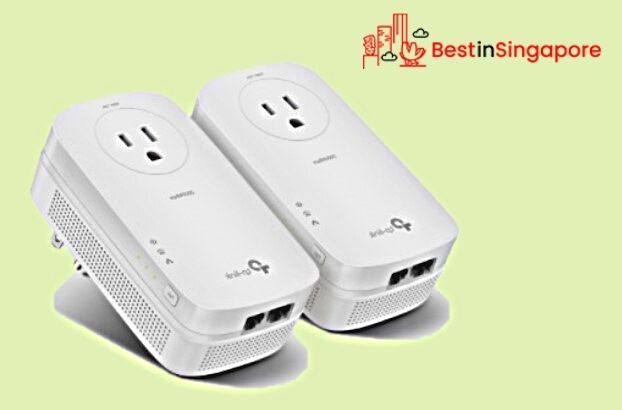 Price: $129.00
The TP-Link AV2000 TL-PA9020P KIT offers superior network connection with its 2000 Mbps rating, giving you lag-free online experience! With this best powerline adapter in Singapore, you can now enjoy fast performance despite having a crowded network.
It also ensures enhanced long-distance technology for hard-to-reach outlets. It has Ethernet Gigabit ports where you can connect your smart TVs, game consoles, computers, and more devices!
Moreover, it has a built-in noise filter that can prevent any electrical signal noise that might affect the performance of the adapter.
Pros
Long Ethernet cables
Fast Internet connection
Plug point feature
Sturdy build
Cons
Some plug switching issues
Customer Reviews
Many reviewers said that the TP-Link AV2000 TL-PA9020P KIT truly delivers exceptional speed and great device compatibility. They also mentioned the easy to use plug point function and integrated power socket.
A customer wrote this feedback:
"We were impressed by the real-world performance of the TP-Link AV2000, which scored as high as we've seen in our tests. The inclusion of pass-through sockets on the TL-PA9020P KIT version and two Gigabit Ethernet ports per adapter (on both the TL-PA9020P KIT and TL-PA9020 KIT) are also welcomed. There's no extra Wi-Fi hotspot function but if your house Wi-Fi is acceptable this isn't the worst omission. If you want a fast Powerline starter kit with more than one Ethernet port plus pass-through this is highly recommended, and is at decent price too."
3.   Netgear PL1200S
Price: $98.10
For all the gamers out there, the Netgear PL1200S is the best powerline adapter in Singapore for you! It provides for both wired and wireless Internet connections with high-speed performance in every corner of your home!
With its encrypted powerline network, rest assured that every connection is fully secured and protected. It also has a Gigabit Ethernet port with multiple data streams for improved coverage.
Despite having several adapters, you can still control energy consumption, for it'll automatically shut off when not in use. It's so simple to install too: just plug it in and you can start your streaming activities without interruption!
Pros
Faster than regular Ethernet connection
INexpensive mobile
Stable network experience
Cons
Customer Reviews
Users were impressed with the overall design and functionality of the Netgear PL1200S. Most of them said that it's the most affordable adapter for high-bandwidth tasks.
A customer posted this review:
"The Netgear Powerline 1200 kit is the affordable answer to those needing a reliable, fast and convenient solution to extend their wired home network. It's affordable and delivers the connection speed many times that of a regular Ethernet connection. The adapter has an indicator light that helps you find the best wall socket to plug it in."
4.   TRENDnet TPL-422E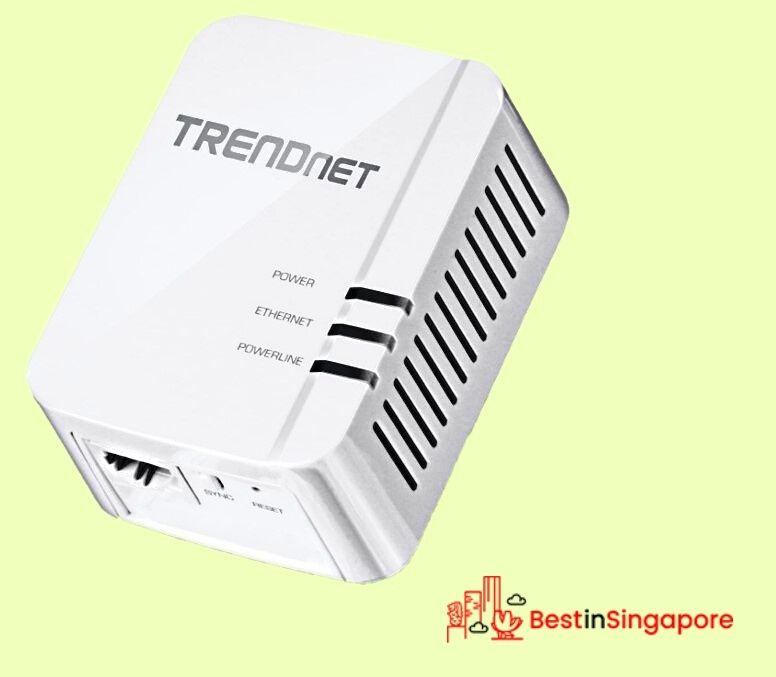 Price: $53.47
With the TRENDnet TPL-422E, you can connect multiple adapters with varied speeds, making it cost-efficient in case you don't need to have the same high speed in every room.
Just press the sync button and all changes on the main router will be automatically applied to the powerline adapters.
It also has advanced technology that uses live, ground, and neutral wires to enhance the performance between adapters for a fast and stable connection in all areas.
You can use up to 8 adapters in a single powerline network too. So this is the best powerline adapter in Singapore if you have a spacious place.
Pros
Built-in electrical outlet
Networking over existing electrical lines
Noise filter
Automatic connection between adapters
Cons
Blocks some parts of the other outlet
5.   D-Link DHP-W611AV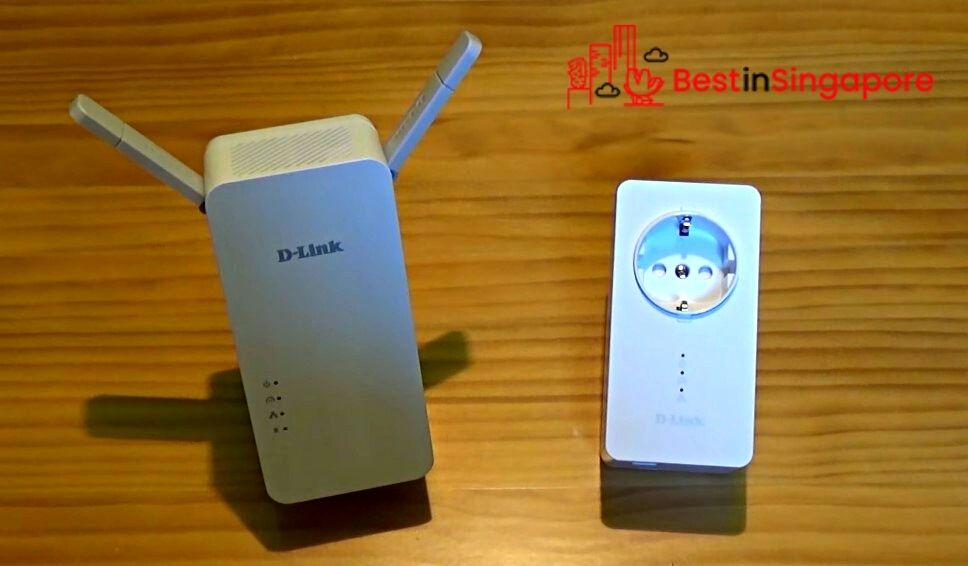 Price: $118.43
The D-Link DHP-W611AV offers a wireless powerline network for extensive coverage, making sure that every corner of your house has a stable signal.
For a wired connection, it has Ethernet Gigabit ports with dual-band technology that prioritises multimedia traffic over normal Internet traffic, giving you a buffer-free streaming experience!
Each adapter comes with AES encryption to secure both wired and wireless connections. It's a plug-and-play device so you can easily install and use it without any hassle!
Aside from these, it also has a power-saving mode, so even if you have an adapter installed in every room, there's no need to worry about high electricity costs.
Overall, if you want great connectivity, smart connection and power-efficient usage, this could be the best powerline adapter in Singapore for you!
Pros
Compact design
Simple installation
Wired and wireless network
Energy saving mode
Cons
No guest network available
And that's our list of the best powerline adapters in Singapore! If you'd like to recommend more options, you may also share them with us!
And if you want to see more options to extend your router coverage and ensure fast Internet connection on all areas at your home, then see these best mesh WiFi devices in Singapore! These devices can remove all the dead zones in your home with a high-speed wireless network!