The 5 Best USB C Adapters in Singapore
Need to connect multiple devices to your laptop/PC but constantly running out of ports? If so, you certainly need the best USB C adapter in Singapore!
With a USB C hub, you can use a variety of ports and devices, making this a must-have item. But with the countless options available in the market, how can you be sure that you've got the right one for your needs?
So, before you go on to our list of the best USB C adapters in Singapore, you need to know first which features to look out for when buying one. We'll go over that here before we show you our pick of USB C adapters.
How to Choose the Right USB C Adapter
When buying a USB C hub, it's easy to overlook some features because there are some hidden specs that you might not be able to see at first glance.
So, it's important that you're aware of all the key features of a USB C adapter and what to look for in each of them. Let's go over them here.
1. Number of ports
First of all, you must determine how many ports you'll need. Aside from ports for the keyboard and mouse, you may also need ports to connect flash drives and SD cards to your laptop or computer.
Therefore, it'd be wise to consider getting a USB hub with more instead of fewer ports. This way, you won't have to unplug devices to connect other ones to your computer.
2. Power output
The best USB C adapters either work through the original port's power or an external power source. Your ideal power output depends on the number of devices that you're planning to plug in.
If you overload a hub that comes without an external power supply, then some of its ports won't work. Check the power drain of your devices and compare that to the capacity of the hub.
Typically, a self-powered hub has 500mA. So for example, if your mouse has 100mA and your keyboard has 400mA, then a regular hub would be perfect for you.
However, if you're going to add more devices, then you'd need to look for the one that offers higher power output.
3. USB version
The version of the port is relevant to the data transfer speed. Even if your device has a USB 3.0 version, it'll lead to a slow data transfer if your hub uses a USB 2.0 version.
USB 3.0 is considered to be the fastest and the most expensive as well, but the additional costs will be worth it for you to experience fast data transfer.
The Best USB C Adapters in Singapore
Let's now see the top picks on the market, as we've listed some of the best USB C adapters in Singapore. We've selected the most versatile yet affordable hubs suitable for any user!
1.   OWC USB-C Dock Space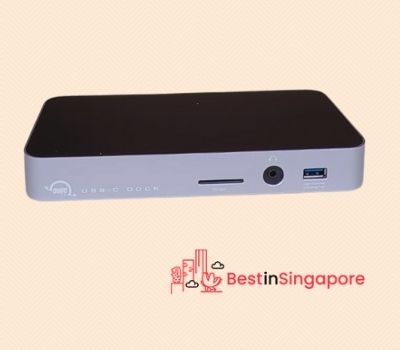 Price: $258.00
Compared to the previous option, the OWC USB-C Dock Space has more ports — it has a total of 10!
The best thing about this hub is that it has a combo audio in/out port in case you want to listen or capture audio. In addition to this multimedia feature is the HDMI port through which you can connect it to a television or projector.
It's no slouch in the power output area too. With this best USB C adapter in Singapore, you can use up to 5 USB devices as well as charge power-hungry devices due to its 80W capacity.
It also has a high-speed Gigabit Ethernet port for those who want a faster Internet connection and front-facing SD card reader for easy access. It's designed with a big and solid build as well as a stylish and durable frame.
And for convenience, this adapter even has a dock ejector where you can safely disconnect all connected devices in a single click. With this feature, you can be sure that all the wire data is saved before disconnection.
Pros
Broad range of useful ports
High-power USB ports
SD card slot
Mini DisplayPort
Cons
Included cable is quite short
Slightly bulky
Customer Reviews
Many users mentioned the sturdy and reliable build of the OWC USB-C Dock Space. They also said that the 2 display options, as well as the headphone jack, were highly functional too.
A customer wrote this review:
"The OWC USB-C Dock is a great option for MacBook owners looking to get more out of the single port on their device. Whether you're looking for HDMI or Mini DisplayPort, the USB-C dock comes in multiple colors, and offers the same flexibility for extending your workspace. The lack of portability, and the incredibly short USB-C cable are minor sticking points, but not critical flaws by any means."
2.   Satechi Type-C Multi-Port Adapter V2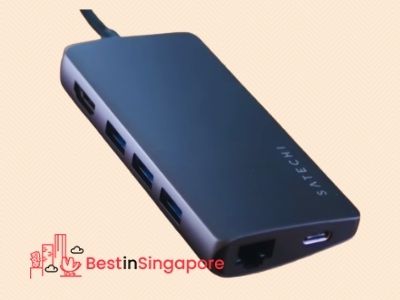 Price: $129.99
The Satechi Type-C Multi-Port Adapter V2 features impressive versatility with its various ports. It has 3 USB ports with 3.0 technology, which offers the fastest data transfer speed.
You may also connect an HDMI cable to this adapter, giving you clear and high-resolution display as you binge-watch your favourite series/movies.
In case you want to connect your device to the Web with a wired connection, you can also use the Gigabit Ethernet port to have a stable Internet connection.
Aside from that, it also has an upgraded Micro SD slot where you can feel the click as your SD card has been properly inserted for a consistent connection.
You also don't have to worry about disconnecting another port just to charge your device because it also has a pass-through charging port.
If you want seamless and fast data transfer this is one of the best USB C adapters in Singapore to have.
Pros
Variety of ports
Sleek design
Great compatibility
Thunderbolt connector type
Fast data transfer speed
Cons
USB-A ports are upside down
Passthrough charging is too tight
Customer Reviews
Customers loved the minimal and sleek design of the Satechi Type-C Multi-Port Adapter V2. They also shared that they were able to use multiple devices without any disrupted connection.
A customer gave this feedback:
"Bought this item to extend my Thunderbolt only MacBook Pro. It's a fully featured multi-port adapter that offers pretty much everything you need in one unified device. When looking at alternatives on the market this option stood out as the best. All ports work without issue. The only small complaint that I have about this device which may be the case with other similar devices is that it runs a bit hot."
3.   Anker Aluminum USB C Hub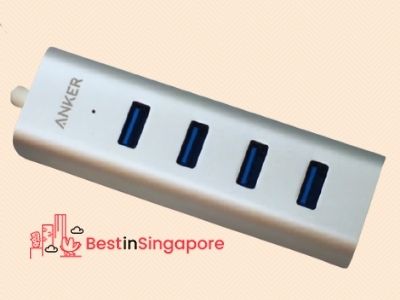 Price: $42.00
If you want a simple adapter and only need a few USB ports, then the Anker Aluminum USB C Hub is a great choice for you! It consists of 4 USB 3.0 ports, giving you the fastest possible data transfer speed at all times — which is pretty convenient, especially if you're always in a hurry.
It has a compact and ultra-slim design, making it an ideal companion to bring during travel. It's also made of aluminium for absolute durability.
Moreover, it's compatible with a variety of computers and smart devices, so there's no need to worry if your devices have an old operating system. 
Overall, if you have a mish mash of gadgets that are both several years old and spanking new, this is the best USB C Adapter in Singapore for you. 
Pros
Basic design
Affordable
Fast data transfer speed
Best for travel
Cons
4.   HyperDrive DUO 7-in-2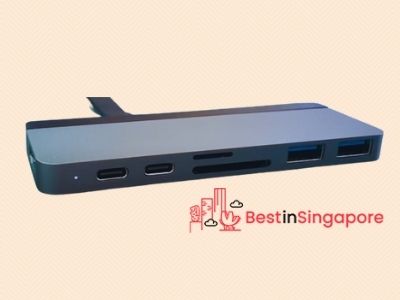 Price: $119.90
For those who are looking for the best USB C adapter in Singapore that's mainly made for MacBook use, then you must try the HyperDrive DUO 7-in-2. This multifunctional hub is widely known for excellent Macbook support with strong power delivery, ensuring a stable connection.
It features high-speed ports and MicroSD slots for quick data transfer. It also has an HDMI port for brilliant 4K high-definition display.
It's designed to mimic the colour and appearance of a MacBook. The hub is built with an aluminium enclosure for long-lasting quality.
Pros
Gorgeous and sleek finish
Compact design
Versatile hub
High-speed ports
Cons
Customer Reviews
Most users were impressed with the overall performance of the HyperDrive DUO 7-in-2, most especially with its powerful connection between multiple devices.
A customer posted this feedback:
"The HyperDrive Duo is simply amazing! No troublesome wires that might potentially fray over a period of time. A very beautiful fit and finish that matches the Macbook. It's compact and functional with everything I need crammed into an elegant package. They even provided a decent carrying pouch for the Hyperdrive! It's a must for any Macbook users"
5.   Belkin USB-C 4-Port Mini Hub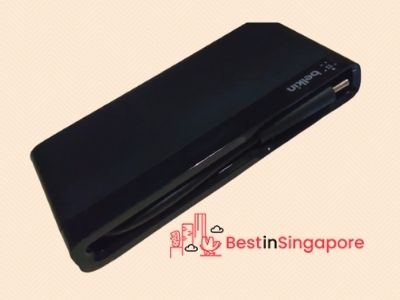 Price: $97.59
The Belkin USB-C 4-Port Mini Hub is made for both USB A and USB C peripherals so you can use multiple devices such as a keyboard, mouse, flash drive, or even cable to sync other devices.
With its small and lightweight design, you can easily slip this hub in and out of your bag, whenever and wherever you are. It also comes with a fold-away tethered cable for quick storage.
This best USB C adapter in Singapore offers a 5Gbps data transfer speed too, which is fast by any standard, allowing you to multi-task and finish your work in no time! It's a great pick if you want killer performance!
Pros
USB_A ports
5Gbps data transfer speed
Ultra-portable design
Cons
And that's our list of the best USB C adapters in Singapore! Feel free to share your recommendations with us if we've missed out on some other great options!
And if you'd also like to see some high-quality USB cables that offer decent data transfer speed and durability, take a look at our picks for the best micro USB cables in Singapore!