The 6 Best 3D Pens in Singapore Reviewed
Looking for that perfect art tool where you can boost your creativity and bring your masterpieces to life? You must try using the best 3D pens in Singapore!
A 3D pen offers one-of-a-kind drawing experience: you can instantly draw physical objects/designs (with the use of plastic filament) in thin air, giving you the greatest alternative to a 3D printer. It's convenient and less bulky as well!
These pens are known to be used by many artists and even kids! It's so easy to use and it provides endless chances to enhance your artistic skills.
However, since a 3D pen is not a common item that you can simply buy in a stationery store, it might be a bit hard to find one. Even after you find it, how can you be sure that you've got the best one?
Fortunately, we've done thorough research and gathered some of the best 3D pens in Singapore catering to different users and skill levels!
But before we jump onto our list, it'd be helpful to know first how to choose the right 3D pen for yourself, especially if it's your first time to buy one. That's why we'll show you that first!
How to Choose the best 3D Pen in Singapore
You can use a 3D pen just like other regular pens. However, a 3D pen in Singapore features an advanced technology where it uses special "ink" to draw a realistic, three-dimensional output. Aside from this, there are many more innovative functions that a 3D pen holds.
Some of these features might be new to you. So, to be sure that you're considering the right pen, here are some of the factors that you must keep in mind while selecting a 3D pen.
1. Surface compatibility
A good 3D pen must be able to work on every possible surface. That's why it's advisable to check the specs carefully and see if it's suitable for your intended platform.
You should also see the temperature range as some 3D pens might heat up too quickly, making it hard for you to hold them. The ideal one must have a wide operating temperature range so you don't have to wait again and again after a little use.
2. Time duration of plastic emanation
It's also important to watch out for the plastic emanation time. As mentioned earlier, 3D pens use plastic filament that they transform into liquid form or ink.
But if the plastic heats up more than you need it to, then the ink colours may change. Therefore, a 3D pen must have constant and clear plastic emanation to achieve consistent results.
3. Cooling time
If the pen takes too much time to cool down, then you probably have to wait for a few minutes in between your work. So, you need to have a pen that has lower cooling time so you can finish your project in no time.
4. System Clogging
The plastic filament may often get stuck inside the pen because of the heating process, resulting in strange colours. To avoid this problem, it's recommended to choose one with a clog-free design.
Also, you need to replace the plastic immediately after use. This will save you from spending just to fully repair the pen.
The Best 3D Pens in Singapore
Let's now start with our list of the best 3D pens in Singapore! We've carefully picked each item based on their functionality, compatibility, and costs — so you'll certainly find the right one for you!
1.   Eyoyo RP900A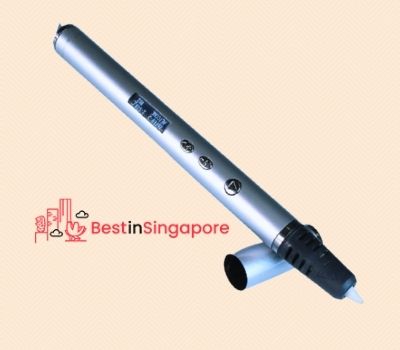 Price: $29.00
Unlike the previous option, the Eyoyo RP900A comes with a display OLED so you can monitor the operating temperature while you're working on your design. With just a double click, you can easily manage the automatic retreat function and control the settings.
You can instantly adjust the discharge speed and temperature, helping you to build your ideal model. It's also designed with a metal case, ensuring a sturdy build and long-lasting use.
It's compatible with ABS and PLA plastic types, which are quite common so you can easily replace them. It also gives off a stylish vibe with its metallic case available in classic colours like black, silver, and gold.
Moreover, it's also the cheapest among the other options and yet it delivers satisfying performance, making it one of the best 3D pens in Singapore.
Pros
Adjustable settings
Durable metal case
Stylish design
Affordable price
Cons
2.   3Doodler Create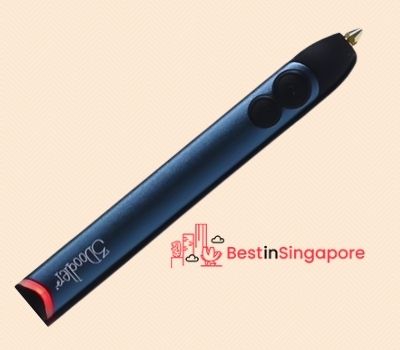 Price: $106.12
Whether you're a pro, hobbyist, or beginner, you'll absolutely love the 3Doodler Create! This easy-to-use 3D pen model is a fully upgraded version, offering higher functionality than the previous releases of the brand.
It now has a re-engineered dual drive for a smoother and enhanced doodling experience. You can have more control in speed to practise different kinds of techniques and discover your maximum potential in art.
This best 3D pen in Singapore also accepts different plastic types such as non-toxic PLA, ABS, and FLEX to ensure the finest quality. It also provides new monochromatic colours, giving you a dynamic range of options to choose from.
Pros
Comfortable to use
Ergonomic designs
Tutorial guides
Essential kit includes plastic filaments and maintenance tools
Cons
Power cord can be a bit of hazard
Last inch of filament can be slightly difficult to use
Customer Reviews
Many users expressed their satisfaction with the 3Doodler Create. They mostly praised the user-friendly and durable design of the 3D pen.
They also complimented the fast plastic emanation process and multiple surface compatibility. A reviewer gave this verdict:
"Despite the difficulty that faces complete beginners, using the 3Doodler Create is undeniably fun. Yes, that even includes the mistakes you make. It's not hard to see how younger users as young as 12 years old, with supervision and assistance, will enjoy the world of possibilities it opens up. And while we do wish some things were designed better, none are actual showstoppers and are pretty much the same problems that plague 3D printing pens in general."
3.   MYNT 3D Pen Pro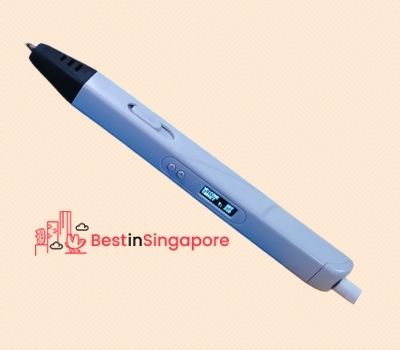 Price: $136.00
For all the professionals out there, the MYNT 3D Pen Pro can be the best 3D pen in Singapore for you! It features a large OLED display where you can keep track of the current temperature, letting you achieve various effects.
It also has an adjustable feed that'll help you regulate the flow and speed so you can have a more precise output. For optimal fine-tuning, you can also adjust the temperature in 1-degree increments from 130 to 230 degrees Celsius.
Aside from these features, it's also ultrasonically sealed, preventing any clog issues and ensuring durability.
Pros
Easy-to-use speed slider
Adjustable temperature
OLED display
Cons
Works with ABS and PLA plastic types only
Customer Reviews
Users were impressed with the accurate temperature adjustment controls and other advanced features of the MYNT 3D Pen Pro. They also said that it's truly light and portable and can be charged quickly using power banks.
A user recommended the product and wrote:
"The MYNT3D Professional 3D Printing Pen is slim, light, quiet, and has plenty of features that even more expensive 3D pens lack. You get the freedom to use either ABS or PLA, and we really appreciate that you can control temperature by the degree to get the perfect setting for any brand or color filament. What really makes this 3D pen a top value is the excellent customer service, though. This ensures that if something goes wrong with your pen, there are people dedicated to helping you fix the problem. We recommend the MYNT3D Professional 3D Printing Pen to all but the most exacting of makers, who may prefer a pen with a more robust exterior or reliable heating element."
4.   3Doodler Start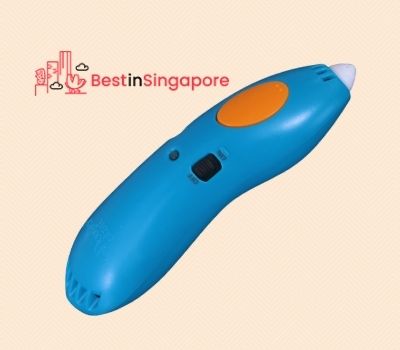 Price: $130.00
Searching for the best birthday present for your children? If so, then they'll definitely like the 3Doodler Start!
It's a kid-friendly 3D pen that's designed with low heat so it's completely safe to use for children aged 6 to 13 years old.  With this best 3D pen in Singapore, the plastic hardens with a single speed and temperature, allowing your kids to comfortably create their own designs.
This will help them develop their creativity, planning, and building skills at such a young age. It's also BPA-free and only uses non-toxic plastic, so rest assured that it won't bring any harm to your beloved kids.
Because of its sturdy design, we think this is the best 3d pen in Singapore for young kids.
Pros
Internal USB rechargeable battery
Cool tip
Eco-plastic
Less threading of filament
Less hamming
Accessible button
Cons
Runs out of filament quickly
May not completely stick to the paper
Customer Reviews
Being an award-winning 3D pen, the 3Doodler Start has captured the interest of many parents who want their children to boost productivity even during school holidays.
They shared that their kids have enjoyed using the pen because of the endless possibilities that can be created with multiple lines and strokes.
They also said that kids can easily play with it and it doesn't contain any harmful elements so it's definitely safe for everyone to use.
A user posted this review:
"The creators of this product designed the 3Doodler START pen specifically with young creators in mind. Despite this, it's the perfect tool for anyone (at any age) who wants to get into 3D doodling. It is worth noting that this is the only child-safe 3D pen available at the time of writing. This is because there are no heated parts to worry about. It's clean too. It uses a special type of bioplastic (eco-plastic) that doesn't contain any messy glues or resins. Using this 3D printing pen is as easy as turning it on, inserting a strand of material, and doodling away. Although becoming good at 3D doodling takes practice, that's half the fun. That's pretty much all there is to it. This is a rechargeable pen allowing users to doodle wherever they want. The handy booklet that comes with the product has some great stencils to get newbies doodling. This tiny tool offers unlimited fun and helps to develop creative instincts in all who use it."
5.   Sunlu SL 300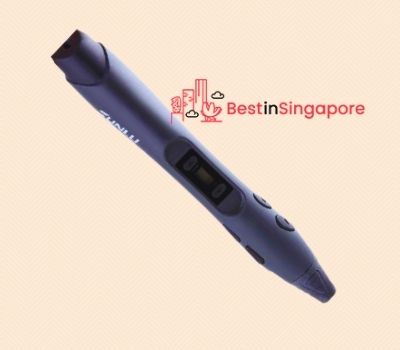 Price: $81.34
The Sunlu SL 300 is considered one of the lightest and best 3D pens in Singapore because of its lightweight yet durable plastic build. It also has a patented nozzle that's designed with a cartridge type so it's easy to maintain and to hold due to lower temperature.
With its compact and slender form, you can create your ideal art pieces with high accuracy. It offers a total of 8-speed settings that you can fully control with a single push on the button.
Moreover, it has a standby mode that can come in handy whenever you want to take a break but don't want to wait for the plastic to heat up all over again.
Pros
Wide range of applications
Long-lasting design
Affordable price
Perfect for both left and right-handed users
Super lightweight
Cons
Customer Reviews
Many users have complimented the versatility of the Sunlu SL 300. They said that it delivers reliable performance with less heat and it's also easy to hold, letting them finish their work in a short span of time.
A user left this feedback:
"The SUNLU SL-300 3D Printing Pen is a great tool for your crafting projects. The ideas you have in your head can now be materialized in a three-dimensional fashion. The pen's application and versatility are only limited by your imagination. It has a reliable and uniform printing while maintaining its heat at a minimum. You can work freely around your workspace because it's not bulky and it is very light to carry around. It is truly a useful tool and accessory in creating works of art."
6. XYZprinting da Vinci 3D Pen EDU Bundle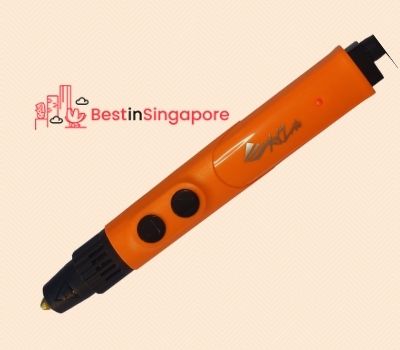 Price: $98.00
The da Vinci 3D Pen is one of the best you can get in the market. It can be handled by adults and kids alike, as it uses PLA filament, which is both bio-compostable and DEHP-free, making it safe to play with.
You get to have fun with all the colours available; make pretty flowers or animals, or other ideas you can think of. You also won't have to worry about straining your wrist for long-use as the da Vinci 3D Pen is lightweight, almost like a regular pencil.
With all these amazing features, you'll be surprised by how much you can get this pen which is considered by many to be one of the best 3d pens in Singapore. Only below a hundred dollars, you can have your very own 3D pen, make sure to get one of your own before it gets sold out!
Pros
Safe Field-proven PLA Filament
Perfect for touching up 3D printed models
Easy to use
Colourful leads
Cons
Expensive
The power cord can be a bit of hazard
And that's the end of our list of the best 3D pens in Singapore! Do you already know which one you'd like to buy? Tell us all about it!
However, if you have some projects that need to be printed with an actual 3D printer, then you may visit these places that offer the best 3D printing in Singapore. Each one of them provides quality and affordable services!