Most people think that charging or connector cables are not that important so they tend to buy cheap ones. But these can break easily, so if I were you, I'd invest in the best Micro USB cable in Singapore.
With a low-quality cable, you may experience transfer errors, incompatibility, sluggish charging, and worn-out cords.
Having a micro USB cable that has excellent data transfer rates, durability, decent length, and fast charging will save you from these inconveniences.
Choosing whatever is available, as long as it does its job, is the wrong move. So we've come here to help you find the best Micro USB cable in Singapore with our comprehensive list of the top ones sold on the island!
1. Anker PowerLine+
Best for Fast Charging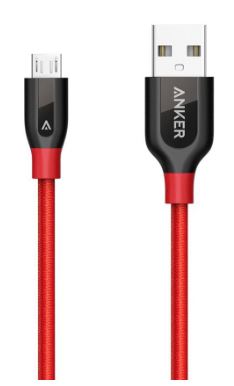 Price: $15.13
Are you searching for a Micro USB cable that can withstand heavy use? Look no further because the Anker PowerLine+ comes with ultimate strength and durability that'll cater to your needs.
This premium charging cable has a bend tolerance that is higher than others, which makes it flexible and long-lasting. It's also made up of Aramid fibre core and double nylon-braiding that can endure a lot of possible twisting and stretching.
Aside from this, it also has an innovative felt pouch. This gives you an option to adjust the cable length and prevent a scattered cable setup.
One of the reasons it's considered the best micro USB cable in Singapore is the rapid charging feature. The thick wire gauge of the cable provides excellent charging speed.
Highlights
High bend tolerance
Maximum charging speed
Felt pouch for cable adjustment
Customer Reviews
As the brand is well-known for producing great USB cables, it should come as little surprise that the Anker PowerLine+ has received a lot of praise. They've commended its high-quality carrying case and durability, in particular.
Some of them said that it also has rough edges and it tangles too easily. Regardless, they still recommend the product.
An Amazon customer gave this feedback:
"I am not worried about this getting tangled up, or even worse, get shorts in it when it gets bent. It came with a nice little storage case that keeps it tucked away safely with a velcro strap. It is very flexible, and the connectors are very solid. It plugged into my Galaxy S3 easily (some cords have a hard time getting through the after market case my phone is in), and fits very securely. The OEM cable, and other replacement cables I have tried plug in, but wiggle around leaving me with the annoying "beeping" (when the phone starts charging but it loses connection and then starts charging again) when I am trying to charge it, especially in the car. I can even use my phone while it is plugged into this cable without fear of losing the connection. I use a wireless charger at night, but during the day this cable works incredibly well to keep my phone charged up while I am out and about. It works well plugged into the USB charging port in my car, and pairs perfectly with my anker portable chargers (which I also highly recommend). I have the grey, but plan to get some of the other colors as well to replace the low quality cables that came with my families phones and tablets." 
2. Belkin Mixit DuraTek MicroUSB to USB Cable
Best for Long Strain Relief, Soft Edges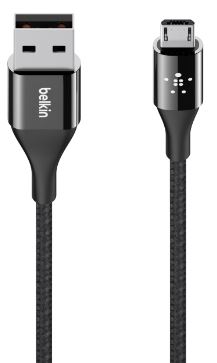 Price: $19.00
Shop Now On Shopee
The Belkin Mixit DuraTek MicroUSB to USB Cable is quite similar to the previous cable in that it's built with strong double-braided nylon and Aramid strands. However, this one has an even better cable strain relief that gives it high resistance against breakage.
There's also no need to worry about constant bending and twisting, for it has insulated conductors that offer great flexibility. Unlike the Anker, it has a soft and elastic cable jacket.
It's also pretty lengthy at 4 feet, and highly compatible with Samsung and Kindle devices. These features make this product a part of any list of the best Micro USB cables in Singapore.
Highlights
Environmentally-friendly
Drain-wiring for further protection
Abrasion-resistant
Customer Reviews
Many consumers had a wonderful experience with the Belkin Mixit DuraTek MicroUSB to USB Cable. A customer from Amazon wrote:
"This product that lives up to its billing. The cord on this charger is quite strong – much stronger than a typical USB charging cord. I have at least three devices that use this type of charging cord, and my kids have several more. I usually have to replace at least two frayed cords each year, but this cord doesn't look like its going to need replacing any time soon. It's definitely built to last. I don't really see any negatives in owning a cord like this. Now I just need to find one of this variety for each or my other types of charging ports."
3. NetDot 2M Gen10 Lightning
Best for Compatibility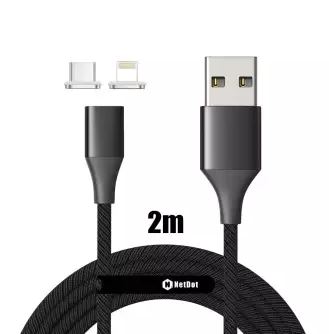 Price: $8.76
If you're having trouble because of device incompatibility, the NetDot 2M Gen10 Lightning might be the best micro USB cable in Singapore for you. Whether you have an Android or iOS device, you can use this cable for charging and data transfer.
When it comes to data transfer, it's known to have high-speed data sync. Therefore, you can get your work done in no time.
It's built with a strong magnetic force that provides a stable connection between the cable and device. So, it's very easy to snap on and also safe to use when driving.
The LED light on the side of the connector head makes it easy to see the cable in the dark too. This provides safety and prevention against possible cable tripping. 
Highlights
Universal compatibility
Dust-proof
Easy to snap
4. Syncwire Micro USB Cable
Best for Compact Design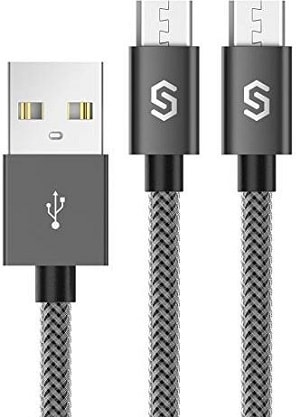 Price: $18.00
Shop Now On Shopee
The strength of the Syncwire Micro USB Cable comes from the military fibre and nylon-braiding that provides competent durability.
It's built with thick-diameter wire cores and has lower resistance for a fast charging and data transfer experience. With its compact design, you can easily fit it in inside your bag.
The incredible functionality and design will certainly leave you with a nice impression, which might lead to this being the best micro USB cable in Singapore for you!
Highlights
Tough military fibre
Tangle-free
Budget-friendly
Customer Reviews
 Most customers stated that despite the lower flexibility compared to other cables, the Syncwire Micro USB Cable is still worth every dollar thanks to its durability and efficiency."I've been using Syncwire charging cables for almost 2 years now. They are AMAZING. I use three in my vehicle which are used constantly. They work flawlessly and still connect and fit tightly into any device they are connected to. There is absolutely no signs of wear and tear, even at the stress points that other cables have failed at. By far, these are the best cables I've used or seen. Warranty and customer service are top-notch as well."
5. RAVPower Type-C Cable
Best for Durability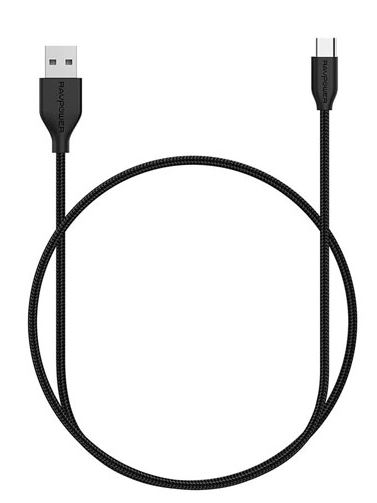 Price: $10.95
The unique feature of the RAVPower Type-C Cable is the bulletproof fibre, which guarantees higher durability than a typical cable. Along with its superior strands is the military-grade braided nylon that is perfect for heavy duties.
Having these compelling features offered at a cheaper price is mostly the reason it's the best micro USB cable in Singapore for those who prioritise practicality. 
Highlights 
Kevlar-braided
Longer bend lifespan
Extreme durability
6. Fuse Chicken Titan MicroUSB Cable
Best for Metal Cabling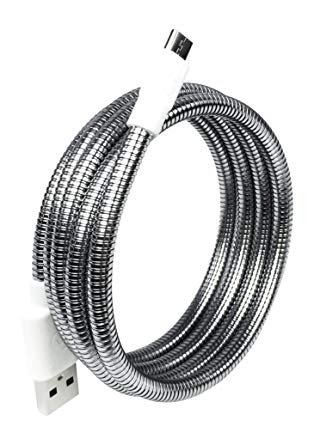 Price: $24.57
The Fuse Chicken Titan MicroUSB Cable has an entirely different design from most of its competitors, with its two layers of premium steel. This may be the best micro USB cable in Singapore for users who have home pets and for those who prefer metal cabling.
Due to its steel design, you might be wondering if it has high bend tolerance. Well, the connectors are housed in a strong metal jacket and yet it's flexible enough for cable length adjustment.
Highlights
Covered in dual-layer flexible steel
Compatible with Android
Customer Reviews
It may be slightly heavier and on the pricier side but the Fuse Chicken Titan MicroUSB Cable is definitely a worthy purchase. An Amazon customer shared this experience:
"After a friend acccidently snapped the cable on my car charger I found myself in search of something more durable to survive the long term abuse of being kept in my car. I found exactly what I was looking for in this cable.The metal sheath on this cable has proven to be adiquately resilient. So far it has survived being trampled, pinched, and yanked by the clumsy and careless alike. The increased durability does not come at the cost of flexibility. While the cable is stiff enough to hold shape when no force is applied, it bends effortlessly so you aren't going to be restricted in it's use. The price point on this cable is a little higher than the average, but if durability is what you are looking for, you definitely get your money's worth."
7. Baseus Halo Data Cable
Best for Colourful LED Lights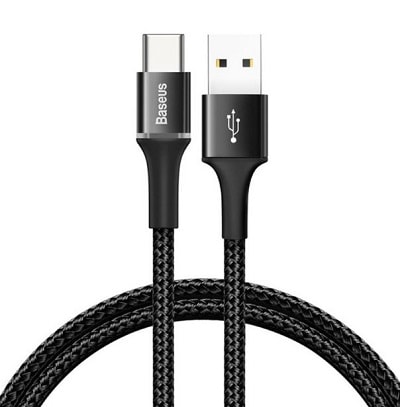 Price: $4.36
The Baseus Halo Data Cable is designed with a high-density nylon braid that is highly resistant to wear, tear, and tension. It also features a long cable strain relief wrapped in soft and durable rubber.
Similar to the NetDot cable, it has LED lights on its head connector but with a more vibrant and colourful design. It also comes with velcro so you can pack it up easily and neatly.
Highlights
3A fast charge
Wear and tension resistance
And with that, you now you have the definitive list of the best micro USB cables in Singapore!
The only thing left to do is to pick the one that'll mostly suit your needs and preferences. Let us know if you've already decided on which cable to buy!
By the way, we have other roundups of electronic cables if you need more help. For instance, if you're also currently looking for a cable to connect your HDMI-enabled devices, these best HDMI cables in Singapore will surely give you brilliant viewing experience.