The Top 5 Best Photo Printers in Singapore
Are you among the people who prefer to have their photos available in old-school hardcopy format? If you are, then you definitely want to check out our list of the best photo printers in Singapore!
Lucky for you, we've already done the hard task and listed the top models on the market. But now you're probably wondering how you know which one from our selections suits your needs.
To help you with that, we've also listed the essential features to look out for when choosing a photo printer. And so, before we go on to our list of the best photo printers in Singapore, we'll take you through those first.
How to Choose a Good Photo Printer
Photo printers don't come cheap, so you need to make sure that this expensive purchase will be worth it. Here are some important features that you need to consider before buying a photo printer.
1. Types of Printers
There are two basic kinds of photo printers. This includes the inkjet photo printer, which is the most common type and a great option for document usage.
It's mostly known as a home printer. With it, you can instantly print out web pages, text files, and any digital media aside from your photographs.
So, if you're going to need a photo printer for casual use, then you may opt for an inkjet type.
On the other hand, dye-sublimation printers are mainly designed for photography reproduction. These printers produce high-quality glossy prints, making them ideal for professional photographers.
However, they're expensive and they don't work well with printing text documents. So this type is only recommended for those who need to do frequent photo printing at home.
2. Resolution
Most photo printers have good resolution, providing better-quality prints compared to traditional printers. But for the professionals who are certain about the quality that they want to achieve, it's advisable to choose a photo printer with a resolution of 4,800 x 1,200 dpi or even higher.
3. Printer Size
If you need one that you can use during travel, then a compact and portable photo printer would be fine. It may cost more but if you really like to take photos and capture all memories wherever you go, then it'll surely be a good investment.
For those who are searching for a photo printer that they can use at home and produce consistent high-quality photos, you may look for bulkier yet more durable photo printer selections. Besides, you can also use them for documentation purposes.
4. Connectivity
You also need to be sure that the printer is compatible with your digital devices. Some models have built-in slots for memory cards while some offer direct USB connectivity.
There are also units that don't have any kind of direct-from-camera printing… but they can also be a good option if you don't mind uploading the images first before printing.
The Best Photo Printers in Singapore
It's now time to see some of the best photo printers in Singapore! Whether you need one for professional or travel use, we've listed a wide range of options, giving you high-quality at-home photography!
1.   HP Sprocket Photo Printer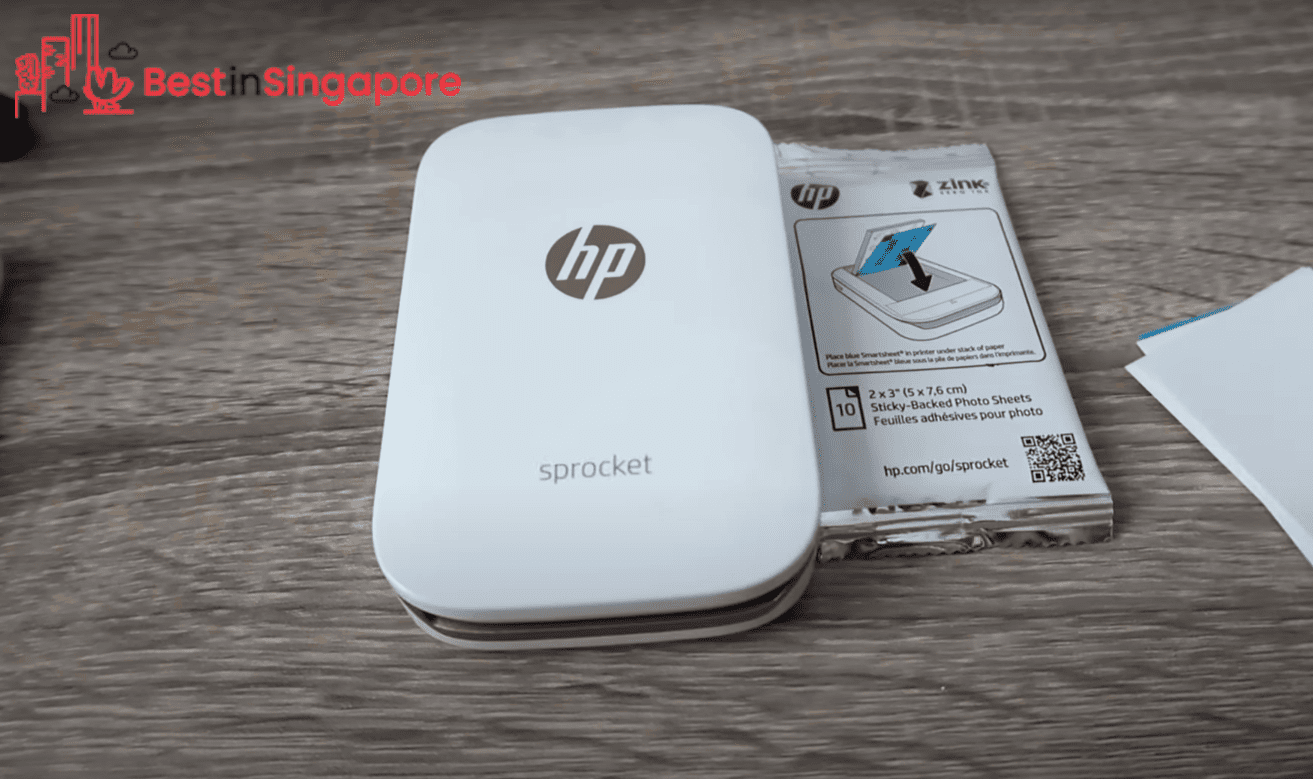 Price: $178.84
Searching for a photo printer so you can directly print your captured shots from smartphone/tablet while on the go? If so, then the HP Sprocket Photo Printer can be the best photo printer in Singapore for you!
It's a portable model the size of a cell phone, making it a great travel companion! Simply install the Sprocket app to connect the printer to your device via Bluetooth and you can instantly print and share the photos with your friends and loved ones.
It uses Zero Ink technology with 313 x 400 dpi, which is a good resolution for casual use. It's also designed with an integrated display so you can easily monitor if the battery is too low, there's no paper, the cover is open, or there's a paper jam.
Pros
Portable and lightweight
Direct connectivity to smartphones
Easy to use
Wide range of editing options
Cons
A bit low-quality for some users
Customer Reviews
Many customers recommended the HP Sprocket Photo Printer because of the travel-friendly features as well as the fun editing options on the app.  A customer gave this feedback:
"I surprised my 21yr old daughter with this for a Christmas gift. She thinks it is a great idea and has had a lot of fun using it and sharing the pictures. The picture quality is remarkably clear and it is very easy to use. The app comes with editing options such as filters, borders, stickers, a draw feature, and customizable text. We are happy with the purchase."
2.   Epson PictureMate PM-520 Photo Printer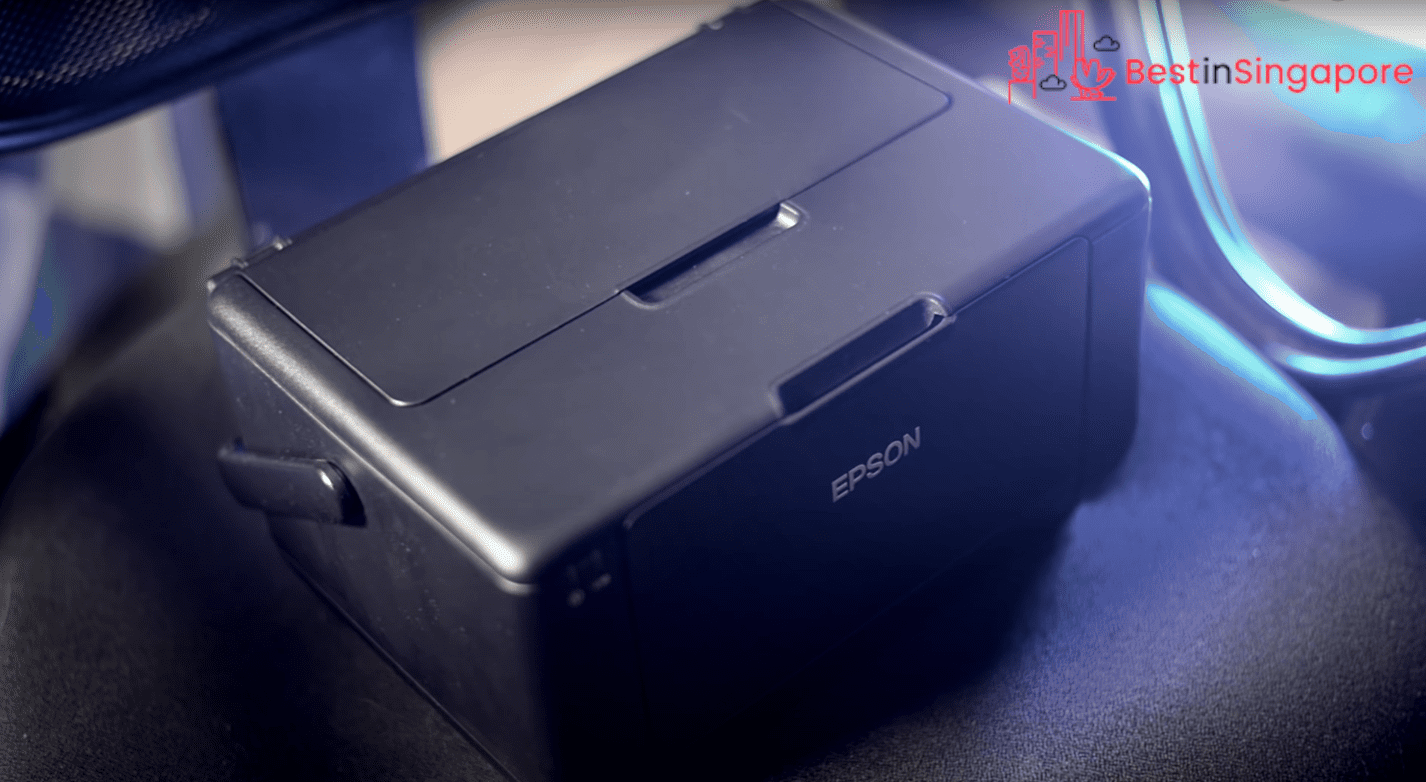 Price: $288.00
The Epson PictureMate PM-520 Photo Printer features great resolution with 5,760 x 1,440 dpi, ideal for most professional photographers! It uses advanced inkjet technology that produces smooth gradation, accurate colour tones, and long-lasting quality.
It also has an LCD screen where you can easily select the picture that you want to print, adjust its size to fit into the paper, and do last-minute edits before printing. In just a few seconds, you'll immediately have a physical copy of your favourite moments!
Despite its bulky and large design, it's a lightweight model that you can also bring during travel. This best photo printer in Singapore comes with a rechargeable battery pack so you can print pictures whenever and wherever you go.
It offers mobile and shared printing as well as a Wi-Fi Direct feature, allowing you to connect up to 4 devices to the printer. This is an excellent option for professionals who need to meet project deadlines and other photography work-related tasks.
You can also do direct printing via a built-in memory card slot, USB flash drive and even USB port with a compatible camera!
Pros
Compatible to many mobile printing apps
Best for professionals
Wi-Fi Direct feature
High-resolution quality
Fast printing
Rechargeable battery pack
Cons
There's still a page size limitation
Customer Reviews
Customers were highly satisfied with the overall features of the Epson PictureMate PM-520 Photo Printer. They shared that the unit truly provides exceptional photo quality and that they can even print multiple copies in multiple sizes!
A customer posted this review:
"I did enjoy using the Epson PictureMate PM-250. After a long time, I hit the print button for taking out photo prints. In spite of all the goodness, ease of use, print out quality, size and mobility, the most end user will find the price of the printer and refill cartridge which is priced at around Rs 1,400 a bit steep and limitation of not able to take of A4 size printouts will weigh on the mind. But on the other, the product can be considered as a good buy for small photo studios as well as tourist photographers looking for instant prints."
3.   Canon SELPHY CP1300 Photo Printer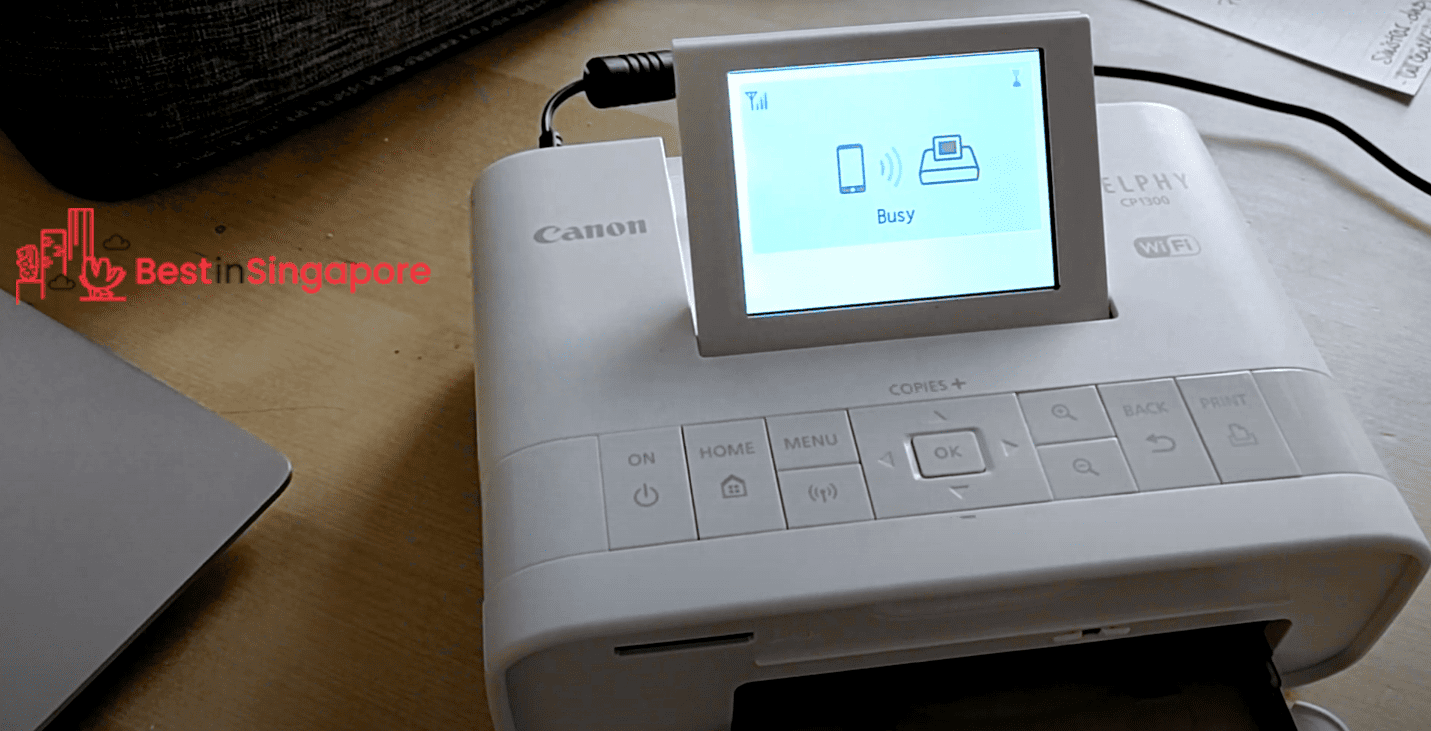 Price: $188.00
The Canon SELPHY CP1300 Photo Printer is a wireless and compact model that you may either use at home or during travel. It's equipped with dye-sublimation technology, producing photos that can last for a lifetime.
It's a sleek and portable printer that comes with a battery pack so you can always capture and share your memories anytime and anywhere.
Unlike other photo printers, it has a photo booth mode where you can print 2 strips of your chosen images, then cut those in half if you want to share them.
You can directly print photos from your social media accounts like from your Facebook and Instagram and do some creative collages with your friends from multiple devices.
It offers a lot of printing options: you can print through the app, USB-direct, or memory card.
Pros
Can connect multiple devices
Various print sizes
Intuitive controls with tilting LCD screen
Vibrant colours
Cons
Some features like print queue and multi-user connections are under-developed
Customer Reviews
Most customers were impressed with the large screen, easy-to-use interface, and collaboration features of the Canon SELPHY CP1300 Photo Printer. This is why they've claimed it to be one of the best photo printers in Singapore.
A customer gave this feedback:
"Few portable small-format photo printers offer the print size, print quality, and connection choices of the Canon Selphy CP1300 Wireless Compact Photo Printer. It replaces the Canon Selphy CP1200, retaining that model's good print quality, low cost per print, and wealth of connection choices and adding a larger LCD and a few other convenience features to become our latest small-format Editors' Choice. If you plan to print photos only from your smartphone, and can make do with wallet-size prints, the HP Sprocket 2nd Edition should be on your shortlist. But anyone in the market for a portable photo printer that can print at larger than wallet-size should give the Canon Selphy CP1300 a close look."
4.   Xiaomi Mijia Photo Printer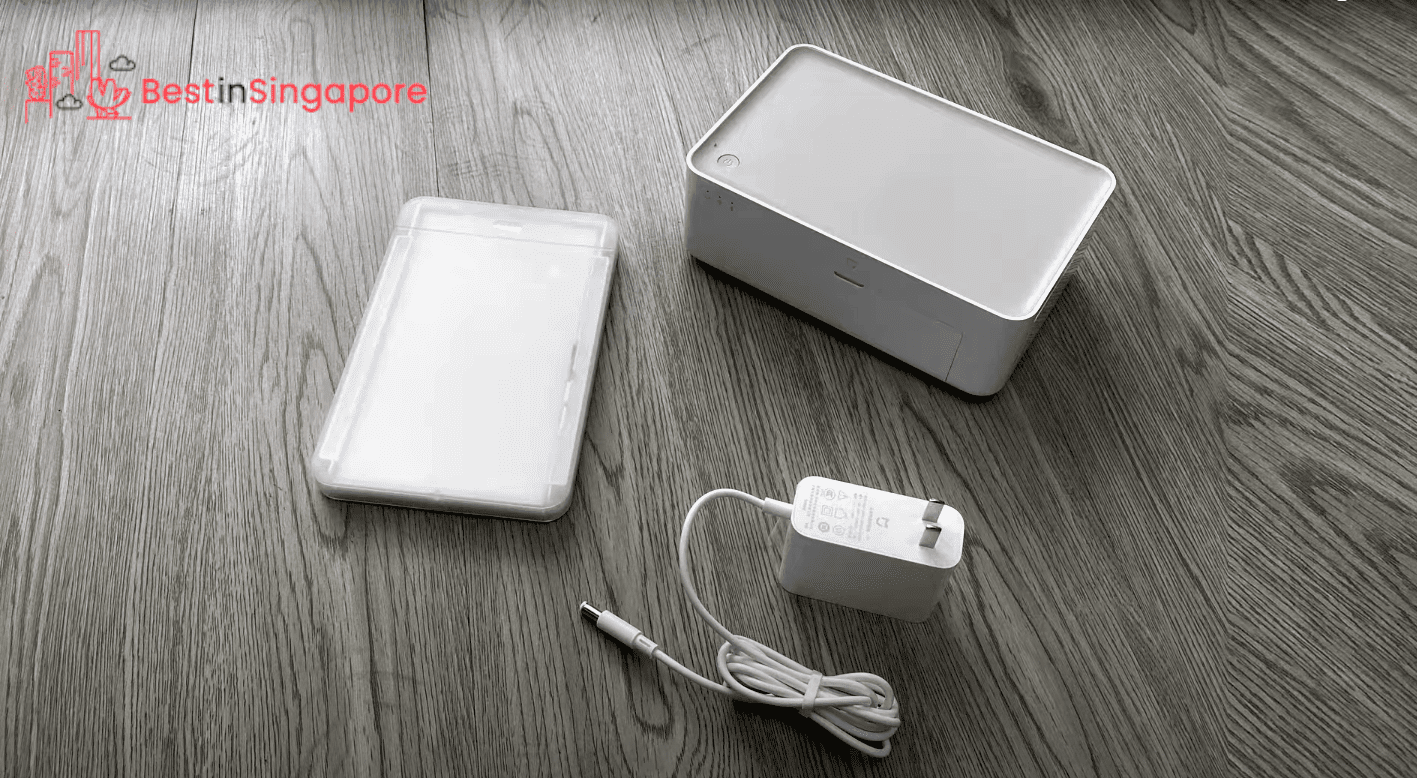 Price: $208.00
With the Xiaomi Mijia Photo Printer, each photo is automatically coated as it's printed, ensuring vibrant, accurate, and long-lasting results! It also produces transparent protective film to prevent any scratches, fingerprints, and splashes on the photos.
You can also use this best photo printer in Singapore for ID printing, such as printing a multi-national VISA photo, passport photo, and many more.  This compact and portable printer offers great compatibility with various apps like AirPrint, Mija, and WeChat applet.
Pros
High-quality and long-lasting prints
Flexible editing options
Easy to set up
Affordable
Cons
Some printing issues with WeChat app
5.   Huawei CV80 Photo Printer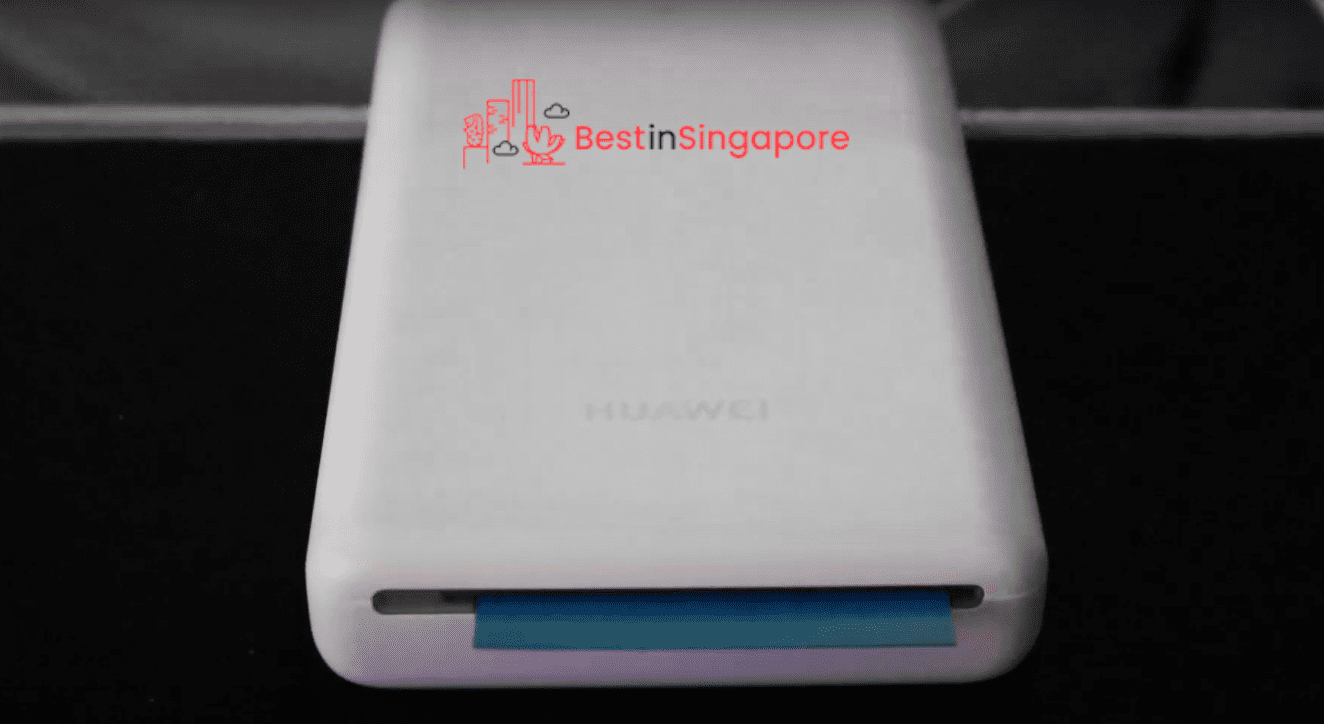 Price: $139.98
The Huawei CV80 Photo Printer is a super-lightweight and easy-to-carry portable printer that you can use whether you're traveling or having some catch-up sessions with your friends!
To achieve smooth colour gradation and vivid colour tones, you can just turn on the CMY standard printing mode, giving you high-quality results.
It features sticky-backed photo papers that you can post on a photo wall in your bedroom, letting you build a small memory lane.
Since it has no ink cartridge and ribbon, it's much safer to bring during outdoor trips, especially on extreme adventures.
Pros
Solid and wear-resistant build
Inkless printing technology
Easy storage
Compact design
Cons
Editing options on the app are limited
And that's our list of the best photo printers in Singapore! If you'd like to recommend more options, feel free to share them with us!
And if you'd also like to know more options for documentation or printed materials for business projects, here are some of the best printing services in Singapore!