The 6 Best Fridges in Singapore
A perfect kitchen setup isn't complete without a good fridge, especially for those who love to cook. That's why having the best fridge in Singapore is a worthy investment that'll serve you well in the long run.
Finding a good fridge can be a bit overwhelming, though, as there's a wide variety of models available on the market. But no worries, 'cause we've already narrowed down your options and rounded up the best fridges in Singapore!
Before we take a look at our top picks, there are some things that you need to know first. These can help you pick the perfect fridge from our list.
How to Pick a Fridge
Fridges can have different sizes, capacities, designs, and features. Whether you're buying a new fridge for your new home or replacing a broken fridge, here are some important things that you must watch out for when choosing a fridge.
1. Fridge types
As mentioned earlier, refrigerators offer different styles and functions. To know which one best suits your needs, here are some of the common fridge types.
If you often pre-make and freeze your meals, then a top freezer fridge would be a good choice. As the name suggests, the freezer is placed at the top of the fridge, giving you easy access to the freezer.
It features customisable and adjustable shelves so you won't need to bend over just to find food. It's also the most affordable of the many types.
Most bottom freezer fridge types offer larger freezer storage than top freezer ones. This type either comes with a single or double door design: both offer easy access.
With this type, the freezer and fridge are adjacent to each other so you can instantly get items without bending over constantly.
However, compared to other types, it has narrower sections, so you might not be able to fit in large/bulky containers.
2. Size
Before you go on a shopping spree, don't forget to take the exact measurement of the allotted kitchen space for the fridge.
You also need to keep other spatial restraints in mind… like the size of the doorways and what the doors might bump into when opened.
3. Food habits
You also need to consider the types of foods that you always prefer to eat, the number of pieces per food item, and how often you buy them. If you often prepare frozen food, for example, then you may opt for a bottom freezer fridge.
On the other hand, if you like to buy in bulk, choose the one that has multiple drawers. If you like to entertain guests at home, then make sure that the fridge can handle larger platters.
4. Lifestyle
For those with big families, it's recommended to choose a bottom freezer type for maximum storage. While for single individuals, a traditional top freezer unit would be a fine choice.
Best Fridges in Singapore
Let's now see the top models on the market today with our list of the best fridges in Singapore!
1.  Bosch KAN92VI35O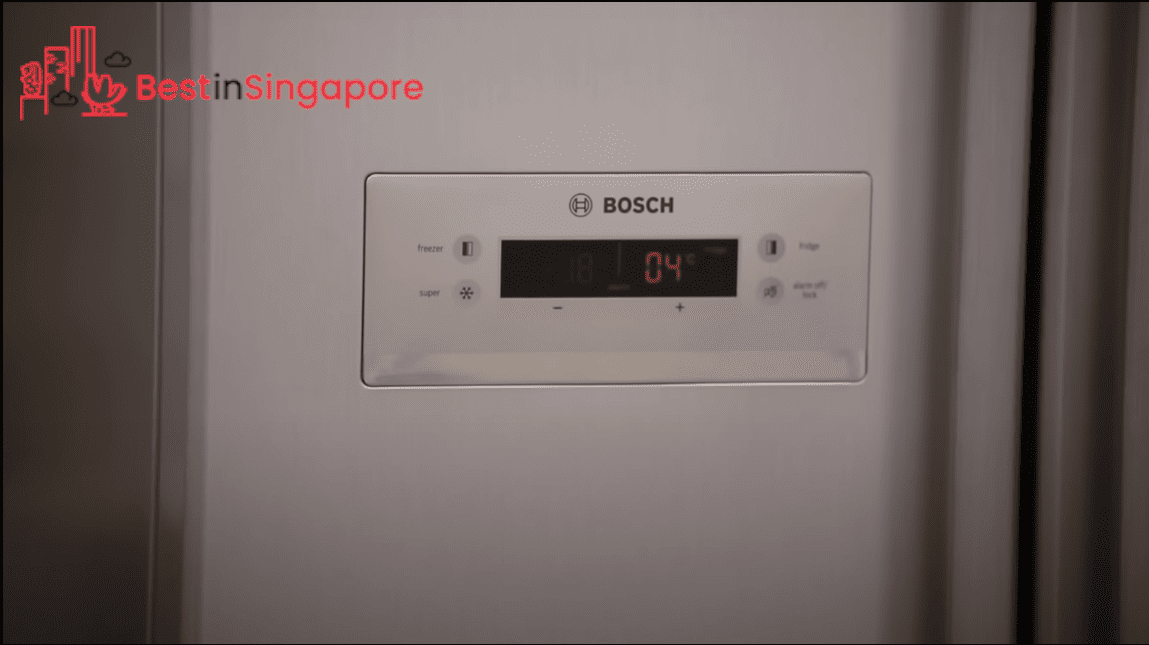 Price: $3,000.00
First on our list is the Bosch KAN92VI35O. This is the number one on our list because it has a number of amazing features no other fridges have.
If you prefer to store frozen goods, this fridge has a XXL space just for these. Its BigBox frozen food drawer can  cater for a child's birthday cake, pizza, or gateaux.
With this, you can put in and remove items as quick as a flash because it has an EasyAccess Shelf. Unlike others, the safety  glass shelves can be extended up to 12 cm, this can give you an excellent overview of your items and will even make you consume  the items at the very back.
Another reason why we can recommend this refrigirator is it has a cooling system that consists of NoFrost, Supercooling, Superfreezing, and Multi Airflow-System. This system will make your groceries stay fresh and consumable even after a few days or weeks.
The following are the compartments of this fridge, 1 VitaFresh drawer with humidity control, 1 Multibox for extra storage, 2 Extension rail systems for easy pull-out of drawer-compartments, 4 Safety Glass Shelves of which 3 are height adjustable and extendable, 1 Dairy compartment, 2 large door trays, and 2 small door trays.
While these are the compartments of the freezer, 2 Pull out drawers, incl. 1 Big Box for large size storing, 2 storage drawers on extension rail systems for easy pull-out, 4 glass shelves which are 2 are adjustable, 5 Door Bin, and Easy twist ice box
Pros
Separate temperature controls for Fridge and Freezer
Alarm system to alert the prolonged opening of refrigerator doors
Adjustable front feet for added stability
Fingerprint resistant door 
Cons
Cannot connect any other appliance/s
2.   LG Fridge GS-X6011NS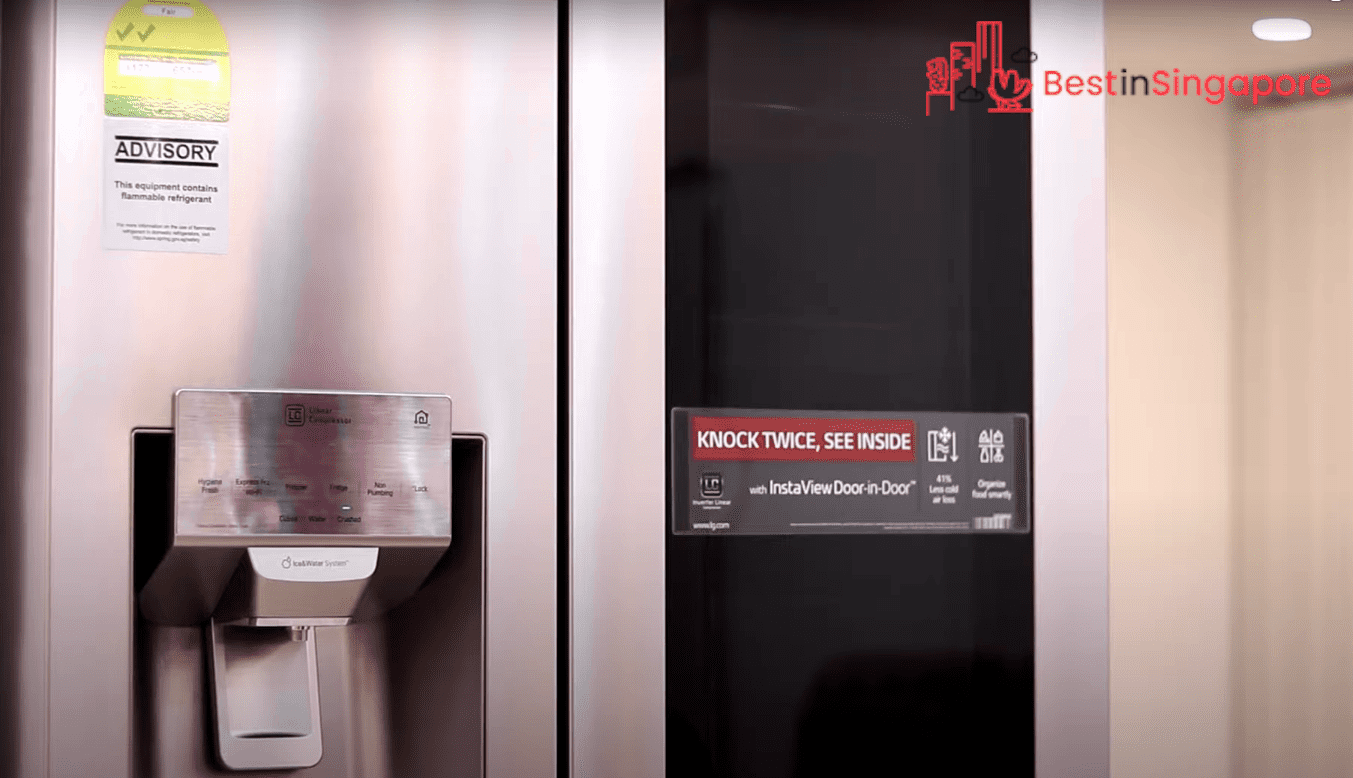 Price: $3,999.00
The LG Fridge GS-X6011NS is a side-by-side fridge with a lot of compartments, letting you store groceries for a whole month!
It's a great choice for those who like to plan their meals for a week. You can have your recipes all lined up without worrying about your ingredients getting spoiled in the next few days.
It also features a mirrored window glass panel for an easy-access compartment — you can just knock twice on the glass and it'll automatically illuminate the food items inside.
You can even get a drink instantly without opening the door — this way, you can also reduce cold air loss, helping you keep food fresh longer.
To avoid high energy consumption but still maintain optimal temperature control, it's built with an inverter linear compressor, providing up to 32% in energy savings.
Moreover, it has an air filter to remove bacteria and bad odour from inside the fridge, keeping your food items in good condition.
The greatest thing about this model is that you can control and manage the settings of the fridge through your smartphone! With just a few taps on your phone, you can easily set the temperature, diagnose your fridge, and control the air filter, even when you're not at home!
Pros
Window glass compartment
Air filter feature
Energy-efficient
Can be controlled via a smartphone app
Smart diagnosis
Full wine rack
Door mounted slim ice maker
Fresh Balanced for fruits and vegetables
Cons
Large pans and platters may not fit
3.   Panasonic Fridge NR-BX468XSS1
And for certain foods such as fish, it has an active enzyme that resolves the unpleasant smell. This fridge also features anti-bacterial and deodorizing effects, preventing the buildup of bacteria and mould inside the fridge.
It has a well-designed vegetable case that can retain moisture needed to provide constant temperature and keep the vegetable and fruits fresh and juicy for a longer time.
With its soft freezing feature, you can be sure that all food items will maintain its nutrients as well as original flavour and texture. And so, whenever you need to prepare a meal, you can always have the freshest ingredients, ready to be cooked and served.
For optimum cooling with less energy consumption, it monitors and analyses the level of lighting, the temperature of the room and fridge, and even the number of times that the doors are opened.
Pros
Energy-saving feature
Quiet operation
Quick and powerful cooling
Stylish control panel
Moisture-retaining and hygienic storages
Soft freezing function
Cons
Lack of more easy-to-access compartments
4.   Hitachi Fridge R-H310P7MS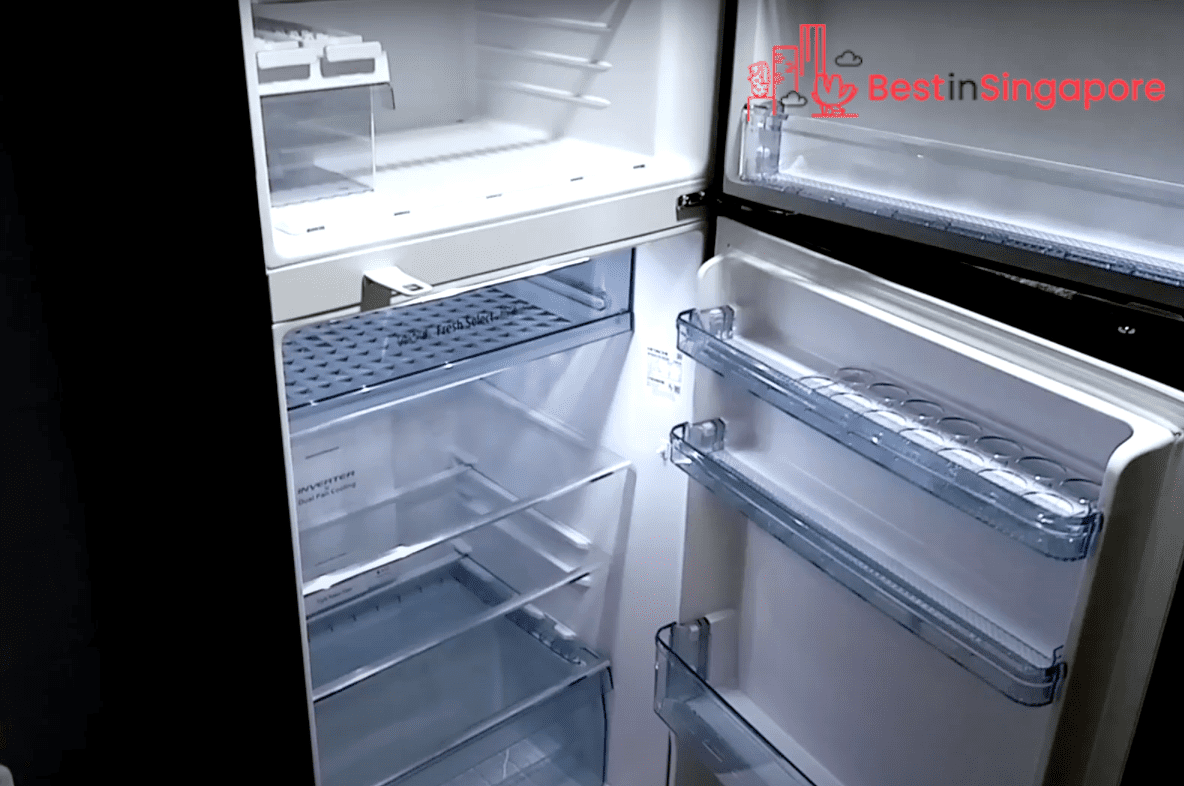 Price: $580.00
Unlike previous options, the Hitachi Fridge R-H310P7MS comes with eco thermosensors. With these, the fridge can detect temperature changes and adjust accordingly, providing the ideal temperature for each compartment.
It's also capable of producing powerful yet energy-efficient cooling to make sure that there'll be no wasted energy. It works well even without a stabilizer, for it can still operate under wide voltage fluctuations.
Even during a power cut, this fridge can still provide cooling retention for up to 12 hours! It's one of the many reasons it has become the best fridge in Singapore for many locals.
When it comes to compartments, it offers designated areas for vegetables, dairy, and meat with specific temperature modes. It also has a twistable and removable ice tray to make efficient use of storage space.
Pros
Energy-efficient inverter compressor
Dual sensing control
Fresh select modes
Scratch-proof and heat-resistant design
Heavy-duty tempered glass shelves
Stabilizer-free
Works even during a power cut
Cons
Takes time to cool the compartments
5.   Samsung Fridge RT35K553ASL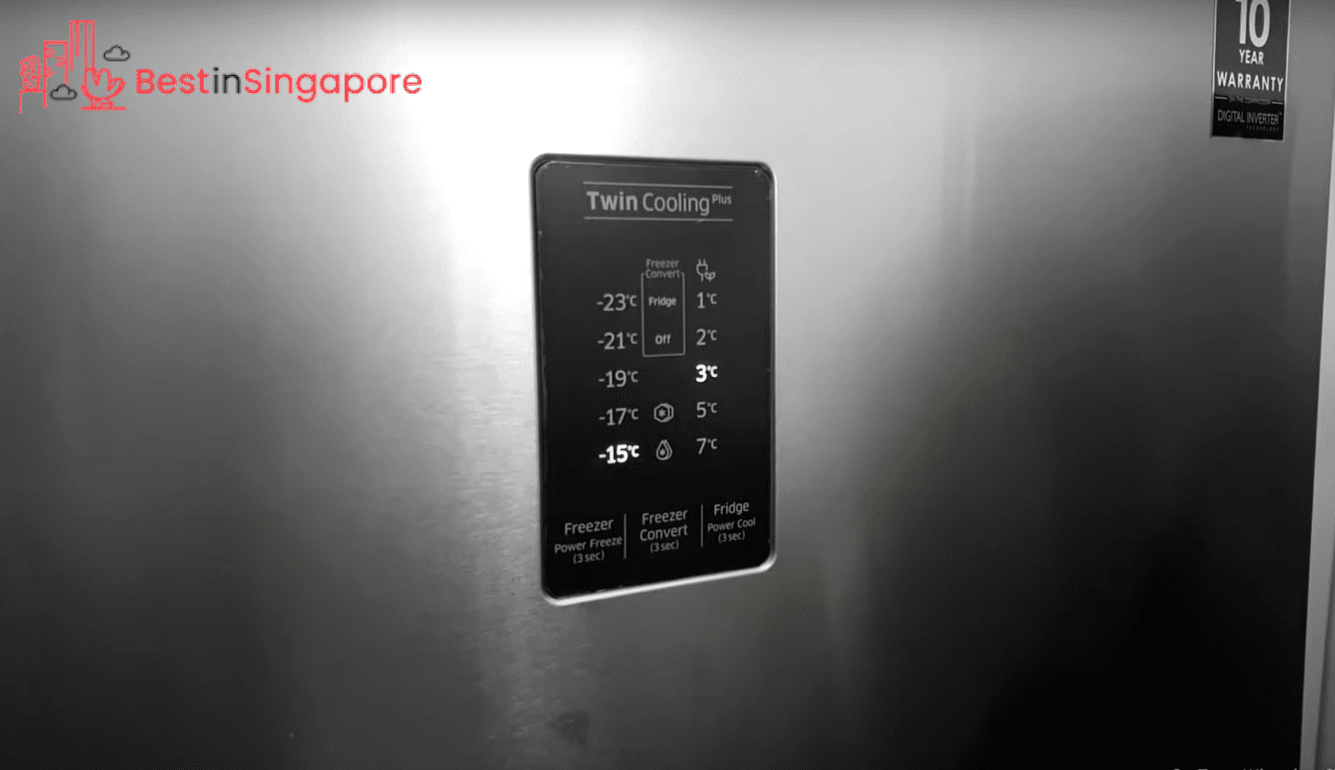 Price: $839.00
The Samsung Fridge RT35K553ASL is another top-freezer type but this one features a total of 5 conversion modes, ensuring even and stable cooling all the time.
You can convert the freezer into a fridge to store various food items for different seasons or special occasions. And when you're planning to go on a long trip, you can switch off the fridge compartment!
What makes it the best fridge in Singapore is the cooling feature that provides optimal humidity, keeping food fresh in all compartments.
If you always experience flavour changes in your prepared meals, this might be because of the food odours that spread throughout each storage space and affect the other frozen foods.
This is why this fridge provides separate airflows to maintain the original flavour of every ingredient.
Pros
5 conversion modes
Separate airflows
Wear and tear-resistant build
Deodorising filter
Cons
6.   Mitsubishi Fridge MR-V45EG-ST-P
Price: $928.00
The Mitsubishi Fridge MR-V45EG-ST-P is different from most models because of its 3-door design! It provides more compartments with better organisation, a good choice for those who like to keep a well-managed fridge to easily plan meals daily or for special celebrations.
This best fridge in Singapore also features a multi-airflow cooling system, providing a consistent temperature and maintaining the freshness of every food item stored in the fridge.
All shelves are built with durable tempered glass that can handle heavy food items so you can store a lot of groceries. This way, you can save more time and costs when you need to do grocery shopping.
It also has an anti-bacterial food liner and filter deodorizer to keep clean air and pleasant inside the fridge.
Pros
3-door type
Multi-airflow cooling system
Additional compartments
Vitamin factory
Revolving ice tray
Inverter compressor
Cons
And that's our list of the best fridges in Singapore! Have you already decided which model suits your needs the most? Let us know!
And if you've changed your mind and decided to consult with a professional to fix the repairs instead of buying a new one, here are some of the leading shops that offer the best fridge repair in Singapore.