The 7 Options for the Best Fencing in Singapore
Have you always wanted to try out fencing as a hobby? If so, then today must be your lucky day because we're looking at some places and schools that offer the best fencing in Singapore.
Fencing is no easy sport. It requires a lot of patience, dedication, and hard work. But if you're enrolled at a school that offers the best fencing in Singapore, things can get a little bit easier because you're trained by professional fencing players.
If you're clueless as to where you can sign up for the best fencing in Singapore, worry no more because we have you covered. We scouted the island in search of fencing schools that are open to both beginners and experienced students.
1. SG Academy of Fencing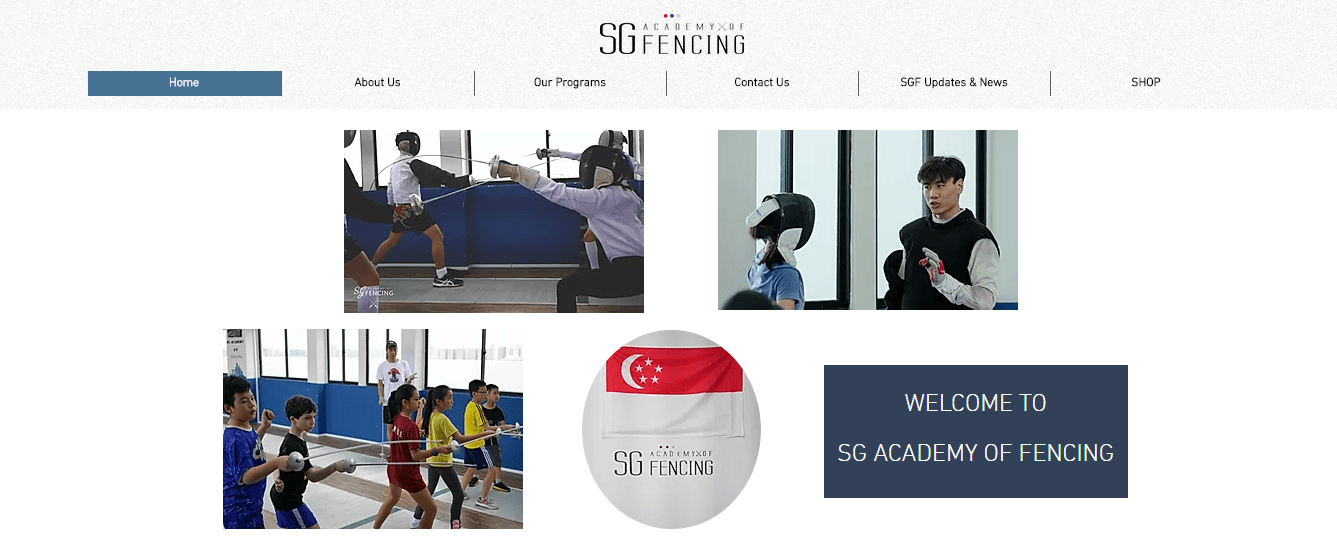 BEST FOR
Classes for All Ages
SERVICES
Group Fencing Lessons and Private Fencing Lessons
WEBSITE
http://www.sgafencing.com/
ADDRESS
37 Lorong 23 Geylang​ #10-02 Singapore 388371 ​
CONTACT DETAILS
(65) 81980402

[email protected]

OPERATING HOURS
Monday – Saturday, 9:00 AM to 6:00 PM
If you're looking for the top fencing school in Singapore, then look no further than SG Academy of Fencing. It offers both group and private fencing lessons, which can be availed of by students of all ages.
SG Academy of Fencing has age-specific fencing lessons too. It offers fencing classes for young fencers aged 4-6, budding fencers aged 7-12, and more advanced fencers aged 13 and above.
Each class is held every day, but it's up to the students if they want to attend classes 5 days a week. Some students only opt for 2-3 classes a week.
Highlights
3 years of experience
Skilled and professional instructors
2. Fencing Masters

| | |
| --- | --- |
| BEST FOR | Experienced Instructors |
| SERVICES | Group Lesson, One-on-one Lessons, Corporate Fencing, and Fencing for Kids |
| WEBSITE | https://fencingmasters.com |
| ADDRESS | 177 Ubi Ave 4, #02-00, Singapore 408792 |
| CONTACT DETAILS | +65 6841 7671 |
| OPERATING HOURS | Wednesday – Saturday, 6:30 PM to 10:00 PM |
Established in 1997, Fencing Masters is one of the earliest fencing academies on the island, catering to students of all ages. It's headed by Jeffrey Lopez, an experienced and professional fencing player.
One reason we consider it one of the top options for the best fencing in Singapore is its wide range of fencing classes. It's open to group lessons, personal lessons, corporate fencing, and even personal tutoring for kids aged 3-6.
Fencing Masters is made up of a team of professional and skilled fencing instructors, all of whom will make sure that every student will learn the basics of fencing at the end of the course.
Highlights
Professional fencing players
23 years of experience
Personal and group lessons
Customer Reviews
Here are some of the reviews posted by previous students on Google Reviews:
"Started Fencing in 2008 and never once have I thought of changing clubs or training in another place, simply because it feels like home. Growing up with Fencing Masters these 10 years, it has certainly provided me with friends who I can call family and have encouraged me to excel in both fencing and life. Fencers around should come and experience this for yourself. See why we call this place home."
"This club has great and professional coaches who always give their all to train every student . It is a safe and peaceful environment to train in and the people there are friendly and kind-hearted. There are a variety of facilities useful for training and the equipment and lessons are worth the price. Strongly recommended this place to all,"
3. Blade Club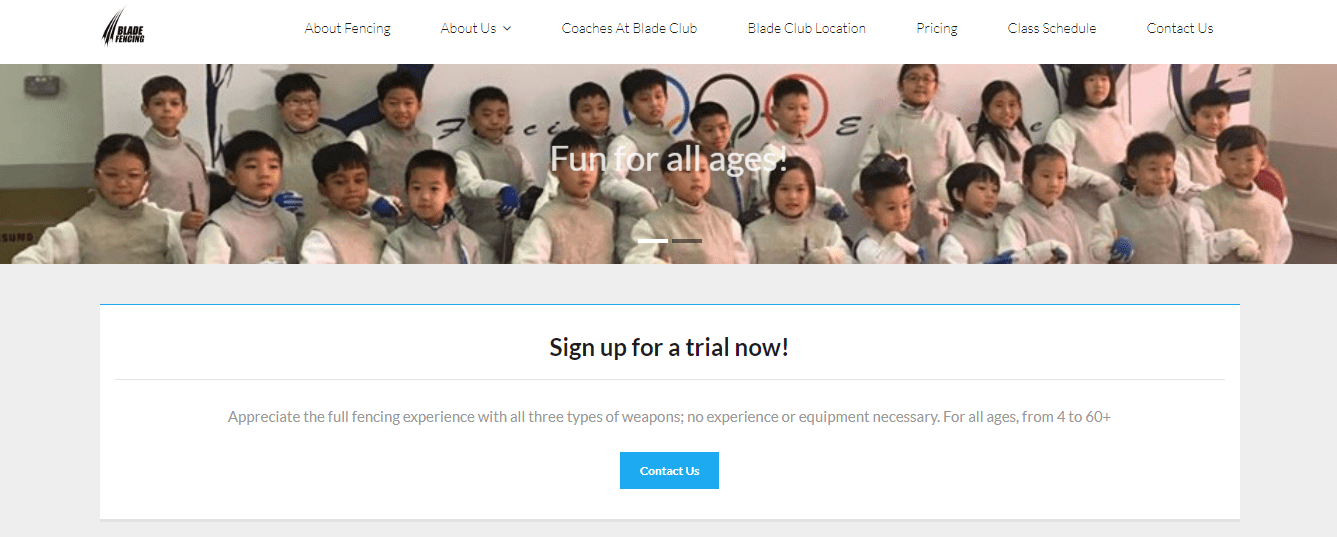 | | |
| --- | --- |
| BEST FOR | Fencing Classes for Kids |
| SERVICES | Group Lesson and Private Lessons |
| WEBSITE | https://www.bladeclub.com.sg/ |
| ADDRESS | 395 Bukit Timah Rd, Singapore 259735 |
| CONTACT DETAILS | +65 81131730 |
| OPERATING HOURS | Monday to Saturday, 9:00 AM to 7:00 PM |
If you have a kid who wants to learn how to fence, then signing them up for a class at Blade Club is the best option. It's one of the few fencing academies on the island that focus on teaching kids aged 3 to 12.
Fencing classes at Blade Club are cheaper compared to those of other fencing schools. A starter's class with 6 sessions only costs $270, while a monthly unlimited class costs $300 — which is why we call it a top option for the best fencing in Singapore for young ones.
What's more, the coaches at Blade Club are some of the most experienced and professional fencing players on the island, so rest assured that your kids are going to be in safe and capable hands.
Highlights
Experienced instructors
Competitive rates
Child-friendly classes
4. Modern Fencing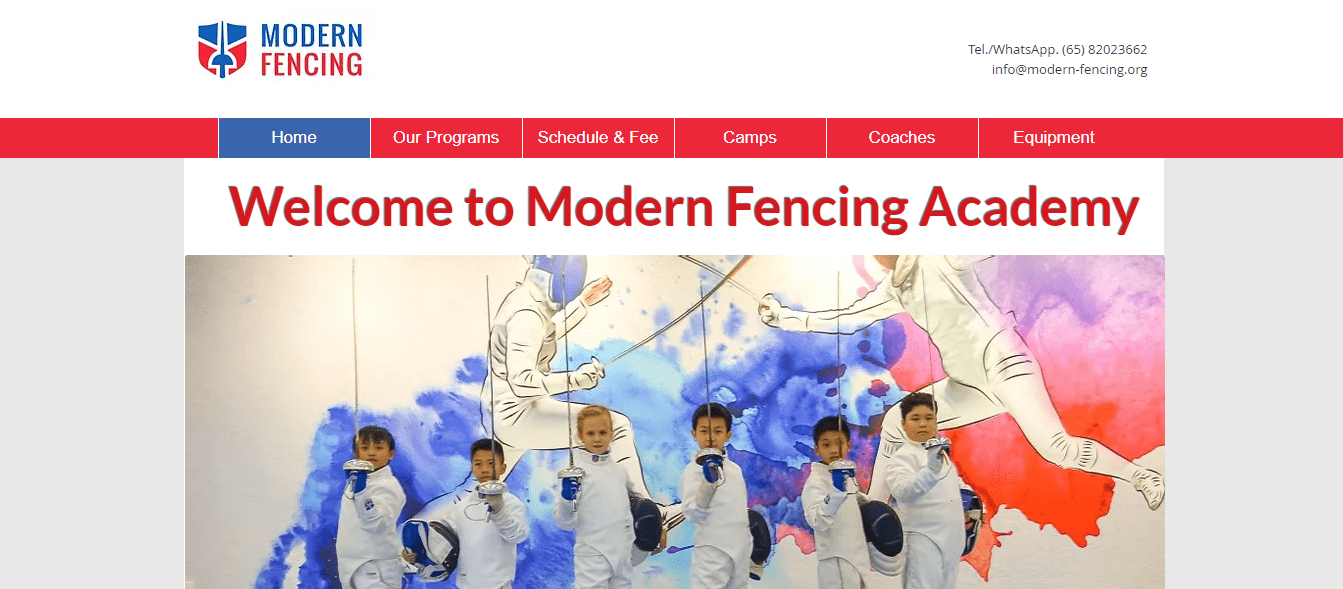 | | |
| --- | --- |
| BEST FOR | International Fencing Club |
| SERVICES | Kids Beginner, Competitive Epee, and Foil & Saber |
| WEBSITE | https://www.modern-fencing.org/ |
| ADDRESS | 6 Raffles Blvd, #02-36 Marina Square, 039594 |
| CONTACT DETAILS | +65 9017 6092 |
| OPERATING HOURS | Monday to Saturday, 8:30 AM to 7:00 PM |
Modern Fencing is international fencing academy. It provides sporting opportunities for talented young children living in Singapore, encouraging them and developing them into world-class athletes.
We included Modern Fencing among our picks for the best fencing in Singapore because it's among the few international fencing clubs on the island, meaning it accepts children of all nationalities.
It even boasts a diverse team of fencing instructors from different countries, coming from different all walks of life.
Highlights
Open to international students
Diverse team of instructors
5. Asgard Fencing Club
| | |
| --- | --- |
| BEST FOR | Free Trial Classes |
| SERVICES | Beginner and Elite Classes |
| WEBSITE | https://www.asgardfencing.com/ |
| ADDRESS | 3 Ang Mo Kio Street 62, #03-19, Singapore 569139 |
| CONTACT DETAILS | +65 6635 1359 |
| OPERATING HOURS | Monday to Saturday, 3:00 PM to 9:00 PM |
Asgard Fencing Club takes pride in the fact that one of its students became fencing world champion in 2016. It's only been around since 2014, but it's managed to teach close to a thousand children the art of fencing.
Some of the classes offered by Asgard Fencing Club are beginners classes, foundation classes, high performance classes, and elite classes. Most of their students start with the beginner classes, and then work their way up towards the elite classes.
In terms of pricing, we can't recommend Asgard Fencing Club to every parent because its rates are quite expensive, but it comes with the guarantee that your child will be learning from one of the best fencing instructors on the island.
Highlights
Group and private classes
Classes for children of all ages
6. Elite Fencing
BEST FOR
Fencing Classes for All Levels
SERVICES
Fencing Club, Elite Classes
WEBSITE
https://www.theelitefencing.com/
ADDRESS
45 Kampong Bahru Road Singapore, in th' Lands o' Singapore 169360
CONTACT DETAILS
+65 9858 7911
OPERATING HOURS
Mon 5 PM to 7 PM

Tue 5 PM to 9 PM

Wed 5 PM to 630 PM

Thu 5 PM to 9 PM

Fri 5 PM to 7 PM

Sat 10 AM to 430 PM

Sun 10 AM to 1 PM
Elite Fencing fosters a learning environment suited for students of all levels. Their FIE certified trainers know that no two students are the same, which is why they differ their teaching approaches per student.
They also offer Elite Classes, where you can learn about the best winning methodologies with Coach Marin. If you're interested, make sure to book a class immediately.
Highlights
Classes for every level available
Open daily
7. Bastion – Historical Fencing Academy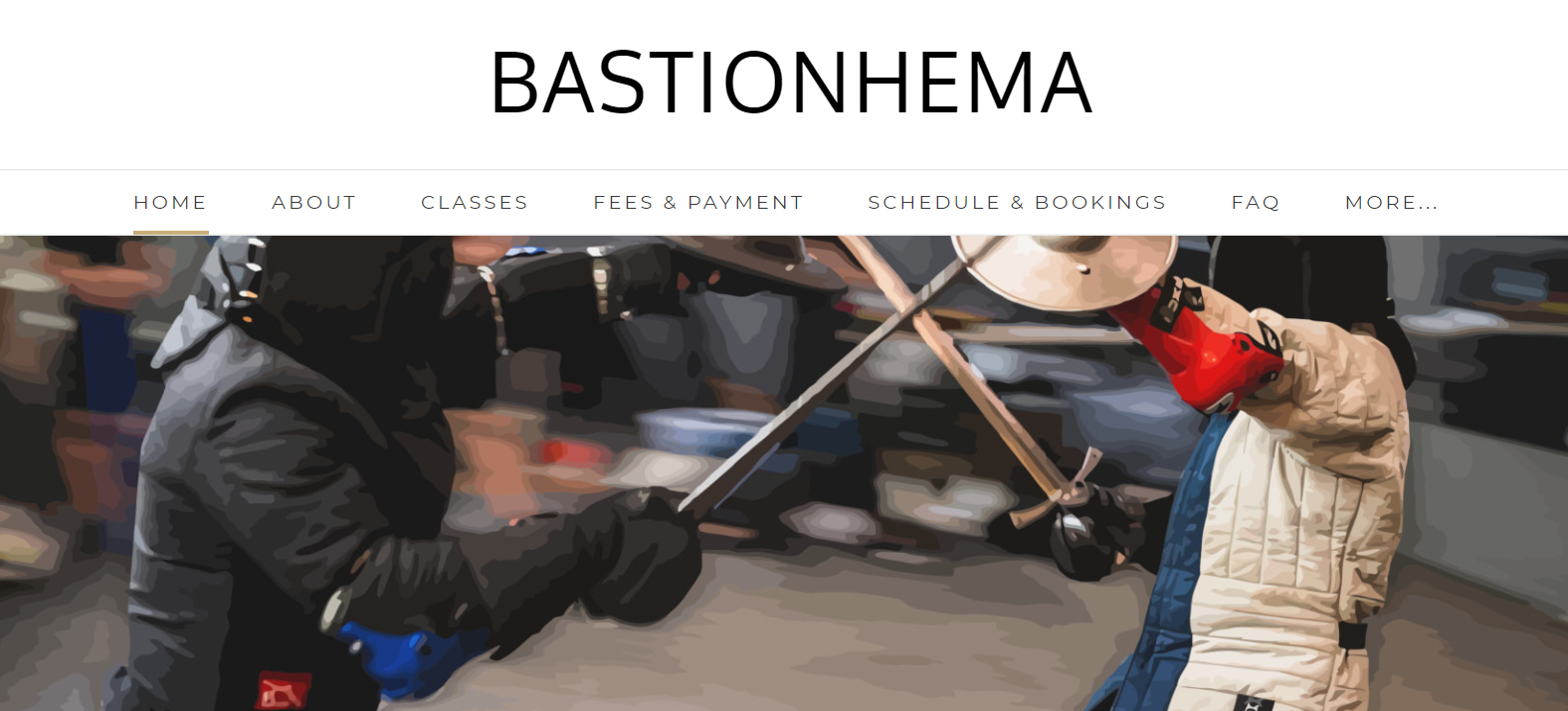 Bastion – Historical Fencing Academy teaches its students the foundations of sword-fighting. The school makes use of various weapons in their classes, most of which date back to the medieval period.
Not only that, but every weapon serves a different purpose as well. This results in students building up different skills in their repertoire as they continue to attend classes at Bastion.
Highlights
Beginners friendly classes. Intake every 3 months.

Focuses on medieval systems like the Longsword, Spear, Sword & Buckler, and Langes Messer

Different types of equipment for different intensity. From Foam to Wood to Steel.
And with that, we conclude our list of top options for the best fencing in Singapore. Any of these fencing schools will make sure that students will become better fencers than they were before enrolling, guided by some of the best fencing instructors in Singapore.
Oh, if you're thinking about trying other sports as well, you might want to check out our list of the gyms that offer the best kickboxing in Singapore. Our list features only reputable gyms with experienced trainers who will oversee your progress learning the sport.