Where to Buy Chinese New Year Flowers in Singapore
The holidays aren't over just yet. With Chinese New Year around the corner, you might want to begin your preparations early to beat the rush, starting with a fresh bunch of auspicious flowers and plants.
Today, we're rounding up the best places to buy Chinese New Year flowers in Singapore. Not all florists specialise in curating Lunar New Year floral and fruit arrangements, so we made sure to pick ones that do.
Whether you're planning to purchase some for yourself or for someone else, then read on because this list is for you!
Chinese New Year Flowers' Prices
To help you compare prices, check out the table below for easy reference. We also included each entry's corresponding delivery fees below to help you manage your budget.
Florist
Price Range
Delivery Fees
The Green Corner
$7 - $1,288
• Free delivery for orders above $100

• $10 for orders below $100

Prince's Flower Shop
$7 - $1,288
• Free same-day delivery

• $20 for special timing delivery

• $35 for express delivery

SingaporeFlorist.sg
$88 - $490
• Free same-day delivery

• $20 surcharge for deliveries to restricted areas

Far East Flora
$54 - $321
• Free delivery for orders above $88

• $8.56 for standard delivery excluding restricted areas

• $10.70 for express delivery

• $21.40 for super express delivery and deliveries to restricted areas

Little Flower Hut
$88 - $388
• Free same-day delivery

• From $30 for after hour delivery

• From $55 for express delivery

• $35 - $80 for special timing delivery

• $20 surcharge for deliveries to restricted areas
The Best Places to Buy Chinese New Year Flowers in Singapore
Here's a quick run-through of our selection criteria:
Now that we have that covered, it's time to dive right into our picks of the best places to buy flowers and plants for Chinese New Year in Singapore.
1. The Green Corner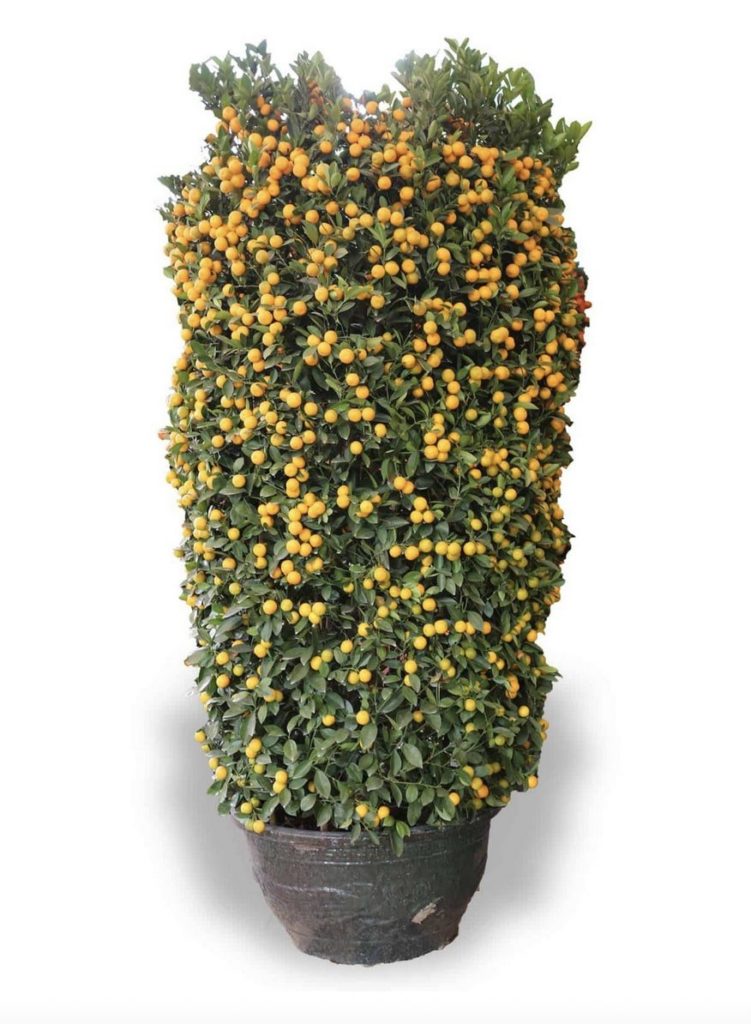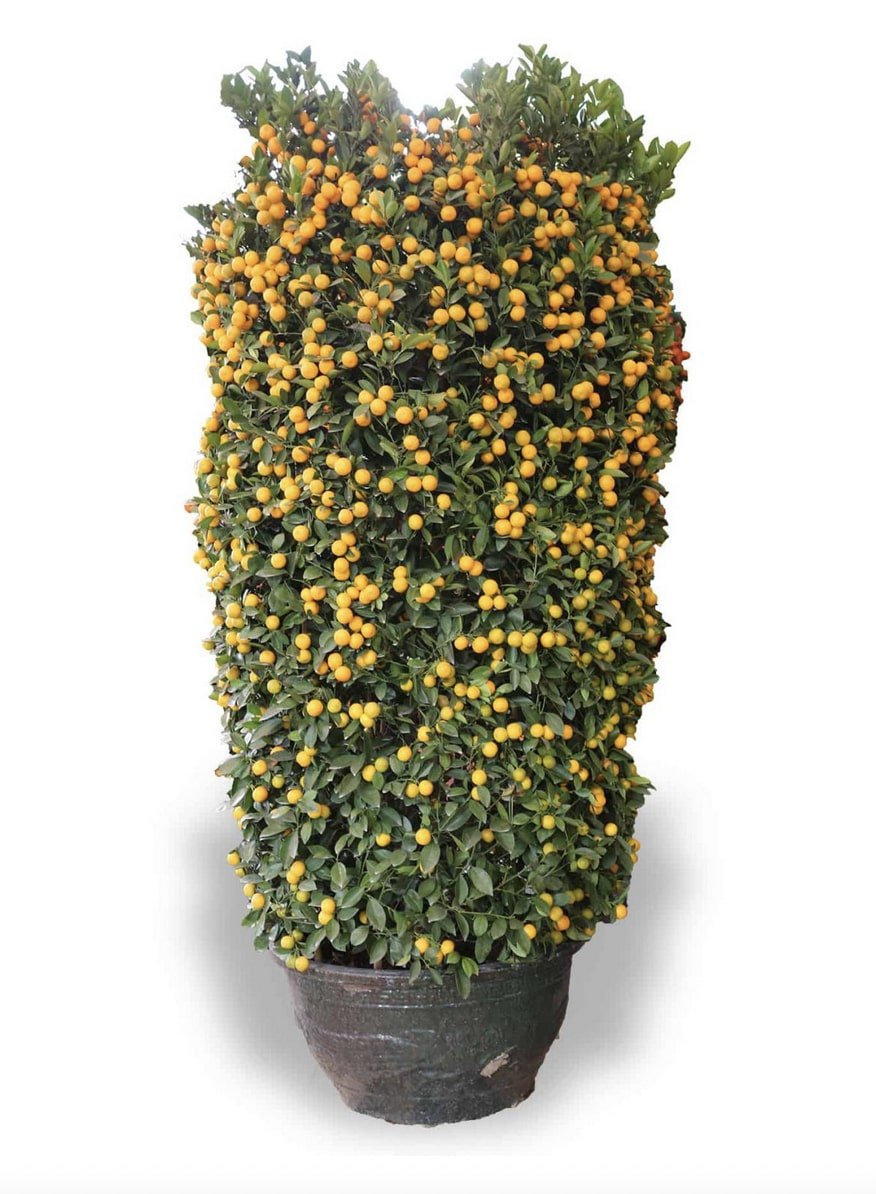 We first featured The Green Corner on our list of the best places to get Christmas trees. There, we found them to be an overall solid choice when it comes to holiday flowers and plants, which is why we're giving them another spot here.
Their range of flowers may not be as wide as the others but they feature all of the most common must-have plants for Chinese New Year. This includes kumquat plants, lucky bamboo, and even Mandarin orange trees of different sizes.
We've heard that they deliver orders promptly, which is a huge plus! No need to worry about the schedule because they deliver everyday from 9 AM to 7 PM.
They also offer free delivery for orders above $100. Otherwise, customers will be charged a standard delivery fee of $10 for orders below the threshold, which is still decently low compared to others.
From what we've seen last year, prices sit on the affordable end. While prices this year are yet to be released, we're expecting costs to be roughly the same as last year, so we recommend checking their website from time to time.
10% off for purchase $200 and above
10% off + FREE Delivery for $300 and above
$10 delivery surcharge for purchase below $300
2. SingaporeFlorist.sg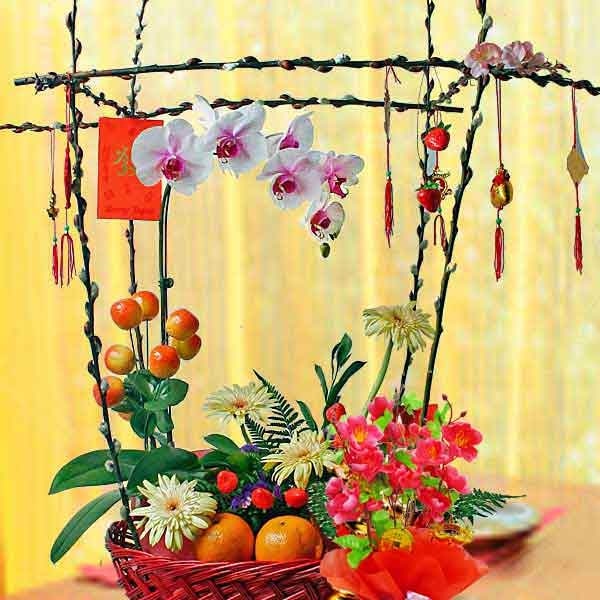 SingaporeFlorist.sg is another veteran when it comes to fresh flowers and bouquets. We had to give them a mention here particularly because of their rich variety of Chinese New Year flower basket arrangements.
The majority of their flower baskets contain a mix of artificial auspicious flowers like orchids, peonies, chrysanthemums, and more—ideal for those looking for low-maintenance options.
There are also hampers and flower baskets with oranges, making them the perfect gift for family and friends.
Don't be disheartened, though—they do offer baskets with real flowers too. Orchids seem to be their specialty so if this is what you're looking for, then we think they're one of the best options for that.
All things considered, they're not the most affordable option out there, which can be a dealbreaker for some.
On the plus side, you'll be glad to know that they offer free same-day delivery to most areas in Singapore, available daily. Note that surcharges apply for deliveries to restricted areas like Jurong Island, Sentosa, and more.
Wide range of flowers
Hampers available
Specialises in orchids
Free same-day delivery island-wide
Less variety of real flower baskets
Relatively expensive
Customer Reviews
Flowers were delivered on the same day
"Highly Recommended Service! I've ordered from India, in the morning and the flowers were delivered on the same day with additional message card I've requested for. Got a positive feedback from my friend who received. Thanks for such a nice work! Keep it up guys. By the way, it seems the cake was delicious too :)" —Sri Chintala, Google Reviews
Delivers fruits and flowers with quality and class
"I'm one of the delighted customers who exceeded my expectations as SG florist delivers the fruits and flowers with quality and class for my mother-in-laws' 70th. You made her birthday truly memorable despite the short notice. Thank you so much, will surely order again." —Irene Rodil, Google Reviews
3. Far East Flora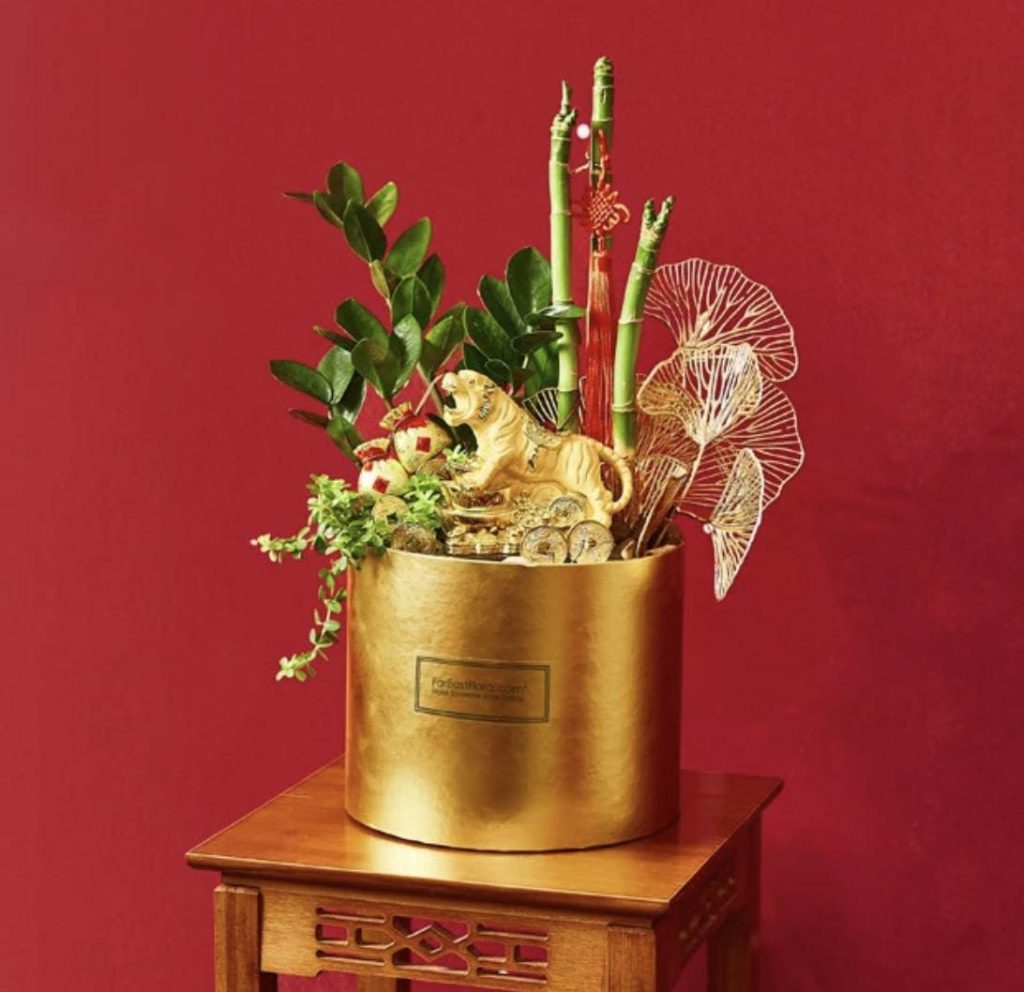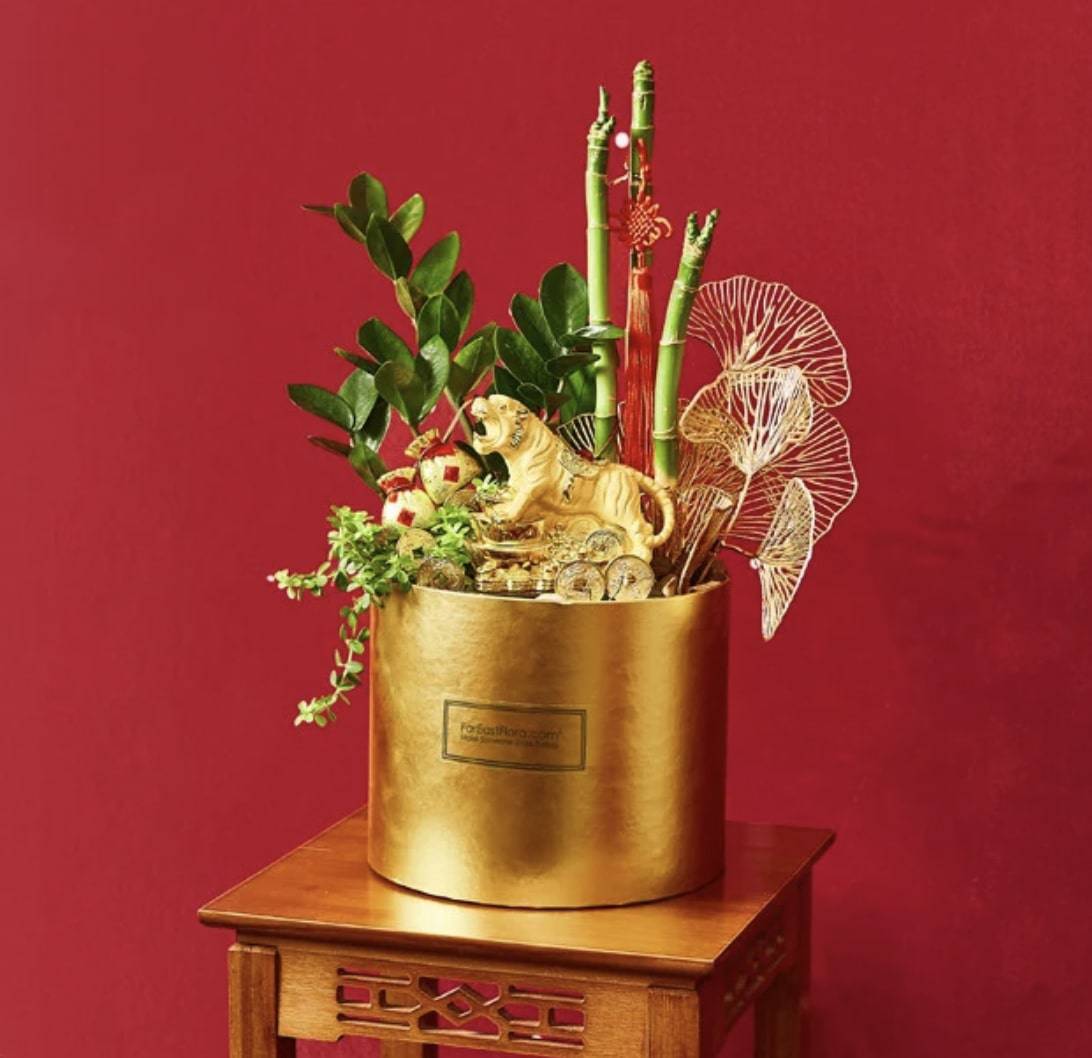 If you're looking for another florist that specialises in gifts, then Far East Flora is an excellent option for that, and here's why. First, they boast an impressive selection of flower arrangements for Chinese New Year and other occasions.
For the former, their arrangements are nicely packaged in a way that already makes them ready for gifting.
For instance, one of their arrangements features a golden Tiger ornament (perfect for those born in the Year of the Tiger) along with a few stems of lucky bamboo, zamioculcas, and peperomia rotundifolia.
There are dozens of options to choose from, including Chinese New Year hampers filled with goodies, which really makes them an appealing choice.
Another thing we really like about them is their price range. They have different arrangements at different price points, making them a good choice for those looking for a budget-friendly gift or more luxurious option.
As of writing, they offer early bird discounts for all flowers and hampers up to Feb 1, 2022. Delivery also comes free with a minimum spend of $88.
Otherwise, you'll have to shell out a separate delivery fee of $8 for orders below that. Thankfully, deliveries are available daily with no additional cost on weekends and holidays.
Wide range of flowers and hampers
Ideal for gifts
Same-day delivery available daily
International shipping available
Relatively affordable
Relatively high minimum spend threshold for free delivery
Restricted delivery to some areas 
Customer Reviews
Ordering online is a breeze
"I love ordering from Far East Flora, they always prompt and always have variety of choices. The arrangement always fresh and modern and ordering online is a breeze with many choice of payment mode which is easy if you are living abroad." —Theresia Yuwani, Google Reviews
Pleasantly surprised to see the effort they put in
"Ordered this bouquet for my gal's Confirmation with request of a long message. Opted for self collection 2 days later. We are so pleasantly surprised to see the effort put in for such a pretty, tastefully arranged and well-wrapped bouquet. My gal was so touched, along with the note, nicely typewritten. My friend who helped me collect also was impressed by their service, swift n bouquet already ready when they arrived. Thank you Far East Flora for making my gal and my day! So proud of your service. Keep it up!! Will strongly recommend!" —May Chan, Google Reviews
4. Little Flower Hut


Little Flower Hut is another fantastic choice for those looking for a wide selection of Chinese New Year gifts to give to family, friends, and business partners.
Variety is one of the main things that caught our attention with Little Flower Hut. From auspicious plants like lucky bamboo and orchids to fruit baskets, it's safe to say that there's something for everyone here.
We also like the fact that they offer free same-day delivery island-wide daily—no minimum spends to worry about! Just take note that certain conditions like after-hour deliveries and express deliveries are subject to additional charges.
Another thing worth noting is that their team operates 24 hours a day, which means that they can assist you should things go wrong on late night deliveries, for instance.
We think that their prices are also quite reasonable. There are different kinds of flower arrangements and hampers at various price points, giving you plenty of room to choose the best one according to your needs and budget.
Wide range of flowers and hampers
Free same-day delivery daily
Relatively affordable
Ideal for gifts
Operates 24/7
Expensive delivery fees for special circumstances
Restricted delivery to some areas 
Customer Reviews
Very efficient in advising their products and pricing
"when other florists are unable to accept my last minute order and delivery for the day during Covid19 HA (22 Jul to 18 Aug), Little Flower Hut was my savior. Not only were they friendly but very efficient in advising the products and pricing. managed to order baby hampers for our fellow colleagues who had twins borned on 22 Jul 2021. it was truly a lucky and blessed day for our company. We give you 5 stars for your efforts and efficiency. Keep up the good works." —Magdalene Lim, Google Reviews
Reliable, affordable, and customer oriented
"They go the extra mile to make it for last min delivery orders. They are very intuned with the customers needs and take feedbacks seriously. Extremely affordable range of plants and flowers making their services a favourite once you have used them. Reliable, affordable, customer oriented and convenient payment methods. They truly made my day ! So glad to have them and their services. A big thank you to the team who rushed my urgent order and was so patient with me." —Gayathri Gill, Google Reviews
5. Prince's Flower Shop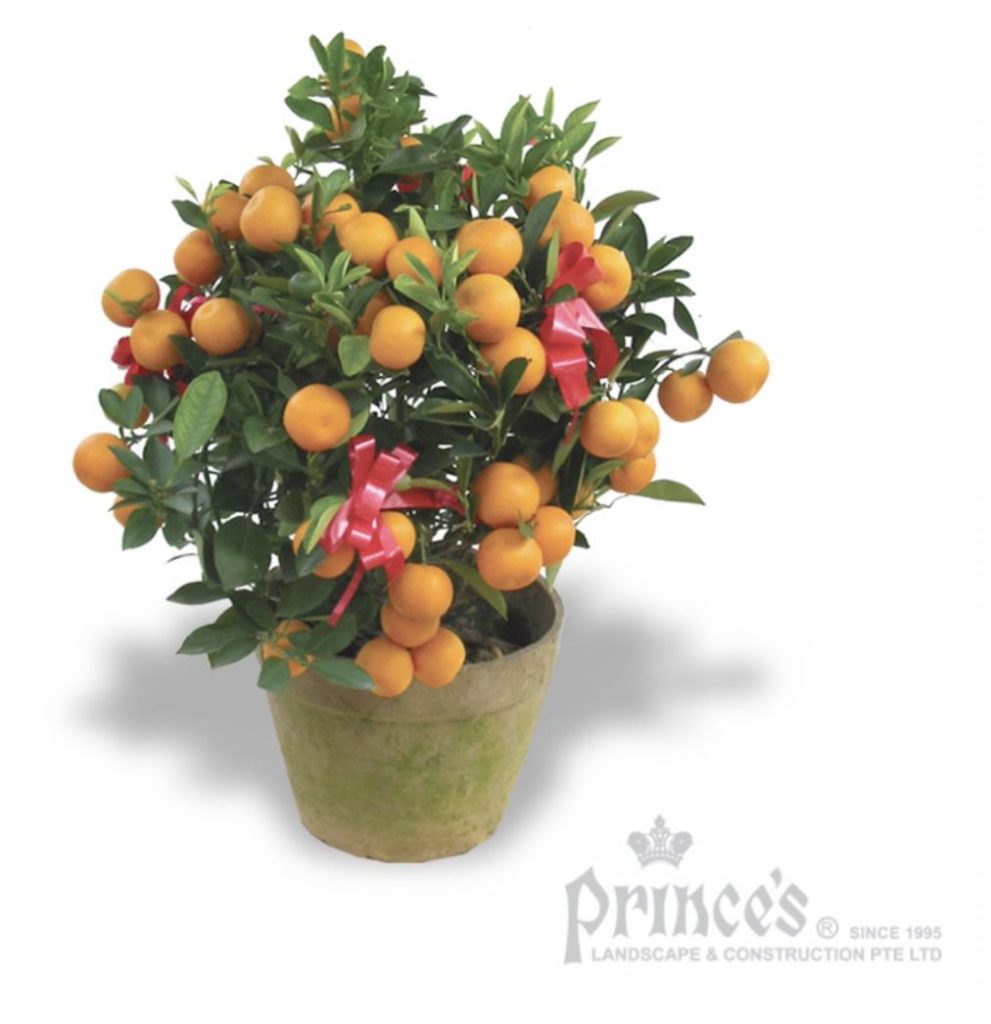 Title
Info
PRODUCTS
Mandarin Orange, Four Season Kumquat, Chrysanthemum, etc.
WEBSITE
https://prince.com.sg/
ADDRESS
Lot 210 PT3 Lorong Ah Thia, Upper Bukit Timah Road, Singapore 660000
CONTACT DETAILS
+65 6766 7000 |

[email protected]

OPERATING HOURS
Mon to Sun: 8:30 am - 5:30 pm
Prince's Flower Shop has been around for a long time now, so you can say that they're a well-established florist. They've been providing fresh blooms since 1966 for a wide variety of occasions from weddings to Chinese New Year.
While their collection for this year is still being finalised as of writing, we're listing them here because they've been a reliable source of Chinese New Year flowers over the years.
They carry both fresh blooms and artificial flowers alike. In the case of the former, they offered chrysanthemum flowers, celosias, kumquat plants, and more in the previous years.
We also like the fact that they also offer a variety of fruit hampers, which you can get alongside flowers if you're planning to give someone a special Chinese New Year present.
Make sure to place orders and book deliveries in advance because Prince's Flower Shop is closed on the first and second day of the Lunar New Year. We also heard that their special-occasion plants sell like hotcakes so make sure to take this into account.
We're also a bit bummed to see that there are no deliveries on weekends. On the plus side, they do offer same-day deliveries from 9 AM to 9 PM for free!
Just take note that certain requests like special timings require a separate fee.
Wide range of flowers
Free same-day delivery island-wide
Hampers available
Convenient location
Online orders closed as of writing
No deliveries on weekends
No deliveries on Chinese New Year
Customer Reviews
Service is great
"Have been ordering flowers from Prince's since 2011 and i have been happy with their quality and service for the past decade. Bought flowers for delivery yesterday and the bouquet was beautiful. Service is great and the flowers looks better than the photos." —Rasyad Rahman, Google Reviews
Lots of variety to choose from
"Bought fresh cut flowers for my bai bai table. Lots of variety to choose from, excellent service and well-mannered and knowledgeable sales team. Affordable and value for money prices right here fam. Thanks, will patronise again huat ah." —Brandon Yeo, Google Reviews
6. Ana Hana Flower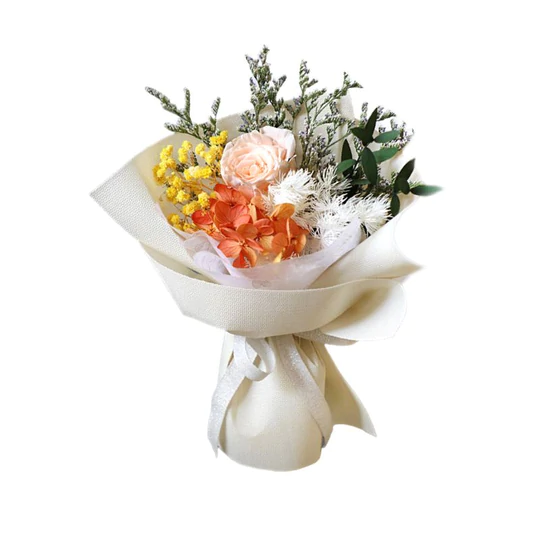 PRODUCTS
FlowersFlower Dome
Flower Subscription
Omakase
Scents
Cakes & Edibles
Shopping Experience
Add Ons
WEBSITE
https://anahanaflower.com
ADDRESS
61 Ubi Road 1, #04-19 Singapore 408727
CONTACT DETAILS

[email protected]


+65 9455 0145
Ana Hana is a uniquely Japanese-inspired online gift store known for its flower arrangements and beautiful flower glass domes. Whether it's Chinese New Year or not, their products are fit for every occasion.
Aside from flower arrangements, it offers preserved flowers, luxury bouquets, and other gift items such as wines, cakes, candies, and chocolates. Clients can also opt to build their own bundle of gift selections.
Prices of small gifts start at $15.00. Online payment options like VISA, MasterCard, Pay Now, Apple Pay, Dash, GrabPay, Stripe, Hoolah, and Google Pay are also available.
Ana Hana offers free delivery for orders over $55.00. Same-day delivery is also available on weekdays from 9 am to 5 pm.
As a plus, the store ships internationally to the United States, Japan, Australia, Indonesia, Hong Kong, Thailand, Malaysia, and other countries.
Wide variety of products
Good for all occasions
Ships internationally
Same-day fast delivery
No office hours available
Additional charges will be applied for same-day deliveries
Customer Reviews
Smooth experience
"I like the prompt service and the wide variety of gorgeous preserved flowers. My friend was pleased with the flowers. thank you very much!!" – Huimin Chng
Great service and selection of flowers!
"Mandy was really patient, attentive and a great customer service! She responds fast to all my queries and gave good recommendations based on my needs/preferences. She went the extra mile to help print a card for me and even reminded me to send her to card messages so that she could ensure that all was in order before the delivery date. I really appreciate her assistance!" – June Goh
7. Flower Addict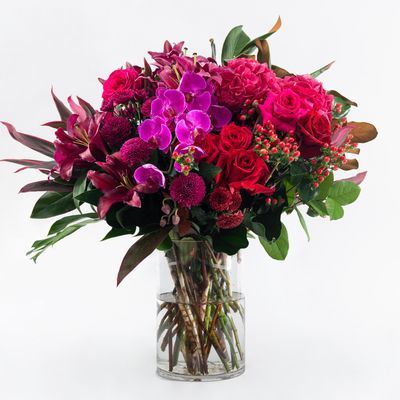 Flower Addict is a gifting shop that specializes in offering aesthetically arranged flower bouquets along with a wide selection of gifting options to complement it as well. Based in Singapore, it is the brainchild of Kerry James and Sandi Sadek.
Their website is appealing to the eye and easy to navigate so that new visitors of their website will have a convenient time browsing their wide selection.
From gift hampers to themed bouquets, they also offer flower arrangement customization for their subscription plans along with other freebies such as delivery and vases.
They source their flowers internationally which helps clients have access to a wide variety of flowers, but for this reason – they could also be lacking when it comes to local and seasonally available flowers.
Overall, their past clients have commended them for their stellar arrangements that did not disappoint when it comes to the quality of the flowers themselves.
Bouquets for any occasion
Offers express flower delivery
Online subscription available
Additional fees for rush deliveries
Customer Reviews
Here are some reviews from their clients:
"Wow what impressive designs!! I've never seen anything like this in Singapore. I love the modern, breezy, contemporary feel. The colours blend perfectly. This is my new favourite florist for sure." – Mei Ling
"I didn't know different cut flowers will die before others. The website tips helped me to care for the flowers so they lasted longer. Thanks Flower Addict! You certainly know your stuff." – Belinda
8. Flower Chimp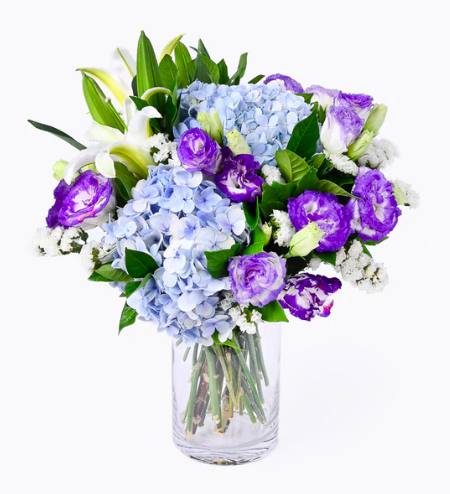 Flower Chimp is one of the best rated florists in Singapore. It is also the largest and most trusted online flower delivery company in the Southeast Asian region. It has fulfillment centers in the Philippines, Malaysia, Singapore, Hong Kong and Indonesia.
The flowers at Flower Chimp are not only beautiful, but are also sophisticated. All are truly of quality and they offer only the freshest blooms.
What's more is that the flowers stay fresh for at least 7 days! You're sure that your money won't be wasted on something that will wilt right away.
Another thing they offer is convenience with their delivery service. What's more is that they have same day delivery, so if you suddenly feel like making someone happy through flowers, you can simply order from Flower Chimp.
Speaking of delivery, you have the option to choose your preferred delivery slot and no matter where your loved one is in the country, the flowers will surely reach them with Flower Chimp's nationwide delivery.
For all these reasons, Flower Chimp has consistently been a top rated florist.
Bouquets for different occasions
Nationwide and same day delivery
Lasting flowers that stay fresh for at least 7 days
Top rated florist
Orders need to be placed before 2PM for same day delivery
Customer Reviews
Here are some reviews from their clients:
"Bouquet looks exactly as in the website. Lovely fresh flowers. So Christmassy! Superb customer service too. I was notified that the hospital did not allow deliveries even though the flowers were already there (and I had called the hospital earlier and was told can leave it at the registration counter). Anyway, Customer service organized for the flowers to be re-sent to my alternative address. I will definitely order again from Flower Chimp after this great experience."
"I had to order some flowers for an occasion urgently. My experience here was hassle free. Online selection is wide, ordering was simple, and delivery was done seamlessly and on time. Great service."
FAQs about Chinese New Year Flowers
More Resources about Chinese New Year in Singapore