8 Best Paper Shredders in Singapore for Home and Office
Whether you work at home or in the office, a great paper shredder is important in maintaining privacy and security. What better way to keep yourself protected than by having the best paper shredder in Singapore?
Now, picking out the right paper shredder isn't an easy task… especially as most people don't have any idea what to look for in one!
But don't worry because we're here to guide you in choosing the best paper shredder in Singapore for your personal or professional use.
Before we go over the best paper shredders in Singapore, though, we'll tell you the factors to consider before buying and taking home a paper shredder. If you know the things to look out for, it will be easy for you to make your choice as you read our list.
Factors to Consider Before Buying a Paper Shredder
Knowing the types of paper shredders is a great start. You should take your time identifying their differences and features because it's your privacy that's on the line.
In addition, knowing a paper shredder's capacity, safety features, maintenance, and security level is also helpful.
In any case, let's go over each point below. Feel free to skip to our list of the best paper shredders in Singapore if you don't need a guide to picking one, though.
1. Type
The different types of paper shredder machines vary based on how they cut documents. The three most popular types are strip-cut, micro-cut, and cross-cut, and each have unique features.
If you want one that's easy to find, then go for a strip-cut shredder. Just like its name suggests, it cut papers into long strips.
It's so popular that you can easily purchase it at any appliance or office hardware store in Singapore. However, since it cuts paper into long strips, it could be easy to reassemble the shreds.
If you want a bit more security, then a micro-cut shredder would be perfect for you. It cuts paper into bits and pieces, making it extremely hard to reassemble them.
Companies with highly confidential reports and documents usually opt for this type of shredder because it guarantees that they will remain confidential.
Lastly, cross-cut shredders share the same level of security with the previous type. Documents cut using these are torn into short, thin strips, rendering it impossible to glue them back together.
2. Capacity
A paper shredder's capacity refers to how many papers it can handle at a time. A regular paper shredder for home use or office shredder can cut no more than 5 papers at a time, depending on the thickness and length of the papers.
Any type of paper shredder can be used either at home or in the office. However, offices tend to print and shred more papers, so it would be better to get one that can shred more than 5 papers at once.
If you work from home and don't print a lot, then we think that a regular shredder is already enough. It's cheap and is perfect for small volumes of paper.
If you work in an office and regularly shred large volumes of paper, then it would be practical to go for a more advanced paper shredder. There are advanced models out there that can shred from 20 to 30 papers.
3. Safety Features
Paper shredders contain sharp blades that can be extremely dangerous, making them unsafe around children.
One step towards safety around paper shredders is to never leave them unattended. You can never know what can happen when there are kids or pets around.
Thankfully, most paper shredders today come with a variety of safety features. Some have a safety lock that prevents unauthorised access, making them inaccessible to kids.
Another great safety feature that's present in most paper shredders is the safety sensor. With the help of this sensor, a shredder will automatically shut down when it detects a hand near the opening.
4. Maintenance
Shredders' razor-sharp blades tend to dull over time. A shredder can become useless when it can no longer cut papers with the same speed and accuracy as before, so it's important that you regularly clean and maintain them.
To keep them performing at their best, it's ideal to regularly oil the cutting blades. However, not all paper shredders react well to oil and lubricant.
So, before buying a paper shredder, make sure that they can be cleaned and maintained with either oil or lubricant. You don't want to spend your money on a shredder that will eventually wear down over time.
5. Security
Lastly, security is one of the factors you should never forget when buying a paper shredder. Since your purpose in getting one is to keep your confidential files away from the hands of other people, you should never take security for granted.
If you take a look at a shredder's specs, you will see its DIN level — the higher the DIN level, the higher its security.
In terms of paper security, there are 7 security levels: DIN P1-P3 has normal security, DIN P3-P5 has higher than normal security, and DIN P5-P7 has the highest security.
The Best Paper Shredders in Singapore
Now that you know what to look for in a paper shredder, you're ready to see our picks. Let's hope that you'll be able to choose one by the end of this article.
1. Fellowes Powershred® LX201 Micro Cut Shredder
Best for Jam Proof Performance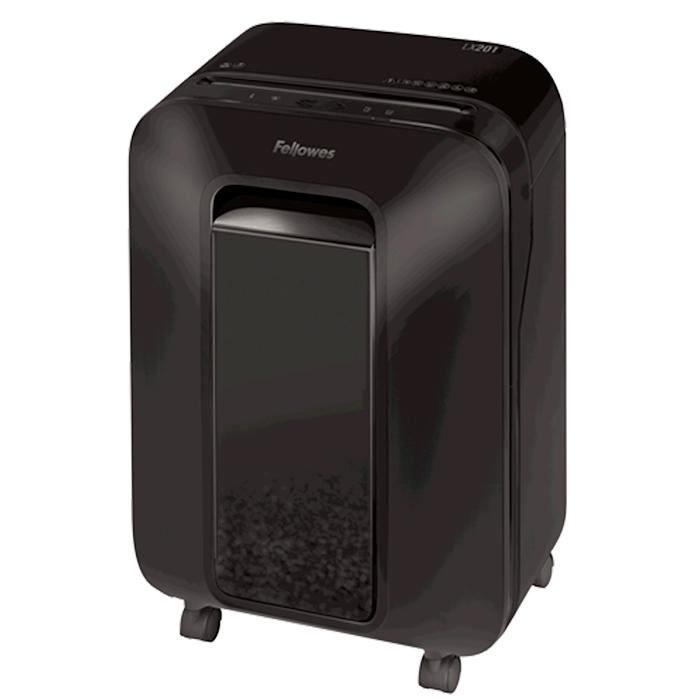 Usual Price for Fellowes LX 201 (with GST) : $524.30
Promo Price : $471.87
Check It Out on Stationery World
Even though Powershred® LX201 Micro Cut Shredder is on the pricier side, it is still a great investment to buy a shredder that is 100% jam-proof.
Unlike other paper shredder machines in Singapore, they have the Intellibar responsive technology that provides in-use feedback. This feature helps maximise the performance of the shredder since it prevents interruptions by indicating when the bin and sheet capacity is reached.
In comparison to the ones on this list, this shredder has a 12-sheet shredding capacity and a 22-liter pull-out bin. With the number of sheets it can shred, a hundred papers can be shredded over its ten minutes run time.
Another great feature this shredder machine has is the SafeSense. The machine automatically stops shredding when hands touch the paper entry.
Lastly, the fact that you get a whopping two-year warranty when you buy this machine is one of the main reasons we consider it to be one of the best paper shredders in Singapore.
Highlights
Sleep Mode
Can shred credit cards and staples
Shreds each sheet of A4 paper into over 2000 particles (2x12mm P-5)
A 3-month, 10% off promotion with a free Fellowes shredder oil upon purchase
2. Fellowes Mini Cut Shredder Automax 100m
Best for Bulk Shredding
Usual Price for Fellowes Automax (with GST) : $747.93
Promo Price : $673.14
Check It Out on Stationery World
We recommend buying Fellowes Mini Cut Shredder Automax 100m because it is the best equipment to use when you want to shred sheets fast. With its versatile FlexShred, it has the capability to shred up to one hundred sheets automatically.
Yes, you saw that right, a hundred sheets!
What's great about this paper shredder machine is that it can also shred manually. In this mode, you can shred 10 sheets, credit cards, paper clips, and staples.
In comparison to other shredded, this one operates quietly. Its SilentShred feature allows it to provide ultra-quiet shredding without noisy disruptions.
The only hitch is that this product costs a bit more than the others on this list and that its continuous running time is only 15 minutes.
Highlights
Sleep Mode shuts down the shredder after 2 minutes
23 litre pull-out bin
2-year machine warranty
7-year cutter warranty
3. GBC Paper Shredder S206
Best for Affordability, Non-confidential Documents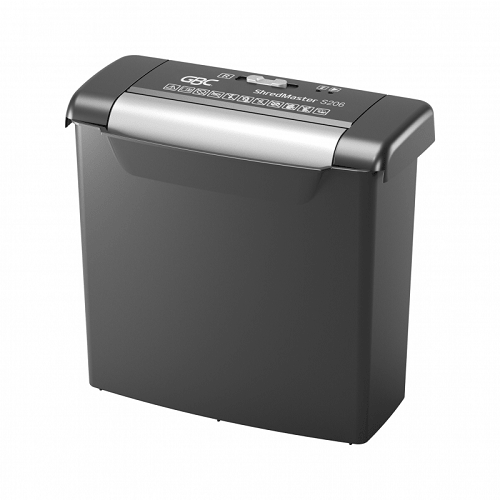 Price: $43.88
Most paper shredders definitely come with a heavy price tag, but if you're on a budget, don't worry because we have the right paper shredder for home use for you. Here's the GBC Paper Shredder S206, and we believe it's a steal!
It may be more affordable than most shredders, but it does its job pretty well. It can shred up to 8 sheets of paper at a time and has DIN P-2 level of security.
Its security level may be low, but most buyers use it only to destroy non-confidential documents anyway. What's more, it can cut papers into thin 6mm sheets of ribbon, making it very hard to reassemble the shreds.
In addition, its waste bin can hold up to 6 litres or 45 sheets of shredded paper. It doesn't have a lot of unique features, but if you don't want fancy shredding, this one would be great for you.
Highlights
8 sheets at a time
DIN P-2 security
Handy and compact
Easy maintenance
1-year warranty
4. Aurora AS800CD
Best for Home Offices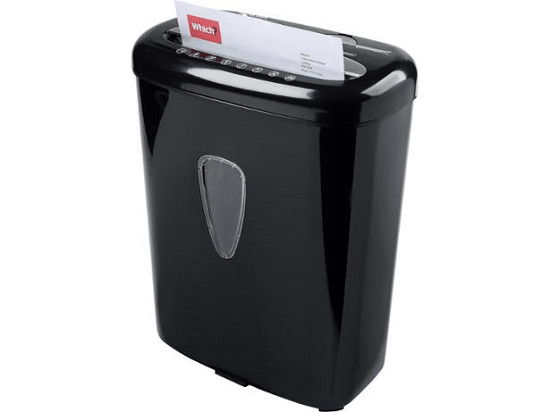 Price: $109.00
 If you're planning to get a paper shredder for your home office, then we highly recommend the Aurora AS800CD. It's a lightweight and compact cross-cut shredder that can keep your files safe and private.
In terms of capacity, it can shred up to 8 papers into 5 x 47mm small pieces at a time. Although it's a bit lower-powered than some other shredders, it has the power to cut credit cards, CDs, and even paper clips.
Another thing we adore about this paper shredder is that it has a large waste bin despite having a small body. It can carry up to 16 litres of shredded papers, so it would take a while before you have to empty it again.
If noise is an issue for you, then you don't have to worry about this one because it has a noise level of 70dB, much quieter than most shredders. It also comes with an overheat protection system that alerts you when it gets unusually hot.
Highlights
8 sheets at a time
DIN P-3 security
With overheat protection
Cross cutter
High-gloss finish
16-litre waste bin capacity
Customer Reviews
Customers who bought it on Amazon gave the following comments:
"I purchased the Aurora AS800CD in 2011 and it has been in use in my home office for 5 years until the motor casing broke. It chews its way through any reasonable multiple quantity of thin/thick paper incl. staples, sticky tape//labels etc. In fact over 5 years i have found nothing to complain about." 
"This is a good, well built and undemanding shredder. It has been working for the last three years through regular weekly shredding routine. No problems experienced whatsoever. Very little service has been done to it over the last three years, but it still goes strong… It safely shreds up to four normal thickness paper sheets and any type CD. Excellent! It is also reasonably priced in comparison with its competitors and recommended to anyone with regular small office shredding volume requirements."
5. Bonsaii 3S16 Paper Shredder
Best for Advanced Features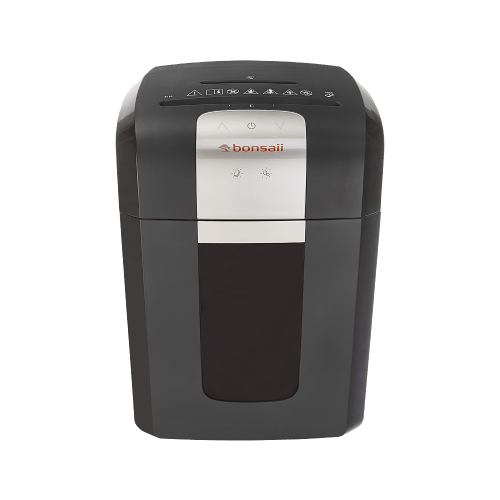 Price: $644.00
The Bonsaii 3S16 offers special features that make it perfect for office or business establishments. Equipped with its own patented cutting technology and a P-4 level of security, it can precisely destroy confidential and sensitive documents into 4mm x 35mm cross-cut shreds.
Another thing we adore about the Bonsaii 3S16 is its advanced cooling system. It can continuously shred papers and cards for up to 60 minutes without overheating, making it one of the few models out there that have this brilliant feature.
In addition, it also has its own anti-paper jam technology that automatically detects and reverses the machine to avoid jamming. With this feature, you never have to be stressed over jammed papers.
Highlights
12 sheets at a time
DIN P-4 security
Anti-jam technology
With cooling technology
1 year warranty
Customer Reviews
Customers who got it from Lazada mostly gave it a 5-star rating, saying that it's the perfect shredder for those who shred a large volume of papers. Others also liked that it's compact despite being considered a heavy-duty shredder.
A customer on Amazon left the following comment:
"I bought this to replace another brand shredder I burned up during my end of year file cabinet purge. The main reason for selecting this make and model was its advertised 60 minute sustained shred time and 10 minute cool down with thermal protection feature. Once I work up the energy to shred I don't want to stop just because the machine can't match my enthusiasm. This shredder is awesome!!! It does everything it says it will do, and it is sooooo quiet. I'd give it 6 stars if I could." 
6. Aurora AS1500CD
Best for a Large Volume of Documents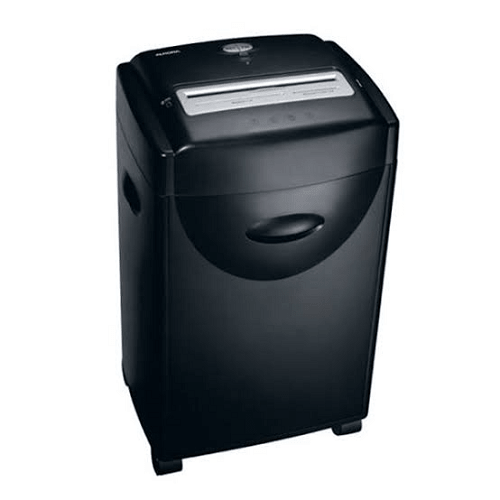 Price: $346.00
Since Aurora is one of the top paper shredder brands, we decided to include another one of their models. The Aurora AS1500CD is definitely the most expensive option on our list, so we can only recommend it if you have extra money to spend.
Despite its heavy price tag, we believe that it's one of the best and most secure paper shredders out there. With P-4 level security, it can shred up to 15 sheets of paper at a time, breaking them down to 4 x 30mm pieces.
Even if other people get a hold of your shredder's waste basket, it would be impossible for them to reassemble your private documents. It even has the power to destroy credit cards and CDs.
Speaking of the waste basket, it has the capacity to carry up 356 litres of shredded papers. With that capacity, you won't have to empty it regularly.
Lastly, it's also one of the most quietest paper shredders out there, with only 60dB level of noise.
Highlights
15 sheets at a time
DIN P-4 security
Large waste bin capacity
Overload and overheat system protection
1 year warranty
7. Bonsaii 4S16 Micro-cut Shredder
Best for Quick Shredding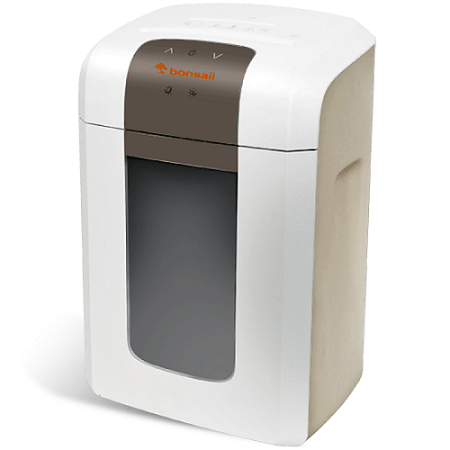 Price: $299.00
If you're looking for a fast paper shredder, then the Bonsaii 4S16 would be a great match for you. Unlike the previous Bonsaii model on our list, this one is a micro-cut shredder that can destroy sheets of paper much faster than most paper shredders.
On top of its own cooling system, it can continuously shred up to 2400 sheets of paper in under an hour. This is the ideal shredder for offices that need to regularly shred their confidential and private documents.
In addition, it has a P-4 level of security, so you can be sure that no one's going to have access to your company's most kept information. In case the machine overheats, it will also notify the user right away to prevent accidents.
Highlights
P-4 level security
Overheat and overload protection
Energy-saving settings
68dB noise level
Customer Reviews
Here are some of the praises the Bonsaii 4S16 has received: 
"Surprisingly good! I was impressed! Was thinking either the Aurora 1500CD or this one but eventually decided on this one even with a smaller capacity bin! System was quiet and the shredder looks good! Only con I think is the castor wheels, they don't move 360 degrees, only left and right! I still highly recommended the system!" 
"I highly recommend this shredder after spending the last 3 days shredding documents with sensitive information on them for my family. With the 30 minute run time I was able to empty 10+ boxes of old bank/medical/credit card records at a regular pace. I never had to wait through the 10 minute cool down because I turned it off while I sorted more files, answered calls, or did household chores. I'm thrilled with its performance right out of the box, & how much storage space it quickly freed up. The small size of the shreds is good too." 
8. Aurora AS1219CE
Best for Portability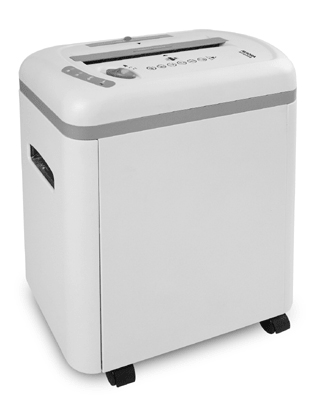 Price: $169.00
 Most heavy-duty paper shredder machines can be a bit hard to drag from one room to another. If you want one with smooth yet durable castor wheels, then look no further than the Aurora 1219CE.
This is a cross-cut shredder that can destroy up to 12 sheets of papers into 5 x 55mm tiny pieces.
Compared to the other Aurora models, it only has a P-3 level of security. So, we don't really recommend it if you're going to shred highly confidential and private documents — to be sure, just use it in getting rid of non-confidential documents.
With only 16 litres of waste capacity, it's not the largest paper shredder out there. But it's definitely compact and portable, and that's what most buyers love about it.
Highlights
Lightweight and compact
Smooth castor wheels
P-3 level security
1 year warranty
Anyway, that's our list of the best paper shredders in Singapore! Any of these options are great for keeping your private documents from getting compromised.
Have you used a paper shredder that you think should be on our list? Let us know about it by commenting below!
By the way, if you're thinking of replacing your old office chair, you may want to check out our list of the best office chairs in Singapore. Having a new office chair, along with your new paper shredder, will definitely make you more productive at work!