5 Best Nutribullets in Singapore for a Healthier Diet
Looking into starting a healthy diet? Sometimes, what you need for this is fresh fruit or vegetable juice — which you can make from the best nutribullets in Singapore.
In Singapore, juicers are also called as "nutribullets". While it's actually the brand name of juicer, it's come to be known as another term for juicers… much like the brand name "hoovers" stands in for "vacuum cleaners" in some areas.
In any case, juicing offers a lot of health benefits such as improved digestion, healthy skin, higher energy levels, and better moods. And nutribullets let you turn even vegetables you don't like into delicious drinks!
Anyway, we're here to provide you with a list of the best juicers in Singapore — or the best nutribullets in Singapore — in case you don't know which ones are worth buying.
But before we show you our picks, we'll give you a few tips to consider before getting one to make sure that you get your money's worth.
Factors to Consider When Buying a Nutribullet
Juicing has been becoming more popular in Singapore recently, and it's evident through the increasing number of nutribullets you see at the supermarket. But how can you know which is the right one for you?
If you don't want to waste your money on a mediocre nutribullet, then there's some things that you should keep in mind. Let's go over them one by one.
1. Type
There are actually 4 types of nutribullets or juicers available in the market. However, only 2 receive the most attention from customers because they're cheap and easy to use.
You have probably heard of them: centrifugal juicers and cold press juicers.
The two less-known types of juicers are twin-gear and citrus juicers. However, we believe that they deserve the same attention as the other two.
Centrifugal nutribullets are the most common type found in a lot of retail stores. Besides being easy to use, they can juice almost every fruit and vegetable.
It's also the ideal type for beginners because it's fast and don't have complicated features. However, they're aren't as good in juicing wheatgrass and leafy greens as other types.
Cold press nutribullets are a bit more expensive compared to centrifugal models. Your average cold press nutribullet has a slower extraction process but produces fresher and more nutritious juices.
If you're only planning on juicing citrus, though, then we highly suggest that you purchase a citrus juicer. Unlike the previous two, juicing with this one is done manually.
Finally, the twin-gear nutribullet is the most expensive one. Besides producing fresh and nutritious juices, it can also be used to make bread and pasta.
2. Nutrients
Everybody's purpose in buying a nutribullet is to improve their health by drinking fresh fruit and vegetable juice, so it's only proper that you consider the amount of nutrients a nutribullet can provide.
What we mean by this is that you should get a nutribullet that can handle all types of fruits and vegetables — no matter how leafy they are.
It's also best if you get a bigger nutribullet so you can have more juice and receive more nutrients in one drink.
3. Cleaning
No one wants to wash a complicated appliance. However, on top of being bulky, your average nutribullet comes with different pieces that need to be washed thoroughly if you want it to keep operating at its best.
However, there are some models out there that are dishwasher-friendly. So, make sure that you check if a juicer can be cleaned through a dishwasher.
4. Noise Level
If you're annoyed by the slightest noise from appliances, then a nutribullet's noise is something that you're going to have to learn to live with.
However, there are options that create minimal noise. You can try the cold press and twin-gear models.
Centrifugal nutribullet are infamous for being loud, in particular. That said, there are some that don't create as much noise as the average centrifugal nutribullet.
The Best Nutribullets in Singapore
With these tips in mind, you're now ready to go over our list of the best nutribullets in Singapore. Every option on our list is high quality and will be worth spending money on.
Here are our picks to help you look for the best juicer in Singapore.
1.   Tefal Juice Extractor ZE3708
Best for Easy Use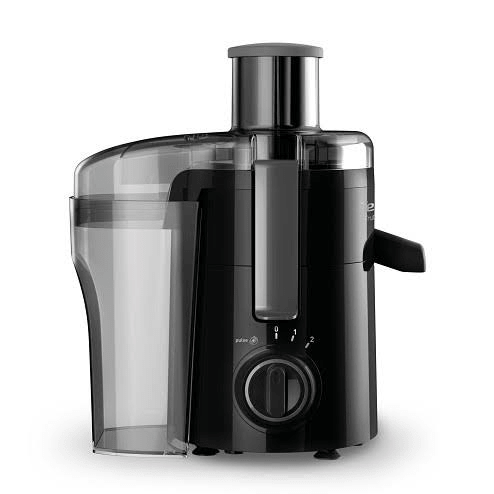 Price: $79.00
If you're looking for a juicer in Singapore that isn't hard to control, then the Tefal Juice Extractor would be a great match for you. It has a compact and lightweight design that doesn't take up a lot of space in your kitchen.
It can handle all types of fruits and vegetables of all sizes, thanks to its wide opening. Above all, it's capable of producing very fresh and highly nutritious juice that will give you the nutrients you need for the day.
If you don't like washing nutribullets, then you're going to love this one because it's dishwasher-friendly. Overall, it's very easy to clean because there aren't a lot of detachable parts to wash.
And durability isn't something you should be worried about with the Tefal Juice Extractor. Besides being made from premium materials, it also comes with a sturdy design with anti-grip feet that locks it in position wherever it is located.
Highlights
Compact design
No complicated features
Dishwasher-friendly
Anti-grip feet
Customer Reviews
The Tefal Juice Extractor ZE3708 has an average rating of 4.7 on Lazada, making it one of the best reviewed juicers on the website. Most customers commented that it's indeed a great juicer considering its cheaper price.
Customer were also satisfied with the fresh juice it produces. Now, they no longer have to suffer drinking juice with still large chunks and bits of fruits and vegetables made from their previous nutribullets.
2.   Nushi Stainless Steel Juicer NS-531S
Best for High Efficiency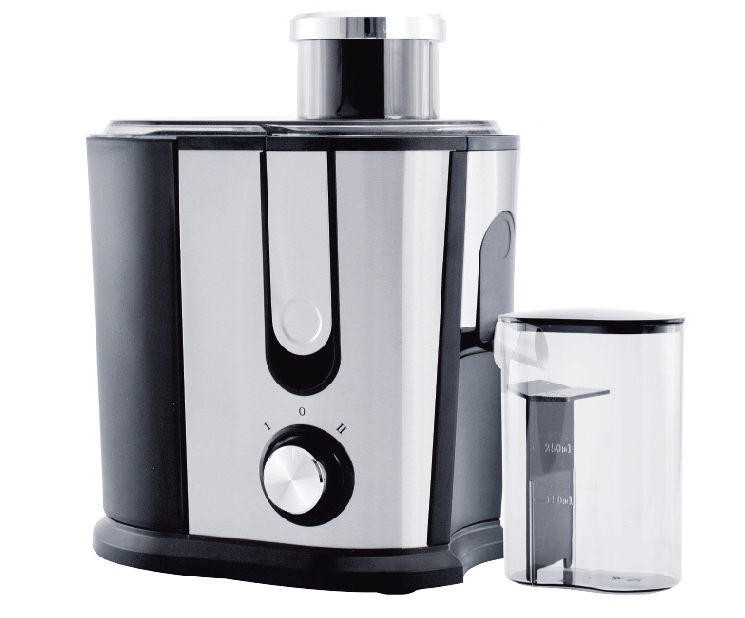 Price: $55.65
The Nushi Stainless Juicer can be a great addition to anyone's kitchen, especially those who are just starting to get into juicing. What makes it an ideal option for beginners is that it's cheap, easy to use, and comes with a very detailed instruction manual.
If you prefer to drink a mixture of both fruit and vegetable juice, then its wide opening will be helpful for you. It also operates with a powerful motor that doesn't overheat and is built to last long.
Some people like their juice to come out nice and slowly, so there's a 2-speed feature that lets you choose how fast or slow you want your nutribullet to be. It also comes with a safety lock system to protect you and other family members from accidents.
This is one of the best juicers in Singapore that you can own to add as a practical and necessary device in your kitchen.
Highlights
Anti-drip system
2 speed options
Powerful motor
Safety lock system
3.   Hurom Slow Juicer HT-1900
Best for Overall Value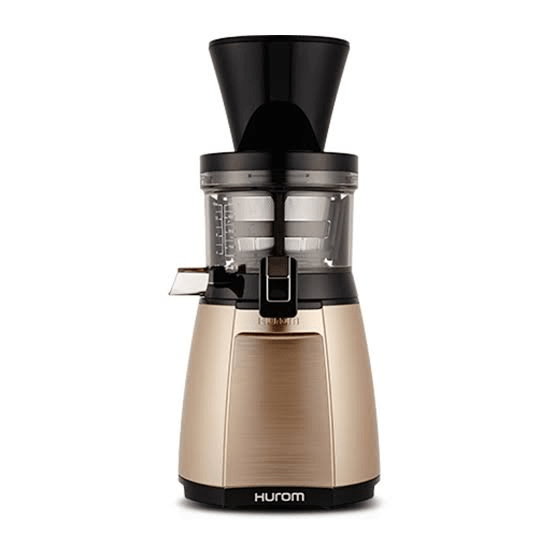 Price: $599.00
Operating at 43 revolutions per minute, the Hurom Slow Juicer can produce the freshest juice out there without dissolving any of the needed nutrients.
It has patented Slow Squeezing Technology that makes it stand out from other nutribullets, and that's why we think it's one of the best nutribullets in Singapore.
If you have kids who don't like eating fruits or vegetables, the Hurom Slow Juicer can help. It changes the way fruits and vegetables taste, making them palatable to the taste buds of children, without leaving out the nutrients.
It also comes with a handful of special features including an hourglass-shaped hopper, cooling air vent, and a spinning brush. Priced at $399.00, it's not the cheapest option there is, but you'll definitely get your money's worth.
Besides fresh juice, you can also make porridge, soup, smoothies, and fruit pulp mask with the Hurom Slow Juicer. Overall, if you're looking for the best juicer in Singapore that's versatile, this would be your bet.
Highlights
43 RPM
High-quality stainless steel
Alpha Chamber
Air cooling vent
2-year local warranty
Customer Reviews
Customers really love the Hurom Slow Juicer. In fact, it's one of the highest rated nutribullets on Lazada.
Here are some reviews from satisfied customers:
"No regret buying this model at 11.11 for half price, it's good quality, silent, powerful. I tried to make black soy bean milk and it's good. The speed of doing the juice seems faster than the other brand, not that so slow as imagine. We can do more juices in future. Spare part maybe a lot and need to wash more, but better than some brand said wash within 1 min but actually it's not powerful at all"
"Tested the juicer and it produces quality juice with very dry pulp. It is very quiet too compare to conventional juicer.Juice taste great too!!! Love this product!!! Very trusted brand and the quality of the product is superb. Will definitely buy from this brand again. Product warranty registration was a breeze too."
4.   Joyroom Travel Juicer
Best for Portability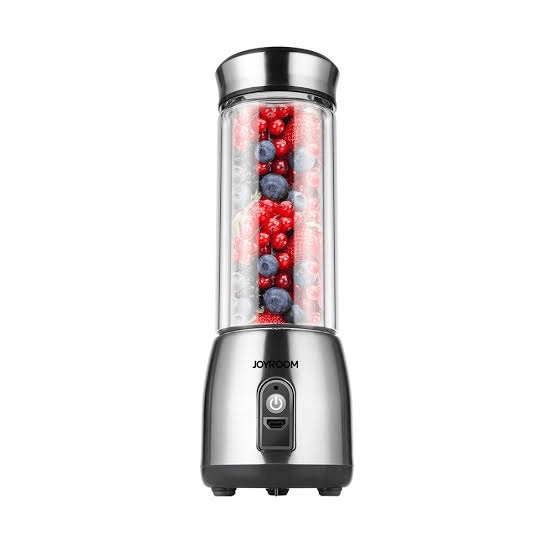 Price: $39.90
The Joyroom Travel Juicer takes the top spot in portability in our list of the best nutribullets in Singapore. If you want to drink fresh juice while on the road, then you should get your hands on this cute, lightweight, and rechargeable nutribullet.
It's the perfect juicer in Singapore for people who regularly hit the gym and need a post-workout drink. Just throw in your favourite fruits and vegetables and add some protein powder and milk, and you'll have the best post-workout drink to date!
Another thing we love about it is that it's 360-degree leak proof. So, even when you store it inside your bag, you won't have to worry about the juice spilling.
What's more, it's also made from the highest-quality materials. Its pyrex glass, cutter head, and steel wire are all designed to last for a long time.
Highlights
Made from durable stainless steel
4V power
Portable and lightweight
Leak resistant
Customer Reviews
The Joyroom Travel Juicer has a rating of 5 on Lazada. Many owners think it's an excellent nutribullet despite having a lower price compared to other nutribullets.
Most customers were also shocked by how compact and lightweight this juicer is. They said that they can bring it almost anywhere.
Other customers also noted that they didn't have any trouble with storing it inside their bag and bringing to their school or office. However, some customers wished that it could be used more than 8 times per charge.
5.   Philips Viva Collection Juicer HR1832
Best for Sleek and Compact Design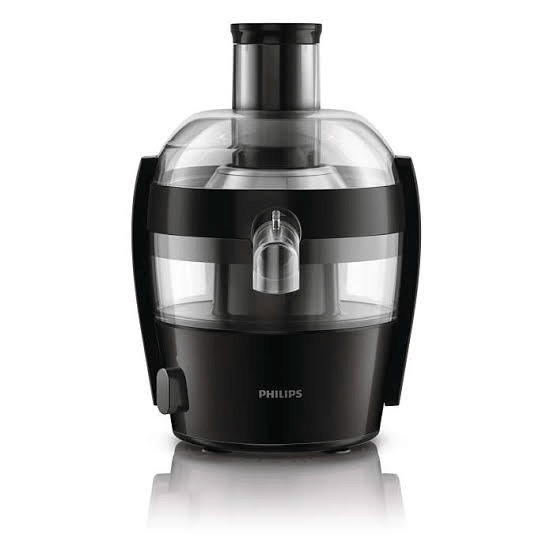 Price: $109.00
We can say that the Philips Viva Juicer has everything that you want from a nutribullet. It's compact, easy to use and clean, has no complicated features, and above all, can produce fresh juice fast.
Ideal for larger families, it can produce 1.5 fresh and nutritious juice in go. It also comes with an integrated pulp container that collects pulp and doesn't make a mess in your kitchen, unlike other nutribullets.
If there's anything that makes it stand out it's the QuickClean technology. It can be cleaned and washed in under a minute, and its removable parts are even dishwasher-friendly.
As long as you're using the Philips Viva Juicer, you and your family will always stay healthy.
Highlights
Dishwasher-friendly
Easy to use and clean
Integrated pulp collector
Lightweight and compact
Customer Reviews
Take a look at some comments from Amazon:
"I already have a Philips juicer I bought it eight years ago which is still working perfectly. I had to buy another one for my office, after a lot of confusion, I bought this one. This is one of the best juicer I have ever used. You get maximum juice and the best part is cleaning. Saves a lot of time in preparing juice and cleaning the juicer. Really worth for the money."
"Good product. Good for a family. Hassle free cleaning. I use it for pomegranate, sweet lime, Orange, grapes, carrots, bottle gourd, bitter gourd and Apple. Minimum fuss."
Staying healthy will be a lot easier when you have the best nutribullets in Singapore. Any of these nutribullets will definitely help you with your journey of living and eating healthy.
Do you have a specific nutribullet or juicer in mind that wasn't part of our list? If so, then tell us its name and what makes it great, and then we'll check if we can add them to our roster.
If you're also looking for other appliances to add to your kitchen, then feel free to check out our other articles, like our list of the best rice cookers in Singapore.
Or you might be more interested in our list of the best slow cookers in Singapore instead. Either way, cooking will be more exciting when you have any of the kitchen appliances we've discovered!