11 Best Slow Cookers in Singapore for Perfect Meals
Here because you're seeking the best slow cooker in Singapore? Well, you're in luck, because we're going over the top ones on the island today.
The best slow cookers in Singapore are versatile, even-heating, and durable. Thanks to developments in technology, many are now programmable too!
With the cookers we've discovered, you can rustle up all sorts of soups and stews that convert otherwise cheap or tough meats into premium dishes. The best thing about them is that they don't even heat up the kitchen too much despite being used for several hours.
In any case, we'll show you the ones we think worth your dollars in this article. But before we do, we're going to take you through a few factors to consider when choosing a slow cooker or a crockpot in Singapore.
Factors to Consider When Buying a Slow Cooker
Slow cookers are built with different functions, sizes, and shapes. Let's take a look at these factors so you can easily determine your needs and preferences.
1. Shape
Most slow cookers in Singapore are designed with a round, oval, or rectangular shape. The right shape will be based on what dishes you're planning to prepare or what meals you'd like to have on a daily basis.
Round
With a round slow cooker, you can cook many recipes such as soups, side dishes, stews, and casseroles. You can also bake some desserts with this type.
Oval
Since an oval shape has more surface area, it can fit in large cuts of meat and a small whole fish. They're also said to be capable of providing a faster cooking process compared to those with round shapes.
Rectangular
For a rectangle-shaped slow cooker that has deeper sides, you can put in larger chunks of meat as well as stews, soups, and casseroles.
This shape is commonly seen in crock pots, which is another term for a slow cooker and also the name of the original slow cooker brand.
2. Size
Once you've chosen the perfect shape for you, it's now time to decide on which size suits your desired servings. Here are the sizes available in the market: 
1-2 Litre
This space-efficient size is considered to be a mini slow cooker for 1 to 2 people. So it's suitable for individuals and couples.
3-4 Litre
These are medium slow cookers that can cook meals for up to 4 people. It's also an ideal choice to cook appetizers and dips.
5-6 Litre
This one can serve a family with more than 4 members. You can prepare a full meal with this large size.
7-8 Litre
It's the perfect size for birthday celebrations, holiday feasts, and other gatherings. You can cook bigger cuts of meat or a whole large chicken with this size.
3. Material
Aside from the shape and size, it's also very important to keep the material in mind. This factor will also affect the price and features.
Ceramic
This kind of material is much heavier and it can be used in the oven and microwave. It's also not useable on a stovetop or under a broiler.
Metal
Rectangular or oval-shaped ones are commonly made of metal. Slow cookers made of this material only provide heat at the bottom, though, which causes an uneven result.
Aluminium
This is the most expensive among the kinds because it has a non-stick surface that offers even heating. Aluminium slow cookers can be used on a stovetop and oven but not in a microwave.
4. Controls
After taking note of the basic elements, there are also some functions that must not be forgotten, such as the controls that range between traditional and modern types.
Manual
The conventional type comes with a manual control knob that has temperature levels and an "off" option.
Programmable
The advanced ones feature more customisation options such as setting the exact time and temperature and they also have a warming function.
The Best Slow Cookers in Singapore
Now that you already know the things that you should take into consideration, you may now see our list of the best slow cookers in Singapore.
We've listed a broad range of functions and prices for more practical options. Hopefully, you'll find the best slow cooker in Singapore that's perfect for you! Let's start with one that we found to be great for cooking soups and stews.
1. Takahi 3088
Best for Soups and Stews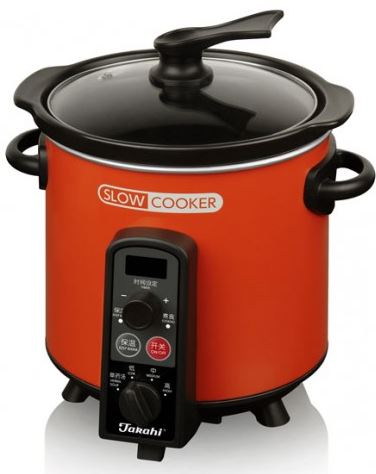 Price: $108.00
The Takahi 3088 is a round slow cooker with a ceramic pot that's ideal for cooking soups and stews. So, if you want one where you can mostly cook these dishes, this may be the best slow cooker in Singapore for you.
It has a total of 4 heating modes for versatile use and adjustable cooking times, all controlled with a simple knob. Once the cooking is done, it'll automatically keep the food warm for 6 hours too, which is very convenient.
It even has a tempered glass lid so you can see the food even without opening the lid. It also has low power consumption, i.e. good energy efficiency.
Highlights
3-litre capacity
4 heating modes
Self-standing glass lid
Easy to use and clean
1-year local seller's warranty
2. Toyomi SC 1235
Best for One-Pot Meals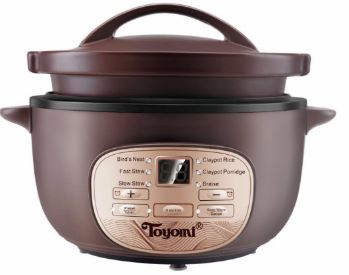 Price: $75.90
If you're living by yourself or just another person, this is the best slow cooker in Singapore for you. For those who don't need larger servings, you should see the Toyomi SC 1235. This compact slow cooker is a programmable one that'll let you make a deliciously cooked porridge, stew, and even braised dishes.
It also comes with a ceramic and Micro-Com high heat pot that provides faster heating. That pot is actually one of the reasons we put it on our list of the best slow cookers in Singapore.
Highlights
2 Litre capacity
6 cooking settings
Micro-Com high heat pot
1-year local seller warranty
3. Cornell CSC-500
Best for Daily Use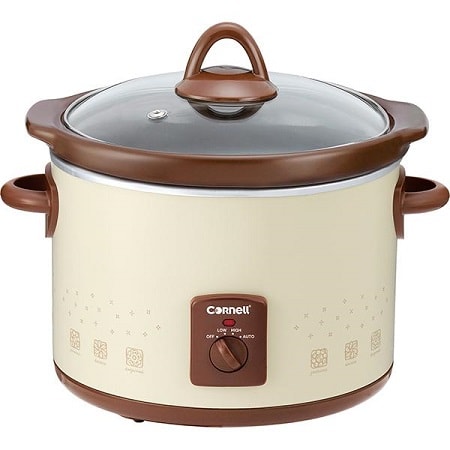 Price: $32.90
If you have a family of more than 4 members, you may want something like the Cornell CSC-500. This 5-litre slow cooker can help you serve soup, porridge, stew, and even dessert!
It features 3 different settings including low, high, and auto cooking functions. Similar to the Takahi model, this one also has a glass lid and a removable ceramic pot for easy cleanup.
Highlights
5-litre Capacity
3 temperature settings
Easy to clean
1-year local manufacturer's warranty
4. Iona GLSC600
Best for Nutritious Meals, Herbal Remedies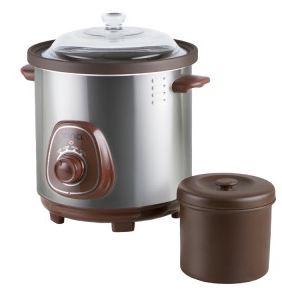 Price: $59.00
The Iona GLSC600 features a unique design with its purple clay pot that helps keep the natural flavours of food as well as keep food warm for a longer time. This kind of design is quite hard to find, by the way.
It has a double boiler and a 3D circular heating. Those are probably best for baby food, traditional remedies, nutritious broths, and delicious sweet treats.
It's also built with 3 heating selections and massive capacity — this thing can cook enough to serve up to 8 people. Absolutely the best double boiler in Singapore for keeping food warm and fresh for an extended period of time.
Highlights
6-litre capacity
Purple clay pot for healthier meals
Overheat prevention
1-year local manufacturer's warranty
5. Aerogaz AZ-41SC
Best for Soups and Porridges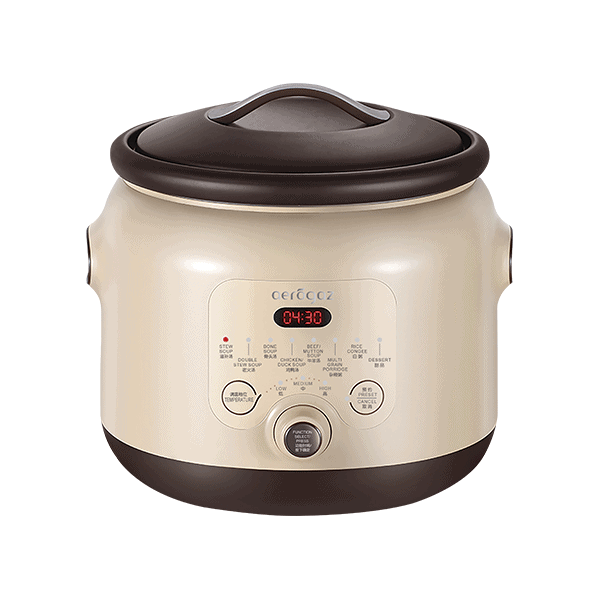 Price: $99.00
AZ-41SC is a multi-function slow cooker that allows you serve many people without worry. It features a clay pot and lid, as well as a wide range of features suited for easier soup and porridge cooking.
Stews, bone soup, and congees are just some of the dishes you can prepare with this slow cooker. It comes with 5 cooking functions for soup, 2 for porridge, and one for dessert.
It comes with 3 temperature regulation levels so you can meet the temperature requirements of your recipe more easily. It also has overheating protection so you won't need to worry about leaving it unattended as it cooks.
Once you're done cooking, its double layer housing structure will keep the dish warm even after a long time. Given its versatility and reliability, Aerogaz's AZ-41SC is the perfect cooking companion for soup and stew connoisseurs.
Highlights
Easy to use control
Equipped with various functions
Double layer housing structure
3 level temperature regulation
Overheating protection
6. Kumix KSC-15
Best for Beginners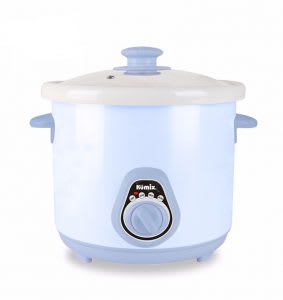 Price: $19.90
If you've never used a slow cooker before and want something easy to use, take a look at the Kumix KSC-15. It features a simple single control knob that'll let you set the temperature in a flash.
It's so easy-to-operate that we doubt you'll ever need to consult the manual. It also comes with a high-temperature ceramic pot that provides rapid and even heating.
We also liked the minimalist, somewhat rounded style. It's attractively modern, but not "hard-edged".
This is the perfect slow cooker in Singapore if you're either one of the following: a student, getting started in cooking, or just want a nicely designed crockpot!
Highlights
1-litre capacity
Easy to use
Fast and even heating
1-year local seller's warranty
7. Nomad 8-quart Traveling
Best for Travel Use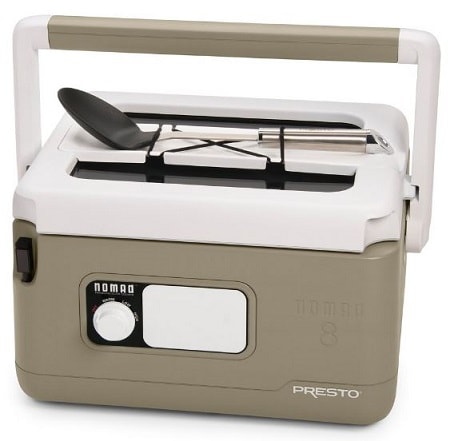 Price: $203.49
A slow cooker that can travel with you? Possible! Are you having a weekend getaway with your family and friends? If so, then you should bring the Nomad 8-quart Traveling cooker so you can enjoy some good food on the way.
It has the largest capacity on this list at 8 litres, which is more than enough to feed the whole family and some guests. It's also the ideal option for buffet-style foods such as pork, chicken, barbecues, beef, and more!
Design-wise, we really like its picnic-cooler-like style. It even has a useful swing-up handle to make it easy to carry around.
Also worth noting is that it has a dry erase board at the front. Not really standard in a slow cooker, but it's there anyway in case you want to leave some notes or messages for the other members of the household.
Don't get us wrong, though — this thing is rugged, even if it does sport little trifles like that. We don't think you'll have any problem carting it around on a fairly rough adventure.
Highlights
8-litre capacity
3 temperature settings
Built-in cord storage
Rugged design
8. Philips Deluxe Collection Multi-cooker HD2145/62
Best for Multi-purpose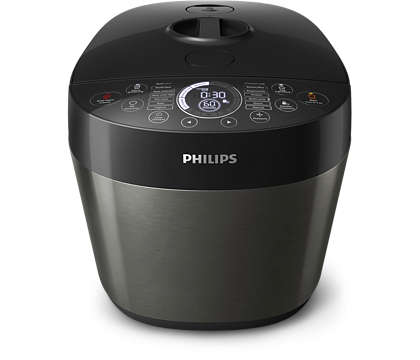 Price: $299.00
Among all the Singapore slow cookers in this list, the Philips Deluxe Collection Multi-cooker HD2145/62 has the most advanced and dynamic features.
For instance, this slow cooker is built with a dual control system that accurately adjusts the temperature to provide restaurant-quality meals.
You can cook a variety of recipes with its multi-cook programs and even store up to 3 customised cooking programs so you can easily prepare your favourite dishes.
The most impressive function of this one is the pressure cook option — it may be a slow cooker, but it actually does double duty if you want to use it for fast cooking instead. Use that setting and it serves tender meats in just a few minutes!
It's not hard to see why we're naming it one of the best slow cookers in Singapore. With this one, you get a smart, high-capacity appliance that can also serve as more than a slow cooker.
Highlights
6-litre capacity
6X faster heating
Multi-cook programs
Sauce thickening function
Preset timer and automatic keep warm features
2-year international manufacturer's warranty
9. Bella Triple Slow Cooker and Buffet Server
Best for Dip Recipes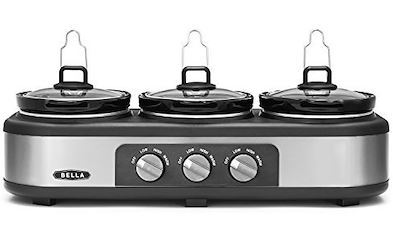 Price: $269.00
If you're looking for the one that you can use for various dip recipes, then the Bella Triple Slow Cooker and Buffet Server may be the best slow cooker in Singapore for you!
This model can cook and serve 3 different dishes all at once, saving you time. Once the dishes are done, it'll instantly switch into the keep warm mode so you no longer need to monitor it closely.
Highlights
3-litre capacity (in total)
3 different dishes at the same time
3 settings including low, high, and warm
Built-in lids for all the cookers
Dishwasher-safe
10. CUCKOO CH10
Best For High Pressure Cooking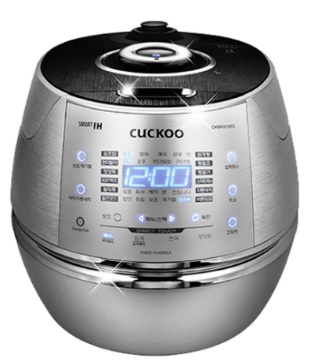 Price: $799.00
The Cuckoo CH10 is a pressure multi-cooker which provides its users the ability to cook rice and other delicacies. This can be used in 18 ways which includes rice cooking, bread fermenting, and others.
It can accommodate up to 10 cups of rice. Thus, you can cook for a large group of people. Further, its induction heating system makes the rice be cooked evenly.
Highlights
18 cooking modes

High pressure cooking

22 safety feature

Multilingual voice navigation

Safety lock feature

Detachable cover

Night voice volume reduction
11. Mayer 3.5 L Electric Slow Cooker MMSC35
Best for Portability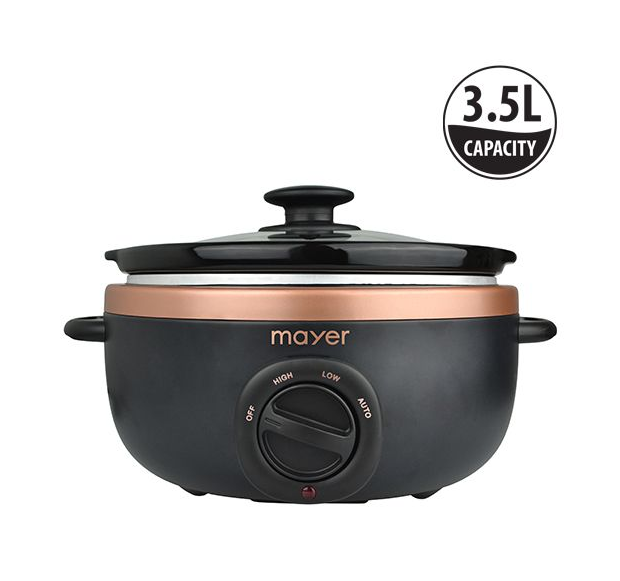 Price: $59.00
Introducing the Mayer 3.5L Slow Cooker which comes in a simple yet stylish and elegant design.
The mechanical function comprises 3 heating mode settings (High, Low and Auto), which makes it very straightforward and provides ease of usage. Simply turn the knob to the heating mode of your choice and let the appliance do the cooking for you.
Its ceramic inner pot has high heat retention which gathers and stores heat efficiently so that the food is well-heated and thoroughly cooked. In addition, this capacity of 3.5L is also just the perfect size for preparing soups and stews, especially when you need space to put tons of ingredients inside!
What's more, due to its low energy consumption feature, this also means that this appliance is energy saving as well! This modern and functional appliance will make the perfect companion for your kitchen.
Highlights
3.5L capacity
Ceramic inner pot
Low energy consumption
Oval shape slow cooker with glass lid
Mechanical switch with automatic cooking function
Whether it's for daily use, festive celebrations, or travel, these best slow cookers in Singapore may end up becoming part of your kitchen staples!
Have you already picked your favourite? Or do you have a nice option in mind that's not included in the list? Let us know all about it!
By the way, some of these slow cooker pots can be used in ovens and on stovetops. As such, you might want to see our lineup too of the best ovens in Singapore. These may help you complete your kitchen essentials!