The 6 Best Soundbars in Singapore Reviewed
If you're looking for ways to take your Netflix movie marathons to the next level, you might want to think about getting one of the best sound bars in Singapore. It will introduce you to a different kind of viewing experience that you've never had before.
You see, if you've already shelled out money for a high definition television, you might as well pair it with one of the best soundbars in Singapore for an ever better viewing experience. Luckily for you, we've just wrapped up our list of the best soundbars in Singapore worth checking out.
But before we move on to that, we'll share a few tips that might help everyone choose the best sound bar in Singapore. That way, it will be easier for you to pick one from our list.
Let's start, shall we?
How to Pick Sound bar in Singapore
If you don't know much about soundbars, worry no more because we're here to offer some tips on how to find the best soundbars in Singapore.
Looking for one isn't as easy as purchasing any other home appliance, so you might want to prepare yourself for some of the things you have to keep in mind.
Anyway, let's go over some of the factors everyone needs to consider when looking for the best sound bars in Singapore; just knowing half of these will make the search a whole lot easier, so pay attention!
1. Type
Unlike television where there are a hundred types to remember and consider, soundbars in Singapore only have 2: sound bars and sound bases. Let's go over their differences below.
First, sound bars are about 40 inches longer, and can be mounted on a wall or placed on top of a table. We highly recommend them if you've extra space around your home for long (in some models, bulky) speakers.
Speaking of speakers, a sound bar usually has 2 to 5 speakers inside its main enclosure, so it will definitely produce better sound than the average speaker.
On the other hand, a sound base is ideal if you have limited space, as it can be placed underneath the television: no need to mount it on a wall.
2. Connectivity
Getting a soundbar that allows different types of connections will be beneficial in the long run, so make sure to look for one that allows more than just HDMI.
Other connections worth considering are Bluetooth and WiFi, especially if you want to play a movie or music directly from your smartphone or tablets.
On top of that, you might also want to get a sound bar in Singapore that allows digital audio inputs and streaming for a more stable and strong connection.
3. Audio Format
While a few older models of soundbars still provide multichannel audio (which is still highly recommended if you're on a tight budget) some of the latest models have started incorporating Dolby Atmos and DTS: X.
Dolby Atmos and DTS: X are the newest surround-sound format of sound bars in Singapore and used to be only found in movie theatres.
In terms of sound experience, both can create overhead sound effects that make audio a lot more realistic.
4. Channels
When looking for the best soundbar in Singapore, you'll probably notice numbers like "2.0," "3.1," etc.
If you're not aware these numbers stand for, they're used to refer to whether a soundbar comes with a subwoofer or not.
The first number refers to the number of channels while the number after the period reveals whether there's a subwoofer. 1 means there's one, and 0 means there's no subwoofer.
The Best Soundbars in Singapore for 2021
And that's pretty much the top factors everyone needs to keep in mind while shopping for the best soundbars in Singapore.
Now that you're aware of these, you're more than ready to see our roster of the best soundbars in Singapore. Feel free to check them out below!
1.   Bose TV Speaker
Best for Overall Value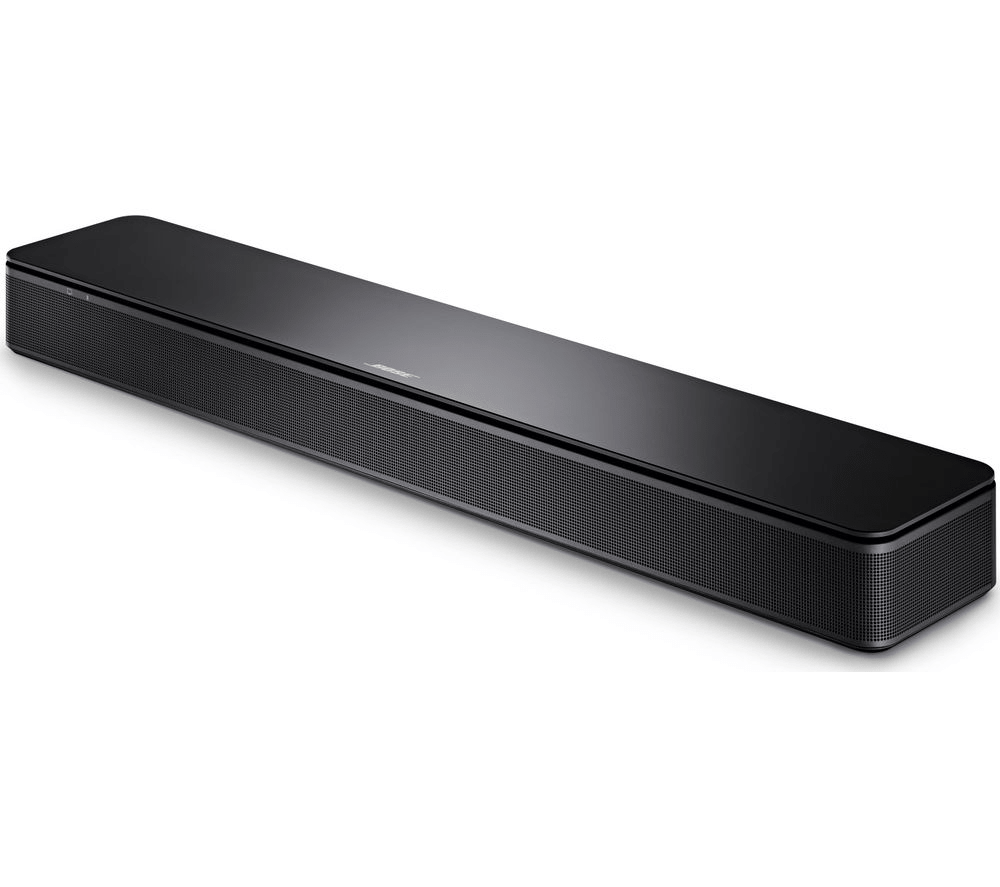 Price: $399.00
If you're a fan of speakers and headphones, you've probably heard of Bose, one of the most trusted names in the industry. So, we're going to introduce you to its TV speaker, which we believe is one of the best soundbars in Singapore.
It's been praised multiple times by buyers for its 3D, surround-sound system that makes watching movies and television a lot more exciting. It promises stable and rich sounds, clear dialogues, and overall immersive experience.
More than that, the Bose TV speaker is easier to set up and install compared to other soundbars. It measures no more than 5 centimetres and weighs less than 6 pounds, making it one of the lightest soundbars in Singapore.
However, it doesn't come with its own subwoofer, unlike other soundbars, but it allows wired subwoofers to be added for an even better viewing and sound experience!
Hands down, this is the possibly the best sound bar in Singapore for 2021 if you're after a reliable and trusted brand.
Pros
Trusted brand
Durable build
Surround sound
Cons
2. Denon DHT-S216
Best for Additional Features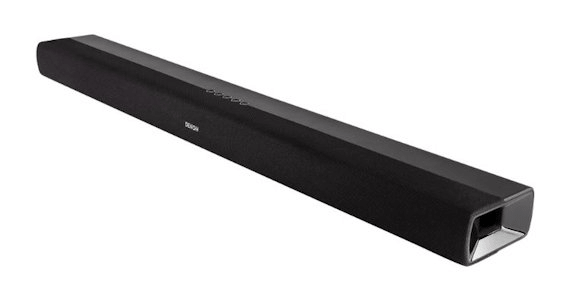 Price:  $399.00
If you're looking for a soundbar that can offer more than just a surround-sound system, then you might want to get a hold of the Denon DHT-S216, considered one of the best soundbars in Singapore for its features.
It's a wall-mounted soundbar that offers 3D sound and a dialogue enhancer, making movie marathons a lot more exciting. No need to worry about low-quality sounds while watching your favourite movie or television series.
You might want to ask for help in installing it, though, because it's a bit heavier compared to other soundbars… but a lot of buyers tend to look past that given that it comes with various exciting features.
For example, it comes with a DTS Virtual: X audio format that produces realistic sounds, enhanced bass, and crystal-clear dialogue. You may even tweak the sound according to the occasion or even the mood of the day.
In terms of compatibility, the Denon DHT-S216 accommodates almost every type of connectivity, from WiFi to Bluetooth. It even allows users to stream music directly from their mobile devices.
Overall, we think this is the best sound bar in Singapore for those who entertain a lot at home.
Pros
Wall-mounted
Crystal-clear dialogue
3D sound
Cons
3. SonicGear BT-5500
Best for Affordability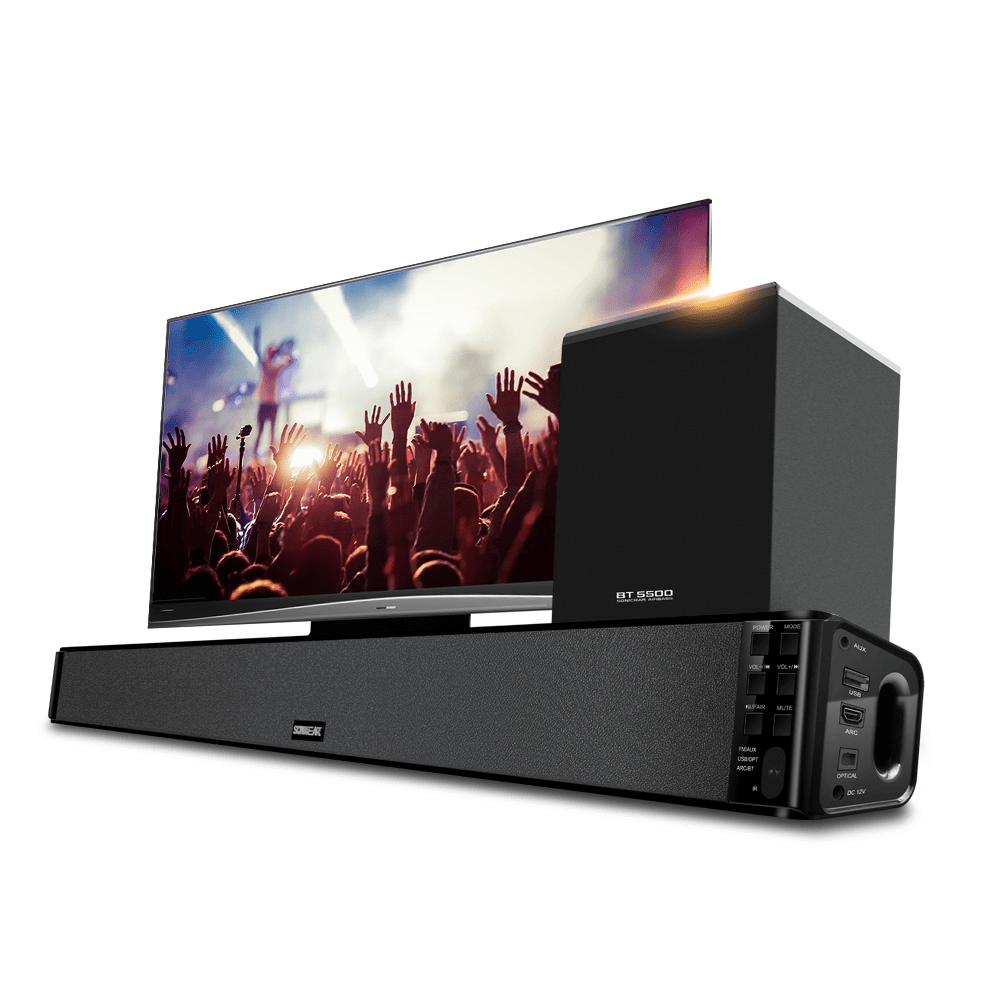 Price: $129.00
It's no secret that investing in a home theatre setup is not cheap. So, if you're looking for a more affordable option, you might want to check out the SonicGear BT-5500.
For no more than $130, users can enjoy clear and powerful sounds, crisp dialogue, ultra-low bass, and surround-sound system, features that usually come with expensive, high-end soundbars.
What's more, the SonicGear BT-5500 can accommodate all forms of connectivity, including Bluetooth, WiFi, HDMI, and even streaming. It also comes with a driver size of 5.25", so a subwoofer is included as well.
In terms of installation, doing it alone might give users a hard time since there are 2 speakers to set up, so you might want to seek help from someone. It's also a bit heavier compared to other models, so make sure to handle both speakers with care.
We absolutely love how affordable this one is and we think it's the best soundbar in Singapore that's budget friendly.
Pros
With subwoofer
Affordable price
Multiple connectivity
Cons
Bulky and heavy
Hard to set up and install
Customer Reviews
Take a look at what customers have say about the SonicGear BT-5500:
"Wireless subwoofers are so neat! Although it can't be too far away. But this is good enough for my setup and wires can be much better arranged with no wire management to worry about. The bass is pretty good, too. I'm no audiophile though. Quick delivery, too!
"Soundbar and subwoofer works well, nice deep bass but take note that to some people, the volume can get either too soft or too loud for your liking. Would be great if there was an in between volume option. The soundbar can connect to tv via aux cable/hdmi arc which are provided. There's also bluetooth function and the radio reception is clear too. Overall, it's a good soundbar and subwoofer choice for your bedroom!"
4. Sonos Beam
Best for Connectivity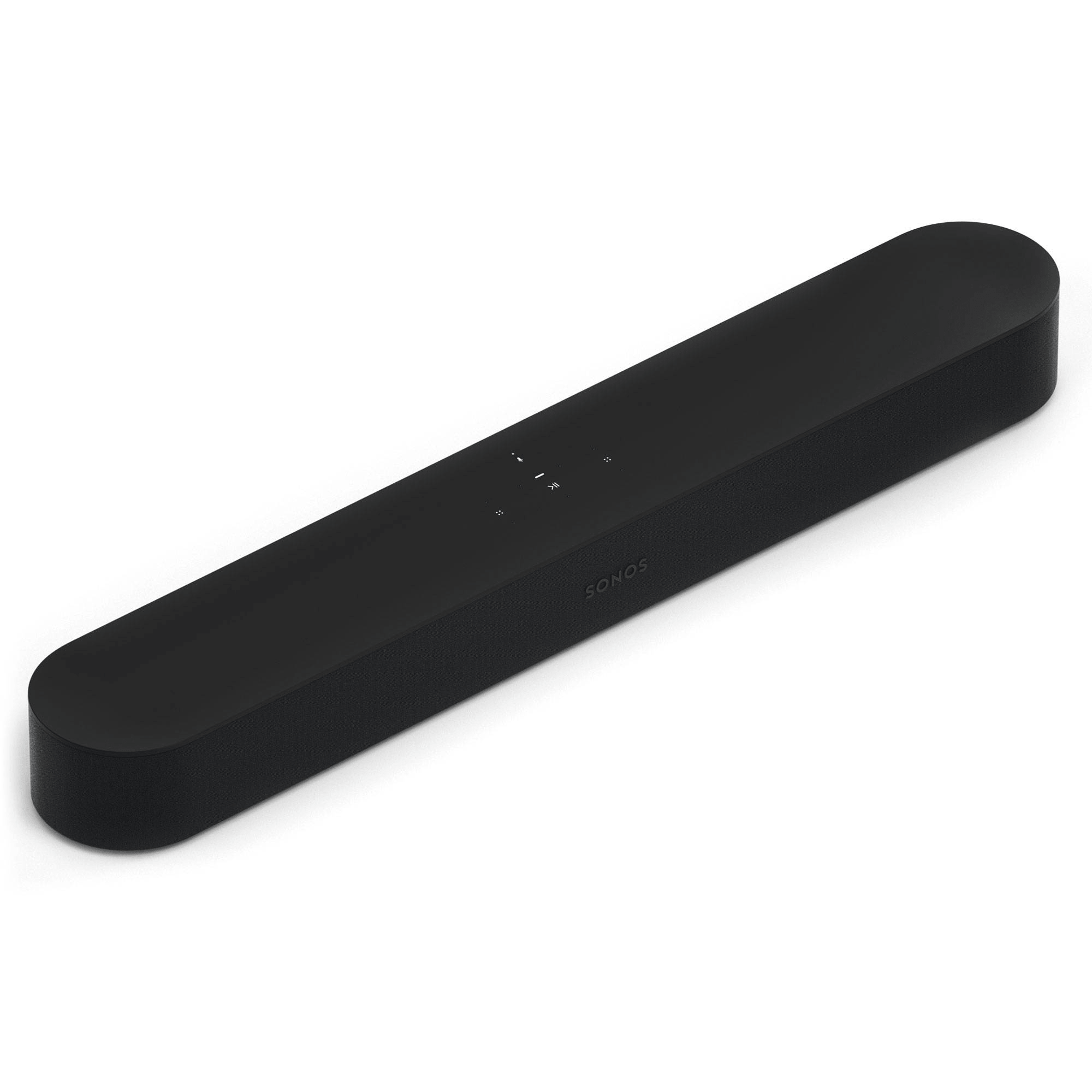 Price: $649.00
The Sonos Beam is known for being the perfect soundbar for streaming all forms of media, including music, television series, movies, radio, video games, audiobooks, and even podcasts — which is why we call it one of the best soundbars in Singapore.
What makes it one of the best soundbars in Singapore is that it's tuned and designed by Oscar-winning sound engineers to bring every user's movie marathon to the next level. We've yet to encounter a soundbar designed by engineers of such a calibre!
What's more, it comes with a Dolby Digital sound format, one of the most famous sound formats for soundbars. It supports different kinds of connectivity, as well, from HDMI to Bluetooth, so no worries about choosing how to play movies and music using the Sonos Beam.
The Sonos Beam is also one of the few soundbars that have their own mobile application, so users can control it using remote, voice, and even their smartphones!
That said, considering its heavy price tag, you might want to save up some more before taking it home because it's definitely going to make your pockets hurt!
Overall, because of its easy and convenient connectivity, we think this is the best sound bar in Singapore in 2021 for multi-gadgets around the house.
Pros
Can be controlled via app
Voice control feature
Designed by Oscar-winning sound engineers
Cons
Expensive
Gets sold out quickly
Customer Reviews
Here are some comments by satisfied customers posted on Amazon:
"Bought this for the living room and have been very happy with how it sounds. I have been using it for music and occasionally for watching movies on my TV. The bass from this is great considering that it does not have a real subwoofer, you can still feel the oomph. For movies, there is a definite improvement over the TV speakers and there is some spaciousness to the sound. Really happy overall."
"Gorgeous minimalistic product that gives excellent sound quality. Clear audio definition and soundstage. Great for small to medium size living rooms. Amazed by its power and soundstage. bass can do a bit with more depth and oomph but ok. Easy to set up although pity it has only 1 HDMI port."
5. Yamaha YAS-108
Best for Easy Installation
Price: $482.26
If some soundbars are known for being heavy and hard to install, consider the Yamaha YAS-108 different. It's slim, lightweight, and most of all, extremely convenient to install — you can even do everything yourself!
If you're not much of a techy person and prefer to have things installed easily without complication, this is possibly the best sound bar in Singapore for you.
Another feature we love in the Yamaha YAS-108 is that it comes with a high-end subwoofer that produces deeper bass. Such a feature is rare for its build, considering that subwoofers are mostly found in larger, bulkier soundbars.
On top of these, it features a DTS Virtual: X Virtual 3D audio format, providing users with clear, crisp, and stable sound and dialogue — which is why we consider it one of the best soundbars in Singapore.
Lastly, it's perfect for Bluetooth connectivity as it allows easy switching of connections between 2 mobile devices.
Pros
With subwoofers
Easy to install
DTS Virtual X audio format
Cons
Not the best-looking soundbar
6. Mu-so 2nd Generation
Best for Multiroom Music

Price: Enquire for more information
The Mu-so 2nd Generation is an all-in-one system, perfect for high-quality music streaming and audio. It possesses various features and functions, all designed to better your audio experience.
Multiroom music is also made easier to configure thanks to this system– it easily combines with other Naim products and wireless speakers with the Apple or Google Home app. Boost your audio enjoyment now, with Mu-so 2nd Generation.
Due to its easy connectivity, this is the best soundbar in Singapore to have if there are a number of you at home. Or if you simply have plenty of gadgets.
Pros
Many customisation options
Optimised speaker drivers
Better music clarity and long term reliability
Cons
May have limited control options without the mobile app
And with that, we conclude our list of the best soundbars in Singapore. If you've tried any of these soundbars in the past, don't hesitate to share your thoughts about them!
Anyway, if you're thinking of getting yourself quality headphones as well, you might want to check out our list of the best noise-cancelling headphones in Singapore. These headphones are perfect for phone calls, gaming, and of course, watching Netflix on your phone!