The 6 Best Digital Photo Frames for Home and Office Use
With the help of the best digital photo frames in Singapore, you can now display multiple pictures without needing to buy multiple frames and having photos printed. It's a great way of saving space inside your home while decorating it with memorable pictures.
Before we show you the frames we like best, though, we're going to share a few tips on how to look for the best digital photo frames in Singapore. That way, it'll be easier to choose from our selection later on.
If you know enough about digital photo frames, feel free to jump right ahead to our picks for the best digital photo frames in Singapore.
Anyway, let's start!
What to Consider When Looking for Digital Photo Frames
If you're one of those people who don't know much about digital photo frames, you may think that purchasing one is as easy as buying a traditional photo frame, but we're here to tell you that that isn't the case.
In order to find the best digital photo frames in Singapore, there are some factors to be considered, one of which is the screen size.
On top of that, knowing a digital photo frame's resolution, aspect ratio, and connectivity, will be helpful when finding the best digital photo frames in Singapore as well.
Let's take up each point below.
1. Screen Size
A lot of digital photo frames share the size of traditional ones, which is usually 3 x 5 to 10 x 12 inches, but there are some photo frames that can go as big as a computer monitor or a small television.
The ideal size sometimes depends on placement, though. If you're planning to display the frame in your living room, you might want to get a larger digital photo frame given that more people are going to see it.
On the other hand, if you're only getting one for your room, we can suggest going for the standard-sized photo frames as they're more intimate. They won't eat up a lot of space inside your room as well.
2. Resolutions
If you're not aware what resolution means, it refers to the number of pixels used to display an image, measured horizontally by vertically. If resolution is low, your pictures are going to appear blurred, or worse, pixelated.
We recommend going for a digital photo frame with a pixel resolution of at least 800 x 600 or 800 x 480 pixels. Anything beneath that may display your pictures in low quality.
3. Aspect Ratio
Aspect ratio refers to the relationship between the height and width of the image. If a digital photo frame's aspect ratio fits that of your photo, it's going to appear clearly and fill up the entire screen.
Standard-sized digital photo frames commonly use the (4:3) aspect ratio, while larger ones with wider screens mainly use a 16:9 aspect ratio.
4. Connectivity & Storage
Most use Bluetooth to display images on the screen. Other methods to transfer images to the digital photo frames are WiFi and USB devices.
If you're planning to get a digital photo frame with built-in storage, make sure that it has a capacity of no less than 1GB. It's the perfect storage capacity if you want to display multiple photos in a slideshow format.
The Best Digital Photo Frames in Singapore
Now that you know which features to look out for, it's time to see our picks for the best digital photo frames in Singapore. We've made sure to include only those digital photo frames with cutting-edge features and specs!
Take a look at our selection below to find out which one is most suitable to be displayed inside your home.
1. All Tronic Digital Photo Frame
Best for Extra Features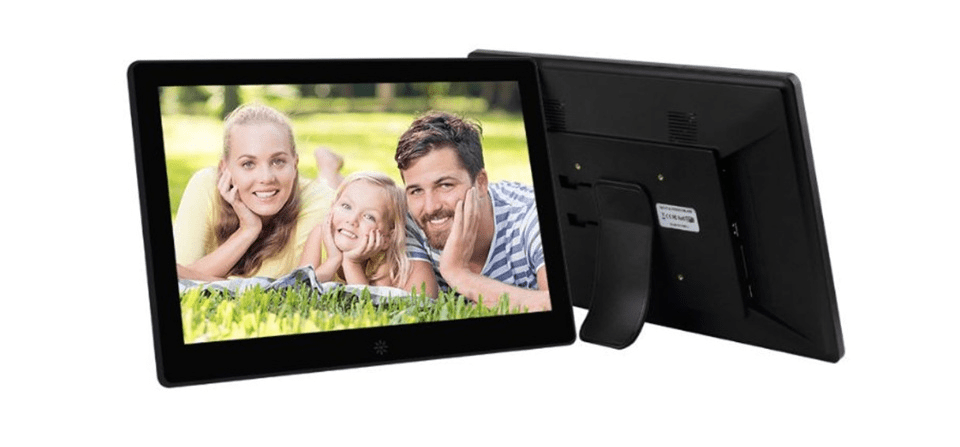 Price: $75.00
If you want a digital photo frame that comes with multiple additional features, then look no further than the All Tronic Digital Photo Frame. It features not only a wide 12-inch screen, but a high screen resolution of 1080p as well, displaying every image clearly and vividly.
What's more, the All Tronic Digital Photo Frame supports all sorts of connectivity options, including HDMI, WiFi, USB, and even Bluetooth. There's even the option to include subtitles or play music as the images are being displayed.
Another reason we call it one of the best digital photo frames in Singapore is that it's compatible with every image and video format, from JPEG to MP4. You won't have to go through the stress of converting every image and video just so they would appear on the screen.
In terms of price, it might make your pockets hurt a bit, but with the features you're bound to enjoy, we believe that it's going to be worth it, down to the last cent.
Pros
Large screen
High screen resolution
Multiple features
Cons
2. Andoer M705
Best for Multifunctionality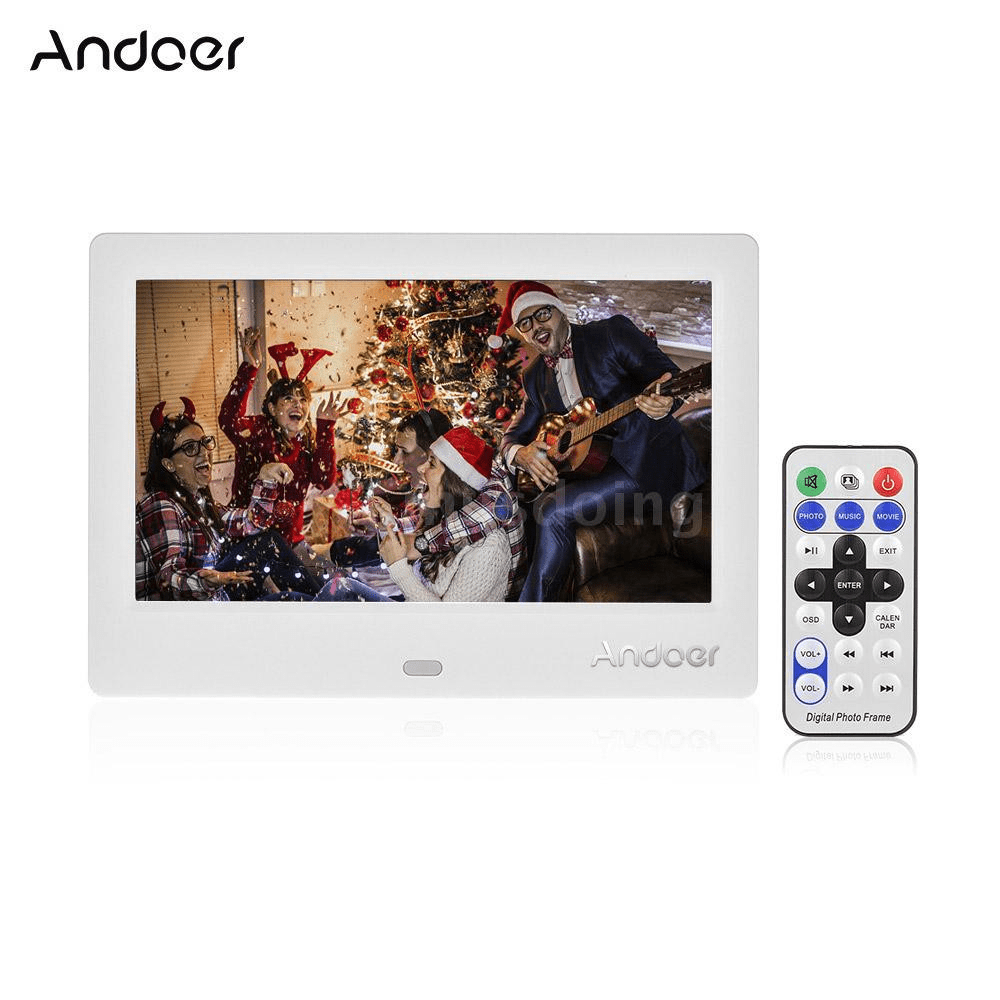 Price: $38.50
If multifunctionality is what you're after, then you're definitely going to love the Andoer M705. On top of displaying pictures in high resolution, it can play music and videos as well!
More than that, the Andoer M705 comes with a calendar and alarm clock feature too, helping owners stick to their schedules and remain organised. It's indeed one of the best digital frames in Singapore, as it does more than it should!
It's the ideal digital photo frame to display inside your room too, as it's small, lightweight, and compact, with a screen size of 7 inches. Its resolution, meanwhile, is only 480p, but that's fine because it's the right screen resolution for its screen size.
It supports all video, music, and image formats as well, so no worries about having to convert them to appear on the frame's screen. You may transfer these files using SD, USB, WiFi, and even Bluetooth.
Pros
Affordable price
Lightweight
Perfect for small rooms
Cons
3. Kodak Digital Photo Frame
Best for Overall Value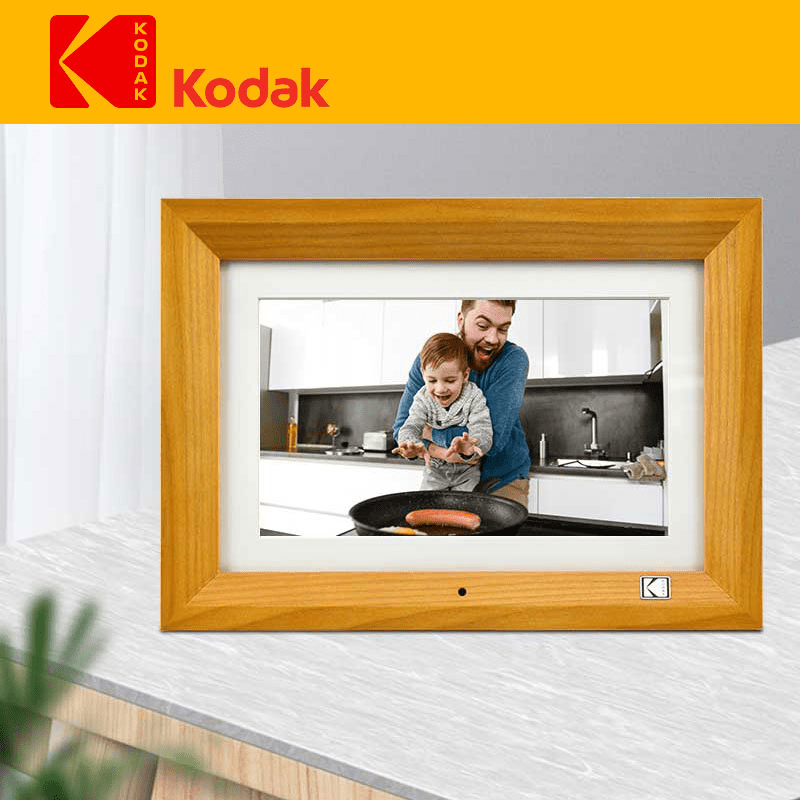 Price: $156.87
Since KODAK is one of the most trusted names in the photo industry, we've decided to include one of its digital photo frames in our list. Here's the KODAK Digital Photo Frame, and we think it's one of the best digital photo frames in Singapore.
On top of its 10-inch size and 1080p screen resolution, the KODAK Digital Photo Frame is made from premium materials that guarantee it will last for a long time, something that tends to be overlooked by other digital photo frame manufacturers.
If you're planning to show multiple images, then you're going to like that its slide speed can be adjusted from 5 seconds to as long as 45 minutes. You may even adjust the screen's brightness according to your preference.
Another reason we love the KODAK Digital Photo Frame is that it can be controlled remotely. Plus, it supports different types of image, sound, and video formats.
Pros
High resolution
Durable build
Multiple operating language
Cons
4. Aluratek Digital Photo Frame
Best for Convenience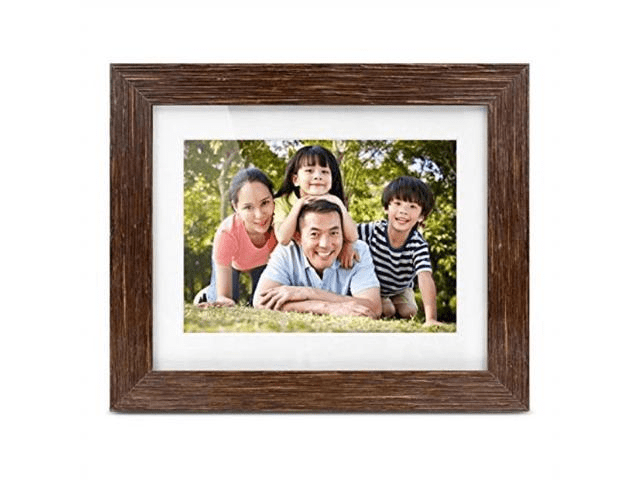 Price: $134.14
Not every digital photo frame comes with a stylish design that adds more character to your room, but the Aluratek Digital Photo Frame does. It features a functional distressed wood design that makes a great addition to the decor of any room.
One of the Aluratek Digital Photo Frame's best features is that it's extremely easy and convenient to use. It's designed with an interface for easy navigation and control, found at the back of the frame.
In terms of picture quality, all of your pictures will be displayed in bright, vivid, and clear colours. It makes use of a set of digital panels similar to that inside high definition televisions.
It also welcomes all types of connectivity, including SD cards, USB, WiFi, and even Bluetooth, so rest assured that transferring files won't be a hassle, unlike with other digital photo frames.
Considering its price, you might have to save up for a few more weeks as it's definitely not cheap, but you'll definitely get your money's worth with the Aluratek Digital Photo Frame.
Pros
Stylish design
Easy to use
High screen resolution
Cons
Customer Reviews
Take a look at what some buyers have to say about the Aluratek Digital Photo Frame:
"My decor is upscale coastal so this frame fits perfectly. We just got back from a big vacation and wanted to display our photos. It's really easy to use. The specs say it can use up to a 128 GB card, but it didn't. I called the help desk and tried my 8 GB card and that worked. The 128 card didn't work even with one jpg reduced down to a small size. But, other than that it works great. You really don't even need directions. You just plug it in, choose your options and put your card with pics in the slot. You can use a flash drive too."
"I love this frame, love the size, love the clarity, and that I can see my grandbabies photos across the room. The best thing about this one is that you can set it like a timer so it's not running when everyone is sleeping. I hope this one stays around a while, hopefully, it will last a long time."
5. APESIN Digital Photo Frame
Best for LCD Technology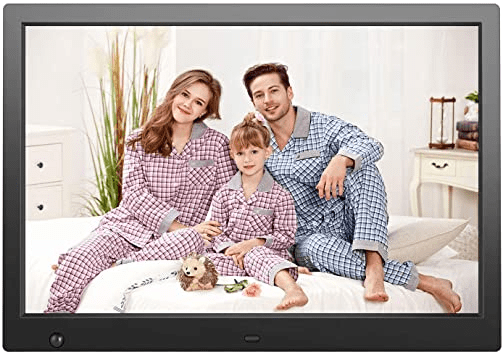 Price: $132.00
The APESIN Digital Photo Frame is one of the newer models that make use of the latest LCD technology, boasting a resolution of 1280×800 and an aspect ratio of 16:10 — making it one of the best digital photo frames in Singapore in terms of display specs.
On top of that, it comes with a motion sensor technology that turns on and off when someone enters and leaves the room. Such a feature is an effective way to save power.
Another thing we love about the APESIN Digital Photo Frame is that its system is compatible with all types of video, image, and music formats. It removes the task of having to convert each file before transferring it to the digital photo frame's storage.
Speaking of storage, it supports a memory card of up to 52GB. If you're not a fan of using memory sticks, you may opt to transfer your files using WiFi or Bluetooth.
Lastly, it comes with a generous unlimited warranty of up to a year, so in case it starts malfunctioning, you won't have to spend a thing for repair or replacement.
Pros
Motion sensor
Latest LCD technology
14-inch screen
Cons
Expensive price tag
A bit heavier than most models
6. 15-inch Digital Photo Frame
Best for High Resolution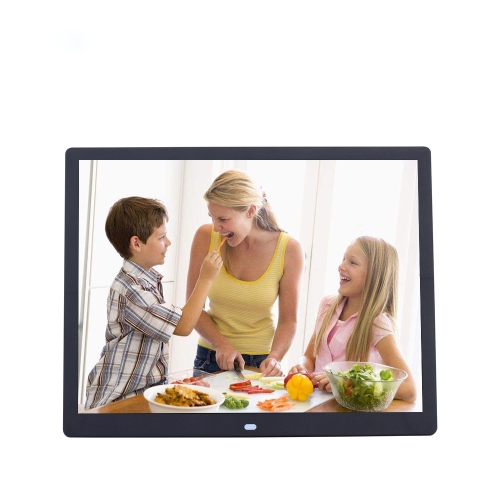 Price: $53.78
This Digital Photo Frame is perfect for displaying large, high-quality photos. The 15-inch LED display can display a resolution of 1024*800 pixel resolution.
It also possesses other features, such as speakers and more applications. Display your photos in style with the 15-inch Digital Photo Frame.
Pros
Supports high resolution media
Multiple control modes
Cons
And that's it for our list of the best digital photo frames in Singapore. If there's a particular digital photo frame that caught your attention, share it with us and what made you think it's worth buying.
Anyway, if you've tried other superb digital photo frames in the past, don't hesitate to drop their names and we'll check if we can add them to our list.
Finally, if you want more photos to display, you may well need the best camera phones in Singapore. Any of these camera phones will help produce high-quality photographs that you can take pride in displaying later on!