The 15 Best Dog Beds in Singapore
As dog owners, we want our pets to be as comfortable as possible at all times, especially when they're taking a rest and sleeping. So, if you're on the lookout for the best dog bed in Singapore, then worry no more because we have you covered!
We'll even share a few tips on how to choose the best dog bed in Singapore. That way, you can be sure that they're taking home the right one for your beloved dogs.
Knowing these will make it a lot easier to choose from our selection of the best dog beds in Singapore as well. Anyway, let's start!
Factors to Consider When Looking for Dog Beds in Singapore
Dog beds, just like our own, come in a wide variety of shapes and sizes. When looking for a bed for your beloved dog, here are some of criteria to take note of:
1. Material
Since there will be a lot of contact between your dog and its bed, it's important to find one that's made of non-toxic material. So, stay away from synthetic dog beds as these may harm your dog's health — they may chew or nibble on the beds, after all.
Knowing if your dog has sensitive skin or allergies will help as well. You want to steer clear of anything that could irritate their hide.
What's more, upon purchasing a dog bed, it'd be best to give it a thorough wash to remove any particles that may harm their health.
2. Size
Dog owners should look for a dog bed that can accommodate their dogs. One way of knowing if it's the right size is if your dog will be able to fully stretch out its body while on it.
Since different dogs have different preferred sleeping positions, it'd be best to go for the dog bed that would offer extra space for your dog to freely switch positions and roll around as much as it wants.
3. Durability
It's no secret that dogs love to chew everything they can get a hold of, as we noted earlier.
So, it's important to look for a pet bed that won't break easily even after being nipped on a regular basis. Dog owners need to make sure that the bed is durable enough and that there won't be parts that can be accidentally swallowed by their pets.
4. Washing Machine Friendly
Lastly, dog beds tend to get dirty and smelly quickly. To make your job easier, make sure to look for one that's washing machine friendly, so you don't have to go through the trouble of handwashing it every week.
Throwing the dog bed into the washing machine will effectively remove and kill flea eggs, dust mites, and germs.
However, as per our research, a lot of washing machine-friendly dog beds are only for small dogs, so those with bigger dogs might have a hard time looking for a large dog bed that's also washing machine-friendly.
The Best Dog Beds in Singapore
Anyway, now that you're aware of what to look for when getting the best dog beds in Singapore, you're probably ready to see our picks!
So, without further ado, here's our list of the best dog beds in Singapore.
1. Borky's Dog Bed
Best for Comfort and Ease of Cleaning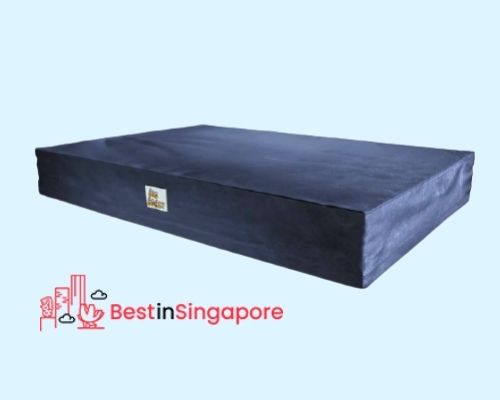 Price: $144
Borky's Dog Bed is engineered to give your dog the best night's sleep.
It's also great for those with larger furry friends since it has double-layered memory foam layers, which means that it won't sink even under the heaviest pets.
The high-density foam doesn't flatten and will last you for years to come.
Furthermore, the cleaning process for this pet bed is about a thousand times easier since it comes with 100% machine washable covers that don't trap fur. What's better than that?
Lastly, all purchases made can help a four-legged friend in need since they make sure to give back a portion of their earnings to an animal shelter.
Pros
Orthopedic, supports dog joints
Durable, foam lasts for years
Machine washable bedsheets with every bed
Cons
Less choices in color and size compared to others
Product returns are unavailable
2.  The Brooklyn Deep Sleep Pet Bed
Best for Softness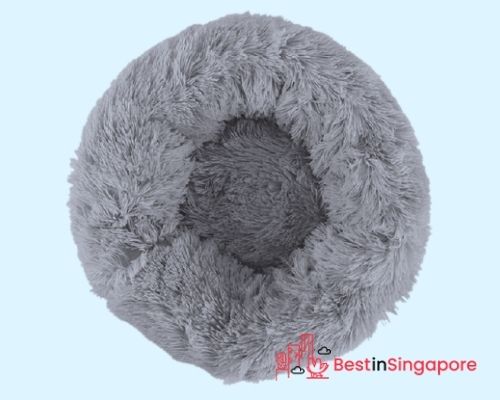 Price: $134.99
The Brooklyn Deep Sleep Pet Bed is one of the most preferred dog beds by Singaporeans. The company never invests in cheap materials, always in high-quality.
Based on the reviews the product has, people absolutely find the product with it because their dogs love it so much. An owner even said that their dogs continually dream when they take a nap and they never want to get out of it.
Unlike other beds, theirs has an outer covering of super breathable faux fur that can help your pets keep cool on humid days and extra cozy on slightly cooler days.
One more factor why a lot of people buy this is because it is completely washing machine and dryer friendly. This means you can just throw it in the washer, use the gentle cycle, and voila! It will smell good as new.
Overall, if you want your pooch to have the best sleep of their lives without having to shell out a huge amount, this could very well be the best dog bed in Singapore for you.
Pros
Available in 5 sizes
Available in 5 colors
Offers size recommendation
Cons
A bit expensive than other beds
Orders typically arrive within 5-12 days.
3. Snooza Pet Futon
Best for Quality Materials
Price: $145.00
Considered among the top names for pet care, Snooza offers one of the best dog beds in Singapore. The Snooza Dog Futon comes in different sizes to accommodate all types of dogs, from small ones to large ones.
More than that, Snooza Dog Futon is known for being made out of safe and premium materials such as cotton calico for the casing, plush for the cover, and Australian wool. It's even designed to provide comfort to dogs with sensitive skin and allergies.
Another reason we love the Snooza Dog Futon is that it adjusts according to the weather or temperature. It's cool during summer time, and offers warmth during the winter.
Pet owners don't need to dread laundry day either because it's one of the few machine-friendly dog beds out there. All you need to do is throw it inside the washing machine and hang it to dry.
Pros
Multiple sizes
Safe materials
Machine friendly
Cons
4.   ANWA Washable Dog Bed
Best for Medium and Large Dogs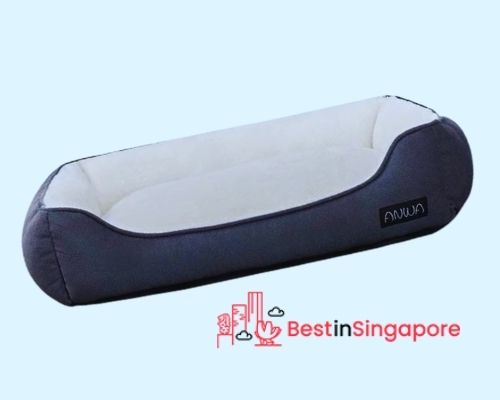 Price:$49.18
If you have a dog that loves being cuddled while sleeping, the ANWA Washable Dog Bed would be the perfect option for them. It comes with cozy and soft bolstered sides that provide the cuddling feeling that dogs crave from their owners.
What's more, the ANWA Washable Dog Bed is designed specifically for the needs of medium and large dogs. Those with small dogs might have to look for other options as their pets wouldn't get to make the most of its bolstered sides setup.
It comes with a non-slip, high-density rubber bottom as well to prevent dogs from slipping and getting injured should they get too excited for nap time.
Another reason we consider it one of the best dog beds in Singapore is its durable, eco-friendly, and easy-to-wash materials. Dog owners don't need to put themselves through the stress of handwashing their dog's bed, which is often filled with fleece and dust mites.
On top of that, dogs won't develop allergic reactions even after spending the entire day laying on the ANWA Washable Dog Bed.
Bigger dogs need extra cushion for their joints so this is one of the best dog beds in Singapore for them. 
Pros
Affordable price
Bolstered sides
Easy to wash
Cons
Customer Reviews
Take a look at what dog owners have to say about the ANWA Dog Bed:
"My dog, Miley, knew immediately that it was a new bed for her. She was so excited! Still, because it came vacuum packed, I set it up on an easy chair to allow it to fully 'puff' back up before letting her use it. She was patient for a couple of hours, but then I walked in to find her laying in the bed, on the chair. She'd decided that she wasn't going to wait anymore! Anyway, she loves the bed and lays in it every day. It appears to be of good, solid construction and is very soft and comfy."
"I HIGHLY recommend this dog bed, it's a great product for the cost. A true 5 star rating. If I had to buy a second one, I'd be willing to pay more for it. I was worried the seams would rip easily. Well FORTUNATLEY I got a good, no GREAT one! The seams are tight, zipper is put in well. I fully expect this to last a LONG time. The medium is perfect for my 22lb Spaniel. I anticipate he will enjoy it even when he is larger. I have a larger one than what most people use at home for a nighttime sleeping crate. So he can move around easy and have a water bowl."
5.   Pet Dog Bed
Best for Posture Support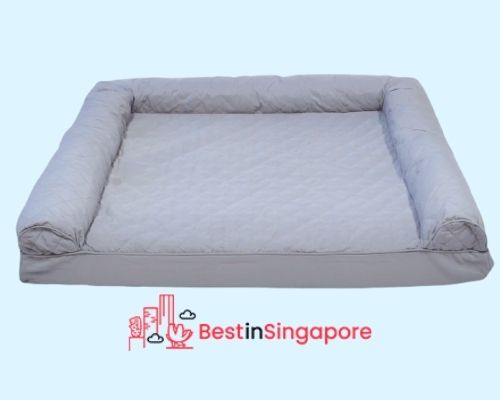 Price: $162.00
If you can spare extra money to spoil your pet with the best dog bed in Singapore, then you might want to check out the Furhaven Pet Dog Bed. It comes in different sizes, allowing dog owners to choose which size is perfect for their beloved pets.
The Furhaven Pet Dog Bed was engineered to provide optimum comfort and posture support for all types and sizes of dogs. Its sofa-like design comes with three-sided cozy bolsters for better orthopaedic support to dogs, and even cats.
Besides that, the Furhaven Pet Dog Bed is made from faux sherpa fleece and textured chenille fabric, an ideal material for dogs with allergies and sensitive skin.
In terms of durability, the Furhaven Pet Dog Bed takes the top spot as it's one of the few dog beds that use CertiPUR-US Certified Foam. It might make your pockets hurt, but it will definitely stay with your dog for the years to come.
Pros
Posture support
CertiPUR-US foam
Made from safe materials
Cons
Expensive price
Goes out-of-stock easily
6.   Furhaven Round Pet Dog Bed
Best for Premium Foam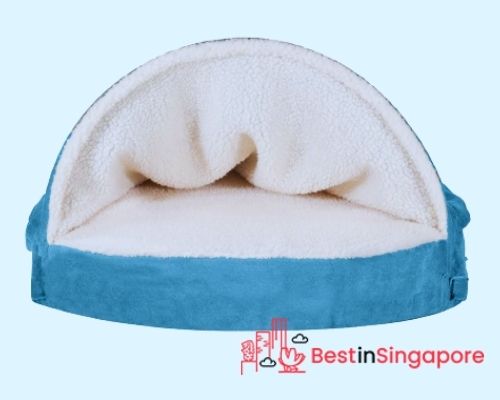 Price: $52.70
If you want the best dog bed in Singapore that's affordable but from a trusted brand, then we have you covered as well. Furhaven's Round Dog Bed is one of its most affordable options, priced for no more than $52, depending on the size.
One reason we consider it one of the best dog beds in Singapore is that it comes with different types of foam, allowing dog owners to choose which one is best for their dogs. You may choose if you want one that's made with cooling gel foam, memory foam, or orthopaedic foam.
What's more, it comes in different sizes as well to accommodate all breeds of dogs, from large ones down to small ones. Its design provides orthopaedic support to dogs as well, just like the previous option.
Pros
Posture support
Multiple sizes
Different types of foam
Cons
7.   DreamCastle Natural Dog Bed
Best for Environmental Friendly Products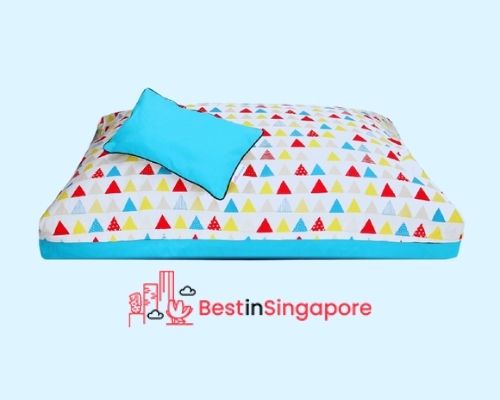 Price: $135
DreamCastle is a family-owned company that makes safe, comfortable & beautiful bedding for dogs. They believe that dog bed should be designed for dogs, yet ironically, majority of the dog beds available in the retail-shelf are not. They tested their ideas back in 2018 by launching a crowdfunding campaign at Kickstarter and as a validity of our concept, the campaign was successfully funded.
DreamCastle is very particular with the materials used to make the bedding as such they only used natural fabric and fibre to create the perfect bed for dogs. Each bed is composed of 100% cotton canvas base mattress that is fluffed up with 100% Kapok fibre and topped with beautifully designed cotton cover.
DreamCastle bed is not only eco-friendly but it is also fluffy, supportive, toxic-free, breathable and equipped with machine-washable bed covers. Their bed is lavishly sized for small to medium sized dog breeds. It's the best dog bed in Singapore for dogs below 13 kg.
Pros
Hypoallergenic Materials
Customisable Covers
Cons
Will not be able to accommodate Large dogs
8.   Rogz Spice Pod
Best for Small Dogs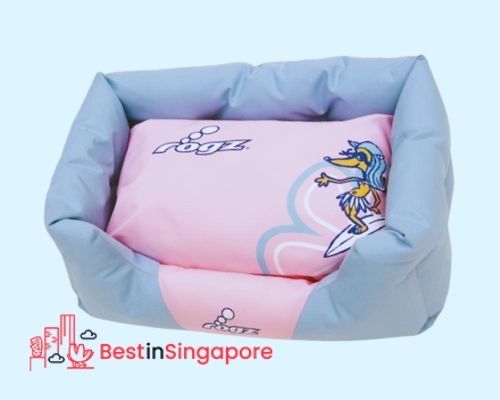 Price: 70.00 SGD
Have your dogs rest comfortably with Doggy Friend's Rogz Spice Pod in Turqoise / Pink. It's made from durable nylon and filled with soft polyester for the ultimate nap!
This dog bed would surely last you a lifetime, proving just that it is worth its price. Its stylish look is also a plus, as you can never go wrong with their cute color combination.
Don't settle for anything less, buy something you know your dog would love and would enjoy playing and sleeping in. Make sure to check out Rogz Spice Pod while it's still on sale!
Pros
Free Delivery
Durable
Very comfortable for dogs
Cons
9.   DreamCastle Cath the Bear Natural Dog Bed
Best for Temperature Regulation
Price: $126.17
The only pet bed which offers chemical-free, hypoallergenic, odourless, breathable, clump-free, and a lightweight feel, all in one, Nekojam's DreamCastle Cath The Bear Bear Natural Dog Bed is truly an item worth every penny, especially when you know your fur baby will be getting the most relaxing sleep they can get.
Packed with natural fabrics and Kapok fibres and covered with cotton fabric, this dog bed provides that extra soft feeling for your pet's delicate fur; It has all the best qualities you've been searching for in a bed.
What's more, the DreamCastle Cath The Bear Bear Natural Dog Bed is very easy to clean and easy to move anywhere in the house. It's the best dog bed in Singapore for your furry friend, so make sure to consider it when purchasing a new cushion for your baby.
Pros
Contains moisture repellent fibre
Prevents odour and bacteria growth
Comfortable
Cons
10.   FuzzYard Reversible Dog Bed in Bel Air
Best for Feather Soft Filling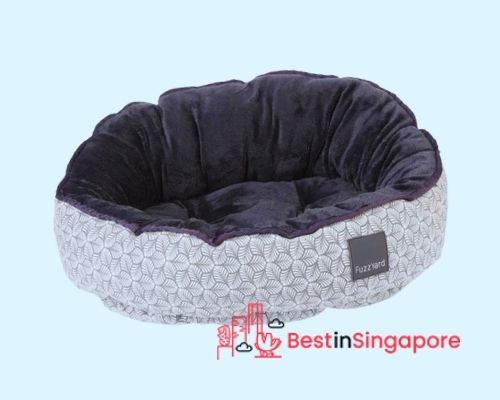 Price: $134.30
Your dog will be getting the most peaceful sleep they've had in a while, in Doggo's Fuzzyard Reversible Dog Bed in Bel Air.
It's a super-soft cushion with a velvety feel made to comfort your fur baby as they relax after a long day of playing. The Fuzzyard Reversible Bed lives up to its name, letting you decide on a geometric design or a simple yet elegant black colour to choose from.
The bed is colour-safe, non-toxic, and non-allergenic, so you know that your dog is safe. And if ever the small mattress gets dirty, you can simply put it in the wash and leave to dry within the day. It's efficient and super convenient, the qualities you'd want for the best dog bed in Singapore that's practical and comfy.
Pros
Available in three sizes (small-large dogs)
Reversible bed
Machine washable
Colour safe, non-toxic & non-allergenic
Cons
Single design
Expensive price
11. MrFluffy Elevated Pet Cot / Bed Frame With Net
Best for Elevation and Air Circulation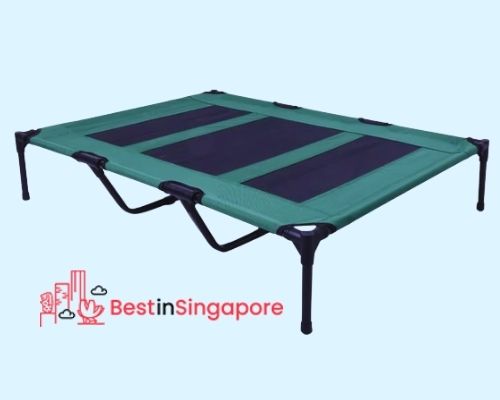 Price: $32.00
Sometimes, excessive stuffing or too soft beds get uncomfortable, especially in a country as humid as Singapore. If you want a dog bed that will keep your furbaby comfy while keeping them cool, then you may want to consider MrFluffy's Elevated Dog Bed.
The Elevated Dog Bed comes in four sizes: Small to XL, and four colours: red, blue, green, and grey; making it an excellent choice for dogs of all sizes.
The cot material is made from polyester, with a net in the middle to ensure that their is air circulation while the dog is resting. On the other hand, the frame is made out of metal, which helps in the longevity of the product.
It's also worth noting that the materials used are waterproof and resistant to bites. Plus, the velcro fasteners allow customized firmness of cot surface.
Lastly, the dog bed is easy to set up and easy to disassemble, making it an excellent choice for furparents on the go. So, if all of these features tick your boxes, consider MrFluffy's Elevated Dog Bed today.
Pros
Available in four sizes
Comes in four colors
Waterproof and bite resistant
Easy to assemble
Affordable
Cons
12. Cloud7 Cozy Dog Bed
Best for Comfort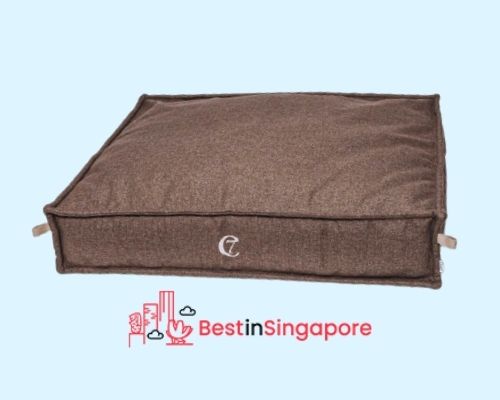 Price: $198.00
As we all know, our furbabies' comfort is of utmost importance. This is why a lot of pet owners don't mind splurging on a bed that will keep their dogs snoozing through the night with how comfortable it is.
Here is where Cloud7's Cozy Dog bed comes in. While an expensive option, this bed more than makes up for it with the quality of its make.
The cover is made from an organic cotton hemp mix and the mattress itself is made with latex and polyester flakes mix. The result? A bed so soft the dogs will feel as if they're sleeping on a bed of clouds.
What's more, the beautiful outer fabric creates a classic look perfect for homes of any style.
As a final note, the bed comes in three sizes and can be delivered within a few days or a week for a small fee.
Pros
Available in three sizes
Soft and comfortable mattress
Easy to wash materials
Cons
13. Super Soft Pet Bed
Best for Affordability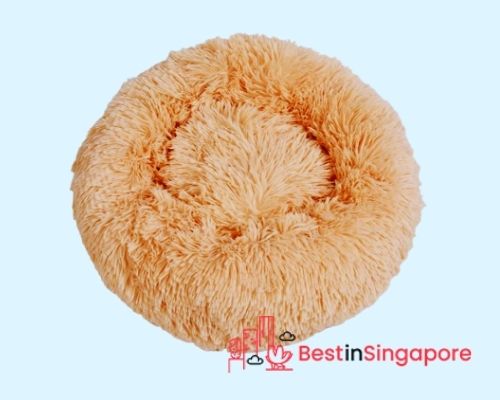 If you're looking for the most affordable option, then you might want to check out the Super Soft Pet Bed. For no more than $12, your dog will be able to sleep in one of the coziest beds out there made from pets like them.
In terms of materials, dog owners have nothing to worry about as it's made from non-toxic, safe coral fleece, even if your dog has sensitive skin.
Not only is it soft, cozy, and fluffy, it also comes with a non-slip bottom to prevent them from getting injured — which is why we call it one of the best dog beds in Singapore. It comes in different sizes as well to accommodate the growth of your pet.
Since it's cheaper than most dog beds, we can't guarantee that it's going to last for a long time, but we know for a fact that it's made from decent and safe materials.
Pros
Affordable price
Made from safe materials
Non-slip bottom
Cons
14. Pet Bed-Whale Shape Blue
Best for Design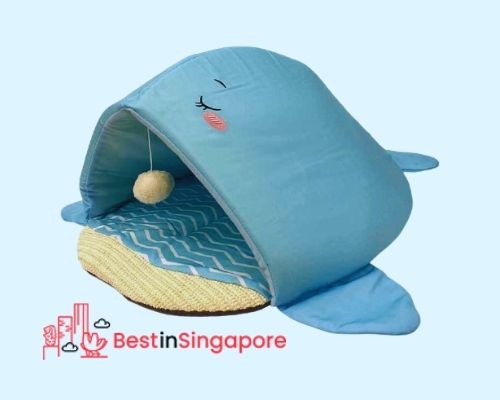 Check It Out on Pet Lovers Centre
With the Trustie Blue Whale Pet Bed, your small dog (or cat!) can rest in comfort and style.
This dog bed is enclosed on all sides to provide a cosy interior for your pet to retreat to for their daily naps.
Additionally, it's made with high-quality canvas material that is durable and easy to clean.
The interior is made with fleece to maximise your dog's comfort.
The icing on the cake is the super cute whale design that offers a modern and attractive addition to any home!
Pros
Design is cute and stylish
Sense of security with enclosed sides
Cosy interior for dogs that get cold easily
Comfortable
Cons
15. Biscotti Designer Dog Bed – Natural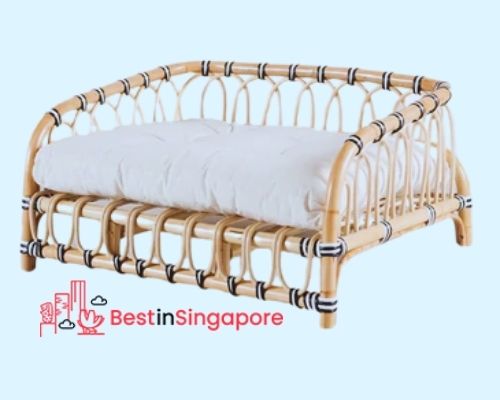 $148
If you're looking for a pet bed that matches your home's natural aesthetic without sacrificing your pet's comfort, then the Biscotti Dog Bed ticks the boxes for both.
Manufactured all the way from Indonesia, this dog bed is made with high quality rattan, which is particularly known for its durability. It's held together by the tough black and white resin rope for extra sturdiness, to boot.
We also love the plump and comfortable mattress the bed comes with. We find that it has just the right amount of thickness, perfect for Singapore climate.
Not to mention that it's removable and washable too. So if your pet's accustomed to another mattress, then you can simply switch it out.
But perhaps the best feature of this bed is its elevation, which helps your pet stay at a comfortable temperature regardless of your chosen mattress.
And while there are two sizes available, we find that the large one may not be suitable for all huge dogs, though. You can check out their size guide online for reference.
Pros
Has 2 sizes available
Made with high quality rattan
Ethically made by skilled Indonesian craftsmen
Removable and washable mattress
Easy to clean and maintain
Cons
May not be suitable for big dogs
No different colours available
And with that, we conclude our list of the best dog beds in Singapore. If your dog used any of these dog beds in the past, share with us if they liked it or not.
By the way, if you've always wanted your dog to learn a few tricks but don't know how, you might want to check out our list of the best dog training schools in Singapore. Who knows, after enrolling in these dog schools, your pet may become a whiz at doing tricks!